We discovered the best wineries to visit in Virginia, particularly the western area of the state in Charlottesville, and they all looked like the cover of a magazine. There wasn't another person near us for at least a 15 foot+ radius wherever we went.
At one winery, horses played not too far away, set in front of the Blue Ridge Mountains. We sipped our tastes in a 5-glass wine tasting and watched them from afar in the Charlottesville area as the weeping willow tree branches framed the picturesque view. It was a time to socially distance yet get our feet wet to explore nearby areas again.
Overview of Virginia Wineries
There are nearly 300 wineries in Virginia, which is why it ranks 5th for wine production in the United States. Charlottesville isn't the only area where wine is produced and vineyards grown; another location, for instance, is the Loudoun Wine Trail, even closer to Washington, DC. (There's so many fun facts to know about Virginia vineyards and wine.)
Virginia is a beautiful state and easy to get to if you live on the east coast of the USA, especially. It only takes about two hours and 45-minutes to get to Charlottesville, VA from where we live in Raleigh, NC. And you can get there via I-95 or, for a more scenic route, with US-15. It's a great weekend getaway and if we want to switch it up from heading west to Yadkin Valley wineries (which have great dry wines in NC)
All the wineries listed below are open daily unless otherwise noted.
Food at Charlottesville Wineries
We found that we can bring food at nearly every winery we've been to in Virginia. And many of them also offer light bites, like a cheese platter of some sort, if they don't have a seat down restaurant, including the best wineries in Charlottesville, that we visited.
We've indicated below if the winery we visited has any snacks or food.
Private Custom Wine Tours in Charlottesville
We don't advocate for driving around to wineries, drinking a ton and getting back in the car. We did the wineries below over the course of the weekend, never having more than a glass of wine (or the equivalent of one) over the course of an hour at each one.
If you like, however, you can sign up for a private custom wine tour. How cool would that be? It's perfect for an outing with your partner for a special occasions, a friend's getaway or bachelor or bachelorette party!
King Family Vineyards
The magazine view we spoke of above was at King Family Vineyards. And yes, horses really did play in the distance! We arrived early on a Sunday morning, shortly after they opened at 10:00am. And saw signs for a Polo Match ahead. We asked how to sit to enjoy the view at the tasting area and dive into their wines, however.
We picked up a baguette and meat and cheese sampler at Wegman's grocery store on our way out of town from downtown Charlottesville that morning. It was the perfect way to bring us back to the tastes of France yet with the gorgeous scenery of Virginia's Blue Ridge mountain range before us.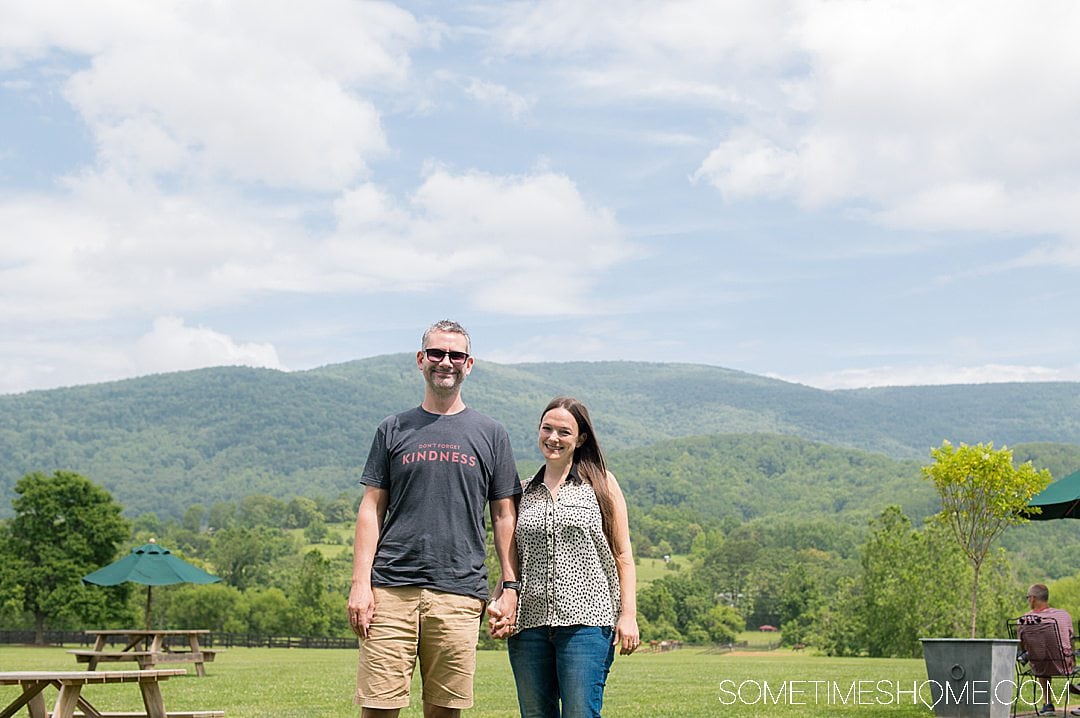 We lucked out with the weather – it was a perfect summer day with clouds everywhere, which meant the perfect mountain morning temperatures in late June.
Five wines were included in their tasting. We sat at a table looking out to the mountains and horses, broke off pieces of our baguette and enjoyed our breakfast of cheese, meat, two whites, a rose and two reds.
We popped into the on-site shop before we left, where they sell cute Charlottesville wine tchotchkes and of course, their wines! You can also buy limited snacks in their store.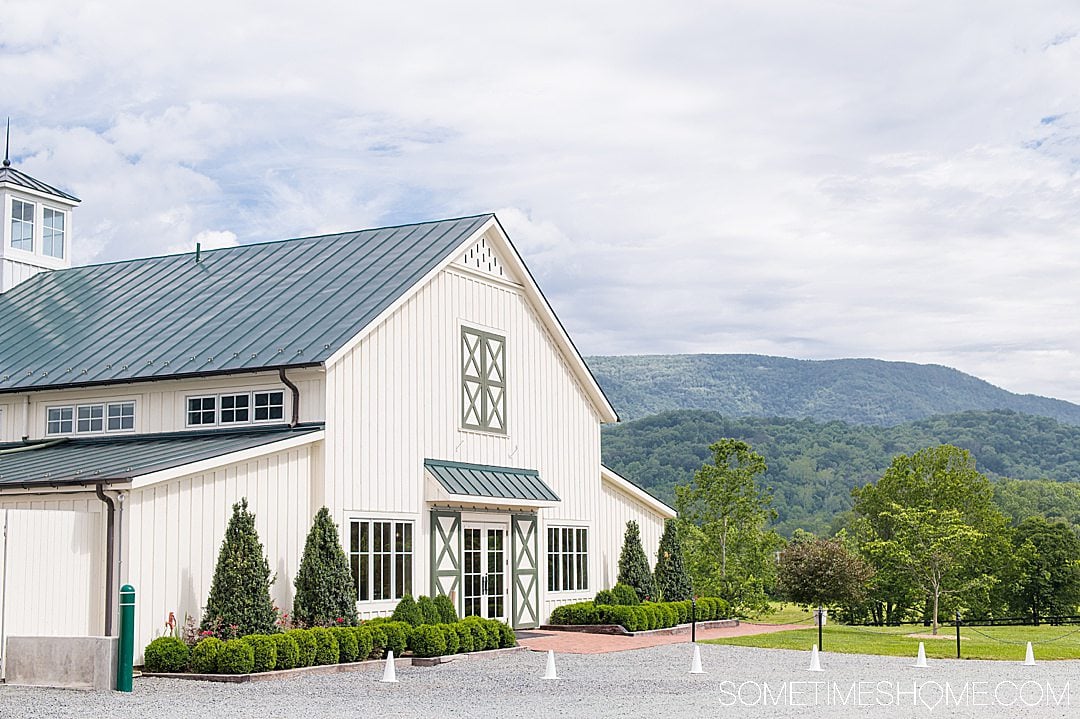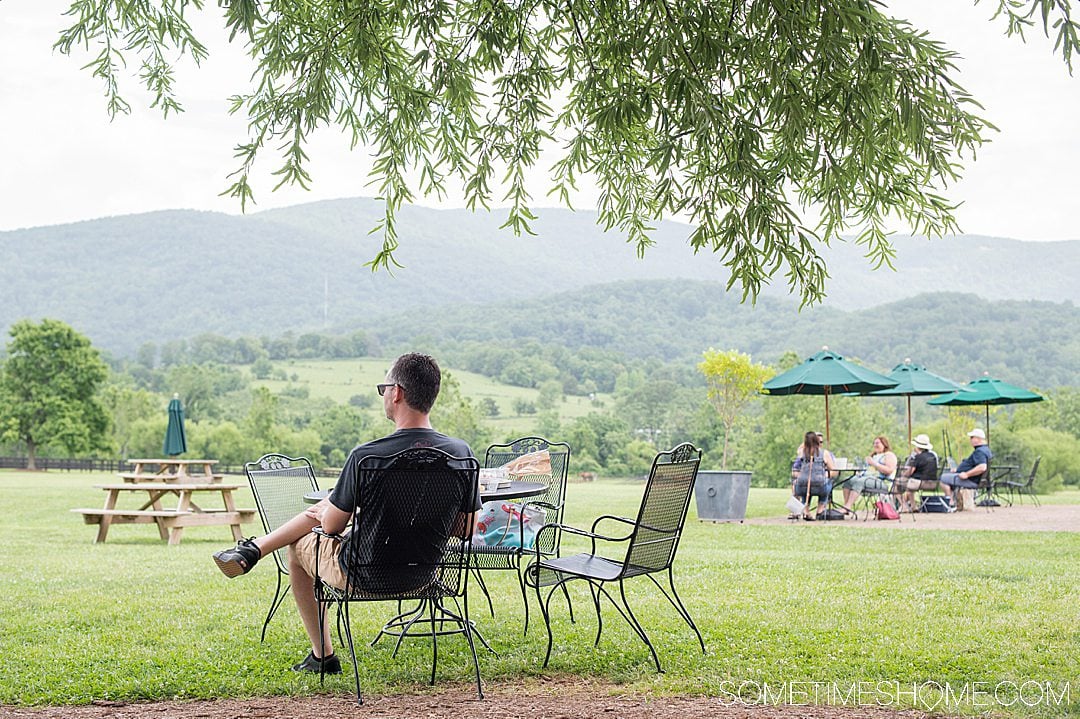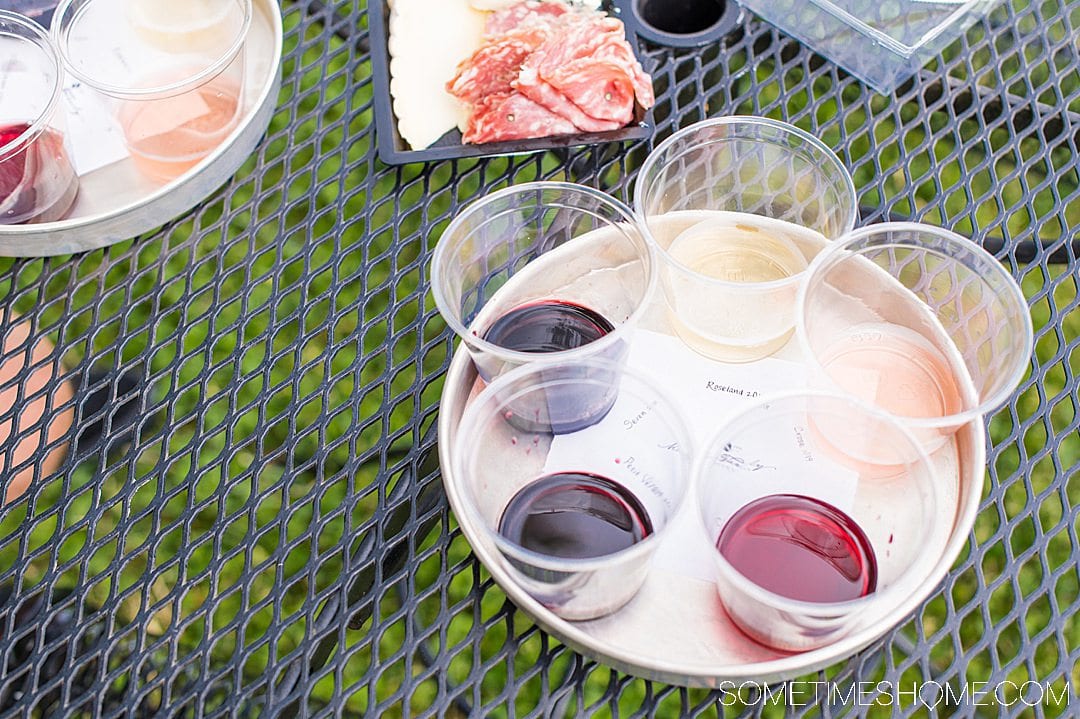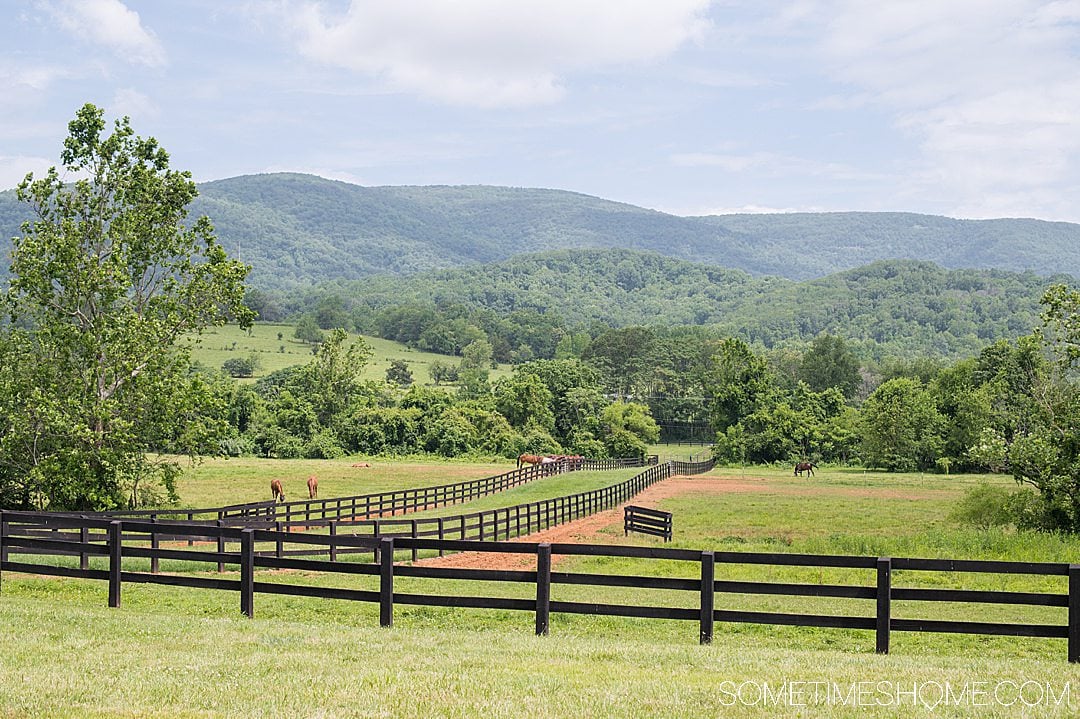 Address: 6550 Roseland Farm, Crozet, VA 22932
Pippin Hill Farm and Vineyards
Pippin Hill was another favorite for several reasons: 1) They had a LOVEworks sign there, 2) their veranda is divine, 3) it's really fun to walk around their gardens.
"Virginia is for Lovers" is the well known state slogan. There are over 150 "LOVE" signs around the state, which provide wonderful photo opportunities. And who are we to turn such an opportunity down? The one at Pippin Hill was yellow metal with bright illuminated light bulbs turned on when we were there, even during the day.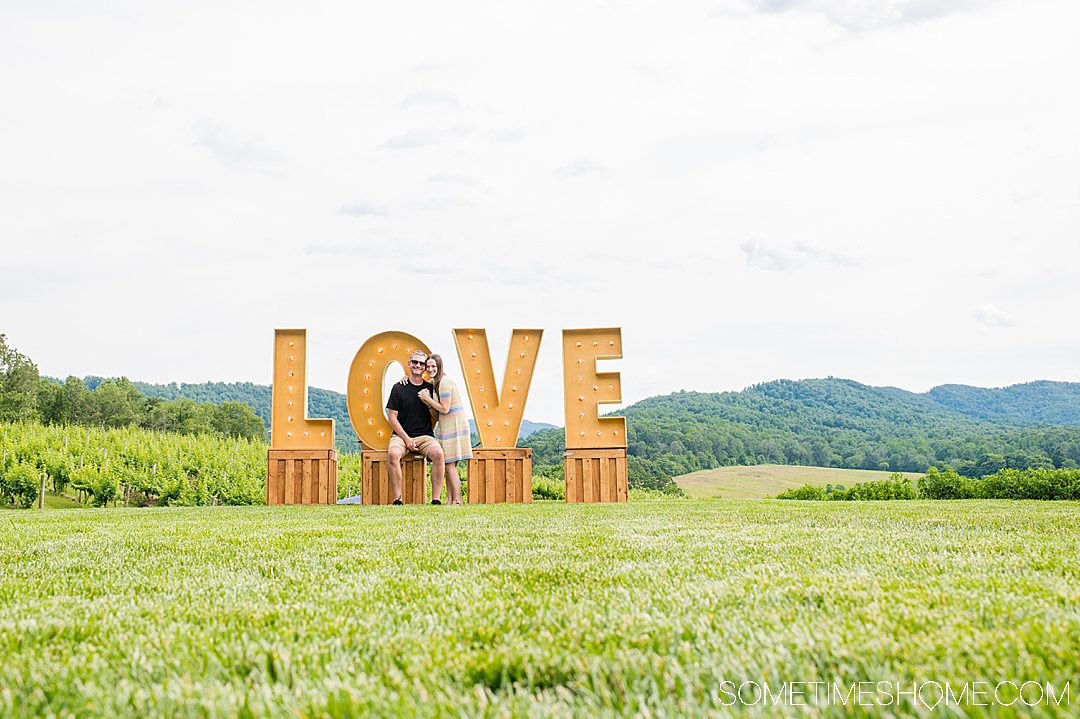 We made a reservation for their veranda; it's easy to do ahead of time and recommended no matter the time of day or year since it's a popular vineyard. However, we were especially sure to reserve time knowing that capacity was lessened due to COVID precautions.
They have a sizable menu, available inside or outside. Their "vineyard to table" philosophy brings fresh ingredients to your table whether an appetizer or glass of wine. We ordered two reds and enjoyed their PHF Board. It included 2 meats and 2 cheeses as well as seasonal accompaniments like delicious fresh preserves.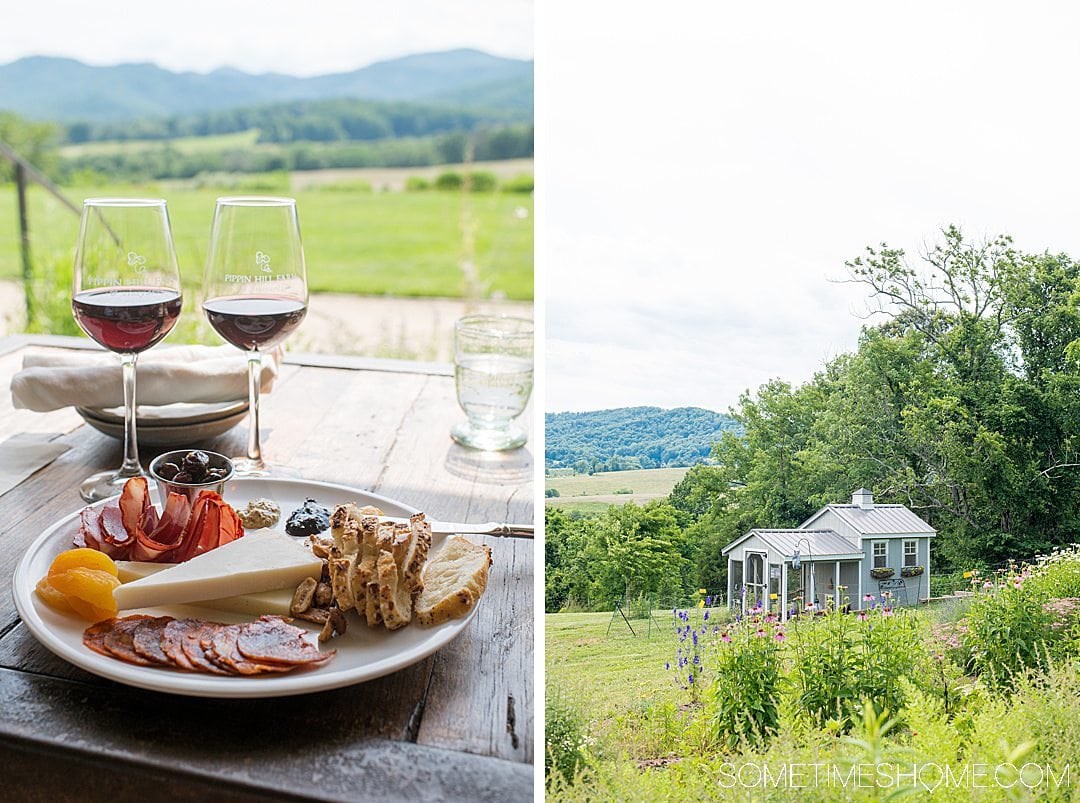 Afterwards we walked around the property, which guests are free to do. It's so serene there. There were a decent amount of people yet it felt like everyone had a piece of the area to themselves, whether inside or out at a table, on the lawn or walking around the gardens.
We loved visiting the bee hives area right next to some wildflowers. They have a map showing the different plots of gardens on site at Pippin Hill Farm and what's grown there. The list is impressive! From vegetables, to herbs and flowers (and of course grapes) they really do their best to live with the land and harvest what they can on site.
Of course it's a favorite wedding venue amongst wedding pros too, with several options to rent the entire space or their private dining room.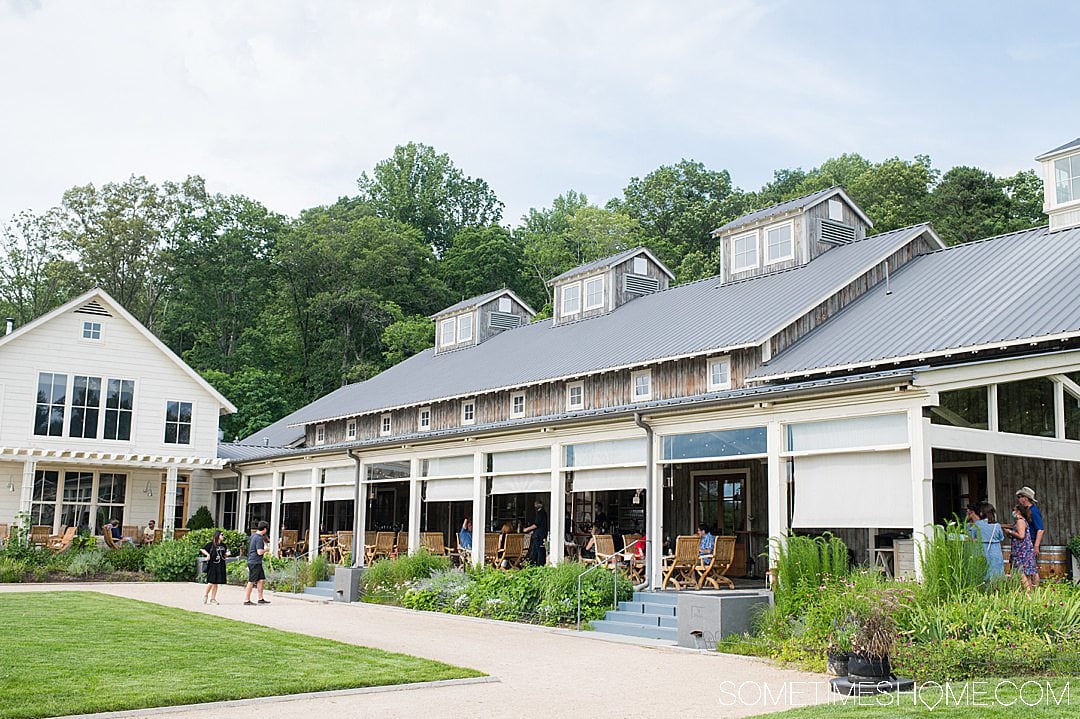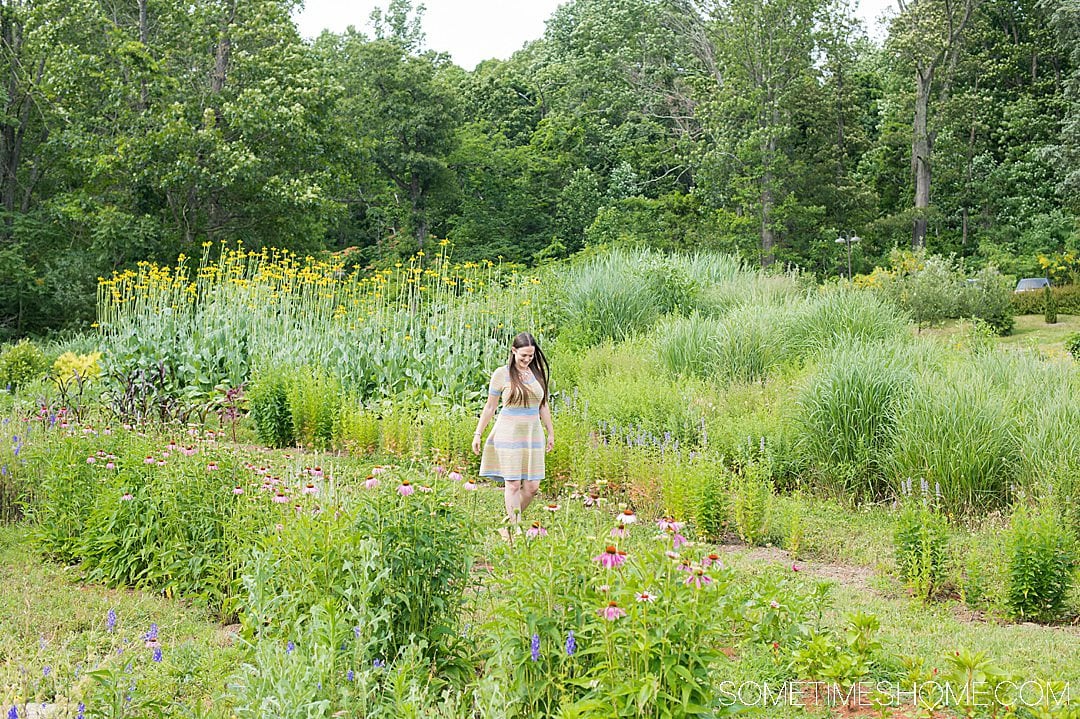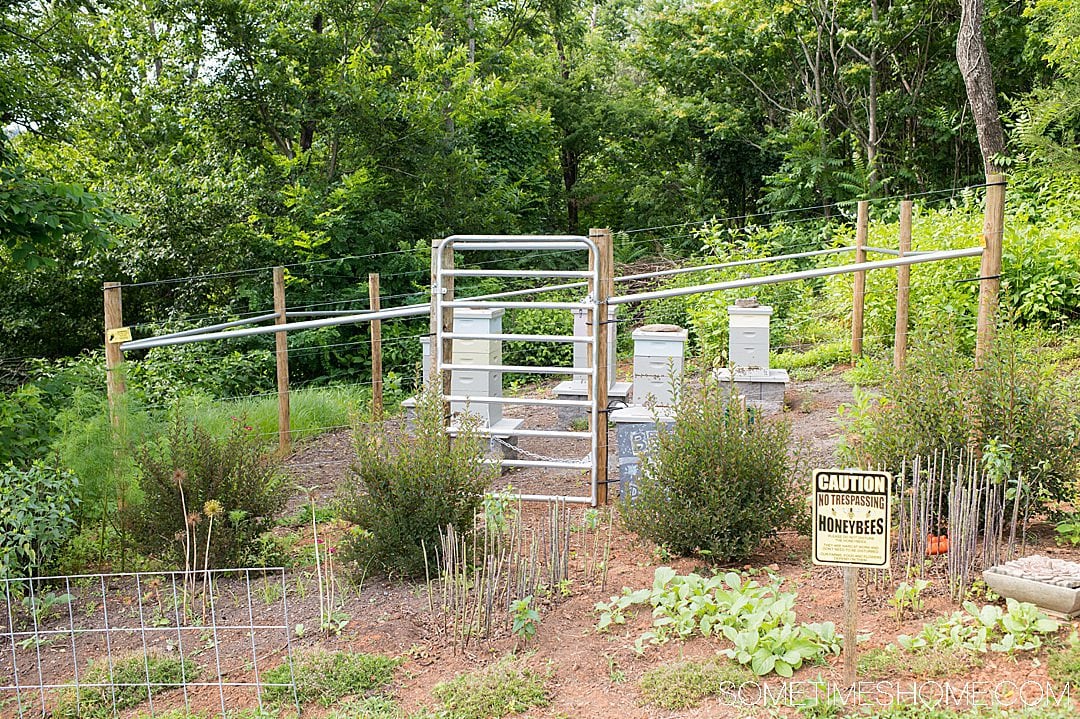 Closed Mondays
Address: 5022 Plank Rd, North Garden, VA 22959
Veritas Vineyard
We arrived to Charlottesville just in time for lunch. We had a reservation at Veritas Vineyard's pop up restaurant, aptly named "Phase II" during summer 2020. They were about 45 minutes behind for reservations but we grabbed a glass of wine. It was a good day to enjoy a spot on the grass and the vineyards in front of us.
This is a great winery to visit in Virginia for its restaurant/food options, and plenty of spaced-out seating outdoors. They had picnic tables and restaurant seating inside and out. Guests are also able to bring blankets to sit on the lawn here if there isn't available seating. Reservations are recommended in advance, for either area with the exception of the lawn.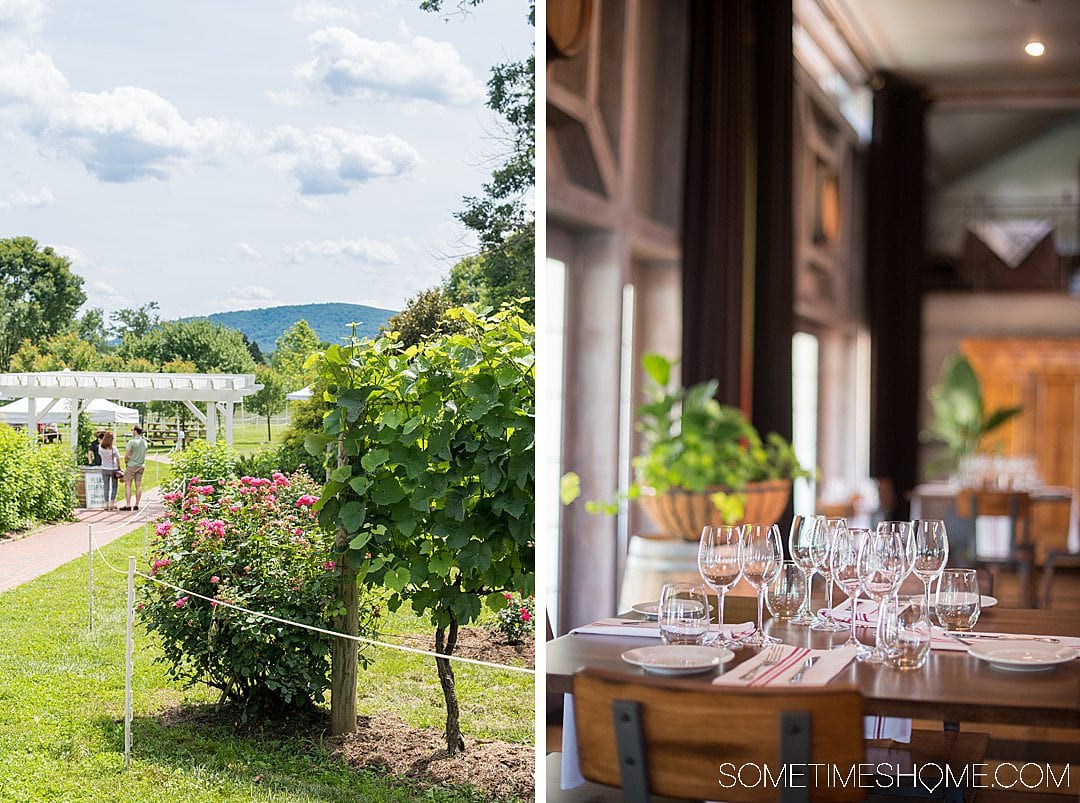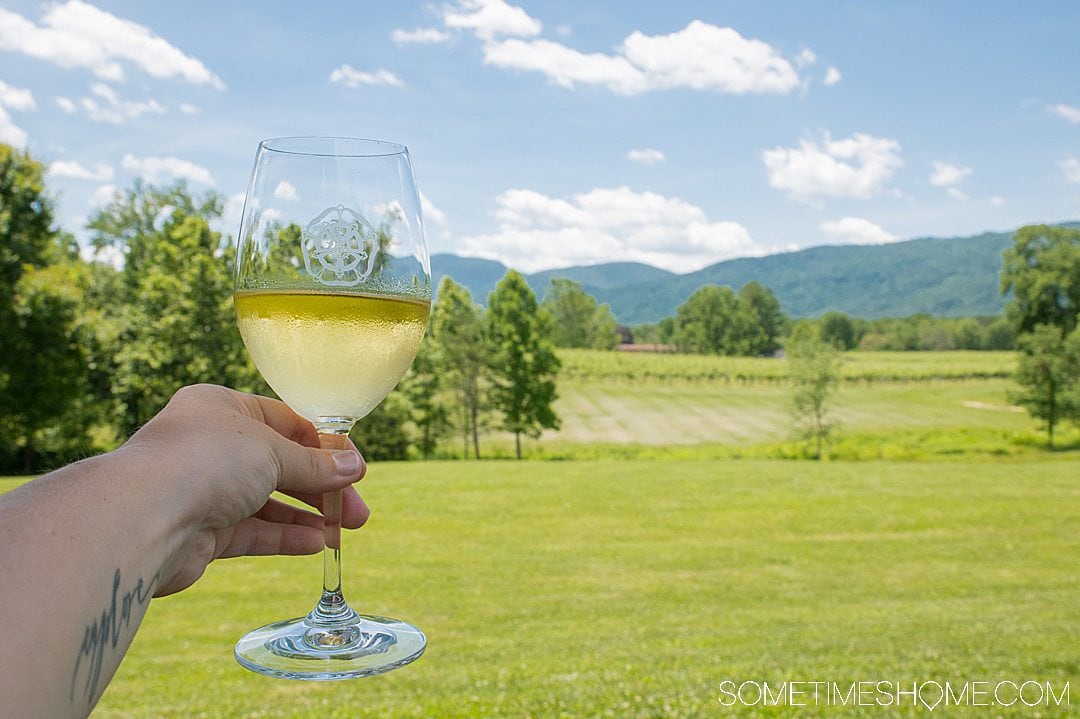 We weren't able to get a wine tasting as part of the restaurant but we saw super cute vials filled with different kinds of wine at the table of several guests at the picnic tables. Next time we'd probably skip the pricy restaurant and go for quick service with the option for flatbreads and sandwiches for instance, and the cute wine tasting.
No matter if you eat or don't however, we liked the wine here, the indoor space with "LOVE" in corks above the bar, and the view out to the mountains with the vineyards spread out for many acres.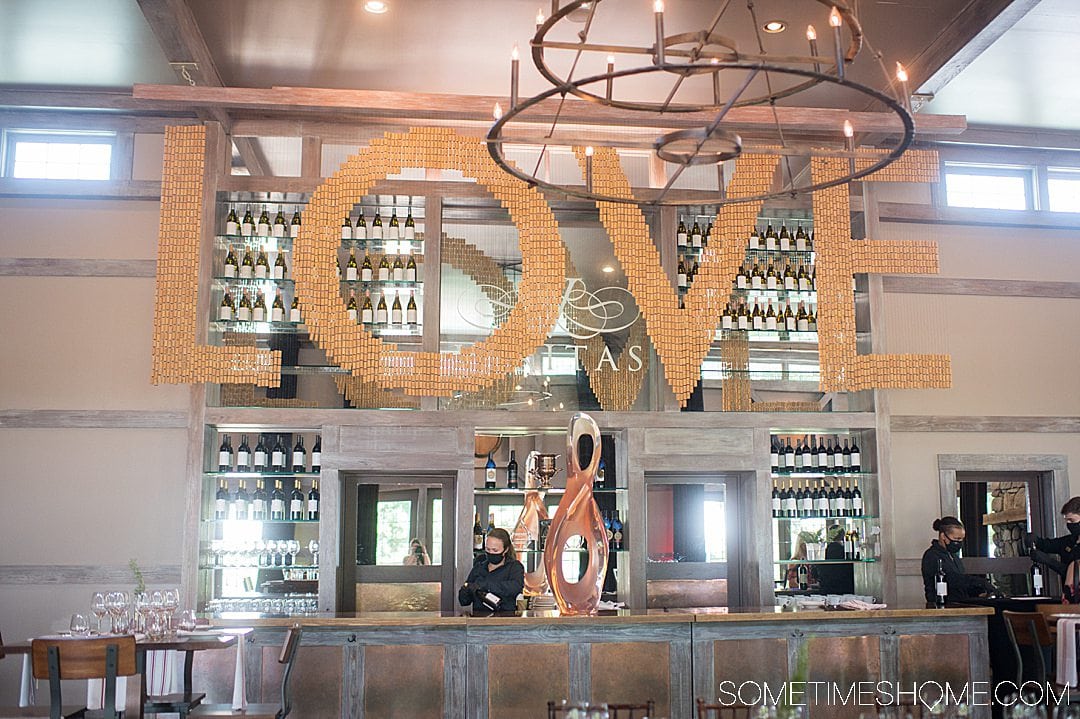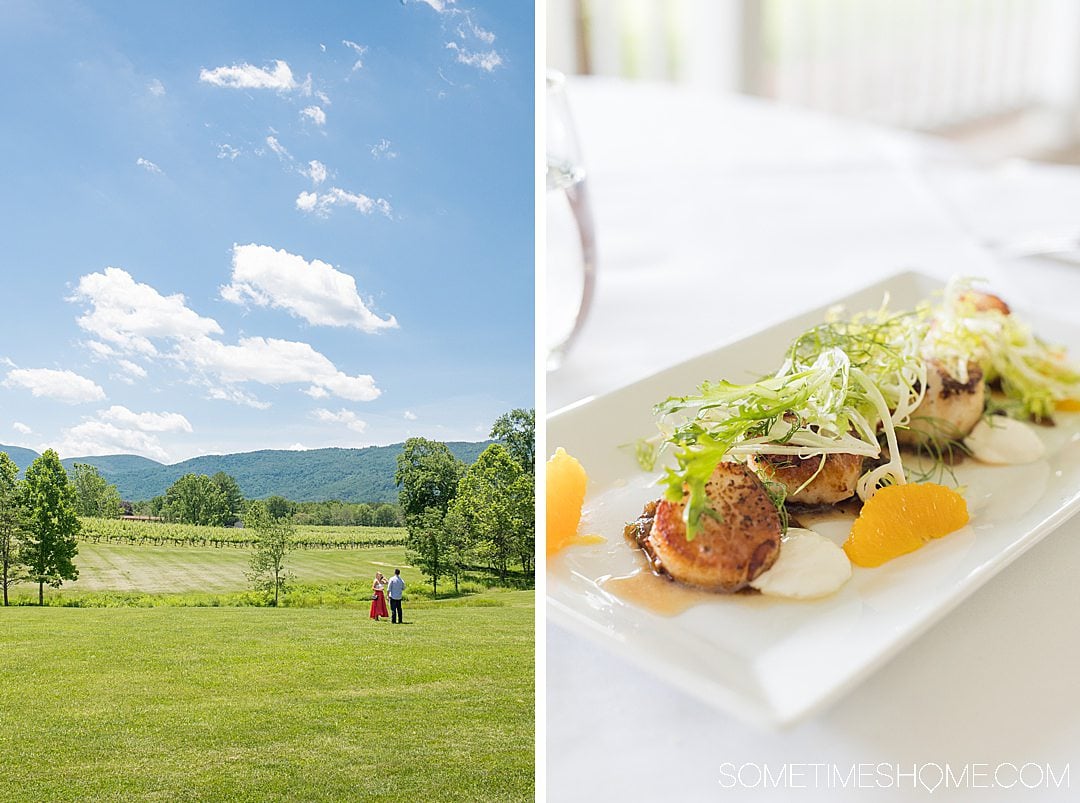 Address: 151 Veritas Ln, Afton, VA 22920
Tasting Room & Taphouse at Mount Ida Reserve
There's a special place in my heart for Mount Ida Farm and Reserve because I've been here a couple times to photograph weddings. It's absolutely breathtaking and a bit secluded. While most vineyards feel that way, Mount Ida Reserve feels like you're the only one in the state when you're at their property.
You cannot bring outside food here but they have some select food options on the weekends, Friday through Sunday. This is also the perfect place to visit if you are with someone who prefers beer to wine, as they produce their own craft brews.
Beware cell service is very weak there. So if you plan on taking something like an Uber or Lyft home they caution to use one of the taxi services in the area and arrange transportation ahead of time. If you plan on visiting for a glass of wine with ample time to safely drive, there's plenty of parking here like there is at all our listed favorite Charlottesville wineries.
GPS Address: 5931 Blenheim Road, Charlottesville, VA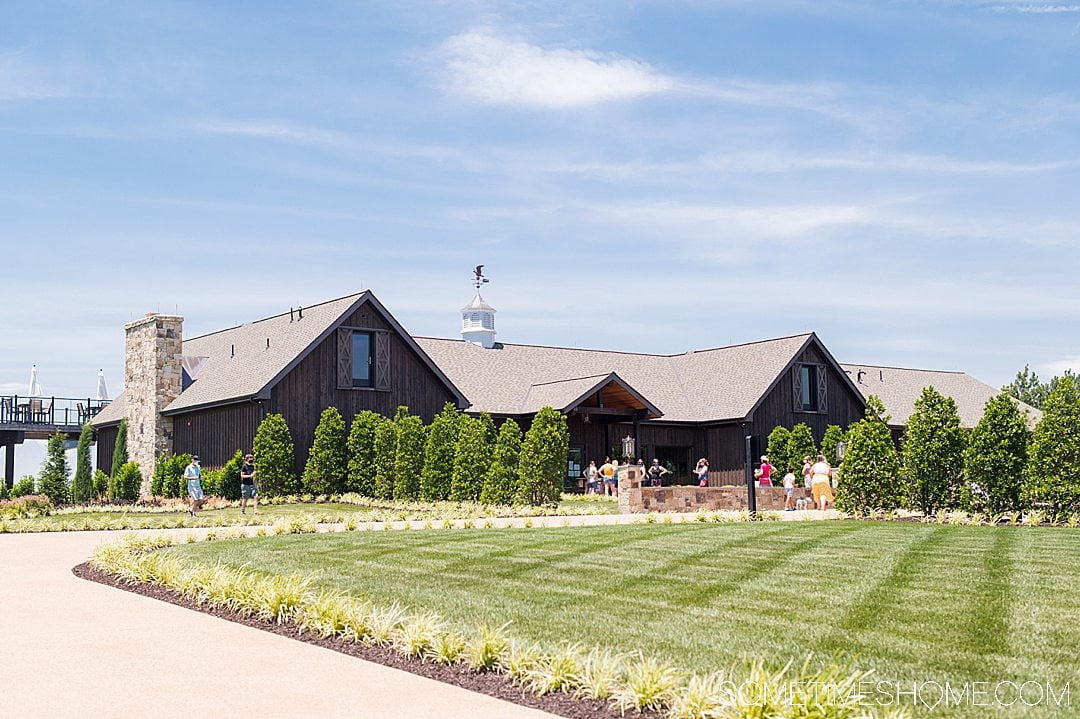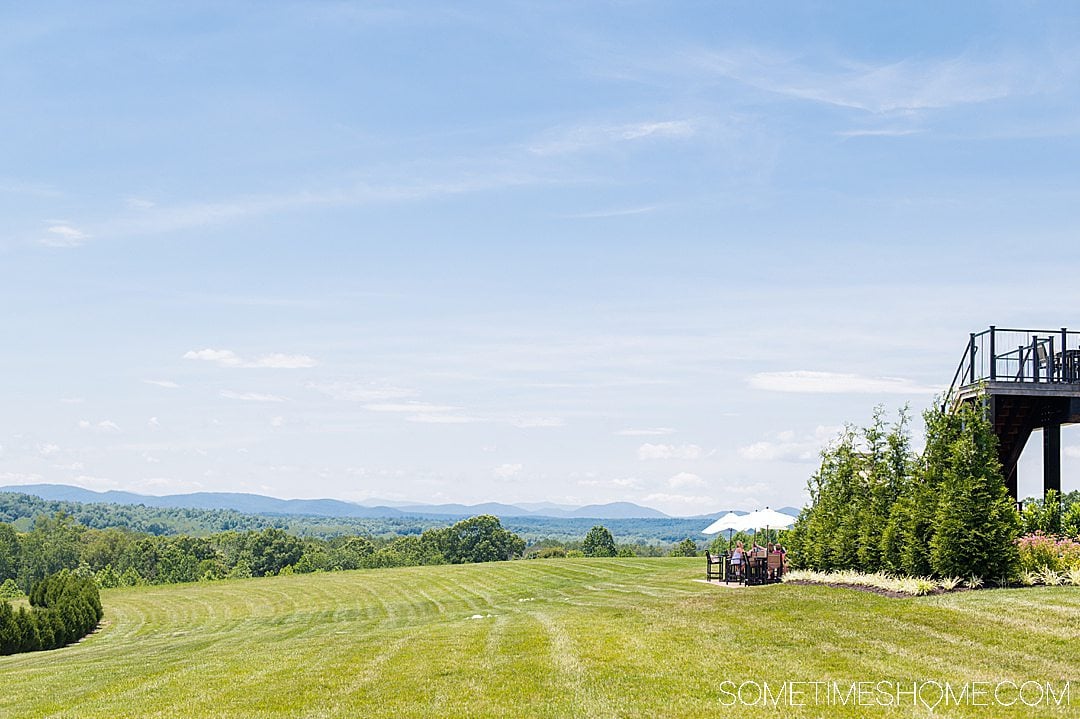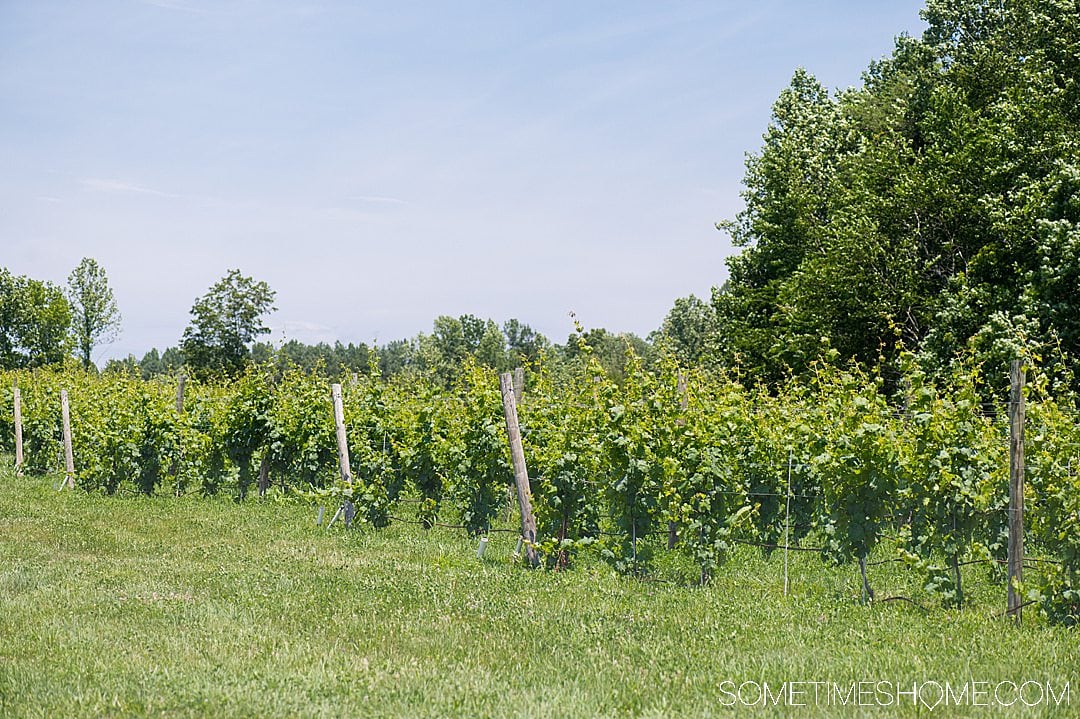 Early Mountain Vineyards
This vineyard is a bit further out from the ones listed above. But they have a really nice restaurant and the view is phenomenal. Which is why it is on our list of the top five vineyards to visit in Charlottesville, VA and we recommend it.
It took us an hour to get from Early Mountain from King Family Vineyard that morning. If you are doing the same route be sure to leave enough time to travel.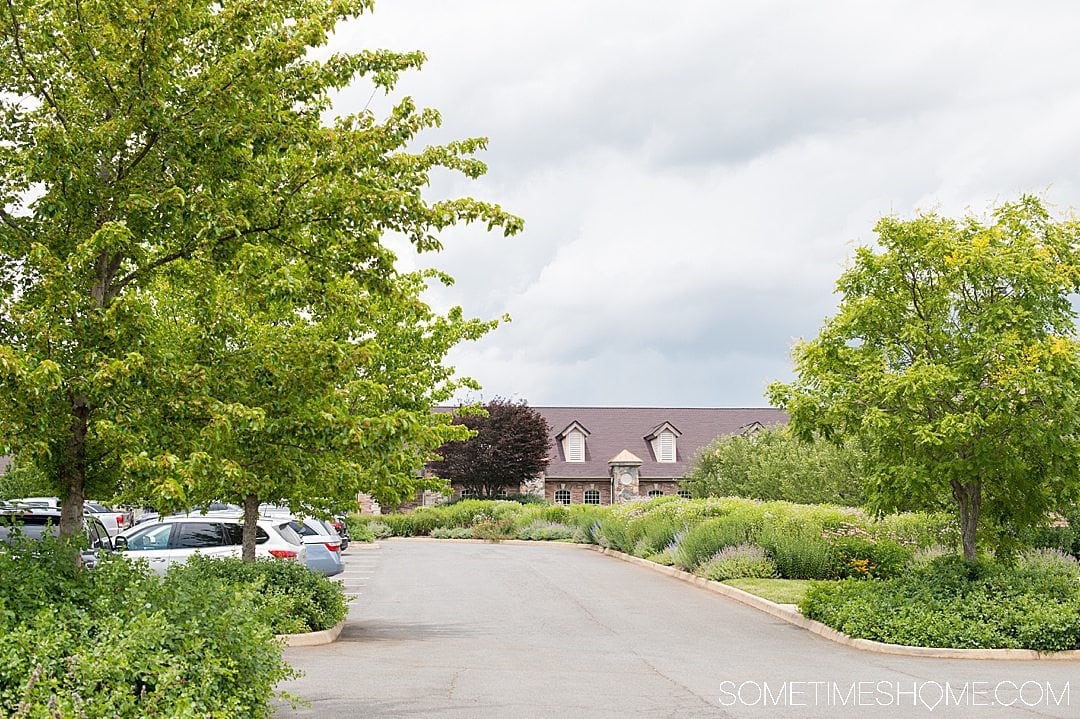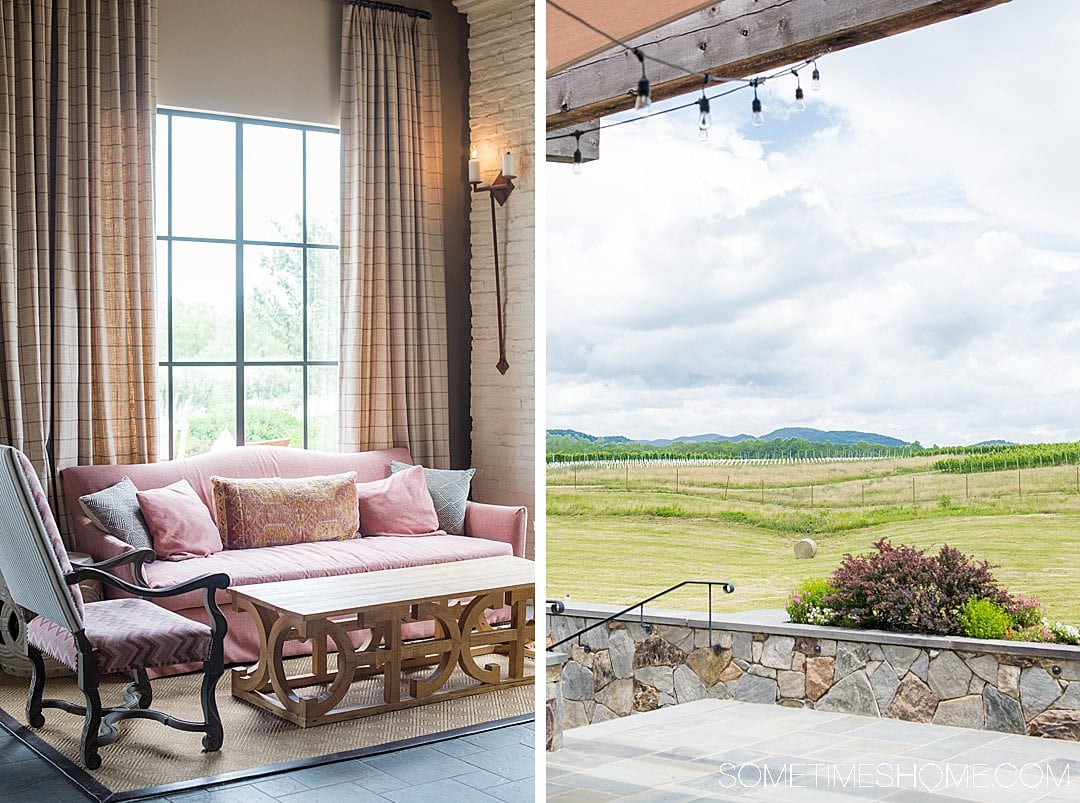 We made a reservation to sit outside at Early Mountain to enjoy the view off their back patio. The entire 350 acres is beautiful from the perennial flowers spilling out into the parking lot in the front of the tasting room to the view to the vineyards in front and back of the structure.
We ordered glasses of wine and salads as a guitarist played live music. It was a wonderful Sunday afternoon.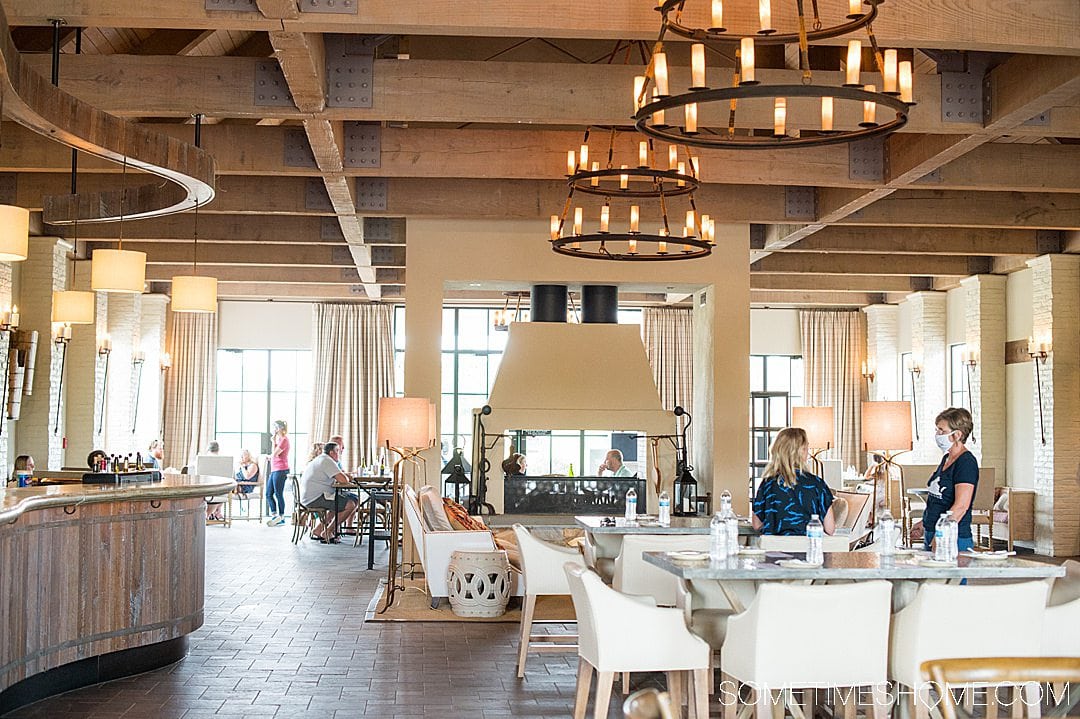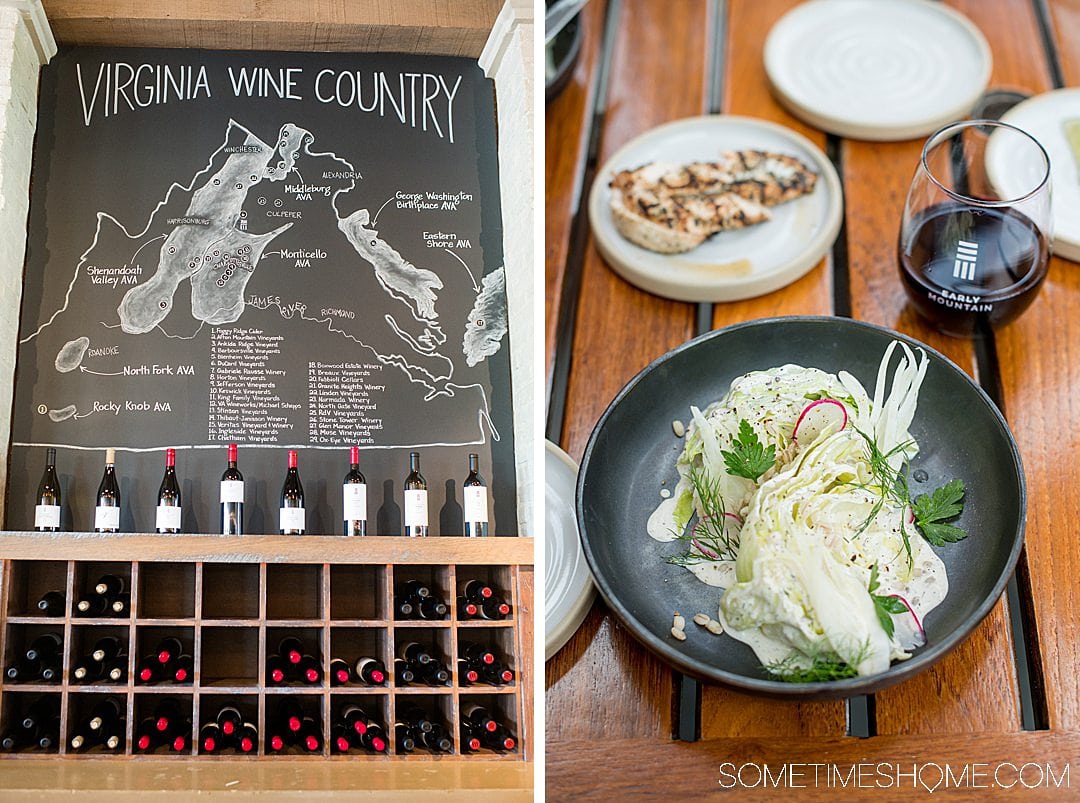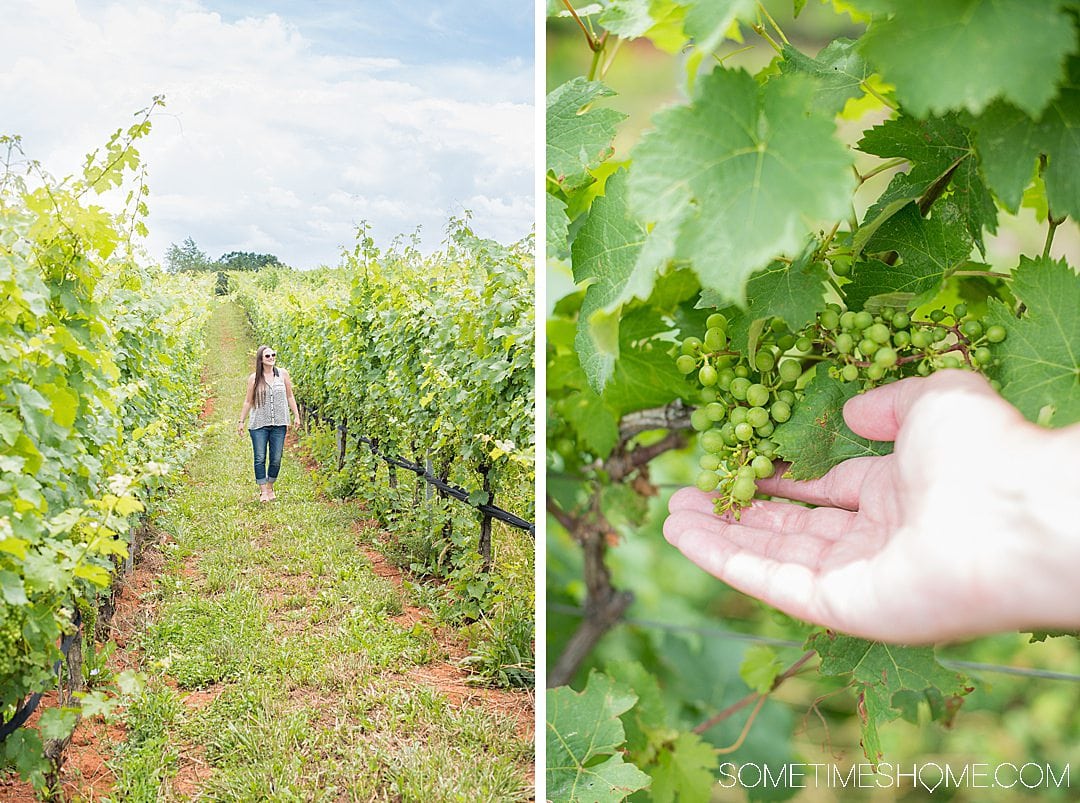 Address: 6109 Wolftown-Hood Rd, Madison, VA 22727
Our Weekend Game Plan to Visit the Best Wineries in Charlottesville
We did the following for our weekend in Charlottesville, Friday to Sunday, and it worked out to our liking. Here's what we did:
Friday: arrive in time for 1:00pm lunch at Veritas Vineyard
Friday afternoon: 3:30pm reservation for the verandah at Pippin Hill Farm
Saturday: Day to Explore Historic Charlottesville, including visiting Monticello, and enjoy Mount Ida Reserve
Sunday: morning at King Family Vineyards upon opening at 10:00am (brought cheese and baguette breakfast with us) and lunch reservation at 1:00pm at Early Mountain. (Reminder: it's an hour drive between the two.)
Sunday later afternoon: headed toward DC and Loudoun County
Heading to Charlottesville? Be sure to check out: