So many people wait to go to Hawaii for their honeymoon. Having been there, I can say I understand why it's a popular destination! It's not a short flight (about 10 hours, direct) and for most people that don't travel much, let alone outside of the continental United States, it's a once-in-a-lifetime getaway. And you do not need a passport to go there if you're a U.S. citizen.
As a wedding photographer I completely understand it's popularity for honeymoons and elopements; it's a tropical destination with plenty of activities to keep you entertained but plenty of beaches and warm weather to keep you relaxed too.
There's great restaurants, great sites and incredible sunsets and a strong sense of culture. But that's exactly why I booked my tickets and decided not to wait for a honeymoon occasion when the opportunity presented itself to visit my friend Sara in Oahu. I was "all systems go!" on Hawaiian airlines for October.
After searching a few airline options, routes and prices I booked Hawaiian airlines, direct roundtrip from New York's JFK airport. In total it was approximately $800. I opted not to book the "lei" upon airport arrival for the extra $15. Sara laughed at me and said, "I'll get you one! Don't add it on with Hawaiian." and so, P.S., I wore a lei for most of my trip to Hawaii! Proudly so. 😉
Tip: they sell leis in most grocery stores in Hawaii in a refrigerator with assorted floral items near the produce. Whole Foods has them too – I believe a typical purple orchid lei is about $8. They have fancier ones too for various increasing prices based on intricacies.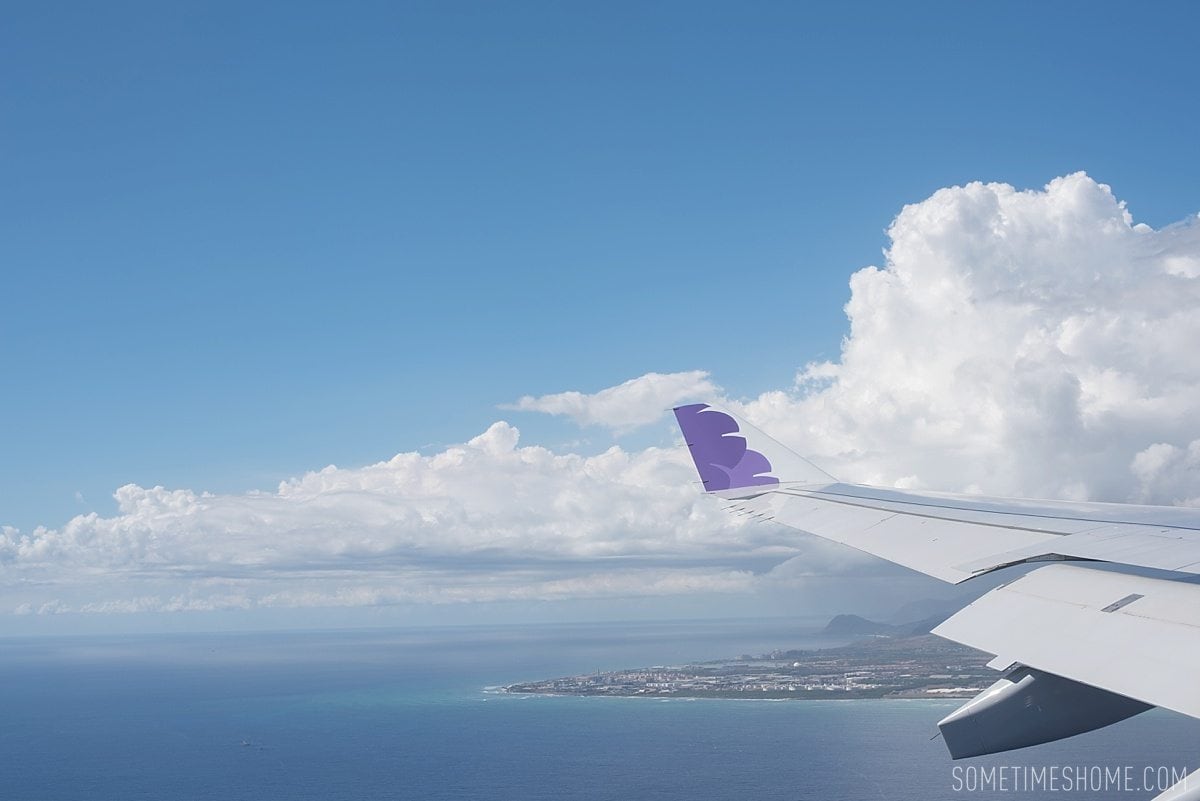 I spent about two weeks in Hawaii. The first few days were spent quiet, at "home" in Oahu. Both of us had a lot of work to do and a photo shoot in the works (check that out here and here.). I arrived on a Saturday and by Wednesday morning we were off on a flight to Kauai!
This is the base post for my trip to three islands.
* Oahu
* Kauai north end, Kauai south and east end
* Maui
Here is some general information for my trip:
I traveled solo to Hawaii. I was with my friend Sara in Oahu, half of my time in Kauai, and I was completely solo in Maui.
As mentioned above, I flew Hawaiian Airlines, direct from JFK. The airline was great; I recommend it.
There's a strong Japanese influence in Hawaii, due to its proximity to Japan. I was thrilled to see this, since I traveled to Japan in 2013 and truly missed the ability to get good, inexpensive sushi at 7-11. I'm sure you're thinking, "That's really weird, Mikkel!" But it's true – the sushi at 7-Eleven is great! And yes, Hawaii has some in its 7-Elven stores!
Hawaii is not inexpensive. I'm not saying it's expensive but it's certainly not for the hostel/backpackers of the world. (Though if you're a true "roughin' it" nomadic type person, I'm sure you already know you can rough it mostly anywhere.)
Don't forget to follow along on Instagram @sometimeshome and "like" on Facebook!