How a Skeletons Museum Piqued My Curiosity 
Staring at the vertebrae of an animal who perished, multiplied by hundreds of specimens, sparked my curiosity before I even stepped foot in the museum. I never thought I'd be standing in awe of so many skeletons in a city where I've lived and played in so many times before. But when this Orlando indoor activity, Skeletons Museum of Osteology, came across my radar I knew I had to visit.
Note that the Skeletons Museum in Orlando is now closed, unfortunately. There's one in Oklahoma City, which we realize won't help you in Orlando! But if you're ever that way, it's worth checking out.
If you are heading to Orlando we still recommend the I-Drive corridor and visiting Icon Park (linked below in "Location"). There's a Madame Tussaud's Wax Museum there as well as the Orlando "Wheel" Ferris Wheel and so much more to enjoy.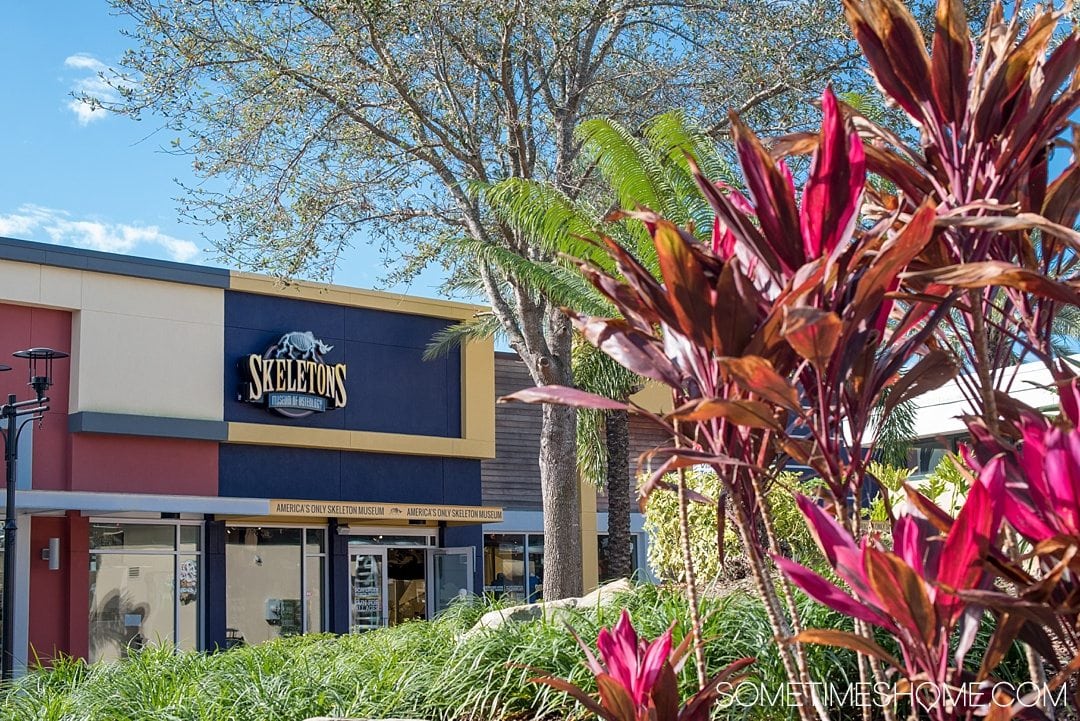 Museum Background
Someone with a passion for skeletons is the only one who can start a museum like this! The museum grew from a company called Skulls Unlimited, that was started by Jay Villemarette. His fascination with skeletons was born from childhood and grew into the flourishing business it is today. Skulls Unlimited is the leading provider of skull services, whether they're needed for a movie set or someone needs a skull cleaned. (I never thought I'd be typing that!)
It's imperative I note all skeletons were ethically acquired. There are a few signs in the museum stating their ethical position, that "no animal was harmed or killed for this museum." Most skeletons were donated (or the animal was donated after death and Skulls Unlimited expertly cleaned and preserved the bones for educational purposes) – even human skeletons were provided via donors.
There are two museum locations, with the original location closer to the Villemarette's home town in Oklahoma City, Oklahoma. When this location opened in 2010 it was the only skeletons museum in America. Five years later they opened a second location in Orlando.
It continues to attract visitors and achieve its goal of intriguing and educating people in a fun, informational way.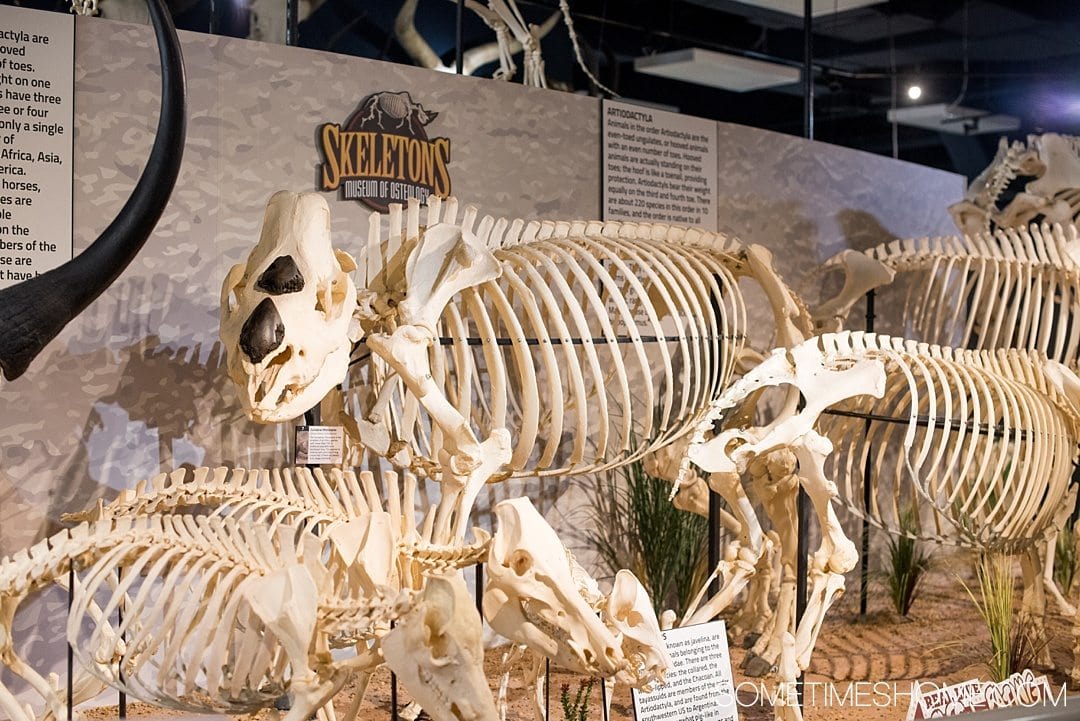 Location
The museum is conveniently located just "under" the Orlando Eye Ferris Wheel. It's a great location marker because you can't miss this massive attraction no matter where you are in the vicinity of the area. It's a new part of International Drive (lovingly called "I-Drive" by locals) named "Icon Park Orlando 360."
You cannot park next to the museum or drive onto the plaza but there is a free parking garage right next to it. Signage makes it easy to find and it's literally right next to it all.
I-Drive is very easy to get to via car or Lyft/Uber/Taxi/Car Service via I-4 (interstate) and just a few main roads off the nearest exit. The photo below is visible from the street, and the photo below that with the "Arcade" sign is what you see when you come out of the parking lot to walk to the attractions, restaurants and shops there.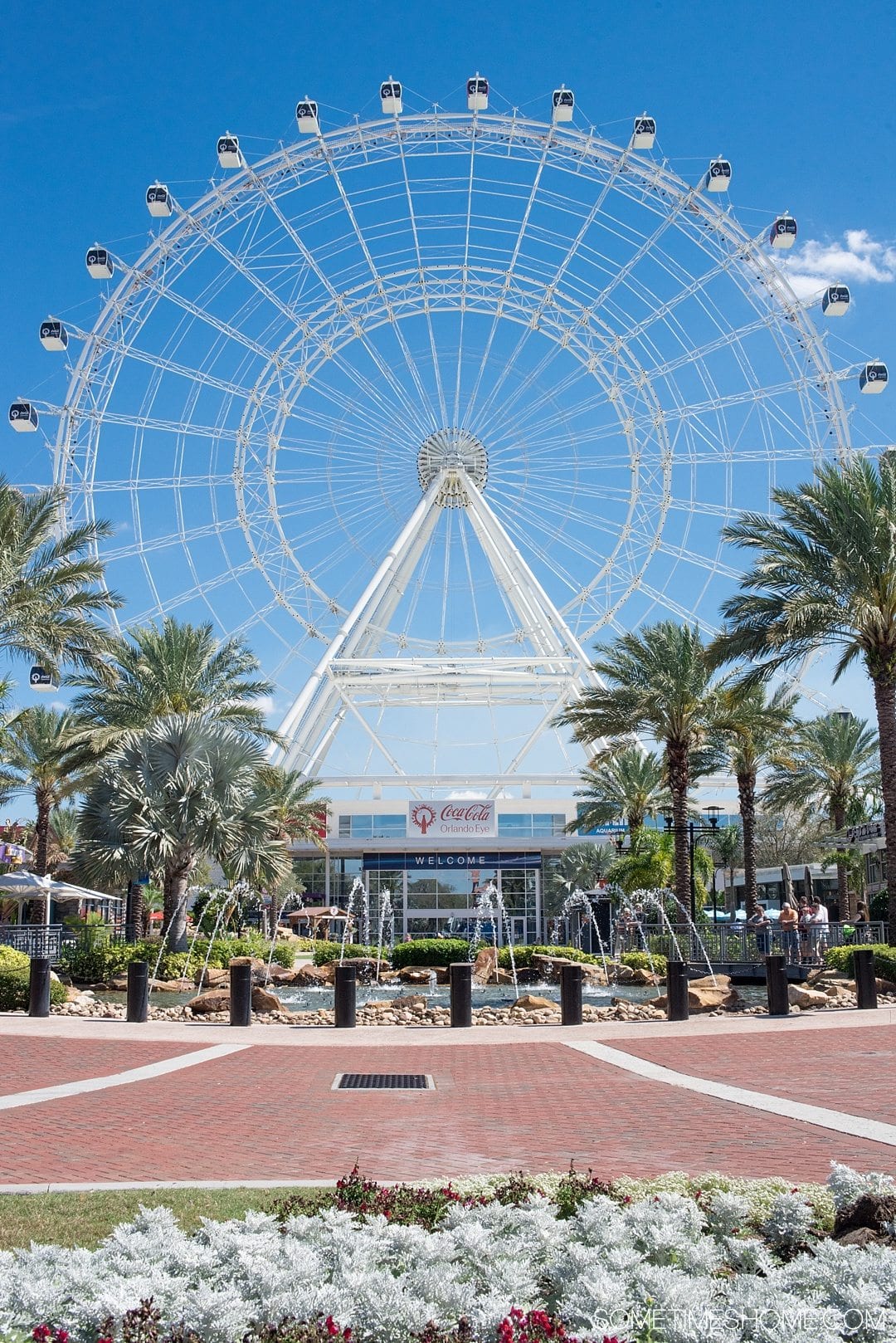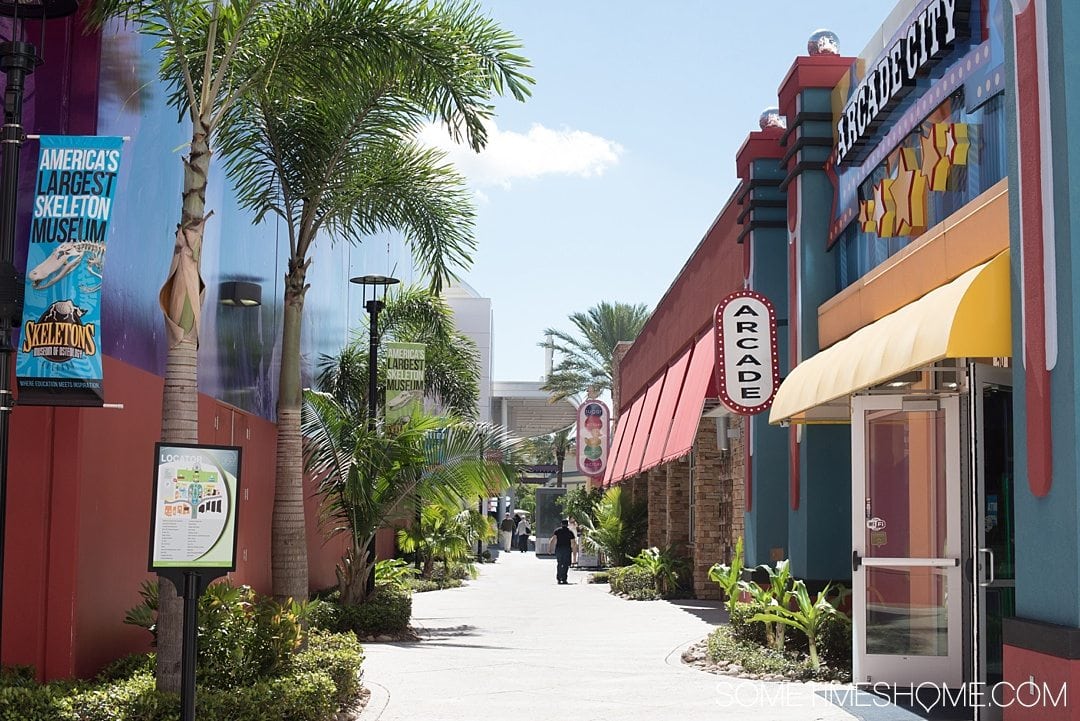 The Museum Specimens
I showed up bright eyed and bushy tailed, as they say, ready to learn. From the moment I came across this Orlando indoor activity my curiosity was piqued. I'd never seen a museum like it. Sure, I've encountered a skeleton at the occasional history museum a la pre-historic dinosaur bones but never modern animals – and in such a capacity!
The museum has modern bones so you will not find dinosaurs here. Yet, you'll find about hundreds of even more fascinating options. From the massive African Elephant twelve-foot skeleton (with real tusks) to the thirteen-foot giraffe, to the woman's skeleton whose spine was curved at a 90 degree angle, you'll learn something at every turn. (Would you believe the bones, alone, on their elephant, weight 1,500 pounds?)
There's only about 20 replicas at the museum, including a few extinct animals. All replicas are easily spotted with a "blue dot" indicating so on a sign next to the specimen.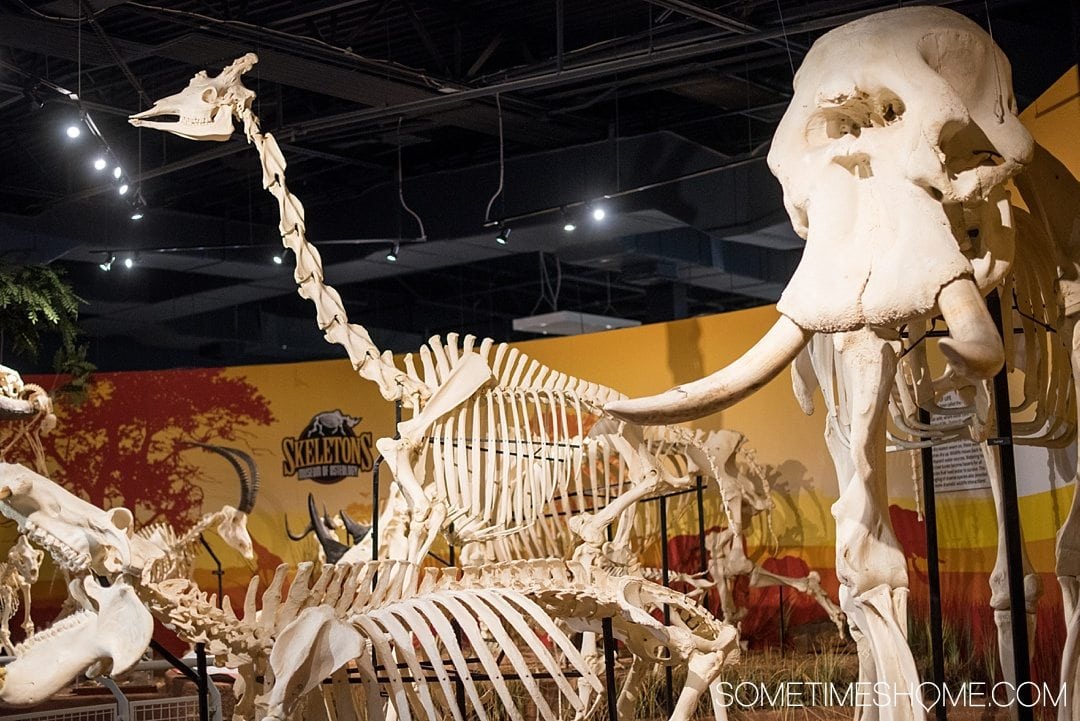 My guide, Hannah, was so passionate about the animal kingdom I couldn't help be be inspired. I asked many questions and she knew all the answers! I learned that the "unicorn horn" on a Narwhal is actually a protruding canine tooth! (Pictured in the image below.) I learned a lot about the structural differences between predators and prey, including the shape of their skulls and that predators have eyes in the front of their head and prey on the sides. Even the size of a skull's eye sockets can teach the viewer that the animal was most likely nocturnal, hence having larger eyes.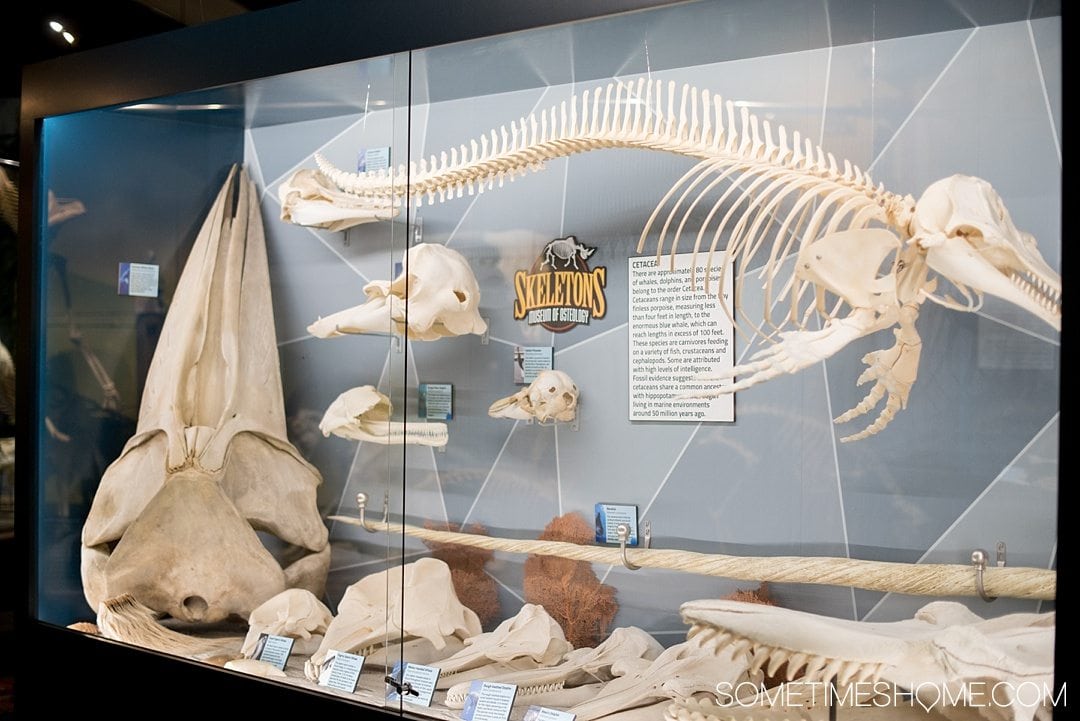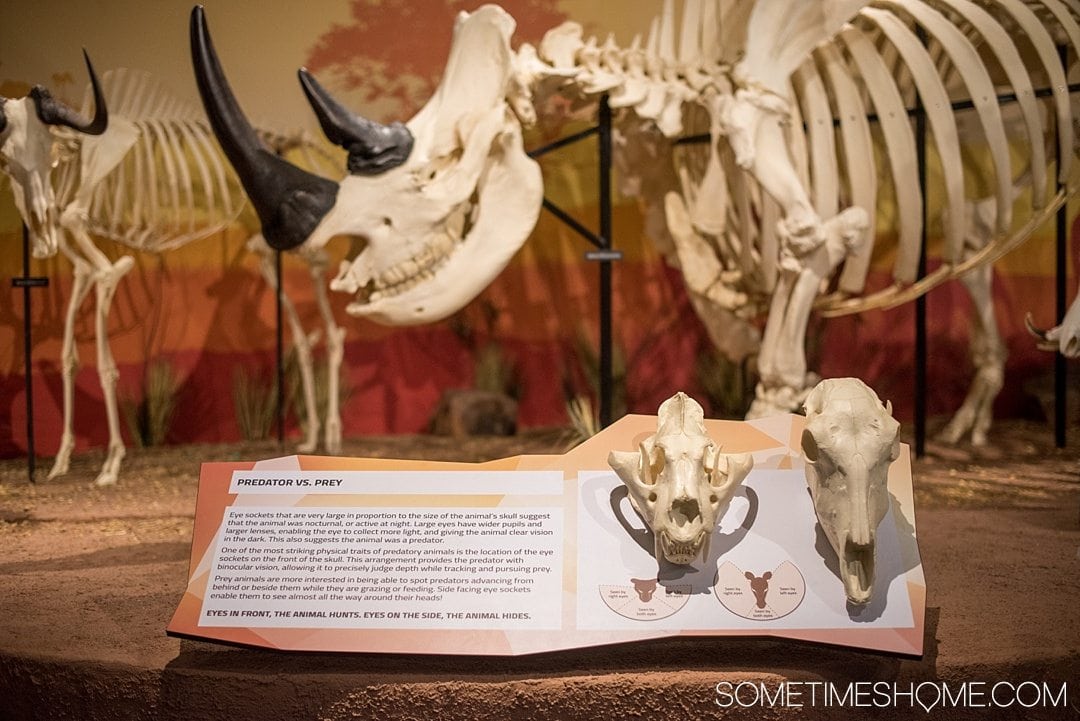 There's a section of the museum that shows how the skeletons are cleaned once they arrive to Skulls Unlimited. I did not realize that specific bugs are the best way to clean them, and that the bones go through several chemical baths to whiten the skeletons and preserve them.
How cool is the skeleton of a flamingo, below on the right? Viewing skeletons at the museum really taught me peeling back the layers of animals anatomy (literally) reveals so much about creatures and how we're all related. It also vastly increased my knowledge of how many animals – from dogs to dolphins – get around.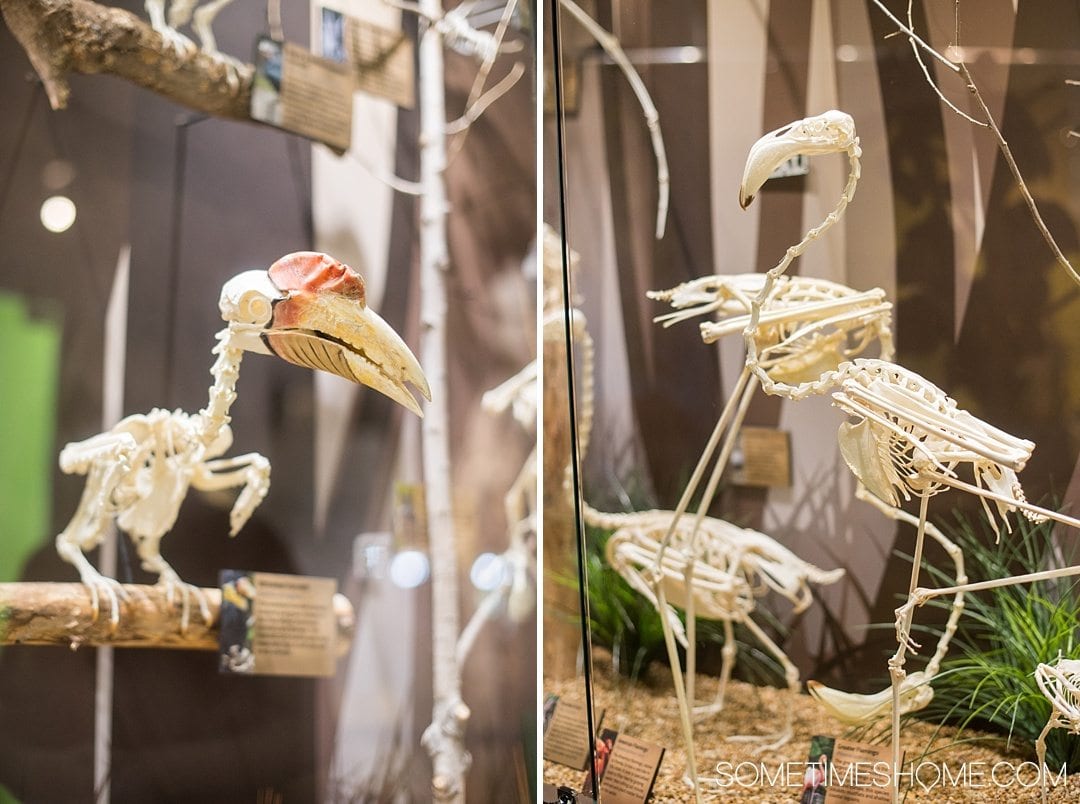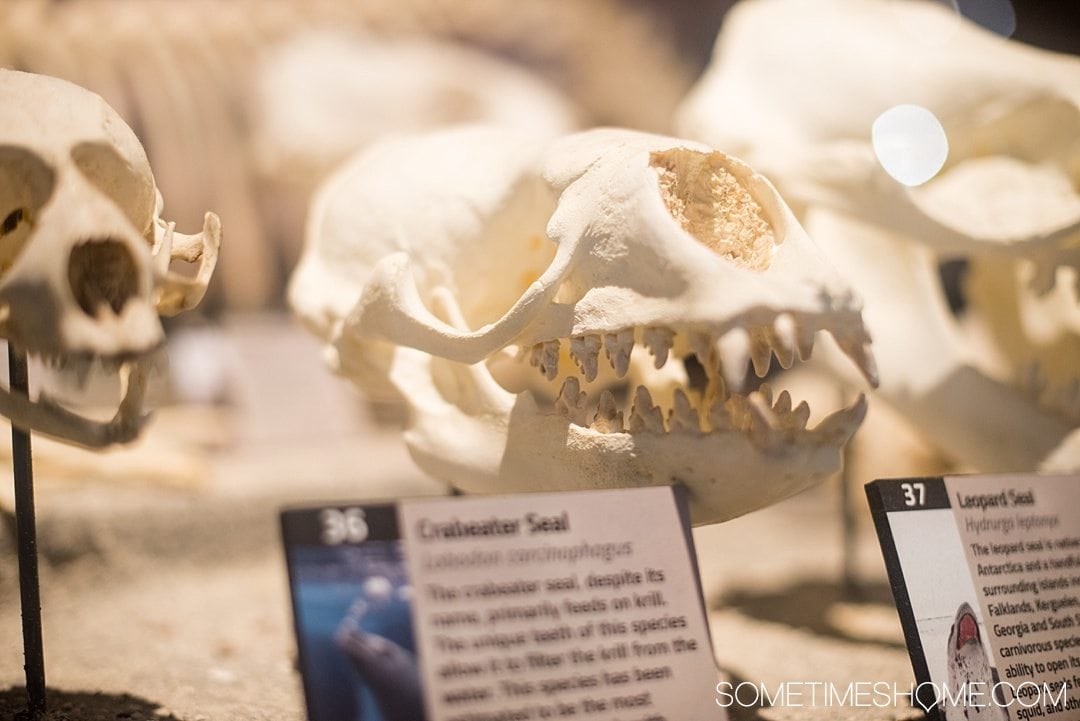 **Be sure to pick up a scavenger hunt sheet at the front of the museum, right after the turnstiles, if you are with a child from Kindergarten through twelfth grade. (Or you're simply curious to participate yourself, as an adult!)** They have various sheets to ensure you don't miss a beat, including questions like, "What are 3 differences between horns and antlers?" I learned that too!
Practical Visitor Information
Operating hours are everyday, 365 days a year, from 10:00am until 10:00pm. Easy peasy! This Orlando indoor activity for adults and children is good from morning until night. It's a fun museum to visit any time whether it's sunny or raining. (Especially to shield yourself from those HOT Florida days!)
Ticket prices were just under $22 for adults and under $14 for children.
I highly recommend paying a little extra for a dedicated guide to take you through the museum. I think I enjoyed the experience even more because I had Hannah by my side, taking me from exhibit to exhibit. Having conversations with her to better understand what I was looking at enhanced my time there.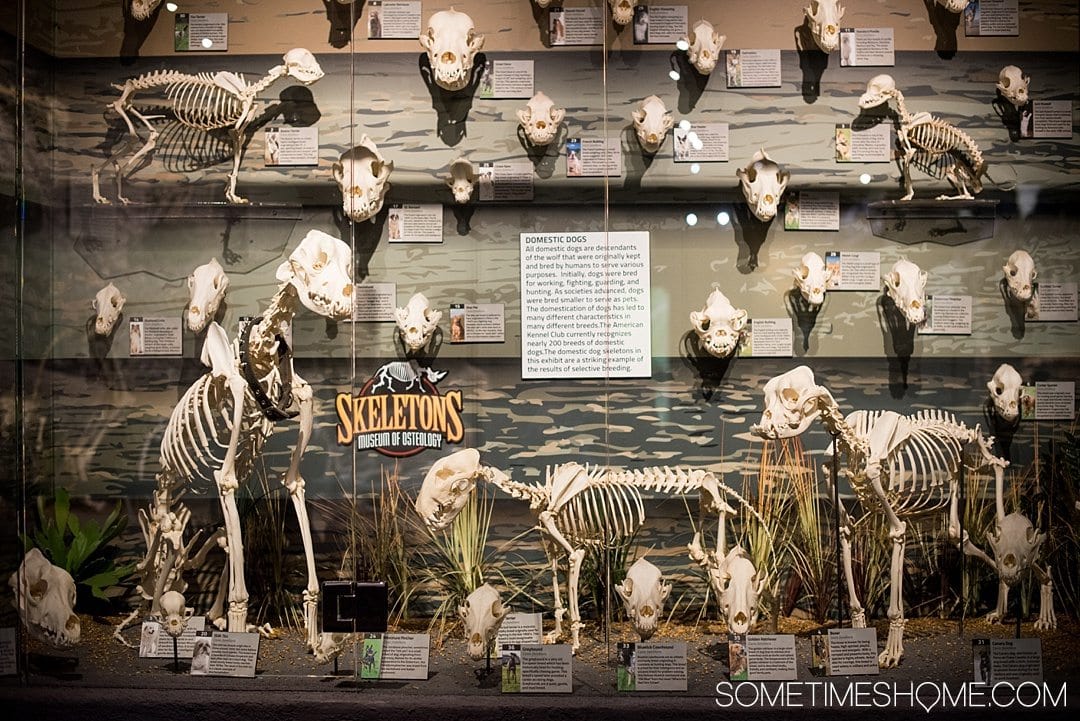 The Gift Shop
I've got to say if you like things like bones and crystals this is a super cool museum. I rarely say this about gift shops but the tank tops and t-shirts were great, the tumbled gems brought me back to my "rock collecting" days and there were real bones – both small and large – available for purchase. Even if you don't go into the museum (but of course, you should!) you can visit their gift shop when traveling to Icon Park.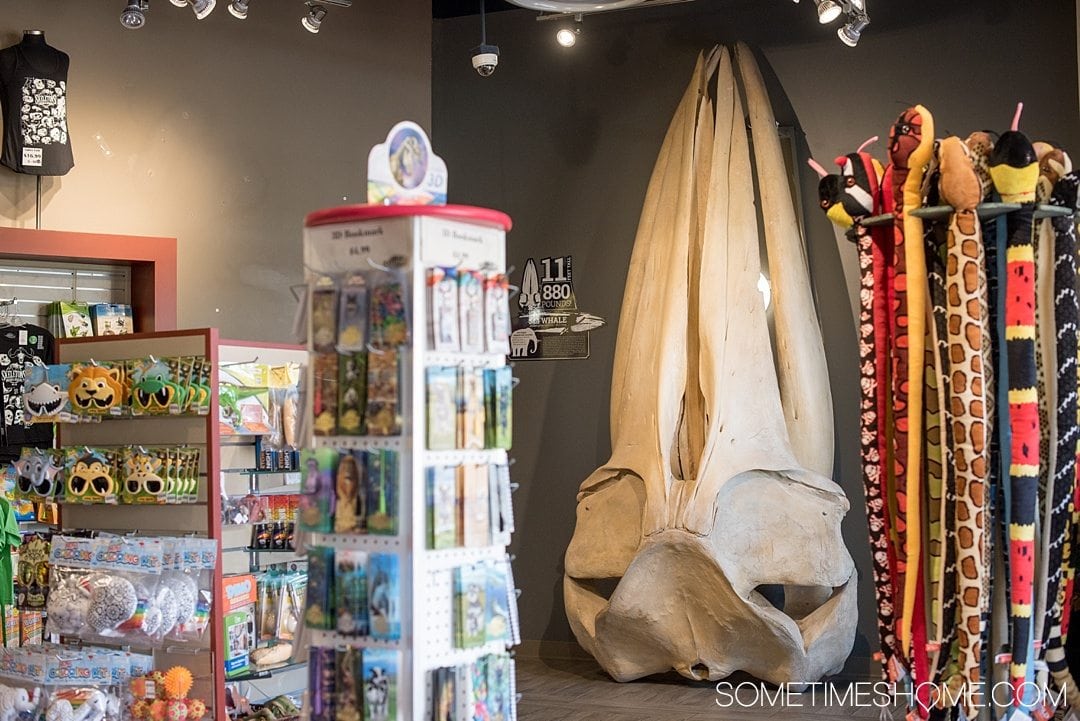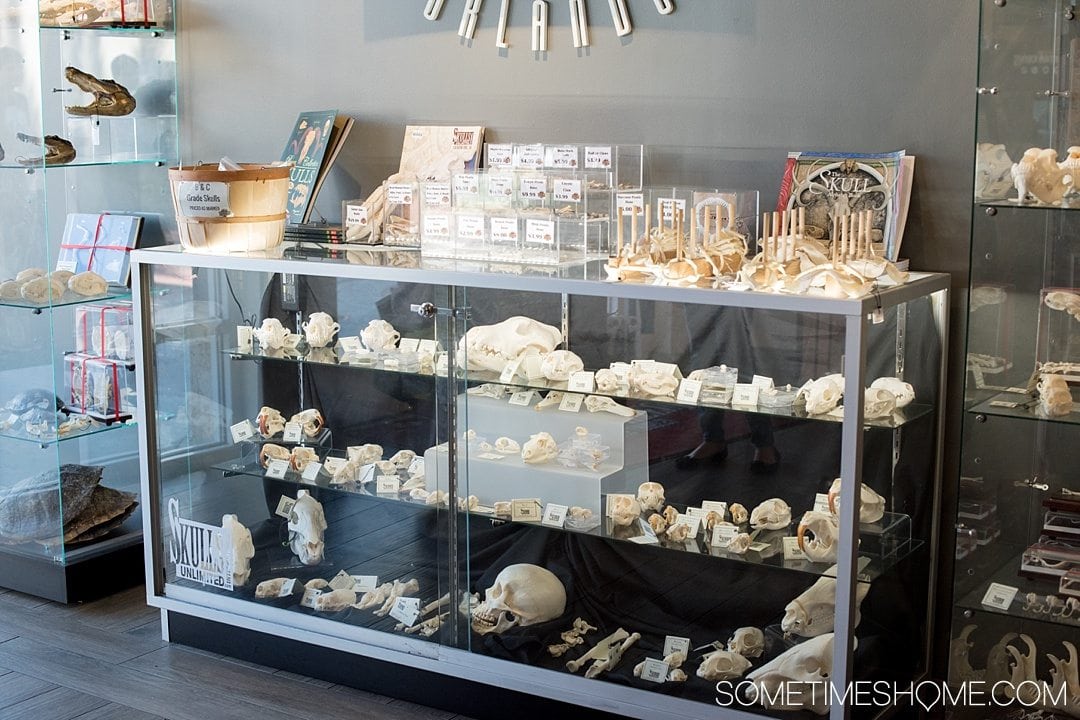 More to Do in the Area
There's a lot more to do at Icon Park. If you go to the museum in the morning, when they open at 10:00am, I recommend staying for lunch. There's over ten restaurant options when you walk out of the museum door like Shake Shack or Sofra Mediterranean Grill. You can also do something smaller like grab an ice cream at Ben & Jerry's. I suggest going to a restaurant to enjoy happy hour specials after your museum visit if you go later in the day. Some places have happy hour as early as 3:00pm.
I realize a lot of people travel to Orlando for theme parks, like Walt Disney World and Universal. But I have to say, Orlando's really upped its game over the years. I-Drive is a very strong options for locals and tourists to visit. I highly recommend tacking on another day or two if you're visiting the area to take advantage of all the area has to offer like the Skeletons Museum of Osteology. Spend half a day at Disney Springs, enjoy your hotel pool for some extra rest and relaxation and be certain to include this indoor activity for adults and kids on your schedule.
Please note: we thank Skeletons Museum of Osteology for generously hosting us. All the opinions in the post are ours and we bring you genuine content with real facts, photos and thoughts. Always.
For more to do in Florida check out:
Have you experienced a museum like this?