Travel • Europe • Amsterdam, Netherlands
There's much more to Amsterdam than pot and prostitutes. I know, most of you are shocked to hear this as the legality of marijuana and brothels there is what seems to be most interesting to Americans. Though when I think of my two days in this great city what comes to mind is its system of canals, unique brownstone architecture, street art and the best french fries I've ever had. The red light district and weed are low on my list. (Sorry to disappoint.) If you want to have your eyes opened to the Amsterdam you didn't know about but is probably closer to the truth, read on…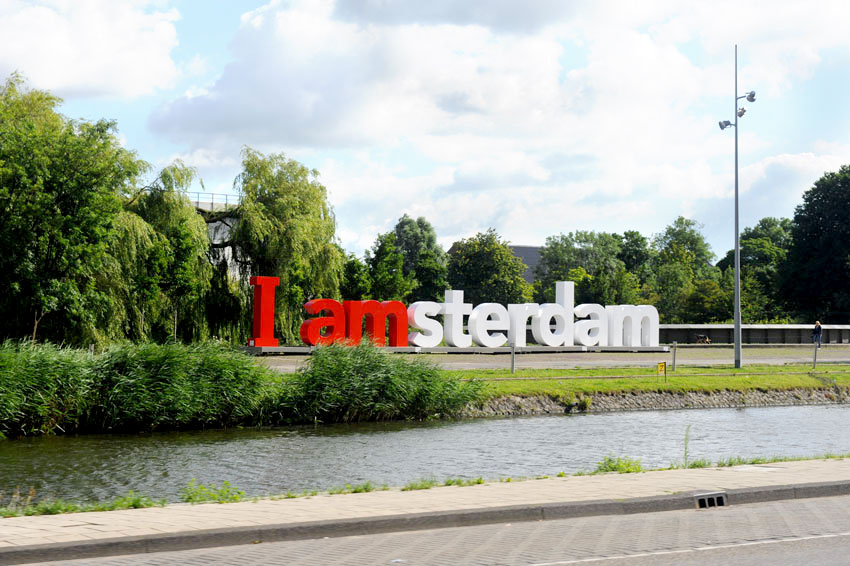 Have you seen the sign above on Amsterdam advertisements? I have too…and I was excited to visit it! Unfortunately, while it's a cool sign, I could only snap a photo of it while on the bus en route to the city center. From what I could gather, that sign is really inconveniently located. But I suppose if you had more than two days there you could add it to your visitor list. I was happy to get that photo at all though.
The exterior of the train station is really beautiful. I traveled to Amsterdam via train from another European city, and this is where you end up. The inside has a couple of unassuming shops but the outside's great. From there I traveled everywhere by foot or bus. I absolutely love taking public transportation in new cities. It's such an ingrained part of a culture and, as an added bonus, you save money (rather than taking cabs). You really get to know more of the city this way too. I thought the souvenir clogs below were so "Netherlands" (hehe) and I am always taking photos of the street signs in a town to remember even the smallest details that define the design of a city.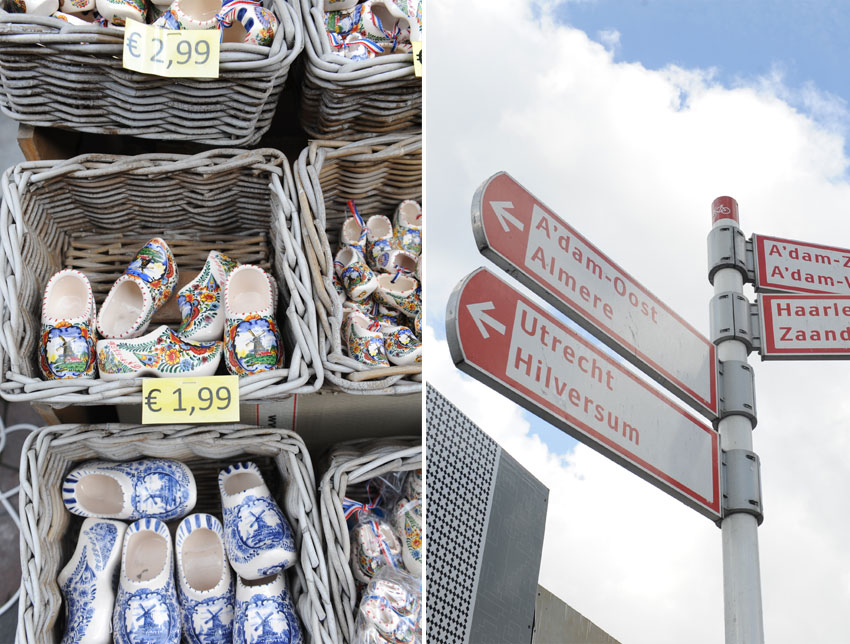 It's nearly impossible to go to Amsterdam without planning a trip to Anne Frank's House, or "haus" in Dutch. The great thing about this museum is it's often open very late. So when I arrived in Amsterdam around 6pm, I still had time to drop my things at the hostel and take care of some sight seeing. You're not permitted to take photographs inside, but I have to have say it's very well done and you really feel a connection to the situation and to Anne Frank's struggle during the war. It's not-to-miss with good reason.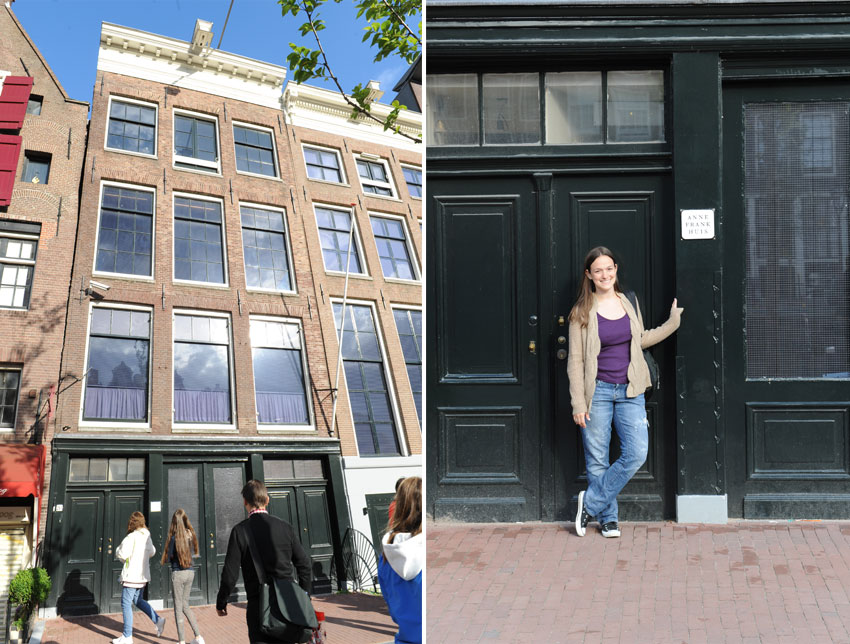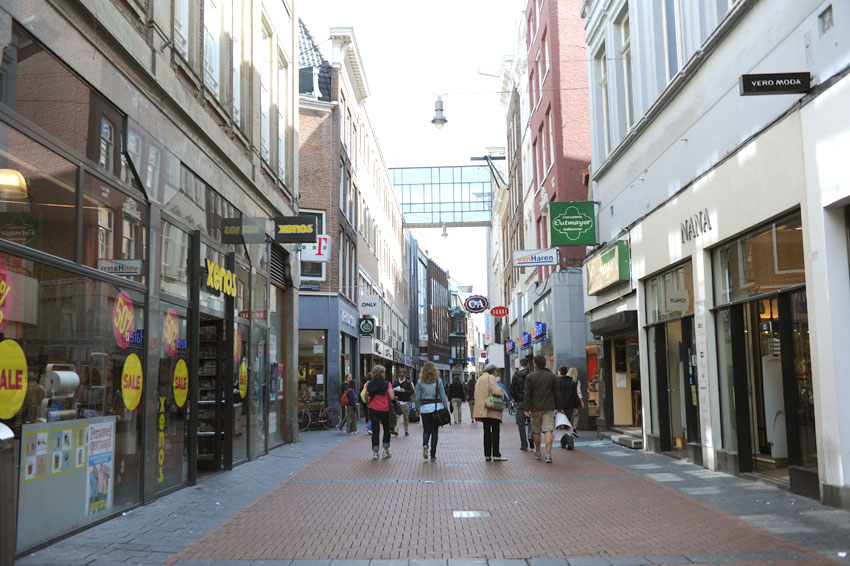 It's important to get photos of the feel of the city overall, if you ask me. Above is a shopping center I accidentally hit up. No joke…I don't love shopping for clothing but hey, if you hit the jackpot somewhere you just hit it!
Instead of a sit down dinner I decided being on the go to cram in more attractions was best (this is very typical of how I travel). Besides, I hadn't heard that the food in Amsterdam is amazing and overall I still don't think it is…however Chipsy King was INCREDIBLE! I know, they're just french fries. But I swear the fried potato sticks and curry ketchup dip I opted for changed my life. They're at the top of my list for best things I've ever eaten. They were so good I got more the next day to enjoy on my canal boat tour. (There's a few locations in the city but one is in Dam Square, which is where I went the first time.)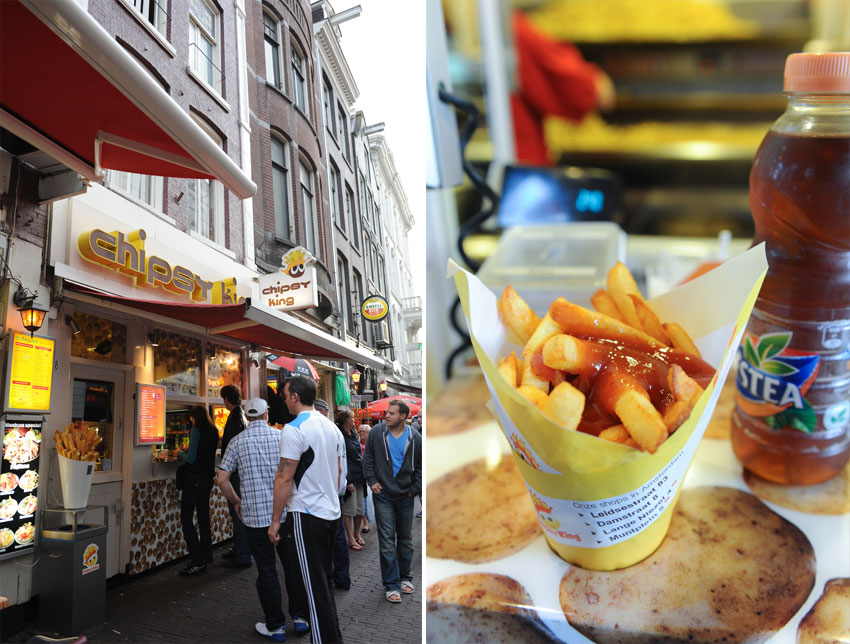 Dam Square is incredibly well known. It's a popular meeting place….maybe because it's close to the Red Light District? Hmmm….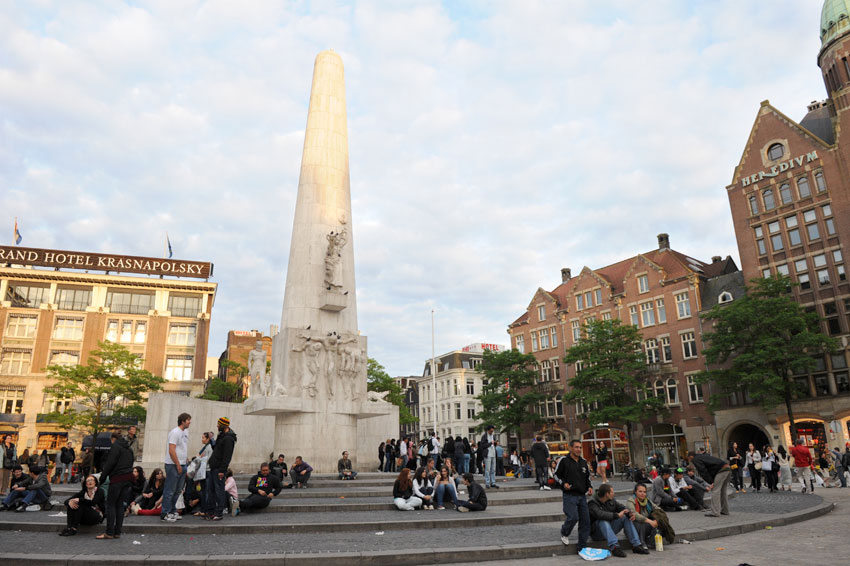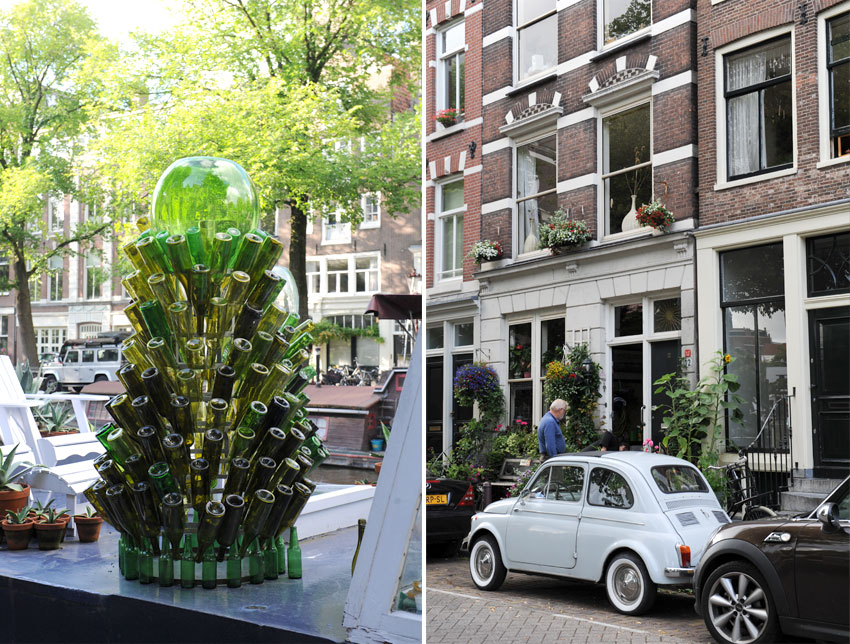 It's great to meander through the small streets of Amsterdam and up and down its canals. The beer bottle art was just something I stumbled upon while strolling through the city, as was the adorable little blue car! All these things add to the charm of the city.
When evening came it was time to hit up the Red Light District! I was actually in Amsterdam with a tour group of about 12 people so a few of us hit the district together. The railing below is one of my favorite things I saw in that area. Clever, right?
The Red Light District was a lot cleaner than I envisioned (in terms of garbage on the group and feeling gritty and grimy, not from a sex appeal standpoint…ha!), but maybe that's just the opinion of someone visiting from New York City. Seeing all the women in the glass windows and doorways trying to lure in their next customers was wild. Excuse me for this thought, but I kept thinking they were all going to break out in a choreographed Broadway number. I still laugh thinking about it. Out of respect for them, I didn't snap photos.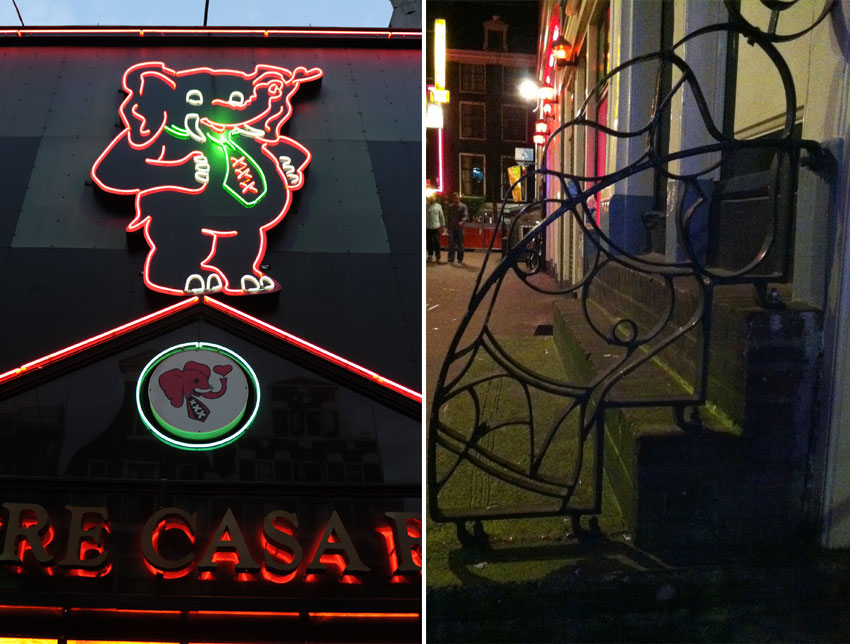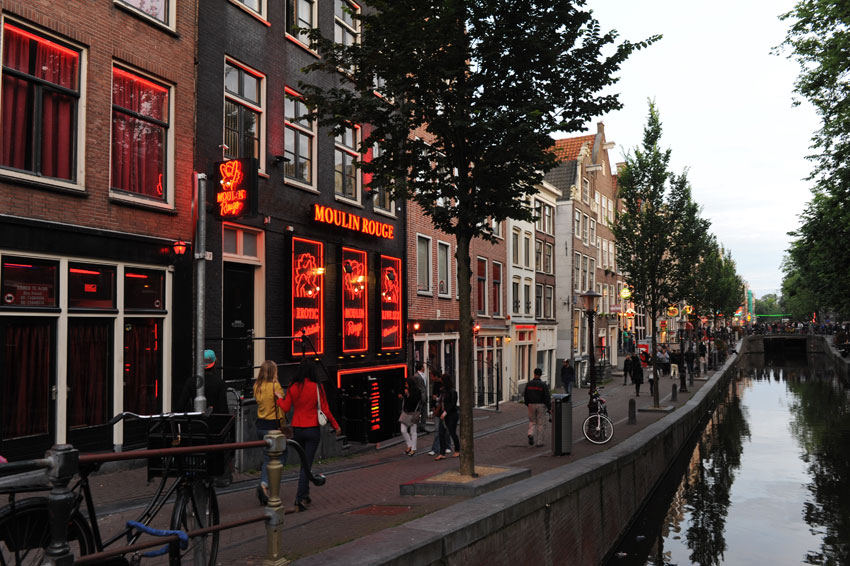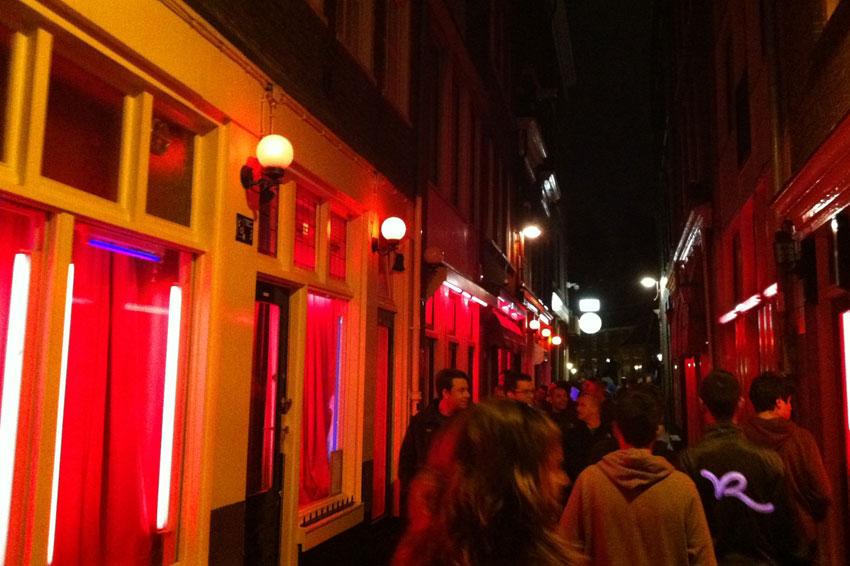 I was excited to explore the streets some more the next day and stumble upon great signs and street performers in amazing costumes. (I did encounter Batman too but I left him out of this post as to not draw away from the amazing warrior below.)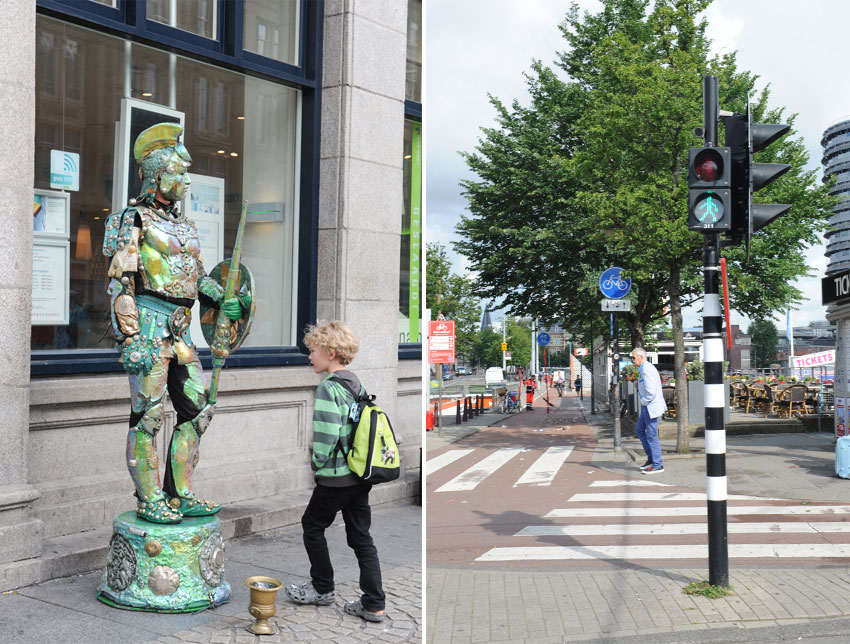 How funny is the pick pocketer sign below? Yes, beware..but still. It's funny.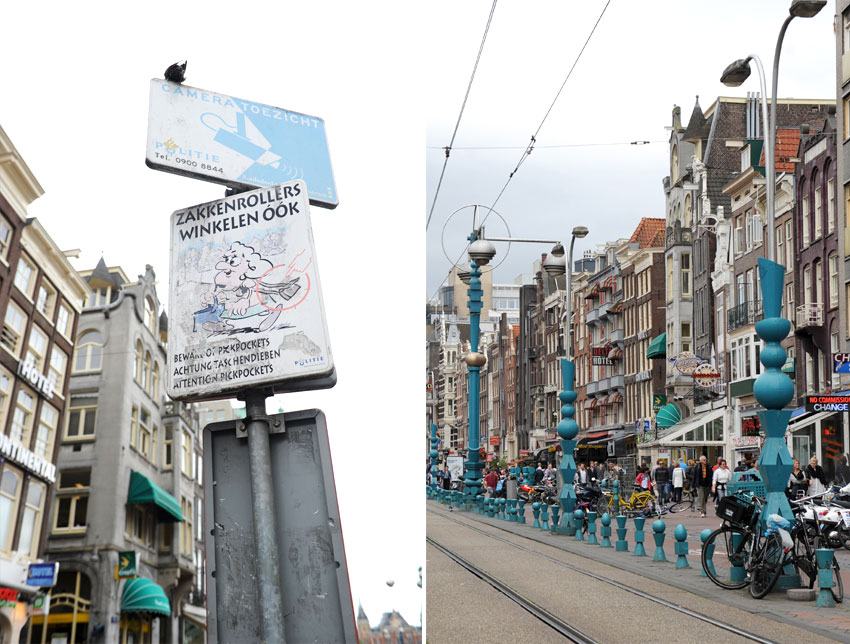 Churches in Amsterdam are not nearly as ornate as those in most well known cities throughout Europe. I went back to Dam Square the next day to visit the New Church, or Niuewe Kerk. It fairly bare inside but there were a few gems to admire like its stained glass windows and amazing wood carvings. If you look close enough there's usually something beautiful to behold at most attractions in Europe.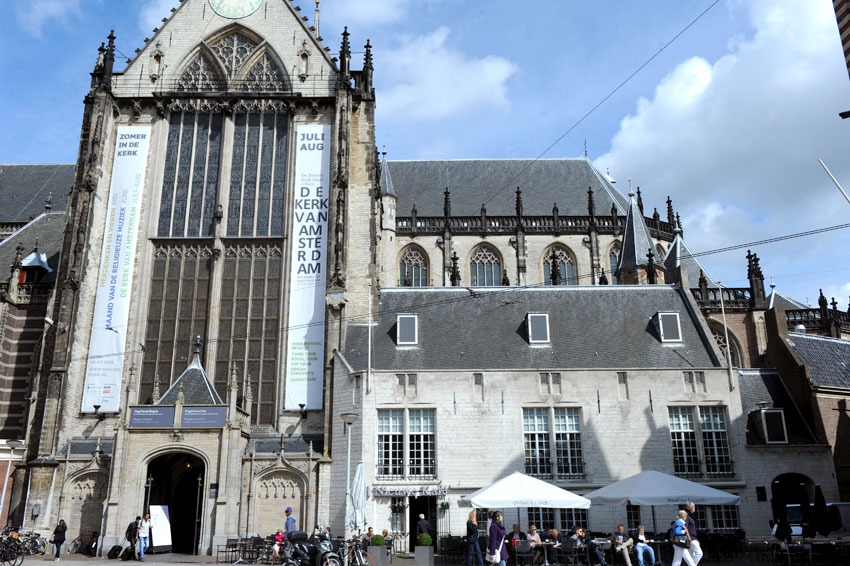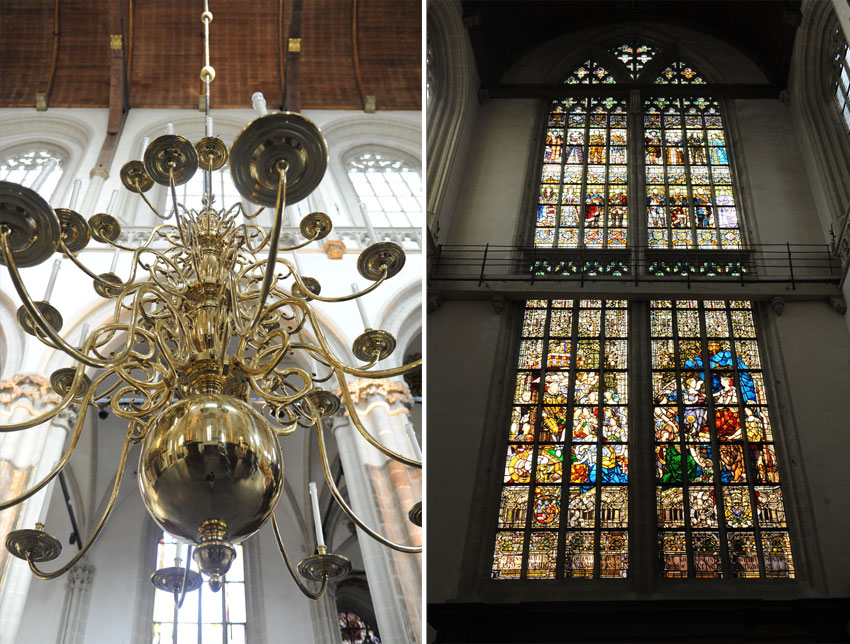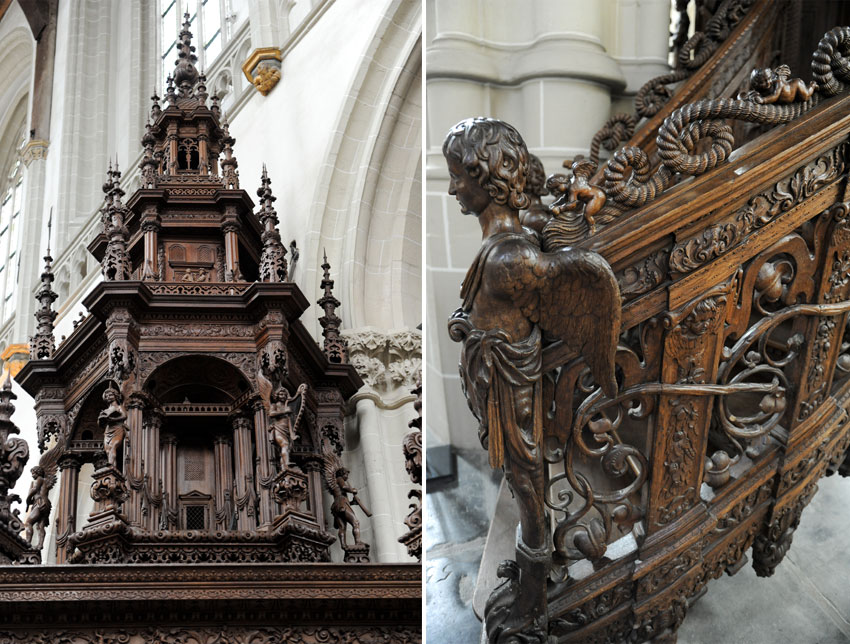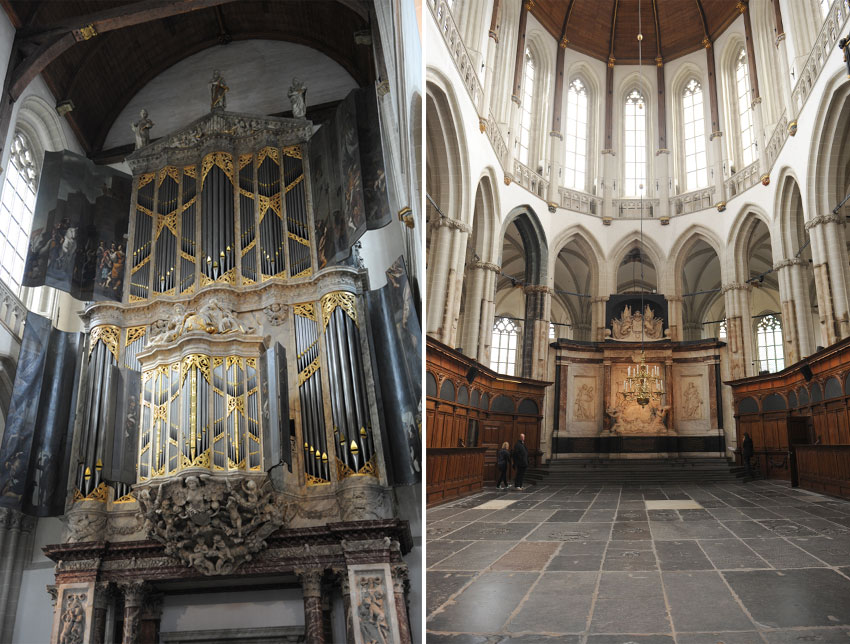 I was looking forward to a canal tour. If anyone recommended anything in Amsterdam they recommended a canal tour (aside from "smoke pot!").
It's important to realize the layout of Amsterdam and why its canals are so important. Its history is one of a trade hub and even today the canals are important to the culture of the city. Amsterdam is like a U-shaped system of waterways: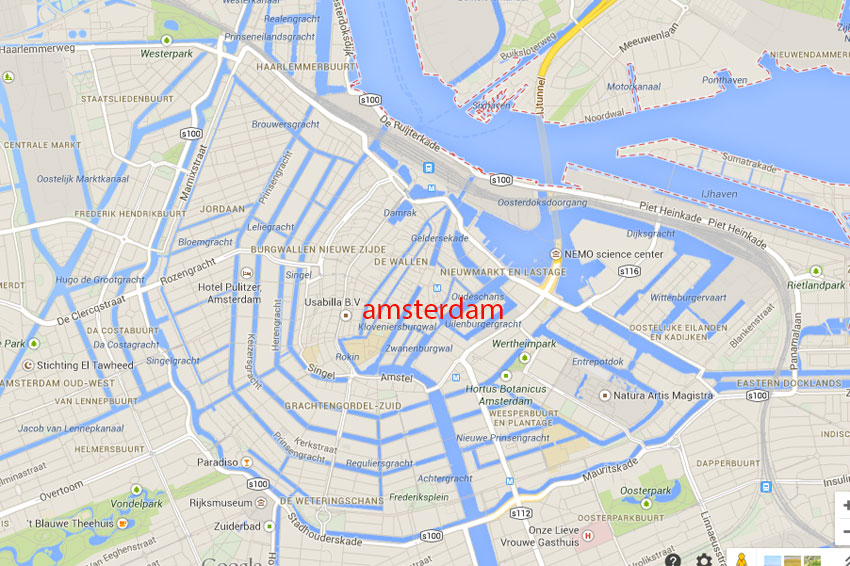 It was important to me to find an open-air boat (otherwise they're all enclosed and what's the fun of that – it's especially a setback for photo taking) so I found the only one and ended up having a private tour, due to the inclement rainy weather. Rain never hurt no one! Henri (my captain and guide), me and my Chipsy King fries (round 2) boarded the boat for a memorable one-hour tour.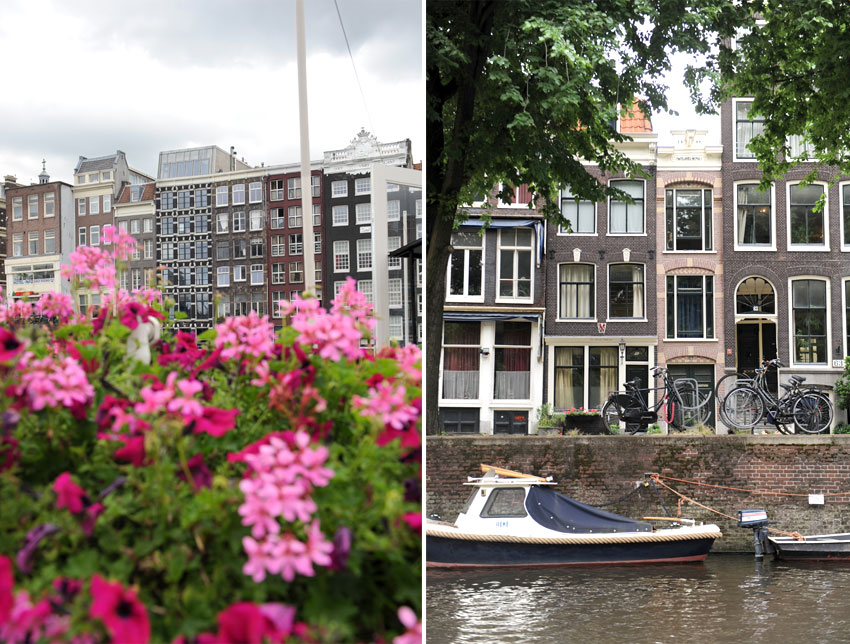 Seeing the facades of the city's homes from the water was the best way to view them. There were super slender homes (like the one above that I was informed was the thinnest home in Amsterdam) and wider warehouses to admire. Some are so structurally unsound that you can see them leaning (even though people still live inside).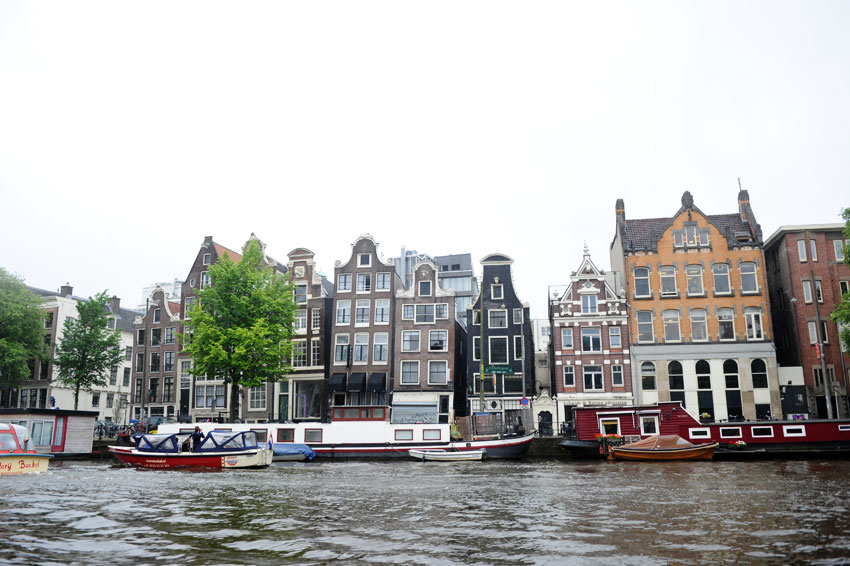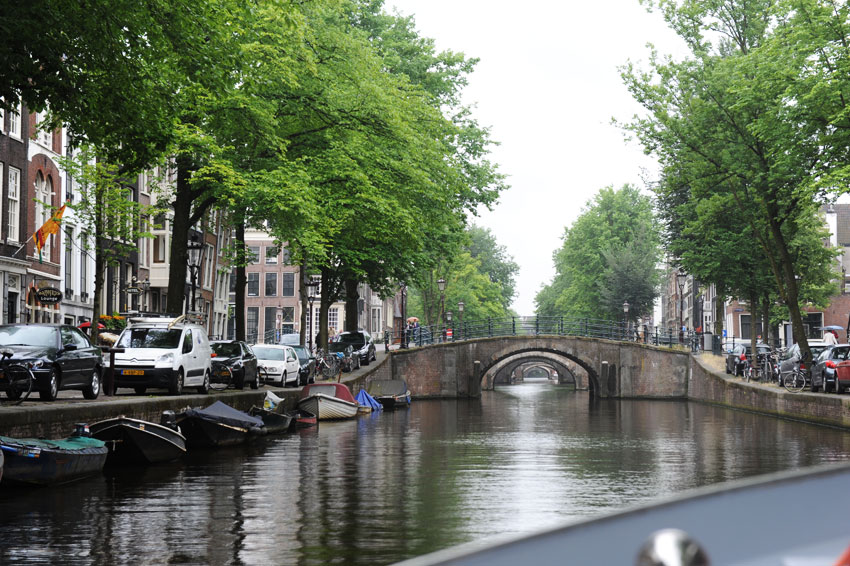 The passageway above is one where you can see seven bridges in a row. Below is an example of one of the many boat houses that line the canals.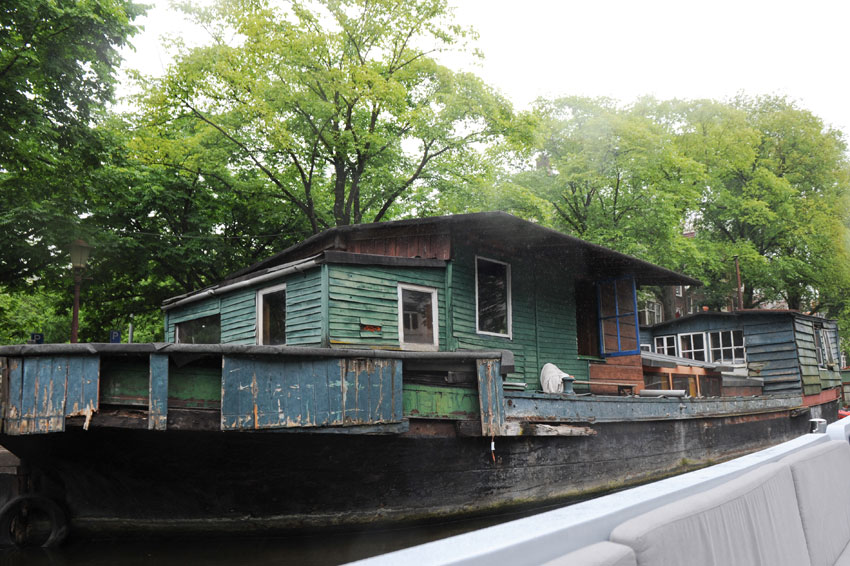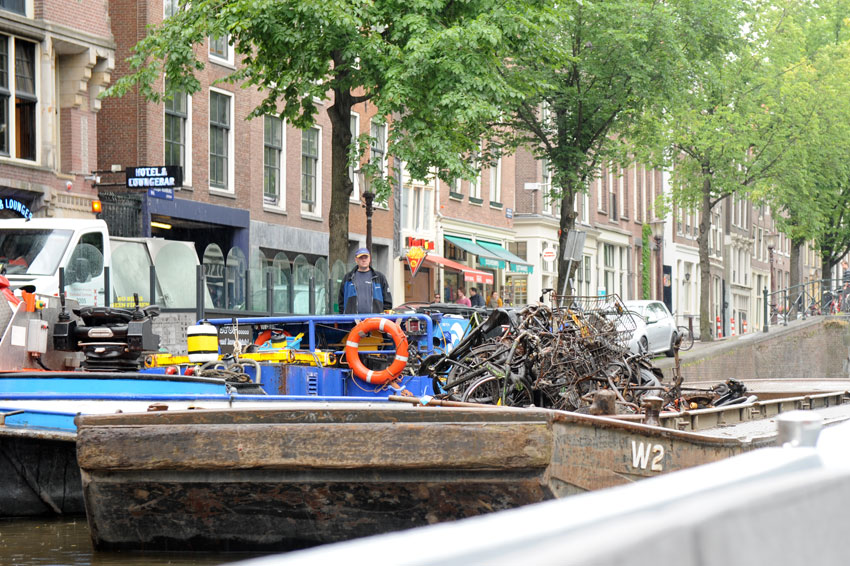 My guide and captain told me hundreds of bicycles are cleaned out of the canal each year. That's what they're doing in the photo above. Whoa.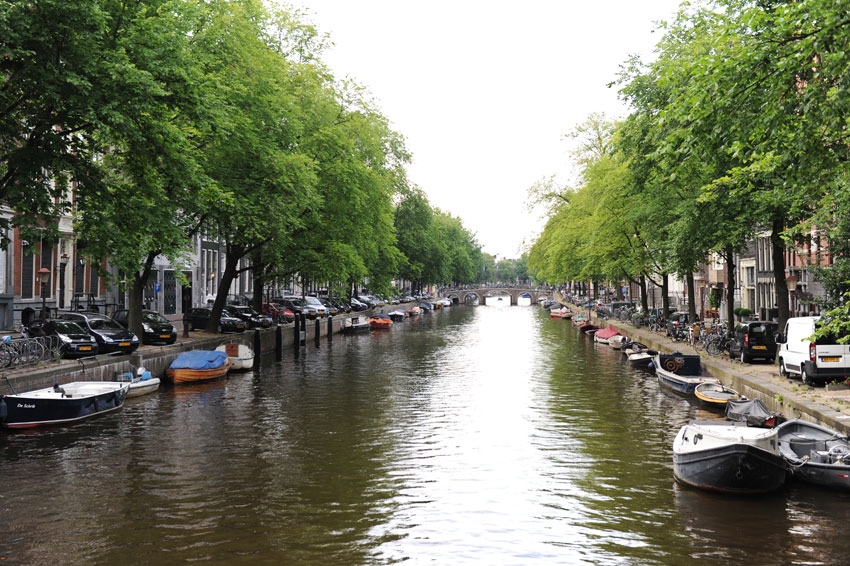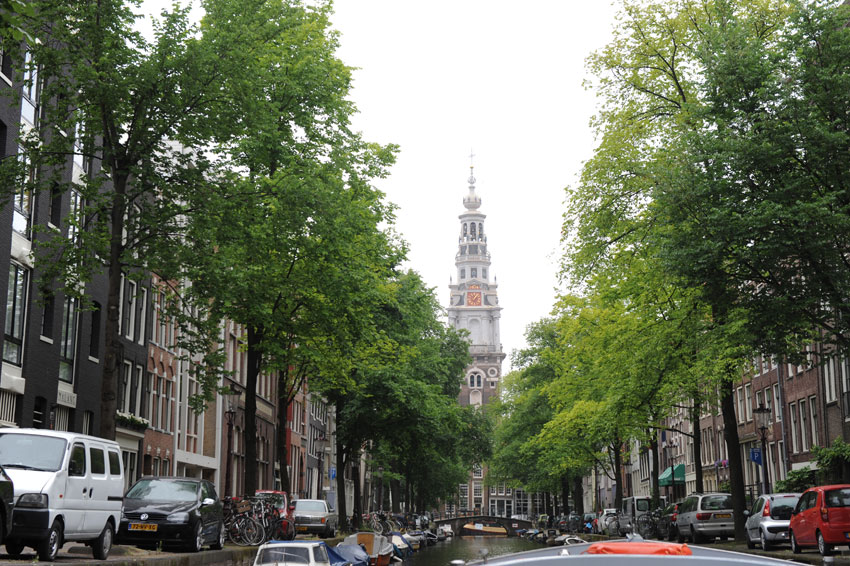 This has got to be the most beautiful view of Montelbaanstoren tower the city has to offer if you ask me. It was built between the early 1500s and 1606 (wow…) and served as a form of defense against invaders. Today it is home to Amsterdam's Water Office.
The best advice I got the entire trip ended up being from Henri, letting me know about the public library. It was the best place to be when it was pouring (and it was pouring at this point) to rest and have some tea and cake at their cafe, La Place, and enjoy the incredible aerial view of the city. (It's a free thing to do if you are so inclined to not deprive yourself of this awe-inspiring view, even on a clear day.)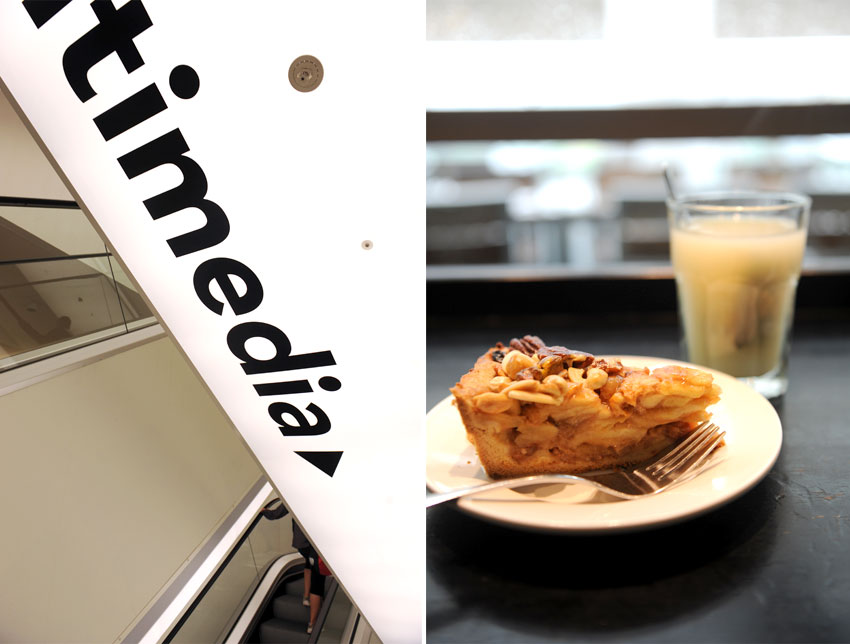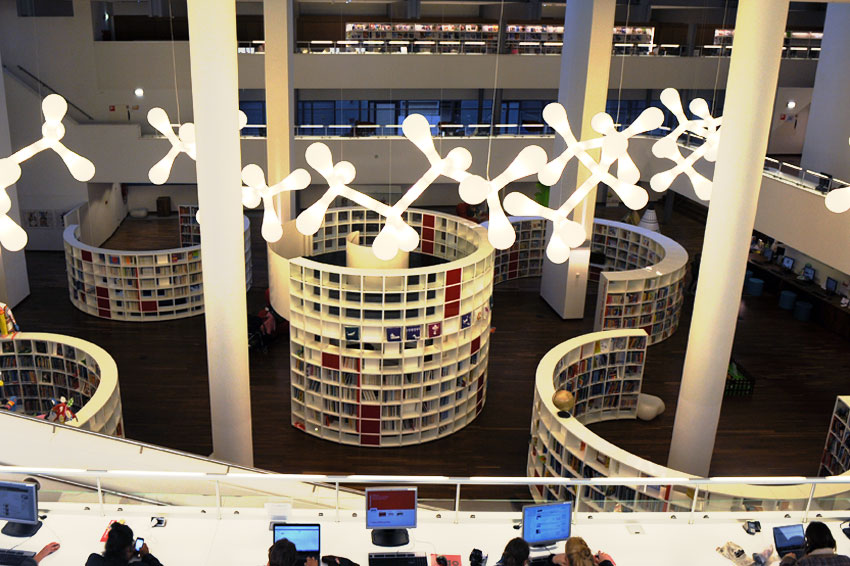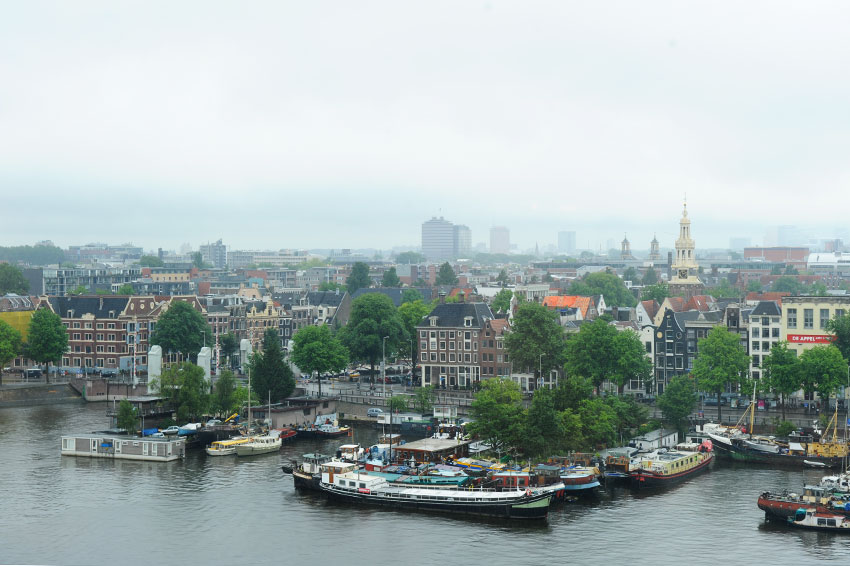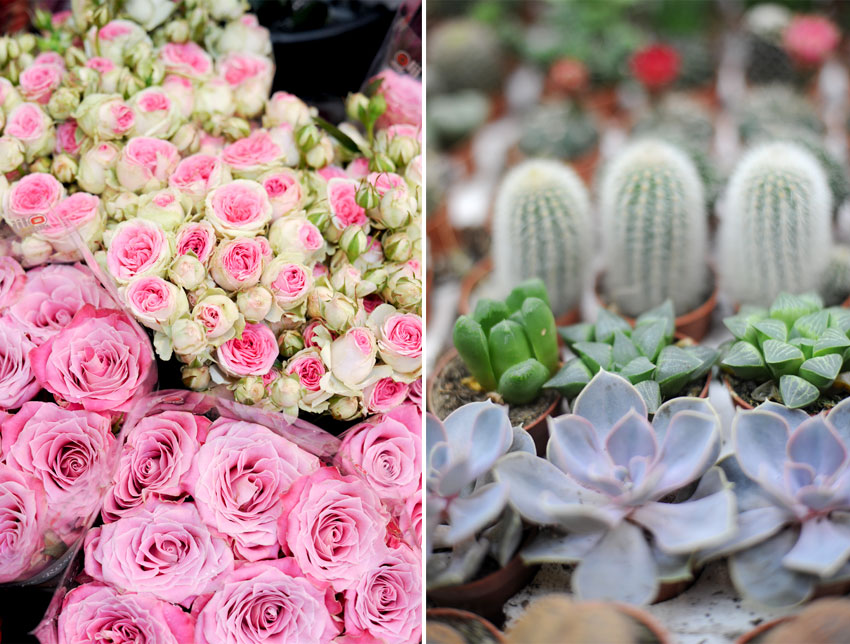 The Netherlands are well known for their tulips. I was there in the summer and missed the spring time tulip festival but I was interested to see the "flower market" the guide book I had suggested anyway. It was underwhelming but still fun to see. There were tons of flowers for sale (shocker) and lots of bulbs to purchase too (the flower kind, not the Thomas Edison kind). I looked and snapped photos.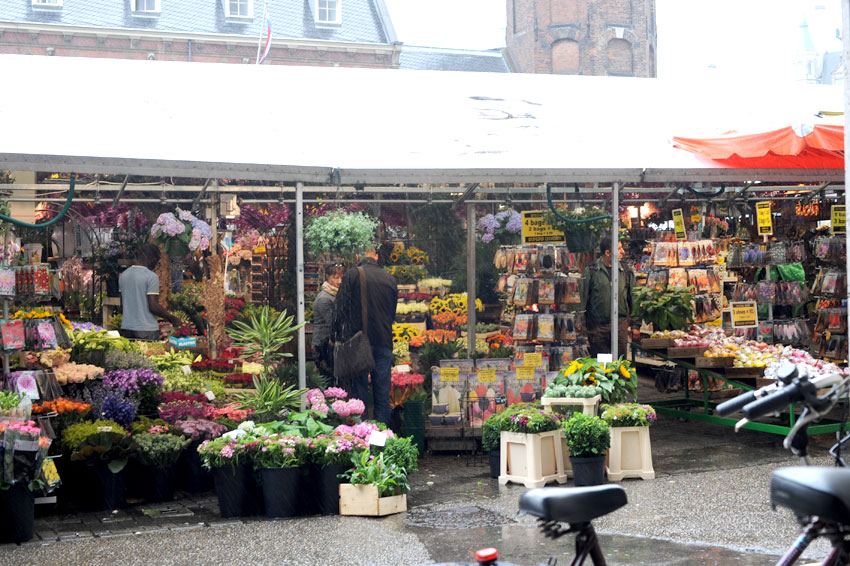 One of my favorite things to photograph is amazing street art. There was an abundance of it in Amsterdam (along with an abundance of bicycles). I saw this art in the flower market area.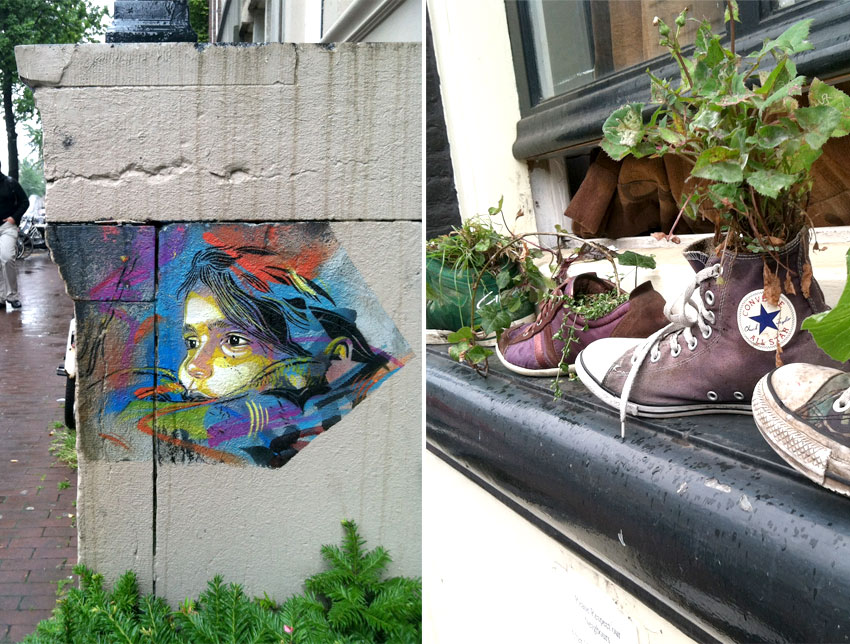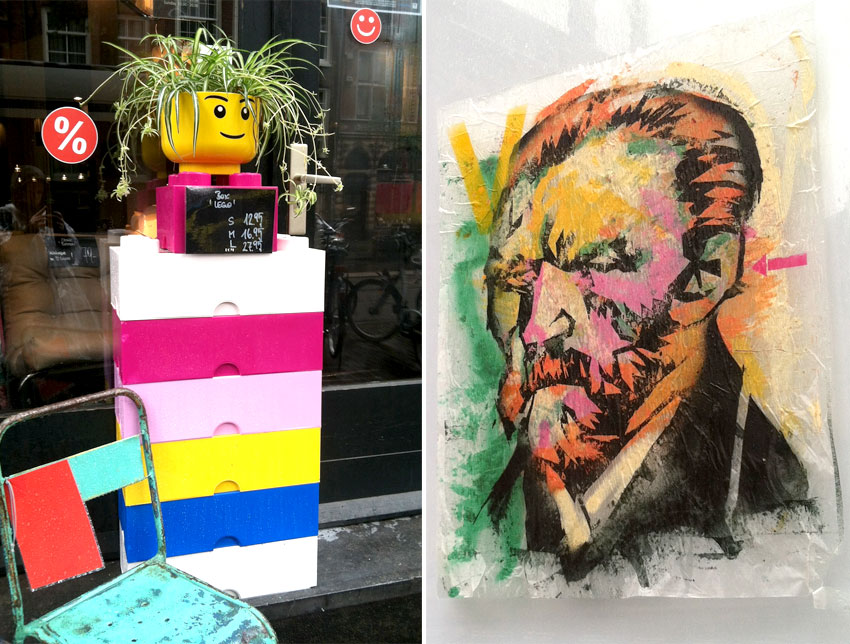 I may not have had the time to hit up the Van Gogh Museum (which I hear is worth the trip) but I did get to see him anyway. (Ha…ha…is this thing on?) Bonus Lego art, free of charge.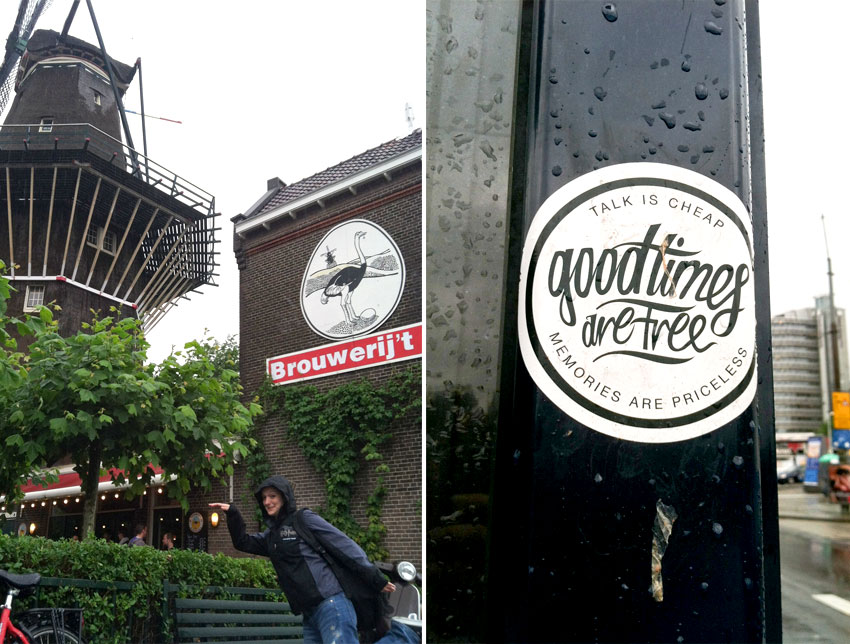 We finished up our Amsterdam stay with a trip to Brouwerij 't Ij brewery. And because it was one of the best street stickers I saw my whole 2 week trip in Europe, I am closing with this: "Talk is Cheap. Memories are Priceless. Good Times are Free."
Happy Friday!
(P.S. I did, indeed, get a "space muffin" and brownie. However, they were far from highlights of my trip. Sure, I am glad I participated in the city's legality of a recreational drug and it wasn't bad…it simply wasn't a highlight when there's so many more amazing things the city has to offer. I hope this has expanded your otherwise possibly skewed vision of Amsterdam if you've never been and you enjoyed the post!)