Nodpod Sleep Mask Review: 10 Reasons We Always Travel with this Black-Out Weighted Eye Mask
Good sleep and everyday rest are a must for us. This is why our Nodpod weighted sleep masks have become essential in our home and for travel. There is something about a weighted black-out sleep mask that helps soothe you when you lay down in bed to get some shut eye.
We're so in love with our Nodpods we can't help but spread the word about why we love them and never travel without them. (And use them at home too!)
Disclosure: There are affiliate links in this post, which means we may earn a small commission if you click the link and proceed with a purchase, at no cost to you. We truly only recommend hotels, products, and services we personally use. As Amazon Associates, we earn from qualifying purchases.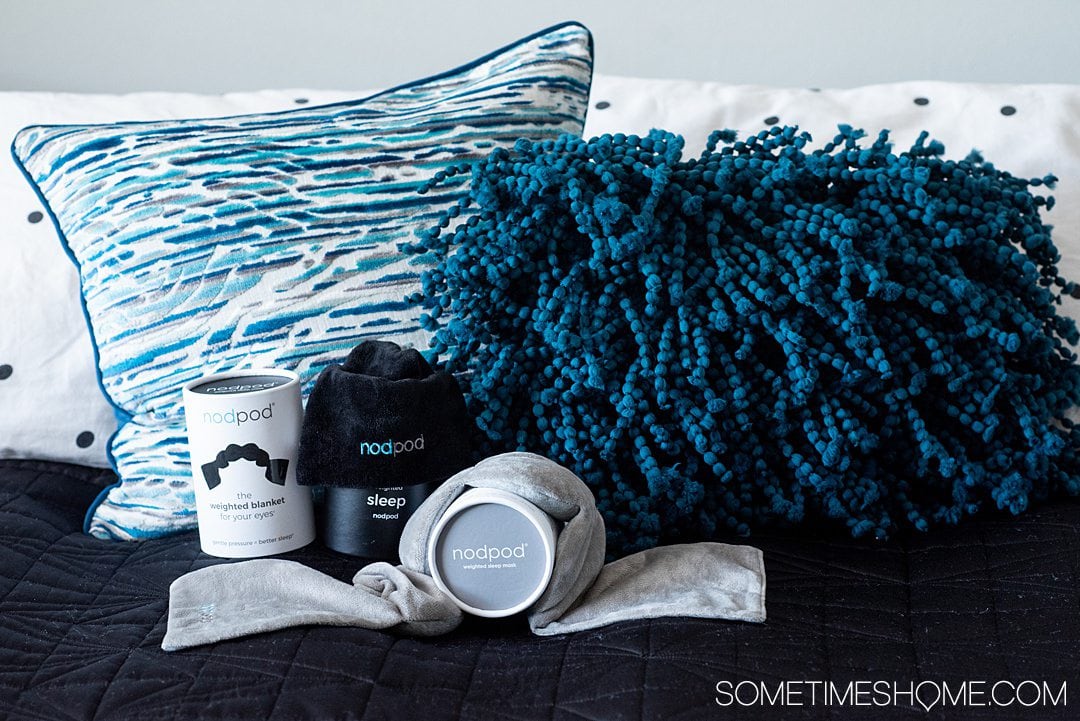 ➜ Use coupon code "SOMETIMESHOME" to receive 15% off your nodpod purchase
1. Nodpod Weighted Sleep Masks are Double-Sided with Two Fabric Options
Nodpods are double-sided with different fabrics on either side. This means you have two comfy options to feel against your face.
One side is made of jersey cotton, which is a little cooler because of how air passes through it. The other side has a silkier feel, made of a microfiber fleece that is a bit warmer.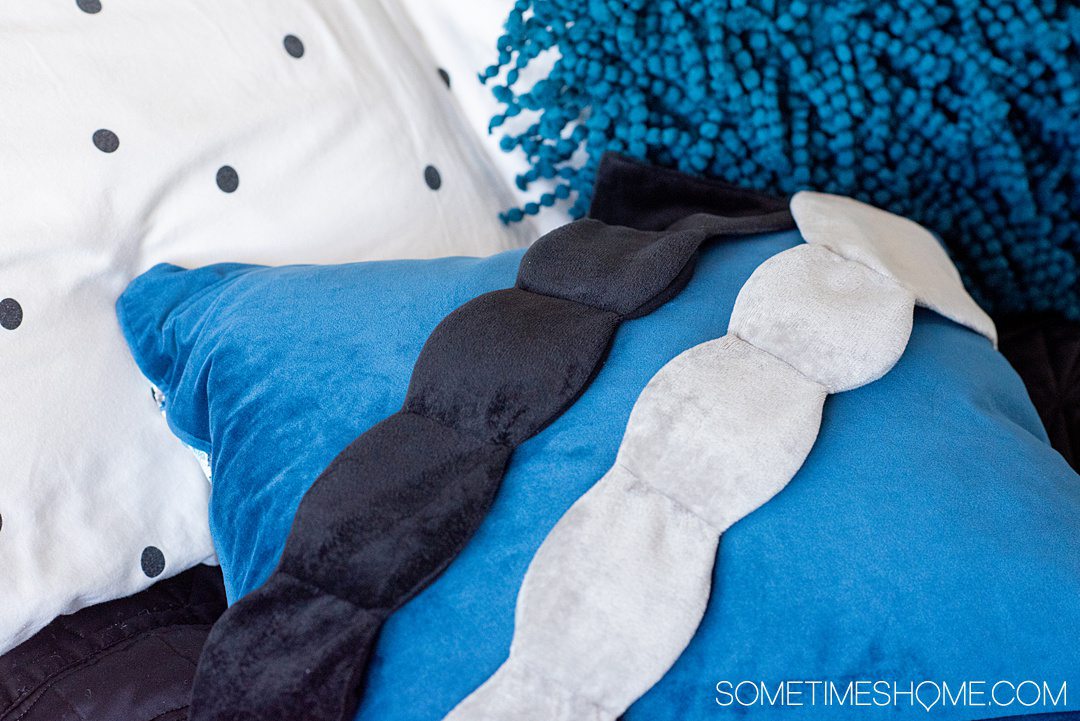 2. They Don't Have Annoying Elastic Bands
Nodpod sleep masks don't have annoying elastic bands like usual sleep masks. (That's because they are awesome, high-quality, expertly designed sleep masks.)
These strap-free sleep masks don't need them because they're designed smartly, eliminating the need for any wrap-around strings.
3. It's Truly a Black-Out Sleep Mask
They completely block out the light. They wrap around your head and even your eyes because of the shape of the pattern of the sleep mask.
The plastic beads inside the fabric further help the mask take the shape of your face and press against your eyelids.
It can be full sun outside, or there could be streaming through the windows; you'd never know it with a Nodpod on.
The Nodpod is Great to Help Cure Jet Lag
The black-out sleep mask is excellent for when you are flying across different time zones and haven't slept in hours. Sleep is vital to get back on track when you get off a plane and have just flown across oceans to a new continent.
A typical time to land in Europe from the United States is at 5:30am, whether you go to France, Germany, Portugal, or Spain.
We rallied to do tourist activities in Madrid for the day until dinner time, then we ate and decided to go to bed early. This was to get back on track with sleep so we'd be refreshed for the rest of our vacation in Spain and France.
But when we went to bed, the sun was still up! The Nodpod sleep masks completely black out any light even if the hotel curtains don't.
Nodpod Weighted Sleep Masks are Great on Cruises
We love taking an afternoon power nap in our staterooms on cruises. One of the joys of doing so is sleeping with the balcony door open to let the breeze flow through the room as we did aboard our Emerald Cruises river cruise through The Netherlands.
But that means the curtains are open and light streams through. But when we have our Nodpods, the problem is easily solved!
We never travel without them for this reason, whether staying in a hotel or on a cruise ship.
4. The Weighted Sleep Mask is Comforting
They are weighted, which is therapeutic. It's so soothing and calming to place it on your eyes to go to bed.
If you're like us you need to sleep with a blanket on you because of the "weight" of it you'll love a Nodpod.
5. When You Buy a Nodpod, You're Supporting a Small Female-Owned Business
Nodpod was started by a woman named Melissa, which means it's a small business owned by a female. And we love that.
We try to support small businesses whenever we can as two small business owners ourselves of a wedding photography business and brand strategy business. It's the heart of our country.
Supporting Nodpod helps a small business and the people that work there.
Truth be told, you can get this mask on Amazon. However, we all know Amazon doesn't exactly support small businesses in their favor, even though they carry their products. If we can get the same product directly from the supplier – especially in this kind of case – we do. That's why we recommend buying from Nodpod, directly.
6. A Nopod Weighted Sleep Mask Can be Worn Two Ways (for Side-Sleepers and Back-Sleepers)
A Nodpod is great for bedtime at home or in a hotel. It's also great on an airplane if you're in an upright or only a slightly reclined position.
You can wear it laying down, open against your face, which spills onto your pillow. Or you can loop your Nodpod sleep mask through itself around your head if you're in a chair, like on a flight.
We love Nodpod's versatility.
Is Nodpod good for side-sleepers?
Yes! I love mine and I'm a side-sleeper. I just lay it across my head when I'm on my side (and if my ear were the "center" of the sleep mask) and let the mask's weight do its job.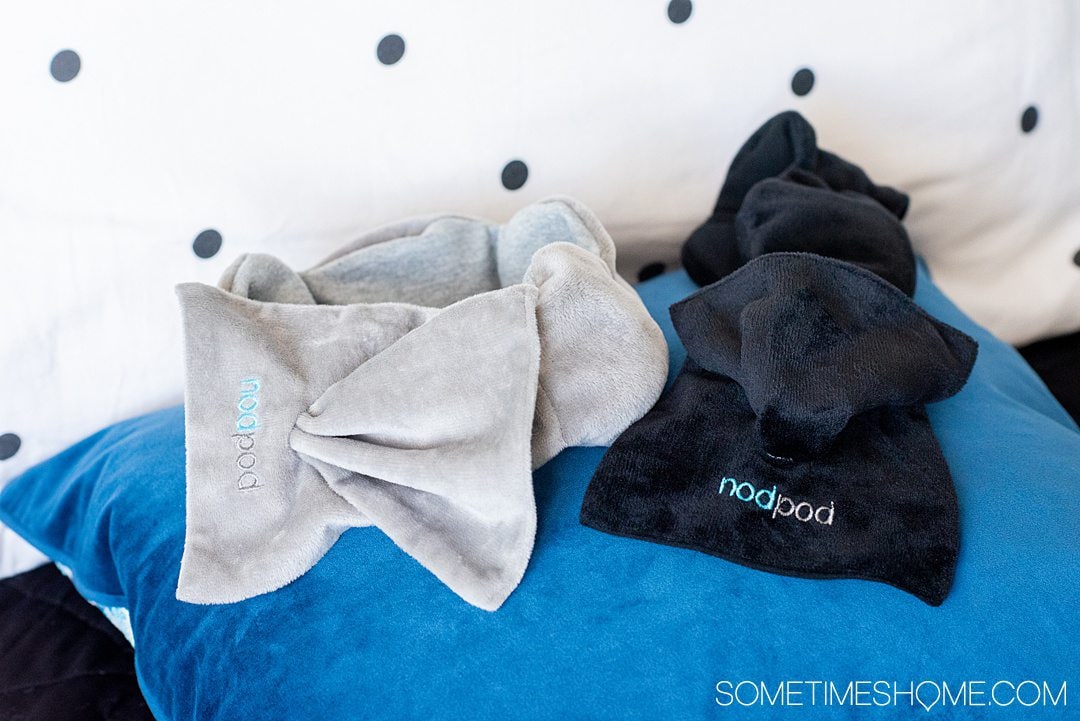 7. This Quality Nodpod Sleep Mask is Affordable
Nodpod sleep masks are SO AFFORDABLE at $34 each. Which is a BARGAIN for a product of this quality. And great sleep is kind of priceless, isn't it?
The price is a nominal fee for great sleep and a little product that greatly helps black out the light.
8. The Nodpod is available in 10 Colors
Nodpods are available in at least 10 colors.
We love grey and black (typical for us!) but here is the full list of colors they offer in their store (don't forget to use code SOMETIMESHOME for 15% off your purchase):
Aloha Orange
Black Onyx
Elephant Gray
Amethyst Purple
Pacific Blue
Blush Pink
Palm Leaf Green
Flamingo Pink
Cherry Red
Canary Yellow
Sometimes they add new colors for a seasonal option. For instance, Coral Pink and Lime Green were previously offered in 2021 as part of a Spring/Summer collection.
If a color is sold out on their website, you can buy a different color (which we recommend – no one really sees the color anyway!) or wait until more are in stock. We recommend not waiting because as soon as you get your Nodpod you'll wonder why it wasn't in your life sooner.
9. NodPods are Easy to Wash
Wondering how to wash a nodpod? It's easy. You can wash your Nodpod sleep mask in the washing machine, which makes it even more convenient for traveling.
Simply throw it in a garment bag and wash it on a "gentle" cycle. You can put it in the dryer in a low-heat setting but it isn't recommended. Let it air dry instead. (If you're traveling and already have a STNKY bag for your laundry like we do, just wash it in there.)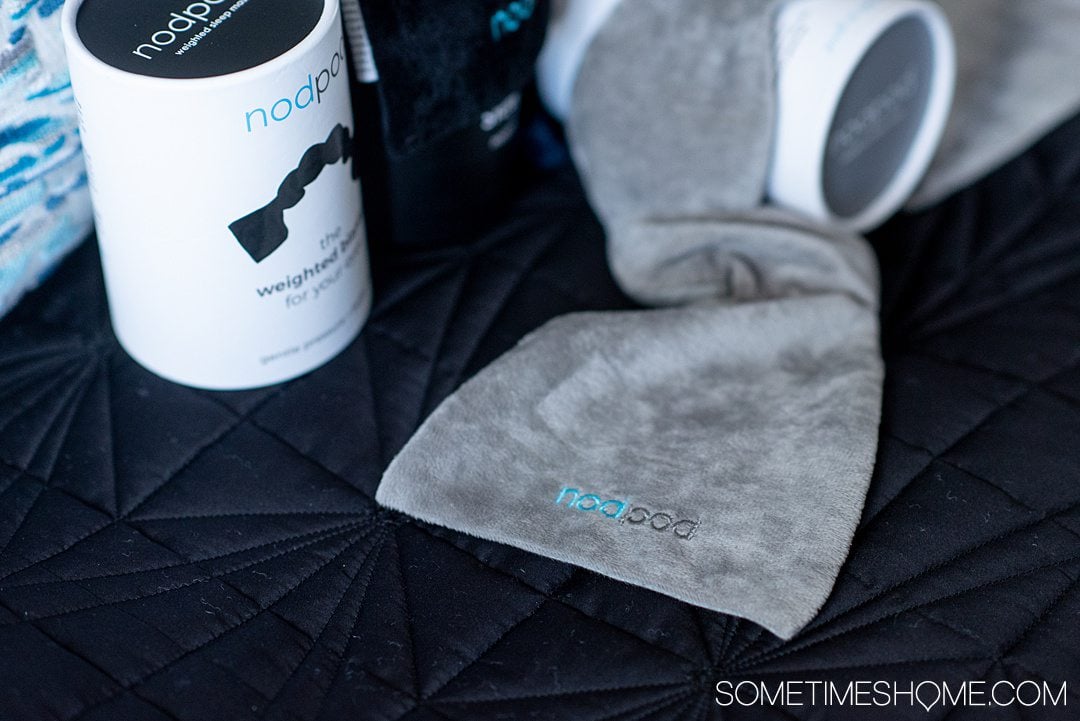 10. You Can Freeze Your Nodpod Sleep Mask
Do you like a cold compress against your eyes sometimes? (How spa-like!) You can FREEZE your Nodpod! The best part is it remains flexible so it will still wrap around and mold to the shape of your head.
(You cannot microwave the Nodpod! They have plastic beads inside that will melt.)
Discount Code for Your Nodpod Order
Don't forget to use our discount code to receive 15% off your purchase: SOMETIMESHOME
….and enjoy better, restful sleep!
Read about additional products we love and use: