Artifact Uprising Review: Does the Quality Justify the Cost?
We don't always start with such a spoiler alert but we can't help it in this instance for our Artifact Uprising review: we LOVE their products. They're high-quality, luxury printing that isn't just for pro photographers with businesses. It's available to the public so that photo enthusiasts and hobby photographers can purchase their products online too.
If you're ready to buy after that, say no more. Here's a link to purchase their products. But if you need more background or some questions answered in regards to the quality and cost, we will tell you about the company in our thorough Artifact Uprising review.
Disclosure: There are affiliate links in this post, which means we may earn a small commission if you click the link and proceed with a purchase, at no cost to you. We truly only recommend hotels, products, and services we personally use. As Amazon Associates, we earn from qualifying purchases.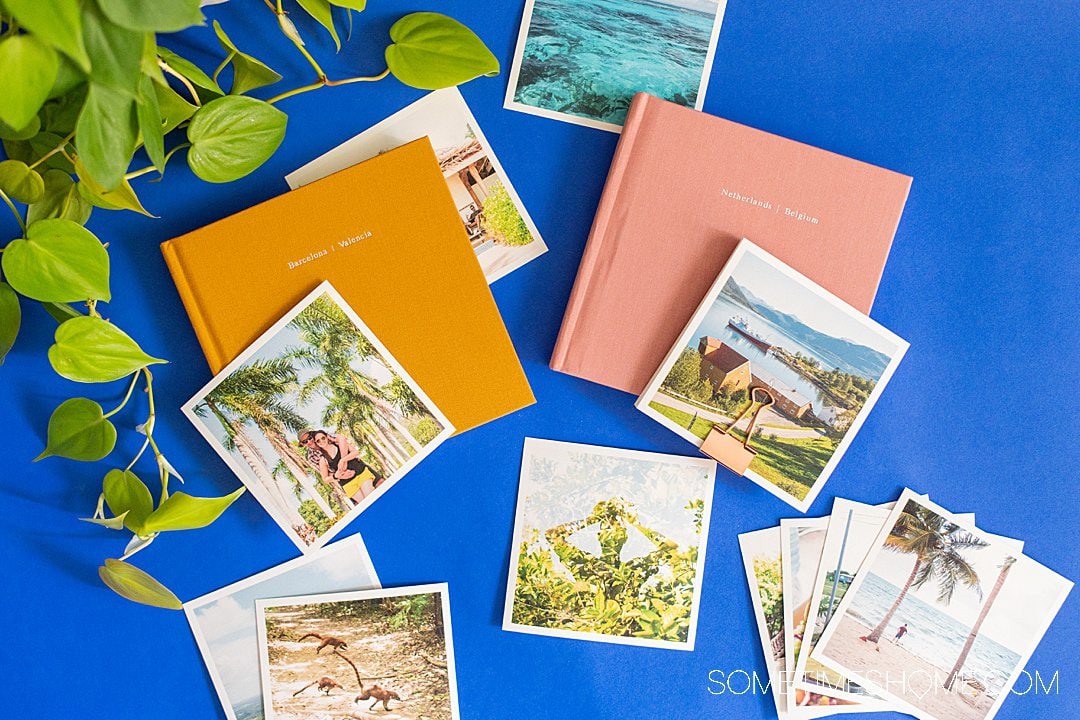 Photography Products available from Artifact Uprising
They have five main categories of products, which we've gone into detail about in our Artifact Uprising review.
They are:
Photo Books
Prints
Frames
Calendars
Cards
Artifact Uprising Photo Books
Artifact books are beautiful. They create truly gorgeous, upscale products and have found a niche in the digital printing world no one else fulfills for the public with their matte-finish printed pages.
They have a lot of albums to choose from so before it gets overwhelming, we've listed only the books we recommend for travel photo memories. They have more options, like board books for babies, but it's unnecessary to go into details about such products for the purpose of this post.
We elaborate on the following books, below:
Everyday Photo Book
Photo-Wrapped Hardcover
Hardcover Travel Album
Instagram-Friendly Book
Superpower: It's a hardcover book with a beautiful fabric cover. It's only offered in one size and has limited options for the cover which means your books will nicely match on a shelf and the decision-making process will be faster.
This is our favorite album product Artifact Uprising offers and the only one we buy for high-quality photo travel books.
The benefit of choosing this book is that it is one-size only so you don't have to waste time making decisions about what size to get or try to remember what size you got before if you're not home and you're designing the book online away from home. There's just one size: 7×7″
Additionally, we love how consistent our books look over time. They all have one of six fabric colors (some repeat colors after 6 trips!) and have metallic imprinting in the same font. Consistently looks classy!
Page options: 30, 40 or 50 pages.
Size option: 7×7″
Fabric options: 6 colors
Metallic imprinting (on the cover and spine): Gold, silver or copper
Again…we cannot stress how much we LOVE these books. They're the only books we buy for our travel memories.
Superpower: These books have an image that's printed around the cover of the book in a coated-canvas kind of fashion.
If you like the idea of a picture that's imprinted on a cover and wraps around from the front cover to spine, to back cover, and you're okay with soft pages, this is for you. (The reason we prefer the Everyday Photo Book is that it has thick, inflexible pages.)
A note on any book with soft, thin pages: If you have young kids that will be looking through your travel photo book memories, you do not want to get this because they can easily rip the pages. If you don't – then the decision is up to your preference!
Pages options: 30 to 210 (max)
Size options: 8.5×8.5″, 11×8.25″, 8.25×11″, 10×10″
Superpower: Comes in a lot of colors, can be printed in vertical or horizontal sizes and up to 210 pages.
This is a wonderful option if you want a hardcover with a photo-printed jacket, and you want soft, flexible pages. The nice thing about this book is that you can have over 210 pages so if you have a lot of standout photos you want printed from your vacation, this is a nice option.
This book is very similar to the Hardcover Photo Book. The only difference is the design options for the dust jacket. (The Hardcover Photo Book jacket has optional foil printing and the Hardcover Travel Album has photo and text design options for the jacket that may be better for travel.)
Page options: 30 to 210 (max)
Size options: 6×8″, 8×6″, 8.5×8.5″, 8.25×11″, 11×8.25″, 10×10″
Fabric options: 11 colors
Book jacket: partial or full
We love seeing behind the scenes at companies like Artifact Uprising, so we're sharing this video below of their production facility, and the resulting hardcover book that is created there:
Superpower: You could theoretically have this book designed and printed within thirty minutes. However, you need the Instagram photos to already be uploaded to your IG account and you need to be okay with limited options for customization. We don't recommend this book for the book for your travel memories but, rather, as a supplement to one of the other book options mentioned above.
This in no way, shape or form would ever replace our Everyday Photo Books from Artifact. But if we want to quickly print a little square softcover book to send to our parents from our adventures, it's a super simple way to do that. You can even do it at the airport on your way home from vacation on the app on your phone if you have 30 images you want to use already on your Instagram feed.
Size options: 5.5×5.5″ or 8.5×8.5″
Pages: 5.5×5.5″ book: 30-100 pages (max)
Pages 8.5×8.5″ book: 30 to 380 pages (max)
Prints from Artifact Uprising
If you ask for our Artifact Uprising review for the prints they offer, we love them! We particularly love their Square Print Set. We get the 5×5″ size with a white border, in packs of 50 (though you can get 10 or 25 too).
Their large format prints are gorgeous too. YOu can print one as small as 8×10″ or as large as a 40×60″ size. They are giclée inkjet prints on heavyweight 230 gsm (6 pt.) paper.
Once they arrive you'll have to frame them or have another method for hanging it on your wall. Good thing that Artifact Uprising sells frames!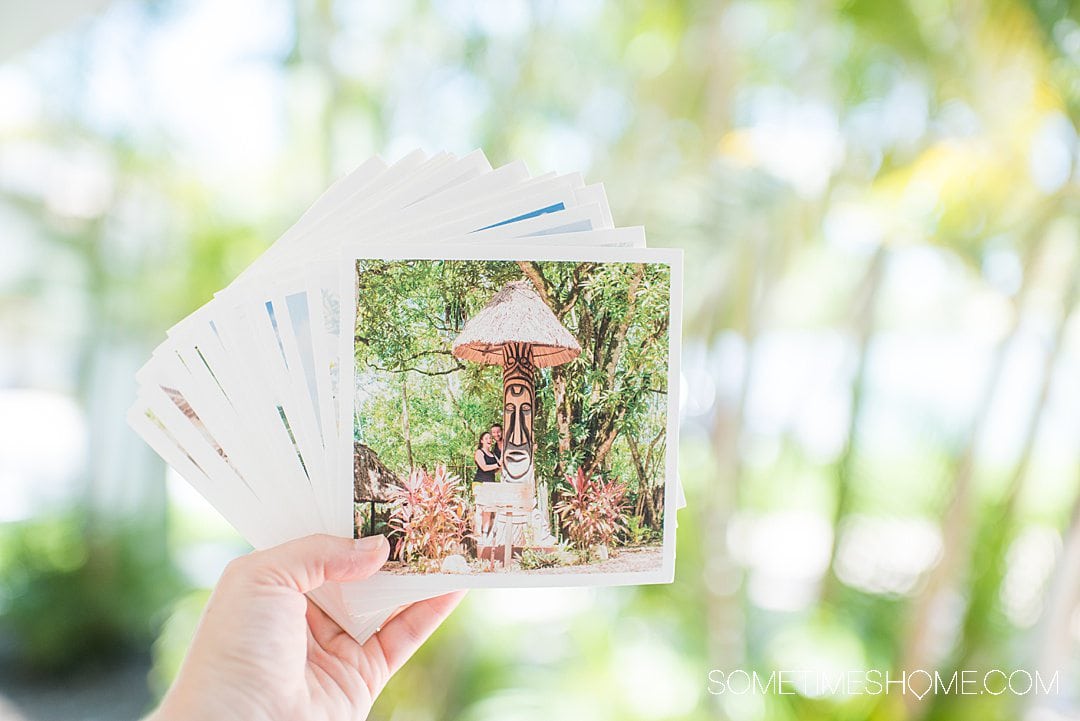 Artifact Uprising Print Holders
What are you going to do with small loose prints? You need a holder or a frame for them, of course.
Here are a few options:
The best thing to do with a print set is buy a Brass & Wood Display Box. This way, you can safely store the prints in the box and change out the front image whenever you want a different picture to show. It's genius!
It's fun to put a clip around a stack of square prints, printed on hard cardstock, and change the "cover" photo periodically to keep things fresh. (The clips we use are copper binder clips. We recommend 1.25″ width or larger.)
Artifact Uprising also sells other assorted print holders. We love the easels they offer in a 5×7″ size. When the prints are simply sitting on a holder and not between glass, it's so easy to change the photo every day. And you still have the nostalgia and tangible quality of prints, as opposed to something like a digital frame.
Artifact Uprising Frames
All of the frames on the Artifact Uprising website are modern and come in a handful of colors. They keep things classy and the decision-making to a minimum, in the best way possible. Most of the frames have you upload a picture that's already in the frame. That way when the shipment arrives on your doorstep, it's ready to hang.
If you are a minimalist and like an illusion, you're going to LOVE their float frames, which use acrylic to make it look like your photo is floating on the wall.
Calendars from Artifact Uprising
Their calendars are on the smaller side. Most are 5×7″ but they do have one option that measures 19.5 x 9.5″, which is their calendar sheets. (The nice thing is that they offer a refill pack for their sheets.)
The Artifact Uprising calendar options are – you guessed it – all modern, clean and minimal.
Cards from Artifact Uprising
Artifact Uprising card options are divine and minimal (of course). Sometimes, the card has an option for metallic embossing based on the design you select.
They have cool envelopes with many of them too that will stand out in your friend's mail. Since Artifact Uprising is a photography products company, the designs of their cards are photo-focused, though they do have an "upload your own design" option.
Some tips for you if you're going to order some cards:
The more you buy, the more you save. So, for example, if you look at the card options and see a card is $1.85 a card on the product grid, you will realize it's actually something like $2.40 per card if you only buy 50 of them, and the lowest price is attached to the highest volumne option.
Some of the cards are flat notecards, not tented cards. In other words, you would have a photo image on the front of the card and turn it over to write a message, as opposed to a tented card that you would open, like a book.
Keep their cards in mind for thank you cards, wedding notes, holiday cards, and personal stationery.
Artifact Uprising Pricing
Pricing for this brand is a little above their photo printing "competitors." (Although, it's hard to call them competitors because as our Artifact Uprising review reveals, they are really in a class all their own.)
Expect to invest a little more money in their products but realize you're paying for some things a cut above the rest, including:
Products made in the USA
Recyclable, acid-free papers (acid-free means the colors will last over time)
Archival inks
Superior customer service, based in the United States
Classy, elegant designs
Artifact Uprising Gifts and Gift Cards
You can find a "gift" tab on the top navigation bar of the Artifact Uprising website. There, they have organized gifts by occasion or recipient, like a gift for Mother's Day or a gift for a grandparent. We love that they have so smartly organized their website headings and make it easy to be a consumer on their site.
However, if you can't decide what to buy a friend or family member in terms of photo products on their site, or you simply want to let the gift-receiver decide, consider an Artifact Uprising gift card. It's a wonderful option and if your friend or loved one is a lover of photos or travel – or both – they will be ELATED to get a gift card. I know I would be!
Artifact Uprising Print Type and Finish
Artifact Uprising Print Quality
Print quality is wonderful at Artifact Uprising. It's a little different than the pages you may be used to seeing in a glossy book (which is closer to a magazine finish) but for the price point, we love the printing. If you wanted any better you'd have to go for an album that costs thousands of dollars that only a professional photographer, perhaps, could offer you.
Type of Finish on Artifact Uprising Products
Artifact Uprising's finish isn't like a typical photo print. It's considered a matte finish. You may be most used to a glossy finish on photos but Artifact Uprising doesn't use any glossy finishes.
You have an option between two photo paper finishes for their Hardcover Photo Books and Everyday Prints: lustre (with a subtle sheen) or a Mohawk Superfine paper in eggshell finish (which is a matte finish option).
For the other products we discussed in this post, they're printed on matte finish paper.
Designing with Artifact Uprising Software
You can design your photo books online when you log into your account on their website. You will upload photos directly from your computer and design, then save, from there.
You'll see all your projects saved under My Account > My Projects.
The first time you log into the program to start a design, you'll be given a little digital tour of the program with pop-ups that show you around.
iPhone App
So many people use their iPhone as their camera. This means that it would be ideal for these types of photographers and travelers to simply upload their photos from their phones directly through an app. Well, Artifact Uprising has an iPhone app!
Look for an app of the same name in the app store with an "AU" as their app icon. You can easily link your Instagram account through My Account > Image Sources > Instagram, in the Artifact Uprising application.
They currently only have an iPhone app, not an Android option.
Artifact Uprising Discounts
Free Shipping with Artifact Uprising
We rarely see free shipping with Artifact Uprising products. We're not saying "never," we're simply saying don't hold your breath for it. Don't wait for your products to get to you simply because you want to save on shipping. Don't delay: order your product and pay for shipping.
Discount Codes with AU
The biggest incentivized discounts we see with Artifact Uprising are typically just once a year, during the time of Black Friday sales.
Usually, it's a discount that rewards you for the more money you spend. So, for example, if you spend $100 you get 10% off, if you spend $200 you get 20% off. That kind of thing.
Customer Service at Artifact Uprising
One of the things we love about Artifact Uprising is its wonderful customer service. They employ people in the United States, and they're based in Colorado.
Whenever we've reached out to their customer service – whether it was for a concern with an album or design question – they've replied in a timely manner with a thoughtful response. Once we received an album we ordered with what looked like a glue smudge on a page and they replaced it immediately, no questions asked. That's the kind of customer service we want from a luxury photo printing company.
Artifact Uprising Compared to Competitors
It's hard to compare the products Artifact Uprising creates to any other brand for our Artifact Uprising (AU) review. That's because AU's products really are unique. Other companies don't hold a candle to their quality and customer service.
However, here are some brands we printed through in the past, before finding Artifact Uprising:
Shutterfly and Snapfish: We printed through both previously before AU even existed. I remember making a huge 85+ page book for my best friend and me back when we took a Disney Cruise as adults in 2011. And the truth is, that book cost me close to over $150 and took days for me to design. I wish I had an Artifact Uprising option back then so I could keep the design classier and book more high-end. Alas, when Artifact Uprising came along I knew better!
Minted: Of the three competitor sites listed here, Minted is perhaps the most upscale. However, Artifact Uprising still offers a unique product with beautiful finishes. While Minted has expanded into art and homeware, Artifact Uprising remains strictly dedicated to photography.
And again, to reiterate – the customer service that Artifact Uprising provides surpasses them all.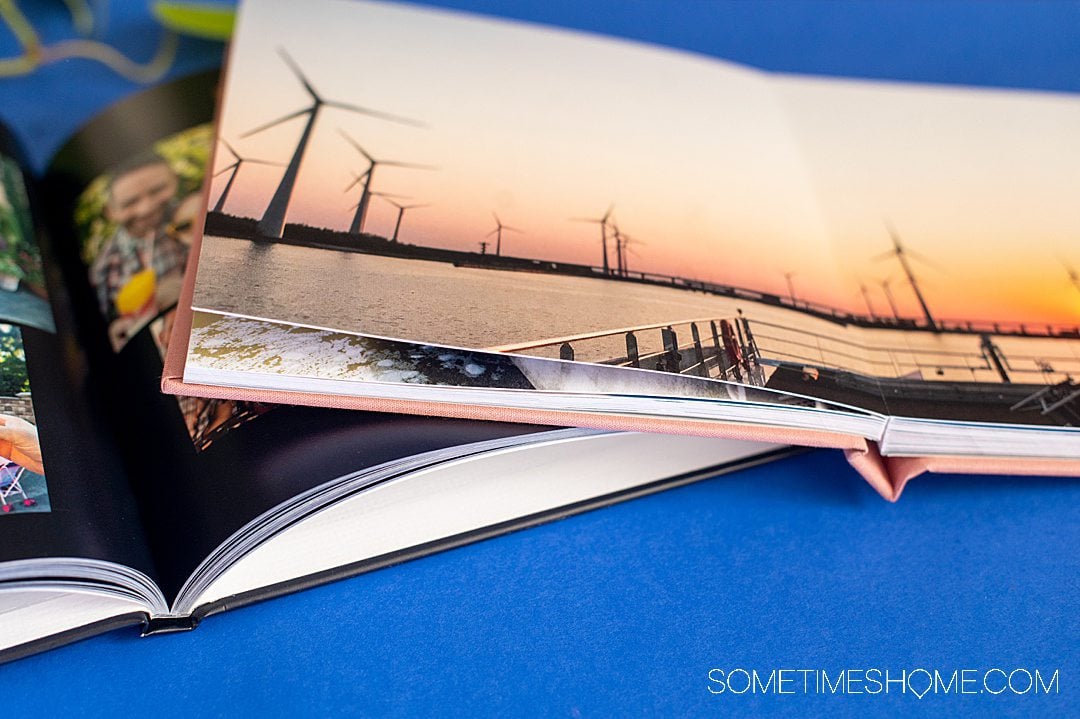 Why you Should Buy from Artifact Uprising
Here are additional reasons we love buying photography print products from Artifact Uprising:
It was started by a couple who are professional photographers.
It's a "Made in America" brand with customer service in the United States.
They have a "Quality Guarantee." As they say on their website: If you are not wholeheartedly satisfied with your order each and every time, drop us a note — human to human — so we can make things right. (And they mean it.)
They're eco-conscious. For example, they used reclaimed wood in the wood blocks that are created for their calendars and use recycled paper. (We whole-heartedly believe supporting a company like this is a small but significant way you can help save the Earth.)
Who is Artifact Uprising for?
We absolutely love their products. We know their customer because we are their customer.
It's ideal for people who appreciate superior papers, American brands, who want great customer service, and who appreciate minimal design options. (We feel the fewer options the better as long as the options are fabulous. And with Artifact Uprising, they are.)
Who is it not for?
Artifact Uprising is a premium product for people who truly appreciate quality photo print products. It's not ideal for people who are on a tight budget, for people who don't appreciate good paper quality, and for those who want a glossy product since the products are matte finish (or lustre in only a few cases).
Artifact Uprising Review Conclusion
If you appreciate fine papers, customer service, products made in the United States, modern and minimal designs, and you have the budget to spend on high-end photography products, Artifact Uprising is for you.
At the very least, it's worth printing your products through them to try it out. You pretty much have nothing to lose because even if they don't become your favorite brand you'll have a beautiful keepsake after your order arrives.
And at the very best, they'll become your go-to resource for printing your travel memories (or family memories) as they have for us. Try them out!
Interested in photography? Also check out: