Who Has the Highest Quality Photo Books for Travel Memories?
Getting the highest quality photo books is of the utmost importance to us nowadays. A trip isn't complete until we print one of these photo books with our vacation memories.
How many times have the weeks, months and years passed you by and you don't have any printed photo albums or books to show for your vacations? We LIVE for our vacations. We work hard every day just so we can savor the two to four weeks of vacation most people get in America.
And then we come home, miss the travel and get back into the daily grind.
But what about our photos?
Part of the delay in printing photo books in our home used to be that I couldn't quite figure out the best quality photo books for us. But, lo and behold, the answer was right in front of my face, for years. I recently realized the solution and I'm SO glad I did. It changed my life and we print these regularly now.
Disclosure: There are affiliate links in this post, which means we may earn a small commission if you click the link and proceed with a purchase, at no cost to you. We truly only recommend hotels, products, and services we personally use. As Amazon Associates, we earn from qualifying purchases.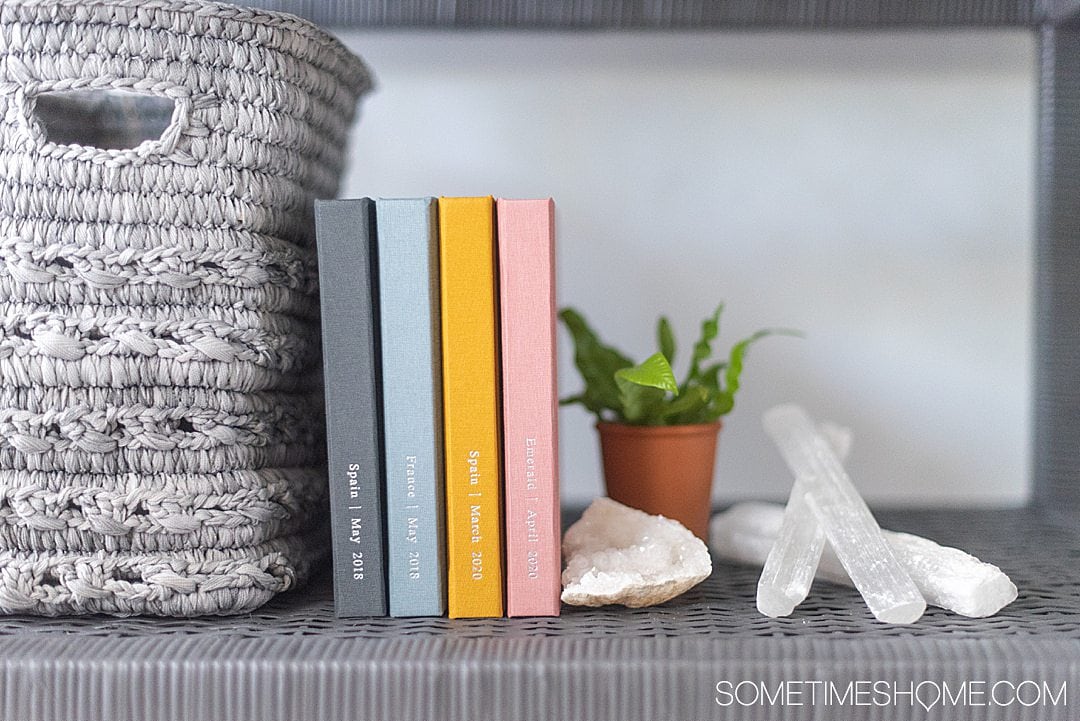 Disclosure: There are affiliate links in this post, which means we may earn a small commission if you click the link and proceed with a purchase. We only recommend products or services we personally use and recommend and we truly, sincerely, cannot recommend Artifact Uprising enough. Hence, an entire post on our love for them.
What I Did Before Realizing We Were Adults, Ready for High Quality Photo Books
I will mention I'm a professional photographer. And I think that the albums from Artifact Uprising are phenomenal and great for the general public. But, full disclosure, I offer my clients an album the general public can't get for weddings. As I should because weddings are singular, incredibly special, once-in-a-lifetime events. Which require once-in-a-lifetime products, including an album, if you ask me.
(A wedding album costs well over $1,000, which is standard in the industry. They just cost a lot to produce and the high-end materials, like leather, used for the covers are premium. Which means a premium cost.)
But I didn't need wedding-album-quality books for our trips. (I ordered one for our wedding – duh! But not for major and minor vacations we take multiple times a year.) So what did I do for our own trips? I printed Shutterfly books to the tune of 80+ pages that would take me DAYS to complete. It was overwhelming. And I didn't love the quality.
I was overwhelmed by the photo albums available for the public to purchase
There are WAY too many options on Shutterfly, Chatbooks, Mixbooks, Snapfish books, etc. There are stickers, borders, and page backgrounds…and then some. It's too much and causes decision paralysis for many people. It's a miracle I even finished a couple of books because friends have revealed to me they simply abandoned ship after frustration and indecision.
Then I would receive my book only to feel like I wasn't so proud of the decision. Thus, I kind of tucked it away to hide on a bookcase, not display proudly. Because it looks and feels like a children's book. This means you don't look at it as often as you should or could.
Then I realized I was an a-d-u-l-t. And the trips I took with Dan required an ADULT, high-quality product to proudly display our memories.
Artifact Uprising Books are timeless, possess easy elegance, and are targeted at a more sophisticated client. You cannot get what Artifact Uprising offers on any other site but its own.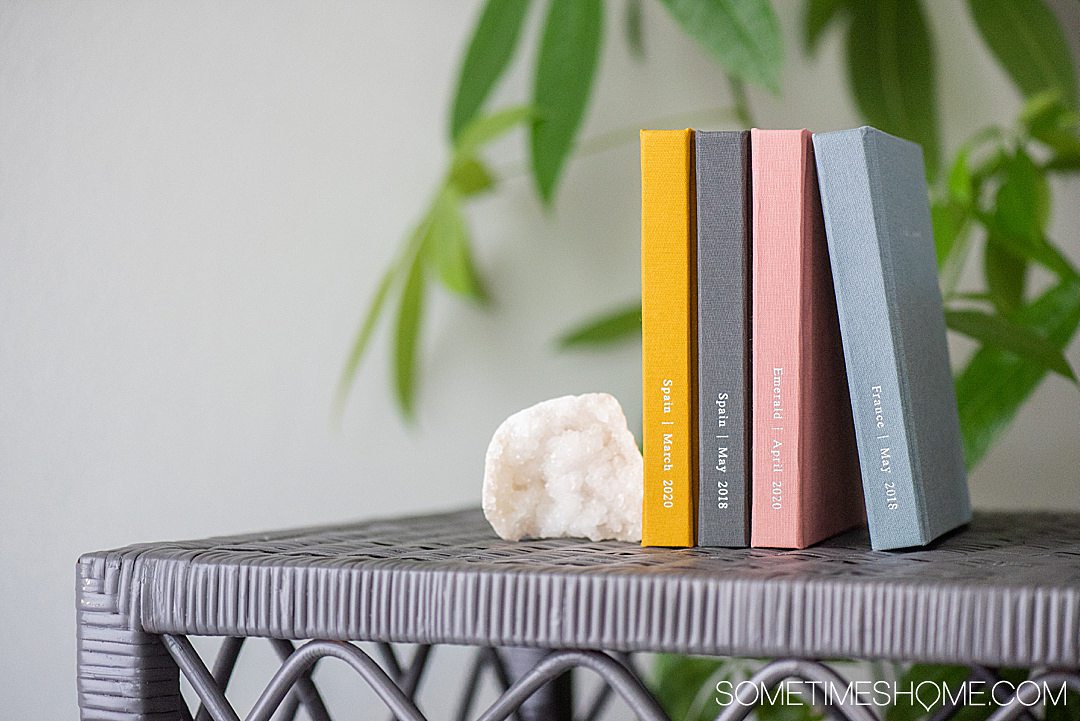 The Photo Book for Photo Lovers
If you truly care about highlighting your photos and not the fluff with design programs that come with books like Shutterfly and Snapfish (ie: the stickers, crazy colors, and graphics) then the Everyday Photo Book Artifact Uprising offers is for you.
Now, this is the ONLY book we use to print our photos. We love seeing the same size 7×7″ book lined up on our shelf.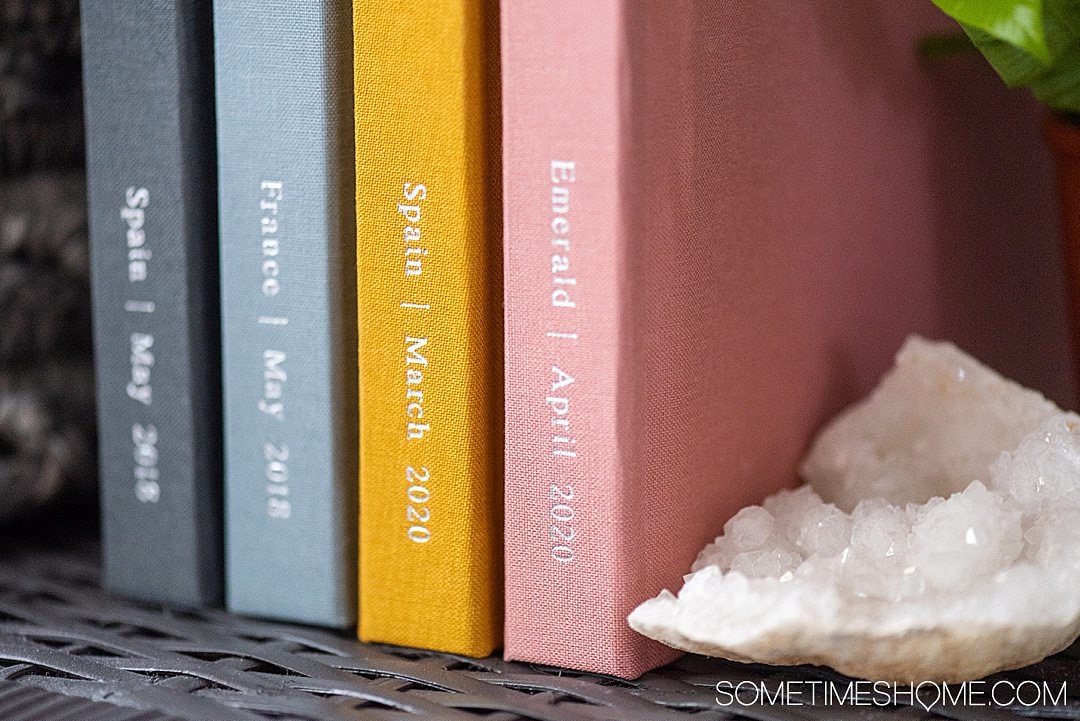 High Quality Photo Books Marketed to Professionals
Do you want to know the way I found out about Artifact Uprising? It was on the trade show floor at a HUGE professional portrait and wedding photographer conference many years ago, called WPPI (Wedding and Portrait Photographers International).
Artifact Uprising was launched by a husband and wife team, Jenna and Matt. They are professional photographers who value quality products. I suppose it was only natural for them to start to market to the industry they knew and loved: pro photographers.
And that's how they came into my life. They were founded in 2012 and, if memory serves me, in 2013 they showcased their products at WPPI on the trade show floor. I was instantly drawn in. (Their friendly team on-site drew me in for a good conversation about the product as well.)
The cleanliness of their product designs is easy to feel drawn to. Their staff was welcoming and willing to answer all my questions.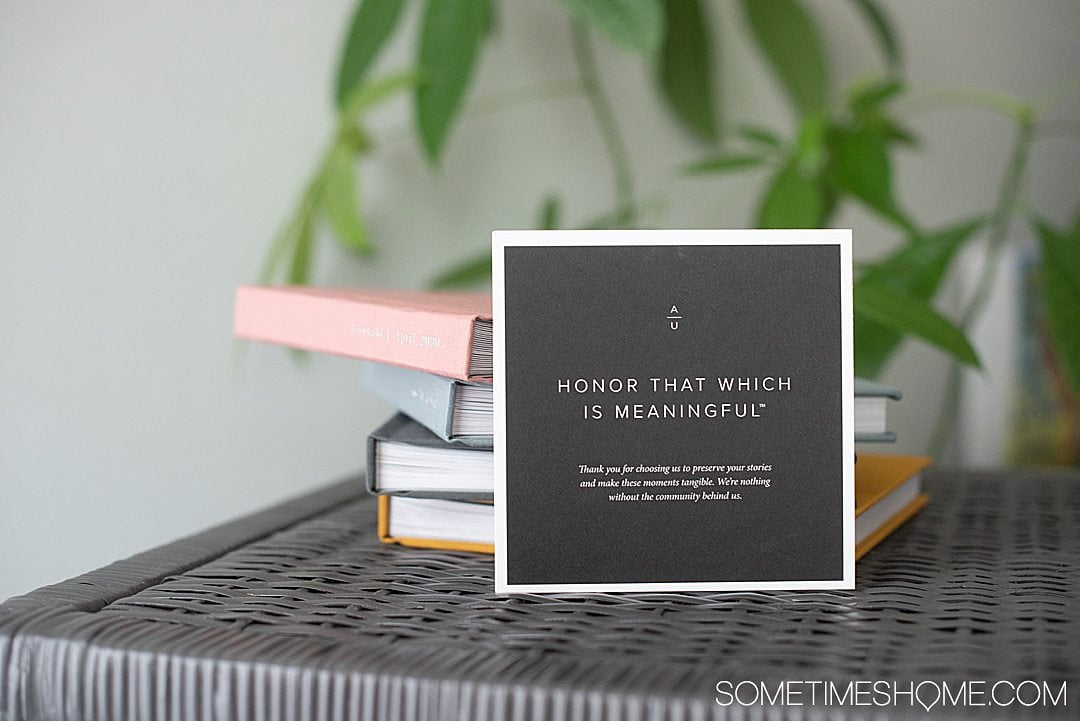 Shortly after I started to order their books for my clients, as an engagement album option.
However, as their popularity grew and the general public began to learn about them, I changed my product offerings in my business and eliminated them as an option. I was sad to part ways but needed to make that decision for my clients.
But this is also why, years later, like an old friend, I rediscovered Artifact Uprising. The answer to our needs for a high-end album for our vacation needs was sitting in front of me – since 2013.
Reasons to Love Artifact Uprising's Quality Photo Books
They're eco-conscious. They use many recycled materials to make their products. (And we're an eco-conscious couple.)
The company is USA based in Denver, Colorado and the albums are made in the USA.
You're essentially supporting a family run business. Who doesn't love that?
The options don't overwhelm you. (Thank god.) They have minimal options to customize the book which means you make decisions faster.
They have exceptional customer service.
And to briefly mention, Artifact Uprising has amazing products beyond photo albums, like lose prints, framed prints and calendars.
But there's more…read on…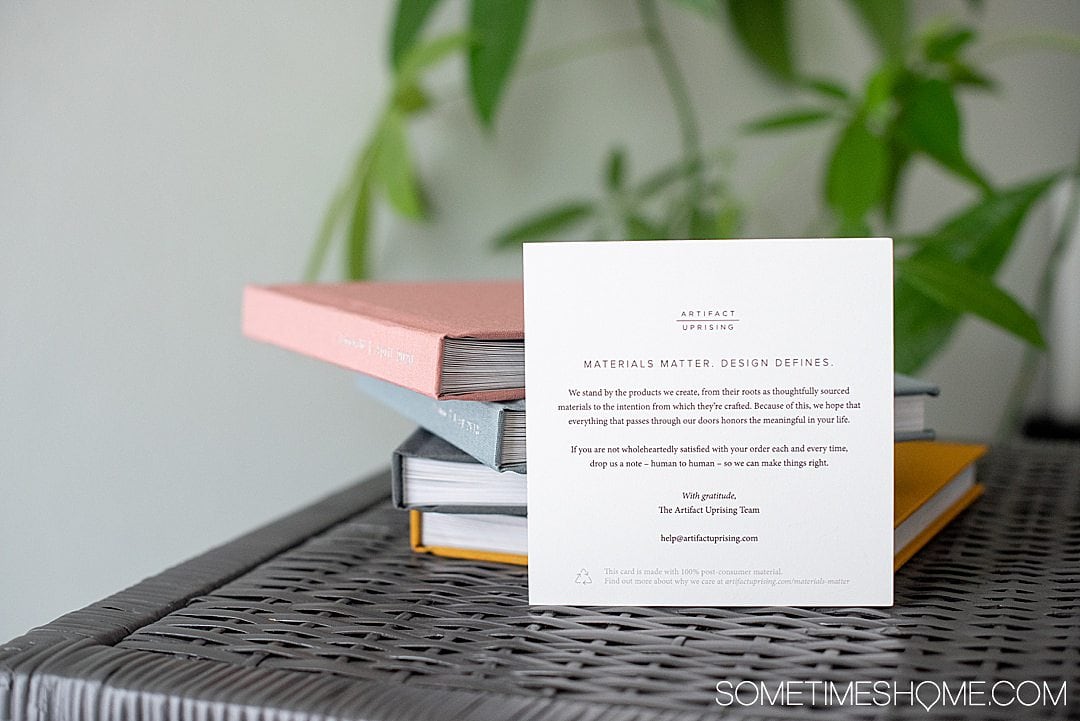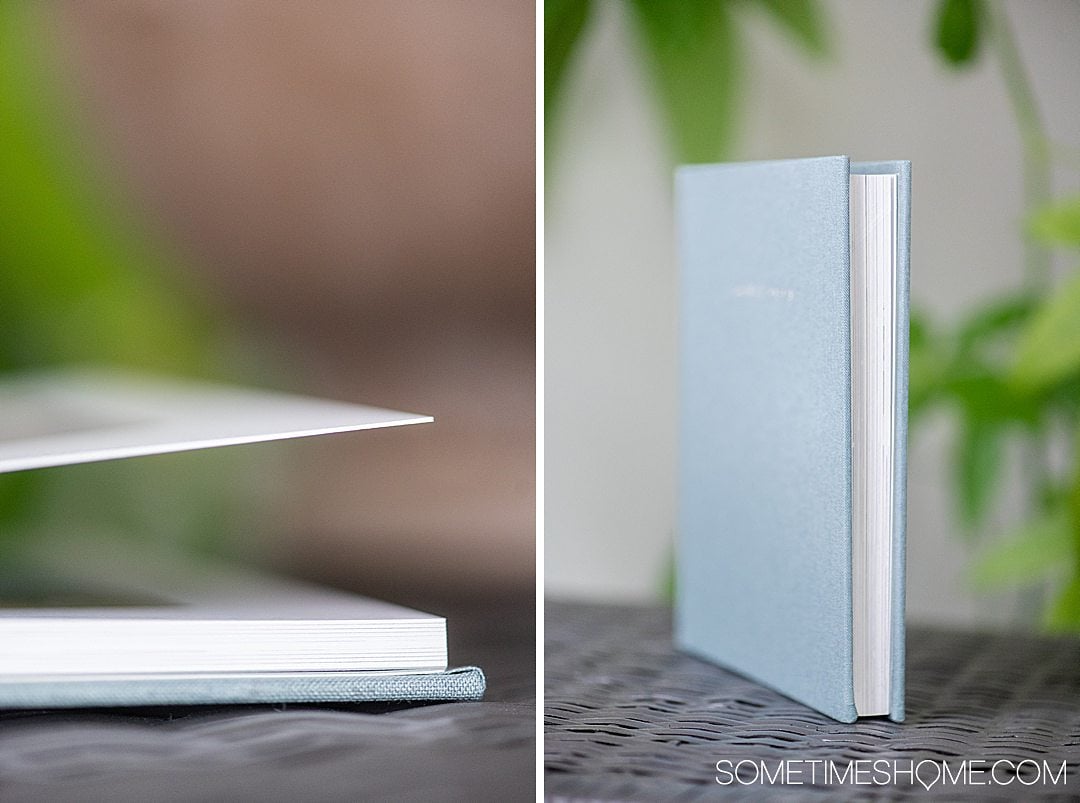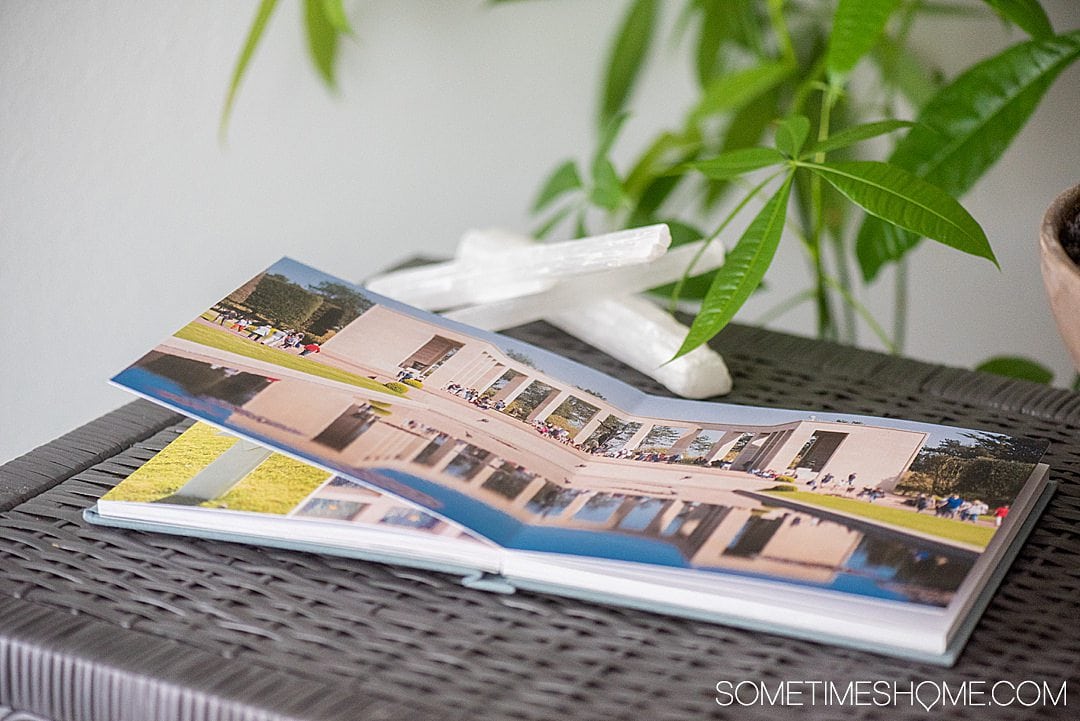 Minimal Yet Personalized Options in a High Quality Everyday Photo Book
I Dreamed This Minimal Photo Book into My Life
Do you know what I dreamed about? I envisioned beautiful photo books lined up like soldiers in a library on a decorative shelf in our living room. It would be front and center, for guests (and us) to grab a book and flip through its pages.
And intriguing conversations about travel and cultures would ensure. Stories sparking connections would be in the pages of these quality photo albums. And the albums would be of Architectural Digest quality.
This was my dream.
Yet WHY did I keep buying sub-par, juvenile books I'd create on Shutterfly?
I'll tell you why. Because Shutterfly sends out free coupon codes and promotions for unlimited pages. And everyone loves to save.
But you get what you pay for and if you're paying less the quality is less. That was the case with Shutterfly books.
I'll tell you what though: there are no savings in a book that doesn't make you FEEL good about showing it to friends. And doesn't make you feel good about looking through it yourself.
There's no coupon in the world that could now convince me to buy anything but Artifact Uprising's quality products. Now I look at our photo books all the time, like the one I made from our trip to the Netherlands with Emerald Waterways in 2019. Or another for our trip to Valencia and Barcelona, Spain in 2020.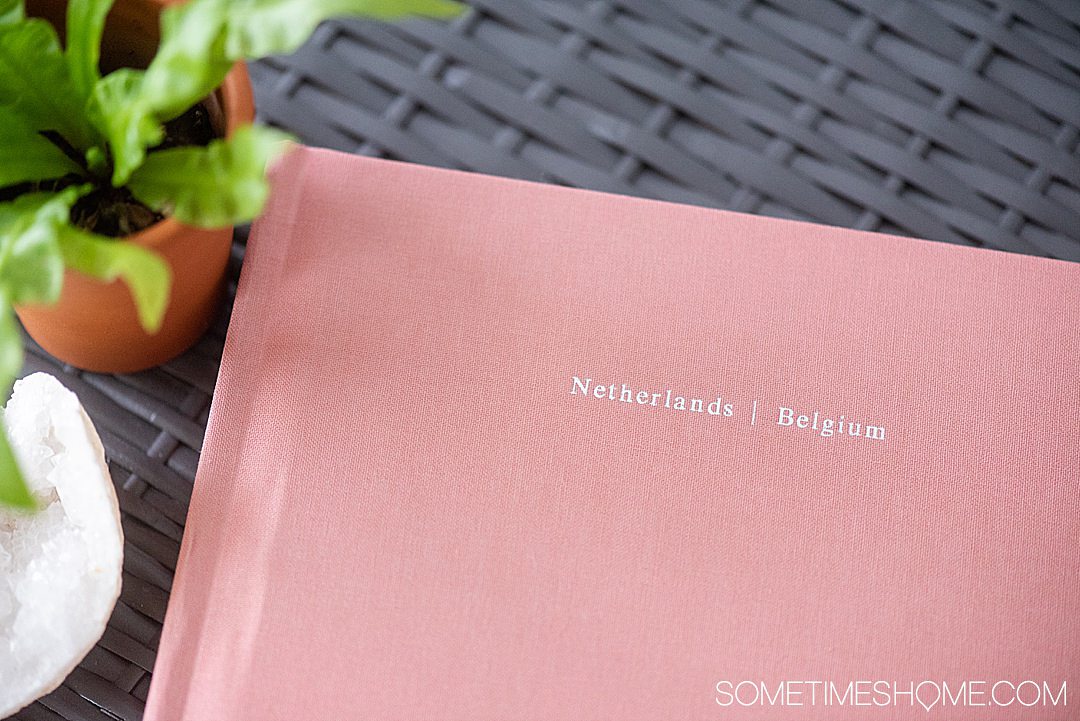 I'm SO PROUD to show off our high-end photo books.
I'm proud to put them in front of guests on a coffee table.
Proud to display them for conversation starters and deeper conversation about what matters in life, like traveling.
And of course, our high-end photo books are now ready for a close-up with any interior design magazine! (Call me!)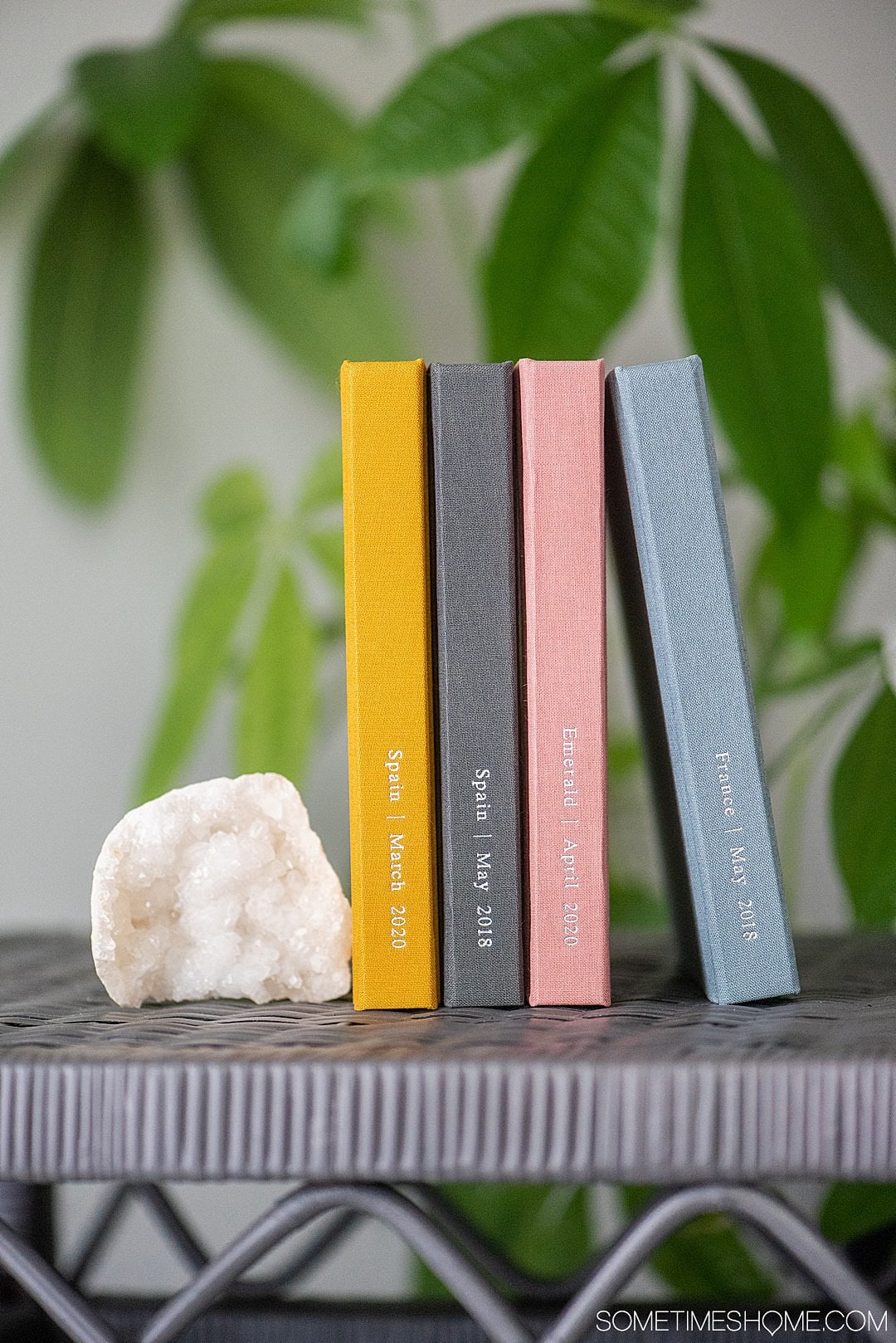 What Can You Customize?
Of course, you can customize the photos on the pages. But you can also customize the color fabric for the cover (choose from one of six options), what the cover and spine say up to a certain amount of text characters in one of three foil colors. And then of course you can select one of three-page counts, either 30, 40, or 50. The price changes depending on the pages you choose.
You cannot customize beyond that. And let me tell you – designing in the confines of their options means you create the book QUICKLY. And that you don't create a crazy tacky book. (I've been guilty of that in the past when I have too many options I can customize!)
Everyone has a story to tell. Tell on.
These words come directly from the Artifact Uprising website. And they give me goosebumps every time I read it.
"Everyone has a story to tell. Tell on."
With every camera click and every photo I create on our many vacations, I know I'm documenting the story of our travels. These "stories" are meaningful in our lives. They help shape our lives and make us who we are.
These high-quality photo books allow me to TELL that story. Not just to ourselves and each other but long after we've forgotten the details of trips and the only thing helping us recall is photographs. But to others who weren't able to travel with us.
The photo books help us share these stories with family and friends.
If you're someone who doesn't print photos I hope this encourages you to get rocking and rolling on an album because those stories are only partially shared sitting on your mobile phone or computer files. Printing them really brings them back to life.
Artifact Uprising FAQs Answered from Someone Who Actually Buys Them
Is there text on the inside pages?
No, there is not text within the pages of the book unless you add it in another program and import the pages, like in Photoshop. I personally like that this keeps it clean.
Are they worth the cost?
YES. The book ends up being between $65 to $115 with shipping but let me tell you – they're 100% worth the cost.
And people think other books are so much cheaper (like Shutterfly) but once they go to check out they realize they're not. My sister called me one day to say she created an album in Shutterfly and went to check out and was SHOCKED that it cost over $200. I said, "Next time ask me about the best option – I would have just directed you to Artifact Uprising, which would have taken a fraction of the time and you would have been happier with the resulting photo book and the cost!"
Do you ever find there are not enough layout options?
Sometimes I do – because the layout options are minimal. But if you can create your own templates in Photoshop, for instance, it's very easy to upload those layouts as full-page spreads. Then you increase the layout options.
Artifact Uprising has an App
Artifact Uprising has an iPhone app. The most useful thing about it is uploading photos to a gallery on their software directly from your phone. You can reasonably create a book within thirty minutes on the app if you want to use photos on your phone. It's SO easy!
Here are three screenshots I took in the app, creating an Everyday Photo Book: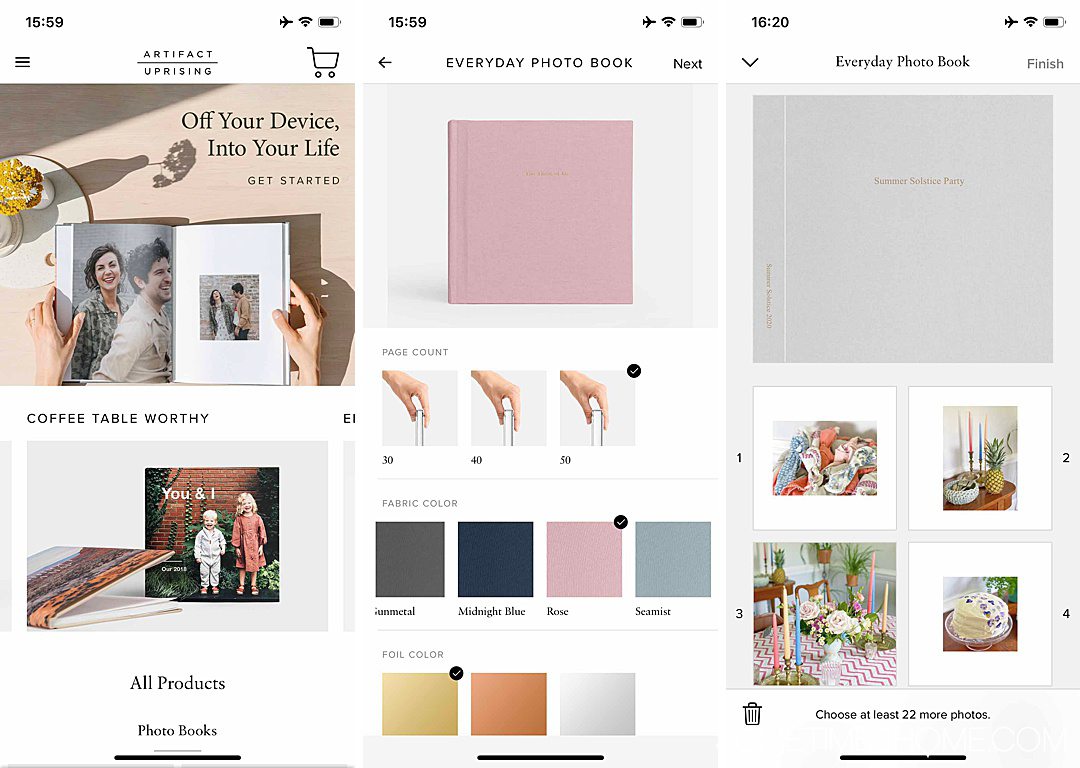 Gifting a Book to A Family Member or Friend
Premium photo albums speak VOLUMES. If you're stuck on what to get a loved one – whether your partner/spouse, or a family member or close friend this is the perfect gift.
Photos will never go out of style. And you cannot go wrong gifting someone a timeless, high-quality photo album like this.
If you can't decide what to get a friend, consider gifting an Artifact Uprising gift card.
Photo Books that are Oprah-Approved
If you're like me, your ears perk up any time you hear the name, "Oprah". Well, it just so happens that Artifact Uprising has been featured in Oprah Magazine. This means they're Oprah-approved! And if it's good enough for Oprah, it's good enough for me. Is it good enough for you? 🙂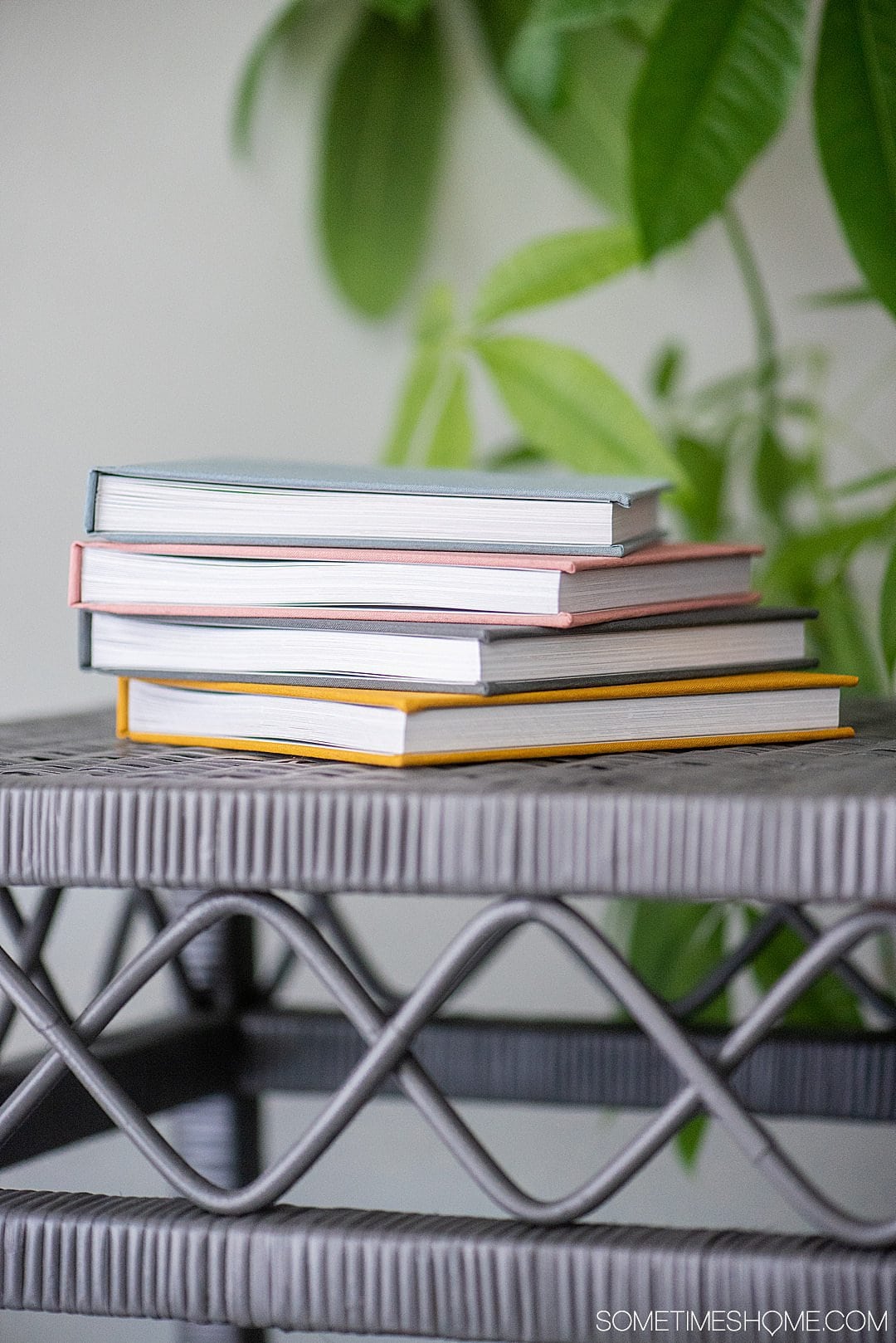 Turnaround Time for Artifact Uprising Books
Quality takes time. It takes five business days for your book to be created then it takes a little while to receive via shipping. Every time I've ordered from Artifact Uprising I allow two weeks from the time I order to the time I receive it on the east coast.
If you live closer to Colorado maybe it takes less time to receive. But I wouldn't know for sure.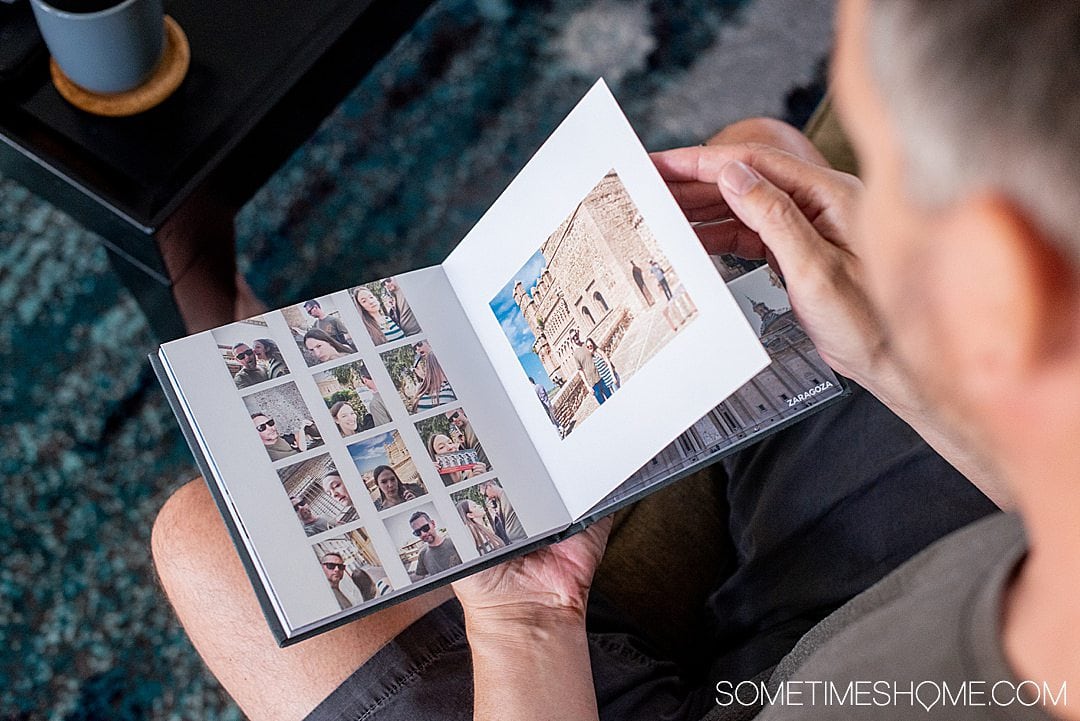 These High End Books are THE BEST but there are More Arifact Uprising Products to Love
Love their high-end photo books? They have more products to love, like their Everyday Print Set cards, which we have in our home too.
Check out our detailed review of Artifact Uprising's additional products.
Here are some more things we love when we're home (like creating photo books!):