This pocket WiFi device will quickly become your best friend when you travel. We waited too long to buy a hotspot so take our advice!
I dealt with traveling overseas and trying to figure out combinations of WiFi at cafes and hotels too many times. It was finally time to reconsider our options this year as the demand to be online for work, including social media, became a part of our daily lives.
Don't make the same mistake we did with waiting to buy a Skyroam! Do it now so you can forego unnecessary headaches with SIM cards in foreign countries, do away with assessing additional roaming coasts and even get your devices online during road trips.
Disclosure: There are affiliate links in this post, which means we may earn a small commission if you click the link and proceed with a purchase, at no cost to you. We truly only recommend hotels, products and services we personally use.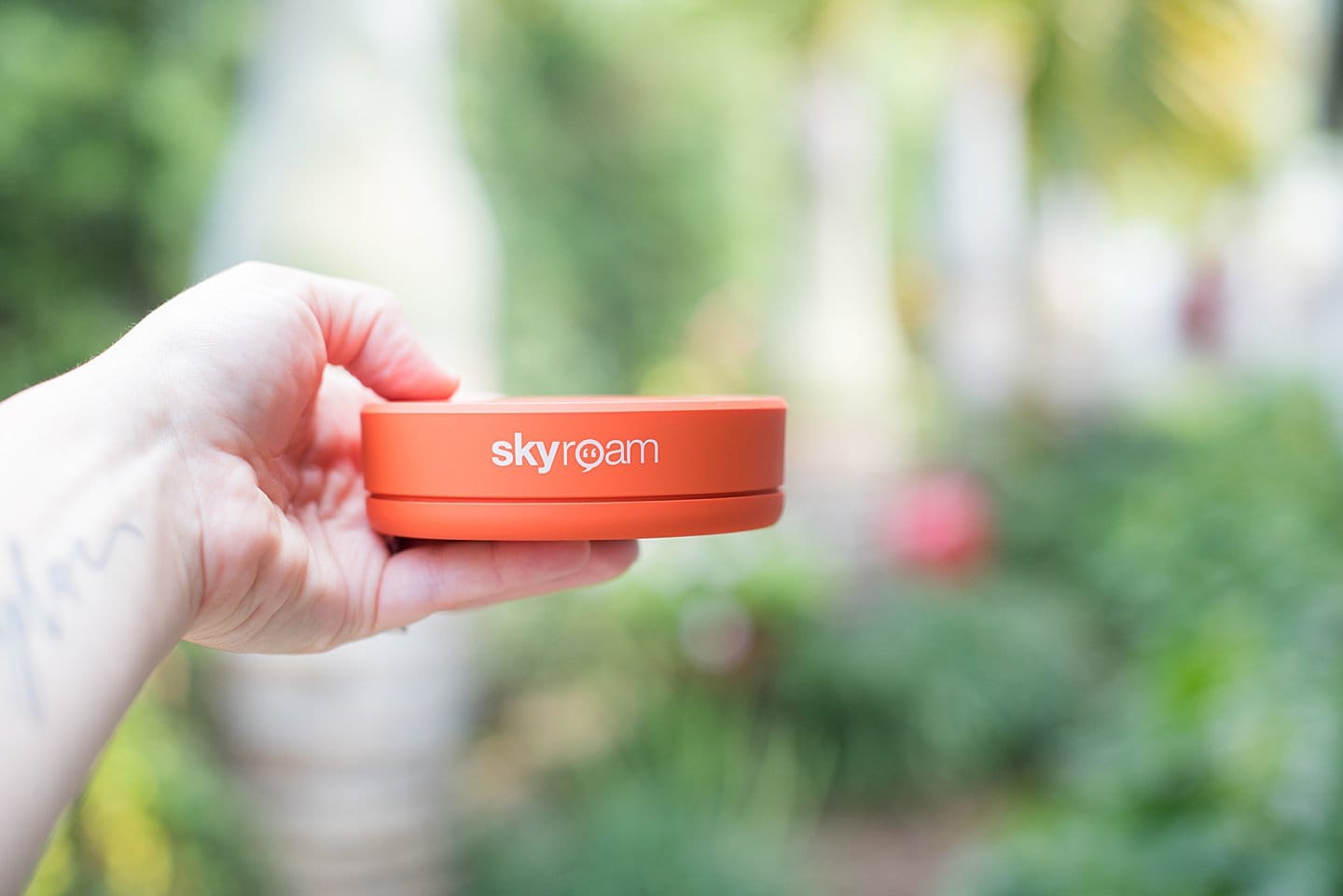 How We Connected While Traveling Before Skyroam
We are a house divided on cell phone plans – Dan has AT&T and I have Verizon. We're both usually "unplugged" while traveling for pleasure because it's part of the joy of vacation. But if we had to communicate with someone while traveling we turned on roaming and paid per day with our cell service. This usually equated to at least $10 per day, internationally.
BUT we still needed to be careful since that $10 per day didn't include unlimited data. (Most data plans abroad aren't unlimited, which is how they get you!) Mobile phone plans usually allow a max of 0.5 to 2GB of data, internationally, these days. And if you go over you'll incur unexpected (and probably unwelcome) charges you won't be happy about.
So our solution, 98% of the time abroad, was to simply keep our phones on airplane mode and connect to WiFi whenever possible and needed. This was usually at our hotel and restaurants or cafes. It was a bit annoying and unreliable, especially while out and about for the day. Thus our search for a new way to connect while traveling.
Exploring the Pocket WiFi Travel Hotspot Options
We posted in a bunch of Facebook groups to see how others connect while traveling abroad. We received a few replies about ways to hack the system with buying SIM cards in another country so your phone works as if you're a local. But the thought of screwing around with our expensive iPhones – opening them up, unintentionally allowing dust inside, voiding the warranty perhaps – wasn't appealing to us. And what would happen if we took out the iPhone SIM card then lost it? That would be such a headache.
We didn't love this option. SIM card coordination and swaps seemed like a huge hassle for a few reasons:
You need to get the SIM card out of your phone. This doesn't seem too cumbersome and we've heard you can pop it out easily in most cases. But toying with our $1,000+ iPhones didn't sit well with us.
You need to buy another SIM card for the country you're traveling to. Where do we get it? Do we need to return it? Do we throw it out after? (We don't love the idea of creating more waste in the world no matter how small.) We didn't even get far enough in our research to figure it out before we decided buying a hotspot was more appealing.
You need to swap the SIM card, once again, when you get back to your home country. (America in our case.) The idea of swapping SIM cards in-and-out of our phones seemed like we were just asking for dirt to get into them. And for something to happen to them.
All this and only ONE phone is equipped to work abroad per SIM card swap. And that's annoying because we usually have two phones and at least an iPad with us. And once in a blue moon we potentially travel with a laptop.
When someone suggested a hotspot we investigated. And we're so glad we did because it's become a travel necessity. If we need to work while we're away we use our Skyroam.
(Working on "vacation" is common for us because we have a passion for travel as we bring you the best content possible on Sometimes Home! But it's common for the average American these days to work on vacation, isn't it? Our lives are integrated with technology across iPhones, iPads, our computers and the like. It's hard to deny the urge or necessity to turn WiFi on while traveling or pay extra for roaming data so those work emails don't pile up.)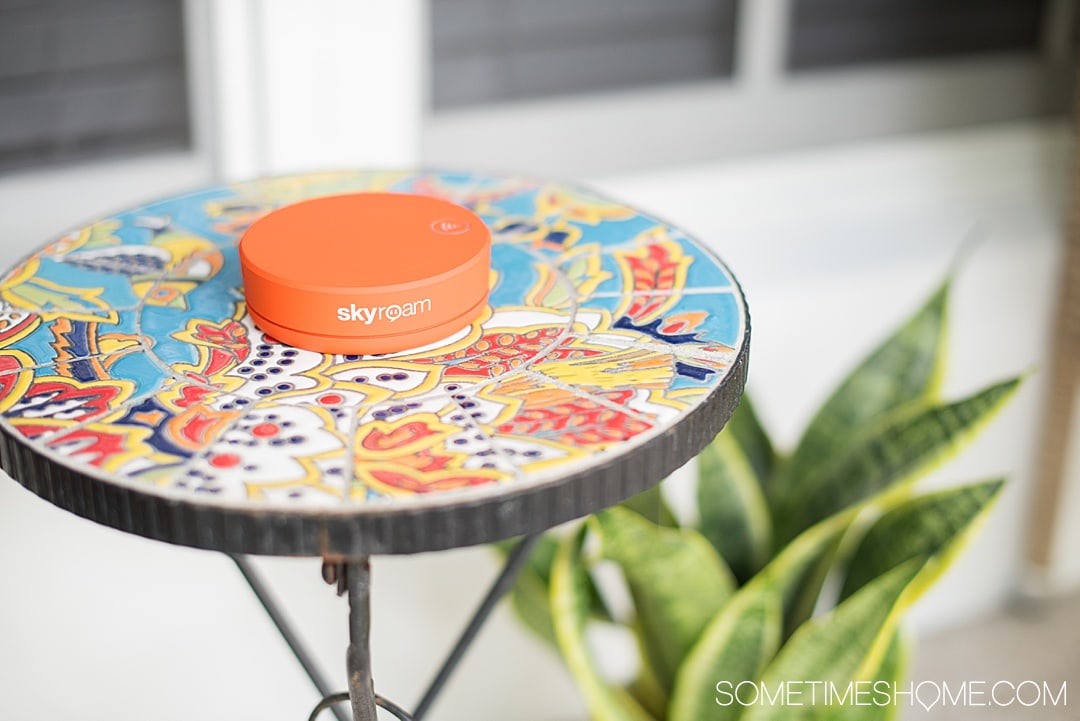 WiFi Hotspot Industry Leader: Skyroam
Deciding to purchase a Skyroam was the result of considering a few factors:
Size and weight (we wanted it to fit into our pocket, small purse or camera bag)
Price
Shape
Highly recommended and well reviewed
Device connection
Connection for multiple devices on one hotspot – you can connect up to five devices on a Skyroam Solis and even more on the new Skyroam Solis X
The Skyroam Travel Hotspot We Purchased
We bought the hotspot, of course. (The Solis model to be exact, the top of the line at the time. The Solis X has since debuted and is the premiere Skyroam hotspot.)
We also added multiple day passes to our cart. This turned out to be wise! It's more money on your bill upfront but then you don't have to worry about adding more day passes to your account for a while when you go to use your Skyroam after multiple trips.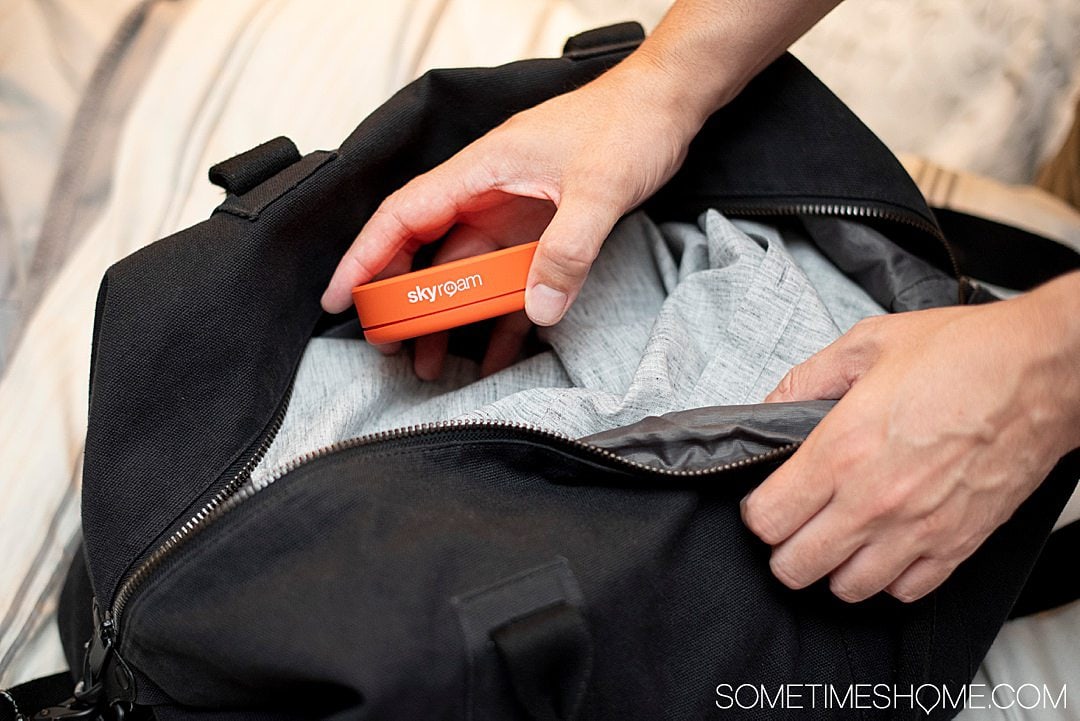 How to Buy Your Own Skyroam Hotspot
We like to buy direct whenever possible. Thus, we purchased our Skyroam and Day Passes directly from Skyroam. It arrived within five days in a small bubble envelope with all our pre-purchased Day Pass cards as well.
The biggest cost, like any device like this be it your iPhone or iPad, for example, is the initial purchase for the device.
Our Solis was $139.99 (and it will cost less for you with our discount code, "SOMETIMESHOME"). A Skyroam hotspot is quite affordable and reasonable, especially if you're going to use it a lot. It can actually save you money and lessen stress, on cell data and swapping SIM cards, in the short and long term. And who doesn't want more money and less stress in their life?
If you are purchasing your own Skyroam, please use one of our links or coupon code if you found this post helpful. DISCOUNT CODE: SOMETIMESHOME
Skyroam WiFi Data Plans
There are three WiFi options:
Unlimited plan $99 per month – the best option if you need it for data-guzzling internet, like Netflix, Hulu and Disney+
GoData $9 per month for 1GB: great plan if you are going to use it often during the month, not including streaming movies and tv shows
Day Pass $9 per day: the best option if you're like us and you travel internationally a few times a year and otherwise have WiFi at home
If we pay $9/month for GoData we have up to 1GB to use whenever, during the month. But if we don't use the Skyroam every month that isn't the best plan. Since we travel a few times internationally a year, and have a few road trips together a year where one of us is driving and the other can sit in the passenger seat and do work on a computer if need be, Day Passes are usually the best option for us.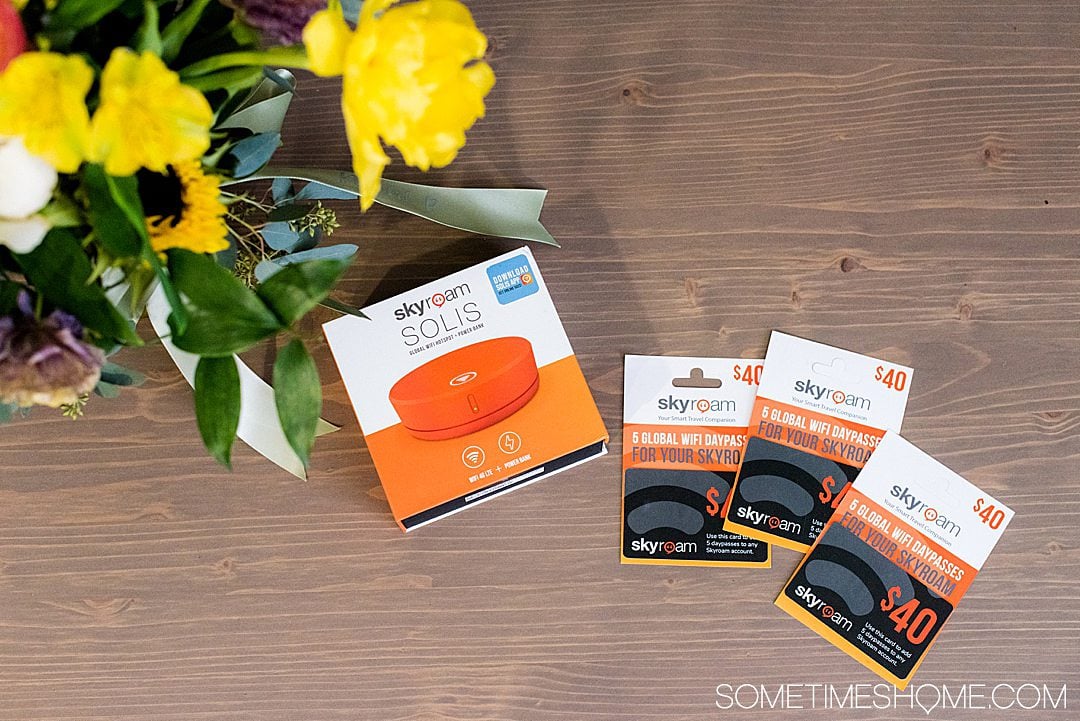 However, if you are using it for internet in your home, or need it to connect to WiFi while you're driving and use it as a car dash cam, for instance, as is one of the cool uses of the Solix X, you may want to sign up for the unlimited plan for $99 per month. The Unlimited Data plan can potentially save you over $170 during a 30 day month when compared to cell phone data options.
While I was in Canada, Verizon charged $5 per day for roaming. I visited for three days and only activated a single Day Pass for 24 hours. I did so when I needed to connect multiple devices, other than my cell phone, to get work done while I was playing tourist.
It didn't make sense to use day passes the two other days I was in Canada because the math didn't work out. It was either $5 per day for my phone or $9 per day on a Day Pass. And for two of the three days I only needed my cell phone to do assorted social media posts and text family back in the United States. The moral is: you can be smart with what you use your mobile phone for and what you use your Day Passes with your Skyroam pocket wifi device for while traveling, depending on where you are.
How to Set Up Your Pocket-Sized Skyroam Once You Receive It
We made the mistake of activating our Skyroam in the Boston Logan airport awaiting our flight to Amsterdam. It would have been smarter to activate it at home in the days leading up to the trip but we weren't sure if once we opened and activated it a Day Pass would immediately go into use. We found out that isn't how it works and we're passing this knowledge on to you.
Set up your Skyroam pocket wifi device ahead of time, before your trip. Not at the airport.
I feverishly contacted support on the website's chat while we were waiting in line to board the plane. This wasn't on purpose – it was because I totally forgot to activate it during the wait at the airport. (We had just gotten engaged and I was preoccupied with excitedly speaking with friends and family about it before we departed to enjoy a call-free trip abroad, focusing on us and Sometimes Home. Also, if you're curious, we eloped six weeks later.)
Here's the steps to activate your Skyroam hotspot device after purchasing it online and receiving it in the mail:
Download the Solis app and create an account
Open the physical Skyroam package you received in the mail
Twist open the bottom of the Skyroam device and pull the tab off the battery to activate power. You likely don't have to charge it (ours came pre-charged) but if you do be sure to charge it for a little while using the included cord and a USB wall power adapter…
Turn on your Skyroam – it takes a few minutes to power up
Register your Skyroam serial number with the Solis app (it's on the bottom of your Skyroam device)
If you bought Day Passes you can enter the numbers of the cards into your account online and throw away the physical passes afterwards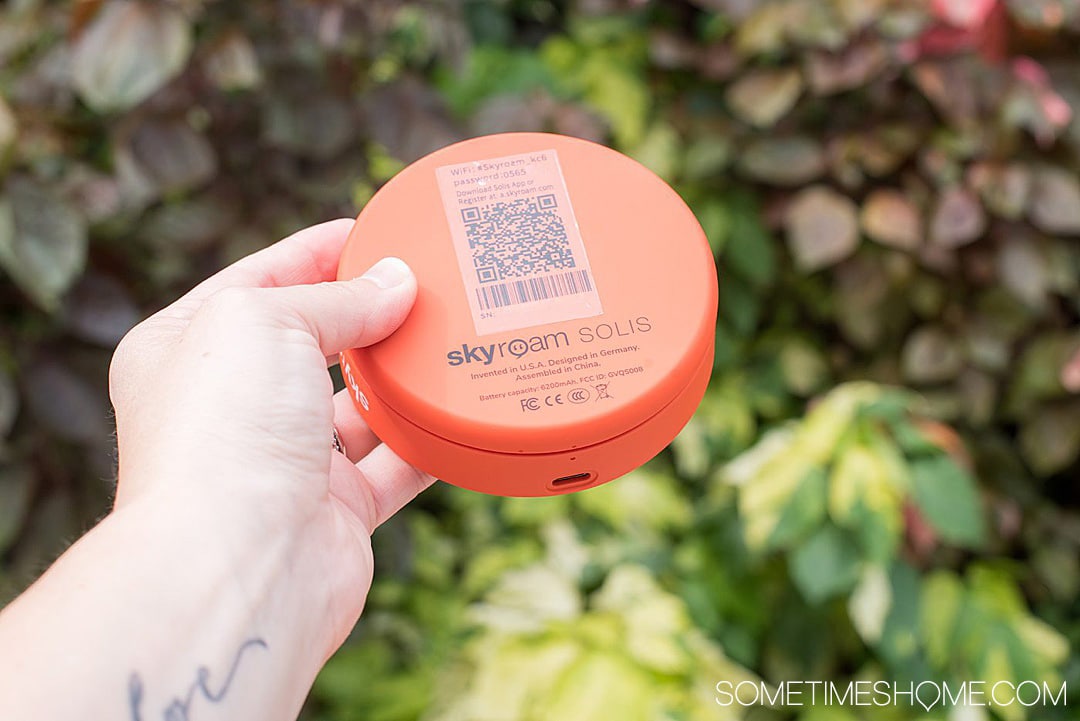 Light Indicators on a Pocket Wifi Skyroam Hotspot
There are two light functions to know on a Skyroam travel hotspot:
The circle that is around the WiFi bars. This is your power indicator. If it's a full circle you're at 100% power. If it's half a circle it's at 50%. You get the idea….
WiFi bar: indicates the WiFi strength, like the service bars on your cell phone
Slowly blinking light: could mean your Skyroam device is still powering up
All four bars on the WiFi are blinking: could indicate the Skyroam is searching for service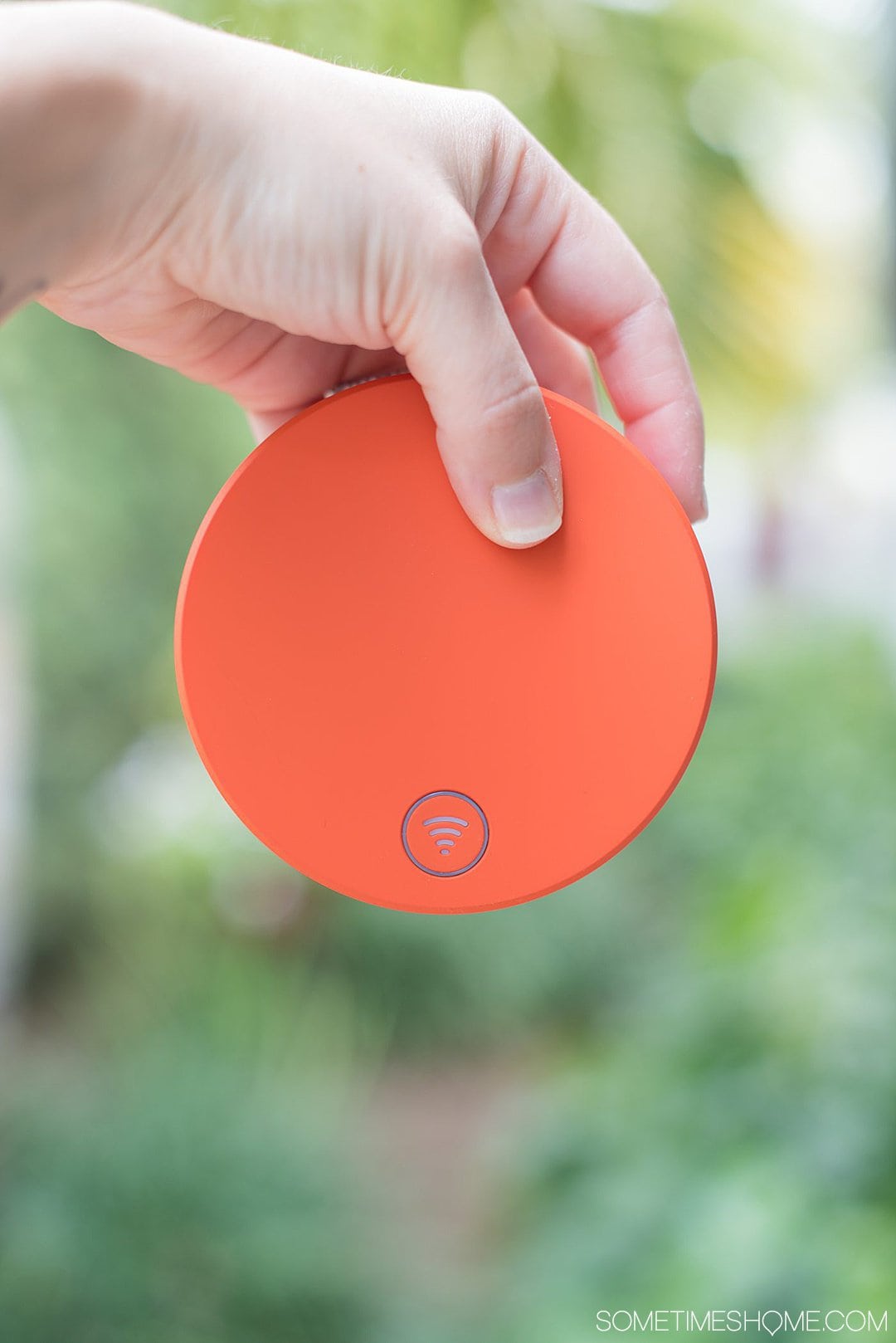 Day Passes
Bookmark this blog post because you may need to reference this once you have your Skyroam in hand, especially this website: a.skyroam.com
Here's two ways to activate a Day Pass:
1. First Option:
Switch on Skyroam Solis
Wait until all the lights show up and observe when the WiFi button is blinking
Connect the device you wish to connect to WiFi (Phone/Laptop/iPad/etc.) to the Skyroam Solis WiFi
Press the WiFi button one to three seconds until it vibrates – WiFi light should become solid and activate a pass
2. Second Option:
Switch on Skyroam Solis
Wait until all the lights show up and observe when the WiFi button is blinking
Connect the device you wish to connect to WiFi (Phone/Laptop/iPad/etc.) to Skyroam Solis WiFi
Open up a web browser (Safari, Google, etc.) on your device and visit a.skyroam.com (if you can't get to that web address try clearing your browsing history)
Log into your Skyroam account using your registered email and password
Click "Status Tab" and Press "Start" on a Day Pass
Skyroam Day Passes Expiration
We learned the cards do not expire unless you don't use the hotspot for one year. (If you don't use the device for 365 days then Skyroam thinks you're an inactive user. But as long as you use the hotspot once in a while (or literally once every 364 days, just shy of one year dormancy) the pre-paid days remain valid and good to use.
Advantageous Uses for Skyroam Hotspots
Skyroam is wonderful if you're traveling to Europe, for example, where cell phone service is plentiful. This is because Skyroam works off of other provider's cell towers like most WiFi hotspots. It connects to these foreign-to-you services locally where you're traveling to gain access to service. We found it worked nearly everywhere we went in The Netherlands, for example.
It's also great for the car. It has been beneficial to bring our Skyroam pocket wifi on trips if we're traveling up and down the east coast of the United States. Of course we don't have WiFi in our car but it's useful to have to connect to WiFi on our laptops and get work done while the other drives.
Domestically, it's been wonderful to connect to WiFi in places that don't have it. Let's say you need to connect at a hotel that either doesn't have WiFi or there's a charge. We can turn on our Skyroam hotspot and connect multiple devices for less than $10 a day. Using a Skyroam Day Pass beats a lot of hotel options, that charge nearly $15 for 24 hours of premium WiFi.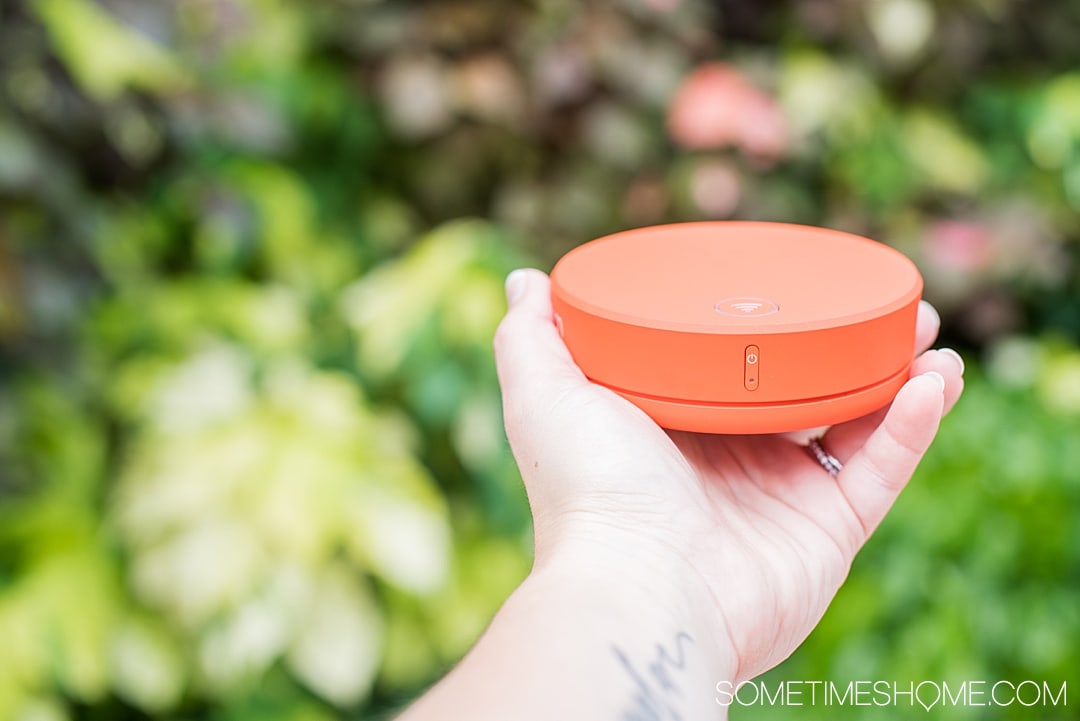 Poor Uses for a Skyroam Hotspot
We've read some unfavorable reviews of Skyroam devices. And we realize a common thread: the reviewers had unrealistic expectations for a hotspot.
For instance, Dan's parents don't have internet so he took it there to test it out, hoping he could get online from their house. But he discovered there isn't cellular service where they live either, so it was really difficult to get service on the Skyroam. This is because cellular coverage is simply lacking in the suburban/rural area where they live. Skyroam cannot create service where there is none.
Another example is my recent travels through Yellowstone National Park, where there isn't cell service let alone WiFi in much of the park. Bringing our Skyroam wasn't going to make cell service or WiFi magically appear. It just doesn't exist there.
So if you have a Skyroam know it must be able to connect to cell towers and data for it to work. If there's no service in the area you won't get service on your Skyroam.
Troubleshooting
We've had to connect to their live chat support feature more than once. Sometimes the issue can be solved by rebooting the device. Other times we haven't been able to figure it out and need to talk to support. They've always been very helpful in diagnosing the problem, then resolving it.
We've experienced the Solis app not working a few times too. Be sure you always have the "a.skyroam.com" website bookmarked so you have another lifeline if you need to activate a Day Pass or speak to support. The app has sometimes failed us but the website has not.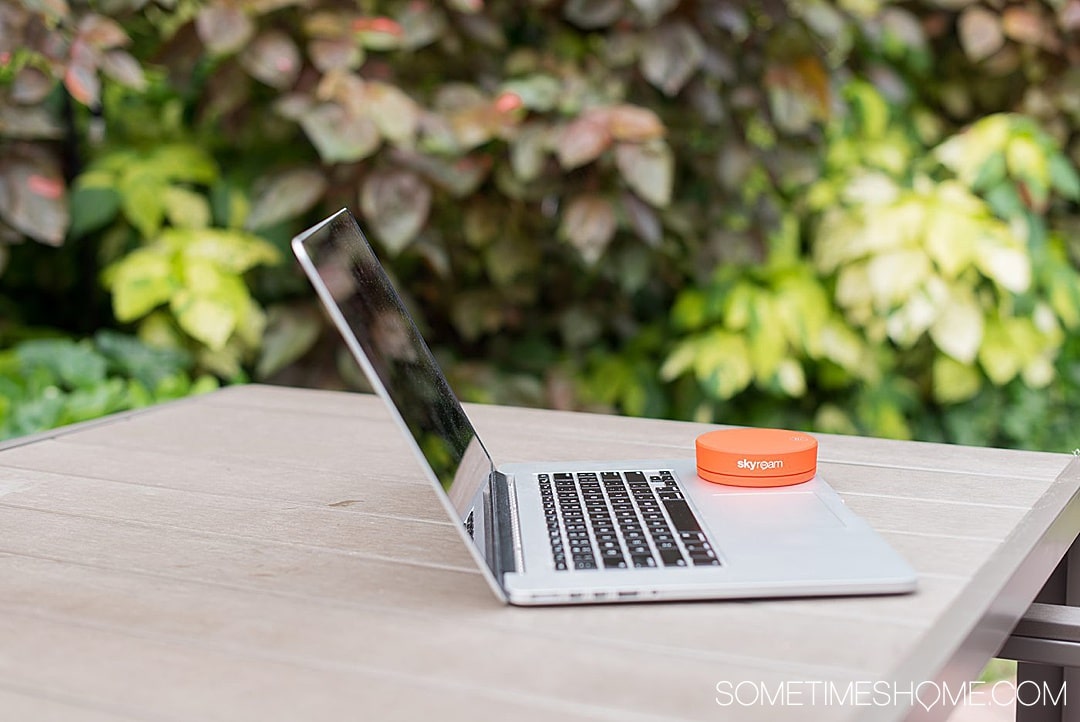 Helpful Skyroam Hotspot Tips
If you have something important you need it for, like a meeting where you'll have to do a video call, you definitely want to test the WiFi coverage in advance of your meeting. We learned this the hard way when Dan was in Buffalo at his parents' house. So here's a few tips for you:
Use your 24 hour Day Passes wisely: if you need WiFi at 2:00pm the next day then don't activate it at noon the day before because it will expire at the time the next day – wait until 3:00pm, for example, so it's valid until 3:00pm the next day
Activate your device ahead of time
Skyroam devices, like any hotspots, don't work everywhere – it depends where you are
Bookmark this site:

a.skyroam.com

because you may need to reference it in the event the app isn't working (we can't stress that enough – we've repeated it several times in this post on purpose)
Things We're Looking Forward to with the Solis X:
Skyroam polled their customers and the feedback was users wanted more multimedia features. Hence the birth of the Solis X.
The main feature that was added was a lens for camera capabilities. Here's five great things you can do with the camera feature that we're looking forward to testing:
Take pictures and videos
Put it on a table and stand feet away to take pictures through the phone on the app (selfie time!)
Use it as a "nanny cam" in a hotel room when people travel (make sure this is legal first)
Enjoy video calling and conferencing
Use it as a "dash cam" for a rental car
The second feature that was added is a microphone that allows users to utilize it as a speaker phone during video conferencing or for audio if recording video. How cool is that!
Buying Is Easy
Buying a Solis hotspot is easy to do online. (No time like the present!)
If you'd like to test it out before buying, look at their daily rental option for less than $10/day. Order ahead of time to allow a few days for shipping. If you're going to rent it for more than eight days, however, you may as well buy a device; it's more economical that way.
We'd be grateful if you purchased from a link on our site and/or with the coupon code: "SOMETIMESHOME" to save 10%!
We've had ours for years and love it!
Traveling aboard? Also check out: