How to Dry Stasher Bags (with Additional Useful Tips)
What is the best way to dry Stasher Bags after you've used one and cleaned it? The easy part is putting whatever goodies you want in a bag – from snacks to marinades to bits and baubles in a travel bag, perhaps.
Cleaning them takes a tad more thought, and drying them is an essential part of that process. We're sharing our favorite way to dry Stasher Bags and additional options for you so you can find your favorite way to dry these awesome bags too.
Disclosure: There may be affiliate links in this post, which means we may earn a small commission if you click the link and proceed with a purchase at no cost to you. We truly only recommend hotels, products, and services we personally use.
The Best Way to Dry Stasher Bags
✅ On a Bamboo Drying or Dish Rack
Our number one way to dry Stasher Bags – of any shape or size – is on a bamboo rack after we hand wash them.
We'll get into dishwasher drying later on, but this is our favorite way.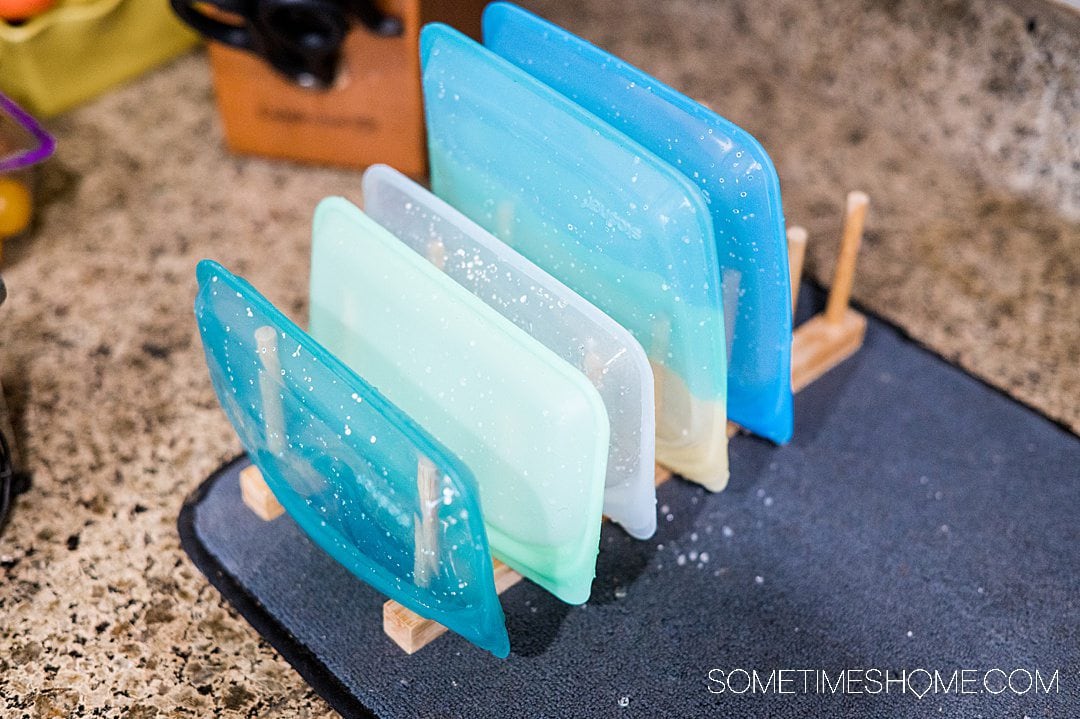 We simply hand wash them with a bottle brush (which gets into the nooks and crannies of these eco-friendly bags best) and then shake out whatever excess water we can. Then, we place the Stasher Bag on our bamboo drying rack on our counter next to the sink. This is all on top of a quick-dry pad where we place pots and pans we're drying.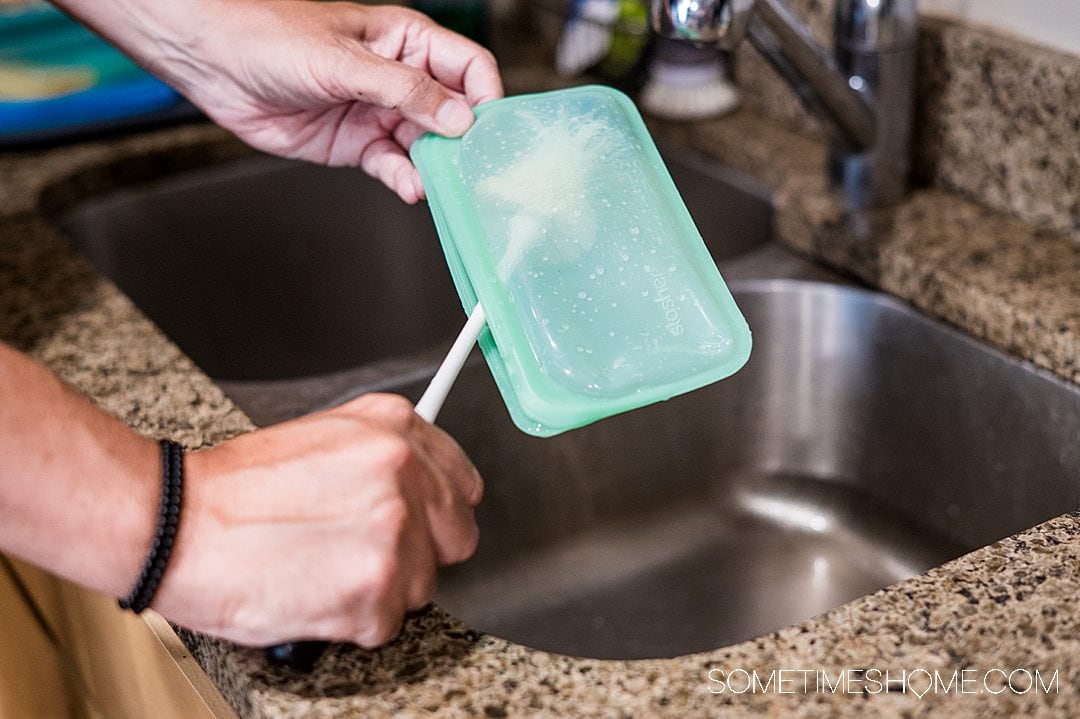 The bamboo drying rack is key because its pegs hold the bags open so the air can get to them to dry. Additionally, having them in an upside-down position allows gravity to do its job, so move whatever water droplets are left inside down on the mat.
What Kind of Bamboo Drying Rack to Buy
We like the ones with a lot of pegs because it means that you can put more bags on the rack. In addition to drying Stasher Bags on the bamboo rack, we'll also place some pans we've hand-washed on there or glasses on the pegs.
It's very convenient! Here's the drying rack we recommend.
➡️ Easily Dry Your Stasher Bags with this Bamboo Drying Rack
Drying Stasher Bags in the Dishwasher
You can put your Stasher Bags in the dishwasher on whatever heat setting you like since they're heat resistant up to 400+ degrees. They'll dry in there too.
We advise that when you put them in the dishwasher, you put them between pegs on the top rack so they stay open during the wash and the drying process.
We choose to hand wash ours and let them dry on the bamboo rack because no matter the setting we have dried them or the detergent we use, they end up with little water spots on them in the dishwasher.
These spots can easily be wiped away after a dishwasher cycle with a towel, but we simply prefer to hand wash and dry our Stasher Bags instead.
What you want to be careful not to do is force a stuffy towel into the bag and risk ripping the bag, particularly where it closes on the top. Be gentle with them and use the corner of a towel to get inside the bag's corners as necessary.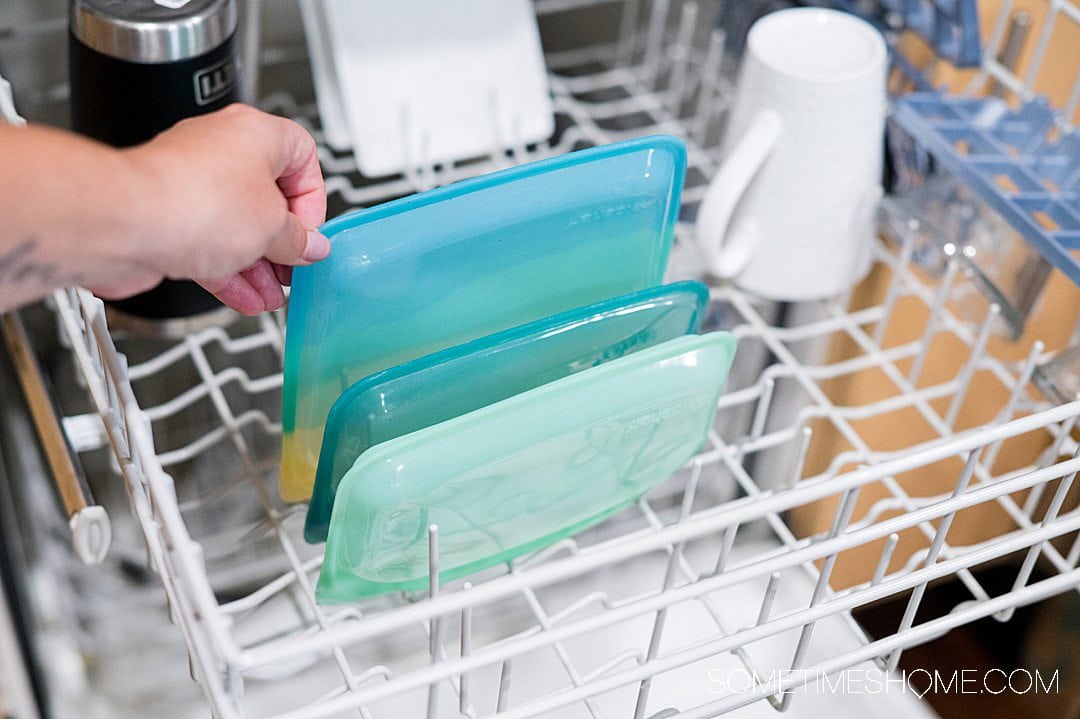 ✅ Additional Stasher Bags Tips
➡️ Removing Stains from Stasher Bags, like Pasta Sauce
You can remove any stains in the bags – like from marina sauce, for instance – by placing a Stasher bag in direct sunlight for a few hours.
➡️ Keep Your Bag Right-Side Out
Don't turn your bag inside out: it won't work and you may risk ripping the bag.
➡️ Microwave after Opening the Bag a Bit
Open the bag slightly when you microwave anything in a Stasher bag to let hot air escape.
We've found it's easiest to open a closed Stasher bag by rolling the sides down on one of its rounded corners.
➡️ Be Mindful of High Temperatures with Stasher Bags
Use in temperatures below 400°F only.
If you're using your Stasher bag in the oven or a toaster oven, be sure to place it on a baking tray first.
➡️ Don't Use or Store Sharp Objects with Stasher Bags
Don't put sharp forks or knives in the bag to avoid puncturing it! After all, you want your Ziploc bag alternative to last a lifetime.
➡️ Easily Get Rid of Faint Food Odors in Stasher Bags
If, for some reason, the bag has an odor like shrimp 'n grits or other smelly food has been in there way too long, soak the bag in a 50/50 distilled white vinegar and warm water bath for a few hours.
If the smell remains after the vinegar/water bath, bake the bag in the oven on a baking sheet after it's out of the liquid for 8 minutes on 350°.
➡️ Storing Stasher Bags
Store your bags in a container (we store ours in a simple plastic bin) and leave them open. This is so they remain dry and no moisture is trapped inside, which can invite mold.
⬇️ Shop Stasher Bags and Accessories ⬇️
Where to Buy Stasher Bags
If you need more bags to add to your collection, we recommend buying them directly from the site. Their customer service is good, and you'll easily get free shipping above a certain dollar amount that's easy to reach if you buy a few bags.
We also love that this zero-waste, Ziploc bag alternative is a female-owned company, giving back to the planet.
If buying directly on their website isn't appealing to you, you can also find them on Amazon.
Drying Stasher Bags is easy and continues to make helping save the environment with these zero-waste bags a cinch.
🛒 Buy Stasher Bags (and Support a Female-Owned Company)
Conclusion
Stasher Bags are easy to dry, and you have multiple options if you simply purchase a bamboo drying rack or choose to use the dishwasher.
Read this next: