Zero-Waste Ziploc Bag Alternative: Stasher Bags
We dreamed of finding a zero-waste Ziploc bag alternative that provided a quality solution, for a long time. Because as friends to the environment, we hate single-use plastic.
Naturally, this meant we were always on the hunt for something to replace Ziploc bags. We're like any other family, in that we love easy-to-seal secure bags that are a simple solution for how to store items, and take things on the go.
That's exactly why we were so glad Stasher Bags came into our lives.
Disclosure: There are affiliate links in this post, which means we may earn a small commission if you click the link and proceed with a purchase, at no cost to you. We truly only recommend hotels, products, and services we personally use. As Amazon Associates, we earn from qualifying purchases.
♻️ Zero-Waste Ziploc Bag Alternative
You will feel great using this Ziploc bag alternative too, as you continue to eliminate single-use plastic from your life. (And cut down on your shopping list at the grocery store, to boot, because you'll never need to buy Ziploc bags again!)
Stasher Bags are so much more than "reusable bags," though. They help us on a great global mission to cut down on plastic waste to help save the earth. They are efficient for multiple uses, they're attractive, and more.
This eco-friendly solution enabled us to eliminate single-use plastic bags from our lives, entirely, and you can too with this Ziploc Bag alternative. Let's dive in.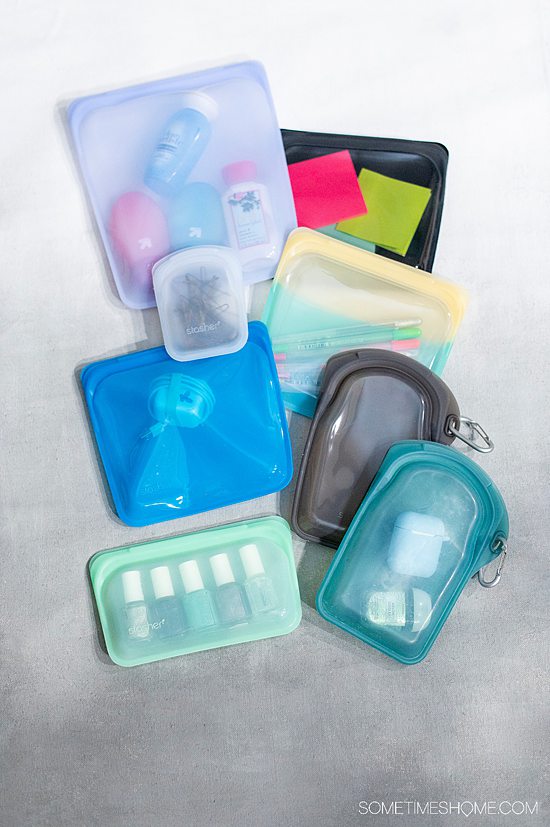 ➡️ What We Used Before Finding a Solid Ziploc Bag Alternative
Our hearts were broken every time we'd have to use a single-use Ziploc bag. Not because we'd use it once and then throw it away. (Because we would use our Ziploc bags several times before throwing them away, even cleaning them for reuse if needed. Yet at some point it was inevitable it would have to be tossed out, usually around the same time holes appeared in the thin, bags.)
We most readily used plastic bags for toiletries like lotion, shampoo, and conditioner when traveling, as an extra layer of protection in case they exploded.
No one likes when these liquids open in their luggage or travel backpack when on vacation. Or we'd use a plastic bag to place the contents of an open bag of candy in it so they would stay fresh longer.
We had gotten our use of single-use plastic bags down to the bare minimum. The last box of Ziploc bags we bought lasted well over a few years.
But none is better than the use of some, and we were striving to find a solution to completely eliminate single-use plastic from our lives, altogether. Yet how were we to do it? Especially after one plastic bag alternative after another failed us.
Our problem: Needing a reliable alternative to single-use plastic zip-closure bags.
The solution: Stasher Bags.
🙁 Other Bags Don't Work
We think it's important to note that finding an alternative to Ziploc bags has always been important to us. But the technology had to catch up over time. Thankfully it did.
Still, not all reusable bags are created equal.
Before finding Stasher, we tried a few different brands only to be frustrated when they would rip a few months after purchasing them.
What was the point in investing in a reusable bag if it ripped easily and only lasted a few weeks or months? Or worse: days. That simply perpetuated the waste issue.
Stasher Bags were the first and only bags that held up over time. The ONLY ones.
Invest once in the BEST reusable bags, not multiple times in mediocre ones. Stasher are those bags.
When we combined the proof that they last with all the other amazing reasons we love them – from the company giving back to charitable causes, to the fun colors they come in, to being freezer and microwave safe, to being a female-owned company and more – it's was a no brainer to commit to them and buy more. A NO-BRAINER!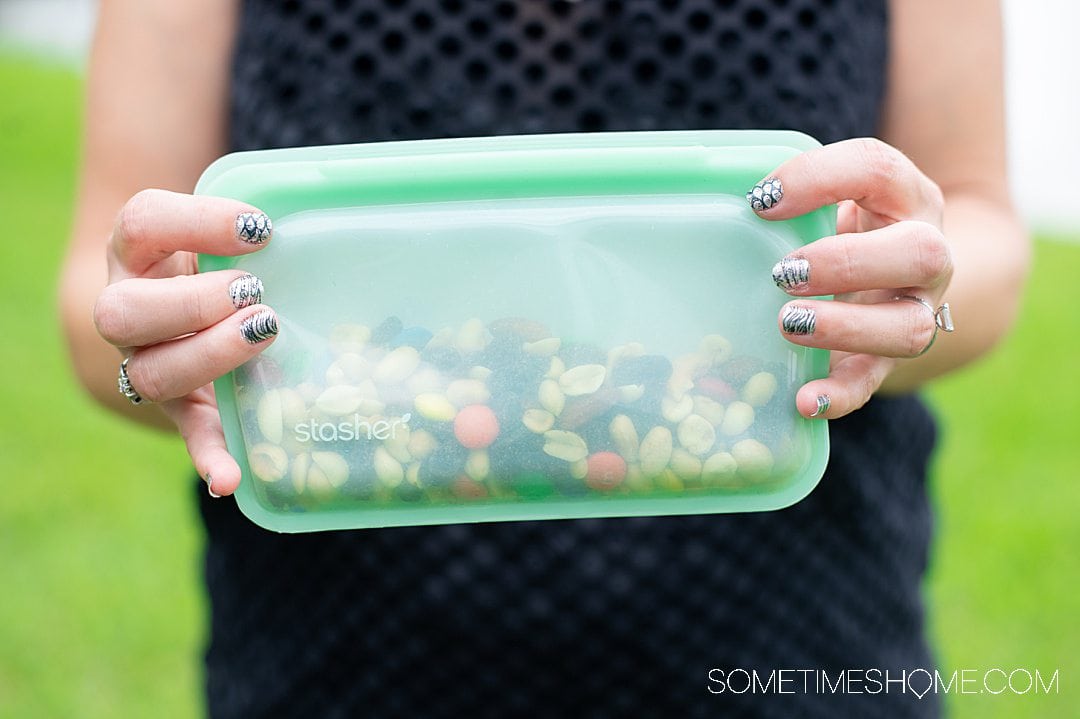 🙁 Why Plastic is Terrible for the Earth
In the 21st century, it's fairly widely known that plastic is terrible for our precious, one-and-only Earth.
But WHY is plastic bad for the Earth?
Most people don't know why. So we're going to list just some of the reasons why single-use plastic is atrocious for the planet that you and I live on.
Plastic is made using fossil fuels. The process of extracting fossil fuels from the Earth is harmful to the planet. Not only does it speed up climate change, but, according to waterkeeper.org, negatively impacts our oceans.
👎 So much of the plastic used on Earth is either single-use or, shockingly, "

zero

-use." How many times have you gotten take-out food from a restaurant to find plastic utensils in there you didn't need because you were eating at home where you have flatware? So you just throw it out. These plastics use bad resources for production then, to make it worse without even a single use sometimes, end up in landfills. Plastics don't disintegrate so they end up in our oceans.
👎 The more plastics that are in our oceans, equates to more greenhouse gas emissions (because of the chemicals in plastics). And greenhouse gas emissions accelerate climate change.
👎 Animals – including birds, turtles and fish – ingest the discarded plastic bags and the like from landfills and oceans. This poisons and suffocates them. (This is super sad.)
👎 Plastics have carcinogens (cancer-causing agents) which can directly, negatively affect your health.
🥳 Ziploc Bag Alternative Solution: Stasher Bags
One day, while browsing the aisles of Home Goods, I saw an alternative to plastic bags. (Spoiler alert: they were not Stasher bags.)
I purchased two sets of three Russbe bags: one teal set and one yellow set. I was elated to have potentially found a solution to our problem of single-use plastics. Then, while opening the bag a couple of weeks later, it ripped. Ugh. Turns out, they were crap quality!
I inquired with the company's customer service team about replacing it and they had no good answer. The company didn't have any sort of warranty and then I was left with….waste. And that was precisely the issue we were trying to avoid when I purchased them for our home.
Conversely, one day I saw Stasher Bags in a popular franchised store. I knew better than to buy it without research this time so I went home and looked up "Stasher Bags."
The website revealed so many amazing things about the bags, the company, and its founder. Reviews were glowing. I ordered some online and bam: I found our solution!
Reasons to use Stasher Bags, the BEST Zero-Waste Ziploc Bag Alternative
😊 They're made from Eco-Friendly, High-Quality Materials
Stasher bags are made from silicone. In fact, they're made from platinum silicone. This material maintains its high quality for a lifetime.
These Ziploc bag alternatives have passed even the strictest food-grade tests in Europe and the United States. Even the dyes that give them their attractive colors are food-safe.
They are also free of BPA and BPS (Bisphenol A and S for the science nerds). And they certainly don't have anything like lead, latex, or phthalates in them.
😊 Stasher Bags are Microwave Safe
Seriously, who wants to microwave Ziploc bags? Because you know the plastic is terrible for you! We would imagine anyone who has microwaved a plastic bag for a little too long and has seen it melt knows that, firsthand. (Especially if there is food in that plastic bag whose heat causes it to melt even faster.)
But luckily, Stasher Bags are microwave safe and the silicone they're made of won't melt on you. What's more, is that the material they are made from (platinum silicone) won't degrade over time.
😊 Stasher Bags are Lightweight
In addition to using Stasher bags for food storage, we have things like glass dishes (like Pyrex products with covers) at home too. But the covers are…say it with us: plastic…and the glass containers are heavy.
Stasher Bags are lightweight. They don't have any plastic on them and they don't cling and clack when you stack them like glass does (or chip and break sometimes).
😊 This Ziploc Bag Alternative Can Literally Stand Up on Its Own (It Actually has Structure)
Stasher Bags are a Ziploc bag alternative that won't flop over like a wet noodle in the fridge, freezer or on a shelf. Especially their "Stand-Up Bags."
This means that if you want your Stand-Up Stasher Bag to remain upright without leaning against something, they will.
😊 Stasher Bags are Freezer Safe
Stasher Bags are rockstars in the freezer.
Gone are the space-hogging plastic containers that we previously used and glass containers too.
The Stand-Up Stasher bag, mentioned above, has structure and can stand on its own. Or, sometimes we'll stack a few bags side-by-side in the freezer to freeze things like soup, herbs, and rice.
What's more, is that as soon as you take a Stasher Bag out of the freezer you can pop it in the microwave to warm its contents.
😊 You can Use Stasher Bags to Sous Vide Food (and Be a Fancy Chef at Home)
We love Top Chef on Bravo. And we always hear about chefs choosing to "Sous Vide" food. When we got our Stasher bags we realized that we, too, could be fancy at home and sous vide food!
The French term, however, makes the cooking process sound fancier than it is. It's a really simple technique.
The words "sous vide" translate to "under vacuum." You place your food (for instance, a piece of meat) in the bag, seal it, eliminating any air inside by squeezing it shut as you close it. Then place the sealed Stasher Bag in a bath of boiling water.
This way, the meat cooks in the bag rather evenly. In fact, the meat cooks in its own juices in the bag (that is in the water), and, as it cooks more evenly and consistently, retains most of its volume.
😊 Stasher Bags Come in Fun Colors
Every time we buy some additional Stasher Bags they come out with more new fun colors…and we buy MORE! You can get them in a clear finish but also tropical colors, Earth tones, and even multicolors.
Some even have a bit of an "ombre" finish on them. (Which I absolutely LOVE. Dan's more of a fan of their black options because he loves how sleek black is.)


😊 Stasher is a Female-Founded Company
If you like to support minority-owned businesses like us, Stasher is just that. The company was founded by Kat Nouri in 2016 when she was searching for an alternative to plastics while making her kids' lunches one day.
Her technical background in designing and developing silicone textiles, and experience as a mother of three children, made her the perfect person to start the company. Additionally, her family immigrated to the United States when she was 10 years old, and she graduated college from UC Berkley. In 2020, Nouri received the prestigious Entrepreneur of the Year Award for Northern California from Ernst and Young.
If Kat Nouri looks familiar – or Stasher sounds familiar – and you're a fan of Shark Tank, you may recognize her from the show. Mark Cuban invested $400,000 in the company.
😊 Stasher Gives a Percentage of their Sales to a Charitable Cause
Stasher, which is a Certified B Corporation striving to improve the social and environmental impacts of business, donates 1% of its proceeds to charitable causes each year that help save the planet.
Whereas Ziploc bags are single-use plastic for the most part that could end up in the oceans and pollute the Earth, Stasher bags give back to help clean it all up.
Their mission to create a waste-free world has meant contributions to funds like Surfrider, Coral Reef Alliance, and No Kid Hungry. They've also contributed to 5 Gyres, which makes strides against plastic pollution through research and education.
😊 They are Very Easy to Store
We don't do anything fancy when we store our Stasher Bags. We have a container that they simply stack in and we store them in a kitchen cabinet. You can easily store this Ziploc bag alternative in a drawer too.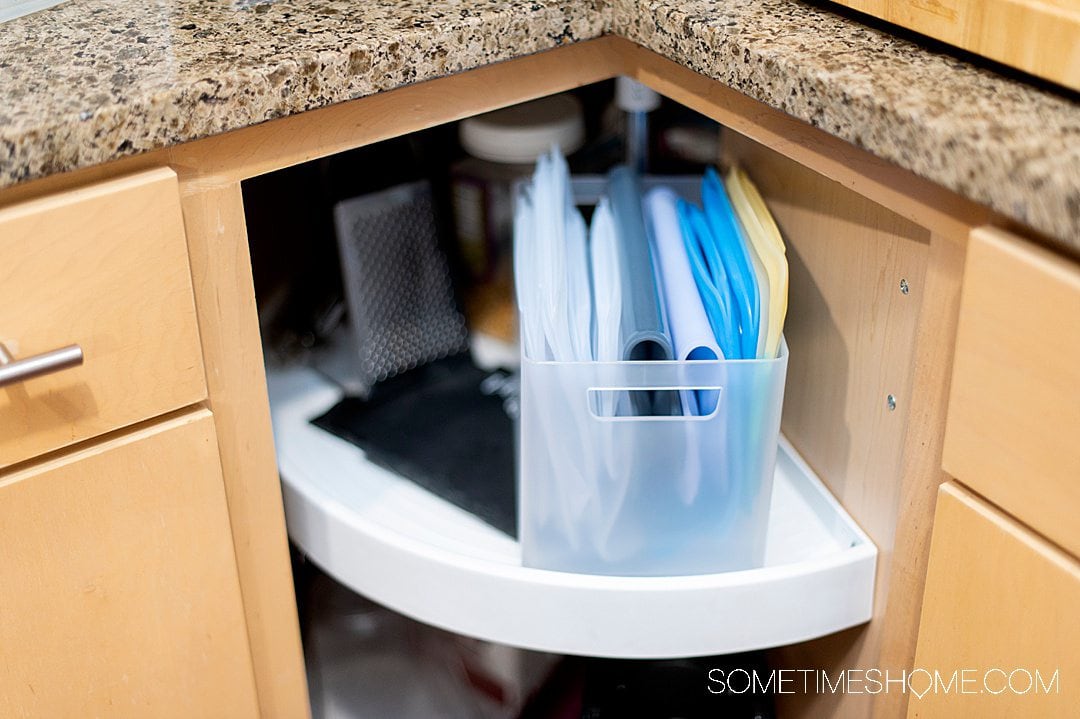 😊 They're Easy to Clean in the Dishwasher or by Hand
Stasher Bags are super simple to clean. We either put them in our dishwasher or clean them by hand with a round dish brush. (We like to clean them by hand because we like how they get cleaned a bit better, but that's just our personal preference.).
After we clean them by hand with a bottle brush, we put them on a bamboo drying rack to dry overnight. Alternatively, you can wash and dry Stasher Bags in a dishwasher.
😊 You Can Write on Stasher Bags with (Certain) Markers
Do you like to label the contents of your containers? You can write on Stasher Bags with a non-toxic dry erase marker or a chalk marker.
😊 Stasher Bags Can Be Used in a Myriad of Ways
You don't only have to use your Stasher Bags for snacks or food. Dan and I use the Stasher Bag with a carabiner when we travel. We each have one. It's called their "Go" bag. It's awesome to clip onto our CabinZero backpacks, or for me, on a handbag.
I put essentials inside, including my eye drops, Chapstick, AirPods, and hand sanitizer. For instance, it stays in an easy-to-find pouch that won't leak in case the hand sanitizer opens. We also have many ways we use them when we go on cruises and beach vacations.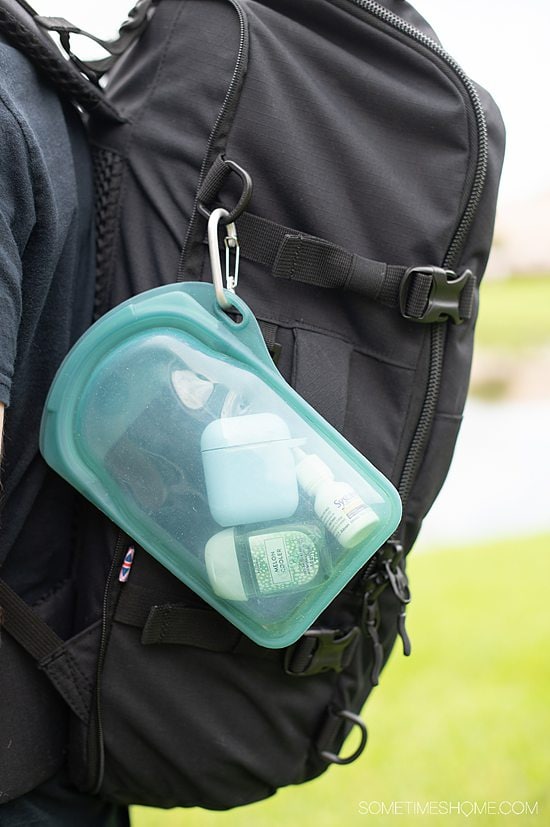 😊 They Offer Smart Sizes
When you buy Stasher Bags online, you can opt to buy them singly and mix and match your order. Or, you can buy their Starter Pack that bundles 7 great sizes for a 5% discount.
They have a 9-pack bundle too. This is ideal if you're just starting out with Stasher. In fact, it's precisely what we got when we were starting out.
Here are their size options from large to small in non-stand-up:
Half Gallon: We LOVE this size for marinating meat or tofu for a few hours in the fridge. (One-half gallon = 2 quarts.)
Quart: Also ideal for marinating meat or veggies or making popcorn. (Yes, you can pop kernels in Stasher bags in the microwave!)
Sandwich: It's not just for sandwiches, but if you imagine a slice of bread in there, it's a good indicator of its size.
Snack: This is the size we use most to store things, like partially used lemons or limes in the fridge, leftovers from dinner, etc. Because of that, we have the most of this size in our home.
Go: This is great for clipping onto a purse or backpack if you want to store your phone and headphones, or lotion or sanitizer, or a snack on the go if you're on a hike.
Pocket: Great for small things like M&Ms (I'm so food-oriented!), to nuts on the go for a snack, or to hold things like paper clips for desk storage or hair bobby pins in the bathroom or when you travel. In fact, Stasher put together a list of 40 uses for their pocket-sized reusable bag.
Stand-Up Stasher Bags: Stasher also makes "Stand-Up" bags in three sizes: Mini, Mid and Mega. These are great if you're going to pickle veggies, or put soup in them, or want something like grains to stand up on their own in your cupboard.
*If you want multiple sizes of their Stand-Up bags in your starter pack, go for the 9-pack instead of the 7-pack.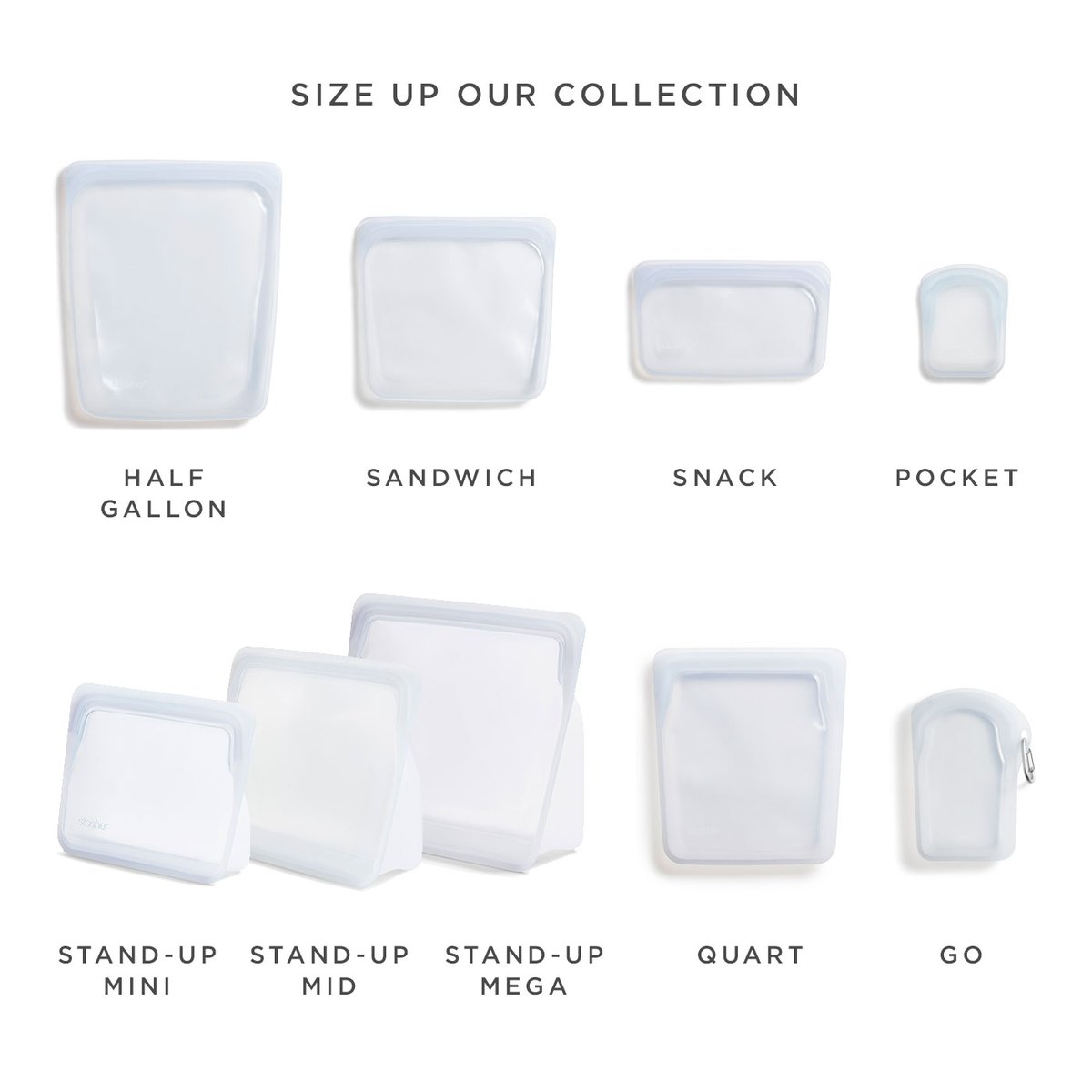 Here's the Half Gallon size bag with some chicken and marinade in it, on our kitchen counter: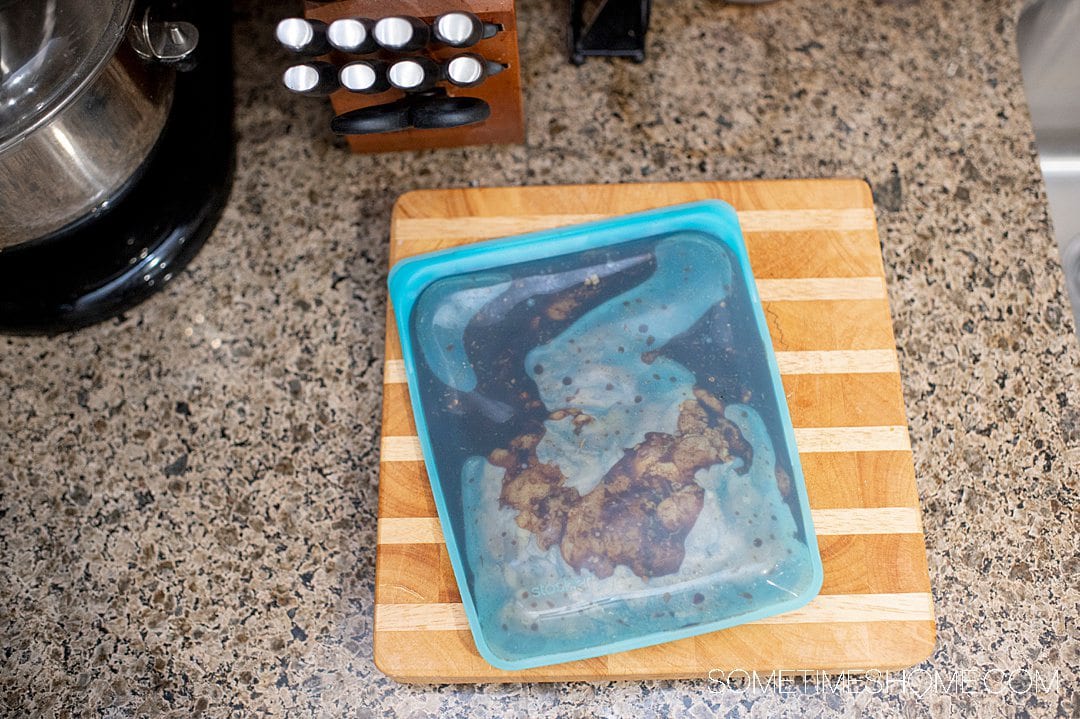 😊 They Quickly Pay for Themselves
While the initial investment may be more for Stasher bags than other brands, over time, these bags pay for themselves. (An upfront investment can be expected of any quality company that has invested time and money into developing eco-friendly products, especially when they're wishing to provide a solid Ziploc bag alternative).
And if you have the money to do things like take yourself and your family out to dinner, or buy new clothes, get your nails done, and the like…then you should be investing in your health and the health of our environment with this fantastic product, that you'll use daily.
They're not the cheapest bags around, but they're the best. And when you buy Stasher Bags, you're investing in quality and your future, once, with each purchase of the bags.
If you use the starter set every day, which is $93 (free shipping), it's just $0.25 per day for the year. That's nothing! Then….they're paid for and "free" every time beyond that first year.
After investing in Stasher Bags for your home, you never have to add "Ziploc bags" to your shopping list again.
😊 They're Always Improving with New Products on the Market
We love when we get an email about the debut of a new Stasher product or we see a new option posted on their social media.
Stasher is always striving to make its customers happy and innovate new products. (One example was the debut of their "Go Bag" with a carabiner included, pictured below. Another example is their new "bowl" bag, which has an oval-shaped bottom.)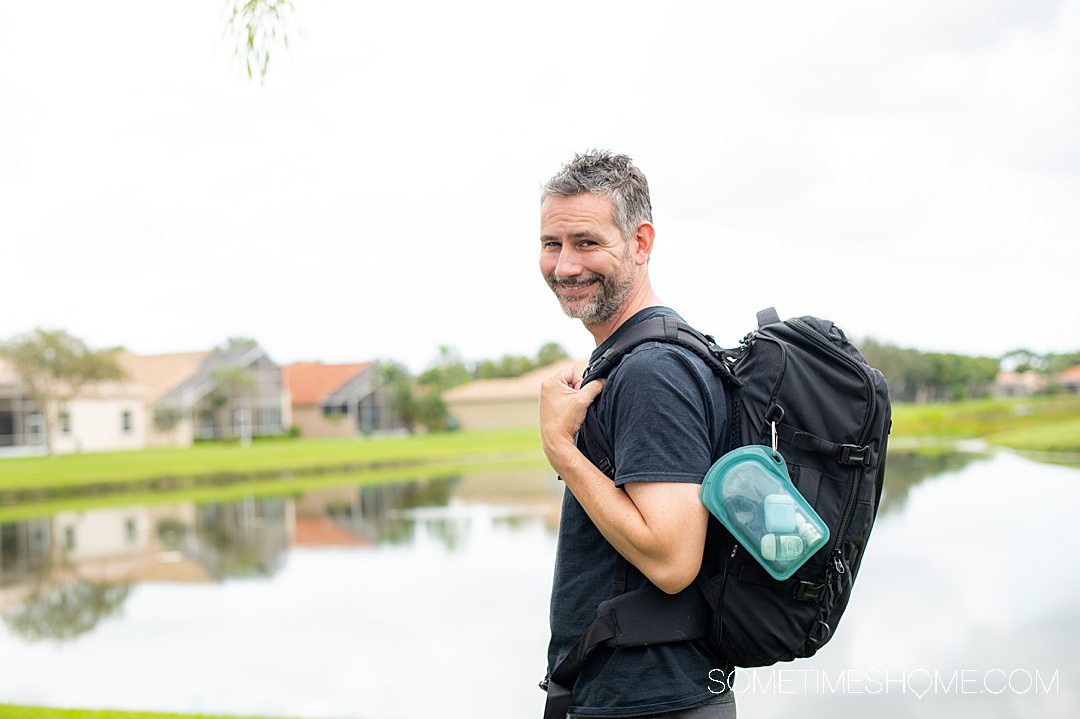 😊 Using Stasher Bags Cuts Down on Your Shopping List
By nature, they're reusable. This means you buy them once and you're done (unless you want to add more Stasher bags to your collection in the future, which we seem to keep doing!). You don't need to put "buy more Ziploc bags" on your grocery list each time you head to Target or your local supermarket.
😊 If Needed, You can Recycle Stasher Bags Online
These platinum silicone bags are made to last. However, they cannot withstand some things, like a child accidentally cutting into one or a puppy chewing on them.
If you think a bag needs to be "thrown away" due to a small puncture, Stasher urges you to 1) think about a different use for the bag, like for papers in your car's glove box if, or 2) recycle it.
Because most recycling facilities don't accept silicone, Stasher offers a recycling program online, in partnership with TerraCycle. (Go to the "Help" heading on their website, then navigate to "Recycle.")
You simply print a free shipping label on their website and send it in for recycling. TerraCycle then repurposes the bag for things like kids' playgrounds or track surfaces.
😊 Stasher has Eco-Friendly Shipping
Did we mention that they have some of the best shipping we've seen? They truly think about the environment, end to end.
You'll receive a somewhat flat, brown package with the bags inside, which are purposely not individually wrapped, in order to reduce waste. Amen to that, Stasher!
If you have Stasher bags and love them, or have more questions about them, feel free to post in the comments, below.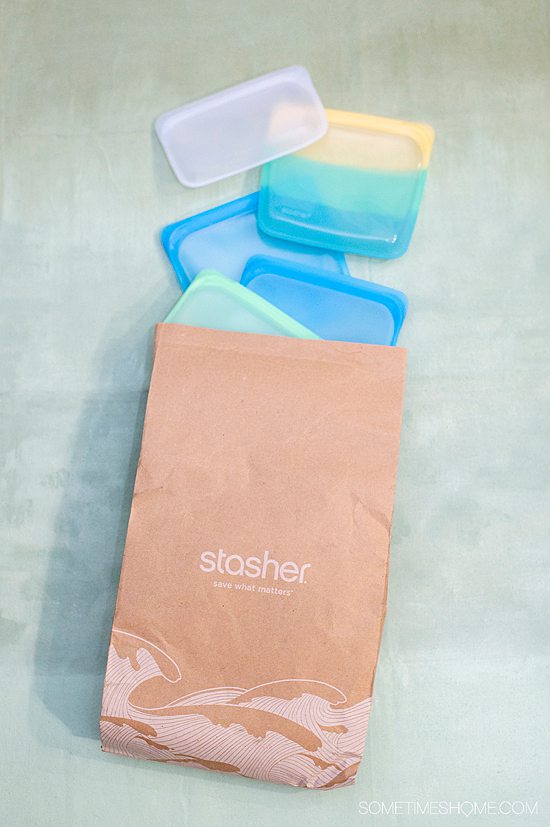 😊 A 1-Quart Stasher Bag is the Perfect TSA 3-1-1 Rule Item for Liquid on a Plane
If you're packing liquid items to carry on an airplane, the 1-quart size Stasher Bag is the perfect bag to abide by TSA's 3-1-1 rule (3 ounces, 1 quart-size bag, 1 person).
😍 Shop Stasher Bags and Continue to Eliminate Single-Use-Plastic-Bag-Guilt from Your Life
Now that we've stated our case for why they're the best reusable bags and our preferred Ziploc bag alternative, you need to buy some!
I admit I'm a bit addicted to buying them. There's a reason we're obsessed and why Good Housekeeping named Stasher the #1 "Best Overall Reusable Sandwich and Snack Bag," in Spring 2021.
There are a few ways you can shop the site. Select whichever method works best for you.
Size
Collection (like the "Endangered Seas" collection or bundles, best sellers, etc.)
Shipping is FREE on orders over $40, which isn't so hard to reach.
Read this next: