Must Do Activities in North Kauai, Hawaii
Here are some Must Do Activities in North Kauai, Hawaii, which is a magical, beautiful island, northwest of Oahu. I spent three days in the "Garden Isle," as they call it, and traveled there from Honolulu, Oahu on a short 45 minutes plane ride.
I've decided to break this post into two: this one, for the north and another for the east and south regions.
Overall Kauai Travel Tips
The best way to travel around the island is by car.
Eat apple bananas.
Don't forget to check out my general Hawaii info in this post.
TRAVEL TIP: if you want to rent a car do so ahead of time. The island has a limited amount of car rentals.
If you're looking for general tips about visiting Hawaii for the first time we have you covered.
Kauai Geography
Though Kauai is the fourth largest island is the Hawaiian archipelago, it's still somewhat small. There's one main road that goes around its perimeter, though just about 275 degrees. It does NOT connect in the northwest region, where the Na Pali coast is. If I had to guess that's because of the terrain and the many protected forests in the northwest region.
Regardless, the island tries to limit the amount of vehicles on Kauai and because of that, car rentals are limited. And it's the best way to get around the island, unless you're chartering a private yacht. 😉
Travel Times on the Main Road that Goes Around Kauai
How long does it take to drive the length of the road, from the north to south, you ask? About an hour to an hour and a half, depending on time of day and traffic. And it does get congested during peak times.
We stayed at a resort in the east, sort of halfway between the north and the south. We were only there a limited amount of days. Had I stayed longer I would split my time between the north, near Princeville, and the south, perhaps near Koloa.
Must Do Activity in Kauai: Eat Apple Bananas
I am SO grateful to whoever recommended this fruit to me! I love food, particularly fruits and vegetables.
And I've never had anything like this.
Simply go to a grocery store in Kauai and find the fruit section. Navigate to the bananas. You'll see "Apple Bananas." Buy some.
They're a little pricier than a normal banana (if I remember correctly they were $1.19 per pound) but it's so worth it. It is a banana – in shape, color and consistency and I'm certain in genetic makeup too – but it TASTES like an apple. Whaaaaat?!?!!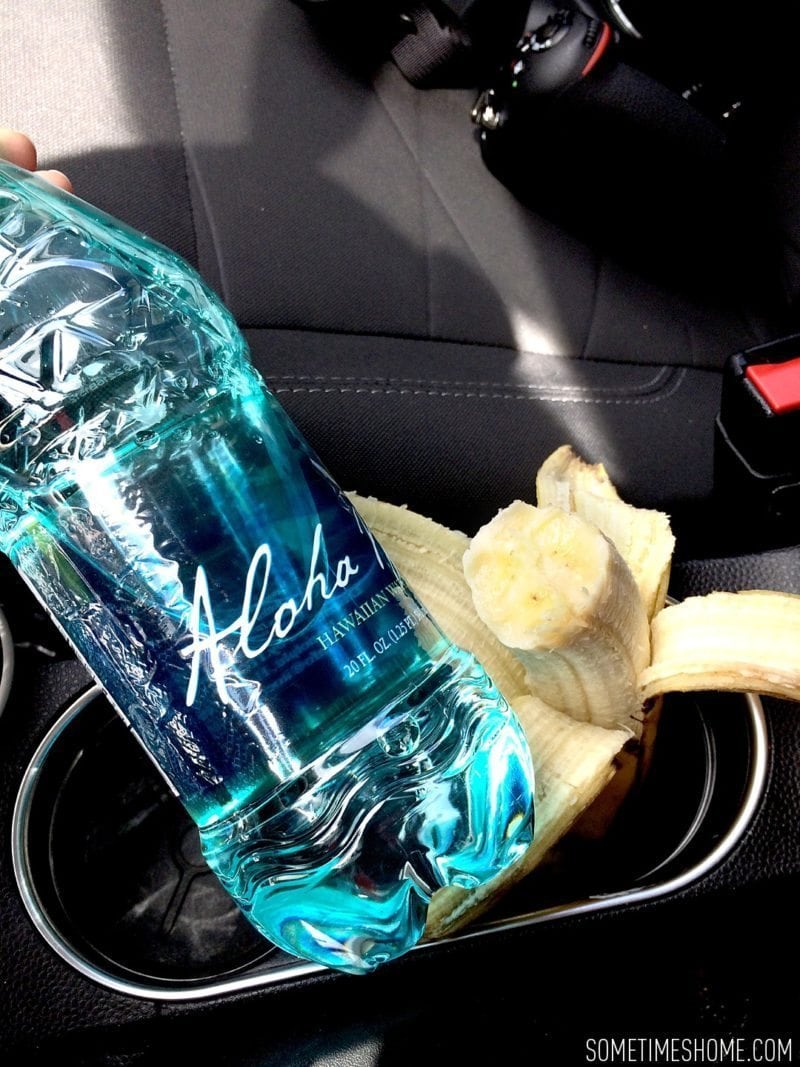 Visit Princeville in North Kauai
Hellllooooo Bloody Mary at the St. Regis! (The St. Regis is now the Princeville Resort Kauai, re-opening in spring 2021.)
If you spend the day in Princeville here's what I recommend: breakfast in Hanalai Bay and walk around the village and see the bay, lunch in town, Queen's Bath in the afternoon (though it's completely weather permitting), drinks and dinner and sunset watching from the St. Regis/Princesville Resort Kauai.
Bring a change of clothes if you're not staying nearby and plan to freshen up in a bathroom since you'll surely need to do so after a hike at Queen's Bath! If you are staying nearby, plan a break before dinner.
Queen's Bath
This place is awe-some. As in the true sense of the word, it's sincerely a beautiful force of nature. It's gorgeous, it's hidden, it's robust.
Queen's Bath entrance is tucked away with the only indication being a sign near the parking lot. I managed to find it on a day I was going solo after my helicopter ride, with the use of Trip Advisor reviews.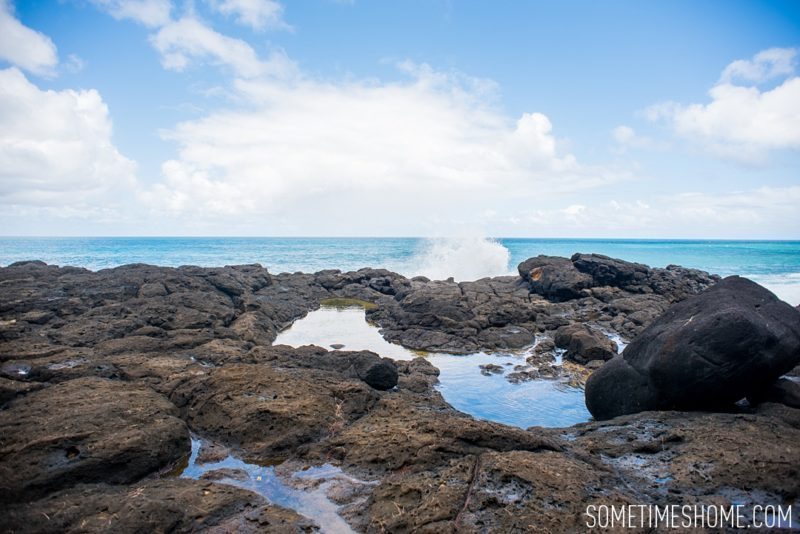 "They" say don't go if the swells (that's fancy speak for waves if you're not from near a surfer city) are above four feet because it's DANGER-OUS. I checked that day and the swells were just below so I risked it. You CANNOT go in the "bath" if it's that high; you best stay away from anywhere near the edge of the cliff. And warning: if it rained shortly before you go there (which is likely in Hawaii) know the hike there will be extra difficult.
The hike isn't strenuous, it's just steep and narrow in many parts and you have to navigate small waterfalls to get to the "bath." If it rained the mud presents an additional challenge. That being said, you could go on a dry, calm day and have a totally different experience than I did. Regardless, I'm glad I went and you should consider it too.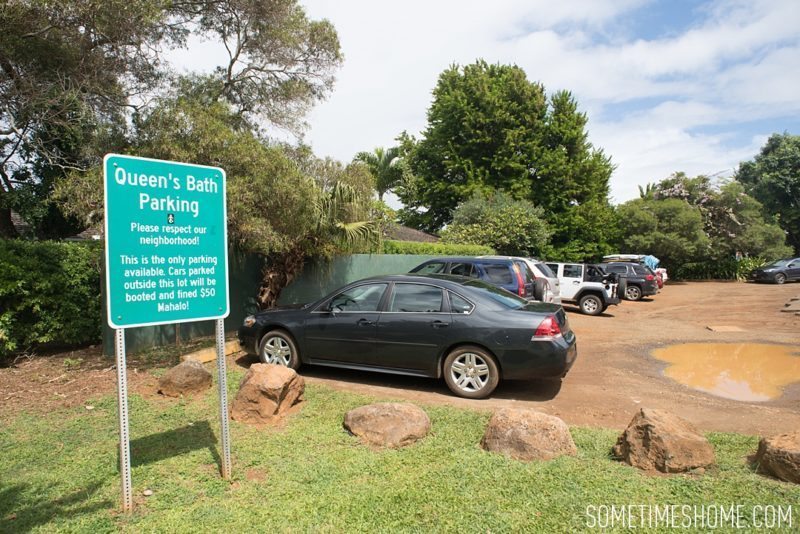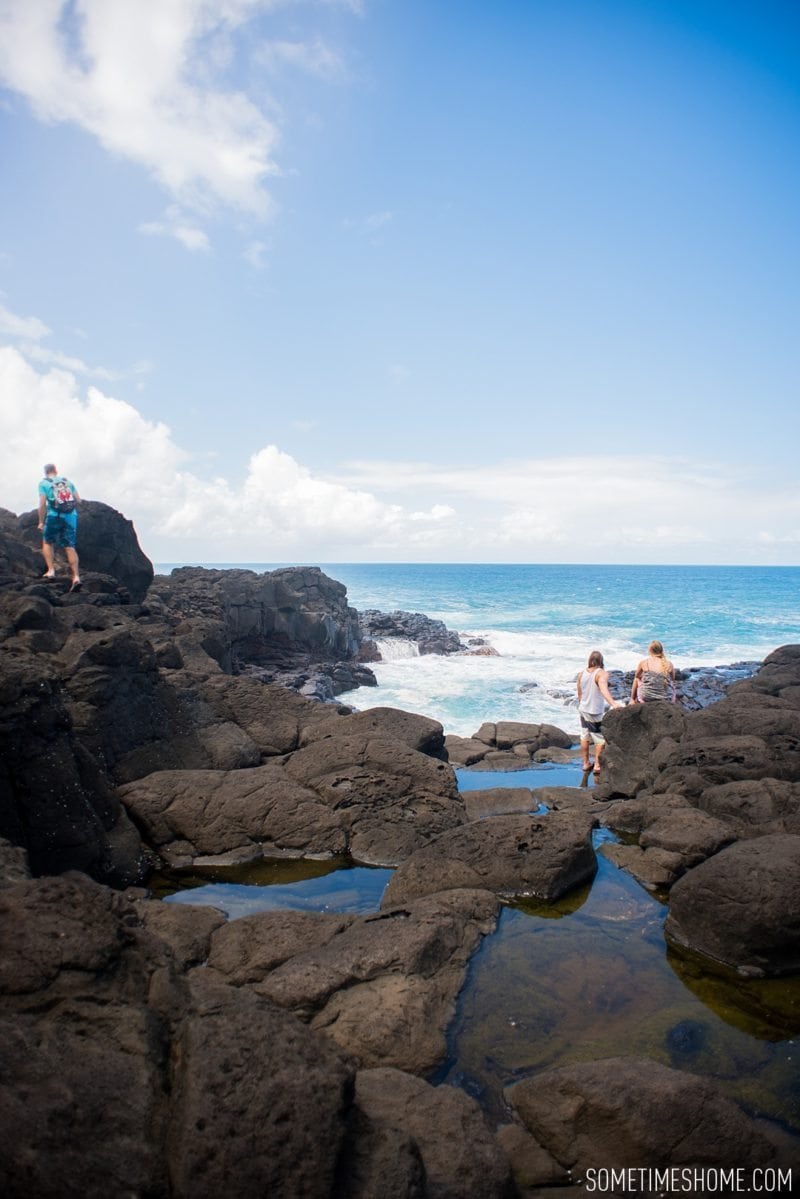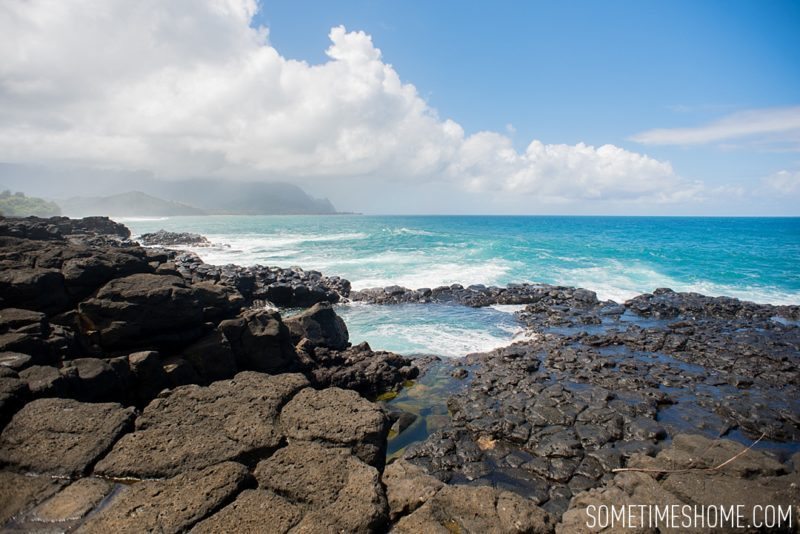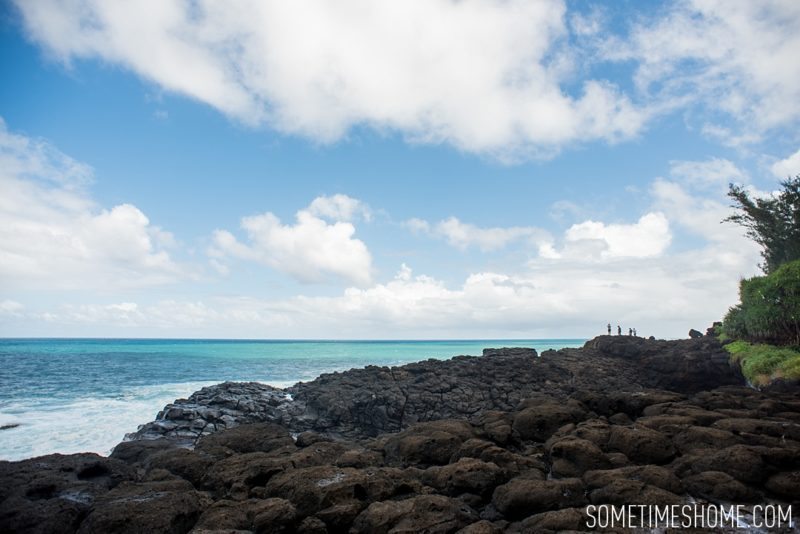 Here's a little video showing the strength of the swell that day. There was no way anyone could go in the actual "bath" that day – the swells were too high, above four-feet which they say is the limit for visiting the site at all. I think the video shows the force of the waves crashing against the rocks but perhaps not truly to its full extent; I felt like if I stepped too close to the edge I'd have quickly been swallowed up. I went solo so I'm sincerely grateful there were other people around just in case.
When you approach the hike you see a tally mark for drownings that have occurred there. While a bit morbid, it's a needed reminder that the site isn't a playground: you need to respect it and be cautious of your surroundings.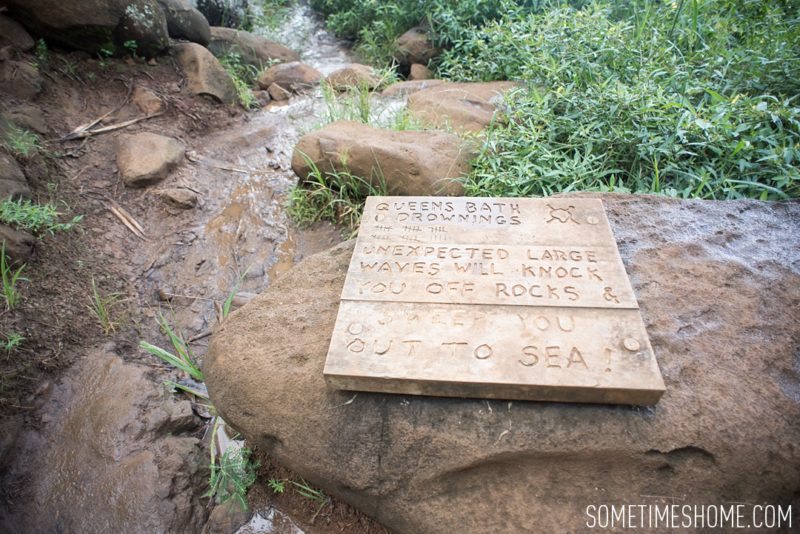 Here are some images to see what the hike presents, starting with the muddy stairs down from the parking lot to "the sign" that forewarns visitors of the potential danger.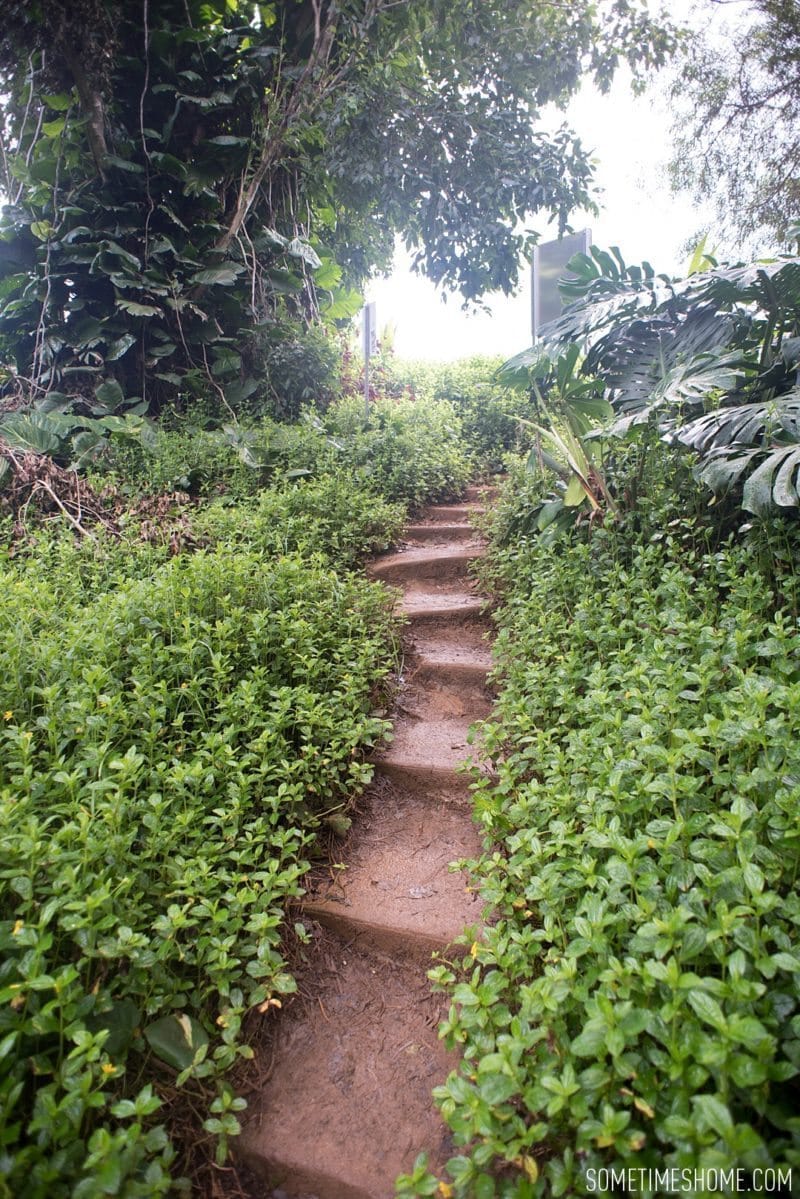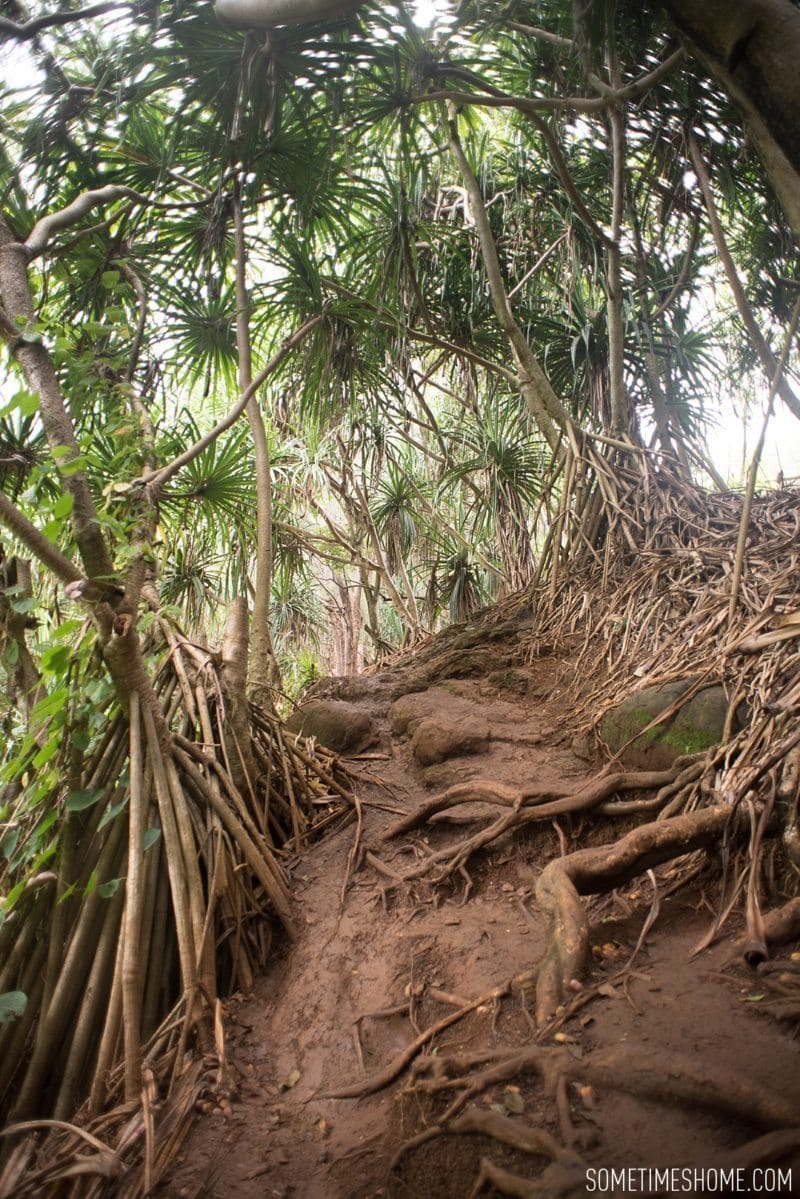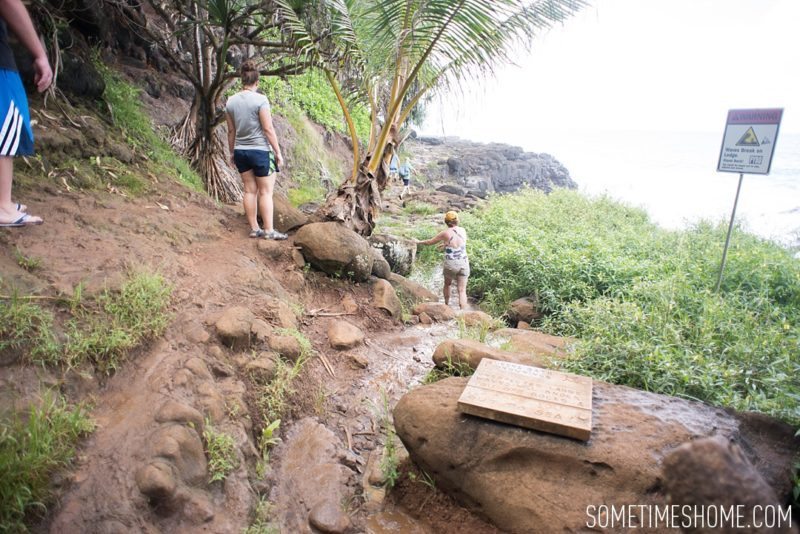 Hanalei Bay
What a great little town! I had DELICIOUS French toast at Kalypso Island Bar and Grill and walked around for a bit before to enjoy the area.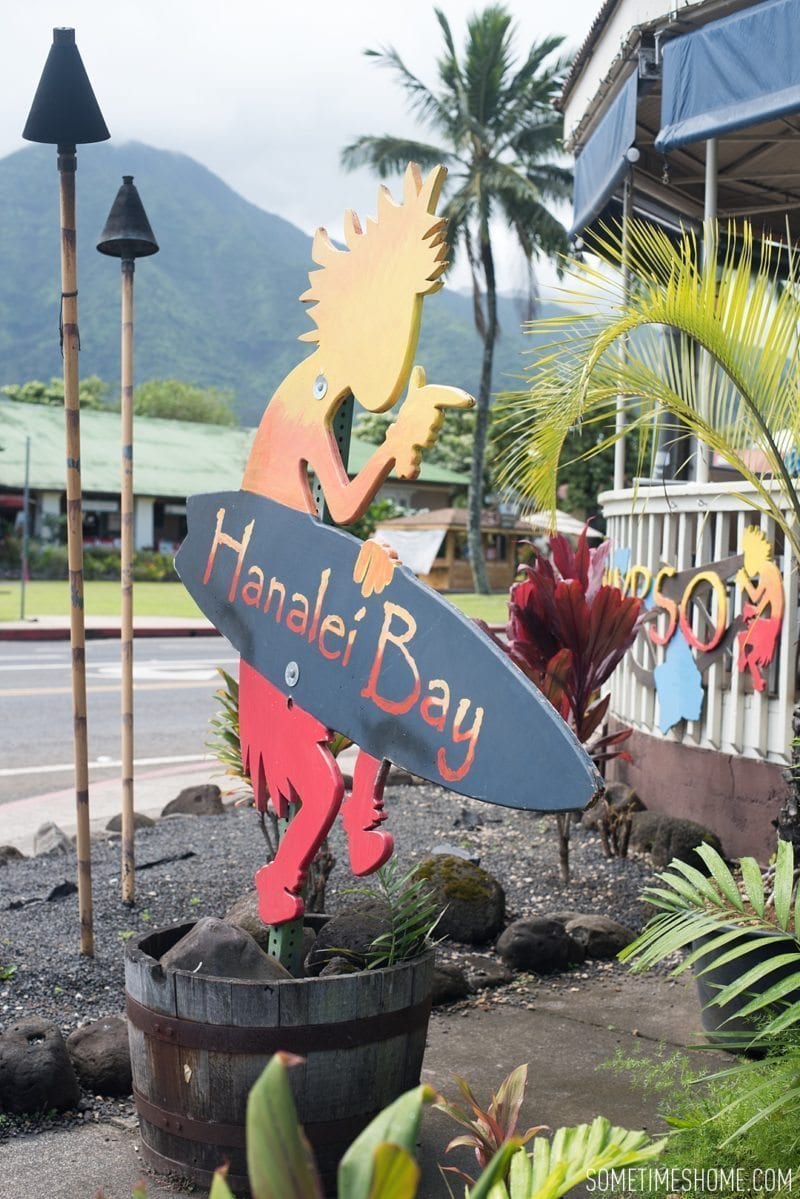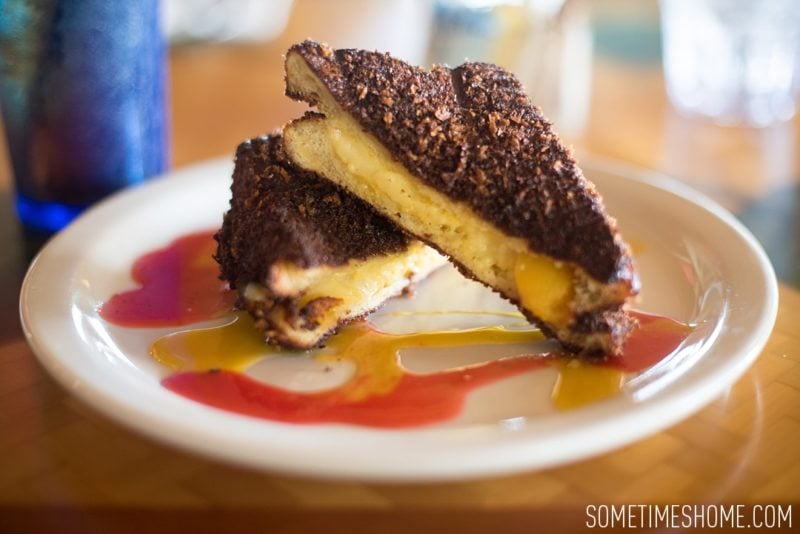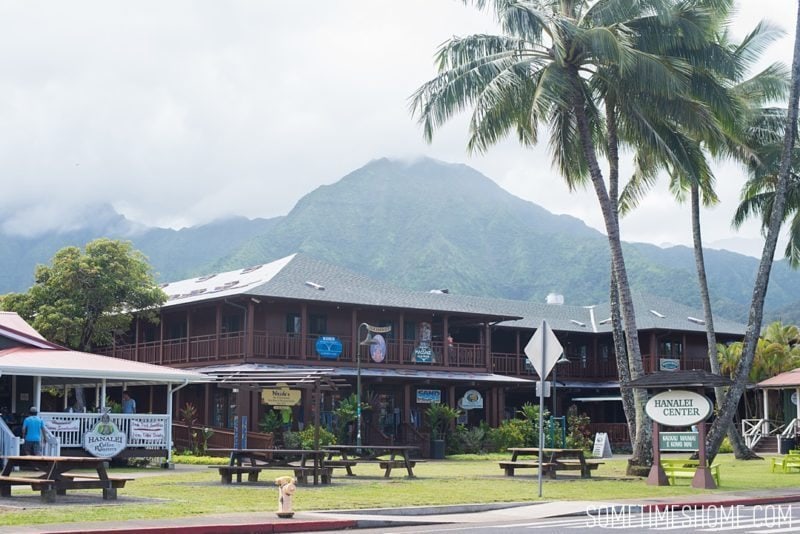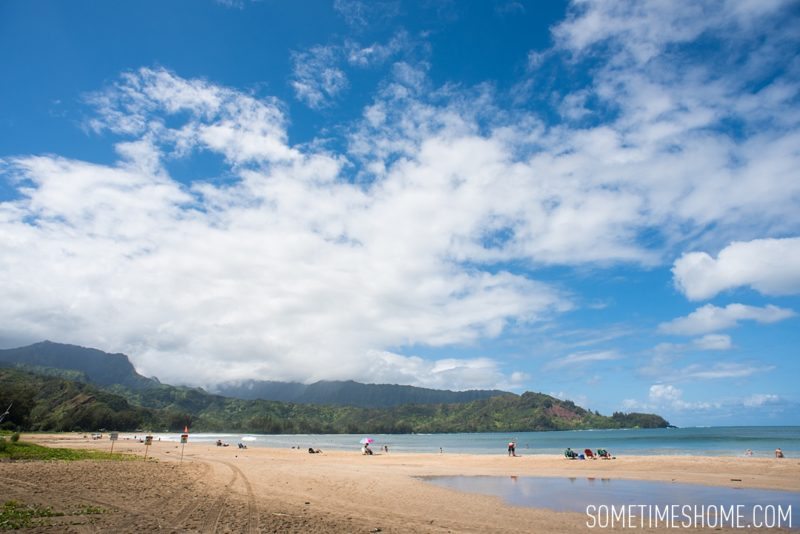 …there's Hanalei Bay! So zen.
By the way, roosters roam free in Kauai! I saw the handsome beast below when I stopped on my drive to Hanalei to admire the overlook view of a taro farm. It's one of the reasons the famous Hawaiian based Disney movie, "Moana," had a rooster named Hei Hei as Chief Tui's sidekick!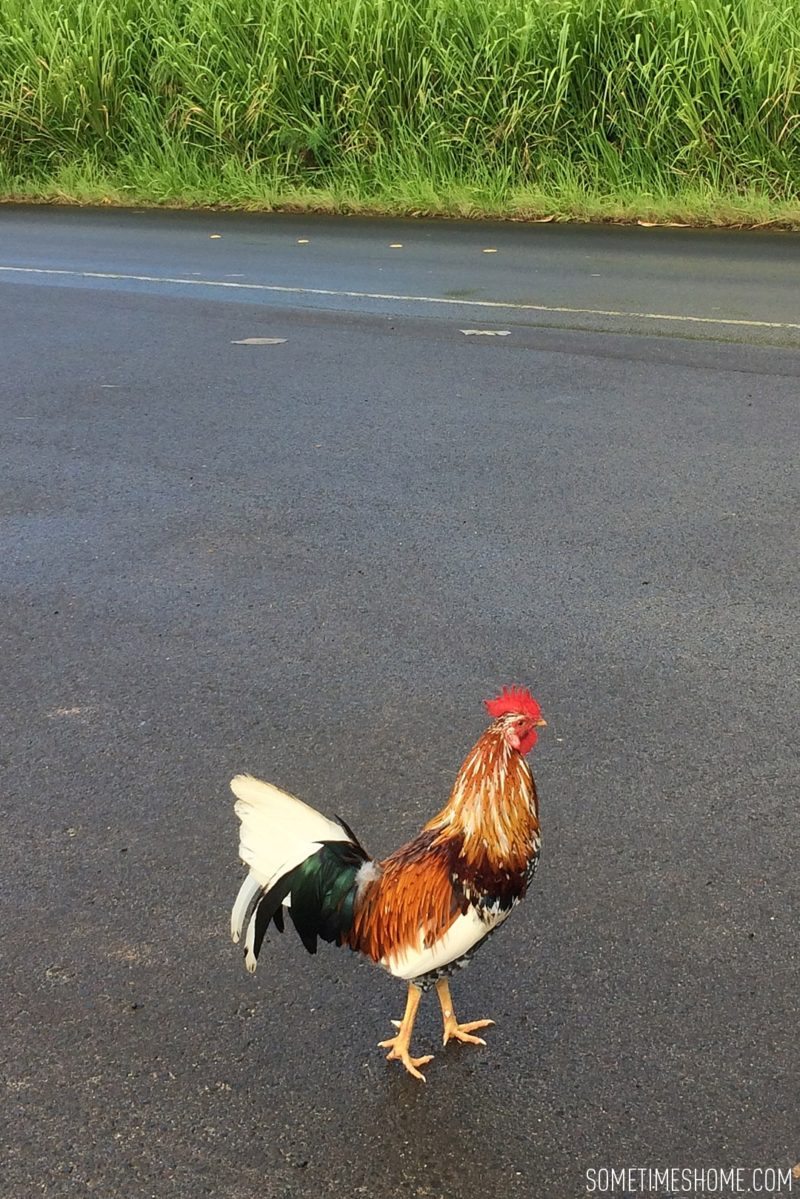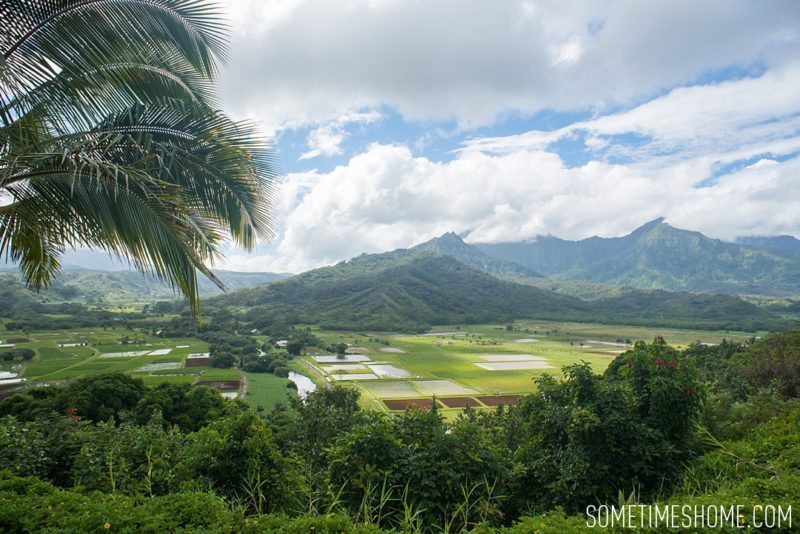 Visit the Princeville Resort in 2021 and Beyond (Formally the St. Regis Hotel Princeville)
Last, by certainly not least, you must visit the Princeville Resort. It's divine. It was formally known as the "St. Regis Princeville" but after leaving Marriott and getting an upgrade through investments it's now known by its new name, and is part of the 1 Hotels brand. (Opening 2021.)
It is divine. If you're on your honeymoon treat yourself to one, two…however many…nights here your budget allows. It's a gorgeous hotel.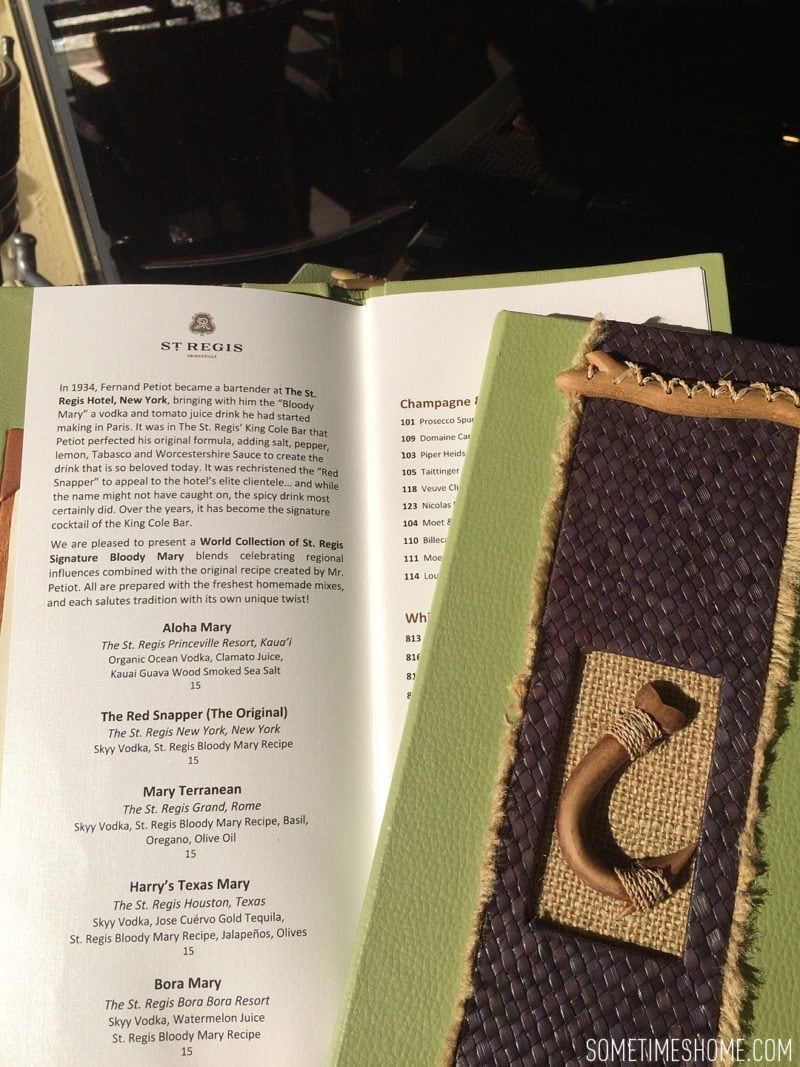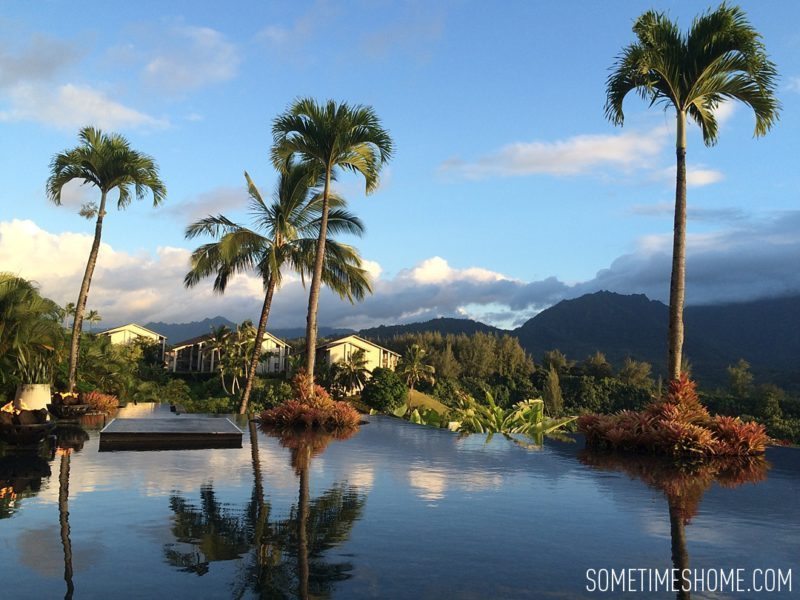 This is the view we had from our seats at dinner. I recommend arriving about an hour before your dinner reservation and having a drink at the upstairs bar, which has a similar view overlooking Hanalei Bay. The Bloody Mary cocktails are delicious and they give you bar snacks like wasabi peas and peanuts to enjoy. It's definitely not an inexpensive place, but I had one of the best sushi rolls I can remember there (with the exception of Japan, of course) and I couldn't even finish it. It was more than filling! And the view of the sunset from their terrace, where we were eating, was phenomenal. I DO put my camera away once in a while!
Snorkel
Though I was with my friend Sara, who's a fish and was surely a mermaid in a past life, I cannot swim well. I know how to swim. I can do it.
But it's certainly not my strong suit (no pun intended) and not something I'm passionate about. (Yet I did snorkel for the first time in Belize and did find it to be incredibly fulfilling.) Thus, snorkeling wasn't on the top of my to-do list in a few short days. Had we been there longer I'd have been game. I've heard the best snorkeling is in the south and I've heard it's also in the north. So I suppose you can't go wrong!
If you have any suggestions of what to do in the north of Kauai please comment below! Technically the Na Pali coast is in the north but you start your sailing tour in the south. Head on over to my Kauai posts for the south and east regions for more…
What islands have you visited (or wish to visit) in Hawaii? Let us know in the comments below!