Why the Passau Dachshund Museum in Germany was a Great Surprise
The Passau dachshund museum in Germany was such an incredibly pleasant surprise. And what we needed the day we were touring the town of Passau. It was a great surprise and we would count it as a must-see for any dog lover (especially if you love dachshunds, like us!)
We're sharing information about what the museum and gift shop are, and how we serendipitously discovered it while strolling through historic Passau.
Our Morning in Passau that Led to this Great Surprise
It was an unexpected morning. Our river cruise ship docked in Passau on the Danube River and we immediately saw fog out the window of our cabin on the Emerald Destiny. We had originally wanted to hike up to the fortress that morning with a group from the ship, but the fog was SO thick we decided to forego the hike and rearrange our schedule.
I was a little bummed out and flustered by this at first. I had wanted to make the most of our day in this beautiful town, but the weather curtailed my vision of how the day might go. You can say I was in a bit of a melancholy mood, even though I'm an optimistic traveler. (I had been to Passau once before and knew it was quaint and charming.)
Instead of the hike, Dan and I decided to walk around for the morning and, assuming the fog cleared later on, we'd do the hike on our own that afternoon.
So we set out to head to the town center from our river cruise ship location. We proceeded to tour the pretty church there, St. Stephan's Cathedral, whose interior is not to miss.
My spirits were a bit lifted at that point, and after seeing the church we walked down a nearby road. I remembered exploring this street just a little bit, back in 2015, during a Christmas Markets river cruise. It was a beautiful place to walk and window shop at the little souvenir shops and boutiques along the way, if not go inside each one.
Finding the Dachshund Museum
Dan and I always notice dachshunds wherever we go. We both love dogs and encountered a longhair doxy together in Raleigh, NC, within the first few weeks of dating that melted our hearts. Ever since it's been a nice "thing" between us.
We spot them wherever we go and call them out to each other. We even go so far as to say, "Not a doxy!" when we see dogs we want to acknowledge, but aren't dachshunds. And even if we see something that contains dachshunds – whether it's apparel, advertisements, or souvenirs – we call it out to each other.
Therefore, it wasn't unusual for me to call out, "Dachshunds!" when I saw a few themed items on the sidewalk during our walk in town. We were strolling east on Steinweg Street in Passau (which turns into Große Messergasse) after visiting St. Stephan's Cathedral. We were nearby Residence Square when I saw the doxy dog items near my feet, including duplicates of outdoor garden decorations and such.
Dan called out, "It's a Dackelmuseum!" (Within the first two days of our trip to Germany (which started in Nuremberg), we had learned that dachshunds in German are called "dackels," so the word "dackel" was already ingrained into our limited German vocabulary.
I was confused by Dan's statement that we were at a dachshund museum. I either told him aloud or thought to myself, "No, there are simply dachshund items here for sale, silly." Because it would be far too good to be true that we would just happen upon an ENTIRE museum for dachshunds! That would be a dream world! 
But Dan and I made eye contact and he further explained to me that we were standing in front of a dachshund museum, as the sign indicated. My jaw dropped!
At that point, we still didn't quite understand the museum's wonderful extent, yet we knew we needed a photo of us in front of it.
A lovely gentleman, wearing the cutest dachshund mask and adorable doxy socks whose pattern was slightly visible between the hem of his pants and his shoes, asked if he could snap the photo for us. Yes, of course!!! We immediately took him up on his offer to document this once-in-a-lifetime, meant-to-be discovery for us.
Meeting Oliver, Co-Owner of the Dachshund Museum in Germany
We soon learned that the nice man who offered to take our photo was co-owner of the Dackelmuseum!
I told him I was so overwhelmed with joy, I was practically beside myself. He was very kind and funny; I'll never forget him humorously asking, "Do you need a doctor?" and Dan, him, and I proceeded to laugh at the thought.
We tried to quickly explain how much we love dachshunds as we stood in the front of the museum (but we don't even have one…yet!). The front of the museum is a stuffed-to-the-gills dachshund gift shop.
Without thinking twice, I handed him my credit when he asked if we'd like to purchase tickets to the museum. He also recommended a dachshund book in English. "Ring me up!" I said. He could have charged me hundreds of euros and I wouldn't have doubted him! (Though, kidding aside, it was only €15 for two tickets and the book.)
When we learned Oliver's name about 30 minutes later (Oliver Storz to be exact), we were in shock of how "meant to be" some occurrences in life are. The longhair dog that started Dan's and my love affair with dachshunds was named Oliver. It was kismet.
Exploring the Passau Dachshund Museum
After we purchased our tickets, we went past the gift shop into the museum. It's not too big – perhaps the size of a small apartment. Maybe 800 to 1,000 square feet or so.
But it is FULL of incredible dachshund items. Over 6,000, in fact. We spent at least an hour there, carefully looking at one display after another, calling out our favorite dachshund pieces. 
Doxy Museum Layout and Exhibits
The front area is the gift shop, which anyone is welcome to explore even if you don't go into the museum. (But we aren't sure why anyone who has time wouldn't go into the museum!)
The Passau dachshund museum is done so incredibly well. The displays are professionally done and we didn't see a speck of dust anywhere (including inside any enclosed cases). There are 18 exhibits that group the dachshund items by theme.
Upon entering, we saw photos of famous people with their dachshunds. There was even a photo of the Queen holding a dachshund! Picasso was pictured with his dog, Lump. (Which is a wonderful story if you don't already know about Picasso and Lump, his short hair brown doxy, who he sort of took from a photographer after the artist and the dog had an instant connection.)
We encountered a display with dachshunds souvenirs from around the world. Another vignette showed everything dachshund "hot dogs," ketchup and mustard. (It was a sure-fire wiener-dog crowd pleaser and Dan's favorite display.) Another display was all gold-themed dachshunds. One display case had vibrant brown and yellow glass blown dachshunds, grouped by color.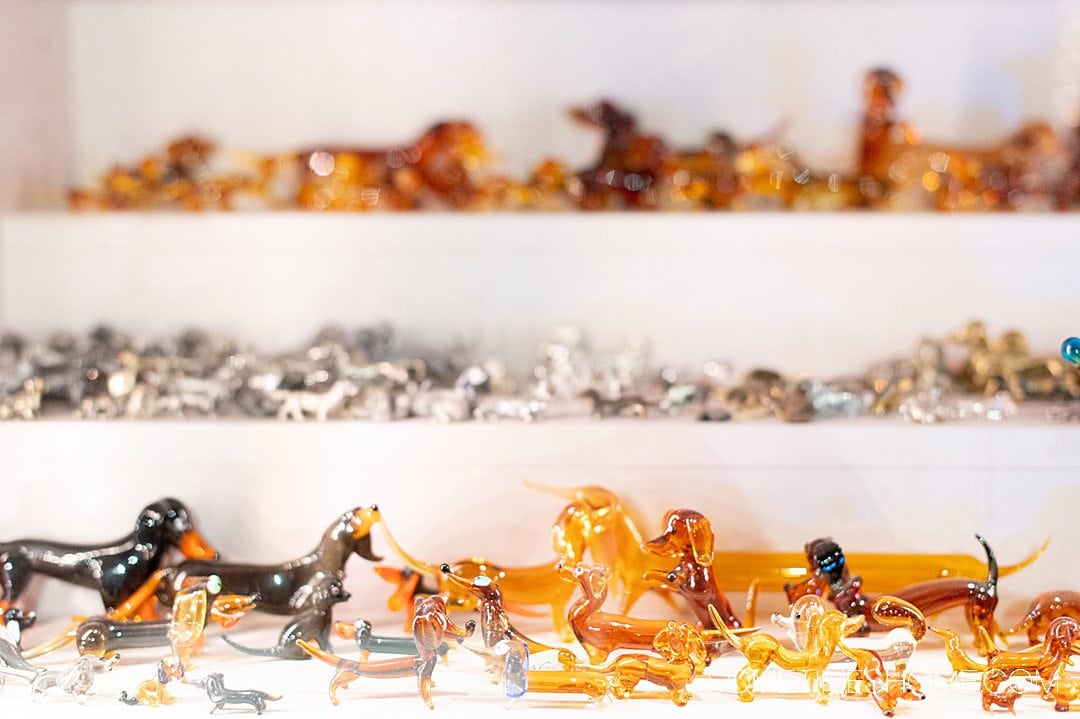 There was even a display of dachshund toys, including Slinky from Toy Story, and various doxy toys from past decades. A blue and white Bavarian checkered plush dachshund sat in front of an Olympics display from the 1972 Olympics in Munich. It wasn't too far from the colorfully striped "Waldi" dachshund, a mascot for that year's Olympic Games.
My favorite display showcased dozens of dachshunds enjoying a Bavarian meal of bratwurst sausages, pretzels and beer. (When in Rome!)
It was astounding to learn (but perhaps not surprising) that Oliver and his husband, Seppi Küblbeck, the Dackelmuseum owners, have an offsite storage unit with even MORE dachshund items! 
Extra Special Items in the Dachshund Museum
Oliver generously spent some time with us to share information about two incredibly special items in the museum.
One was a big porcelain dachshund that was a Valentine's Day gift to his husband. They saw it together when they were setting up for a huge flower show in Germany. At the time, pre-museum ownership, they were both professional floral designers. They connected over a love of dachshunds.
Longer story short, they spotted the white porcelain dachshund at a shop during that trip. But they weren't able to get to it during the conference when the shop was open. Yet Oliver managed to secure the dachshund and surprise Seppi with the gift, after the trip. (Oliver does a much better job telling this story. You have to ask him to recount it in person when you visit!)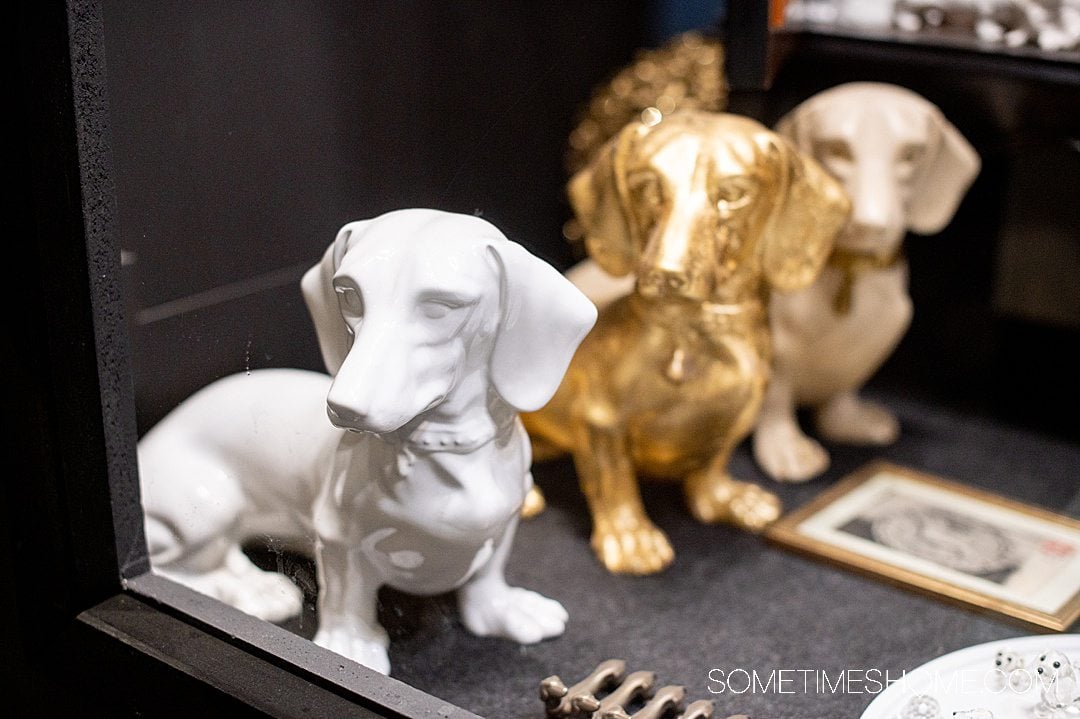 The second item is a porcelain, hand-painted ashtray with a hand-carved Tiger Eye gemstone dachshund in the center with precious gemstone eyes.
When a wealthy German woman passed away, she left the museum her precious collection of dachshund items. These items (and the German newspaper article about the collection), are on display in one area of the museum.
Another notable display is of "wackeldackels." These famous bobblehead dachshunds gained notoriety in the 1970s when they were on the dashboard of thousands of vehicles in Germany. In 2020, Google even had an animated Google Doodle commemorating the iconic tchotchke.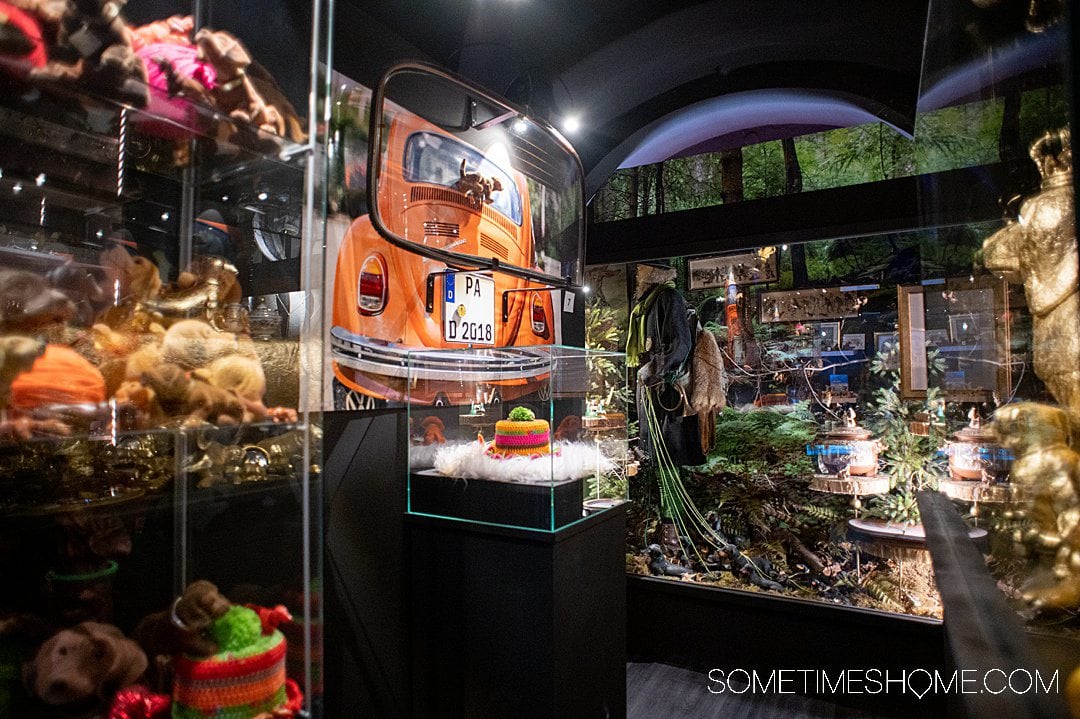 Gift Shop at the Passau Dachshund Museum
We have dear friends in North Carolina, who came into our lives thanks to a mutual love for dachshunds. Naturally, we were excited to peruse the gift shop after we peeled ourselves away from the museum with our friends in mind for gifts. We had to purchase something for them!
We landed on adorable cocktail napkins and coasters, with dachshunds dressed in traditional Bavarian attire.
If we had the room in our utterly stuffed travel backpacks (we like to travel lightly, with carry-ons, only) we would have bought them some very fragile Christmas tree ornaments. Yet we knew they'd end up breaking in our bags, so cute napkins and coasters it was!
The shop carries everything from housewares (like glasses, mugs, and outdoor mats), to apparel (like scarves, shirts, and socks). There's a little bit of a lot of dachshund souvenirs in there.
Additionally, the "tickets" to the museum are postcards that you can repurpose. The dachshund book we purchased was written in English and a great souvenir from our trip as well. We learned a lot about the breed that we didn't know before, thanks to the book.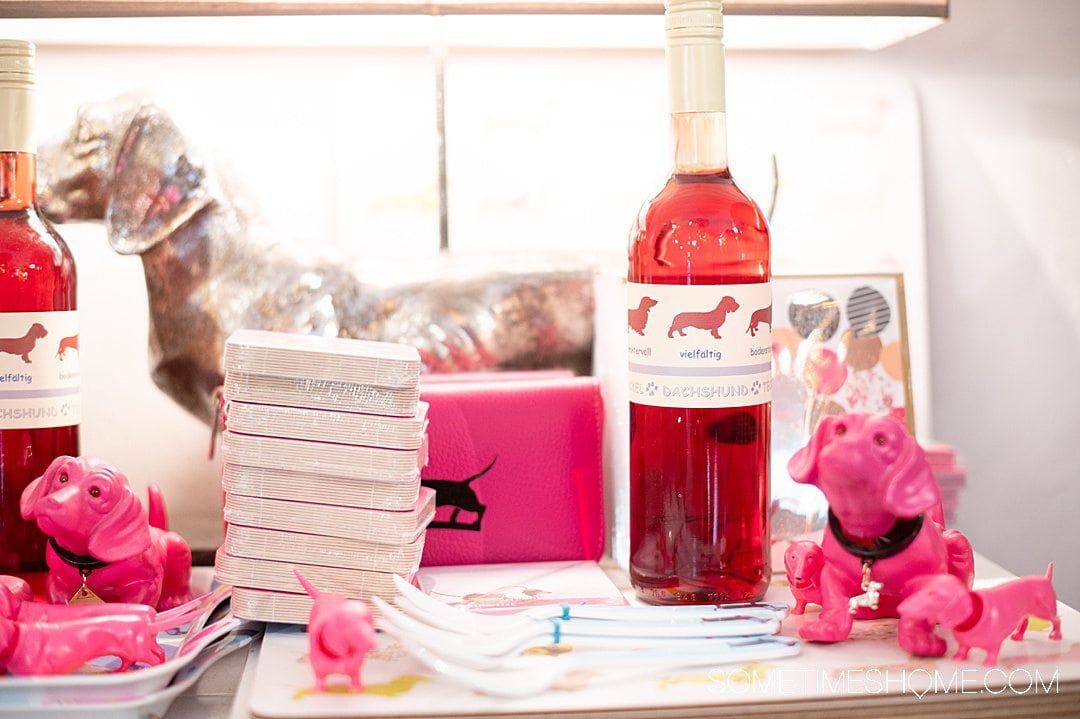 Is the Dackelmuseum Worth It?
Absolutely! For several reasons:
If you love dogs – especially dachshunds – you'll get a kick out of it.
It's the only dachshund museum in Germany.
It's INCREDIBLY well done.
Visiting means you are supporting a small business. Oliver and Sephy have been able to follow their passion and operate the museum and shop full time, thanks to their hard work and support from visitors.
Oliver really is a gem. He was SO kind and lovely, and his passion for dachshunds really makes the entire experience a home run.
If you don't love dachshunds or dogs, you may want to skip it. It's a museum for dog lovers, especially of the dachshund breed, needless to say, and it's less history than it is thousands of dachshunds to admire made from all sorts of materials and artists.
And yes, they allow dachshunds in the shop and museum!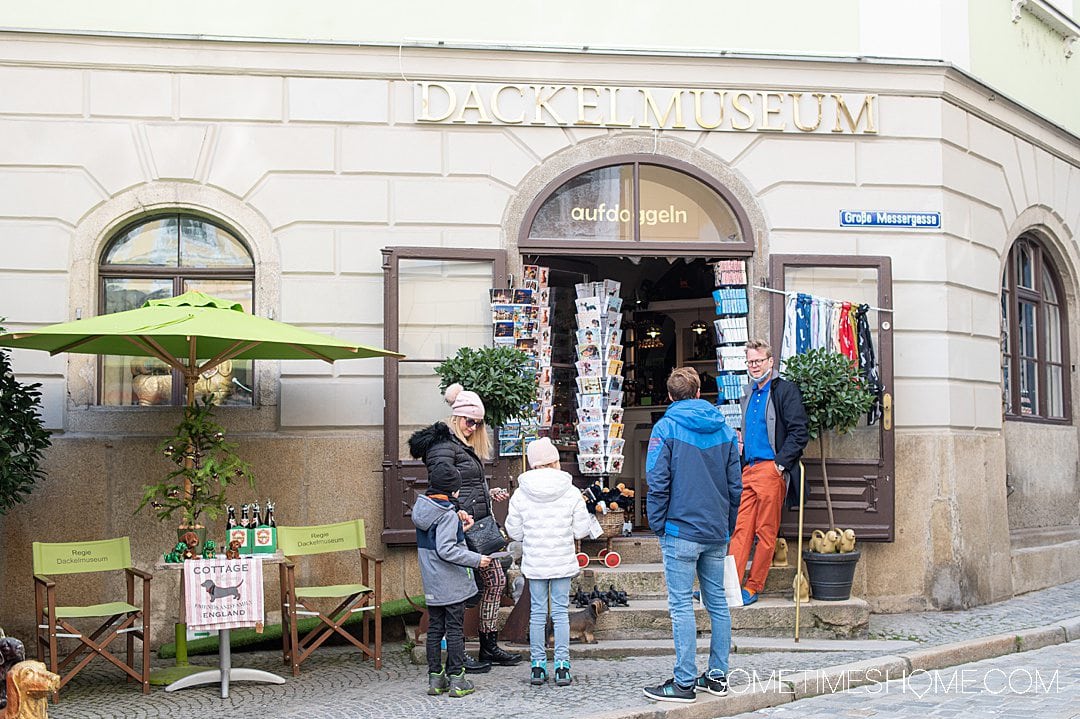 Dackelmuseum Location and Additional Information
The Passau Dachshund Museum is in Passau's old town. It's next to Residence Square and is an easy, 5-minute walk from St. Stephan's Cathedral. If you arrive to Passau on a river cruise on the Danube River, it will take you between ten to 15 minutes to walk there, depending on exactly where your ship is docked.
It is open daily, from 10:00am to 4:00pm.
Kids up to 12 years old are free to enter.
Adult tickets for the museum are only €5 each.
The English brochure is a soft cover, glossy page color book that's an excellent souvenir. It's also very informative. We recommend buying that too as it will help inform you about the displays in the museum. It's only €5.
Dogs are allowed inside.
Address: Große Messergasse 1, 94032 Passau
Disclosure: There are affiliate links in this post, which means we may earn a small commission if you click the link and proceed with a purchase, at no cost to you. We truly only recommend hotels, products and services we personally use.