5 Instagram-Worthy Experiences in Cabarrus, North Carolina
We jumped from bacon-covered donuts to speeding around an indoor race track in Cabarrus, North Carolina with our cameras in hand and smiles on our faces. It was one Instagram-worthy experience and photo finish after another in the 24 hours we spent here.
Exhilaration, sweets, and ice-cold beers lay just outside Charlotte in this appealing county. We're spilling the beans on everything we experienced (and captured) so you can enjoy it all too!
1. K1 Speed
Cabarrus is a town that enjoys NASCAR racing and you'll encounter many people who are proud of the racing culture there. (With good reason!) We quickly learned how addicting racing can be, first-hand, as we zipped around the track at K1 Speed.
It was sunny when we were there but this is also an EXCELLENT rainy day activity. The facility is in the midst of a few warehouse-type buildings but you step inside and you're totally transformed. K1 Speed is beautiful!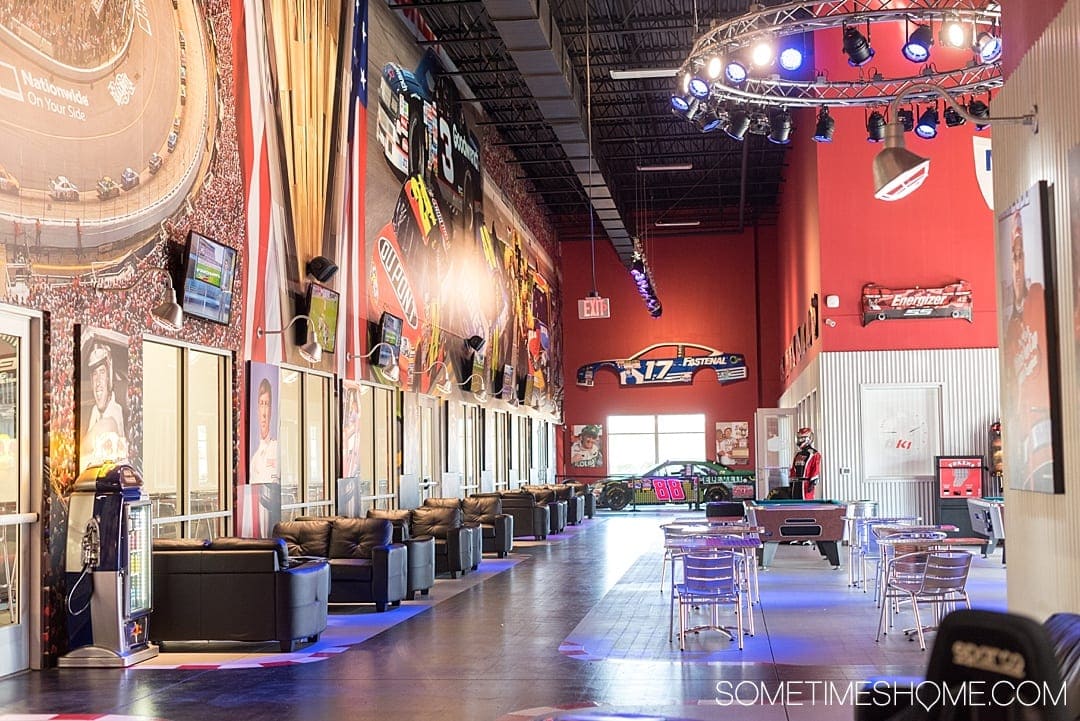 It's decorated with racing memorabilia including posters of famous race car drivers and a few retired race cars that were cool to see. The "go-karts" are all electric and run on battery power. Our noses and lungs were especially thankful for this. (Could you imagine gas-powered go-karts in an enclosed space? That would not be good!)
They print a sheet for you with all the statistics of your run after your race. Amongst other things, it included our individual time compared to other races we had on the books (we were newbies so we had just two races that day) and compared our runs to other racers on the track at the same time. These stats were very cool to us!
We can imagine how the addiction to going there continues to renew itself after you try to outdo yourself. (You actually sort of race for your personal best, each time, not really against the other people on the track.)
We especially loved the winners' platform; it was perfect for photo-finish Instagram-worthy pictures!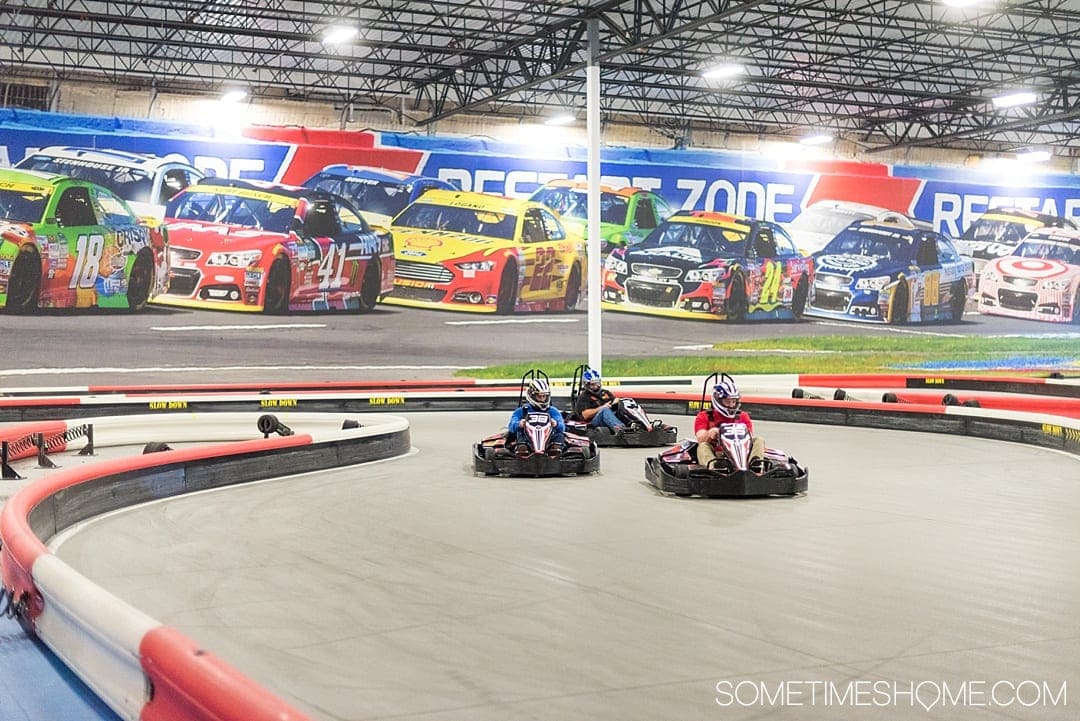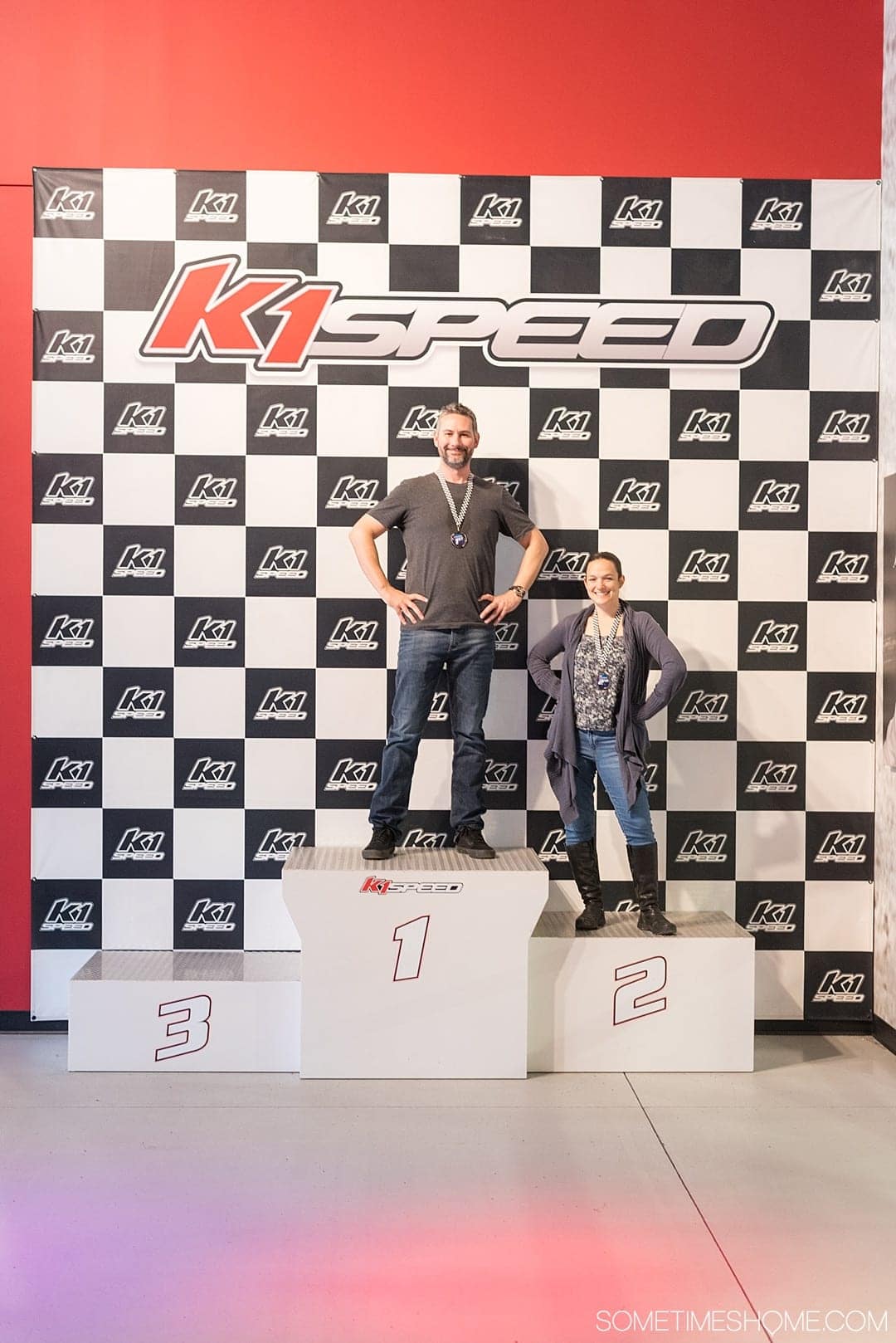 2. OMG Donuts & Bakery
These donuts taste as good as they look. And damnnnn, they look GOOOOODDD!
One of our favorite things about OMG Donuts & Bakery in Cabarrus, North Carolina was the options of fillings available! Not just pre-filled: you could choose your favorite filling from a variety of options on the spot! (Say, what?! Yes!) For example, we chose the strawberry and chocolate glazed donuts below. Then we had the option to fill them with either chocolate, vanilla, Bavarian, lemon, or raspberry filling. (We chose lemon and Bavarian.) The M&M topped and bacon topped were other favorites too! To us, that makes them a contender for the best donuts in North Carolina. Yes, all of North Carolina!
It's a great place for breakfast and was super close to our hotel, the Holiday Inn Express. (We loved staying there – our check-in was seamless and it was the perfect location to enjoy all Cabarrus has to offer.) Be sure to buy half a dozen so it's extra photo-worthy! (We may or may not know that from experience and a bit of indulging!)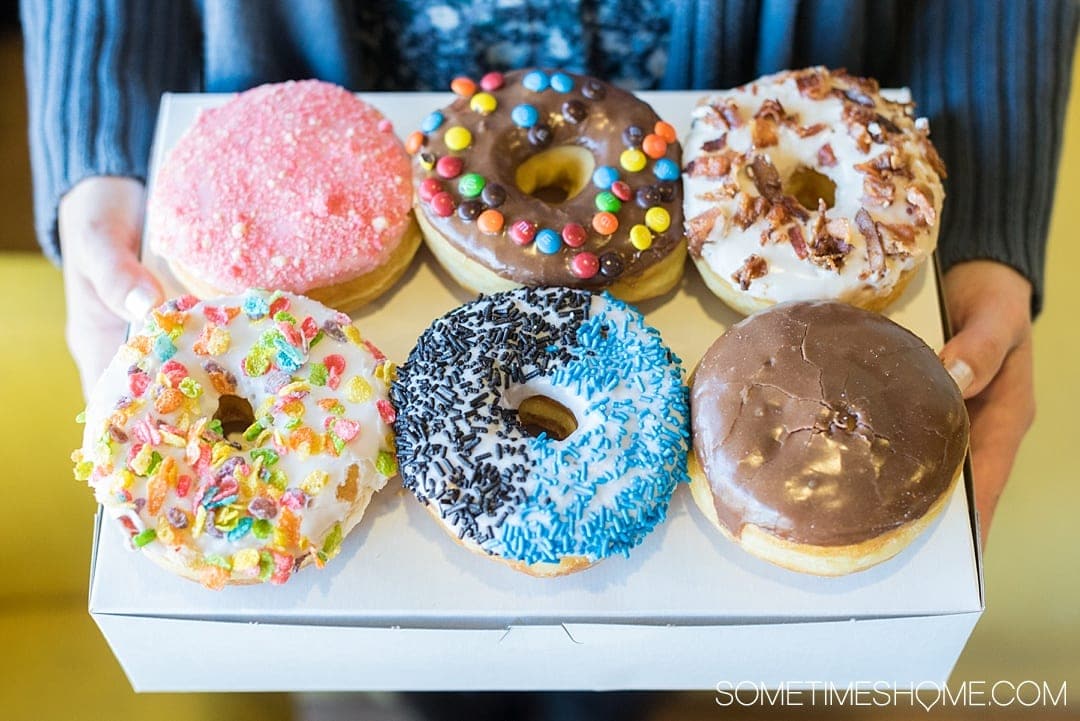 3. Downtown Cabarrus Murals
We are HUGE street art fanatics! We look for it wherever we go and Cabarrus North Carolina did not disappoint. Just look how cool this mural is we stumbled upon in downtown Concord. (We wondered if someone proposed here?!) If you're interested the mural is right next to MacPherson's Diamonds and Design.
I called Macpherson's Diamonds after our visit and spoke with John MacPherson, who was kind enough to share information about the mural and the story behind it. Concord wanted to put a few murals up downtown a few years ago and they asked if they'd allow them to add one to the side of their building. They said yes and a few artists collaborated to create this mural, based on a painting by Edie Lee, a local artist.
Their address is 14 Cabarrus Ave E, Concord, NC 28025.
How did the Mural Come to Be?
Several years ago, several different buildings and murals were being painted around the city. Edie Lee and Liz Gray were the leads on the project with artsist Lee Sherrill, Javier Collado, Mike Lee, and Robert White under them. Mr. Macpherson said they've had many photographers take engaged couples there for engagement photos! It's the perfect spot for it.
We also enjoyed taking photos of the blue-green "Off Main Street" mural by artist Isaac Payne.

4. Cookie Dough Bliss
The novelty of eating cookie dough from the mixing bowl while baking cookies as a child is alive and well in Cabarrus! Cookie Dough Bliss has taken this nostalgic concept to a new level. The store is beautiful and they have a variety of delicious flavor options to please any palette.
We opted for their Nutella, Oatmeal Cookie, and Andes Candy Mint flavors. We couldn't resist a waffle cone and rainbow sprinkles to make the photo extra appealing.
Here are a few great things to know about Cookie Dough Bliss:
There are no raw eggs in the cookie dough and their flour goes through a pre-baking process before it's integrated into their cookie dough mix to eliminate potential bacteria. That means you won't get sick from their dough like you can from bacteria in real cookie dough.
The dough can be refrigerated for up to four months! This was a bonus because we had to take some home – we simply couldn't finish it all.
It doesn't melt like ice cream…because it's cookie dough! This is great for photos. (Keep it mind it also means you can't really lick it like you can real ice cream but spoons work perfectly.)
It won't bake into cookies if you put it in the oven like real cookie dough. (Just in case you were tempted to take your leftovers home and try it!)
Be sure to take photos with their neon "I Want It All" sign: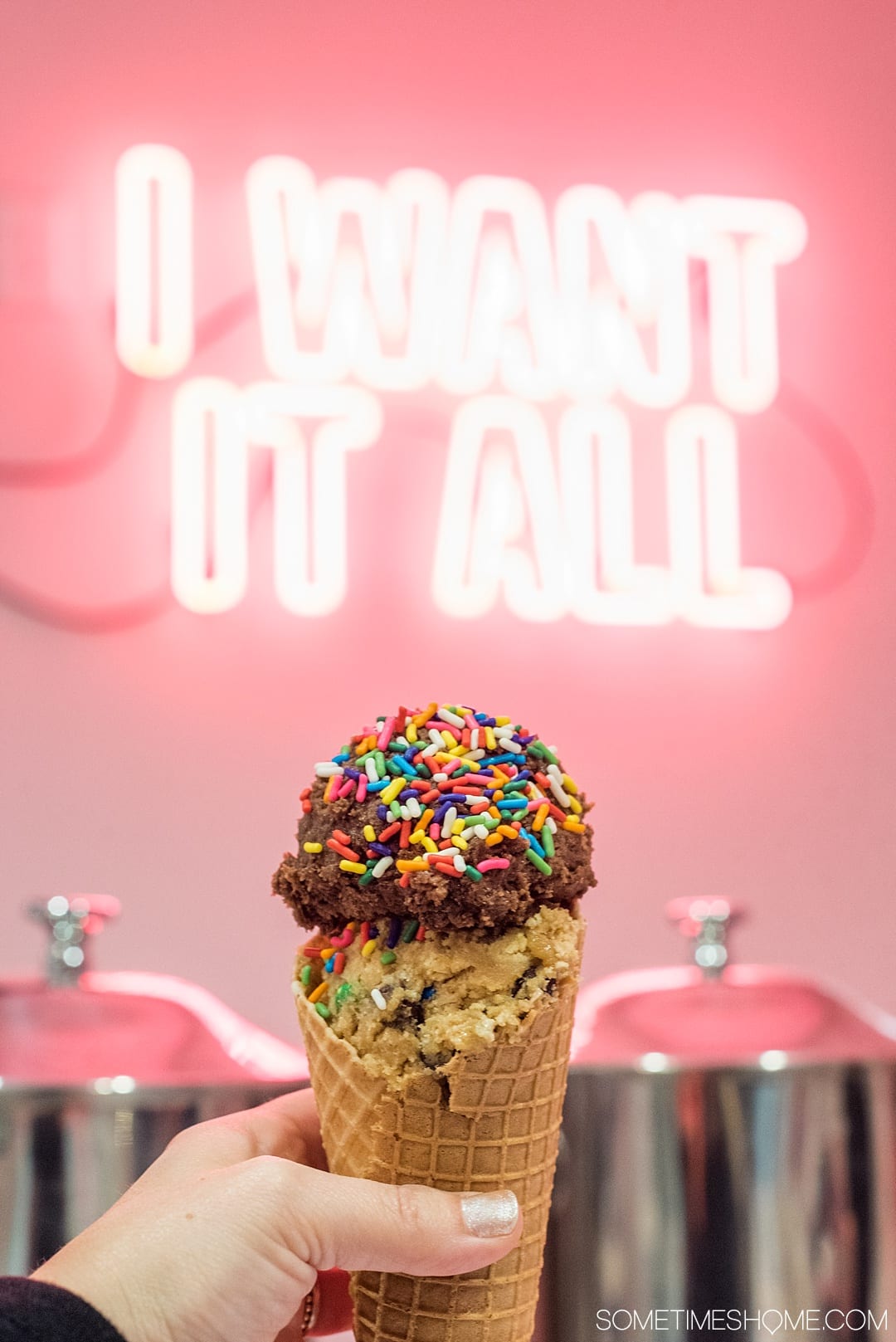 5. Race to Taste
Cabarrus County has one of the most fun brewery trails I've ever seen! They call this self-guided tour "Race to Taste" and have a coaster pack for you to hit up all, one, or a few breweries and wineries from the pack.
Here's how it works from the Visit Cabarrus website:
Pick up your free coaster set at the Cabarrus County Visitor Center (10099 Weddington Rd., Suite 102, Concord, NC 28027).
Use the individual coasters to plan your visits. Each coaster has a short history, contact information, location, and social media handles so you can get a quick preview.
Snap photos at each stop and share on social media using #RacetoTaste.
We went to about four breweries within a few hours. Our favorite was Twenty Six Acres Brewing Company. The owners, Joel and Tracy, were there and were absolute sweethearts! We ended up talking to them for two hours.
They shared their story of how they got to be brewers and how Twenty Six Acres got its name. (It was named after original 26-acre plot where Concord was founded, which is also on the coaster! Concord is the town within Cabarrus County, where Twenty Six Acres is.)
They have very Instagram-worthy beer flights. (I admit we indulged in quite a few!) They often have food trucks there as well, and if it's a nice day, I highly recommend sitting at one of their outdoor picnic tables.
Another fun stop was Cabarrus Brewing Co. They also have a beautiful outdoor area and often have food vendors on site. There was an oyster roast the day we went, which we happily participated in. We grabbed a plate of oysters and shrimp, paired it with beers and sat at an outdoor table to enjoy the North Carolina air!
High Branch Brewing Company also makes great beer and is right next to Cabarrus Brewing Co.
Just some tips if you're going to participate in Race to Taste:
Make sure where you're going is open for business the day/time you explore. For example, we wanted to go to Southern Grace Distilleries by they are closed on Sundays. Other breweries are closed some weekdays.
Some of the spots are very close together. It helps to map them before you leave your hotel/Air BnB/home to be extra efficient with your time.
If you're not into beer there are a few distilleries and wineries in the Race to Taste coaster pack.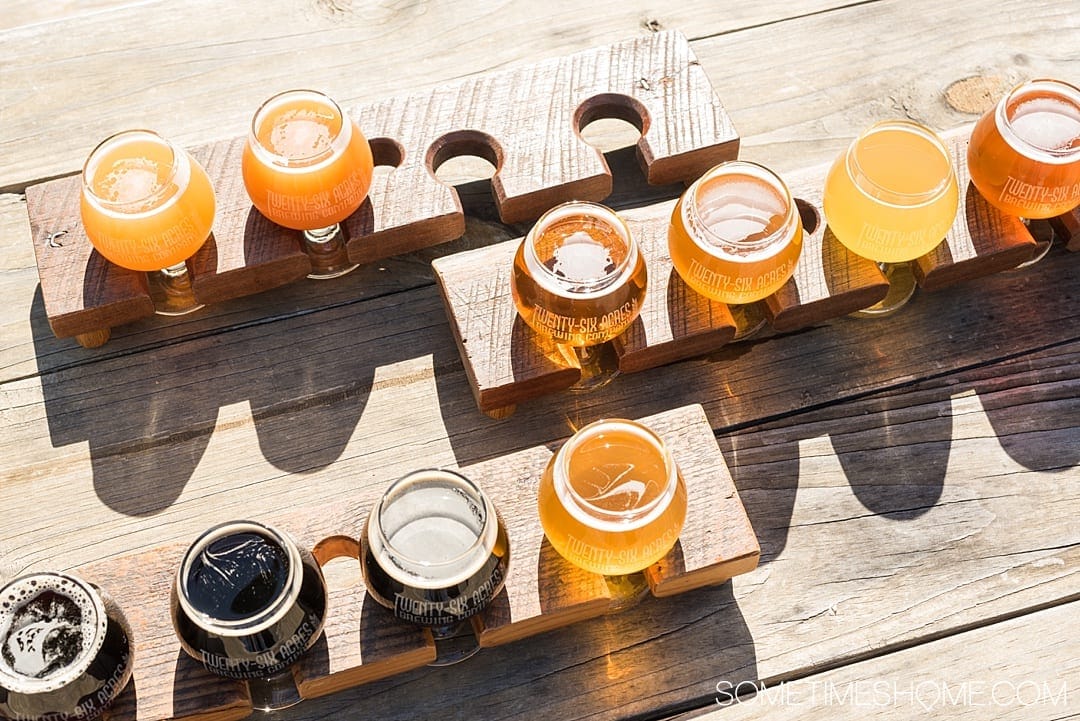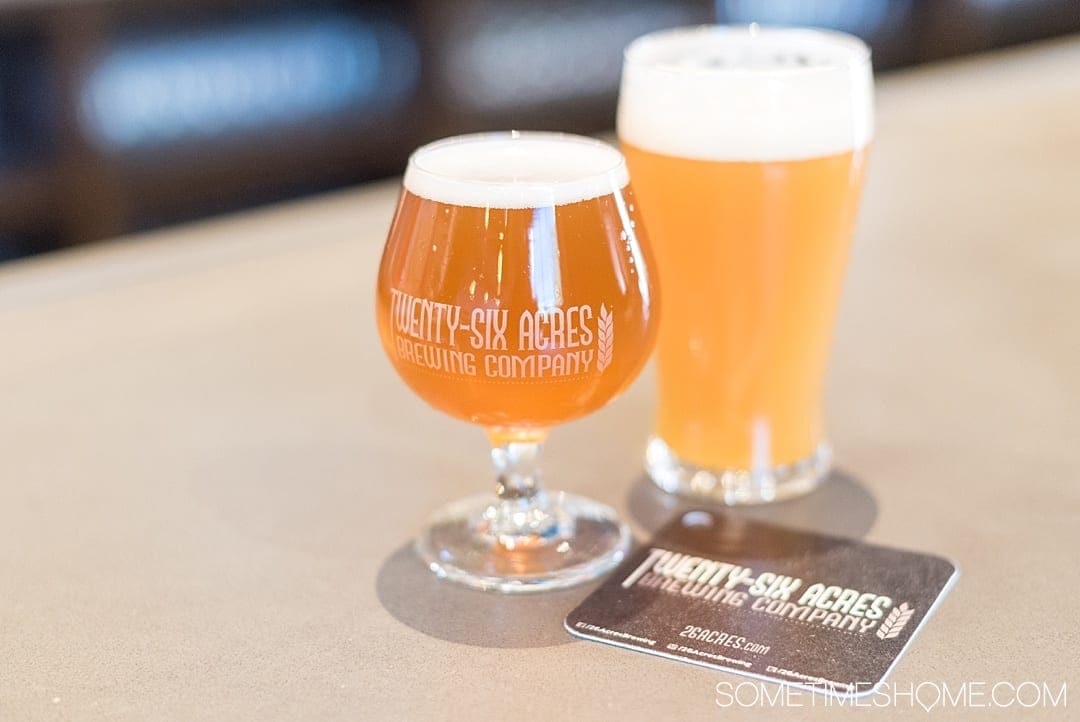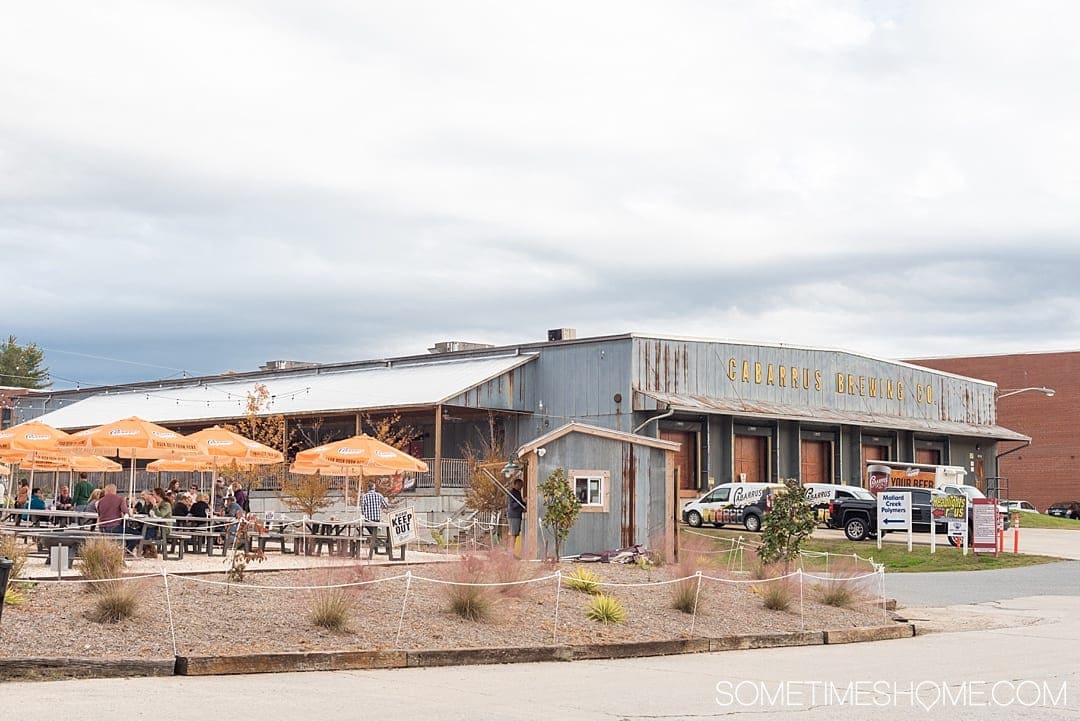 Bonus: Renaissance Festival
This one's a bonus stop! The North Carolina Renaissance Festival is not technically in Cabarrus County; it's in Lake Norman's Huntersville, in Mecklenburg County. But it's just minutes from the Cabarrus County line.
This annual, seasonal event is held from the end of September to mid-November. If you're in town during that time, you should definitely go! It's an amazing event, and there are a ton of photo-ops!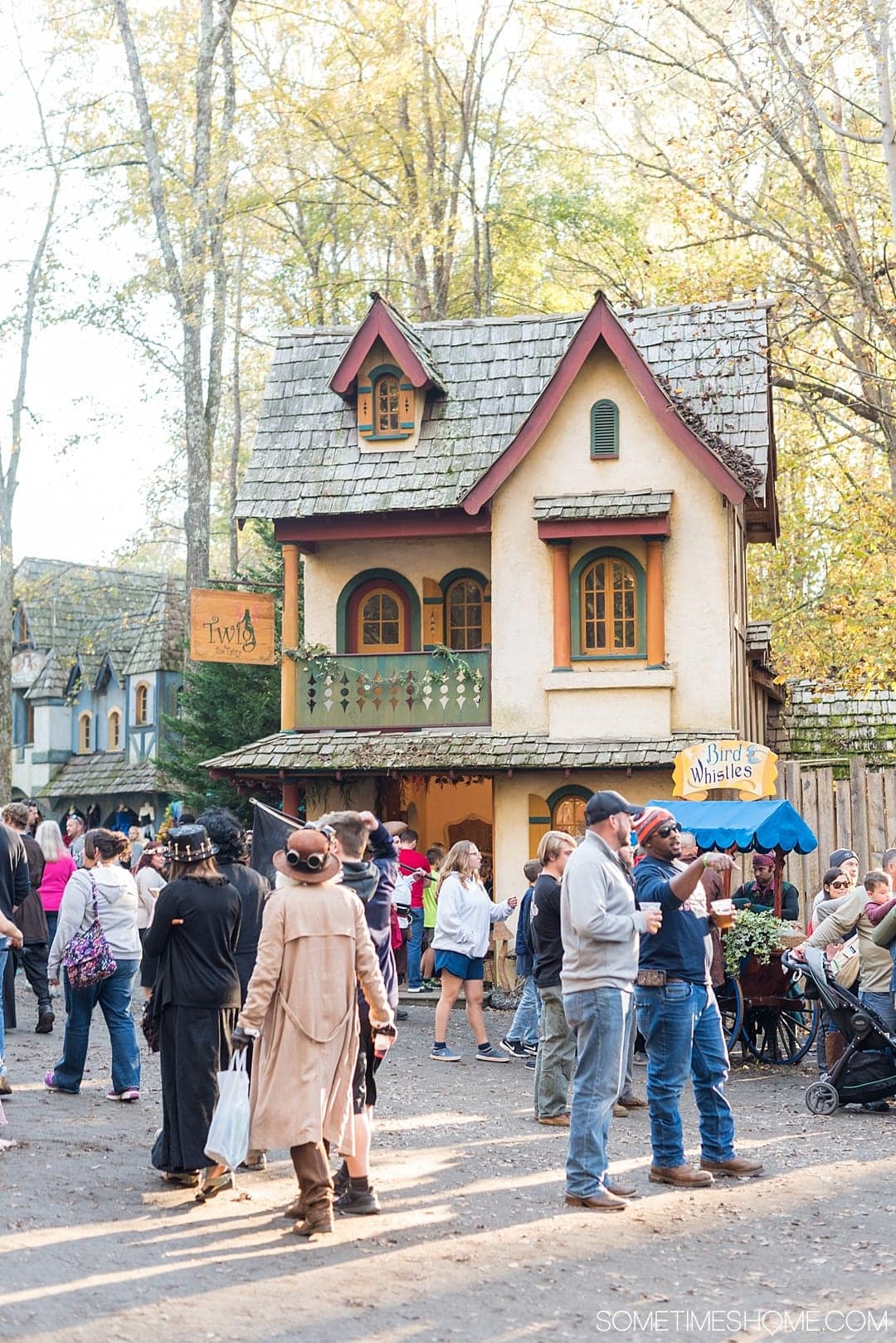 Please note: we thank Visit Cabarrus for generously hosting us. We also may make a small commission from affiliate links in this post but all opinions are ours and we bring you genuine content with real facts, photos, thoughts and recommendations. Always.
Heading to North Carolina? Also check out: