Where to Eat, Play and Stay in Loudoun County, Virginia
There's an oasis in the Virginia mountains about 45 minutes from Washington, DC that provides a respite from city life. There are plenty of things to do in Loudoun County, Virginia. And it's only a short drive from the city yet far enough to see miles of treetops, breathe fresh mountain air, experience a slice of small town America. And if you're feeling thirsty, to revel in the taste of delicious wines from the region.
It is a stellar, accessible getaway. You may not have heard of this wonderful area but you'll definitely be inclined to book a trip after reading about all it.
Where to Eat (and Play Some)
Downtown Leesburg
One of my favorite things about Loudoun is its downtown area. It's very functional and modern yet there's a historic air of yesteryear – a time when communities were small and tight knit. Downtown Leesburg is incredibly picturesque and walkable.
One of the best things to do is start your trip at the colorful "Discover Charm" mural. I recommend parking at the Liberty Street lot (address below) where the mural welcomes you to town. A local design agency, Sagetopia, created it – I love that it's an indicator of Leesburg's support of local artists! It was created to inspire exploration of the town…and I encourage you to do just that! (Especially if it's a nice day.) Be sure to take advantage of the photo opportunity by snapping some selfies or setting self-timed photos with the cute drawings on the blue mural wall.
Address: 204 Liberty St SW, Leesburg, VA 20175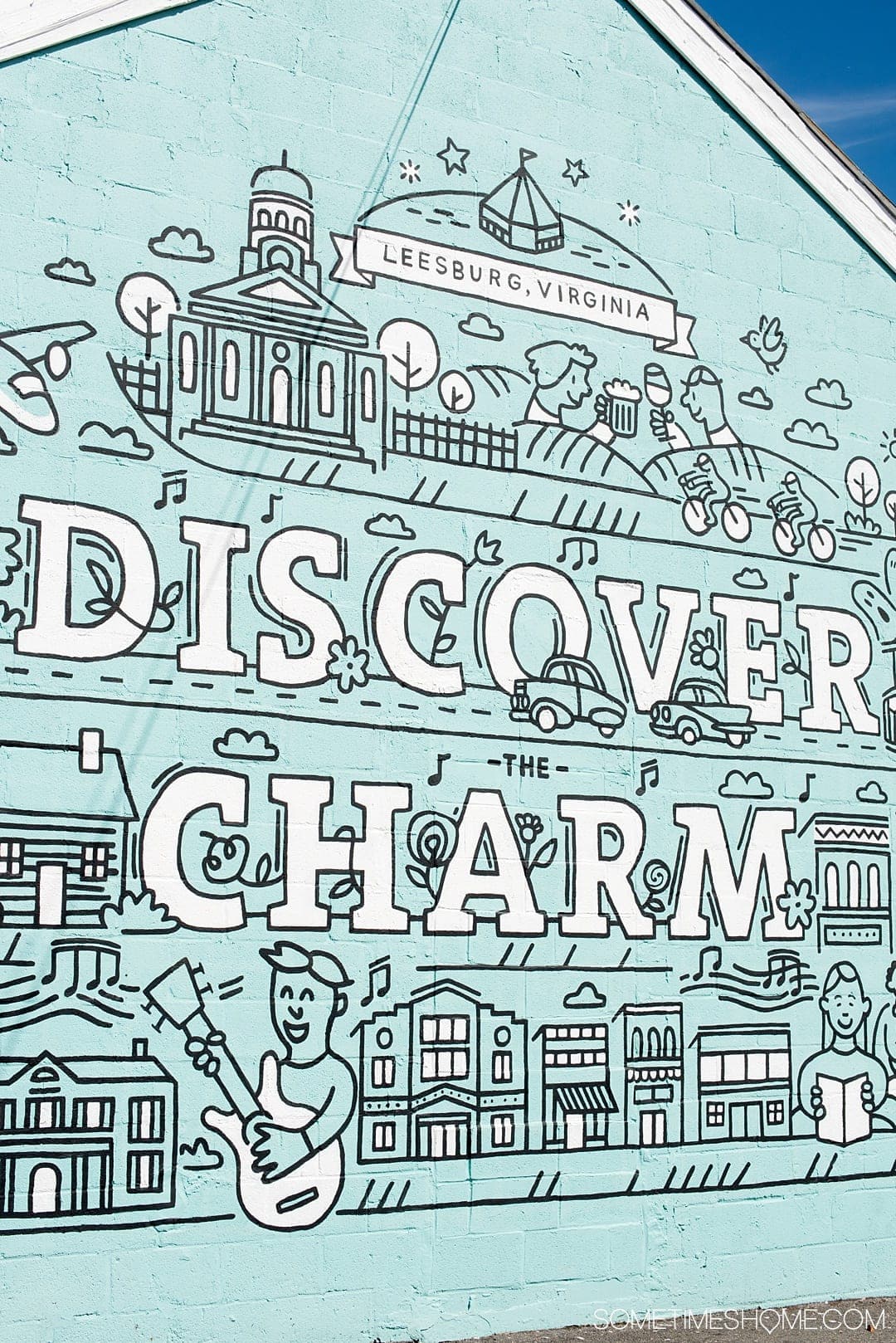 Continue to walk around the area and admire the signage that defines the character of downtown Leesburg, including its historic facades and homes. Be sure to stop in Shoes Cup and Cork for a drink or meal.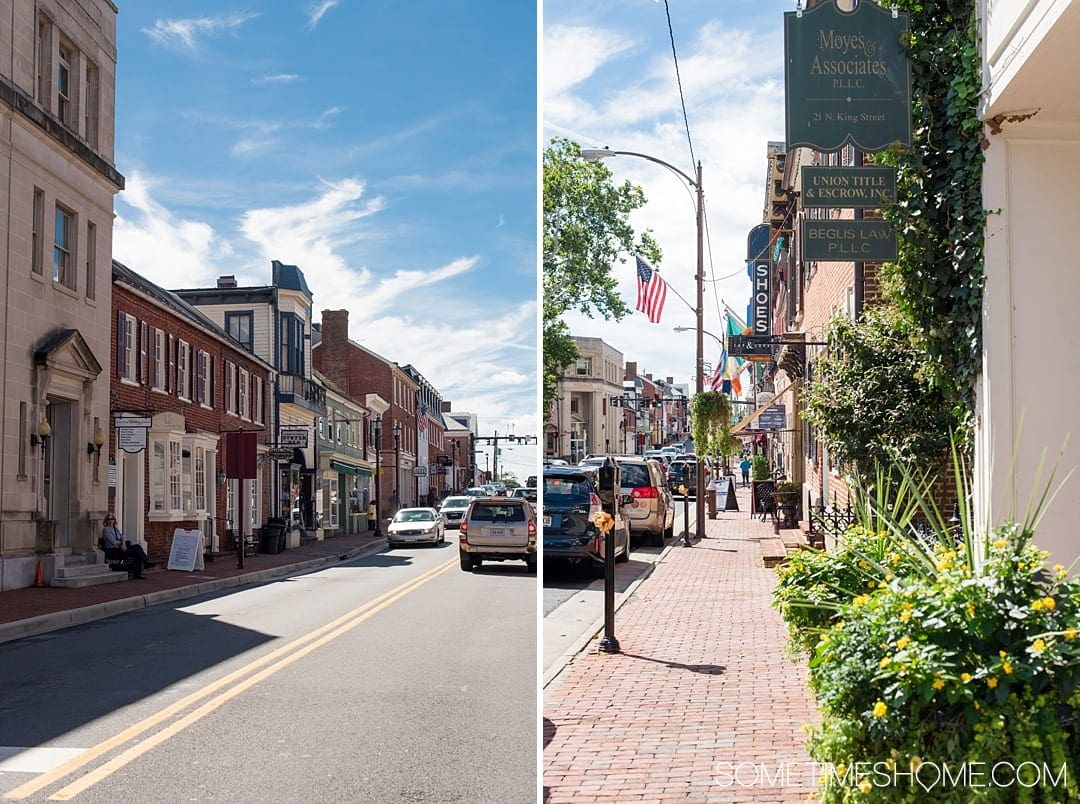 Shoes Cup and Cork
Shoes ended up being one of my favorite discoveries during my time in Loudoun County. There's so much history and beauty inside their two-story space. They also have a pretty outdoor area hidden in the back, named their "Secret Garden," which is accessible through a narrow alley next to the building. (It's a little oasis with outdoor seating and a fun bocce ball court!)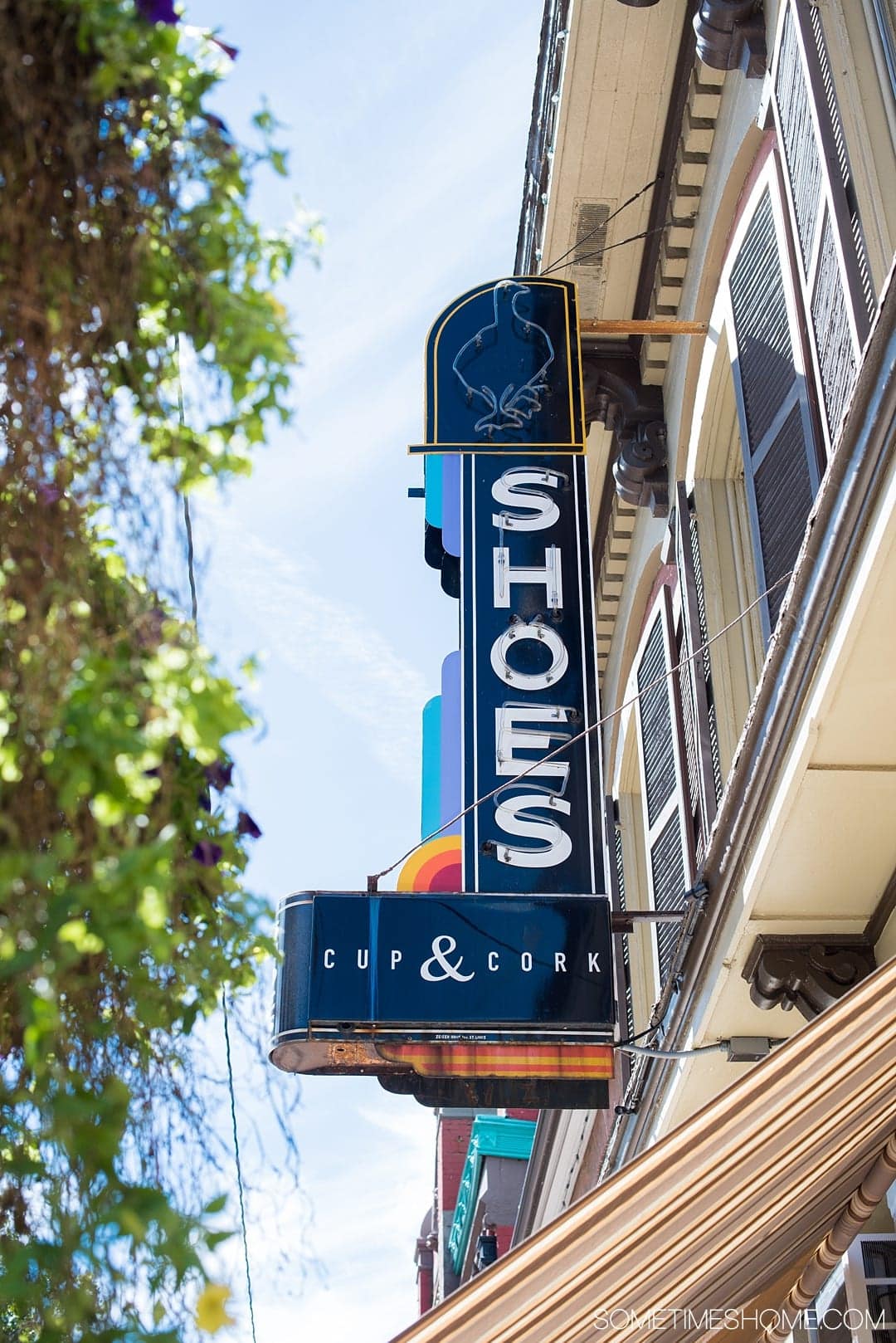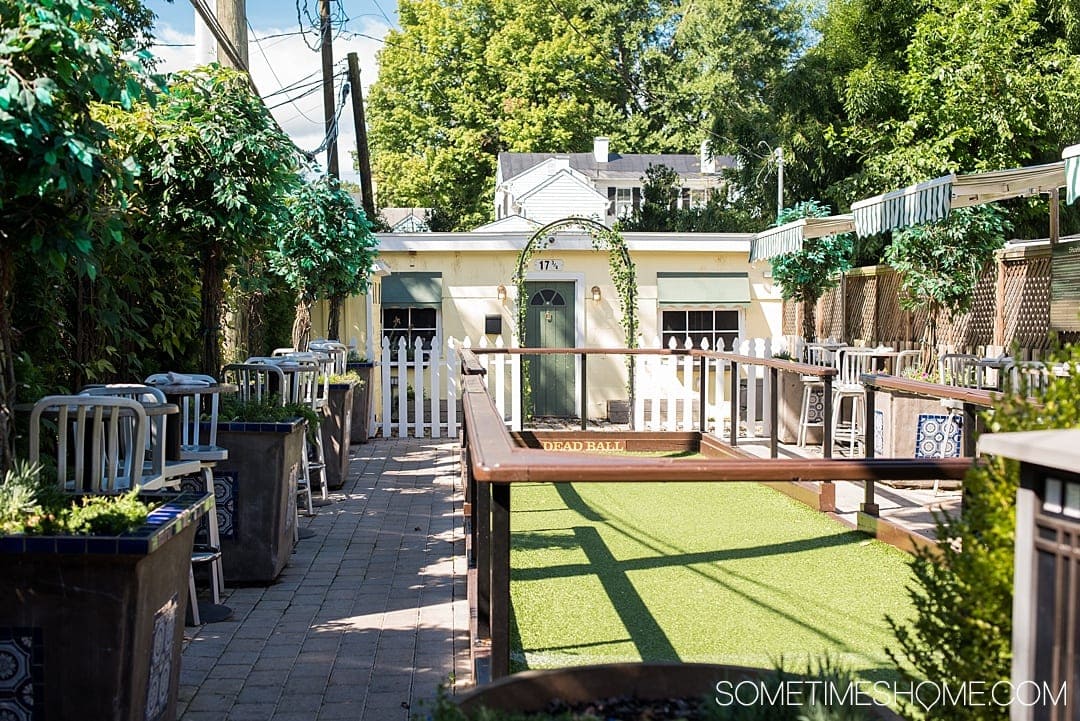 Inside, you'll find old shoes hanging from the ceiling and plaques that share information about some of Shoes' history. They estimate it was built in the late 19th century and know it was a cobbler shop in the early 20th century; the owners have honored its cobbler shop roots not just in its name but fun details inside too. (Is it to trite to say the soul of Shoes is literally old shoe soles?)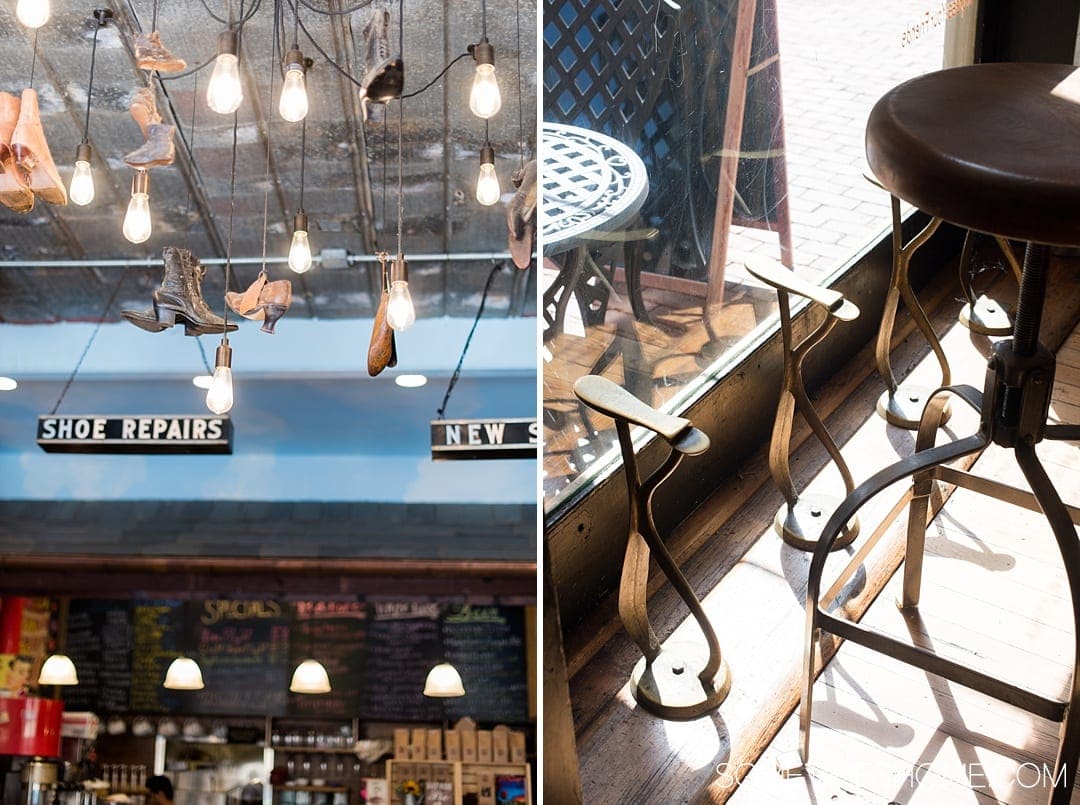 A woman's high-heel shoe hangs in the center of a little shoe party hung in the middle of the first-floor ceiling when you walk in. It's from the original cobbler shop and still has a tag on it for a resole order. Its tag indicates it would have cost the customer $1 back then! (#inflation #timeshavechanged) I guess the woman ended up half-shoeless if they still have one of the pair! They even have old gold shoeshine stands in tact. Look for them underneath the front bar space that overlooks the sidewalk.
An enthusiastic employee named Caleb was generous enough to show me a hidden gem on the second floor. The owners were sure to include wonderful details to help tell the story of the years the building thrived before their occupancy.
The upstairs Poker Room has vintage televisions situated near old phonographs. A radio plays oldies, complete with the crackle-and-pop sounds of an old music player. But this vintage Philco "Radiobar," created during prohibition, opens up to reveal a hidden bar. (I suppose this technically makes the Poker Room a bit of a speakeasy!)
A sign reading, "Professional Gamblers Prohibited" makes you feel like the mob may come in any minute. Rumor has it the chandelier in this room is from the Chicago Athletic Association, where the famed gangster, Al Capone, frequented in the 1920s. I was convinced the people in the black and white photos you see when you walk up the stairs are Shoes regulars who still stop by for Saturday night cocktails.
I grabbed an iced coffee before I left to continue walking around downtown Leesburg.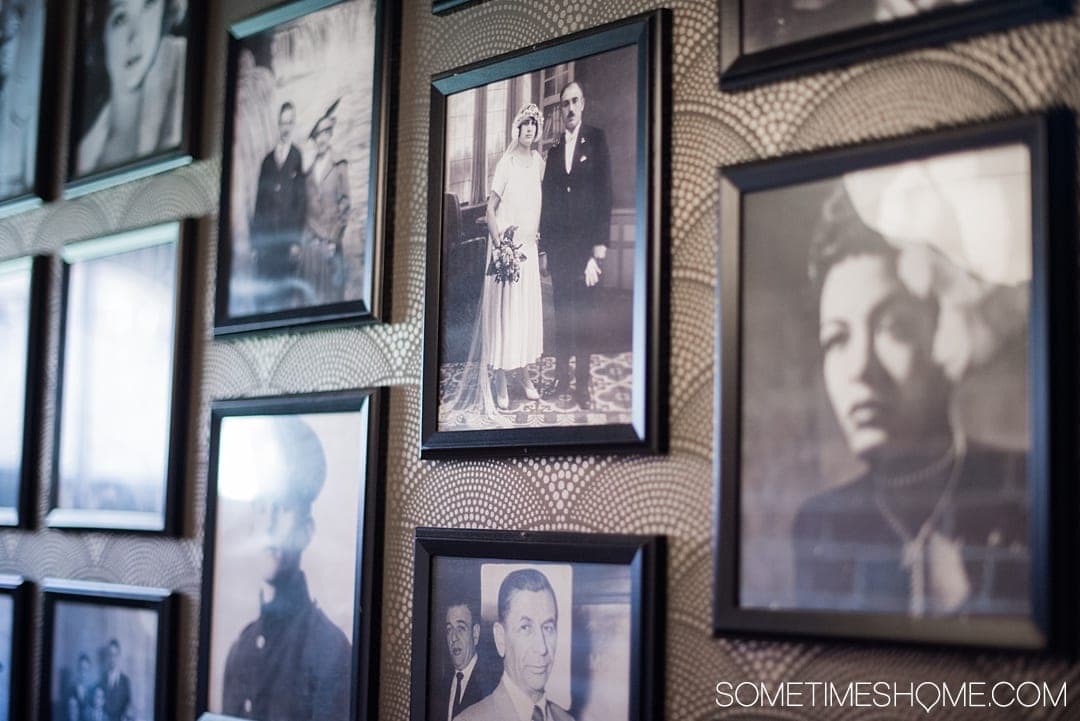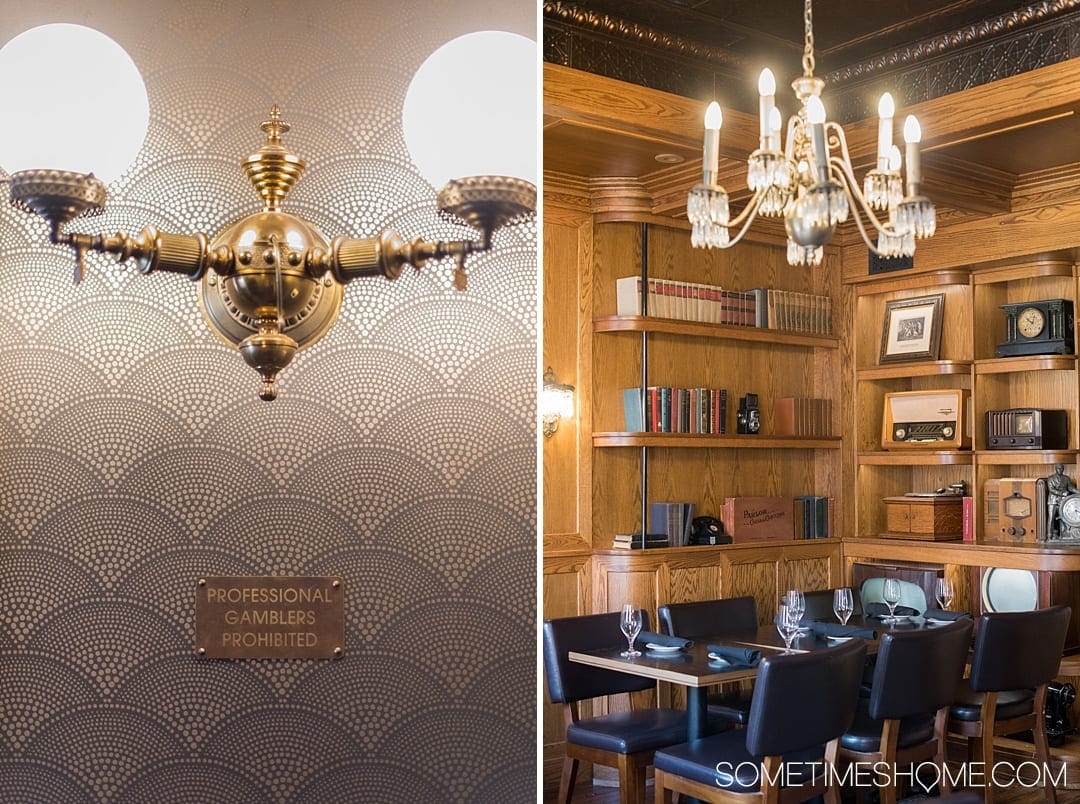 Mom's Apple Pie
I hopped back in my car and drove about half a mile to grab some sweets at Mom's Apple Pie. I am a SUCKER for good pies and I went a little nuts here! The nice thing is they have sweet and savory pies (like quiches) and you can either buy complete pies or slices.
It's a good thing I was driving to see friends shortly after my overnight to Loudoun County because I gave myself permission to buy a lot of options to share with them. Some of the six varieties I purchased included coconut cream pie, blackberry pie, rhubarb, and of course a slice of classic apple. (They were all delicious and very shareable!)
Address: 220 Loudoun Street SE, Leesburg, VA 20175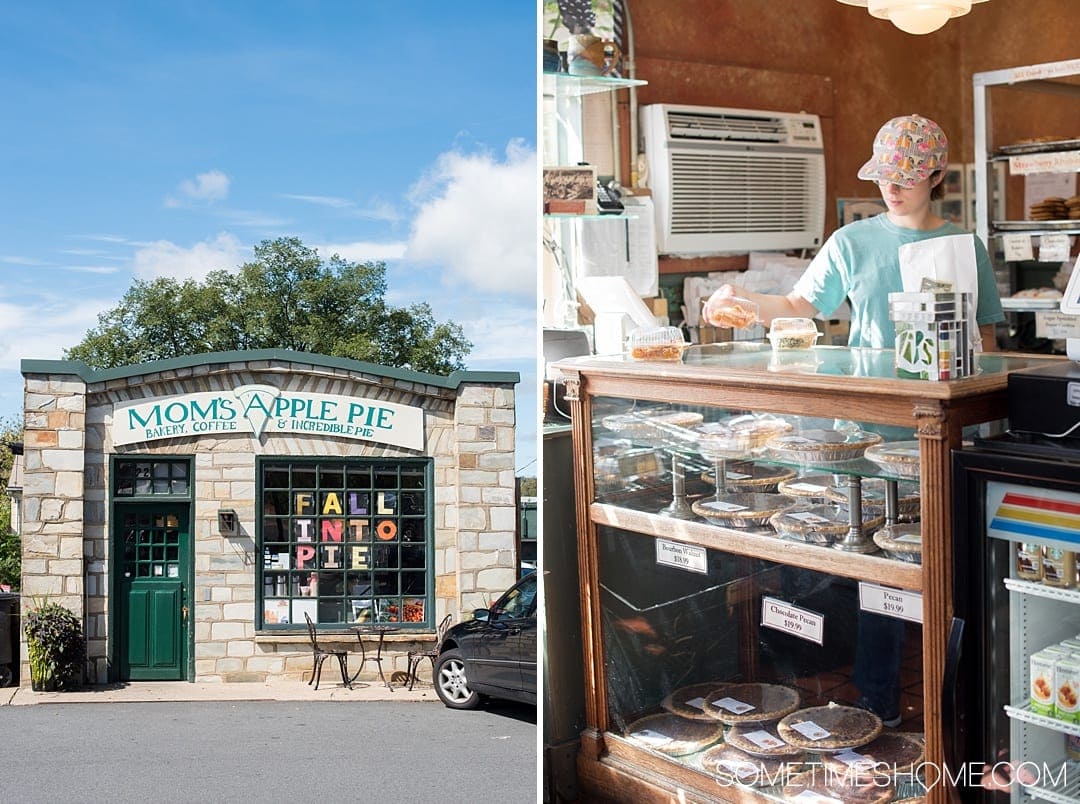 The Conche Restaurant
If sweet and savory is your idea of a balanced meal (and who would disagree?) you MUST have a meal at The Conche in Leesburg. My time at The Conche blew my mind. It's a restaurant almost literally infused with chocolate, with a menu inspired by the delicacy. We extensively reviewed it in its own post because it was that good.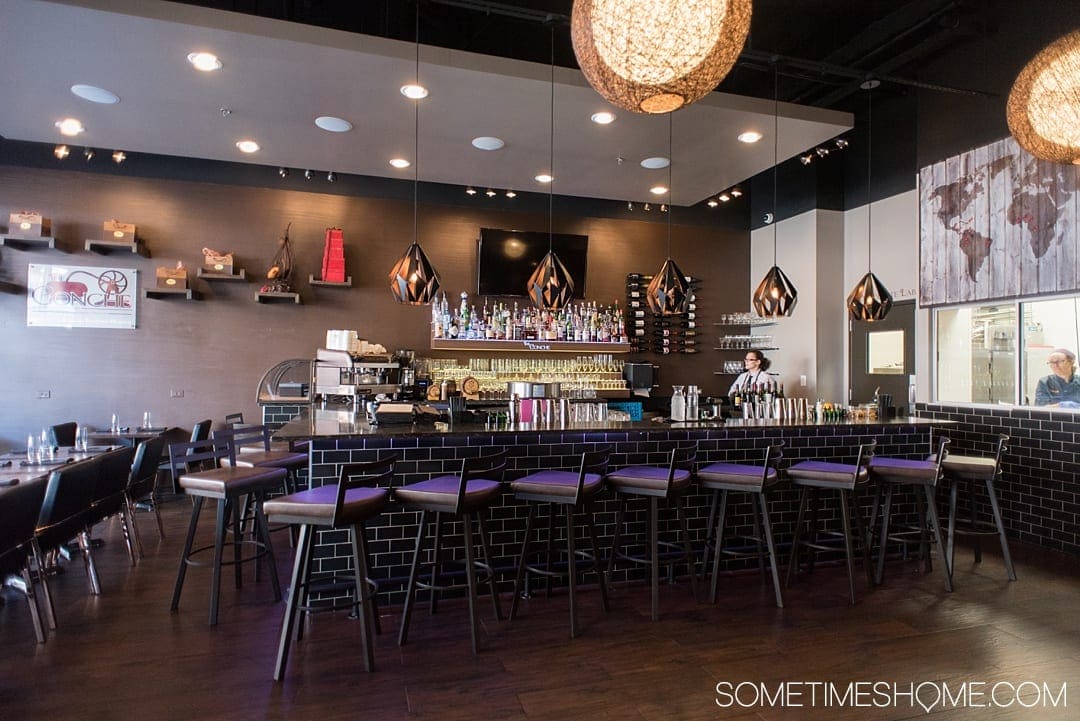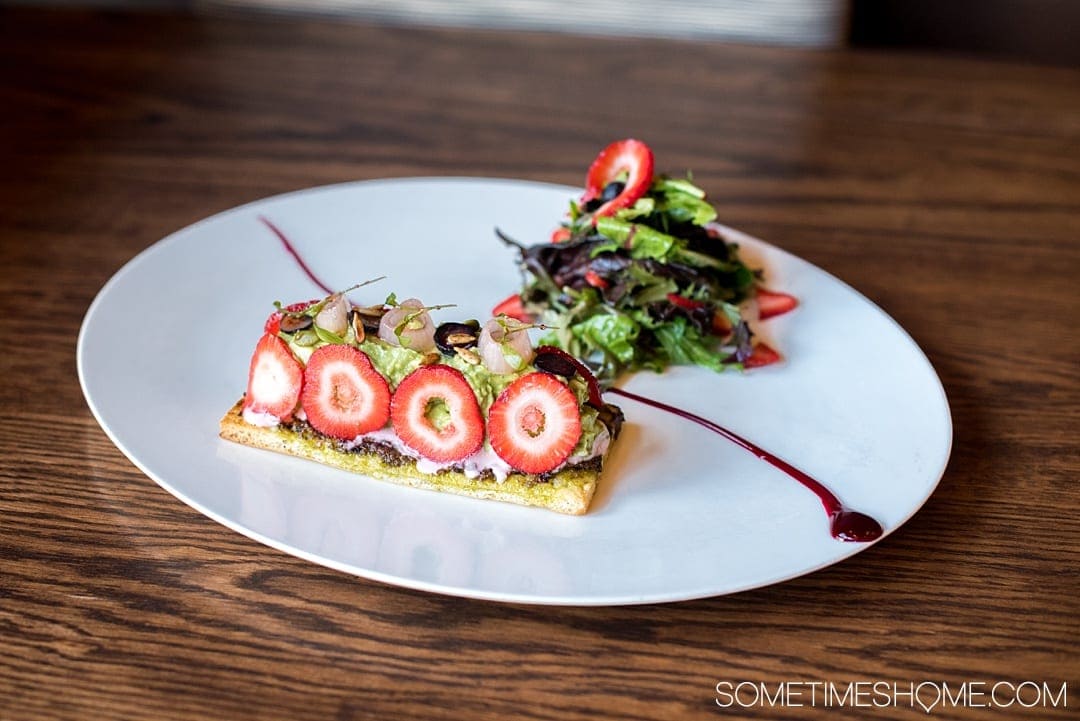 Where to Play
Kids play in playground but adults play in vineyards! (Right?) And I was ready to play…and taste…at award-winning wineries in Loudoun County.
The Barns at Hamilton Station Vineyards
My first stop was The Barns at Hamilton Station Vineyards. The tasting room is in picture-perfect historic white barn, which looks out onto some of their vineyards.
Wine flights and delicious small plates are available with a rather impressive menu of cheese, meats and spreads. I love that you have the opportunity to make your own cheese and charcuterie board by choosing select favorites from their plentiful options. Or, another really cute option, is to order one of their picnic baskets where you select one cheese, one meat, one spread and either a baguette or crackers for a fixed, affordable price.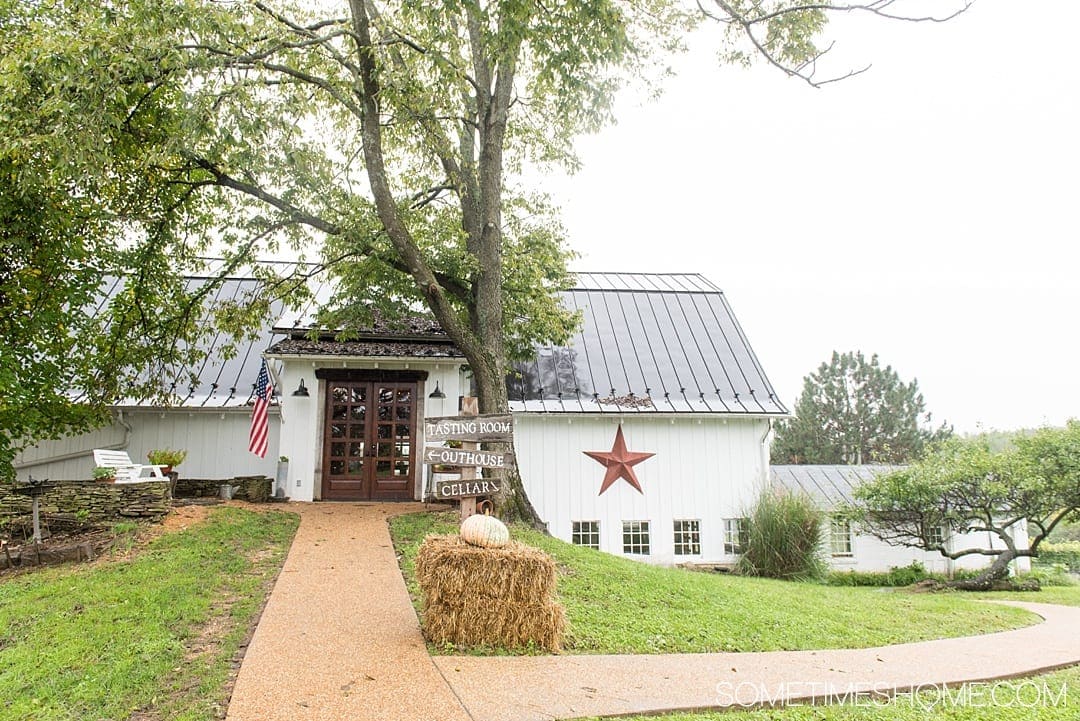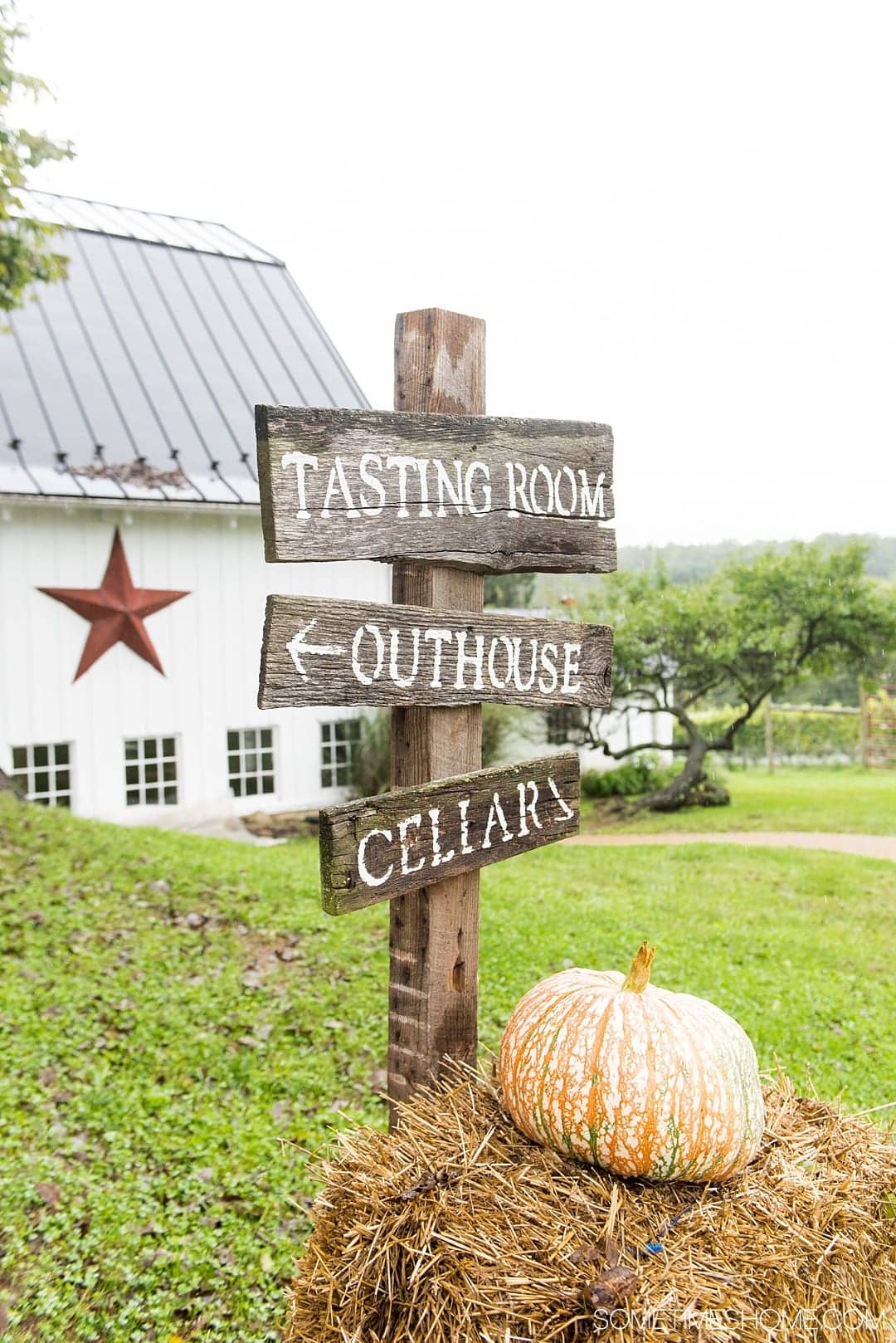 Hamilton Station Vineyards operated elsewhere for 50 years before moving to its current location in 2012. The buildings on the property were constructed between 1910 and 1950; the tasting room's original purpose was to house livestock. Today they try to maintain its original integrity by keeping the wood exposed and ladder leading up to the former location of the barn's loft. (Now the ladder simply leads to the ceiling.)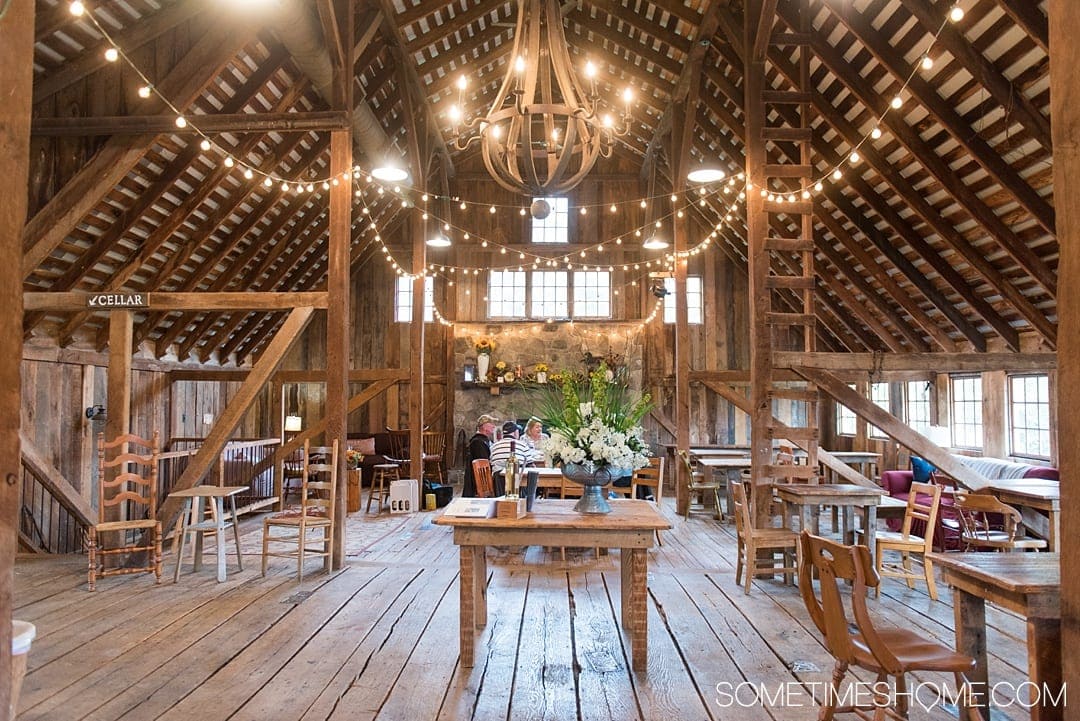 It has great acoustics for their Blue Mondays, every third Monday of the month. They have a songwriters event during winter, humorously named, "Songs, Stories and Gas Money", which I hear draws a good crowd.
The vines on their beautiful property are on just some of the acreage they utilize for wine production. They also have land in Roanake, Hillsborough and Charlottesville Virginia to keep up with production demand. One of my favorite wines was a 2015 Malbec, which had a delicious and unique berry flavor.
Be sure to taste their Meritage wine if they have it when you visit; it was awarded a prize for being one of the top 12 wines in the state during the "Governor's Case" competition. (Wines are judged on how they look and taste during this competition for Virginia state wineries.)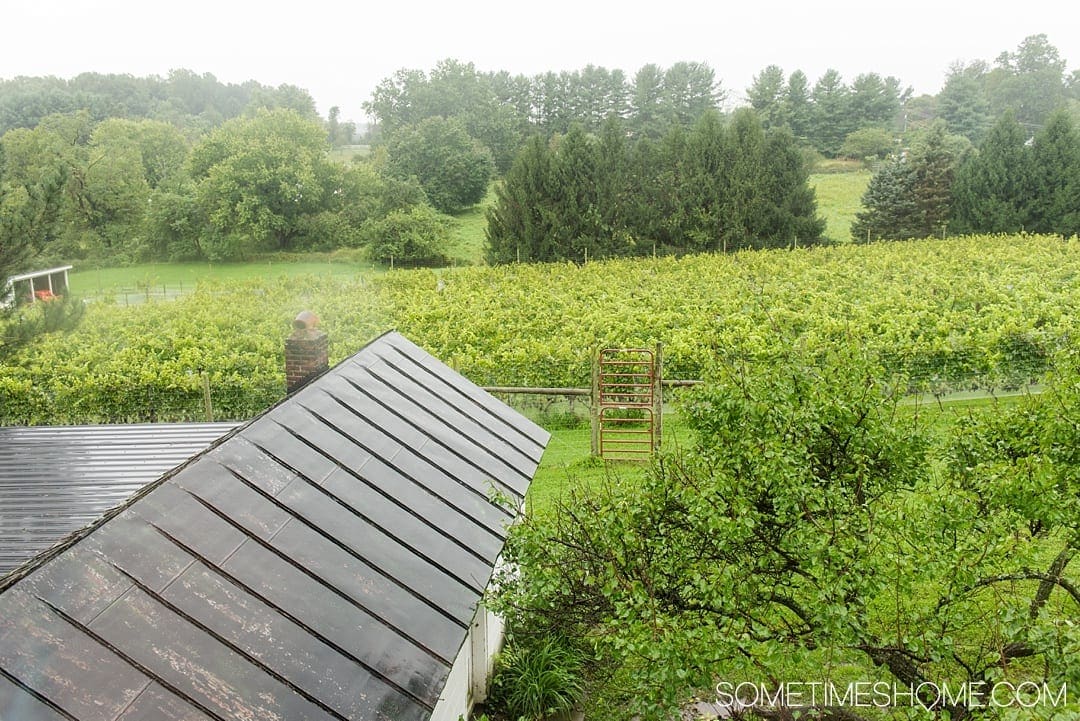 Winery 32
My next stop was Winery 32, whose name carries a lot of significance. It's owned and operated by Michael and Roxanne, a trained chef and biochemist, respectively. They planted their first vines on their 32nd wedding anniversary on some of the 32 acres of land they purchased. Ten of the 32 acres are "under vine," as they say. There are 32 peach trees lining the road that leads to the winery. These Gloria peach trees are put to good use as the main ingredient in their unique peach wine.
I felt like I was being welcomed into someone's home for a glass of wine as soon as I walked in the door. I smelled the delicious aromas of tomato sauce on the stove and Katie, who works there, welcomed us with a smile. (It's worth mentioning that Friday through Monday, the winery is also a bistro and they have various events, like comedy nights, throughout the year.)
We tasted wines one by one and I wasn't just impressed with the flavors but the labels caught my eye as well. I inquired about their design, which matched posters on the wall. Roxanne and Michael's eldest daughter, Chantal, is a talented artist who creates the digital artwork for the family winery on her computer.
They've taken inspiration from their property, lives and Loudoun County for the label illustrations. For example, their Thoroughbred Blend depicts a red horse with a pinny number "32," which was actually the number of Chantal's horse, Dale, during her childhood. It was interesting to learn the 32 acres of property they purchased were part of a larger 108 acres of a horse farm that were sold around 2014.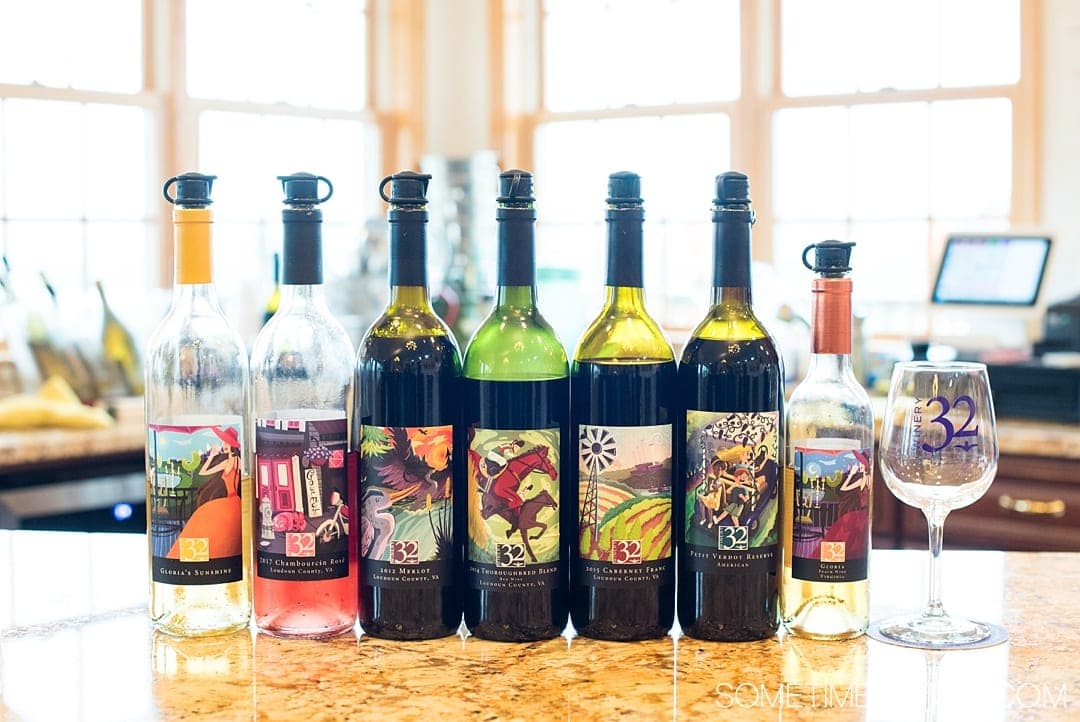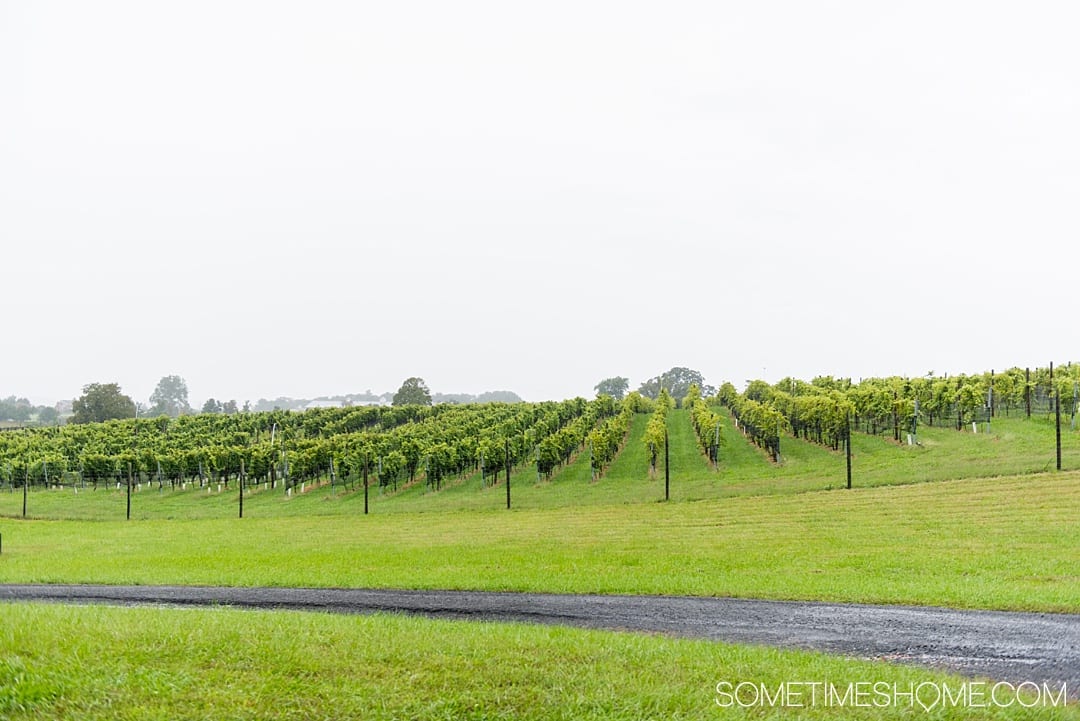 Their Chambourcin Rose label depicts downtown Leesburg and their Merlot label shows a Blue Herring bird, which they have in the nearby pond.
Michael was kind enough to take us downstairs where they were fermenting grapes and produced wine, including a beautiful pink rose. He explained how CO2 was being released from crushing grapes in macro bins and how they can control fermentation this way. (Wine takes patience and at least two to five years, on average, to produce and this is just one part of the process.)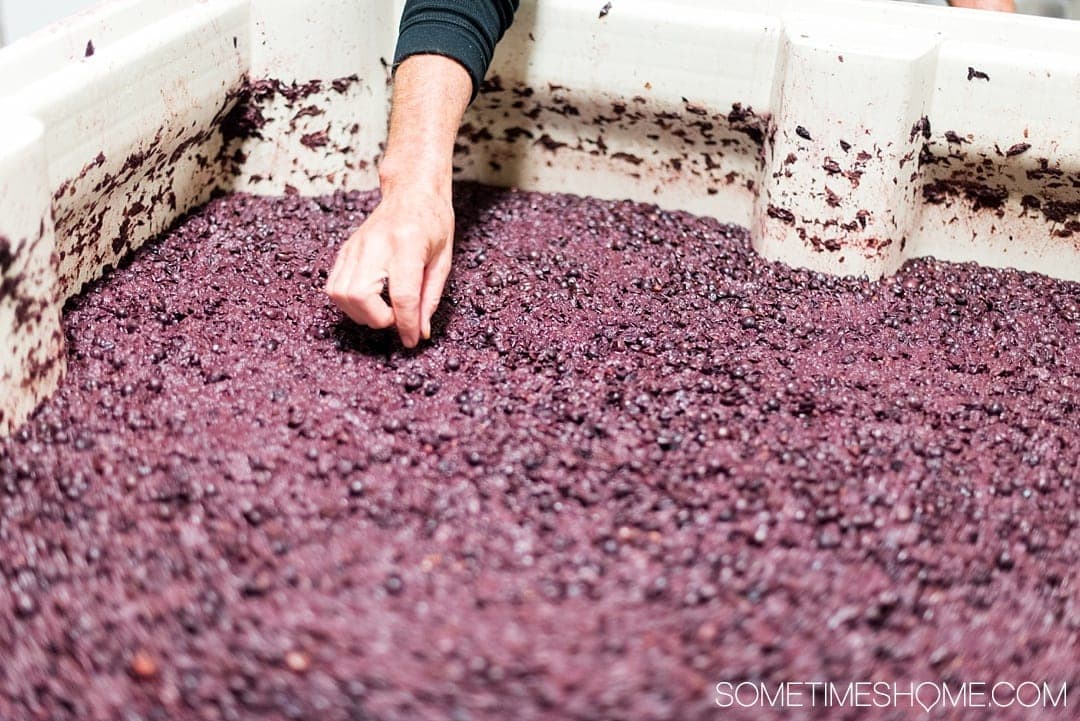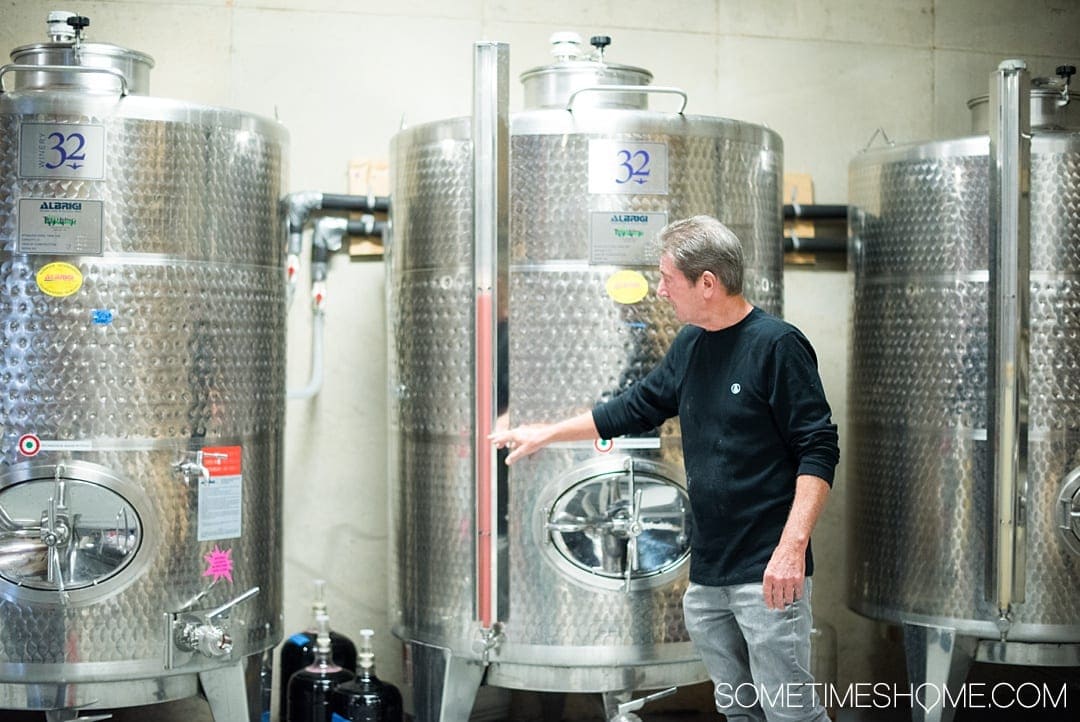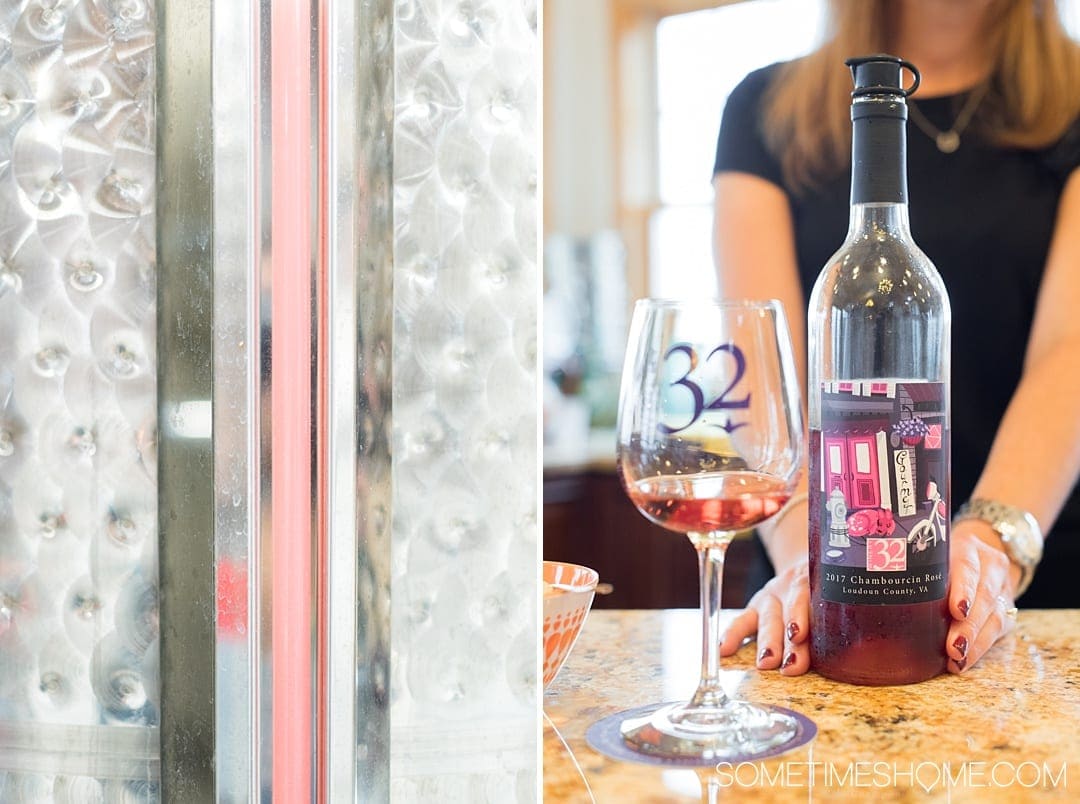 Where to Stay
I cannot recommend Lansdowne Resort and Spa enough. I was instantly transported to "vacation mode" when I arrived and checked into my beautiful hotel room. The view of the mountains was supreme and the fluffy bed beckoned after half a day of driving, two wine tastings and a spa treatment!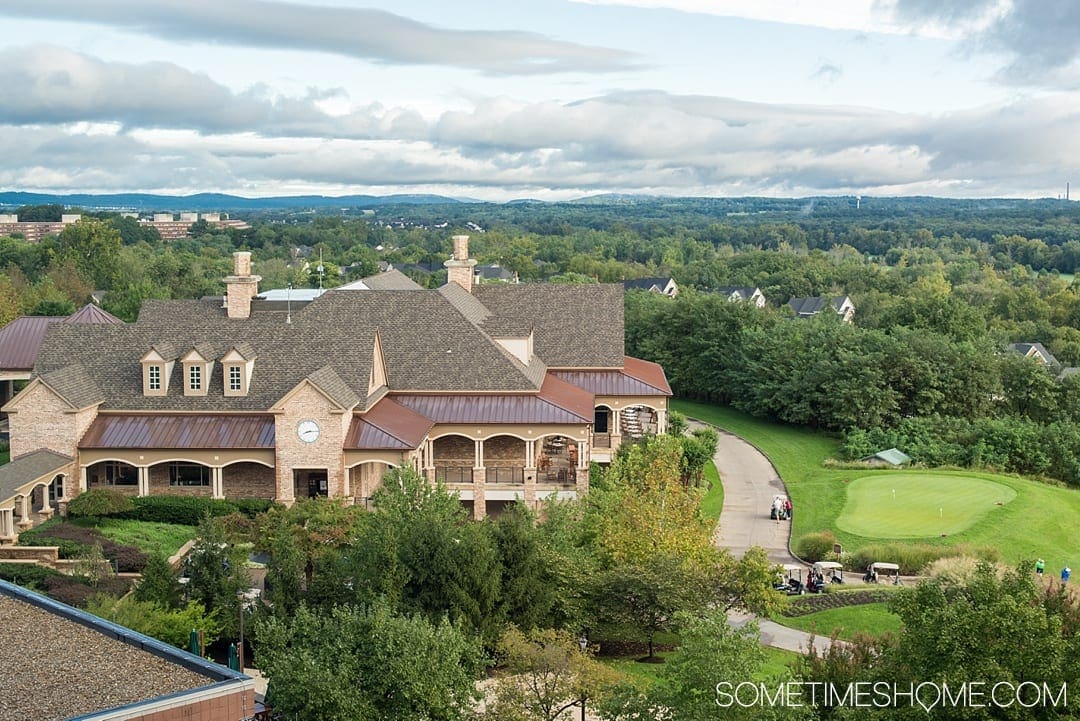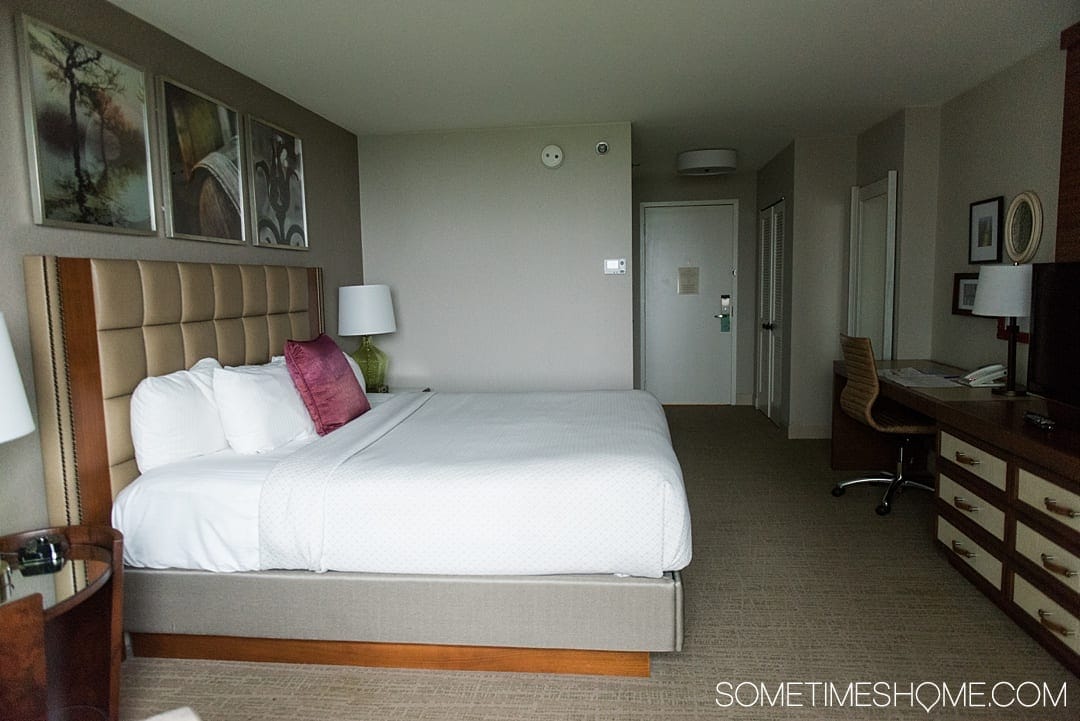 Visiting Virginia? Also check out:
Have you visited Virginia lately? Let us know in the comments below!