15 Tromso Norway Photos To Inspire Your Winter Vacation
Visiting Tromso, Norway is truly inspiring. We recall icicles cascading down from buildings and frost-bitten sculptures in Norway during our winter vacation to this Arctic Circle destination.
We truly love warm weather. However, we will travel to a cold climate when it's an ideal time to visit as is such with Tromso in February. (We've been during January too but we love that Sami week (celebrating their indigenous people) happens during February!)
Winter photos of Tromso bring Aurora Borealis delights to mind, beautiful blue and purple landscapes, and stunning snow-covered mountains.
These photographs will surely inspire you to consider Tromso for a winter escape.
1. Tromso Sunset
We were walking over the bridge in Tromso to get from the main area of town, across the Norwegian sea towards the Fjellheisen cable car. (See photo #12 for more on that experience!) I had to stop. Because as the wind blew strongly over the bridge, I looked to my right and saw the scene in the photograph below.
What resulted is one of my all-time favorite winter photos of Tromso.
The sunset was like a painting and the sky's pink reflection on the aqua water was breathtaking. The cruise ship in the distance was the cherry on top in our picture-perfect view.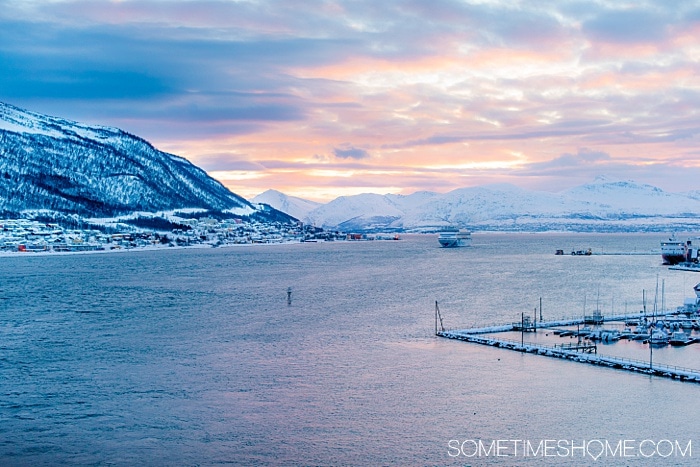 2. Snowfall with Colorful Buildings
The nice thing about snow so fiercely falling is it shows up so well in photographs. We walked past this pretty blue hostel to continue moving towards our destination…and I had to turn around. I couldn't get this scene out of my head; I had to photograph it.
Tromso isn't known for its colorful buildings any more than Norway is known for its yellow and red buildings and homes overall. Yet there are a few places where exceptionally colorful structures catch your eye, as they may in any city. And they're especially beautiful in Tromso when they serve as a backdrop to powerful snowfall.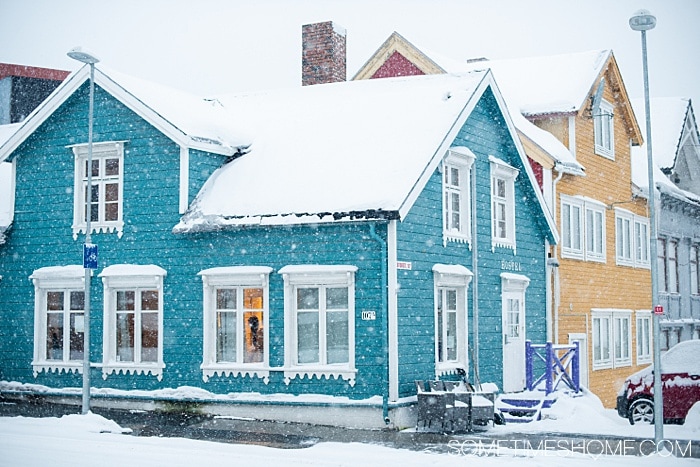 3. Winter Photos of Tromso Showing Serene Scandinavia
It was so peaceful to be passengers aboard the Fjord Queen ship with Polar Adventures. These two inspirational Tromso winter post images were taken during the same excursion at different times of the day.
The first, with the Norwegian flag in the foreground, was around 12:00pm or so. The sky was bright blue and we could see another boat like ours in the distance, also with Polar Adventures, along with a sailboat passing by.
You're able to boat through Norwegian fjords in January and February because the water doesn't freeze. Ice forms on the boat deck, however, so you have to be mindful as you move about the exterior of the ship. But it's pretty easy to move around by holding onto railings and simply being cautious. Carefully moving around the ship is worth it for winter landscape photos off the bow and the stern.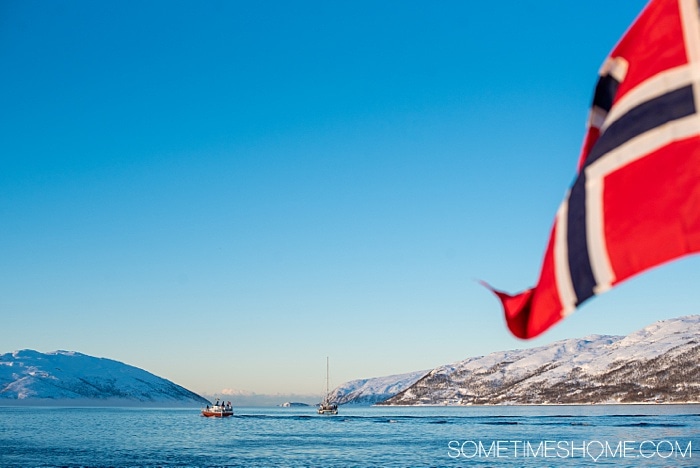 4. Snow Capped Mountains for Miles in Northern Norway
Later on in the day during our Tromso boat ride, as the sun began to sink further towards the horizon, we saw the scene below. The water was even calmer than earlier in the day and sky was more colorful. There's such peace in this image.
You see perspectives you just can't capture from the shore when you sail with Polar Adventures. It was a unique winter season opportunity – and we hope the images we captured inspire you to book an outing with them too!
We hear the Lofoten Islands are breathtaking in winter too, including snowy mountain views. We hope to visit that part of Northern Norway one day!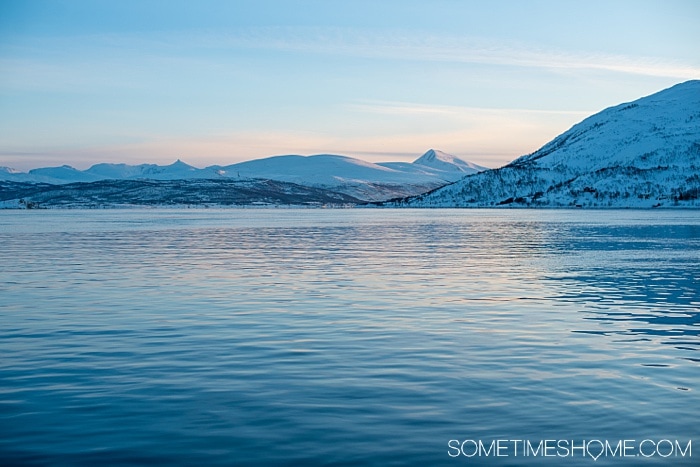 5. Picture Perfect Tromso Harbor Approach
I was incredibly cold after a few hours on our boat excursion through the polar fjords. (Don't get me wrong – it was beautiful, memorable, and picturesque. But I was nonetheless cold.) Yet I couldn't go inside the cabin to warm up because I was so happy outside taking photos from the deck.
As we approached the harbor at the conclusion of our joyful ride aboard the Fjord Queen, three identical buildings painted in three different colors stared at me as ducks enjoyed an ice-cold bath in the foreground of my view. Everyone else – perhaps twenty to thirty people – was inside warming up. But I'll take the cold when I'm able to capture an image like this!
I could stare at this photo for a long time. It makes my heart very happy.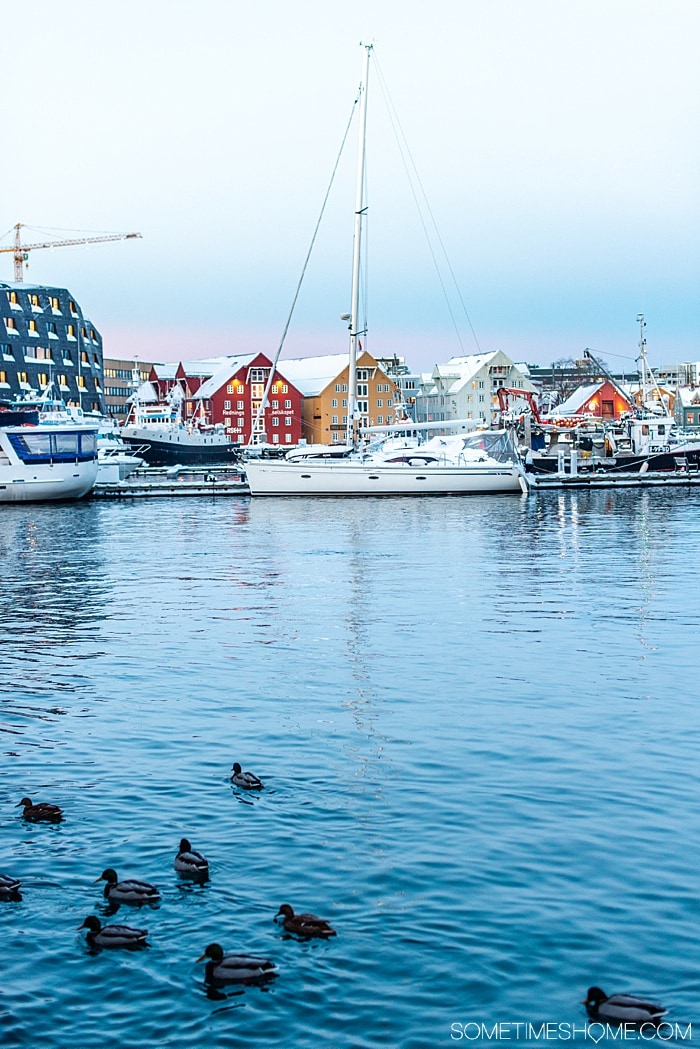 6. Feeding Reindeer by Day
We cannot stress enough that supporting the Sami culture is beneficial for you and them, thus you should take a tour to feed reindeer and learn more about Sami people! Reindeer are really docile, calm creatures and are considered a hero of the north and Sami people are almost like their keepers.
Samis are reindeer herders and during winter the reindeer need to be taken off the mountains to survive. It's not that reindeer aren't suited to winter climate (they thrive in the cold) but global warming has created a thaw/freeze effect they're ill-equipped for.
This means reindeer need to be in a plot of flatter land instead of on mountains eating lichen in winter. This cause and effect results in them being unable to find lichen to eat if they aren't on a mountain, which means the Samis need an alternative to feed them.
This created a great opportunity for the tourism industry: tourists are interested in feeding reindeer and learning more about the Sami culture, and Samis need money from tourists to pay for the land and food to feed their herds. It's a really harmonious relationship actually.
Being able to see the reindeer during the day with Zeme Tours meant we could capture great images of these beautiful creatures during daylight with fairy tale scenery behind them. We love that Zeme Tours gives 10% of every booking to charity, which helps support the environment in positive ways.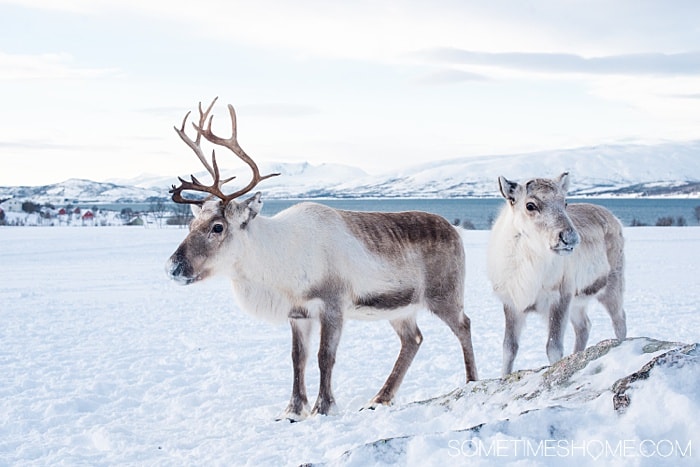 7. Snow Capped Buildings and the Deep Blue Sea
We got back to Tromso's town center from our Zeme Tours reindeer and Sami experience by bus. I recommend getting a window seat on this excursion or any like it because you see some stellar scenery on rides, like the image below. (Even at night you may see the Northern Lights if they're strong enough and the windows aren't tinted too dark.)
Yellow buildings in a mustard color abound in Norway. It's pretty magical when they're situated next to blue water amidst snowy scenery, don't you think? Surely, not something you'd see during summer!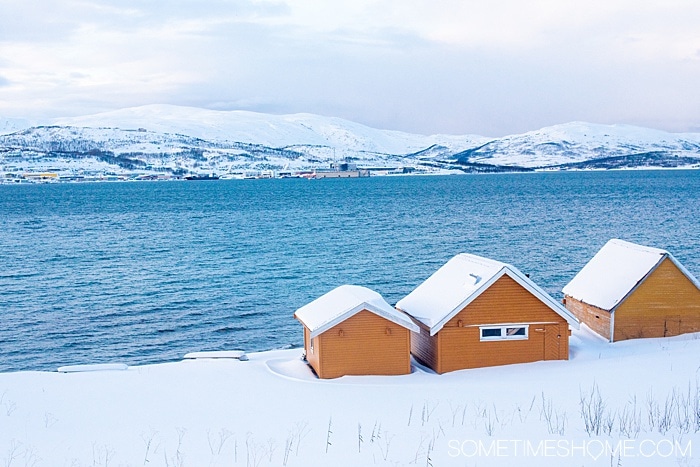 8. Reindeer Ride by Night
We were lucky enough to experience feeding reindeer in the evening too. A friend we made on a winter trip to Tromso during January a few years back invited us to the new campground of Tromso Lapland. We had a wonderful experience learning about the Sami culture and enjoying the February snow our second time in Tromso.
At one point I looked over towards the lavvo, or tipi tent, and saw this night vision; I was quick to set my camera properly to capture it. It's one of my favorite photographs from our trip: our friend Johnny, walking through the snow with a headlamp on to guide the way.
Tromso Lapland offers a variety of tours; this "Northern Lights and Reindeer Sledding" option is offered November through March and lasts about five hours. If you're lucky you'll see the Northern Lights, but they don't chase good weather like a dedicated Northern Lights tour does. Instead, I would set an expectation for an unforgettable evening interacting with reindeer and learning about the Sami culture in a unique setting. And if you see the Aurora Borealis, it's a fantastic bonus!
I've embarked on this experience twice and once we had the Northern Lights work in our favor and the second time was a snowy blizzard, making it impossible to see any geomagnetic activity in the sky. Both conditions are enchanting in their own way. And each time I've been glued to the stories and information of the Sami people of Northern Scandinavia they share in the lavvo near a nice warm fire.
9. Polaria Museum
Tromso winter dumps a lot of snow on the earth! One of the most fun places to take photos with snow in Tromso in February is at the Polaria Museum because its architecture is so playful. It reminded us of blocks of ice that had toppled down onto one another. Like dominos.
Polaria Museum happens to be the northernmost aquarium in the world. We admit we didn't go in – aquariums aren't necessarily our thing if there is so much else to do in a city like Tromso. (We also hear it's geared towards educating children and we don't have kids.) But Polaria's exterior is certainly worth walking over to snap some pictures with!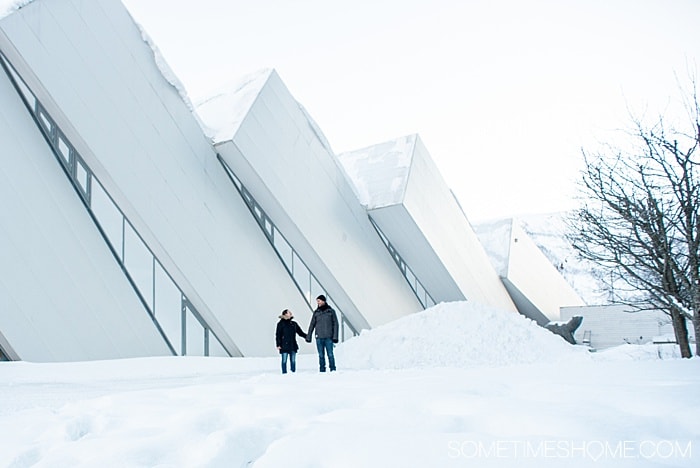 10. Winter Photo in Tromso of the Frosty Helmer Hanssen Statue
You're probably thinking, "Who the heck is Helmer Hanssen?!" The thing about Tromso is there have been many explorers who have lived-in or passed through this northern city on expeditions to visit the North Pole. (In many cases the same people were the ones exploring the South Pole too, equipped with the knowledge of how to deal with polar conditions from northern exploration.) Helmer Hanssen was one such explorer.
This Norwegian man was second mate to Roald Amundsen (who is perhaps a bit more well known) on his journey to the Northwest Passage. Hanssen is commemorated in this sculpture in front of the MS Polstjerna with dogs and a sled. It's next to the Polaria Museum. The depiction is due to one of the valuable things Hanssen learned from the indigenous Inuit people on his travels: how to drive dog sleds.
I loved examining how the frost covered the metal during a particularly beautiful day on our four-day trip. It's certainly something you can't get in warmer months in Tromso like you can in January or February – temperatures wouldn't be cold enough to create frost during summer.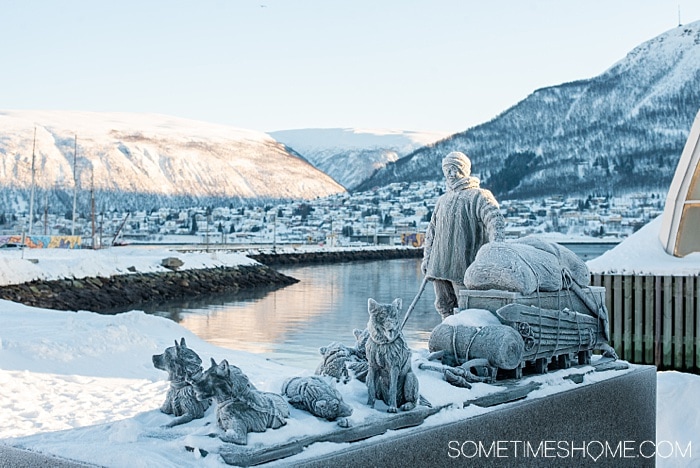 11. Harbor Colors
Winter in Tromso is anything but void of vibrant colors. Besides the beauty of blue skies reflecting in bodies of water and colorful houses, you may spot a multicolor boat in the water.
We walked right past this but I kept my eyes on this beautiful ship while we passed. I didn't get even 15 feet past it when I said to Dan, "Hold on! I want to take a photo of this ship." I love the green female figure bust as much as the more apparent red, black, and yellow painted on the hull of this pretty vessel.
After processing the images in Lightroom I noticed the white ice on the black rope that swings from the net of the bowsprit to the bow hull. Do you see it?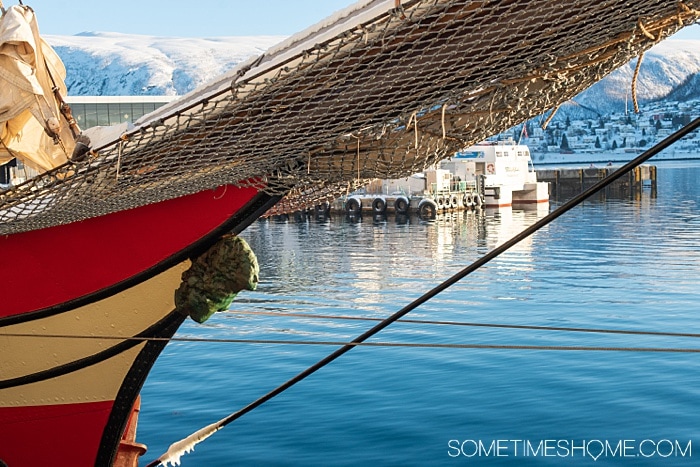 12. View from Above Tromso
A great activity in Tromso, no matter if it's winter or summer, is to take the Fjellheisen cable car to the top of a mountain overlooking the island of Tromso where the city center is. (This Google map reveals the area's geography. The road labeled "862" is the bridge that crosses over the Norwegian Sea.)
We purposefully timed our mid-February visit for about thirty minutes before sunset. (Sunset was at 3:30pm that day – or 15:30 military time, as used by Norwegians.) This allowed us to see the town from a bird's eye view during dusk and deeper into nightfall. (We didn't stay for complete darkness though because it was way too cold out there for us.)
The best part about the timing was there was still a bit of daylight, which was great for us and our camera. We wanted to capture the snow and trees dotting the landscape and also see the lights turning on all over the city before nightfall. For more detailed information on a cable car trip read our post about Tromso excursions.
This is the view from the top of the mountain. Isn't it amazing? We share ticket information here.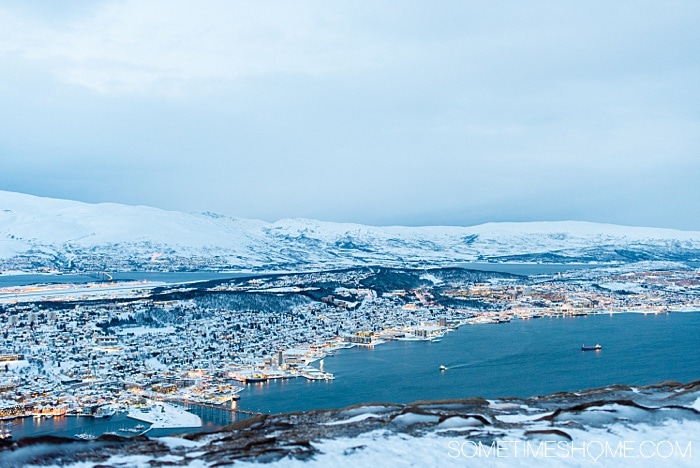 13. Scandinavian Design in Tromso
Sigh…Scandinavian Design has our hearts! Do you love it as much as we do?
Tromso is a city whose population grows by about 950 people per year, largely due to its university and booming tourism industry. (Which is low compared to somewhere like Raleigh, NC – where we live – but for a small Arctic City, that's a lot of people!) Thus, construction can be seen in various parts of the city in order to expand housing. One of the newer buildings in Tromso is this residential building, just across the water from the Polar Museum (Polarmuseet).
Everything was working for me in this photo: the twilight blue sky, the building's shape dashed with illuminated rectangular windows, the snow-capped mountain in the background, and reflection in the water in the foreground. I also happen to love night photography; Tromso is an ideal destination for it.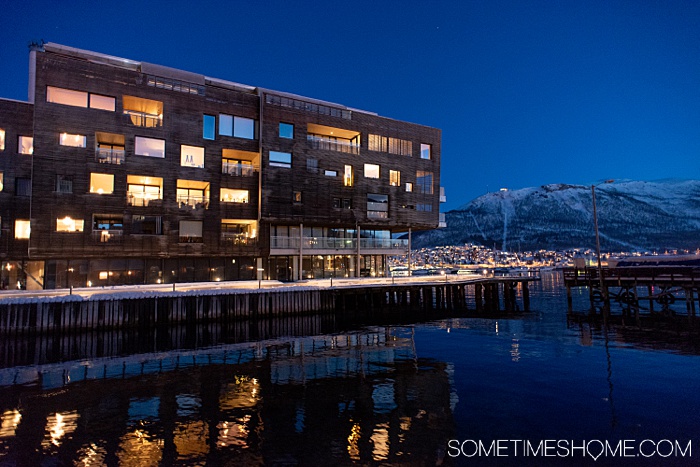 14. Northern Lights Magic in Lapland, Departing from Tromso
Tromso is said to be the Northern Lights capital of the world. And nothing quite defines Tromso winter like viewing the Aurora Borealis (just another name for the Northern Lights!) with snowy mountains and fjords.
The Northern Lights are nearly indescribable but we know a few things to be true about them that we can put into words:
The Tromso Aurora is a phenomenon you see from Earth…yet it feels like an out-of-this-world singular experience. (We hear you can see it from outer space too but we can't say if that's true or not from first hand experience.)
You must take an organized tour to maximize your chances of seeing them. (Or even trying to "find" them.)
Once you see them you'll want to visit Tromso again (and again)! We would say it's a once-in-a-lifetime experience but I've been to Tromso during January and February twice to view them. They're addicting!
This photo was taken on a tripod after I set it to self-timer. The result is priceless! If this isn't incentive enough to brave the cold during winter in Tromso, Norway I don't know what would be.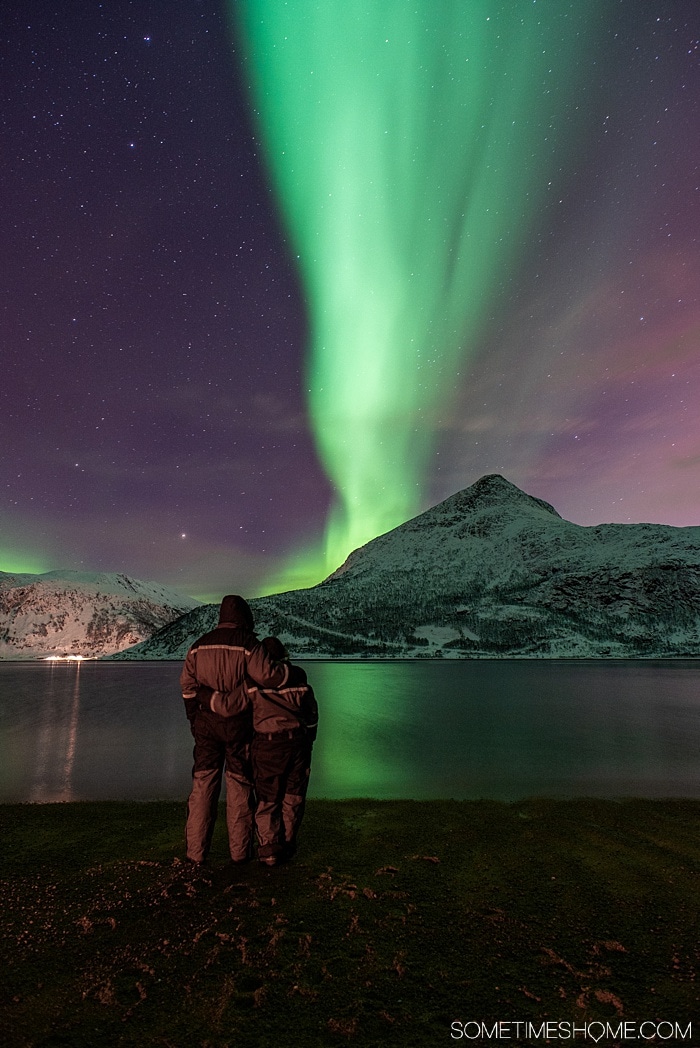 15. Memory Of Those Lost to the Arctic Sea
The residents of Tromso know the perils of the sea all too well. Many northern Norwegians have lost loved ones to seafaring activities, whether as seal or whale hunters, fishers, or explorers over the years.
This beautiful sculpture, covered in frost from the cold February temperatures, was so beautifully lit and prominent against the evening sky. It was a point of interest during our Historic Walking Tour of Tromso with Tromso Budget Tours. I loved it even more after noticing the man's face has physical characteristics of the Sami, the indigenous people of northern Scandinavia.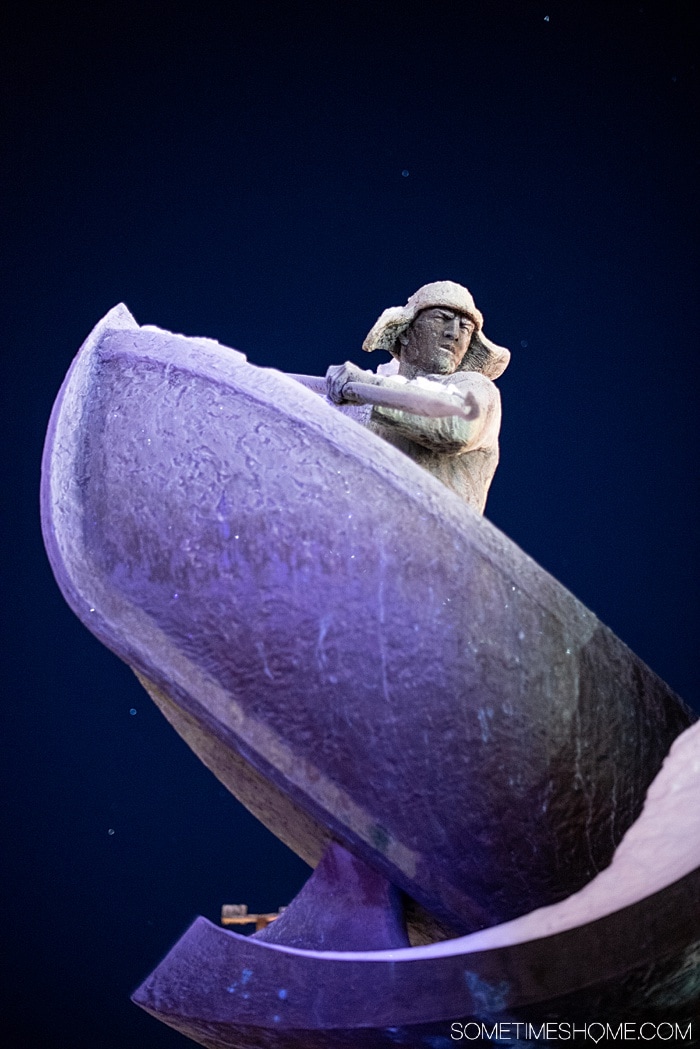 Writing this post has made us fall in love with Tromso winter all over again. Be still, our Norway-loving hearts.
Please note: we thank Arctic Breeze, Zeme Tours, Tromso Lapland, Polar Adventures, and Tromso Budget Tours for generously hosting us. All the opinions in the post are ours and we bring you genuine content with real facts, photos and thoughts. Always.
Traveling to Norway? Also check out: