6 Tromso Excursions You'll Love
Tromso is a unique city in the Arctic Circle and one of the best ways to experience it is by signing up for Tromso excursions. (In Norwegian, it's spelled: Tromsø – the "o" with a line through it means it's an island, we're told!)
Are you wondering, "Where is Tromso?" Well, it's located on the 69th latitude. This "Gateway to the Arctic," as it's lovingly called, is in Norway, just 31 latitudes away from the North Pole.
It's a very popular winter tourist destination partially because the city and its residents are so accustomed to dealing with arctic climates.
Tromso excursions include interesting attractions like tours to see the Aurora Borealis, exploring Tromsø fjords, learning about the Sami culture, and feeding reindeer, to name a few.
Are you wondering what are things to do in Tromso during your winter vacation? We've got you covered.
Northern Lights Organized Winter Tour Tromso Excursion
There's no need to try to find the Northern Lights yourself when there are plenty of organized tour options to spot the Aurora Borealis in Tromso. Our absolute favorite, of a few paid tours we've experienced in Tromso, was Arctic Breeze.
Brynjar was truly an exceptional guide. He knows so much about the aurora between being a Tromso native (born and raised!) and guiding countless tours over the past few years. His Tromso Northern Lights tour was so good we dedicated an entire post to the unforgettable experience.
We were so grateful to see the Northern Lights, firsthand, that night with such strong geomagnetic activity. The phenomenon only lasts a few hours each night if you're lucky! We're glad our photos enable us to recall memories of the splendor we witnessed.
Since this Tromso excursion is limited to the number of seats on the bus (about 15 on Arctic Breeze) we highly recommend booking in advance. Seats may sell out quickly, especially during peak season with tourists flocking to Tromso see the Northern Lights in January and February. (Note these types of tours don't run during the summer when midnight sun in Tromso makes it nearly impossible to see the Northern Lights as there are 24 hours of daylight.)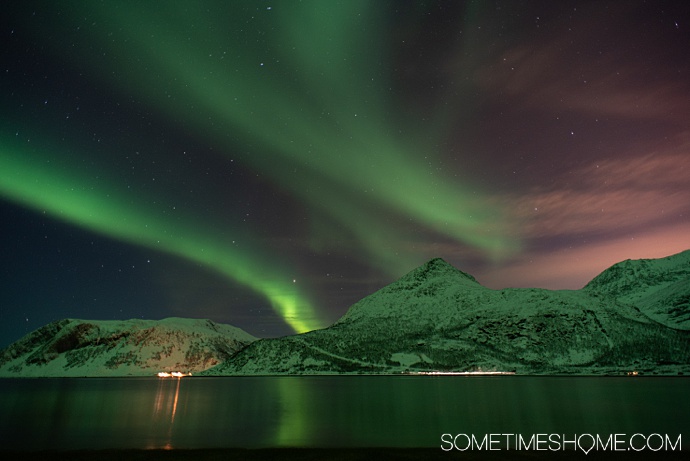 Tromso Sami Experience and Feeding Reindeer Excursion
I feel so passionately about native cultures and supporting their livelihood and embracing their past whether learning about the Sami Culture in Norway or First Nations in Canada.
We headed out for a daytime Tromso excursion to feed reindeer with Zeme Tours on the second day of our trip,
Two of the things we loved about them is they give some of their proceeds to a charity that's helping ensure a bright future for the environment and they believe in sustainability and eco-tourism.
Their staff is incredibly knowledgeable. I enjoyed having a long conversation with one of their team members about why supporting excursions and experiences, like the one we were on, was important.
We chose a "Reindeer Sledding, Feeding and Sami Culture" option and loved getting the chance to interact with beautiful reindeer during the day.
It's a much different experience than at night, as you're able to really see their antlers more, observe how they interact and herd together with better vision, and enjoy watching them eat.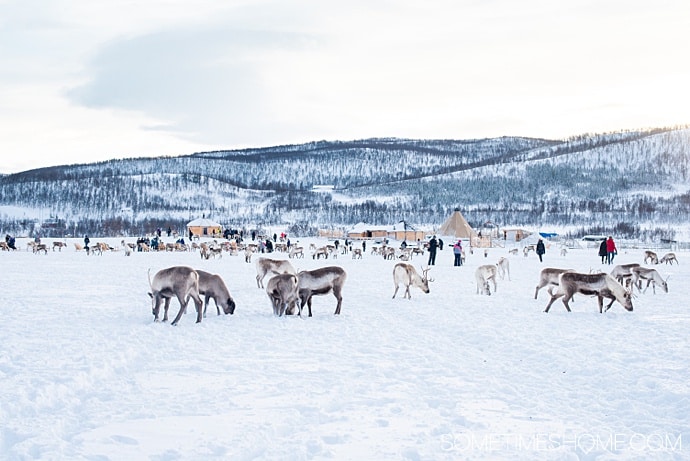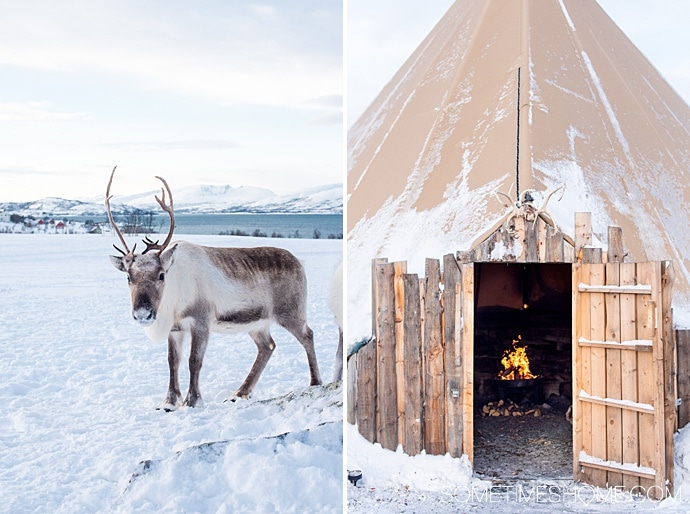 A Challenge for Reindeer in the 21st Century with Global Warming
The challenge with the reindeer these days is their natural habitats are being threatened due to global warming. This has made it increasingly difficult for them to winter in the mountains.
The Sami people, who are native to Northern Scandinavia (an area known as Lapland) are the reindeer herders of Norway. Two Samis shared information about their heritage during our Tromso excursion and it was a favorite part of the experience for us.
Because of global warming, snow on mountains prematurely melts with the increase of just a few degrees of temperature. That melted snow can quickly freeze with any variation in temperature drop, for example. Reindeer thrive in the snow. They do not thrive on ice.
Icy mountains have meant the reindeer cannot get to their food source, which is usually lichen plants. It also presents a problem when trying to run away from natural predators, like the wolverine and lynx.
Reindeer are just not cut out for ice.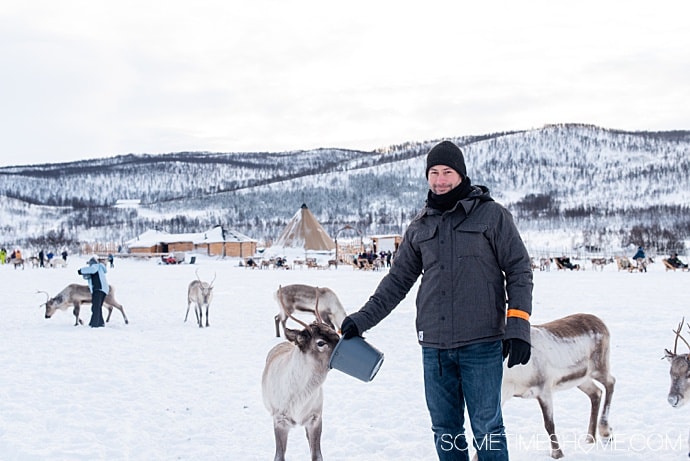 An Opportunity for the Sami People and Solution for the Reindeer
Winter tourism has historically and continues to, grow in Tromso.
A natural correlation began to show itself for many Samis in recent years with increased tourism: as the visiting population rose along with an interest in their culture and reindeer, there was an opportunity to help feed their animals and get them through winters off the mountains.
The way to do this was for herders to rent land and purchase their feed and allow visitors to pay for the experience, thus helping support a safe winter environment for the reindeer. The alternative was risking reindeer to famine on the mountains or no escape from predators.
And so a symbiotic opportunity for a Tromso excursion was born.
When you take a tour with Zeme Tours, you're not just learning something valuable about the way of life in Lapland, but you're also giving back to the environment.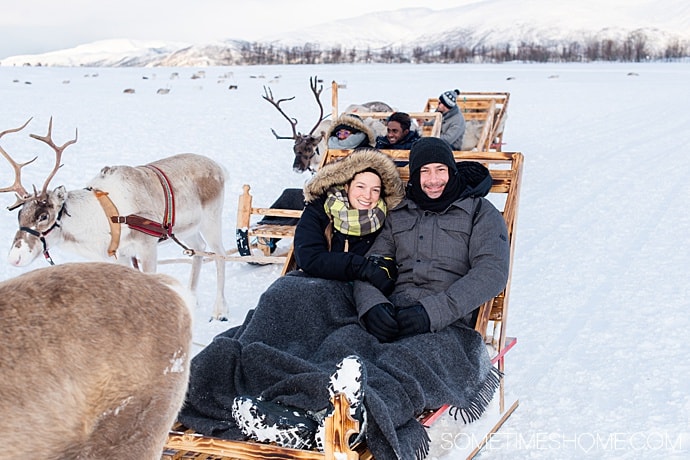 Polar Tromso Fjords Boat Tour
This is definitely at the top of our list for excursions in Tromso. It was so cold that February day, that we headed out to see Norway by sea. Yet we dressed as warmly as possible and enjoyed it immensely.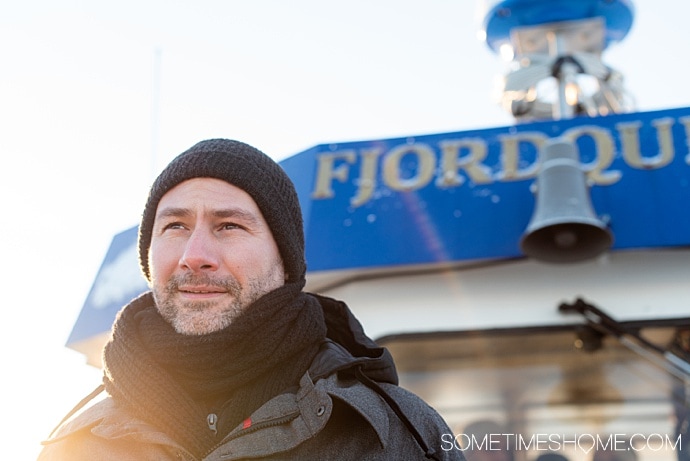 We were out on the water for a few hours. If we got very cold we were able to warm up inside the boat.
Two of the most memorable things from this Tromso excursion (besides the boat and the scenery) were the two women leading the tour and the fish stew they served for lunch. It was homemade and incredible!
We hope if you sail with Polar Adventures for a Polar Fjord Tour you get to interact with Marlena and Christine. They were fantastic.
We loved our Tromso boat tour on the polar fjords so much we wrote about it on our sister site, Sometimes Sailing.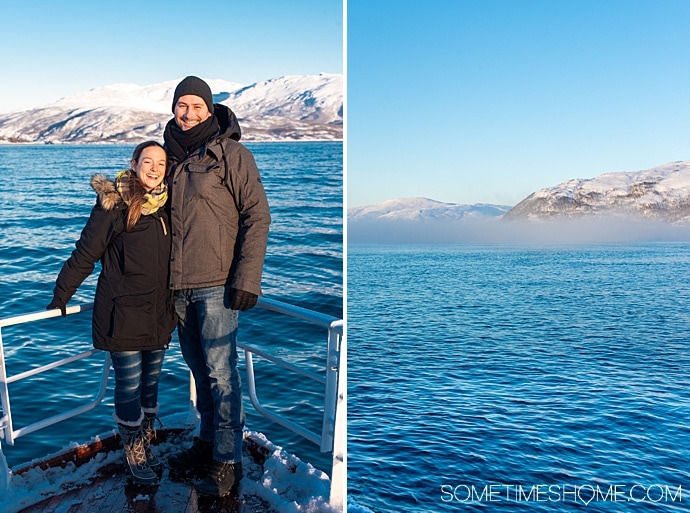 Historic Walking Tour around Downtown Tromso
Tromso's town center is a lovely place to walk around before, after, or in between your excursions. This is the area most tourists stay in as the hotels are concentrated here. (Many Air BnBs in Tromso are situated here too.)
We thought, "There must be a lot of history about Tromso and its various buildings and sculptures around town we aren't aware of." But where could we learn more?
Google led us on a historic walking tour with Tromso Budget Tours.
If you're looking for what to do in Tromso for just a few hours this is the perfect activity. It doesn't require you to hop on a bus or a boat.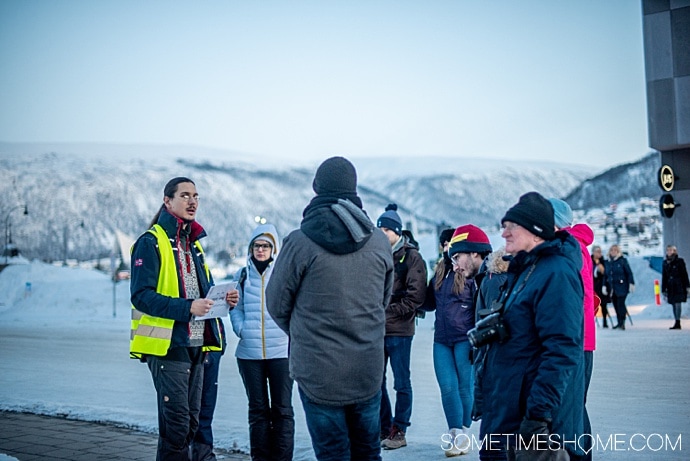 Our guide, Lionel, took us around the city on a two and half hour walk. It included a stop at The Polar Museum (or Polarmuseet, in Norwegian) and ended at a restaurant and bar. (Just how we like tours to end.)
We learned so much on our tour that enriched the way we viewed Tromso (as if we didn't already love Tromso enough). We won't give away all the secrets you learn on the tour!
Fun Facts Learned during our Tromso Walking Tour
But here are some of the fun facts we learned to pique your interest if you need any convincing to sign up for this Tromso Excursion:
The Sami Flag was designed 25 years ago. Its colors were taken from the traditional clothing Sami people wear. The flag's circles represent the sun and the moon.
The Polar Museum was originally built as a warehouse for taxed goods and imports arriving to the city.
Do you know where the name Norway is thought to have come from? Albert the Viking Slayer wrote about people living all along the "north way" in an English document in the 9th century. The "north way" became "Norway". (Mind….blown!)
These are just three of nearly twenty interesting facts we wrote down as we experienced this wonderful tour; we enjoyed every minute of it.
We also learned about why the roof is the way it is on the iconic architectural attraction in Tromso, the public library. Can you guess why? Sign up for the Historical Walking Tour in Tromso and be sure to keep your ears open to learn the correct reason.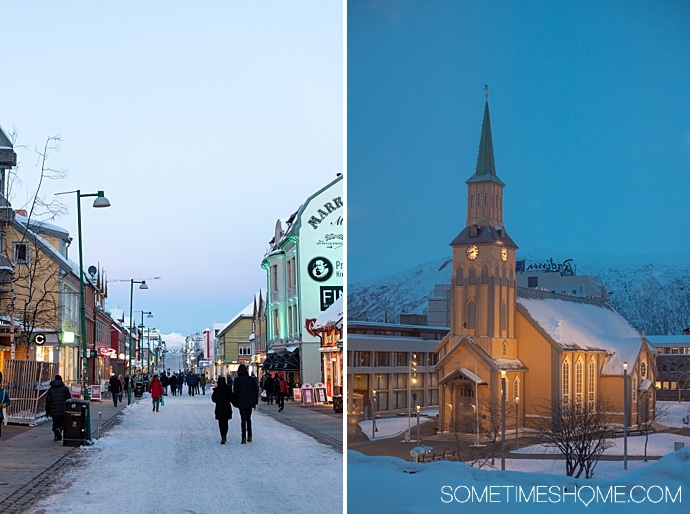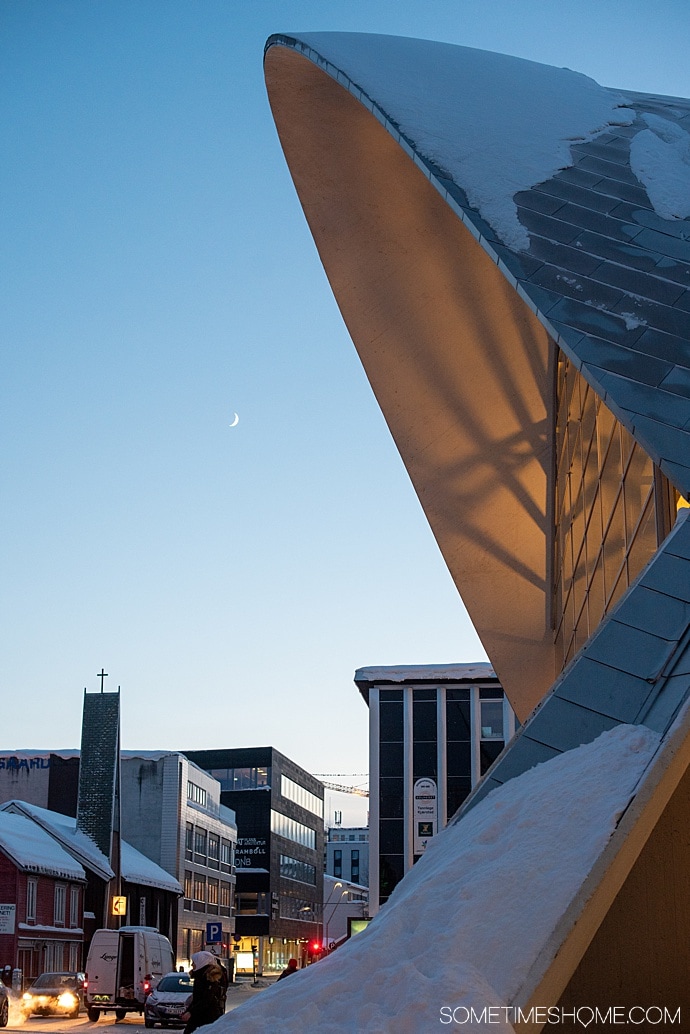 Tromso Beer Tour
Take a "beer safari" around the city of Tromso as your guide shows you the best bars, pubs and breweries to enjoy in the north. You'll even visit the northernmost brewery in the world.
It's a 3-hour tour that won't rush you around town. Rather, you'll visit three locations and enjoy talking to your guide and the small group at each place. You'll also get to try some traditional Norwegian food – it's a great experience for anyone 18 years or older. (18 is the legal drinking age in Norway.) We also admit it's a great indoor activity that keeps you cozy and warm – indoors!
Aerial View of Tromso: Fjellheisen Cable Car
Where is the best view of Tromso and how do you get there? The answer: Atop a mountain for a bird's eye view of the city, reached by Fjellheisen cable car.
When to Visit the Cable Car in Tromso, Norway and Its History
Be mindful of Tromso's sunset time when you visit. This could be a determining factor for when you head out for this little excursion. It was a factor for us because we specifically wanted to see the view just before sunset then into dusk.
The cable car runs year-round, including winter and summer. (Summer hours are a little shorter than winter so be sure to check for current operating hours.)
It was built in the 1960s and went through a major renovation in 2016. They invested nearly $80M USD (whoa). The cable cars and mechanics were replaced, it was made more handicap accessible and the viewing deck was extended.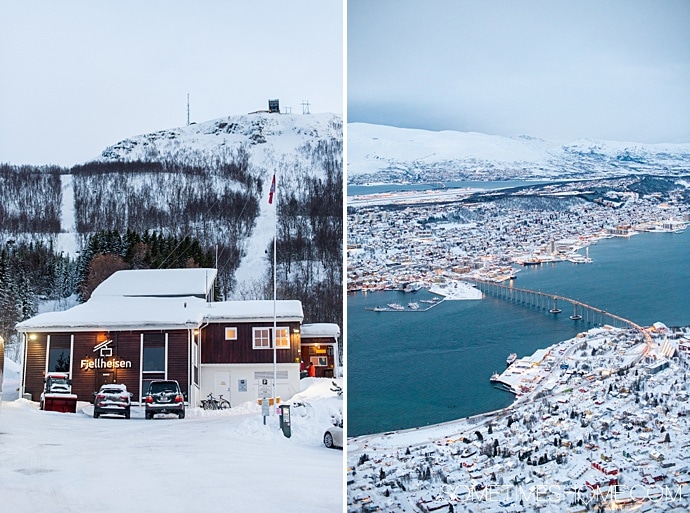 Getting to the Fjellheisen Cable Car
We suggest allotting at least two hours for the experience, total:
An hour for travel time. (Even though it takes a little less time to get there if you walk or take the bus. If you're really short on time you may want to drive there or take a taxi.)
Another hour to be up on the mountain to enjoy it. Then you need some time to potentially wait in line for the cable car up or back down the mountain.
In hindsight, we were too adventurous for our liking in the way we got there. We walked from our hotel to Fjellheisen and the 45-minute journey nearly drained all our energy. (Remember: your body works overtime to keep warm in below-freezing temperatures.)
We could have reached Peppe's Pizza (the only one in town) that was just 10 minutes from our hotel by foot and taken a bus from there. Oh well? We didn't know! (We even asked our hotel concierge about it, and they said to walk. Rubbish!)
The bridge route was long and incredibly windy – even icy in parts. But we made it! (The severity of the walk depends on the weather. There's sure to be colder temperatures during winter, snow, a bit of ice and potentially wind on the bridge. Summer is probably very different!)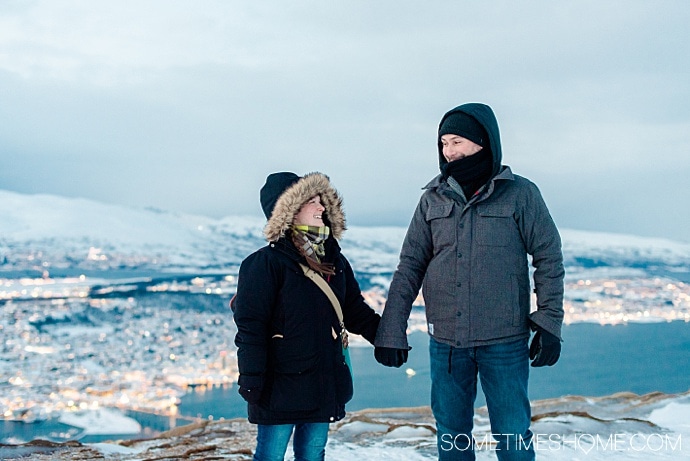 The cable car's ticket office is accessible by foot, car, or a short five-minute walk around the corner from the closest bus station. They have a small parking lot if you drive. If you walk, it's about ten to fifteen minutes past the famous Arctic Church once you reach that iconic point on your journey.
A single adult roundtrip ticket costs 260 Norwegian Krone (single tickets for 170 NOK each way can be purchased as well), which is less than $30 USD. It's quite reasonable for the experience and the price has actually decreased by $14 since we started going in 2014.
It is a must-see site in Tromsø. The trip to the top takes four minutes and reaches an altitude of 1381 feet (421 meters) above sea level.
It is possible to hike up the mountain but we think you'd have to be a serious adventure hiker to do so while there's snow on the mountain as it's incredibly steep. If there isn't snow on the mountain there are 1,300 stone stairs, called the Sherpa Steps because they were built by Nepalese sherpas, that reach the mountain's height.
What if you're claustrophobic?
We completely understand if you have anxiety surrounding being in a small cable car. The good news is that the journey between the top and bottom of the mountain is only 4-5 minutes. VERY SHORT!
We've been on longer journeys like the cable cars at Walt Disney World that last for 15-20 minutes and done okay despite some anxiety I have about those kinds of experiences. If you can last just a few minutes in the cable car it'll be over before you know it. And the views even from the cable cars are great – and even better when you reach the top.
Additional Tromso Excursions We Recommend
Those are the six excursions in Tromso we recommend most and experienced firsthand. There are many more to consider, however, so here are a few we wish we could have done with companies we trust. (They'll have to wait for our next trip!):
Please note: we thank Polar Adventures, Tromso Lapland, Tromso Budget Tours and Polar Adventures for generously hosting us. We also may make a small commission from affiliate links in this post but all opinions are ours and we bring you genuine content with real facts, photos, thoughts and recommendations. Always.
Heading to Tromso or Norway? Also check out: