Review of Curtiss Hotel in Buffalo: 5-Star Luxury Accommodations We Loved
The glamorous mosaic behind the front desk at Buffalo's only five-star hotel indicates what to expect at this beautiful hotel. The Curtiss Hotel Buffalo NY exudes luxury and class, and a stay at this memorable downtown hotel provides amenities and extravagance you'll surely enjoy.
Disclosure: This post has affiliate links, meaning we may earn a small commission if you click the link and proceed with a purchase at no cost to you. We thank Visit Buffalo Niagara for generously hosting us. We truly only recommend hotels, products, and services we use. As Amazon Associates, we earn from qualifying purchases.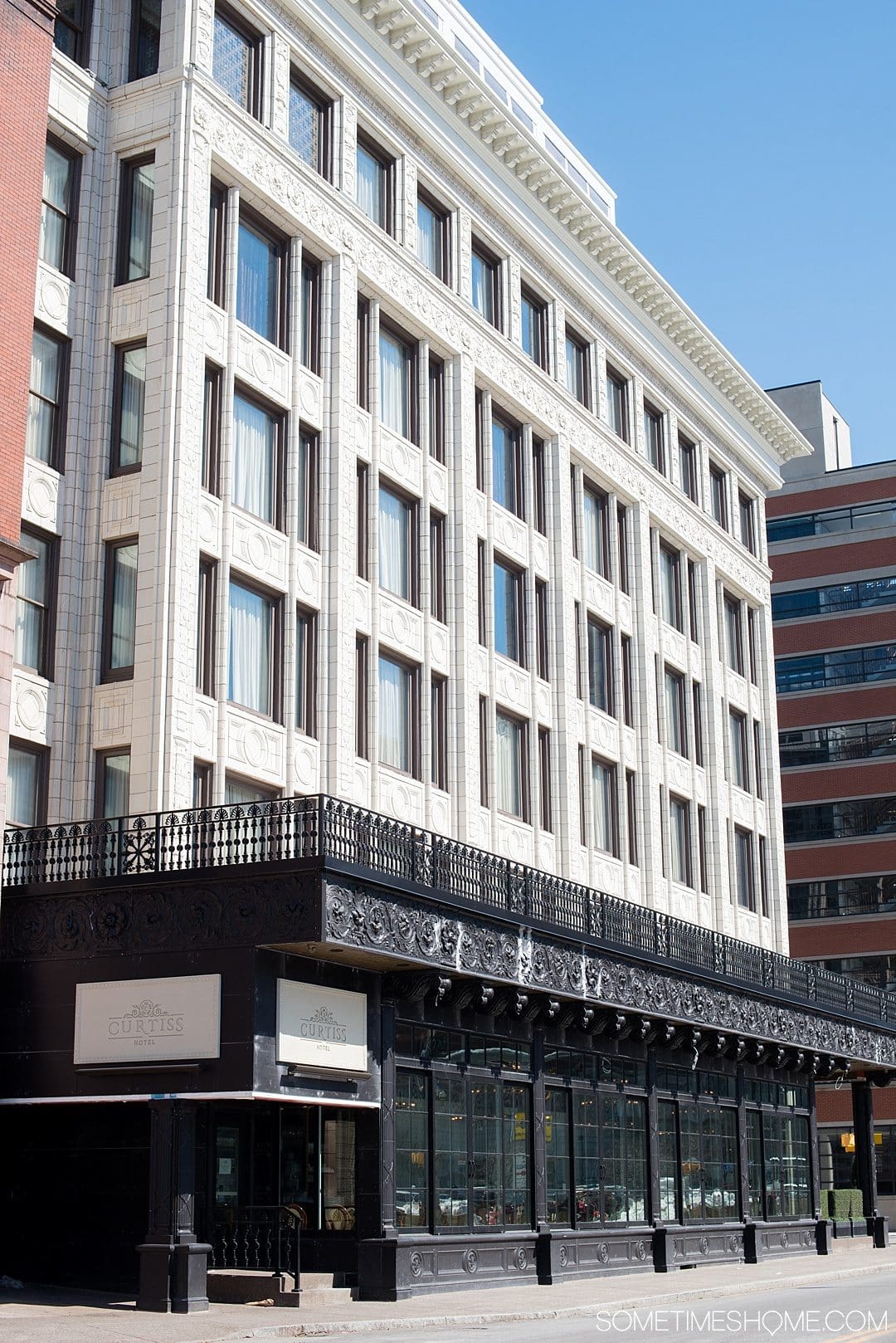 Curb Appeal and Parking
The Curtiss Hotel Buffalo NY, certainly stands out in its downtown environment. The historic building was constructed in the 1920s and is named after real-estate investor and lawyer Harlow C. Curtiss. Over several decades, it was occupied by various businesses, from stationers to furniture companies.
The main entrance to the hotel is on Franklin Street, where there is a small parking lot with valet service and a car turnaround. The view from Huron Street, shown in the photo above, shows its attractive ironwork detailing and bas-relief-like ornamentation on the height of its white facade.
Complimentary valet parking is included for all guests, which is such a blessing in downtown Buffalo NY! Finding parking in any urban area can be difficult, so this makes parking stress-free for Curtiss Hotel guests.
Luxurious Interior
Our review of Curtiss Hotel has to include first impressions…which were great! Walking into the hotel immediately elevates your feeling of importance. A jazz singer mosaic behind the sleekly designed front desk beckons guests.
The interior design is gorgeous in every room, but it's especially sexy and alluring in the downstairs areas, including its entrance and lobby, adjacent lounge area, restrooms, elevator area, and Chez Ami revolving bar.
It's worth noting a design detail I loved: each of the five beautiful downstairs restrooms is decorated differently! I particularly adored the white mica with its opalescent, semi-transparent gemstone tiles.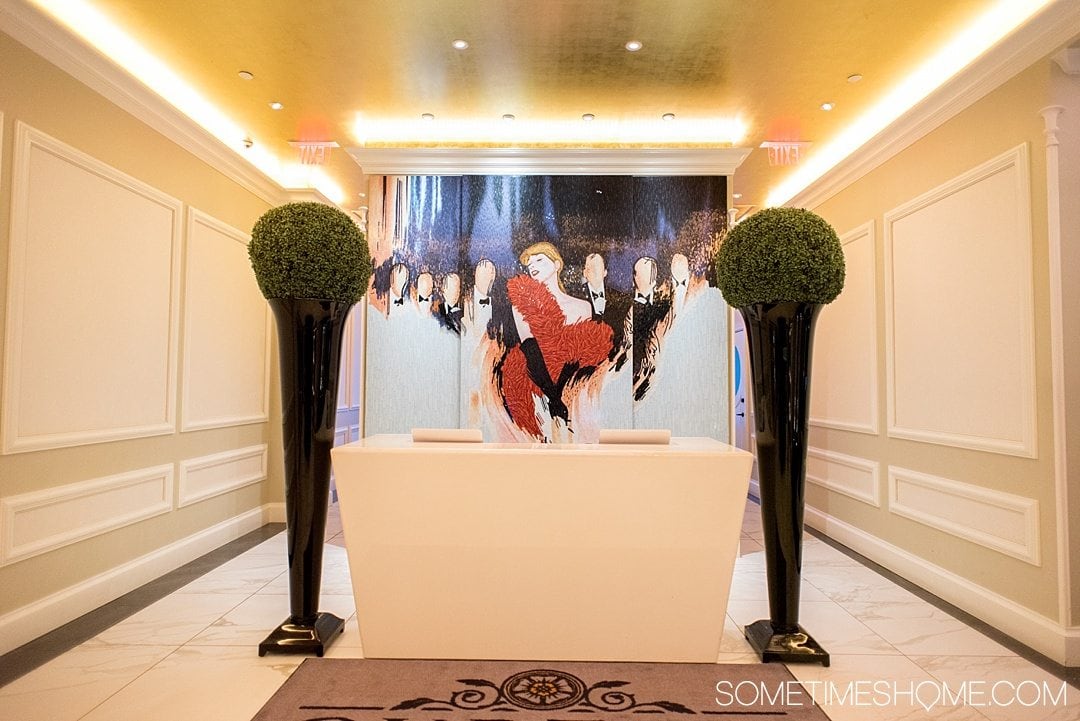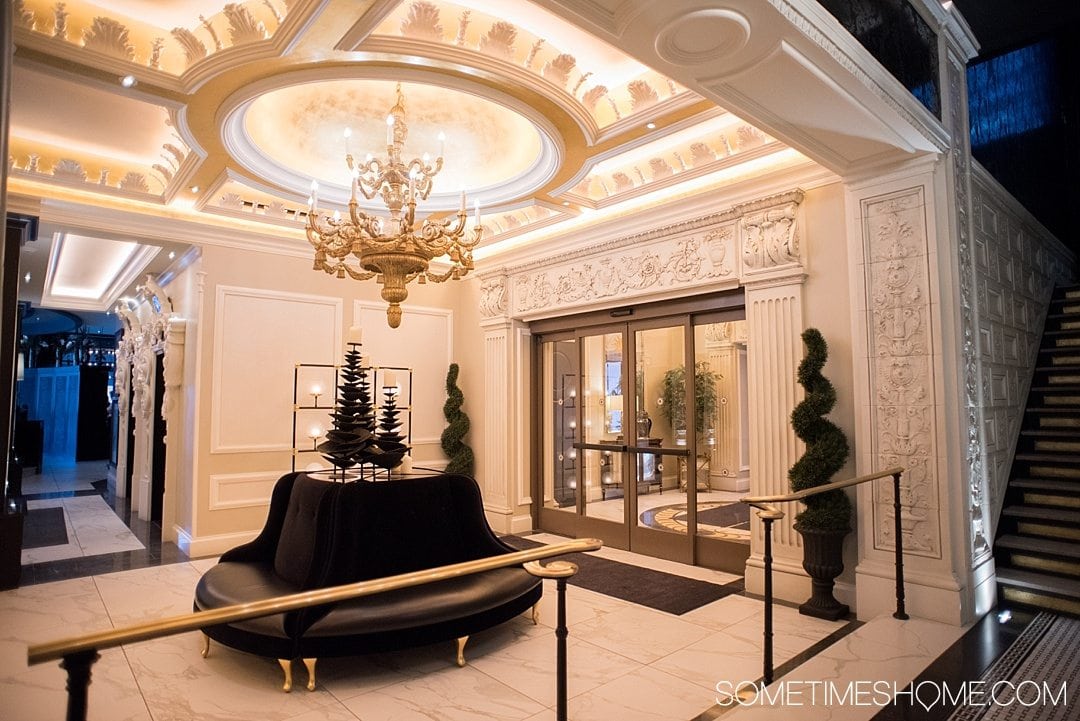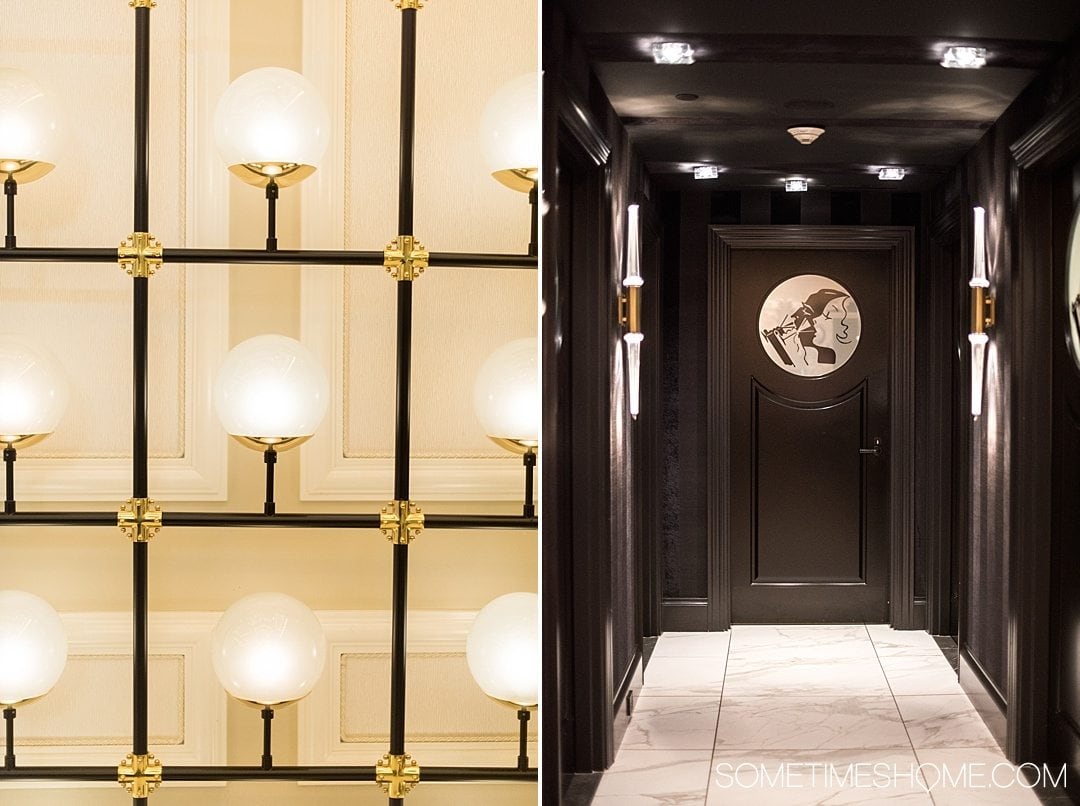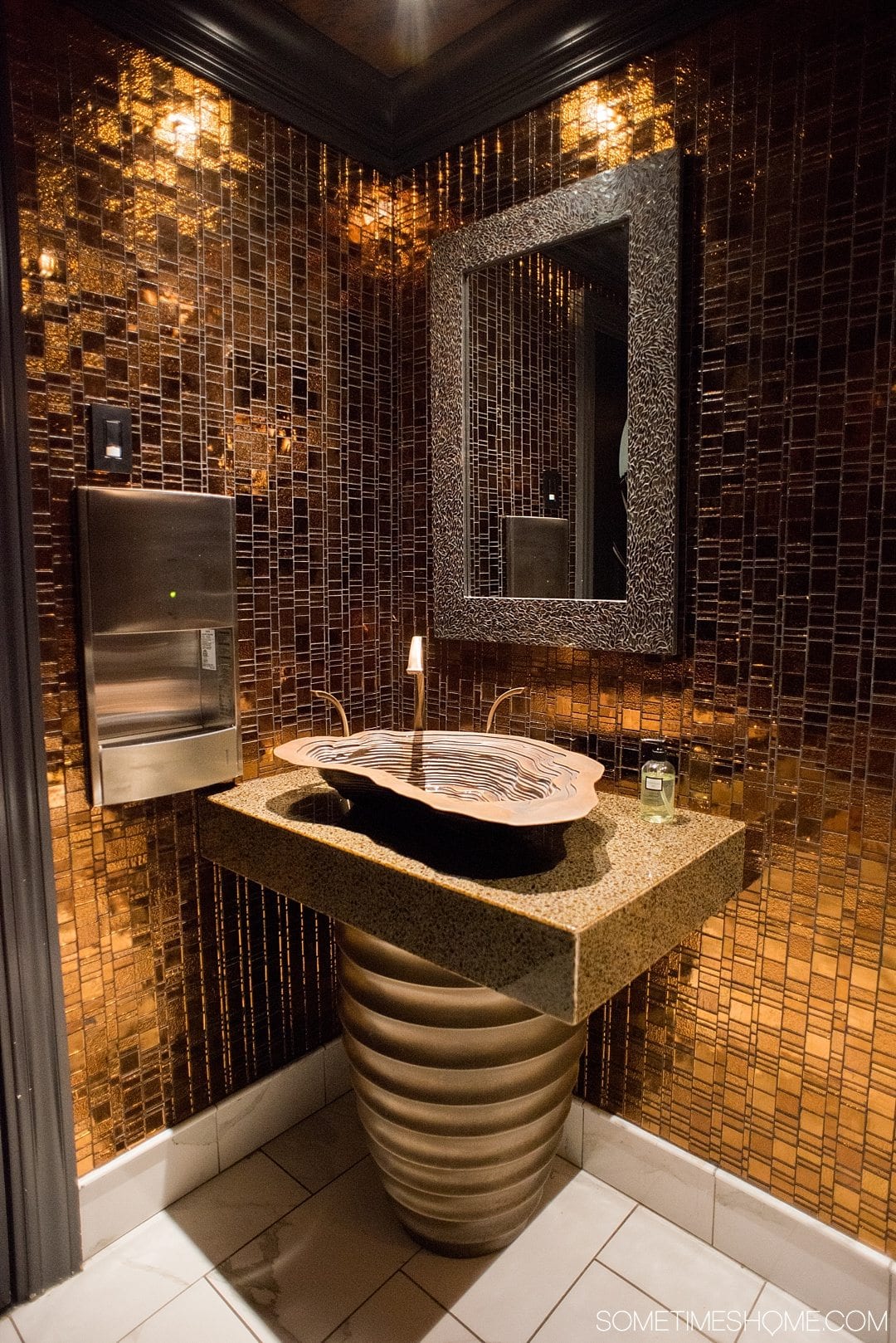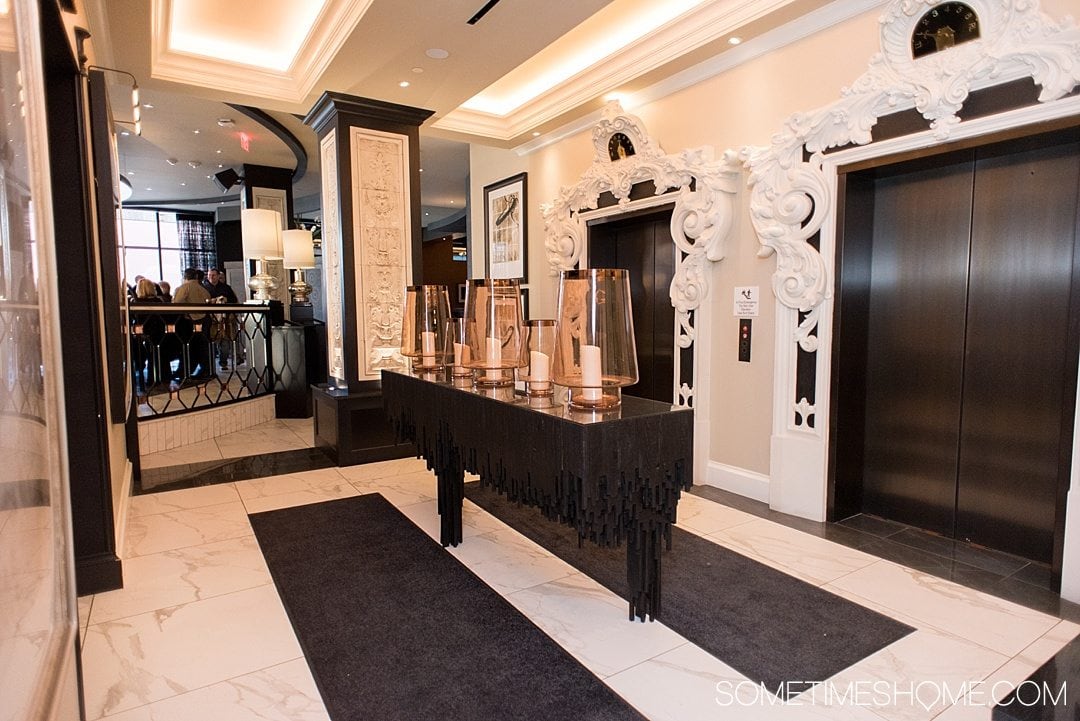 Luxurious Guest Rooms at Curtiss Hotel
The Curtiss Hotel Buffalo, NY may be available to anyone, but you certainly feel a bit of exclusivity as a guest in one of their 68 luxury rooms. They are all high-tech with state-of-the-art features, including tablet-controlled lights and shades, wifi, and a spa in every shower. (Yes, a spa!)
The price per night varies depending on the time of year and the day of the week. You can book a room for as low as $159 per night. Prices can reach $400 per night for a Saturday in the summer though it's still a wonderful price for a hotel of this caliber in a prime location in downtown Buffalo.
Magnetic key-card-controlled elevators lead to hallways where guest rooms are, with a small lounge area if you need a place to sit while waiting to meet up with friends on your floor. The bed in our room (which was room 401, a standard king) was incredibly soft and comfortable. It was a joy to sleep on!
Napping during the day was easy, including blackout curtains that could be closed with the touch of a tablet-controlled button. (Staterooms on Celebrity Cruises have this feature, and it's amazing!)
A Keurig coffee maker was also in the room, ready to caffeinate guests when needed. Breakfast is also included with each guest's stay, served continental buffet style on the hotel's main level next to Chez Ami.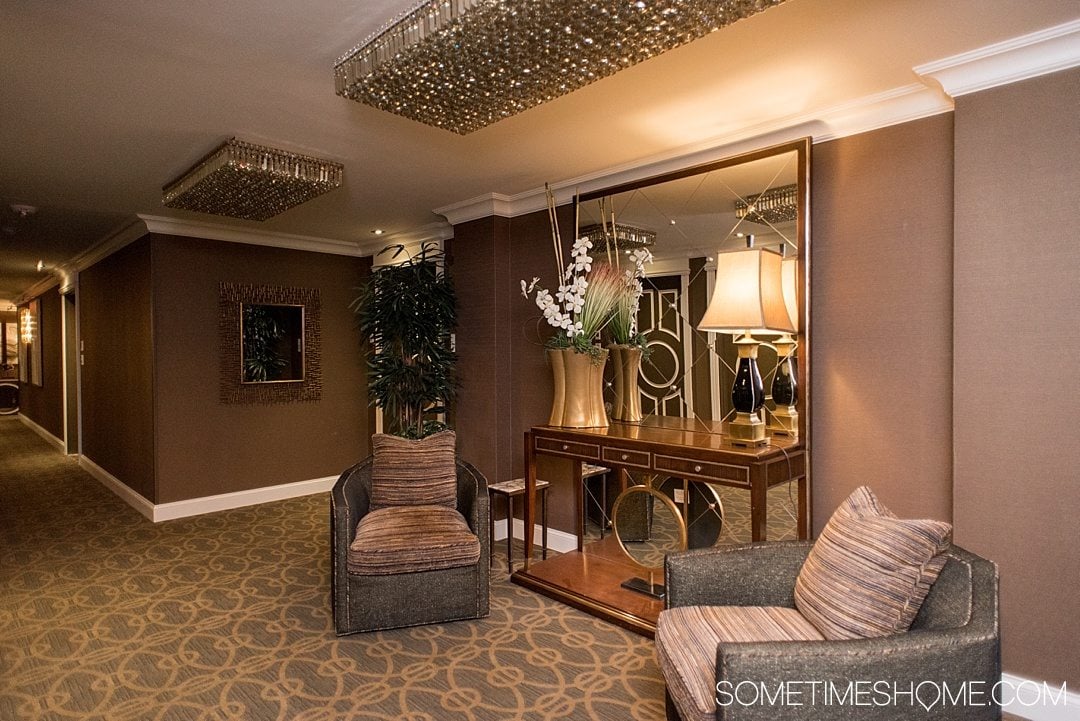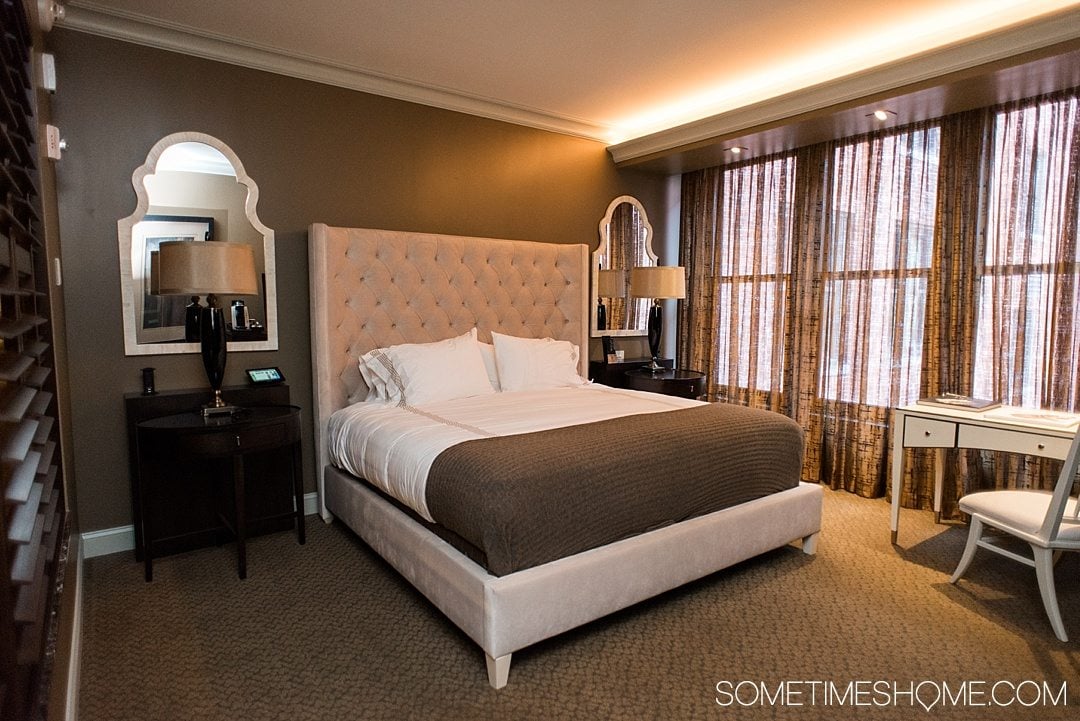 The bathroom has some of the room's best features. A tub with multiple jets and optional colored LED tub lighting has shutters looking towards the bed that can be easily opened or closed as desired. The shower's steam function immediately turns it into a skin-moisturizing spa. It even has an aromatherapy option!
The toilets, dare I mention, are top of the line. Toto-brand Japanese toilets can be found in each room. (If you've never experienced these toilets, it's a luxury in itself.)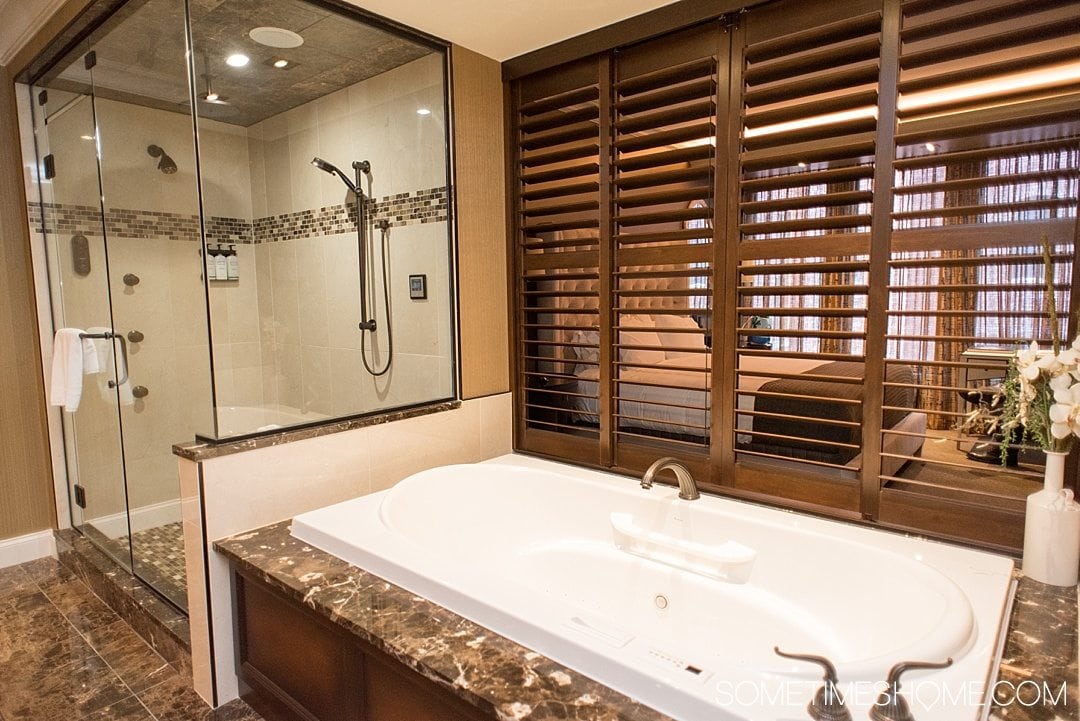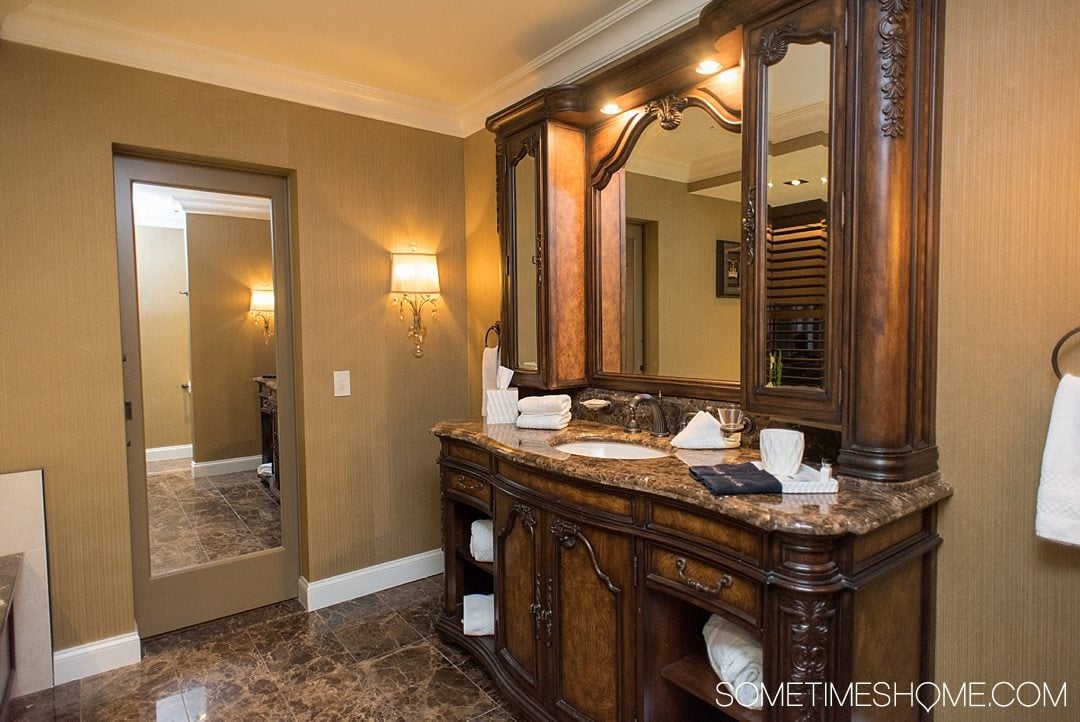 Other items available in the bathroom that are a nice bonus include Q Tips, eye makeup remover wipes, and floss sticks. The shower has its own shampoo, conditioner and shower gel in it as well.
Hot Springs and Spa
Every floor has a "Spa" button near the elevator doors to send an elevator that goes straight there. (Only one of the two elevators can get you there). The hot springs and spa are two different areas of the hotel:
The spa offers a variety of services, including massages, reflexology, and body treatments by appointment.
The hot springs are available to all guests, included in your stay; you don't need an appointment to enjoy that area of the hotel.
Regardless of the temperature when you visit Buffalo, you'll be warm in the hot springs. (Don't forget your bathing suit!) I was surprised to feel how toasty it was inside the room pictured below; I knew the steam rising off the springs pool was an accurate indication of the severe difference in temperature between the air and water when we visited in mid-March.
Fruit-infused water and towels are available at the hot springs so don't feel the need to bring a towel from your room upstairs.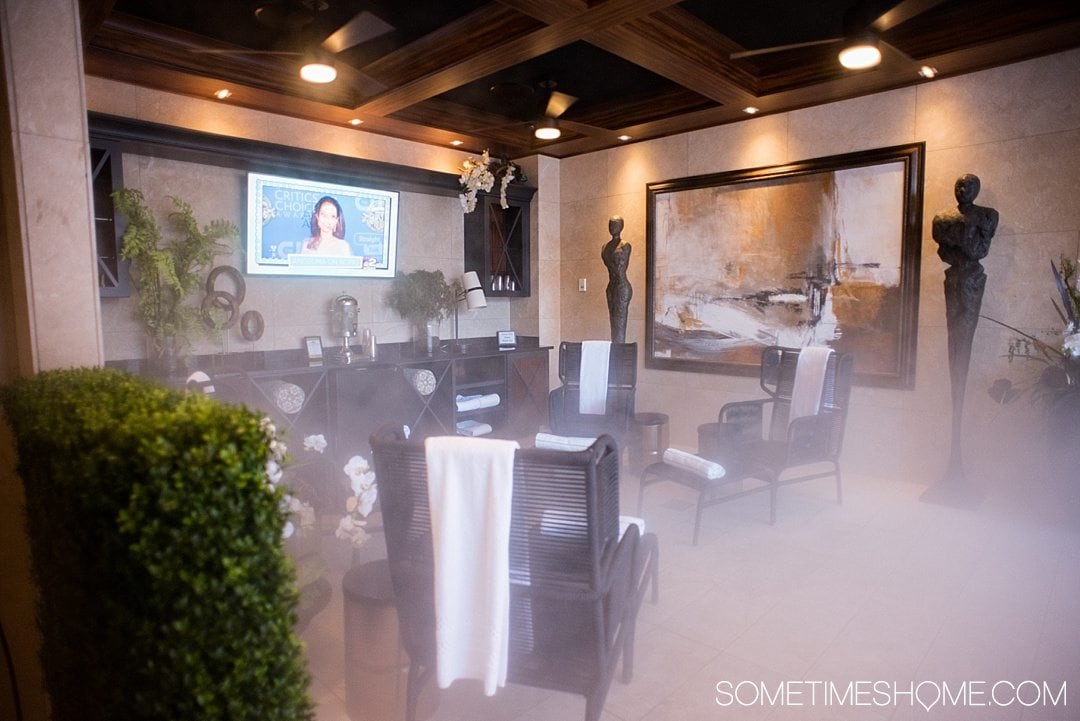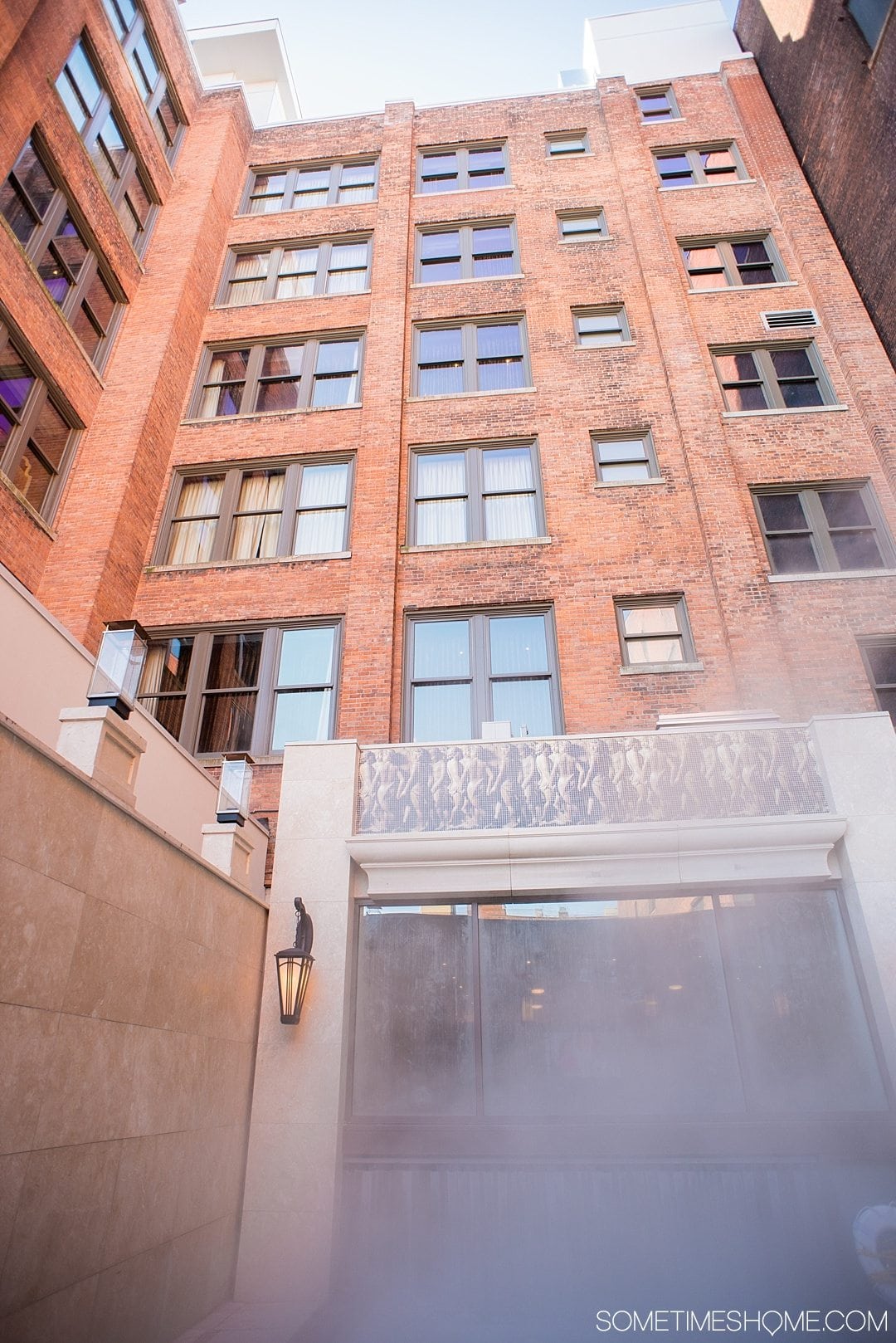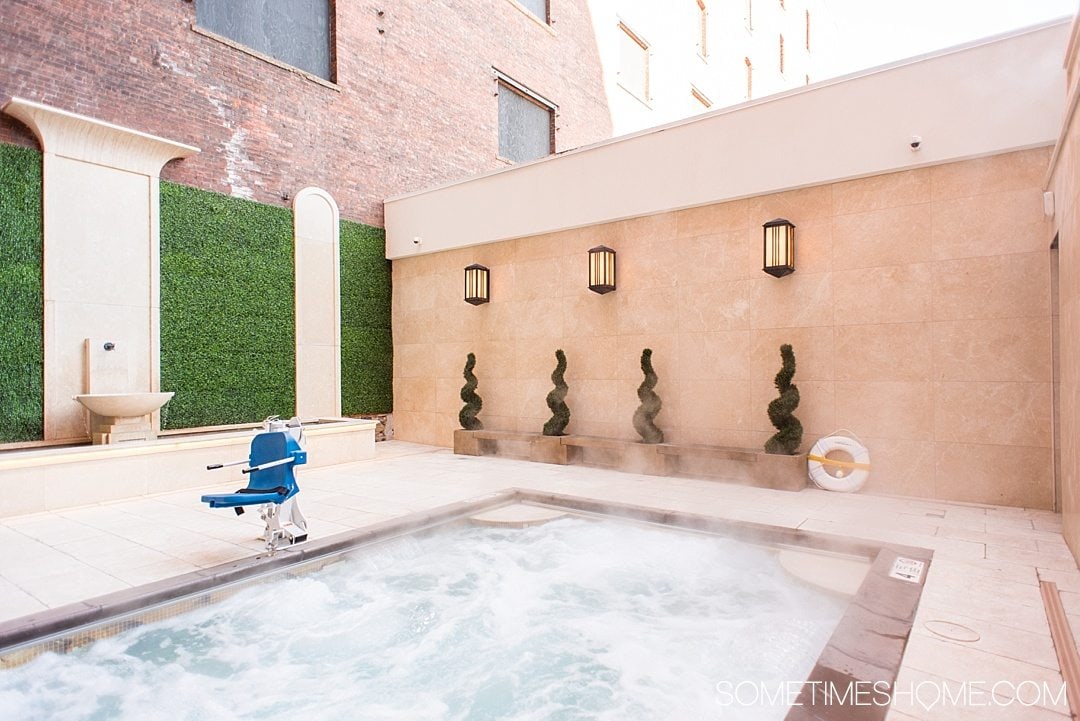 Rooftop Lounge
One of the highlights of the hotel is the view from the roof. Hence, they appropriately named their upstairs rooftop lounge Vue. One evening, we were lucky enough to watch a beautiful sunset from the fire pit area.
The bar is great for a pre-dinner cocktail at 5:00pm when they open if you're low-key, like us. But note if you're not a partier, it may get a little too loud for you past dinner time. They often have a DJ, and Vue is open to any patrons, not just hotel guests; it can get a little rowdy sometimes.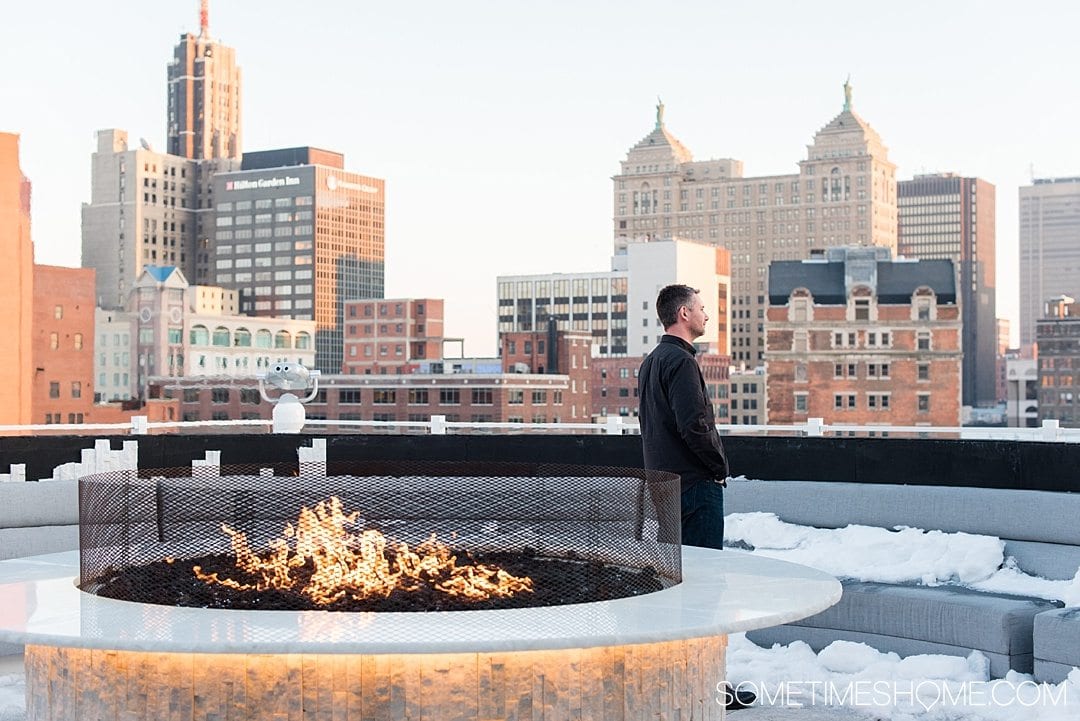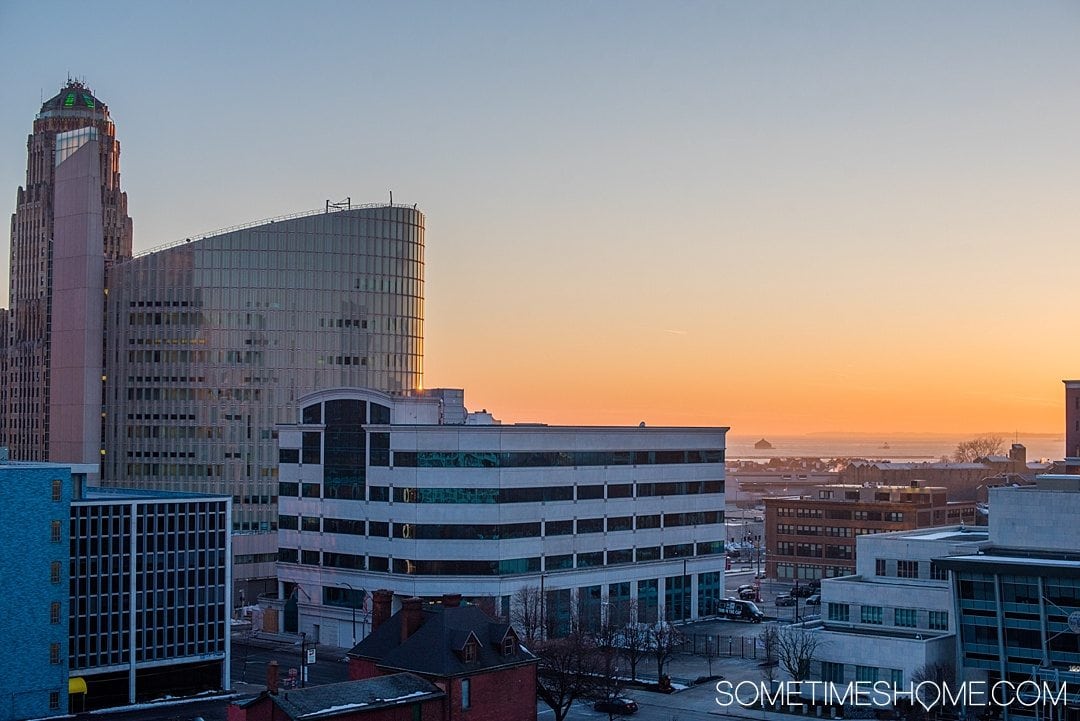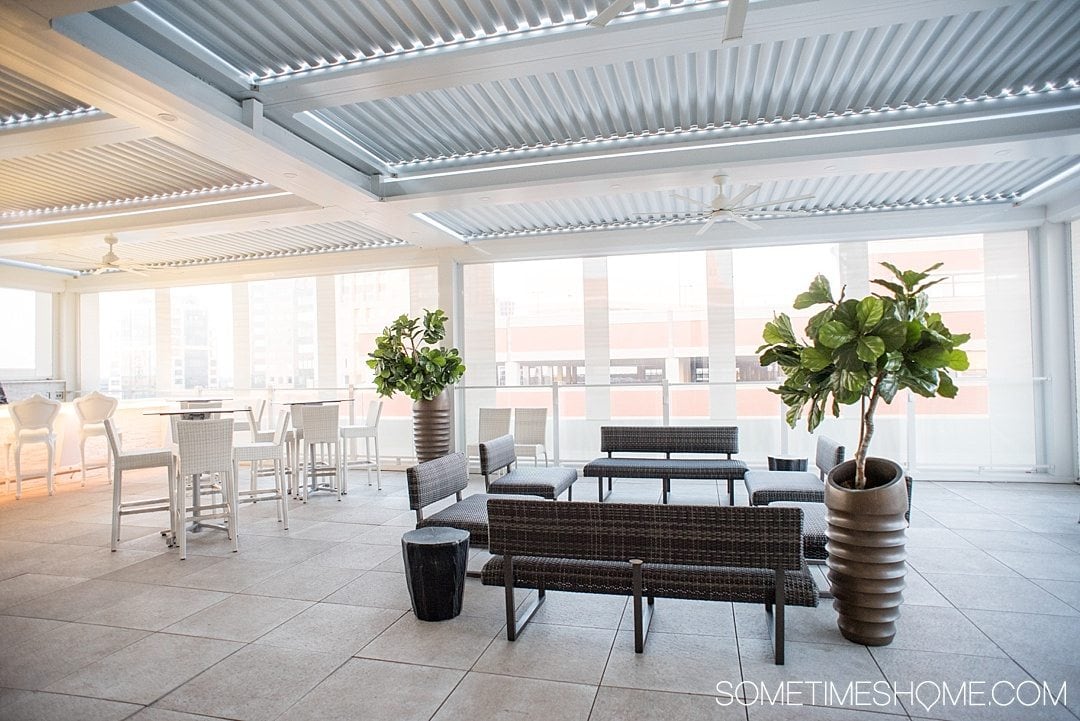 Curtiss Hotel Review of Chez Ami Bar and Restaurant
One of the most enjoyable evenings we had in Buffalo all weekend was at Chez Ami bar and restaurant. We highly recommend enjoying a beer or cocktail at the bar before your meal.
The bar was designed specifically for the Curtiss Hotel; it slowly rotates 360 degrees over the course of approximately 45 minutes to an hour. I enjoyed a delicious dirty martini as Dan and I engaged in a wonderful conversation about the city we were in.
Afterward, we had one of the most flavorful dinners I can remember in a long time. He had the pork duo, and I had the Norwegian Salmon. The pickled beet hollandaise sauce and citrus puree underneath my perfectly cooked fish with crispy skin was to die for. I cannot recommend a meal there enough!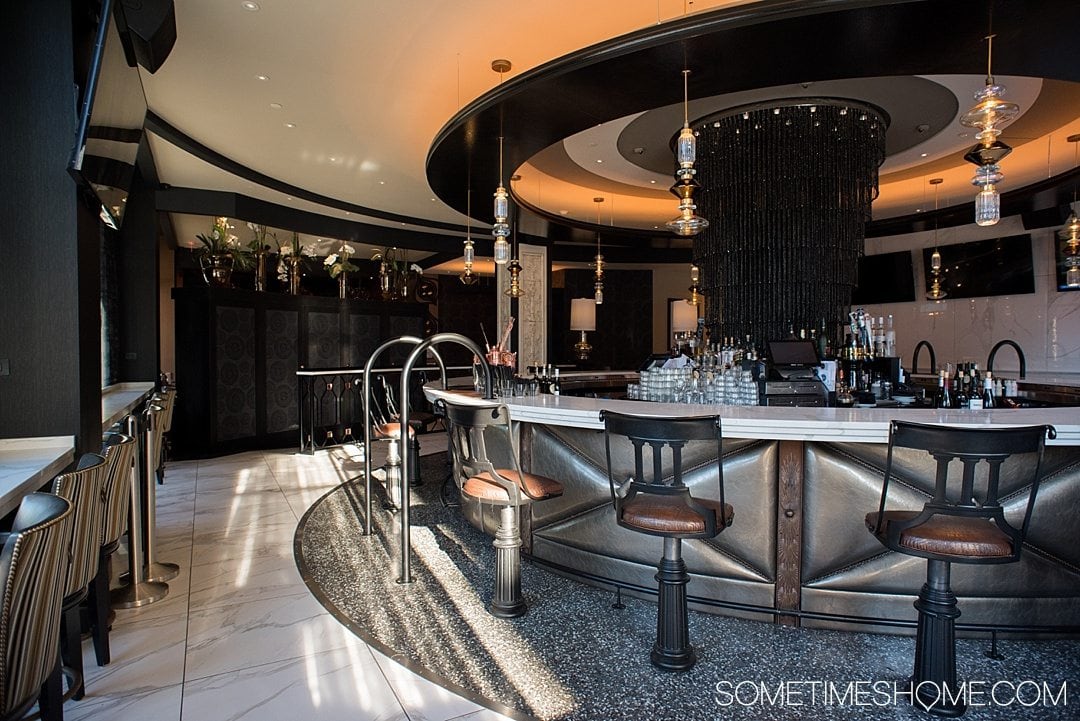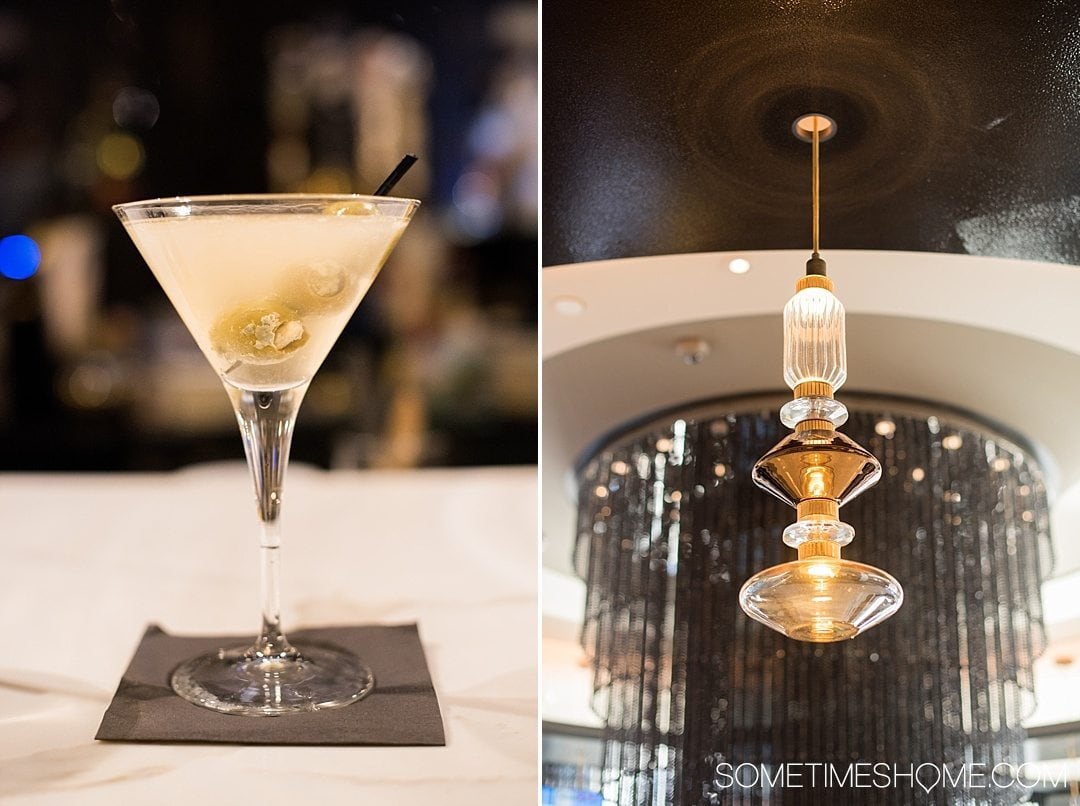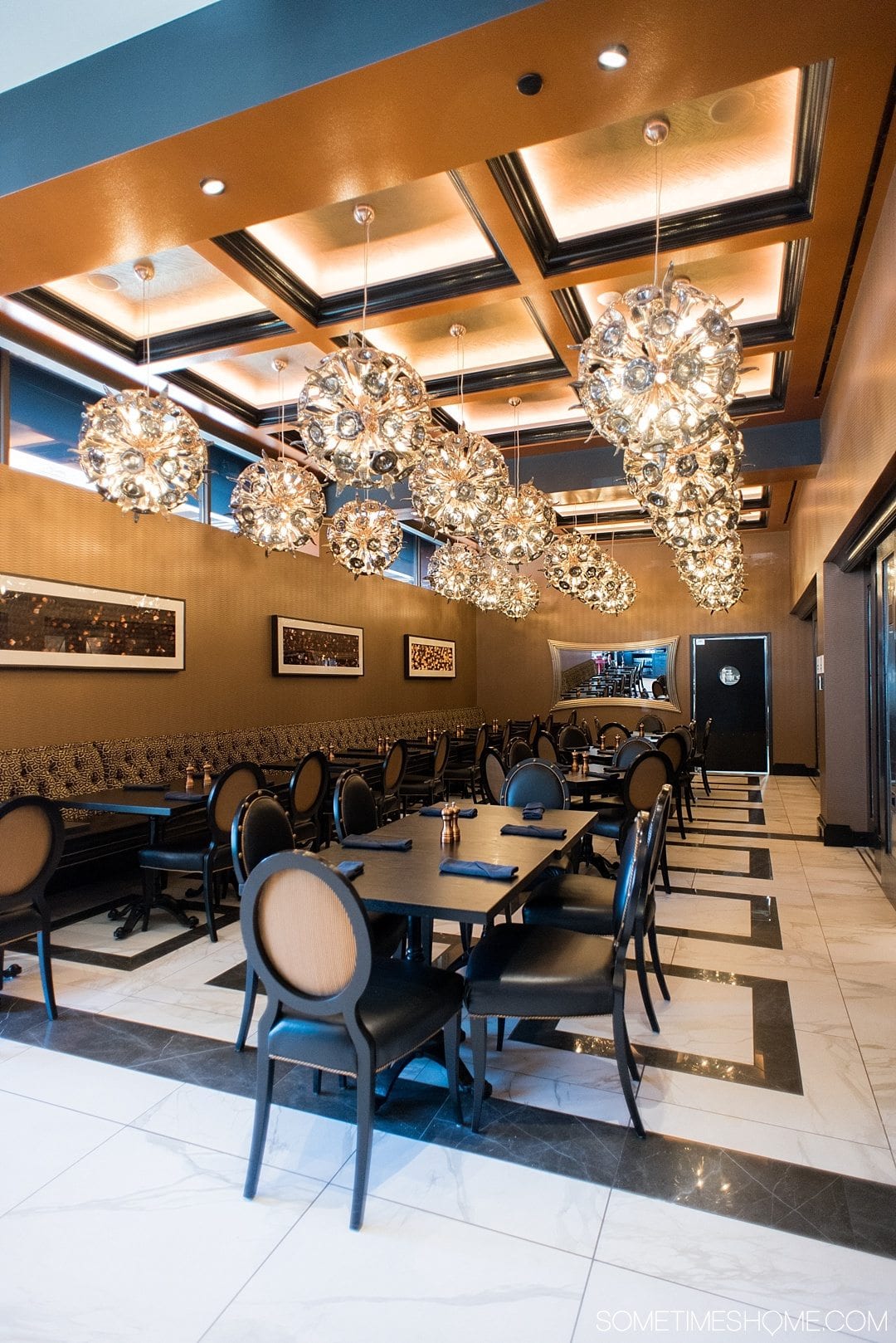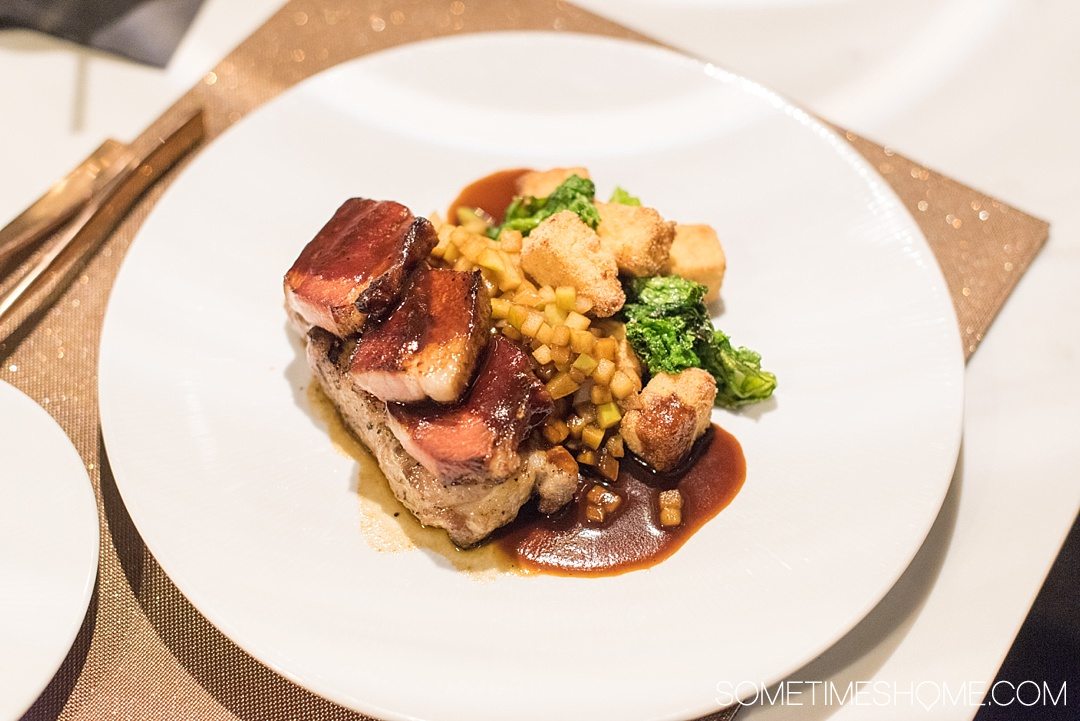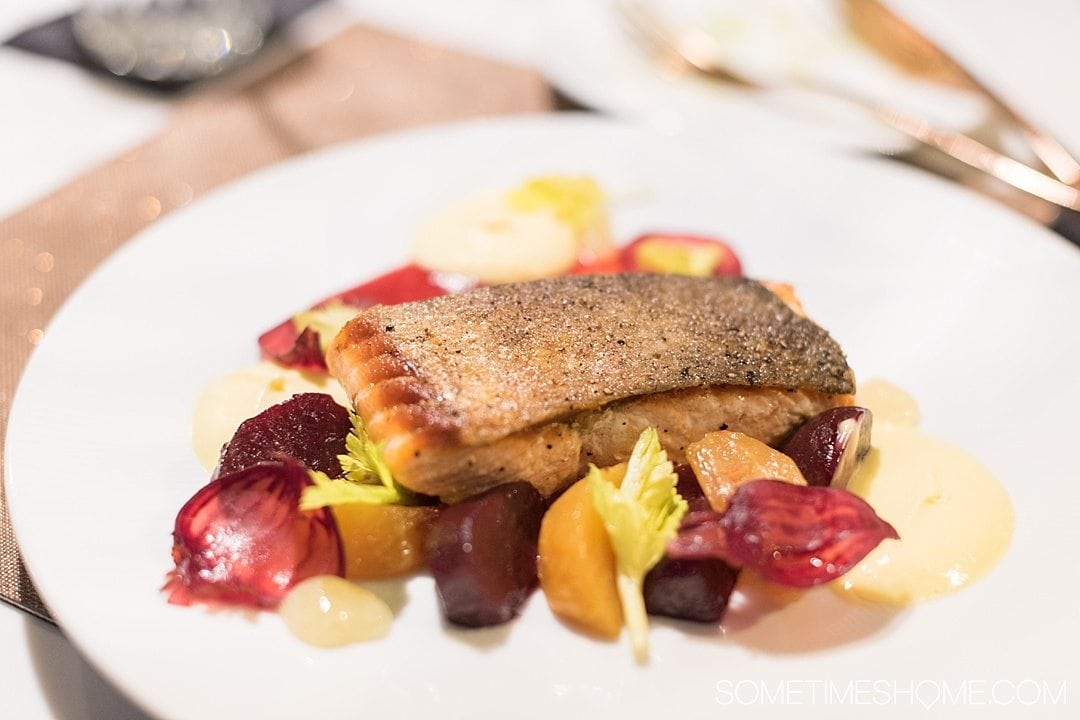 Heading to Western New York? Also check out: