Simple Things to Do to Help Save the Planet from Home
Why wait to contribute to the greater good of the Earth? Ya know…that little green, blue and white significant planet we live on. There are very simple things to do to help save the plant that you can start doing immediately. And they'll have a big impact.
Often people think of eco-tourism or things they can do to help reduce waste or emissions while traveling. (Or just once a year, on Earth Day, April 22.) Most often this comes to fruition in a hotel choice, like the lodge we stayed in while exploring Belize.
But there are SO many ways you can help save the environment and aid in sustainability today. Right now. In your home. Which then naturally translates to when you travel.
Many of the things we list here fall into one of the three classic categories, "Reduce, Reuse and Recycle." But we go in-depth to point out specific things to be aware of and take action on.
Disclosure: There are affiliate links in this post, which means we may earn a small commission if you click the link and proceed with a purchase, at no cost to you. We truly only recommend hotels, products, and services we personally use. As Amazon Associates, we earn from qualifying purchases.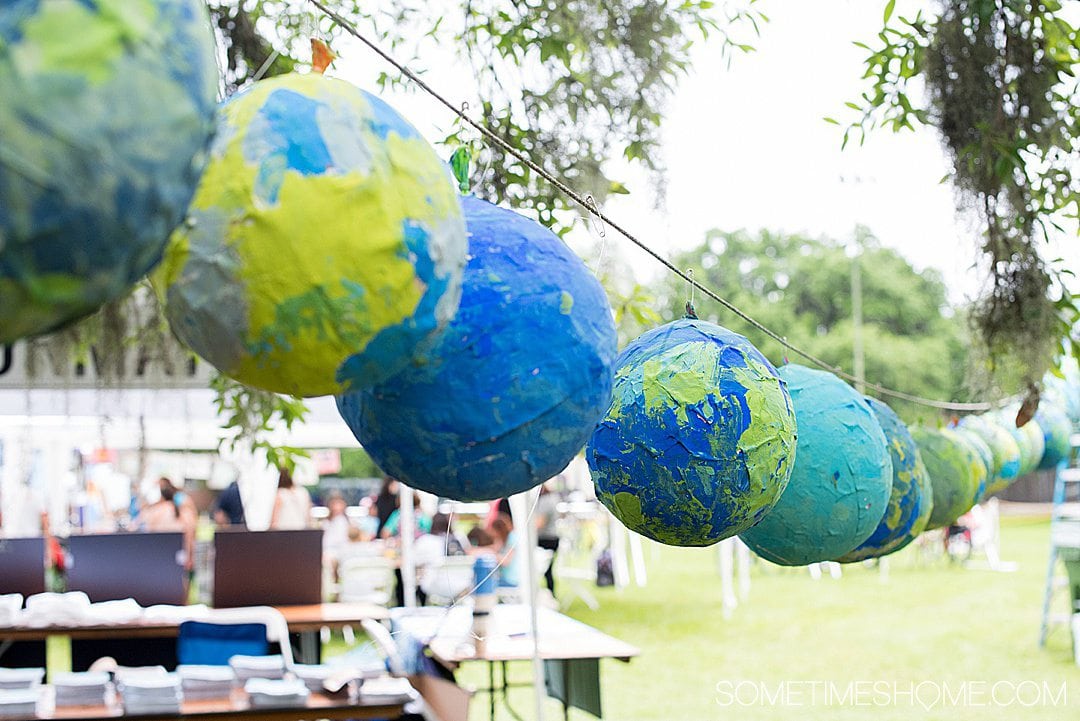 Be Encouraging and Understanding
A note on everything below before we get into the depths of things to do to help save the planet: not everyone has the means to do some of these things for a variety of reasons.
Some people can't recycle because their communities or cities don't have it and they don't have the means to drive to a recycling facility. Or, another example, is if people don't have the financial means to buy local or organic food. Or reusable bags.
Be compassionate and understanding that everyone's situation is different. Most, not all, people can do something to help save the environment. But it's likely not everyone can do it all.
But be supportive in your conversations and not judgmental.
We're all on the same team of humanity, all inhabiting the same planet.
Say No to Plastic as Much as Possible
Please say no to the following plastics:
Bottles
Bags
Plastic wrap
Straws
Plastic is just awful. It's just terrible for the environment and unfortunately usually ends up in the oceans, affecting things like the fish and sea turtles. (We saw some of the effects of plastic on turtles firsthand at the Georgia Sea Turtles Center on Jekyll Island.)
I'm willing to bet when you throw plastic in the garbage (and we've all done it, especially if there isn't a triangle "recycle" symbol on it) you don't say, "Goodbye, plastic! You will outlive me by hundreds of years in a landfill!" Am I right?
You don't say that but it WILL outlive your time on Earth. It could take up to 1,000 years (yes, ONE THOUSAND…YEARS) for a plastic bag to decompose, for instance. Eeek.
Alternatives to Plastic to Help Save the Planet
Reusable Water Bottles
A S'well Bottle, Yeti or Corkcicle are all great reusable options to eliminate single use plastic. (We have all three at home – the S'well, especially, is great for carrying around on trip and the car because it screws shut and won't spill.)
We especially get a kick out of refilling our bottles in cities and parks that have water stations, from Yellowstone National Park out west, to Ninety Six National Park in South Carolina, even to Slovenia and Paris.
A Reusable Bags Option (instead of Ziplocs)
Reusable bags are so easy to find these days. So much in fact we bought some Russbe bags at Home Goods when perusing the aisles one day. Unfortunately it wasn't a great solution because one of them ripped a couple months after buying them.
We searched for another option and found Stasher bags. And we're in LOVE. It quickly became one of our favorite things.
They're great for MANY reasons but here's two: it was founded by a woman who wanted to eliminate plastic waste she noticed mounding as she packed her kids' lunch everyday. And they donate 1% of all their reusable silicon bags proceeds to organizations that help save the planet.
The other kind of reusable bags is reusable shopping bags, of course. We always have them in our car and a few in our apartment so we can always say no to plastic bags at the supermarket or a farmer's market.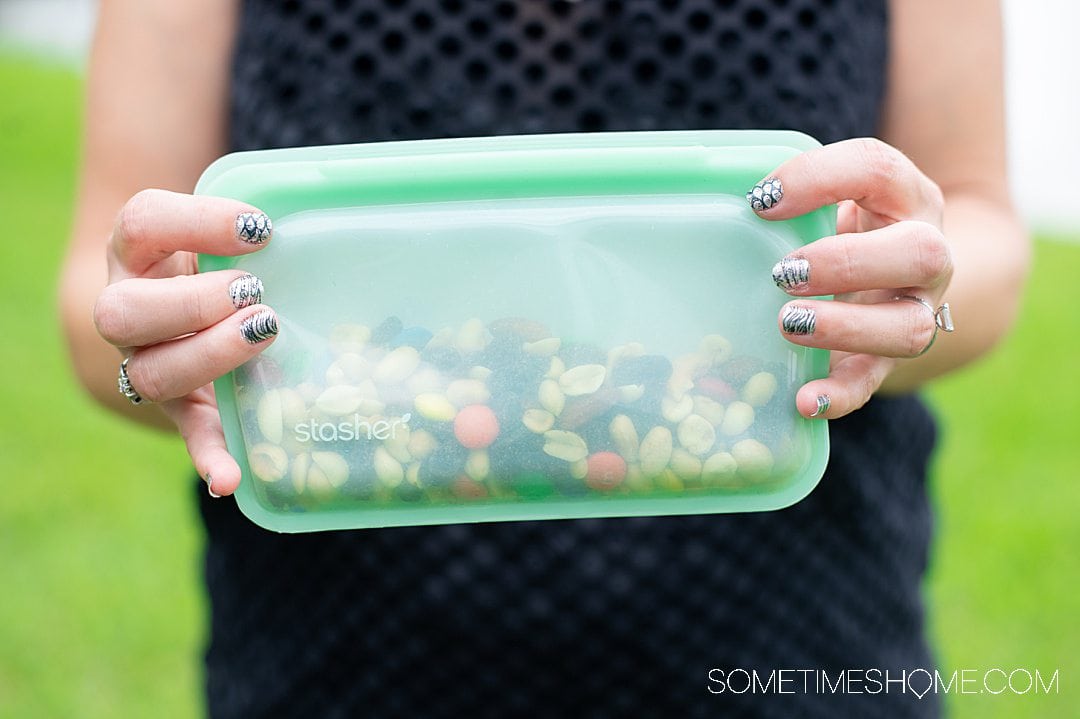 Reusable Glass Food Storage Options for Your Fridge
Another simple thing to do to help save the planet is to switch your "Tupperware" (or whatever the equivalent in your home) to glass containers. They're better for the environment, better for your health if you use a microwave and don't stain if you put sauce or red soup in them like plastic does. Pyrex glassware is a great option.
Compare that to how I grew up, putting every sliced tomato or lemon, etc., in its own plastic bag or Cling Wrap. Then throwing it out after we used up the fruit. Repeat, repeat. It makes me cringe to think of it now.
If you have plastic containers you previously purchased please recycle them when you eventually discard them.
One of our gripes with glass is that it usually has a plastic cover. And we're trying to eliminate plastic all together. (Which is why we love Stasher Bags, mentioned above.) But if you need glass containers in your life, Pyrex is the industry leader.
Shampoo and Conditioner Bars
If you want to cut down on plastic bottles you can buy shampoo and conditioner bars. You can even put them in Stasher bags if you need to travel with them.
LUSH is great about sustainable and eco-friendly products.
If you're black and have special product needs for your hair, check out the Black Travel Box's shampoo and conditioner bars.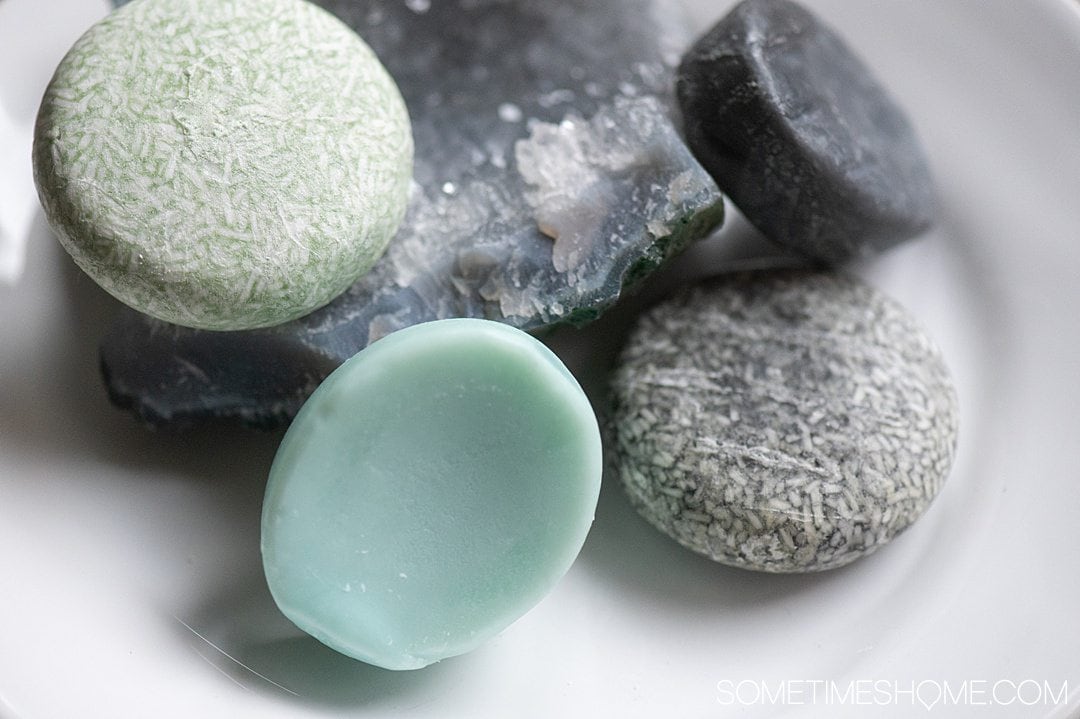 A Reusable Straw for your Keychain
I really like straws and Dan never uses them. I appreciate when restaurants offer paper straws instead of plastic but let's get real – no one enjoys paper straws.
Anyone who has used a paper straw knows how soggy and gross they get, mid-drink. Yet I understand why they exist. (And in such cute patterns too!)
There's another alternative to disposable plastic straws and the "meh" paper ones: reusable metal straws and silicon straws! We have both at home. I bought them years ago and still use the same ones all the time in our house and when I'm out.
The one I have on my key chain conveniently folds up into a carrying case that clips onto my keys. It's by Get It Right and you can find it in our Travel Gift Guide.
Also remember next time you're at a restaurant: if you don't bring your own straw and don't really need one, there's nothing wrong with saying, "No thank you," when offered one.
I try to do this as soon as the waiter puts it down on the table, otherwise I think it sits there and is thrown out at the end of the meal after we leave, which defeats the purpose.
Things to Do to Help Save the Planet with at Home Coffee Makers
Use Reusable K Cups, NOT Single Use
If you love the Keurig coffee makers like we do there's a wonderful alternative to buying dozens (even hundreds) of plastic pods a year: reusable ones.
It's so much more cost-effective too.
We have them in our home and haven't purchased the terrible-for-the-environment single-use pods that you have to toss in the garbage, in years. We simply buy coffee to refill the reusable pods and brew that way.
Buy a Nespresso for their Recyclable Coffee Pods (and great coffee, of course)
We held out on buying a Nespresso for years. But every time a hotel room that we were staying in had one – from 21c Museum Hotel in Durham, to the AC Hotel in Valencia – we would inevitably discuss buying one for our home again.
We caved and bought one in 2020. It felt like an investment we were making in ourselves, our taste and (who knows) maybe even towards that upscale millionaire lifestyle we have our eyes on. It's the little things, right?
One of the things we appreciate about Nespresso's aluminum coffee pods is they are RECYCLABLE! Nespresso makes it easy to recycle them – you can request free recycle bags with your pod order. We keep that bag under our sink and empty the pod receptacle from the back of Nespresso machine into that bag when it gets full.
Just in case you're interested in purchasing a Nespresso machine we highly recommend buying it with the frother so you can make barista-inspired creations at home, including lattes.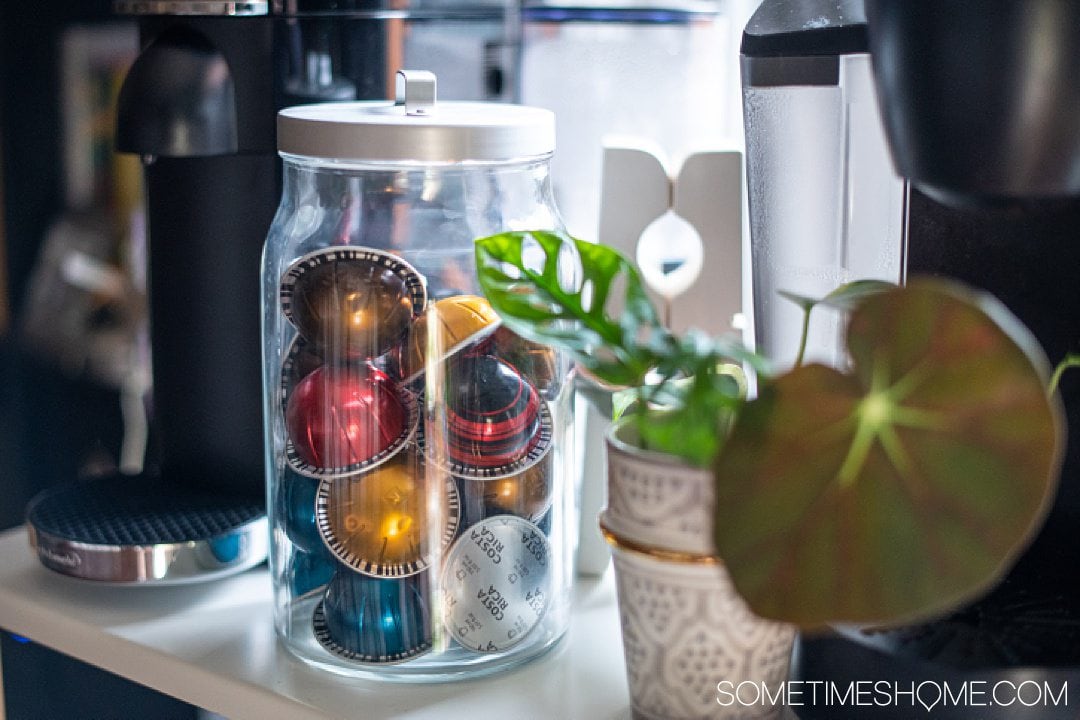 Use Non-Disposable Coffee and Tea Cups When you're Out and About
Going out for a cup of coffee? Simply ask the barista if they have a "to stay" cup.
Often ceramic mugs are available at many coffee and tea shops, which means you don't have to waste a cup and a plastic lid.
We know COVID has changed way too many drink containers over to plastic, unfortunately. Alternatively, you can try to bring your own cup to your local coffee or tea spot. A lot of coffee shops (like Starbucks and Einstein Bros. Bagels) have reusable cups or mugs you can buy there and you're welcome to bring those in for paid refills instead of using disposable cups.
Think Twice about What's Recyclable in Your Home to Help Save the Planet
We know it's obvious that "recycle" would be one of the things to do to help save the planet. But hear us out!
Because we bet you're throwing simple things in the trash that are easy to recycle. Like that junk mail over on your kitchen counter, you want to throw in the trash! Instead, simply place it in your recycling bin.
That reminds us: if you don't have a recycling bin given to you by the city you live in, create one. Even if you have to drive its contents somewhere yourself to recycle them.
It's so worth it. It will make you feel good to do good.
Our apartment building makes it a little less easy to recycle than it does to toss things in the trash. It requires an extra step from residents to walk it down to the recycle "dumpster" behind the building, whereas the main garbage chute is way more conveniently located within the building on each floor.
But we're not lazy and we love the Earth: so we recycle.
We understand a lot of communities and cities don't offer recycling. Some people drive over an hour (or more) to drop off their recycling, often even their trash.
If that person is you, we're applauding you! We can only imagine what an obstacle that is but your efforts DO make a difference.
Properly Recycle Specialty Items
Recycling properly goes BEYOND your local paper, plastic and can recycling.
There's a specialty recycling bag in our home that we drop off at a special recycling facility once every couple of months.
It's a recycling area for electronics (like TVs, computers, hairdryers, etc.), paint (including nail polish and wall paint), other hazardous materials like batteries, etc.
If I even so much as need to throw out a camera memory card it gets placed in the bag for proper specialty recycling.
Even places like Best Buy recycle things like ink cartridges. You just have to take the time to Google: recycling (city, state).
Also note that you can't recycle plastic bags in many usual recycling pick-ups, like at your home. But a lot of supermarkets from Harris Teeter to Publix, including places like Target, have a recycling receptacle specifically for plastic bags in their stores.
Trade in Old Camera Gear
Don't throw your old camera in the trash or into recycling – see if you can trade it in for cash, somewhere like KEH Camera. Click the green/black/red banner below to learn more.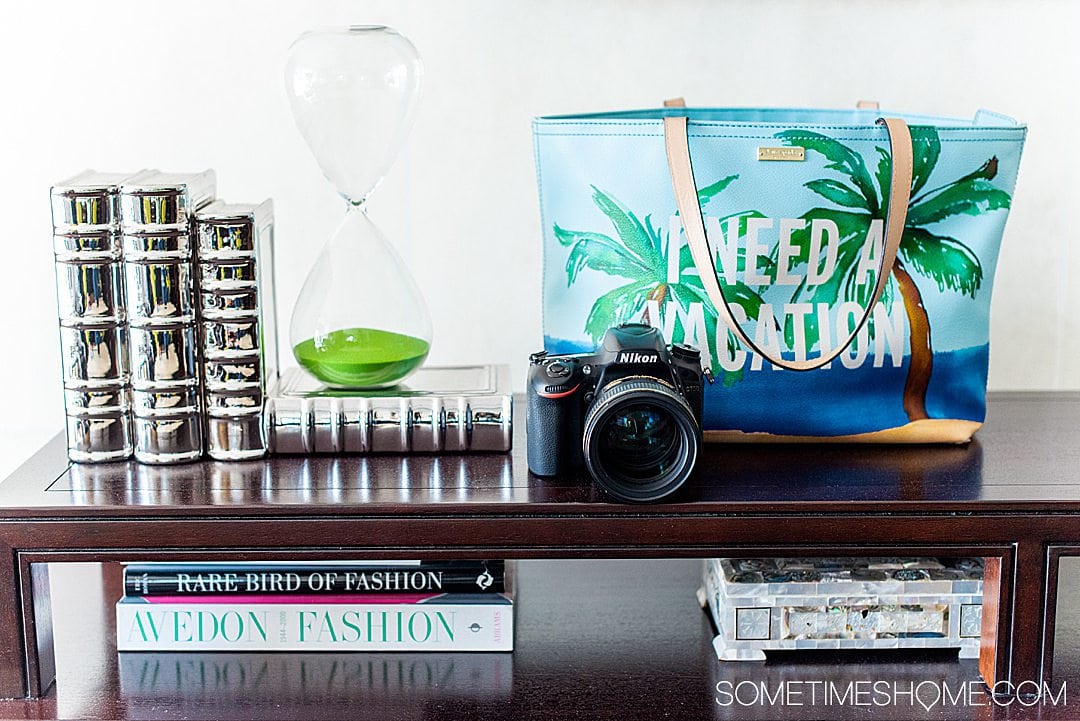 Say Yes to Composting
Consider composting if you're lucky enough to live in a place or location that participates in it or own your own home.
I've seen people in New York City drop composting off at the Union Square Greenmarket, or we have several friends who have a composting bin in their home and add it to the composting pile in their yard a few days a week.
Walk or Ride a Bike instead of Driving
One of the reasons we love living in downtown Raleigh when we're "home" is we love walking to dinner. Or to the neighborhood coffee shops. Or simply to a bar for a drink. Besides the obvious benefits of walking (achem, exercise and no drunk driving) it cuts down on air emissions. Fewer emissions make for cleaner air and a happier planet.
The Netherlands is incredibly well known for what a bicycle-friendly nation it is. We love walking whenever we can because we think it's the best way to discover a place.
We'll walk around our neighborhood to get exercise and see what's new in our area whenever we can, too. We know not many people live close to restaurants and shops like us, but it's one of the things we love about our area.
Carpool
You know the rare event your car's in the shop and you ask a co-worker who lives nearby for a ride to the office? (Well, when we had to go into offices pre-COVID, that is.) Consider carpooling more often.
It cuts down on fuel emissions. (And that's one of the reasons I love my Prius hybrid vehicle.)
In the same regard, Uber Pool or shared Lyft rides are great for this…after the pandemic. Or Via in NYC, another shared ride company. Additional perk: you save money.
But the real pro of this is that carpooling is one of the things to do to help save the planet.
Check out our fun free car games for road trips too!
Conserve Water
Conserving water is one of the great things you can do to save the planet and appreciate the Earth's resources. You probably don't even realize you're wasting water when it's happening.
Here are two ways to conserve water:
Wait to do laundry so you have fuller loads. If you don't have a high efficiency washer and dryer, this can greatly help you be as efficient as possible with water that's used to do a wash.
Turn the faucet off – whether you're doing dishes or brushing your teeth. I know – so obvious. Yet not enough people do it and we actually have to constantly remind ourselves to do the same.
There are so many times my hands are dirty from cooking and I leave the water on when I don't really mean to. Then I realize, "oh crap – it's on! Turn it off!" and shut it off. I feel good about it then!
Turn Off the Lights
You probably don't need the lights on in the room you just left. But you forgot to shut them.
Turning off lights is a small thing – and from what I understand it's not a big energy suck like a refrigerator may be. But imagine if many people across the world shut the lights off when they left a room. It could be very impactful. It's one of the little things to do to help save the planet but it's something!
Use Rechargeable Batteries
One of the things I did to help save the planet was switch to rechargeable batteries years ago.
The benefit was twofold: 1) Save a ton of money and, 2) the environment.
The best ones in our humble opinion are Eneloop batteries. I loved my AA batteries them so much I bought AAA's too even though just one product in our home uses them: the fan remote control.
While you're at it, invest in a rechargeable battery dock too. Some charge both AA and AAA batteries.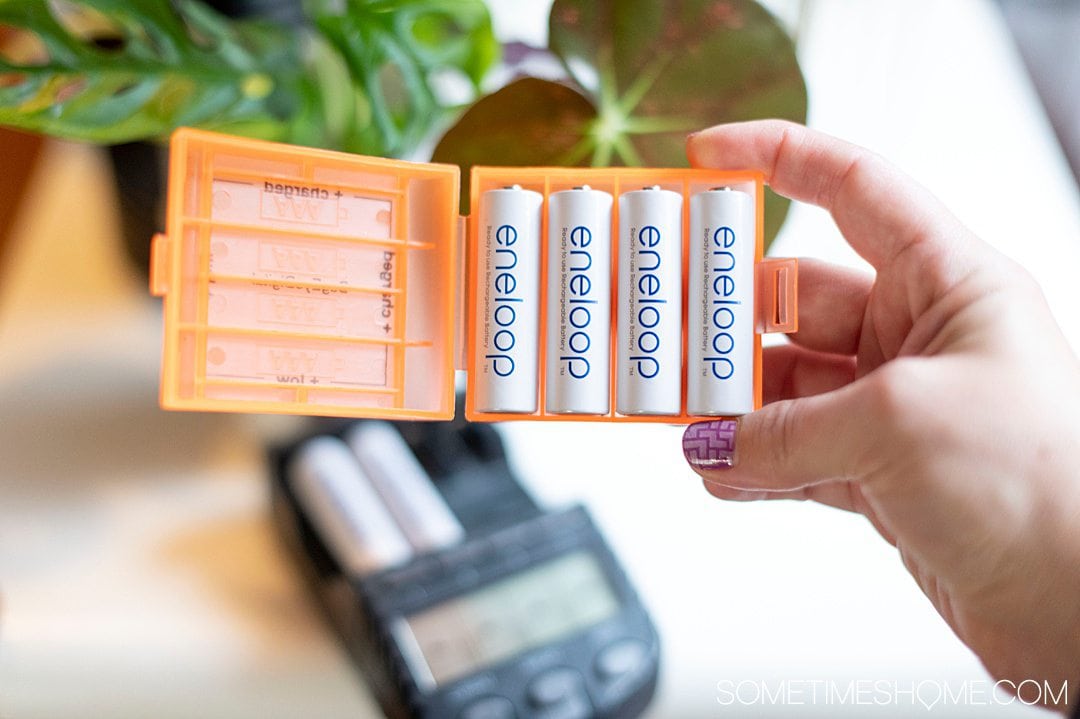 Support Local Businesses for Economic and Sustainability Reasons
There's a much bigger, global reason to support local businesses aside from the local economy: this means delivery trucks don't have to drive as far! If you buy from a local farmers market or business chances are they're also supporting local vendors in the products they're carrying in their shops.
This extends to supporting your local fisherman too, whether inland and getting fish from lakes and rivers or near the oceans on the coasts.
Buying local helps the Earth because it's cutting down on delivery truck and airplane emissions. And in the case of fishing, helps maintain local ecosystems.
Consider Shipping Options Other Than Next Day or Overnight
It's very 21st century to give in to the allure of having things now. But most of the things we order online these days we can wait for even if two days more.
Next time you have the option to give next-day shipping another thought, please do. Sometimes it means things are being rushed to you on an airplane, especially if you don't have a fulfillment center nearby.
Group Your Amazon Order to Cut Down on Shipping
There are often two options for your order shipment if you're ordering multiple items on Amazon.
Send the items as soon as they're available, even if it means multiple shipments.
Group your order items in as few shipments as possible.
We always go for option 2 to help save the environment.
Buy Organic
I had an "ah ha!" moment recently with buying organic. I was never really keen on buying organic produce, for example. I figured, "I'm a grown adult. What is chemicals on my veggies going to do except help kill insects?" Then I realized: it's going to help what infiltrates the soil! Which impacts the planet.
When you spray harmful chemicals on plants, for instance, and it rains, the chemicals run into the soil. Which eventually can get into lakes, for instance. Which can affect not just the ecosystem but the fish you eat.
It's ALL CONNECTED! It's…all…connected.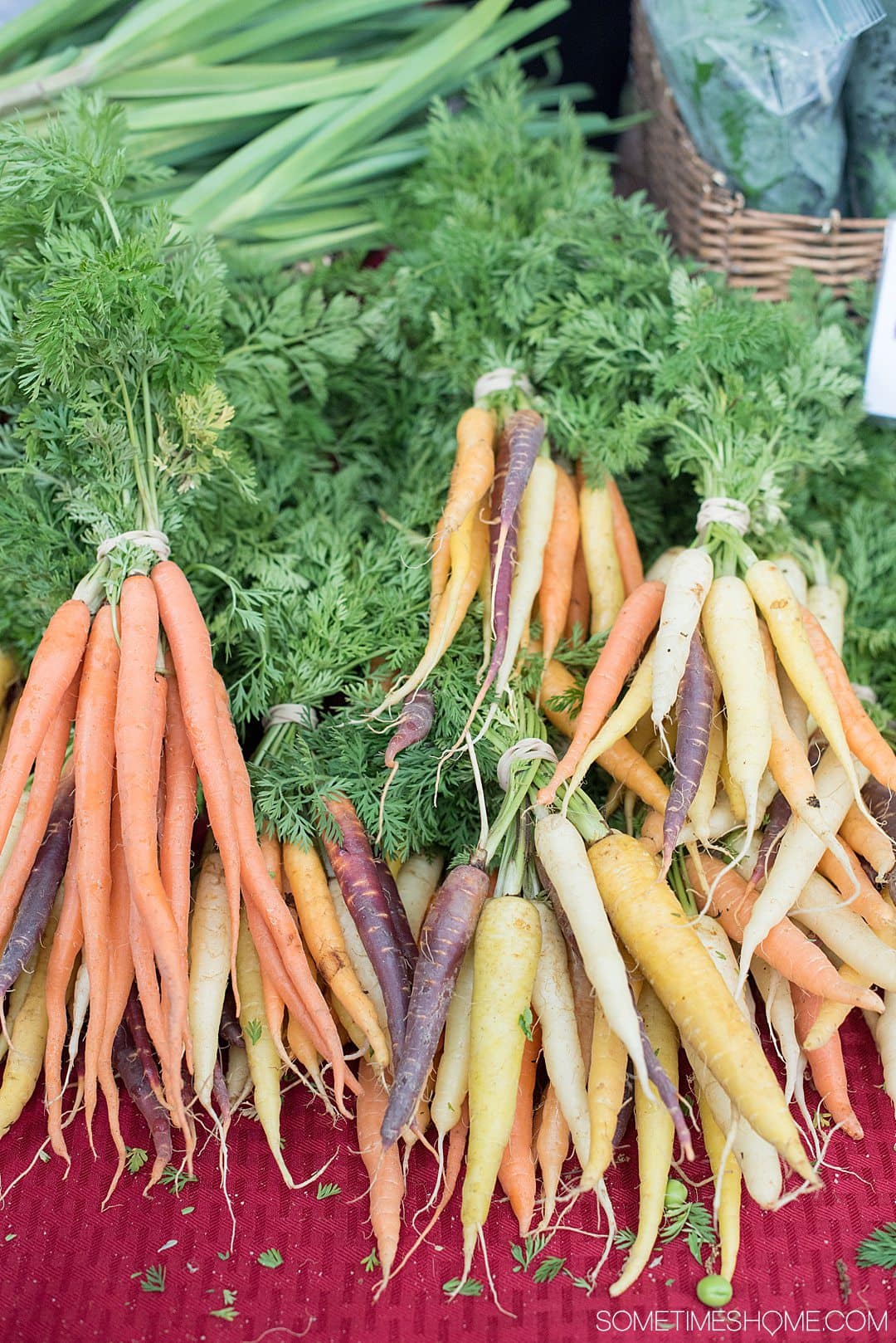 Buying organic doesn't only mean something for your health system. It means something for the Earth's health system too! Eureka!
While I admit organic produce prices can be somewhat shocking sometimes, they aren't always. Sometimes there's a sale and the prices for organic are the same as non-organic. The prices for organic versus non-organic in Trader Joe's is very often only cents or a dollar or two off.
So before you say "No way I'm paying increased prices for organic!," take a look. Because you don't know until you investigate at your local market.
Also remember you don't have to go all or nothing. If you're able to buy some organic when possible and round out your shopping list needs with non-organic as needed.
Travel with a Reusable Utensils and Napkin Pack (Even in your Hometown)
One of the things to do to help save the planet is to travel around with a reusable pack of things like a fork, knife and cloth napkin. Or even a spork or chopsticks! (We love our custom chopsticks from Etsy.)
This way, if you have lunch on the go while you're running errands or traveling and don't want to waste something like a plastic fork and knife, you're covered.
If you wish, throw a reusable bag into that kit just in case, like a Baggu that folds up compactly.
Buy from Companies Doing Good for the World
Educate yourself about the companies you buy from and what they stand for. We buy Seventh Generation products at home because they pledge they create products with the planet's well-being at the forefront of innovation.
For instance, using plant-based formulations and recycled packaging is just two planet-conscious things they do. You can find Seventh Generation products in any supermarket nowadays, including Target.
Saving the planet, to us, includes sustainability, helping the environment, and doing better for humankind. One of the companies doing that is a chocolate company we discovered when we were eating our way through Amsterdam and The Netherlands.
Tony's Chocolonely is a Dutch chocolate company out for a good cause. They produce 100% slave-free chocolate. We recently saw their chocolate bars in our local Wegmans supermarket in Raleigh, NC.
This is why we support Stasher bags, mentioned above too. They donate part of their proceeds to charitable causes.
We should all make a conscious effort to buy from and support more companies like this.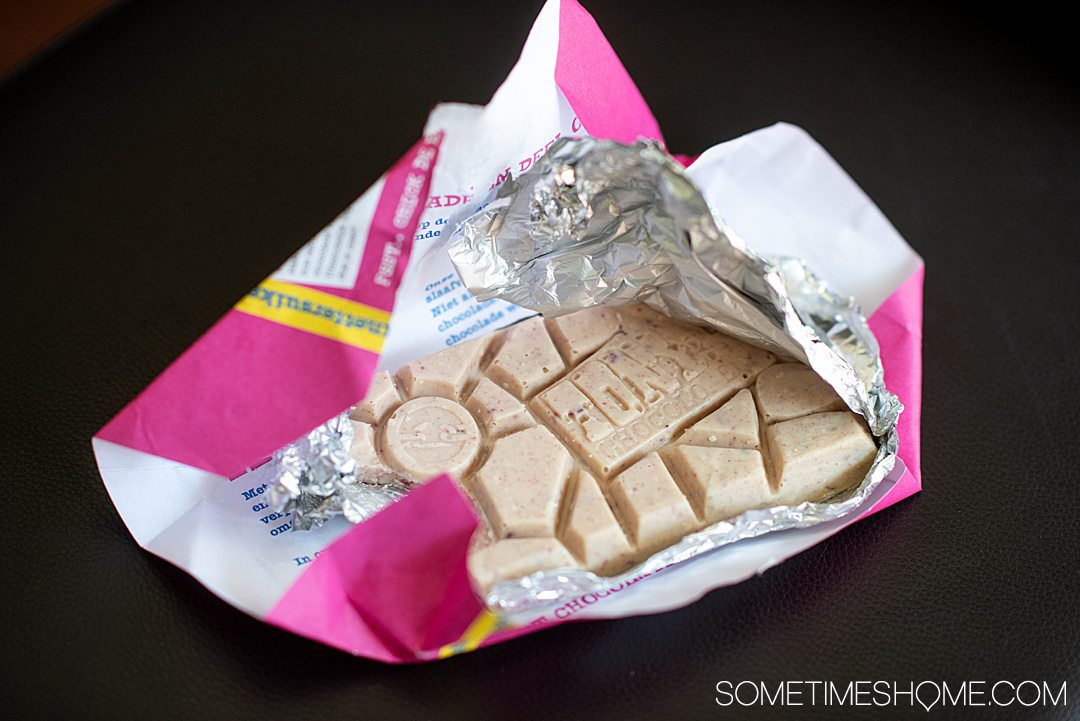 Spread the Good Word
There are several ways you can help spread the word about being a friend to the environment in a positive way. And this is truly one of the things you can do to help save the planet that doesn't cost a dime.
Shoutout the Companies Doing Good for the Planet on Social Media
If you have Twitter, TikTok, Facebook, or Instagram (or any other social media network access) use it to compliment companies doing good.
We love shouting out Locals Seafood, for instance, because they support sustainable aquaculture and supporting local fishers.
Positively Review Companies that are doing Good Things to Help Save the Planet
If you notice something a company is doing something good for the Earth, like using compostable containers for takeout, shout it out! Or something like not offering straws unless asked, to cut down on waste.
Use your social media for good, whether Twitter, or on your Facebook feed, or Instagram account.
It's worth shouting out things like this on sites like Yelp and TripAdvisor as well. Or simply tell a friend or family member about one of the things listed here that could make a difference.
Talk to friends and family about the positives of reduce, reuse and recycle
Don't be shy when you're with a friend or family who isn't doing any of the above. We often find ourselves sharing all of this information, in small bites, with family and friends.
Here are two examples:
We noticed recyclable vegetable cans were in the garbage when we were with family for the holidays. This was extra frustrating to us because the recycling bin was – get this – directly behind the garbage! We yelled at our family for this one. It was truly disgraceful and called them out. Our aunt and uncle apologized and said they would be more cautious and mindful in the future.
Mikkel's sister asked her if she needed the Point and Shoot Camera she gave her over a decade ago. Mikkel replied no and said, "But promise me when you throw it out you'll properly recycle it at a specialty recycling location that accepts electronics." Though she would not have thought to if Mikkel hadn't said it, because she mentioned it and requested this treatment of the trash her sister agreed and did. WIN for everyone.
Spreading the word – whether by playfully guilting family members and friends 😉 or educating them – can be very powerful and have a positive domino effect.
All of these things you can do to help save the planet may be small, but imagine if we all did them. They would compound in very beneficial ways for the Earth. Imagine that!
Check out this additional, helpful travel content:
Save this Pin and help spread the word!