5 Mistakes to Avoid at The Wizarding World of Harry Potter
The addition of The Wizarding World of Harry Potter to Universal Orlando Park & Resorts in 2010 brought loads more tourists to this Florida destination. Now even Muggles (that's wizard speak, for "humans," to the non-Potter fans out there) can be wizards and visit the real Hogwarts Castle!
I was lucky enough to be a member of the project team that helped built Hogsmeade Village. So, I know a thing or two about the park! Here's 5 Mistakes to Avoid at The Wizarding World of Harry Potter.
1. Visiting Only One Park
The Wizarding World of Harry Potter in Orlando, Florida is at Universal Parks & Resorts. Let's not confuse this with Walt Disney World. Universal and Disney are two completely different companies! Within Universal Parks & Resorts, Orlando are two parks:
Universal Studios
Islands of Adventure
Where is The Wizarding World of Harry Potter? The answer is it is in BOTH parks:
Hogsmeade Village, opened in 2010, is in Islands of Adventure
Diagon Alley, opened in 2014, is in Universal Studios
Visiting both parks requires a ticket to both Islands of Adventure and Universal Studios. The best way to travel from Hogsmeade Station in Hogsmeade Village and King's Cross Station in Diagon Alley (or vice versa) is by the Hogwarts Express train. It's accessible from either park.
It's an attraction in itself! But you MUST have a "Park-to-Park" ticket that allows you access to both parks to even enter the train. So purchase your tickets wisely! (Park visitors also refer to it as a "Park Hopper," a term made popular by Walt Disney World's ticket options.)
Hogwarts Express is certainly a highlight I would not miss. Besides, where else can you board the train on platform 9 3/4? The train has some really cool special effects that will leave you thinking, "How'd they do that?"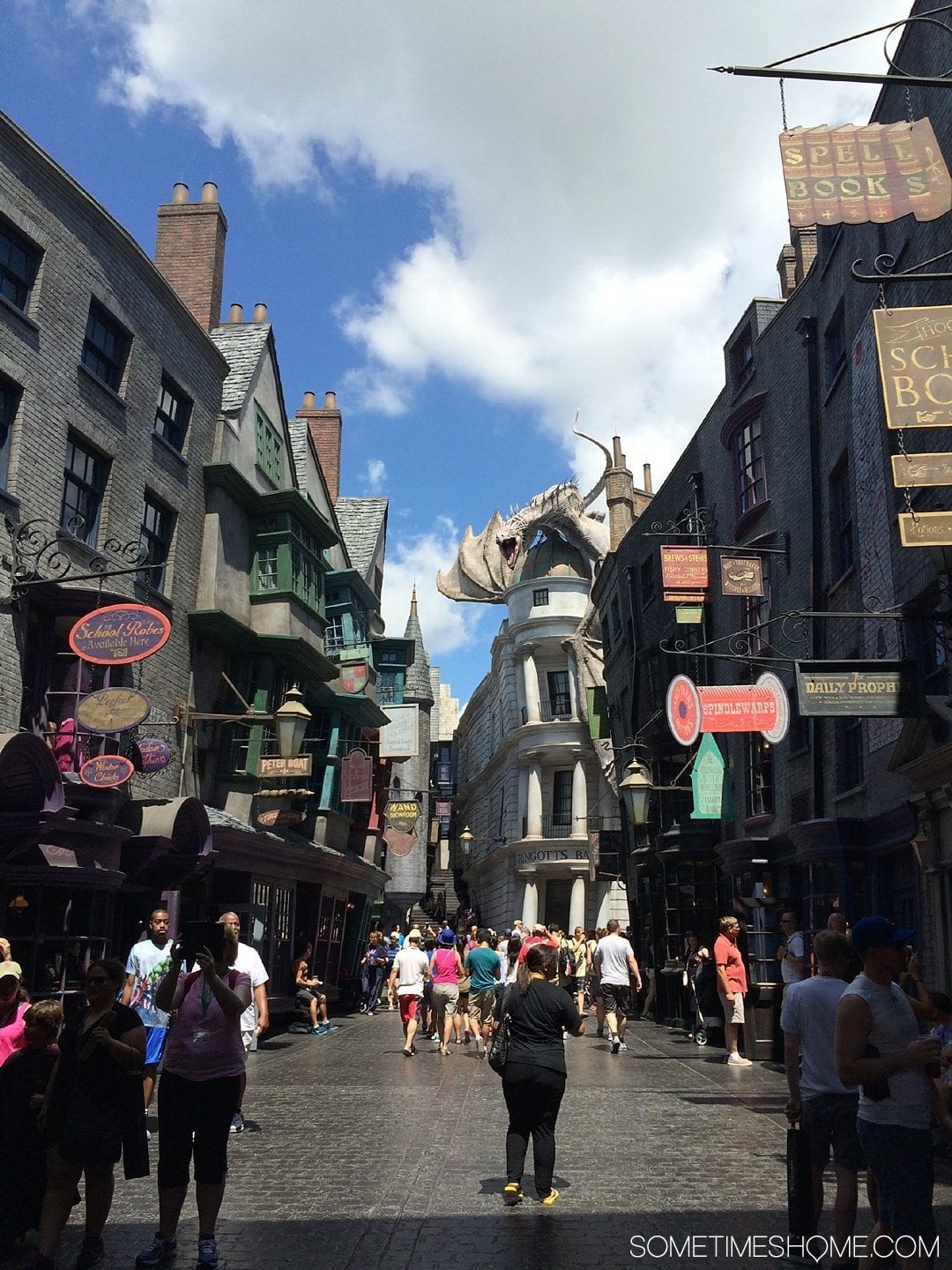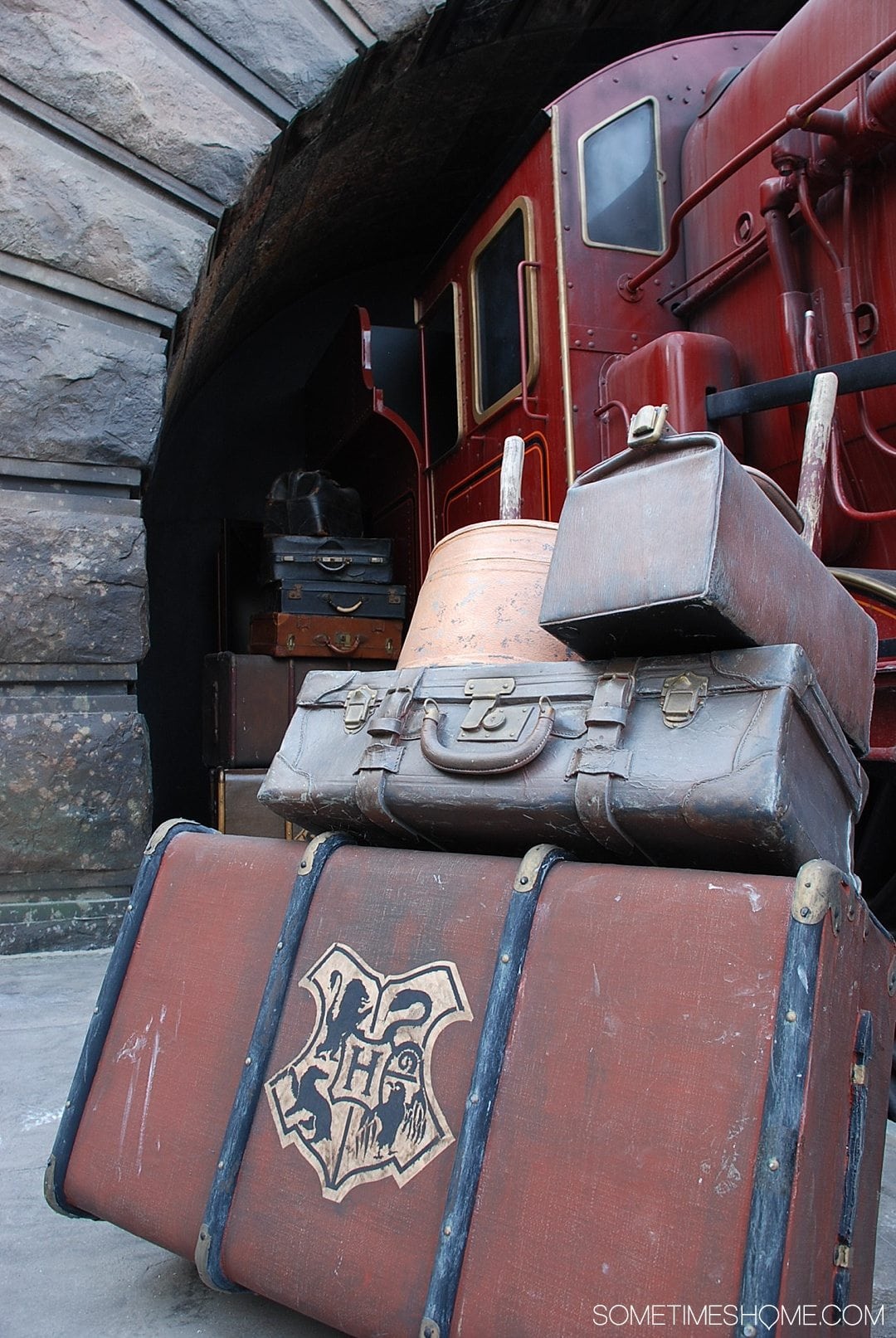 2. Using the Express Pass Lane for Harry Potter and the Forbidden Journey (aka the ride inside Hogwarts)
I think one of the best things about this attraction is the queue. Every detail was carefully created for it and if you use the Express Pass you don't get to see a lot of it. For instance, you see an abbreviated version of the portraits gallery, not the whole thing. And you bypass the greenhouse, which has some oddly cute Mandrakes in it.
You're probably a huge fan of Harry Potter – that's why you're going, right?
While the Express Pass lane will get you to the main attraction quicker any fan would want to see the entire attraction. That includes the entire queue. I recommend going through the main queue once and then if you have Express Pass going through that for all times after.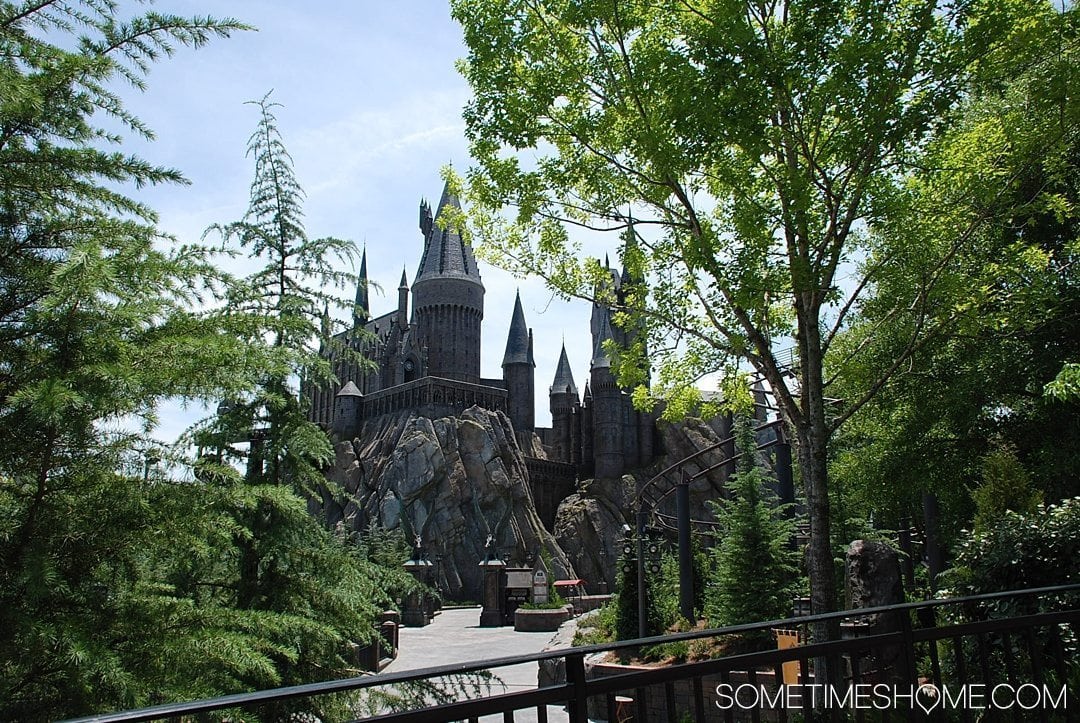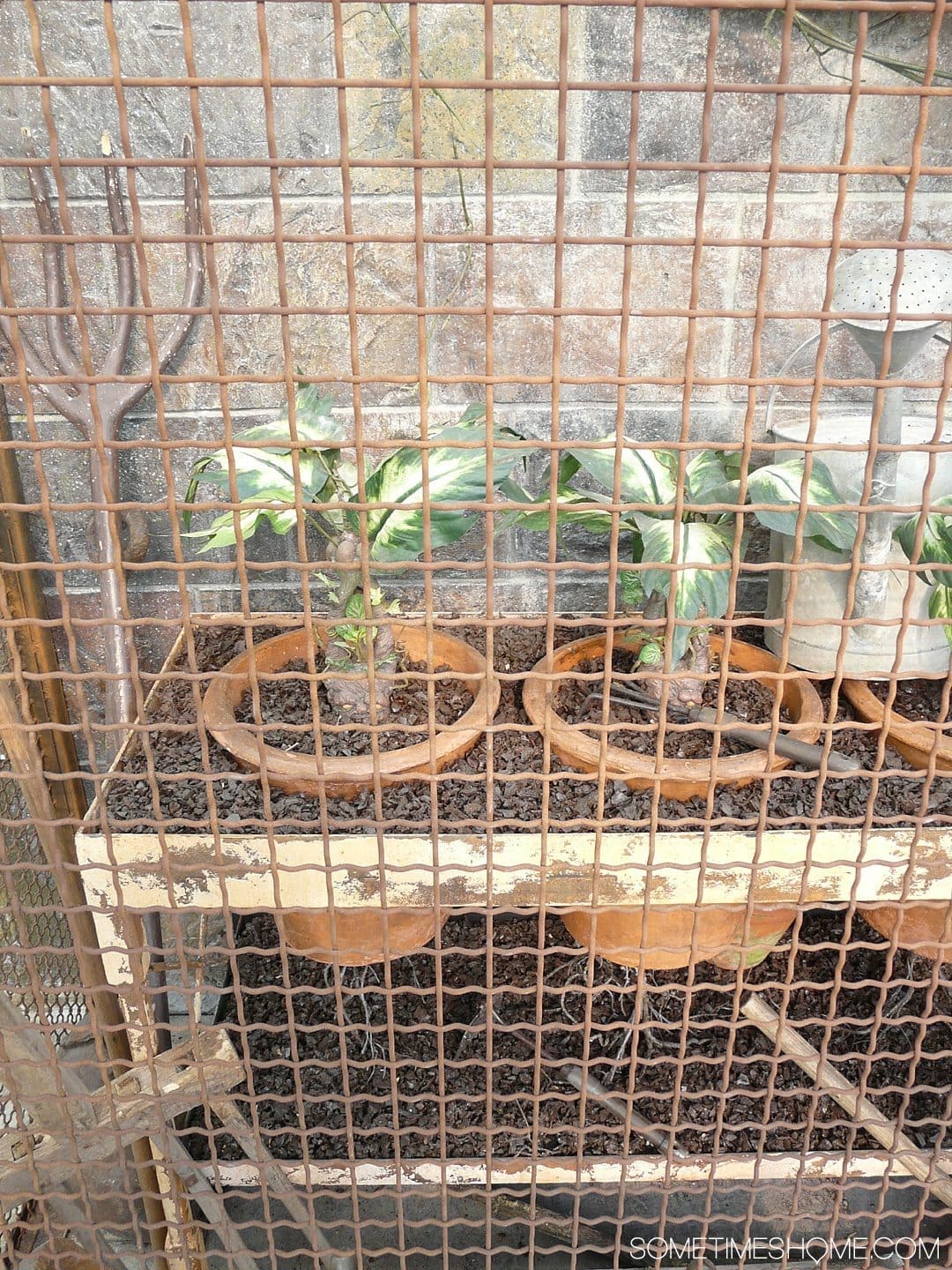 3. Failing to Consider Every Window, Alley and Corner
This is a more subtle one of our mistakes to avoid at the Wizarding World of Harry Potter, but nonetheless significant, regarding its design.
Don't whiz by the windows of each shop on your way to your next destination in the park. Half of the experience of the Wizarding World of Harry Potter is the careful detail created for in every nook and cranny of both Hogsmeade Village and Diagon Alley. Here's some of my favorite details that often go unnoticed if you're not taking time to look for them:
The screaming Howler letter in Hogsmeade Village (Derish & Banges shop window).
Tattoos that appear and disappear in the window of Markus Scarrs Indelible Tattoos in Knockturn Alley of Diagon Alley.
Knockturn Alley is one of my FAVORITE parts of the park. The props team built the mermaid skeleton in there from scratch! (They couldn't find one in the ocean.) 😉 Also be sure to check out Borgon and Burkes shop. It's a tad goth and the finishes inside are really beautiful.
Self-knitting needles can be found in one of the windows – just like the books mention!
Fire-breathing dragon in Diagon Alley – he unpredictably breathes fire on guests (within safe distance of course) as he remains perched atop Gringotts Bank. Stick around to see it happen just once!
Watching the shadows of the House Elves move throughout the upper levels of Three Broomsticks as you enjoy a meal there. Keep an eye out for other House Elves around the Wizarding World of Harry Potter too, particularly in a storefront window.
Moaning Myrtle can be heard in the bathrooms.
Look up in the Owlery – there are owls up there! (And bird poop!)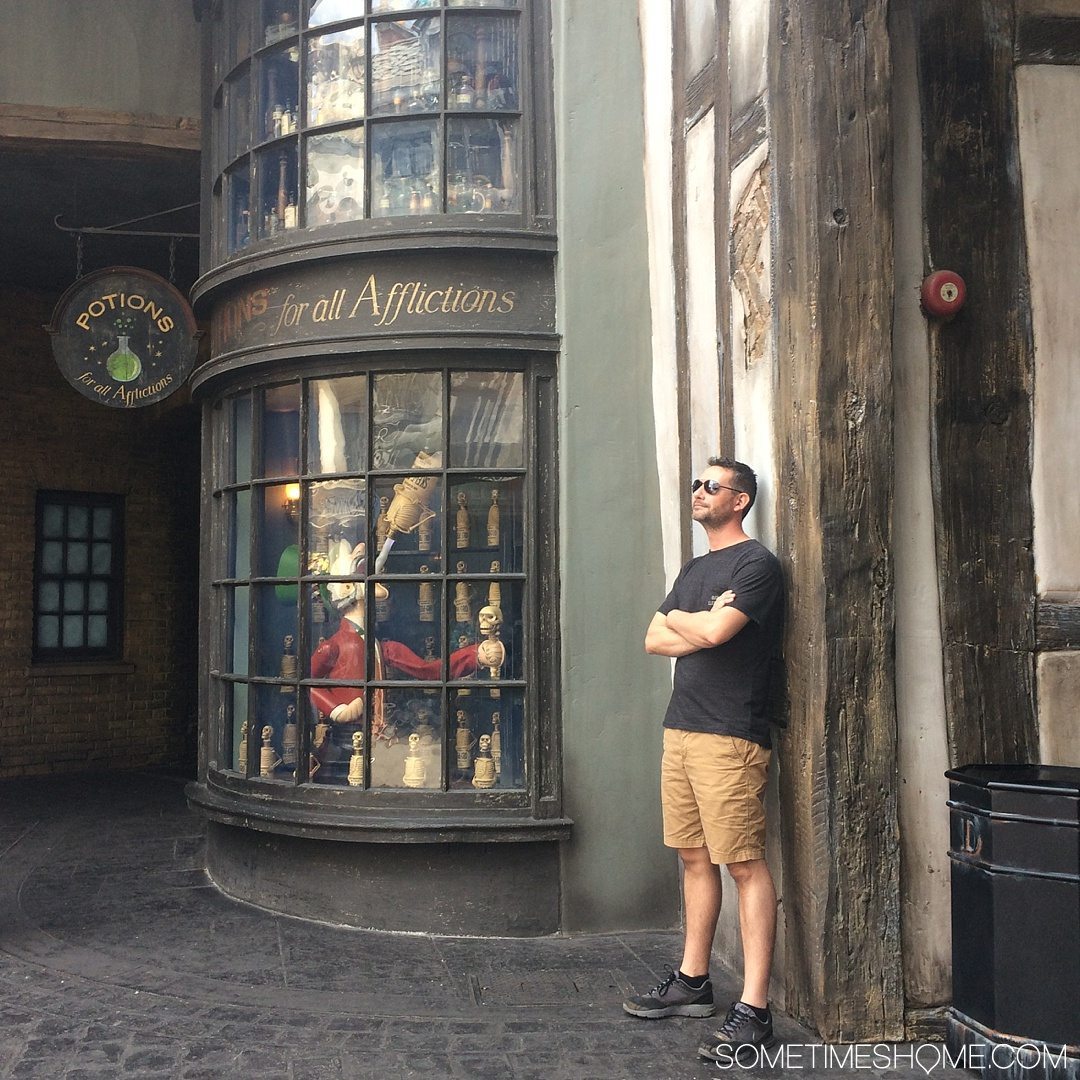 4. Is Getting Butterbeer one of the Mistakes to Avoid at the Wizarding World of Harry Potter?
I whole-heartedly believe that Frozen Butterbeer is better than the regular version. So while getting Butterbeer wouldn't be a mistake, I suppose we think not getting Frozen Butterbeer to try is the bigger mistake to avoid. (In other words, you must try Frozen Butterbeer!)
Additionally if you're more than one person in your group I'd get one Frozen Butterbeer for every two people. If you want more you can always buy more.
One is so incredibly filling you may find half of one is the perfect amount. You know how much mixed drinks and smoothies can fill you up? Same thing. And you don't want to be throwing up your Butterbeer on the next ride you experience! Trust me, it happens more often than you'd like to consider.
On that note, do try the special beers and ales created just for the park. A personal favorite is Hog's Head Brew served at Hog's Head Pub connected to Three Broomsticks in Hogsmeade Village.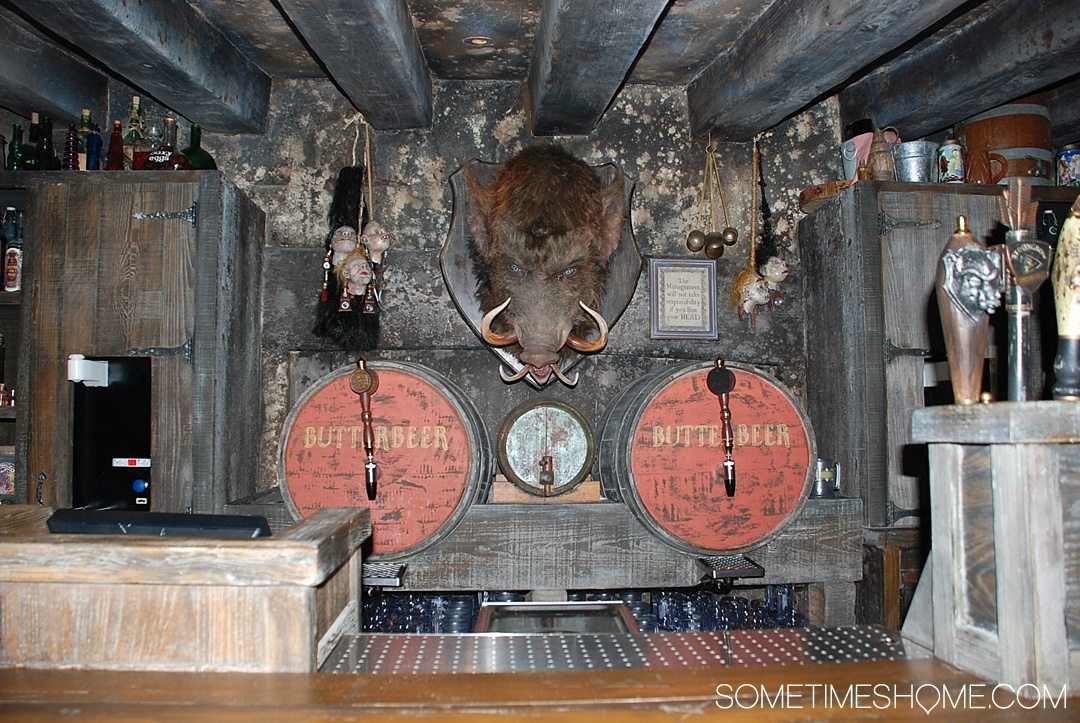 5. Don't Leave Before Sunset
One of the most magical things about a theme park is that its designer spare no consideration when designing it. I should know – I used to work for Universal Creative!
The park has such a different vibe after the sun sets and the evening lights illuminate the park. Both Hogsmeade Village and Diagon Alley are extra special in the evening. Be sure to stay through dusk when evening lighting creates a whole different photo-worthy scene.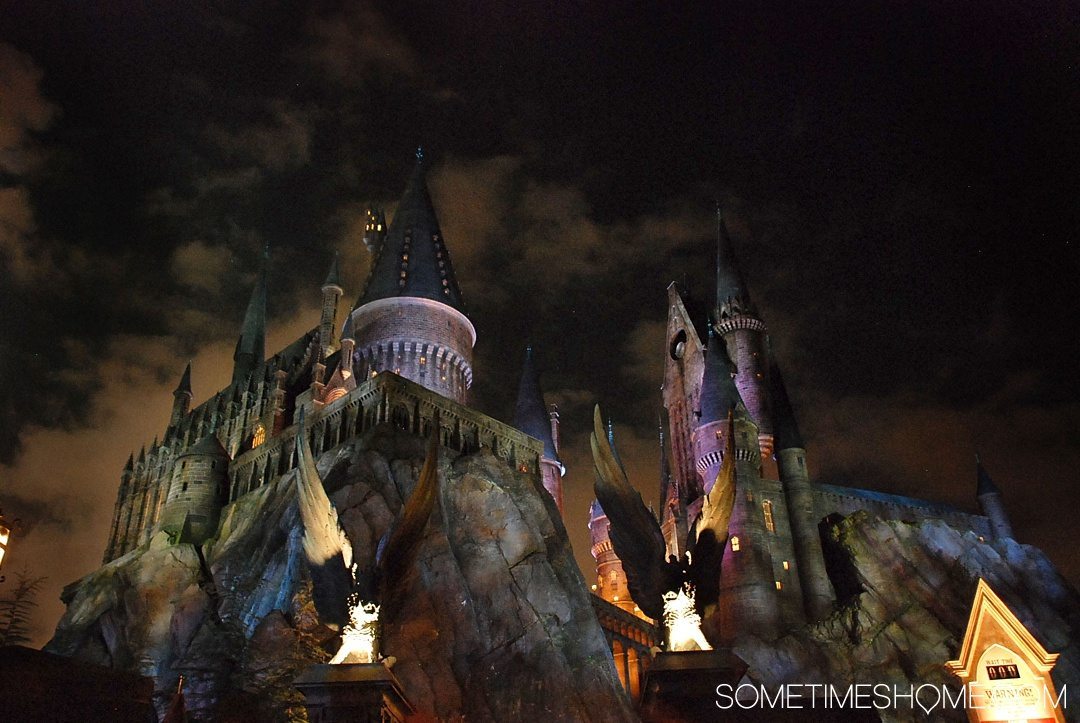 Learning from other people's mistakes is a blessing! Also check out this helpful post about 5 Huge Mistakes to Avoid When Planning a Trip to Walt Disney World.
Love themed entertainment? Also check out:
Are you going to visit The Wizarding World of Harry Potter?