Mouth Watering Southern Classic Dishes You Need to Taste in the Carolinas
We love the regional cuisine of North and South Carolina and anyone visiting these east coast states should indulge in all of these southern classic dishes.
Nothing comforts our souls and tastebuds like a warm buttery biscuit hugging a crisp piece of chicken topped with pimento cheese on a Sunday morning. Experiencing brunch in downtown Raleigh tends to be a favorite when we're home and we think it's the perfect way to start any week right.
Monday through Saturday isn't so bad either in the Carolinas, because there are so many foods we think are divine and worth each and every calorie your body will endure for the sweet, sweet taste of delectable southern cooking.
Fried Green Tomatoes
We love tomatoes. And it's well known the way Americans kick things up a notch in cuisine is with a fryer. While a tomato is a beautiful thing…FRIED tomatoes are a thing of pageantry. We've often seen Fried Green Tomatoes as appetizers on many menus, either served with balsamic vinegar, cheese and jam or stacked as a layer on a delicious southern sandwich. No matter how it's served they're a crowd pleaser! We love the ones pictured below from Driftwood Southern Kitchen in Lafayette Village in North Raleigh.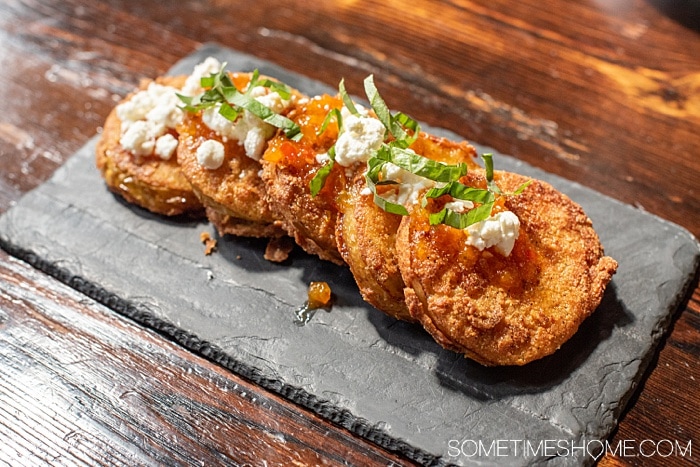 Southern Grits
If you've seen "My Cousin Vinny," the 1990's movie with actors Marissa Tomei and Joe Pesci, you know the famous scene where he asks the cook at the diner exactly what a "grit" is. (It's basically cooked corn grains – and they are very, very southern.)
If you get them at a restaurant you won't see the nutrition label affixed to your bowl (which is a plus) but I can assure you they're either loaded with butter, cream or both. But that's the not-so-secret ingredient that makes them divine! The grain of grits is typically course yet we've had a lot of versions that are a little finer. Imagine Cream of Wheat hot breakfast cereal but thicker and a bit heartier. Grits are good as a base for a breakfast dish or side for any meal, including lunch and dinner.
One of our favorite restaurants, Beasley's Chicken and Waffles, in downtown Raleigh has "Grit Fries." We love the creative twist they've put on one of the most southern classic dishes.
They serve them as fried bricks, stacked like a game of Jenga, with chow chow (see below) and an aioli dipping sauce. It's something Mikkel vividly remembers ordering on a visit to Raleigh before she moved there and was the first thing she ordered the day she moved to town.
We also love the grits that serve as the base for the Shrimp 'n Grits at Whiskey Kitchen, another favorite Raleigh restaurant. (Read below.)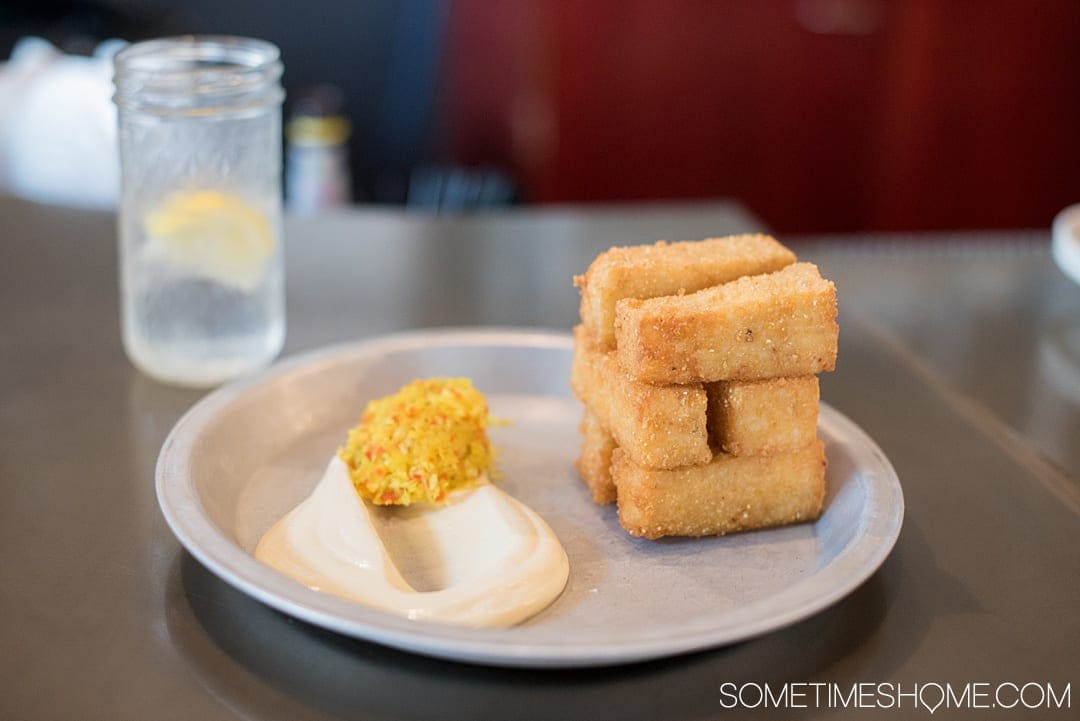 Muscadine Grapes
This native fruits are plump with thick skins and sweet juice. They've been growing in the Carolinas for years. There were wild muscadine grapes growing even 400 years ago, when the first settlers came to Roanoke Island.
Muscadine grapes are most in season during summer and you can cook with them, eat them raw or drink them in the form of grape juice or wine. They have loads of health benefits too. We were so impressed during a dedicated NC Muscadine Grape Association tasting we wrote a whole article on them.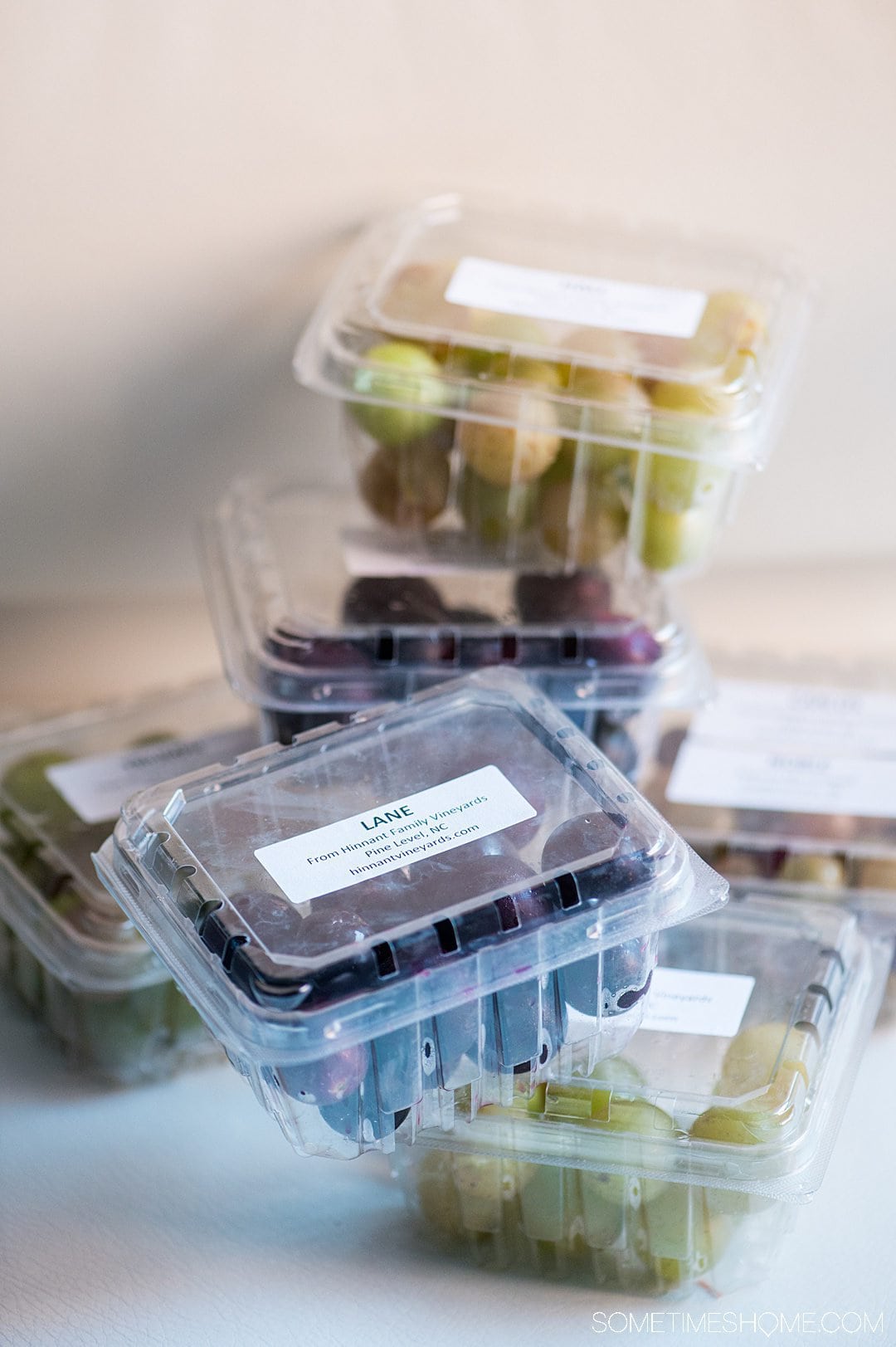 Okra
Okra is an interesting vegetable. Mikkel tried to cook it once at home and it required so much prep work she decided she would never do it again. We're all in favor of supporting local businesses instead who have it on their menu.
We've seen it in succotash dishes as part of a veggie medley, or served fried (you guessed it) as an appetizer with a side of buttermilk dressing to dip it in.
It's also been the pickled garnish on many Bloody Mary drinks Mikkel has had on the weekends. Hail Mary is a Bloody Mary mix we love and buy for our home; they have complimentary pickled okra we just love, which we pick up at Deco shop in downtown Raleigh.
Chow Chow
We don't see Chow Chow often however when we have it's been in the south. Simply put, Chow Chow is like a southern, vinegar based version of finely chopped cole slaw. If you like cole slaw there's a good chance you will like it and if not, there's a good chance you won't!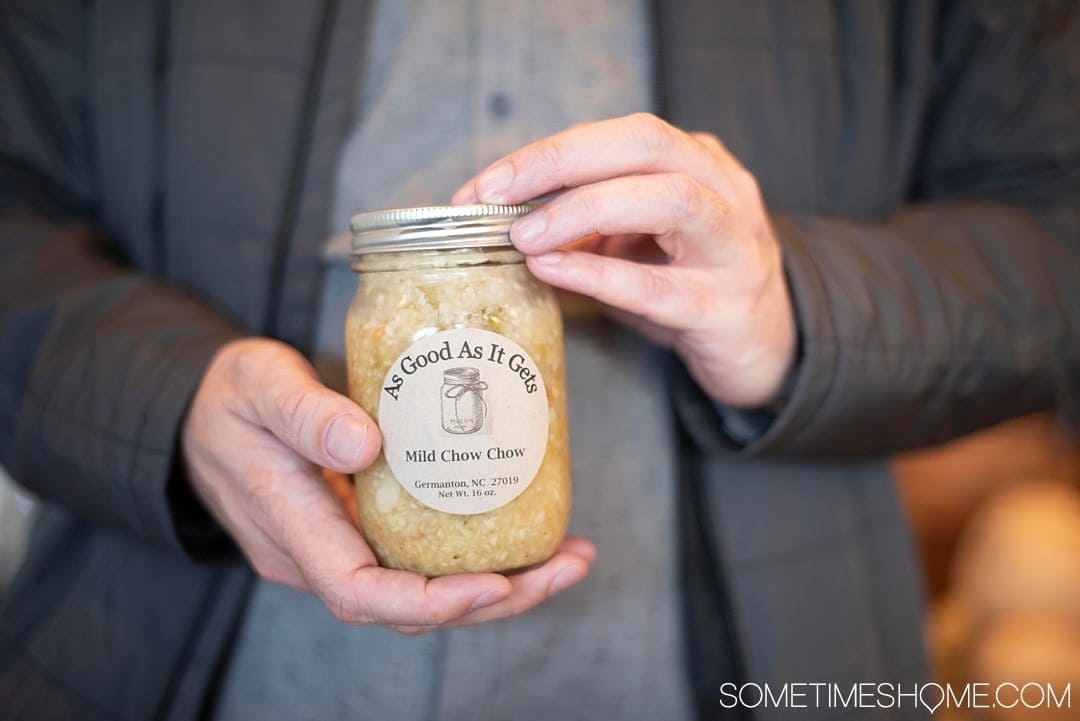 Shrimp 'n Grits
If you haven't had Shrimp 'n Grits in the Carolinas it's like you haven't even visited! This is the perfect dish to order anywhere you see it on a menu…and often…because it's something every restaurant loves to put their own spin on.
Mikkel, in particular, loves it and some of her favorite versions have had smokey tomatoes and mushrooms in it, or a float of savory gravy on top. It's very filling so either split a portion with a buddy, take the rest home and add an egg for breakfast, or heck…go wild and finish it yourself in one sitting.
Whiskey Kitchen's Shrimp 'n Grits quickly became a favorite go-to menu item after we tried it. Don't ask us how, but they have a way of making every dish extra scrumptious! It was temporarily taken off their menu as they develop some new sure-to-be-favorites but we have the inside scoop from TableTop Media Group. The chefs at Whiskey Kitchen said it'll soon be back with the following description: Bourbon and Crushed Red Pepper Glazed Shrimp and Pork Belly over Cherokee Corn Grits with Cherry Tomato Sauce.
Give us at least two orders, please!

Pimento Cheese
This cheese is not classy like Roquefort or a crowd pleaser like Brie. But it's 100% southern and we're damn proud of it!
How to describe it…how to describe it?
It's like if grated cheddar cheese, mayonnaise and pimentos had a love child. Pimento Cheese would be it. Don't knock it until you try it because it's really good.
It can also be fairly heavy. We've had a "Pimento Grilled Cheese" sandwich more than once and it's so incredibly filling we're always glad to split it. It's even better when it's a layer of toppings for a burger or served as an appetizer with a side of crackers.
We LOVE the smokey version at Tazza in Raleigh's Cameron Village. Mouth-watering.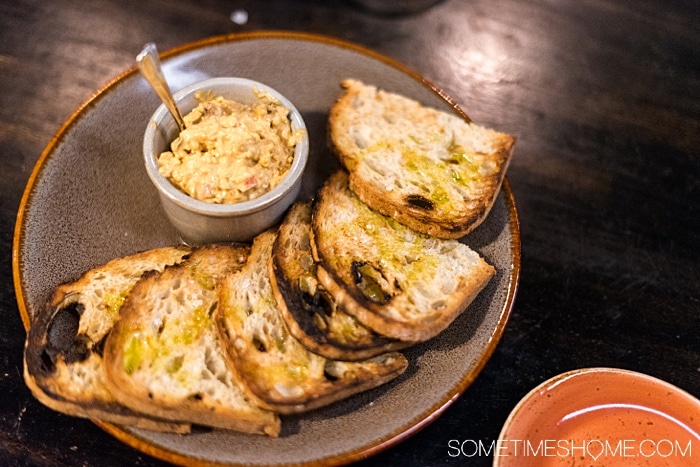 Deviled Eggs
Y'alllll….Mikkel LOVES Deviled Eggs. She's alone though because Dan is not a fan of the texture of hard boiled eggs. This isn't one of his finer qualities (just kidding!) but Mikkel loves him anyway and says "More for me!"
As northerners, we were raised on Hellmann's mayonnaise. But a southerner once told us the secret to great deviled eggs Duke's mayonnaise, which was founded in Greenville, South Carolina. We believed her, which is why there's a small jar of it in our refrigerator specifically for deviled egg creation.
We rarely make them at home though because ordering them at a restaurant is far more fun; we get the taste for more creative varieties that way. (And everyone does them a little differently, just like Shrimp 'n Grits.)
We loved the ones we had at 21C Museum Hotel's Counting House restaurant in Durham, North Carolina. (Which, may we add, is also a great place to stay overnight.)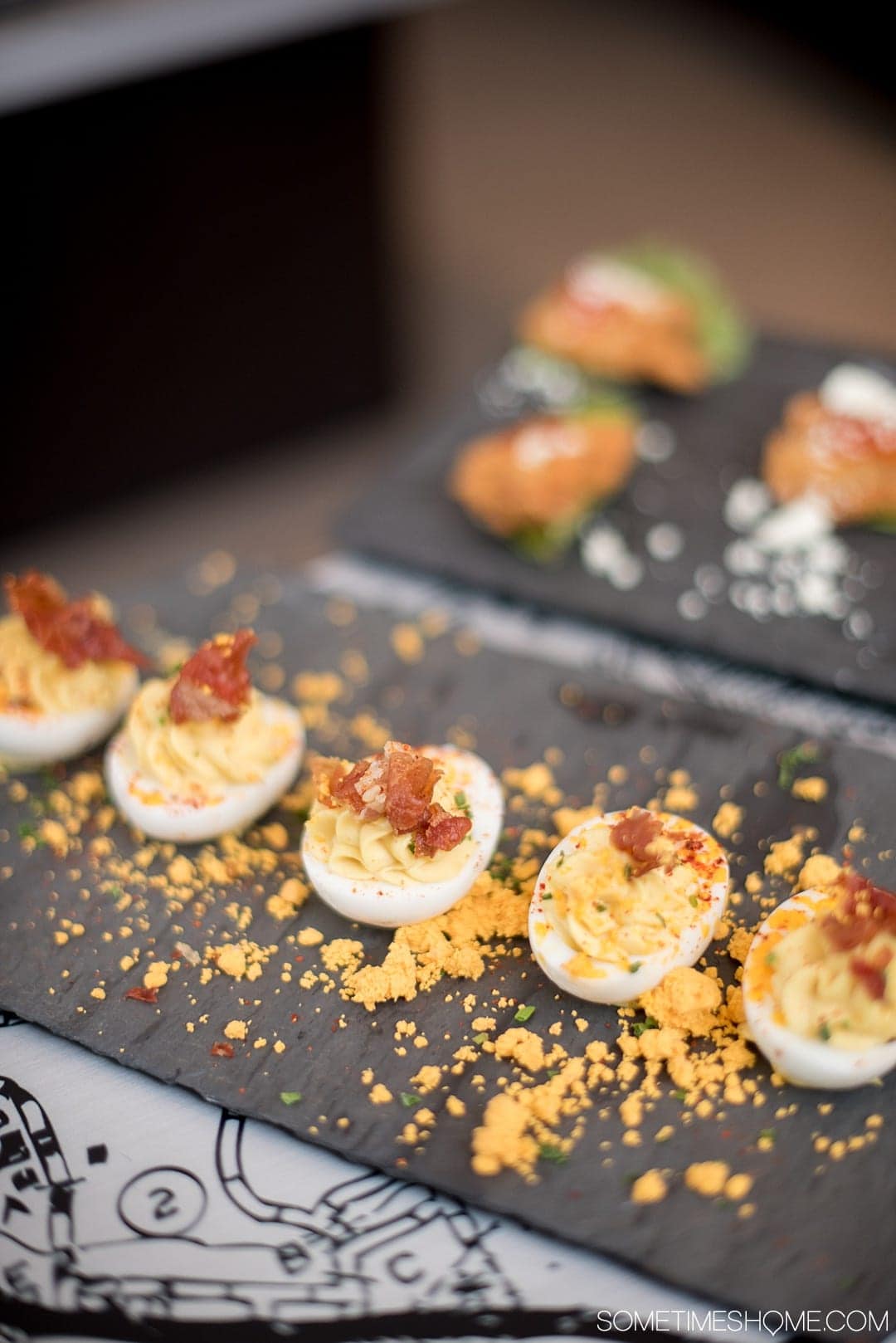 Oyster Roast
Oysters are in season any month ending in "er". One of our best memories with our close friends in Charleston, South Carolina, was participating in a good 'ole fashion autumn oyster roast in their yard.
Bushels of oysters are purchased and roasted outside, in a bath of boiling water. Then a table is set up (preferably low budget and wooden, frills-free and outside) and the oyster bushel is spread out across the table like the mollusk confetti it was boiled to be. Then, wearing a glove to protect your hands from a shucking tool or broken shells, and holding the oyster with a cloth rag to keep it from slipping, you shuck one after another and go to town, oyster after oyster, throwing it down the hatch.
Chicken and Waffles
This is another southern staple rounding out our list of southern classic dishes! Dame Chicken and Waffles, in Durham, or Beasley's Chicken + Honey are just two of many places known for this dish in the Carolinas.
Fried chicken tops a Belgium waffle and is usually served with a side of honey and perhaps maple syrup. It's the perfect way to blend savory and sweet if your palate is craving both.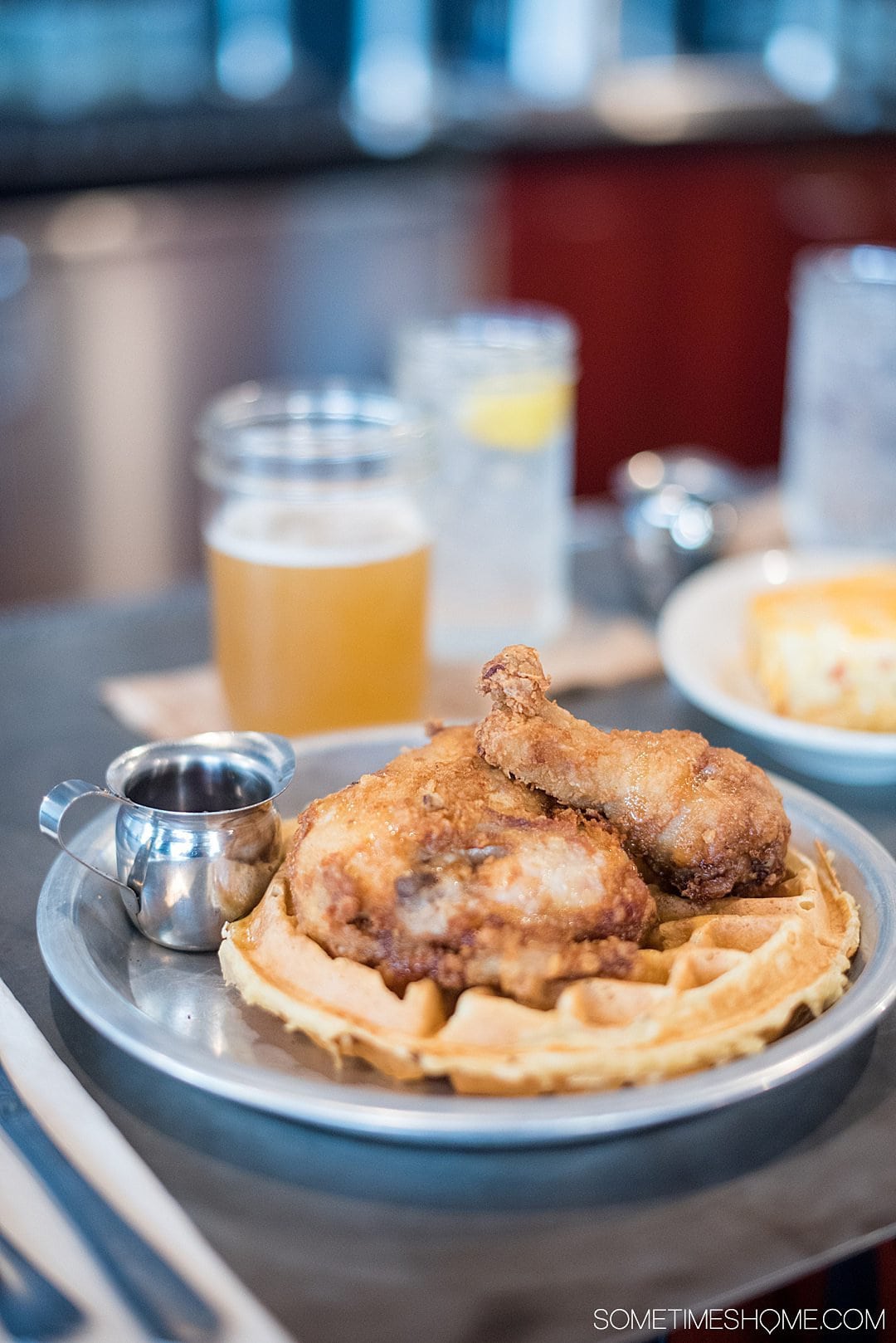 Moscow Mules
This drink is to the Carolinas what Mint Julips are to Kentucky. I've never seen so many menus do Moscow Mules so many ways as I have in the Carolinas. They're served with crushed ice in copper mugs.
A classic Moscow Mule is almost always topped with a sprig of mint or candied ginger. They contain the following ingredients: gin, simple syrup, lime, and ginger beer. The degree of "bite" in the mule depends on the type of ginger beer a bar is using to create the cocktail. Our favorite Moscow Mule can be found at Beasley's Honey + Chicken, where they make their own cocktail syrups.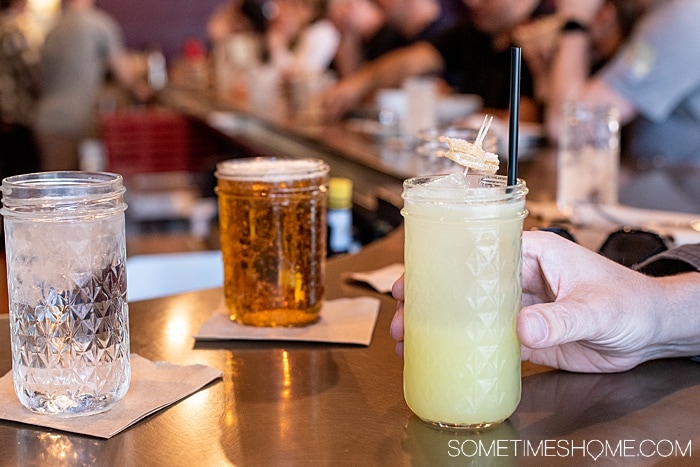 Biscuits with Sausage and Gravy
This is a little self explanatory! We can't say it's an all-time favorite southern dish because we don't really enjoy biscuits when they're too dry and we've encountered too many dry biscuits in our day to commit. But when it's done right it's really good. The gravy is always creamy, with little bits of sausage crumbles in it. Talk about some good, down home southern cooking and comfort food. The version we had in Staunton, Virginia near Shenandoah National Park, at Table 44, was delicious.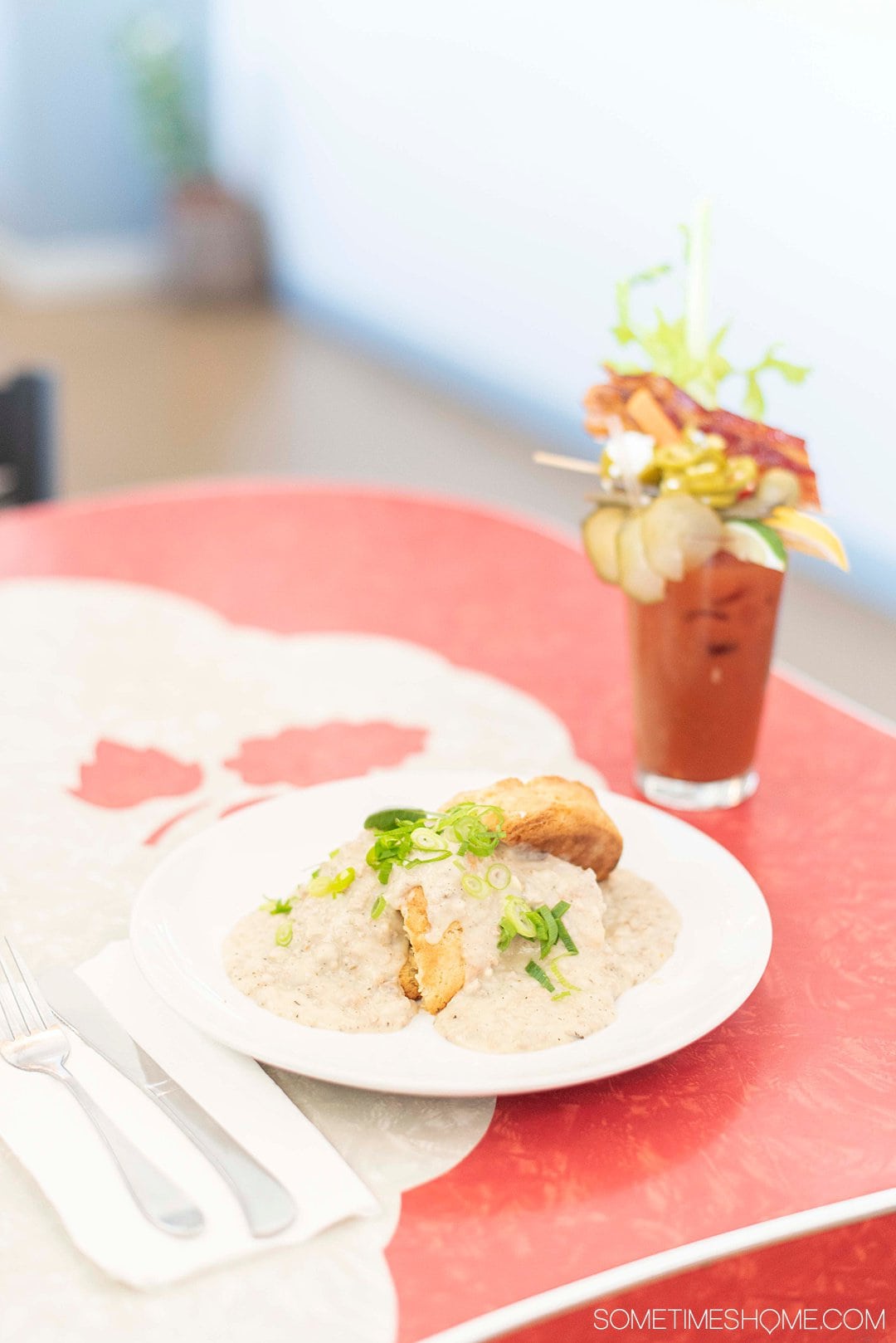 BBQ
Pulled pork and ribs are the most usual ways to get BBQ in the Carolinas. Sure, BBQ is popular all across the United States, and perhaps even worldwide, but if you are a BBQ person it's definitely something you need to try in the Carolinas.
There's a "great debate" in North Carolina over vinegar or tomato based BBQ. Our favorite spots to try it are The Pit in Raleigh and Durham, North Carolina (they have two locations), Home Team BBQ in Charleston, South Carolina and several hot spots in Goldsboro, North Carolina.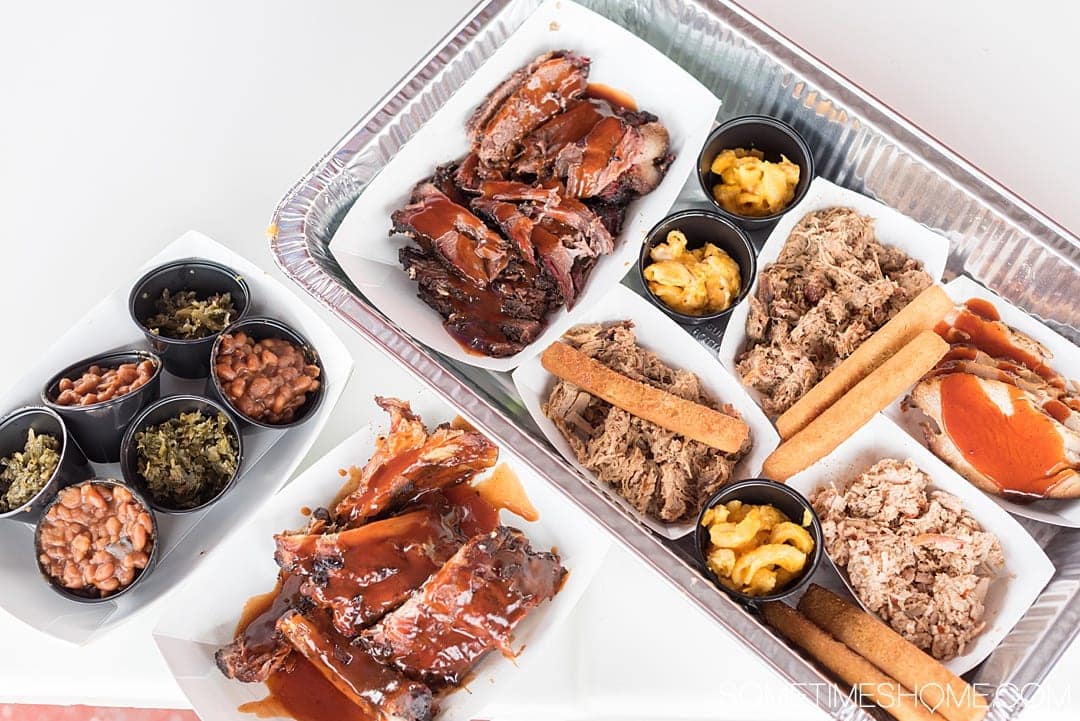 Hush Puppies
These delightful little bites of goodness are created when simple ingredients are mixed, including cornmeal, flour, eggs, milk, and salt. What better way to finish the rolled formations off than frying to perfection? We love them with some vinegar or cocktail sauce (of all things) and particularly enjoyed eating them at Grady's in Goldsboro with some finger-lickin' good BBQ.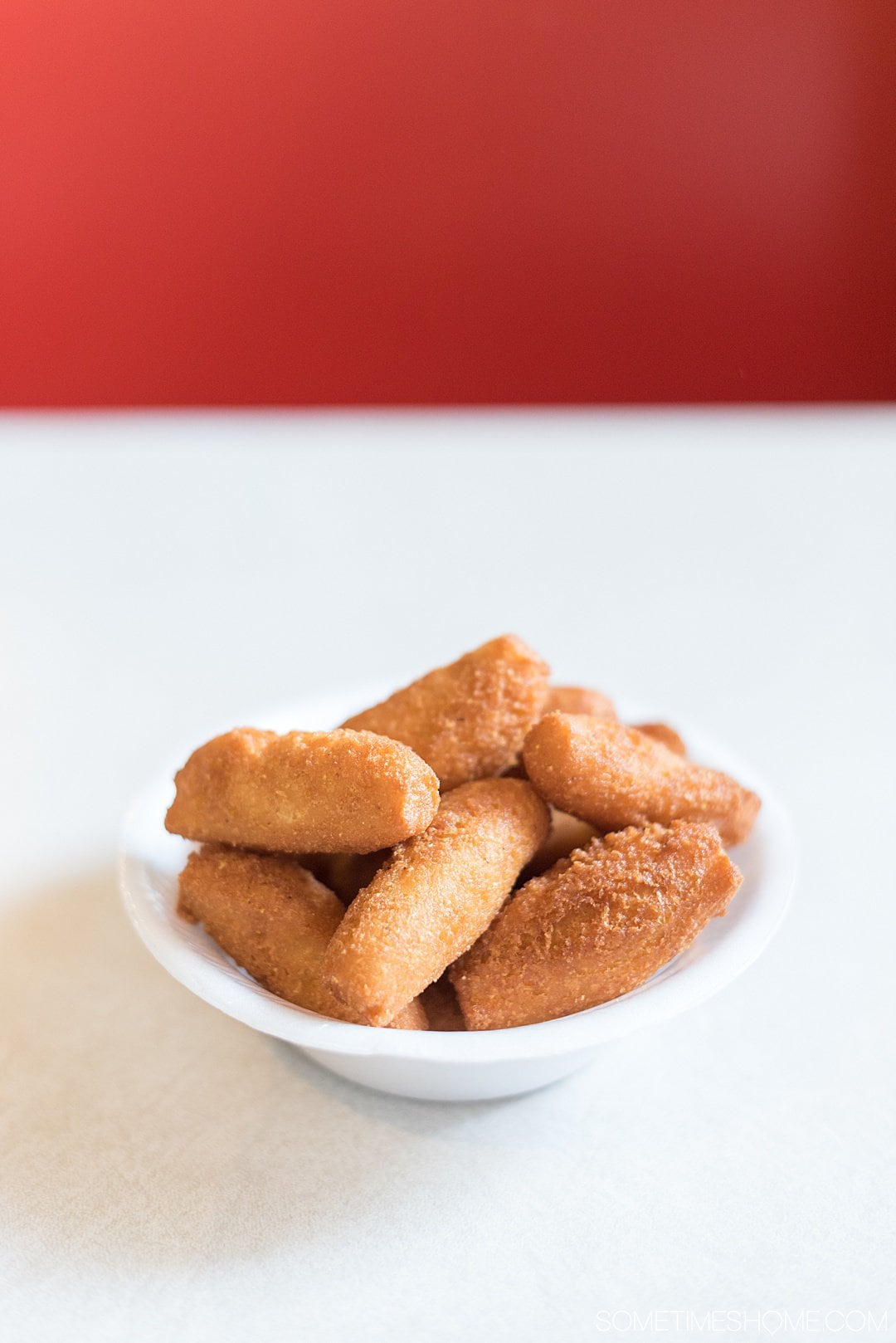 Sweet Tea
We had never heard of sweet tea, as native New Yorkers, before moving to the south. Unsweet tea? Sure. A favorite of Mikkel's. But sweet tea? No.
Lo and behold it's a quick discovery as soon as you move to the Carolinas, as it's everywhere. Mikkel jokes it's where diabetes came from it's SO loaded with sugar but it's a favorite of many southerners, especially those born and raised in the Carolinas. So we'd be remiss not to include it on a "Southern Food Classics You Need to Try in the Carolinas" list!
Cheerwine
Speaking of sugary drinks…Cheerwine is a sugary soda many area natives rave about. (If you're a native northerner, like us, it may also be a bit too sweet for your liking.)
It's simply a carbonated cherry drink you'll find on many restaurant menus, at State Fairs, and used to flavor desserts. We hear Krispy Kreme, which originated in Winston Salem, North Carolina, even has Cheerwine flavored donuts once a year.
When people have weddings in Raleigh and create welcome bags, for example, Cheerwine is popular to include for a taste of something local like it was at this wedding Mikkel photographed.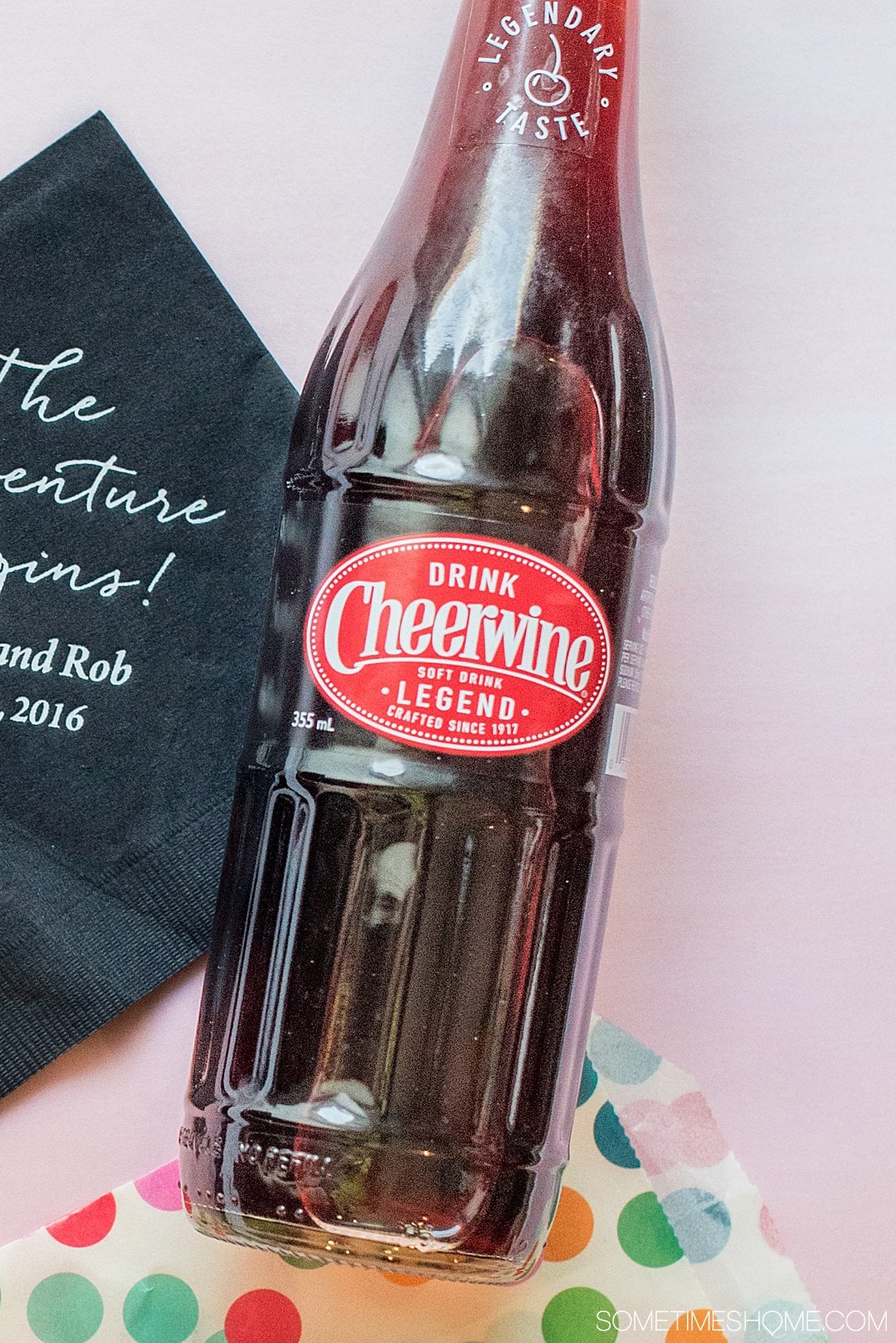 Boiled Peanuts
We're a house divided on boiled peanuts. Mikkel loves them and Dan doesn't. He won't even have one when our friend from Charleston brings them to us! The first time Mikkel had them was, in fact, in Charleston. There's always regular good 'ole original flavor to be devoured but any time we see them there's usually another flavor option, like Cajun, that has a bit of a spice kick to it.
They are exactly what they sound like: boiled peanuts, cooked for a long time to get the softness of the nuts just right. They're served in an unfanciful way, either in plastic bags or styrofoam cups (not that we condone single use plastic or styrofoam use). And you simply peel and eat them as you would dry peanuts. (They taste better than plain old dry peanuts in Mikkel's opinion.)
Word to the wise if you dig into any of the spicy flavors: don't touch your face after! Mikkel has made that mistake and burned her eyes a bit from the jalapeños juice residue on her fingertips.
We think they're the best from roadside stands but we've had them from rest stops along I-95 drive from North Carolina to South Carolina, and even further south into Georgia and Florida, too.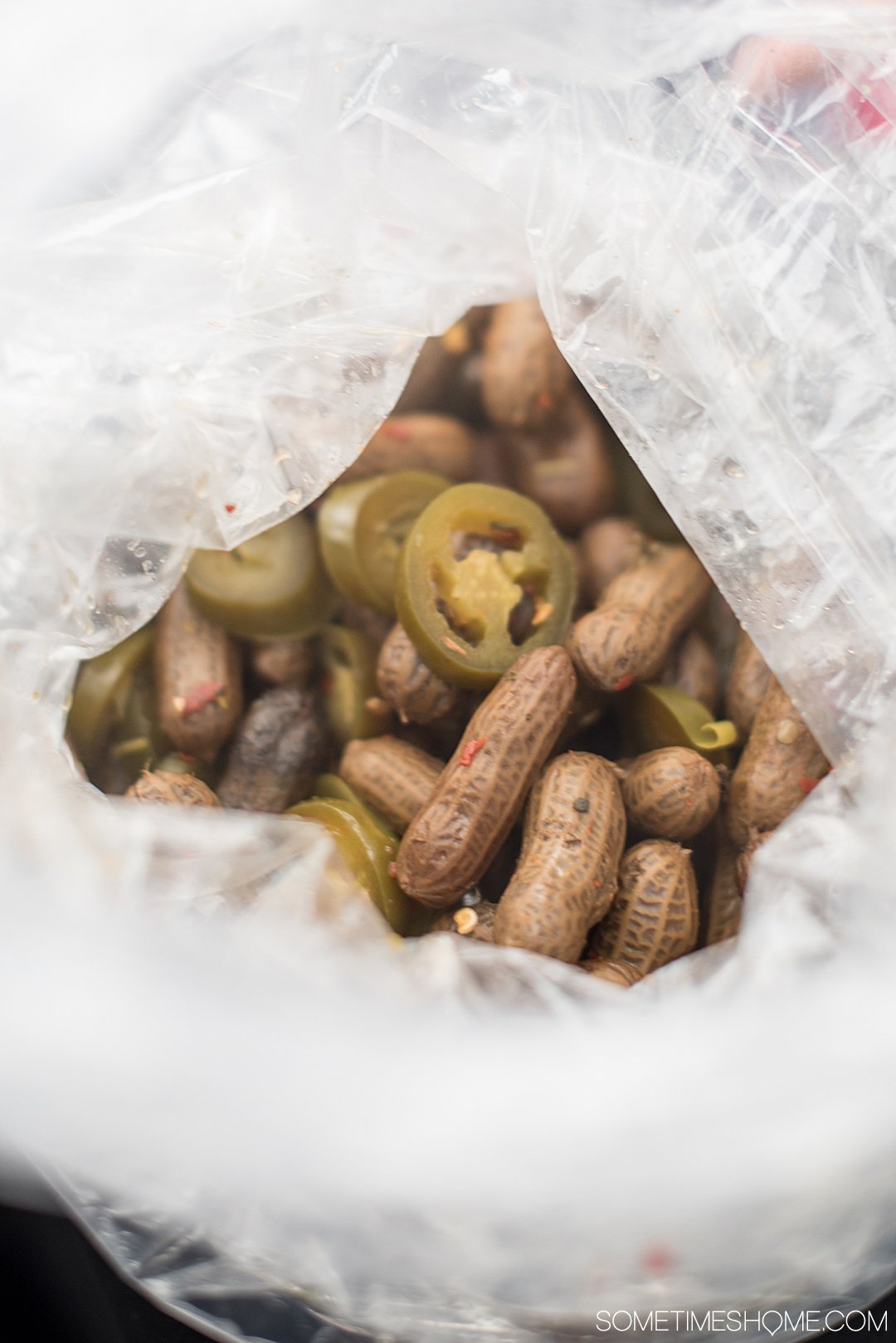 Tomato Pie
I'd never even heard of tomato pie until I moved to the south. Imagine bread pudding, invading a vat of roasted tomatoes, with a lot of sugar in it. That's tomato pie.
So if you're craving something both savory and sweet and you're a tomato lover this dish has your name written all over it.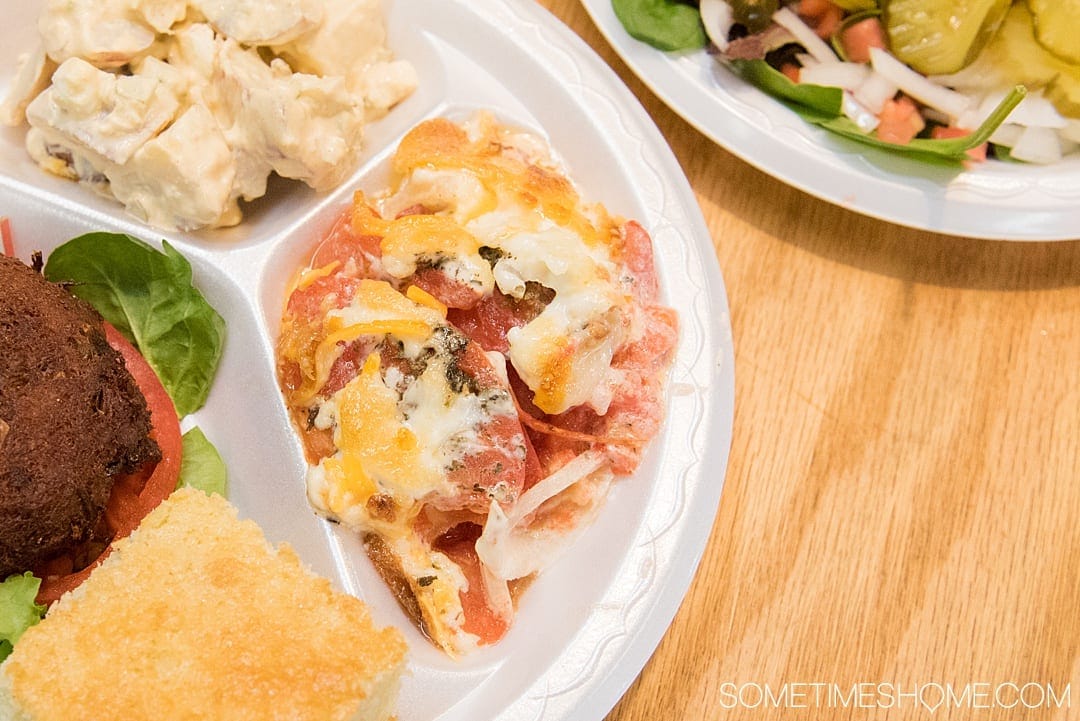 Chess Pie
Craving another pie of a different sensation? Chess Pie is a sweet dessert pie and ultimate southern classic. It's made from simples, expected ingredients including cocoa powder, sugar, eggs, and evaporated milk. But when they're mixed together in the right proportions and by the right baker or pastry chef the result is magic! Our favorite version is at Oak Steakhouse in downtown Raleigh, North Carolina.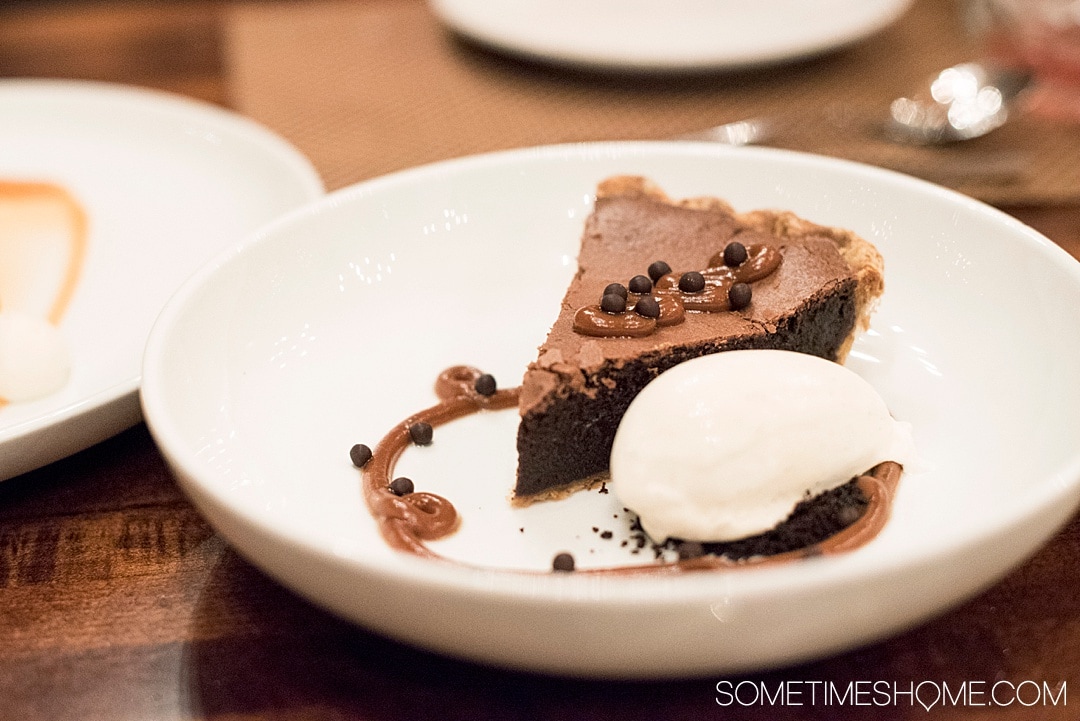 Who else is hungry?
Please note: We thank Tabletop Media Group, Visit Goldsboro and Indigo Restaurant Group for generously hosting us at some of the restaurants above. We also may make a small commission from affiliate links in this post, which allow us to help bring you more wonderful content by providing a small reward for our thorough, thoughtful content. All the opinions in the post are ours and we bring you genuine content with real facts, photos and thoughts. Always.
For more ways to quench any foodie thirst in the Carolinas check out:
What's your favorite classic southern food?