We don't always feel the need to go into one of the four theme parks when we're in Orlando. I love Disney, but there are so many other things to do at Disney World besides the parks that satisfy my Disney World fix!
"No, we stayed away from the parks!" is a common answer I find myself reciting to the obvious question many times when I return from a visit to Orlando. There's so much to do in this popular city in Florida. Many places on Walt Disney World property, especially, are incredibly entertaining and don't require admission tickets to the parks.
We made a marked point not to go into the parks on a recent trip during a busy time of year. (It was during Christmas and New Year's Eve when Mikkel was in town to photograph a wedding. But February break, Spring Break, July 4th, and Thanksgiving are all very popular times of the year to go.) The parks would surely be too busy for our liking in that situation anyway.
Yet in a quest to get "our Disney fill" we successfully sought other ways to get a dose of Disney several times throughout our visit. While some of these activities cost money it's not nearly the entrance fee or stress of visiting the parks during peak times. Some of these things are also great to do if you only have a half-day, for instance when you arrive in Orlando or leave the area on your last day.
Don't forget to check out our Walt Disney World Year-Round Packing List for prep before you head to Orlando.
Disclosure: There are affiliate links in this post, which means we may earn a small commission if you click the link and proceed with a purchase, at no cost to you. We truly only recommend hotels, products, and services we personally use. As Amazon Associates, we earn from qualifying purchases.
Ride the Skyliner
Disney's new Skyliner is a blast. It gives you a bird's eye view of areas of the park you're normally only eye-level with. It has a few different stops, including limited resorts and some parks. It's 100% free! And also one of the most romantic things to do at Disney World, if you ask us.
Here is where it stops:
Epcot (by the World Showcase entrance of the park near France) – the Boardwalk is within very easy walking distance
Hollywood Studios
Riviera Resort
Caribbean Beach Resort
Pop Century
Art of Animation
Don't forget you can dine near the Skyliner too whether you're hotel-hopping for fun or want to diversify your cuisine options. It's a great way to expand your travels through the Walt Disney World property, car-free. And worry-free too!
Any restaurants at the following locations have sit-down restaurants off Disney's Skyliner but also outside the theme parks:
Riviera Resort (including Topolino's Terrace)
Caribbean Beach Resort (Sebastian's Bistro)
Beach Club (Cape May Cafe, Beaches and Cream Soda Shop)
Yacht Club (Ale & Compass Restaurant, Yachtsman Steakhouse)
Disney's Boardwalk (Abracadabra bar, Ample Hills Creamery, Big River Grill & Brewing Works, Trattoria al Forno, and more)
Swan & Dolphin Hotels (Il Mulino, Kimonos, Shula's Steakhouse, Todd English's bluezoo)
We recommend bringing a handheld rechargeable fan for the Skyliner. It has vents on the top of each car for natural wind to come through but it can get pretty stuffy in there especially if you don't like enclosed spaces. (And if you don't, it may not be the ride or mode of transportation for you. )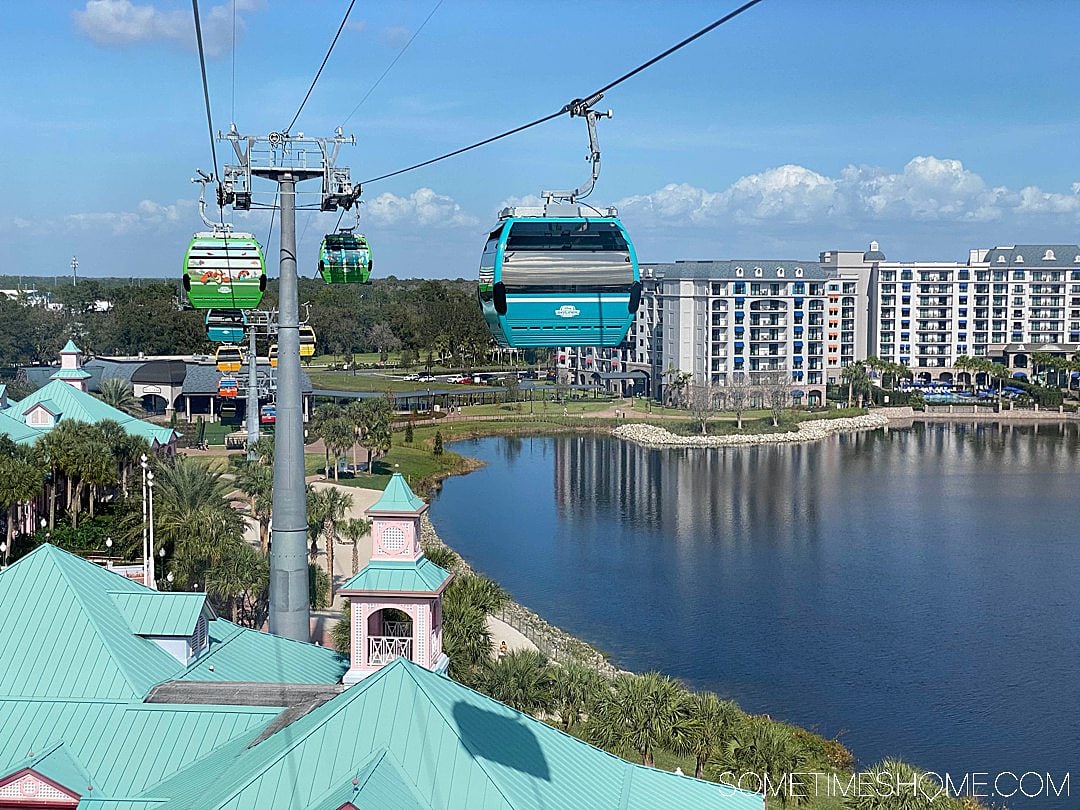 Visit Disney's Boardwalk
Rent A Surrey Bike
We got such a kick out of seeing families cycle past us on these bicycles built for two, four, or six people in two rows.
Here's a list of places you can rent them: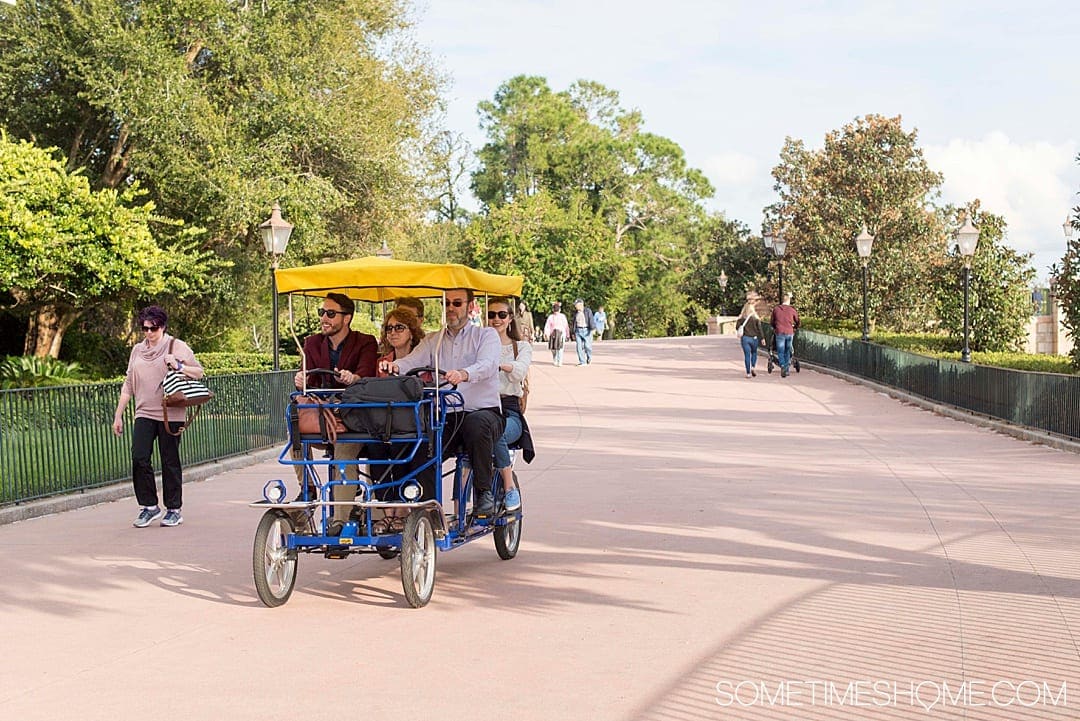 Stop to Watch a Performer
There are various performers who walk the boardwalk and stop to perform if you're there at the right time. The most popular time to catch this is at night or late afternoon.
Play Boardwalk Games
A few Boardwalk games open in the evening. (We've seen them open in the afternoon sometimes too.) They are exactly what you might imagine, or have seen, at a state fair or the boardwalk at Atlantic City Boardwalk. Games include shooting basketball hoops for prizes and water gun races.
Sing Along at Jellyrolls
We had a BLAST singing along to popular tunes as we sipped beer, ate popcorn and spent four hours at Jellyrolls one Saturday night.
This dueling piano bar is 21 and over, and not to be missed if you're of age (and looking for a romantic evening idea at Disney World). We even stepped outside to see the Epcot fireworks that night and went right on back in with our hand-stamp when they were over. Note there isn't food here aside from popcorn so don't go hungry. You can always grab a bite at a place like Big River Grill, just a few shops down from Jellyrolls, before the show.
Jellyrolls is currently open Thursday, Friday, Saturday and Sunday starting at 7:00pm. They charge a $15-$20 admission fee, which they accept either credit or cash for. It's worth EVERY PENNY!
They don't have a break or intermission because two sets of dueling piano performers simply rotate throughout the evening, until they close just before 2:00am.
Note they don't take reservations but seats fill up fast. That being said as people come and go as they please it's entirely possible to get a table any time throughout the evening. Timing is everything!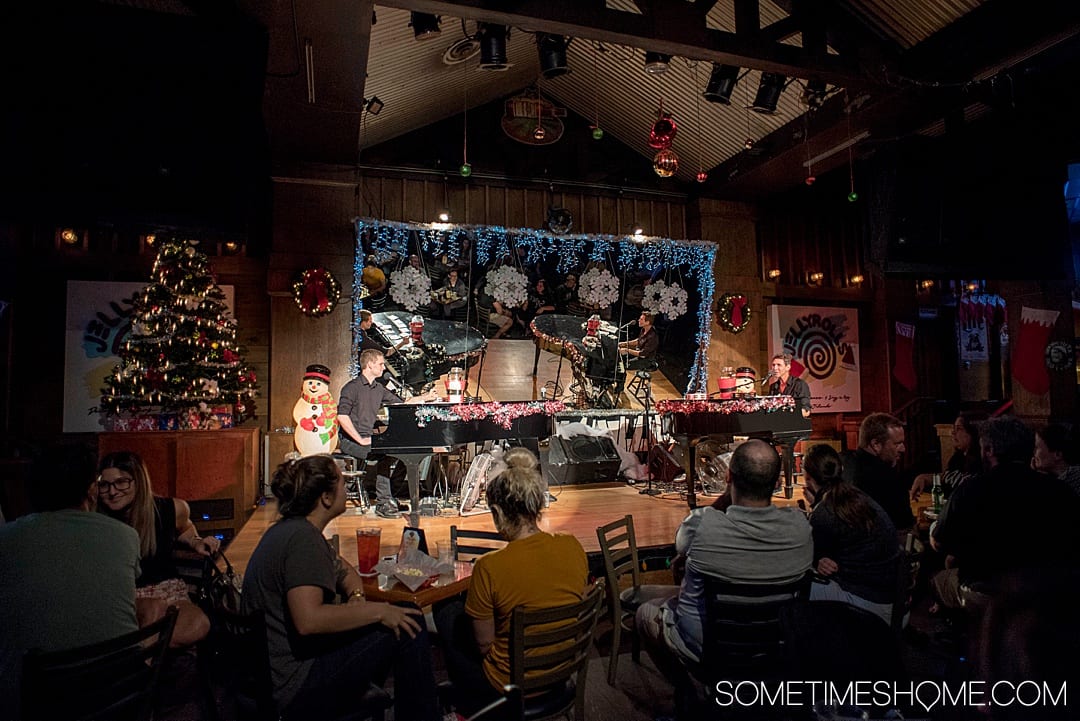 Bust a Move at Atlantic Dance Hall
If you love to dance and go out at night after the sun has set on a gorgeous Orlando day, there's a dance hall just next to Jellyrolls. It's 21 and over and there is usually no cover charge to enjoy it.
It's currently open on Thursdays, Fridays, Saturdays, and Sundays. But be sure to check their calendar for operating hours when you want to go to be sure it's open.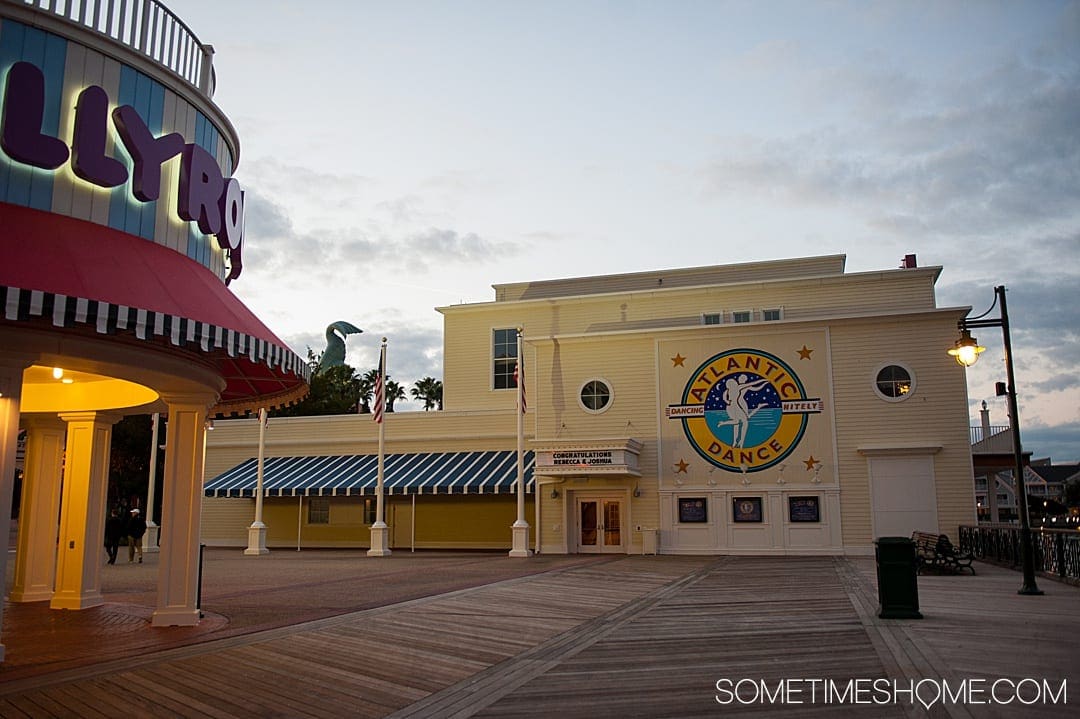 Rent Swan Paddle Boats at the Swan and Dolphin, and Swan Reserve
If motorized boats aren't your thing try an eco-friendly swan paddle boat! Be sure to wear sunscreen as there's no protection or breezy winds to relieve you from the Florida sun as you leisurely paddle on their little manmade lake.
We had a blast when we rented "Odette," a paddleboat swan whose name was across the back of her neck. We went out on the lake for 20-minutes or so before heading back to our amazing Swan Reserve room for a little rest and relaxation before dinner.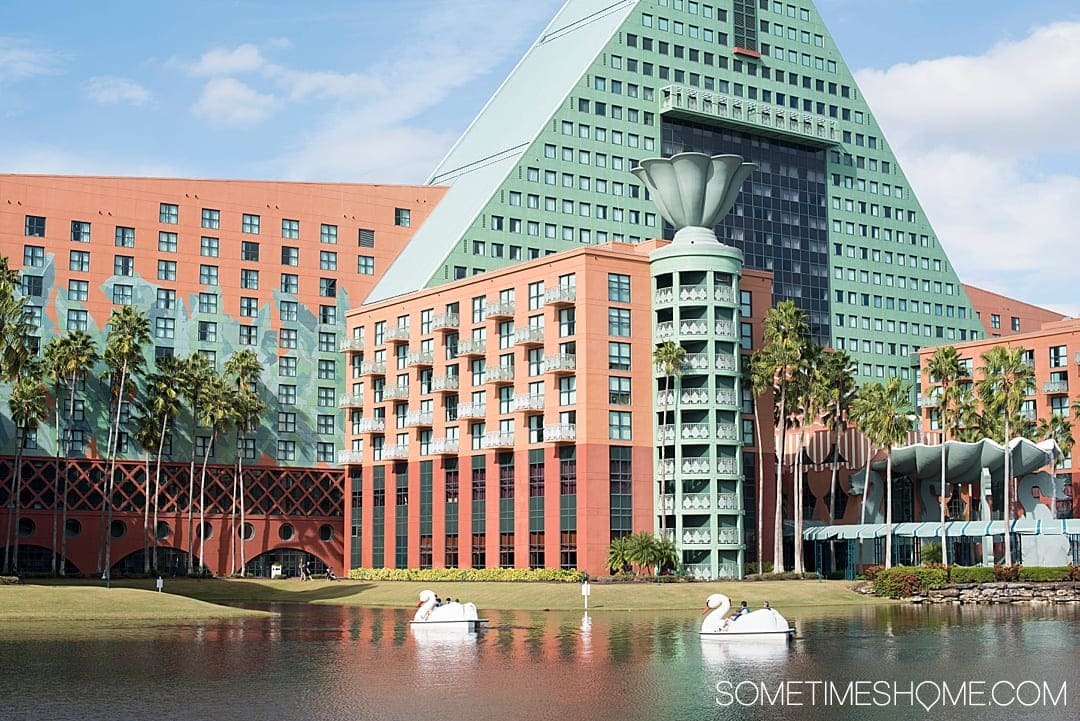 Book a stay at the Swan or Dolphin resort, or the new Swan Reserve hotel
Go Boating
Rent a Sea Racer "Mouse Boat"
There are several places on property where you can rent motorized boats. It's likely if there's a marina at the resort they have boat rentals. Our favorite boat is the little two-seater Sea Racers. We lovingly call them "mouse boats".
The rentals are under $35 per half hour. We saw kids zipping under the Boardwalk driving them, having a blast. (You have to be at least 12 years of age to drive one and have a parent or legal guardian sign for people under 18.)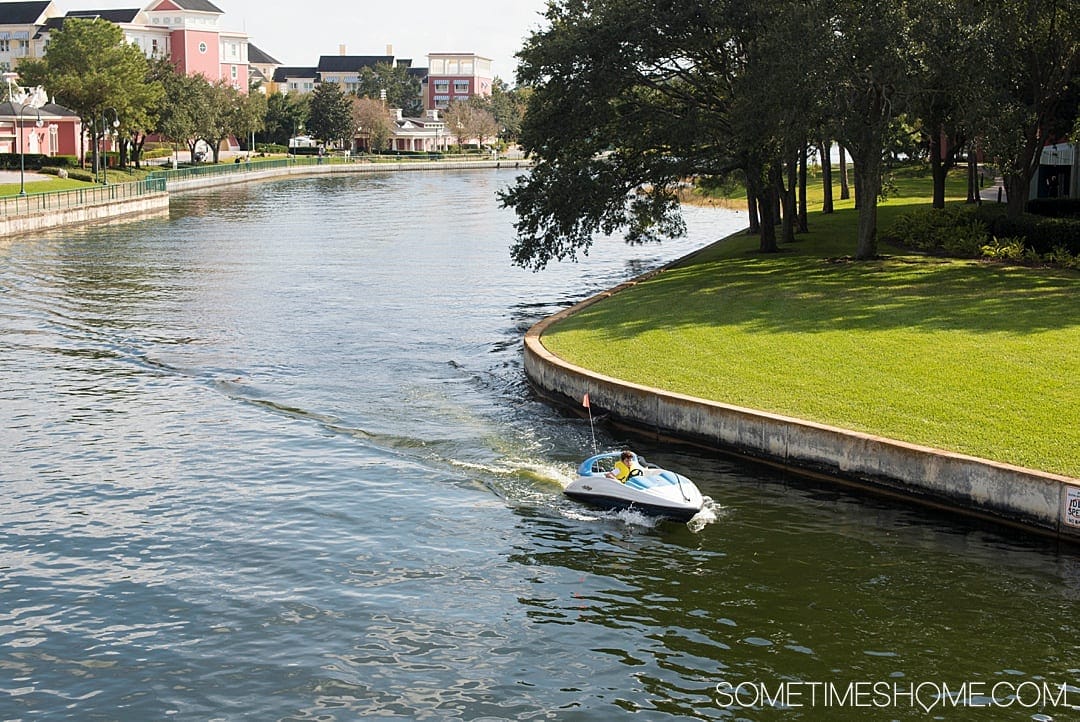 Take a Specialty Cruise
If you want to spring for something truly extra special consider a specialty cruise. You can hire a yacht for private dining or sign up for a fireworks cruise. It'll truly add extra pixy dust to your stay whether you're a party of two springing for a big ticket item or a group of 18 people looking to share the experience and cost.
Kayaking
This man-powered boat is a favorite activity wherever we travel. Luckily Fort Wilderness has kayaks available to rent for less than $15 per hour. They also have canoes!
Buy your ears online ahead of time and wear them everyday of your trip!
Swing Clubs
Play Miniature Golf
There are two locations to play mini-golf at Walt Disney World. Pricing is $15 per adult and around $12 per child.
Fantasia Gardens and Fairways, has two courses. The more playful, whimsical one is called Fantasia Gardens. The other side of the property has a course named Fantasia Fairways. Its Par 3 and Par 5 course are more difficult than Fantasia Gardens . (I know it sounds funny to say a mini golf course is difficult but the Fairways really is challenging and not especially for children unless they're avid golfers or want a more "realistic" course without playing an actual 9 hole or 18 hole golf course.)
Winter Summerland, which is themed to Florida, of course. It has a holiday twist no matter the time of year. They have two courses: 1) Sandy Florida and 2) Snowy Florida (which almost never happens in Lake Buena Vista, where Disney World is, but imagination is a beautiful thing, especially when Imagineers create an attraction at WDW!)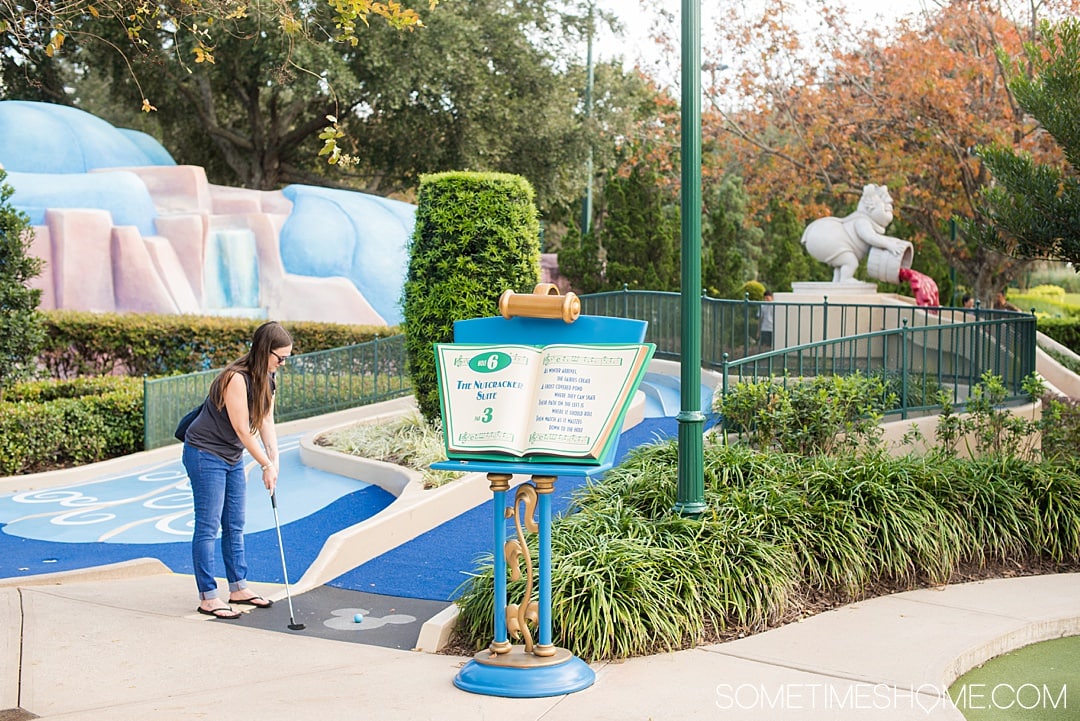 Play a Round of Traditional Golf
Walt Disney World is renowned for its great golf courses. They have four courses you can choose from including:
Play Foot Golf
There's also foot golf at Walt Disney World. This requires using your own feet as "clubs". Instead of tiny golf balls, a soccer ball serves as the target to get in the holes. This course has nine holes total.
If you're going to the parks, check out these discounted WDW Tickets
Hotel Happiness
Indulge at a Hotel Restaurant
The restaurants at the Disney Hotels and Resorts are delicious and often themed (yet not over the top). Make a reservation and enjoy being on property at any number of hotel restaurants. Some of our favorites are:
Boma or Jiko at the Animal Kingdom Lodge
California Grill at the top of the Contemporary Hotel – if you make the reservation at the right time you can see the Magic Kingdom Firework from the hotel restaurant!
Artist Point at The Wilderness Lodge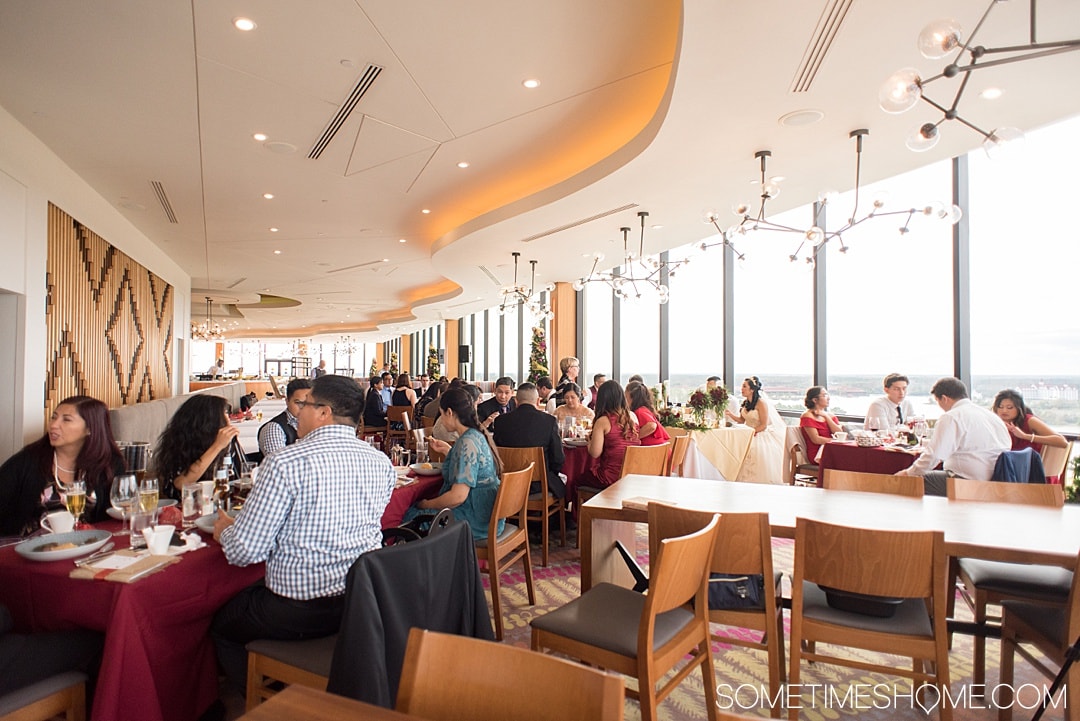 There are also specialty experiences involving culinary delights at Walt Disney World that don't require theme park tickets. Here are two of our favorites (we recommend making a reservation ahead of time for both – note they may be temporarily unavailable during COVID):
*Dine with an Imagineer at Citrico's at the Grand Floridian
*Highway in the Sky Dine Around at three resorts (approx. $170)
*Currently unavailable due to COVID.
Understandably, you cannot use a Disney Dining plan for either of the above.
If you are curious about pricing for special experiences or how-to book, or even staying at a resort, here's our number one secret tool we use to plan a Disney vacation, stress-free: our Disney travel agent, who can make even more magic happen for you. It's 100% free for you to use her services. No gimmicks. 100% free: Becca, Pixie and Pirate Destinations, becca (at) pixieandpiratedestinations.com
Have a Cocktail at a Hotel Bar
I absolutely love some of the hotel bars at Walt Disney World, particularly the one at Animal Kingdom Lodge, called Sanaa Lounge, and The Wilderness Lodge, called Territory Lounge. Bonus that you may see animals outside Animal Kingdom Lodge if you're lucky.
Take a Carriage Ride at Port Orleans or Fort Wilderness
There's something extra special at Port Orleans Resort and Fort Wilderness. You can pay to have a 25-minute horse-drawn carriage ride through a "Louisiana-inspired" environment or wilderness campground. How romantic would that be?
Dip in the Hotel Pool
This is one you need to actually be staying on property for, but if you are don't forget about the fabulous pool at your hotel! Every single hotel at Walt Disney World has a pool (or several) and a day or afternoon spent by it can be just the relaxing re-energizing activity you need to gear up for a full day of park hopping another time.
Disney's Contemporary Resort and Grand Floridian even have cabanas to rent.
Treat Yourself at a Spa
One of the best things to do at Disney World besides the parks is to treat yourself to a spa day! Or morning. Or afternoon.
Try the spa at: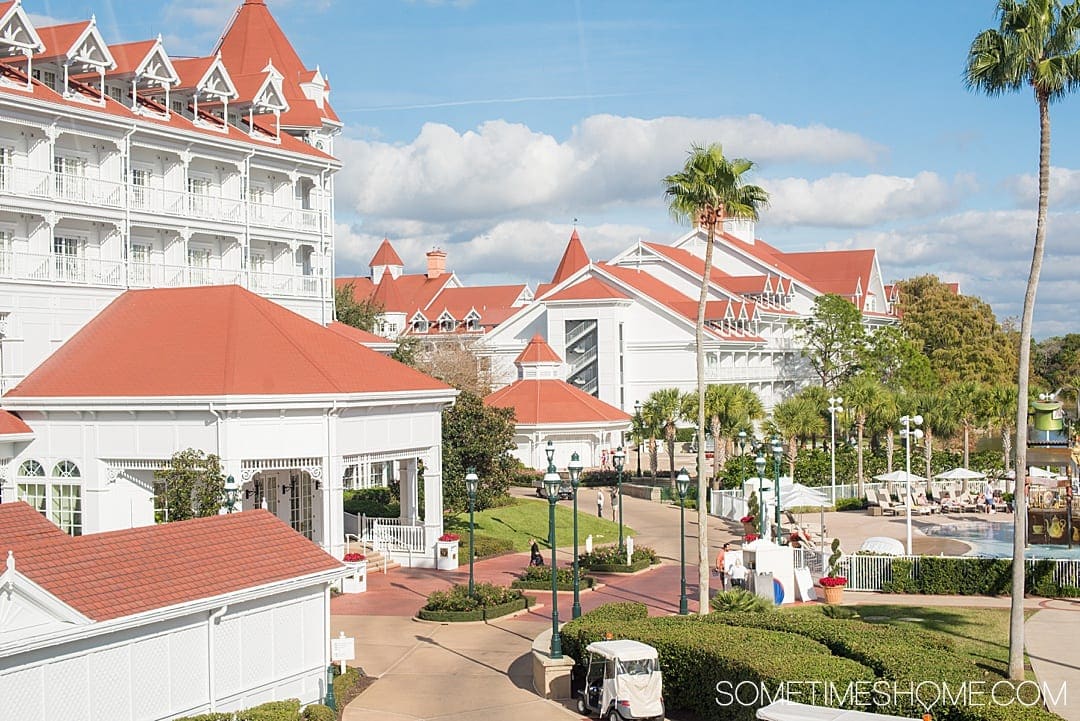 Additional Assorted Activities
Hotels at Walt Disney World have scheduled activities throughout the day whether volleyball or story time for kids. You have to be a guest of the hotel to partake but if you are be sure to ask the front desk or concierge about it.
Electrical Water Pageant at the Deluxe Magic Kingdom Hotels
Every evening between 9:00pm to 10:35pm, depending on where you view it, there's a little "electrical parade" that floats by the docks of Magic Kingdom resorts.
While it's not particularly impressive it's really nostalgic and sweet! It feels a bit like homemade holiday lights passing by, choreographed to old-time music but like I said: nostalgic and sweet. And if you're craving a light show outside the parks this will at least give you a taste of it and make you smile.
Note the Electrical Water Pageant can be canceled on any given evening if the weather is unfavorable.
Hang Out at Disney Springs
Strike Out at Splitsville Bowling
We had a blast bowling at Splitsville. We ate and drank there too, as Mikkel rolled gutter balls (she had some strikes and spares!) and Dan bowled exceptionally well. Either way, the atmosphere is amazing. They have two floors of bowling lanes, the staff is very friendly, and the food and drinks are delicious. (Yes, the food is really good!)
If you can't get on a lane if it's too busy when you arrive, consider eating there to watch people bowl until a lane becomes available. You can also go outside to listen to live music in the meantime…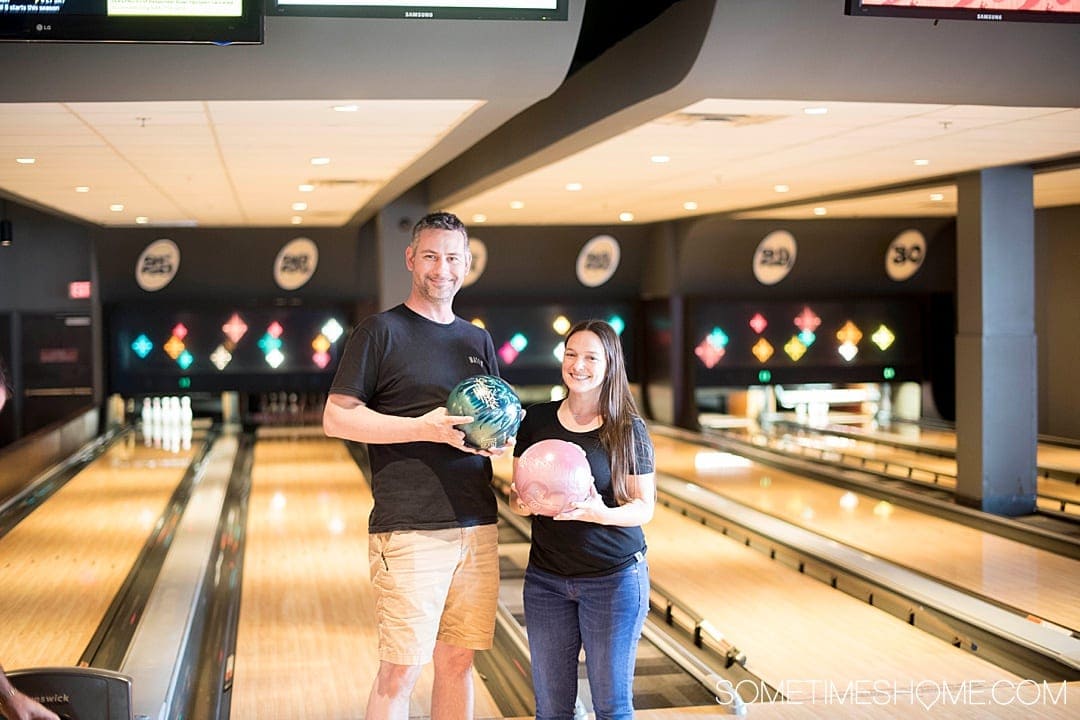 Listen to Live Music
There's live music outside at House of Blues (as well as paid concerts throughout the year) and Splitsville. Grab a drink and enjoy the talented performers at both locations at any given time, daily.
Bonus: House of Blues has their Disney Springs Happy Hour from opening to 5:00pm every day.
Fly High on a Balloon Ride
If the wind cooperates it's likely you'll see a tethered balloon floating in the sky when you're walking around Disney Springs. This pay-per-person, per ride attraction, takes you high above the treetops to see Disney Springs and the surrounding area (including Saratoga Springs Resort and Spa) from an aerial view.
Aerophile holds more cubic feet of helium than you want to think about and takes you 400 feet into the air for an eight-minute adventure. Tickets can be purchased at Disney Springs, right in front of the attraction. Adult tickets are $25 and children's tickets are $20.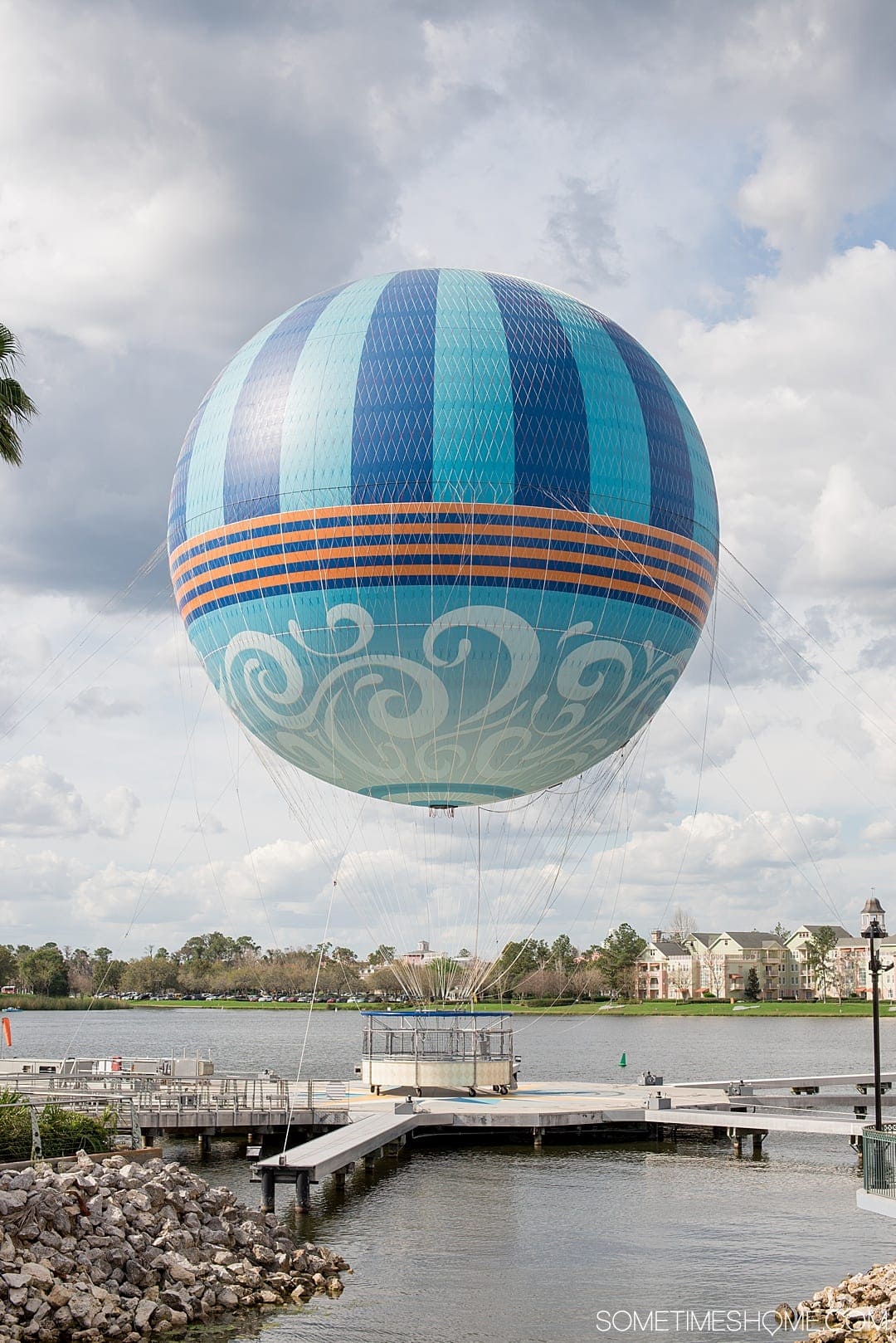 Take an Amphicar Boat Ride at the Boathouse
I couldn't believe these things were actually vintage originals and not a Disney creation when I first saw them. They're like Duck Boats that drive on land and disappear into the water but cooler. At about $125 it's a larger expense than the balloons but also, arguably, a more unique experience as well.
These original American Brand Amphicars can take the captain (your tour guide) plus two adults and two children, or three adults for a 25-minute ride. There are only about 100 Amphicars left in working condition and The Boathouse has nine of them!
If you eat at The Boathouse you can get a discount on the experience so consider doing so for a little percentage off if you're interested. Plus the food and drinks at The Boathouse are really good! They also give discounts for Disney Vacation Club Members and Annual Passholders.
Hours of operation: 10:00am to 10:30pm.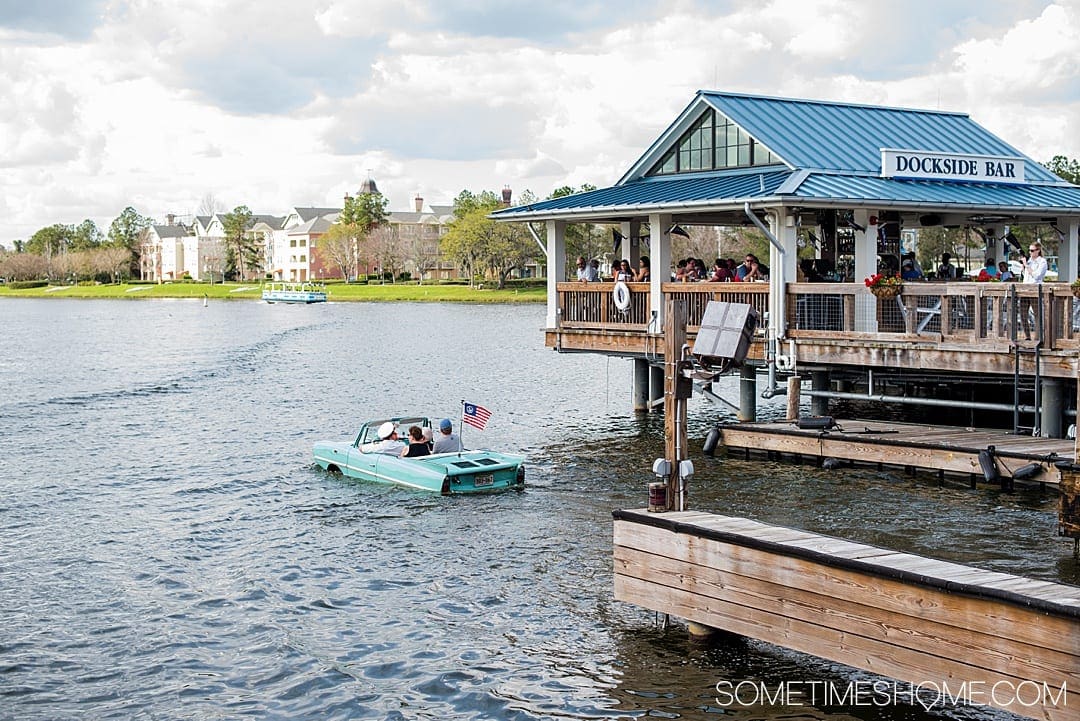 Shop 'Til You Drop
We are not "shoppers," yet even we found stores we loved at Disney Springs. We bought Heat Tech wear at Uniqlo for a winter trip to Norway and Dan bought a shirt at Volcom (because he's so California!). Mikkel even purchased a "classy" Mickey Mouse necklace at their Ever After Jewelry Co. store years ago that she loves. We promise even if you're not shoppers like us there's something for everyone here.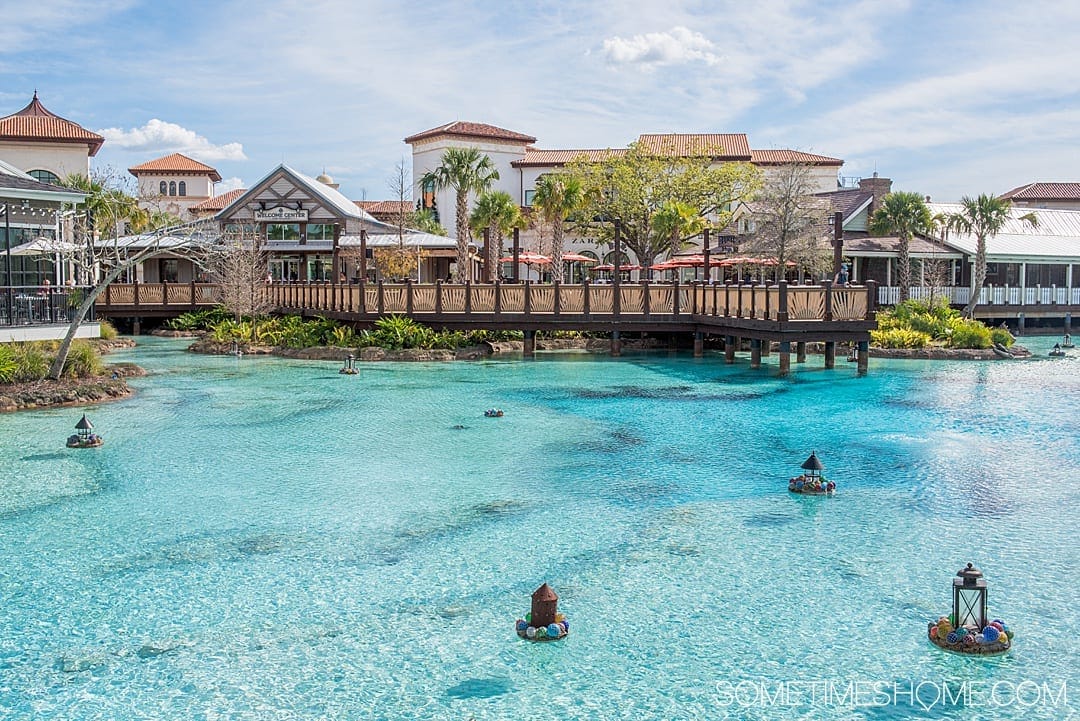 Here are some stores that may be of interest to you:
Sugarboo
Alex and Ani – we were told it's their only corporate store that sells Disney bracelets
Zara
Uniqlo
Art of Disney
Basin
While there are more activities to enjoy all around Walt Disney World property besides the theme parks these hit the high notes of our favorites!
For more theme park inspiration check out: