Why You're at Risk to Miss the Best Arlington VA Attractions
A sense of national pride swept over me as I stared at the National Mall in the United States capital from 30 floors above ground level at one of the best Arlington VA attractions. This Washington, DC border city packs a punch with things to do. But why had I never noticed everything it had to offer? After all I grew up visiting relatives here several times a year.
There are such hidden gems in Arlington, "hiding in plain sight," I realized others may be missing out like I was…and I don't want that to happen! Don't put yourself at risk for missing these incredible sites. Read on for where to go and the best way to get there.
Getting Around Arlington with a Metro Pass
One of the best things about Arlington and the DC Metro area is the public transportation the city (and tax dollars) has provided residents and tourists with. Get a Smart Card metro pass at the start of your trip to efficiently navigate the area. You'll thank me as soon as you realize how much more you can get done if you ride the subway system.
It's one of the nicest, cleanest train systems I've seen in any city. The rail map and color coded train lines make it really simple to navigate. There's even digital boards with countdown times to train arrivals once you're on the platform awaiting your transportation.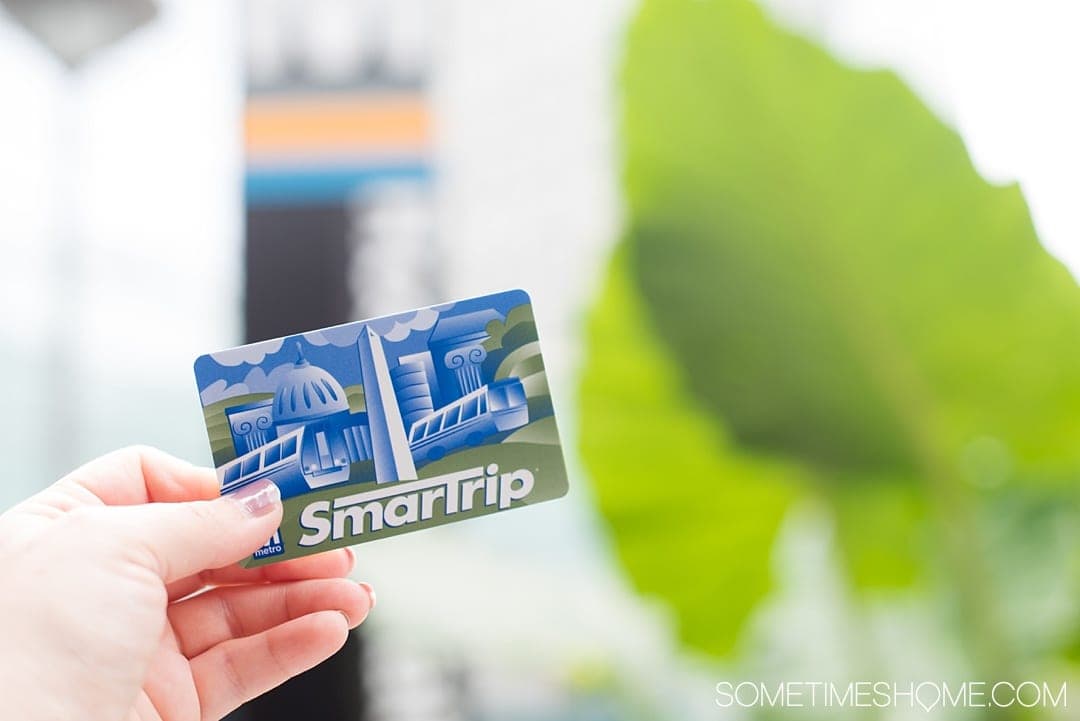 Metro Prices and Using your Metro Card
Unlike the NYC subway, Metro prices vary based on what stations you're traveling between. One ride may cost $2.00 and the next $1.70. You can pre-load your Smart Card with a value you determine by using cash or credit card at any station.
If you run out of money before exiting the Metro you can reload within the station, past the turn-styles, as well. Also, unlike the NYC subway system, you need the card to enter and exit the station so be sure you don't forget where you put it before you reach your destination! You'll need it to leave.
Metro App
This free app is handy to have on your phone during your visit and allows you to find the bus and rail system locations and schedules. (If you're in the app, you can switch between bus/rail info by clicking either icon on the bottom navigation bar.)
How to Find Metro Stations from Above Ground
Be sure to look for an "M" like the one pictured below when you're nearing the cross streets of the station you're looking for. The colored lines beneath the icon indicate the lines available at that station, like the silver, yellow and blue at Rosslyn.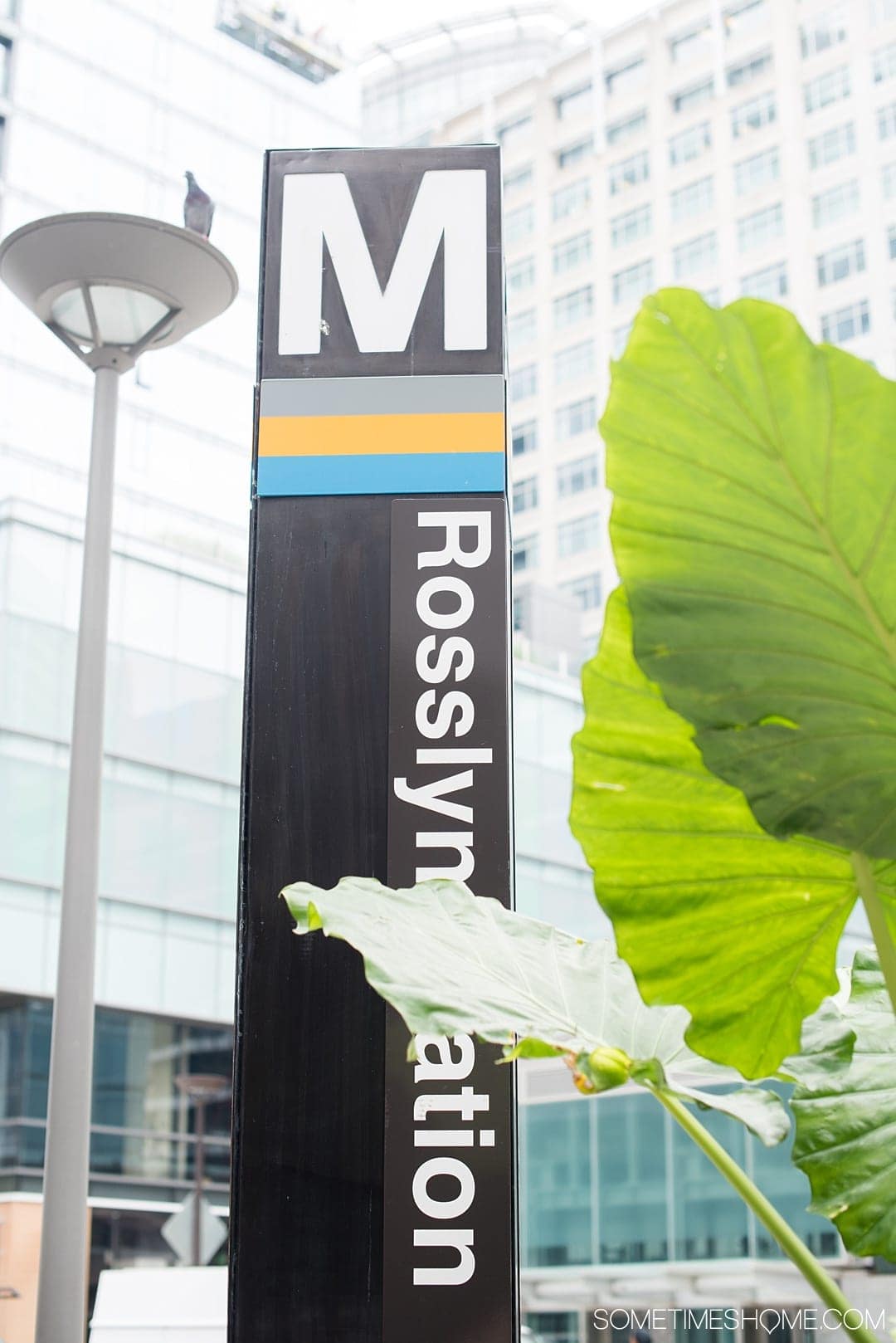 Morning at Theodore Roosevelt Island
There's an entire island reserved to honor one of the nation's most influential presidents. It has great views and is very easy to walk to if you're staying in Arlington. (Gotta get those steps in for exercise anyway!)
I was happy to photograph some fall foliage on a somber morning with grey skies, looking towards the Georgetown waterfront from the bridge that connects Arlington to the island. You may see crew practice on the water or a paddle boarder like we did. We also saw a couple of people fishing.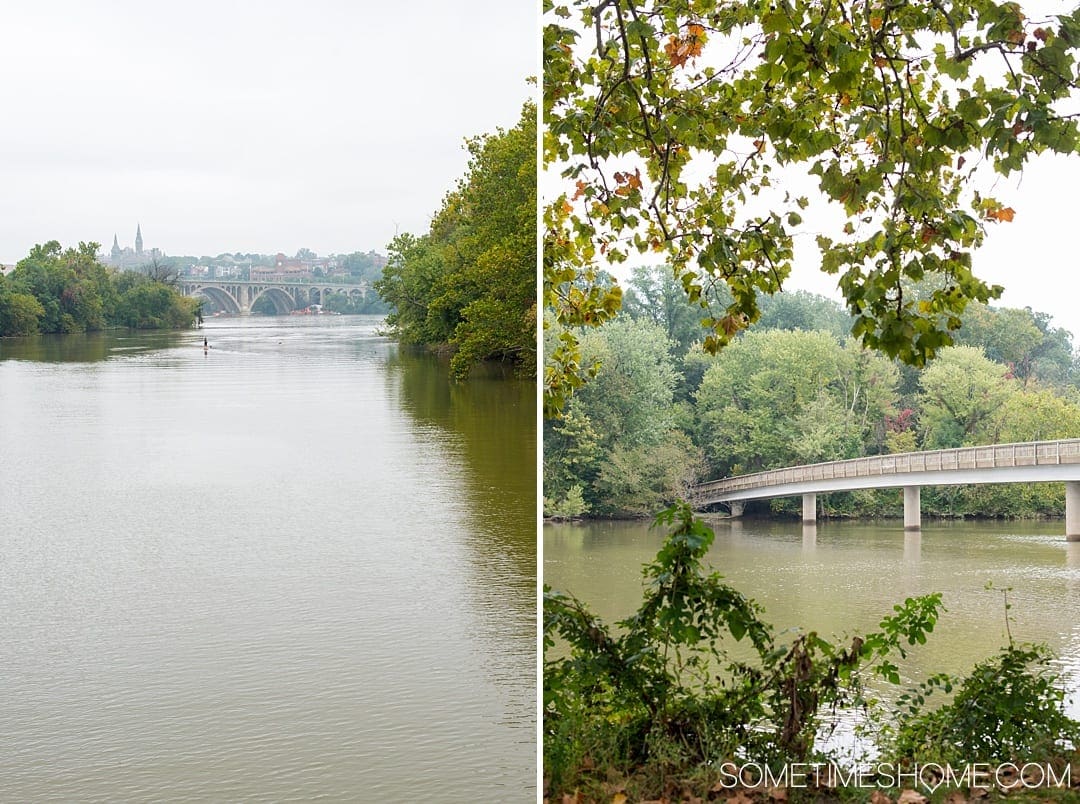 The centerpiece of the island is a monument to Theodore Roosevelt (or Teddy, if you were friends, of course) with the stoic man as its main attraction. Lovely reflecting pools surround the circularly designed space that beckon reflection with oneself and nature. I spent some time reading all his quotes engraved in four walls around the memorial. The quotes about character and nature particularly resonated with me.
Note there's only one set of restrooms on the island and parking is limited (though not impossible) with about twenty spots just before the bridge. The island itself is pedestrian only.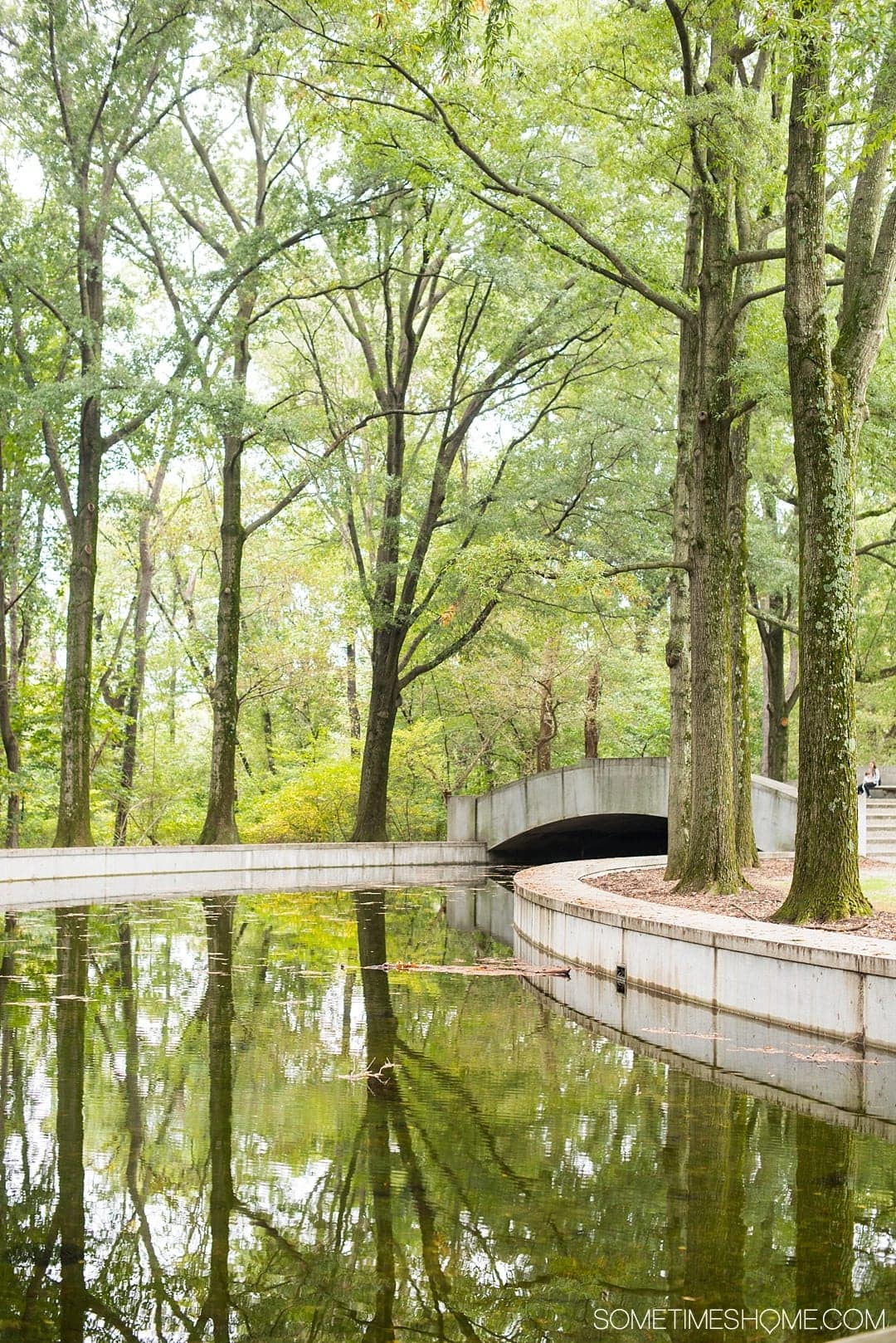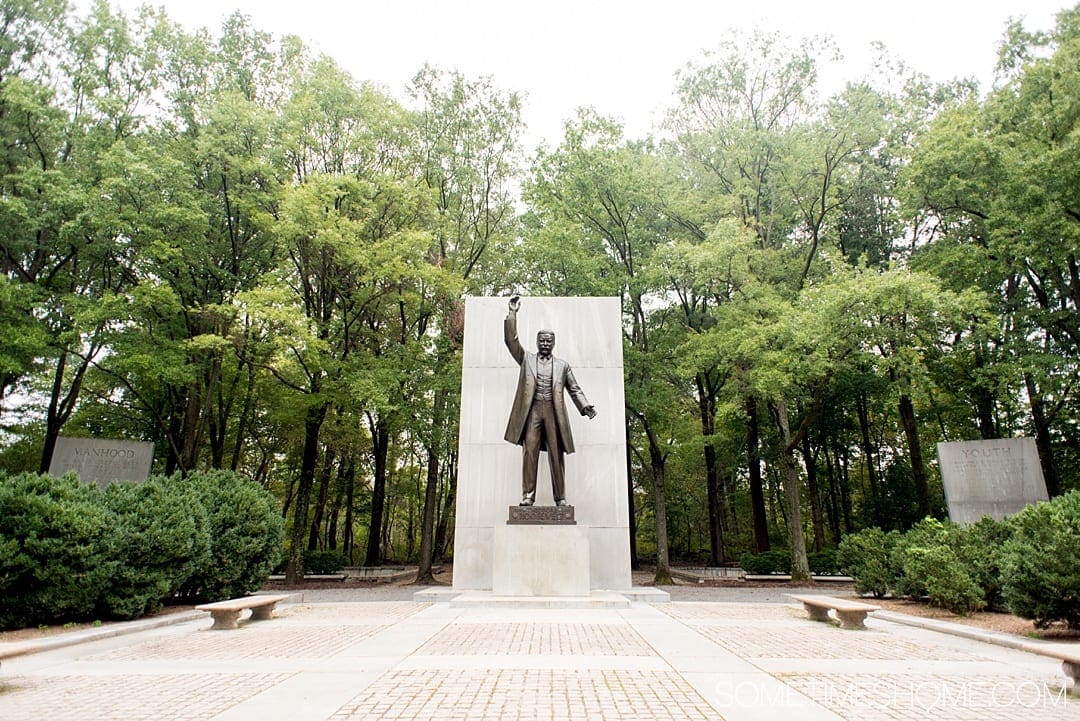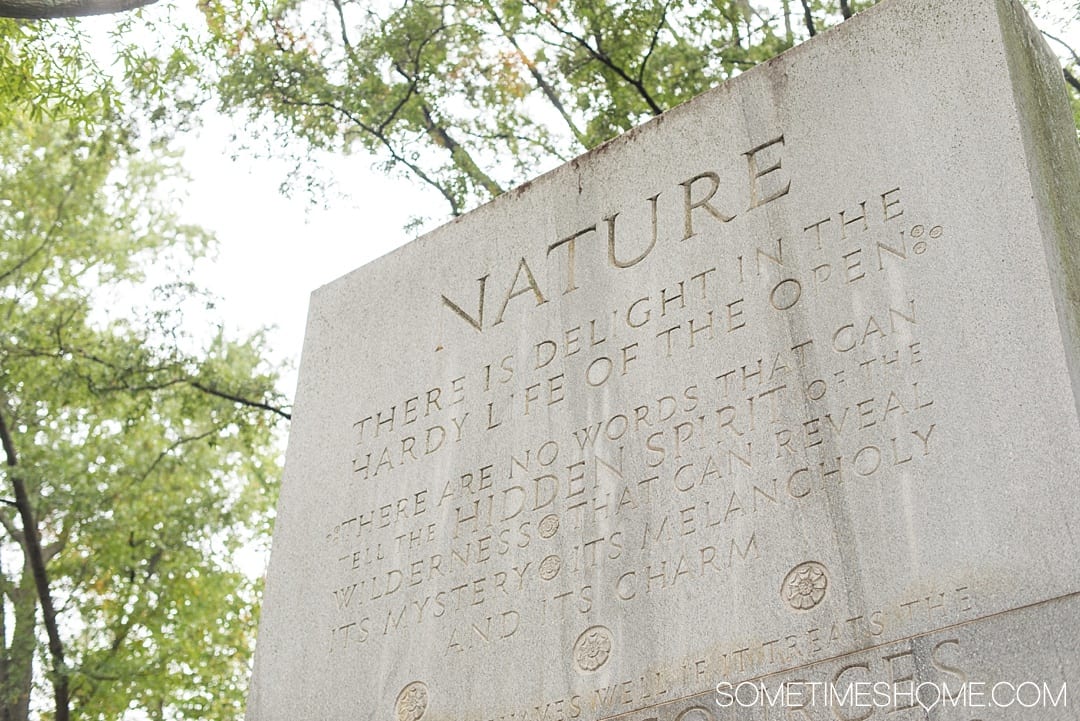 Brunch at Baba
The melting pot of ethnicities you find in Arlington is worthy of a celebration. We jumped at the chance to go to brunch at Baba, which means "grandmother" in Serbian. (So if you guessed the cuisine is Serbian, you'd be correct!). I love enjoying dishes other than typical eggs and bacon for a fabulous brunch once in a while and Baba hit the spot forflavor and creativity.
When you approach the restaurant address look for the black and white striped awning and a small "cocktail bar" sign. It's a little hidden but the door says "BABA". (If you blink you could miss it. Which, again, is why we're here to make sure that doesn't happen!)
They make fresh juices and we were glad to enjoy a few cocktails including them, one made with apple and another with beet. The Sunday brunch buffet changes to keep things fresh (and everything is always fresh and made from scratch) but you'll probably find a few staples on the menu.
Try their beet salad, deviled eggs, and french toast bar. Do NOT miss their tomato soup if they have it the day you're there. I seriously could have had gallons of it, it was that good. They also have a few cooked-to-order menu items including fried crepes, which were delicious and reminded me of Spanish Flamenquin, if you've ever had it.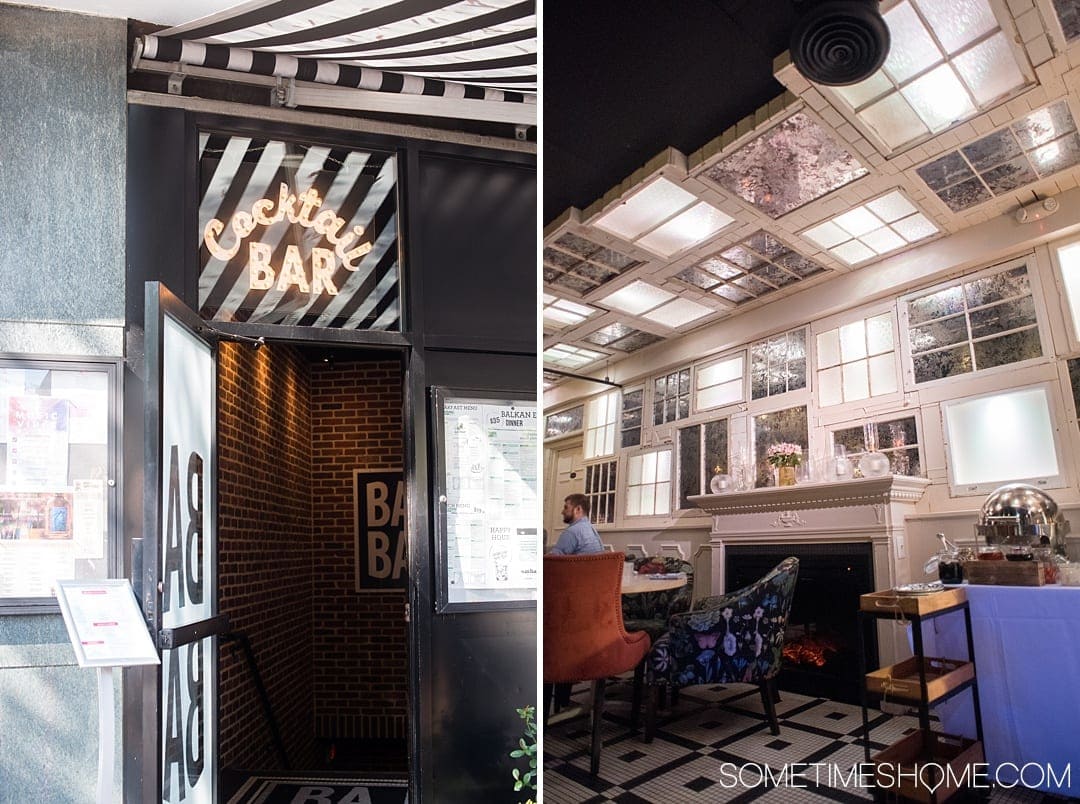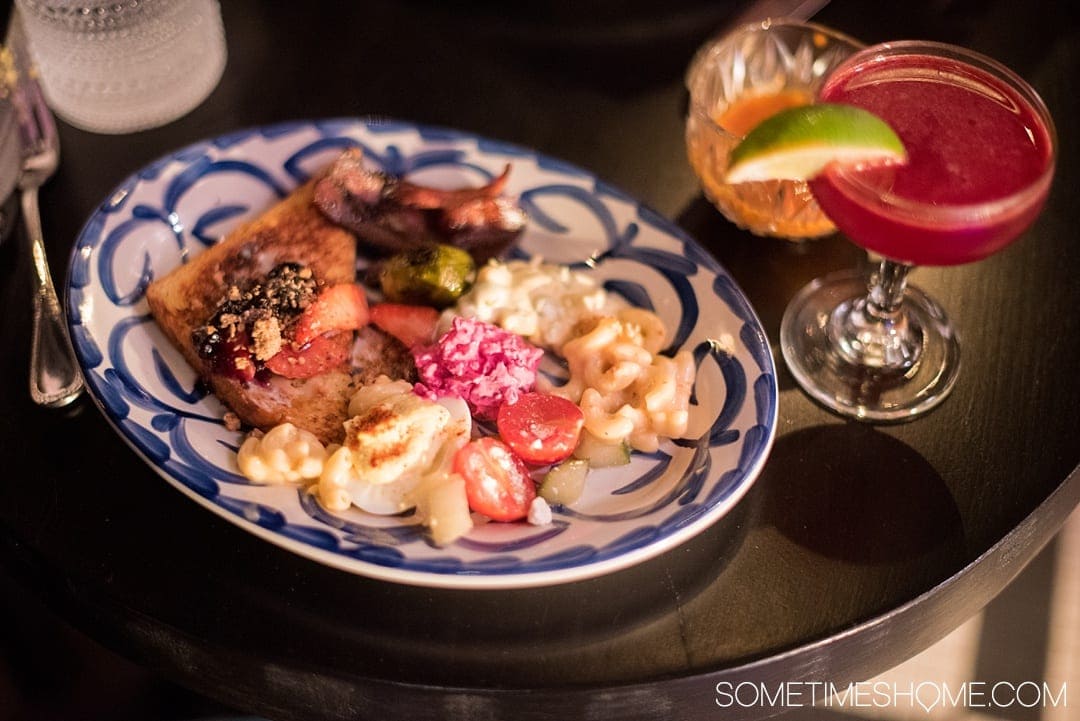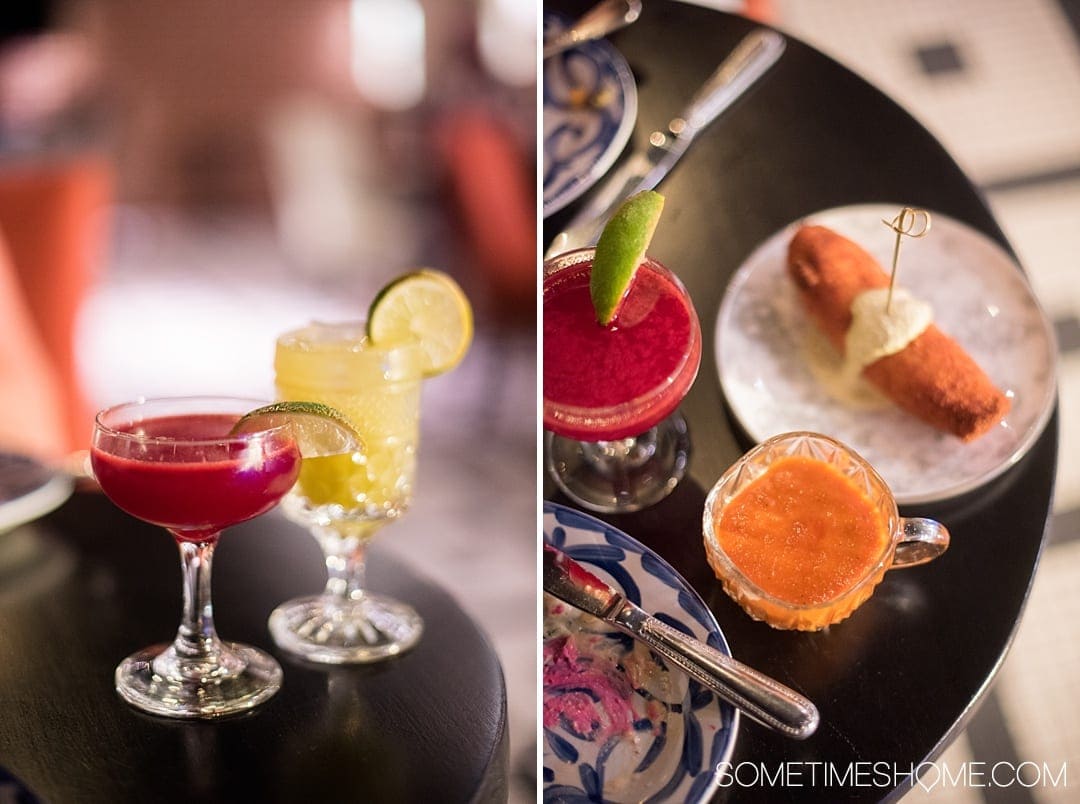 Visiting Arlington National Cemetery
I can't count how many times I've passed this cemetery while driving on highways in Arlington and DC. But I never visited one of the most popular Arlington VA attractions for some reason.
Perhaps it was because I had too many family obligations while I was in town or not quite understanding (or investigating) how to get to the pretty green and white expanse in the distance. But I was determined to go and the weekend I was exploring Arlington VA attractions was the perfect time.
How Much Time to Allot to Visit Arlington National Cemetery
People think, "Oh it's just a cemetery" and follow up with, "How much time could it possibly take to see? An hour?" That estimation would be wrong!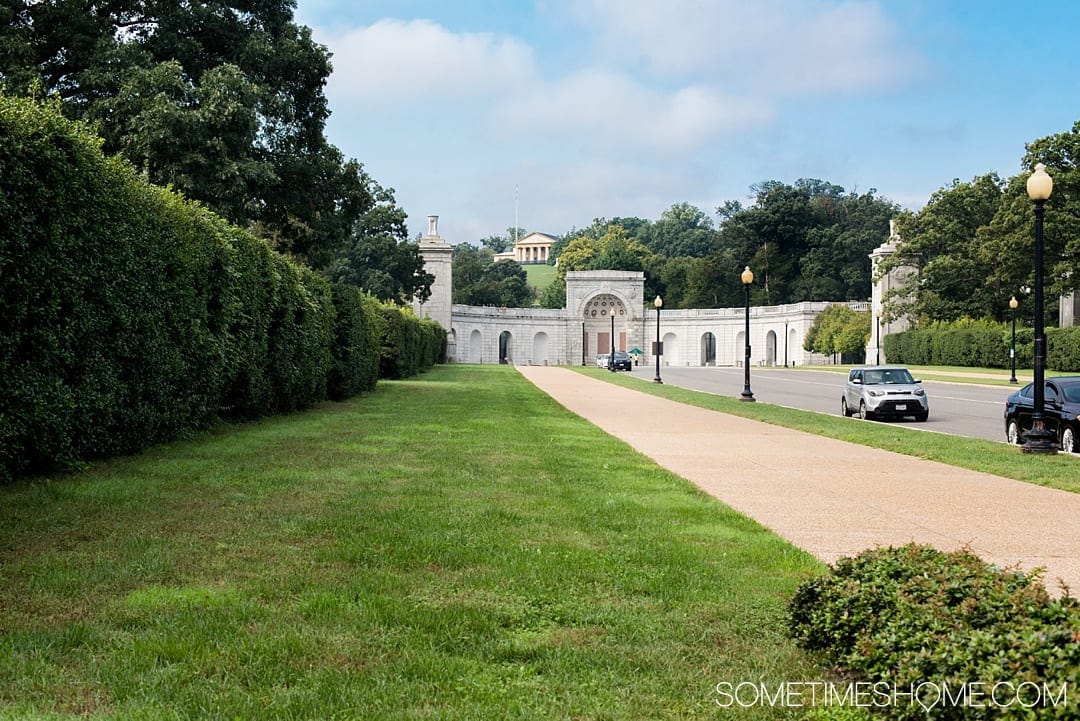 You could easily spend the better part of half a day here. You need to allot at LEAST two hours if not three or four. It's an incredibly vast cemetery with a lot of points of interest.
Getting Around Arlington National Cemetery
I enjoyed the hop on/off shuttle (which you need a ticket for) that allows you to cover much more ground in a shorter amount of time. (Note the shuttles only come around about every 15 minutes.)
An additional bonus of taking the shuttle was the driver narrated while he was driving. I enjoyed learning about the cemetery's different sections, who was buried there and in what time frame. Or about the various memorials around the cemetery, including one for Space Shuttle Challenger and another for 9/11.
Who is Buried at Arlington National Cemetery
I also assumed it was a cemetery strictly for members of the Armed Forces but that's also incorrect! While that is its primary purpose, many other notable people are buried at Arlington National Cemetery, including Presidents John F. Kennedy and William Taft, many Supreme Court Justices, famous athletes, explorers and even astronauts.
It was also interesting to learn that the well recognized white headstones aren't a cemetery requirement. Rather, they're government issued if families don't want to choose, or cannot afford, a different option. Hence, in the photo below on the left, you'll notice various types of grave stones in the distance.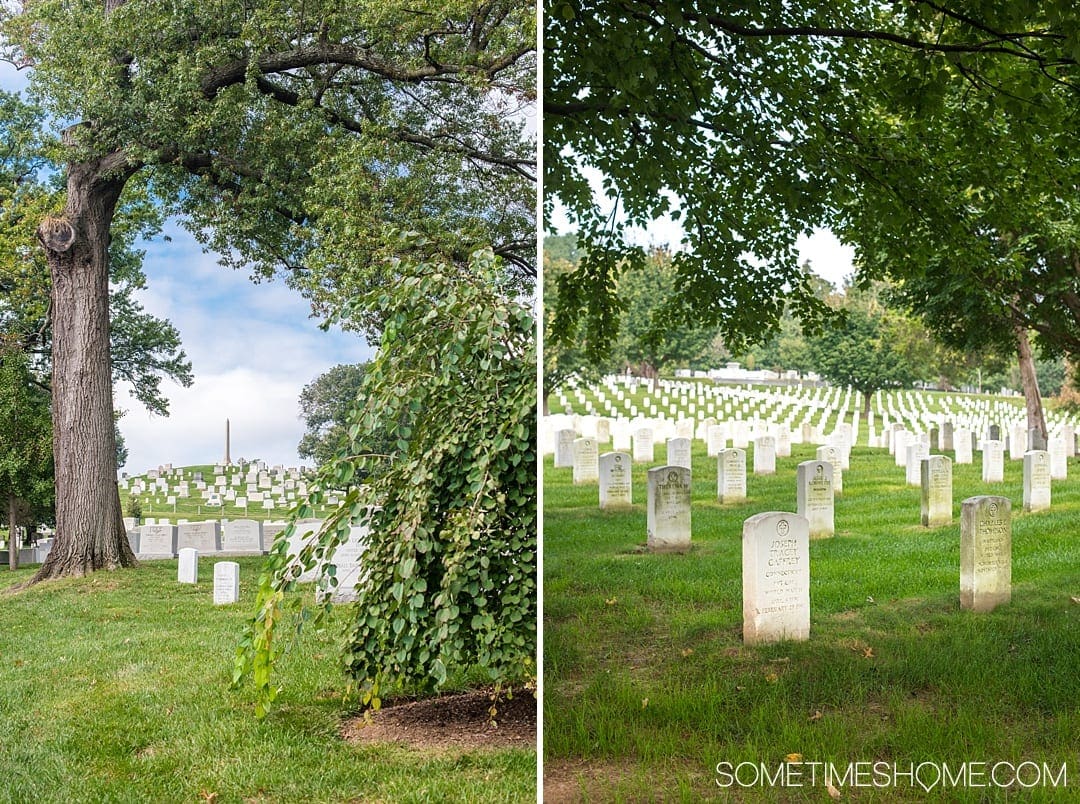 Other Points of Interest at Arlington National Cemetery
Two other areas there were of particular interest to me were the Tomb of the Unknown Soldier (below) and the changing of the guard that occurs there, and the grandiose Memorial Amphitheater.
The amphitheater was dedicated in May of 1920. Three major ceremonies are held here annually in addition to smaller memorials throughout the year:
Easter
Memorial Day
Veterans Day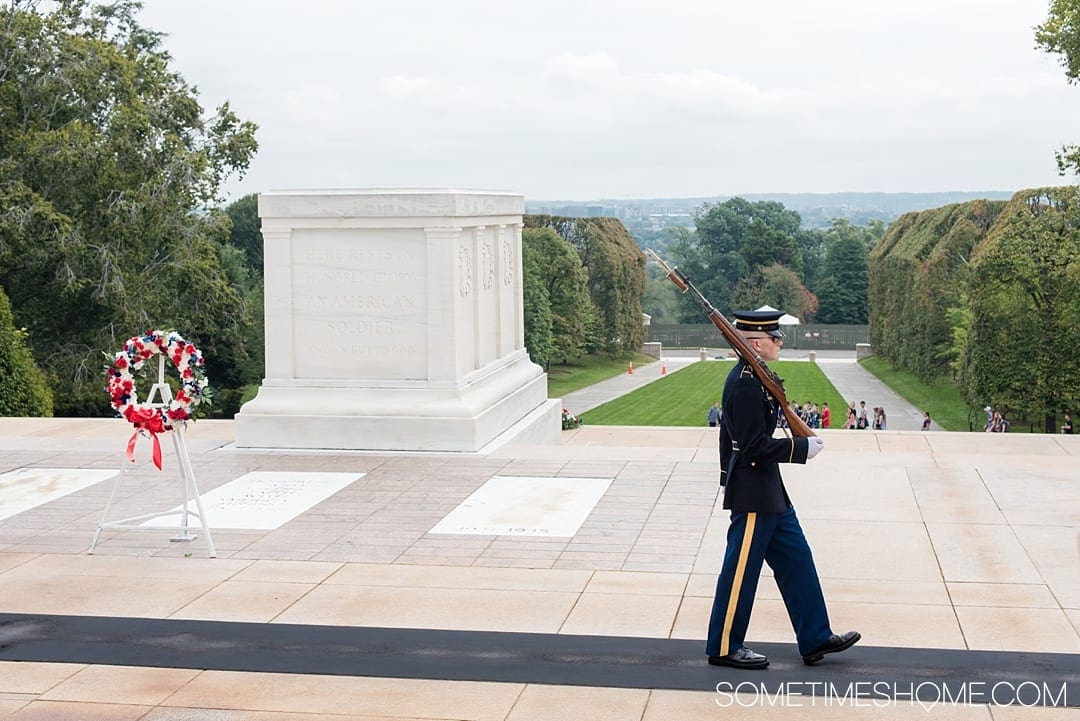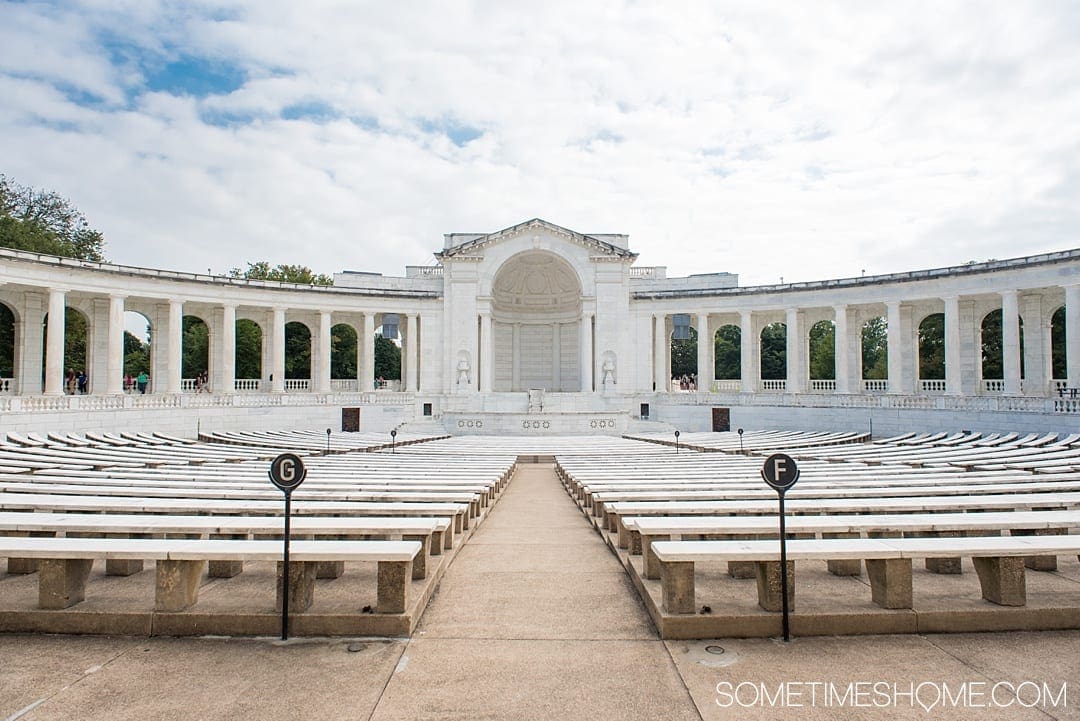 Pentagon Memorial
I tend to get emotional over war movies, controversial historical events or monuments dedicated to times of strife including memorials. However I can't remember the last time I cried at a memorial.
The 9/11 Pentagon Memorial is so moving and incredibly meaningful you'd be missing a sincerely beautiful tribute if you skipped it. It's also not something you'd normally come across as you walked around the area – it's a true destination.
You have to specifically travel to the Pentagon building to see it. (Which, by the way, is called the Pentagon because it's literally the shape of a pentagon when you view it from the sky.)
How to Get to the Pentagon Memorial
Luckily, this popular Arlington VA attraction is conveniently located off the metro's "Pentagon" station, on the yellow or blue line. It's approximately a five to ten minute walk to the memorial from where you exit the station, depending on how fast you walk.
A Must-Listen-to Audio Guide that will Vastly Enhance Your Visit
There is an incredible audio guide on their website if you're unable to take a scheduled guided tour. Be sure to bring headphones and a charged cell phone to listen to it. It's not-to-miss and explains what happened that dreadful day in 2001, and how the memorial design winners carefully commemorated each life that was lost.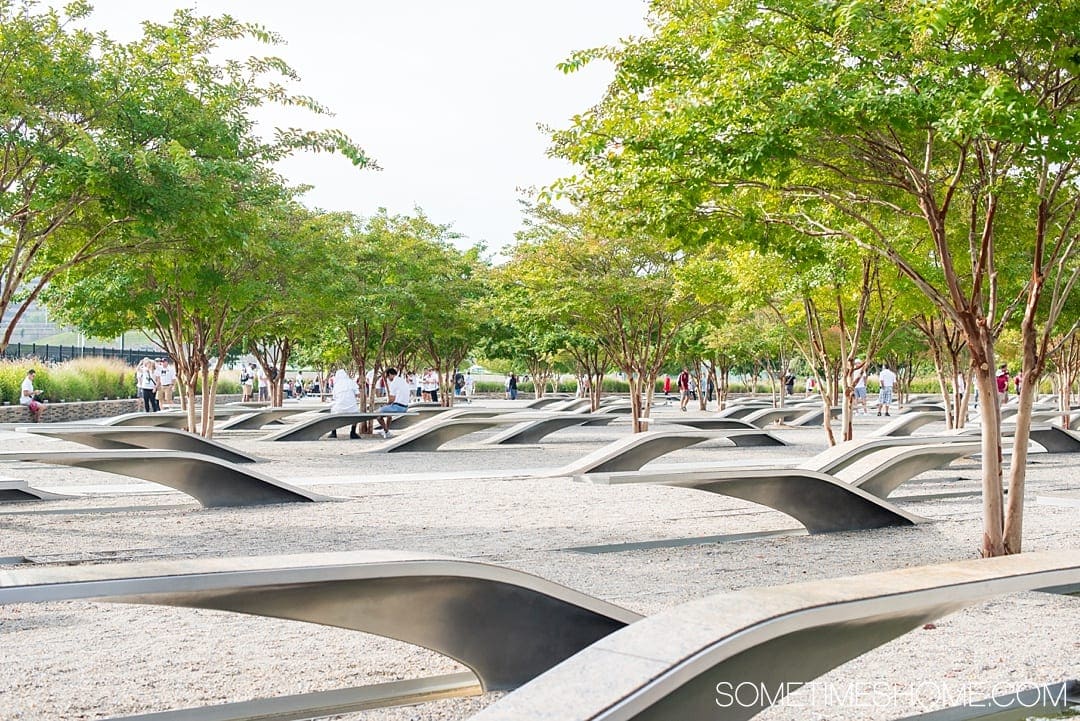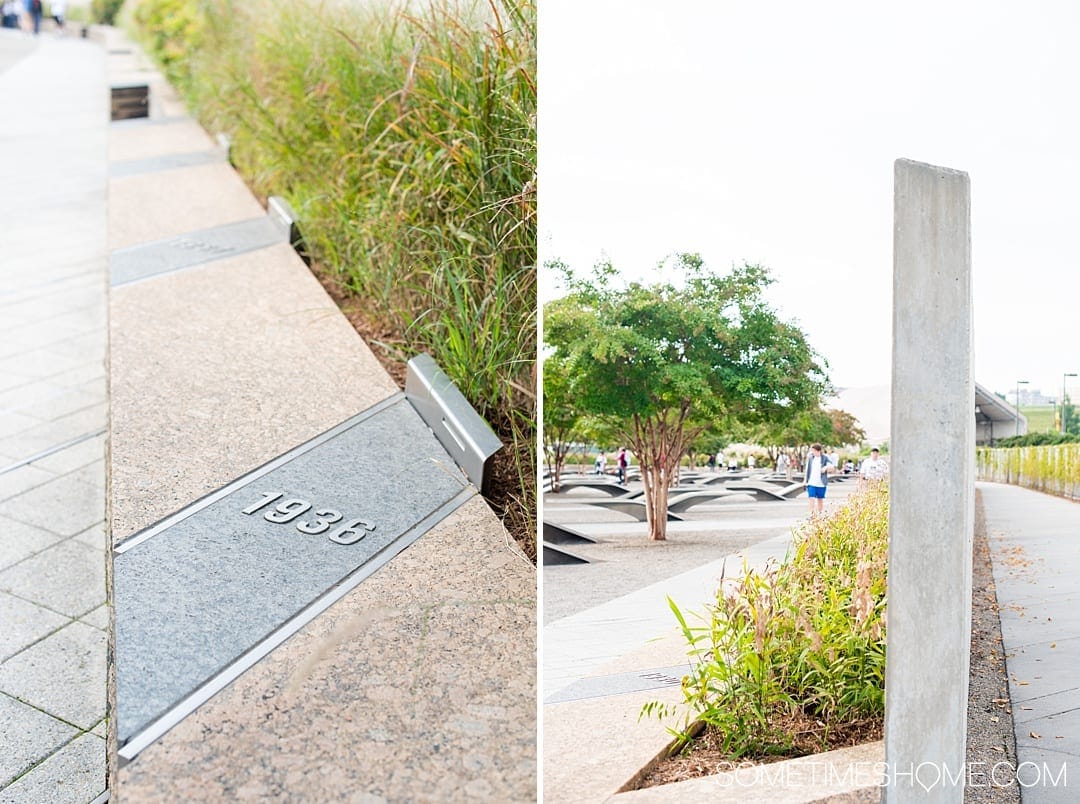 Some things I learned from the audio guide were that benches face towards or away from the building depending on if it was someone who died in the building or on the flight that crashed.
The end of the bench indicate's the name of the deceased and any names underneath it, adjacent to the water, are the victim's family members who also died that day.
A concrete wall (pictured above, right) is low at the memorial's entrance and rises with increasing ages of the deceased as you walk through the space. In other words, the youngest victim's bench is located in the area where you first enter the memorial and as you walk towards the back of the memorial (though it doesn't feel like "the back") the wall rises with the increase in ages of the victims.
That's because the benches are organized by birth year. The further you walk, the further from present day the birth year is. I photographed one from 1936, as seen above, while the first date marker, towards the entrance, is from the 1990s.
The audio-guide explains everything better than I ever could. It also has audio from first-hand survivors of the attack who were at the Pentagon that day.
Give it a listen and visit the Pentagon Memorial. You won't regret it.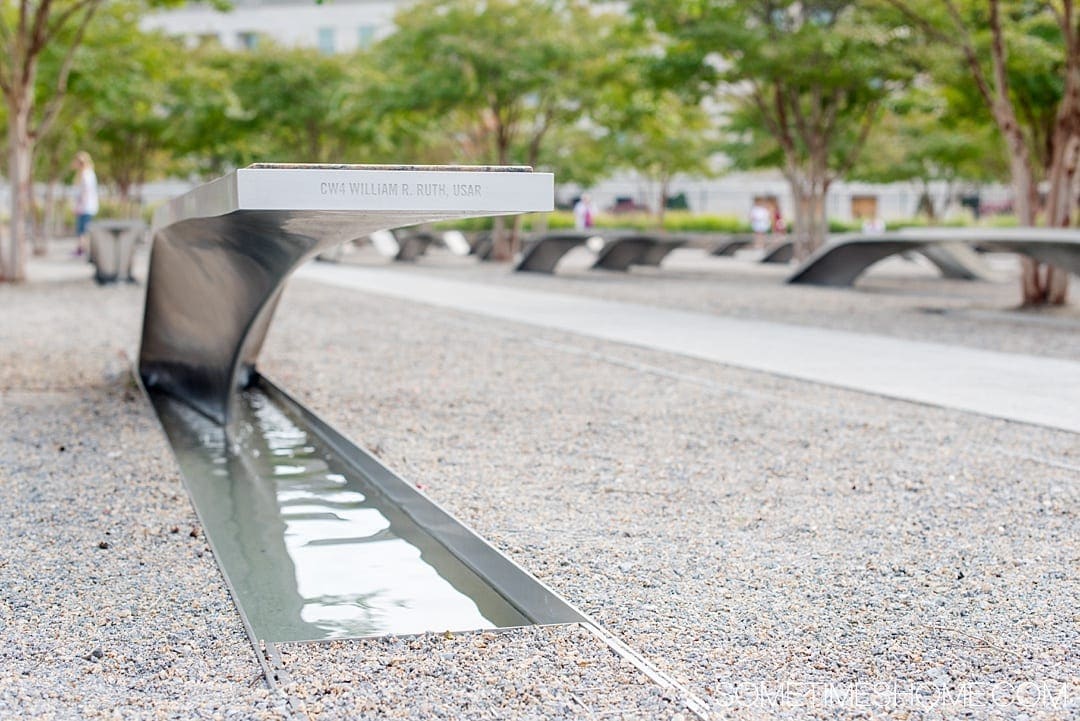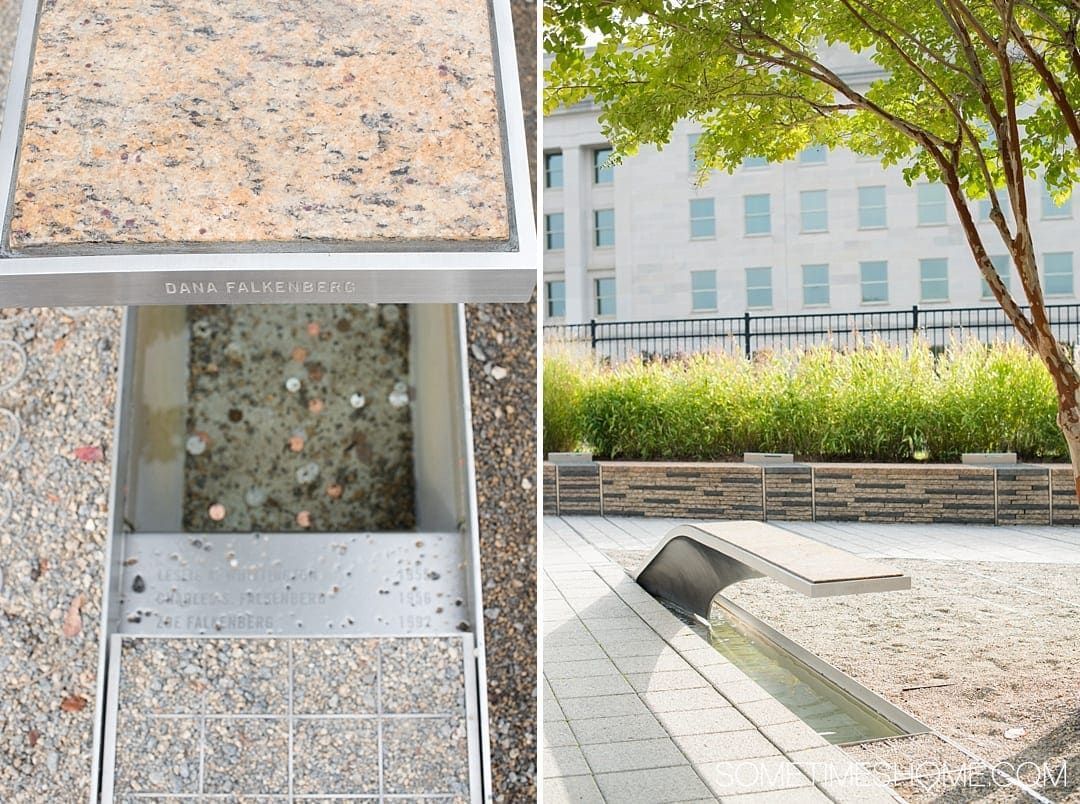 Arlington VA Attraction, Observation Deck
***Please note the Observation Deck is currently closed to the public, however it's available for special events. We're not quite sure why it's been closed but we hope it reopens, so we're going to leave this information here in hopes it does!***
One of the best views of the monuments in Washington, DC isn't from within the city limits: it's outside of it at a unique attraction in Arlington. We had a treat in store as we ascended thirty floors of a skyscraper to the new Observation Deck with a cantilevered balcony overlooking the Potomac River. It's open daily and the Rosslyn metro is steps away. So there's no excuse to miss out on this Arlington attraction!
The ideal time to visit is about 30 minute before sunset. Take a lap around the floor when you arrive noticing the north, south, east and west markers on the floor at each side. Then grab a drink at the posh bar and photograph the unique sunset view of the monuments. (Hint, it's in the west!) Enjoy dusk after the sun sinks below the horizon and a hint of the start of the evening as lights illuminate the beautiful landmarks.
Going around sunset time allows you to see three different types of light: daylight, sunset and night. (Note the last ticket is sold daily at 7:00pm and they close at 8:00pm most days. So if it's summer please take that into account regarding sunset times.)
Other highlights of The Observation Deck include the old map of the Potomac on the wall (named for the water that runs between Arlington and Washington, DC) and the beautiful interior with an angular ceiling. Don't forget to take a photo on the glass balcony before you leave!
If you're venting into DC be sure to do some romantic things while you're there! Our friends at Wanderlust Marriage have some great recommendations for you.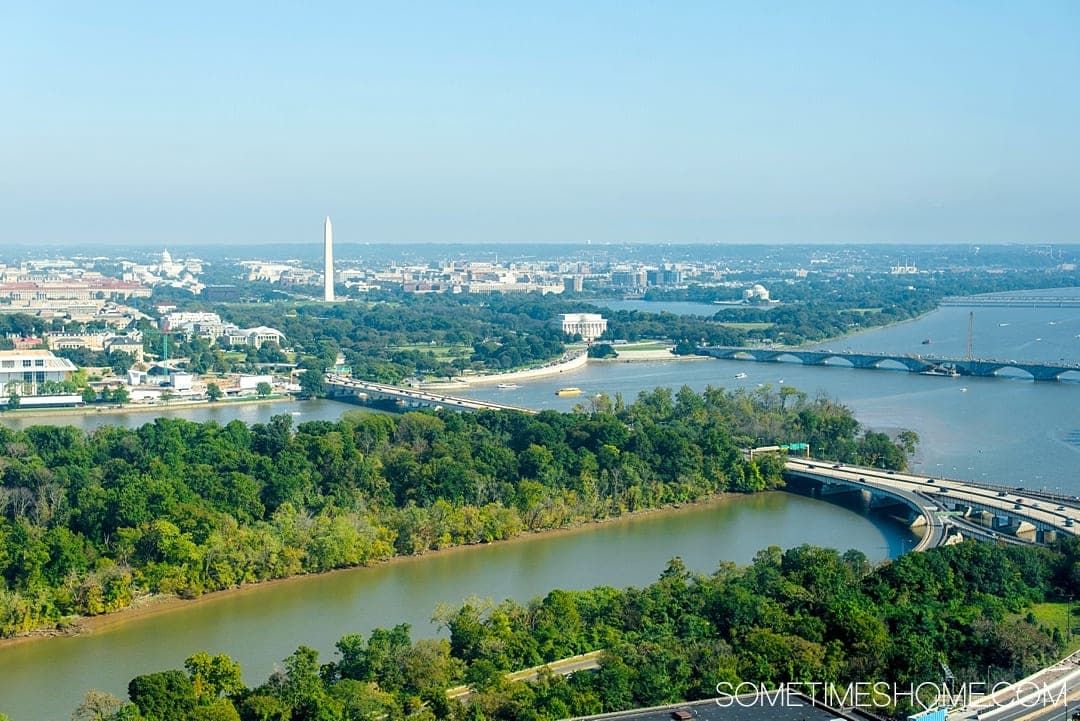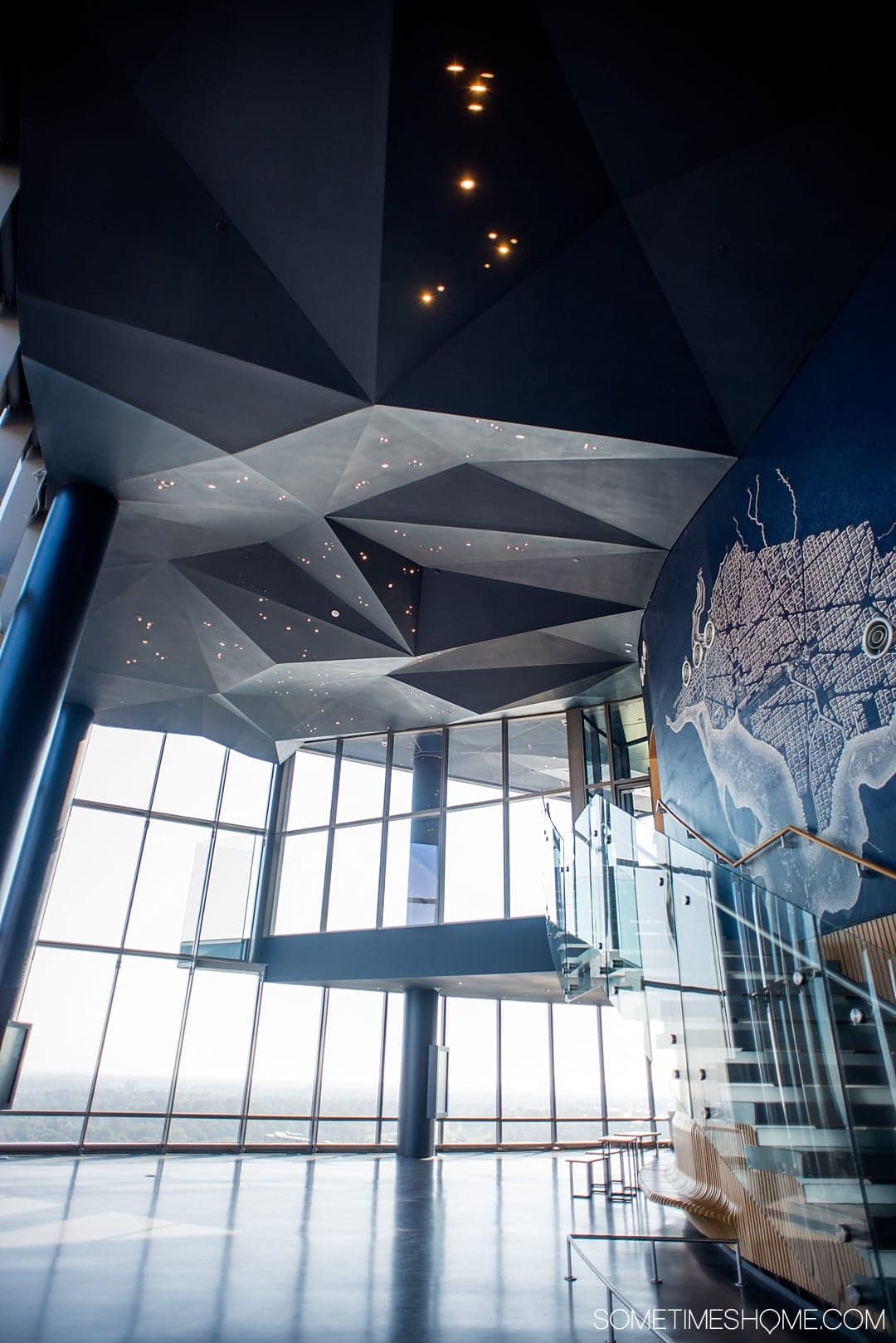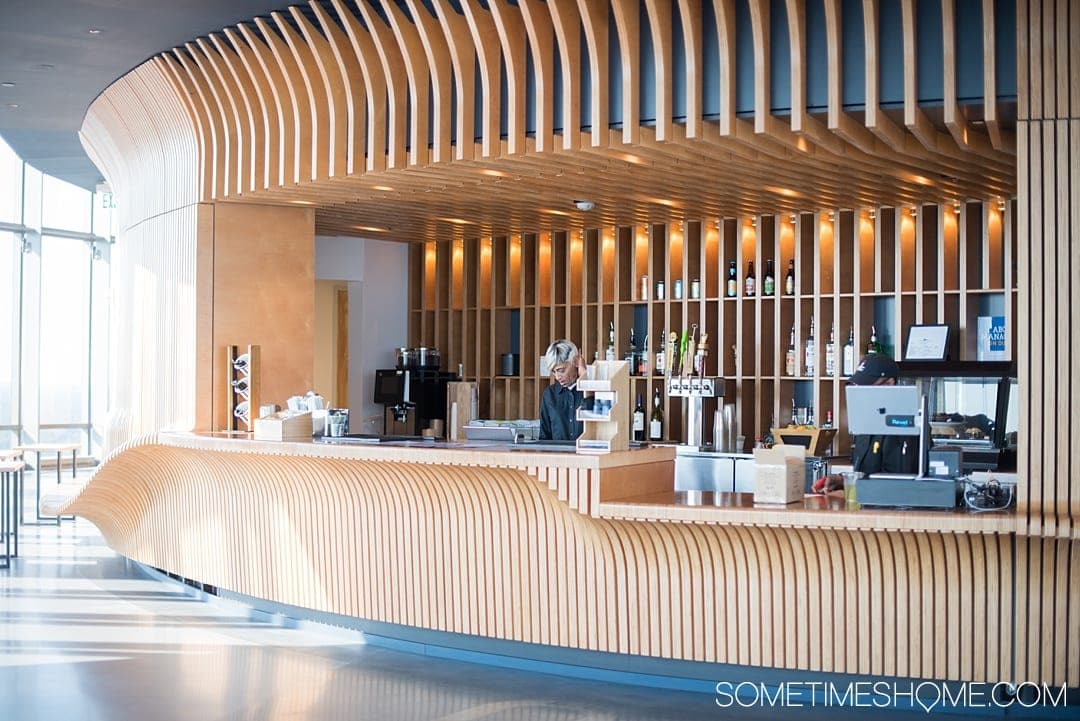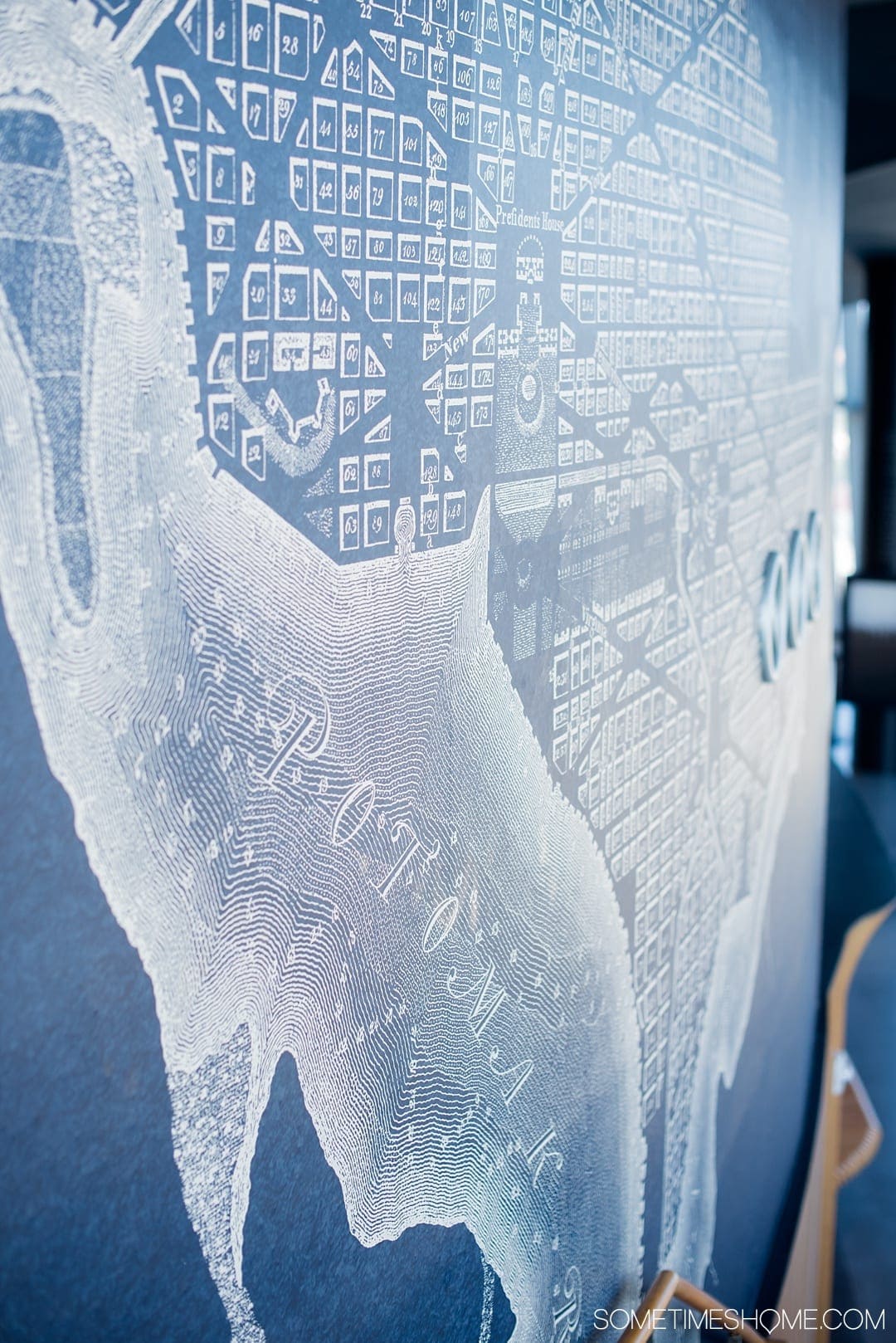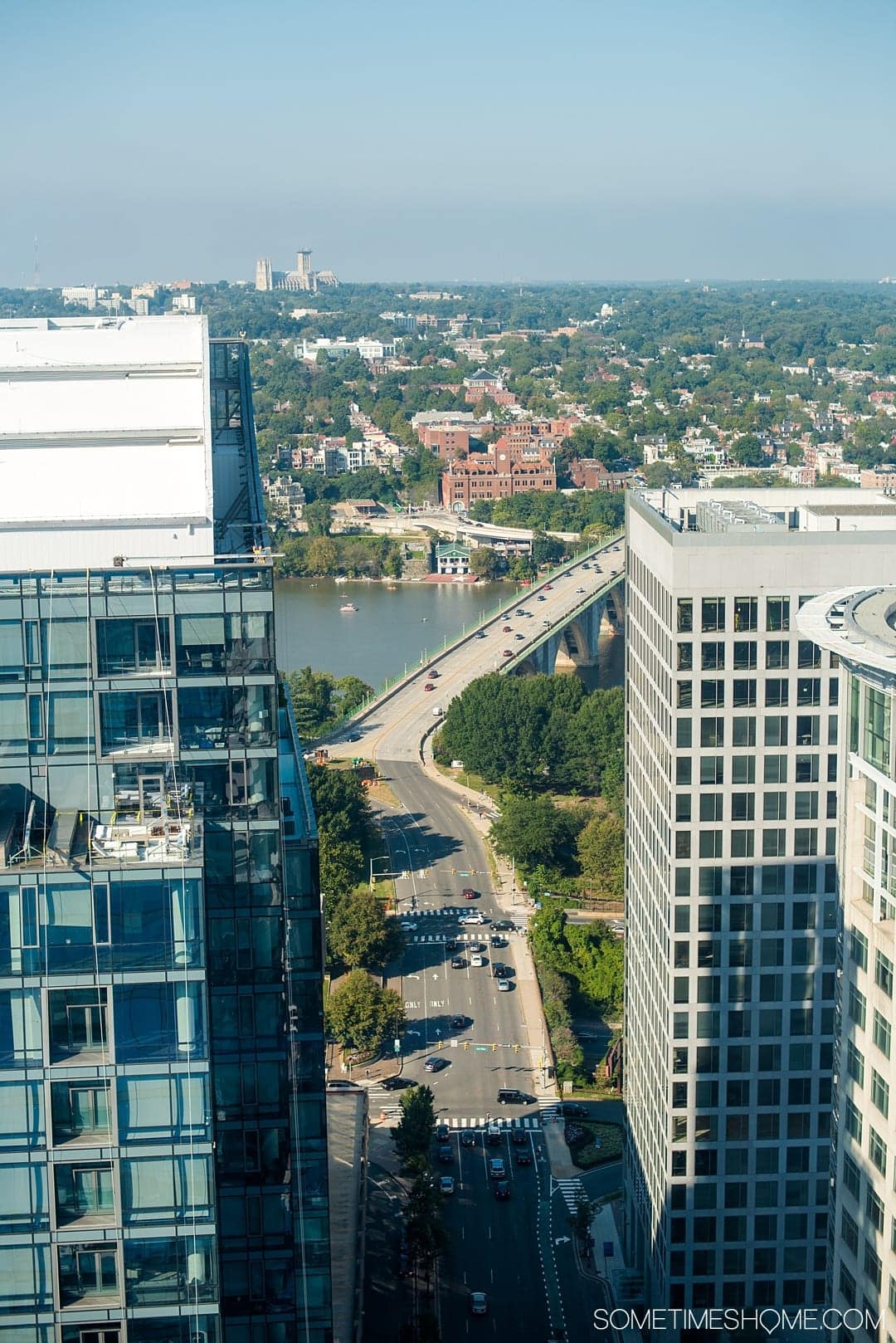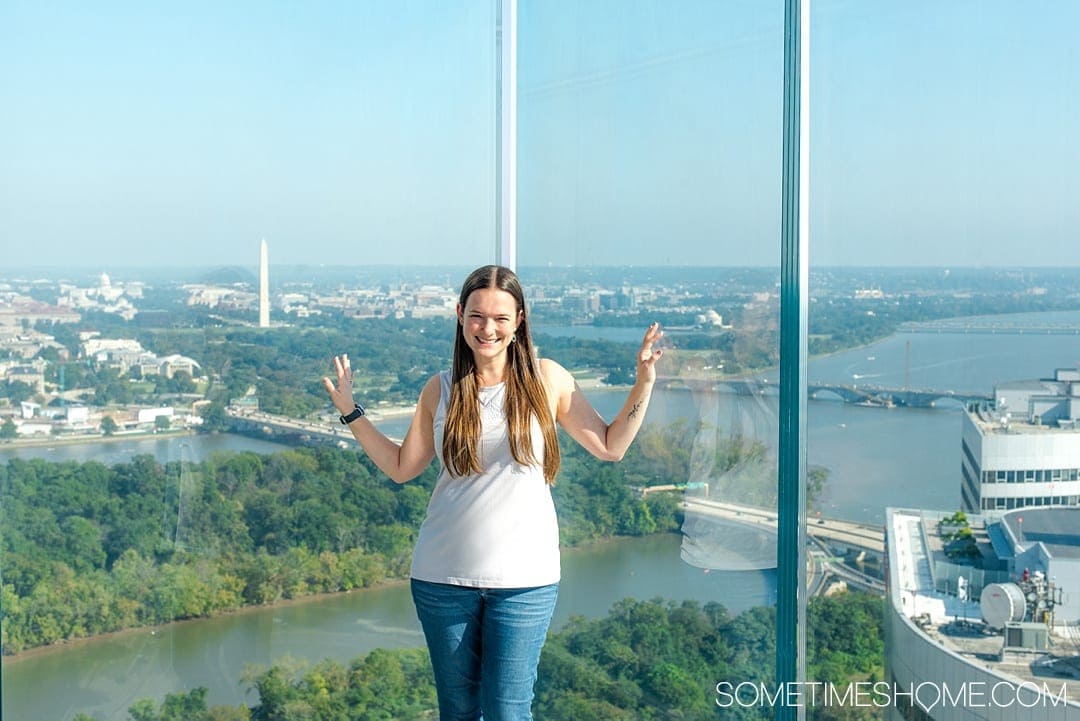 Rosslyn Sculptures
Art is truly made accessible to anyone in Rosslyn, a booming neighborhood in Arlington. As soon as you arrive – no matter your mode of transportation – you'll begin to see sculptures dotting the area's primary roads.
Take a moment to really notice them. I can't tell you how many times I've seen the pieces I "discovered" for the first time on my intentional trip. This Arlington VA attraction may be less in-your-face yet inspiring sculptures are all around for your enjoyment. And ironically most of them are right in front of your eyes.
There's a self-guided tour you can take. It includes a map of the area, sculpture locations, and a bit of info about each one. It also provides some information about some of the artists and the meaning behind their creations.
Two that stuck out in my mind were the arrows I took a photo with below, named Cupid's Garden, by Chris Gardner, and the colorful man and woman, called Anna and David, by Miriam Shapiro. (They are numbers 10 and 5 on the self-guided tour.)
Also just in case you need to get your bearings as you walk through Rosslyn, there are maps at various points throughout the city you'll stumble upon that help you navigate.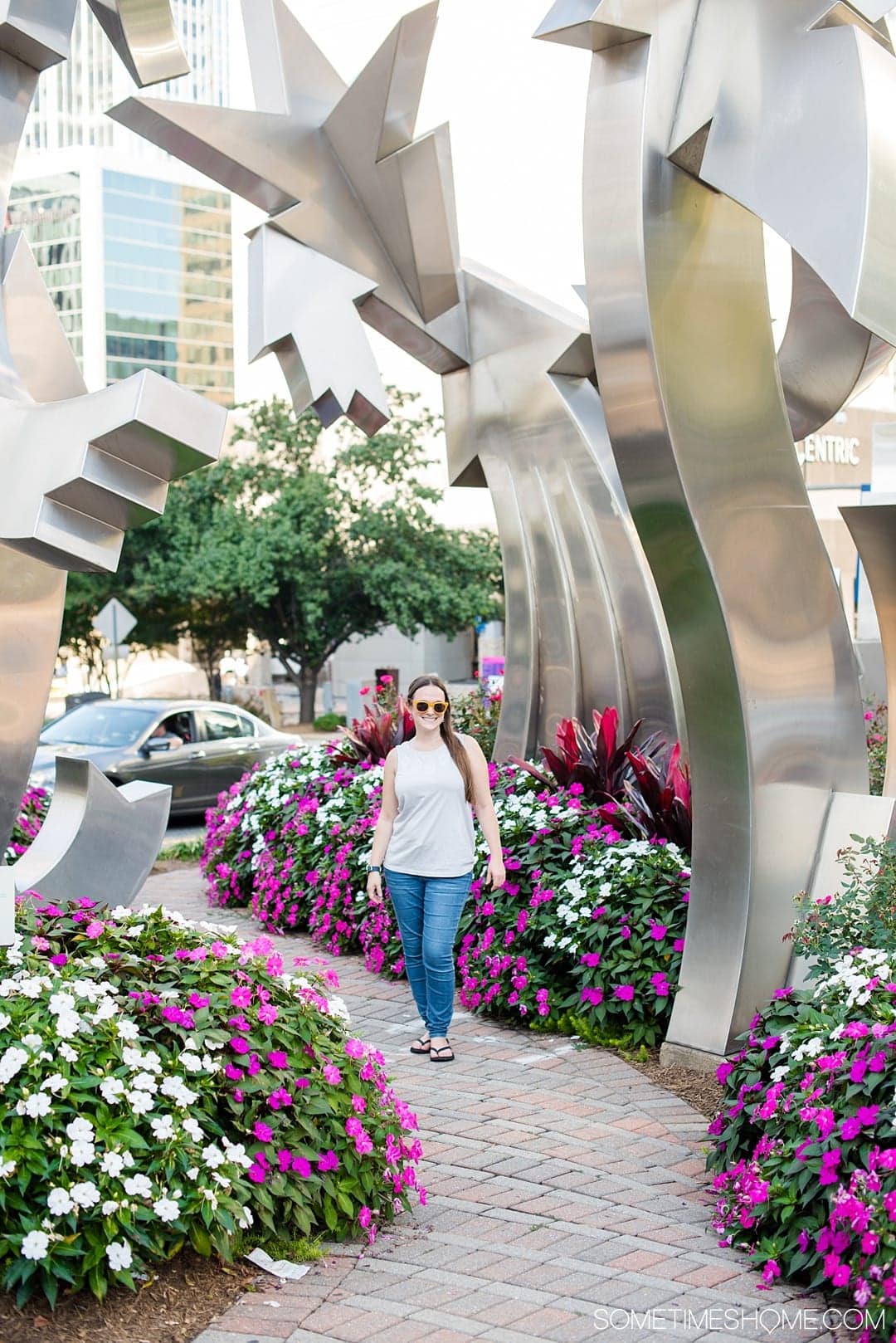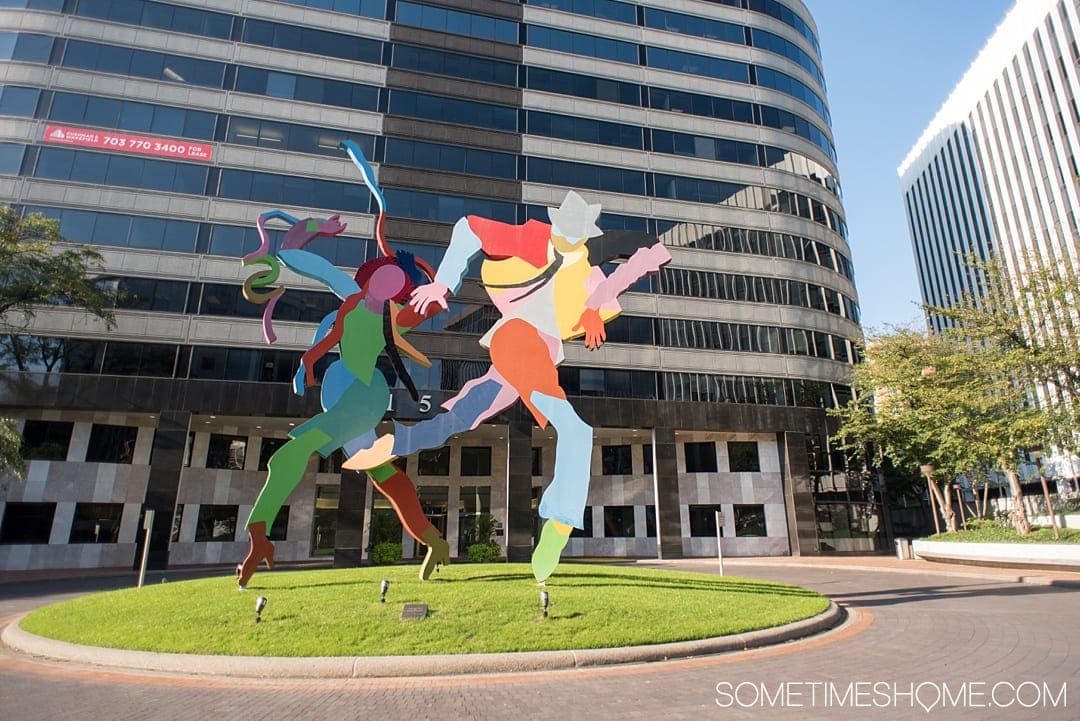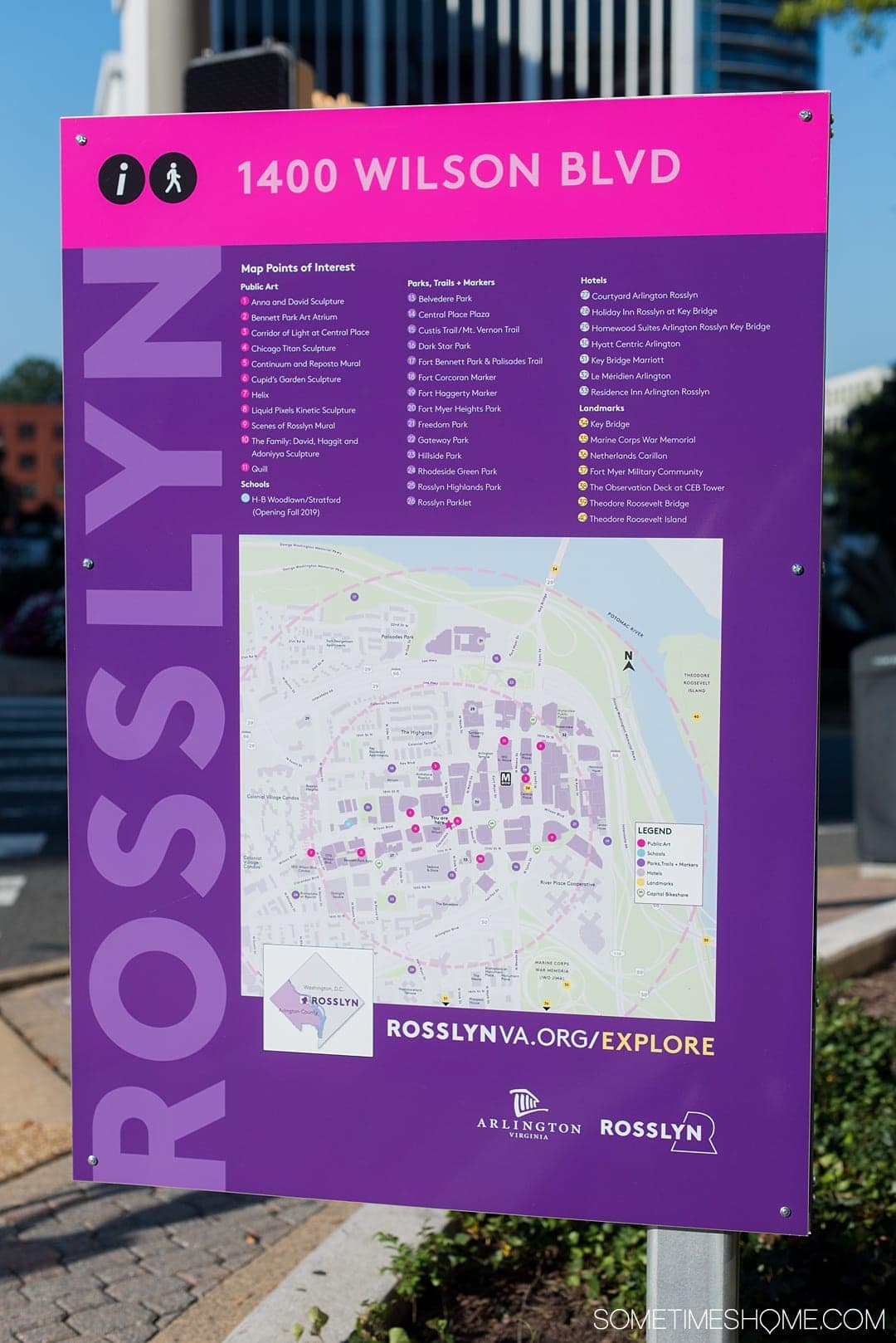 Please note: We thank Arlington Convention & Visitors Service for generously hosting us. We also may make a small commission from affiliate links in this post but all opinions are ours and we bring you genuine content with real facts, photos, thoughts and recommendations. Always.
Visiting Virginia? Also check out:
Have you visited Arlington, Virginia before? Let us know in the comments below!