Cirque du Soleil at Disney Springs: All About Drawn to Life
A touch of humor and sentimentality complemented the classic Disney animation, live musicians, and extraordinary acrobatics as we sat in awe watching Cirque du Soleil at Disney Springs, at Walt Disney World.
Their new show, Drawn to Life, is a truly inspiring display of what happens when three exceptional creative teams come together to create (dare we say) something magical.
Disclosure: There are affiliate links in this post, which means we may earn a small commission if you click the link and proceed with a purchase, at no cost to you. We truly only recommend hotels, products, and services we personally use. As Amazon Associates, we earn from qualifying purchases. We received complimentary tickets to Drawn to Life, but all opinions are our own.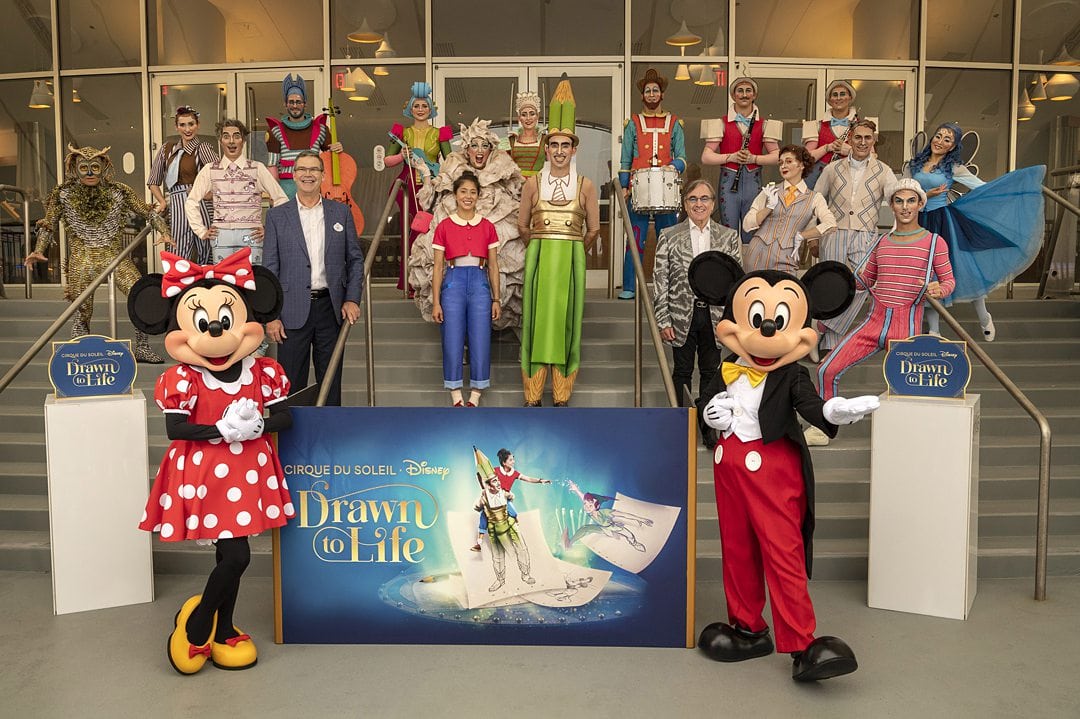 🕐 Short on time? No Problem!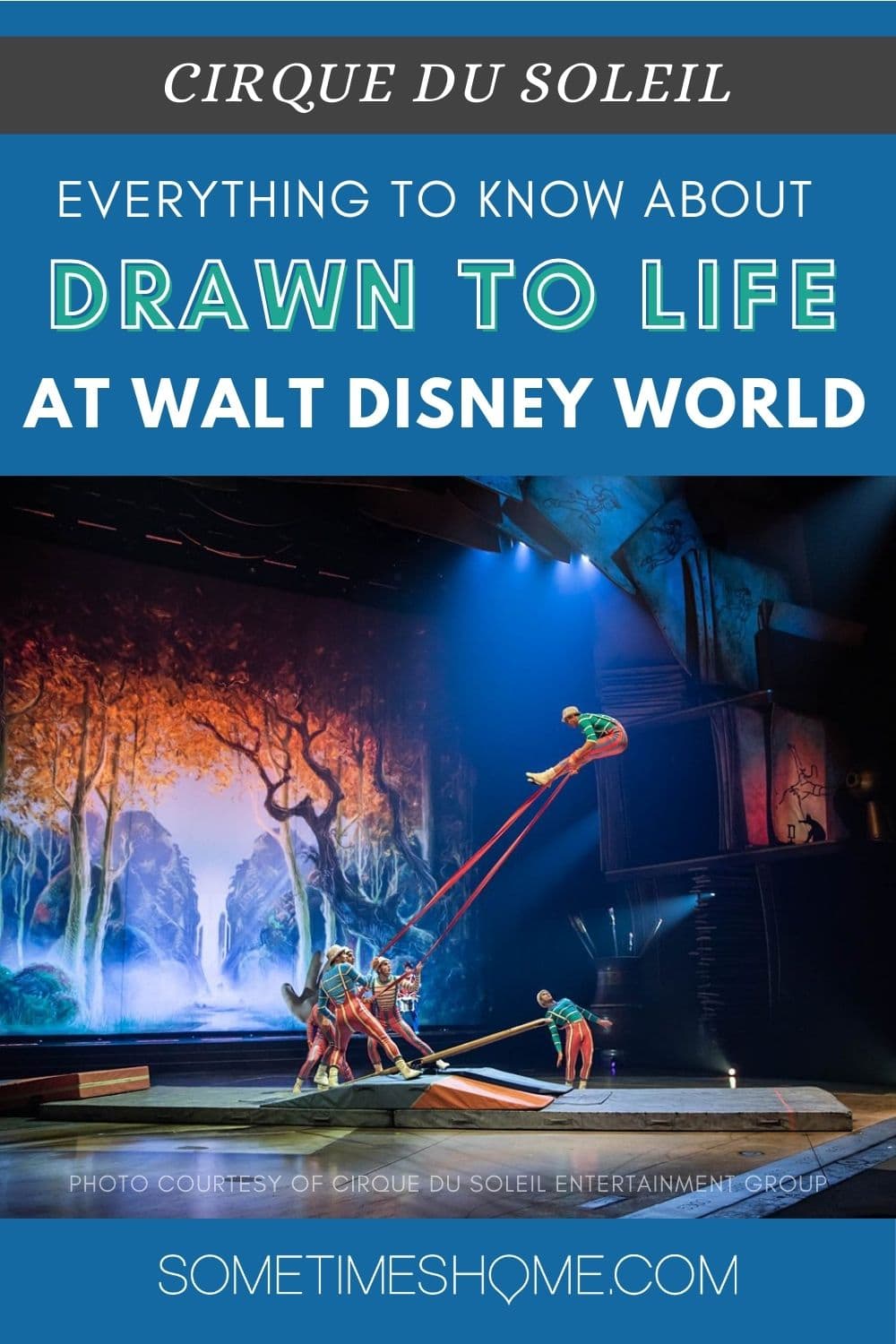 Why Cirque du Soleil is Special…and What Makes Drawn to Life Unique
We've seen plenty of Cirque shows between the two of us. Dan saw a traveling Cirque du Soleil show over two decades ago. And I've seen too many Cirque du Soleil shows to count, both "permanent" and traveling. When I heard that the one he saw all those years ago was a traveling show, I told him, "You're in for a real treat with the Cirque du Soleil Disney show!"
Cirque du Soleil is Incredibly Special for Multiple Reasons
Part of the uniqueness of Cirque du Soleil, in general, is the coming together of performers from many countries and the sheer talent of everyone who is a part of the performance.
This includes people you will never see on stage, from the lighting and set designers to choreographers. But it also includes the performers who are front and center, before your eyes.
The acrobats, in particular, are true athletes. It wouldn't be surprising if they have worked on their sport – whether it be silk ropes, unicycling, or tumbling – their entire lives. And never mind their continued dedication to working out and practicing day in and day out. Or how they do their own makeup for every performance! (Yes, you read that correctly!)
Yet what makes Cirque du Soleil special isn't simply the coming together of these teams and talent. It's their incredibly high level of production and performers' superior skills when compared to something like a usual circus you may be more familiar with, or any 'ole stage performance. We're talking Broadway-level caliber and then some at all Cirque du Soleil shows.
If you're wondering (because the word "cirque" means "circus" in French), there are no live animals in any Cirque du Soleil show like you may have seen during a circus as a kid. (If you're visiting Florida for a while and have time to hop over to the gulf-coast, we highly recommend going to the Ringling Museum in Sarasota. It's amazing and you can learn about the history of the circus there.)
Drawn to Life at Disney World is Extra-Special for Numerous Reasons
The new Cirque du Soleil show at Disney Springs at Walt Disney World is called Drawn to Life. The show is extra special because:
It's the 50th show Cirque du Soleil has created. It is also all too appropriate to have opened during the 50th Anniversary of Walt Disney World!
It came together thanks to the synergy between Cirque du Soleil, Walt Disney Imagineering, and Walt Disney Animation Studios.
62 artists are in the cast from 15 different countries.
The Cirque du Soleil theater at Disney World is round, which helps to immerse guests in the performance.
The show will be there for the foreseeable future. In other words, it's not only at Disney Springs for a few weeks or a year. Just like the permanent shows of Cirque du Soleil in Las Vegas, Drawn to Life is here to stay.
The Old Cirque du Soleil Show at Downtown Disney: La Nouba
I was bummed out when La Nouba closed at what was then Downtown Disney. Though I had only seen it two or three times over the years (including when I lived in Orlando) it was very memorable. It was one of my all-time favorite things to do at Disney World besides the parks and to recommend to visitors.
Time passed, and Downtown Disney was transformed into Disney Springs. I thought Cirque du Soleil wouldn't return. But one day we heard the news a new show would be replacing it and I was THRILLED! I knew we had to see it.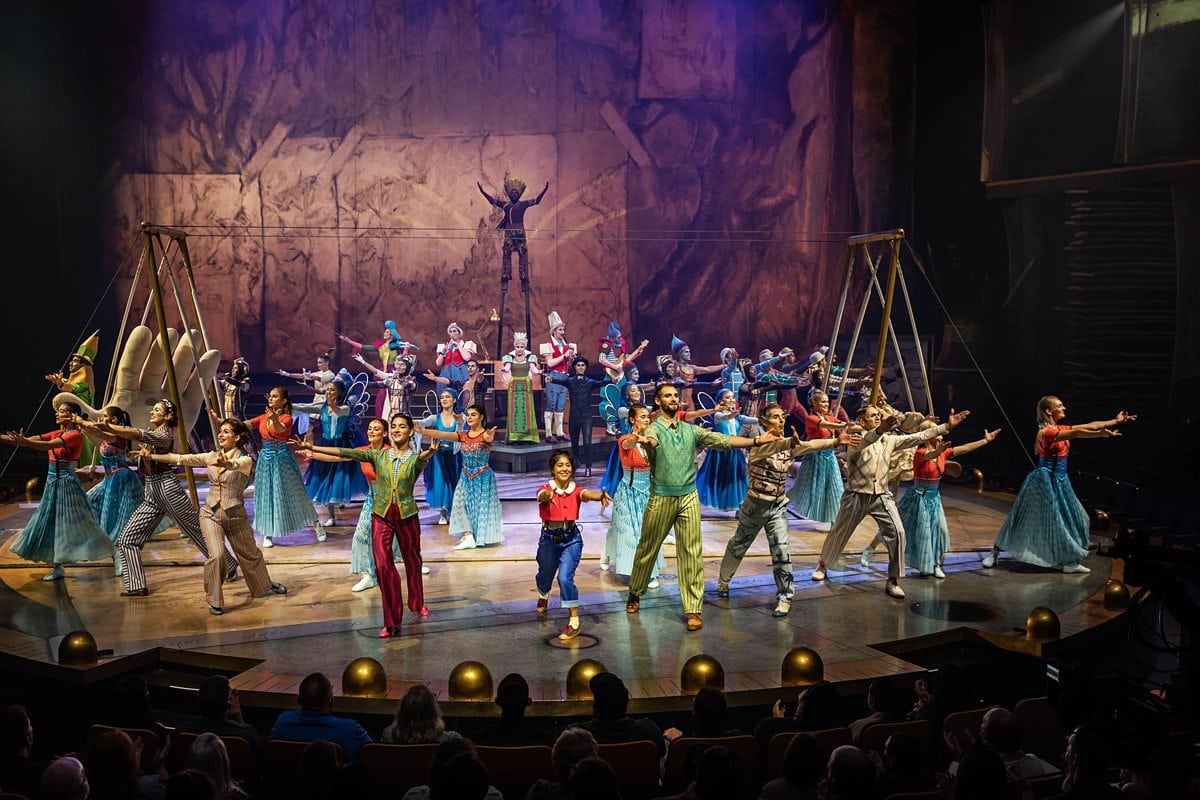 The Drawn to Life StoryLine
Cirque du Soleil's new show at Walt Disney World tells the story of Julie. She is a little girl whose father died and left a story unfinished – an animated story.
As the stage was set for Julie's story, Dan and I quickly realized that it followed the arc of classic Disney animated tales: a child (the protagonist) is left with one parent, then has something to overcome, an obstacle ensues complete with a villain, and ultimately the protagonist is victorious.
We don't think there's a spoiler alert here, but ultimately Julie's story has a happy ending.
It's the clearest storyline of any Cirque du Soleil performance we've seen (and I, in particular, have seen quite a few over the years). And while the storyline seems secondary to the acrobatics, it moves the show and its transitions along.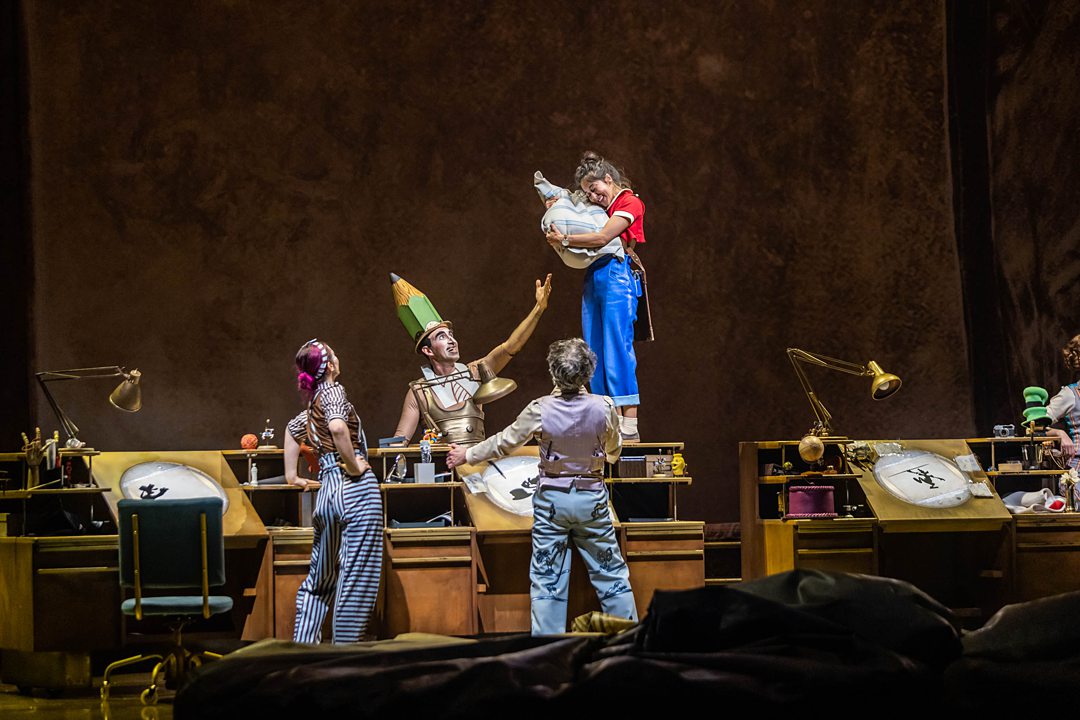 There are 10 Acts of Drawn to Life at Disney Springs
Ten amazing acts complete the 90 minutes or so of the show. While a lot of the acts have a direct connection to specific animated Disney films or sketches, others are more generalized.
For example, the first act (which was incredible and a personal favorite) is a man doing acrobatics as he uses an oversized pencil as a prop.
It didn't have a particular Disney animated film or Disney short reference, aside from the sketches on the screens in the background as he swung, turned, and twisted high and low. Rather, it was about animation in general, as the performer used the pencil to elegantly "draw" patterns on the stage.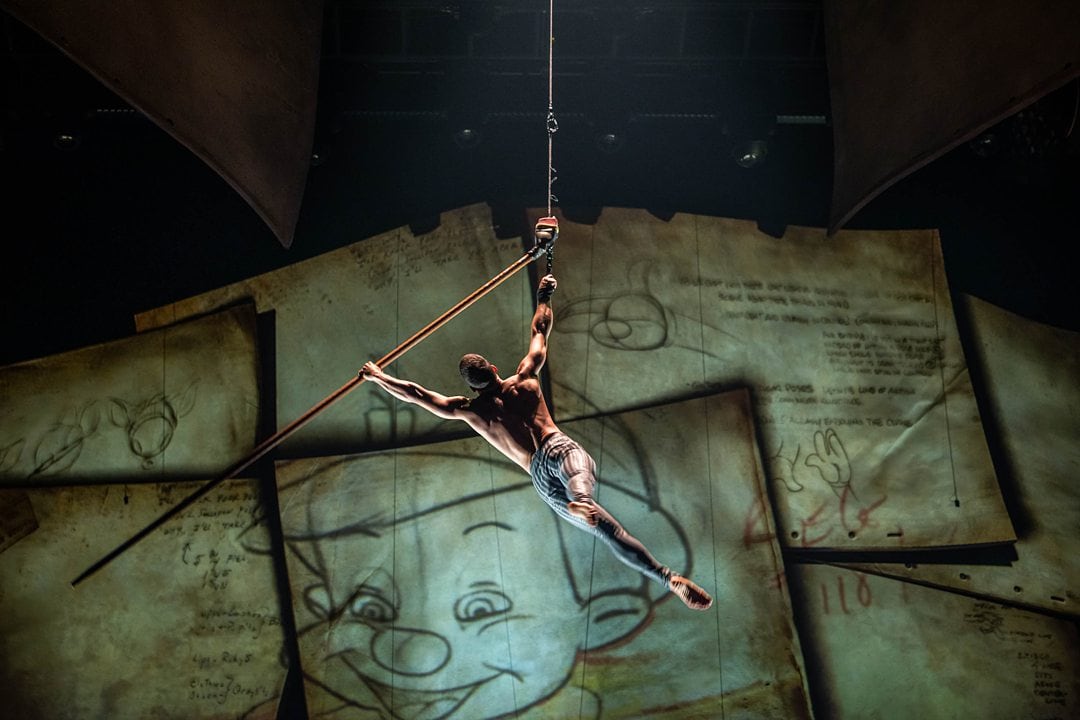 The Imagineers, Cirque du Soleil team, and Walt Disney Animation Studios so perfectly connected these acts to Disney Animation that you can't help but sing along, bounce along to the beat, or get a little teary-eyed as certain imagery plays on the screens. I admit I had to wipe away a tear early on in the show as Julie read a letter from her dad, addressed to "Baby Mine…," a clear reference to the Disney classic, Dumbo.
Later on, projections of Mrs. Jumbo swinging baby Dumbo in her trunk appeared and I almost reached for a tissue! Surely, that's the uber-Disney fan in me. But Dan, who has no particular attachment to Disney, still loved the show.
If you saw the show once, we recommend seeing if the show's been updated recently when you're back at Disney Springs. If so, consider seeing it again! (We'd see it again even if it didn't change at all, it's that good.)
They periodically update the acts and tweak the show as needed.
Favorites and Hanging Out at Disney Springs after the Show
We had different favorites when we discussed the show afterward. We did so as we continued our romantic Disney date over drinks at nearby Jaleo. (Jaleo is also on the West End of Disney Springs and was still open when the 8:00pm show let out around 9:30pm. There are many bar options still open at that time at Disney Springs.)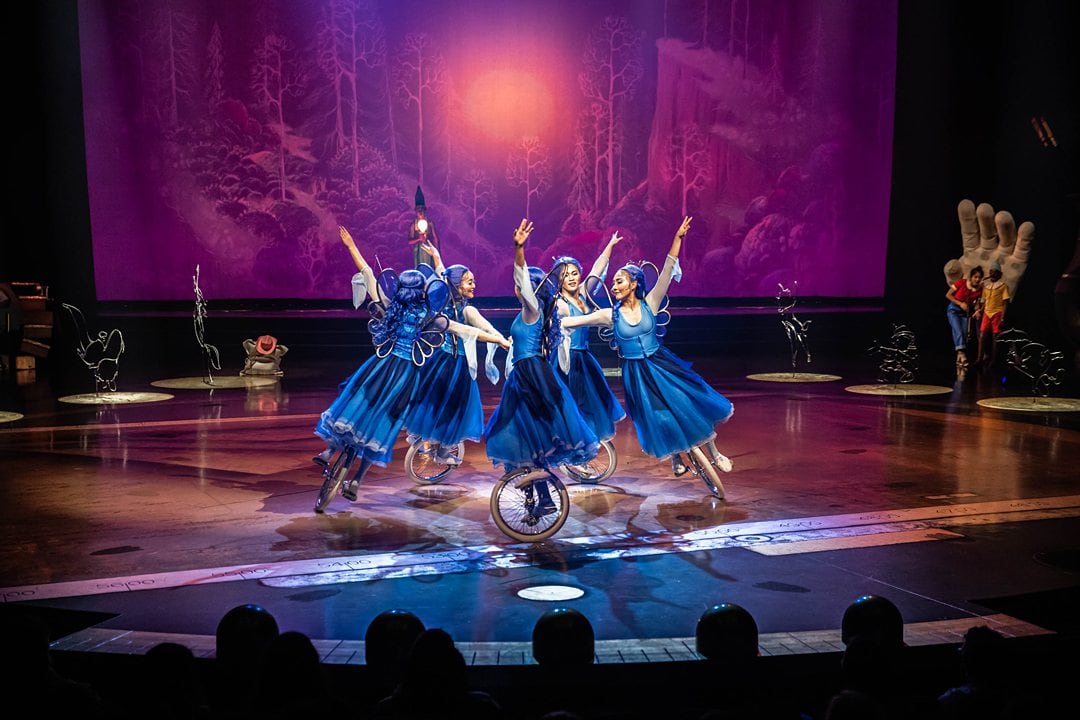 Do you Need to Love Disney to Appreciate the Show?
No. As long as you appreciate live performances, amazing acrobatics, and incredible set design, you'll love the show. To be clear, when I asked Dan if he thought you have to really know Disney (the music, the animation, etc.) to appreciate Drawn to Life, he replied, "No. Anyone can appreciate the show and everyone has some sort of knowledge of the Disney brand."
It's impossible not to know Disney at all unless you've grown up without any sort of television or papers/magazines your whole life. Most people know something about Disney's animated films, like the romance between Belle and the Beast or about the loveable bear from The Jungle Book, named Baloo.
Growing up going to Disney theme parks, or having a deep affinity for Disney isn't connected to those pop-culture references.
You do not need to love Disney to enjoy this Cirque du Soleil show, Drawn to Life.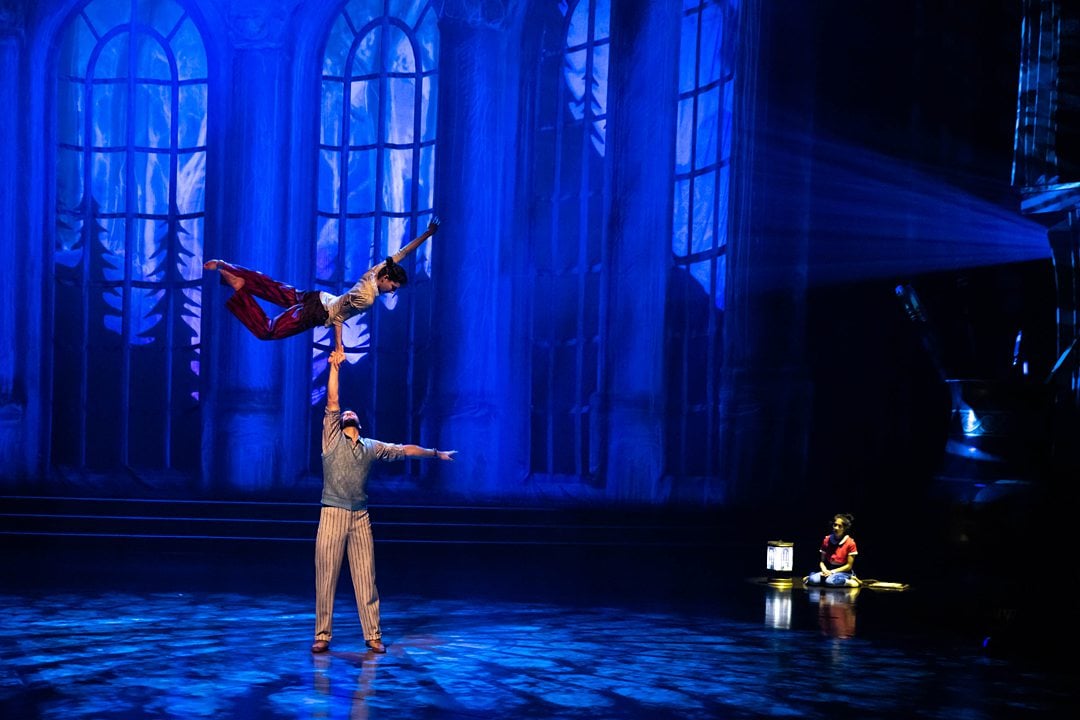 If you Love Disney, You'll Appreciate the Fun References to Historic Disney Figures and Moments
If you do love Disney, however, you won't be disappointed.
I cannot remember a time I was so jazzed about classic Disney references and music since Mickey's PhilharMagic debuted at the Magic Kingdom.
If you're a REAL Disney nerd you'll get the reference to a woman painting at her animation desk during the Dreams of Colors act. She paints a kaleidoscope of colors on paper, which is projected on a giant wheel suspended in the air. Two acrobats perform on the wheel.
The woman is a reference to the famed Mary Blair, a Walt Disney Imagineer who designed a lot of the It's a Small World attraction, including the costumes on the children inside and the famous facade as you load into the boats. (Which is just one iconic Disney attraction she had a hand in).
The Drawn to Life team went so far back as to include the 1937 groundbreaking animated short, The Old Mill. Which, candidly, I had to Google when I got home. (Most of us going to see the show were born in the years after that debuted – and it's not often referenced these days. Not enough for the general public to know what it is.)
However, it was still a heartwarming nod to the era when Walt Disney ran the animation studio. You'll know this act right away because the men who perform in it are dressed in beautiful, sage-green-colored owl costumes.
For a more modern reference, notice the lamp on the left side of the stage; you can't help but think of Pixar's lamp, Luxo Jr., when you see it.
Another easter egg Disney fans will appreciate happens when one of the performers unhooks her safety cables. You can hear the band play a part of the song "No Strings," from Pinocchio. It's subtle and short, but it was just enough to flood me with emotion!
Be sure to notice the four animators who help Julie home towards the end of the show. They're a nod to Walt's Nine Old Men, heroes of Disney Animation. (You can read about them outside of the seating area, in the theater.)
Lastly, the Squash & Stretch act, pictured below, was inspired by the rubber band fights the Disney Animators used to have in the studio during breaks. We got a kick out of the mats being modeled after classic erasers.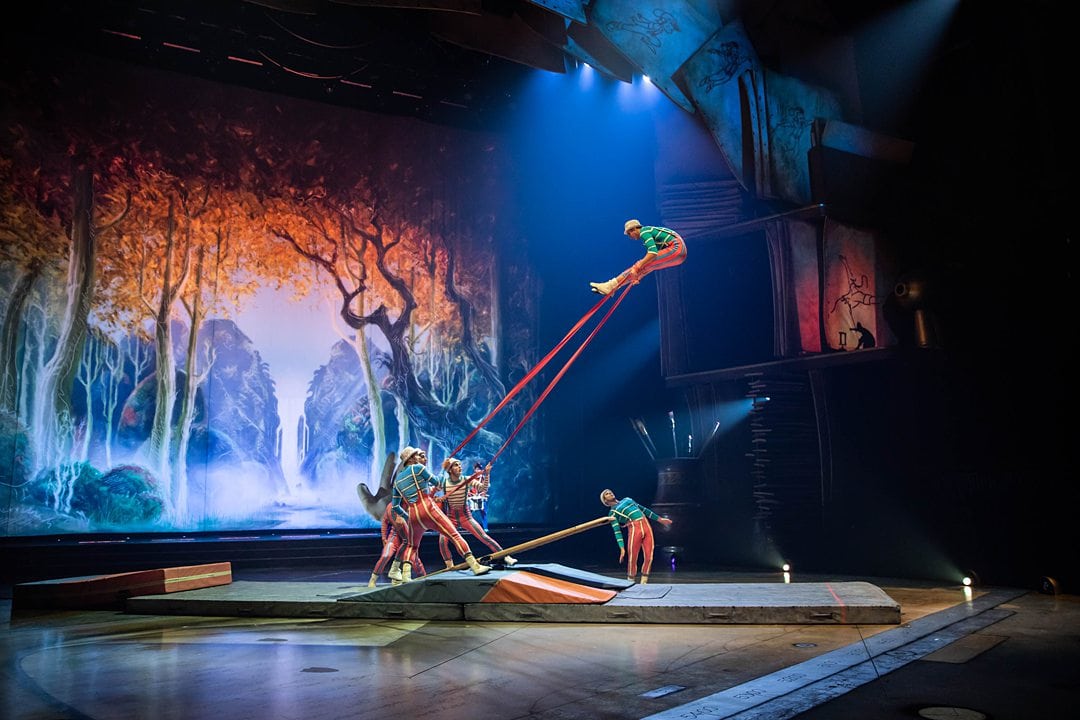 Performance Times and Tickets for Cirque du Soleil at Disney
Show Times
Shows are Wednesday through Saturday, with two performances a day. One at 5:30 pm and another at 8:00 pm. There is also a matinee option on Sunday at 1:30 pm, and another performance on Sunday at 4:00 pm.
Best Place to Sit in the Disney Springs Cirque du Soleil Theater
Because the stage juts out into the seating area, whose architecture is in somewhat of a semi-circle, there isn't a bad seat in the house at the Cirque du Soleil theater at Disney Springs. And the seating chart online makes it appear much larger than it actually is, so even row U (the last/top row in the theater) isn't that high or far from the stage.
However, some seats are better than others because they have a more centralized view of the projections on the stage. (Though the designers did a fabulous job creating a theater experience that doesn't have to be viewed from the center.)
While some concertgoers, for example, may jump at the chance to sit in the first row during a performance, we advise against this for Cirque du Soleil. This is because the better views are from a pulled-back perspective. It's also good to know that there are swings that come down from the ceiling at two or three points during the show. They hang above the walkway between the upper and lower blocks of seats. (When you buy tickets online, it is shown as a grey area on the diagram of the theater).
✩ Because of this, our opinion is that seating in rows J through N, in sections 203 through 205 (section 204 being the center section), is ideal.
Ticket Prices
Overall, there are four price points for tickets: $75 (select performances), $119, $149, $185
Ticket prices do not include taxes and fees, which are added during checkout. Additional costs include a transaction fee and taxes.
For example, two $85 tickets ($170 total) end up being $200.96 after checkout, and two $185 tickets ($370) end up being $413.96 when you check out.
The great news is that they are digitally delivered to your phone. If you have an iPhone like us, it's very easy to add the tickets to your Apple Wallet. The team at Cirque du Soleil scans them at the door when you arrive at the theater.
How to find discounts on tickets to Cirque du Soleil at Disney World
Once in a while, they run specials. One example is a "Sizzling Summer Savings Offer" when tickets were $26 of for the lowest ticket price for select seats. You have to catch it at the right time.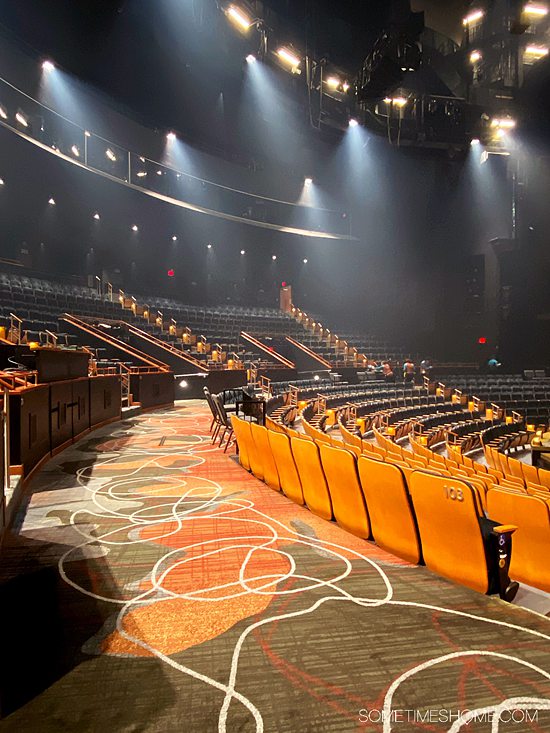 Cirque du Soleil FAQs at Disney Springs
Here is some additional visitor information that's good to know before you go to the show.
✦ What time should you arrive at the theater?
It depends on how much of the pre-show you want to see and how much walking around you want to do. We arrived 15 minutes early and I wish we had gotten there 10 minutes before we did to watch a little more of the pre-show on stage.
Our advice is to arrive at the theater 30 minutes beforehand. Allow more time if you're arriving at Disney Springs for the show, only, and you've never been to the Cirque du Soleil theater and need to find it. (It's all the way at the West End of Disney Springs, over by House of Blues. You just follow the very tall, white-tented building, and you're heading in the right direction.)
The theater opens approximately 45 minutes before the 5:30 pm, which lets out at 7:00 pm. Then they quickly clean the theater to turn it around for the 8:00 pm show; the theater opens back up to guests at 7:30 pm.
The pre-show inside the theater begins around 20 minutes before the show starts.
✦ Is there a Pre-show during the Cirque du Soleil show at Disney Springs?
The preshow before the show is inside the theater. Children are selected to draw pictures on stage, that are displayed on projections as a preshow "finale" of sorts just before the show starts at 8:00pm.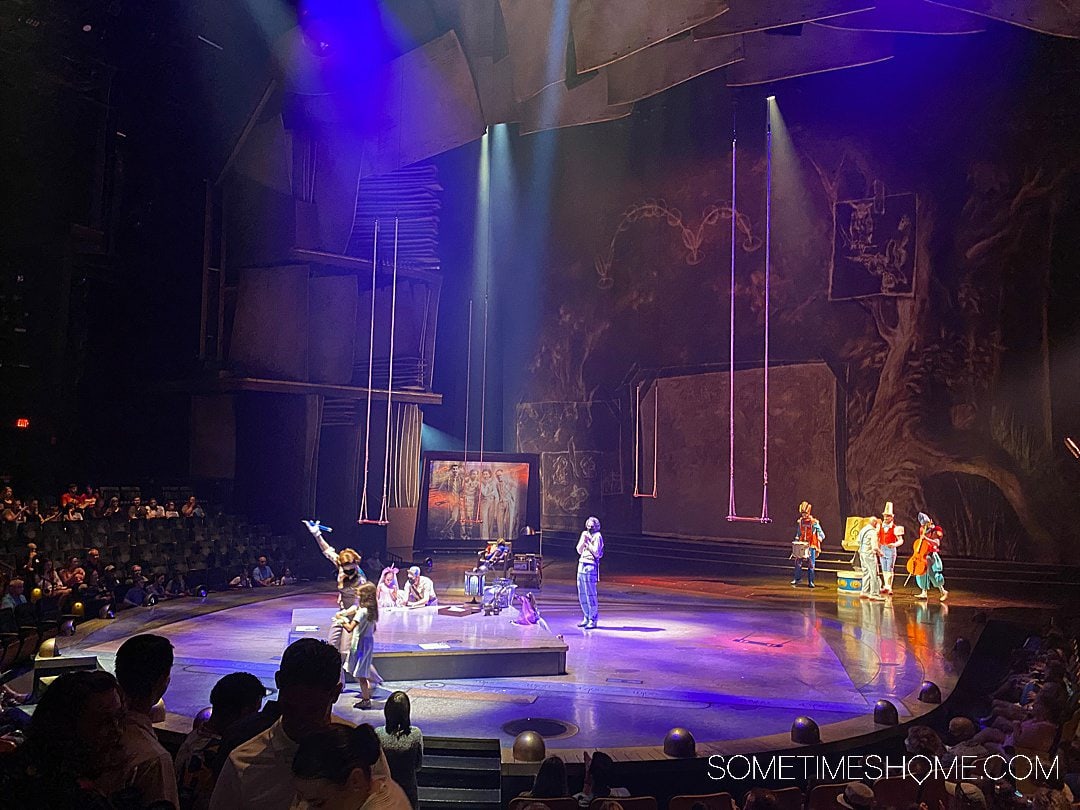 During this time, the performers interact with the audience while the chosen kids are drawing on stage. It's also a time when you can watch the musicians play their instruments on stage, who are also dressed in colorful Cirque du Soleil Drawn to Life costumes.
✦ How long is Drawn to Life?
The show is approximately 90 minutes. The 5:30pm show ends at 7:00pm, and the 8:00pm show ends at 9:30pm.
✦ Is there an intermission during Cirque du Soleil's Drawn to Life?
No.
Therefore, if you think you'll have to use the restroom during the 90-minute show, be sure to go before it starts. You can go during the show, of course, but it would be a shame to miss part of it.
There are public restrooms right outside the theater, on the ground level before you enter the show. Additionally, there are bathrooms inside the theater.
✦ What is there to do before the show starts?
You can do a lot at Disney Springs (which is where the Cirque du Soleil theater is located at Walt Disney World). There's a little bit to do and see inside the theater too.
✧ Things to do at Disney Springs before the Cirque du Soleil show starts
If you're seeing the 5:30 pm show, we highly recommend arriving in the area early to indulge in happy hour at Disney Springs beforehand. (Don't get so drunk you can't enjoy the show, though!) You can also shop or simply walk around.
You can have dinner before the 8:00 pm show or dinner after the 4:00 pm or 5:30 pm show. Lunch is a great idea before or after the Sunday matinee at 1:30 pm.
If you plan on having a sit-down meal, we recommend making reservations in advance. If you want to have dinner at a quick-service dining option pre-show, leave plenty of time to potentially wait in line to order and then eat. Evenings at Disney Springs get packed!
✧ Things to do at the Cirque du Soleil theater before the show
We browsed what souvenirs they offered at the theater before we found our seats. There is a souvenir shop below the theater (before you enter the ticketed area) and there are two small areas to purchase souvenirs inside. Be sure to leave time to take photos in front of the tent before you enter the theater too!
Once inside, you can read the Animation Principles that adorn the hallway walls before you enter the seating area. Don't miss the info about The Nine Old Men and Women of Ink & Paint.
Notice all the stylized details inside too, including the Companion Restroom sign (which has rulers on it and some sketch strokes) and the letters above the doorways leading to the seats. No detail was left untouched!
We enjoyed taking advantage of this photo opp inside the theater, which is near the women's restroom.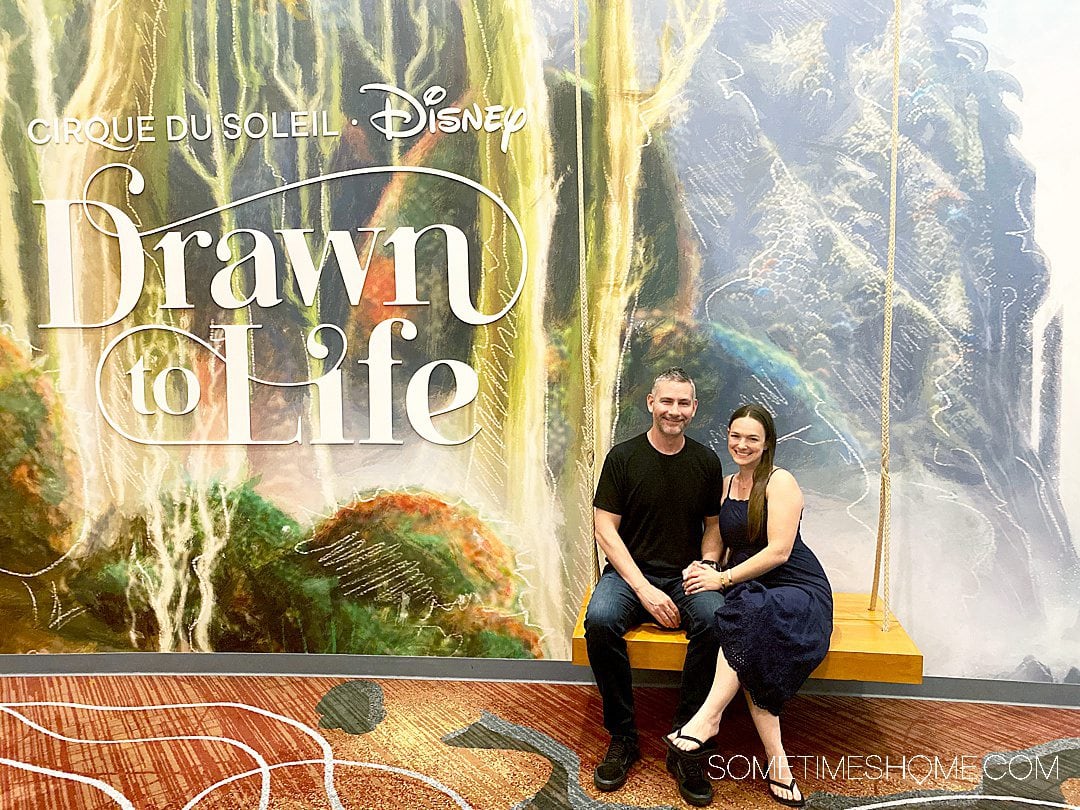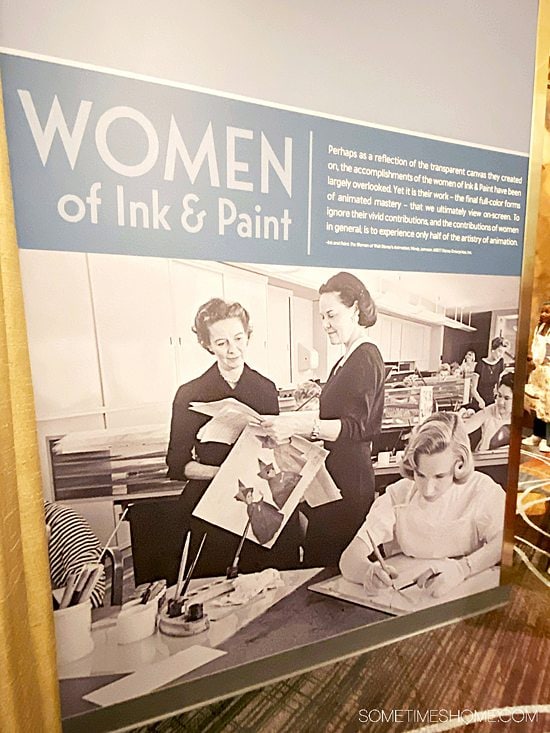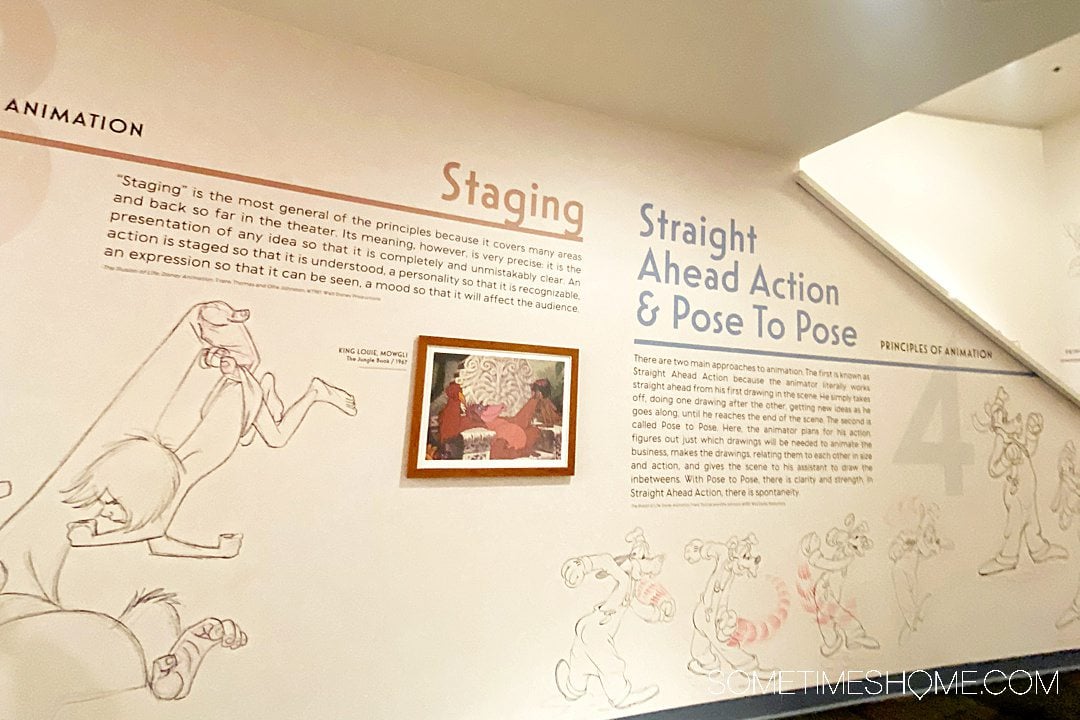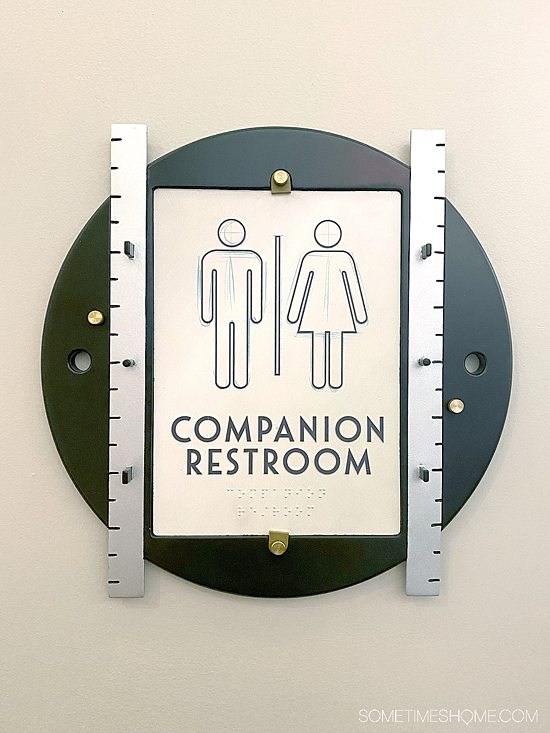 ✧ Can you buy food and drinks at the show?
Yes, there is a concession stand inside the theater. You can purchase non-alcoholic or alcoholic beverages and things like candy and popcorn. There are drink holders beside each seat.
If you bring an empty water bottle, there is a station to fill them by the bathrooms. (We recommend bringing a MiiR bottle. They are fantastic, help save the Earth, and they're insulated. So if you pack one for the Disney parks during your Walt Disney World trip, for example, your water won't be hot-tea temperature come noon. Save 15% off a MiiR bottle with code SOMETIMESHOME.)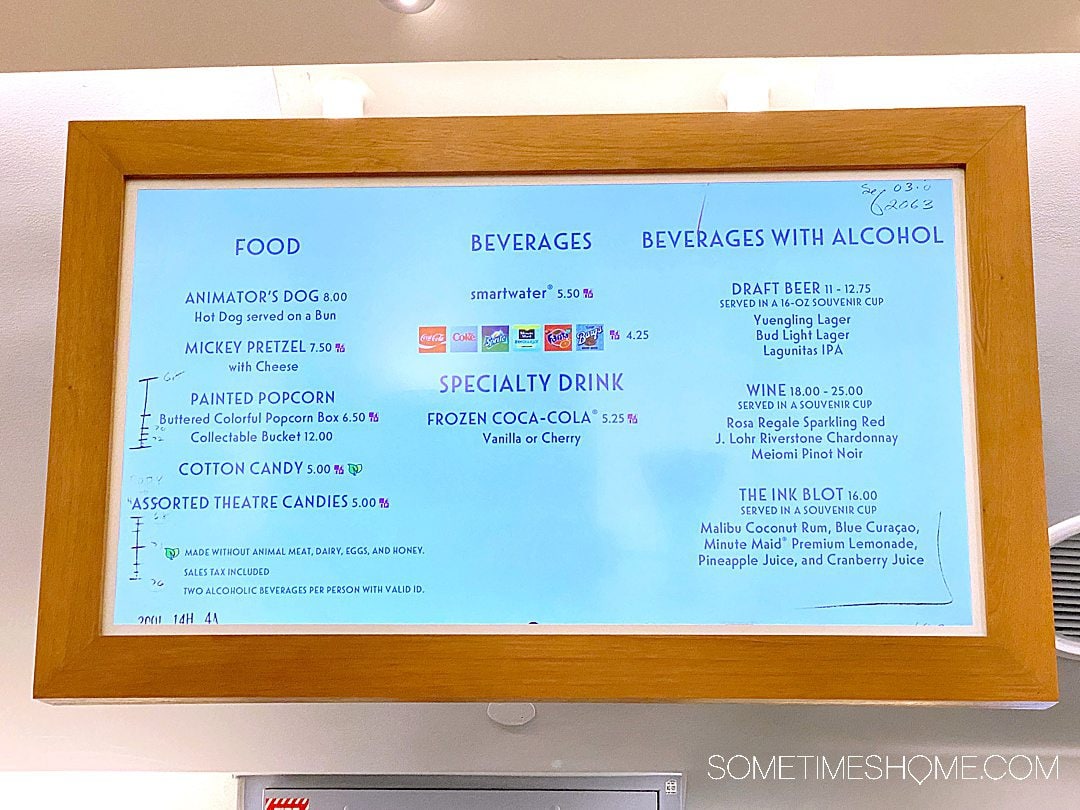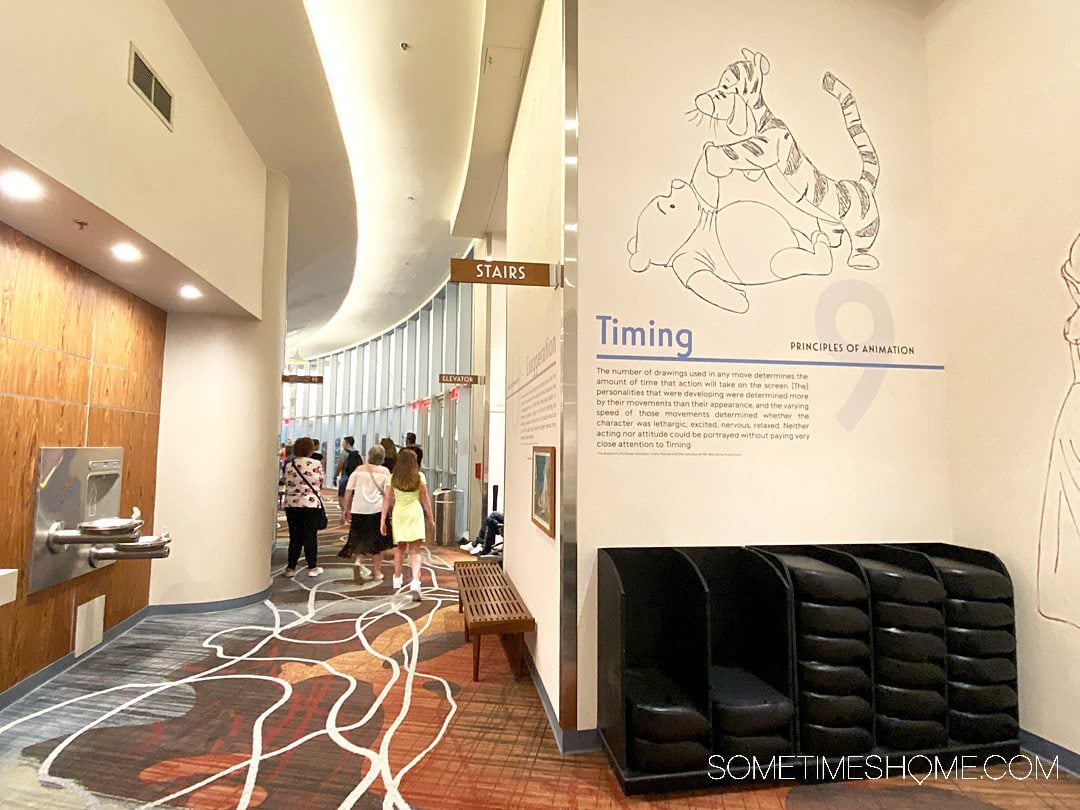 ✦ Can you buy souvenirs at Drawn to Life?
There are several places to buy souvenirs from Drawn to Life at the theater. There's a big store "underneath" the tent (which is on the ground level when you're walking to the theater in Disney Springs). There are also two little souvenir stands inside the theater.
We looked around the shops before the show but we didn't understand many of the references on the apparel, mugs, and notebooks until after the show. Even if you buy something before the show simply because you like it, you'll understand it better in context afterward.
If you want to buy some Cirque du Soleil, Walt Disney Imagineering, and Disney Animation books online when you're home, there are plenty!
Here are some we recommend that relate to Drawn to Life: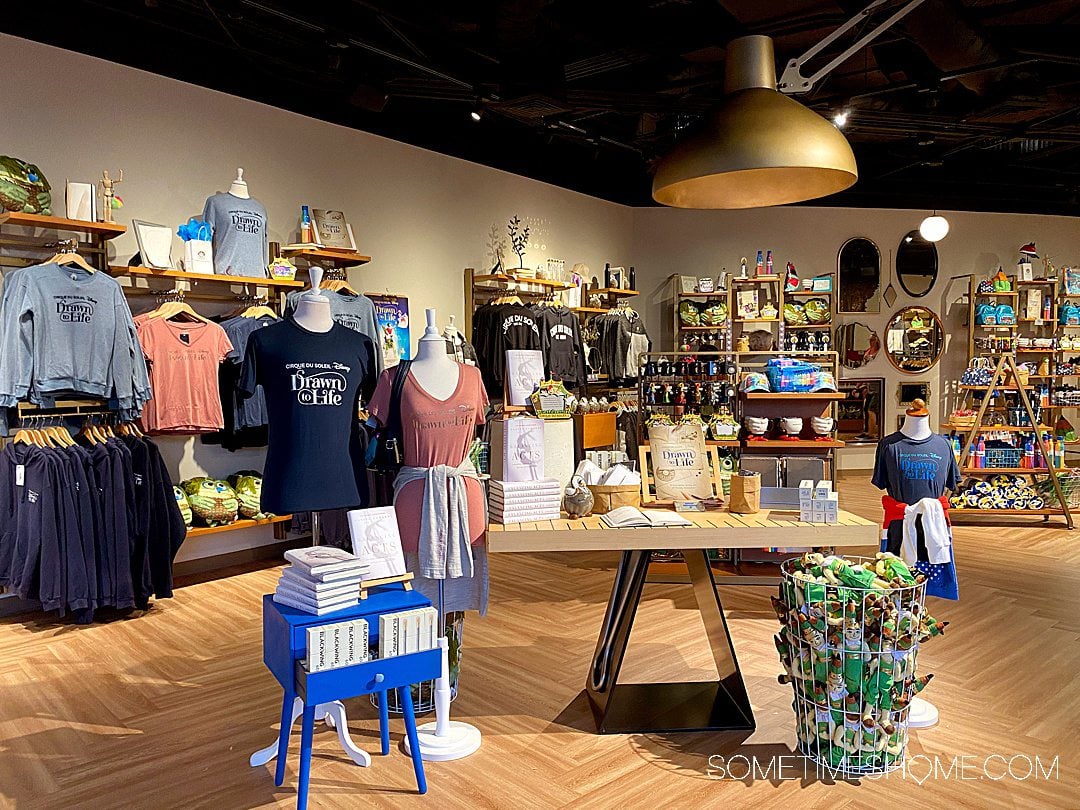 ✦ Do they allow photography or filming during the show?
No. The photos we have during the performance in this post have been given to us by the Cirque du Soleil Entertainment Group. Any other photos that we took were either outside the theater, before, or after the performance.
Consider this a blessing. You will be much more focused on the show and the performers if the only task you have is to watch it and be entertained.
If you have the option, leave your pro camera at home. Travel light and only bring your mobile phone for photos before and after. (You'll be lighter walking through Disney Springs too!)
✦ Is there a dress code for Cirque du Soleil at Disney Springs?
There is not. I wore a casual dress with flip-flops and Dan wore dark jeans and a black t-shirt with sneakers. Remember that some people are probably going to the show straight from a day at the parks, without time to change in between.
✦ Is Cirque du Soleil a good date idea at Disney World?
YES! Make a whole evening of it and have dinner at Disney Springs before or after. Or plan a whole vacation at Walt Disney World around seeing the show if you haven't made plans to already!
We HIGHLY recommend staying at The Swan Reserve right by Disney's BoardWalk. We loved our stay there. They provide free transportation to and from Disney Springs. Then check out the most romantic things to do at Disney World for some more fun date ideas.
Cirque du Soleil is a FANTASTIC Show at Walt Disney World
We can't help but emphasize what a great evening activity it is to see Drawn to Life at Walt Disney World by Cirque du Soleil.
If you think there's even a chance – big or small – you'll enjoy the show, budget for it when you plan your Walt Disney World vacation (or evening out) and see it.
Some final thoughts are:
The creativity was sincerely outstanding.
There were incredible projections everywhere during the show.
The stage was amazing, the animation nostalgic, and then some…
The costumes were phenomenal. Pencil shavings served as skirts and hats, flowy dresses added to the movement of the final act, and seeing a performer's makeup up close (thanks to where we were seated, just below the walkway) was awesome. I even said, "I love your makeup!!!" to one of the owls nearby who was pushing the swing above the walkway close to the end of the show. He smiled wide and said, "Thank you!" It was a nice moment.
If you've seen Cirque du Soleil before, you'll appreciate that the "clowns"/comedic performers (for lack of a better term) are a part of the performance, seen throughout the entire show. They'll certainly make you smile.
There is minimal dialogue during the show but lots of uplifting music.
There is SO MUCH to look at, we imagine if you saw it two or three times, you still wouldn't catch every detail. (All the more reason to see it again!)
Buy tickets and go. You won't regret it!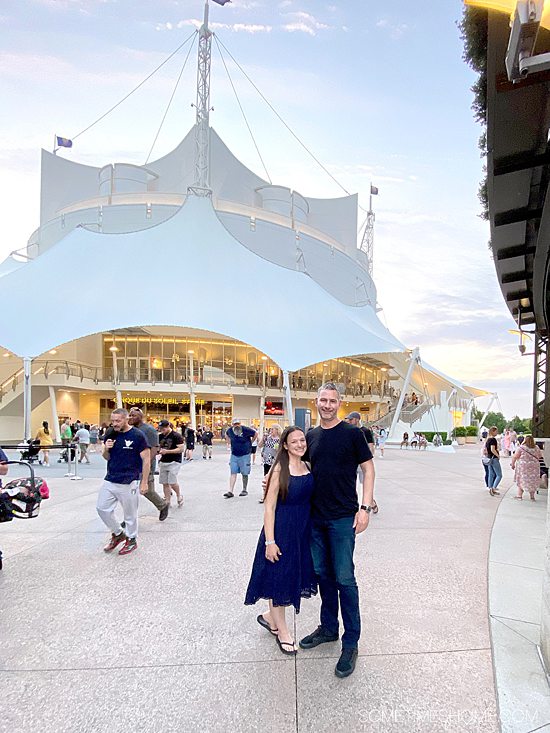 Going to Walt Disney World? Also check out: