Review and FAQs for the Best Washable Weighted Blanket: Nodpod BODY
There are so many reasons we know that the best weighted washable blanket out there is the body-contouring, Nodpod BODY blanket.
There's nothing like a weighted product to make you feel like a warm hug is embracing you all night! And Nodpod products are perfect for that, especially their body blanket. It provides a slew of great benefits with its great features.
Disclosure: There are affiliate links in this post, which means we may earn a small commission if you click the link and proceed with a purchase, at no cost to you. We were sent the Nodpod BODY for an honest review; we truly only recommend hotels, products, and services we personally use and enjoy. As Amazon Associates, we earn from qualifying purchases.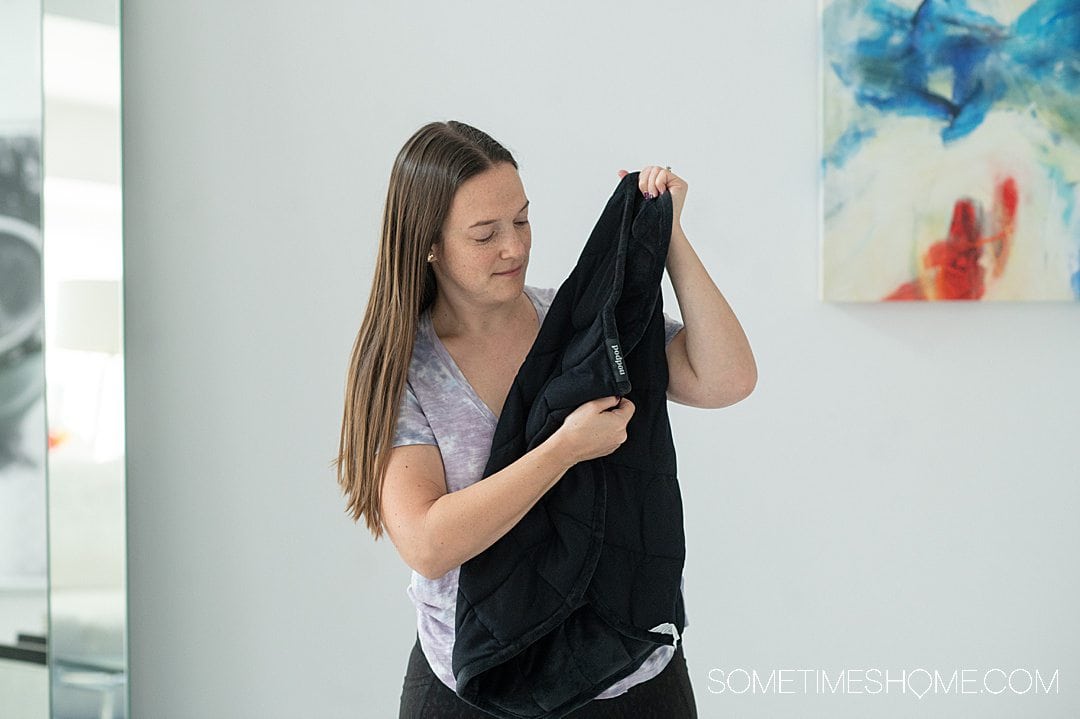 Benefits of Using a Weighted Blanket
You may be in your research stage of getting a weighted blanket, wondering what the benefits of having one are. The #1 benefit we love about the blanket is that it calms any anxiety and stress thanks to its soothing weight.
Weighted blankets calm anxiety and lessen stress
We're not scientists or doctors so we won't pretend to provide any guidance on whether or not a weighted blanket can help with joint aches, or backaches, and the like. However, we know what a constant hug feels like! And hugs are great.
What we can share with confidence, as reviewers of the best washable weighted blanket, is that this Nodpod BODY weighted blanket calms anxiety with its concentrated weight, which is effectively spread across the blanket due to its great design.
The weight of the blanket, just like the Nodpod sleep mask, is awesome for aiding in sleep. Dan falls asleep immediately but it takes me such a long time to fall asleep (over an hour sometimes, even if I am exhausted) and this Nodpod BODY blanket and the Nodpod eye mask have definitely helped me fall asleep faster.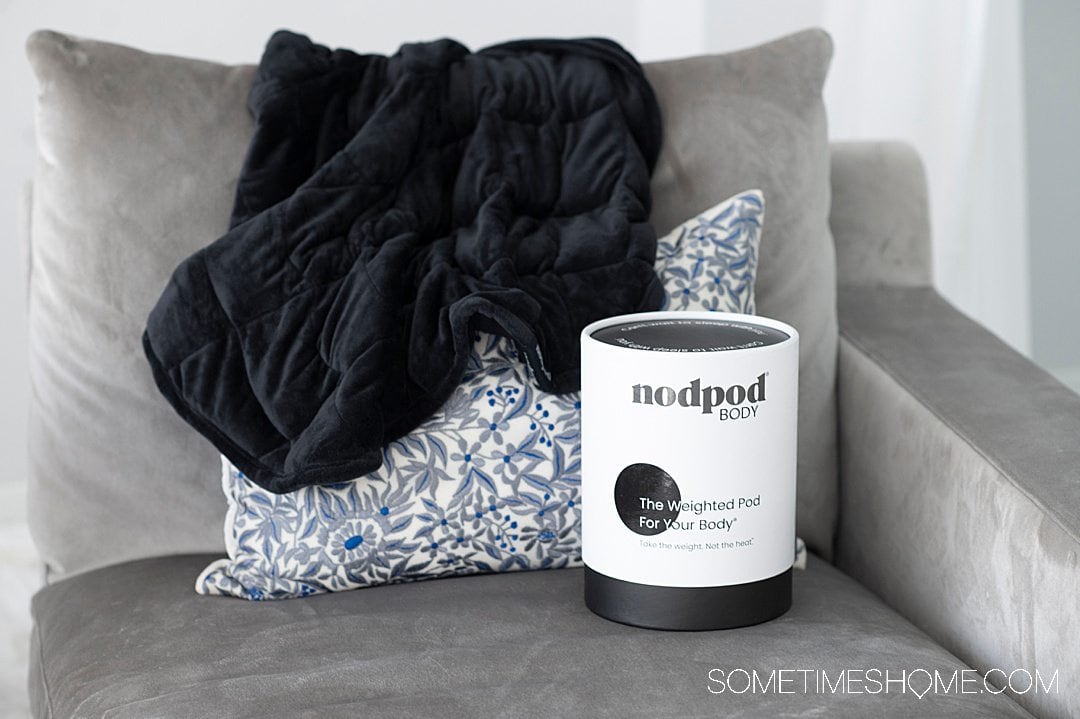 Can you Sleep with a Weighted Blanket?
Yes! It's not just great for snuggling on a couch while watching TV. But the Nodpod BODY washable and weighted blanket is safe for sleeping through the night.
It's best for adults and grown children who can maneuver and move the blanket themselves. It is not recommended for small toddlers and infants who cannot move the weighted blanket.
Nodpod BODY is the Best Weighted Blanket for Hot Sleepers or Cold Sleepers
If you are a hot sleeper this is THE BLANKET for you because you can put it in the freezer and enjoy some cold time with the weighted blanket. The microbeads inside the blanket hold the cold temperature and the material of the blanket stays flexible out of the freezer.
But you can also use it at room temperature (which is what we do) if you are a cold sleeper that needs extra layers to stay warm.
There are also two sides of the blanket, just like the Nodpod weighted sleep mask:
One side is a jersey cotton fabric, which keeps you cooler.
The other side is a warm microfiber that warms you up.
The way the fabrics work to be hot or cold is simply how it allows air to pass through their fibers. All you do to enjoy the warmer or cooler side is to flip which side of the blanket is touching (or facing) your body.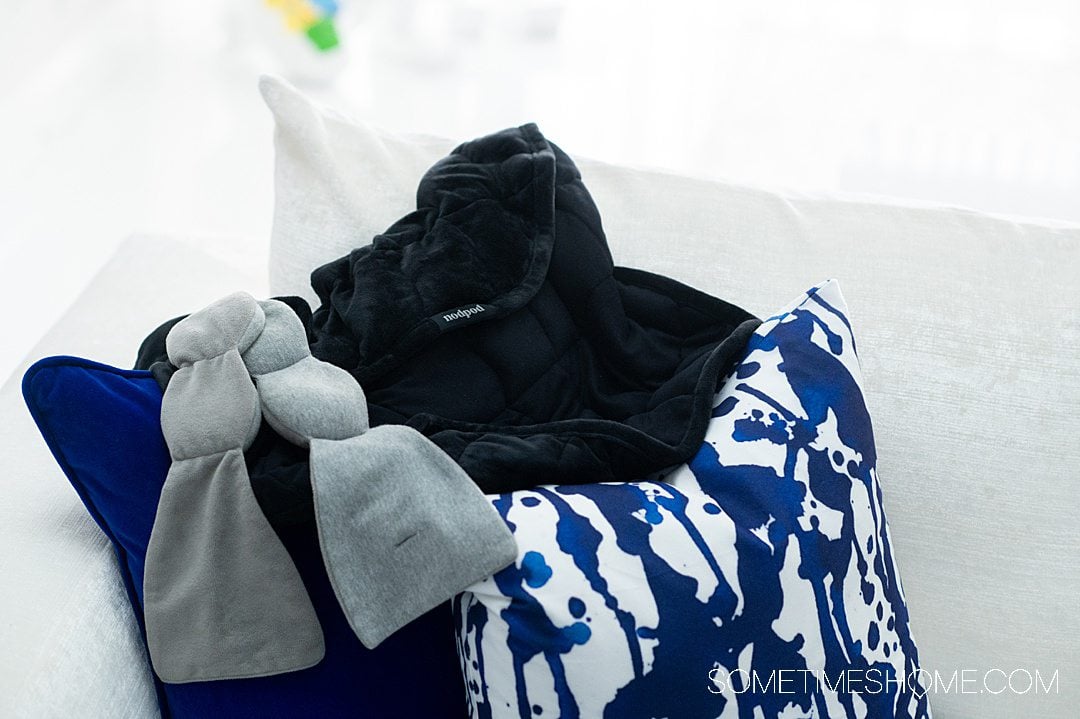 Size and Weight of the Nodpod BODY Weighted Blanket
The Nodpod BODY washable and weighted blanket is 6.5 pounds. It measures 29 inches, by 24 inches (that's over two feet on one side and exactly two feet on the other).
Of course, most people are larger than the blanket size. So how does that work? Well, a few things come to mind to note about its size (the size was surprising to us when we received ours but upon further thought, made sense):
You don't want the blanket to be as big as a throw blanket because it would be SO HEAVY you wouldn't carry it from one room to another.
The size is quite nice once you start to use it. Adults can use it either to cover your chest area, your shoulders (like a cape), or your torso and top of your legs. You don't need it to cover much more than that to enjoy the weighted "hug-like" anti-anxiety properties it seems to magically posess. If you want to cover more of your body for warmth, simply throw a blanket on your body and then strategically place the Nodpod BODY on top of that.
If you have purchased the Nodpod weighted eyemask and know what the cylindrical packaging looks like, the Nodpod BODY packaging is about three to four times that size. It's as if they blew up the Nodpod eyemask packaging and voila – there's the BODY packaging! Which we loved seeing.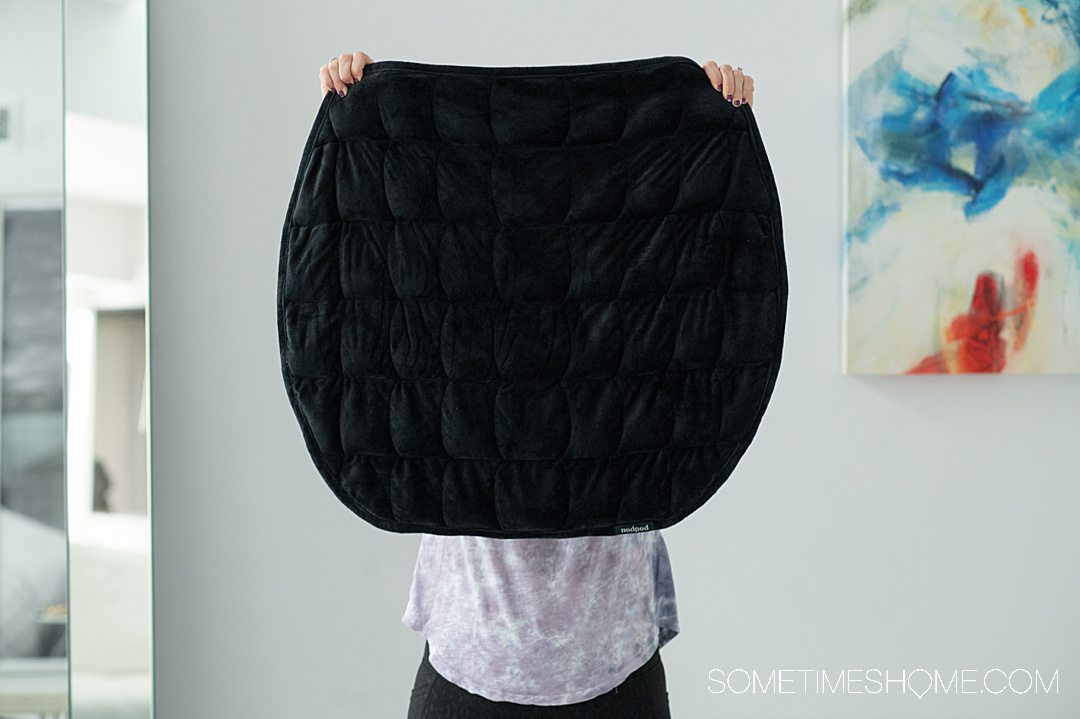 Can you Travel with the Nodpod BODY Weighted Sleep Blanket?
The blanket is 6.5 pounds. It's not that you can't travel with it, but the truth is we personally feel that it's a tad heavy to bring on an airplane. That being said, if you have severe anxiety issues when you travel it's not too heavy that you can't bring it on an airplane. You absolutely can and we recommend it if it helps calm the anxiety and stress that may go hand-in-hand with air travel for you.
If you're taking a road trip it's completely small and portable enough to go in a car. In this case, you don't even have to pay attention to weight because you're not carrying it through an airport in a carry-on bag or having to stay within the confines of a certain weight of checked luggage with airline regulations.
Imagine two 3 pound bags of potatoes plus a little weight. That's the weight of the blanket. And it's supposed to have weight because it's a weighted blanket!
While we won't be packing it in our travel backpacks for plane travel for ourselves, we will definitely always pack our Nodpod weighted sleep masks and will consider traveling with the weighted Nodpod BODY blanket for road trips.
Is the Nodpod BODY Weighted Blanket Washable?
YES! Just like the Nodpod weighted eye mask, the Nodpod BODY is washable.
But not only is it washer safe but it's dryer safe too. (The Nodpod weighted eye mask has different microbeads inside so though that product is technically dryer safe, it isn't recommended. However, you can use the dryer to dry the Nodpod BODY weighted blanket.)
What is the Nodpod BODY Weighted Blanket filled with?
The glass microbeads inside the Nodpod BODY blanket are the best for a few reasons:
It allows the Nodpod BODY blanket to be washable and dryer-safe.
The teeny-tiny micro glass beads inside the blanket are sanitary because they're washable. (Conversely, other brands that make weighted blankets with organic filler are not washable, which means they can grow mold over time.)
The micro beads allow you to freeze the blanket if you want a cool sensation, while also allowing it to retains its flexibility.
What other Products does Nodpod Make?
Nodpod's second product on the market is the Nodpod BODY, their weighted blanket. It was developed and created after the wild success of their weighted eye mask, which is a blackout mask that's great for sleeping during daylight hours, on a plane, train, in a car if you're the passenger (duh!), and more.
The Nodpod eye masks have been featured in Oprah Magazine, Buzzfeed, and Us Magazine. And our website, of course!
It is SUCH AN AMAZING PRODUCT, which is partially why we knew their second product on the market would be equally incredible. (We're obsessed with our Nodpod weighted eyemasks and now we're in love with this blanket too.)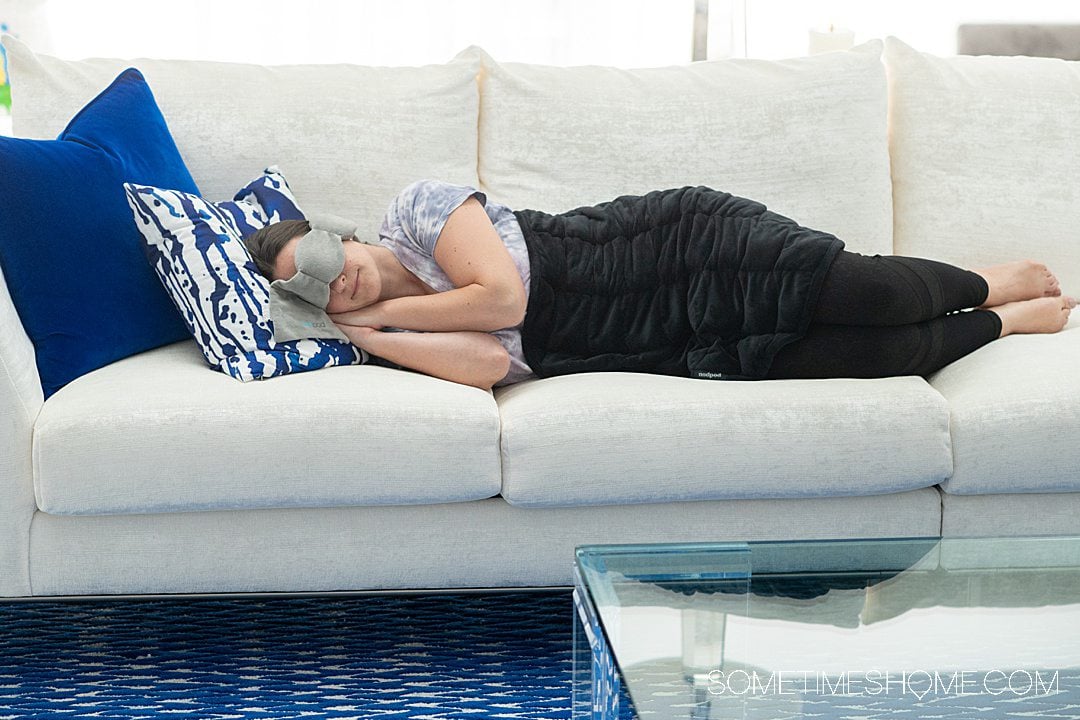 Where to Store your Nodpod Weighted Blanket
Personally, we're storing this puppy on the back of our couch. That way we can use it when we watch tv or take a daytime nap (which is rare but does happen).
If you prefer to fold it and put it away, it folds up to a really small size, allowing you to easily store it in a drawer. You can even store it on a side table if your bedside nightstand has a drawer or compartment. You can store it in a backpack or luggage too. It's possible to store it anywhere really!
This is when the compact size of the Nodpod BODY blanket comes in handy. Can you imagine storing a huge, 15 to 20-pound weighted blanket somewhere at home? Nope.
Cost of the Nodpod Best Washable Weighted Blanket
The investment for this blanket is just $88. It's about 10 times the size of a Nodpod weighted eye mask, which is $34 each. If you use our discount code, SOMETIMESHOME, you'll enjoy 15% off your purchase. And for one Nodpod BODY blanket that's over $13 off, making one blanket only $75.64.
How to Save 15% on your Nopod Purchase
Want to save 15% off your Nodpod purchase? Of course you do!
USE CODE: SOMETIMESHOME for a discount on your Nodpod order.
Traveling soon? Read this next: