Ultimate Marriott Swan Reserve Review at Walt Disney World, Including Epcot View Suite
Our decision to stay at the newest Marriott hotel on Walt Disney World property was partially to create an honest Marriott Swan Reserve review. But it was also to take a little time off at the end of the year, simply enjoying all that Disney World offers.
We went with a goal and you, our readers, in mind. We provide you with solid and candid information about this relatively new hotel by Disney's Boardwalk, within walking distance of Epcot and Hollywood Studios.
While we also went to be guests of the hotel and enjoy it as Disney fans, we did not go into the parks this trip! We joyfully relished the hotel and its nearby attractions that are outside the Disney parks. However, during our Swan Reserve visit in this review, we stayed entirely on Walt Disney World (WDW) property.
Disclosure: We used our Marriott Bonvoy points to stay at the Swan Reserve, but were partially hosted by the Swan Reserve PR team for some meals and experiences. We truly only recommend hotels, products, and services we personally use and have enjoyed. There are affiliate links in this post, which means we may earn a small commission if you click the link and proceed with a purchase, at no cost to you, which helps us keep our blog running. As Amazon Associates, we earn from qualifying purchases.
➜ Already know you want to book? Reserve your preferred dates and room at Swan Reserve now! 🚨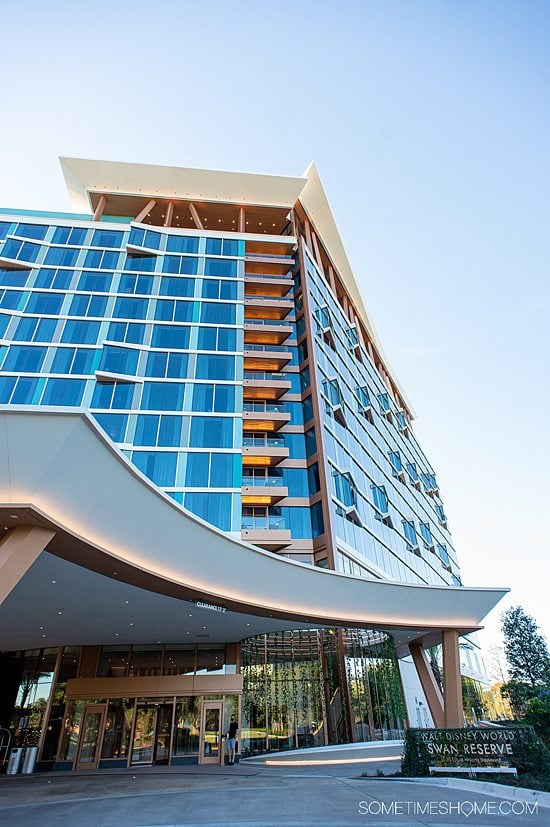 About the Swan Reserve Hotel at Disney World, Part of the Swan and Dolphin Hotels area, by Marriott
The Swan and Dolphin hotels are wonderful premium "non-Disney" hotels that are on Walt Disney World property. Marriott runs these reputable hotels. The buildings are incredibly recognizable. (They were designed by famous architect Michael Graves, and created in the late 1980s under the leadership of then Disney CEO, Michael Eisner.)
The two hotels were designed in conjunction as one project and opened in 1990. The icons were unlike anything that existed at any hotel at the time. (That is the swans, dolphins, and shells on top of the hotels.) They certainly preceded any icons of the sort at hotels like Disney's Pop Century Resort, an economy hotel at WDW that opened over a decade later.
Fast forward to the 21st century and the wild success of the two hotels…and you get a desire to expand. In comes the Swan Reserve, which opened in November 2021. The newest hotel is considered part of Marriott's "Autograph Collection" of hotels and is a luxury option for WDW guests.
The hotel features one main sit-down restaurant, a casual eatery by the pool, a combo grab-and-go food spot and coffee bar, two adult bars, a state-of-the-art gym, and over 300 hotel rooms.
It's walking distance to two of Disney's four theme parks; they provide complimentary bus transportation to all four parks plus Disney Springs. (This is a great place to indulge in happy hour or shopping, or Cirque du Soleil on Disney Springs' West Side.
The hotel is a fabulous getaway even if you aren't going to Disney's theme parks. And this is exactly how we vacationed during our stay to bring you this honest Swan Reserve review.
What was on the Property before the Property became the Swan Reserve?
If you're a die-hard Disney fan like me, you're probably wondering what became the Swan Reserve.
Don't worry – you're not going to miss anything that was there previously! If we had to guess, the tennis courts and parking that were previously there were underused. Therefore, as a hotel, they were way more valuable – to everyone, from guests to Disney and Marriott. And voila: the tennis courts and parking lot are now the Swan Reserve!
Benefits of Staying at the Swan Reserve Hotel and Resort at Walt Disney World
Walt Disney World Perks, Staying at the Marriott Swan Reserve
Guests of the hotel enjoy various WDW perks as guests staying on Disney property.
Transportation to Disney Parks and Disney Springs
There are several options for transportation between Disney Parks at the Swan Reserve:
Buses
Boats
Walking
Disney's Skyliner
There are buses from the Swan Reserve to Disney's parks. (You'll notice the Swan Reserve buses are operated by Orlando's reputable transportation company, "Mears," if you're familiar with them.) Or, if you are able to and prefer, you can walk from the Swan Reserve to Epcot or Hollywood Studios. Both are lovely walks if it's a nice day.
There's a boat option as well that takes you from the area between the Swan and Dolphin to Epcot or Hollywood Studios (this area is a very short walk from the Swan Reserve).
You can also walk over to Disney's Skyliner (their aerial gondolas) by the World Showcase entrance at Epcot from Swan Reserve. It is free to ride. It takes you to a few resorts, including Disney's Riviera Resort and Disney's Caribbean Beach, and over to Hollywood Studios. It's a fun thing to ride despite the destination.
One of our favorite Walt Disney World property areas to visit is Disney Springs (especially for happy hour). And you can take a complimentary shuttle from the Swan Reserve to Disney Springs as well.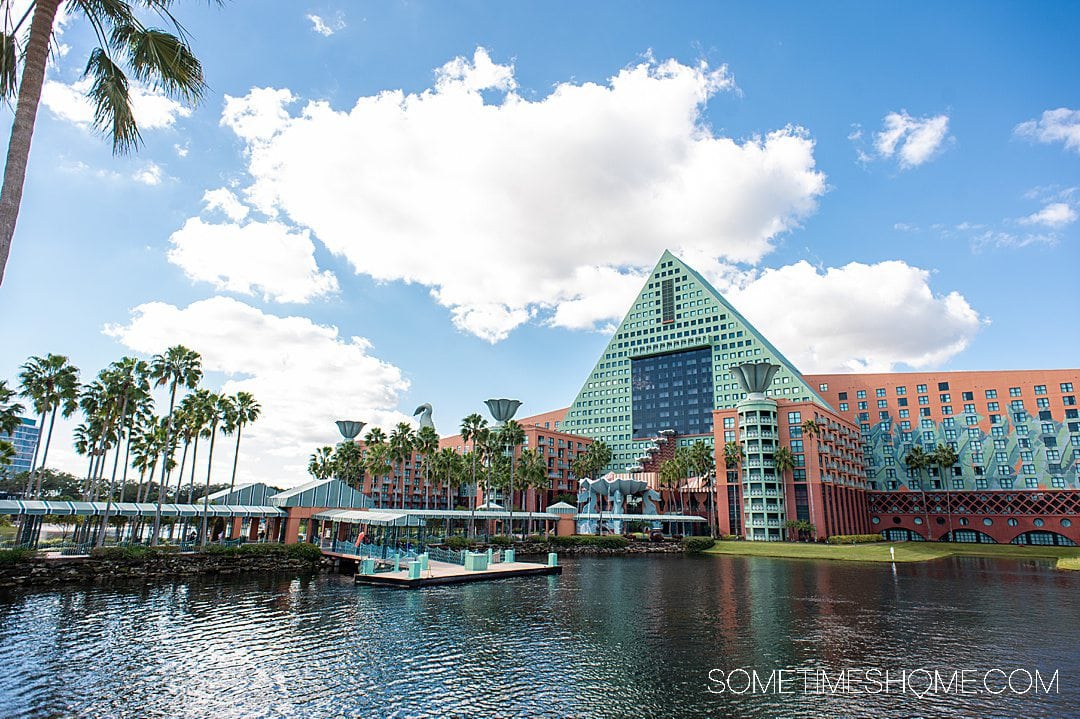 Extended Hours
Guests of the Swan, Dolphin, and Swan Reserve resorts at WDW enjoy extended hours at the theme parks, just like any other Disney hotel guests do. This is time that hotel guests can enter the park earlier or stay later, as scheduled by Disney. This is a great time to ride popular attractions and enjoy lesser wait times.
Complimentary Theme Park Parking
If you want to drive to any of the four theme parks from the hotel, you will receive complimentary parking as a guest of the Swan Reserve. (It would make the most sense to drive to Animal Kingdom or the Magic Kingdom, not really to Hollywood Studios or Epcot since they are so close to the Swan Reserve.)
All you have to do is make sure you show your room key to the parking lot attendant and confirm you have the My Disney Experience App.
Preferred Tee Times at Disney's Golf Courses
We don't play golf but Walt Disney World has incredible golf courses (we prefer miniature golf – funny, but true!). This includes the Palm, Magnolia, and Lake Buena Vista golf courses amongst others. Preferred tee times are a great perk that guests of the Swan Reserve can take advantage of during their stay.
Marriott Bonvoy Perks at the Swan Reserve
It's no secret we love being Marriott Bonvoy members and enjoy their perks. We are advocates for Marriott Bonvoy Brilliant American Express, which automatically bumps you to Gold Elite status when you sign up for the card.
We use ours ALL THE TIME in day-to-day life, for everything from groceries to gas, to restaurants, to Target runs, for coffee, and even a pack of gum. Because why not get the points? The points are what enable us to get free hotel stays all over the world. (Read on for more about that.)
When you stay at Marriott hotels for a certain number of nights within a calendar year, you achieve different status levels. As Marriott Platinum Elite, we received bonus points for staying at the Swan Reserve. These points were automatically added to our Marriott Bonvoy account; we saw them appear in our account before we left.
Here's the breakdown of bonus points Marriott Bonvoy guests receive for staying at the Swan Reserve:
Silver Elite members receive 10% bonus points.
Gold Elite members receive 500 bonus points.
Platinum Elite, Titanium Elite, and Ambassador Elite guests receive an option of either a welcome amenity, continental breakfast for two each morning of their stay, or 2,500 bonus points for their stay.
We actually earned back over 8,700 points for staying at the Swan Reserve.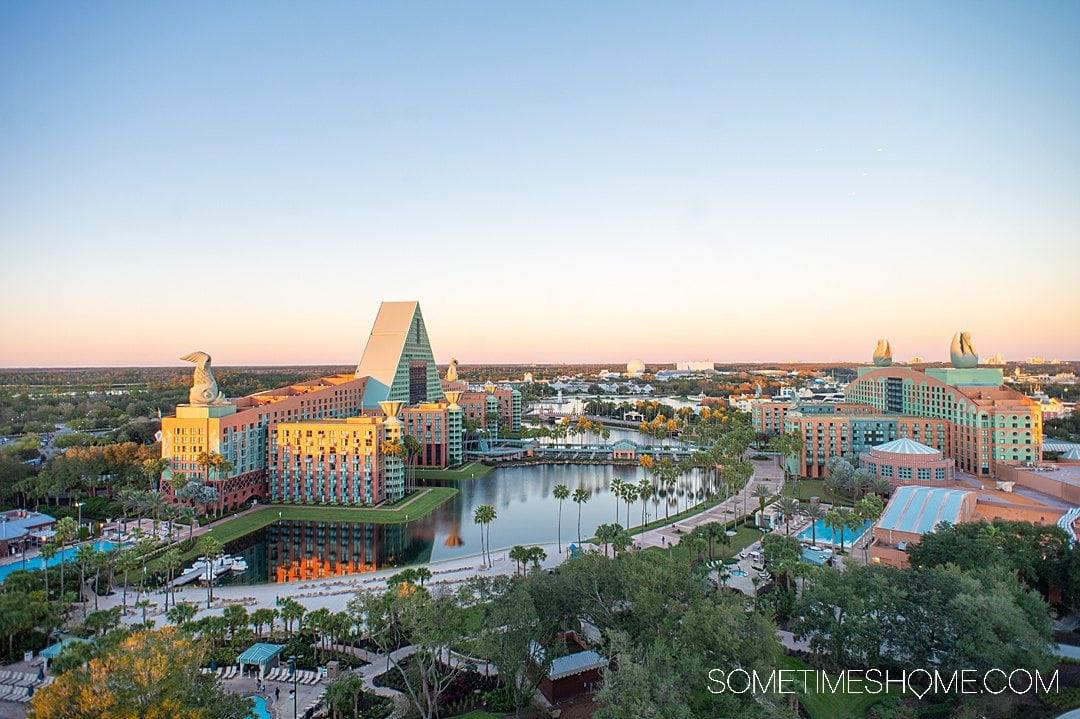 Marriott Bonvoy Upgrades
If you're a member of the Marriott Bonvoy rewards program, it's likely you will get a room upgrade at any Marriott hotel upon check-in if available. It's literally one of the written perks of the program.
At the Swan Reserve, it seemed more likely you could get an upgrade if you were a part of the program than not. For the best chance of room-upgrade, visit during off-peak times so the availability is there. It never hurts to simply remind the staff of your Marriott Bonvoy status when you check-in and ask about an upgrade.
(Alternatively, you can select an Epcot view room when you book to be guaranteed you'll a certain park view, especially if you're staying during peak times.)
Packing for a Swan Reserve and Walt Disney World Vacation
In addition to packing your shorts, t-shirts, and bathing suits, don't forget to pack things to protect yourself from the Florida heat and sun, like sunscreen and a baseball hat!
The sun is strong in Florida, no matter what month it is. (And if you're visiting during winter, the temperatures swing quite a bit from morning to afternoon to evening. So be sure to pack sweatshirts, a jacket, and long pants or jeans too for nights.)
If you're visiting during the summer or early fall, you may want to bring a very small, portable travel umbrella or rain poncho, just in case it rains (and it likely will, at some point).
Be sure to use our WDW Year-Round Packing List (with a free printable) to prepare for your trip.
Florida Sunshine Packing List
Getting from the Orlando Airport to the Swan Reserve
There isn't a transportation option from the Orlando airport to the Swan Reserve like there is with Disney hotels at WDW to take a Disney shuttle to a Disney resort. However, transportation in Orlando isn't a problem.
Just sign up for a car service to meet you at the airport, drive you 30 minutes to the hotel, and do the return trip when you leave. That way, you don't have to wait for an Uber or Lyft to arrive once you land and get your luggage. The car will already be waiting for you. (Because no one wants to waste time during a Disney vacation!)
Once you are at the Swan Reserve, there's no need for a car if you stay on Walt Disney World property your whole vacation.
Disney Touches at the Swan Reserve
The Swan Reserve is a lovely, elevated luxury hotel. The Disney touches are few and far between, yet there are subtle reminders you're at WDW in Florida.
The only Disney reminders we saw were a small silver Mickey and Minnie Mouse statue set at the front desk on the first floor and ears around a desk that wasn't in use, in a corner in the third floor lounge area. That's it!
Other than that, the reminders were pretty much the views of the parks and Disney icons nearby and enthusiastic hotel staff who were perhaps wearing a personal piece of Mickey Mouse jewelry.
It felt like just the right amount of Disney touches at an elevated, on-property resort that was trying to remind you of where you were instead of cram-it-in-your-face. Perfect for adults, like us, staying there.
There are also very subtle reminders you were in Florida. For example, they talk about the Florida orange groves in the welcome booklet that's in every room, and the inside of the closets at the Swan Reserve are intentionally painted orange.
You won't find Mickey ears or Disney shirts available for purchase at the Swan Reserve, but that doesn't matter! Especially because you can purchase all your Disney apparel, jewelry, Mickey ears, and handbags ahead of time on ShopDisney.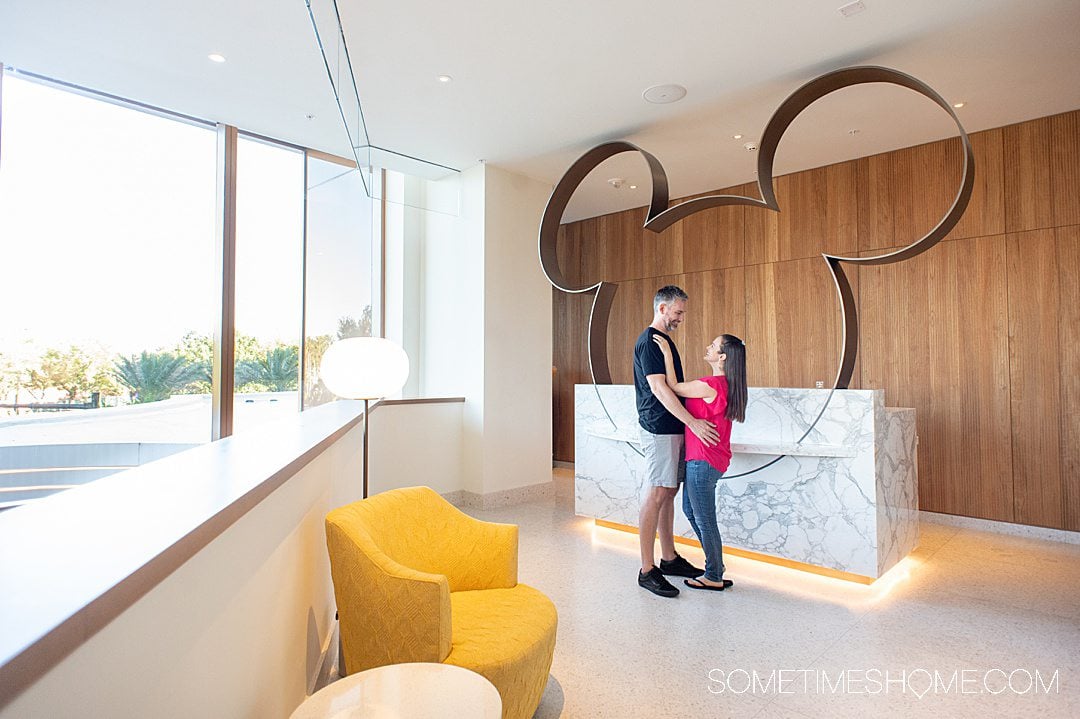 Swan Reserve "Map" and Layout
The nice thing about the Swan Reserve is that you don't really need a map there. That's because everything is pretty much on the third floor, aside from your hotel room.
(The front desk can provide a map if you ask them but as of December 2021, it is not updated with the Swan Reserve information. Rather, it's a map of the Swan and Dolphin properties, next door. The map also shows you how to walk to Epcot and Hollywood Studios, but it's pretty straightforward without a map. There's also good signage all over Walt Disney World property to show you the way.)
We continuously just went to the following three floors of this 14-story hotel (most of which are simply floors of guest rooms):
The third floor is where you'll find the pool, the bar, concierge, a lounge area, the restaurant Amare, and an additional check-in/front desk.
Our room on the 8th floor.
The first floor (or ground floor) to get to the parking lot, and cross the street for the Swan and Dolphin resorts. Beyond that is Disney's BoardWalk area, the "back" entrance to Epcot, by France in the World Showcase, and Disney's Skyliner. The first floor is also where you'll find the check-in desk immediately after the port-cochere and valet area, and where you enter the Swan Reserve if you're walking in from the parking lot right next to the hotel.
That was pretty much it, aside from fireworks viewing on the top floor, which isn't normally open to the general public unless invited for the fireworks or if you're specifically going to an event there. If you want to visit the gym, it's on the second floor.
The hotel is very simply and nicely laid out.
Rooms at the Swan Reserve at WDW
Swan Reserve Room Views
The shape of the Swan Reserve hotel is almost like a slightly bent line. (Or a semi-straight boomerang.) Rooms are on both sides of the hotel, with some rooms facing northeast towards Epcot, and others facing south towards the hotel pool, parking lot, and Hollywood Studios.
If you're lucky enough to get a room with multiple views, you have the chance to see additional Disney Parks and Resorts landmarks.
We had an Epcot view room, but the hotel was really selling itself short with the description because we also had a view of the Magic Kingdom and other amazing Disney landmarks.
From various windows within our corner room suite, 8323 on the 8th floor, we could see:
Dolphin Hotel (and its pool)
Swan Hotel
Epcot's Spaceship Earth (or the Epcot "golf ball," as people call it)
Epcot fireworks at night
Magic Kingdom fireworks at night
Disney's Contemporary Resort
Bay Lake Tower at Disney's Contemporary Resort
Expedition Everest
Gran Destino Tower at Coronado Springs
Cinderella Castle at the Magic Kingdom was visible but super small in the distance from the Swan Reserve. But it was awesome we could see it because it meant we could view the Magic Kingdom fireworks every night. This was in addition to seeing Epcot's fireworks from our room each night. Wow. (I LOVE fireworks!)
If you choose this hotel for nothing else, its views and location are I-N-C-R-E-D-I-B-L-E. We'll say it again: INCREDIBLE!
Swan Reserve Rooms and Suites
There are 349 rooms at the Swan Reserve. 144 are considered "Epcot View," and 151 of those 349 are suites. Our suite only had a shower, but approximately 35 of the rooms there have bathtubs.
We're unsure how many of the rooms have views of multiple Disney landmarks or parks. But after staying there and understanding how the hotel is oriented, our educated guess is at least 1/3 of them do. So that's pretty good odds you'll have a view to brag about!
Regardless, there seems to be an opportunity for a view of SOMETHING iconic, no matter where your hotel room is here. Naturally, as the floor numbers rise and the building increases in height, so does your potential for a great view.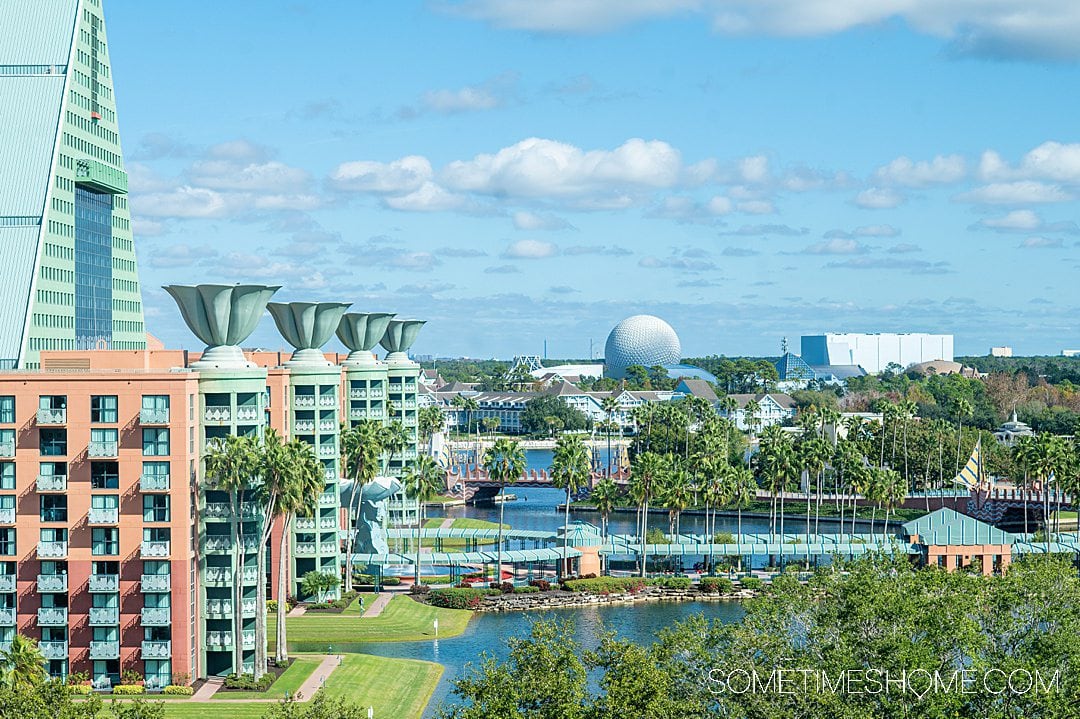 In-Room Features of the Swan Reserve
Our corner suite, 8323, was complete with 5 distinct areas:
Bedroom with a king-size bed.
Bathroom with a sink and shower.
Small little room with a toilet, which had an additional sink.

Living room with a pullout sofa and chair.

Dining room with a long rectangular table that was perfect for us to work on our laptops.
There were also three televisions in our suite, which may have been excessive, but we still thought it was cool.
We noticed that if you have an Android device, you can broadcast it on the dining room area television, making it a conference room. (Dan and I have pretty much all Apple products in our family, though, except for our Google Echo Dot at home.)
To provide constructive feedback in this Swan Reserve review, the only thing we felt was missing from our room was a full-length mirror. The mirror in the bathroom was large, but we could only see from our heads to our waists.
We were grateful to see recycling bins in two areas of the suite in addition to several trash cans.
Bedroom
The bed was firm but comfortable, as were the fluffy, soft pillows. There were indents on either side of the bed frame that were great for placing our shoes or storing our empty travel backpacks. (We pack light, but there was enough room to store luggage underneath too.)
There was plenty of closet space in the two in-suite closets (one in the bedroom and another in the dining room). The inside of both closets was painted a colorful orange hue in honor of Florida's orange groves. The bedroom drawer space was plentiful, and we appreciated the in-room combination safe, even though we felt fine leaving our valuables in the room.
An additional desk and chair were in the bedroom, and nightstands were on either side of the bed. There were so many outlets and USB charging spaces throughout the bedroom and all over the suite too.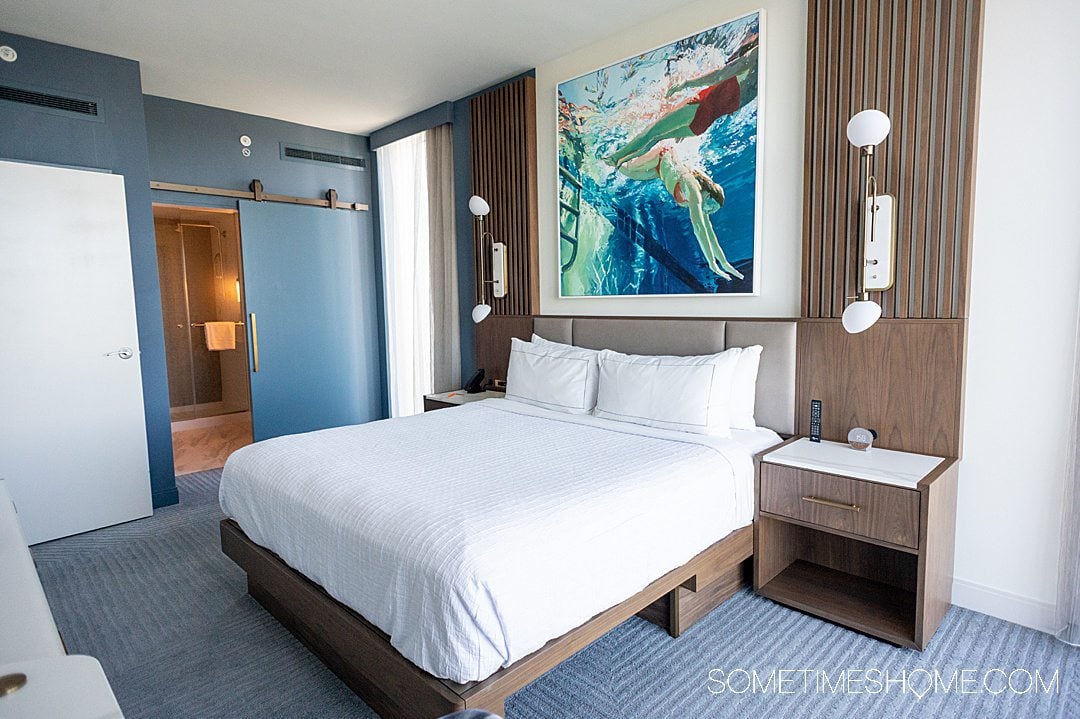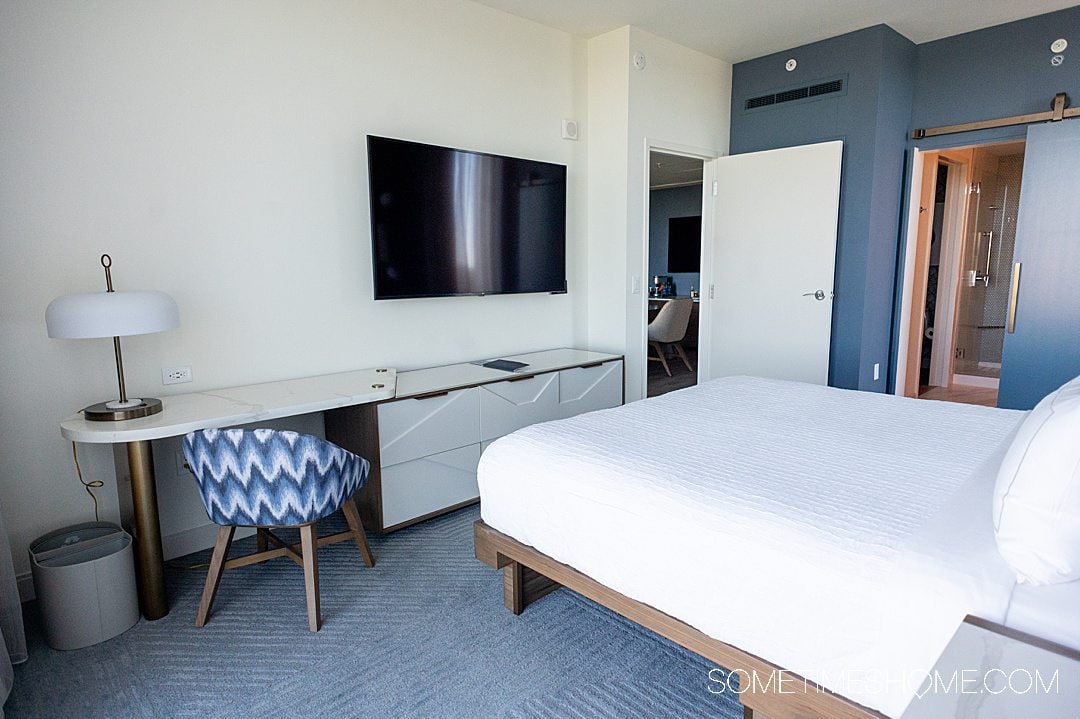 Bathroom
The bathroom shower was great, with two showerhead options (a rain shower overhead and an adjustable showerhead that could be handheld). There was also a corner shower footrest if you wanted to prop up your foot while shaving your legs or lather up with soap.
The bath products provided by the hotel were subtly citrus-scented and purposefully in orange-colored tubes, another nod to Florida oranges. The hotel supplied body lotion, body wash, shampoo, and conditioner. There were also multiple bars of soap, one for the shower and one per sink.
There was also a hairdryer in the bathroom.
Toilet Area
The toilet and an additional sink were in a separate space next to the bathroom. This meant someone could use the toilet in privacy while someone else showered.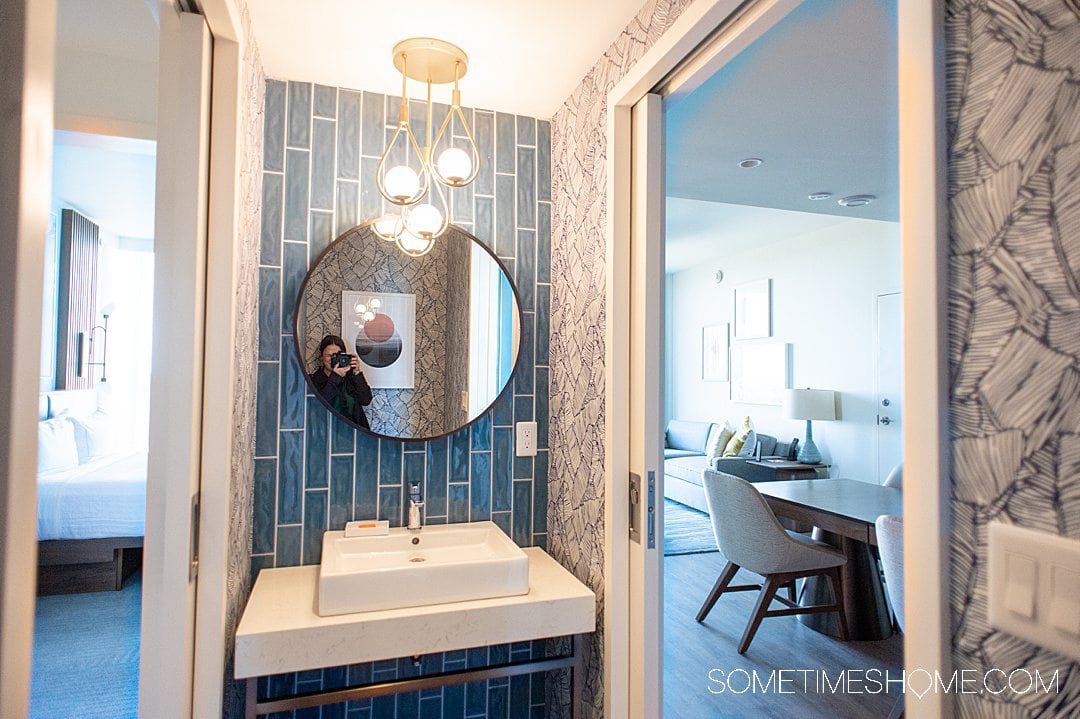 Living Room
The living room area had an ottoman, a coffee table, a chair, and a sofa that transformed to a sofa bed if needed.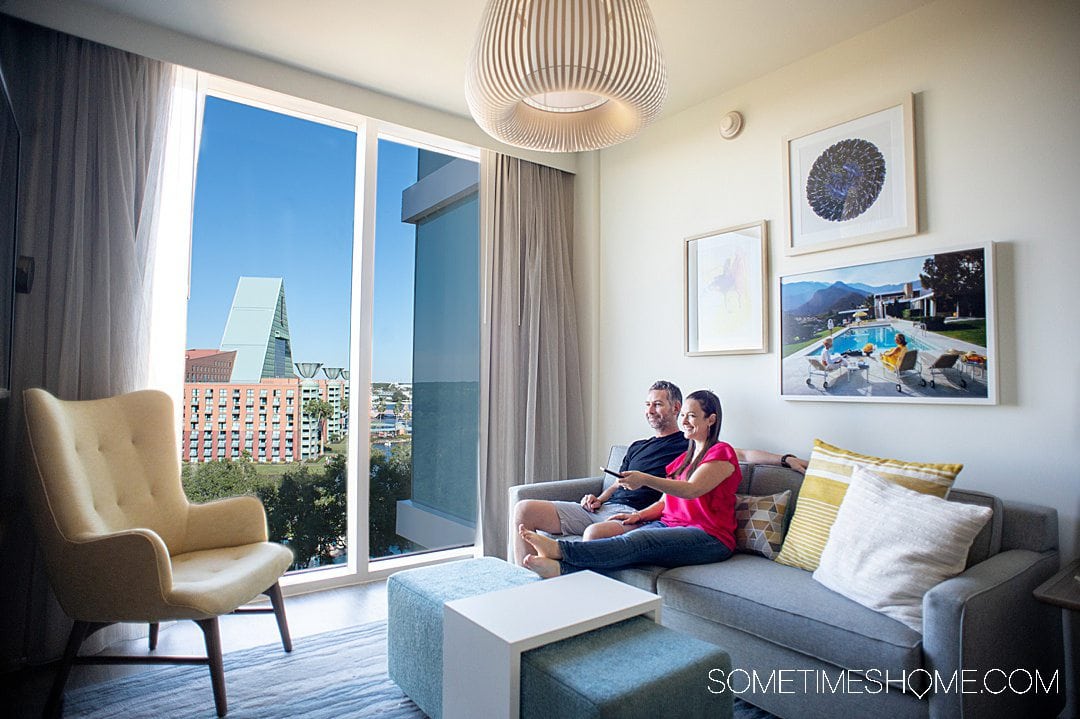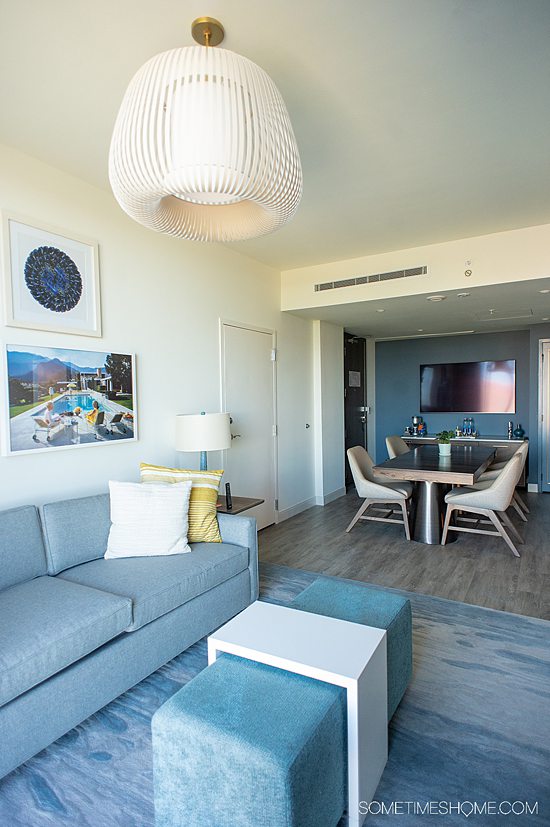 Art in our Swan Reserve King Suite
One of our favorite highlights of our suite was the art in the living room and dining room. As a professional photographer, I instantly recognized a framed Slim Aarons photograph above the sofa, of women sitting poolside during the 1950s or 1960s.
An ombre painting was hung on a wall in the dining room area, which faded from yellow to pink and orange, to purple, to blue. When the sunset our first evening, we had an "Ah-ha!" eureka moment: it was the exact gradation of the Florida sunset. Just gorgeous.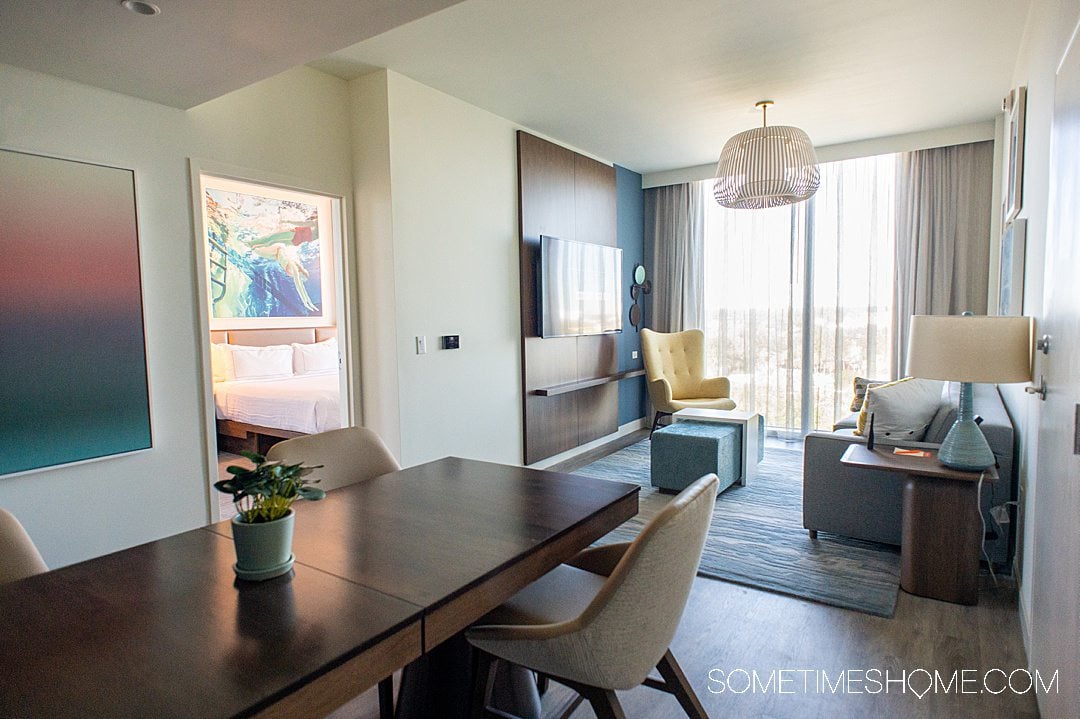 Dining Area
The dining room area consisted of a large rectangular table, in front of a television and a buffet-type area.
The table had outlets inside it for us to plug in our computers, which was great for working on site (which we admit we did during our stay). There was also a Keurig single-cup coffee maker, ice bucket with glasses, microwave, and miniature refrigerator. (Both were perfect for storing and reheating leftovers from the restaurant downstairs, called Amare.)
If you're traveling as a family, it's perfect for four people to use this table for in-room dining, especially since the hotel has room service.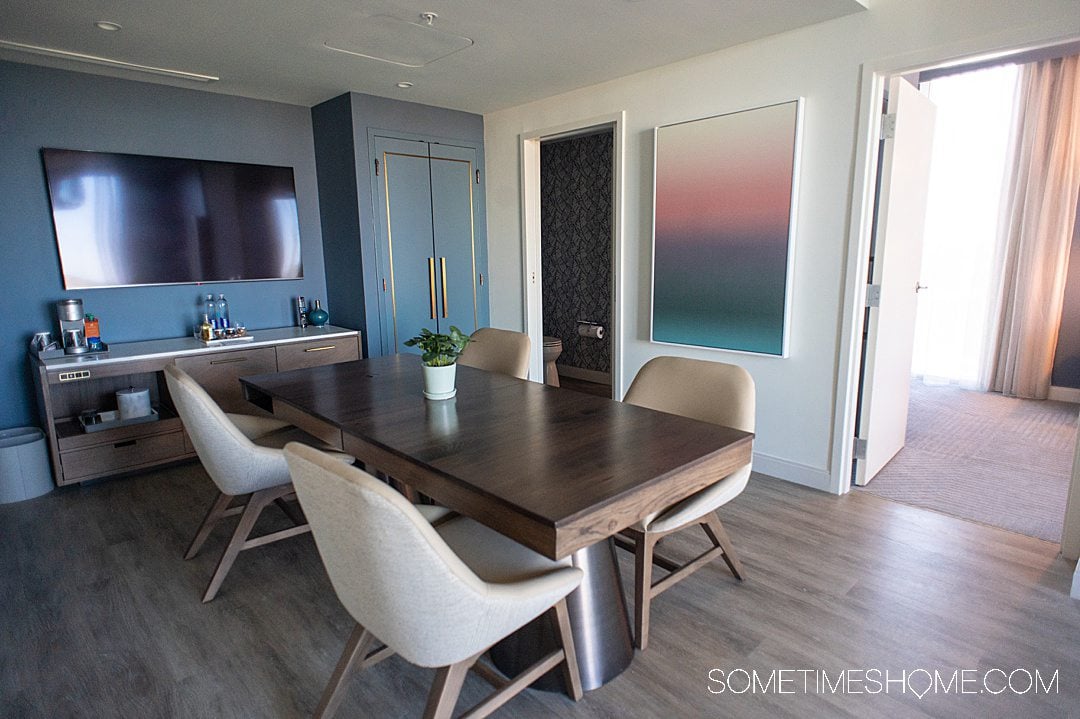 Average Cost of the Swan Reserve Hotel, Per Night
Hotel nights vary based on what type of room you book and when you're visiting. On average, expect to pay anywhere from the high $200s for a traditional "no view" room (even though we would argue there's a view from any room at this hotel) to close to $400 a night for a suite with an Epcot view.
Other room types are available for more money during peak times. For example, we saw a room rate for an Epcot view suite with 2 queen beds and a sofa bed over the July 4th holiday for $625 a night. But considering that sleeps up to 6 people during a summer holiday week, that's not so bad!
Additional fees include a $35 non-optional daily resort fee. And, if you drive a car to the resort that you have to park, either $30 a night for parking or $39 per night for valet. (Read on to find out about the parking lot's location and ease of parking.)
If you're doing some budgeting, add the resort fee to whatever your hotel cost is per night, plus tax, for each day you stay. (It ends up being just under $40 for the daily resort fee, including tax.)
How we Stayed at the Marriott Swan Reserve for "Free"
They say nothing in life is "free." And while that's true, we stayed at the Swan Reserve for as close to "free" as anyone can get at Disney World, short of winning some sort of one-in-a-million promotional contest.
We have been obsessed with our Marriott Bonvoy American Express card for years. We naturally accumulate hotel points with this card throughout a calendar year, making it easy for us to achieve Platinum Marriott Bonvoy status.
19 out of 20 times we stay at a Marriott resort when it's available at our destination, from Valencia to Thailand and beyond, because we're loyal to the brand and love the perks and hotel options.
With so many points staring at us in the face, and the new Swan Reserve opening in November of 2021, we booked a hotel as soon as we saw it was available on Marriott's website. It was a no-brainer!
It's so easy to book a Marriott resort or hotel online using points from our American Express Marriott Bonvoy card because it automatically shows up in our Marriott Bonvoy online account. Then we simply go to the Marriott Bonvoy site to search our desired location and dates and check off that we want to use points within the search area.
Points range from 60,000 to around 100,000 a night for the Swan Reserve, depending on the season and room type.
Don't forget you earn points back during your stay at Swan Reserve if you're part of Marriott Bonvoy's program too, which we mentioned above.
🆓 Stay at Marriott Resorts for FREE with our Favorite Marriott Bonvoy Amex Card
Use Marriott Bonvoy Points/Cash Combo to book Swan Reserve
You can also use a combination of points and money if you don't have enough points to book, or simply pay using cash/credit.
Sometimes, the points option isn't available so a combo of points + cash (or just cash/credit) is the best option.
What's more is if you get the Marriott Bonvoy Brilliant American Express card (which we cannot recommend enough for all the Marriott perks you get and then some, at totally unrelated brands throughout the year), you automatically receive Gold Elite status on your Marriott Bonvoy account.
Swan Reserve Parking Information
Parking at the Swan Reserve is easy: you can self-park for $30 a night or valet park for $39 a night. Dan and I self-park all the time and prefer it over valet parking. The valet team at the Swan Reserve is simply parking your car in the same lot, which is about a three-minute walk from the hotel's front door.
In case you have an electric car, know there were plenty of charging spots/stations in the parking lot, which we were thrilled to see. Save the Earth!
If you're going to the parking lot to simply enjoy the Swan Reserve or Fantasia Mini Golf for a few hours, you'll enjoy free parking for up to three hours. You simply hit the button to get a ticket at the parking lot gate before entering and insert your parking ticket on the way out.
Things to do at the 3 WDW On-Property Marriott Hotels: Swan, Dolphin and Swan Reserve
Dine and Drink at the Swan Reserve
There is plenty to do at the Swan Reserve, from eating, drinking, swimming, enjoying your room, and more.
Have Drinks at Stir, the Indoor Bar at the Swan Reserve Hotel
There's a bar on the third level of the hotel (where the restaurant, pool, check-in, and concierge are located) called Stir. The bar has plenty of seating, and there's a whole lounge area there too.
We loved the sofas that you could sit at with tables big enough to play cards (we sat there and played a travel card game one night). There were also cozy lounge nooks the hotel designers created.
One thing that stood out at the hotel was the plentiful outlets everywhere, including two or three-prong and USB plugs in the outlets. There was one between every set of bar stools and one at every seat in the lounge.
Our favorite drink we had during our stay was the beer brewed specifically for the Swan, Dolphin, and Swan Reserve resorts, by a Florida brewery. Their Phins & Feathers pale ale was shockingly great for both our palettes. (Dan tends to like hoppier beers and I like less hopping, more mild beers. But this beer was a winner for both of us.)
The bar is decorated in neutral colors with pops of blue. A favorite detail was the feather tiles on the bar, behind the bar stools.
There is a limited food menu in the bar area.
Cocktails at any bar at the hotel will run you about $13 to $18 each, depending on what you order. Beers are around $8 to $10 each, including tax.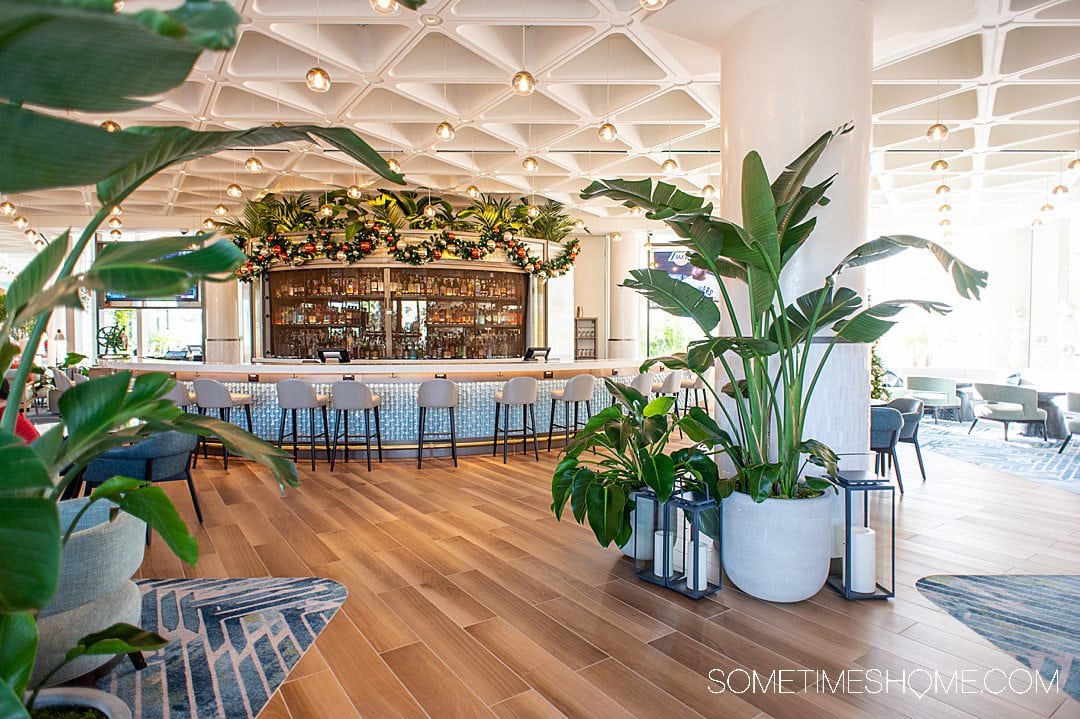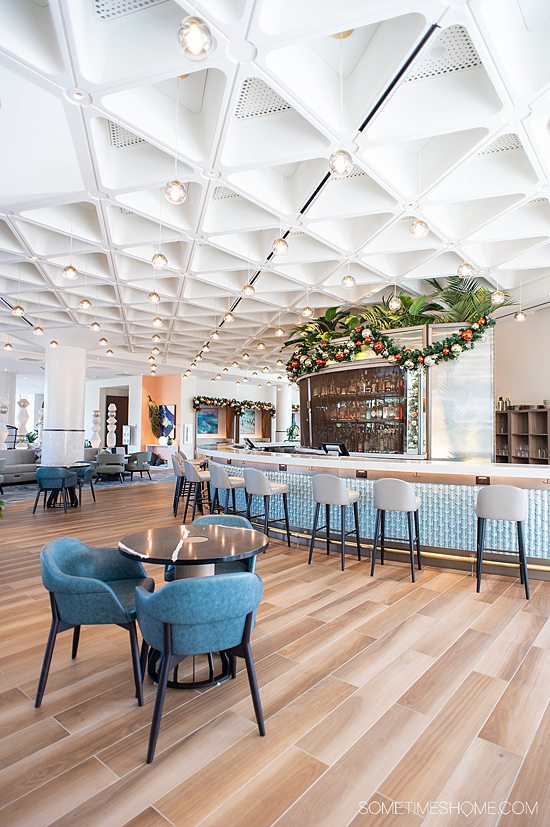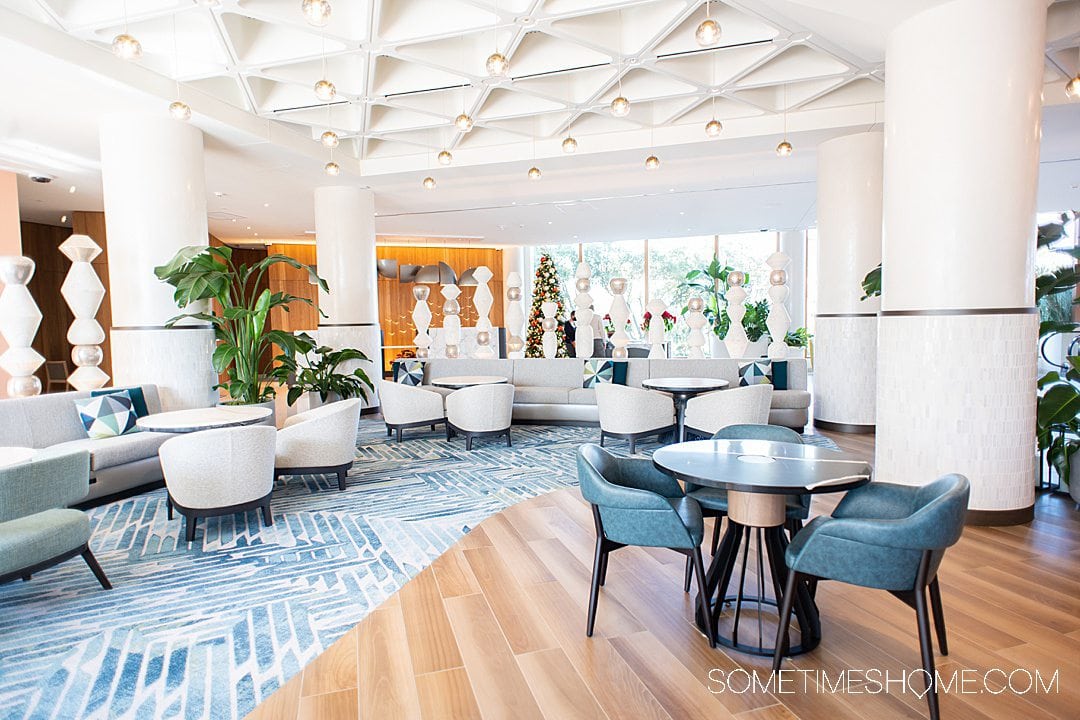 Eat a Meal and Drink Outside at Tangerine, the Pool Bar
You can get the Amare lunch menu outside at Tangerine, the outdoor bar area, next to the pool. Salads, sandwiches, and pizzas are on the menu.
We had a margarita pizza for lunch one day and the dough was great along with the fire-burning oven they cook it in, which comes from the Amare kitchen next door inside the hotel. There's definitely room for improvement on the pizza flavor, but hopefully, they'll get there!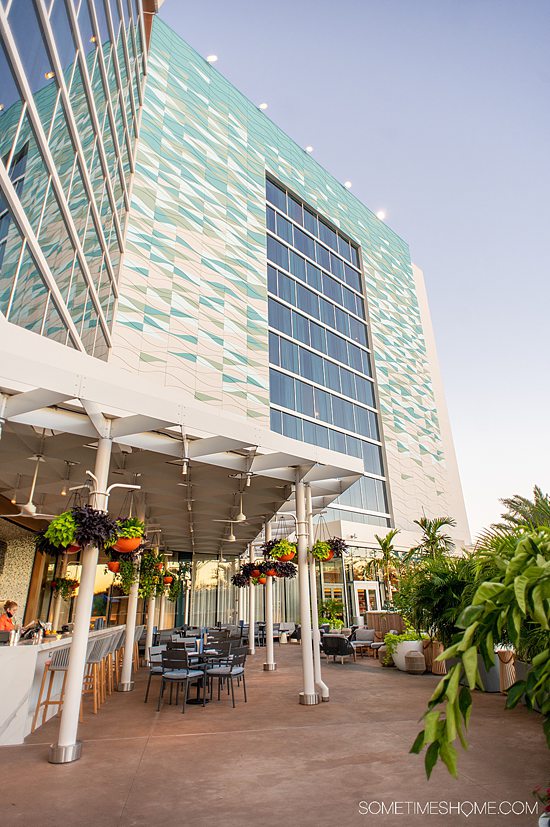 Get Coffee, Sandwiches, and Snacks at Grounds
We had an in-room Keurig in our Swan Reserve Epcot View suite that we thoroughly enjoyed. But in the event we wanted something like a latte or iced coffee, all we had to do was go down to Grounds.
The grab-and-go dining option serves beverages (including fresh-squeezed juices) with snacks available to purchase.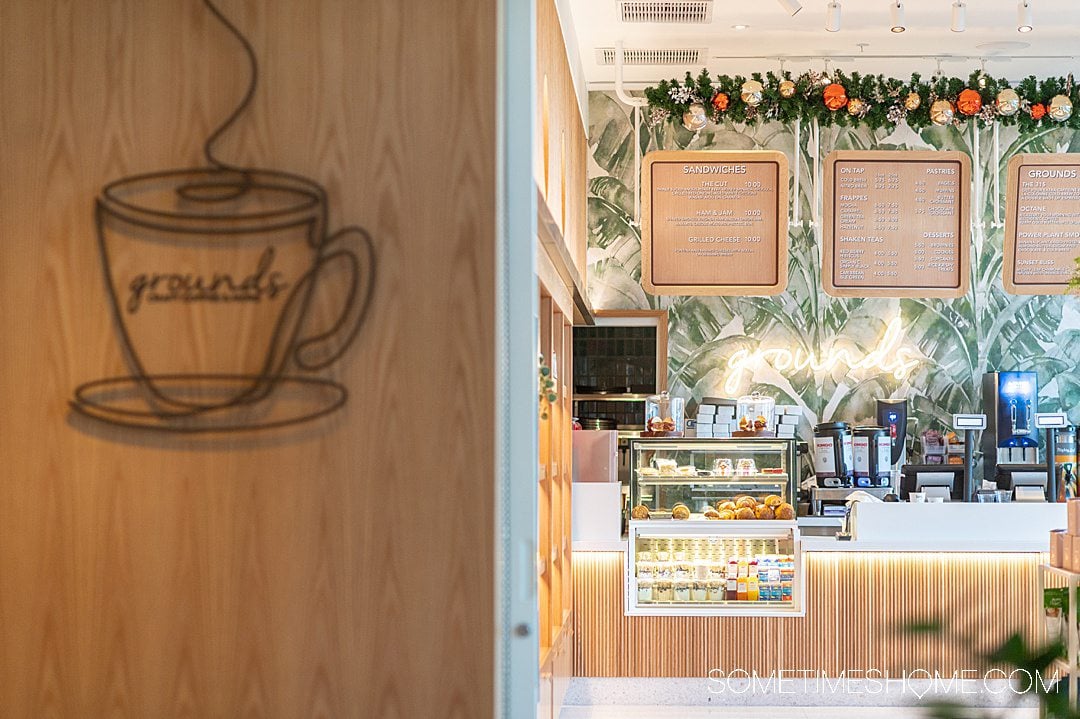 Dine at Amare
One of the best meals of our entire trip was dinner at Amare – the onsite, indoor restaurant at the Swan Reserve.
They have a Mediterranean-inspired menu. They're open for breakfast, lunch, and dinner and the dress code is casual. (They dim the lights for dinner, however, so if you want to get slightly dressed up you can and wouldn't feel out of place.)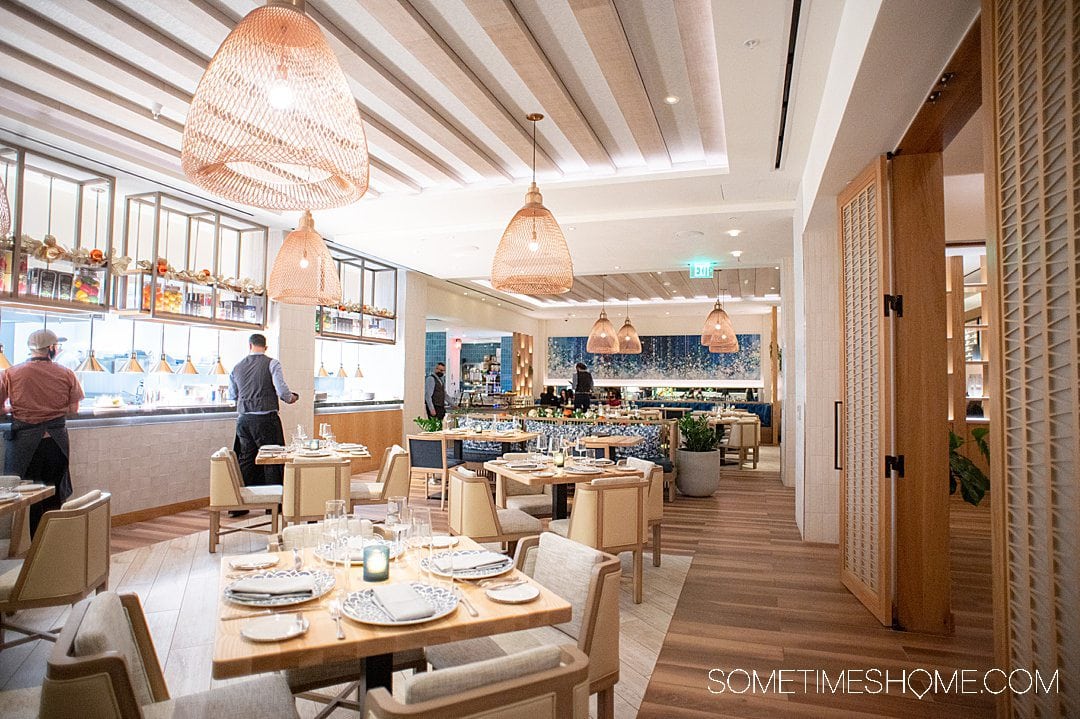 We had a delicious appetizer of Hearth Fire Tiger Prawns, that were cooked to perfection. We tried their "La Vegetale" pizza as well.
The name and description of that pizza were slightly misleading (we think the menu left out a comma after the word "grape" in its description, which reads, "Roasted Grape Black Pepper Pecorino Cheese, Aged Balsamic and Baby Arugula," so you end up thinking that the vegetable pizza somehow has grape-flavored pecorino cheese.
But we quickly learned there were a lot of actual warm red grapes (the fruit) on the vegetable pizza when we got it! It took a little mental gymnastics to switch our brains to a sweet pizza more so than a savory one. But it was a nice combination we've never had anywhere else. Order it if you want to try something different that's tasty. Do not order it if you're expecting a more traditional pizza with red sauce and mozzarella cheese because it has neither.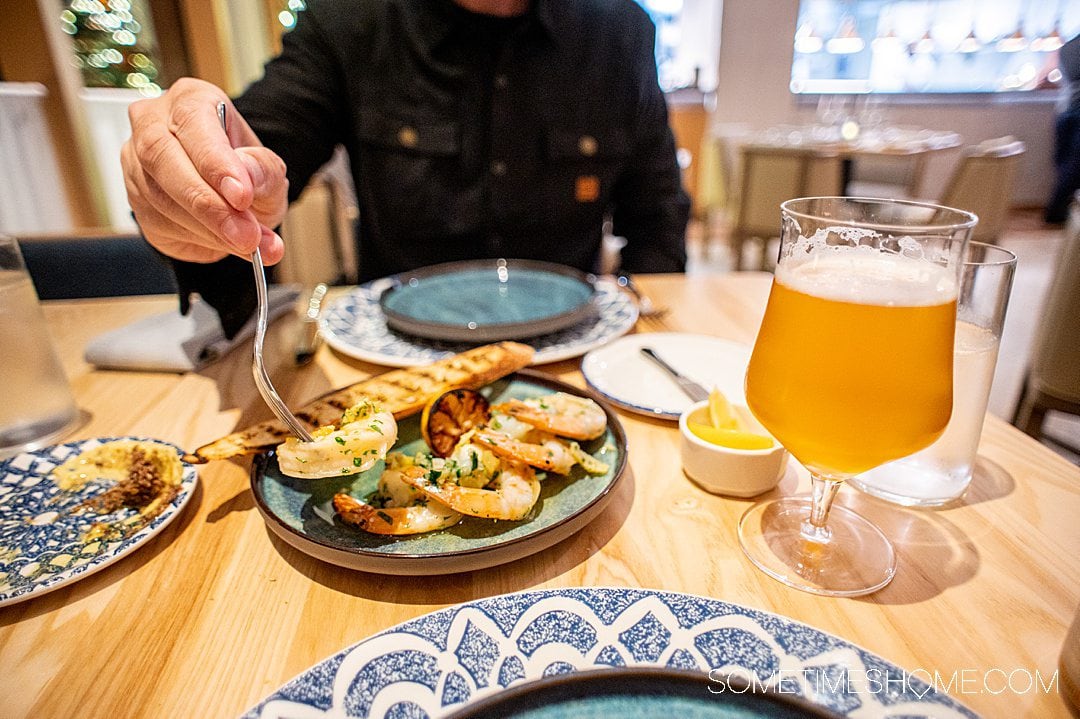 Dan had a souvlaki platter with two skewers of meat (one chicken and one beef) served with hummus, pita, and a cucumber salad for an entree. I enjoyed the Seabass Al Cartoccio, which was served in parchment paper that the waitress cut open, tableside.
(We also noted how nice it was that the menu indicated it was sustainable Striped Bass, which meant that the restaurant was eco-conscious.)
The tableside parchment paper opening was a nice touch to the meal! I drizzled on the delicious white wine sauce that was served on the side.
The dessert was delicious. We had the Pistachio Caragli, which is their twist on baklava. We loved the fresh Sour Amarena Cherry Compote that it was served with.
The timing of the meal was impeccable and everything was piping hot, which is how we think all hot meals should be presented. Our server was great too.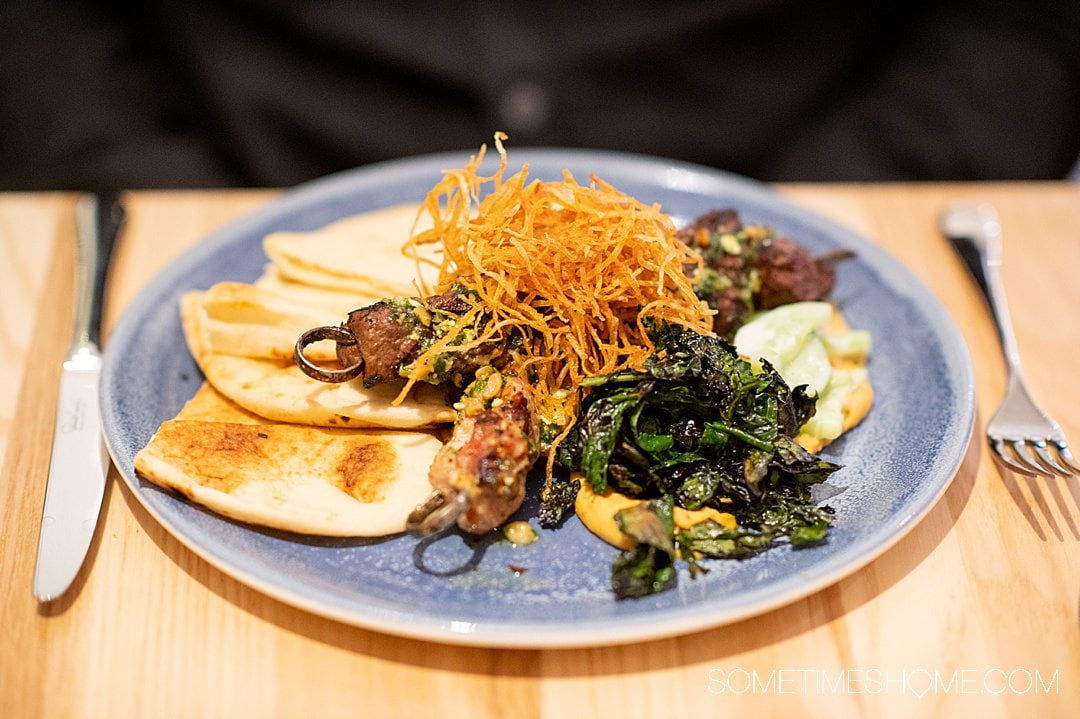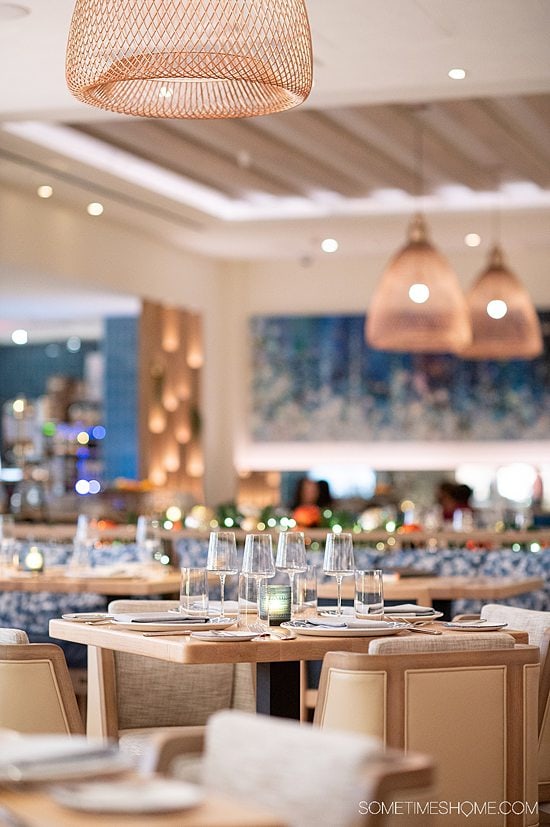 Additional Things to do at the Swan Reserve
Enjoy your Swan Reserve Room or Hotel Suite
Our room was brand-spankin'-new and beautiful. We can honestly say it's one of the best hotels and rooms we've ever stayed in.
The color palette of whites and muted earth-tone blues was relaxing, and the interior design had just enough of a tropical touch to remind us we were on vacation, even when we were doing work on the dining room table there.
Watch the Fireworks
We were fortunate to see the fireworks from the hotel in two spots: our Epcot view suite and by invitation on the 15th floor of the hotel, at The Vue, the Swan Reserve event space.
The day we arrived, we received an email invitation from the hotel to RSVP to special fireworks viewing. What was nice was seeing it from up on the 15th floor! There were refreshments and candy for guests to enjoy. It was about 30 people or so who were invited.
You can't pay to go. Rather, it's a special treat for hotel guests of the staff's choosing. We stayed for about 45 minutes. They stream the Epcot fireworks music into the room, which helped bring the show's story to life from outside the park.
It gave us a great idea for the next evening's fireworks – both Magic Kingdom and Epcot – to sync the soundtrack and video into our room! This way, we could see what was happening between fireworks at ground level as if we were in the parks and understand the current shows a bit more.
Check out the current times of the fireworks on Disney's park hours website page. Prepare by loading the video on YouTube and press play when your device (iPhone or iPad in our case) says the time. If you play it at just the right time, it syncs to what you're watching, live! It was amazing.
We were a few seconds off once or twice but we were able to get it on track during the show. The fireworks at each park last about 12 minutes or more, depending on the show, so sit back, relax, and enjoy!
Our view and experience in our room were even better than the 15th floor showing at The Vue at Swan Reserve. But I did miss the gummy bears we could get at The Vue and the friendly staff we interacted with that night!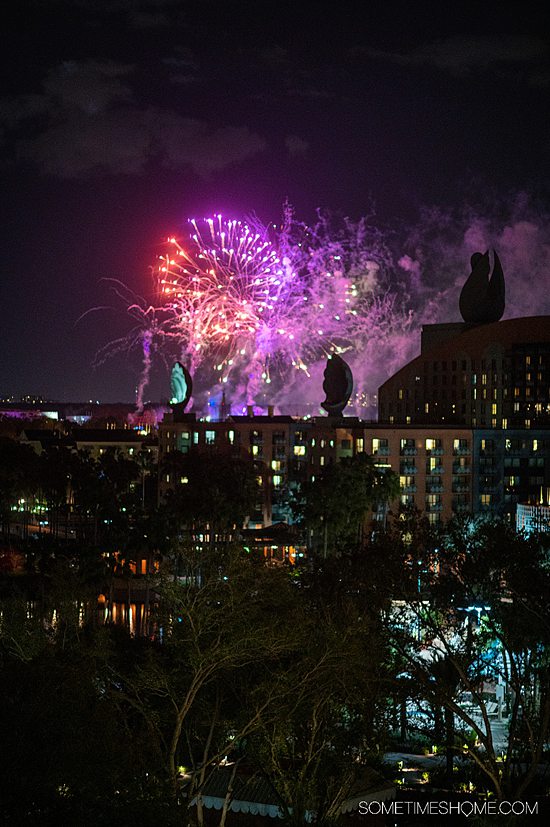 Use the Gym
We admit – we didn't end up going to the gym. In our day-to-day routines at home, Dan's great about going to the gym every day and I'm good about working out 25% of the time.
We had intentions of going to the gym but the bed was so comfortable, and Jellyrolls at the Boardwalk was so much fun, we ended up staying out late and waking up late (the beds were so comfy!). We never made it to the gym. But we did, however, go on long walks every day from the Swan Reserve to the Boardwalk area.
We did see their state-of-the-art gym from the outside looking in. It's big, new and very nice! It overlooks the Swan and Dolphin, "Epcot" side of the road on the second floor of the Swan Reserve. You can work out and enjoy a view.
Go to the Outdoor Swan Reserve Pool
We were so grateful the Swan Reserve pool was heated! We swam for a little bit the third day we were there after the weather warmed up from the mid-sixties to the mid-seventies in December. The rectangular-shaped pool is surrounded by palm trees, a living wall of green plants, and beautiful views of the hotel. There's a fire pit that's next to the pool that you can enjoy in the evenings.
The Florida sunshine warmed us up though it wasn't quite warm enough for a poolside daiquiri that day, in our opinion. However, it was warm enough for a poolside beer! Waitstaff comes around to the pool to take your order for drinks and food.
There were also great cabanas that were open for use when we were there. We imagine they'll be available for rent in the future, but we took advantage of sitting inside one to shield ourselves from the sun before our swim. (Afterwards, we moved to lounge chairs in the sunshine to dry our swimsuits.)
Each cabana is protected from the sun and has a sofa, a television (great for keeping children entertained or watching a sporting event poolside), a safe to lock your valuables, a mini-fridge, and a ceiling fan.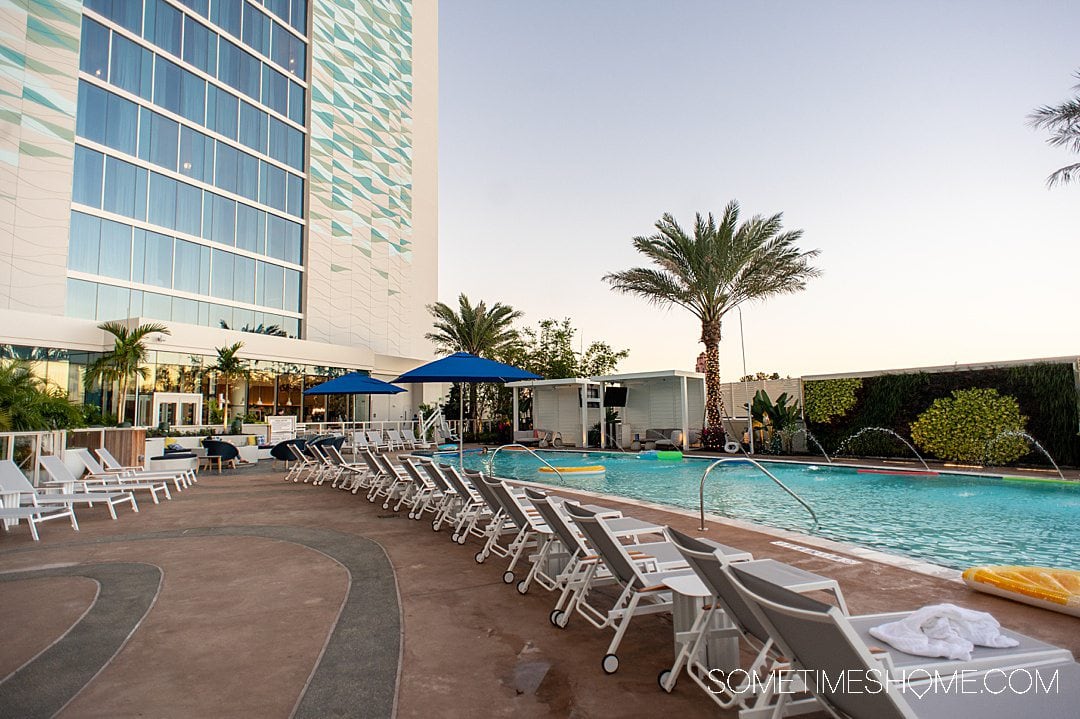 Things to Do at the Swan and Dolphin Resort Hotels, Adjacent to the Swan Reserve
Together with the Swan and Dolphin resorts, the three hotels form a greater resort with a ton to do. Remember to take your reusable water bottle with you and apply sunscreen before you leave your room because it's usually hot and sunny at Walt Disney World!
Here are our favorite reusable water bottle recommendations (they're also perfect for the parks):
Memo bottle: We love it because it's flat, so it fits in a pocket, on the side of a backpack, in a purse, etc. very easily and comfortably.
MiiR bottles: They're insulated and keep the liquid at the temperature you added it to the bottle in for HOURS and hours. They rock. We also love that the wide-mouthed bottles are easy to get ice cubes into. Use code "SOMETIMESHOME" for 15% off your order.
Take a Swan Paddleboat out for a ride around the Lake
Guests can enjoy a Swan, Dolphin, and Swan Reserve perk, only available to those staying at one of the three resorts: rent the swan paddle boats for free! (It's "free," but the cost is included in the daily resort fee all guests have to pay, so you may as well take advantage of it.)
We rented our swan, "Odette," for about 20 minutes and enjoyed a moderate leg workout as our daily exercise that afternoon! It was a lot of fun.
Simply sign up for a rental at the Cabana Beach Hut near the Dolphin pool.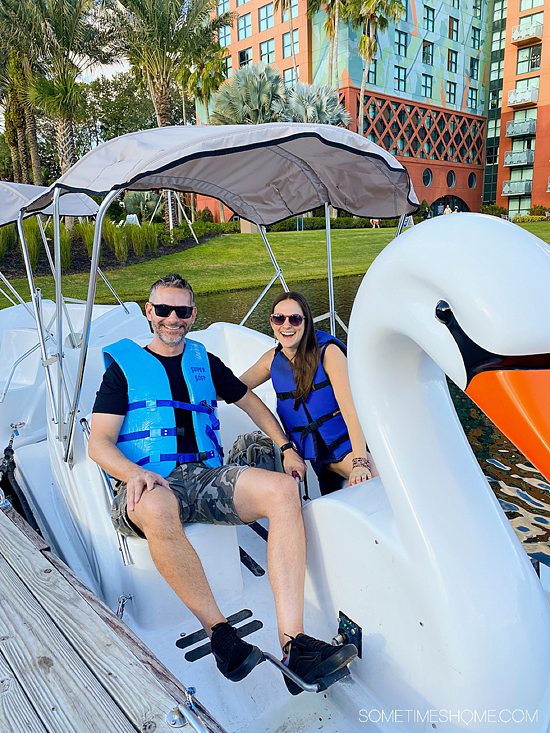 Use the Hotel Pools and Hot Tub
Speaking of the Dolphin pool, guests of the Swan Reserve can use the Swan and Dolpin's pools and hot tub.
Play Chess
There are several oversized chess boards at the resorts for you to play some chess with an opponent! (Also great for photo ops.)
Kids can Enjoy the Playground Area
Though we focus on couples travel here at Sometimes Home, we do want to mention there's a great playground next to the sandy lakeshore near the Swan and Dolphin pools.
Play Ping Pong
Every time we walked by the outdoor ping pong table at the Swan hotel, there was a team playing table tennis enjoying this amenity. So it must be popular!
Play Volleyball
There's a beach volleyball court to enjoy at the Dolphin resort. Volleyballs are available to rent, free of charge, at the Cabana Beach Hut, which is located near the Dolphin pool.
Step into an Arcade at the Dolphin
There's an arcade on the first level of the Dolphin resort, where you can pay to play games like pinball and air hockey. (We love air hockey!)
Enjoy the Restaurants
There are a ton of restaurant options between the three resorts. The Swan and Dolphin, alone, have more than 15 restaurant options.
Some of our favorites include Il Mulino (Italian food), and Kimonos (Japanese food including sushi). Both are at the Swan. The sushi at Kimonos was great and the price of a normal Japanese restaurant. (They didn't price-gouge just because you were beholden to a restaurant on WDW property.)
One of the best meals we had the entire trip was dinner at Amare at the Swan Reserve.
Enjoy the Bars
There are a LOT of bars to choose from between the three WDW Marriott resorts. And as we travel adults-only, we took advantage of them. One of our favorites was the bar at Todd English's BlueZoo Lounge, at the Dolphin.
Relax at Mandara Spa
The onsite Marriott resort spa at Walt Disney World is called Mandara Spa. Sign up to enjoy a massage, facial, steam room, therapy baths, and more there. Guests of any of the three Marriott resorts on property enjoy $30 off any treatment $175 or more (excluding hair and nail services).
Things to Do Within Walking Distance of the Swan Reserve Hotel
Oh my gosh, there are SO MANY things to do right by the Swan Reserve – and that's without ever stepping foot in the parks! As a reminder, earlier in this post, we mentioned we didn't even step foot in a Disney Park this trip. (The Disney World parks include Epcot, Magic Kingdom, Animal Kingdom, and Hollywood Studios).
We aimed to enjoy the resort and Walt Disney World property outside the parks. I am Disney-obsessed (I worked at Imagineering and Universal Creative (creators of the Wizarding World of Harry Potter) in the past), and Dan is not even remotely a Disney fan. (But he is a fan of fabulous hotels and he enjoys Disney's Boardwalk area like I do. The Disney parks, though? He does that for me on the rare occasion we venture into the parks together.)
Play Miniature Golf at Fantasia Gardens
Though we don't play "real" golf, we love a round of miniature golf! Fantasia Gardens is right next to Swan Reserve, and it's the perfect place to play a round of "competitive" golf, all in good fun. We think mini-golfing is one of the best things to do at WDW besides the parks.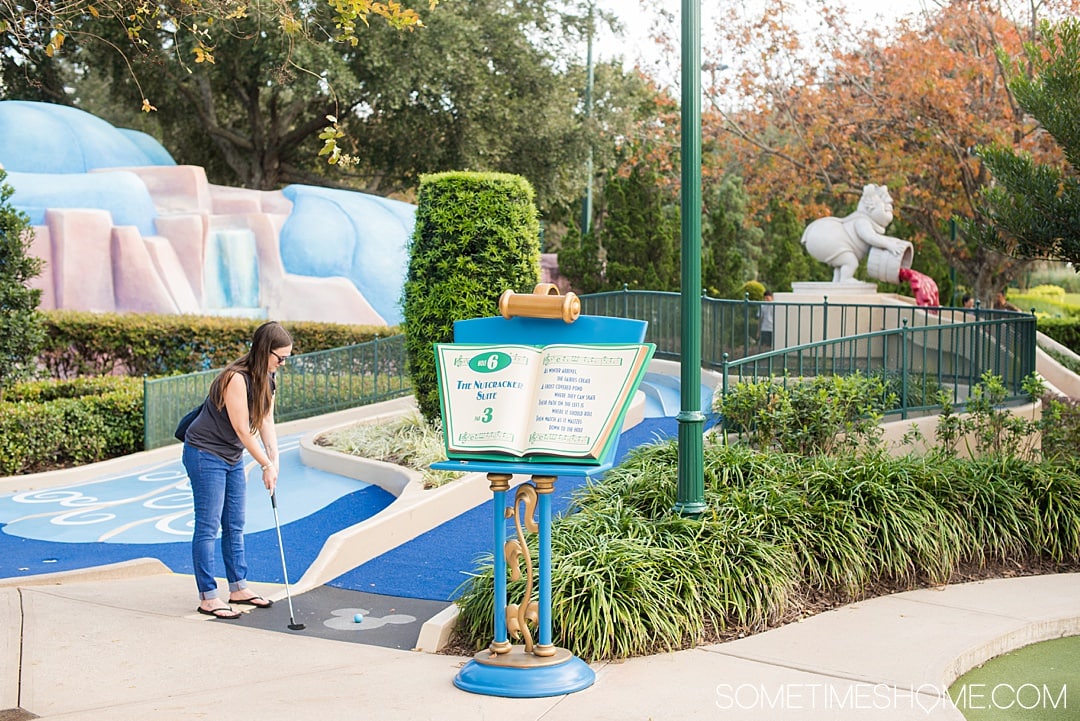 Enjoy Disney's Boardwalk
Disney's Boardwalk area instantly won my heart when I first visited it, back when I lived in Orlando in the early 2000s. It's such a pleasant area, filled with great scenery and things to do.
As adults traveling without kids, we really appreciate the bar there (Abracadabar, between The Flying Fish restaurant and the Italian restaurant). We also loved the bakery, where we walked to get breakfast the last morning we stayed at the Swan Reserve. (We enjoyed a savory egg sandwich and a sweet cupcake that were about 10 times better than we expected – very good!)
At night, the Boardwalk comes to life with performers. We stopped to see a hula-hooping mother-daughter act and a trio of amazing jump-ropers perform before heading to Jellyrolls (dueling pianos) our last evening staying at the Swan Reserve.
If you love to go dancing at night, Atlantic Dance Hall is open from 8:00pm to 1:00am and is next to Jellyrolls. It is the perfect place to enjoy Walt Disney World without kids! (You must be 21 or older to enter Jellyrolls and the Dance Hall at WDW.)
It's also very easy to see the fireworks from the Boardwalk at night, both at the Magic Kingdom and Epcot. It was fun to see them there too, and get a different perspective on them.
We also enjoyed the brewery, Big River Grille & Brewing Works, on the boardwalk. One day we stopped in for beers and a quesadilla, and another night we ate dinner there. The service was great both times and the food was really good. (Better than the Ale & Compass restaurant nearby at Disney's Yacht Club, in our humble opinion. Maybe it depends on what you order.)
Visit the Yacht and Beach Club Hotels
If you love to hotel-hop at Disney World, even if to see how the hotels are designed, the Yacht and Beach club are right near the Swan, Swan Reserve, and Dolphin hotels. In fact, they're the next hotels over if you walk to the left of the Boardwalk when walking from those Marriott properties.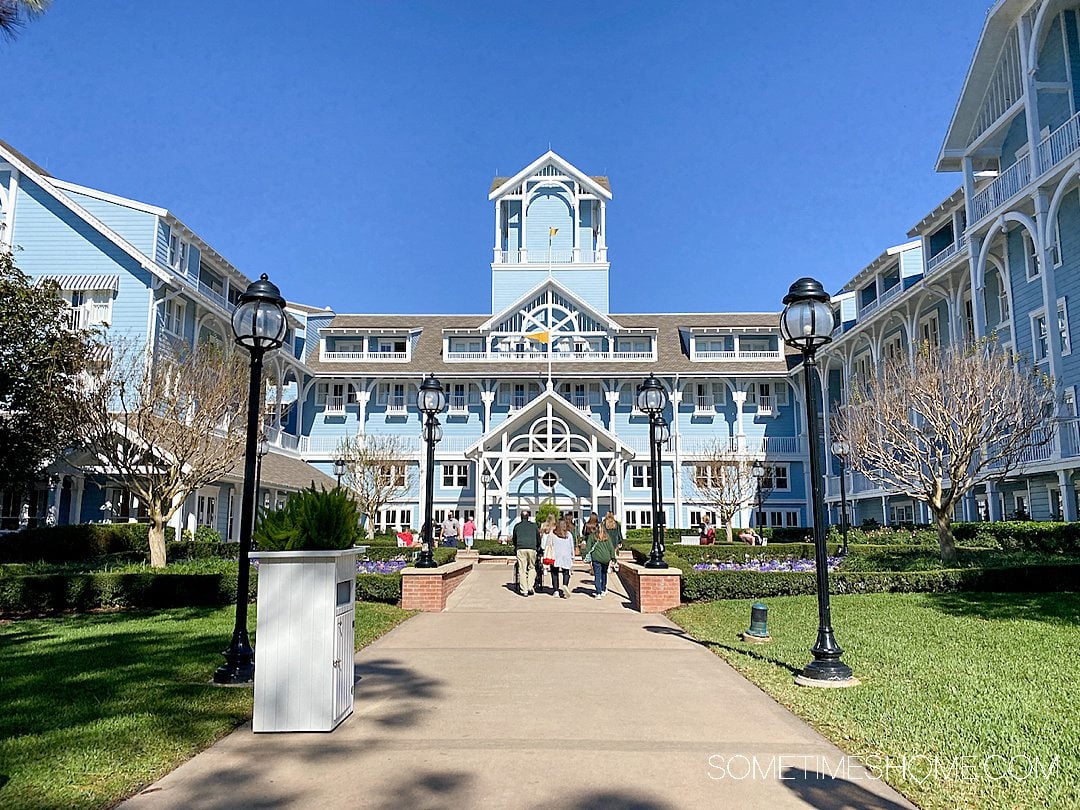 We had dinner at Ale & Compass one night (which we admit had mediocre-at-best food, even though our server was great) and walked around to see the Disney souvenir shops at the hotels.
We also stopped to see the Disney Christmas trees inside (we visited during the winter holidays) and the incredible The Little Mermaid-themed life-sized gingerbread and candy-created carousel a team of Disney pastry chefs made.
One day, we'll go to the bar next to Ale & Compass restaurant, but we didn't have a chance to get there between our stop at Abracadabar, Jellyrolls, and enjoying Stir bar at the Swan Reserve.
Visit Disney's BoardWalk Inn
Speaking of hotel hopping, if you like to see how Disney's hotels are designed, stop inside the BoardWalk Inn. There's a gorgeous chandelier inside by the entrance doors on the level above the boardwalk. There's also a cool pool there and an outdoor bar in a carousel that's worth seeing.
Go to the Theme Parks
Though we didn't go to the theme parks this trip, the Swan Reserve's ideal location makes it easy to get to them. (Plus they have complimentary shuttle buses to all 4 theme parks.)
Hollywood Studios and Epcot are both within walking distance of the Swan Reserve. The walks are quite lovely. Alternatively, you can take a boat to either from the Dolphin.
You enter Epcot at the entrance closest to the World Showcase, right next to France.
Things to Do Within Driving Distance of the Swan Reserve Hotel
Enjoy Orlando and Lake Buena Vista
If you're Jonesing to get off WDW property, there's plenty to do in the area. Lake Buena Vista (where Walt Disney World is located) has a ton of nearby restaurants and shopping, including shopping outlets. And there are plenty of things to do in Orlando, too like venture out to Icon Park or the Mall at Millenia (which is a beautiful shopping mall).
Enjoy Disney Springs
We love Disney Springs. There is so much to do there – including shopping, dining, and entertainment – all without having to pay an entrance fee, like the theme parks. You can drive there and enjoy free parking or take the complimentary shuttle bus from Swan Reserve.
We mastered Happy Hour at Disney Springs, which we recommend for you too if you're traveling there on an adults-only trip! And what better way to safely travel there and back to your hotel if you're drinking than on a shuttle bus?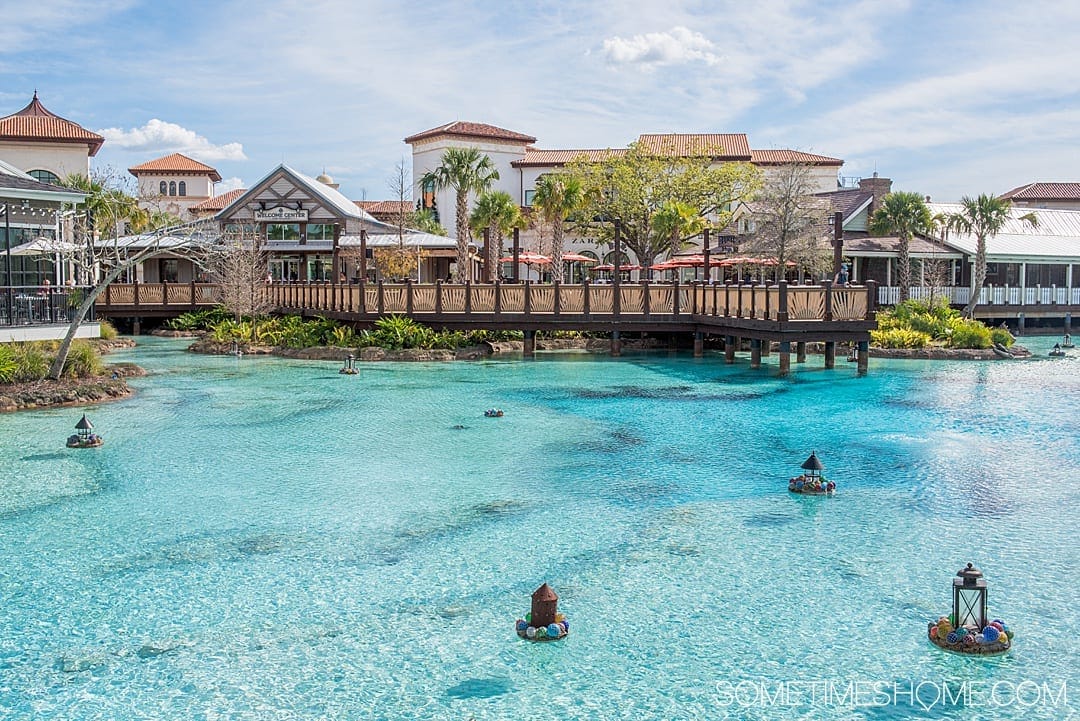 Go to Universal Parks and Resorts
The other world-class theme park that's popular amongst Orlando-area visitors is just twenty to thirty minutes away. Universal Parks and Resorts include Islands of Adventure, Universal Studios, and CityWalk.
And yes, that's where the Wizarding World of Harry Potter is!
Go on a Disney Cruise
One of our all-time favorite Disney vacation options is Disney Cruise Line vacations. Their main US cruise port is at Port Canaveral, which is just about an hour east of Orlando.
(Be sure to reach out to our favorite Disney travel agent, Becca, who will plan your Disney vacation for free. That is precisely how we plan all of our Disney vacations! Her email address is BeccaPlansVacations(at)gmail.com – or DM her on Instagram.)
🚨 Don't Miss Out: Reserve Your Swan Reserve Room Now 🚨
Events at Swan Reserve
The Swan Reserve has over 15,000 square feet of meeting space. You can host a corporate event here, a wedding, a vow renewal, or a family reunion. Get creative! (Don't forget about the 15th-floor venue space, "The Vue"!)
There are two ballrooms and 12 meeting rooms at this property. They have 13,000 square feet of outdoor event space as well.
Conclusion
We cannot recommend the Swan Reserve more. You truly cannot beat its location, it's Marriott Bonvoy perks and ability to use rewards and get rewarded, and the hotel's design. We are certain we'll stay here over and over again at Walt Disney World.
And don't forget to check out our year-round packing list for Walt Disney World and Universal when you visit!
Heading to Walt Disney World? Also check out: