Food Tour in Florence or Rome: Which is Better? 
One of the first things most people think about when considering a trip to Italy is the food they'll indulge in. Pasta, pizza, and prosciutto could be its own holy trinity of "P" foods that people look forward to in this well-visited European country. But should you take a food tour in Rome or Florence?
What are the nuisances of cuisine in each city and region? Do you need to choose between the two options, or simply take a food tour in one city or the other to understand Italy and its "Italian" food?
We share details of our experience in both cities, including if you need to do a tour in both locations or just one and what you will taste during each food tour. We're also sharing our preferred tour operator (spoil alert: it's Devour Tours) and a review of the Rome food tour and Florence food tour.
Disclosure: This post has affiliate links, meaning we may earn a small commission if you click the link and proceed with a purchase at no cost to you. We were hosted by Devour and truly only recommend experiences, hotels, products, and services we use and support. As Amazon Associates, we earn from qualifying purchases.
Already know you want to book? Reserve your preferred food tour date now…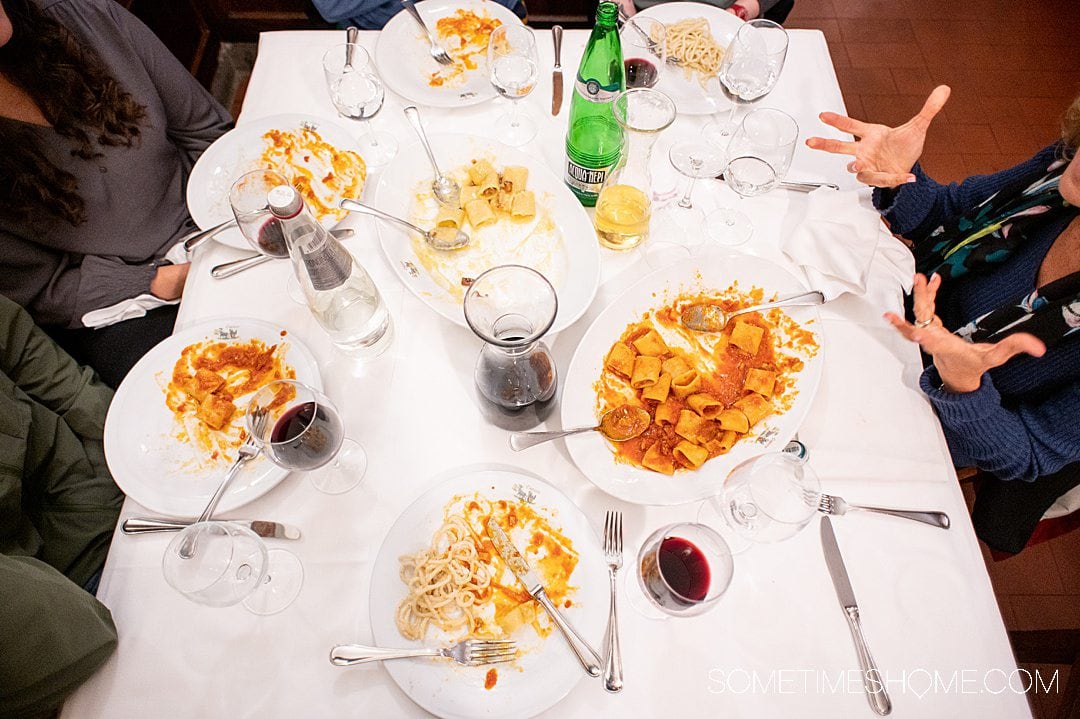 Food Tour in Rome or Florence: The Verdict
We signed up for a food tour in both cities during a trip to Italy, where we traveled from Rome to Florence, then ended our week-long trip in Milan before heading to Madrid, Spain.
We like to understand the food culture as early as possible during our vacation so we know what to order for the rest of the trip (and where to order it because food tour guides always recommend great food spots).
As such, we took a food tour in Rome on our second night there, which was the earliest available time to book during our trip. When we arrived in Florence a couple of days later, we immediately took a Florence food tour on our first night there.
Our verdict is that doing a tour in both cities was the right decision. We were so glad we did a food tour in Rome and a food tour in Florence because we learned wildly different information and experienced how different the food is in both cities through the tours, even though they are not geographically far from each other.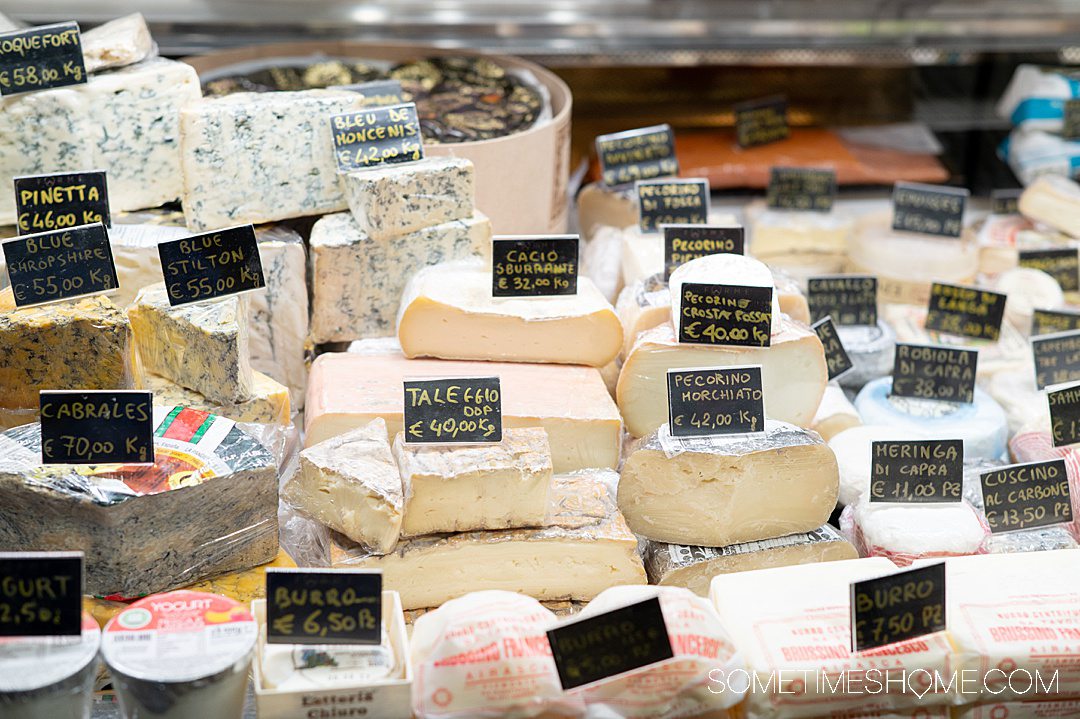 Also, it's important to know that pizza, which originated in Naples, isn't a focus of either food tour. So don't expect to have an array of pizza varieties whatsoever during a Florence or Rome food tour! The tours dig deeper into Rome and Florence's food culture and food experiences.
We also want to note that no matter the city we visit, if there is a Devour food tour option, we book it. It is our preferred food tour operator because they're always amazing, including stellar guides, information, and locations. They're reliable as the "best of the best," and they support local businesses, which is a cause we can get behind.
Food Tour in Rome vs. Florence: Foods You Will Try
Both tours left us feeling very full! We had plenty to eat and drink on both the Rome Food Tour and the Florence food tour.
An overview of what to expect during a food tour in Rome includes:
Local red and white wine, Prosecco, and a cocktail Spritz
Cheeses and meats
A special Rome street food item called Suppli
Pasta
Gelato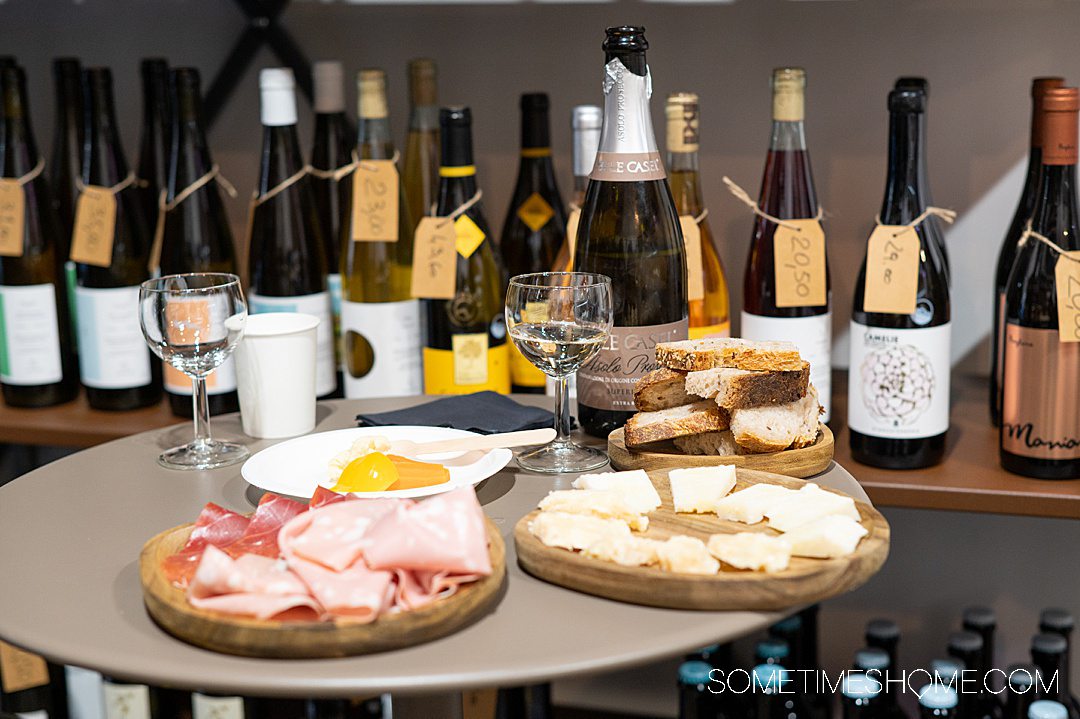 During our Rome food tour, two guests included a vegetarian and a non-alcohol drinker. The vegetarian guest was easily accommodated with a veggie option instead of meat. The man who didn't drink alcohol was always offered an alternative, like a Coke or Fanta, wherever we went when we had wine or a cocktail instead.
Our Florence food tour included:
Wine (including local red wine and dessert wine)
Bruschettas, including one with a tomato spread and one with a truffle spread
Various meats
Florentine steak and potatoes
Gelato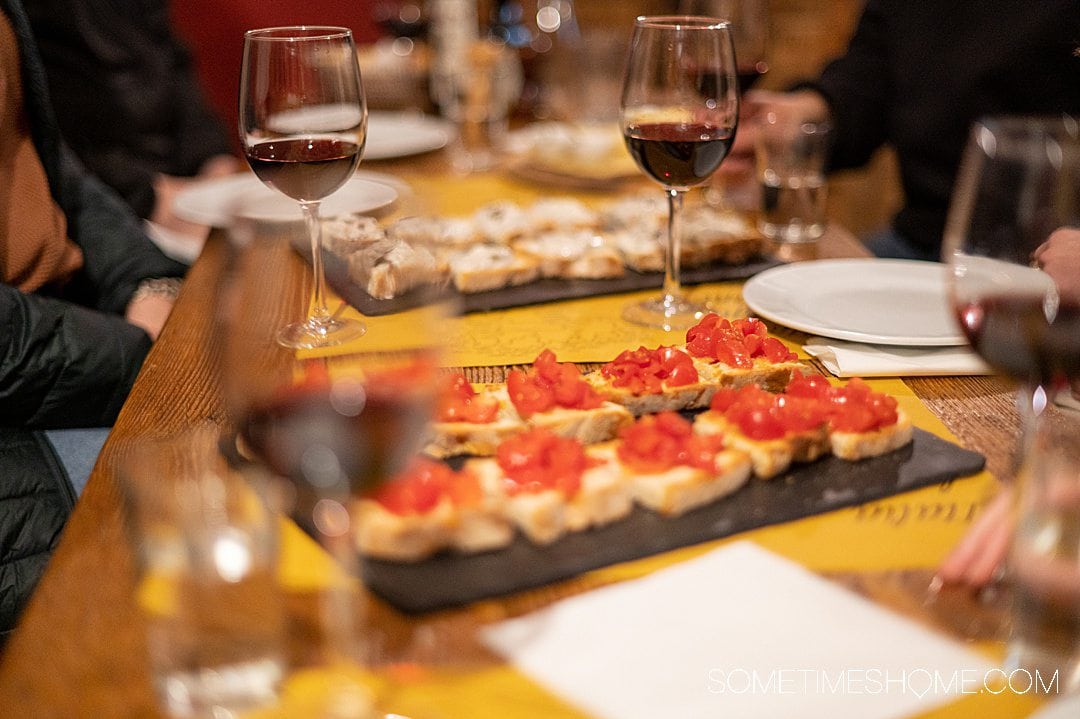 While some of the foods seem to overlap at a glance, we learned that the regional flavors and selections of the particular wines and cheeses, for example, were different from one tour to another.
As another example, we had meat during both tours. But we only learned about salami made with peppercorns versus salami made with fennel on our Florence tour. Our guide shared the historical importance of the spices for each meat.
Of course, the city and locations were different for our Rome food tour vs. the Florence food tour. In each city, our food guide shared information about the city, overall, and the neighborhood we were in. Naturally, we learned different information about the area in Rome versus Florence.
Devour Food Tours in Italy
As we previously mentioned, Devour is our preferred tour operator for food tours. We are so lucky they have tours in Italy in various cities. They also host tours in places like Paris, France, the United States (including California, Massachusetts, and NYC), and all over Spain.
They believe in supporting locally owned businesses during their food tours, keeping the group size small and intimate.
While the tours can accommodate a variety of allergies and dietary preferences (including for vegetarians), we do not recommend either Italy food tour for vegans. Italy, as a country, has a long way to go for veganism.
Rome Food Tour Review with Devour
We met our guide in the Treverstere neighborhood of Rome. It's on the side of the Tiber River opposite the Colosseum and Vatican City, where we did the wonderful "Pristine Sistine" Walks tour earlier in the day. Walking there or taking a bus to that side of town is very easy if you're not at a hotel in the neighborhood.
Locals flock to Treverstere to find great food. It is well known for its enotecas (wine bars), cocktail bars, and restaurants.
Our group was small, with just five people. The passion that our guide, Manuela, had for Rome and tourism shined through. She had been a flight attendant for years before pursuing a career as a tour guide in her home city, which she has been doing for about eight years.
Though it was raining, the tour was joyful and upbeat as we bounced around five or so destinations.
Rome Food Tour Food and Drink Locations
Out of respect for the tour, we will not spill the beans on the exact locations we visited. However, we will say that it was very clear that the businesses were all owned by locals who were making an honest living with their quality food and warm hospitality.
A favorite stop was a bar that has been owned by the same man since the 1960s. Marcello was at the register when we stopped by, sitting beneath an old menu sign above him.
The prices were still marked in Italian lira from before Italy joined the European Union. This stop was also a great time to try Campari or Aperol spritzes, an incredibly popular drink amongst Europeans.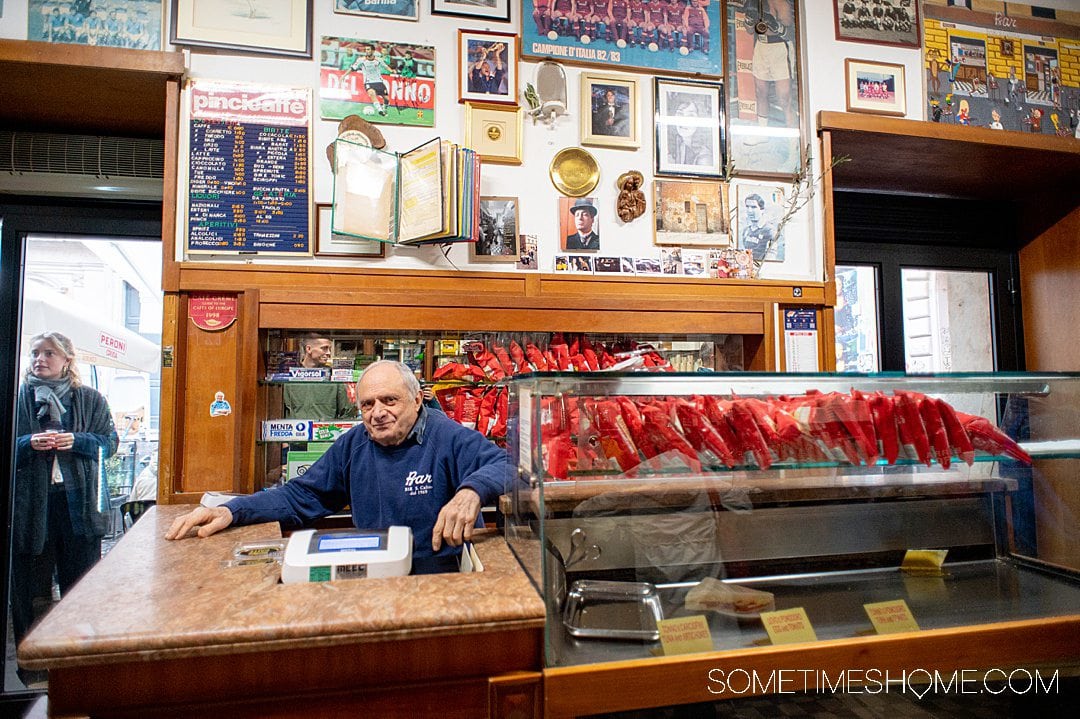 Food-wise, it was so interesting to get some "suppli" at one of the most popular places in Rome. We learned that it's a grab-and-go kind of food similar to arancini in Sicily, but with distinct Roman differences.
During our Devour food tour, eating it on the go was fun, as the Romans do. Dan and I would never have known about this food without the tour, including its history or where to order it.
We happily ate our share as we walked to the next food tour location, an enoteca where we learned about white and red wines and had delicious apertivos.
Book the Same Food Tour in Rome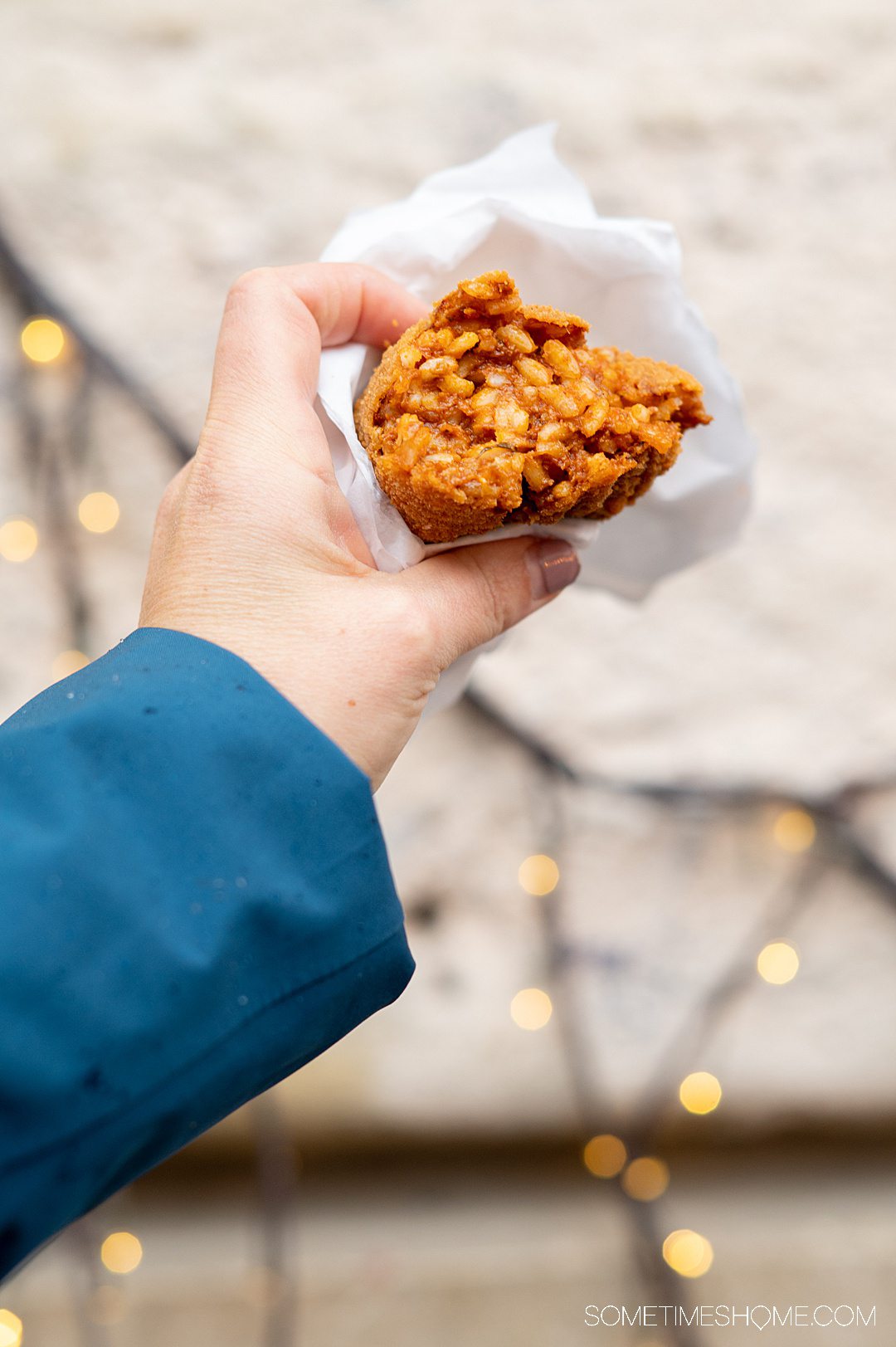 We loved another food stop where we sat down to try three kinds of pasta local to Rome. They were all amazing! It was fun to sit at a family-owned restaurant and eat the dishes, which were served family-style.
Though we ate one of the two kinds of pasta in Rome the day before, we didn't understand how it was made until our Rome food tour.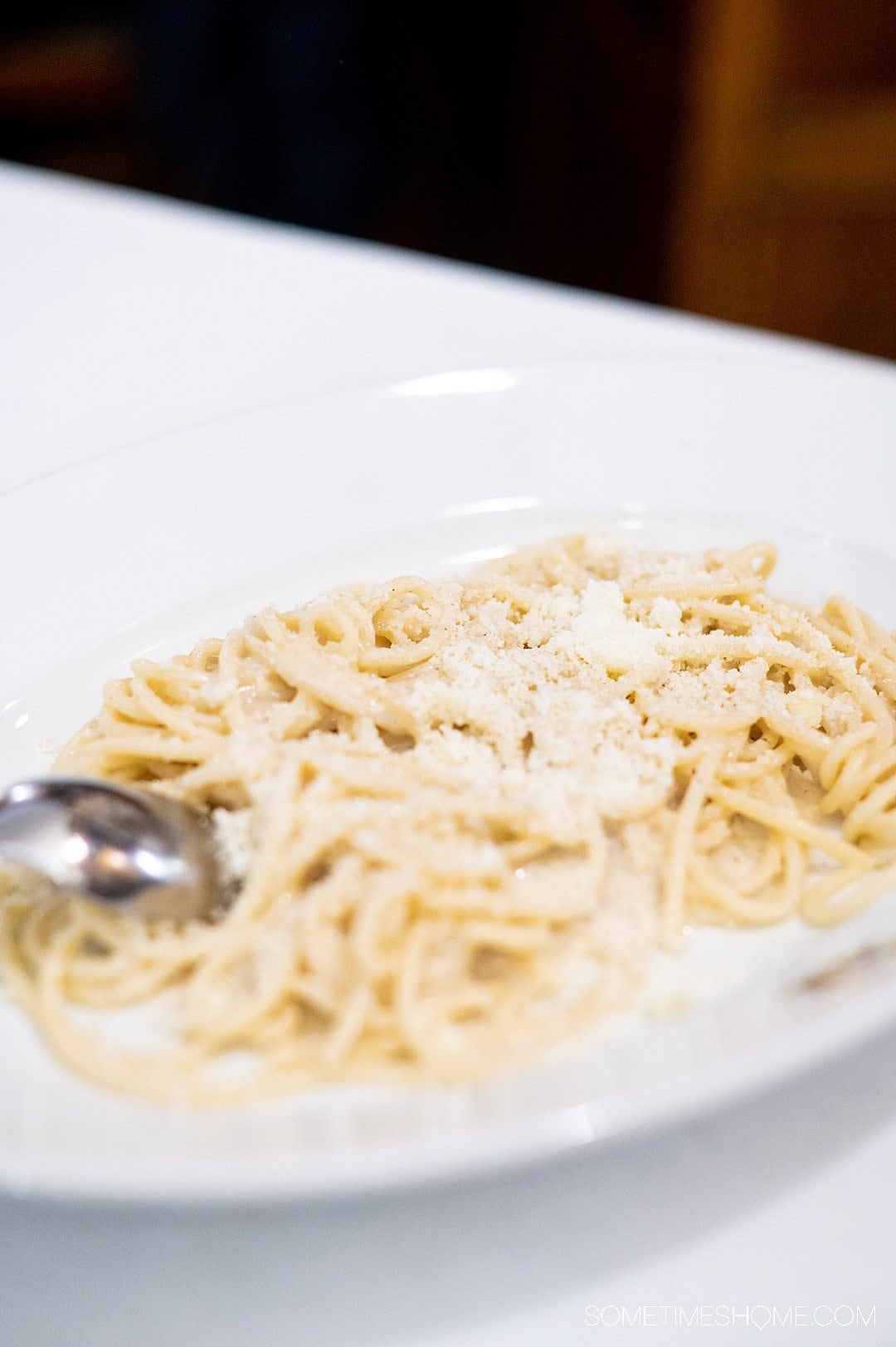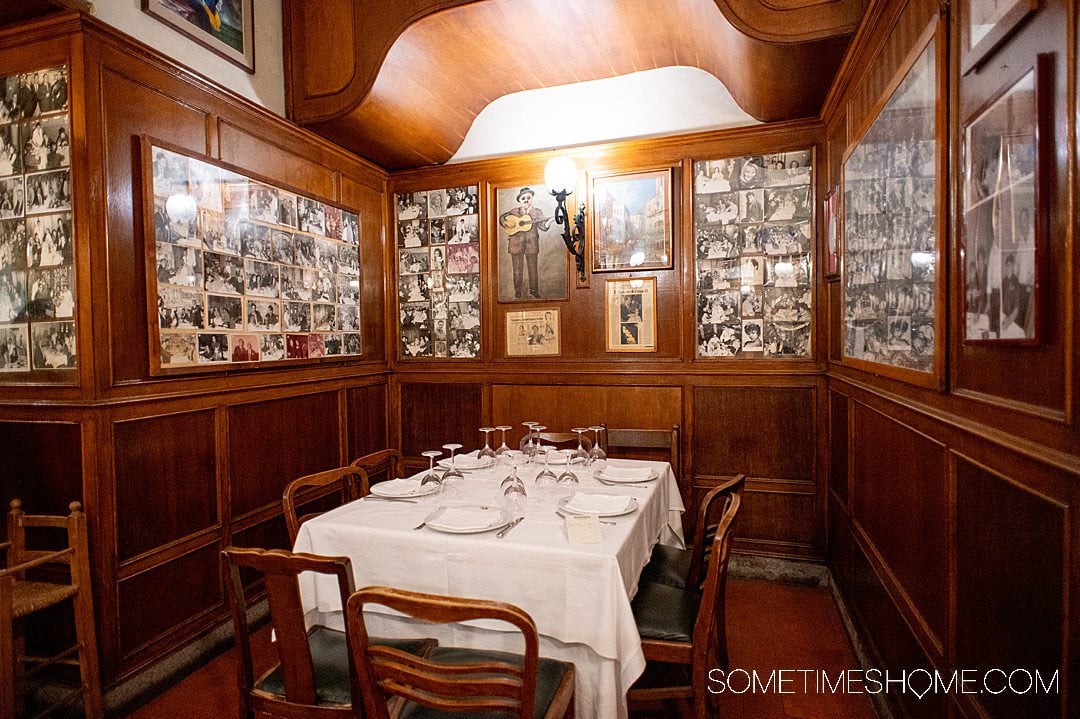 Manuela shared the simple "ingredient rules" that Romans follow when creating pasta dishes at home. She also shared a bit about proteins in the country and what locals consider food for at home and food to order at restaurants.
She explained some of the cultural aspects of eating meals out, including the times Roman Italians dine. It was all very educational.
We discovered that the same restaurant offers Devour cooking classes when a colleague of Manuela's stopped by to say a quick hello as she walked through the restaurant to the kitchen. She was wearing her Devour cooking apron and was incredibly friendly and smiley!
Florence Food Tour Review with Devour
Our food tour was on the same side of the Arno River where we were staying. It was a 15-minute walk from our Airbnb to our food tour meeting point, on the Pitti Palace and Boboli Gardens side of town.
It's a short walk across the river over the Ponte Vecchio to get to the meeting point if you're staying near the Duomo or Palazzo Vecchio/Piazza della Signoria area.
That is also the side of Florence where the Accademia Gallery (where the David sculpture is) and the Uffizi Gallery are located. (We explored that area the day after our food tour during the fantastic "Florence in a Day with David, Duomo, Uffizi & Walking Tour.")
We met in front of the state of Cosimo Ridolfi in Piazza Santo Spirito, as our email confirmation instructed. Our guide, Antonio, was awaiting our arrival. Our group of ten people was eager to explore the Oltrarno area and try new foods.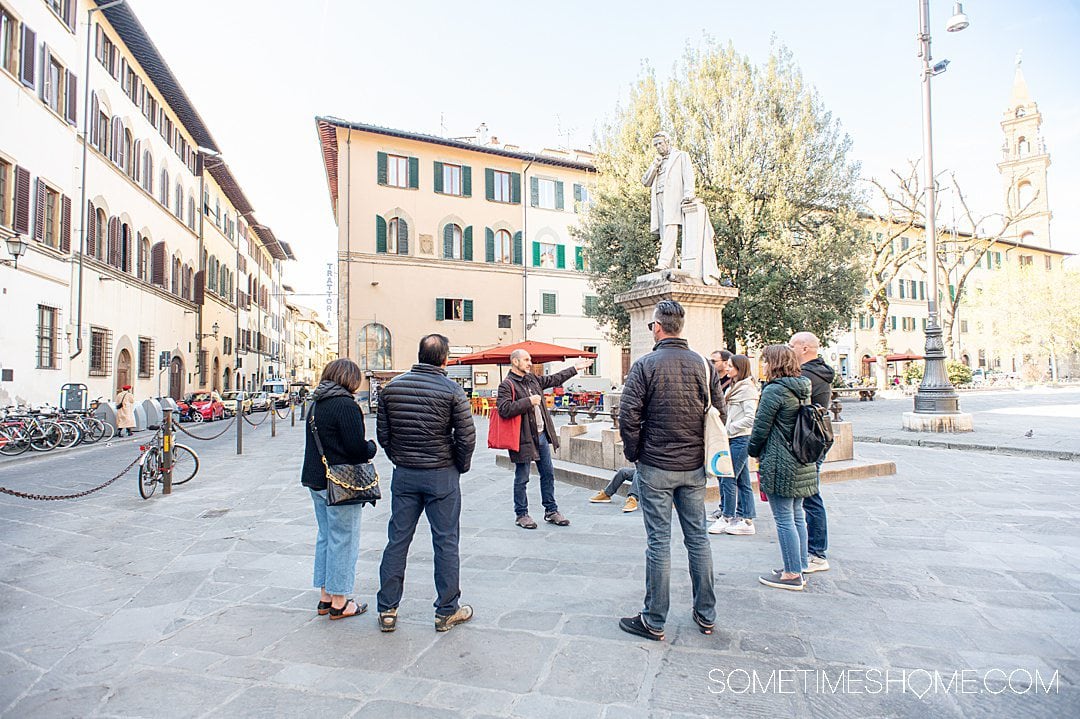 Antonio shared a bit about the area we were standing in and Italy's history before we started walking to our first food destination. He shared things about Italy's formation as a nation and the Italian language we had never thought of before. It all tied into the Florence food tour we were about to take.
Florence Food Tour Food and Drink Locations
Again, we won't get into the specifics of where we stopped out of respect for the tour and you, so you'll have great surprises when you sign up for it.
But a favorite stop was a small apertivo bar, where Antonio remembers shopping for herbs with his parents as a child. The building has been in the owner's family for multiple generations and had a former life as an herbal shop years ago.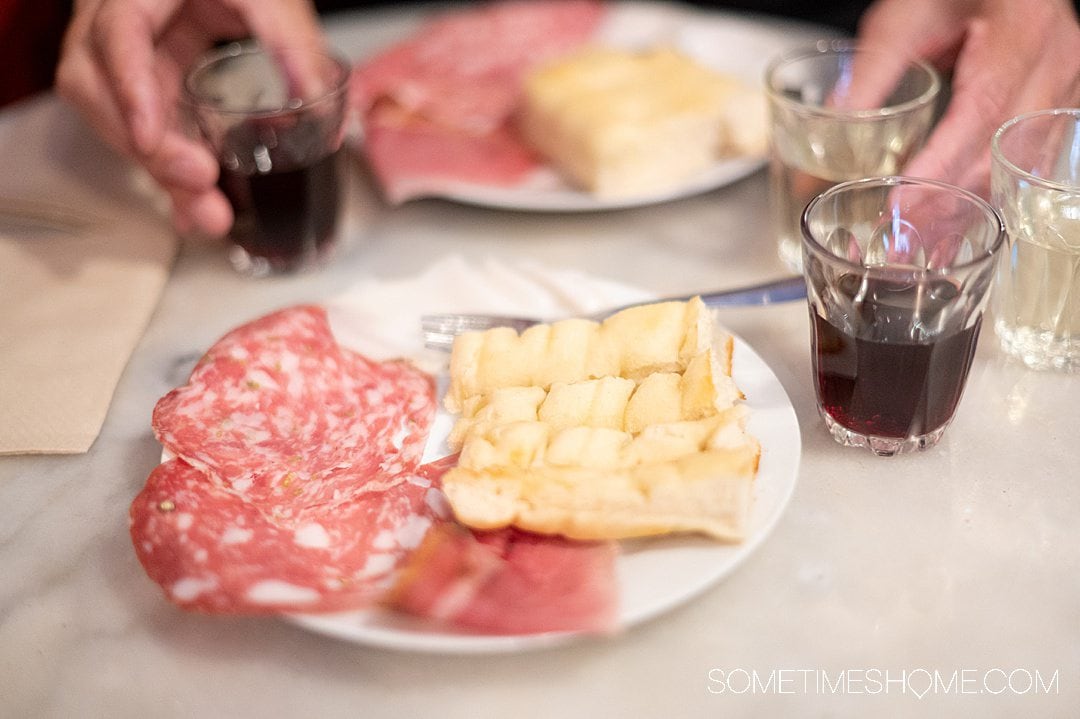 Another hit of the tour was a famous "wine window" of Florence. It was even an item for one of the women on our tour to check off her Italy bucket list.
Because we were with a tour that had a reservation at the popular wine window, we were able to bypass the long line of people waiting for their turn. Such a perk to be on a well-organized food tour!
Book the Same Food Tour in Florence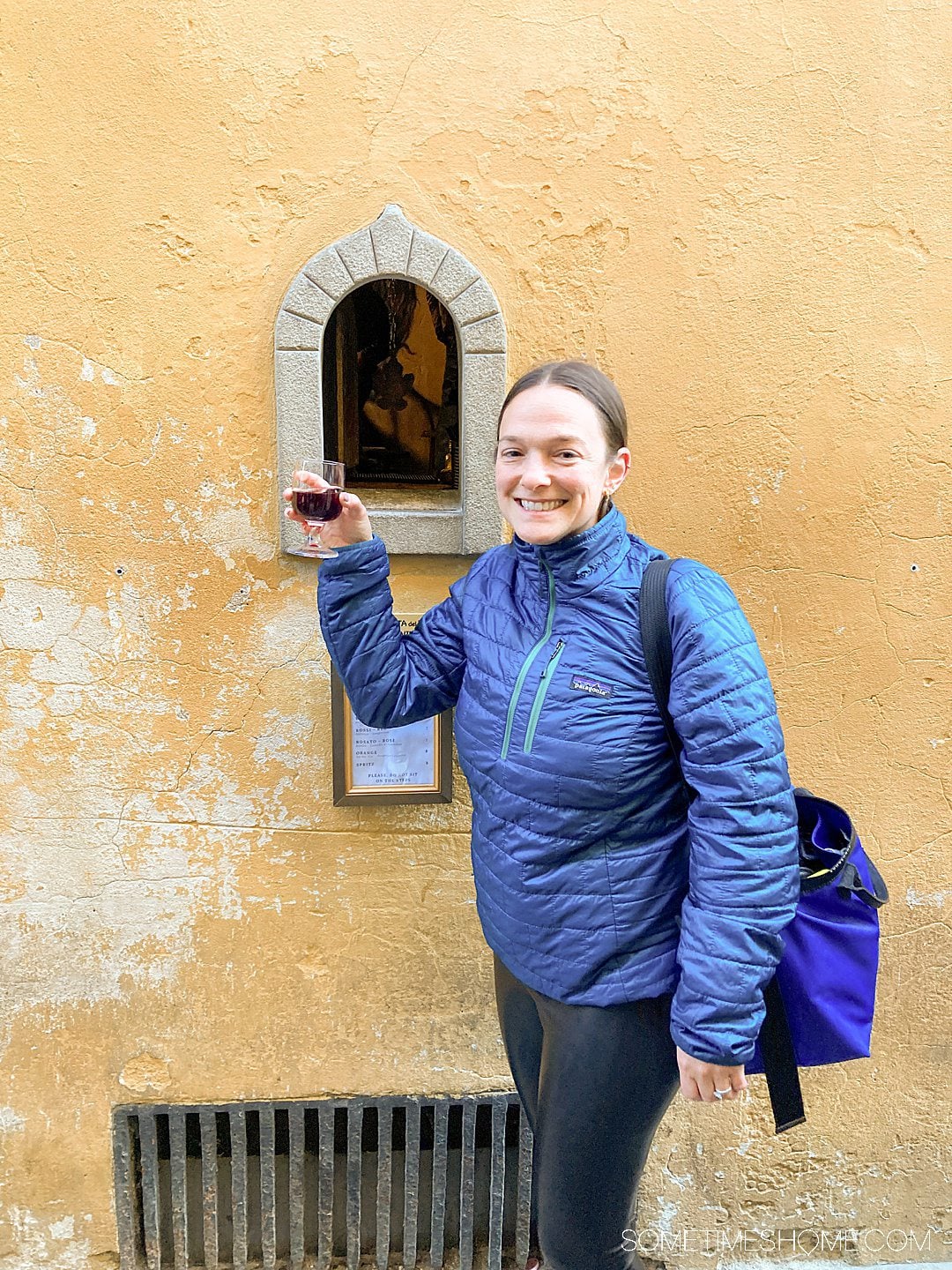 These wine windows were recently resurrected and regained popularity during the pandemic. Antonio shared the history of the wine windows in Florence, which was not at all the reason we suspected they were invented!
We also loved stopping at a BBQ place. But it's not at all like American BBQ. It's just a place where they grill items inside on a special grill. Famously, the restaurant serves "Florentine Steak." Trying this famous Florentine dish with other excited tourists anxious to dig in was thrilling.
Tasting the steak is part of what made it one of the top things to do in Florence.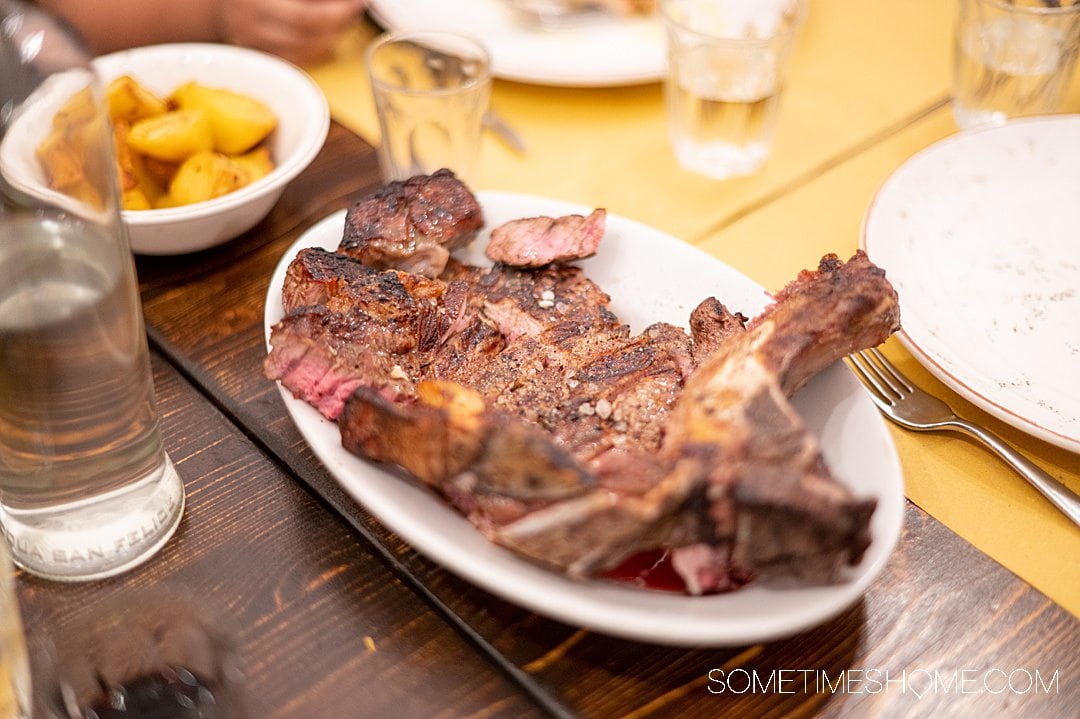 Our dessert stop was for gelato on this tour, like it was during our food tour in Rome. But truthfully, you cannot escape gelato in Italy. It's EVERYWHERE. And it was great to try different flavors in Florence and learn about one, in particular, that was a local favorite.
Rome and Florence Food Tours Conclusion
We recommend both food tours in both cities. We truly learned and ate different things on each tour. The breadth of knowledge we gained about Italy's local cuisine, culture, and history through exploring Florence and Rome with experienced local guides was invaluable.
We advise signing up for both tours in advance (they often sell out weeks ahead of time, especially during peak travel seasons) and booking for a date as close to when you arrive in the city as possible.
That way, you will be able to eat subsequent meals with more knowledge of how the locals eat and order, and you can benefit from the restaurant recommendations from the Devour food tour guides.