The Siena Hotel in Chapel Hill and Il Palio Restaurant: an Italy-Inspired Experience
A staycation at The Siena Hotel in Chapel Hill and dinner at Il Palio restaurant is a really great local remedy for a case of the can't-travel-outside-the-United-States blues. Whether it's a pandemic or a babymoon, or lack of vacation time or funds, we're lucky this great accommodation and culinary experience are nearby.
Overnight at The Siena Hotel in Chapel Hill
When you live in Raleigh, North Carolina it's unlikely you get to Chapel Hill enough. Raleigh is a great city with an awesome downtown area and there's a lot of great things in the immediate area, including Cary, Apex and Durham.
But just beyond Durham is Chapel Hill. We decided to get away from Raleigh for an overnight Chapel Hill staycation, knowing we don't venture that far north enough. Staying overnight at The Siena Hotel in Chapel Hill would allow us to truly feel like we were getting away from our usual routine and surroundings.
The Siena Hotel is a boutique hotel accommodation and is part of Marriott's Autograph Collection of hotels. As Marriott Bonvoy Gold travelers, it's just another thing we appreciate about The Siena Hotel!
The Siena Hotel and Siena, Italy
Siena, Italy was the inspiration for this beautiful hotel. The four-story building is steeped in Italian details from the marble and pulled glass chandeliers in the lobby to ornate phones near the elevators.
The hotel's original owners wanted to bring Italy to the Triangle region in North Carolina, after their honeymoon. Thus, they recreated Siena in Chapel Hill. This made the original city, an hour south of Florence, closer than ever. Much less than a flight away over the Atlantic Ocean!
One of the best parts of the hotel is the Italian culture that comes to life at its restaurant, Il Palio. But we'll get to that after check-in.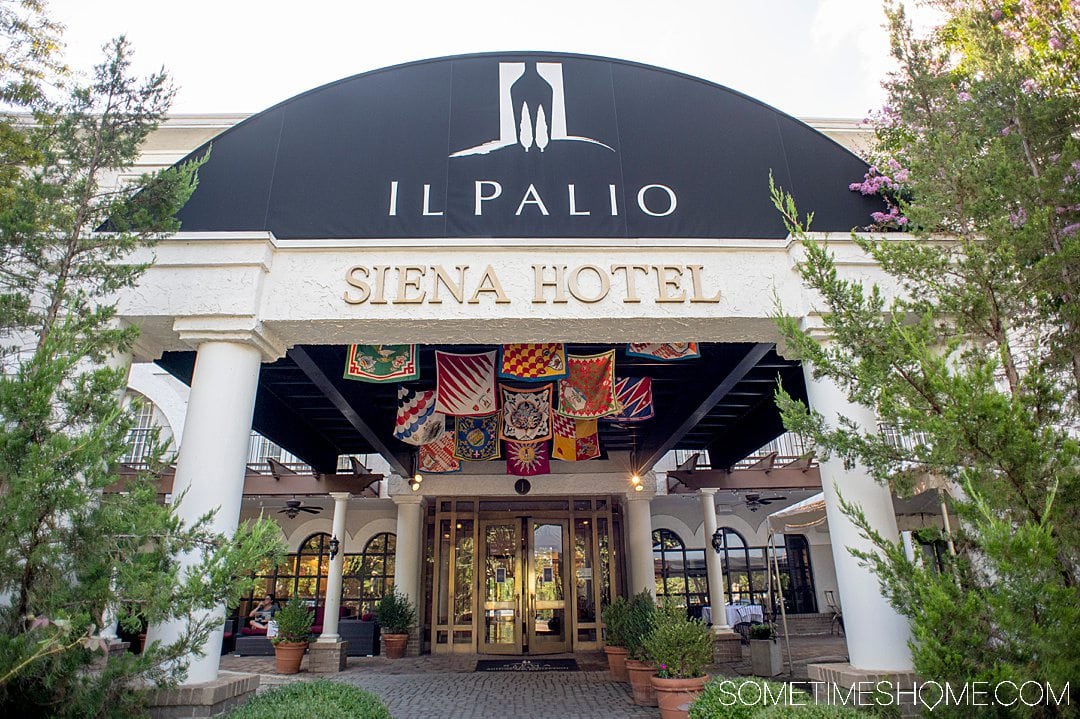 Hospitality and Comfort at The Siena Hotel
We pulled into the hotel's parking lot, realizing you may never notice the hotel unless it was your destination. The street it's on is the main thoroughfare in Chapel Hill, but the hotel is hidden behind landscaping off a busy non-pedestrian portion of E. Franklin Street. (Parking at the hotel is complimentary, by the way.)
We parked our car and noticed colorful tiny peppers growing in planters around the fountain in the parking lot before heading towards the doors. Purple flowers on the Crape Myrtle trees flanking either side of the hotel's entrance made me smile.
We passed over a dozen colorful flags as we walked underneath them, through the doors, into The Siena Hotel's attractive lobby. (And later learned that "Il Palio," the name of their restaurants, means "flag" in Italian.)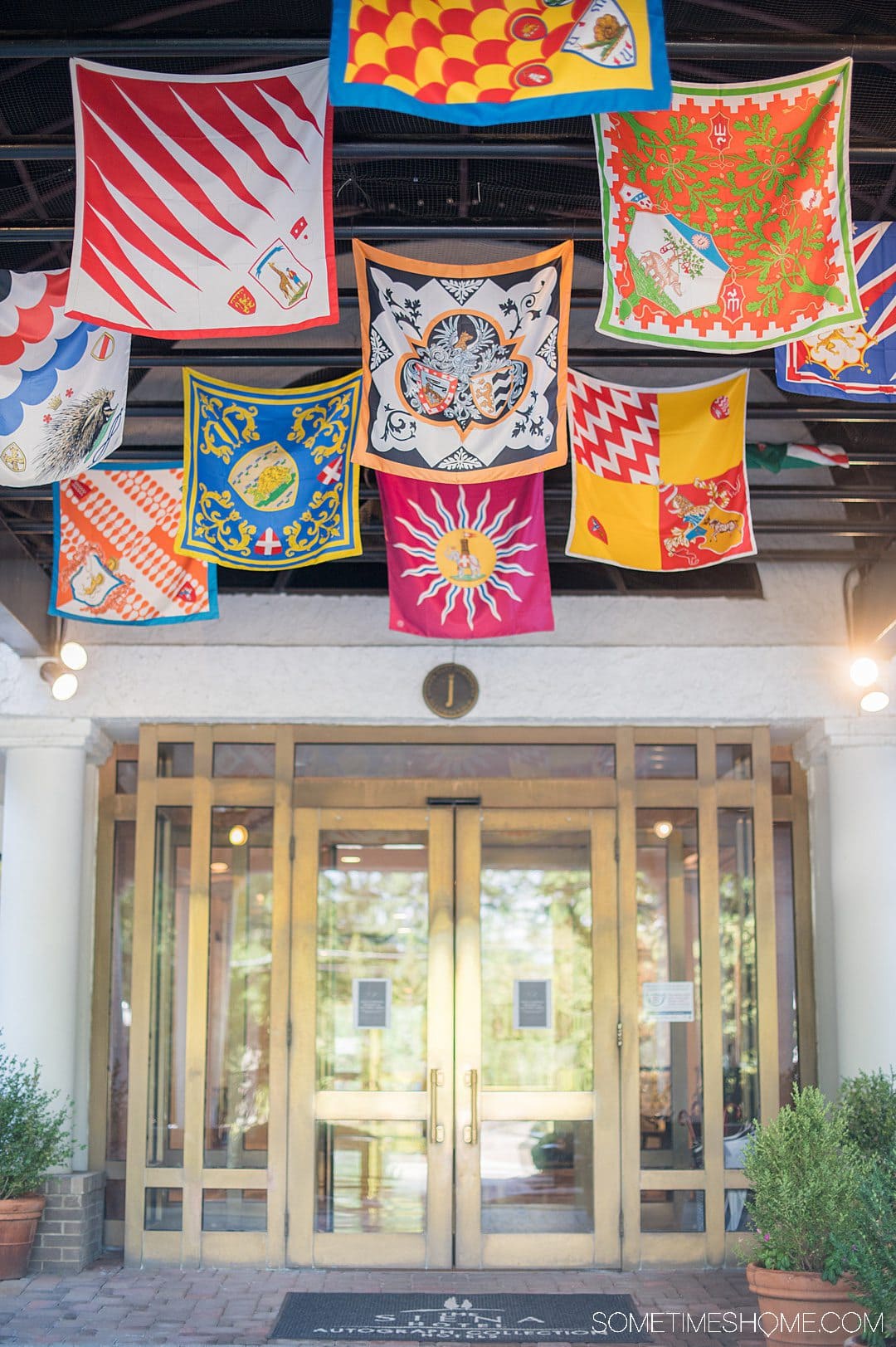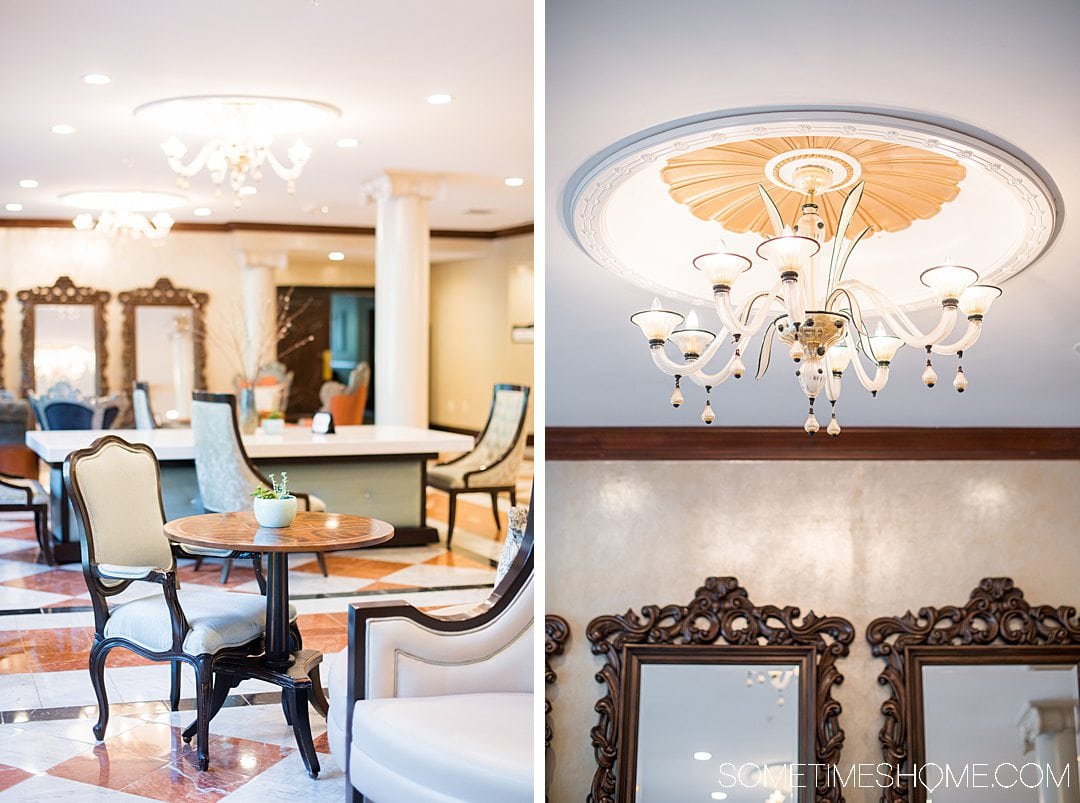 European-Inspired Rooms at The Siena Hotel
There are 79 rooms at The Siena Hotel on four floors. They all have 12-foot ceilings, which we love. There are five different color palettes and various room designs throughout.
You can stay at The Siena Hotel in Chapel Hill several times and always have a slightly different room whether the furniture is different or the upholstery swapped out. (The best place to see various rooms is actually on The Siena Hotel's Instagram account.)
We loved the tray ceiling above the king-size bed, where a beautiful light fixture was placed. We were grateful for the extra pillows in drawers underneath the TV without having to ask for extras. (You'd think four pillows are enough for two people but we have a pillow addiction.)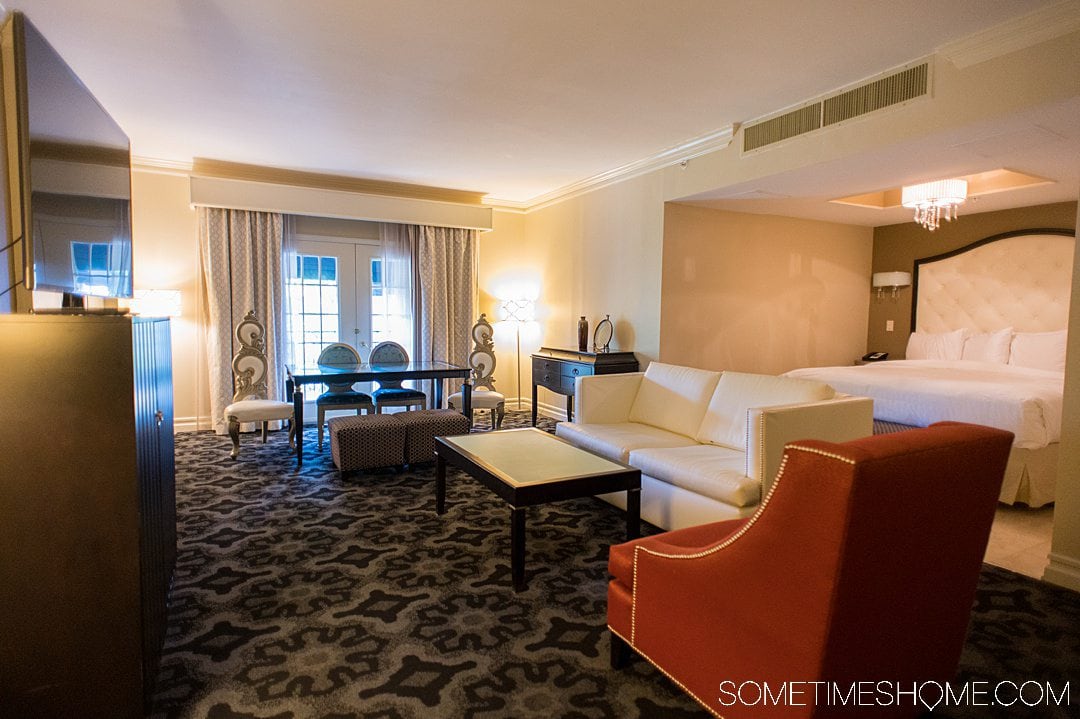 🌴Florida Packing List
The Florida sun is HOT and STRONG! Don't forget to pack outdoor essentials like reef-safe sunscreen and a reusable water bottle to protect yourself from the Florida sun!
It's also a good idea to pack an umbrella or poncho (you never know when it will rain) and a cooling towel – because even if it rains, it can still be well over 90 degrees!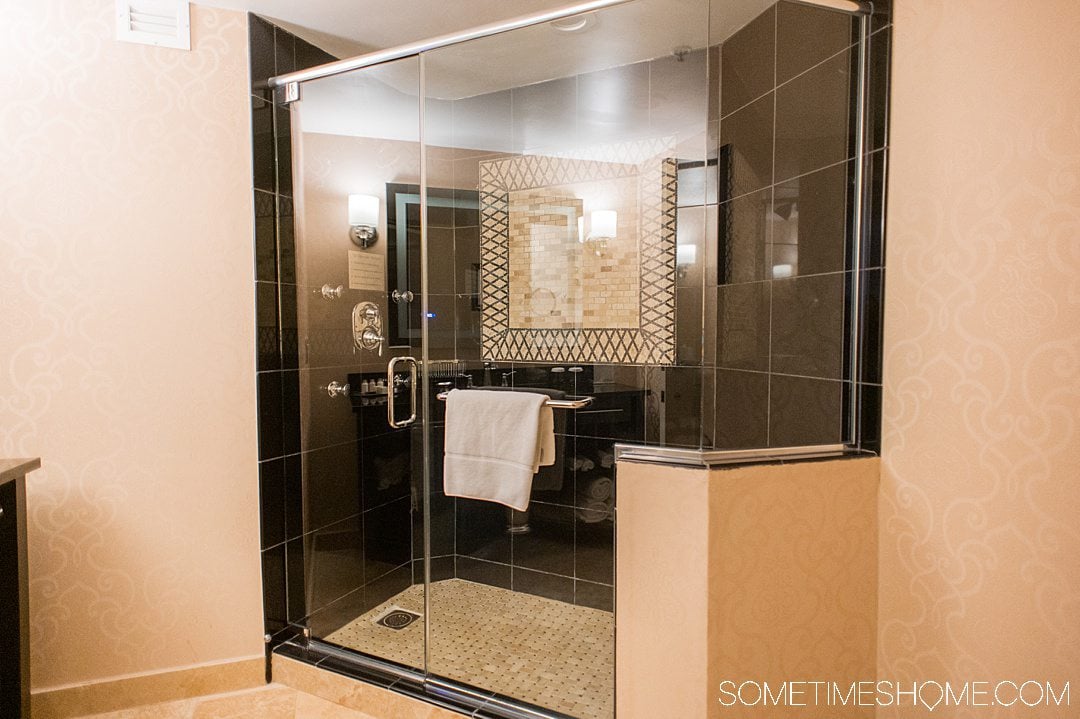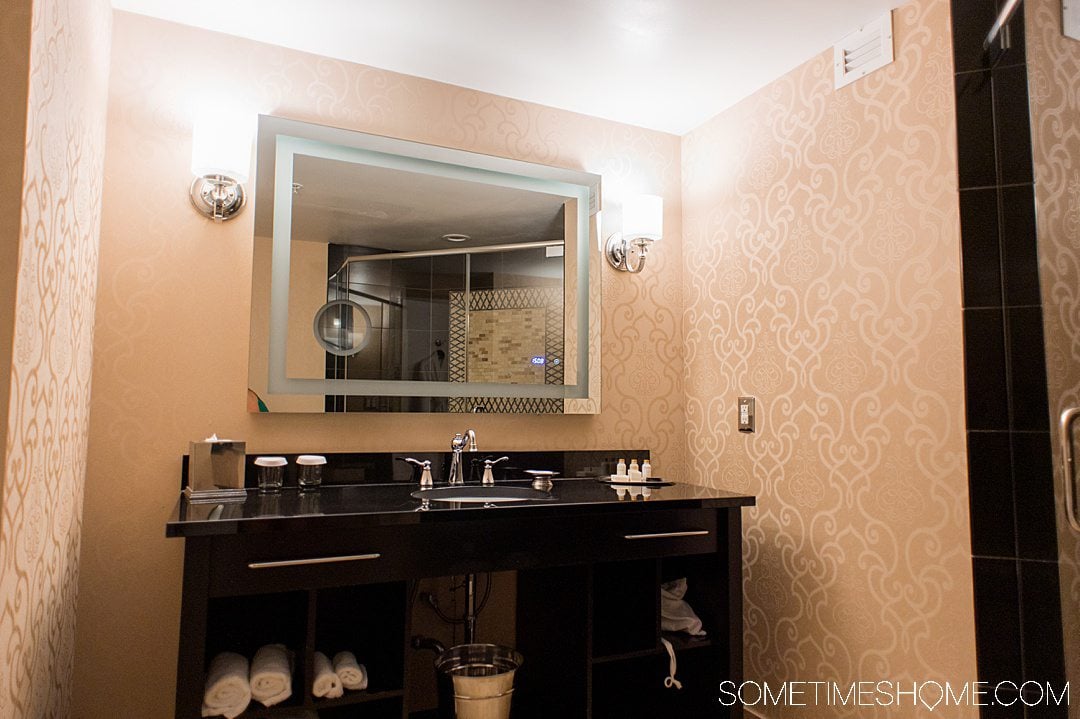 The bathroom was gorgeous – its modern mirror very much reminded us of the Curtiss Hotel in Buffalo, with an incredible shower. The oversized mirror on top of the writing desk had a whimsical edge I loved. And I was drawn to the velvet patterned fabric on the desk chair.
Dan playfully named the piece of furniture past a white couch in front of a large flat-screen television the "Presidential Desk." It was set in front of double doors that led out to a Juliet balcony. Perfect to ask, "Wherefore art thou Romeo?" at an Italian-inspired hotel. (Yes, we know that was in Verona, not Siena, Italy. But it seemed appropriate nonetheless.)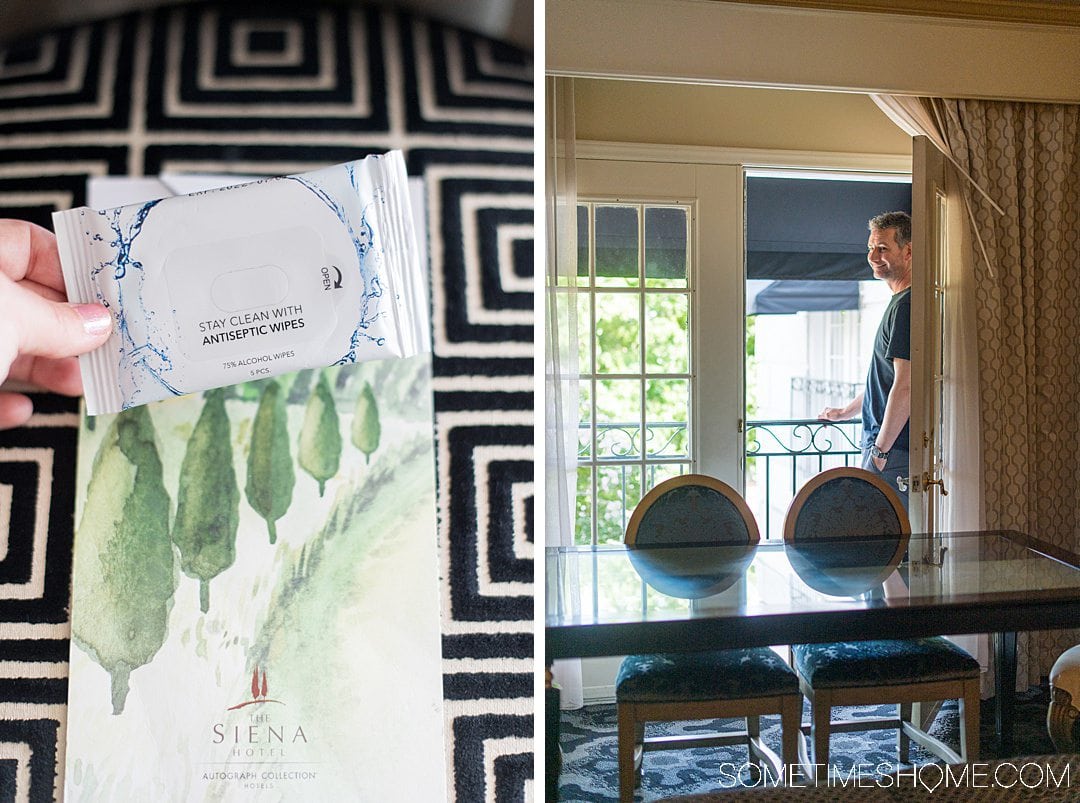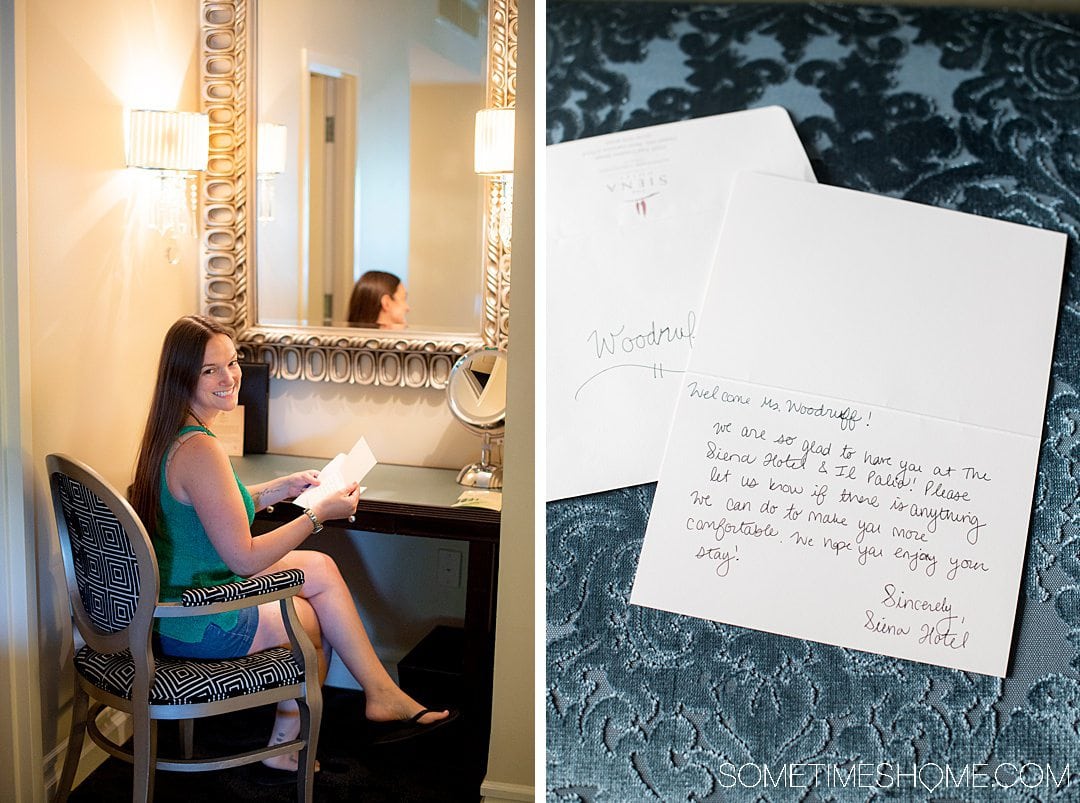 We decided to continue our welcomed "Italian vacation" storyline with apéritifs before dinner, just like we would in Europe.
Il Palio, Italian Restaurant
We headed downstairs from our third-floor room at The Siena Hotel to Il Palio for some pre-dinner cocktails, which we ended up enjoying in their outdoor space. The patio was perfect for al-fresco dining, sure to further transport any visitor to the sidewalks of Italy.
Our champagne flutes were filled with a cocktail of gin, Prosecco, and a hint of fruit from their bartender, James. The hotel's General Manager, Anthony, informed us his wife, Laura, nicknamed the drink an "Ella Fitzgerald." We dug it! It was refreshing and an effervescent delight on a beautiful summer evening.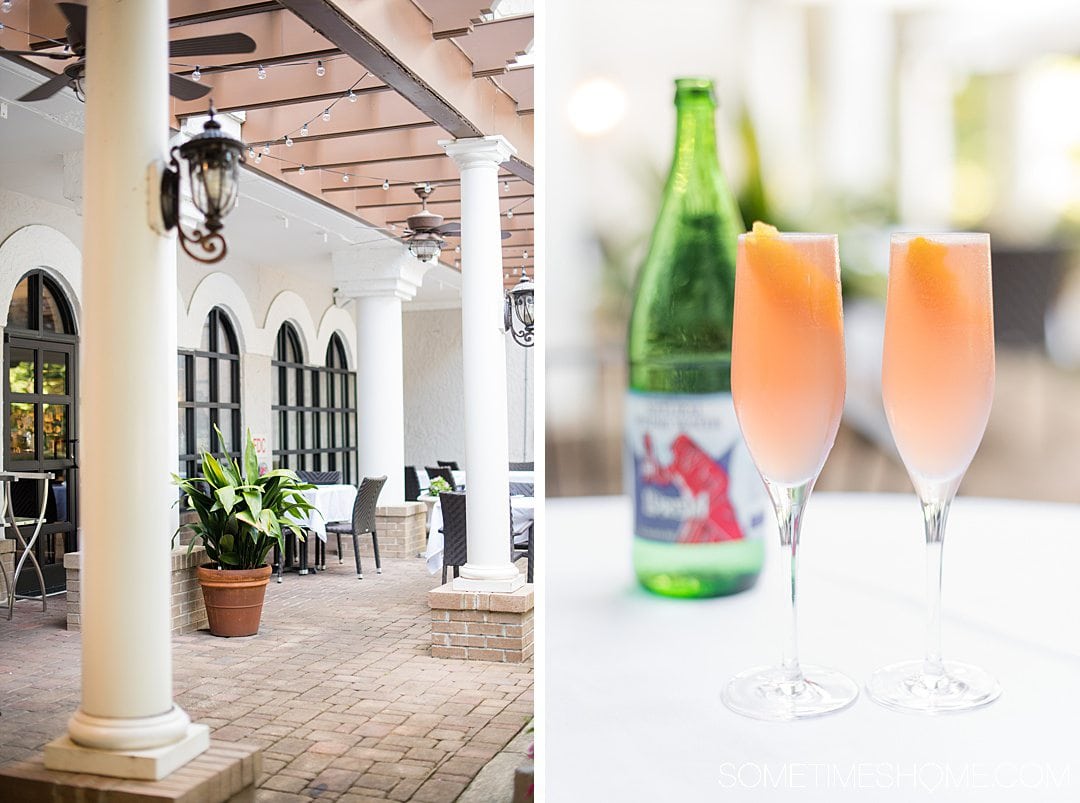 What comes after gin cocktails at an Italian restaurant? Wine, of course! (I bet you thought we might say Limoncello! But the wine is phenomenal at Il Palio.)
Italian Wine at Il Palio in Chapel Hill
Being able to talk to a personable, approachable, unpretentious wine connoisseur is truly a joy. Wine should be fun, after all.
The sommelier at Il Palio, Annabel Butler, is a delight. Her wine knowledge blew us away and we knew we were in great hands after we expressed our likes to her. (I enjoy both red and white, while Dan enjoys mostly red. But on the drier side for all – nothing too sweet with the exception of dessert, of course.)
We took our time and enjoyed ourselves so much – Italian food, wine pairings, and our environment at The Siena Hotel in Chapel Hill – that we ended up having a four-hour dinner. Which we loved, because that's how you do things in Europe! Slow and enjoying every minute, sip, and bite.
Here's a description and visuals of what we ate and drank (because if you're foodies, like us, you're probably wondering).
Appetizers:
Crostinis: 1) N'duja (a spreadable spicy pork, from the Calabrian region of southern Italy) 2) Tuscan White Bean and Sofrito, 3) Olive Tapenade, 3) Chicken Liver Mousse (that one was our favorite – very flavorful with a great texture).
Fossa Mala Sauvignon Grave DOC: This 100% Sauvignon Blanc wine is from Northeast Italy. It was crisp and clean, with notes of peach that paired perfectly with our apps. It was perfectly balanced for our crostini course. (Because Annabel is a wine genius!)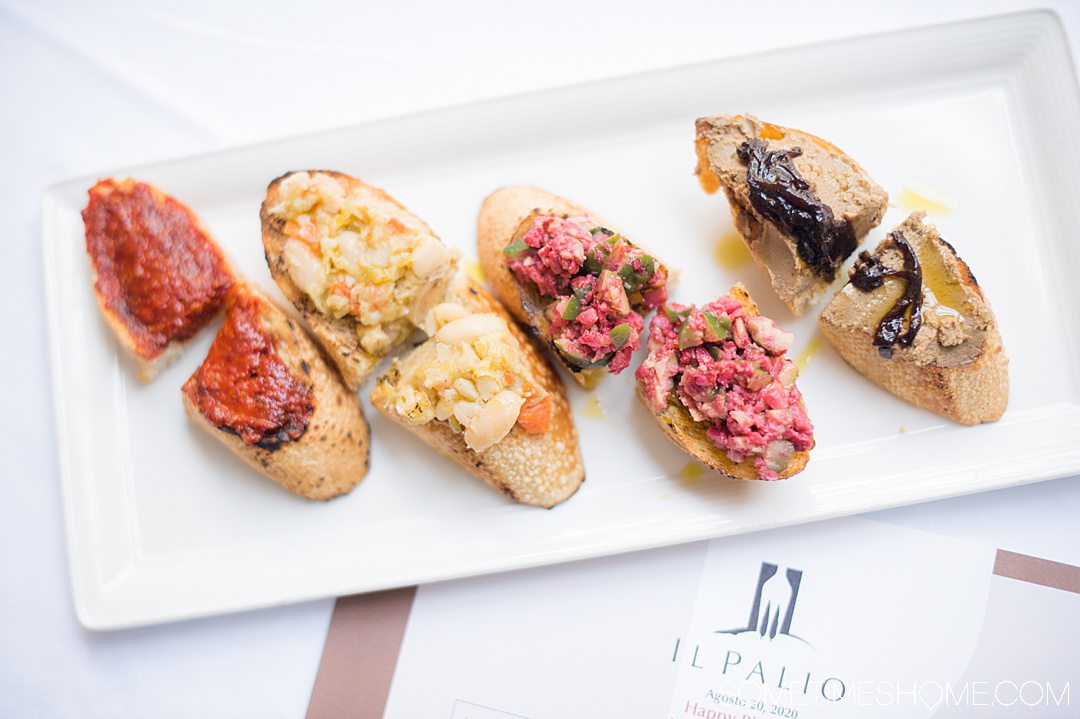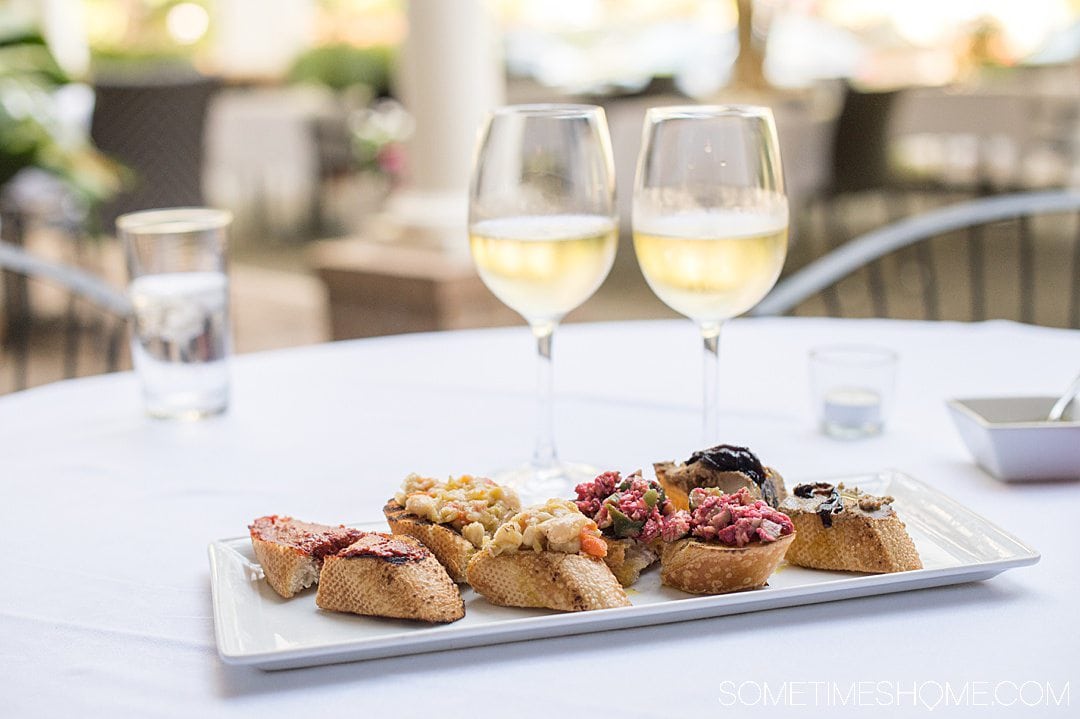 Antipasti Course:
Caprese Salad with local tomatoes and Italian burrata and 500 Day Aged Prosciutto & Melon: The local heirloom cherry tomatoes were fresh and fabulous. The Italian burrata served as part of the Caprese Salad comes over from Italy (we asked our awesome server, Mossimo – who is from Italy – about it). Lastly, the wildflower honey olive oil on the diced melon that was served with the prosciutto really toppled our love for the dish over the edge. The sweetness balanced the smokiness of the prosciutto and the flavor of the melon out so nicely.
Marramiero "DaMa" Montepulciano d'Abruzoz DOC: Let's call this a Montepulciano red. It was great. A perfect red to pair with highly acidic food, like tomatoes topped with balsamic vinegar in the Caprese Salad. This was my favorite red of the evening. Dan's came later.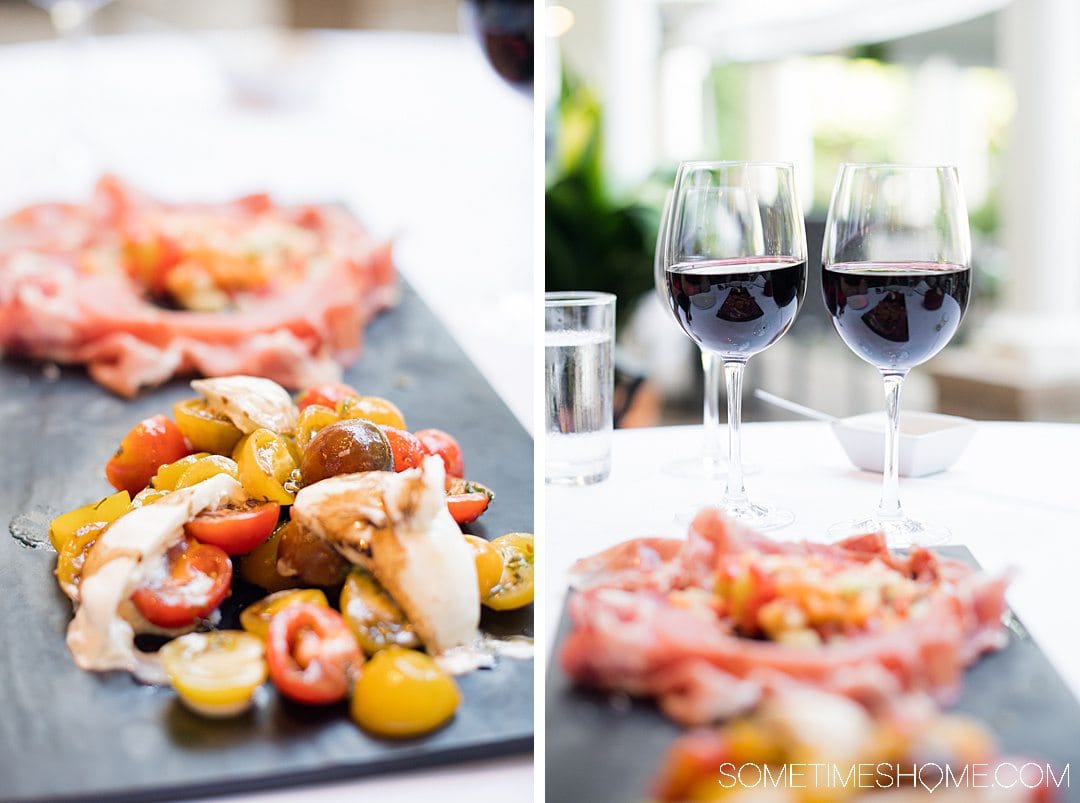 Pasta Course:
If I had to eat one food for the rest of my life, it would be pasta. But not just any pasta: HOMEMADE, fresh pasta. Naturally, Il Palio's homemade pasta captured my heart in an instant. And Dan, who doesn't have a natural affinity for pasta like his carb-loving wife, said it was his favorite part of our meal that night. (Besides the great wine!)
Lobster Ravioli Burrata: When head Chef Adam Rose came out to present us our next course and say hello I had to share my thoughts with him regarding the previous course, this pasta course. (He's a fellow Long Island native so I can guess that blunt, straightforward New Yorkers are par for the course to him. The only way most native New Yorkers know how to be.) I told him that it was my favorite "lobster ravioli," ever, because of how light it was and well prepared in its creation. We loved that the pasta was filled with fresh burrata cheese, and (as I self-quote) he "didn't bastardize the lobster by chopping it up and stuffing it inside the pasta." I'm not a huge lobster fan unless it's prepared in such a way that wows me. Which is rare. And boy, did it ever. 5-Stars and two thumbs up for this lobster ravioli! (Or maybe more accurately ravioli topped with chunks of delicious lobster.) We were also spoiled to have a taste of octopus on our plate which was really good. (Though we have mixed feelings about eating octopus for several reasons.)
Peri "Regina di Cipro" Chardonnay IGP: A 100% Chardonnay white wine was perfect for our summer pasta plate. It's from the Lombardi region, which is the largest of 20 wine-producing regions of Italy.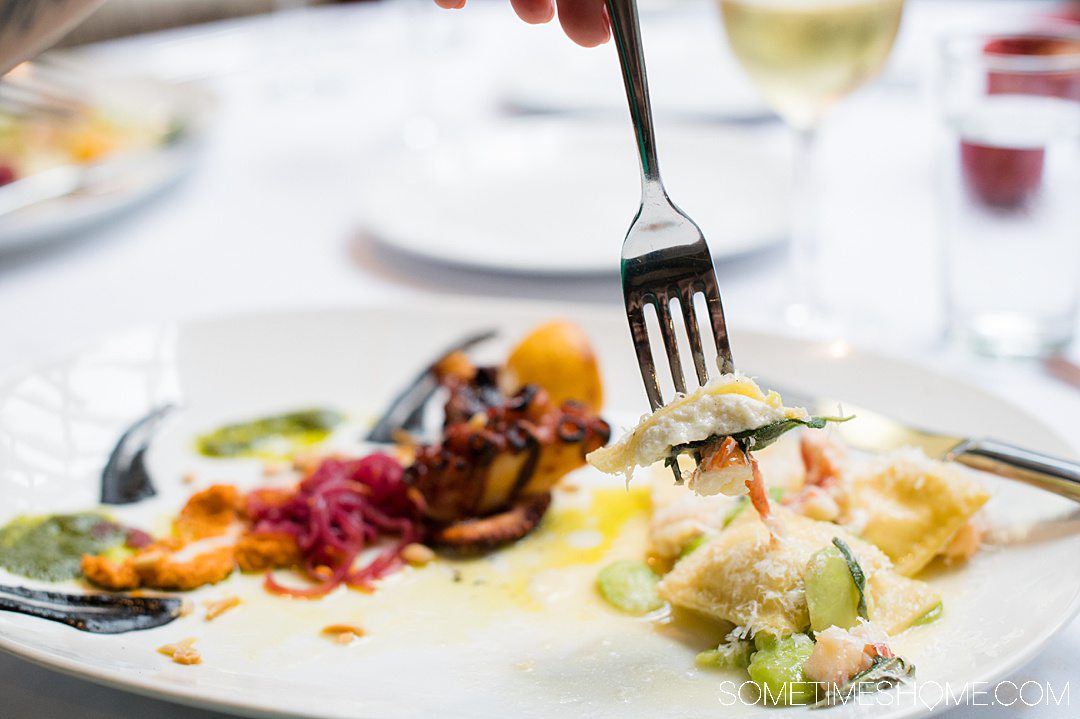 Main Course:
We tried two things for our main course at Il Palio: 1/2 Poulet Rouge Chicken alla Marsala (which was 1/4 each, for us) and Iberico Pork Pluma: The porcini mushrooms served with the chicken were delicious. As you can tell, we ate a generous amount of food throughout the evening. And while the chicken caught our eye before we even arrived (because I have a habit of looking food up at a restaurant before we even get in the car to head to the destination – I just love food so much) we admit it was a little too rich for us by the time the main course rolled around. Albeit, delicious and if we hadn't eaten so much beforehand we probably would have eaten every bite. We still, however, managed to do some damage! The PORK though…wow. We are HUGE fans of Spanish Iberican Ham. But we've only had the cured form, like thinly sliced prosciutto (they just don't call it prosciutto in Spain). And this…was…heavenly. I also gobbled up the fennel slaw Chef Adam paired it with because I'm love anything picked and drenched in vinegar. Including fennel. (Fennel is also very good for you. I tell Dan that all the time but to my dismay can only get him to eat it in small doses.)
2016 Podere Sapaio "Pappolo" Toscana Rosso IGT: Annabel paired our meats with a red blend. This was Dan's favorite wine. It was 70% Cabernet Sauvignon and 30% Merlot from the Tuscany region of Central Italy. It's a more robust, intense wine with a lot of fruit in it (so it's absolutely healthy, if you ask us – both non-doctors or medical pros).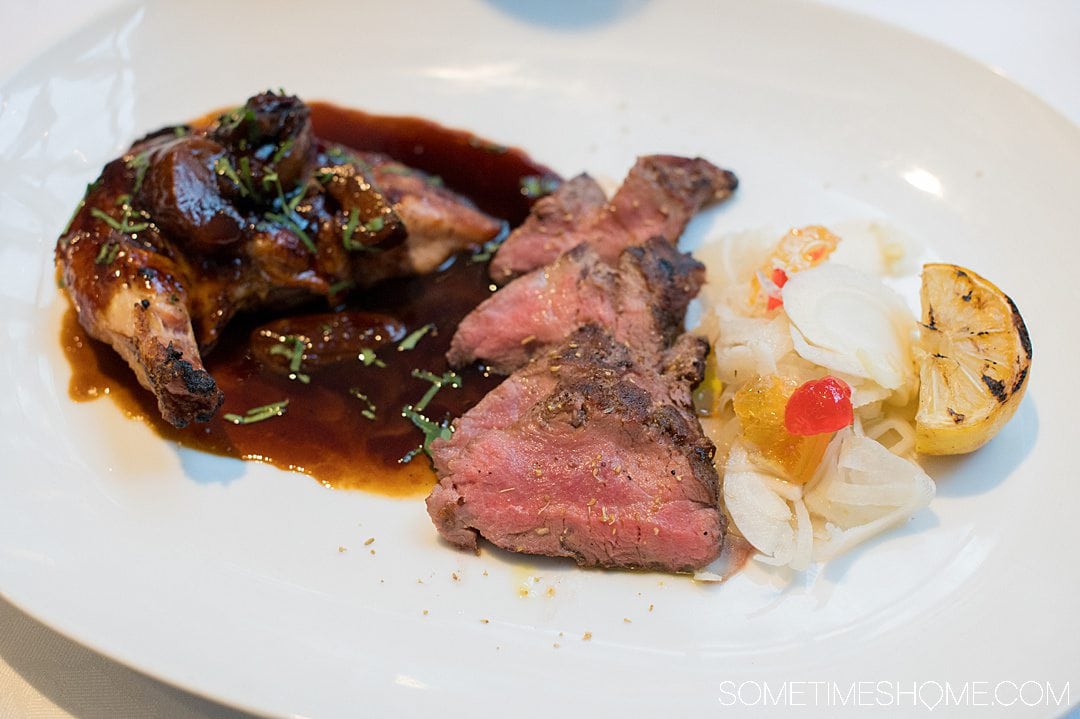 Dessert:
Tiramisu and Zeppole: It's true we have another stomach for dessert (again, not medically or scientifically proven) because we had room for it despite our full and generous dinner. Fried food is best when served to order and the sugar-coated zeppole reinforced this notion. The tiramisu was light and its top dusting of cinnamon was a great spice to help us digest.
Dessert Wine: we were served a sweet dessert wine but I admit by this time we were a little buzzed, loving our "Italian life" at Il Palio and slowly sipping it, not recalling its name. And though I edit all our images myself it's slightly funny the wine looks a little slanted in the photo below! (Though, in my defense, the columns behind it are straight. So I know it was the angle of the table and not my mind!)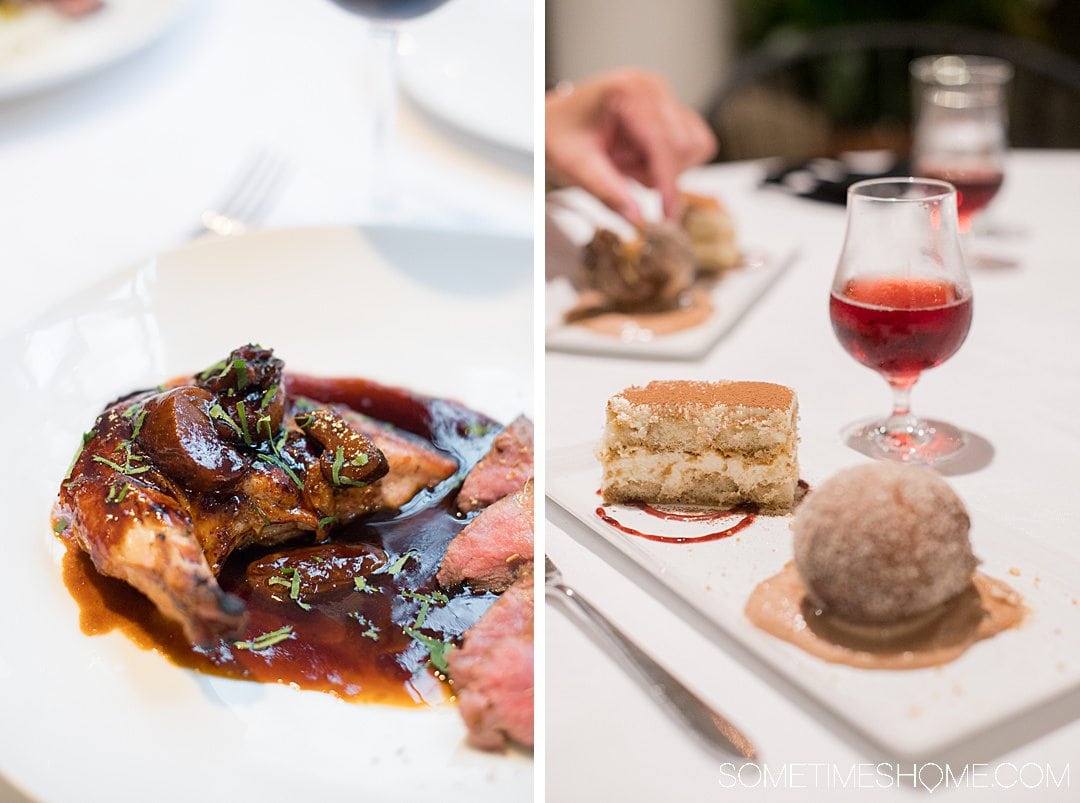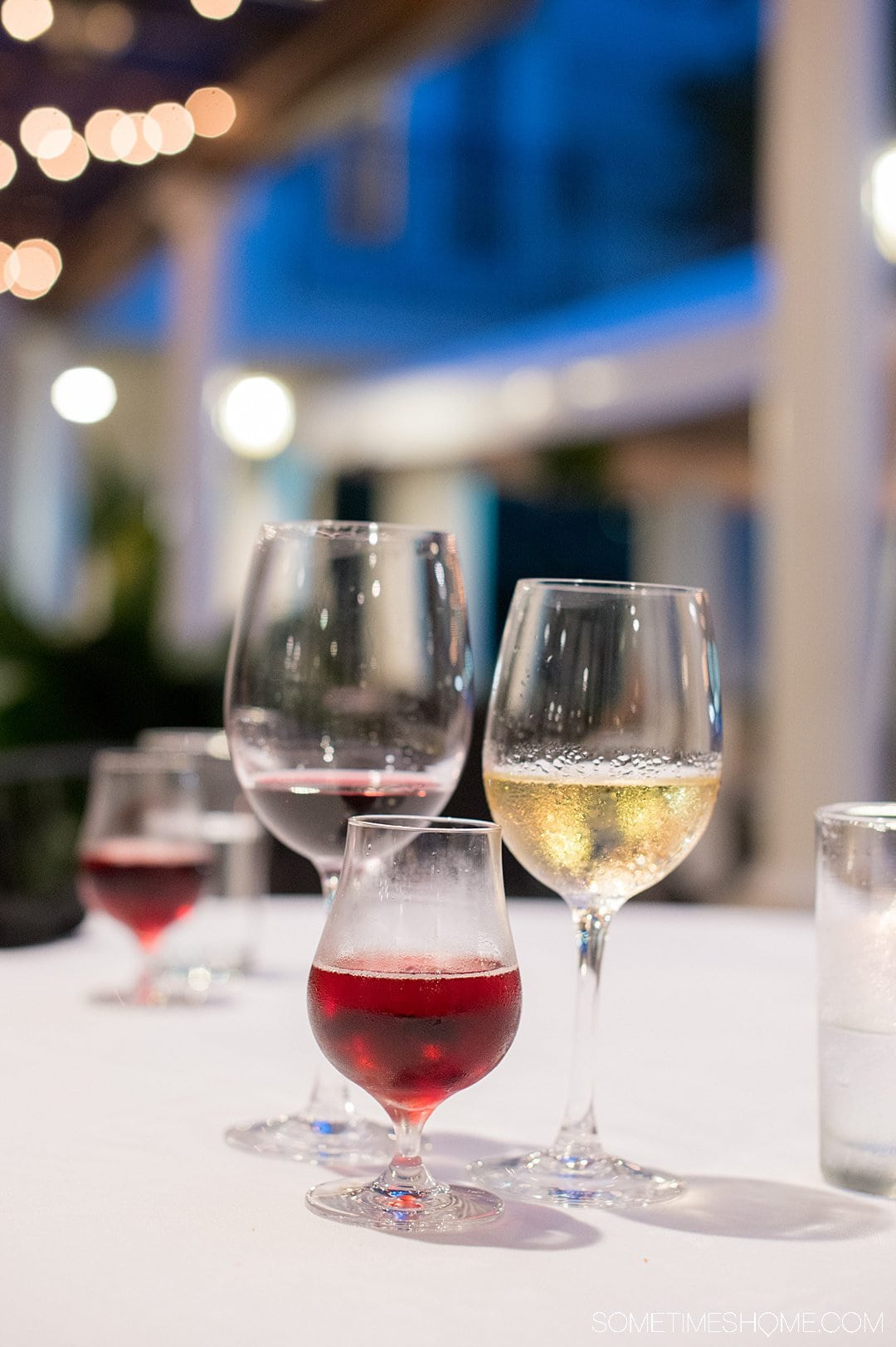 Our Morning at The Siena Hotel
Room-Service Breakfast
Il Palio offers hotel breakfast. We were game for a little room service during our Chapel Hill staycation. Why not live it up, right? We certainly had a great "Presidential Desk" to eat at with beautiful chairs and beautiful scenery outside our Juliet balcony.
We opened the balcony to let the morning air into our room and pre-arranged for our breakfast to be delivered at 9:00am. It was prompt!
True to our usual selves, Dan ordered an egg and cheese sandwich and I got an everything bagel served with cream cheese, lox, capers, and lemon wedges. Just how I like it.
My dish, alone, was honestly enough for two people and, though I have big eyes, I was sad my stomach couldn't finish it all. It was quality though. Quality, I tell ya!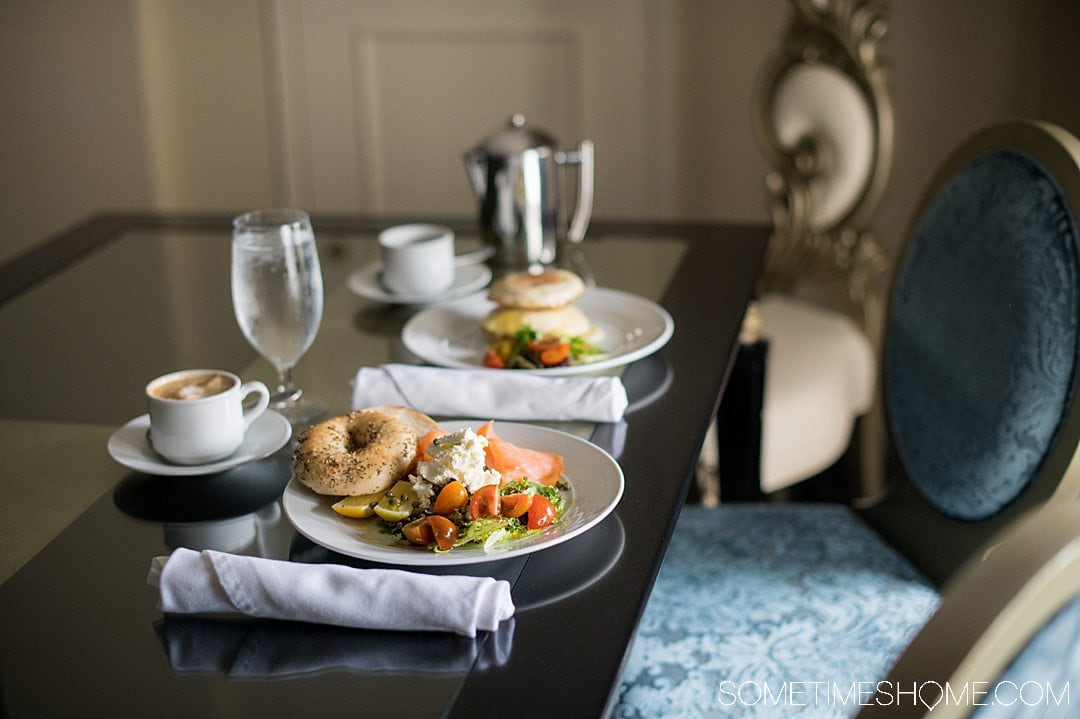 Walking Around the Neighborhood by The Siena Hotel
The hotel's amenities include a bocce ball court, a front beautiful patio that's separate from the restaurant, and a connection to local hiking and walking trails. (And the bar and restaurant of course.)
As instructed by the front desk staff, we walked out the doors of the hotel, up the street, and to the library, part of the University of Chapel Hill's campus to get to the trails. We followed some walkways in the woods and had a lovely morning walk. (Great for digesting a hearty breakfast!)
We opted not to venture off on other trails that were more "woodsy" and looked like they were an adventure more than we bargained for that day but if we could re-plan we will next time around.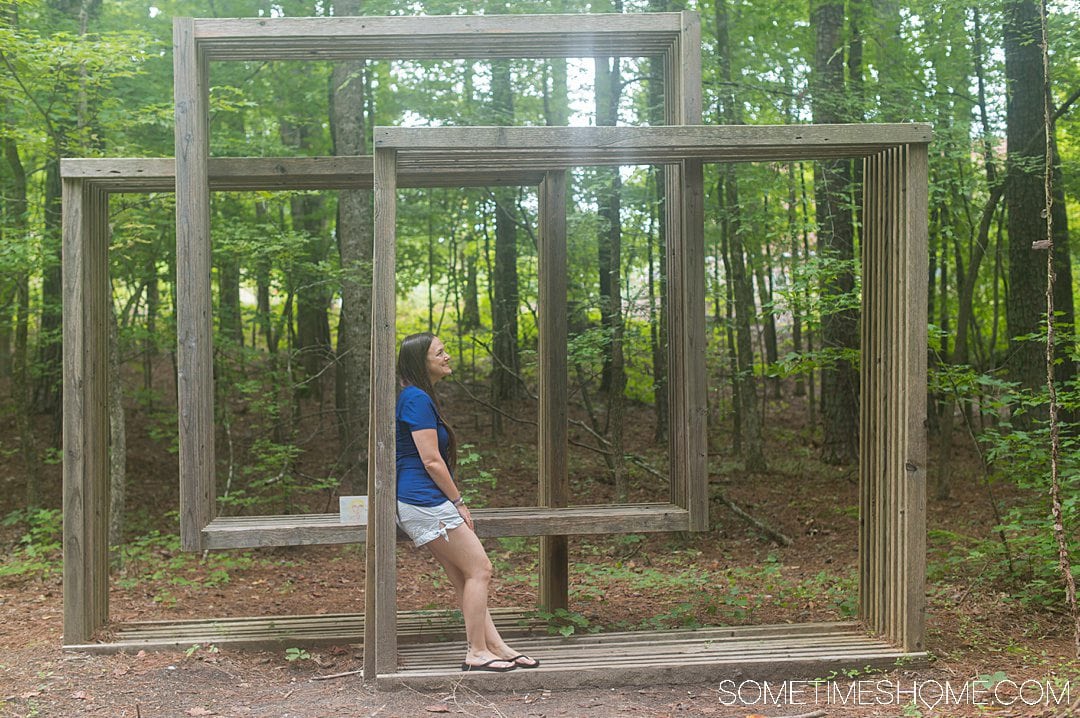 A photo was called for when we encountered some animal sculptures close to the library building. They had masks on, like us!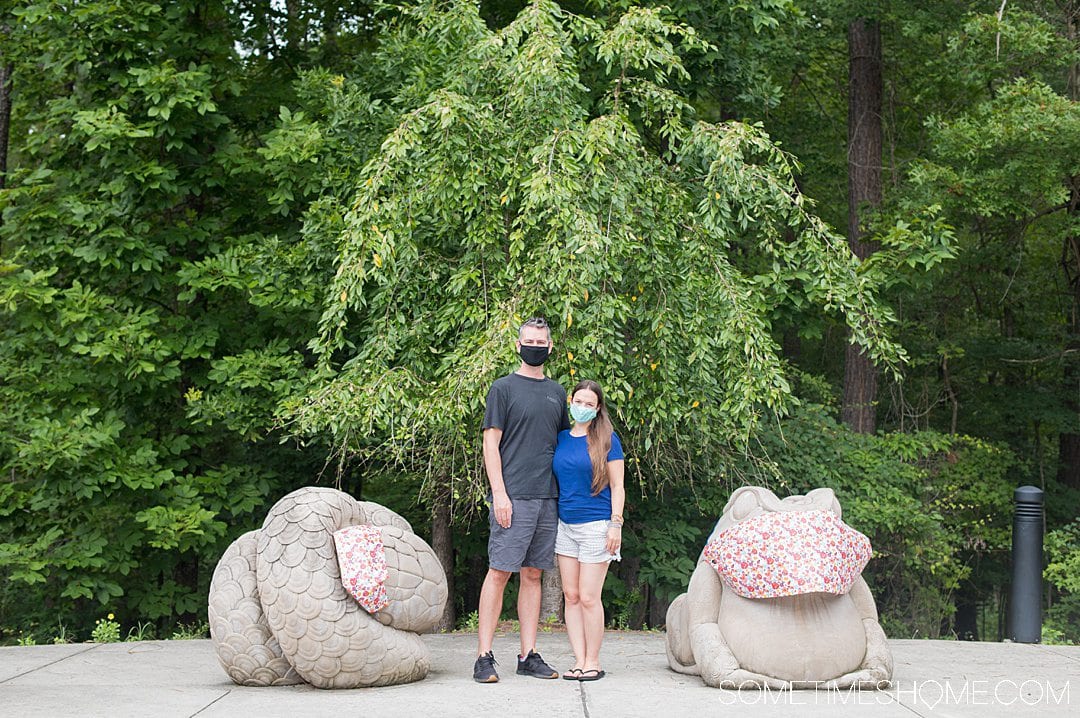 We also want to note that just across E. Franklin Street, the main street the hotel is on, is a community park and lovely rose garden, that is open to the public.
Gene Strowd Rose Garden Park is pretty for a short walk-around and to see the interesting varieties of roses planted in the small garden. (Gene Strowd was an active participant in the Chapel Hill Community and the garden was built in his honor and named after him.) It reminded us of the rose garden at Balboa Park in San Diego, California, if you've ever been there.)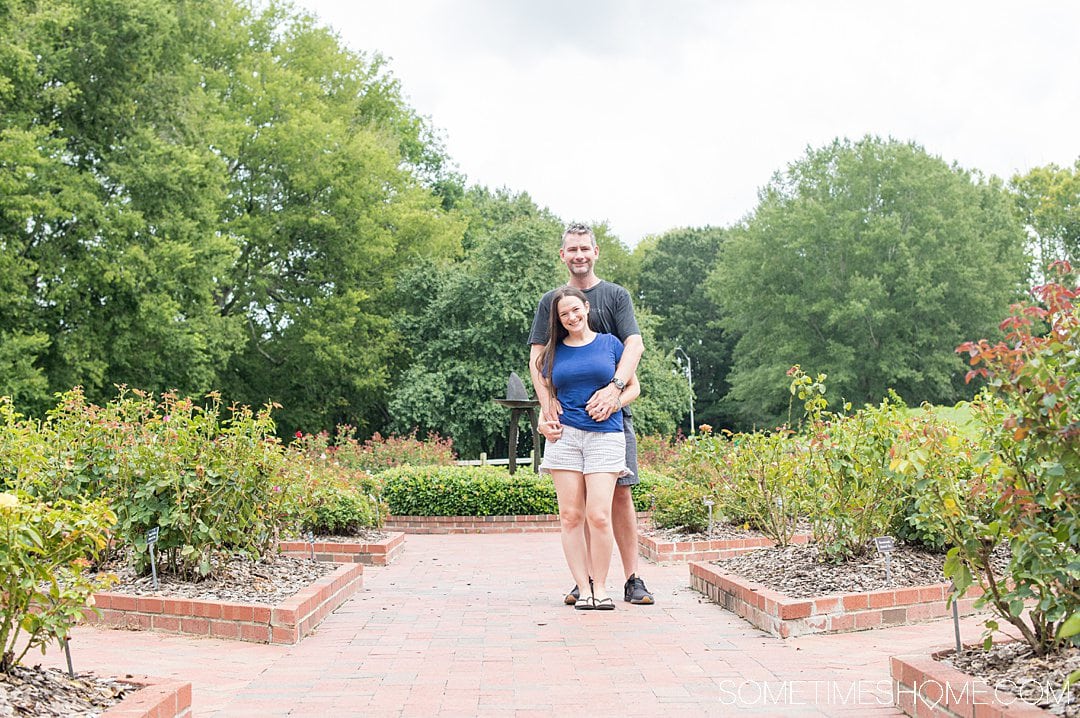 Time to Head Home but Looking Forward to Returning to The Siena Hotel and Il Palio
Our trip ended shortly thereafter with a drive to Franklin Street two miles away, closer to the main campus of the University of Chapel Hill. Hunting for street art is a favorite pastime of ours so we walked around looking for Chapel Hill murals for an hour before heading back to Raleigh.
We had a wonderful time at The Siena Hotel in Chapel Hill and full evening of great wine and food at Il Palio. We can't wait to return.
Don't delay joy! Book your own staycation or destination trip to The Siena Hotel.
Please note: We thank The Siena Hotel and Il Palio for generously hosting us. We may make a small commission from affiliate links in this post if you click through and proceed with a purchase or action, and we thank you for supporting our small business, at no cost to you. All the opinions in this post are ours and we bring you genuine content with real facts, photos, thoughts and recommendations. Always.
If you're in North Carolina – visiting or a resident – check out some of our other great NC content: