Top 30 Things to Do in Florence Italy
Florence is one of the most beautiful cities in Italy. It is world-renowned for its history, attractions, and food. It's in an easy-to-get-to location in Italy, and things to do in Florence abound.
Though the attractions, restaurants, and works of art in Florence seem endless, we want to present the top things to do in Florence for your vacation.
We are sharing the famous artwork you cannot miss and the key buildings to visit. We'll also share the most famous squares to see, how to eat your way through the city, and the best day trips to take, which are all easily doable by train or renting a car.
Disclosure: This post has affiliate links, meaning we may earn a small commission if you click the link and proceed with a purchase at no cost to you. We were hosted by Devour and Walks. We recommend experiences, hotels, products, and services we use and support. As Amazon Associates, we earn from qualifying purchases.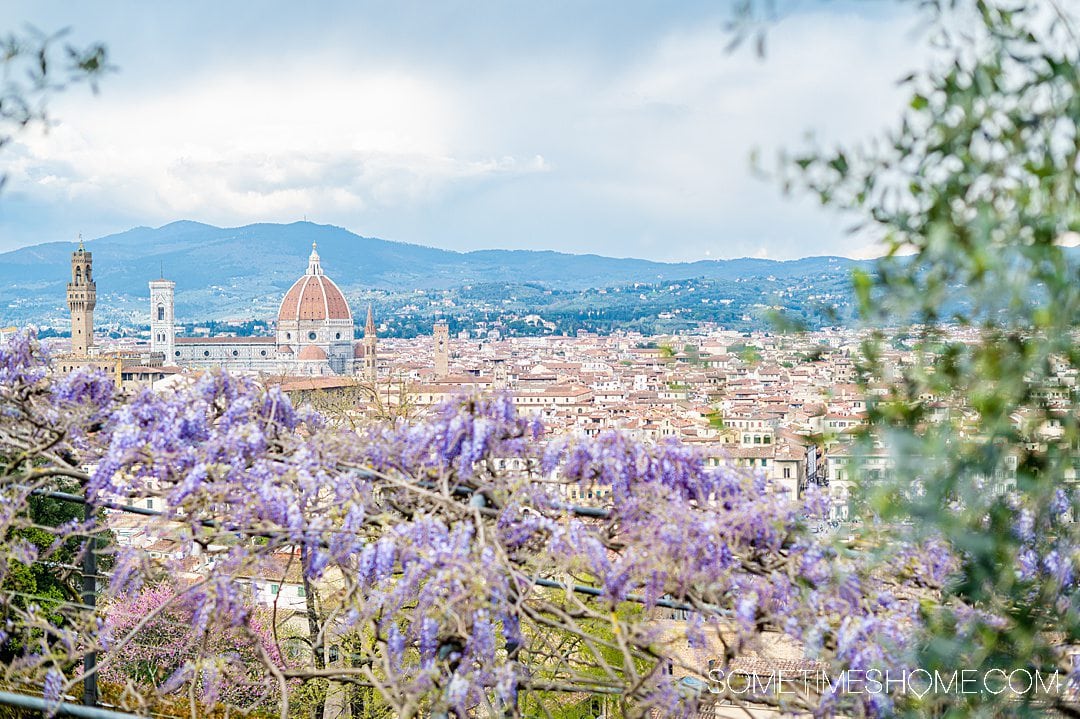 See Famous Works of Art in Florence
Florence is renowned for its remarkable artistic legacy. So much so that it's known as the "cradle of the Renaissance." It's home to some of the world's most famous works of art.
These invaluable pieces have captivated art enthusiasts' – and tourists' – hearts and minds for centuries. 
Being in Florence will allow you to see the masterpieces of some of the most celebrated artists of all time. Needless to say, one of the best things to do in Florence is to see the artwork there.
➜ If you want to see the most famous works of art in Florence on a guided tour, we recommend Walks. We loved our Florence in a Day tour, and we highly recommend it!
It's better than seeing the works of art alone because not only do you get commentary from an expert guide on why the artwork mattered then and matters now, but you also don't have to guess where to go in the galleries to find the pieces!
1. Gaze at Michelangelo's David
If you went to Florence and didn't see Michelangelo's "David" sculpture, did you even go? Naturally, it's a must-see work of art in Firenze for anyone's first visit.
About the David Sculpture
The David sculpture is one of the world's most famous works of art.
It's well known for its exceptional beauty and significance as a symbol of human potential. It was commissioned in the 16th century by a priest of the Duomo, who wanted a sculpture to sit atop one of the smaller church domes.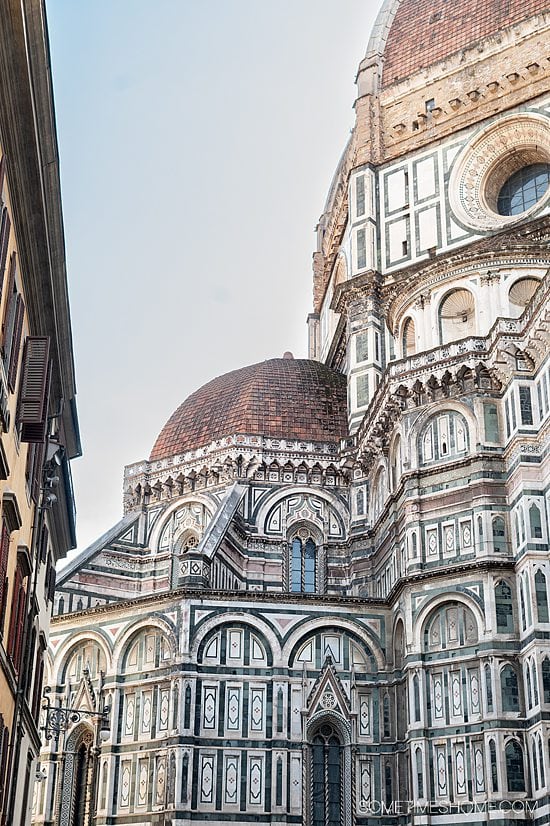 In the end, the statue solidified Michelangelo's genius as a sculptor. And, importantly for the time, Florence's freedom from the rule of the Medici family.
While the priest wanted a sculpture for the Duomo, the city desired a symbol of freedom after it was liberated from the rule of the Medicis. So after it was created from 1501 to 1504, it went into a public piazza. Thus the statue of David (who defeated Goliath) was transformed from a religious symbol to one of liberty. It was for the people.
Today, there is a copy of the sculpture in front of Palazzo Vecchio, where the original stood for centuries.
The original is widely regarded as a masterpiece of Renaissance art. It embodies the values of humanism, classical idealism, and artistic excellence that characterized this era.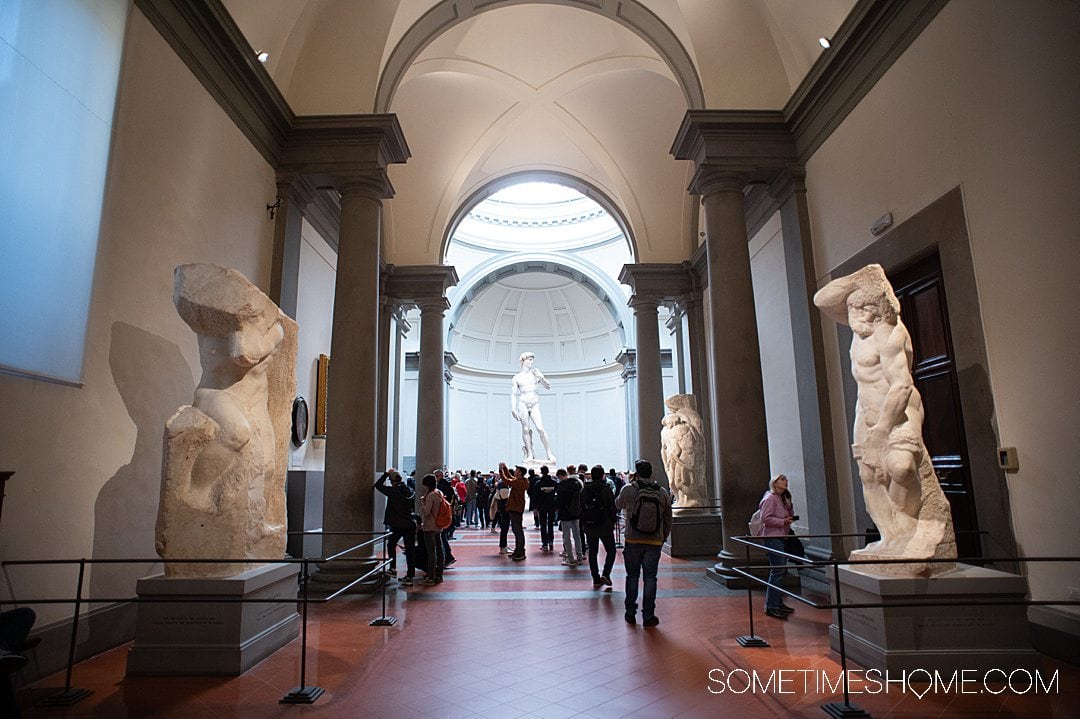 Where the Original David Sculpture is, Today
Who was David, and where can you see the white marble statue? The sculpture represents the biblical hero David, who defeated the giant Goliath using only a slingshot and a stone. It was also the first representation of David that didn't include Goliath.
Housed within the Accademia Gallery in Florence (or Galleria dell'Accademia), you'll be surprised by David. Towering 17 feet above spectators, he is roughly two stories tall!
His intense gaze is filled with such emotion you'll begin to doubt he isn't real. The level of detail and realism in the statue is breathtaking. Visitors are usually in awe of the veins in his arms and the texture of the hair on his head.
You'll notice he's looking down because he was supposed to be way up high on the church! (We're grateful to have learned that, and much more, during our amazing guided tour of the La Galleria dell'Accademia and the Uffizi Gallery with Walks!) Regardless, to this day, people can easily connect with him by looking up into his eyes.
The Accademia Gallery is located near the Piazza San Marco. It is advised to purchase tickets in advance, but if you book a Florence Walks tour, you'll skip the lines.
It's well worth a visit as the gallery also houses art by celebrated Renaissance artists like Botticelli, Ghirlandaio, and Uccello.
The gallery is closed every Monday.
Book This Florence Tour So you Can…
2. Visit the Uffizi Gallery
Another not-to-miss thing to do in Florence is visit The Uffizi Gallery.
Attracting millions of visitors every year, you can expect to see an unparalleled array of art from the Renaissance era here. Works of art span the 13th to 17th centuries.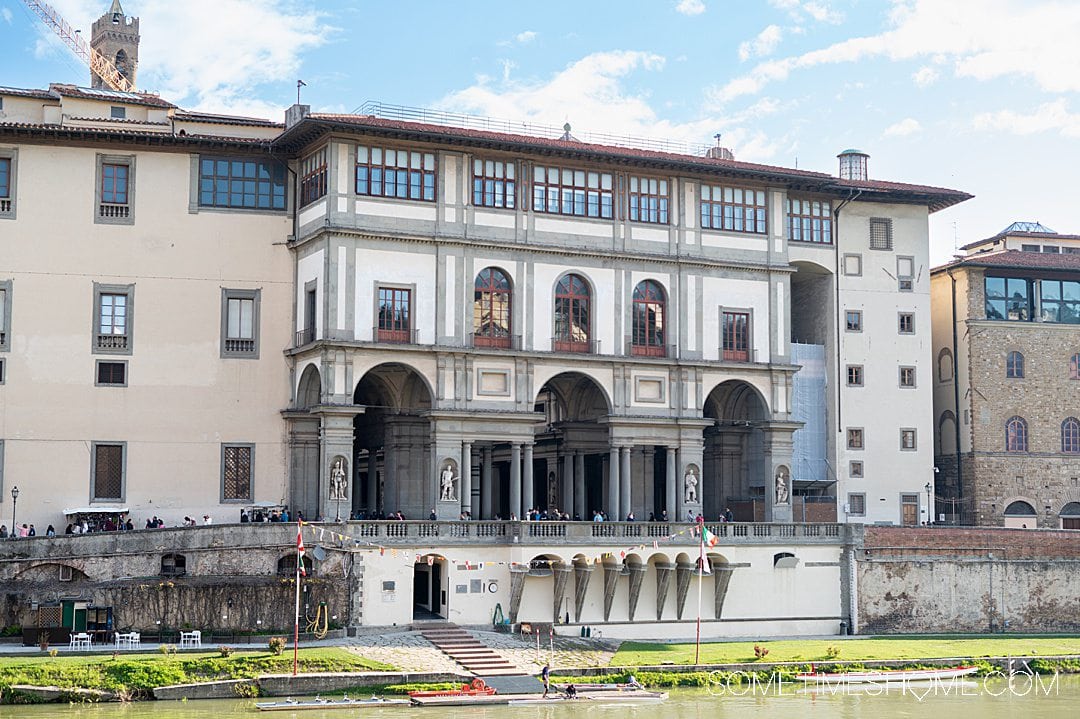 The gallery houses more than 1,500 paintings, including works by the most celebrated Italian artists, and Flemish and Dutch masters. Not-to-miss art in the Uffizi Gallery includes Botticelli's "The Birth of Venus," Leonardo da Vinci's "Annunciation," and Michelangelo's "Tondo Doni."
What's more, is that the gallery offers stunning views of Florence and the surrounding area.
The Uffizi Gallery is located along the banks of the Arno River in the historic center of Florence. It's open to visitors every day except Monday. It's suggested to book tickets in advance.
If you book this Florence in a Day guided tour, it's included, and you won't have to worry about the line or buying tickets. You'll also get a guided tour of the museums, so it will be way less overwhelming; you'll see the highlights and best of the best inside.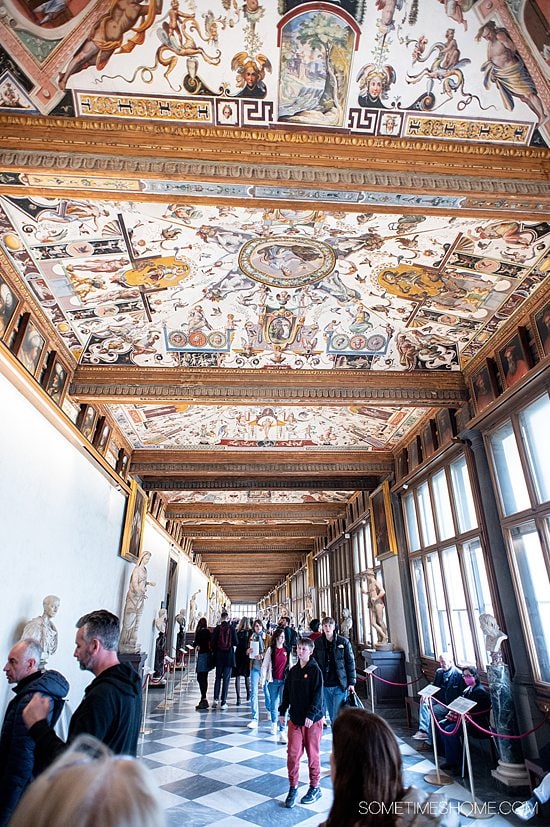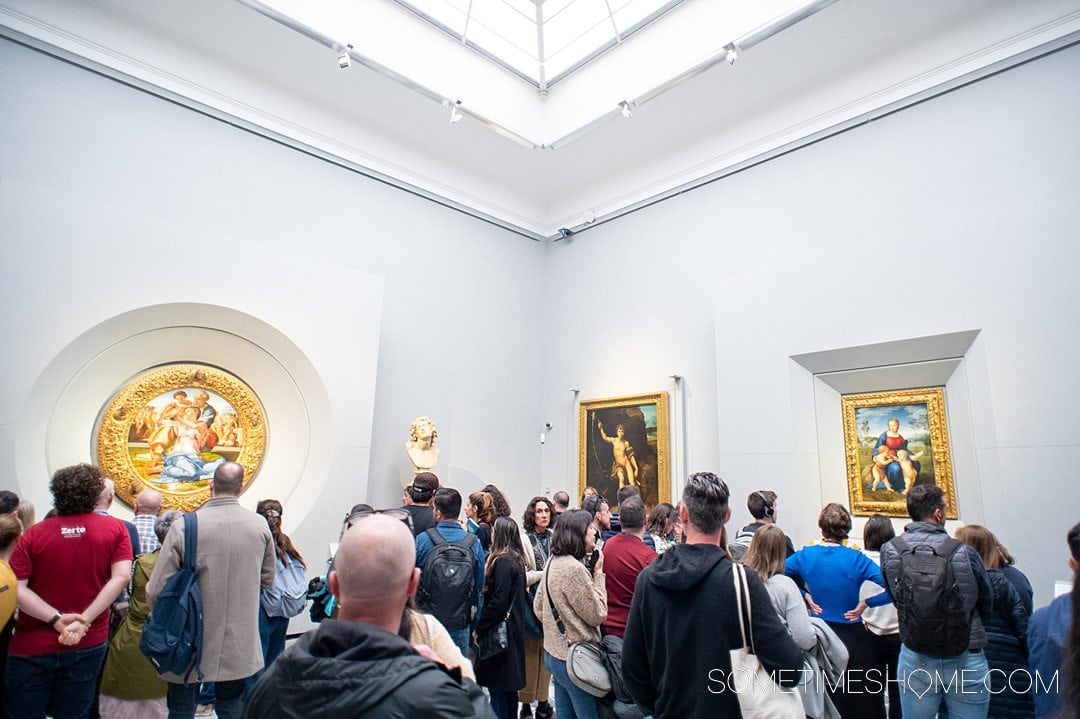 Notable Shopping in Florence
One of the best things to do in Italy is…shop! I'm not a shopper, and even I found myself under an Italian spell of looking for a leather handbag in Florence. Save some room in your suitcase or carry-on bag for quality gifts and souvenirs from Firenze!
3. Walk (and Shop) Along the Ponte Vecchio
The Ponte Vecchio, or "Old Bridge," is one of the most iconic landmarks in Florence. It was the only bridge in Florence to have survived World War II. 
The oldest bridge in Florence spans the River Arno. It is known for its unique design, which features shops and houses built directly on the bridge. It truly is a sight to see.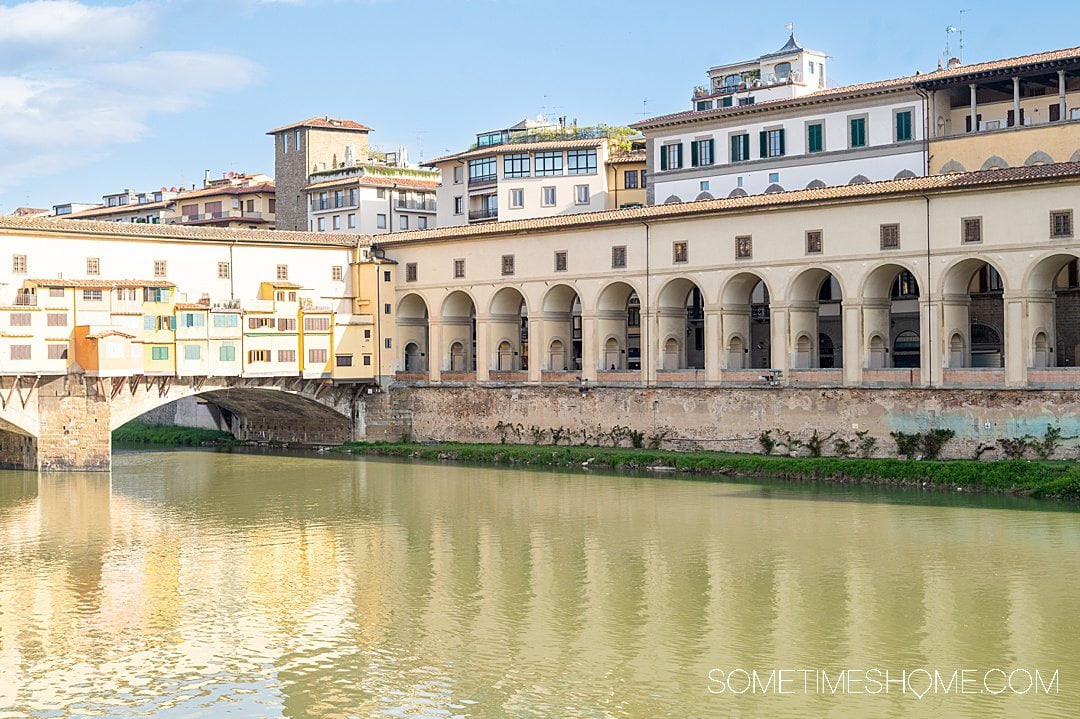 Butchers and fishmongers used to occupy the bridge several centuries ago. But during the late 16th century, when Ferdinando I de' Medici was in power, he ordered the bridge to be converted into stores for goldsmiths and jewelers. This is mostly thanks to it being a key route between the Palazzo Vecchio and Pitti Palace, which the Medici constantly traveled between.
Since 1593, the bridge has been lined with shops that sell various jewels, from necklaces to rings, earrings, watches, and more.
Visitors can also explore the bridge's history and learn about its role in Florence's past by taking a local boat tour along the river.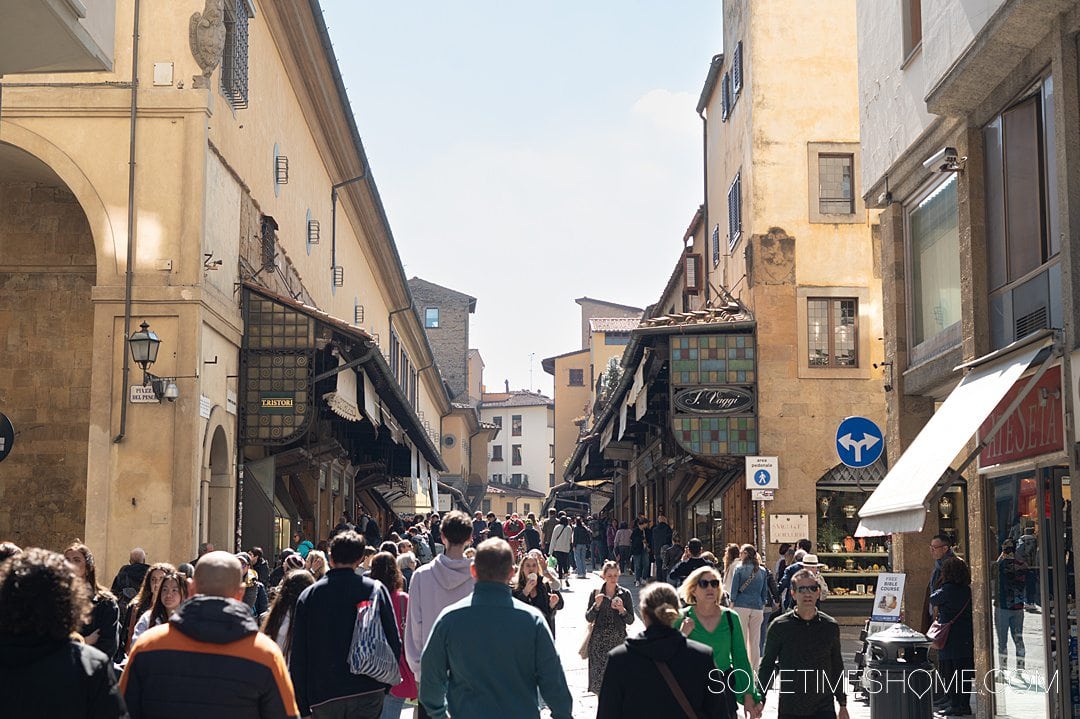 4. Get Leather Good at the Loggia del Mercato Nuovo
If you're looking for the mecca of leather vendors, you'll find it at the centuries-old Loggia (which is a covered market or gallery) in central Florence. Loggia del Mercato Nuovo (AKA: Mercato del Porcellino) is just steps away from the Palazzo Vecchio.
Vendors take credit cards and cash, so be sure to have your Visa credit card and euros on hand!
You'll find a variety of beautiful Italian-made items here, including belts, wallets, make-up bags, leather jackets, coin purses, handbags, and more. And yes, you can negotiate on the price a bit if you feel so inclined to haggle for a deal.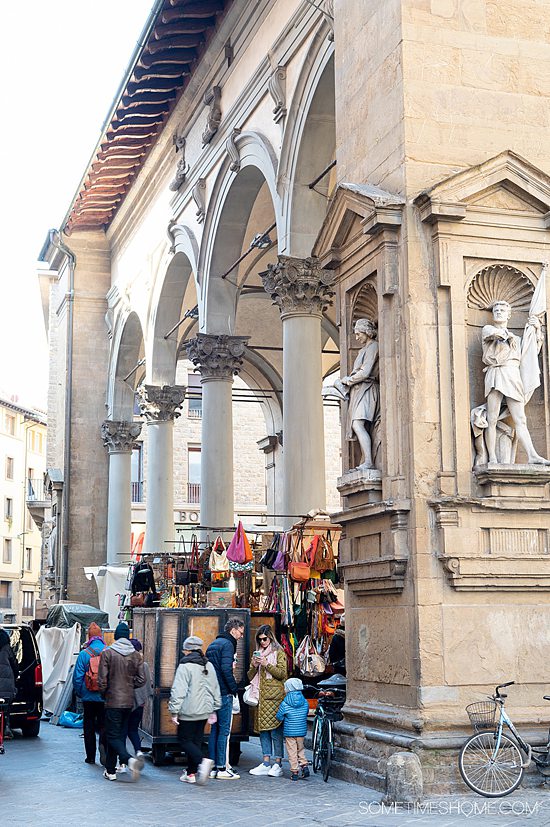 Don't forget to check out the famous sculpture of Fontana del Porcellino here, or the piglet sculpture. The statue of what is actually a wild boar that is there today is a copy of the original sculpture by Pietro Tacca. Cosimo II, a Medici, commissioned the 17th-century work of art.
Today, the original sculpture is safe and sound in Florence's Bardini Museum.
Visit the Famous Squares, Buildings, Palaces, and Gardens in Florence
The breathtaking grandeur of Florence's buildings and magnificent mansions has mesmerized visitors for centuries. The Duomo, Palazzo Vecchio, and the Basilica of Santa Croce are just a few of this city's well-known designs.
Along with these majestic landmarks, Florence is home to opulent mansions like Pitti Palace, and gardens like the Boboli Gardens, that provide a glimpse of the splendor of the Renaissance period. There's so much to discover here for anyone who enjoys exquisite architecture and timeless beauty.
5. Experience The Piazza del Duomo
The Piazza del Duomo is considered one of the most amazing squares in Italy due to its architectural beauty and historical significance.
Also, the Campanile by Giotto, the Florence Baptistery, the Loggia del Bigallo, the Opera del Duomo Museum, and the Palace of Arcivescovile and Canonici are all located in the same courtyard.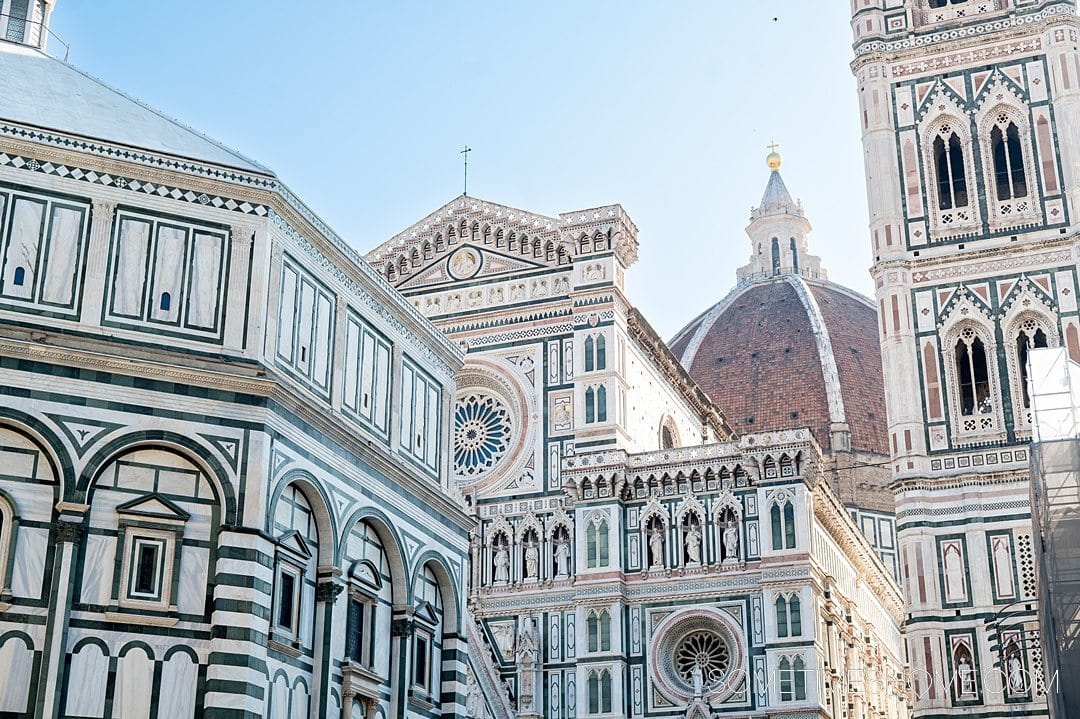 It may seem like the Duomo is one huge building because the marble matches on several buildings in the square. But one of the top attractions in Florence is actually three buildings. They are:
1️⃣ The magnificent Cathedral of Santa Maria del Fiore (the Duomo) is at the heart of the square. 
2️⃣ The equally impressive Giotto's Campanile is next to the Duomo. It is a 14th-century bell tower designed by Giotto di Bondone. It's also known as Giotto's Bell Tower. 
3️⃣ The Baptistery of St. John is opposite the Duomo, an octagonal building with golden mosaics and famous bronze doors. 
The square is surrounded by cafes, restaurants, and shops, making it a popular gathering place for tourists and locals alike. Sit back and take in the breathtaking architecture and rich history.
What's Free in the Piazza del Duomo?
From the Piazza del Duomo, you can view this magnificent wonder's façade without paying admission. For nearly everything else, you need a ticket.
Notwithstanding, be sure you reserve ample time during your Florence vacation to walk around and see everything in the square, which could take an hour! There is simply so much to see, from the intricate sculptures on the Duomo and Gates of Paradise Doors on the Baptistry, which are especially worth dedicated viewing time.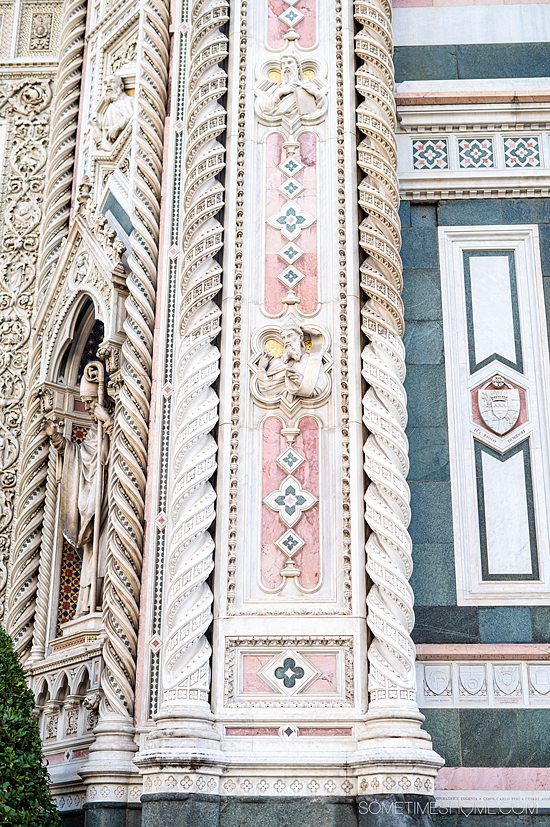 6. See The Duomo (Cathedral of Santa Maria del Fiore)
If you Google "Duomo," you might easily get confused by all the search results. "Duomo" is the word to describe Italian cathedrals, so it's important to include the city name when you search for details.
The Duomo of Florence, also known as The Cathedral of Santa Maria del Fiore, is a majestic Gothic structure standing over 360 feet tall. It is situated in an area greater than 86,000 square feet.
It's famous for its enormous dome, designed by Filippo Brunelleschi, which is one of the largest ever constructed. The Florence Duomo is also lauded for its intricate marble façade created with three types of different colored marble, its stained-glass windows, and its beautiful frescoes.
In fact, this structure set the stage for the Italian Renaissance. It inspired many architects and artists throughout Europe for the next decades and, lo and behold, for centuries to come.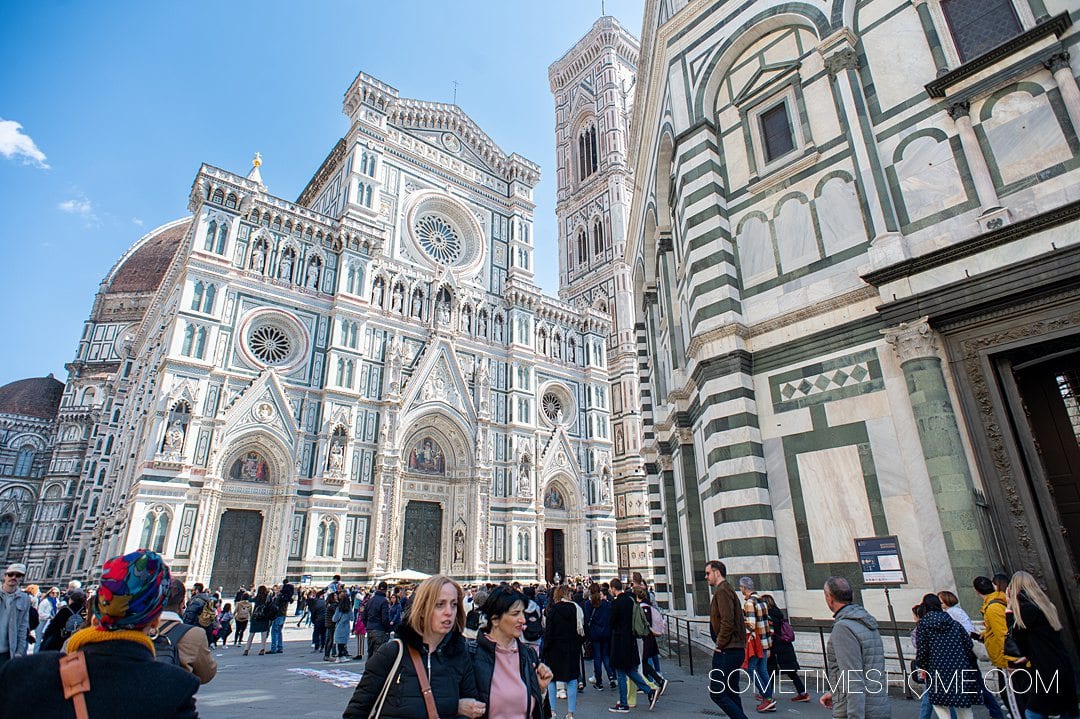 Tickets to the Duomo and Top of the Dome
Entering the inside of the cathedral requires paid admission. Once inside, you'll experience a vast nave, intricate stained-glass windows, and numerous works of art, including an astonishing fresco of the Last Judgment by Giorgio Vasari and Federico Zuccari.
We recommend buying a skip-the-line ticket in advance. Even after acquiring a normal ticket, the line to get inside the Florence Cathedral can snake around the building. And you don't want to waste precious time in Italy!
➤ Better yet, you can sign up for this Walks tour that allows you to skip the line and climb to the top of the dome.
This is one of the top three things to do in Florence, along with seeing the David and the Uffizi Gallery. The Piazza del Duomo is a short walk from the Uffizi Gallery and is accessible by public transportation. 
It is open to visitors every day of the year. However, it's always a good idea to check the Duomo's official website for the most up-to-date information on hours and closures.
7. Head to Piazza della Signoria
There are so many attractions in one of the most famous squares in Florence. Piazza della Signoria includes Palazzo Vecchio, Loggia dei Lanzi, and Gucci Garden.
It is one of the city's most well-known and bustling squares, within walking distance of many other popular landmarks.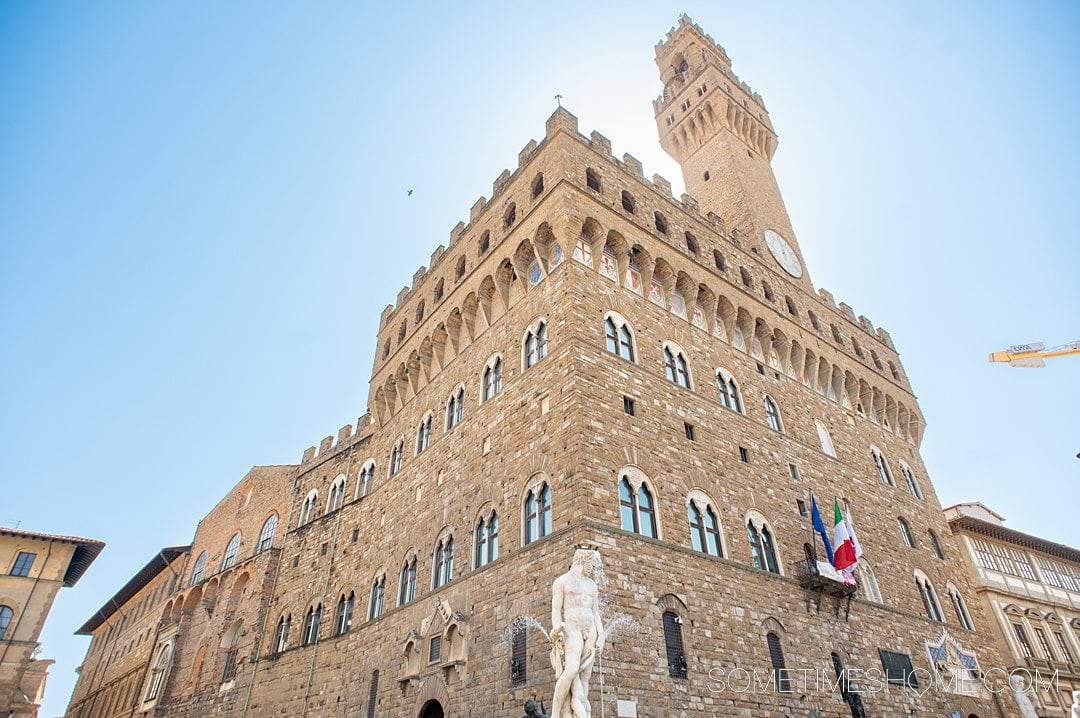 8. Visit Palazzo Vecchio
Also known as the "Old Palace," The Palazzo Vecchio is a historic landmark built in the 14th century. It served as the seat of government for the city of Florence for several centuries.
Today, the Palazzo Vecchio is open to the public and serves as a museum, cultural center, and City Hall. The mayor of Florence also has a private office here.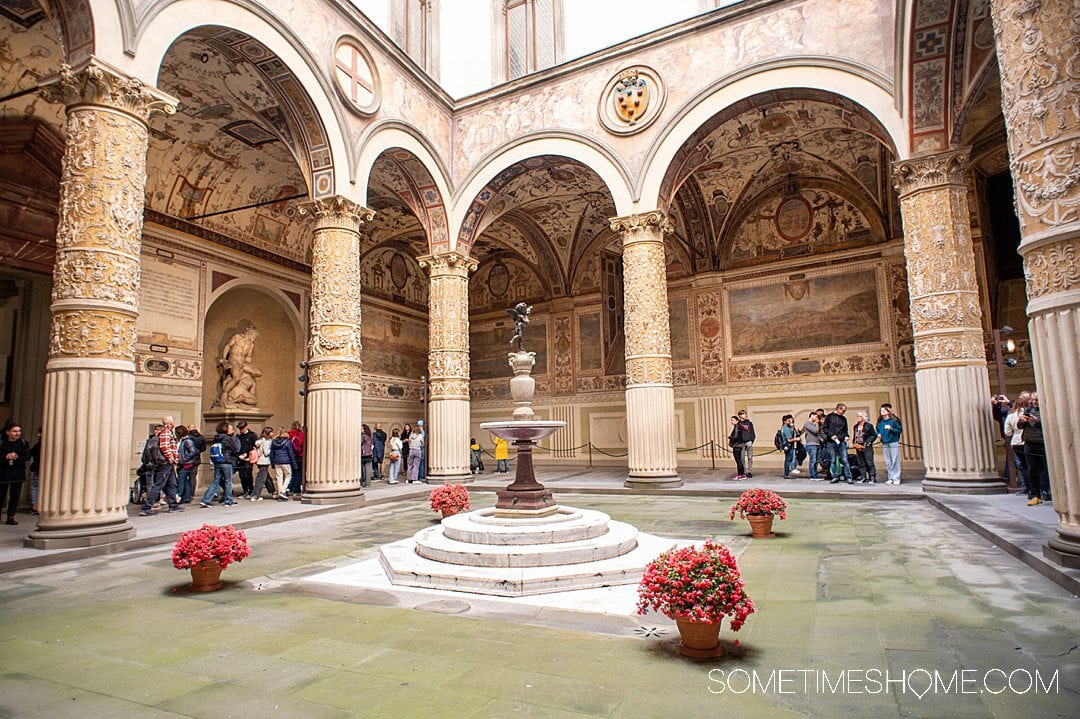 You can visit the courtyard at the entrance of the magnificent palace for free, but exploration beyond that requires a ticket. With a ticket, you'll be able to visit numerous works of art and architectural treasures inside the palace.
Palazzo Vecchio's most illustrious rooms include the Hall of the Five Hundred, which features stunning frescoes by Giorgio Vasari, and the Medici Apartments, which were once home to the notorious Medici family.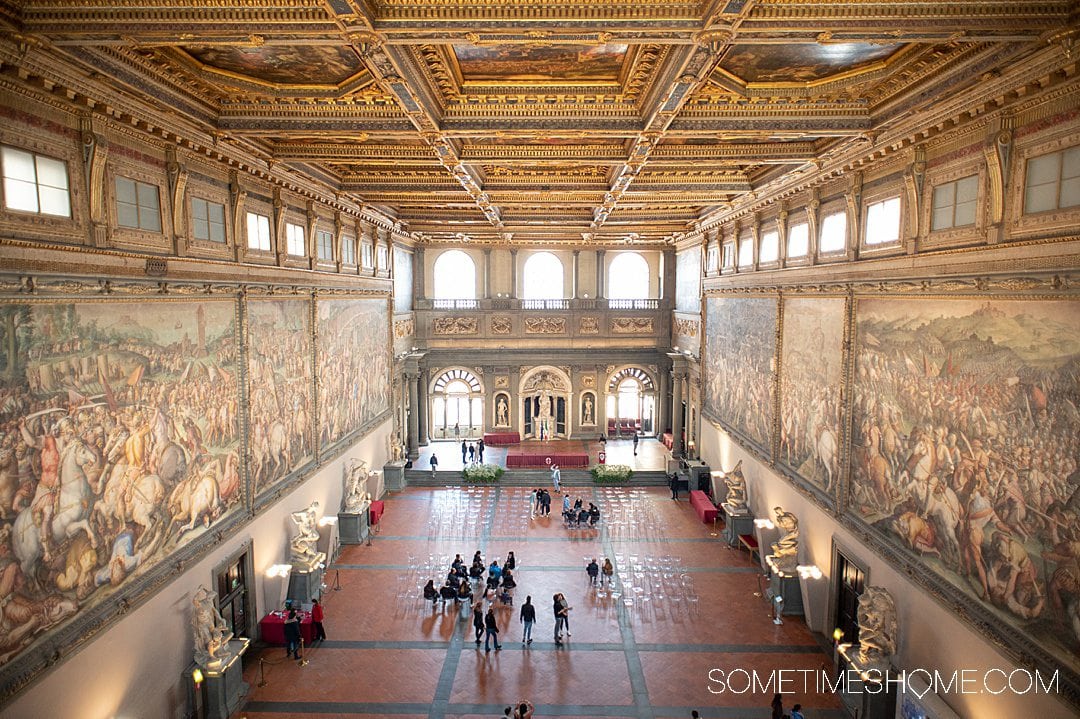 9. Tower of Arnolfo at Palazzo Vecchio
Visitors can climb the Tower of Arnolfo at the palace for breathtaking views of Florence's skyline and views inside the former jail cells. Buying tickets in advance is recommended.
Location and Tickets
The palace is open to visitors every day of the year and requires a ticket to enter.
If you want to purchase tickets in advance, we recommend signing up for a tour on Viator because it's much easier to understand the Viator website than the Palazzo's direct website. Also, tickets for organized tours open further in advance than on their direct website, so that's a win!
You can purchase tickets onsite if you want to risk availability. However, during peak season, we wouldn't recommend it.
If you buy tickets in person, be sure to ask about all your options onsite, including guided tours in your preferred language, which are a nominal extra cost. (We visited during shoulder season and took a guided tour in English, and it was great! We were able to go inside the map room secret door too, which was super cool and not an experience the general ticket will get you.)
Again, we don't recommend waiting to book if you're traveling during peak tourism season. You could encounter long lines or sold-out spots. But if you are traveling during shoulder season or off-peak times, you should have more luck with the availability of buying tickets onsite.
10. Loggia dei Lanzi
Next to Palazzo Vecchio, in Piazza della Signoria, is an open-air gallery, called Loggia dei Lanzi. Art lovers and art novices alike will enjoy a visit here.
Though it was originally designed as a covered area for important Florentine figures to address the people of the city in the 14th century (the Florence Republic), today it is one of the best places to see art in a public setting.
One of the best things about it is it's always open and always free. Be sure to spend some time admiring the sculptures by Cellini and Giambologna.
11. Fountain of Neptune
Speaking of impressive sculptures in the Piazza della Signoria, don't miss the Fountain of Neptune. It's to the left of the Palazzo Vecchio if you're looking at its front entrance.
The 16th-century fountain was created to commemorate multiple things. This includes the duke's reign over the Mediterranean after defeating Pisa, which gave Florence access to the sea as well as the marriage of Francesco de' Medici I to Joanna of Austria.
12. Gucci Garden
Fashion fans will love Gucci Garden on Piazza della Signoria. In addition to its world-renowned and critically acclaimed restaurant is a boutique, bookstore, and bar called Gucci Giardino 25.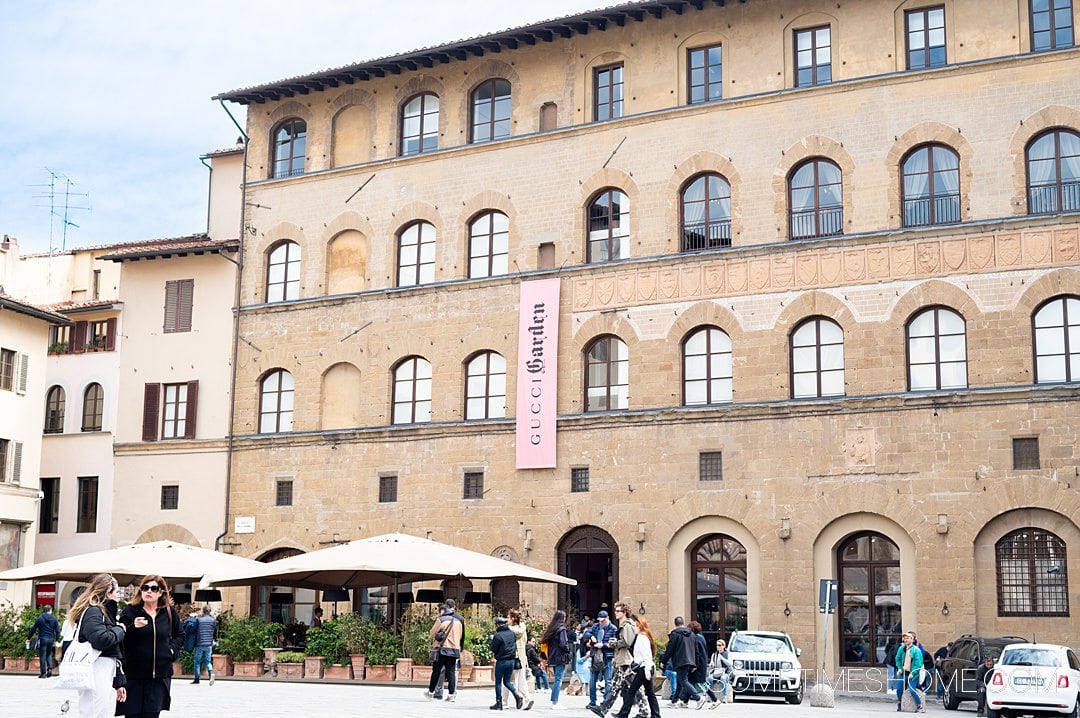 13. Explore the Museums at Pitti Palace
Originally built for the wealthy Pitti family in the 15th century, the museum complex now houses a vast collection of art and artifacts.
Visitors can explore five museums and attractions at Pitti Palace (known as "Palazzo Pitti" in Italian):
Its main attractions include the Palatine Gallery, which houses a remarkable collection of Renaissance paintings
Museum of Costume and Fashion
Museum of Carriages
Boboli Gardens, which offers beautiful views of Florence and a vast collection of sculptures
The Royal Apartments, once home to the famed Medici family
Located in Florence's Oltrarno district (which is also where we embarked on a fantastic Florence food tour), the museums are just a short walk from the Ponte Vecchio and the Piazza della Signoria.
You can enter The Museums at Pitti Palace every day except for Mondays with a purchased ticket.
Pro tip: There is a "secret" reduced-price ticket that isn't advertised anywhere but in person at the museum. All you have to do is arrive at the museum early and enter between opening and before 8:50 am.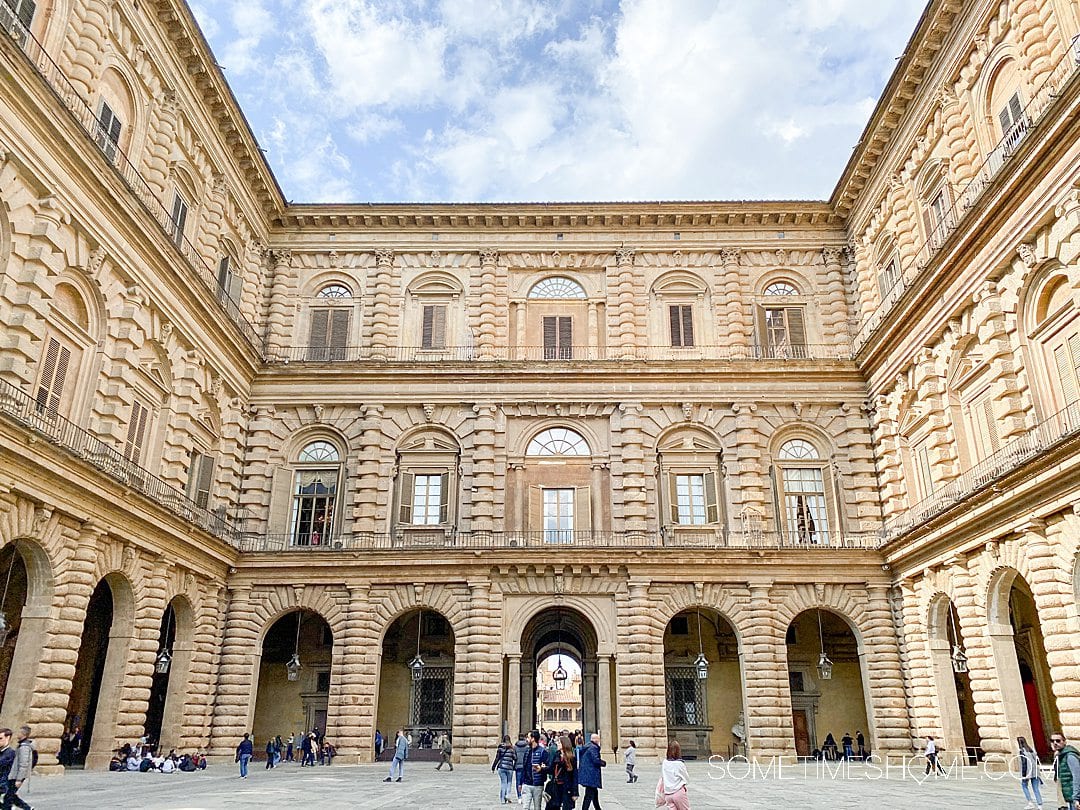 14. Stroll Through Boboli Gardens
Boboli Gardens are adjacent to the palace. And there's good news if you want to visit the museums and the gardens: a ticket to Boboli Gardens can be purchased in combination with tickets to the Pitti Palace Museums for some savings.
We visited Boboli Gardens and Bardini Gardens. They're both beautiful and worth seeing. (Bardini Gardens is approximately a 15-minute walk from Boboli Gardens and requires a separate ticket.)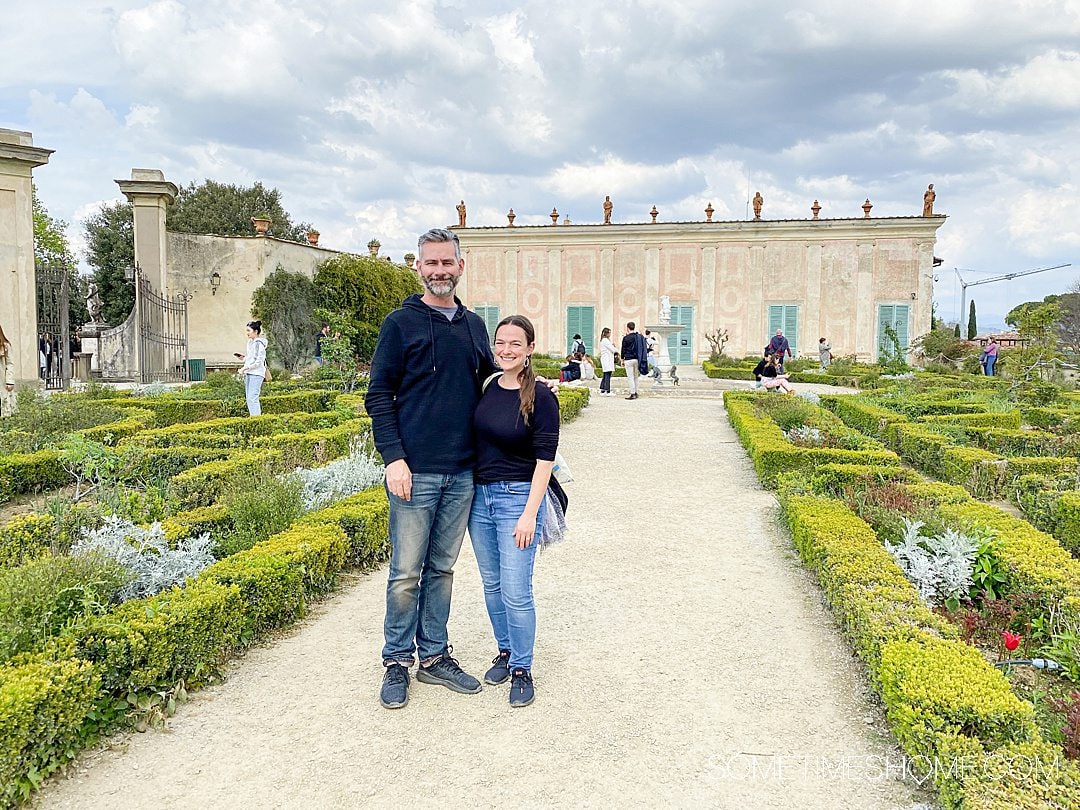 Boboli Gardens is a sprawling park and garden complex that dates back to the 16th century. The gardens were designed for the Medici family and have since become one of Florence's most popular tourist attractions.
A stroll through these gardens' many pathways and terraces offers a beautiful and peaceful escape from the hustle and bustle of the city, with stunning views of Florence's skyline and numerous sculptures and fountains.
Some notable works include those by acclaimed artists such as Giambologna and Ammannati. Several ornate fountains, including the Fountain of Neptune and the Fountain of the Ocean, offer places to sit and relax by the water.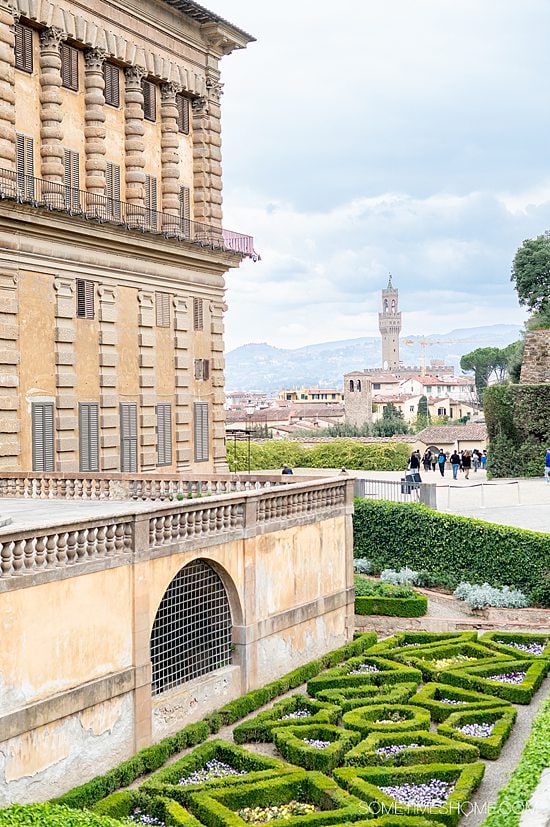 Tickets and Time for Boboli Gardens
You can find The Boboli Gardens just a short walk from the Ponte Vecchio and the Piazza della Signoria, which are easily accessible by public transportation. Visitors can enjoy the gardens any day of the year, but expect the hours to change depending on the season.
Reserve at least an hour to an hour and a half to fully explore the gardens. Don't miss the Lemon Pavilion too! It was a fun find while we walked around, and so cool to see the many potted lemon trees in bloom during our March visit.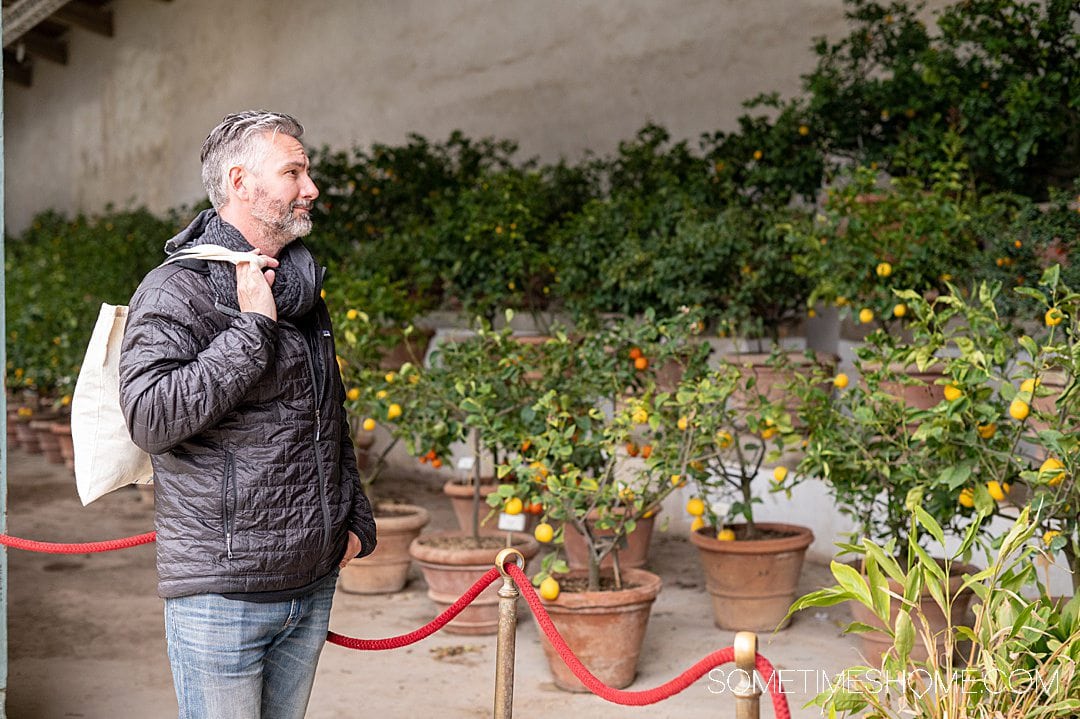 15. See the Bardini Garden (Giardino Bardini)
Many argue that the Giardino Bardini is just as lovely as, if not more than, Boboli Gardens. A Renaissance garden with a forest of olive trees, breathtaking baroque stairs, and a passageway lined with colorful and fragrant wisteria in late spring, you can wander around Bardini Gardens for over an hour discovering it all.
The Mozzi family initially owned the garden in the 13th century. Then, in the early 20th century, antiquarian Stefano Bardini assumed control of the yard and transformed it into the glorious public Florence attraction that remains today.
Views from Bardini Gardens
Bardini Gardens steals the show with the finest view of Florence. If you ask us, it's a better view than the view inside Boboli Gardens. This was especially true when the spring flowers on the trees there framed our view.
If you are lucky enough to visit when the wisteria is in bloom, you'll be wowed by the tunnel of purple flowers at Bardini. Expect the wisteria to bloom in late April, depending on the seasonal weather.
Spend time relaxing at the cafe, where you can order a coffee or cocktail and take in the stunning views.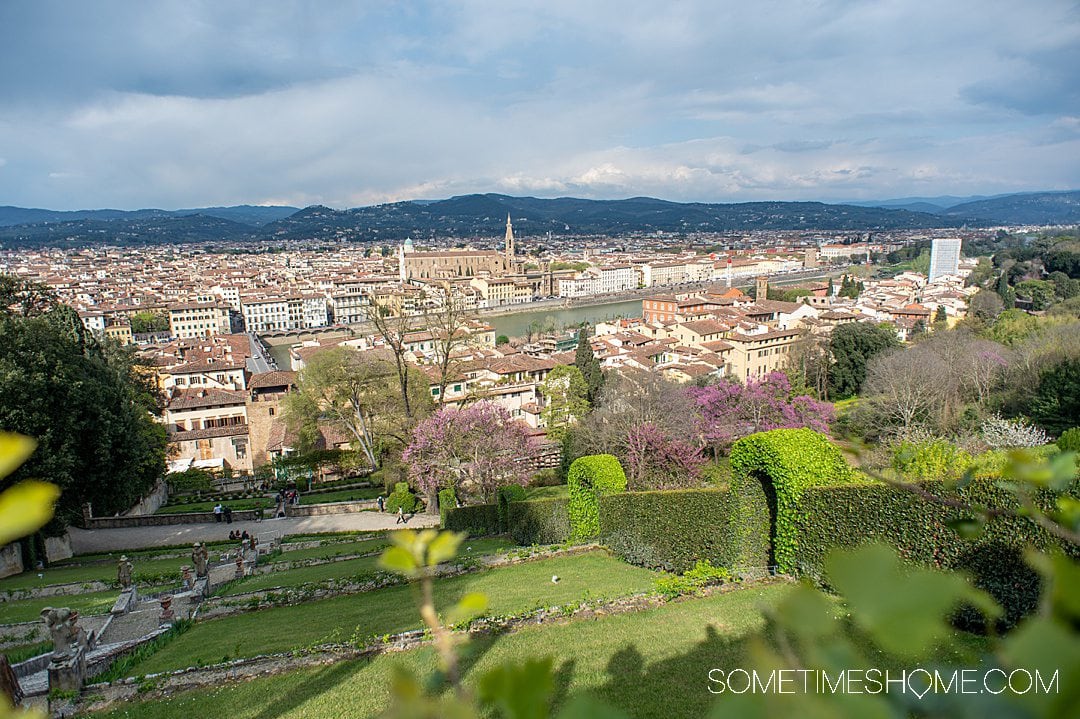 Entrances to Bardini Gardens
There are two entrances to the garden. We recommend entering from the one further uphill so you're closest to the garden cafe, where the view overlooking Florence's city center is.
Alternatively, if you enter from the entrance further downhill, look for an ascending gravel path upon entering the garden; the climb up will be worth it. You'll be rewarded with an incomparable panoramic view overlooking the Duomo and the ancient quarters of Florence.
Address of the entrance further uphill, closer to the cafe and view of Florence: Costa S. Giorgio, 2
Entrance address further downhill (you can walk within the gardens up to the view from inside the garden): Via de' Bardi, 1
Bardini Ticket Prices
The entrance fee is nominal (around €10 per person) and goes towards landscaping and maintenance. Bardini Gardens is open daily year-round.
16. View Florence from Above at San Miniato al Monte Church
This beautiful, small Romanesque church sits atop a hill overlooking all of Florence, providing unsurpassed panoramic views.
It is only a 10-minute drive from the heart of Florence to San Miniato al Monte whether you have a rental car or take a taxi or the bus. You can also walk there from the city center as we did.
We walked slightly uphill for about 30 minutes, then headed to Piazzale Michelangelo to see the view from there too. They're a short distance from each other. What a great workout from downhill, with an amazing view at the top!
The church was built in the 11th century and is considered one of the finest examples of Romanesque architecture. When you enter the church, you'll find its interior decorated with stunning frescoes and mosaics. Its altar is adorned with a beautiful silver reliquary containing the remains of Saint Miniato.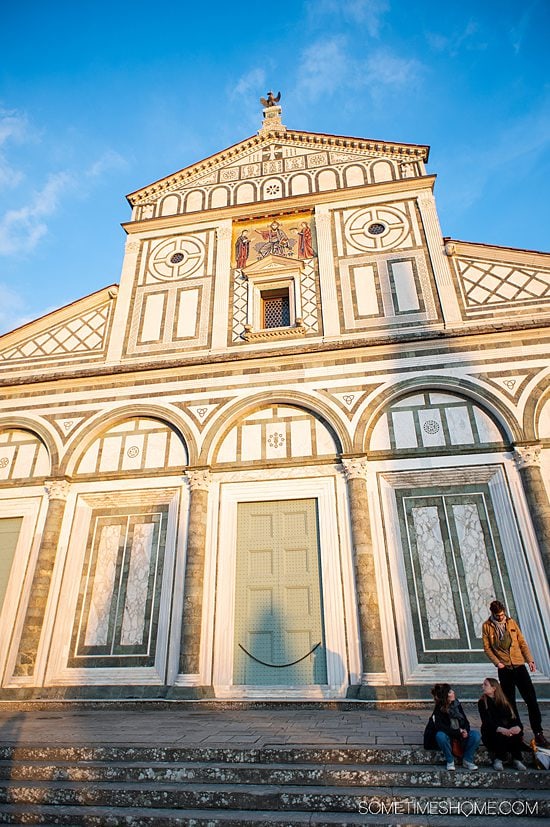 If you dare, you can even explore the church's crypt (we promise it's not scary – just a little dark), which features ancient Roman columns and stunning frescoes.
San Miniato al Monte is open to visitors every day of the year, with varying hours. Typically, the church is open from 9:30 am to 1:00 pm and from 3:00 pm to 7:00 pm, which should help you plan your visit here and to the surrounding landmarks in Florence.
View from San Miniato al Monte Church vs. Piazzale Michelangelo
If you're wondering which view is better and only have time for one, we recommend the view from Piazzale Michelangelo. This is because you can see the Arno River from that viewpoint.
Even though the view from San Miniato al Monte is beautiful, you cannot see the river from that vantage point.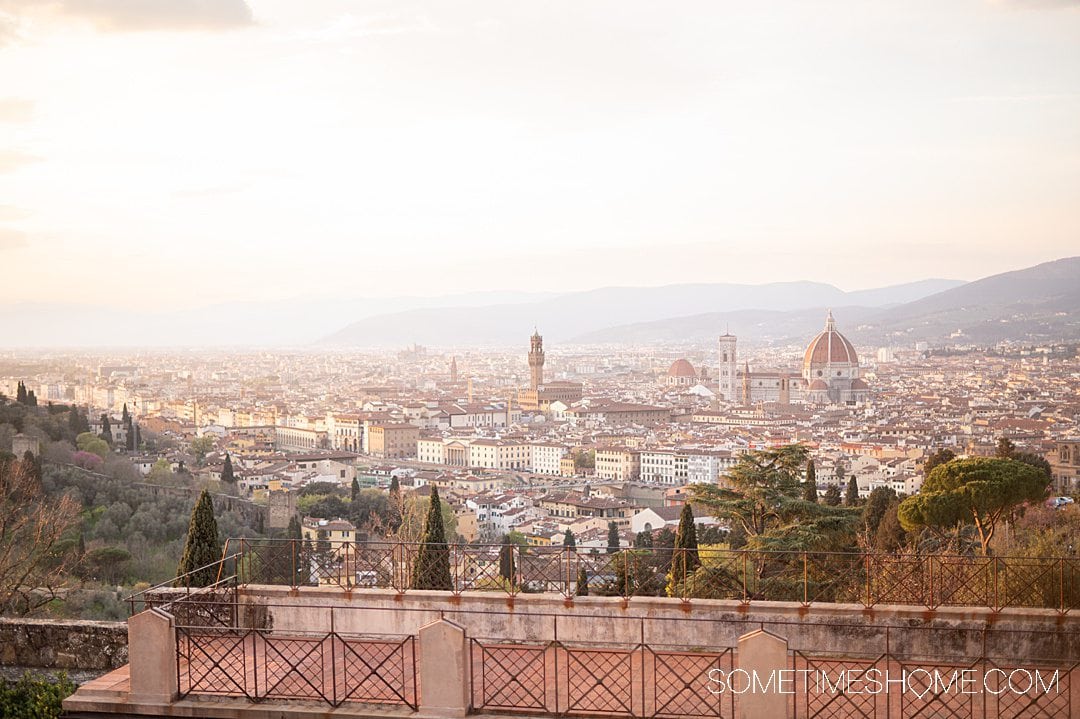 17. See the Sunset from The Piazzale Michelangelo
Michelangelo Plaza, which is perched atop a slope just south of the Arno River, provides an impressive view of Florence's most well-known buildings, including the Duomo, Ponte Vecchio, and Palazzo Vecchio. And it's completely free to visit!
To get to the plaza, you can do the stair challenge or opt to take a bus. The walk is actually much easier than the bus because there are limited buses that go there. We did the walk, and it wasn't too hard if you're in good shape and bring water.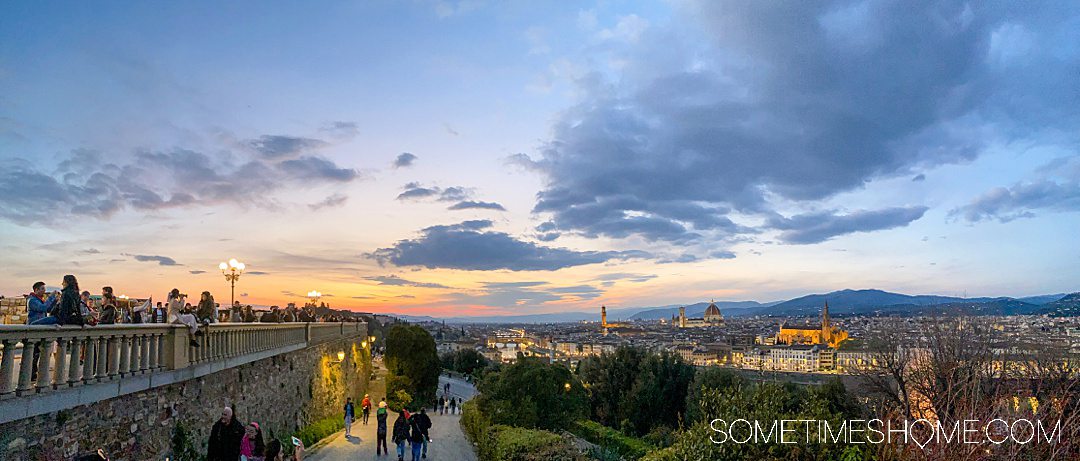 Once at the top, there are benches to rest on and cafes to grab a drink while taking in the beautiful scenery.
The best time to go is before sunset when the warm light illuminates Firenze. At dusk, you'll see the evening lights turn on throughout the city.
If you want a prime spot on the stairs or a "front row" to see the city, get there well before sunset. It's an incredibly popular time to be there, and it was packed when we went! And it wasn't even peak season for tourism in Italy at the time.
Piazzale Michelangelo is a perfect spot for photographers, those seeking romantic scenery, or those looking for a place for retrospection.
18. Basilica of Santa Croce: Pay Rescepts to Famous Italians of Centuries Past
Located in the heart of Florence, Basilica di Santa Croce is one of the city's most important churches and a major tourist attraction. Some even refer to it as the Pantheon of Florence.
The church was built in the 13th century and is famous for its Gothic architecture, exquisite frescoes, and impressive collection of art and sculptures.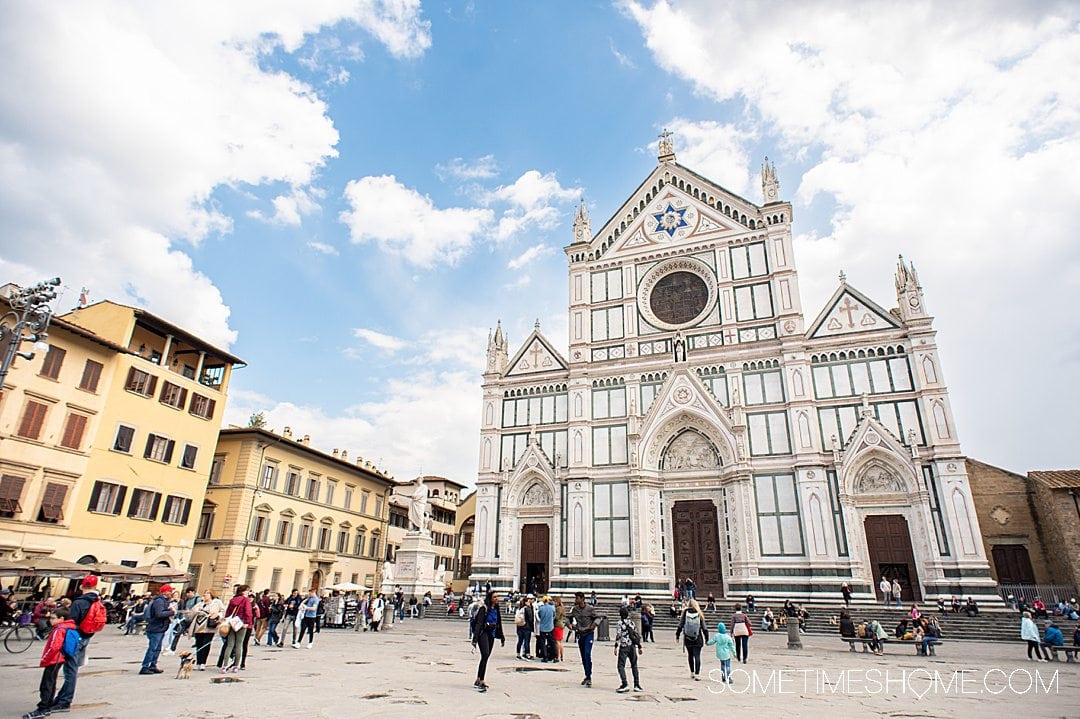 Although, what attracts many visitors to this destination is a chance to be close to some of the great minds of human history. Here, you will find the impressive tombs of Michelangelo, Galileo Galilei, and Machiavelli. How cool is that?!
The church's interior also boasts beautiful frescoes by renowned artists such as Giotto and Taddeo Gaddi, which decorate sixteen chapels.
Just a short walk of about 15 minutes or so from other popular attractions such as the Duomo Cathedral and Piazza della Signoria, the Basilica of Santa Croce is easily combined on a visit to those nearby landmarks.
It is open every day. Just make sure to pre-book your admission, which costs around €8, or prepare to wait in a small line to get your tickets onsite.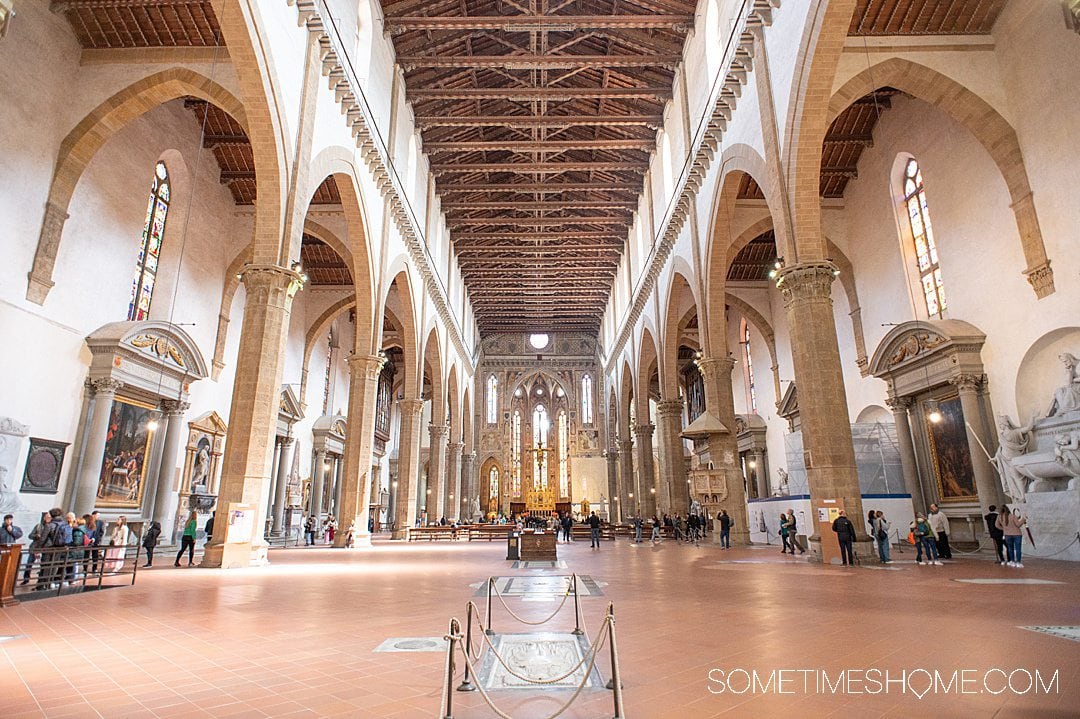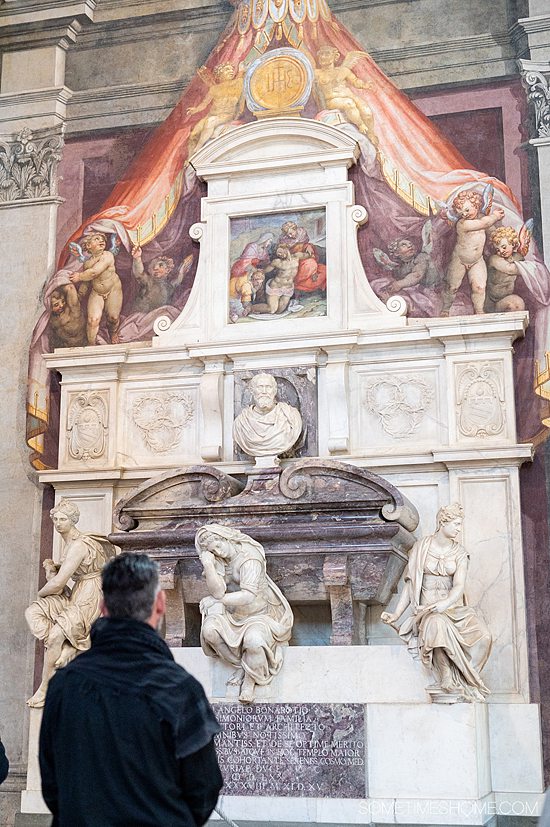 19. Be Inspired at the Scuola del Cuoio (Leather School)
Behind Santa Croce is one of Florence's hidden gems: a school dedicated to leather making and leather education for its students, started in the 1950s.
Scuola del Cuoio is open to the public for shopping and visits, and it was a highlight of our trip simply because it linked the leather goods we saw all over Florence with a practical location.
It was so cool to walk inside and see the handmade leather good for sale, including jackets, leather-bound books, belts, handbags, and more. But it was even cooler to see the workstations of the students, including patterns, sewing machines, grommet punches, and other tools they use to create their precious pieces.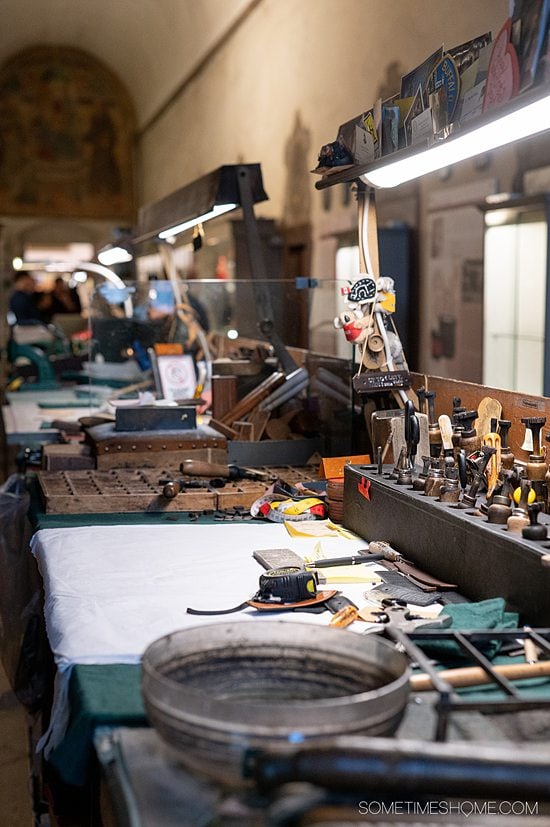 20. See the Church of San Lorenzo with the Medici Chapels (Cappelle Medicee)
The church was originally built in the 4th century and was later rebuilt in the 15th century by the prominent Renaissance architect Filippo Brunelleschi.
The church's interior is decorated with beautiful frescoes and sculptures, including a bronze pulpit by Donatello and a crucifix by Brunelleschi. Its marble is really a sight to behold; be sure to look for the inlaid marble Medici family crest. The church is also home to several chapels, including the Medici Chapel, which is decorated with beautiful frescoes by Michelangelo.
The Church of San Lorenzo is located in Florence's historic city center, just a short walk from other popular attractions like the Duomo and Piazza della Signoria. The Church is open to visitors every day, starting at 10:00 am.
21. Spend Time in The Bargello Museum
Some say that the Bargello Museum is the second most important museum after the Uffizi Gallery. It offers a fascinating glimpse into the artistic history of Florence.
The museum, which is housed in a former jail and barracks, has an amazing collection of statues, paintings, and decorative arts from the Renaissance and Baroque periods.
There are entire rooms dedicated to Michelangelo, Donatello, and Cellini, as well as furnishings, textiles, and pottery from the medieval period. The most popular room is The Salone del Camino which can be found on the second floor. Here, you'll find the smallest bronze statues ever created in Italy.
The building's stunning design, including its imposing courtyard and stairway, is easily admired by visitors.
22. See the Sculpture(s) on Display at Palazzo Strozzi
Strozzi Palace was once the 16th-century residence of another well-known family in Florence, the Strozzi family. In 1928, the palace underwent renovations to become the exhibition hall it is today. 
It hosts art exhibitions, events, and concerts. In the interior courtyard of Palazzo Strozzi is a sculpture. When we were there, it was a spaceship-like sculpture. Head there during your time in Florence to see what's on display and, if it intrigues you, leave time to explore the art exhibits inside.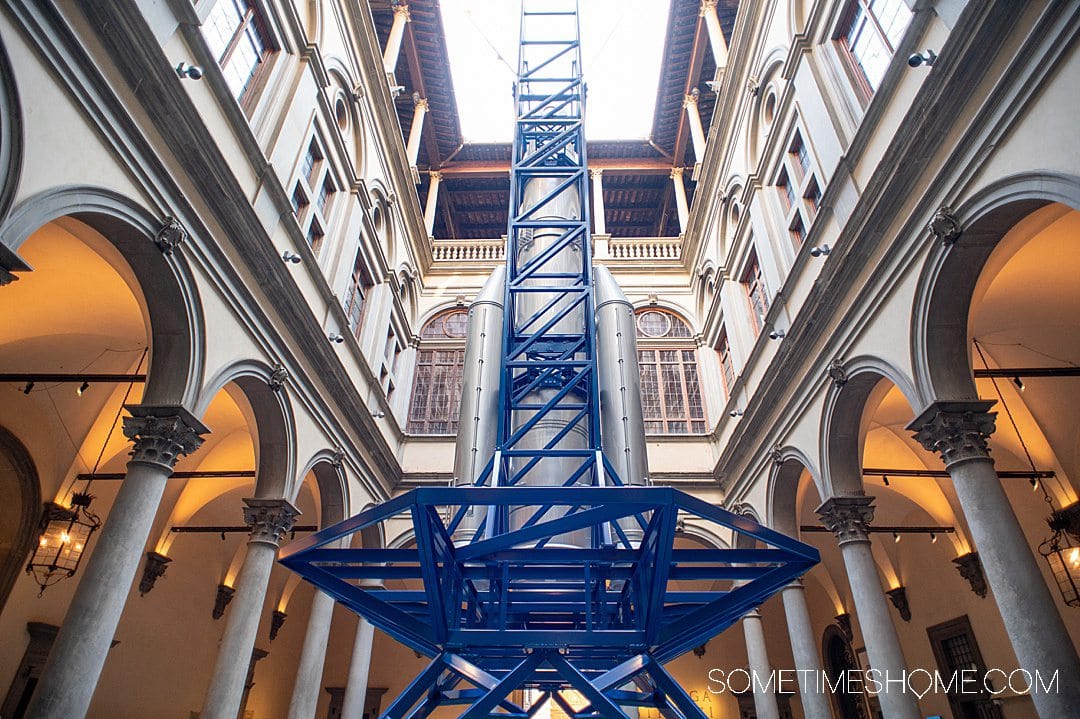 Map of Key Sites in Florence
We have put together this map of all the landmarks, viewpoints, squares, shopping and things to do in Florence in Google maps for your convenience.
Eat Your Way Through Florence
Get ready to tantalize your tastebuds with some of the world's most delicious and authentic Italian food. Florence is a food lover's paradise. Every mouthful is a burst of flavor and texture that will leave you craving more.
Numerous food markets, such as the Mercato Centrale and Sant'Ambrogio Market, are also located in the city, where you can taste a variety of regional specialties or buy fresh ingredients for cooking.
23. Book a Florence Food Tour
We highly suggest signing up for our recommended food tour in Florence. This tour taught us about Florentine culture, from food to dining habits, that we couldn't have learned without the tour and our amazing Devour tour guide, Antonio.
You'll only go to local, independently owned spots and get to taste the key delicious food that is essential to any Italian – and, more specifically, Florentine – diet.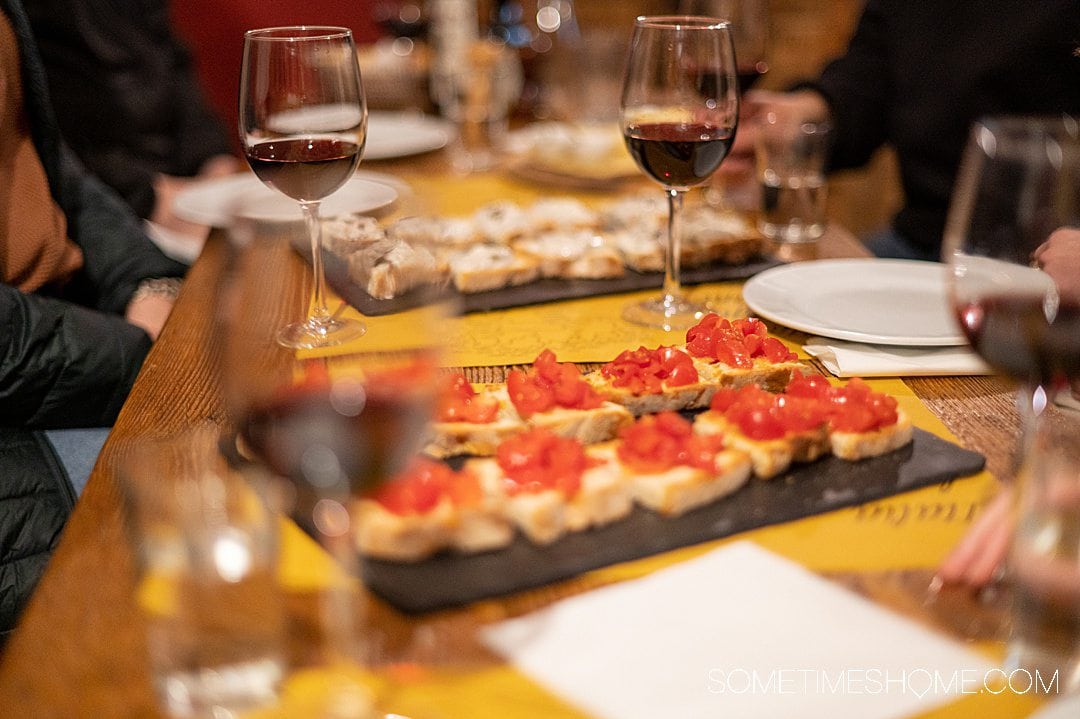 24. The Central Market
The Mercato Centrale, or The Central Market, is a bustling indoor market that offers foodies a chance to sample some of the region's finest food and drink. The market has been in operation for over 140 years and is a popular destination for tourists and locals alike.
Open from 9:00 am to 11:00 pm, you will find numerous cafes and restaurants on the second floor of the market. Looks for a chance to try some of Florence's most well-known dishes such as Bistecca alla Fiorentina (Florentine steak), or Ribollita (a hearty vegetable soup), or Pappa al Pomodoro (a tomato-based soup).
There's also a mix of shops on the ground floor for those looking to grab some souvenirs to update their closet. We loved supporting a local vendor by buying an affordable bottle of wine inside for our stay in Florence.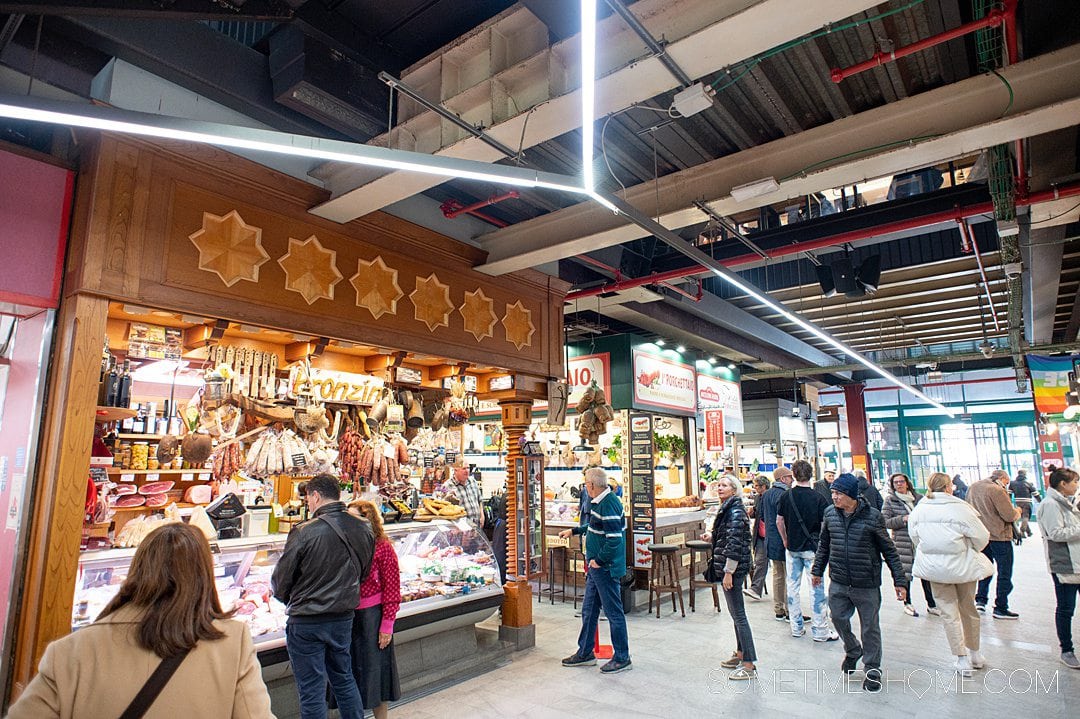 The Mercato Centrale is located in the historic city center, which means it's easily accessible by foot or public transportation.
We found it to be a little more expensive than other restaurants or delis in the city, which is likely because tourists are being charged a premium to be here. Even the Central Market's website is a lesson in good foodie destination marketing. Though it's a very old market, it's definitely been modernized and redesigned over the years.
The Mercato Centrale is open to visitors every day of the year, with varying hours depending on the season. Typically, the market is open early to quite late for late-night hunger.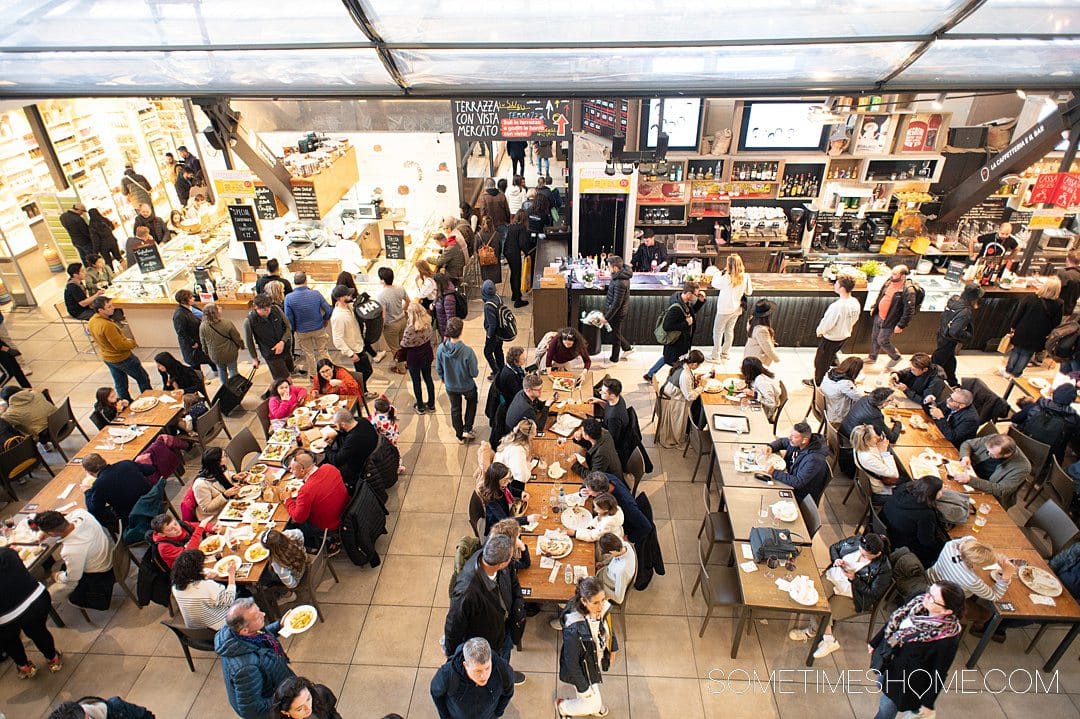 25. The Sant'Ambrogio Market
Regarded as Florence's "second" market, the Mercato Alimentare Sant'Ambrogio offers fresh food and other goods for those looking to cook their own meals. It's open from around 7:00 am to 2:00 pm every day except Sunday. The busiest time to go is Saturday mornings.
Odds are you're going to have a more authentic experience here than at the Central Market, where only tourists go nowadays. Many locals come to the Sant'Ambrogio Market to shop for the ingredients for their home-cooked meals, from olive oil to meat and cheeses.
It's the perfect spot for visitors to buy some goodies for a picnic.
Take a Day Trip from Florence
If you're planning a trip to Florence, account for extra days to take some amazing day trips.
You'll be happy to know that the city is surrounded by stunning countryside and picturesque towns, making it an ideal base for day trips. From the rolling hills of Tuscany to charming towns like Lucca and Siena, there's plenty to explore within a short distance from Florence.
It's easy to sign up for a day trip to any of the locations below online or get there on your own utilizing Italy's trains. Florence's main train station is called "Santa Maria Novella."
Alternatively, you can rent a car.
26. Cinque Terre
There's simply no place like Cinque Terre! Anyone traveling to Italy must explore Cinque Terre, a collection of five charming towns on the Italian Riviera. (Cinque means "five" in Italian.)
Millions of tourists visit this UNESCO World Heritage Site every year. Its popularity is no surprise given the region's vibrant homes, untamed coastline, and breathtaking landscape.
Cinque Terre's Famous Hiking Path
Hike the paths along the shore to explore the towns and take in the breathtaking views of the hills and coast. The Sentiero Azzurro, or "Blue Path," which links all five towns and allows hikers to appreciate the beaches and take a dip in the water, is well-known.
Keep in mind that trail access requires a ticket and that until at least 2024, the main part of the trail will be closed. There's also been a discussion about limiting the number of visitors per day, so stay updated.
Other Tours In and To Cinque Terre
For an alternative (and for those with sea legs), you can also take a boat tour which is said to be one of the best ways to see Cinque Terre. You'll stop at each village and have time to explore.
27. Siena
A gorgeous UNESCO heritage site, Siena is a medieval city located in Tuscany. It has a long history with Florence.
Siena is home to The Piazza del Campo, considered one of the most beautiful medieval squares in the world.
Nearby is the Duomo di Siena, a magnificent Gothic cathedral featuring stunning art and architectural works. You can climb to the top of the tower for panoramic views and to capture some unforgettable photographs of the city.
Annual Special Event in Siena
If you visit Siena between July 2 and August 16 any year, you can see the "Palio." It's an illustrious horse competition whose full name is "The Palio di Siena," held in the Piazza del Campo. You can watch the race from the bleachers or nearby streets.
Learn about the event's past and customs at Siena's Museo Civico.
Keep in mind that finding lodgings at this time of year might be challenging, yet it's a very special time of year to be there.
28. Pisa
If you're looking for a bucket list selfie, you've come to the right place. Recognized around the world for its iconic Leaning Tower, in Pisa you can capture that iconic photo of yourself "holding up" the building. But that's not all there is to see.
The Piazza dei Miracoli is also home to the Duomo di Pisa, and the Baptistery. The city also has several museums, including the Museo delle Sinopie, which features artwork and architectural sketches from the Duomo and the Leaning Tower.
Many enjoy taking a walk or boat tour along the Arno River, admiring the beautiful scenery and historic bridges. We learned it's best to combine a half day in Pisa with a half day in Lucca, a recommendation from our friend Cassandra at Travel Italian Style.
Both cities are easily accessible by train from Florence, and it's easy to catch a train between Lucca and Pisa.
29. Lucca
A delightful ancient city in Tuscany, Lucca is famed for the beauty of its historic core. It is a smaller community that is accessible on foot or by motorbike. Visit the lovely grounds and scale the walls for sweeping city vistas.
One of Lucca's most significant structures, the Cathedral of San Martino, showcases an exquisite fusion of Romanesque and Gothic design. Visitors can tour the interior, take in the intricate façade, and scale the bell tower for spectacular views.
The old Roman amphitheater's remains served as the foundation for the construction of the unusual oval-shaped Piazza dell'Anfiteatro. Explore the square, buy food at the nearby markets, and unwind at one of the many cafes.
Just outside the city limits are the Botanical Gardens of Lucca, which have a large collection of international plants, trees, and flora. Visitors have a choice between self-guided or guided tours of the grounds.
30. San Gimignano
One of Tuscany's most well-known wine regions is a short distance from Florence. Head to San Gimignano, a medieval town nestled between Florence and Siena.
Fourteen of the 72 tower houses from medieval times have survived. Along with the towers, visitors enjoy the historic town center, which is a UNESCO World Heritage site, the area's white wine, and pecorino cheese. Don't forget to pick up some saffron while you're there; San Gimignano is known for it.
Pro-tip, thanks to Rick Steves: if you can, stay after midday hours, when many tourists leave the city to head back to Florence. You'll enjoy the less-crowded streets and restaurants.
Conclusion
Due to its fascinating history, beautiful buildings, and creative legacy, Florence is a fantastic travel destination. You'll admire and appreciate artwork by famous artists, including Michelangelo, Leonardo da Vinci, and Botticelli, whose works shine amongst the city's remarkable art collections.
Florence is also renowned for its delectable food, chic shops, and entertainment. Travelers who want a mix of culture, history, and romanticism will be charmed by Florence.