Most Unique Travel Gift Ideas for Travel Lovers
When we look for unique travel gift ideas either for each other or people who appreciate exploring the world we want to make sure it's two things: 1) practical and 2) something no one else has gotten for them before.
We know things like luggage tags, passport holders, scratch-off geographical maps and customized toiletry bags are all great gifts. But we've curated a list of the most unique travel gift ideas we have come across to present wonderful options of what to give the travel lover(s) in your life.
Disclosure: There are affiliate links in this post, which means we may earn a small commission if you click the link and proceed with a purchase, at no cost to you. We truly only recommend hotels, products, and services we personally use. As Amazon Associates, we earn from qualifying purchases.
The Best Sleep Mask: Nodpod
The times we have a problem sleeping are when we can't block out the light. Whether we have to sleep during off hours (our sympathy goes out to night shift workers who have to sleep during the day) or on an airplane, we want to block out the light when it's sleep time.
Or even if we're traveling to somewhere like Norway during the summer when they have the midnight sun and it never gets completely dark: we need to signal to our bodies it's bedtime with darkness.
We came across the Nodpod on an Instagram ad. And we had to try them for ourselves. I guess Instagram is listening because we were talking about needing a solution to block out our apartment building's outdoor lights that go on at night. And voila: the weighted eye mask appeared and answered our prayers.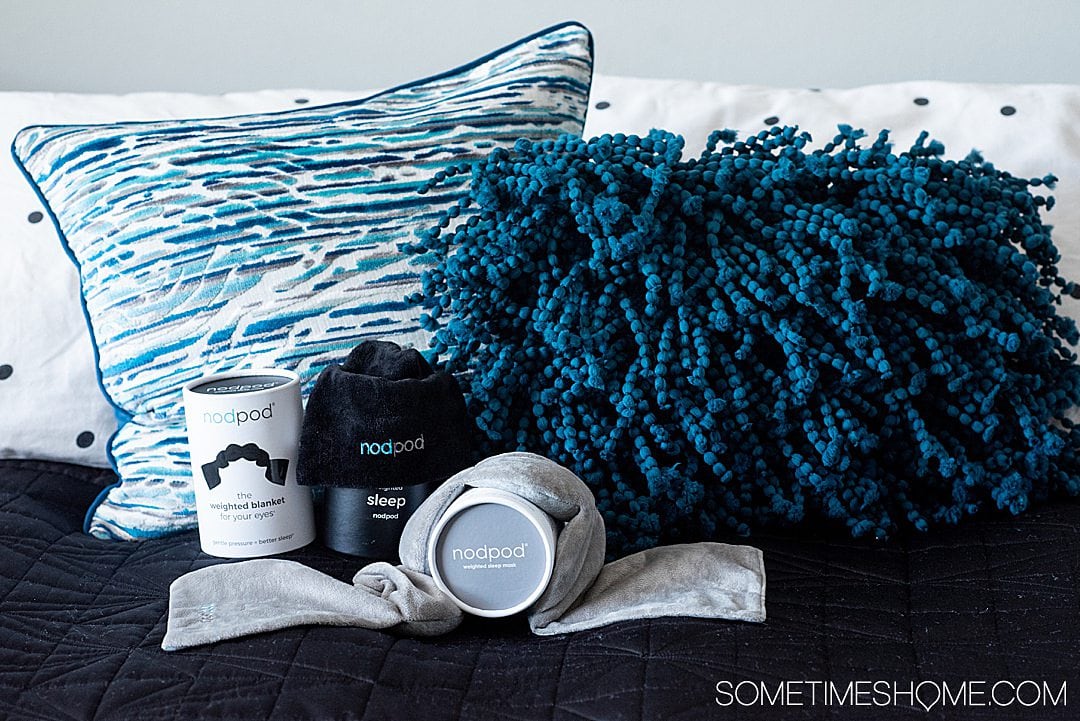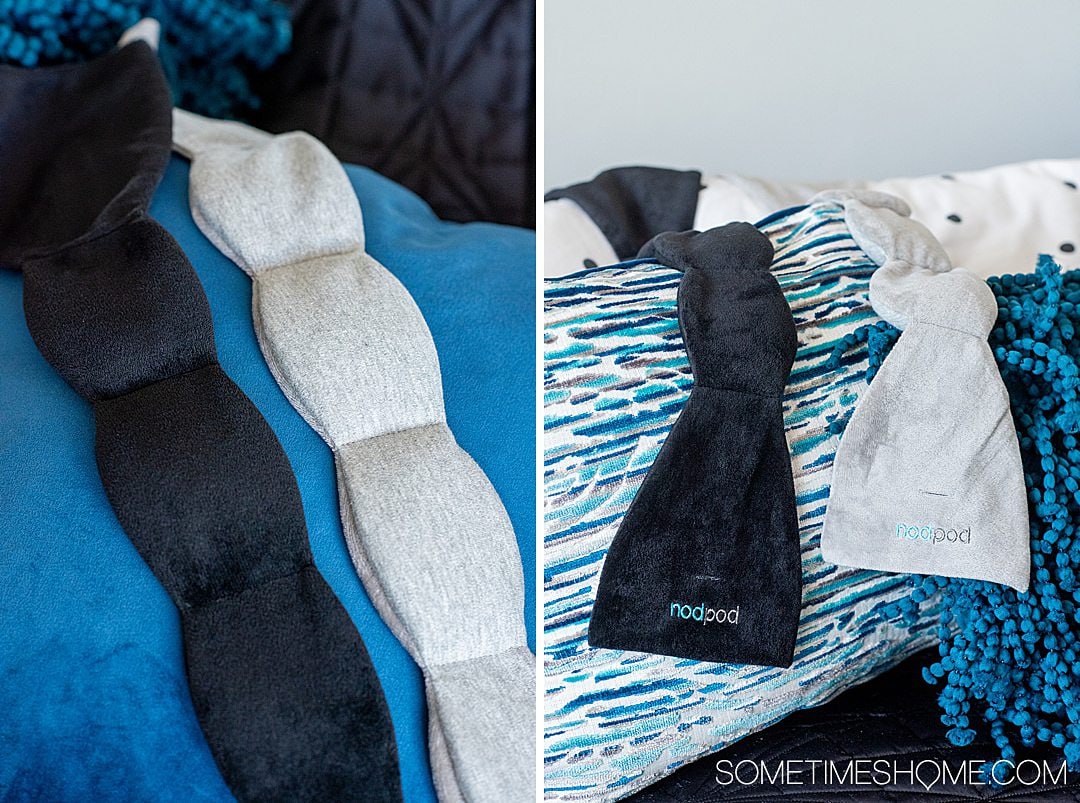 They're worth every penny and fold up nicely to pack into your Cabin Zero carry-on backpack or store under your pillow whether you're traveling or home.
Want a choice of colors? They have 9! Of course, we went with grey for Mikkel and black for Dan. (Because our home is basically those two colors with bright color accents (like the blue throw pillows in the photos we took) here and there.)
The founder of Nodpod, Melissa (yay female-owned small businesses!), said she, "…discovered the clinical phenomenon of Deep Touch Pressure – the science of applying gentle pressure to your body to relieve stress and anxiety while promoting deep, restful sleep."
And herein lies just one beautiful thing about the product: its slight weight is so soothing it helps you fall asleep.
It's a luxury sleep mask you can afford and you will L-O-V-E. We recommend it as a great cruise gift idea as well.
See all 10 reasons we don't travel without our Nodpods.
They have a weighted blanket too that's awesome – it's good for car travel but not great for air travel unless you really want to carry a 6+ pound blanket around. But we did want to note it!
Price point: $32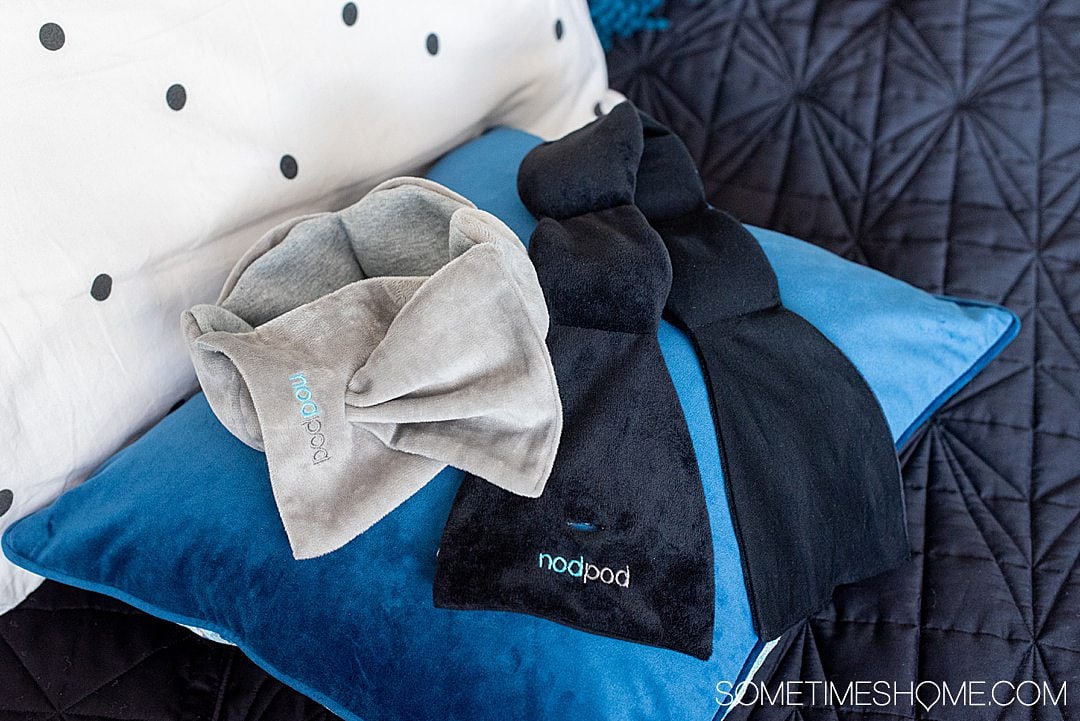 Travel Photo Albums
One of the best gifts that we actually give ourselves is Artifact Uprising photo albums. We chose these high-quality photobooks on top of any other books out there because they're professional quality, it supports a small business in the United States started by photographers and we LOVE the look of their books.
If you want a unique travel gift you can give someone a gift card to the shop!
Price point: varies based on product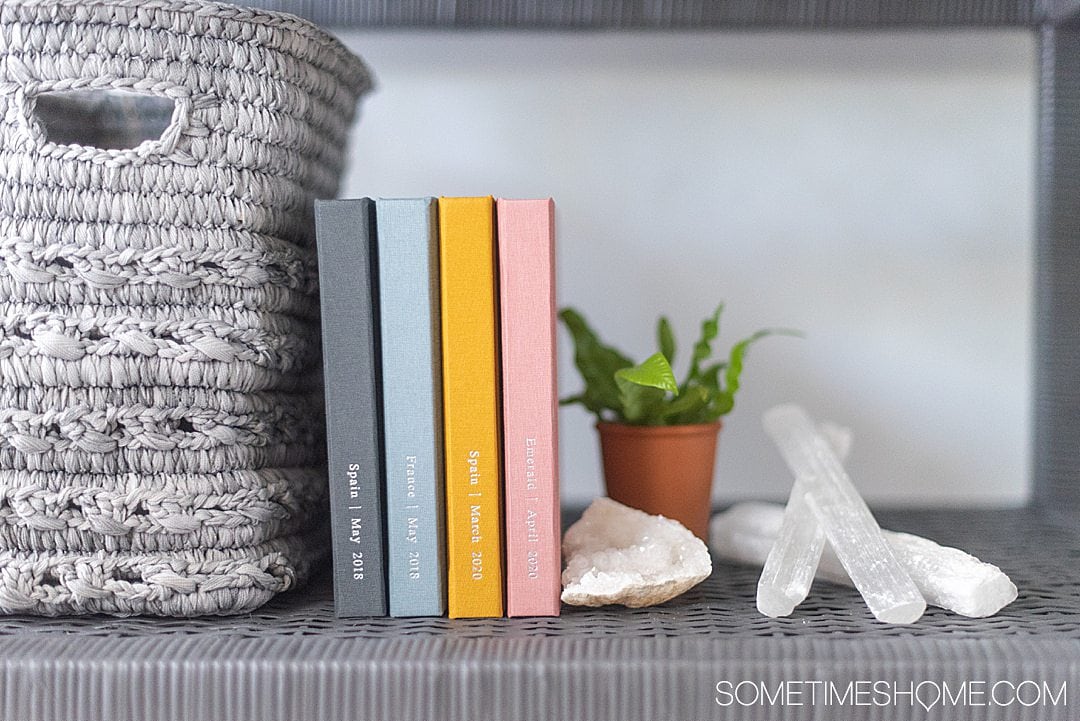 Photo Prints and Calendars
The other products we love from Artifact Uprising are their photo prints and photo-focused calendars. Their designs are modern and clean and let photo memories – like from your favorite or most recent vacations – shine.
They offer square prints and rectangular ones, and offer 5×7″ calendars or a bit larger at 19.5″ on the longest edge. Check our complete Artifact Uprising review for more details.
Price point: varies based on product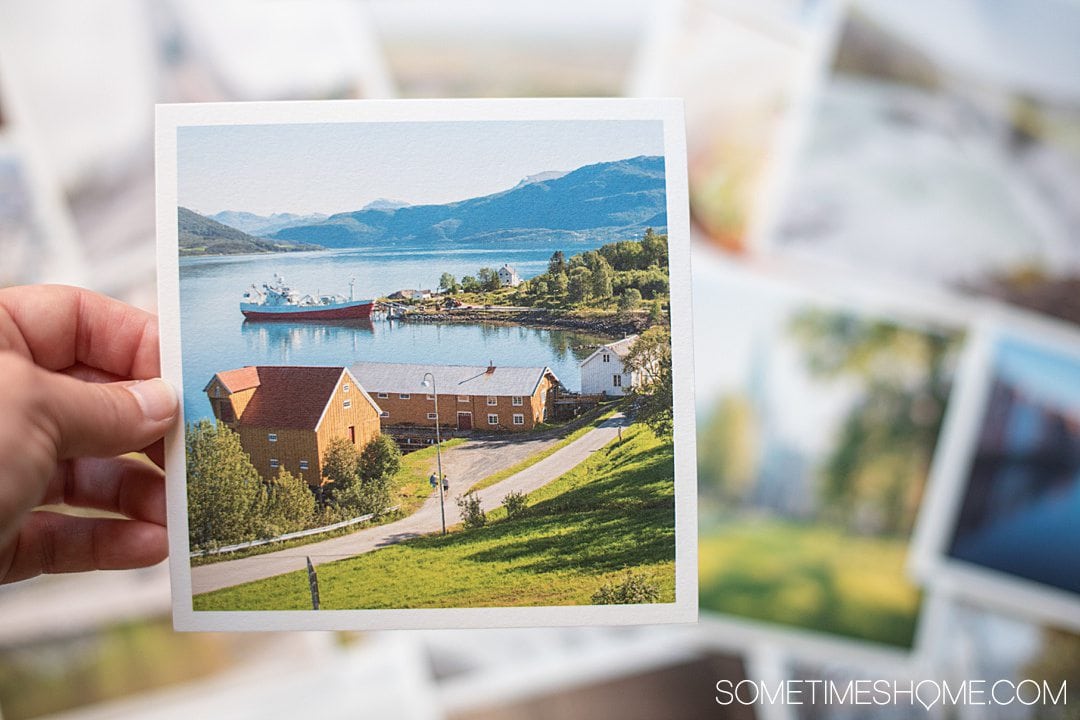 Digital Picture Frame
There is no comparison for tangible photo albums. But if you are low on space, or you want to give a gift to someone and be able to upload your own photos to the frame (like we did with my siblings for my parents, and the kids all upload their family and travel photos to the frame that's in their house) then a digital frame may be a good idea.
Price point: $100 and up for a quality option
Personalized Chopsticks
Mikkel has a small obsession with Japan. This includes anything Japanese from the actual country, to the culture to the food! And using chopsticks brings us closer to Asia no matter where we are in the world, especially at home. If we get take out sushi, make a salad, cook dumplings: we use chopsticks.
Our friends got us one of the most amazing gifts we've ever received: personalized chopsticks with our names lasered into them. They're available on Etsy at ChopChopsticks.
Price point: under $20

Cabin Zero Backpacks
If you follow us on our website or social media, Instagram especially, it's no surprise we're obsessed with our Cabin Zero carry-on backpacks. So much so we've raved about them on our site in depth.
We can't recommend this amazingly useful and unique travel gift enough. It was last years, and years, possibly a lifetime. And your traveling gift-receiver (whether yourself, a friend, or a family member) will be so grateful I can't imagine you won't receive praise, thanks, and hugs and kisses for the gift!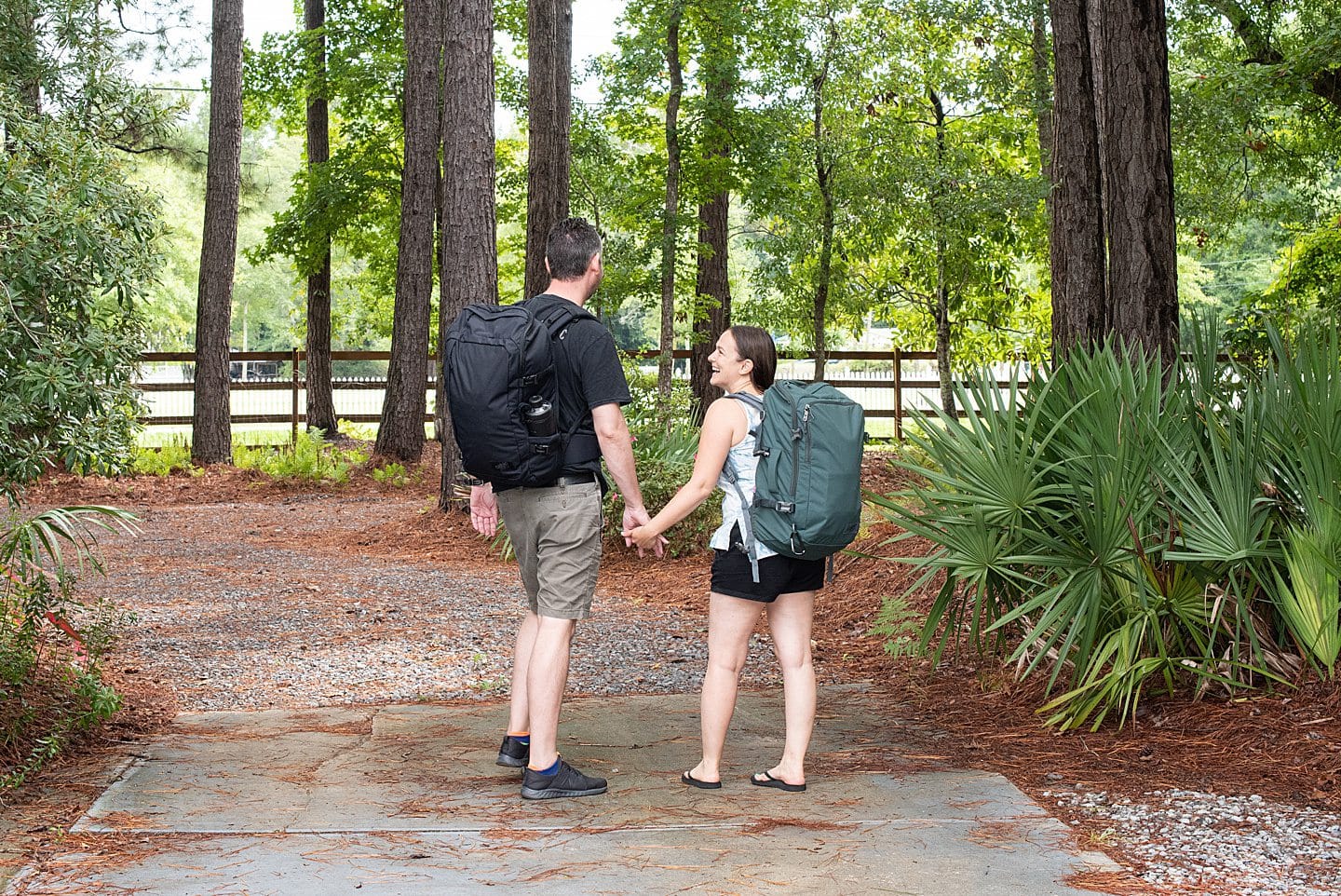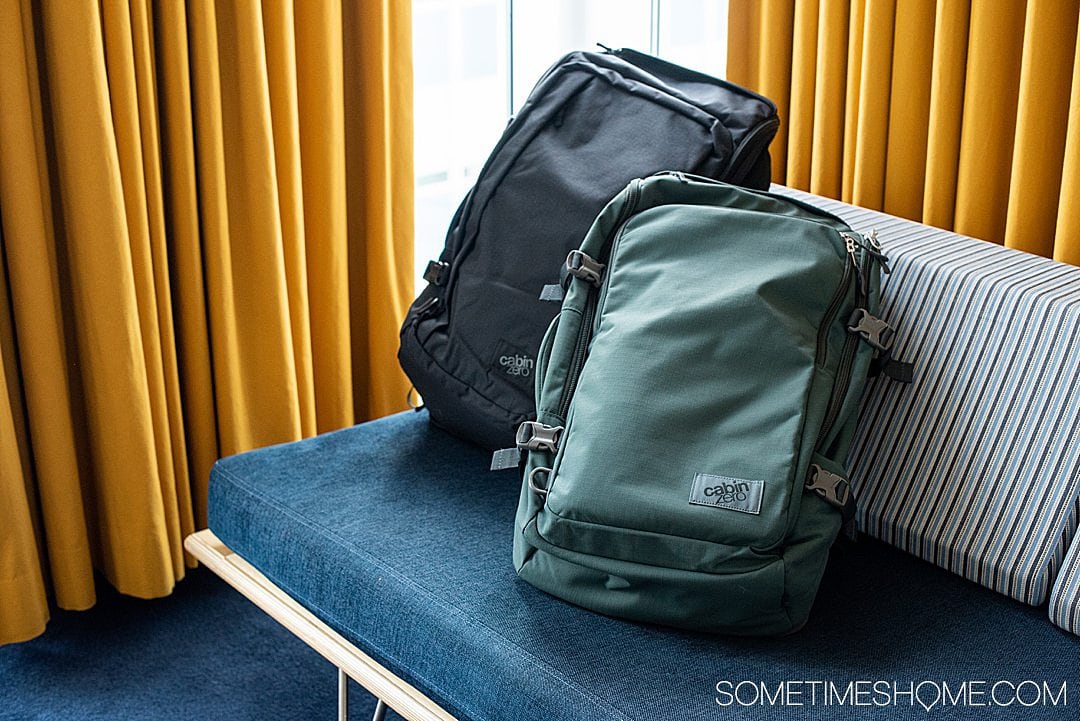 We love that they come in a variety of great colors and the backpacks we have are below $150, which beats a lot of the competition. If you're interested in something perhaps a little less expensive
Price point: varies based on the bag you select
Solis (formerly Skyroam) Travel WiFi Hotspot
I'm not sure how we lived without our Solis travel hotspot for so many trips. Life would have been so much easier if we purchased one years ago. You know what they say, though – better late than never! Don't delay – purchase one for yourself or your travel-loving friend or family member ASAP!
It's an incredible way to connect smartly for a low cost, low hassle while abroad. We've reviewed ours extensively and love it so much – buying one was the best idea we've ever had to access WiFi abroad.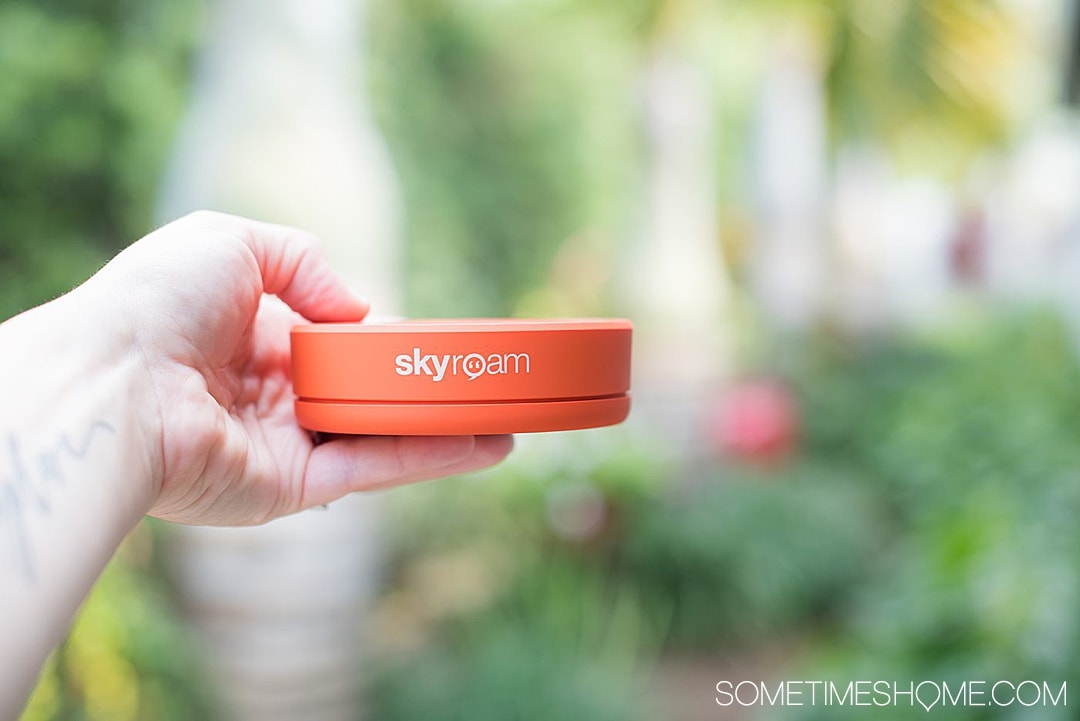 Price point: two options for the device, $89 to $179. Limited accessories available, including an additional cord and carrying case, starting at $12.99. Day Passes/data are also a great gift (only work with Solis) for $8.99 and up.
Packing Cubes
When my sister was discussing how disorganized she felt her kids' stuff was – whether packing for vacation or a bag for the neighborhood pool – I said, "Why not buy packing cubes?" I think they changed her life!
Eagle Creek on Moosejaw has so many different shapes and sizes of cubes that are great.
Price point: between $20 to $40, depending on individual cubes you buy or sets, style, and colors.
Unique Travel Gifts for Him and Her: Jewelry Holders
The easiest way for us to change up our looks on vacation, especially if we're washing clothes and wearing the same outfits, again and again, is to accessorize. For me, it's jewelry like earrings and necklaces and for Dan it's watches.
Travel Jewelry Case for Her:
This Mark and Graham Jewelry Travel Case is the perfect solution for my travel jewelry needs. I've actually been eyeing it for a while! And I think anything is extra special with a monogram on it. If you're looking for a travel case for odds and ends or toiletries and jewelry case their Dual Travel Organizer will knock your socks off; it's a jewelry case on the bottom with a zippered compartment on the top for lotions, contacts, glasses, and whatever you want to throw into it!
Price point: $49 (petite), $69 (small), $99 (medium) and $149 (large). The Dual Travel Organizer is $89. For an extra $10 get it personalized, which we highly recommend.
Travel Jewelry Case for Him:
Dan's only passion for jewelry is for watches. He loves his watches.
And when he travels he wants to make sure they're protected but, since he doesn't currently have a way to travel with them, he only wears one per trip.
That's why I'm eyeing watch rolls for him on Etsy and Amazon.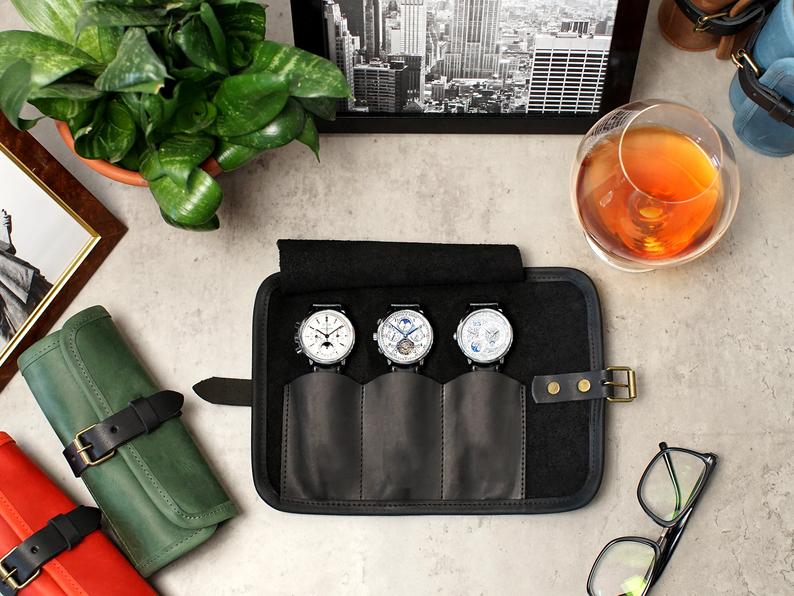 I've seen cases to travel with a pair of sunglasses and perhaps a tie too, paired with watch compartments. But Dan doesn't wear ties and he has a glasses case so this is perfect for him and compact.
Price point: $119, includes free monogramming
Note: we make having carry-on luggage a priority, which is why we love our Cabin Zero backpacks. But previously, before we had these backpacks, we'd have to check our luggage sometimes. We always make sure our jewelry and valuables are in whatever bag we carry on despite the rare case we need to check a bag. Do not luggage-check your jewelry.
Reusable Straws (that are also portable)
My friend Julie of The Little Kitchen told me about reusable drinks straws from the GIR (Get It Right) company, I immediately bought some. I have two sets of the 2-pack in fact. They're SO easy to clean and use. The carrying case is featherweight and clips onto my keychain.
I travel with these locally and internationally, including going to restaurants to eat while we're home. They are also great stocking stuffers!
Having a reusable straw handy is one of the simple and small, yet significant, things you can do to save the planet!
We bought ours at the store, but you can get a similar one on Amazon (though it wouldn't be supporting Get It Right, it would still be a reusable straw, which we support).
Price point: $12.99 to $29.99 depending on the set you get (2-pack, 5-pack or 10-pack)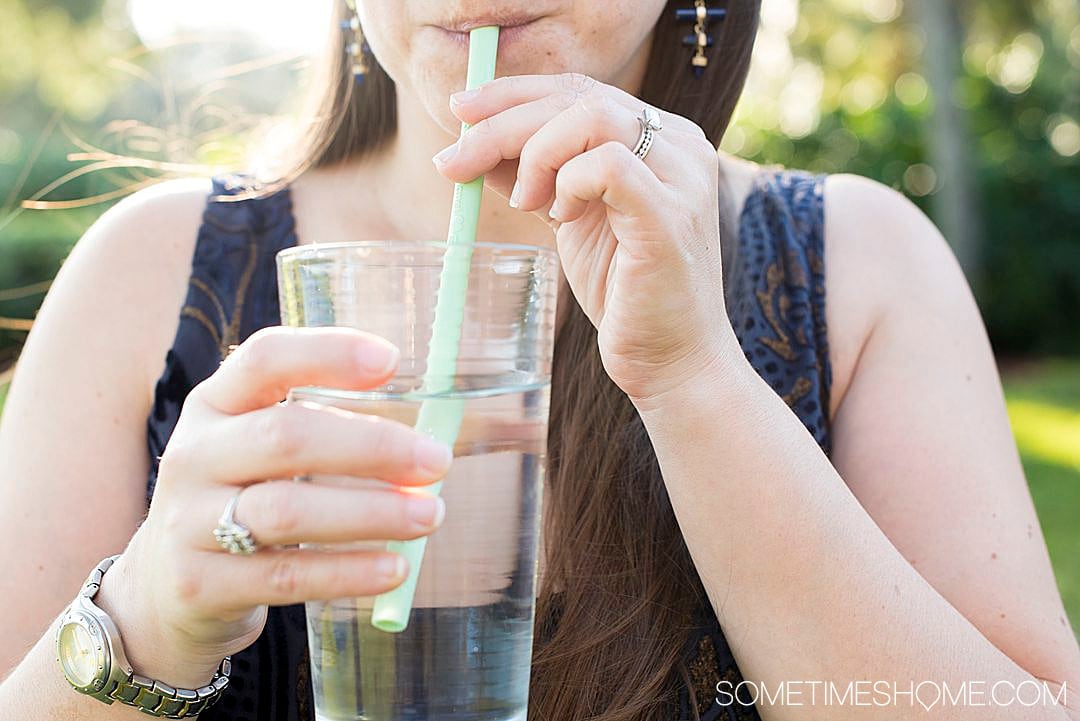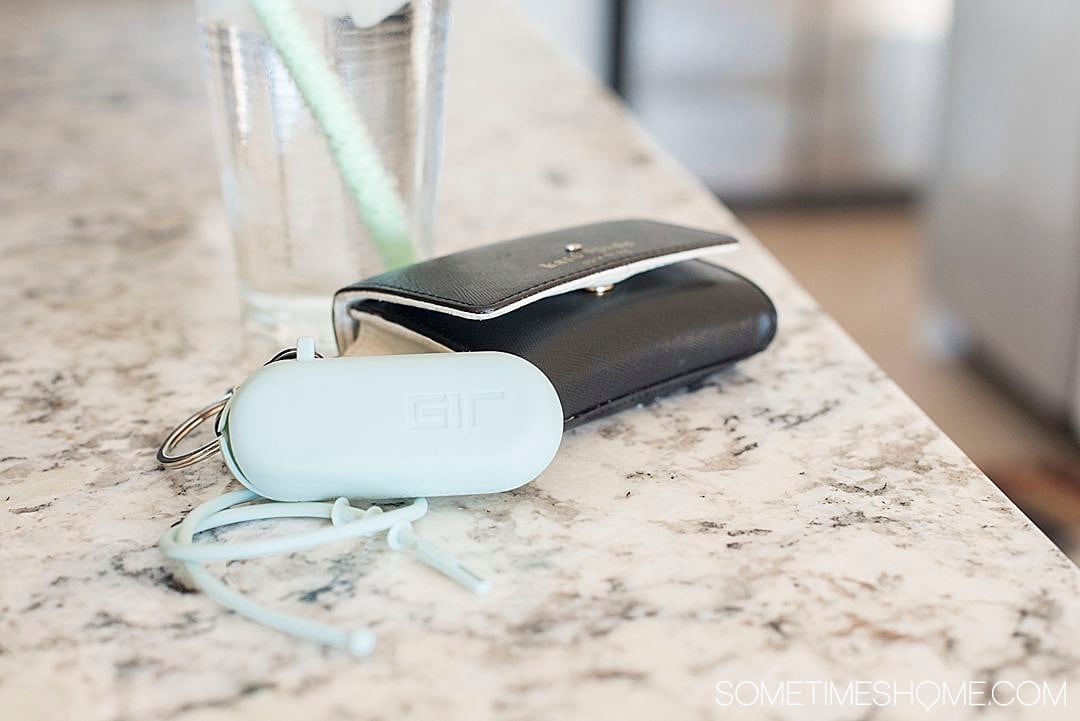 Travel Tube Blankets
How genius is this idea? Etsy shop owner Carlyn Hooyer brings you convertible, wearable blankets that also serve as scarfs, shawls, and even dresses if you're feelin' it! (We love to support Etsy shop owners who earn income from their craft!)
They come in a variety of colors. We're impartial to the neutral options because they match everything.
With COVID and airlines providing less and less these days to competitively price flights for travelers one of the first things to not be offered is blankets. And we can all agree some flights are CHILLY with that airplane air pumping.
I know I've wished for a blanket on more than one occasion, especially longer flights that don't provide them. Not only does this easily solve that problem but you can fashionably wear it at your destination and at home.
It's also the perfect scarf to wear to the beach during off-season months when the chill from the water can be a little much to bear.
Price point: $40 to $175, depending on the fabric you choose. The majority of them cost around $50.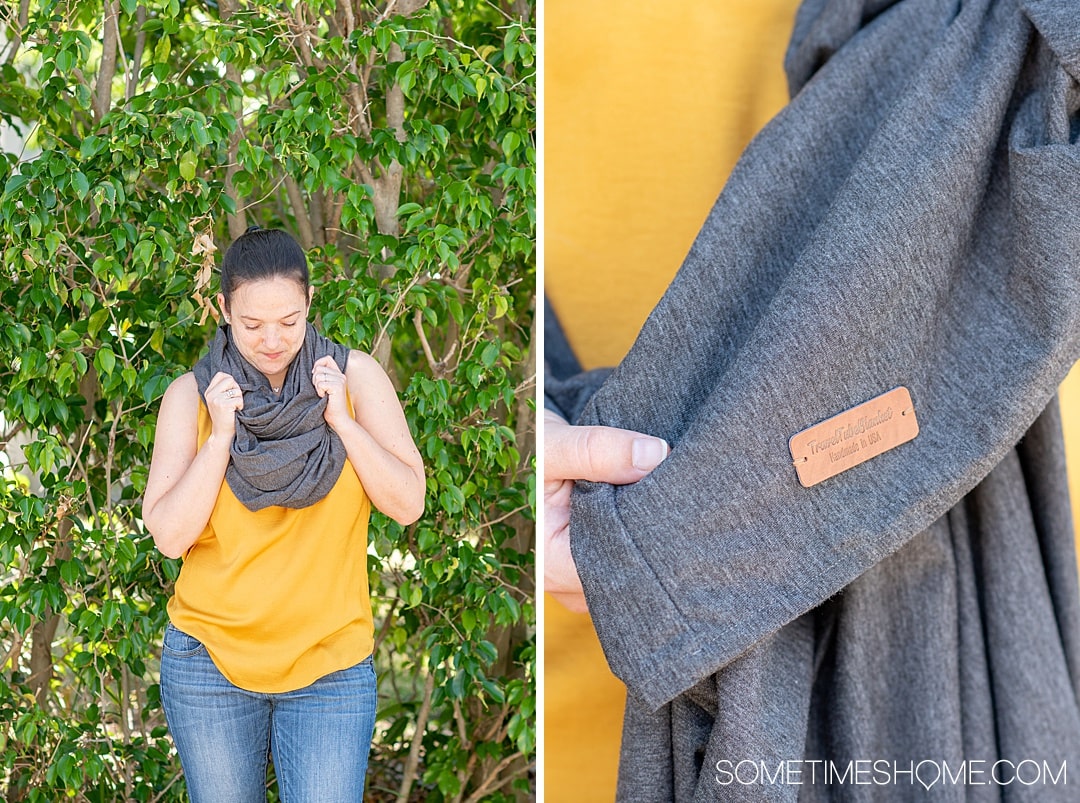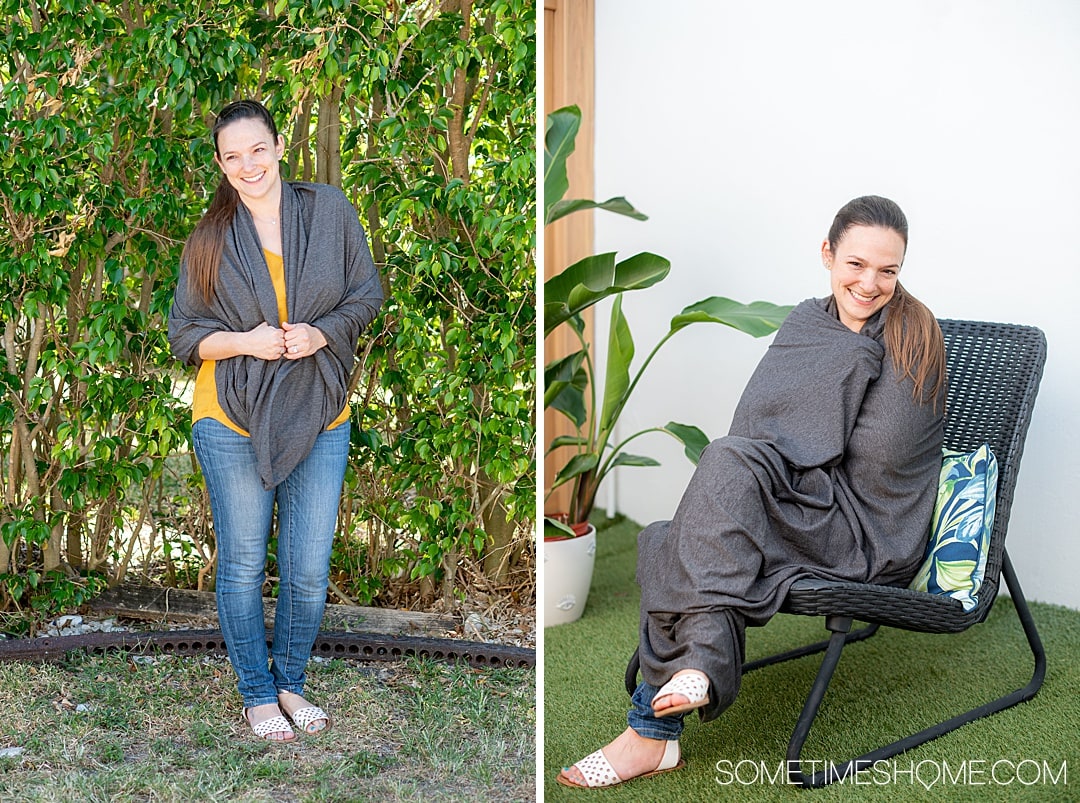 Stasher Bags: Ziploc Bags Alternative
This is a wonderful gift to get for anyone because let's face it: we all need a plastic Ziploc-type bag for various things in our lives.
We discovered Stasher Bags on a quest to find the best alternative to boxes of plastic zip-closure bags. Throwing them out after marinating steaks or even veggies in them, for instance, gave us serious heartache. But Stasher Bags eliminate that stress and guilt!
They're helping save the environment in multiple ways: 1) they cut down on single-use plastics; 2) the company donates some of the proceeds from each bag sold to a great organization helping to save the Earth. They are part of 1% For the Planet, and regularly give to great organizations helping to save the oceans, like Surfrider and 5 Gyres.
EVERYONE needs something to "contain" other things when they travel. For us, it's lotions or even shampoo and conditioner bars. Or even to pack snacks for the plane or road trips.
These bags are dishwasher, microwave, freezer, and refrigerator safe. They come in a variety of colors and we LOVE that you can buy packs of them too. It's super simple to shop online in their store.
Price point: Varies based on individual bags or bag set you purchase, but it can be as low as a couple of dollars or go up to about $85 for a variety set of 7 bags, for instance.
Camera Bag Insert
I'm a full-time photographer so I don't go anywhere without my professional DSLR camera. I want to be fashionable and inconspicuous with it though. There are few things dumber than traveling around a foreign country with an expensive camera on you. Nothing says "rob me" like that!
Being under the radar with what I am carrying around is imperative. I have a camera bag insert I use EVERY trip. It fits into a fashionable purse or a backpack and I can fit my camera body, two lenses, extra SD cards, and an extra battery in it. It's essential with our minimum travel photography gear when we go on vacations.
Ona's camera insert is great – it's made of sturdy material and they're a really reputable brand in the camera world. This Selens camera insert option has a lot of room and we like the ability to customize the compartments.
We recommend that whichever one you get – for yourself or as a unique travel gift for a photo-loving friend – has an optional closure of some sort, whether zip or pull cord. Exterior pockets to store accessories, wires, and cords are a nice bonus. We also recommend you check the dimensions to ensure it'll fit into most messenger bags, handbags or backpacks – whichever it will be used for.
Note: the one pictured is by Crumpler but no longer available. From research and thorough photography industry knowledge, we recommend the options above.
Price point: $50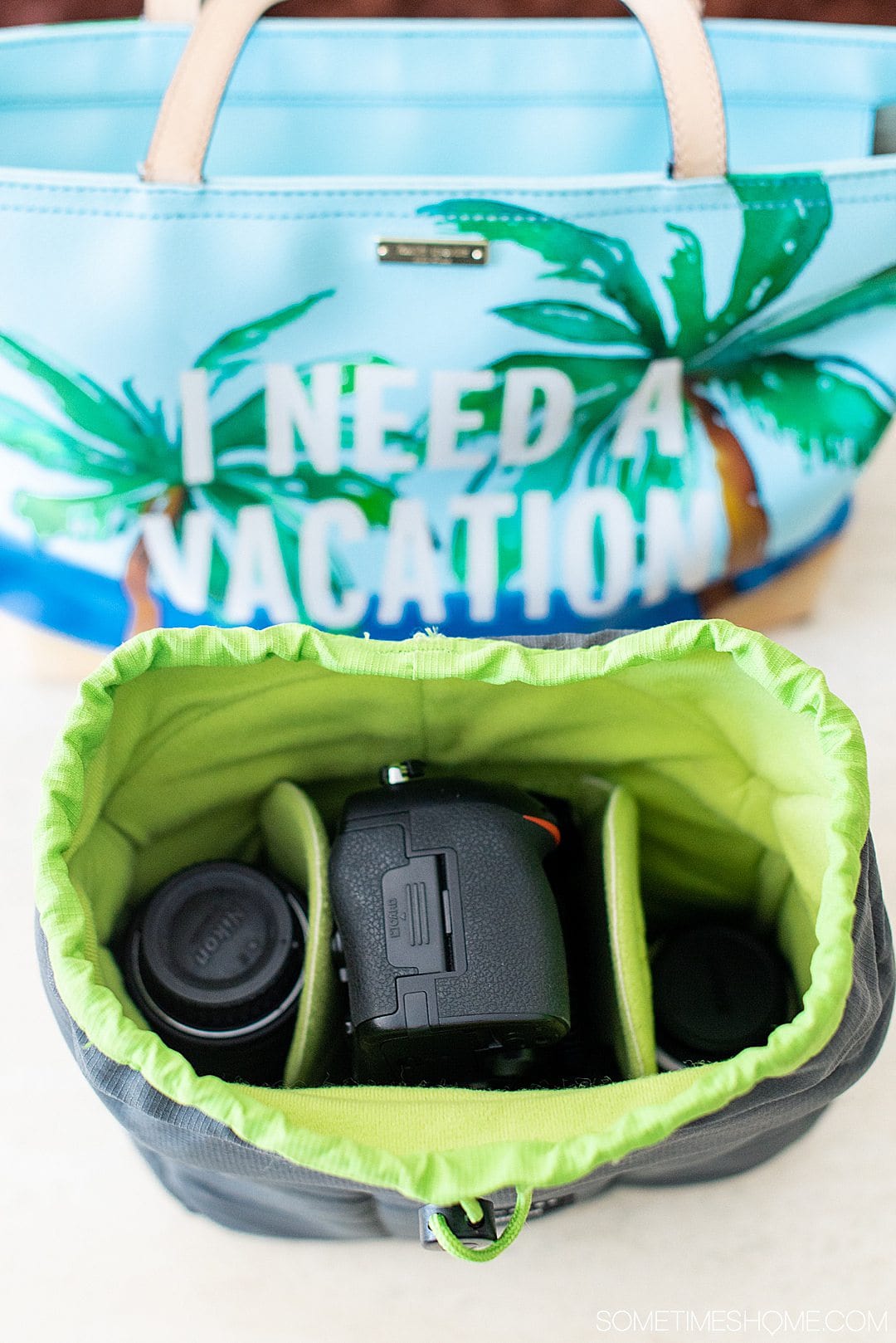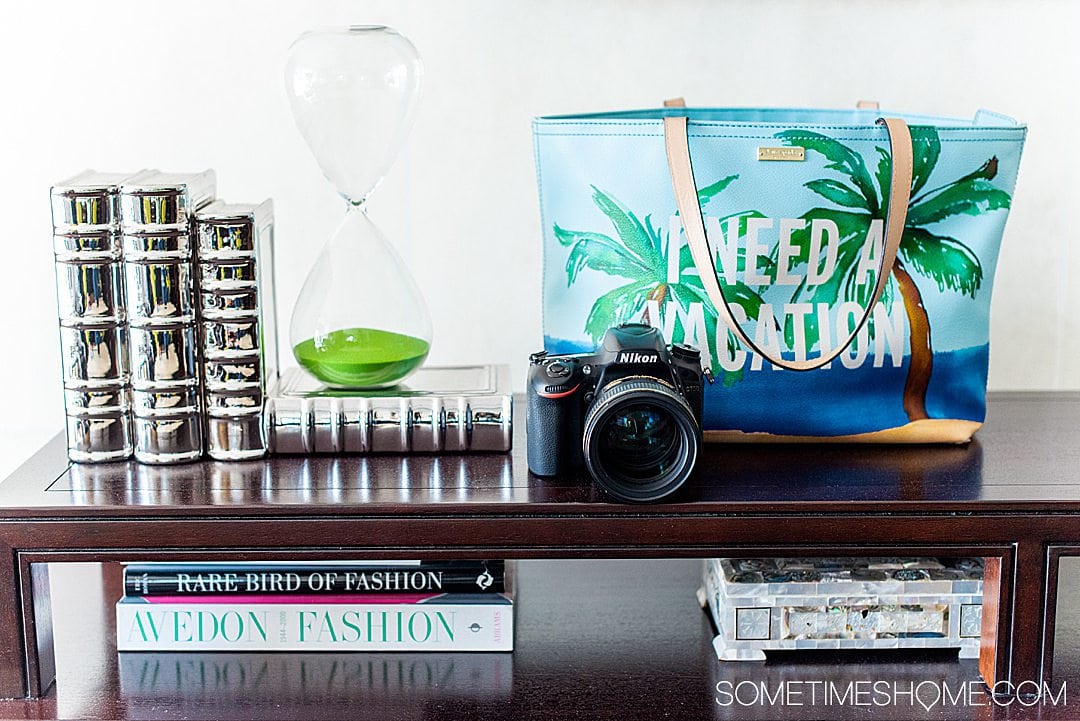 Puzzles with a Travel Theme
We love doing puzzles. And it's been a tough year for people who love to travel – because the pandemic has pretty much grounded us all. But doing a puzzle isn't just a great way to get off the computer – or any screen – but a great way to focus on details of a travel scene.

Dan and I did a puzzle with a photo of Cinque Terre that had us dreaming of a trip to Italy. This year we're going to try to get a puzzle with a scene from Spain, a favorite destination of ours.
Buying a puzzle with a travel theme will be a great gift for anyone in your life who loves to travel and loves a project that will get them off their devices and enjoy life at home.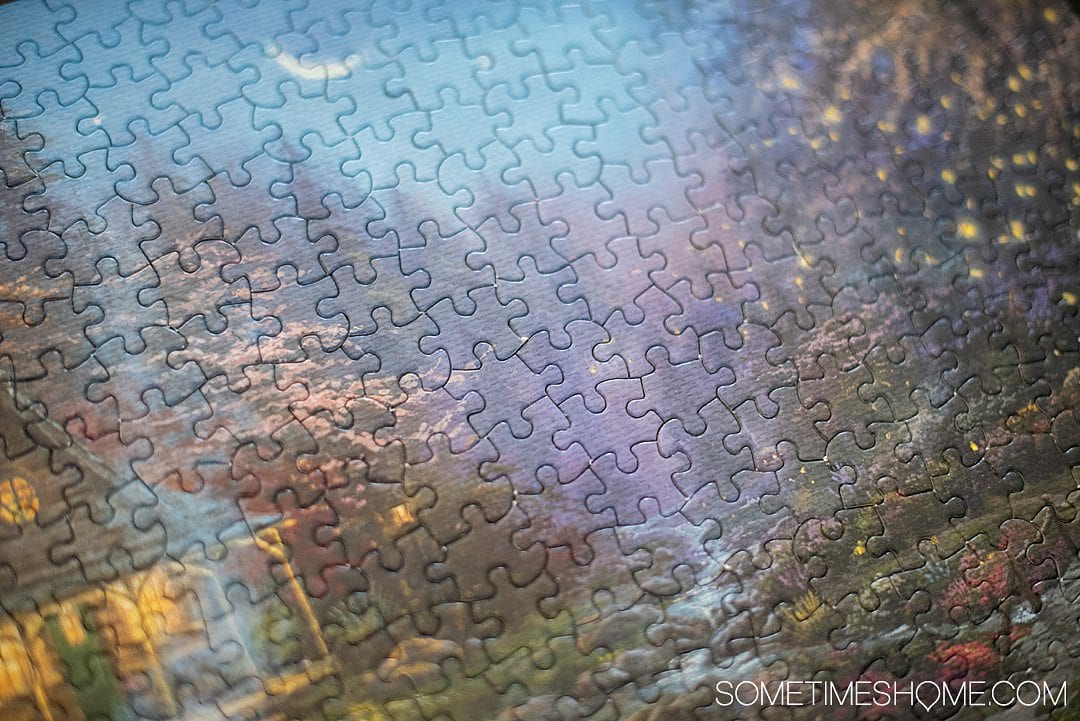 Traveling soon? Also check out: