The Harpeth Hotel Review in Downtown Franklin Tennessee
The Harpeth Hotel is a wonderful home base when you visit Franklin, Tennessee. You'll surely enjoy the property's location and amenities.
We loved our Franklin accommodations so much that we couldn't resist sharing a review of The Harpeth Hotel to shed light on what makes it great and hospitable and why it should be where you stay when visiting this Southern city.
Disclosure: We may make a small commission from affiliate links in this post which helps us to keep the website running and content free. All opinions are ours and we bring you content with genuine facts, photos, thoughts, and recommendations. Always. We thank Visit Franklin for hosting us. As Amazon Associates, we earn from qualifying purchases. This helps keep our content free and accessible to our readers.
🕐 Short on time? No Problem!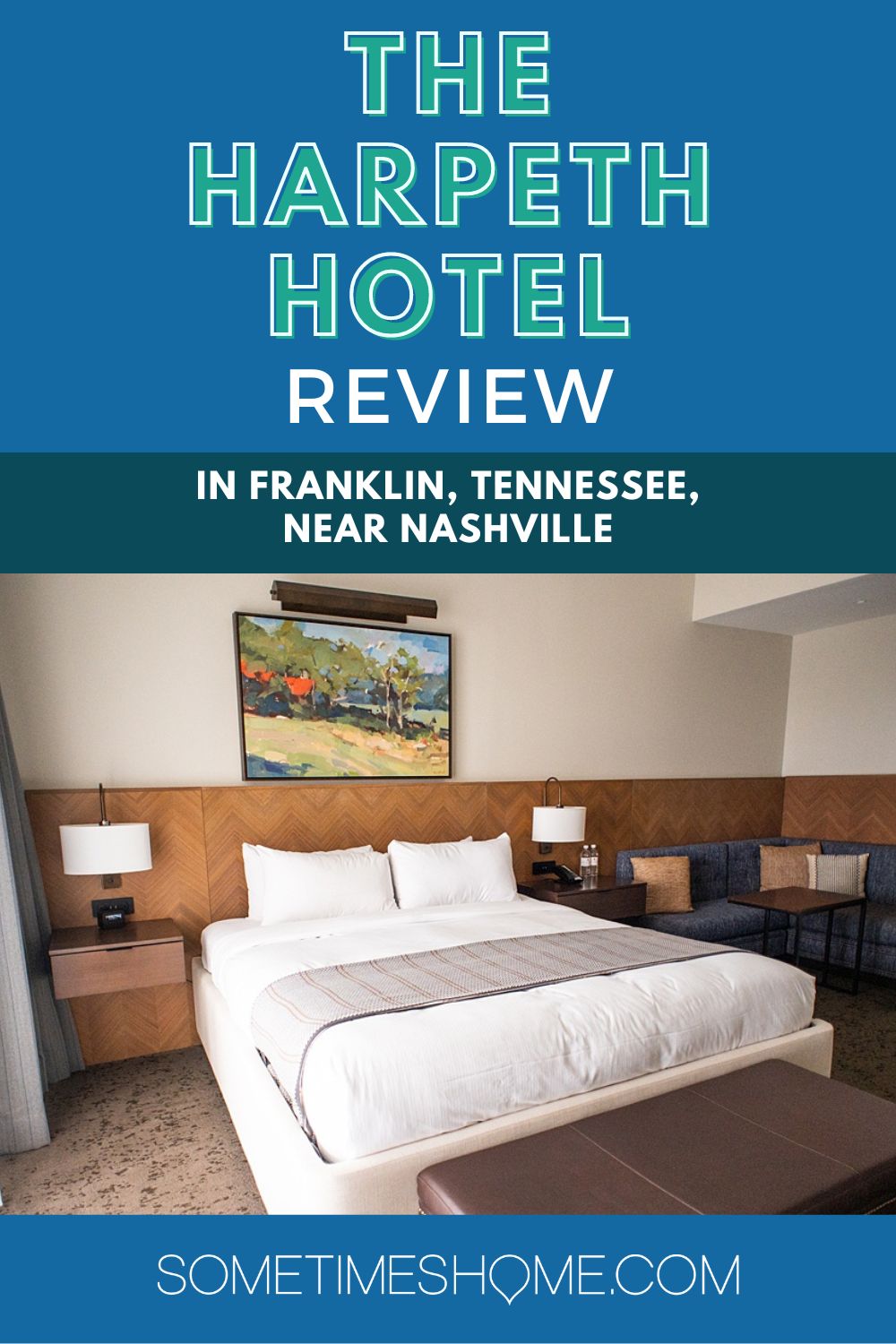 Overview of The Harpeth Hotel Review
The Harpeth is a wonderful hotel in the 16 square blocks of downtown Franklin, Tennessee. It's a 20 to 30-minute drive from downtown Nashville and within the heart of where you want to be in the city of Franklin.
If you have to drive somewhere in Franklin outside of downtown, chances are it's only a ten to 15-minute drive away.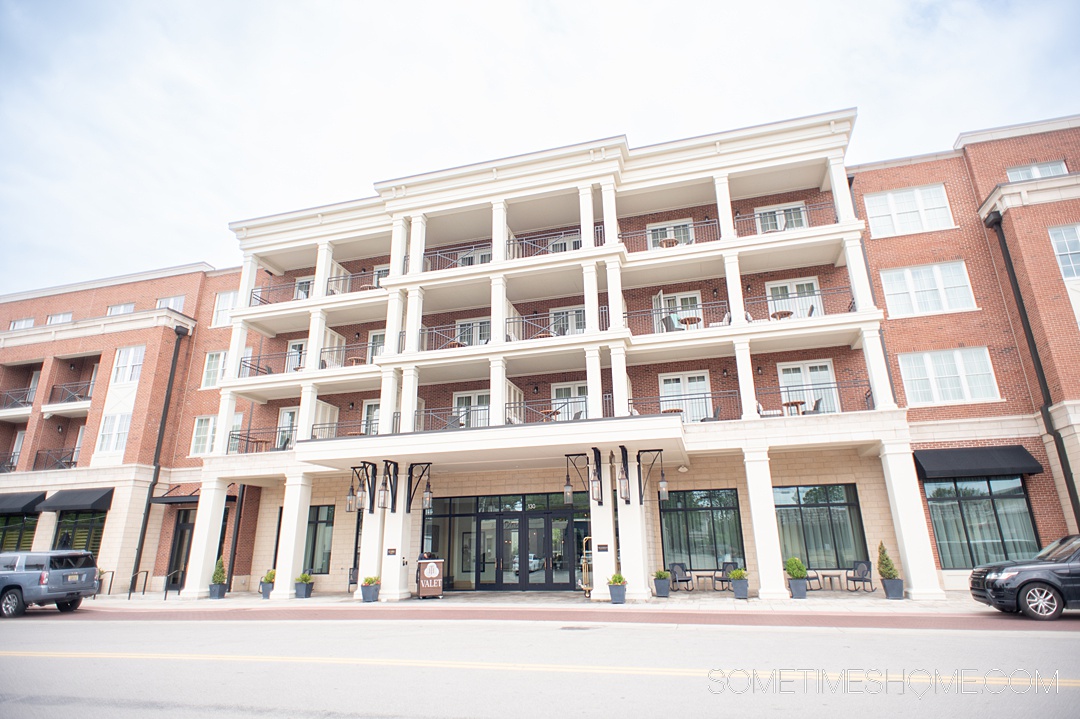 Top Things to Know About The Harpeth:
The hotel is within walking distance of downtown Franklin attractions, including cute boutiques and shops, great restaurants, bars, and live music.
It is part of Hilton's Curio Collection of upscale hotels.
The village of Leiper's Fork is an easy 15-minute drive.
Nashville is just a 25 to 30-minute drive from downtown Franklin. Considering the drive between downtown Nashville and the Grand Ole Opry is 20 minutes, the drive from Franklin to downtown Nashville is pretty simple!
The Nashville airport is only 30 minutes away by car.
Franklin a mecca for live music, just like Nashville…but less crowded and more quaint.
★ It's the only hotel of its kind in downtown Franklin. They only have 119 rooms, so reserve as soon as you know you're visiting Franklin or the Nashville area.
➜ check availability at the Hotel Now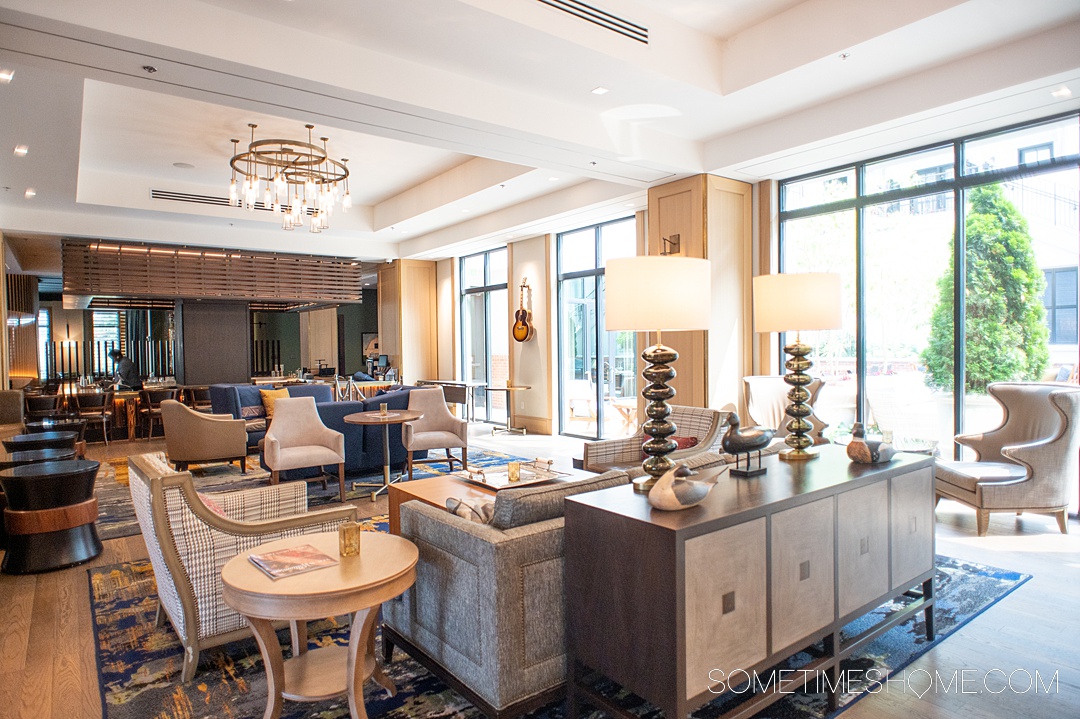 📌 The Harpeth address is 130 2nd Ave. N, Franklin, TN 37604
Location of Franklin's The Harpeth Hotel
The Harpeth is in a prime location where you can park your car and walk everywhere in downtown Franklin. You will be just a block away from the main street and a couple of blocks from where the majority of the boutiques and shops are on Franklin's main downtown street at this hotel.
It's across the street from a wine bar, steps away from an ice cream shop in one direction and one of the prettiest liquor stores we've ever been to in the other direction, and a 5-minute walk from where you can begin Franklin tours, including a Franklin by Foot Ghost Tour.
Franklin Factory is another cool local destination that is just a 5-minute drive from The Harpeth. There is a weekend Farmer's Market on Saturdays and plenty of indoor shops and eateries to enjoy any day of the week. We even recommend a paint-your-own pottery spot for a date night idea in Franklin.
Checking in at The Harpeth Hotel
We were welcomed to the hotel early in the morning with smiling faces. Though our room was not ready at 9:30 am when we arrived as we suspected it wouldn't be, the staff who greeted us was gracious and lovely.
They checked us in and took our phone number to call us when the room was ready. Our luggage was securely held at The Harpeth while we walked around downtown Franklin.
The whole check-in process was lovely, and the check-in desks were very quaint, with two chairs in front of both desks for guests to sit. The computer is tucked away under the desk for a more upscale experience.
The Harpeth Hotel Rooms Review
Hotel rooms at The Harpeth are spacious and well-designed. Ours was located on the hotel's third floor — the hotel has four total floors. Guest rooms are located on the second, third, and fourth floors.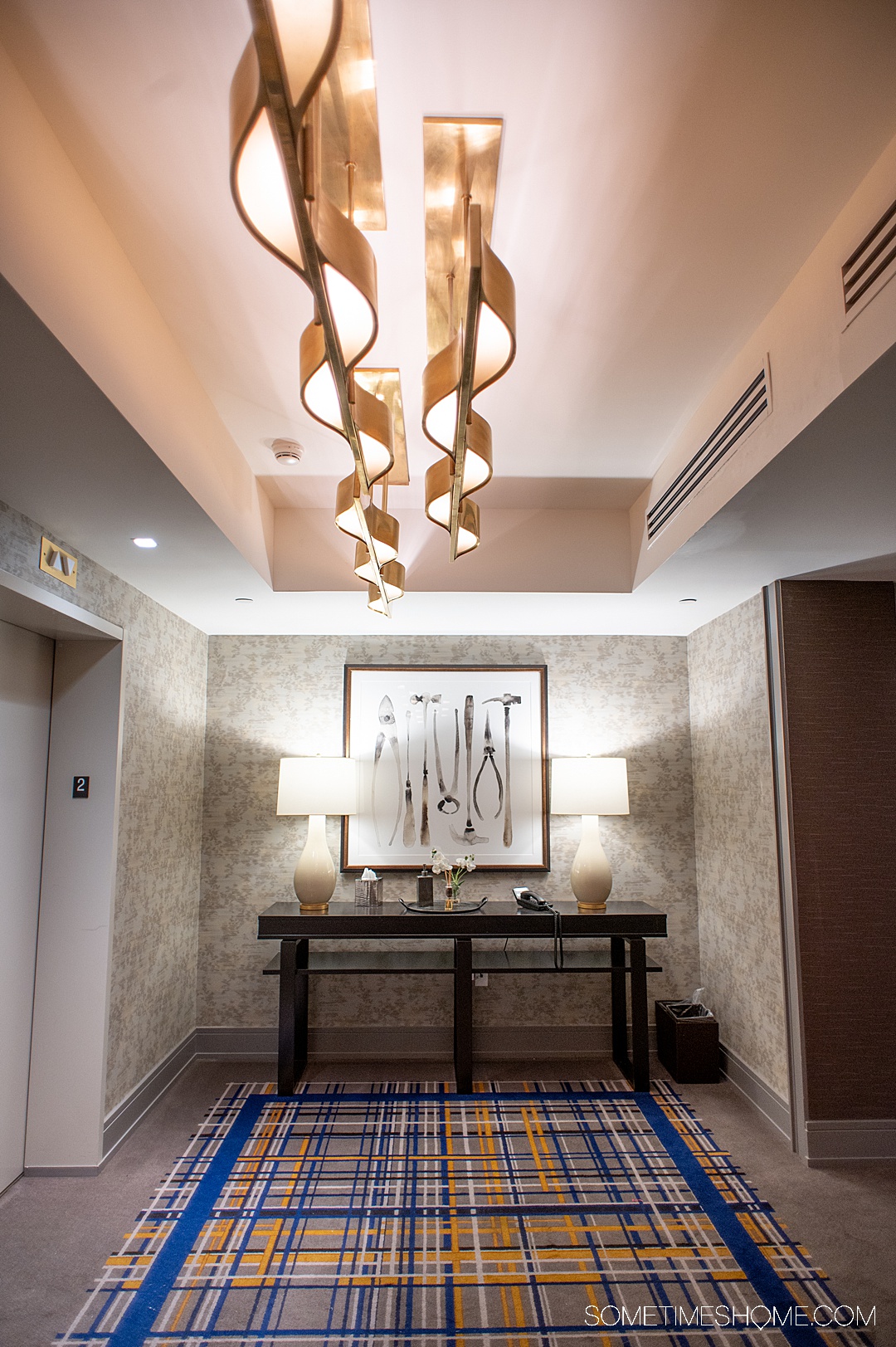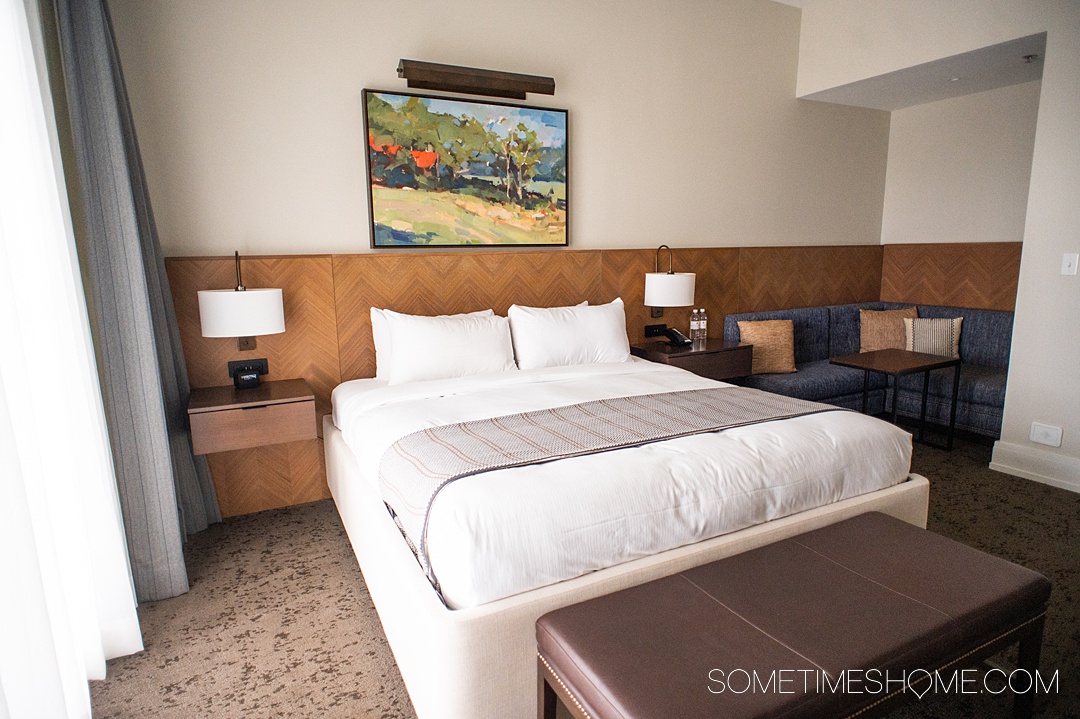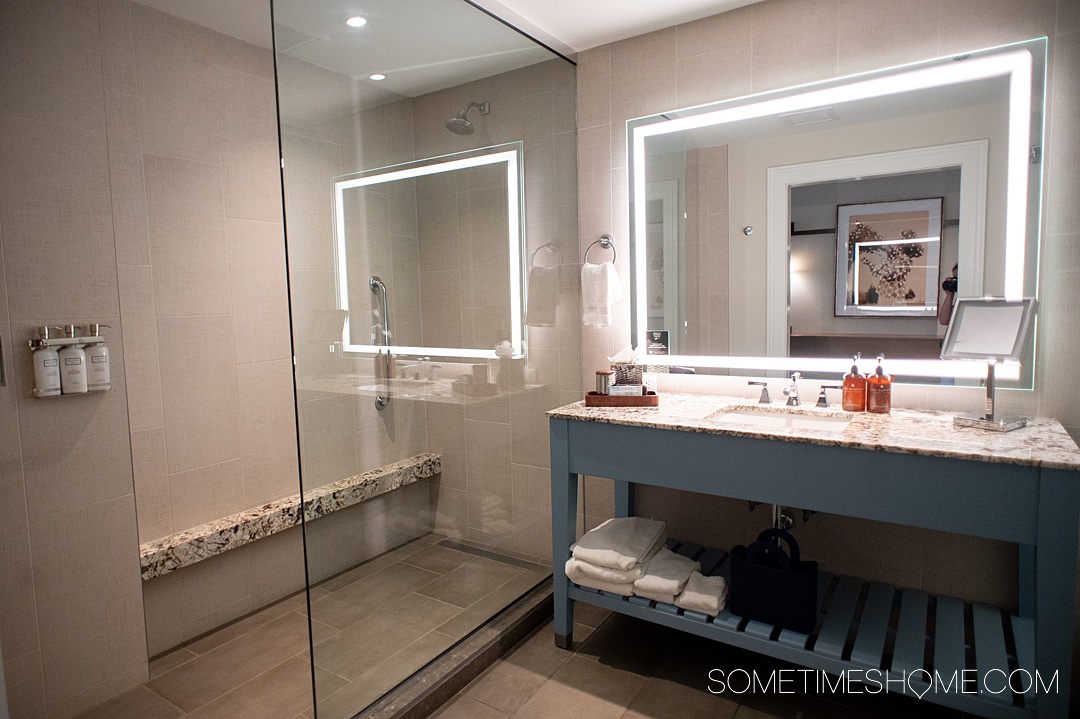 Our bathroom had a huge shower and toilet behind a separate door. The Harpeth provided Beekman 1803 bath products, including shampoo, conditioner, and shower gel. Next to the sink was a large hand soap and body lotion.
Almost every room at The Harpeth has a full or Juliet balcony. Each room has a view of Main Street, 2nd Avenue, or overlooks the hotel's landscaped courtyard.
A highlight of our hotel room was a large balcony with a loveseat, chair, and a table that overlooked Main Street in front of the building. We enjoyed breakfast and some work time there.
Our king bed had a small indoor seating area next to it with a small table in front of it. It was a great area to enjoy coffee and read.
The rooms at The Harpeth have mini refrigerators, a digital safe, bathrobes for use while staying at the hotel, and an umbrella. A small one-cup Keurig coffee maker had caffeinated and decaf pods next to it and a tea option. There was complimentary bottled water in the room as well.
Amenities and Additional Spaces at The Harpeth
The Harpeth Hotel also has the following amenities:
Fitness Center (for guest-use only)
Bar
1799 Restaurant
Indoor courtyard with seating
Crockett's Store
The Library
McGavock's Coffee Bar and Provisions
The Harpeth does not have a pool.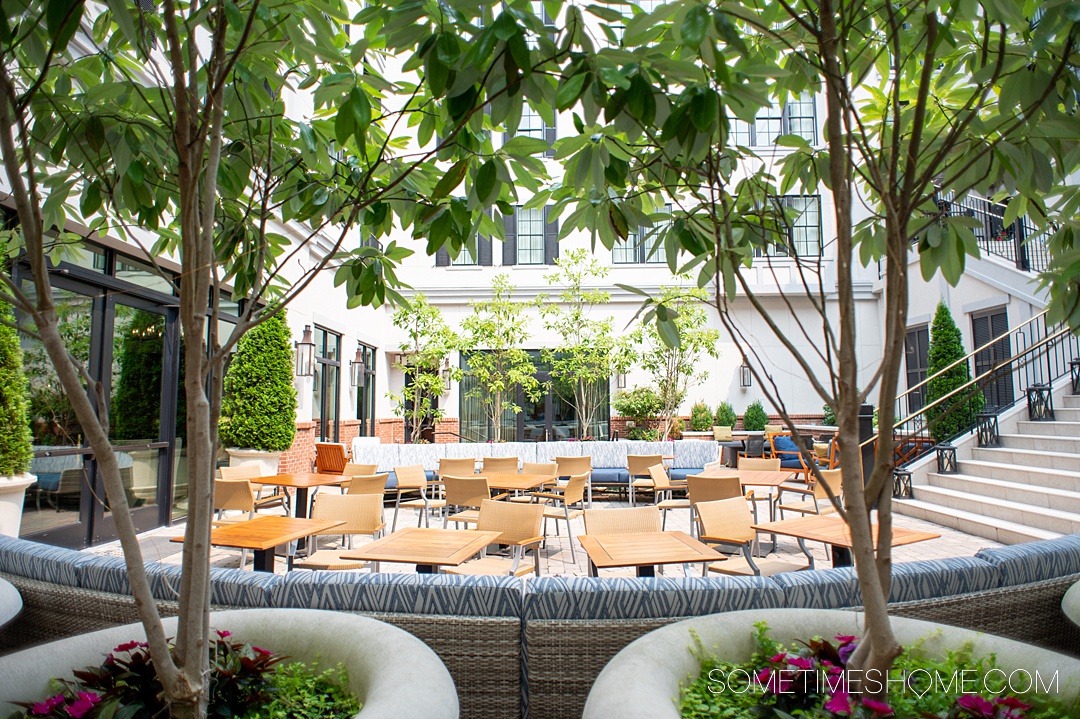 Crockett's Store
This small but mighty store is tucked behind the welcome reception area. It's part essentials store and part gift shop. In it, you'll find things like toiletries in case you forgot a toothbrush or need some headache medicine and locally crafted gifts to treat yourself or a friend.
Check out products like their Franklin, TN greeting cards or a special bourbon and vanilla signature scent candle by local candlemaker Amber Vale. Be sure to stop by the Visit Franklin Visitor Center just a few blocks away, too — the shop there carries an exclusive Visit Franklin candle by Amber.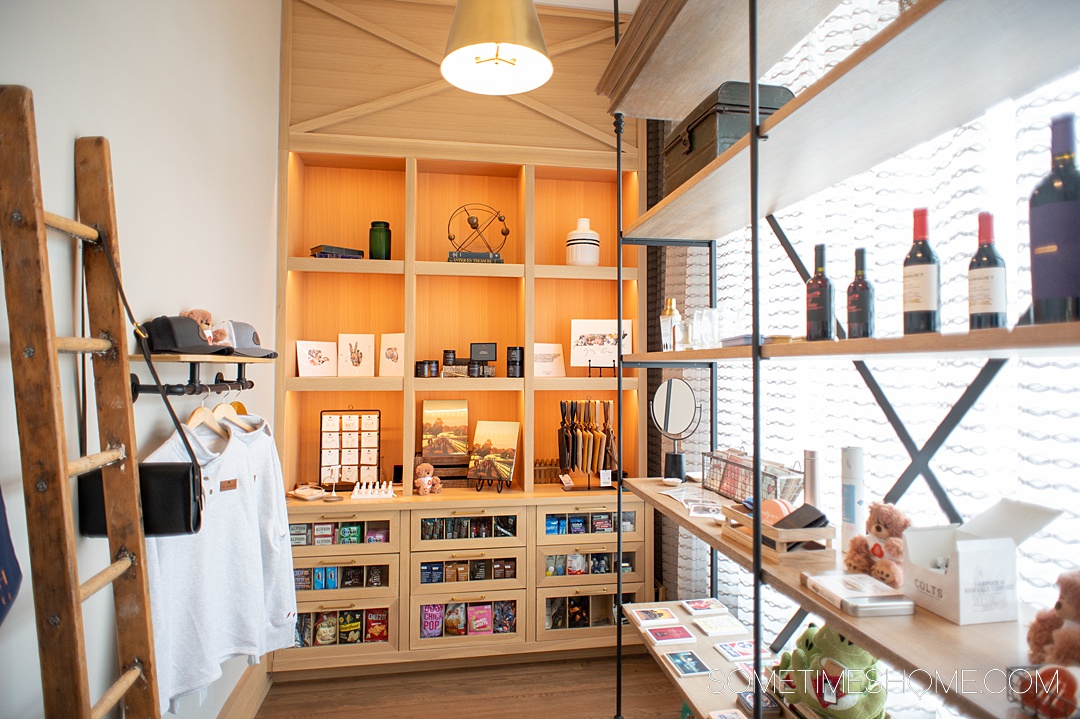 Live Music at The Harpeth
There is live music at the hotel on weekends, in true Nashville-area fashion. Even if you venture out in the late afternoon or for dinner it's nice to return to a hotel lounge area that's filled with live music.
Local and Special Touches at The Harpeth Hotel
The Harpeth has a lot of special little details that you'll love. We're sharing them in our The Harpeth Hotel review because you may not realize the attention to detail unless pointed out or explained. But they're there!
Paintings by Local Artists
The Harpeth supports locals in a variety of ways. As we mentioned, you can find local artisan products in Crockett's Store. Secondly, it supports local musicians, songwriters, and singers with their live music programming. Thirdly is the hotel art.
An example of the hotel art made by a local artist is the painting in the library area of the lobby of a black horse by Kelly Harwood. Gallery 202, his studio, is a five-minute walk from the hotel.
The black horse he painted is a special horse named Midnight Sun. Deemed the horse of the century in the mid-1940s, the stallion lived and was trained at Harlinsdale Farm across from where The Factory is in downtown Franklin today.
He was there from age four until age 25 when he died. Today, you can visit the world-famous horse's grave at what is now The Park at Harslindale Farm.
If you're into horse pedigrees, you'll know that every grand champion TN Walker has been from Midnight Sun's lineage.
If you see random miniature horses around downtown Franklin, they're likely part of a children's program to help them engage with the city's history during a Midnight Sun Scavenger Hunt.
Other paintings in the hotel, including the art in the rooms, supports local artists.
Library Curated by Local Booksellers
Several large shelves of books line The Harpeth library walls and are available to check out on the honor system. This library was curated by Joel and Carol Tomlin, who own Landmark Booksellers next to the hotel.
Hilton has proclaimed that The Harpeth library is one of their eight most beautiful worldwide.
During the holidays, you may see Joel and Carol reading stories to children and guests of the hotel.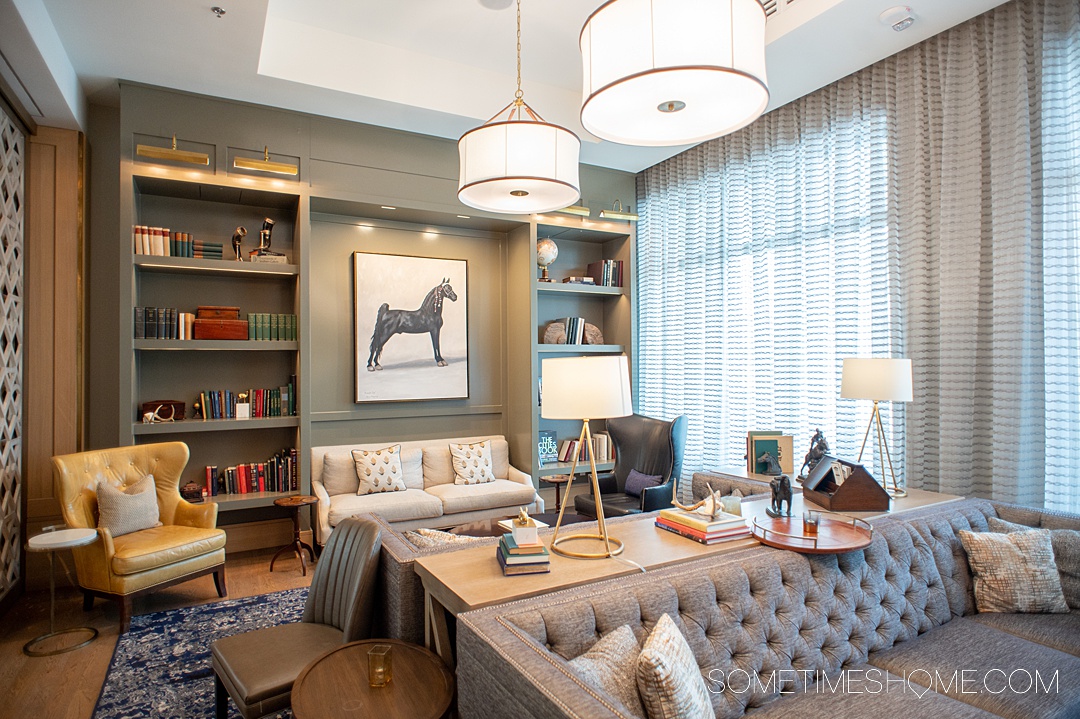 Additional Thoughtful Touches at The Harpeth
Another special touch you'll appreciate at this downtown Franklin hotel is the fruit-infused water by the elevators during the day. At night, the hydration station turns into a tea station with several flavor choices for guests.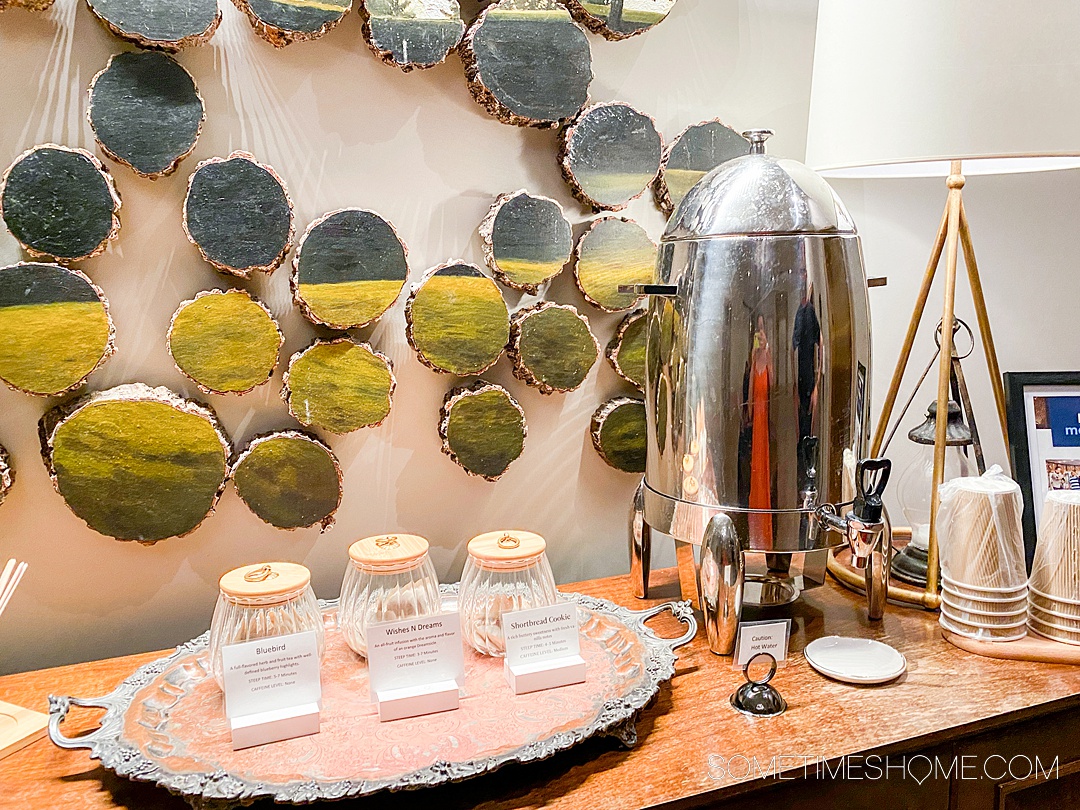 The Harpeth Hotel Drinks and Dining Options
The hotel has several dining options, including a breakfast/brunch location, a cocktail bar, and a nice restaurant for weekend brunch or dinner.
1799 Kitchen and Cocktails
Drinks
The Harpeth cocktail bar offers local beers, cocktails — including drinks made with Tennessee Whiskey, of course — and mocktails. There is seating at the U-shaped bar as well as plenty of adjacent lounge seating if you're getting a pre or post-dinner drink. Guests of the hotel and non-guests are welcome here.
We enjoyed Old Fashioned cocktails and a mocktail. Their cocktail menu has great options for people who either cannot or do not want to drink alcohol.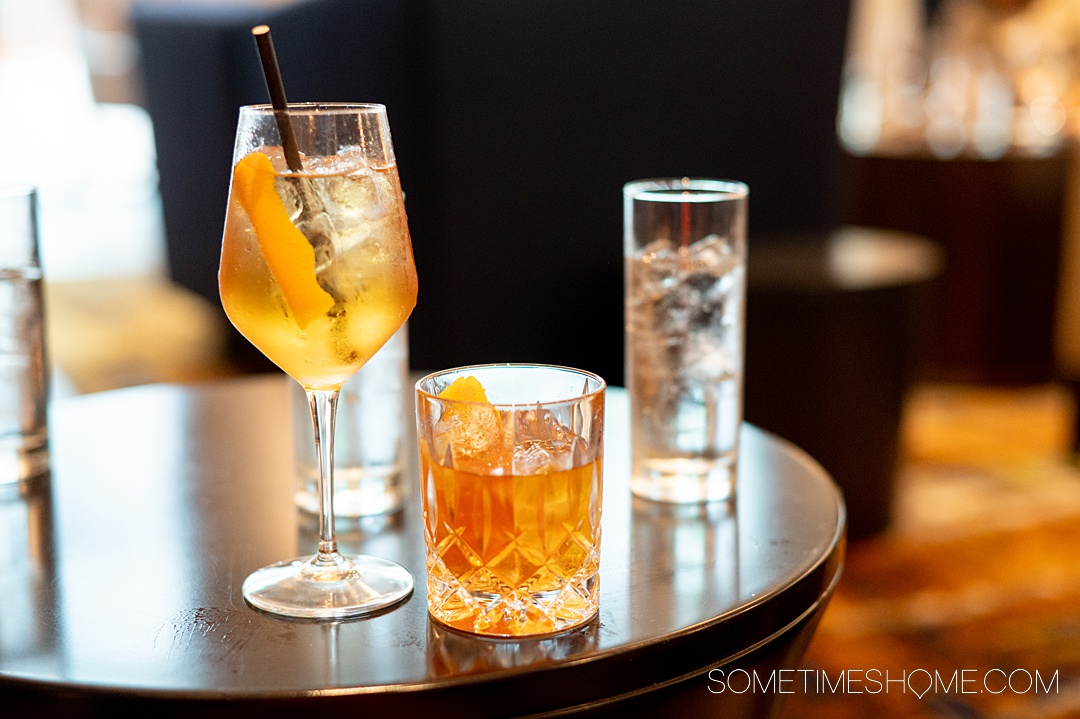 Dining at 1799
We were fortunate to dine at The Harpeth restaurant, 1799. It's a destination for hotel guests but plenty of locals as well. The upscale dining experience calls for only a casual dress code.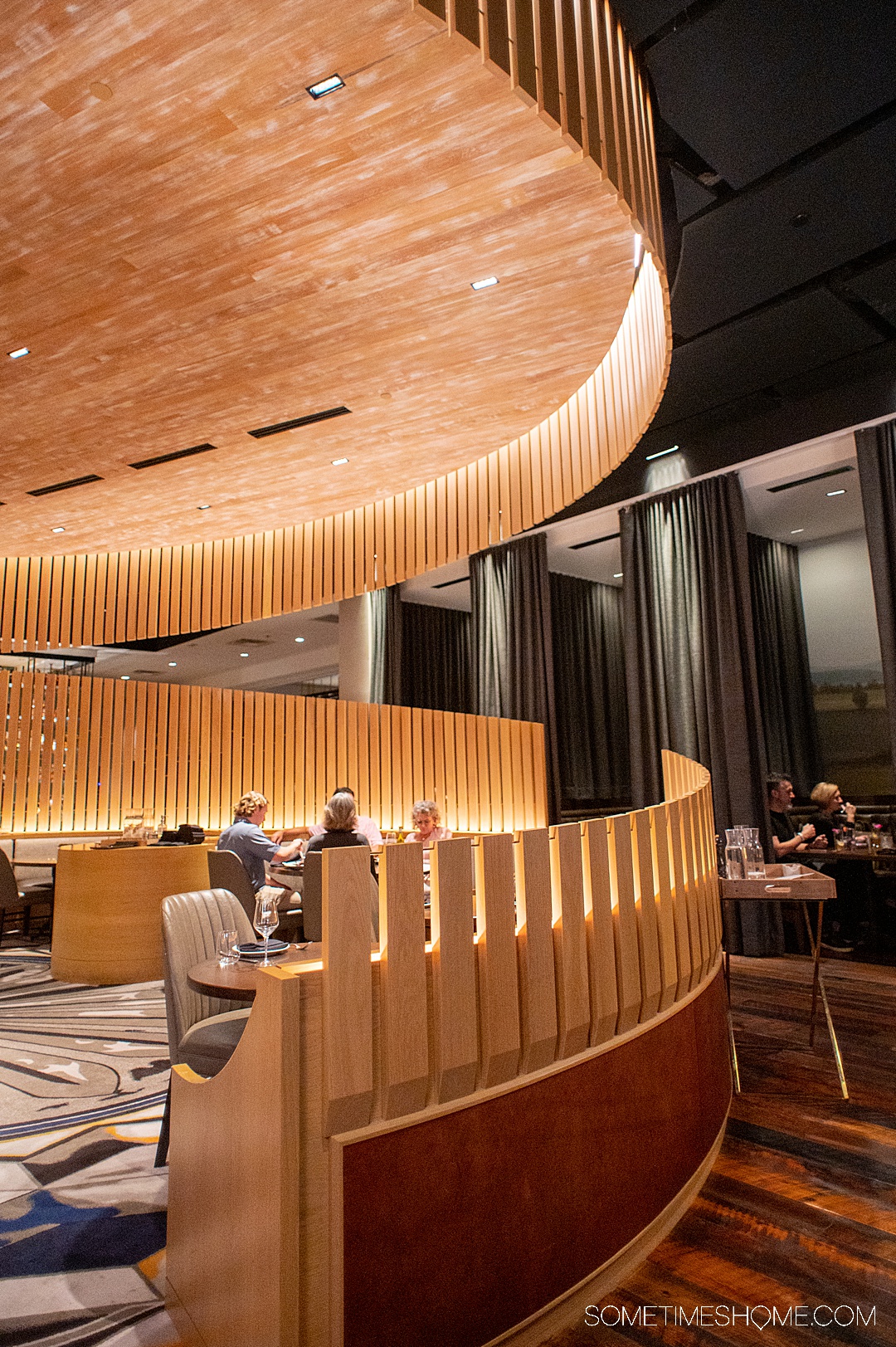 Notice the decor when you're inside. The wooden ellipse in the center of the dining area is created with the same wood that whiskey barrels are made from: white oak.
The wood ceiling is aged with the intent to resemble the bubbles created from new whiskey mash going through the aging process. And lastly, the carpet on the floor looks like you're viewing the inside of a rocks glass filled with ice poured over whiskey.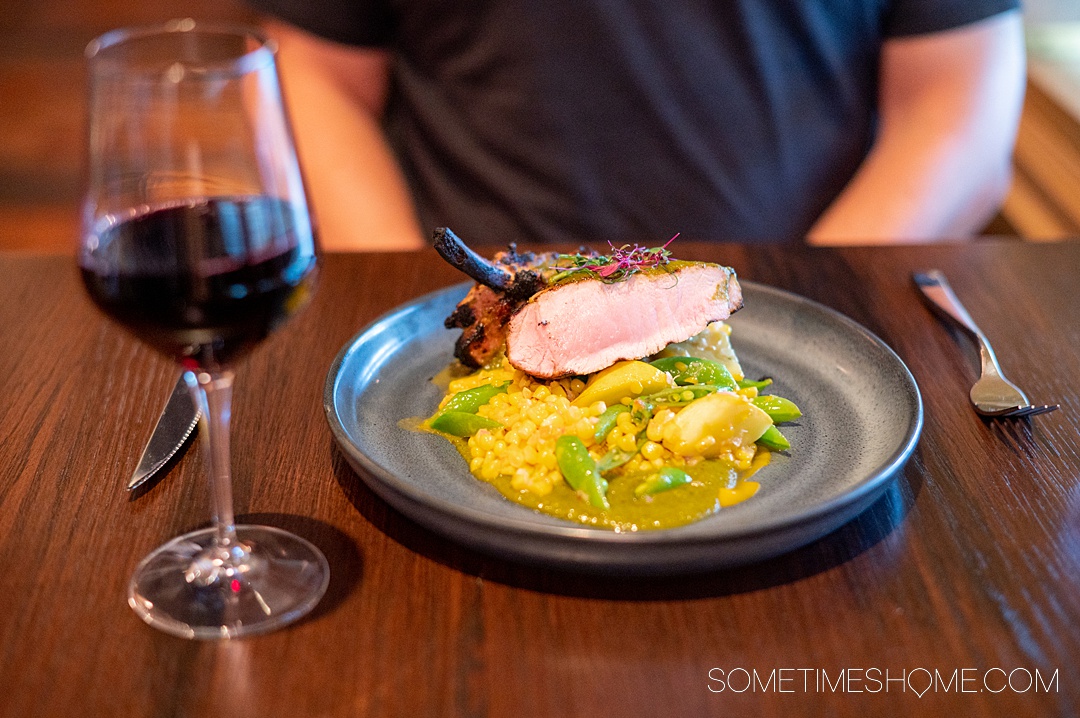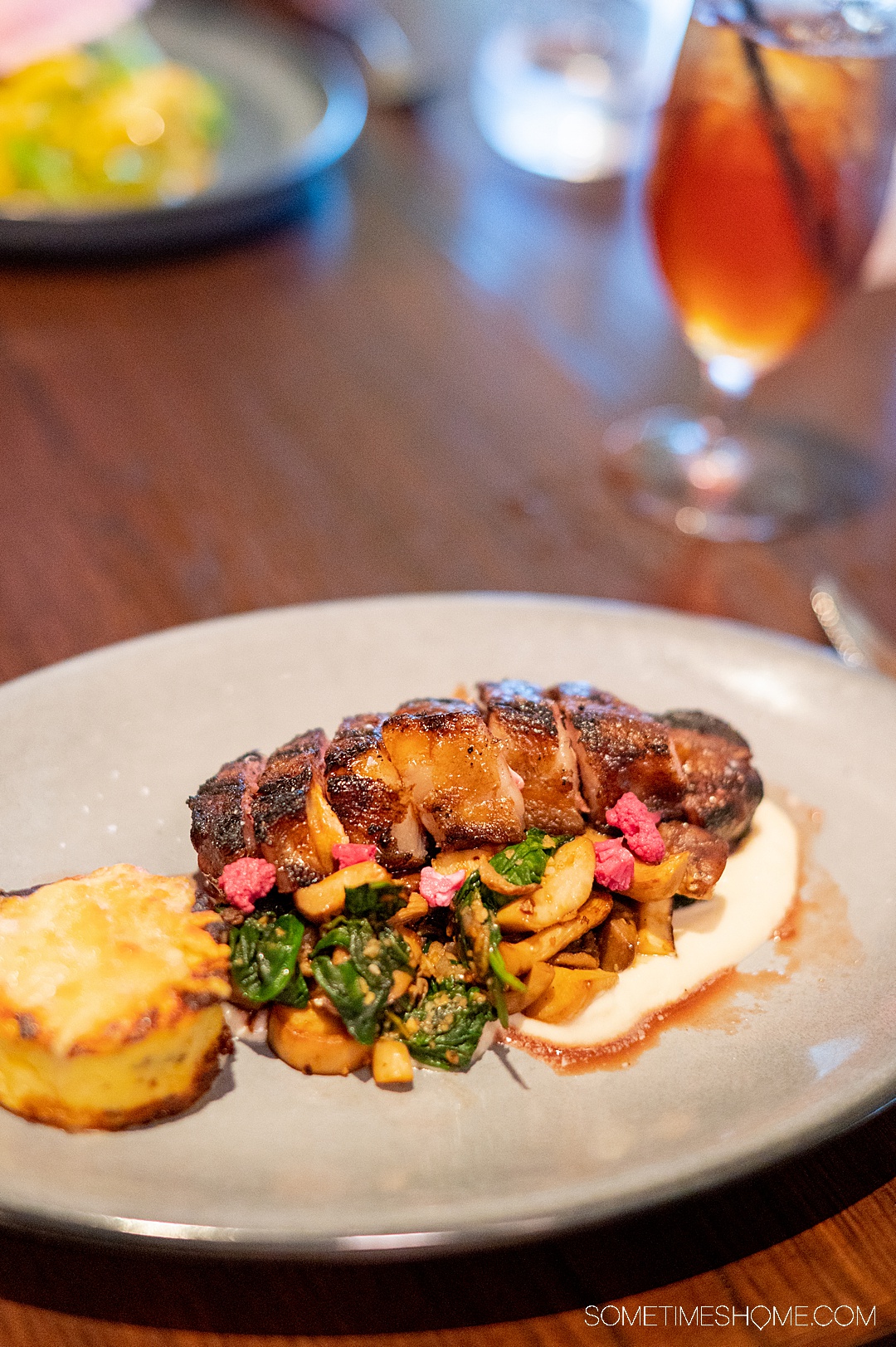 The food was delectable! We had:
Grilled Gem Caesar Salad
Pork Chops
Bison Strip Steak
Carrot Cake
Wine and Irish coffee with dessert
The standouts (though they were all great) were the Caesar salad, pork chops, and the carrot cake. We loved that they served it with a side of additional cream cheese frosting.
If Jimmy still works there when you visit, ask for one of his tables. He was one of the best servers we have ever had. We enjoyed him so much we asked to speak to the manager to sing his praises.
McGavock's Coffee Bar & Provisions
A delicious coffee bar is attached to the hotel and accessible from inside and outside the property. They serve just about any coffee drink you can think of, beer and cocktails, and a variety of brunch-focused food options, including local pastries, omelets, pancakes, sandwiches, and salads.
There is also a little shop that's part of McGavock's where you can find products made by Tennessee artisans.
Parking at The Harpeth
There is no official self-parking at The Harpeth, but valet parking is an option for $45 per night.
A public paid lot next to the hotel costs $50 per day. You can also park and pay by the hour.
However, we later discovered a free parking garage called the Second Avenue Parking Garage, two blocks south of the hotel, off of 2nd Ave. S. and E. Main Street. The parking garage address is 108 2nd Ave S.
If you arrive in Franklin with Uber, Lyft, or by taxi and you're only staying downtown, you do not need a car — everything is within walking distance in downtown Franklin.
The Harpeth Hotel Loyalty Program
It's hard to realize when you arrive or stay at the hotel, but subtle details remind you that The Harpeth is part of the Hilton brand of hotels. It is part of their Curio Collection.
If you're a Hilton Honors member, be sure to include your rewards number in your reservation. They reward guests with the option of a $30 credit or 1,000 points for their stay.
Where the Name of the Hotel Comes From
The Harpeth is named after a river that runs through downtown Franklin and the area behind the hotel, called the Harpeth River.
The name of the city block where the hotel is located, called "Harpeth Square," is also thanks to the river. In the 2010s, developers took inspiration from the Harpeth River to rename the block that includes the hotel and surrounding shops.
The Harpeth Hotel Review Conclusion
The hotel is a lovely destination in downtown Franklin, whether you're staying overnight or visiting for dinner and drinks. If you don't want to stay within a busy and over-touristed city like Nashville but perhaps want to be within easy driving distance to reach Nashville and visit the Grand Ole Opry for example, we highly recommend The Harpeth.
Guest rooms were comfortable, clean, and well-designed. We appreciated all the touches the hotel took care of, including on the property, and the staff was friendly and personable. And you simply cannot beat being within walking distance of so many great places in downtown Franklin!
Heading to The South? check out: