25 Things to Do Aboard Emerald Waterways River Cruise Ships
Our Emerald Waterways River Cruise was a wonderfully relaxing way to stay in one accommodation for an entire trip yet explore different ports and cities almost daily.
We had the privilege of sailing with Emerald Waterways, a Cruise Critic award winner time and again for "best cruise for the value". They have a fleet of beautiful upscale ships at a cost that won't break the bank.
Nearly everything is included so you never feel like you're dipping into your wallet and trip budget is increasing. You pay a price, fly to the initial point of embarkation and enjoy the included meals, beverages, amenities, rooms and tours.
One of our favorite things to do on a cruise is…to be on the ship! A river cruise ship is much smaller than an ocean cruise; guest count hovers around 200 people depending on the specific vessel (sometimes it's a tad more, often less) and the boats are small enough to sail on rivers (not the sea) throughout Europe, Asia and beyond. 
Being on the Emerald Sky for a sailing that started and ended in Amsterdam, discovering The Netherlands and Belgium over eight days, was rewarding in itself.
One concern we've heard from people about river cruising is "boredom". That perhaps due to the small size of a river cruise ship someone may find him or herself bored! But we did not feel that way at all. We found there was plenty to do in the limited time we were actually aboard.
We even met many repeat sailers who opted to be on the ship when given the choice of free time in the ports/cities or staying onboard, depending if they'd been to the port before or not. There is no shortage of things to do on Emerald Waterways river cruise ships. Here's our top 25 things to do when aboard…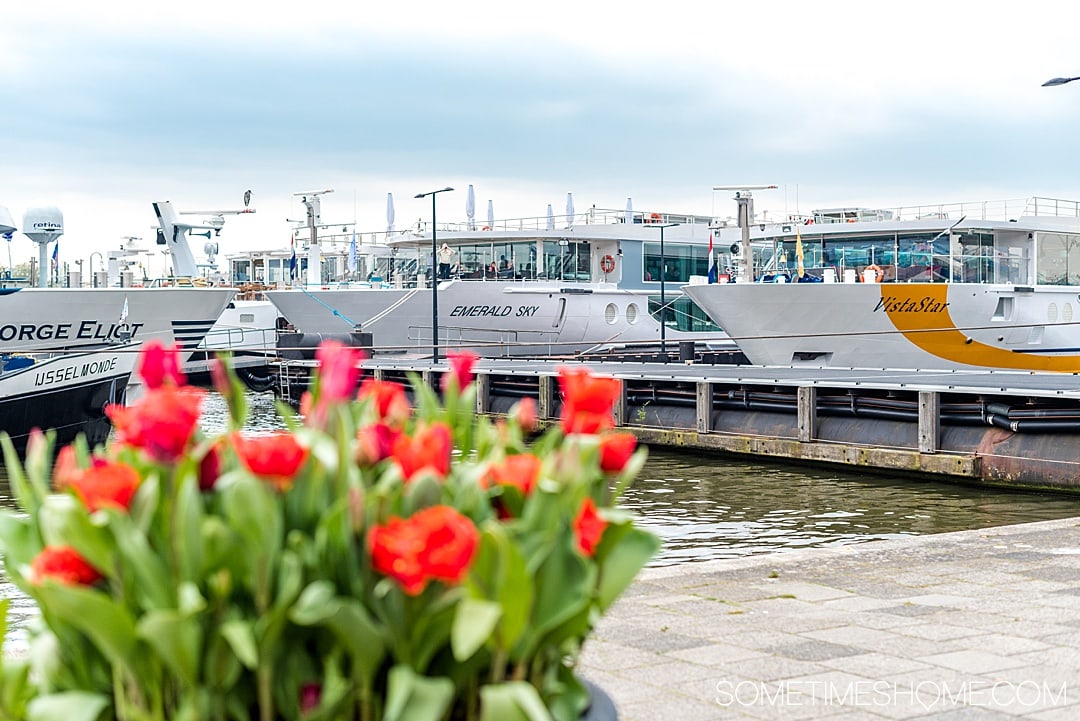 1. Swim in the Pool
We took to the pool like moths to flames, as they say. I think one could say it even converted us to "pool people." We couldn't wait to take our first dip in it, the first day. It was great despite overcast weather in Amsterdam. (Which, lucky enough, was the only overcast day our entire trip.) The pool got even better, however, when it was a sunshine day several days and ports later and the staff opened the retractable roof! We were happy cruisers, swimming in the sun.
We found there were never more than five or six people at a time at this European Emerald Waterways river cruise ships amenity. (And twice we were the only ones in the pool.) So be sure to enjoy this river cruise oasis especially because you may just have it all to yourself.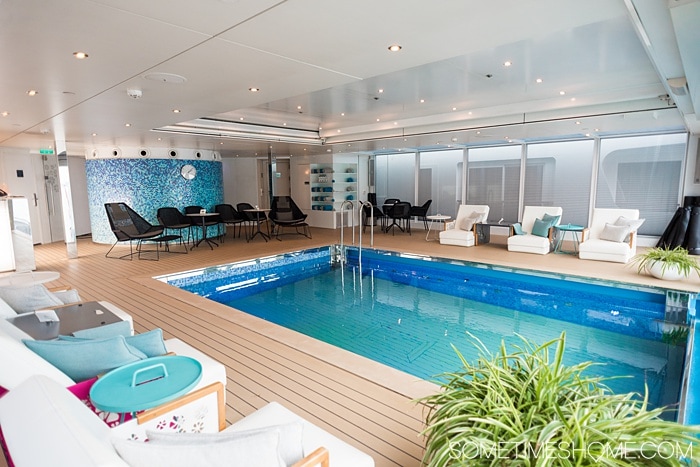 2. Make Yourself a Beverage From the Ultra Lux, Self-Serve Hot Beverage Machine
Do not think of drip coffee or a hot water spigot for tea, here. Think high end, luxury coffee, latte, mocha, espresso maker. The first thing we did when we got onboard, actually, was made ourselves some caffeinated drinks.
Brew yourself your beverage of choice, any time of day, and simply relax for a little in the lounge area. You've earned it! Cruising is a break from normal life and day to day tasks, after all. Where else can you be your own barista and sink into comfy couches while sipping your creation? (Don't worry – cruise staff is nearby if you need assistance.)
They also have a jar of buttery shortbread cookies right next to the machine at all times because Europeans often serve hot beverages with a sweet sitting on the saucer. The cookies are a big hit onboard and we love that Emerald Waterways has gone the extra mile to provide them their guests.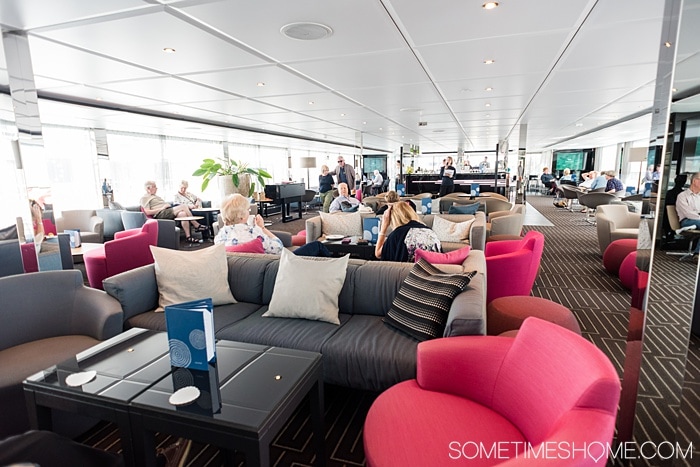 3. Take a Nap
This isn't as obvious as it seems! One of the best memories we have from the trip was enjoying our Panorama Balcony in our cabin on a gorgeous 70 degree day. The sun was shining into our room as the fresh air infiltrated the space. We lied down on the comfy bed and…fell asleep.
It was so peaceful and relaxing. Sometimes adults need "permission" to sleep during the day as if it's an activity only babies are allowed to partake in. Well, if you need permission we officially give it to you! We woke up refreshed and rejuvenated, ready for dinner. We can't recommend a snooze with the balcony window open enough!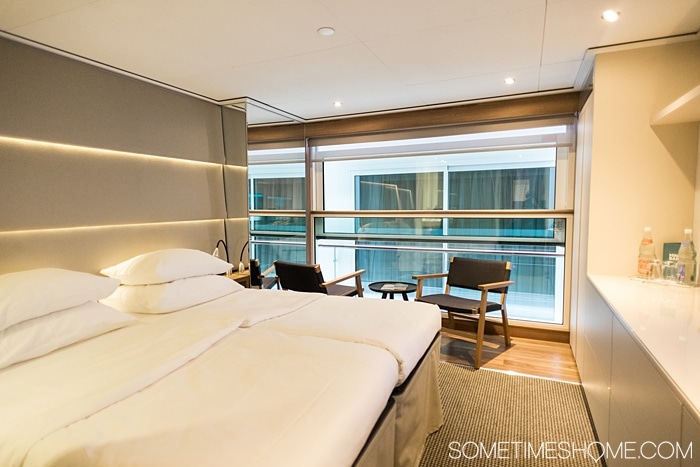 4. Start the Day Right with a Filling Breakfast
It quickly became apparent one of the things we most enjoyed was finding our new friends on the ship each morning to have breakfast together. And we quickly took to having nearly the same thing everyday, not because there weren't options but because we adored our choices and knew the days were numbered to have it on our 8 day cruise. (For Mikkel it was smoked salmon on toast with sliced tomatoes, cucumbers and capers. For Dan it was some of their delicious crisp bacon strips, scrambled eggs, some cheese and fresh fruit.) Start the day off just right with a filling breakfast, savory or sweet (or both).
5. Take a Galley Tour
We always love a behind-the-scenes look at what goes on in the crew areas of the ship. A galley tour of the ship's kitchen was offered, complimentary, when we were aboard the Emerald Waterways Emerald Sky ship. We jumped at the chance and the tour that lasted about 20 minutes or so. The head chef showed attendees where the food for guests was made, in a small yet productive kitchen. And we were able to ask questions and learn more about how they keep things efficient and on schedule. It's a fun behind-the-scenes look that will make you appreciate the ship even more than you already do.
6. Watch the Scenery from the Top Sun Deck
We enjoyed seeing the scenery from the top deck of the ship in many ports. It was particularly picturesque when we docked in Antwerp, with great architecture around and a Ferris Wheel in the near distance and Rotterdam with its modern buildings and quirky Erasmus Bridge, seen below. Many times the best view on the ship was from the top.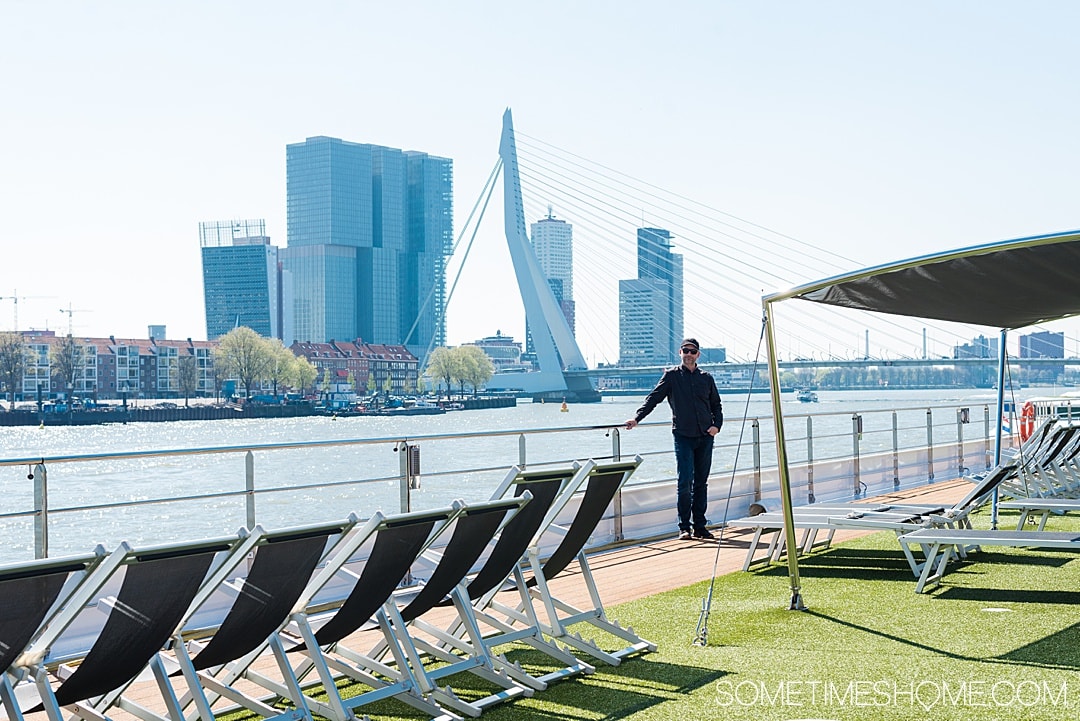 7. Indulge in Afternoon Snacks
There were often snacks in the bar area near the ship's lounge in the afternoon. Little tea sandwiches and sweets were available for consumption and were the perfect bites to keep our tummies from grumbling between lunch and dinner.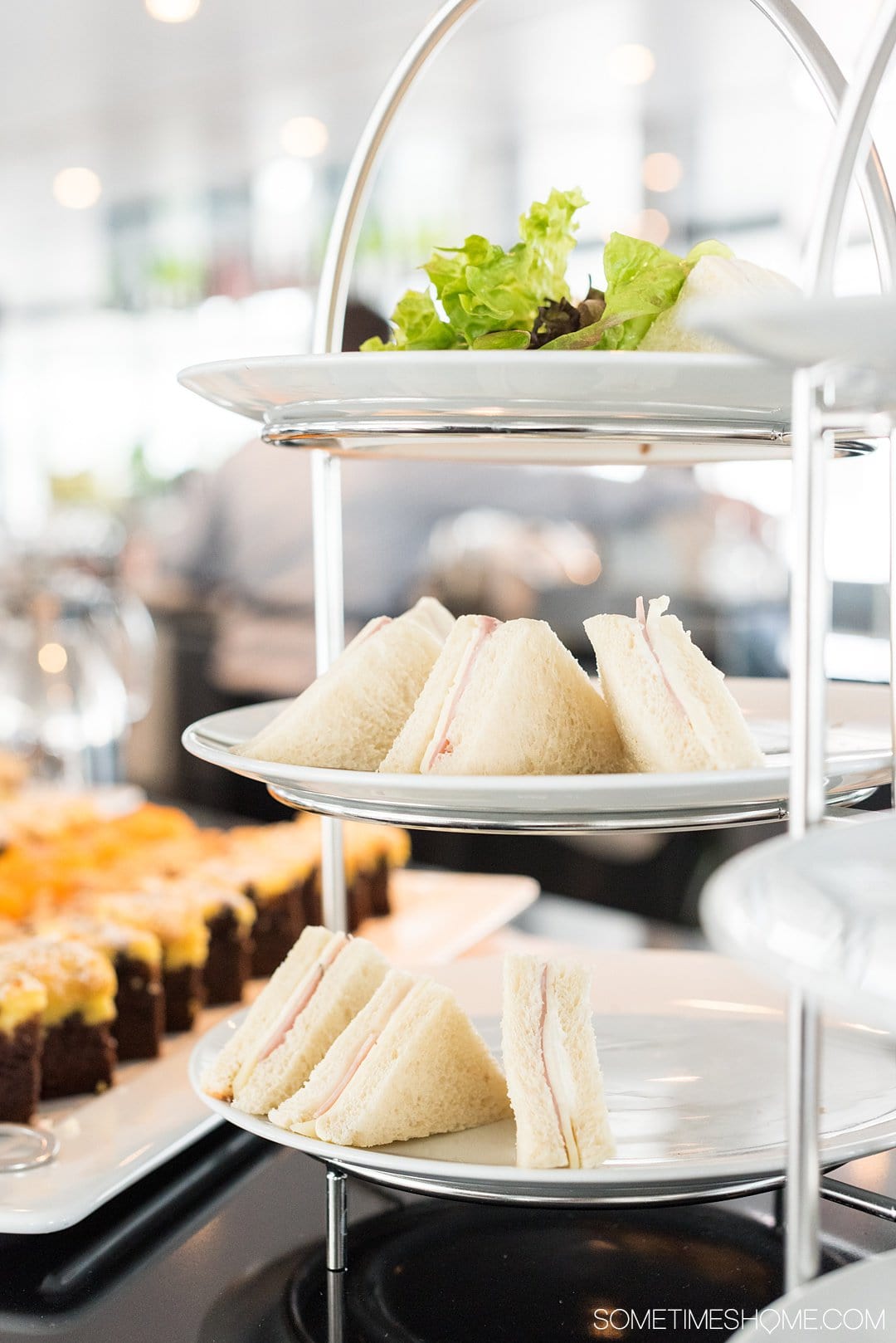 8. Get a Massage or Facial
It's time to fully give into cruising and the rest and relaxation you're seeking! What better way to do so than with a massage or facial in the spa room? Be sure to book quickly at the front desk when you embark because availability is limited. (Onboard booking, only.)
9. Watch a Movie
We thought one of the coolest things about the pool was the top can be covered by a retractable floor, thus converting it into a little movie theater. (Take a look at their video showing how the transformation happens.)
Movie watching is sometimes on the navigator schedule as an evening activity option. Yet we also found the movie selection in our stateroom to be quite impressive if the isn't a movie on the schedule but you're craving some cinema magic.
10. Have a Sit Down Lunch
No matter the port we were docked at one of the things we looked forward to each day was a midday sit-down meal. It was the perfect ship checkin for us and chance to refuel with fresh food, some wine or beer (included!), and run back to the room if needed before the rest of the afternoon. It was also great to see our new friends during lunch. Being able to chat about the city we were in and share ideas for things to do and see (besides the included tours if we were desiring solo exploration) was valuable to us.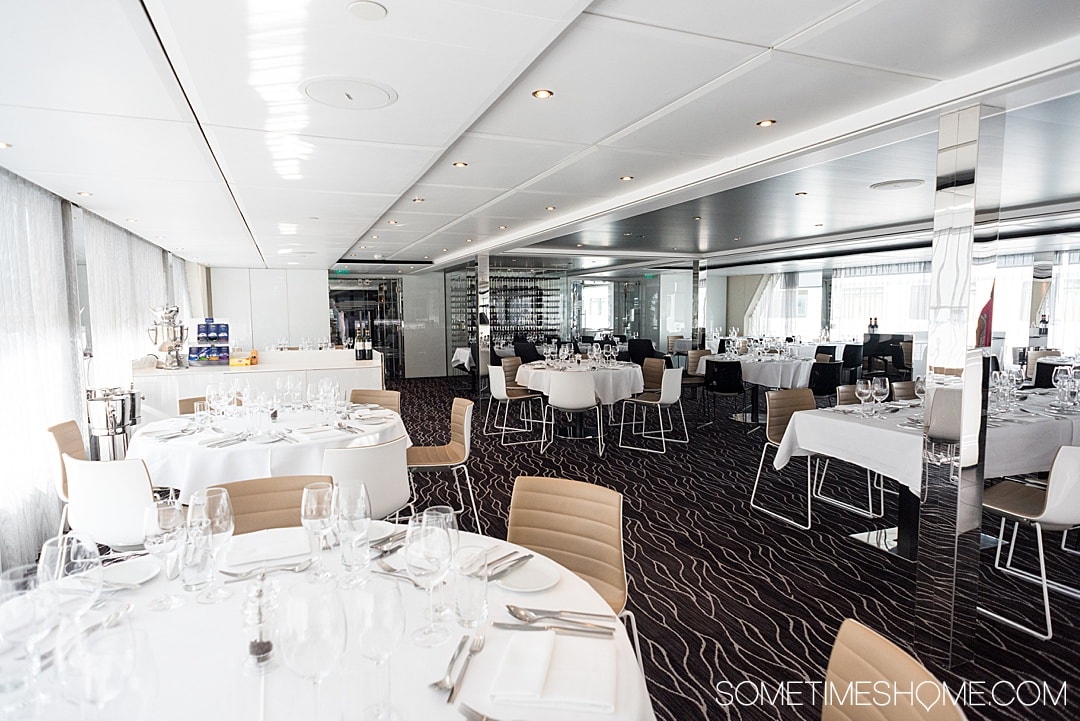 11. Have a Quick Lunch
Lunch in the dining room, mentioned above, takes about an hour. It was nice they had an option for cruisers desiring something a bit quicker in case they wanted to pop by the ship briefly to maximize their port time even more. A self-serve buffet included hot and cold options and waiter service offered alcoholic and non-alcoholic beverages.
12. Be An Active Participant in Evening Activities
There's an Activities Manager on the ship whose sole job is to make sure there's activities that interest guests and get them excited. Some of our favorite evening activities included a Disco Dance Party, trivia, and a live violinist + pianist duo.
13. Dress Up for Dinner
Dinner was a fun time to get a little more dressed up than daytime, though not required. Mikkel wore a dress once or twice, or jeans with heels and a nice blouse. Meanwhile Dan enjoyed wearing button down collared shirts and nice shoes to dinner with dark jeans. It was fun to feel like each night was a mini date night.
Whether you're with family or friends you can make each night a bit more special by dressing up a little!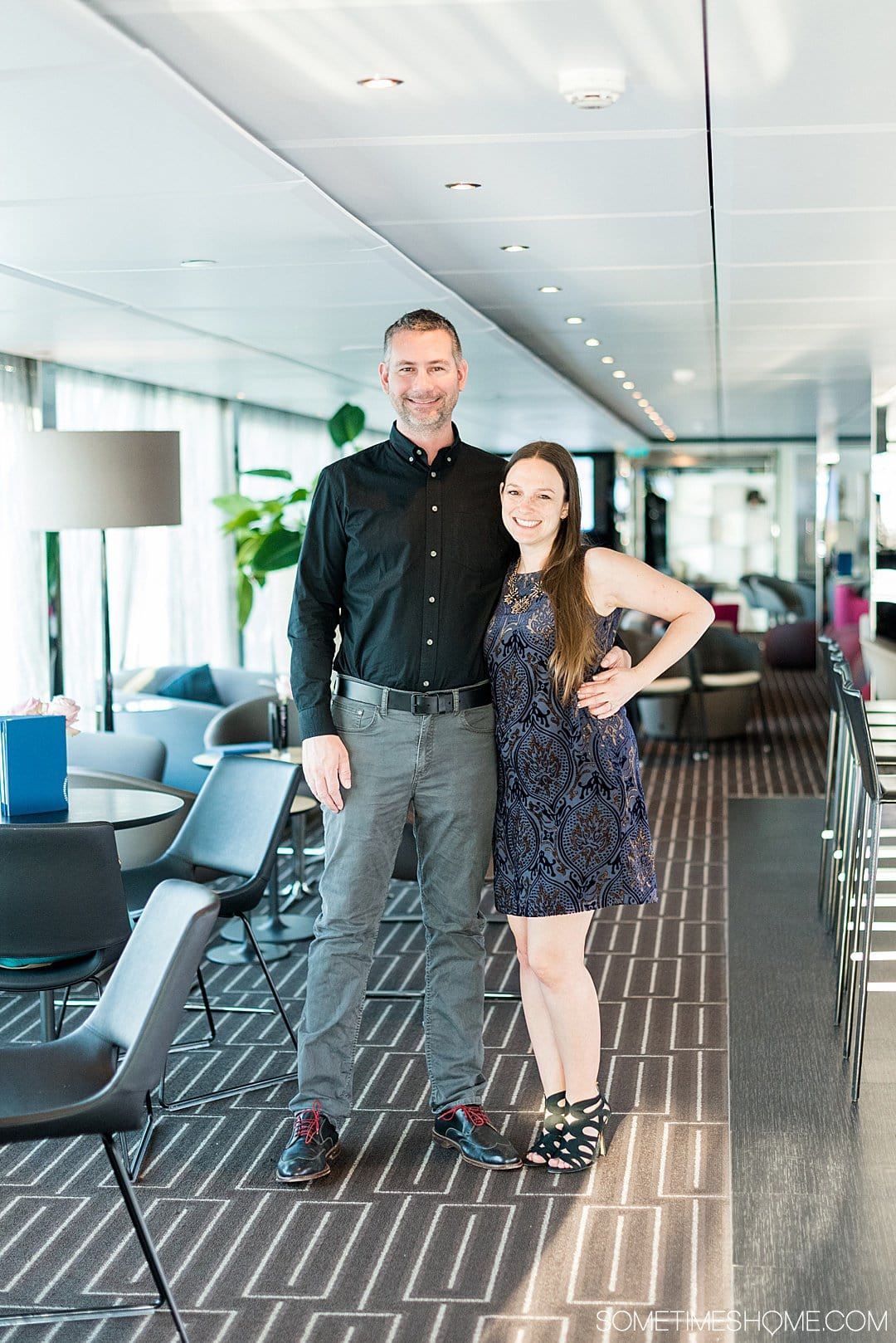 Also we can't pass up the opportunity to include a photo of their beautiful dinner plating. Here's simply one example of all the beautiful plates presented to us throughout the cruise…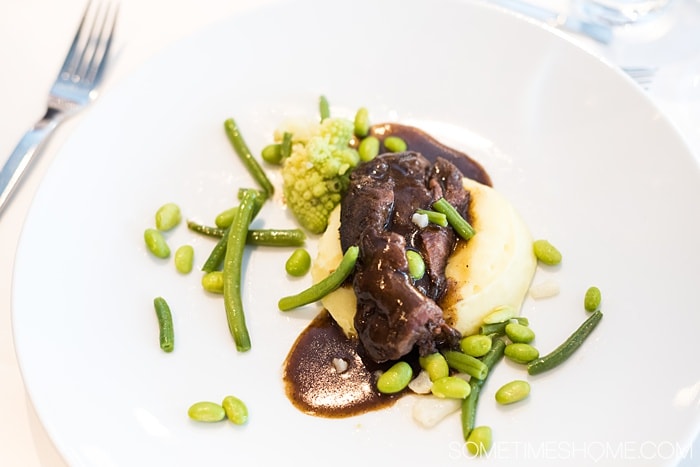 14. Get an After Dinner Drink at the Bar
We didn't opt for an alcohol package on our Emerald Waterways river cruise but we didn't feel we needed it. We had beer and wine included in lunch and dinner and, on occasion, enjoyed a drink afterwards at the lounge bar. It was a perfect nightcap before heading back to our cabin to rest overnight for the next day's activities.
15. Participate in Onboard Activities, like Painting or a Glass Blowing Demonstration
One of our favorite activities aboard the Emerald Sky river cruise ship during our sailing in The Netherlands and Belgium was clog painting! This spoke to our art-loving hearts.
We visited the Zaans Schans museum and traditional Dutch village that morning and saw how clogs are carved. So we were extra excited to paint our own that afternoon! We spent about an hour painting (Mikkel was so into it she could hardly stop!) and they were great souvenirs to bring home and gift to family.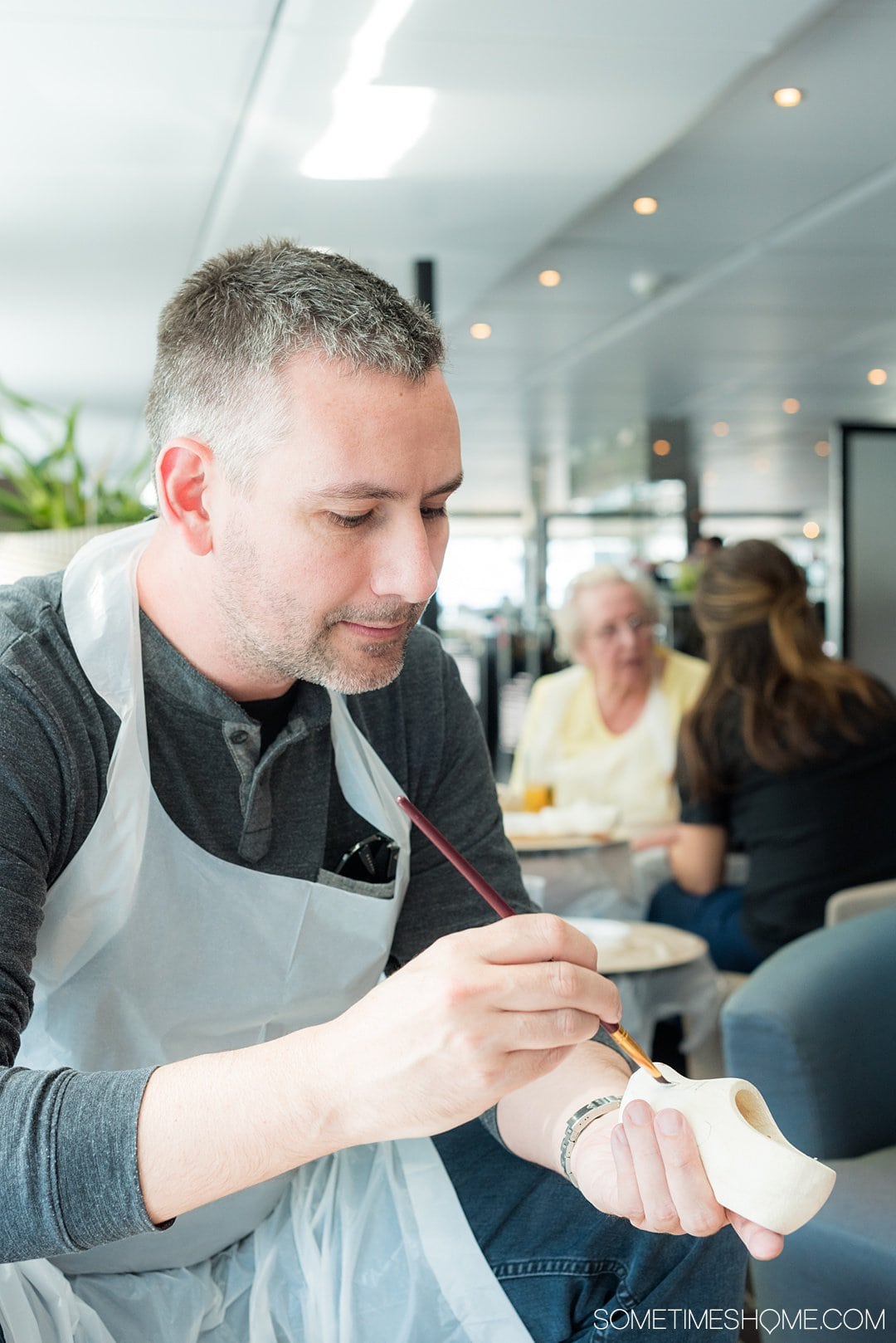 We saw a friend aboard a sailing on an Emerald Waterways river cruise in Germany that invited a glass blower onboard for a demonstration. How cool is that?
The point is, Emerald Waterways does a good job at incorporating the culture from the place(s) your visiting. Clogs are iconic in The Netherlands and we loved painting our own aboard our cruise ship.
16. Workout in the Fitness Center
Though the fitness room on the Emerald Sky was small they did have one. If you are interested in an extra workout everyday (or some days) outside of the steps walking around quaint towns or walking around the ship try the fitness center. We noticed a workout bike, free weights and a treadmill.
17. Run or Walk the Track
If the fitness center isn't where you want to be (especially if the scenery is ideal as you sail) then we recommend taking advantage of the ship's track. It encircles the perimeter of the Sun Deck on Emerald Waterways river cruise ships so you essentially kill two birds with one stone: exercise and enjoy the view.
18. Take Photos of the Ship
The ships are so interesting and beautiful you'd be upset if you came home without photos of it. Schedule some time onboard to walk around with a camera, capturing its beauty from the staircases, to staterooms, hallways, and sun deck.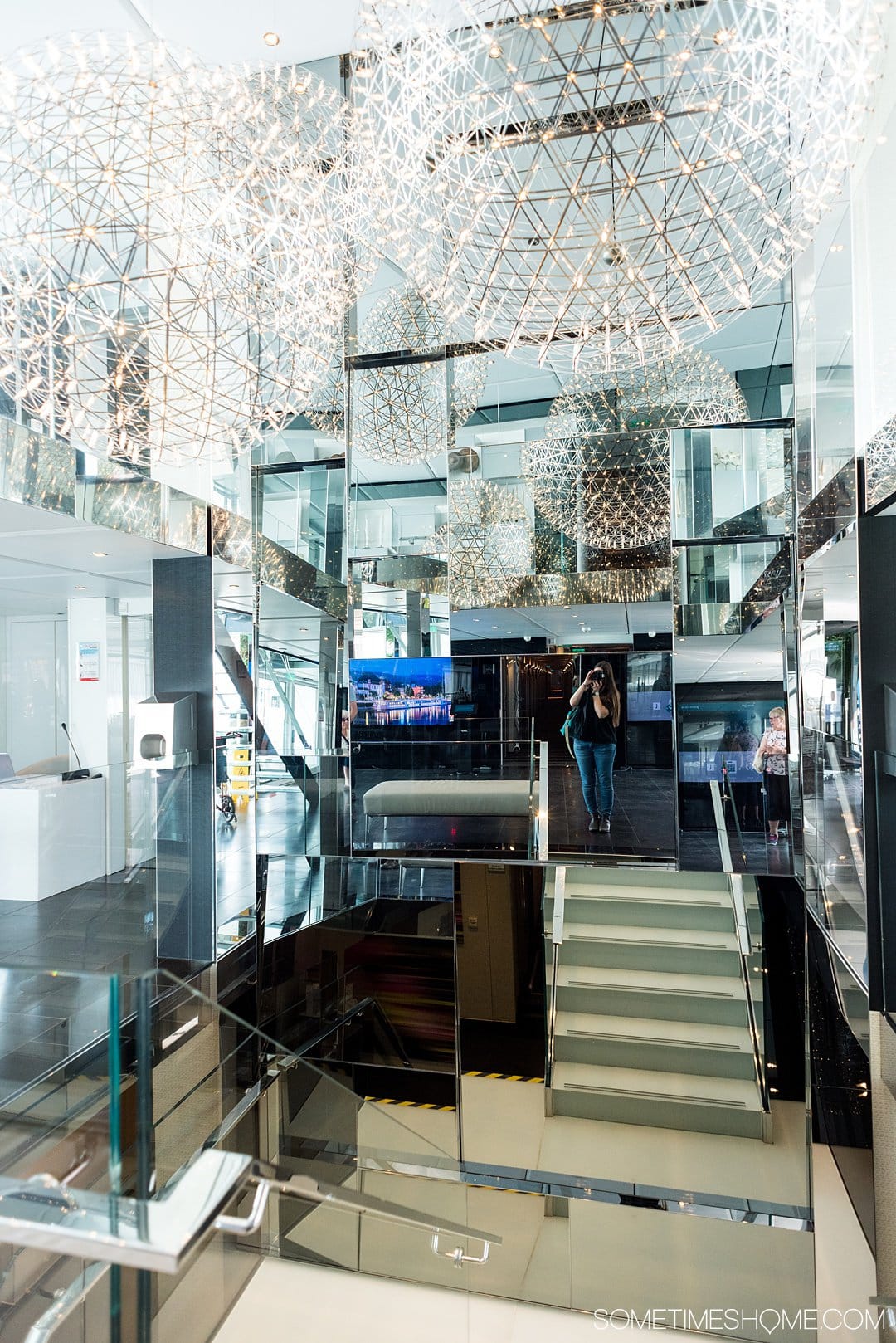 19. Sun Bathe
We really lucked out with great weather during our cruise in April. In fact, it was warm enough to sun bathe on the top sun deck during the day. Weather you wear a bathing suit or your casual daytime clothes soak up the warmth of the sunshine as you lounge on a chair on the sun deck in favorable weather.
20. Enjoy the Locks
It's easy to "oooh" and "ahhh" at the marvel and engineering feat that is: locks.
Locks, which allow human control of water levels in rivers, are a huge part of what makes river cruising possible. You may look out your suite windows one day to find…concrete! Don't panic. You're probably inside a lock.
No matter your age, admiring the engineering of a lock while onboard the ship – whether in your room or on the top deck, or forward or aft balcony – is simply awe-inspiring.
21. Play Games
Discovering oversized Tic-Tac-Toe on the sun deck spoke to our inner child. We thought it was so cool to see a putting green up there too! Challenge a friend or partner to a game with X's and O's or practice your "swing" on the putting green.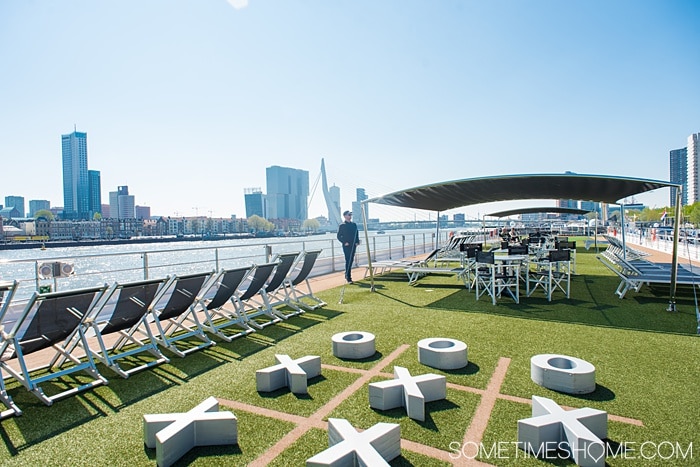 22. Enjoy the Outdoor "Terrace" Deck on an Emerald Waterways River Cruise
We loved taking time to sit on the forward deck, the "Terrace," which was filled with chairs and blankets in case there was a chill in the air (which is common when you're on the water). It's size was small enough to make it feel intimate yet large enough we never had to wait for a seat. There's plenty of room for everyone who wants to be there.
23. Sit by Your Balcony
One of the things we most looked forward to on the Emerald Sky was their revolutionary balcony option. The Panorama Rooms have mechanical glass windows that slide down, halfway, making the space next to it in your room an instant balcony.
Don't forget the amenity this is, in itself, and make a point to sit in the provided chairs to enjoy your riverfront view. Besides, why should your towel animals have all the fun?
24. Engage in Retail Therapy aboard Emerald
Though we're not going to pretend there's an opportunity for a shopping spree on the ship (which is a good thing, isn't it?) there was just enough to get a retail therapy fix if you were craving one.
There was a small retail "pop up" for scarves, purses and jewelry onboard at scheduled times near the front desk or lobby area. There's also usually a small setup somewhere on the ship with a glass case with things like bracelets and necklaces for purchase.
25. Watch Sunrise…or Sunset from the Emerald River Cruise Ship Decks
Because what better way to start or end your day than with peaceful scenery like the photo below? Especially on a quiet, small river cruise ship. Serenity…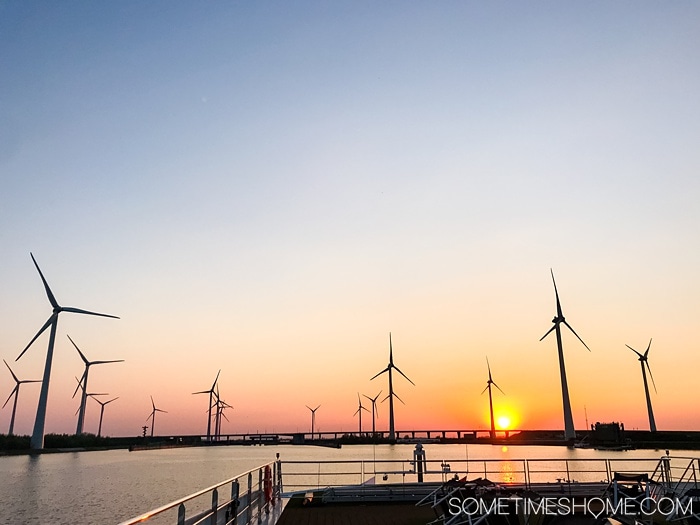 Interested in sailing on an Emerald Waterways river cruise? We don't blame you. They have plenty of sailing options to fit your budget and geographical preferences.
Please note: We thank Emerald Waterways for generously hosting us. All the opinions in the post are ours and we bring you genuine content with real facts, photos and thoughts. Always.
Heading to coastal cities in Europe? Also check out:
Have you been on a river cruise ship?