Things to Do in Hammondsport during a Weekend in the Finger Lakes, NY
A refreshing three-day trip to the Finger Lakes region resulted in a weekend filled with things to do in Hammondsport. We were on our way to Buffalo and decided to "detour" to make the Finger Lakes in New York a priority on our spring road trip.
This equated to three days in an absolutely delightful town and area with plenty to do over the weekend. Hammondsport's "small town" vibe will leave you feeling refreshed and renewed.
We are sharing where to stay, where to play and where to eat and drink!
Disclosure: We thank the Point of the Bluff and The Park Inn for generously hosting us. We also may make a small commission from affiliate links in this post but all opinions are ours and we bring you genuine content with real facts, photos, thoughts and recommendations. Always. As Amazon Associates, we earn from qualifying purchases.
Where to Stay in Hammondsport: The Park Inn
The best area to stay within Hammondsport is the center of town. It's within walking distance of the waterfront (Keuka Lake, to be exact), restaurant options, and a cute park across the street.
We stayed at The Park Inn, which is housed in the oldest building in town. It's been modernized with all the amenities you'd expect in a 21st-century hotel, including wifi, televisions, and modern bathrooms.
➜ Search for availability at The Park Inn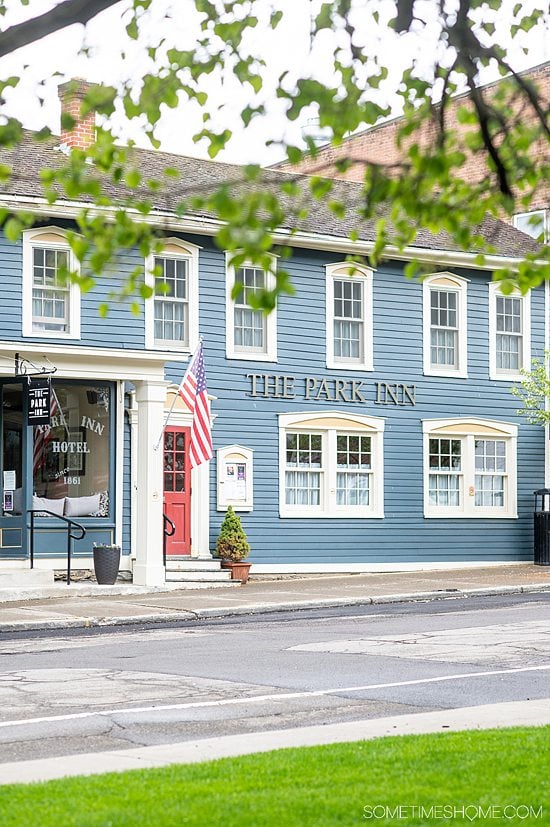 About The Park Inn
We enjoyed two lovely nights here. We were happy to park our car at night and walk to various places in town, then simply drive to areas around the lake during the day, for sightseeing.
History of The Park Inn, Hammondsport
The Park Inn was built back in 1828 as a tailor shop, named, "Latimore Taylor Shop." It was an inn years later, by the 1830's, which went by the name Urbana House.
But by 1861, John Jacob Frey purchased it and added more rooms and facilities. Namely, he expanded the cellar to make wine. He called the Inn, "The Park Hotel," and his winery was named the, "Germania Wine Company."
Today, The Park Inn is owned by the same family who owns the restaurant downstairs of the same name. They also own Point of the Bluff vineyards and winery, Glenn Scott Farms and Crooked Lake Ice Cream Company, which is next door to The Park Inn and serves more than dessert.
The Park Inn remains the oldest building in Hammondsport!
Location of The Park Inn
The Park Inn is on Shether Street in Hammondsport, NY, in the Finger Lakes. It's not hard to find with its pretty blue facade, just across from the local town center park.
The small town center takes up only one square block of space. Street parking is easy to find during spring. (And we're guessing not too difficult during summer!)
Address: 37 Shethar St, Hammondsport, NY 14840
Our Accommodations at The Park Inn
If you know you want to stay at The Park Inn and there's availability – BOOK IT! There are just five rooms here. We were in room 2 and loved it!
Check-in was seamless: the Inn Keeper, Marie (who was wonderful – helpful, lovely, and oh-so-friendly) emailed us before our arrival with the door code to do a self check-in after 3:00pm the day we arrived, which was a Friday. (We visited Corning, NY, beforehand to go to the Corning Museum of Glass and have lunch before check-in.)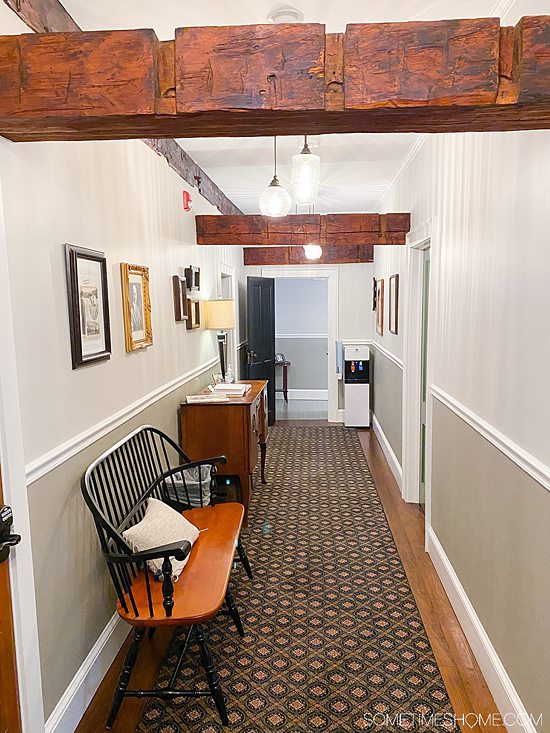 Our room was also self-check-in, which was up a short flight of steps and down the hall. Inside was a sitting room with a couch, desk and television.
There was also a mini fridge and coffee maker, with local coffee from "Gimme! Coffee" in nearby Ithaca, which Marie shared she vacuum seals herself. This, along with the boxed water in the fridge (instead of plastic bottles) is an eco-conscious choice to cut down on waste and also support local.
The bathroom was pristine and pretty! The shower was tall and slender – definitely not big enough for two people but good for one!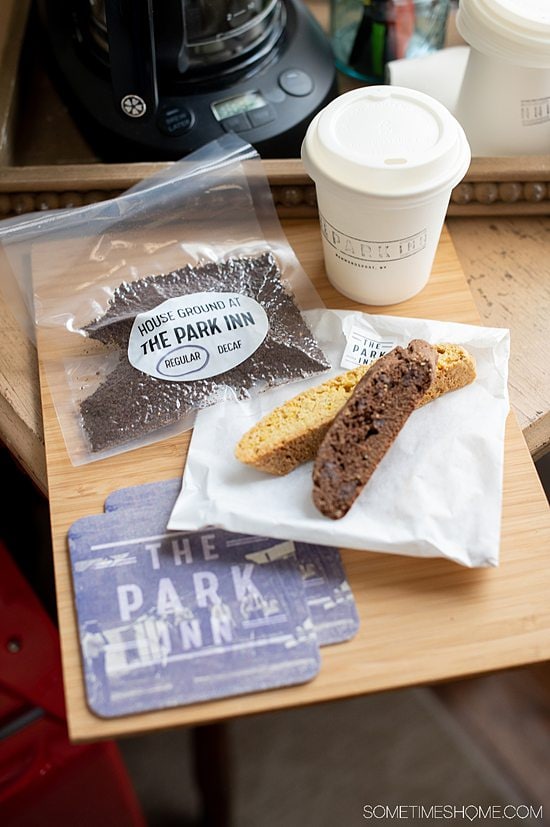 It's an old building, and the only time we were reminded of it was hearing a little noise come through the floor from the restaurant below in the evening.
But they have quiet hours from 11:00pm to 7:00am, allowing us a restful evening. (This was kind of the same experience we had when we stayed in Pinehurst, NC, at the Magnolia Inn. It's also an old building with a restaurant on its main level.)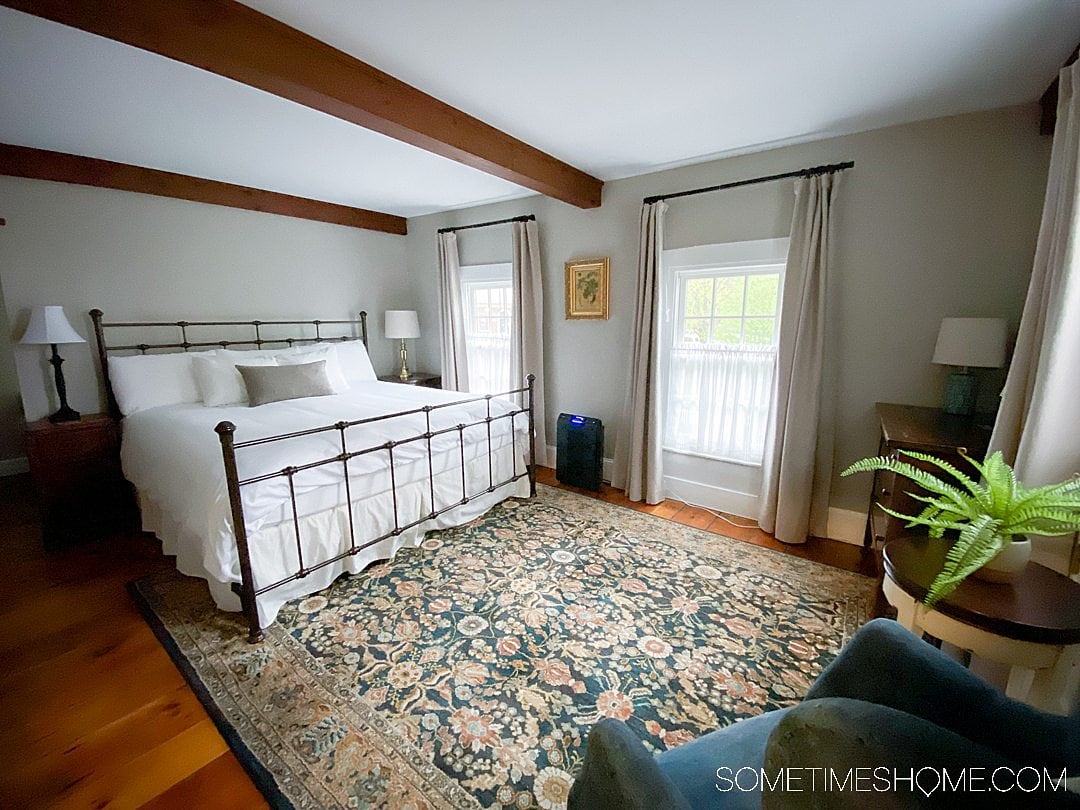 Additional Places to Stay in Hammondsport, NY
If The Park Inn is booked, there are other options. Some in town, some in the rural areas just about 15 minutes away.
Glenn Scott Manor (also called, The Farmhouse)
If you're looking for something to accommodate multiple family members or a group of friends, this is one to have on your radar.
It's a four-bedroom home that can accommodate nine guests and has beautiful views of the lake. There are three California king bedrooms, each of which have their own bathroom. Two are upstairs, one is on the main level.
The master has an amazing stand-alone soaking tub too! A third room has three twin beds and a nearby bathroom on the main level.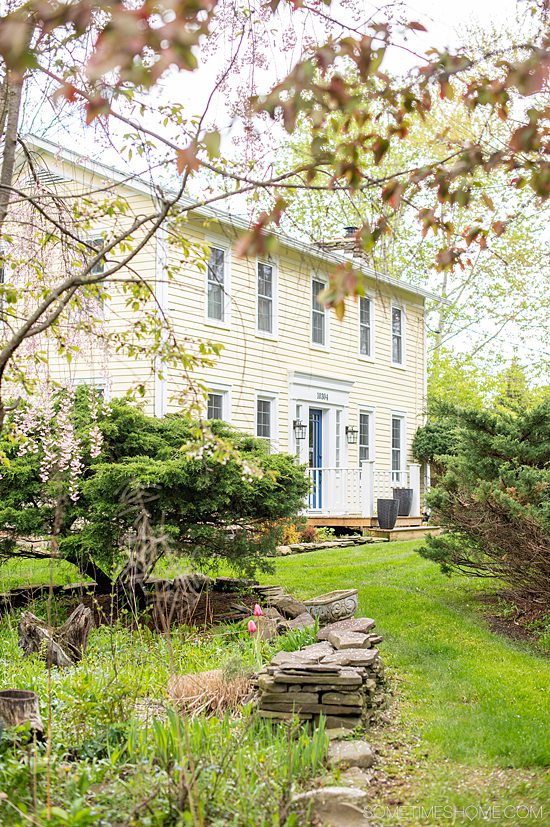 The fireplace at Glenn Scott Manor is a cozy place to unwind after a day of wine tasting or enjoying Keuka Lake.
Or perhaps learning about the history of the area at the Glenn Curtiss Museum in Hammondsport, which reveals part of the historic name of the manor. Glenn, taken from the name Glenn Curtiss, and Scott, from the name Blanche Stuart Scott, were famous aviators from the area.
Marie is a fantastic host and welcomes guests to the manor as if it's her own home. There are great perks of staying here – as long as it's growing season, greens from Glenn Scott Farms are ready in the refrigerator for guests upon arrival.
If it's summer and blueberries are in season, guests are welcome to pick them fresh from the blueberry bushes out back. There's also a fire pit on the property with stunning lake views, and Marie provides s'mores supplies for guests to enjoy.
There's a three-night minimum for this Hammondsport accommodation. If you want to stay here with some family and friends, budget for approximately $700 per night (or $2,100 for three nights), not including taxes and fees.
Where to Play (aka: Things to Do in Hammondsport)
The amount of things you do in Hammondsport completely depends on the kind of Finger Lakes getaway you want to have. For us, we wanted a mix of relaxing things to do in Hammondsport NY, like wine tastings and time at our hotel, and eating (why not?), plus also some activities and sightseeing.
Visit the Glenn H. Curtiss Museum
If you're into aviation or transportation advancements, you must visit this museum. It's beautifully done, is affordable to visit, and will provide hours of entertainment and education.
Dan and I agreed that it's so odd we had never heard of Glenn Curtiss before this trip (but our parents had when we told them about it), but little things we learned at the museum excited us in the context of our travels.
For instance, the Wright Brothers were making advancements in flight during the same period in the Outer Banks. Curtiss and the Wright brothers even had a little legal dispute we learned about at the Glenn H. Curtiss Museum.
Get tickets ahead of time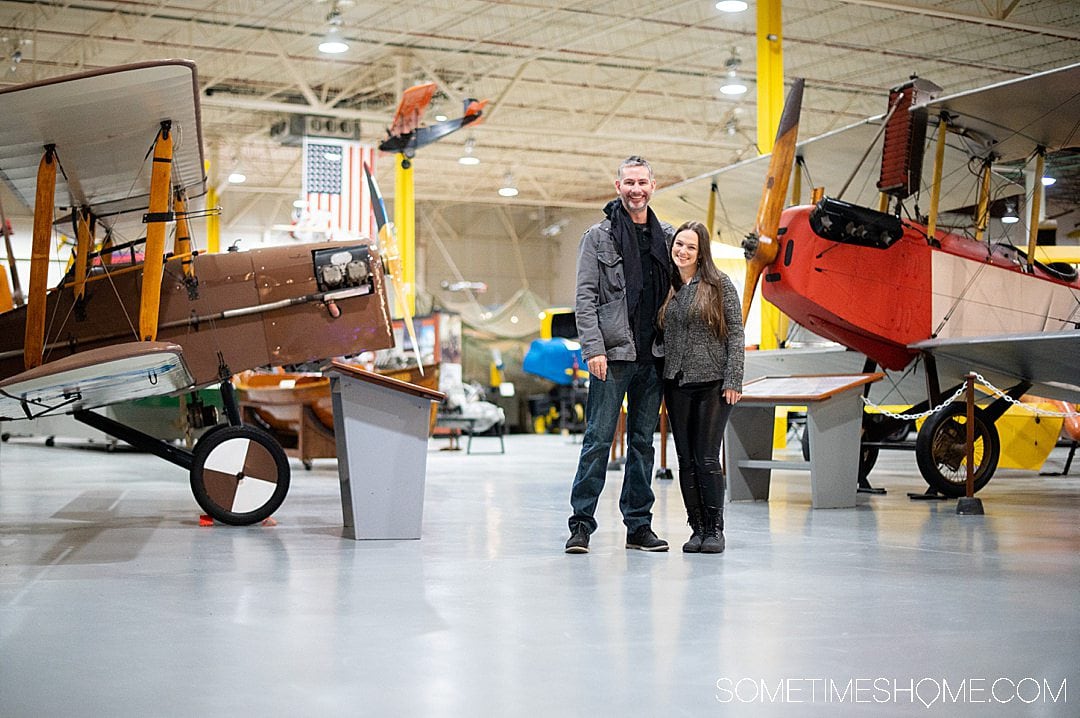 By the way, visiting the Glenn H. Curtiss Museum is especially wonderful on a cold or rainy day in Hammondsport or the Finger Lakes. (Kind of like how the museum at the Wright Brothers National Memorial is a great thing to do in the Outer Banks if it rains.)
Years ago, I went for a seaplane ride in Hammondsport; it took on new meaning after visiting this museum, knowing Curtiss was a pioneer in these planes that could fly in the air and then land on water. In fact, he was deemed the "Father of Naval Aviation" because he was originally marketing his seaplane to the Navy. Several seaplanes are on display at the museum.
It was also a cool fun fact to know that Curtiss had business in the areas both Dan and I are from. He had a business in Buffalo (where Dan is from), which was expanded to Long Island (where I'm from). Fun!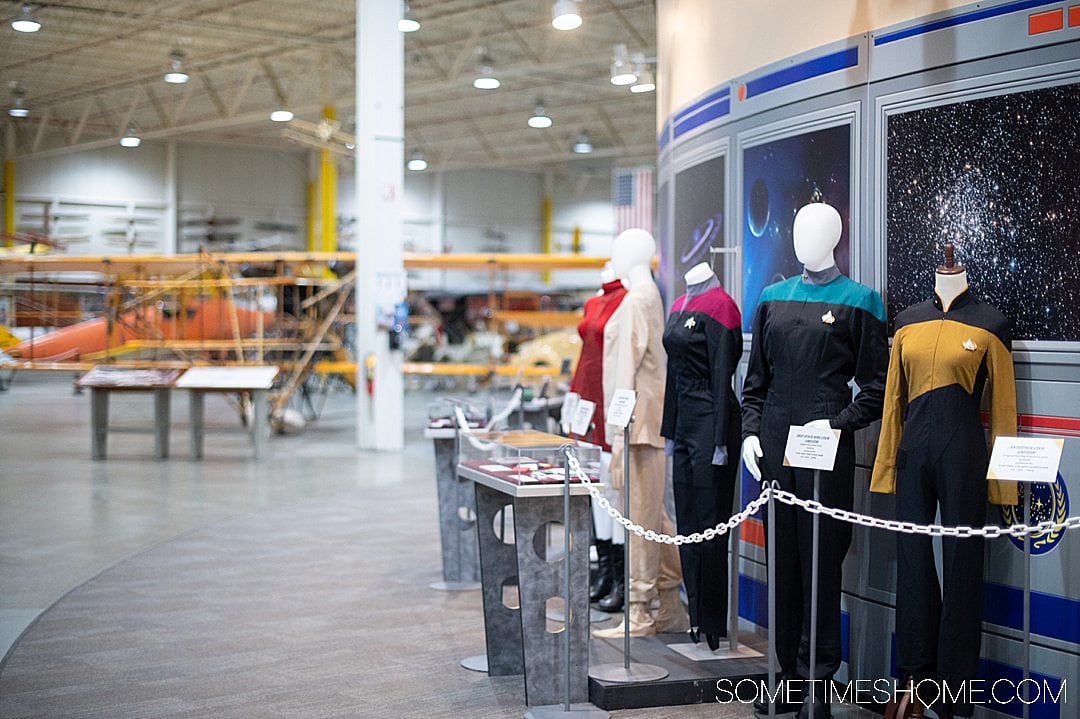 The museum has more than just airplanes. Curtiss loved transportation, and the memorabilia begins with all sorts of his bicycle and motorized bicycle inventions (yes, motorcycles!).
There are also a bunch of movie artifacts at the museum, including props from Indiana Jones, Fools Gold with Matthew McConaughey, and Star Trek. Boats, motors, and a printing press are on display too. There is even a firetruck from the 1900s.
Go for a Seaplane Ride with Finger Lakes Seaplanes
We had such a unique experience in Hammondsport by way of seaplane! Why not take advantage of the area – lake and the history of flight in the region – and view Keuka from above? What's even better is Finger Lakes Seaplanes is a small business.
When you sign up for a flight with them, you will be in a plane piloted by Andy or Bob. Andy's wife, Tiffany, is involved with the business, too; she'll be the one communicating with you about your excursion.
That's pretty much the extent of their small business, though! You get great service and a fantastic experience, and you're truly supporting local.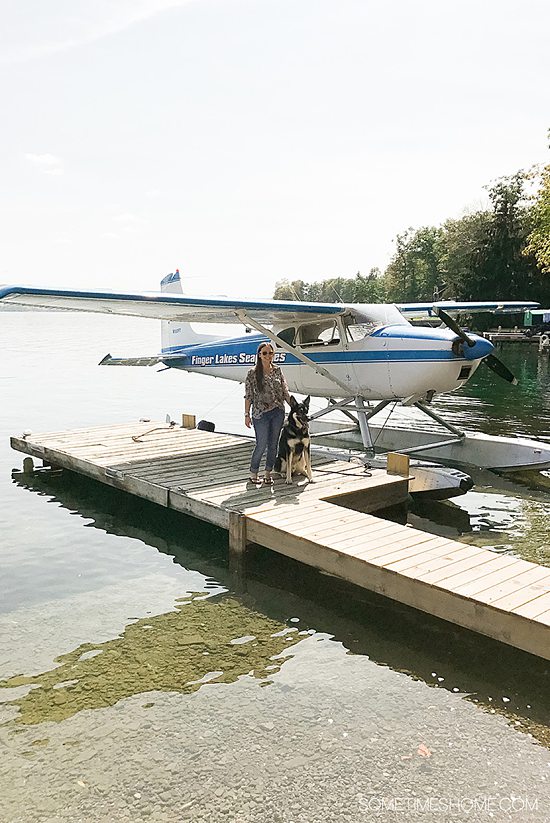 The rates are incredibly reasonable for an experience like this. You can sign up for a 30-minute experience for $250 plus tax for up to two people or one hour for $400 plus tax for two people. You can add a third person for just $75, but the airplanes are just four-seaters, so it maxes out there!
We had a lovely ride high, high above the treetops. Looking down on the Finger Lakes gave me and a new appreciation for how splendid the area is.
Bob, our pilot, was great. He was humorous and a great teacher, and we loved learning about seaplanes (like how they have to abide by federal aviation and maritime laws) and, of course, his German Shepherd, Fritz.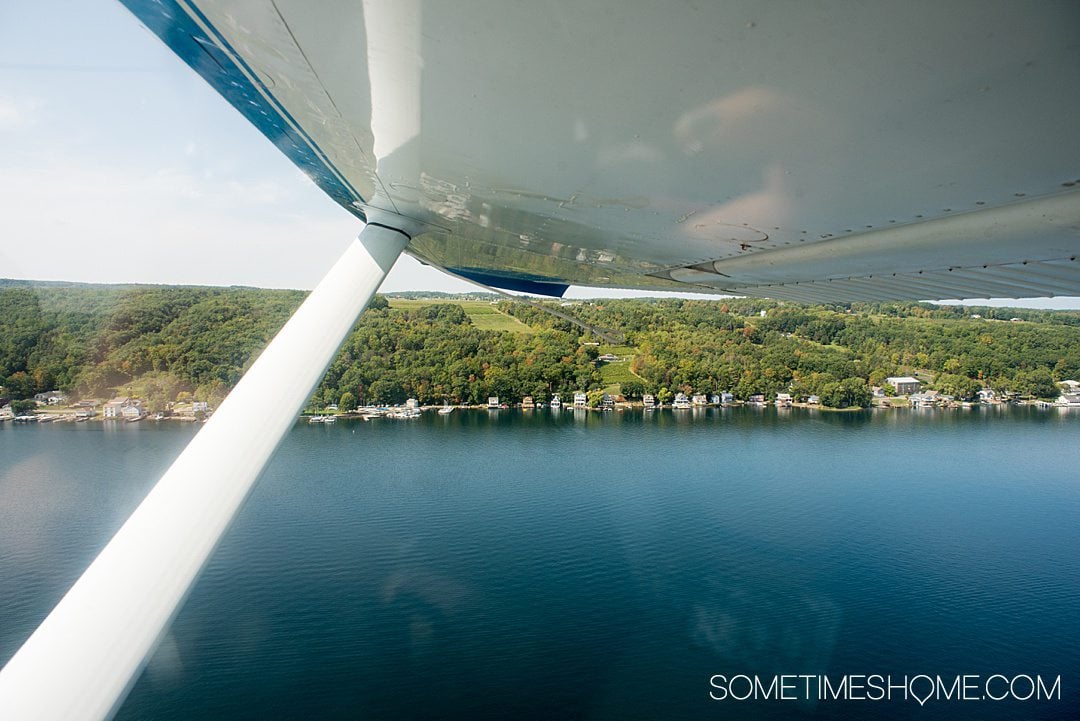 Fly High on a Glider
If you can't get enough of flying, head south for about 50 minutes for a glider experience. While this isn't in Hammondsport, it's nearby in the Finger Lakes. We had to mention it because it's a flying experience that's totally different from seaplane flights.
Glider rides (not to be confused with hang gliding, which we tried in the Outer Banks in North Carolina) are smooth and peaceful. This is partially because they glide through the air as motors are absent.
The National Soaring Museum is where these rides take place. The opportunity is very much seasonal, but most things in the Finger Lakes are, whether you're in Hammondsport, Watkins Glen, Elmira, or Corning.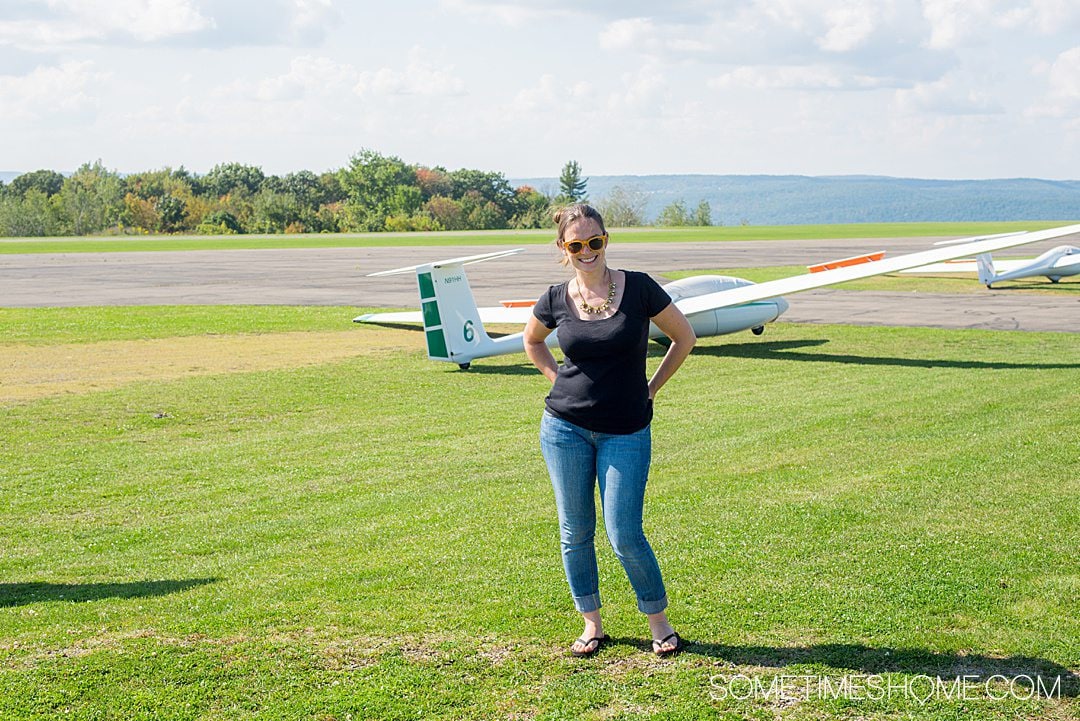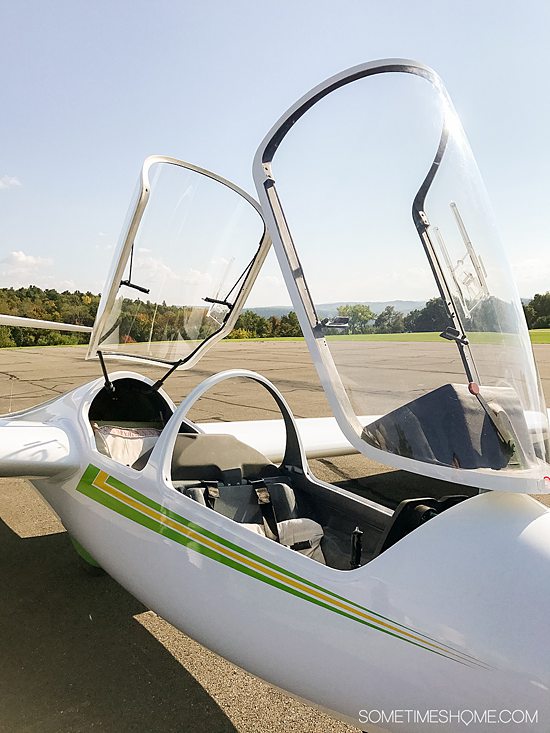 Where to Eat and Drink in Hammondsport
There are a good amount of places to eat and drink in Hammondsport. We couldn't try them all over one weekend, so we'll mention where we went, what we ate and drank, and how you can also visit these locations. And hopefully, add to the suggestions when we visit again in the future.
Dinner at The Park Inn
Hands down, this was our favorite meal of the weekend (aside from the delicious breakfasts we had next door at Crooked Lake Ice Cream Parlor, but you can't really compare dinner and breakfast, can you?).
The interior was designed with a subtle aviation theme to complement the history of the area. A mural inside near the fireplace in the back was restored in the early 20th century; it depicts the hills in the area and planes flying above.
A model plane hangs from the ceiling. We loved the attractive wood and mirrored bar area and the record player nestled in between bottles of liquor on the counter space. The detail in the wood carvings goes with the era.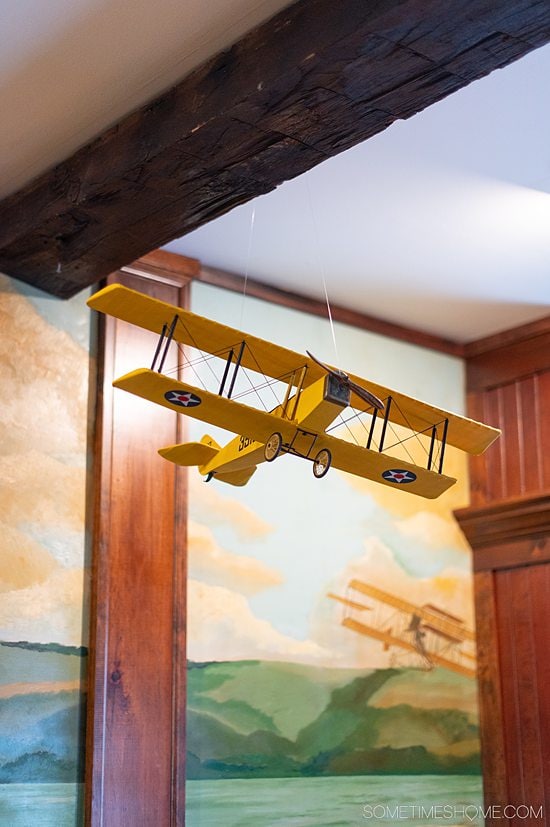 What We Ate for Dinner at The Park Inn
We started our meal with cocktails and ended with dessert. It was a great experience.
Dan opted for a bourbon cocktail, and I had a rum cocktail to start. (I was feeling adventurous from my usual gin or vodka preference, thanks to our experience at Outer Banks Distilling months before.)
We split a bottle of wine for dinner: Point of the Bluff Pinot Noir, which we knew we liked from a tasting at the vineyard earlier in the day.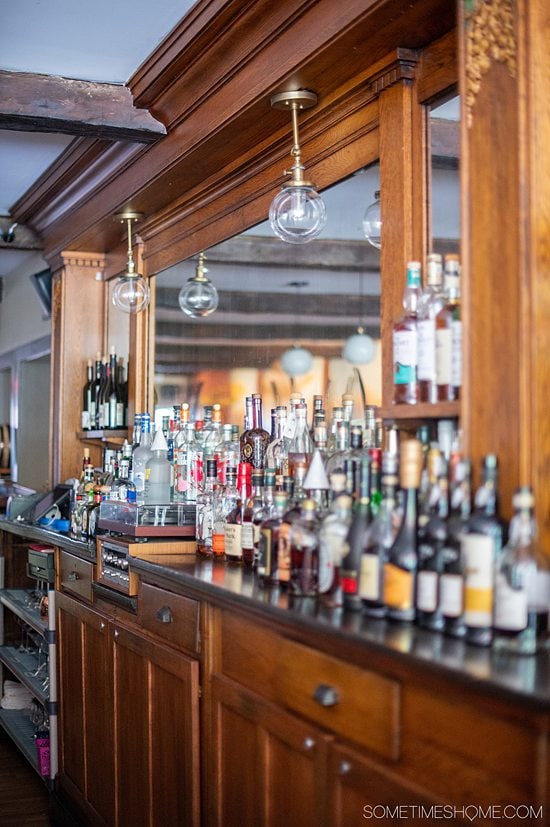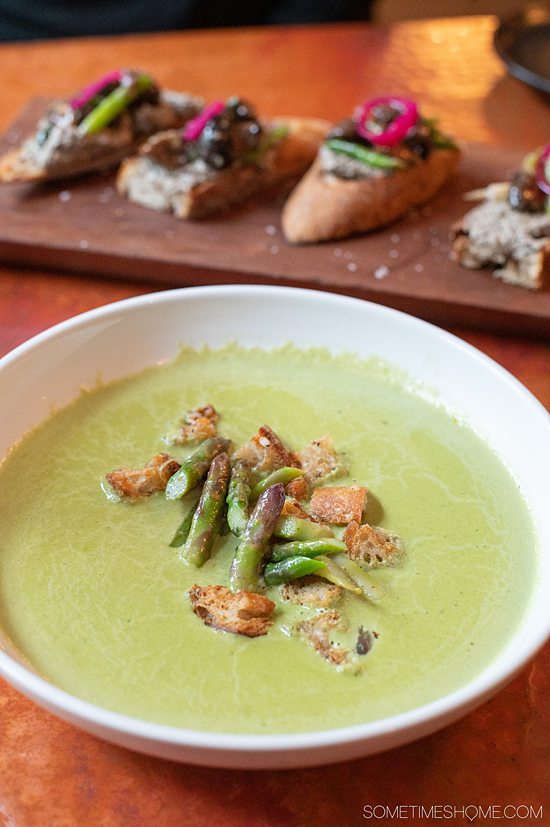 Our starters were absolutely delicious crostinis topped with goat cheese, fresh mushrooms, asparagus (which were very much in season during our visit), and pickled shallots. (I wish we could recreate it at home – I suppose we could, considering we cook asparagus at home a lot.)
We also had a bowl of asparagus soup, which was a serving way more generous than we were prepared to finish before our entrees.
Dan had a flank steak with chimichurri sauce, and I had very tender lamp chops that were served with creamy mashed potatoes. We couldn't help but opt for the carrot cake for dessert with cream cheese frosting, served alongside pineapple sorbet.
We hadn't finished our bottle of wine, so they kindly packed it for us to take back to our room.
Their menu rotates weekly, so though the wine and cocktails may be the same, expect the menu to change with the seasons. Reservations are recommended.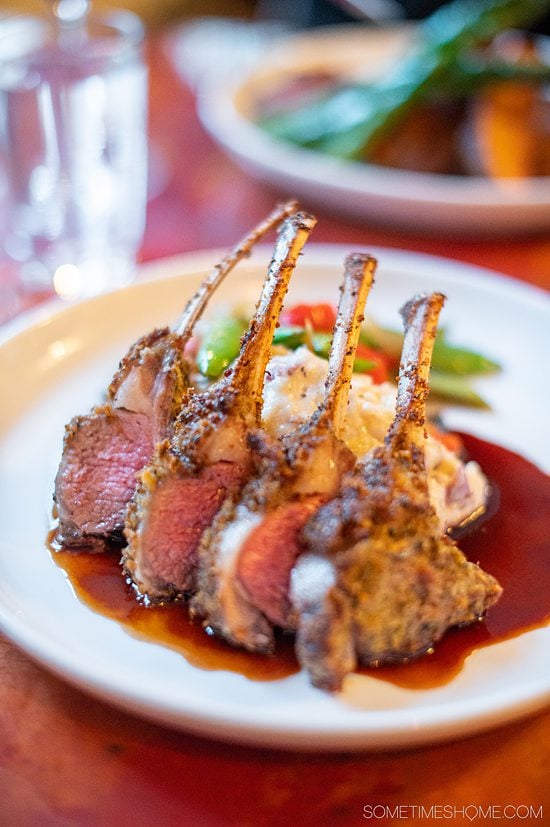 The Park Inn is a True Farm-to-Table Restaurant
This restaurant is truly farm-to-table; they source what they can directly from Glenn Scott Farm, just a few miles away. We were able to tour the farm and see what was growing firsthand.
In addition to providing greens for The Park Inn restaurant, they sell some vegetables at local Farmers' Markets (especially the one at Point of the Bluff) and to some restaurants in Rochester.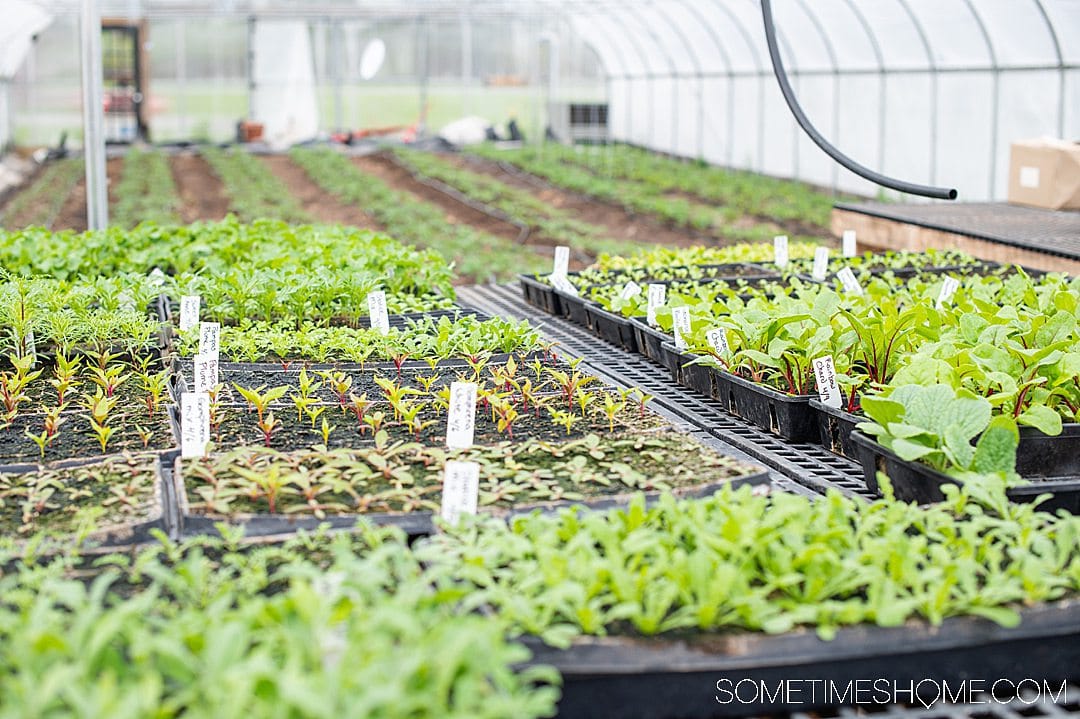 Breakfast, Lunch, or a Treat at Crooked Lake Ice Cream Company
The name's a little misleading because they have great breakfast and lunch here, not just ice cream. But it's a name that stuck from its history as an ice cream shop. And we can all admit that Keuka Lake's "Y" shape does, indeed, make it a bit crooked!
We had two delicious and filling breakfasts at Crooked Lake with great service, great prices, and fast delivery. They had specials each day we were there, but we opted to order items that are on the menu all the time, like omelets and breakfast sandwiches. Tip: get the home fries! They're delicious.
We didn't have lunch there, but they also have an extensive lunch menu. It's different from their breakfast menu, and it looked yummy. We did, however, treat ourselves to ice cream before we left to head to Buffalo on Sunday.
Their ice cream flavors change often, but they had Peanut Butter and Jelly on the menu at the time, so I got that. Dan had a Kentucky Krunch with bourbon ice cream and chocolate-covered pretzels; it was a special flavor for the Kentucky Derby.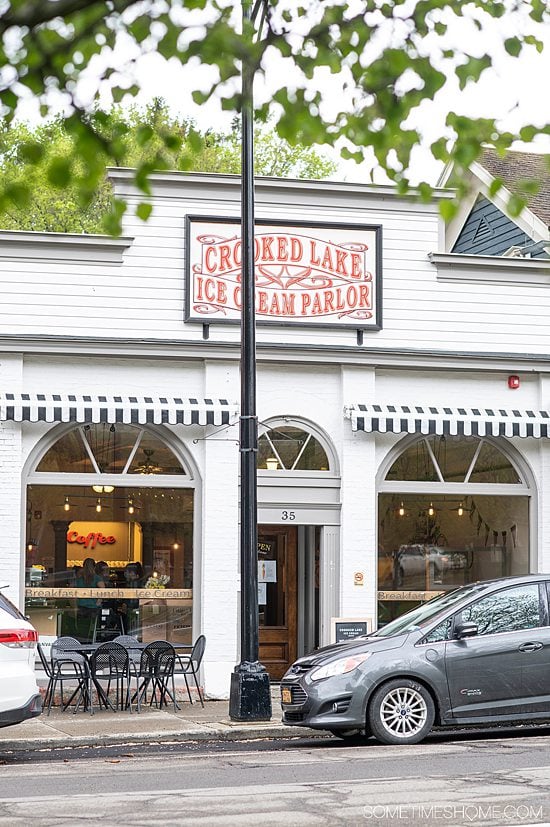 Lunch at Maybe Baby Burgers
Dan and I got such a kick out of Maybe Baby Burgers! It's a 50's themed diner filled with memorabilia from the decade.
A poodle skirt and shirt are framed near some of the booths, and old movies play near the beverage and condiment area. A pair of high-top Converse sneakers are playfully glued to the ceiling, upside down. Oldie songs are constantly playing, from The Four Tops, to The Drifters, and Elvis.
You order at a counter and then sit until your name is called when your order is ready. They have tons of options, from burgers of all kinds (including veggie burgers), chili and hot dogs, chicken sandwiches, salads, milkshakes, ice cream, and more. (I was surprised to learn they don't have malteds, though.)
It's an unassuming roadside diner in a gray building. But inside it's beautifully decorated with a black and white checkered floor, colorful lights, and red and white leather seating booths.
They are closed on Mondays. But we can't recommend Maybe Baby Burgers, any other day of the week. If you stay at The Park Inn, it takes about 10 minutes to drive there from the center of Hammondsport.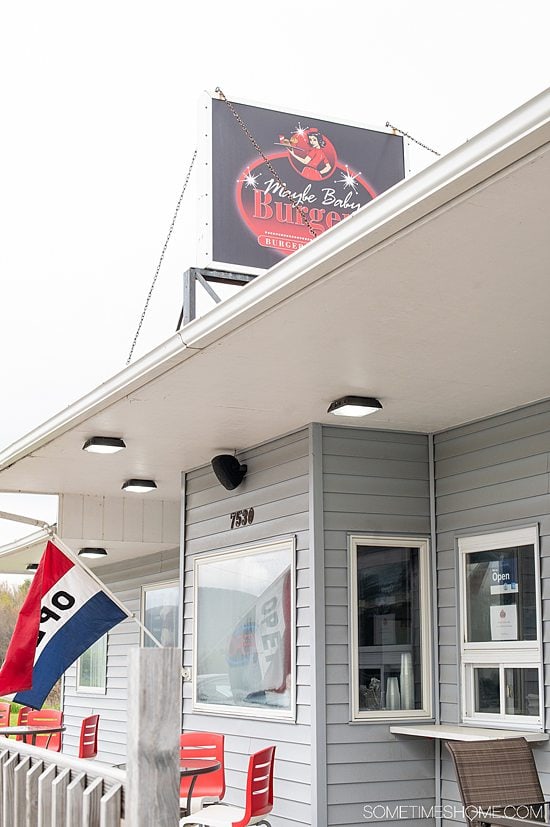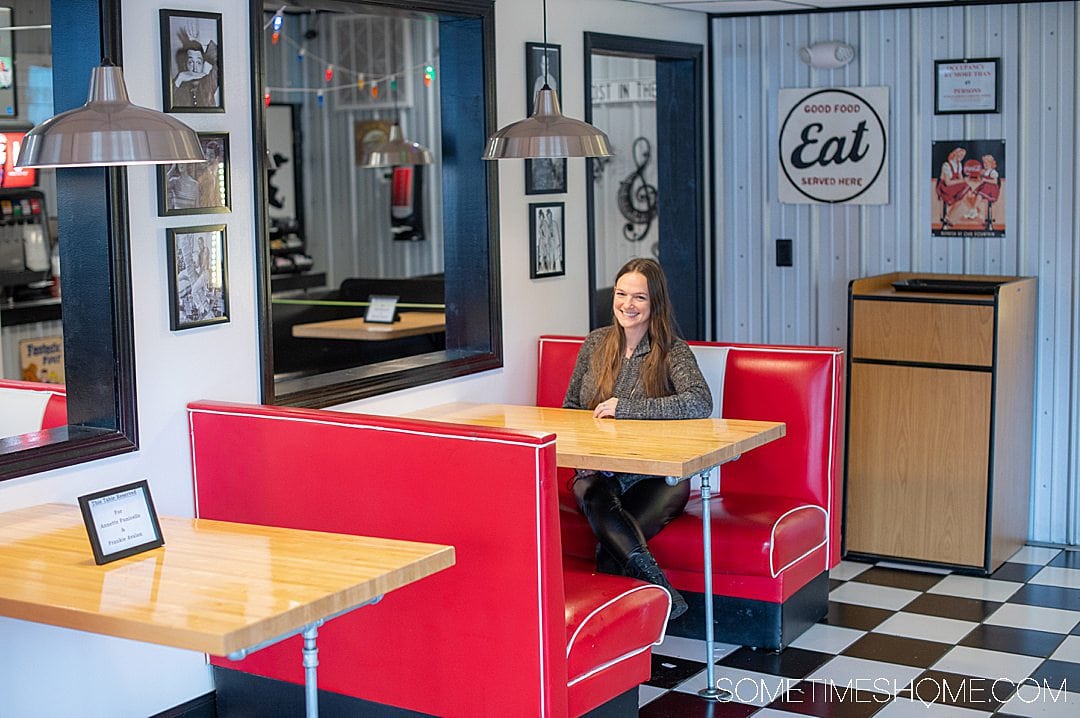 Lunch or Dinner at Timber Stone Grill
This restaurant is just two blocks away from The Park Inn. It is cozy inside and has a cabin-like vibe inside. There's an exterior patio with seating as well, if the weather is nice. They're open six days a week starting at 11:30am and have additional menu items for dinner after 4:00pm. They're closed on Tuesdays.
Their menu has something for everyone. Their dinner entrees seemed a little high priced for the area and items, but they have some more affordable options too, like sandwiches and burgers, and things to share that could be a meal.
We shared a cheese and charcuterie plate and the special of the day, which was fish 'n chips. Dan really enjoyed his local beer, an IPA from Horseheads, a town just about 45 minutes away. (He said it was pretty close to a West Coast IPA, just like he loves in San Diego!)
Reservations at Timber Stone Grill are recommended.
Point of the Bluff Vineyards
There are loads of wineries and distilleries in the Finger Lakes region overall, and Hammondsport is no exception. There are too many wineries to list just on Keuka Lake, alone. We took a ride around the "Y" shaped lake one day simply to drive the area, and we were shocked at just how many wineries there are.
Towns around Keuka Lake include Hammondsport, Penn Yan (short for "Pennsylvania Yankees," we learned), and Bluff Point.
Point of the Bluff is the winery we visited twice and thoroughly enjoyed and recommended. (Dr. Frank's is also good and nearby. It's the original place I learned that Rieslings could indeed be dry. And they're fabulous dry, by the way, which is how we prefer it!)
This lovely vineyard is just a 15-minute drive from The Park Inn in Hammondsport (and even closer to Glenn Scott Manor if you rent out the home). Though the winery isn't at Point Bluff (the owners have a home there), it is lakeside.
It was established in 2007, and its tasting room is pictured below.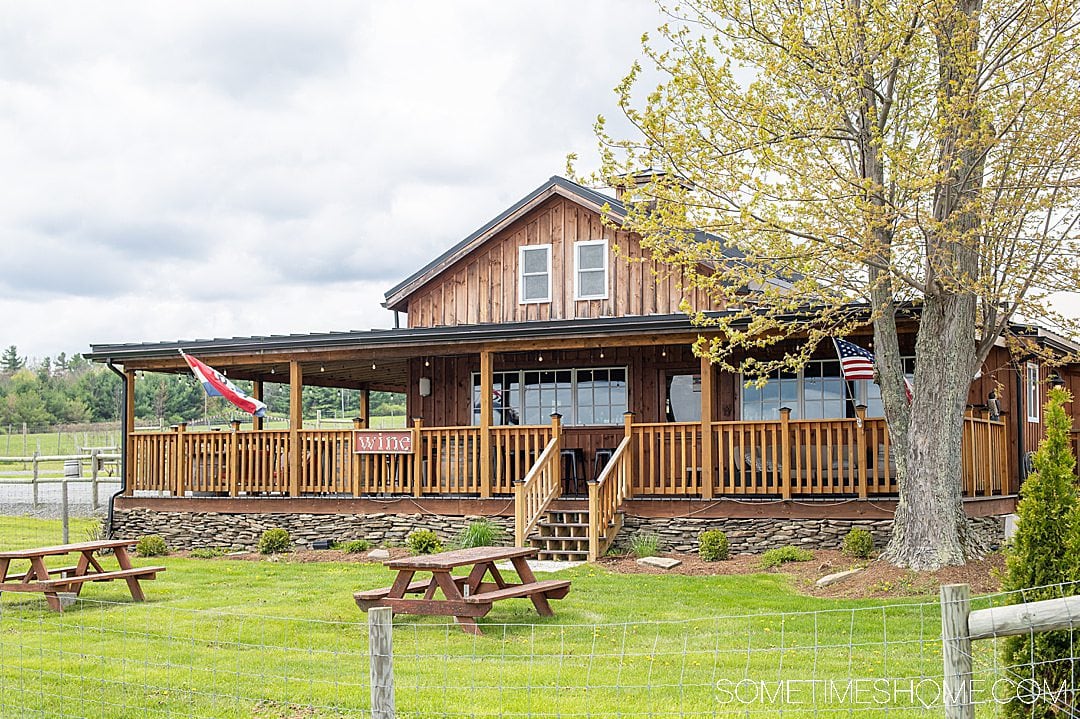 It's an old 1800s schoolhouse that was relocated to their property. It's befitting, because today, their tasting room serves as a place to learn about their wines, where you can sit and look at the beautiful view out their front windows.
Pair your wine tasting with a cheese or charcuterie plate to enhance the wines' flavors. (We highly recommend it; they also support local cheesemakers and chocolatiers! Notably Muranda Cheese Company and Lively Run Dairy in the Finger Lakes, and Hedonist Chocolates from Rochester. All delectable!)
Check their website for current hours.
Wines at Point of the Bluff Vineyards
They have three wine labels under their umbrella:
Point of the Bluff Vineyards, their estate small batch wines.
Rooftop Reds, which are everyday approachable reds.
Hangar 17 (canned wine), named for the owners' airplane hangar. It's also a nod to the aviation history in the area. Rooftop Reds, we should mention, are also sold at the winery of the same name in Brooklyn, NY.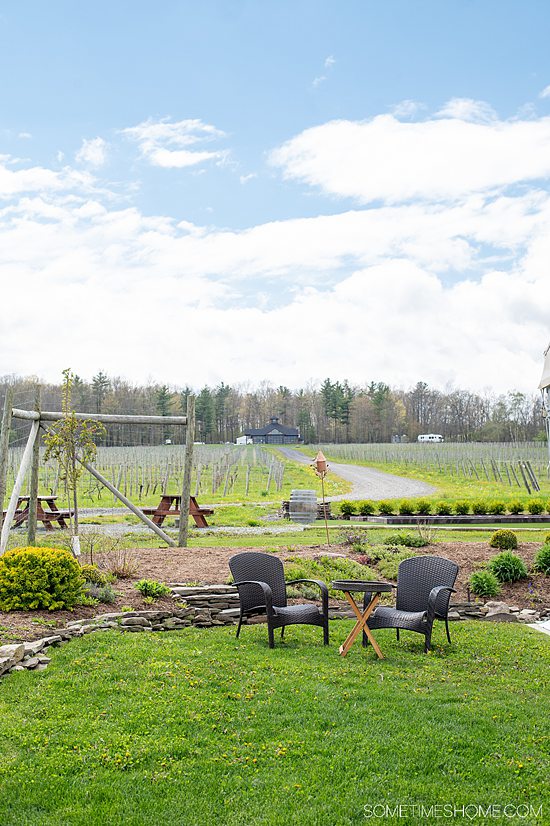 Pavilion Concert and Event Venue at Point of the Bluff Vineyards
Acres of vines lead from the parking lot to their event pavilion, a beautiful building with reclaimed wood and glass sliding doors on all sides. Its primary creation was as a concert venue, but it has grown to host many more events, including yoga, Wine and Design, painting classes, flower classes, and more.
They also host seasonal events, like BBQs and seafood boils. Farmers' Markets take place here every Thursday, and they host a holiday market from November through December 31st.
You can also expect monthly food and wine pairings, partnering their wines with things like cheese or dessert. Current events of these fun things to do in Hammondsport can be found at the bottom of their homepage.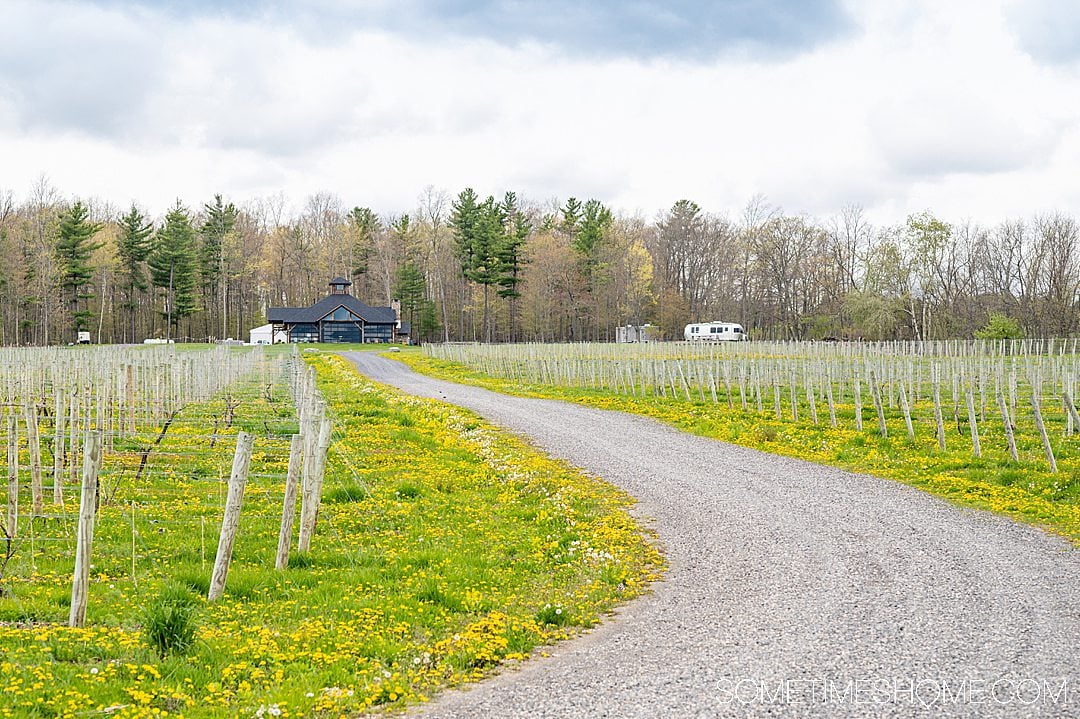 Picnic at Point of the Bluff Vineyards
Hangar 17 wine comes in cans, which is incredibly convenient for a picnic lunch!
We enjoyed a charcuterie and cheese plate at one of the picnic tables at Point of the Bluff Vineyards and cracked open a bottle of sparkling white Hangar 17. We topped it with orange juice for a little mimosa action on Sunday before leaving town. (Dan drank most of it – I had a little and was safe to drive an hour later.) It was delightful!
One dollar from the sale of their Curtiss White Hangar 17 cans are donated to the Glen H. Curtiss Museum in Hammondsport.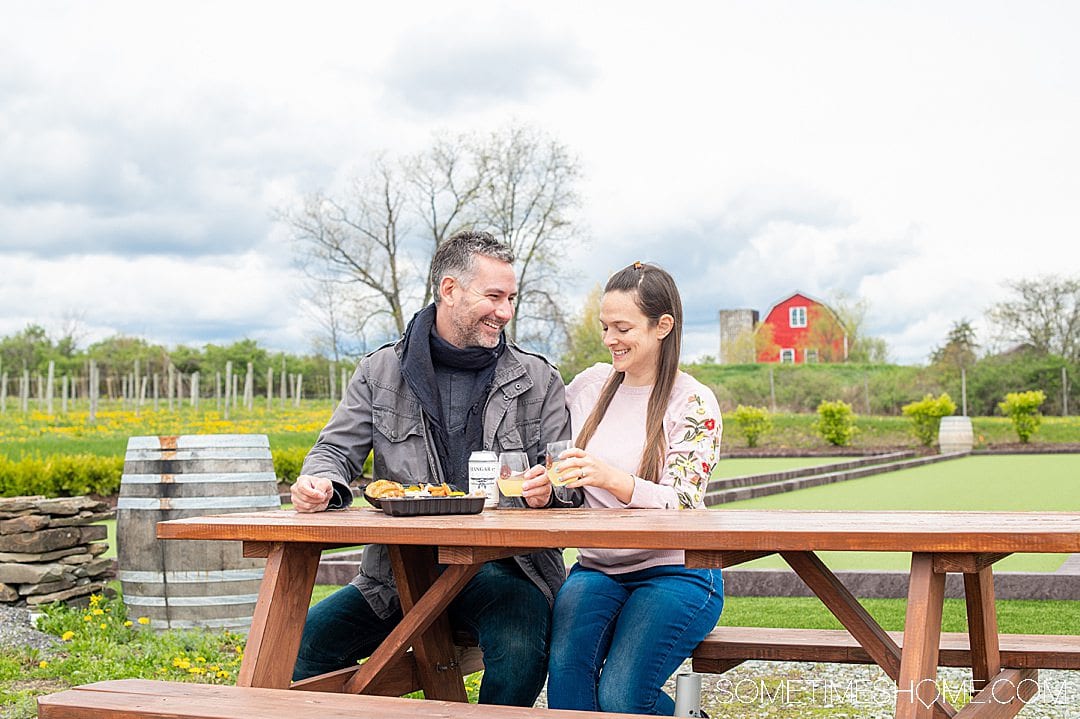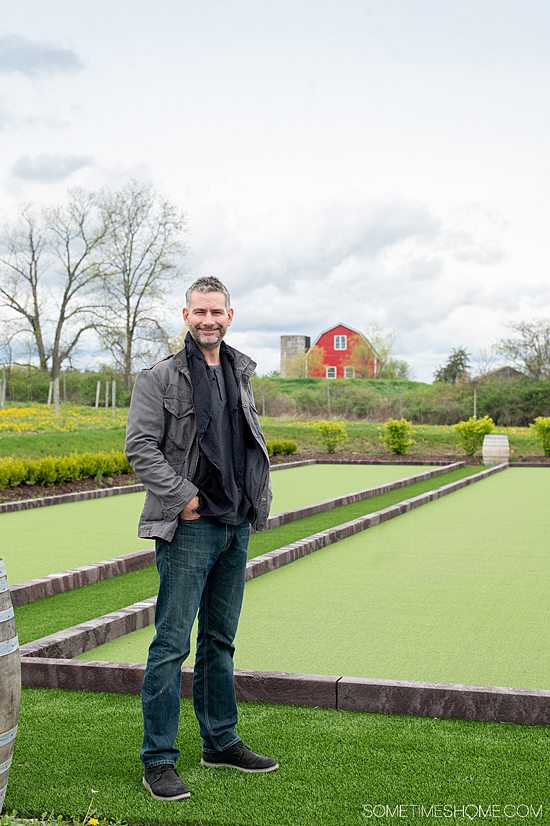 Krooked Tusker Distillery
If you're not in the mood for wine, get some drinks at the Krooked Tusker! It's right next to Point of the Bluff Vineyards, and they have live music on Saturday afternoons.
They offer a ton of mixed drink options using their house-distilled spirits. We were blown away by the amount of fruit syrups they have to flavor cocktails too. As an afternoon pick-me-up, I got a coffee vodka drink, and Dan enjoyed an Old Fashioned.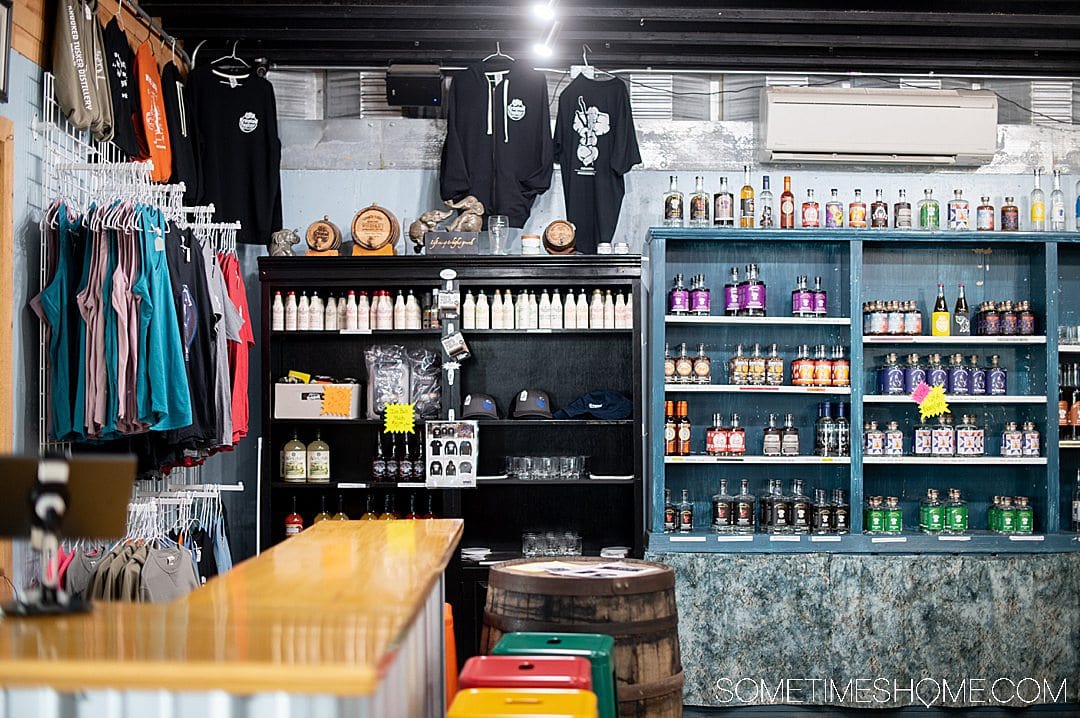 Heading to the Finger Lakes? Also check out: