Jambu Shoes Review: Women's Footwear worth Gushing Over for Travel + Home
This Jambu shoes review came to fruition from the pursuit of new shoes to travel the world with. If you walk as many miles as we do when you're traveling, finding great travel shoes is always on your mind. This is no matter if you're home shopping for them, or while you take steps on vacation.
Jambu & Co. is a brand that immediately caught my attention when I first saw them on social media; I was eager to order some of their shoes and test them out.
I'm sharing why quality footwear is synonymous with good health, what shoes I ordered, and a review of them.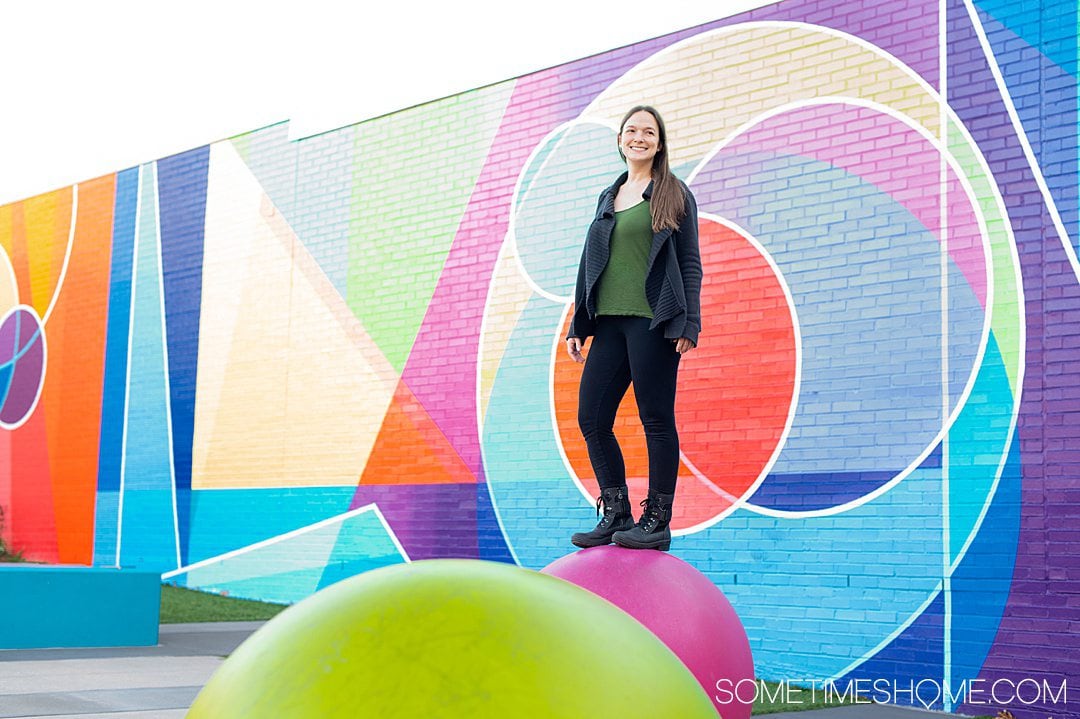 Why (and When) Great Footwear Quickly Became Increasingly Important to Me
It was just about a month out from our trip to Thailand in 2016, when I could only walk on my right foot at about 50% capacity. Something was wrong and I needed to seek an orthopedist's professional opinion to diagnose the issue.
The diagnosis was simple after an appointment complete with x-rays, a foot examination, and a conversation with the doctor: crappy shoes and extended periods of time on my feet (wearing crappy shoes) had become detrimental to my health, thus resulting in foot problems.
The doctor wrote me a list of what kind of shoes to look for in the future, which included looking for shoes with a slight heel and arch support. I was in my mid-thirties now and shoes from the Gap and Target weren't going to cut it. If I didn't change my footwear and shopping habits for shoes, I'd suffer the consequences.
Ever since that time period – when my foot hurt so much I nearly thought it was broken – I've been (and am always) on the lookout for supportive, good-looking footwear. But since I'm not a "shopper" for clothes, shoes, and such, I also care that my footwear is affordable and comfortable. And versatile so I can wear them during our travels.
Our Main Mode of Transportation during our Travels: Walking
We walk SO MUCH on trips. It's better for us to view a city and explore by foot whenever possible. You just miss so much if you're speeding by neighborhoods in a car or in a train car underground.
If it's 20 miles from point A to B, for example, it's inevitable to come up with a different solution than walking. That's when we favor public transportation, second to walking.
But if it's a short distance and walking between neighborhoods in Europe is an option, for example, it's our preference. We love to discover all the interesting things we can on foot, meandering through small walkways and alleyways that cars often can't reach.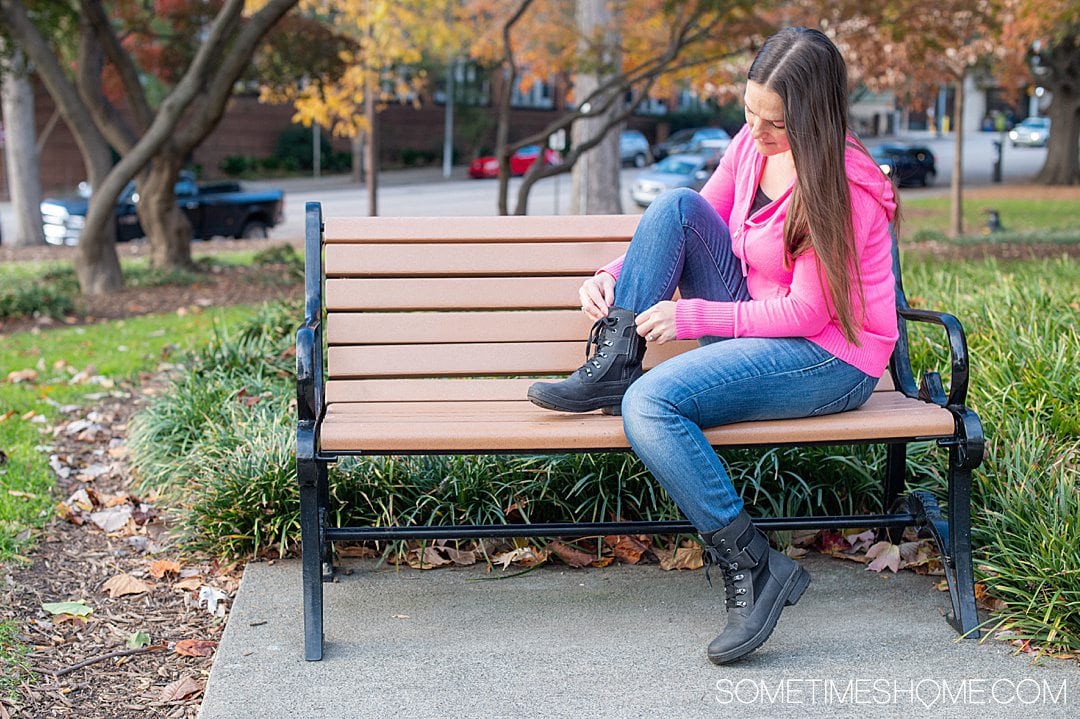 Throughout the course of a day, it's common for us to walk many miles in total. We love looking at the Health app in our iPhones after a long, yet fulfilling day to see how many steps we've taken, flights of stairs we theoretically climbed, and miles we walked. And it is usually a lot. (Like in excess of 30,000 steps.)
Needless to say, proper footwear isn't just preferred – it's vital to getting through those days and being ready for the next.
The Search for Comfy, Affordable and Fashionable Footwear for Travel
Comfortable and supportive footwear isn't always synonymous with fashion. You can usually get one, or another, but not all three.
When I started to see Jambu & Co. pop up in my Instagram feed more and more (not just as the algorithm intelligently does but also because I was genuinely interested and searching for it) I began to browse their website more often.
Affordable to me is around $100 or less – and their shoes fit the bill. Literally.
Jambu & Co. Brands
Jambu & Co. has three brands under its umbrella:
Jambu Adventure Designs
JBU by Jambu
JSport by Jambu (transitioning to become a part of JBU)
What's the difference between them? Mostly the style of designs under each brand. But also worth mentioning is that Jambu uses more premium textiles, like superior leathers, whereas JBU uses more nubuck. (Dan has his own brand strategy company so brand identity is often at the forefront of our minds and conversations.)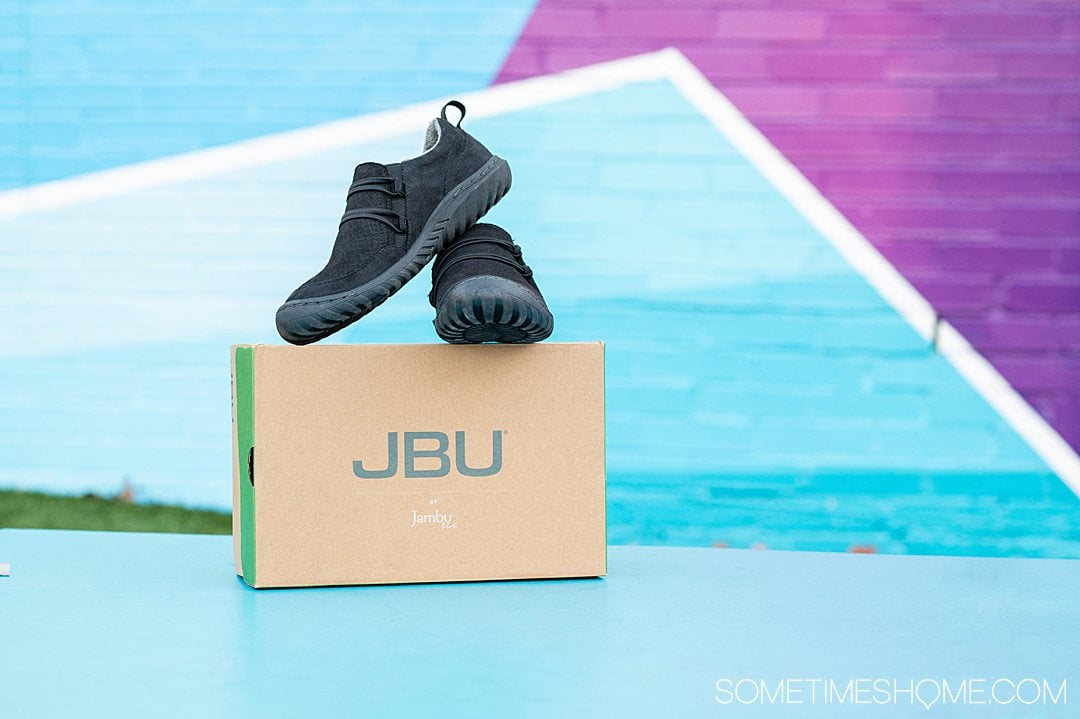 Many of their shoes and designs:
Are waterproof, water resistant or water-ready
Include memory foam insoles that contour to your feet
Have rubber soles, containing some recycled rubber
Are vegan designs, steering clear of any animal by-products
How do you know which pair of shoes has which features? Simply look at the product description for the particular Jambu & Co. shoes you're interested in.
It was also great to receive their shoes and notice their shoe boxes are made from recycled materials, as are the cardboard inserts within the shoes that help keep their shape after they're manufactured.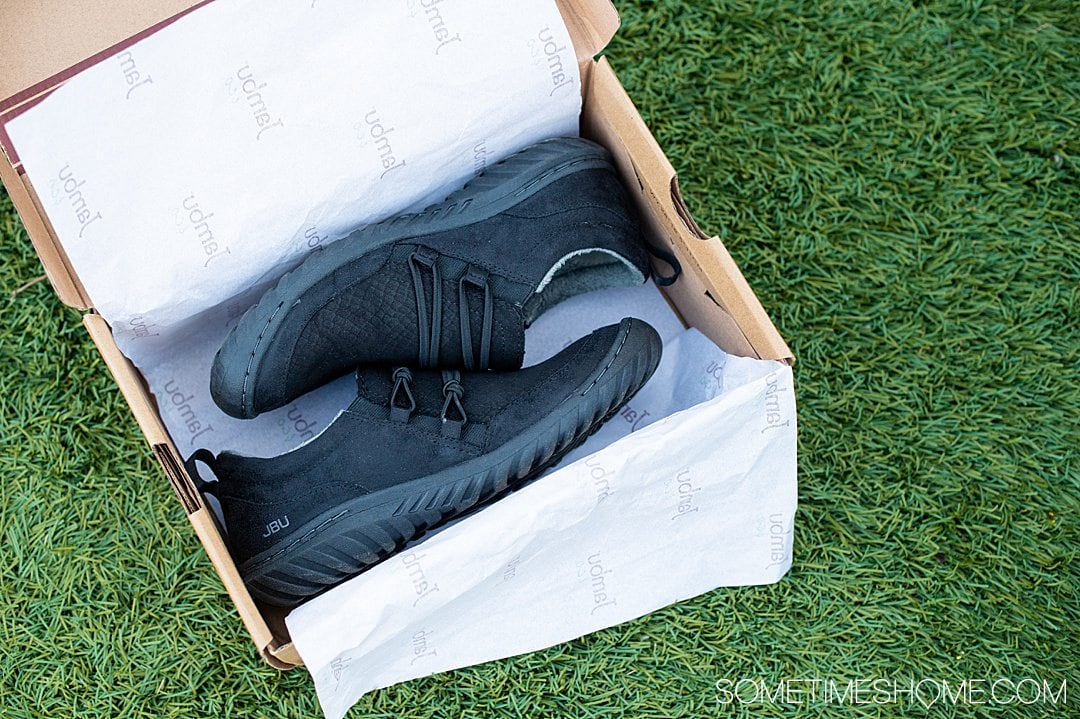 Jambu & Co. Footwear for Women
I ordered three pairs of shoes from Jambu & Co. I got each in black and the smallest size they carry, which is a woman's size 6.
Here are the styles I ordered:
Stevie ($100 at the time of purchase, on sale for $50 at time of review)
Cayman (on sale for $40 when I purchased them because it was one season after they debuted)
Ashton ($85 at time of purchase, $59 on sale several weeks later)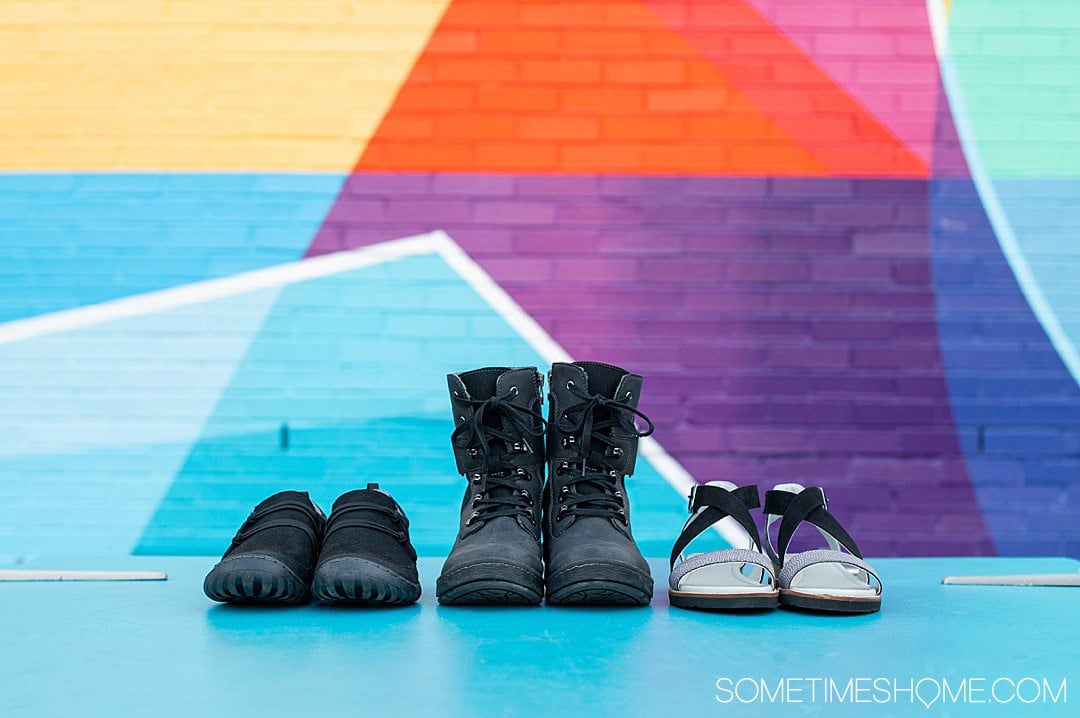 If you don't want to risk the size you want is sold out then buy them when you see them, of course. You run the risk of them not being available in the size (or color) you need or want if you wait. They're so affordable even at full price – why risk it?
While I always defer to black (because it matches "everything") the Cayman sandals looked super cute in blue or "Indigo" on the website. But I must not have been the only one who thought so because most of the sizes in that color were already sold out. Including the size I needed. So I got black.
It was my first time trying out Jambu & Co. shoes. I was a little worried a size 6 would be too big because I'm usually a size 5.5. Overall, each pair fit.
The Ashton's fit was great, the Stevie shoes fit but benefitted from adding an insert to help it fit more perfectly on my small feet, and the Cayman sandals have a tad bit of space but fit overall. (And I admit I probably buy sandals that are a little too small a lot of the time so it's nice my feet have a little room in the front and back.)
Jambu & Co. does have some options for men, by the way. Just not nearly as many styles as they have available to women.
Ashton Flat Shoes
Of the three pairs of shoes I ordered, these were to serve the most "practical" purposes, for when I photograph weddings all day. In those cases, I'm standing for 8 hours straight, if not more time.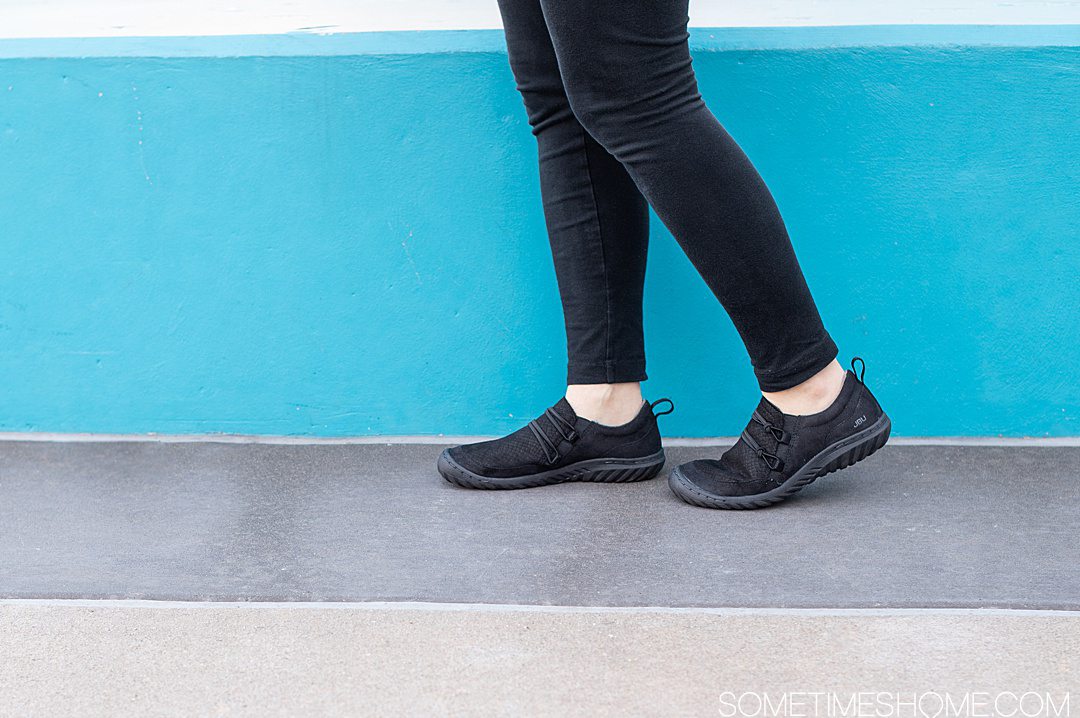 After wearing them, and my assessment of the Jambu shoe review for my Ashton flat women's shoes, they ended up being my favorite of all three. The memory foam + microfiber lining combination inside the shoes is like buttah! They're so comfy.
And guess what? They look so cute too! I thought they may age me a little (I'm not a spring chicken anymore but I'm still just under 40) but they're really youthful-looking, especially when paired with the right pants!
While they may not have the Ashton in stock when you're looking (fashion is seasonal, after all) they always have a category of women's flat shoes for you to browse.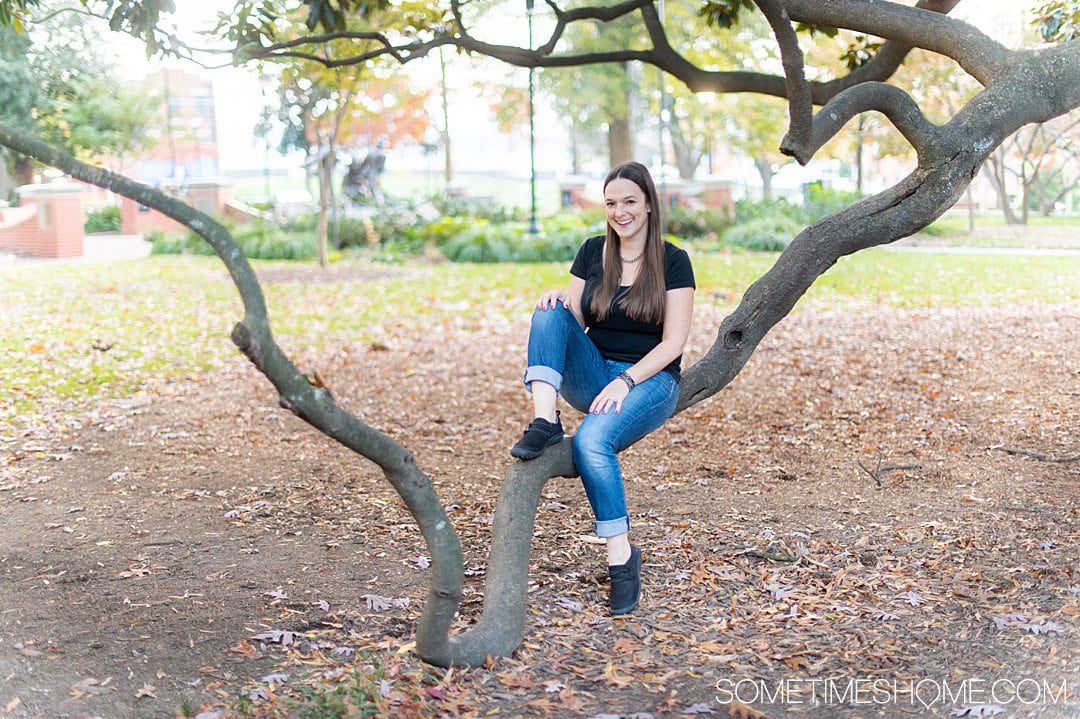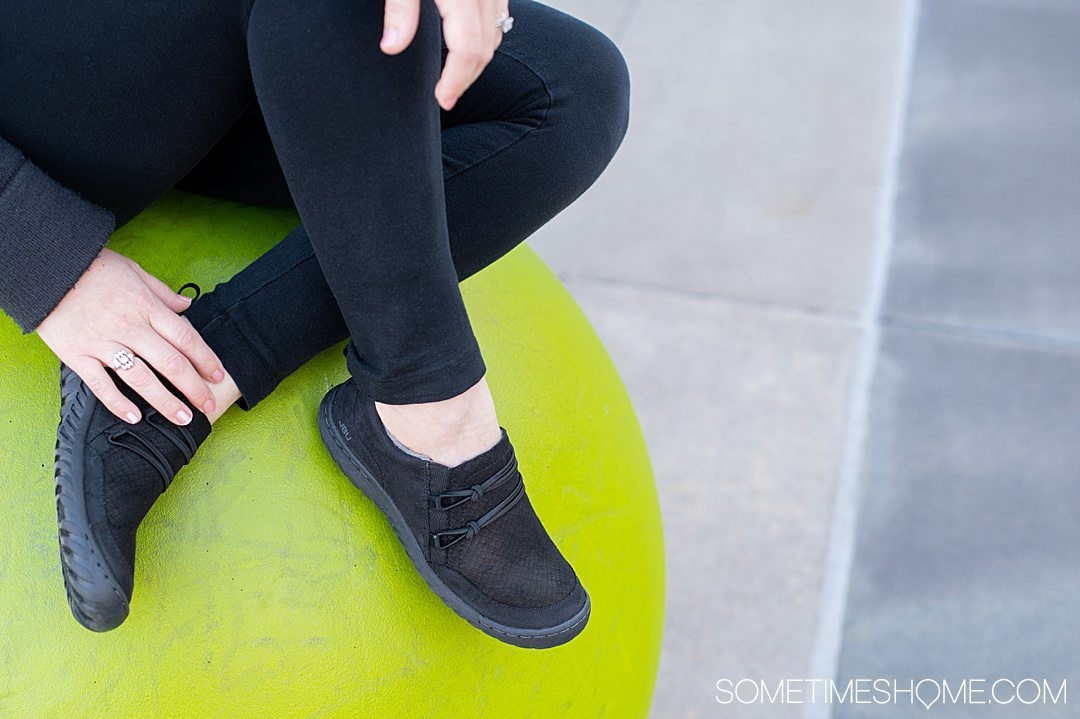 Stevie "Lace-Up" Combat-Boots
I ordered the Stevie boots to replace a favorite pair of Aldo brand combat-inspired lace-up boots. I was hoping these JBU by Jambu & Co. shoes would be more supportive than the Aldo pair. (Unfortunately, I was never able to bring my Aldo shoes on a trip abroad. They just weren't built for miles of walking. Durability and quality are lacking with my Aldo shoes even though they're fashionable.)
But this pair of Stevie Jambu & Co. shoes are great quality.
The size 6 Stevie boots fit me – they are just ever-so-slightly a little big for my preference with the usual socks I wear. But I was able to easily fix this by inserting thin insoles in the shoes. I can still take advantage of the memory foam built into the shoe with a thin insole. Or if it's super cold out I can actually just wear a really thick sock for a better fit.
(I don't necessarily agree with their comment on the product page to order half a size up though – the 6 is a half size up for me and if they had a 5.5 it may have been a little better fitting without a thick sock or additional insole.)
You can adjust the laces to be tighter or loser on your feet, which helps accommodate your individual body build and fit of the shoe too.
A nice trick about Jambu's Stevie, boot style shoes is that you only need to adjust the laces on your feet once; there's actually a zipper on the sides to pop your feet in and out of them!
They're also water-resistant (a must for travel) and have non-slip all-terrain bottoms partially created from recycled rubber.
Cayman Sandals
I bought these during winter (because they were too cute to pass up). But I also knew we were road-tripping to Florida; I could wear them in 70 to 80-degree weather there every day. I'm testing them out in the Sunshine State as I write this review.
What appealed to me was the slight heel they have – one of the criteria the orthopedist who helped diagnose my foot problems years ago recommended for good shoes.
A nice surprise was that the buckle on the shoe is actually decorative – they Velcro open and closed! How great is that? Because how annoying is it when you have to actually buckle sandals on fancy women's shoes? The Velcro saves so much time.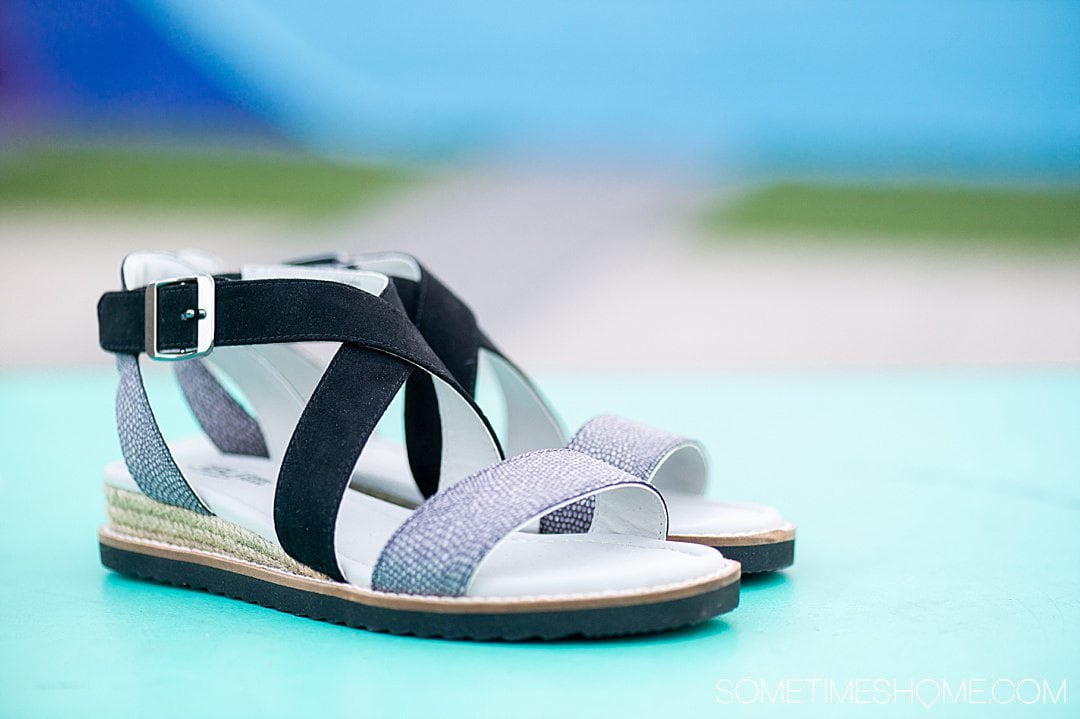 The Cayman style Jambu & Co. sandals feature memory foam insoles as well.
And I love that they can be dressed up or down, worn with shorts, jeans, or a dress or skirt. We pack light in our Cabin Zero backpacks for vacation. So if a shoe can be dressed up or down it's a double whammy for practicality and versatility when traveling.
Disclosure: This is sponsored content and we were given these shoes in exchange for an honest review. There are affiliate links in this post, which means we may earn a small commission if you click the link and proceed with a purchase. We truly only recommend products or services we personally use.