Weekend Getaway Near Charlotte, NC in Lake Norman
Chances are you've been to Lake Norman if you've been on a weekend getaway near Charlotte NC. (Or very nearby without knowing it.)
We didn't realize how close we had been until we saw it on a map. Or that we had been there when we previously attended the North Carolina Renaissance Festival, until we put two and two together. Huntersville, where the RenFair is held, is in Lake Norman.
It's the perfect weekend getaway near Charlotte, NC, and only about two and a half hours from Raleigh.
Where is Lake Norman, North Carolina?
Lake Norman is an area just north of Charlotte. It's comprised of three cities: Huntersville, Cornelius and Davidson. It's in the Piedmont region of NC, which is closer to the western side of the state and nearer to South Carolina than Raleigh is.
It's an easy drive from Raleigh and Durham, and even easier from Charlotte (30 minutes or less, north). You can also very easily take the train from Raleigh into Charlotte and then use taxis or rideshares – like Uber or Lyft – to get to and around Lake Norman.
Three Days in Lake Norman
Our weekend went from Saturday to Monday but of course feel free to tailor it to any three days that suit your needs, Friday through Sunday or Tuesday through Thursday, etc. Just be aware if you're visiting during the fall and want to go to the Renaissance Festival it's only held on Saturdays and Sundays from early October to late November.
Day 1: Saturday
8:30am: Depart Raleigh for Lake Norman, NC
11:30am-1:30pm: Lunch at Hello, Sailor
We left Raleigh just after 8:00am and arrived to lunch around 11:30am, with one leisurely stop along the way route.
Hello, Sailor was a location we'd had our eyes on for a while and we were very excited to visit. It's a photo-worthy Lake Norman waterfront restaurant in the town of Cornelius. It's filled with mid-century modern vibes, terrazzo-inspired touches, and great cocktails. The menu, needless to say, is also swoon-worthy.
We took a full two hours to enjoy the destination, take photos (including in their photo booth, which accepts credit cards if you don't have cash), eat great food, and indulge in dessert. Was it an accident my white and blue striped sweatshirt was channeling sailor vibes? Probably not!
Note: Hello, Sailor is open Tuesday through Sunday (closed Mondays) from 11am until close, regularly after dinner.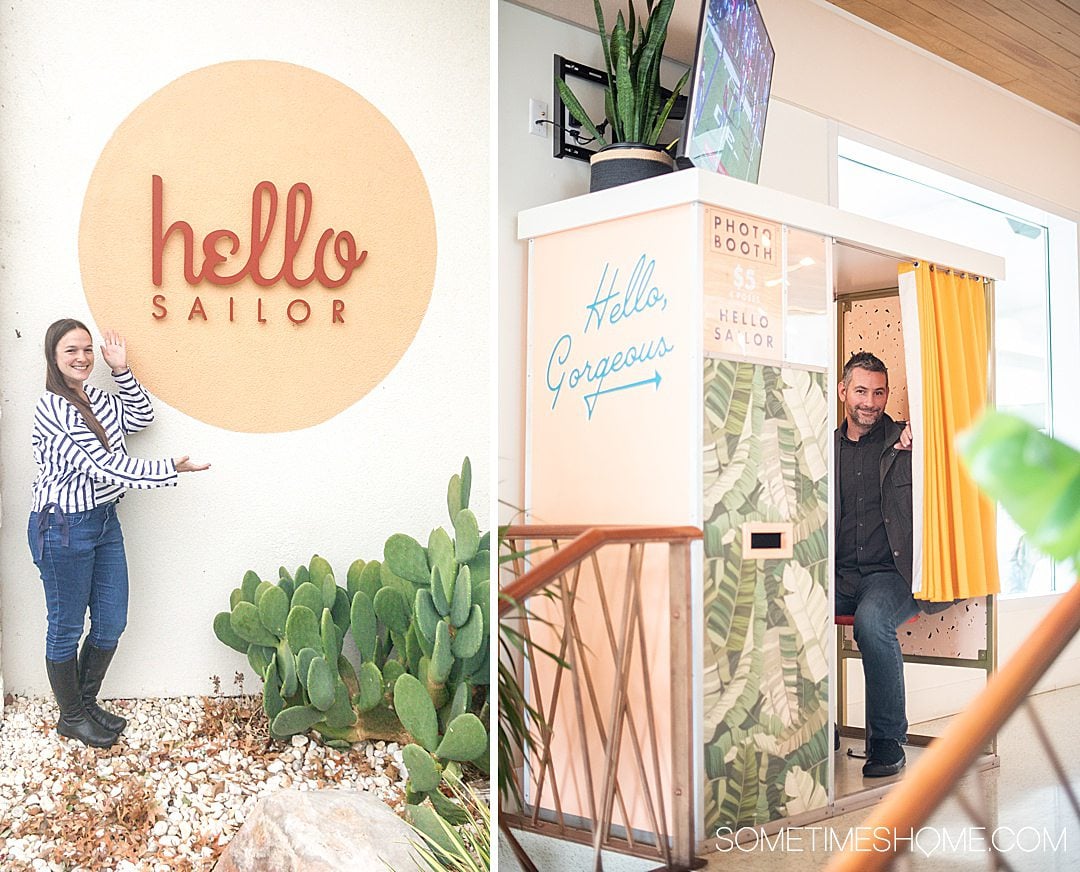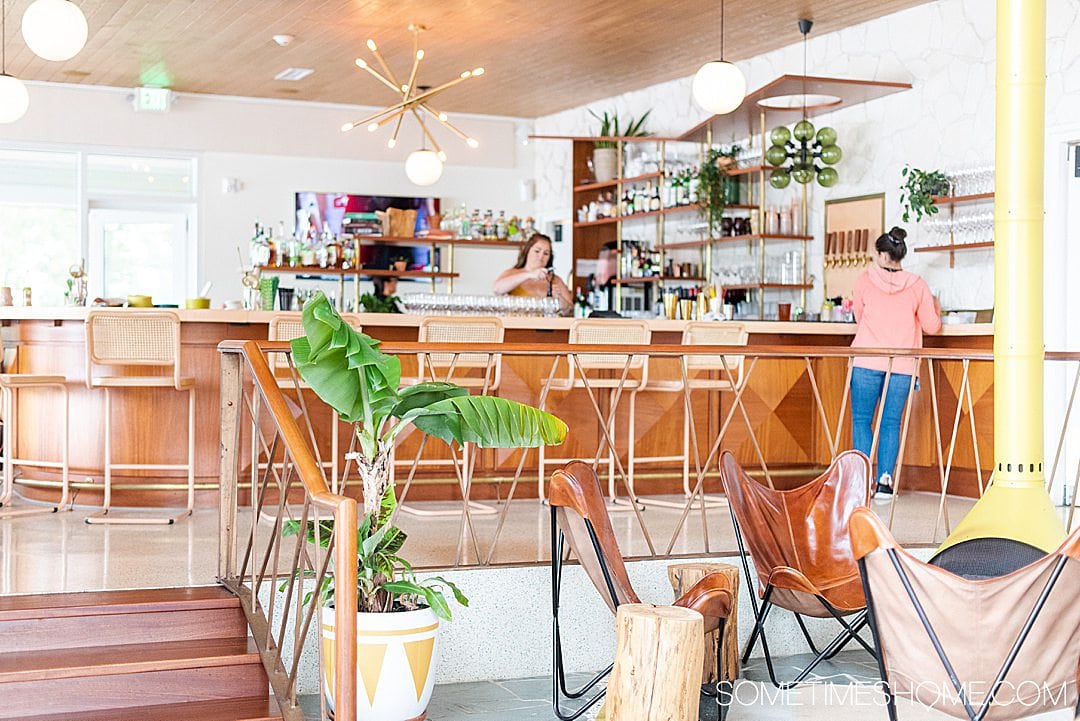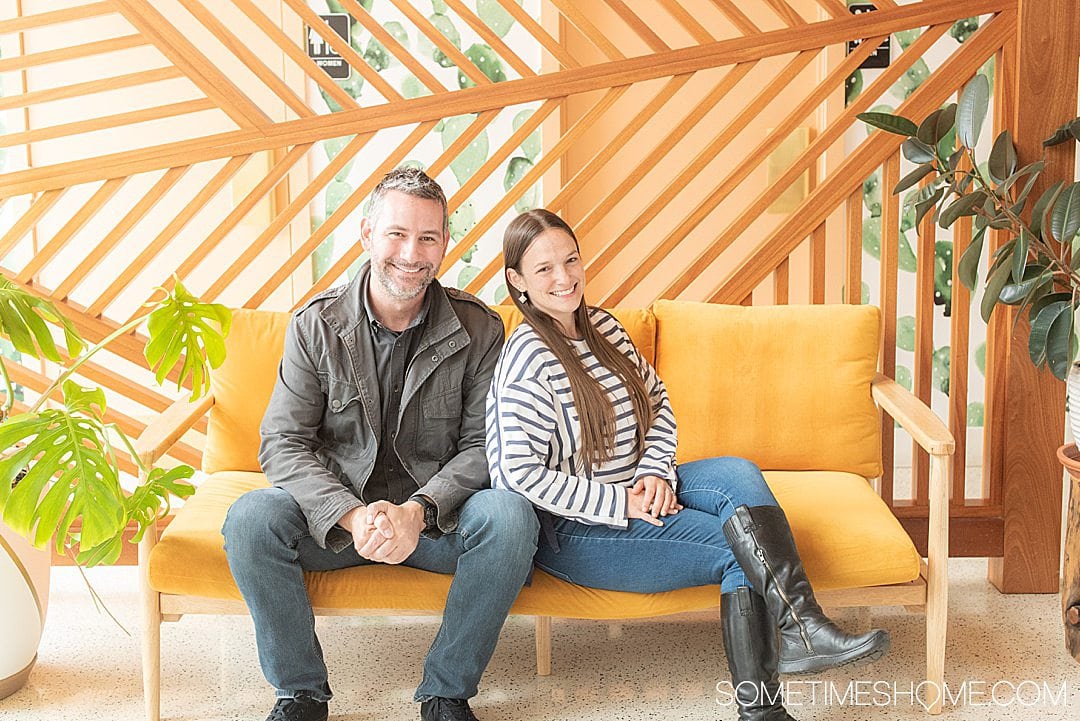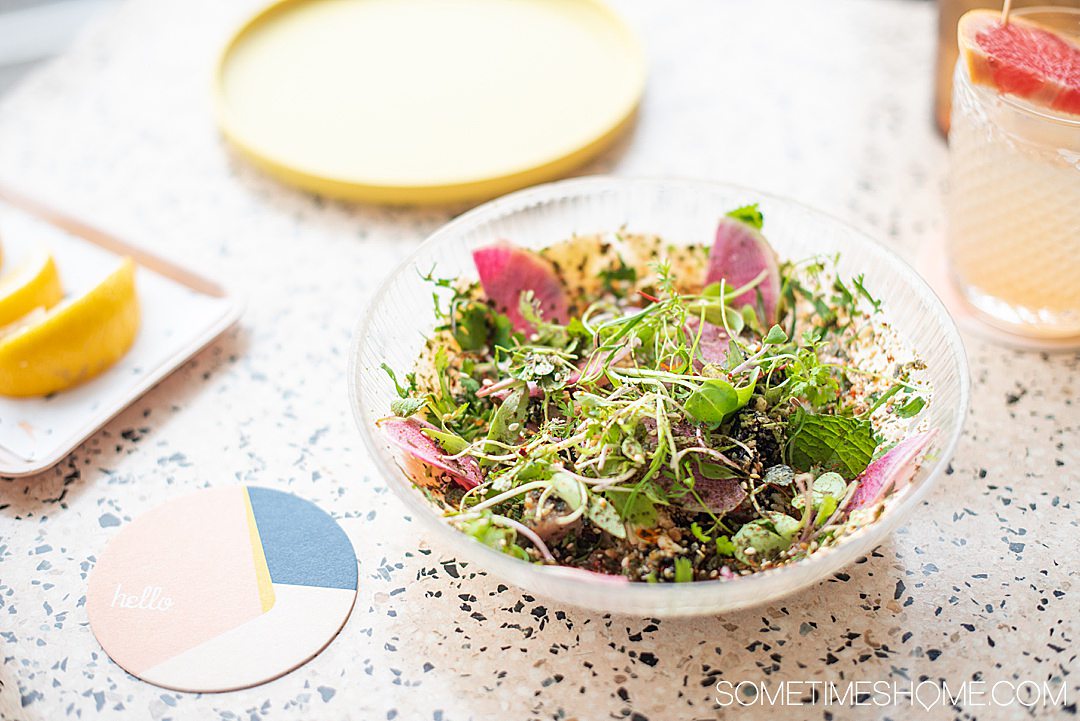 1:30-2:00pm: Drive to Carolina Raptor Center
2:00-3:20pm: Visit Carolina Raptor Center
Birds are fascinating, aren't they? The Carolina Raptor Center (CRC) is a research and rehabilitation center for birds including falcons, vultures, and eagles. It's a great place to see these creatures up close.
Though we don't agree with caging animals, we do strongly believe in a safe place for those who wouldn't survive in the wild due to injuries and illnesses. This is a safe haven for those creatures.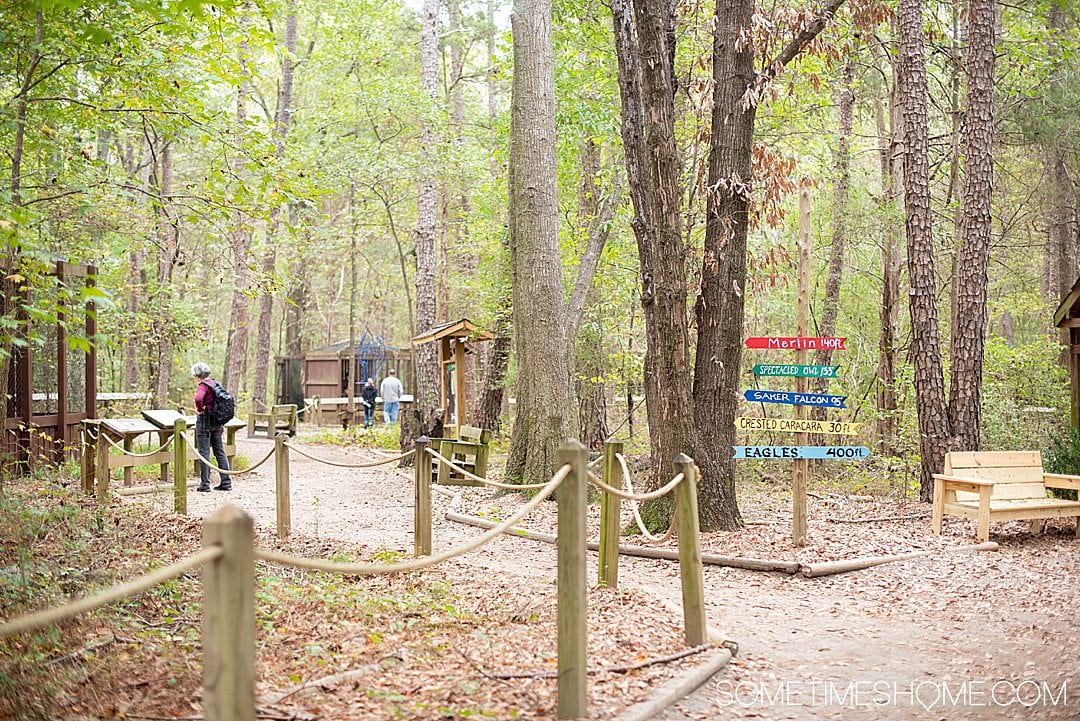 For example, it was very clear some of the birds were missing one of two wings, as seen in the image below. (It seems to be a common effect of birds flying into city cables and getting electrocuted.) And in another area there was a timeline explaining a day in the life of humans at CRC, saving birds' lives. It was fascinating and uplifting!
Carolina Raptor Center is all outside so dress appropriately if it's fall. (Or drizzling as it was when we visited.) And bring sunscreen and sunglasses if it's summer!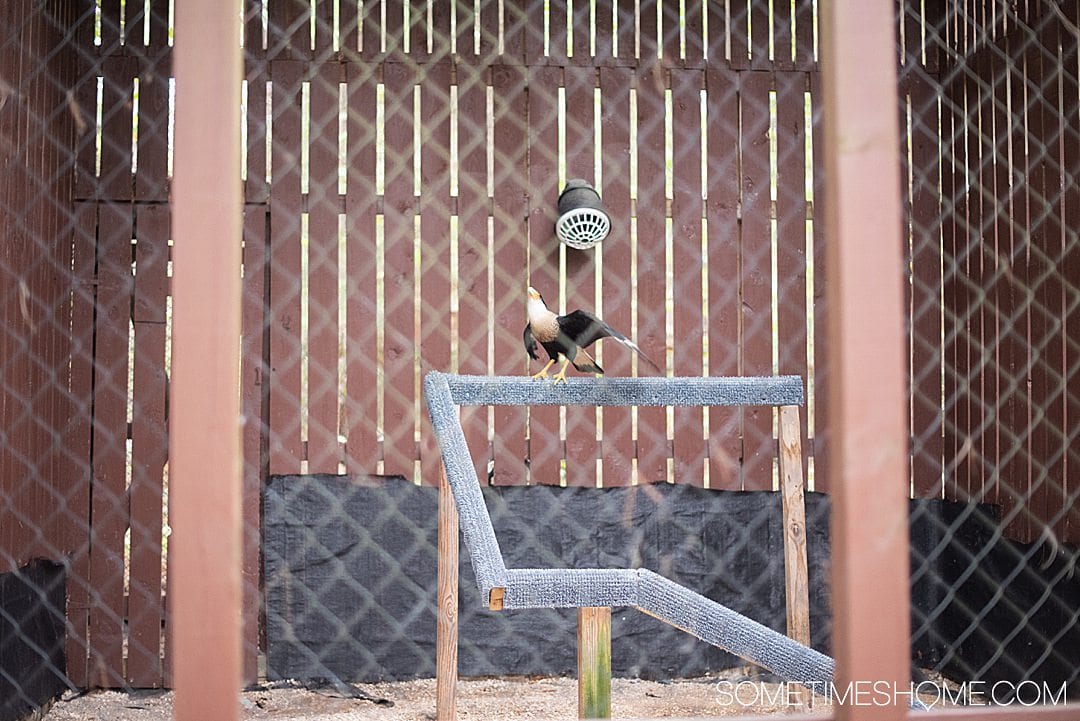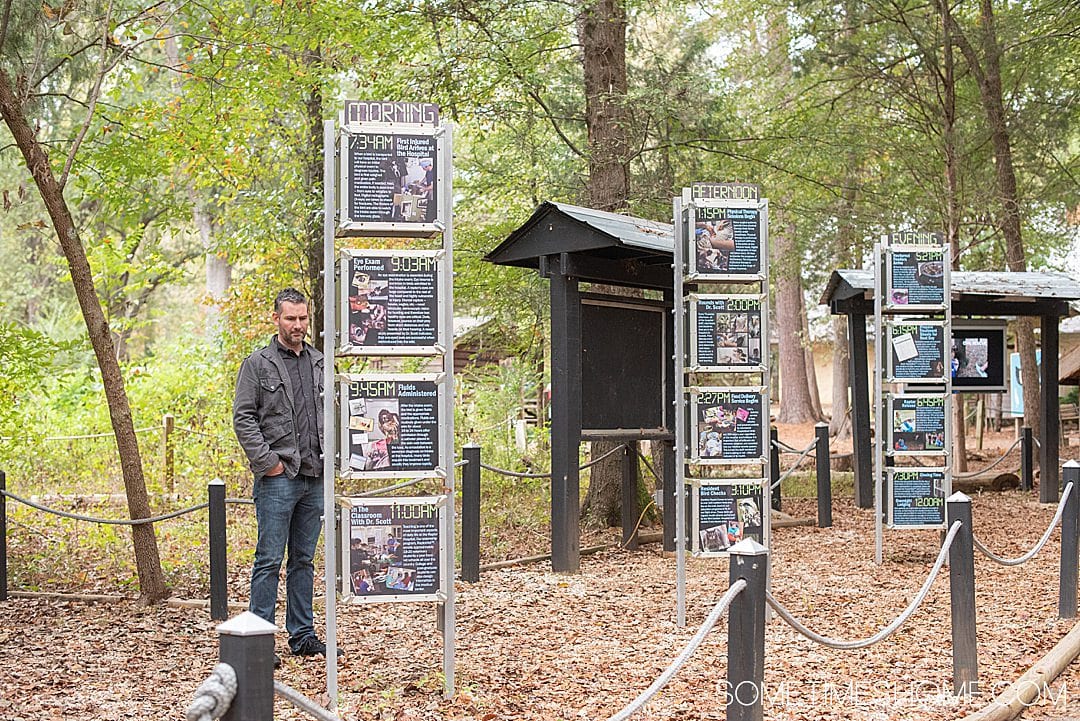 3:20-3:30pm: Drive down the Road to Historic Latta Plantation
3:30-5:30pm: Visit Historic Latta Plantation
Historic Latta Plantation is just a short drive away from Carolina Raptor Center. We arrived with enough time to check out the small indoor museum and tour the plantation home at 4:00pm. They have tours on Saturdays on the hour from 11:00am to 4:00pm, and Sundays at 2:00pm, 3:00pm and 4:00pm. Admission is just $9 for adults.
It was very interesting to learn not just about slavery in North Carolina at the time the plantation was in operation, but how the Latta family and their slaves fit into the overarching history of the era and region.
It's also interesting to walk the grounds (they're not too large – 30 minutes to an hour will do) to see some other historic points of interest on the property.
* Note: As of Fall 2021, Historic Latta Plantation has been closed. The county is assessing opportunities for inclusiveness and education on this historic property.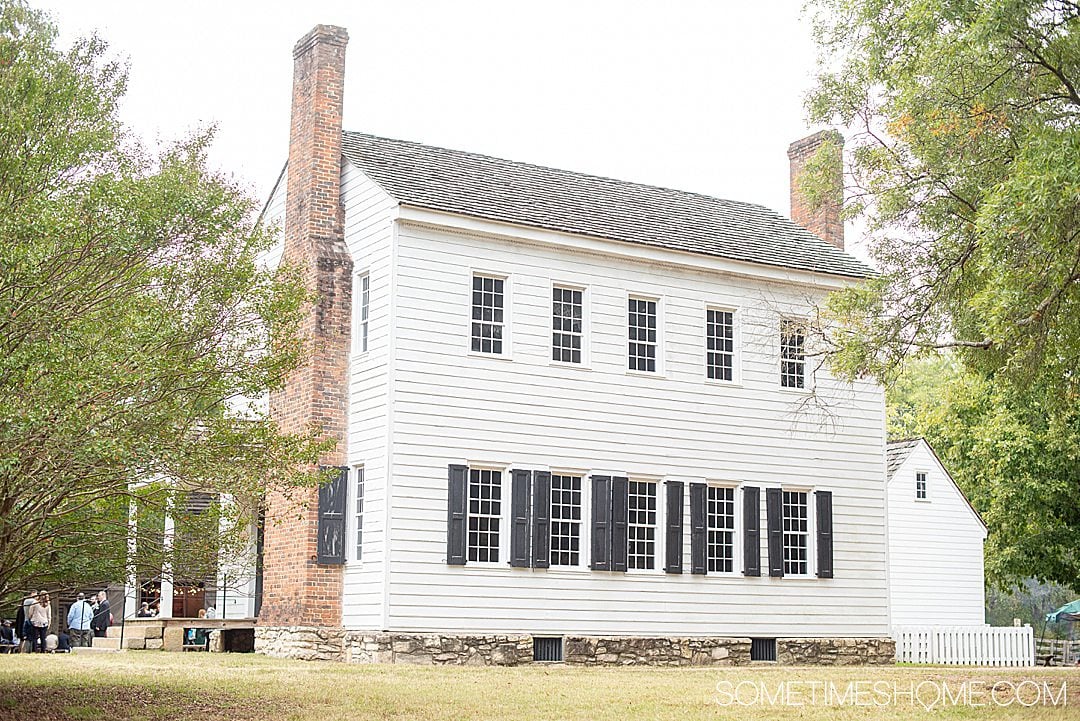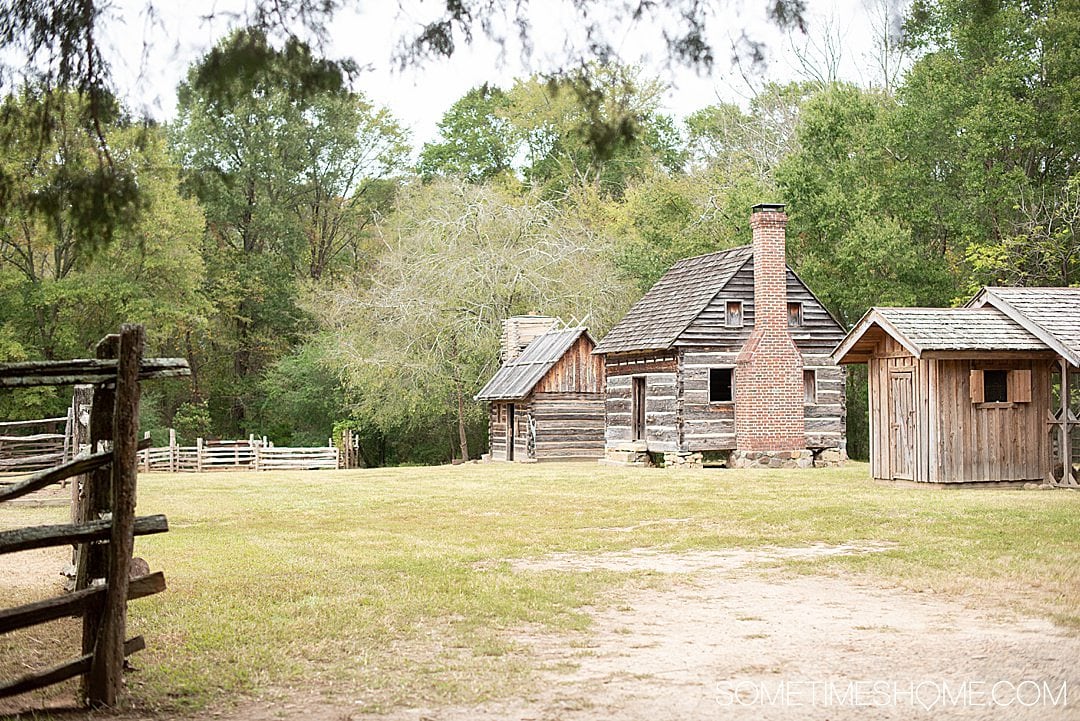 5:30-6:00pm: Drive to Davidson for dinner at Kindred
6:00-8:00pm: Dinner at Kindred
Kindred is a restaurant in the town of Davidson, about thirty minutes from Latta Plantation. It's owned by the same family who owns Hello, Sailor so we knew we were in for a treat. It lives up to the same high-quality standards of food and interior design as its second property.
We enjoyed their fabulous yeast rolls, delicious wine, tapas-size appetizers, and fresh pasta dishes.
Kindred was packed – we highly recommend reservations in advance to be on the safe side. Word to the wise: get the pickles. They were amazing and it's a Kindred family recipe! (I'm salivating as I write this.) I'm also a sucker for fresh pasta of any kind. So I ordered the fresh tagliatelle with only a minor second thought, considering all the appealing menu items surrounding it. It did not disappoint!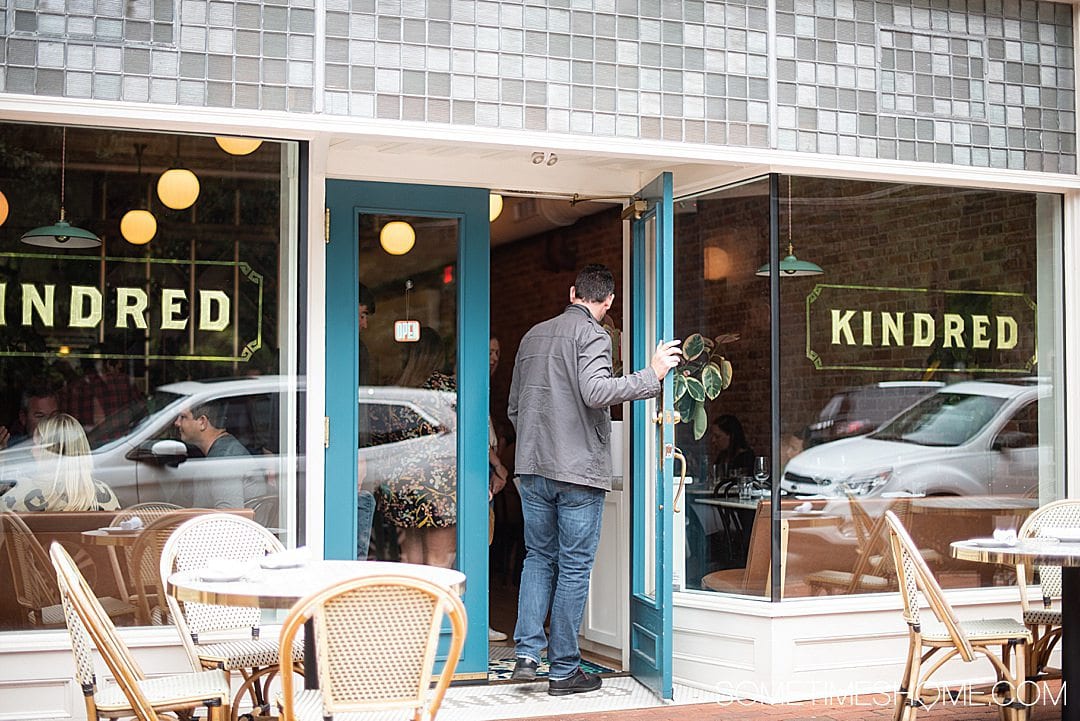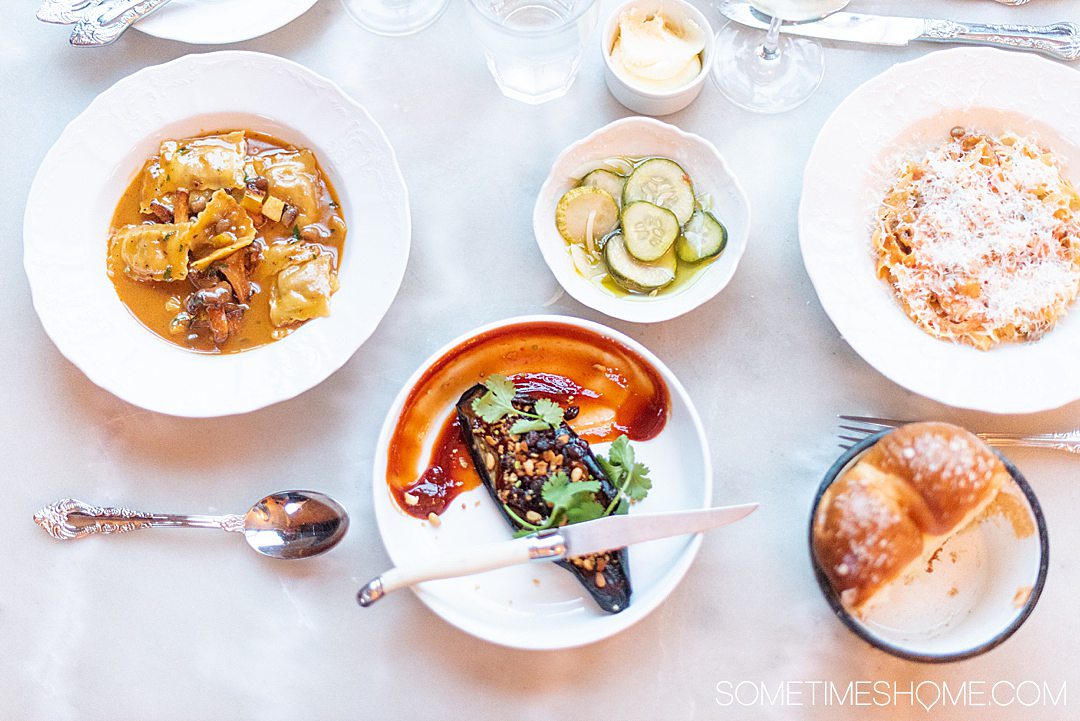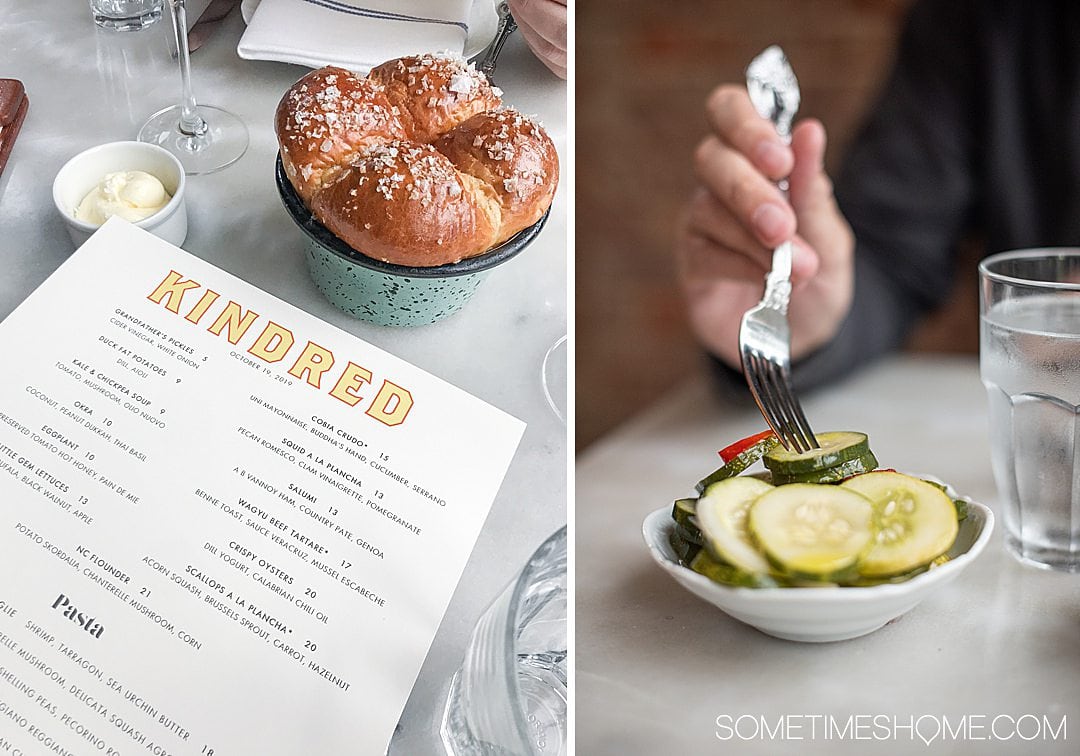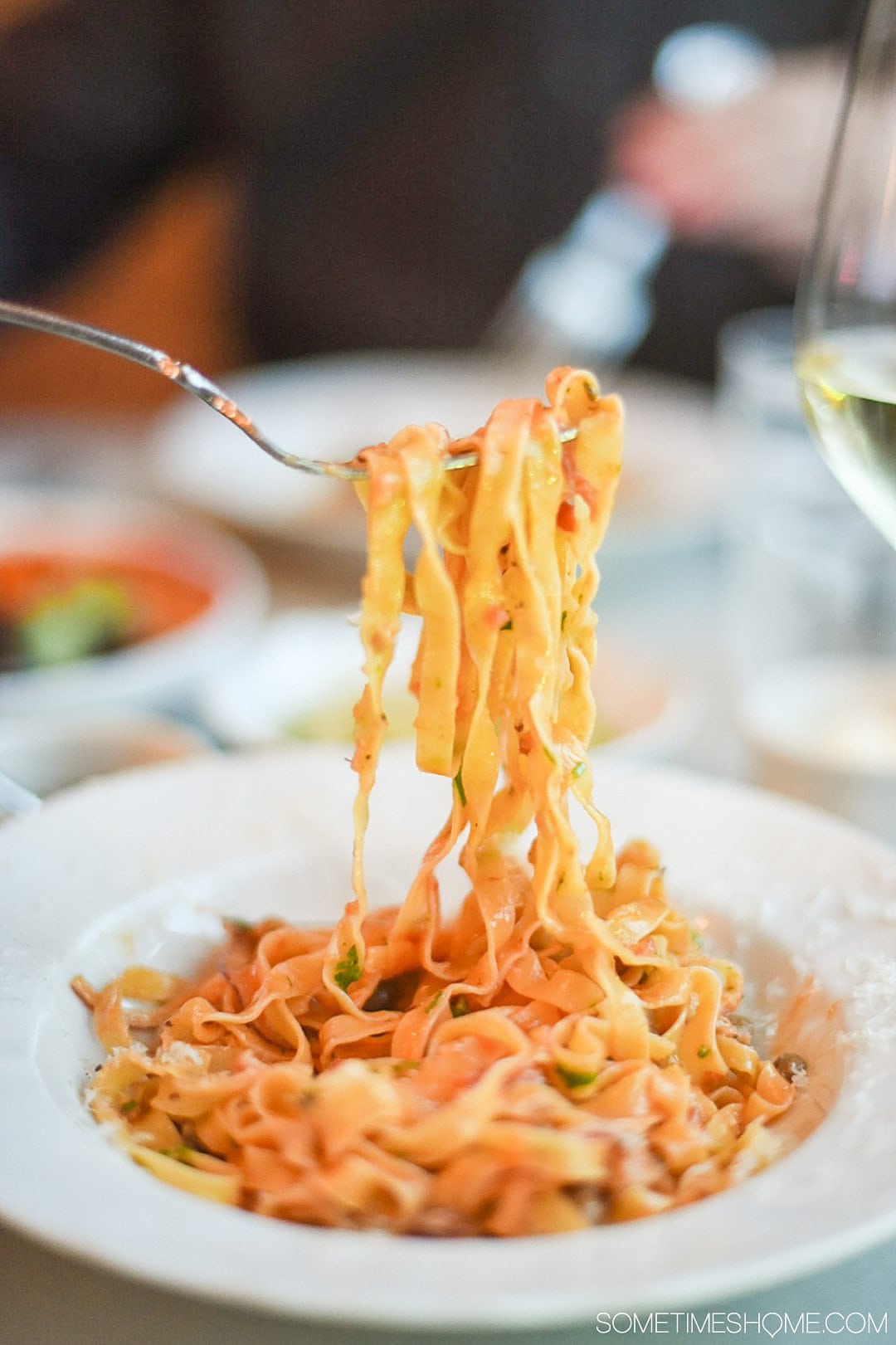 8:00-8:20pm: Drive to the Hotel
8:20pm: Check into the Hotel
Check into your hotel after dinner to digest and familiarize yourself with your accommodations. We really enjoyed our stay at the new Four Points Sheraton. It's a relatively new hotel in a great location and has competitive rates. The staff was also super friendly.
It's been a long day! However, if you're up for more activities check out what live music is happening around town.
We recommend beers at Primal Brewery or Boatyard Eats, especially on a Friday or Saturday night.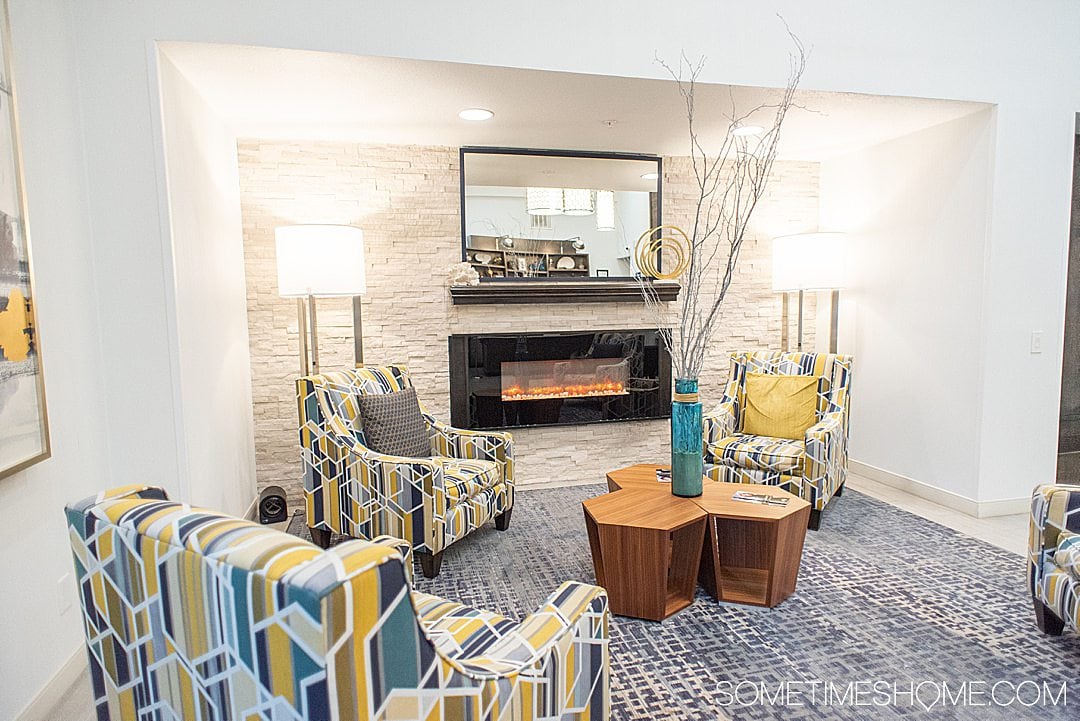 Day 2: Sunday
We visited Lake Norman during fall to purposely take advantage of the Carolina Renaissance Festival that's in Huntersville from early October to late November. Thus, our Sunday was mostly reserved for the "CarRenFest," as it's known.
If you're going to Lake Norman during an autumn weekend the Carolina Renaissance Festival is a must. We had a blast attending two years in a row and cannot recommend it enough. This time we added a pub crawl to our agenda during our weekend getaway near Charlotte, NC; it didn't disappoint! (Because remember, Lake Norman is SO close to Charlotte!)
Option 1: 9:30am-5:30pm Carolina Renaissance Festival
We arrived to the festival at around 9:30am to partake in the comedic Pub Crawl. Afterward, we had time to see a jousting match, get lunch, walk around and enjoy live performances.
We left the fair before the sunset, between 5:00-5:30pm, so we could enjoy dinner on the water again. (Also the Festival closes at sunset.) Why not take full advantage of Lake Norman, right?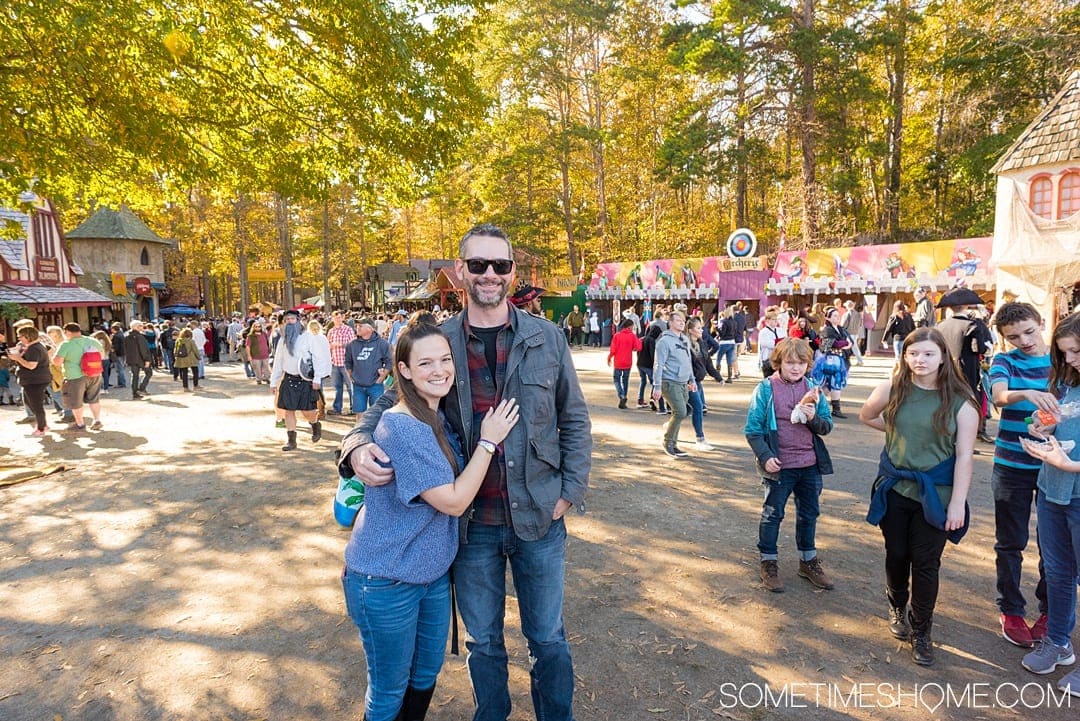 ALTERNATIVE TO THE RENAISSANCE FESTIVAL: We truly enjoy the Renaissance Festival, even as two adults without children who aren't into cosplay or the actual Renaissance period more than the average Joe. However, we know it's not for everyone.
If you aren't wanting to go to CarRenFest, or you're there outside the event dates, there is plenty to do in Lake Norman to occupy your time.
Option 2: 9:30am – 5:30pm Spend the Day Exploring Lake Norman
Here are three ideas:
1. Play miniature golf at Lake Norman (LKN) Miniature Golf
We have played a fair amount of miniature golf courses in our day, including at Walt Disney World, and we have to say LKN Mini Golf was our FAVORITE. It's a really beautifully landscaped, great course. It's also locally owned and operated by a family who bought it from the original owners in 2017.
If you're lucky enough to be there during Halloween time you may be able to experience its Halloween-themed overlay, which was the icing on the cake! For an added adult-fun-bonus, try one of the beers they have on tap, which you can purchase at the ticket window.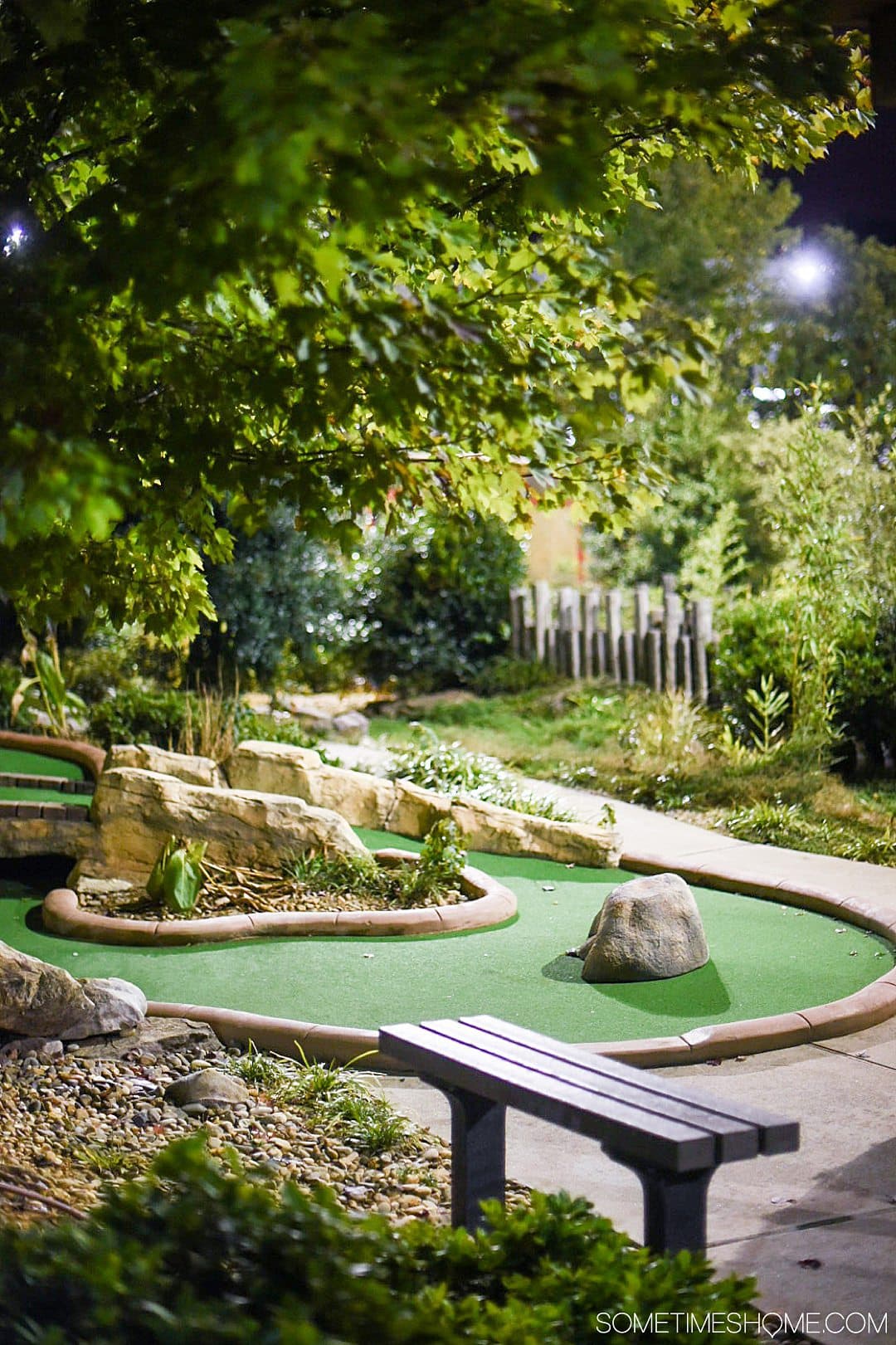 2. Enjoy a brewery in Lake Norman: we recommend Ass Clown Brewing or Primal Brewery
Ass Clown Brewing is located in the middle of a warehouse area; we wondered if we were in the right area with so many storage companies surrounding our drive there but it reminded us of a lot of brewery locations in San Diego so we didn't think it was wildly unusual. We're so glad we went!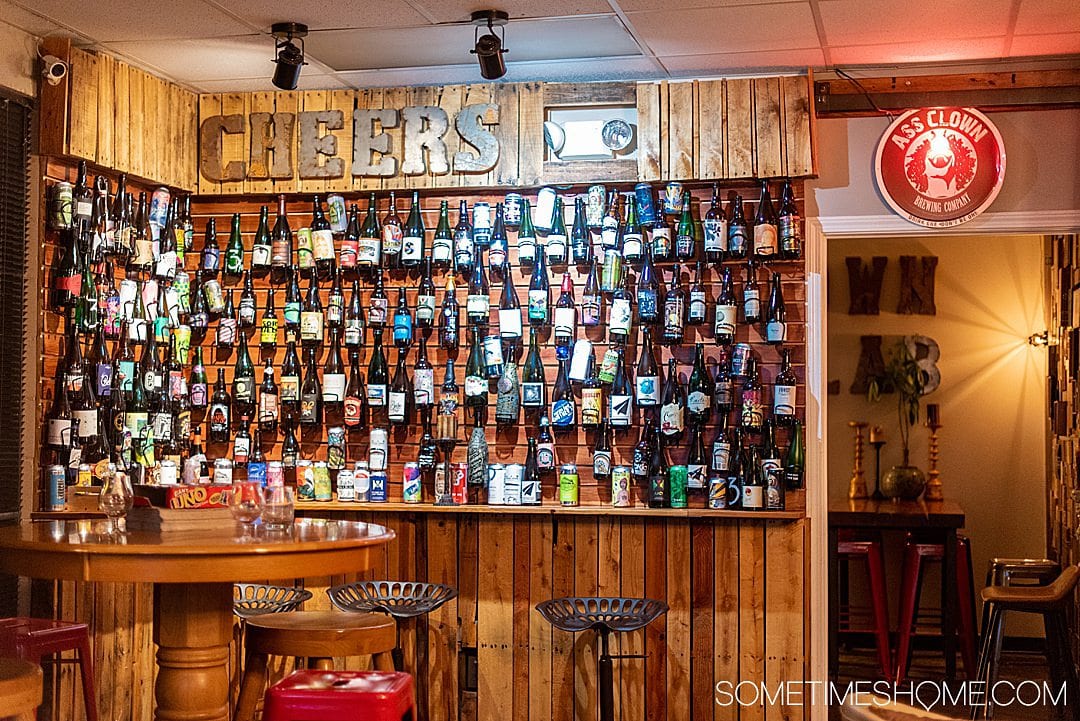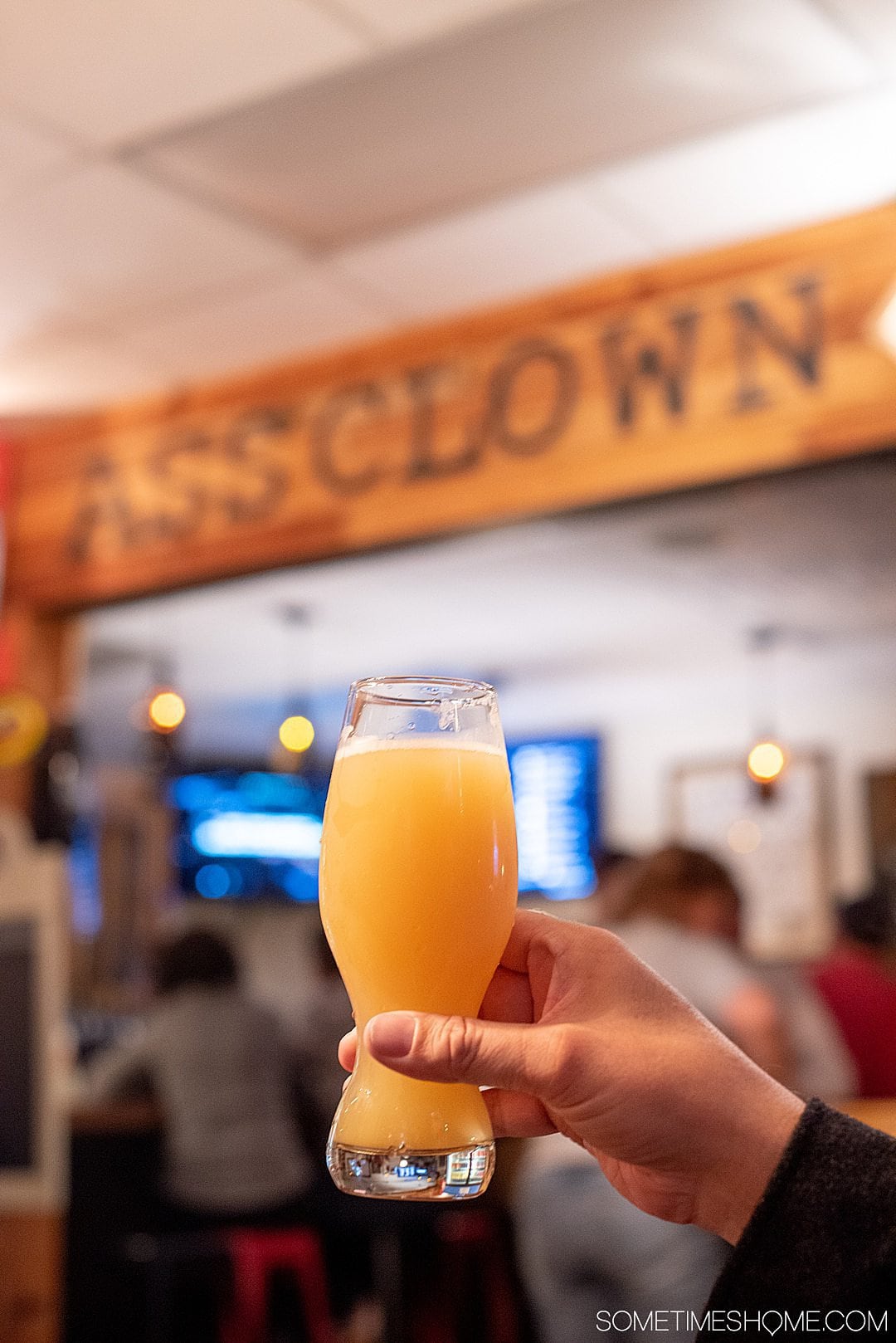 Ass Clown Brewing's motto is "Drink One, Don't Be One". They have wine as well 32 rotating beer taps. Limited snacks are available, including a charcuterie plate for about $15 and local North Carolina Pimento Cheese from Winston-Salem for under $10.
*Note they open at 2:00pm Monday through Thursday and at noon Friday through Sunday.
Primal Brewery is open daily and has a beautiful tasting room, rotating food trucks, and is dog friendly. They have live music some weekends so be sure to check their social media or website for additional information.
They have year-round, seasonal, barrel-aged, and limited-release beers. There's truly something for every beer drinker here.
3. Head to Birkdale Village for lunch and shopping
Lake Norman's main shopping village, Birkdale Village, is a one-stop area for food, clothing, live music on many weekends, and even the movies! One of my favorite lunches was here, at Kung Foo Noodle and Drink. (Because no matter the weather we love a bowl of hot noodle soup! By the way, have you seen our food-stagram account? Follow along on our foodie adventures!)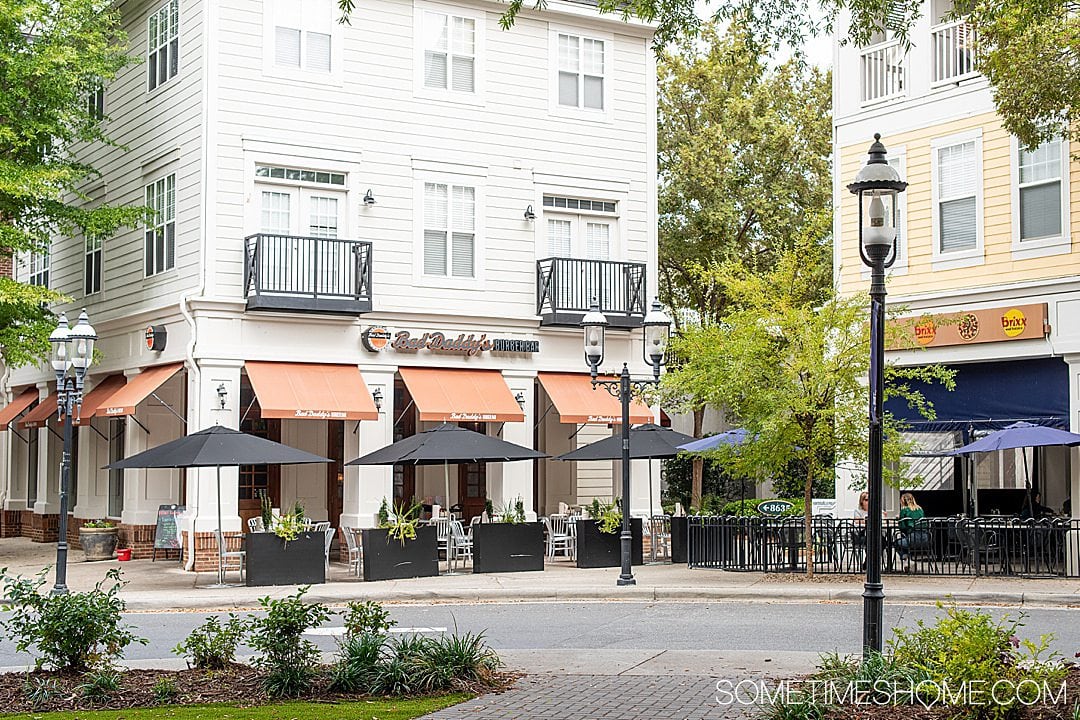 5:30-5:50pm: Drive to Port City Club for dinner
5:50-7:30pm: Dinner at Port City Club
This is the ultimate spot for romance in Lake Norman. The beautiful vision of the sunset colors filling the sky over Lake Norman is implanted in our memories.
Port City Club has plenty of seating with various views of the water, including a porch that's screened in for warmth during fall. Alternatively, enjoy sitting on an outdoor couch on their beach. Yes, a beach! You'll feel sand beneath your feet as you sip a cocktail and enjoy life.
We got yummy appetizers, fresh cocktails, and delectable entrees. We were too stuffed for dessert! (But we know it would have been tasty.)
Port City Club is open daily.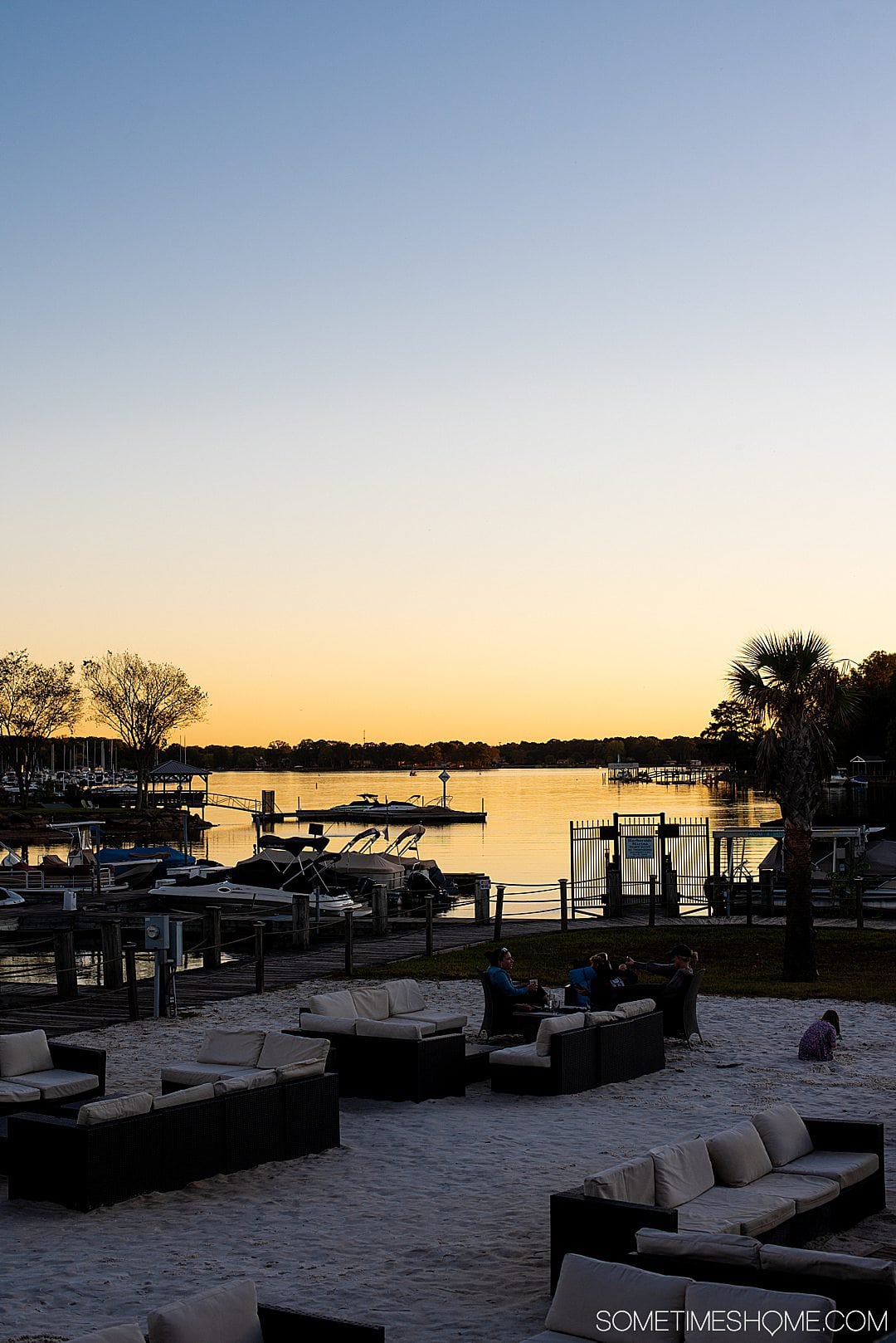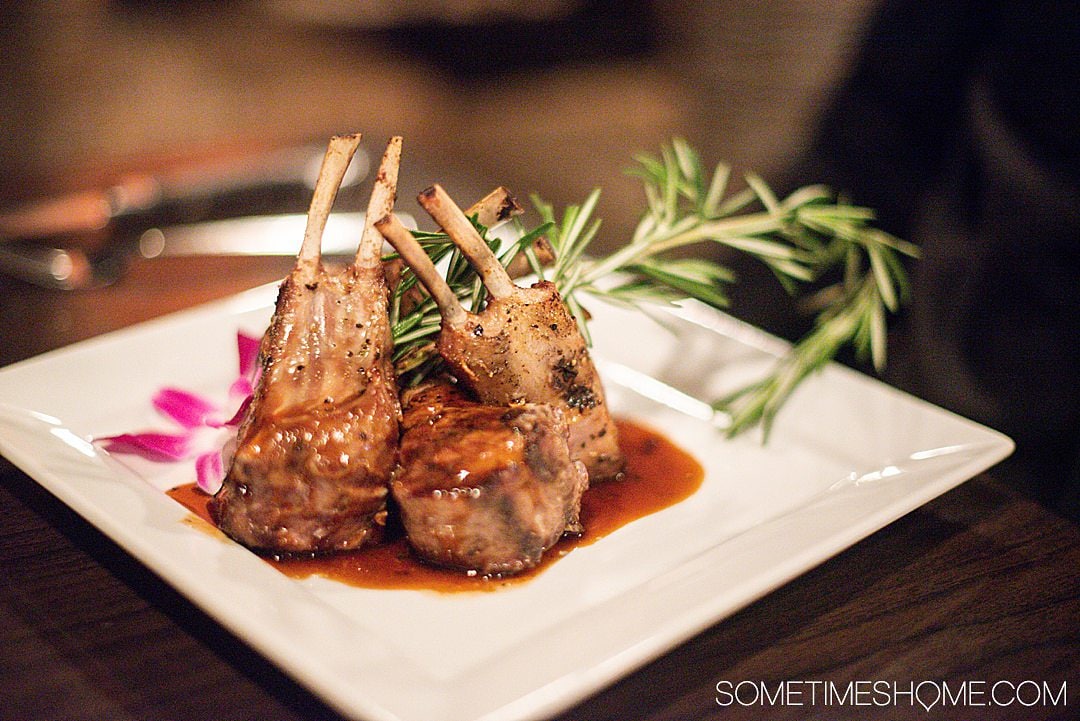 7:30pm: Drive to the hotel and relax for the evening
Day 3: Monday
10:00am: Hotel check out
We checked out of our hotel in the morning to head to Davidson college area for coffee and breakfast. We were on a mission to get to view some art after we were caffeinated.
10:00-10:30am: Drive to Davidson College area
We headed back to the Davidson college area, where we were for dinner at Kindred two nights before. We parked our car and walked over to Main Street for some java at Good Drip Coffee. (Next time we're in town we want to check out Summit Coffee's Outpost location on Davidson's campus.)
We were eyeing breakfast at the Famous Toastery, a cute diner-like restaurant with curb appeal. We'll have to stop there next time!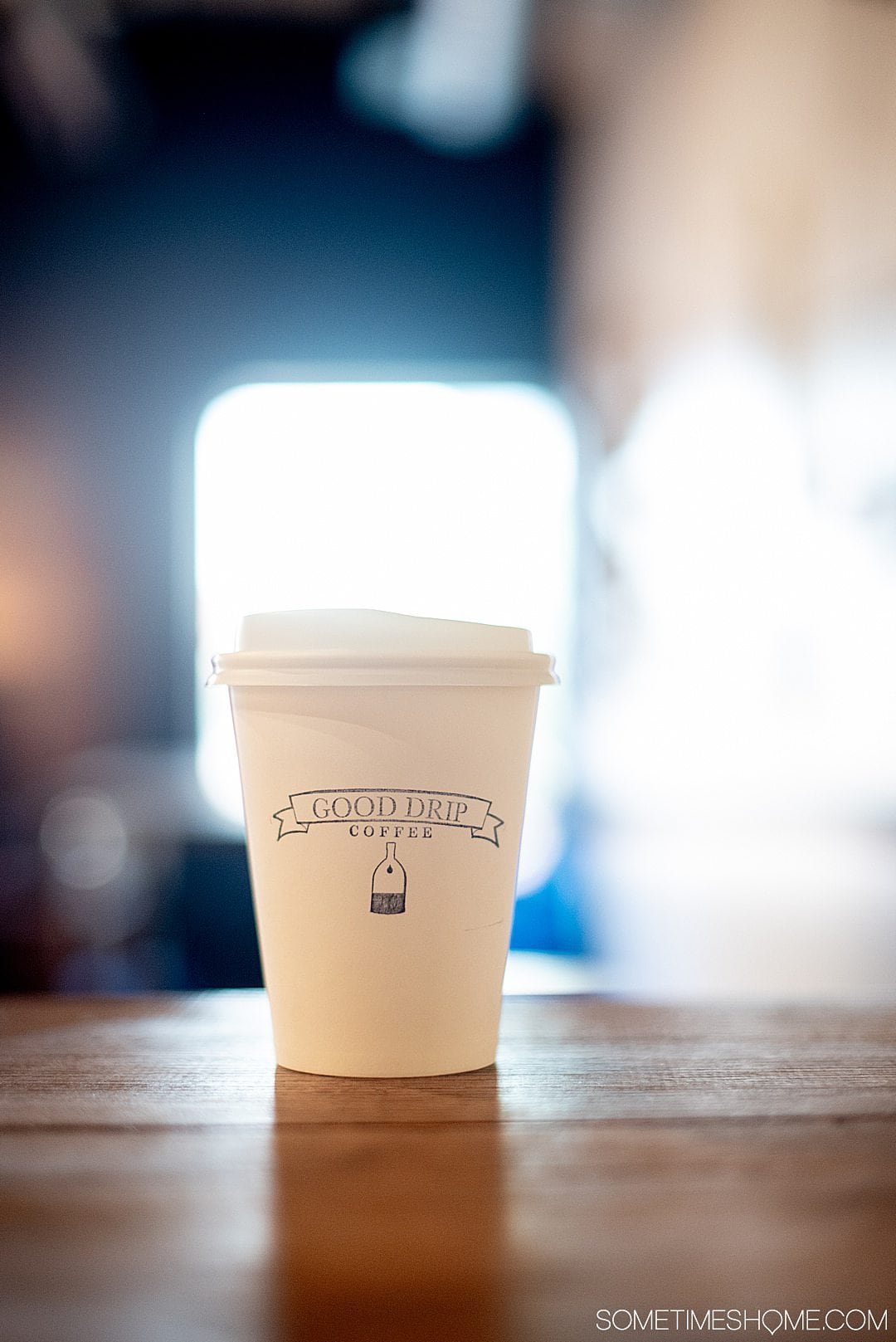 10:30-10:40am: Walk over to Davidson College's Belk Visual Arts Center
It's a short walk from Main Street over to the Visual Arts Center. Feel free to park your car and simply walk on over!
10:40-12:00pm: Davidson College Campus Sculpture Tour
We started inside the main gallery building to pick up a guide to the sculptures on campus. (If for some reason the gallery is closed when you are there, there's a list of campus art online as well but it doesn't have the audioguide on it.)
Davidson is a Liberal Arts college with about 2,000 students. They teach a number of classes in the art center, which functions on a school calendar. So there's less going on in the summer and winter and more when school's in session during fall and spring.
The gallery hours are Monday, Wednesday, and Friday from 10:00am to 5:00pm, Thursdays from 10:00am to 7:00pm, and weekends from noon to 4:00pm when school is in session. Anyone taking classes at Davidson can submit a gallery idea, which we thought was rather cool!
Be sure to poke around the gallery if they're open while you're there then start your on-campus sculpture tour journey. (Don't forget to look at the Rodin sculpture, titled Jean D'Aire, inside near the front desk.)
The campus tour is self-guided and free to the public. The audioguide is accessible from your phone and makes viewing the art more interesting and educational.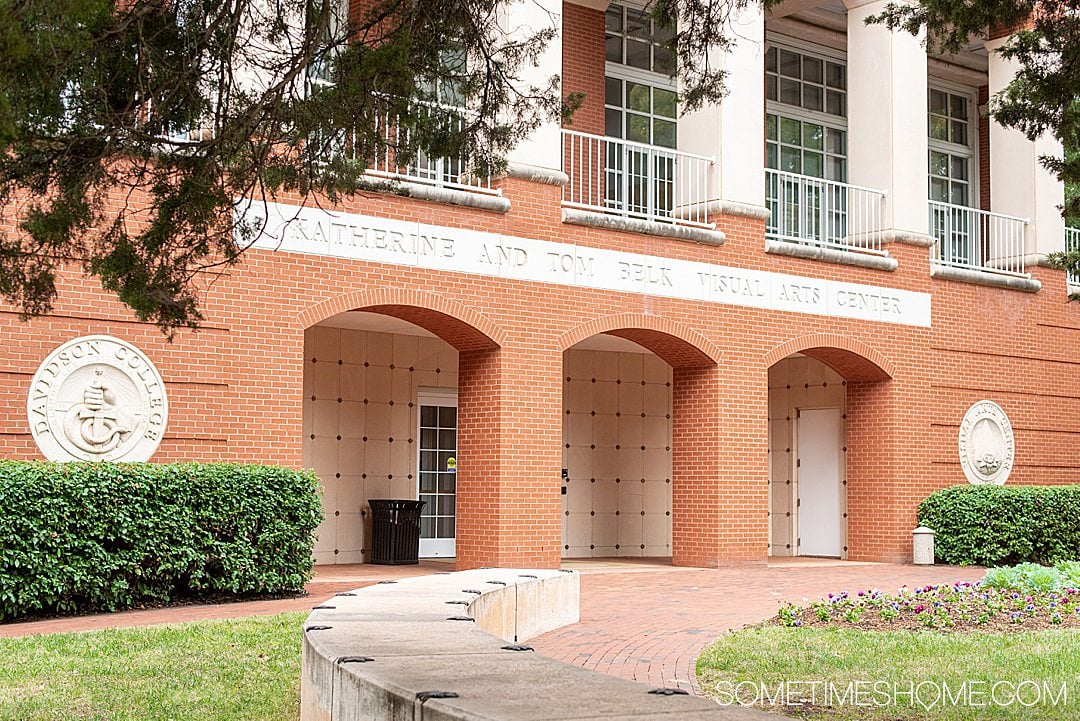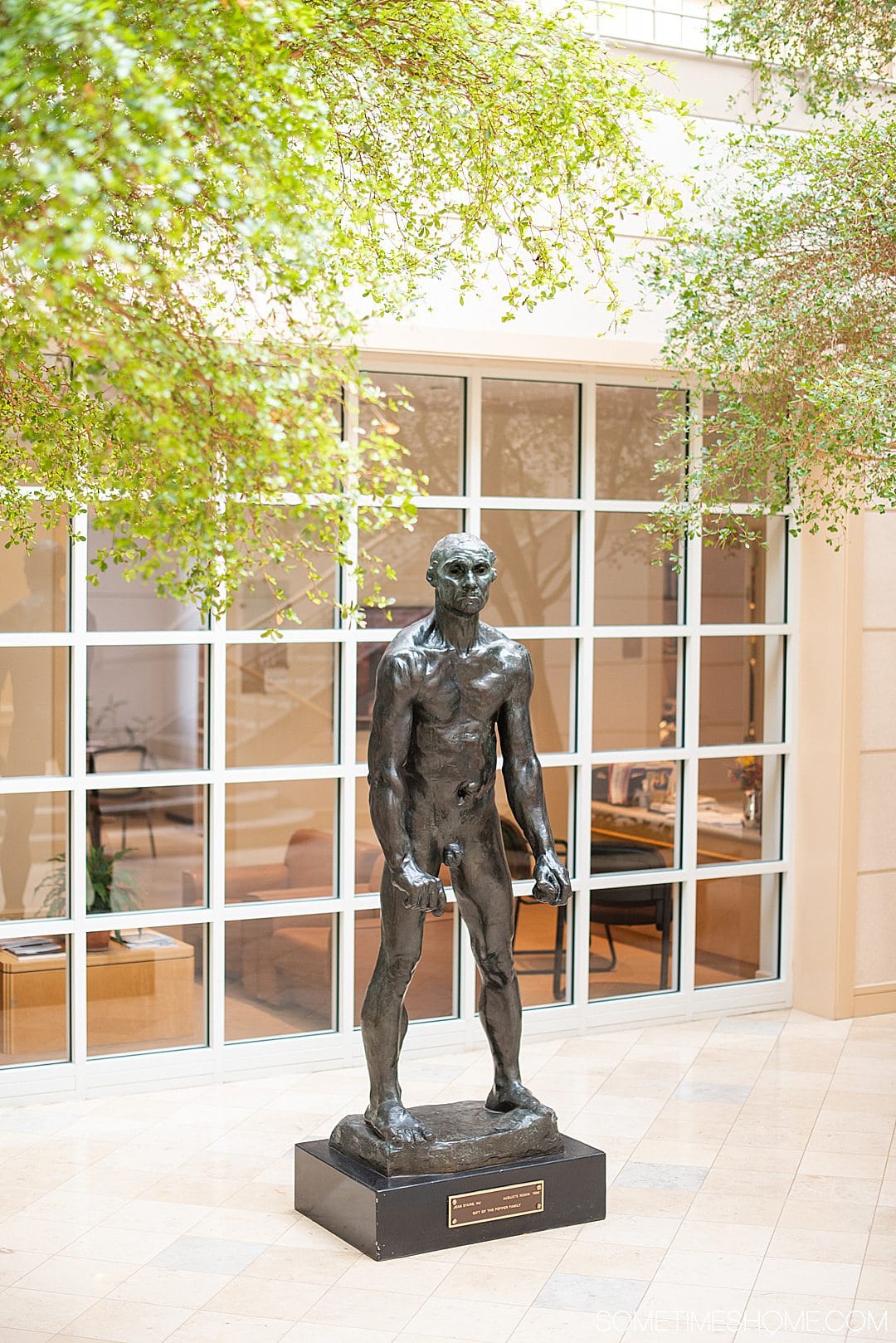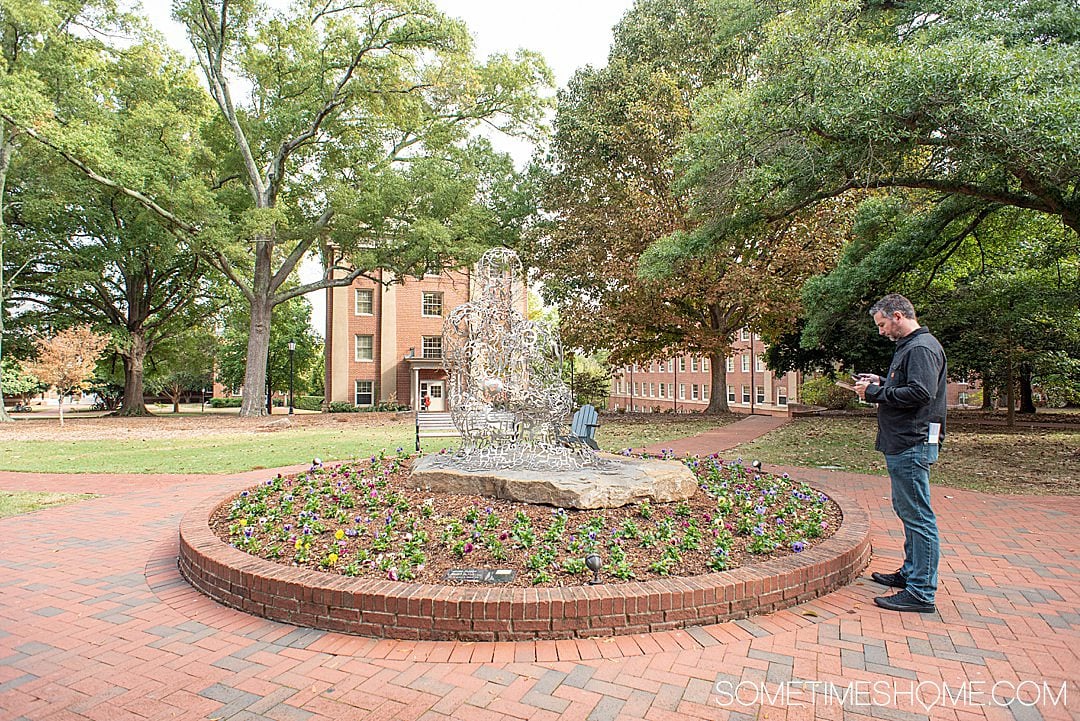 12:00pm: Head home or explore Lake Norman more, or a Nearby Area
Depending on your schedule, and if you did the Renaissance Festival over the weekend, either head home or explore Lake Norman more. If you haven't visited the breweries and Birkdale Village yet, we recommend it.
We also recommend continuing your trip to explore York County, SC, which is about 30 minutes south of the Charlotte area. There are great things to do in York County and you're already nearly there!
Please note: We thank Visit Lake Norman for generously hosting us. We also may make a small commission from affiliate links in this post but all opinions are ours and we bring you genuine content with real facts, photos, thoughts and recommendations. Always.
Heading to the Piedmont region of North Carolina? Also check out:
Let us know if you have been to Lake Norman in the comments below or this has piqued your interest. Be sure to save the image below to Pinterest either way!