Downtown Abbeville in Old 96, SC: European Charm in the South
We set out to enjoy an afternoon walking around downtown Abbeville in South Carolina in the Old 96 district. It was a relaxing weekend and we didn't want to jam pack our schedule or over-extend our energy at the end of a long year when we visited during fall.
We found the downtown area delightfully reminded us of a charming small town in Europe, complete with a quaint square and central monument. Colorful facades, appealing shops and interesting history are what you'll find here.
Please note: We thank Old 96 Tourism Commission for generously hosting our tasting. We also may make a small commission from affiliate links in this post but all opinions are ours and we bring you genuine content with real facts, photos, thoughts and recommendations. Always.
Center Square in Downtown Abbeville, South Carolina
As soon as you arrive in downtown Abbeville you immediately notice its square. It's very much European in style, with a central park surrounded by shops; it reminded us of the way the squares are set up in historic downtown Savannah, Georgia. It also reminded us of Sainte-Mere-Eglise, in Normandy, France, though on a smaller scale.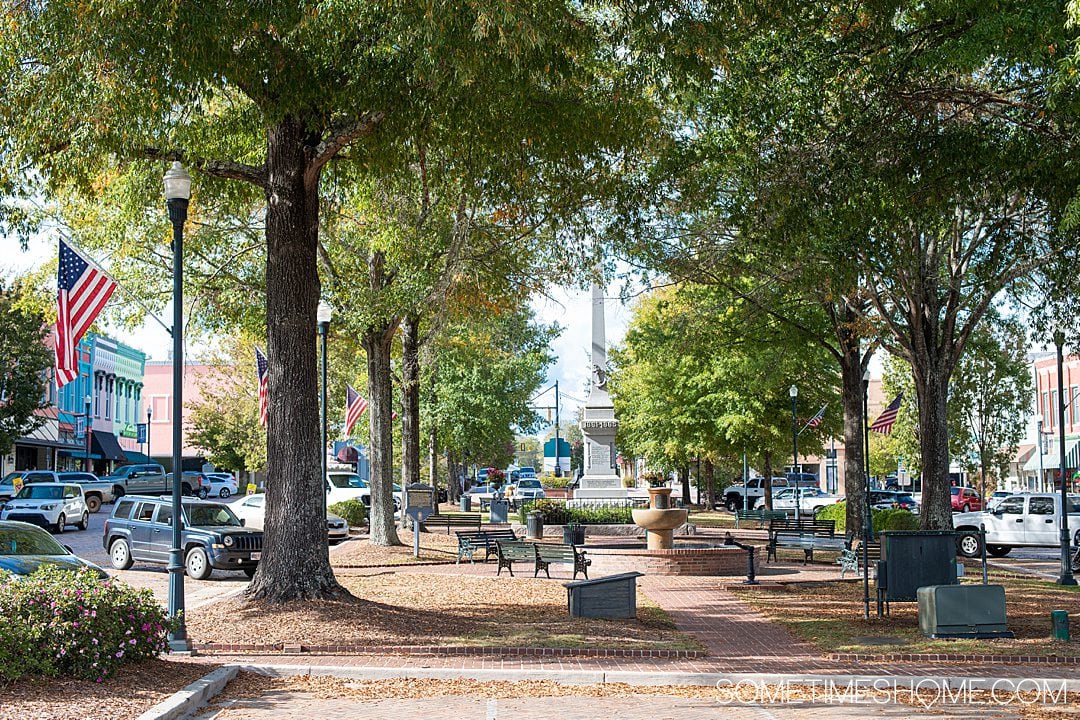 Colorful Facades of the Downtown Shops in Abbeville
After the layout of the city square came into focus the next thing was its colors. The colorful facades of the shops would give Rainbow Row in downtown Charleston a run for its money!
They're beautiful. Purple, yellow, two tones of green, pink and more paint the town rainbow. I couldn't help but think of the beautiful and equally colorful buildings we saw in Colmar, France.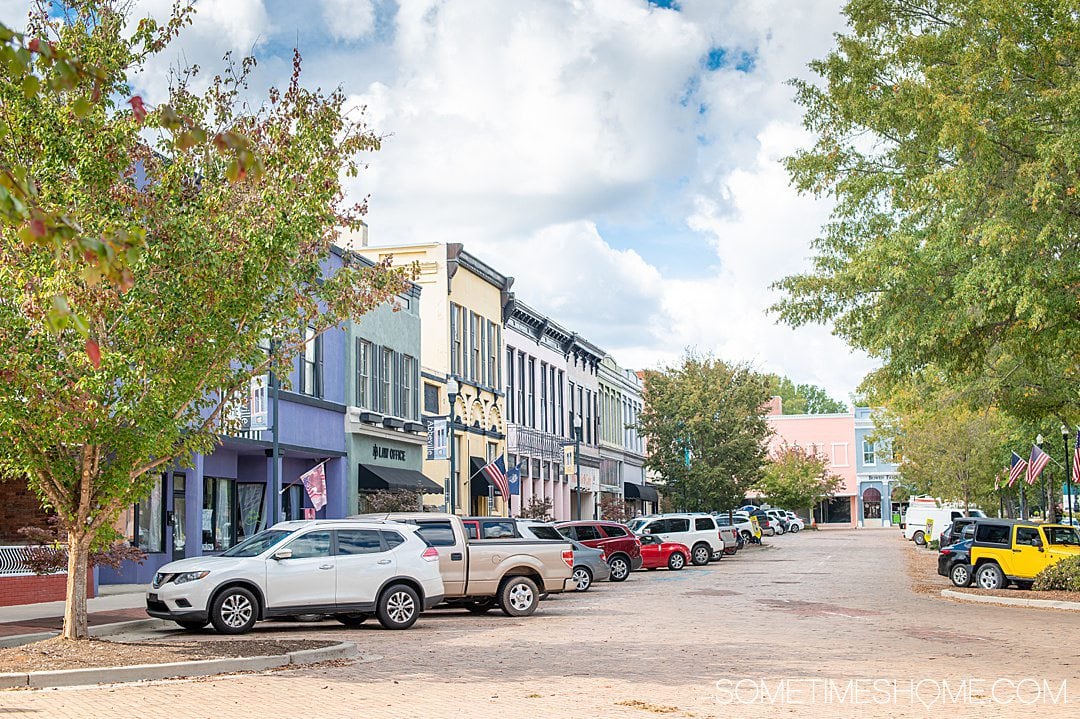 The Abbeville Opera House
Another thing that reminded us of Europe was an Opera House in the middle of town. An OPERA house! It still hosts live performances – mostly bands. The performances aren't usually for actual operas but even when it debuted in the 1900's it served as a forum for a variety of things, including plays, speeches, and the like.
It opened in 1904, two years after its neighbor, the Eureka hotel (now the Belmont Inn). The Abbeville Opera House was remodeled in the 1960s and was listed on the National Register of Historic Places in 1970.
The Opera House was open for visitors when we walked around historic downtown; we walked inside and were able to see the stage, box seats, grand red-fabric curtains, and chairs.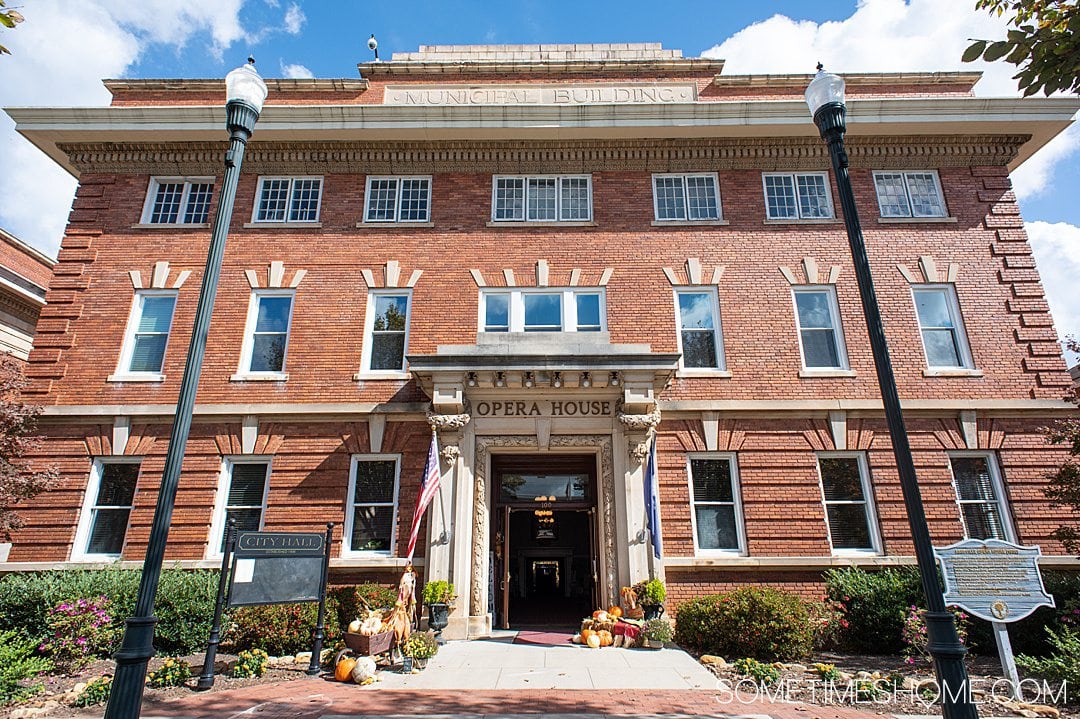 Abbeville's Belmont Inn
One of the most fun buildings in downtown Abbeville is the Belmont Inn hotel. It's been a staple here for over 70 years and has changed hands a few times. We happened to have met Sue, its current owner and General Manager, who greeted us on the hotel porch after we walked up the steps. She couldn't have been more warm and welcoming.
It was originally built in 1902 as the Eureka hotel and was changed over to the Belmont Inn, in the 1950s.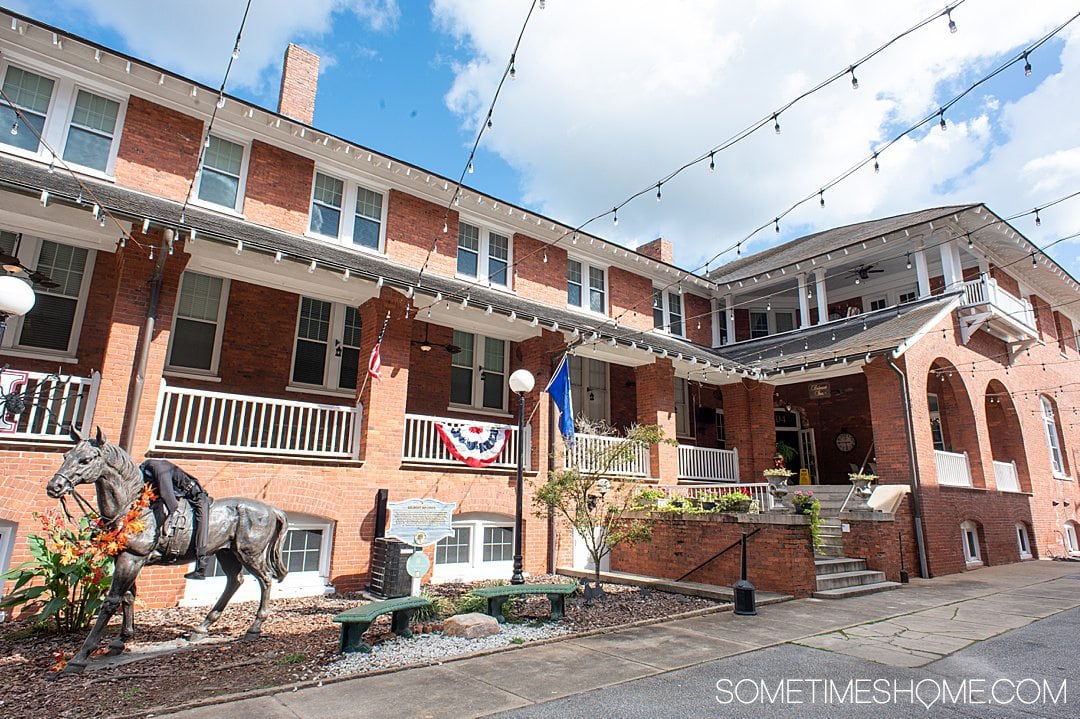 Its interior public spaces feel like a very old inn. It's like you're stepping into someone's home in the mid 20th century, even though many of the details are from its last renovation of those public areas in the 1980s.
We had a peek at the rooms – they were very spacious and looked quite nice and more modernized. But they still had a warmth and coziness to them you'd yearn for in a small, charming historic town with a European feel, like Abbeville. The online reviews of Belmont Inn are great.
The bottom floor of the hotel is JP's Food and Spirits, a restaurant and bar that often has live music during the week.
Though we stayed in Greenwood in Old 96 South Carolina our first visit, (which was when we explored Abbeville during the day), it's a great option to book if you want to stay in Abbeville.
Book Belmont Inn on Booking.com or Hotels.com.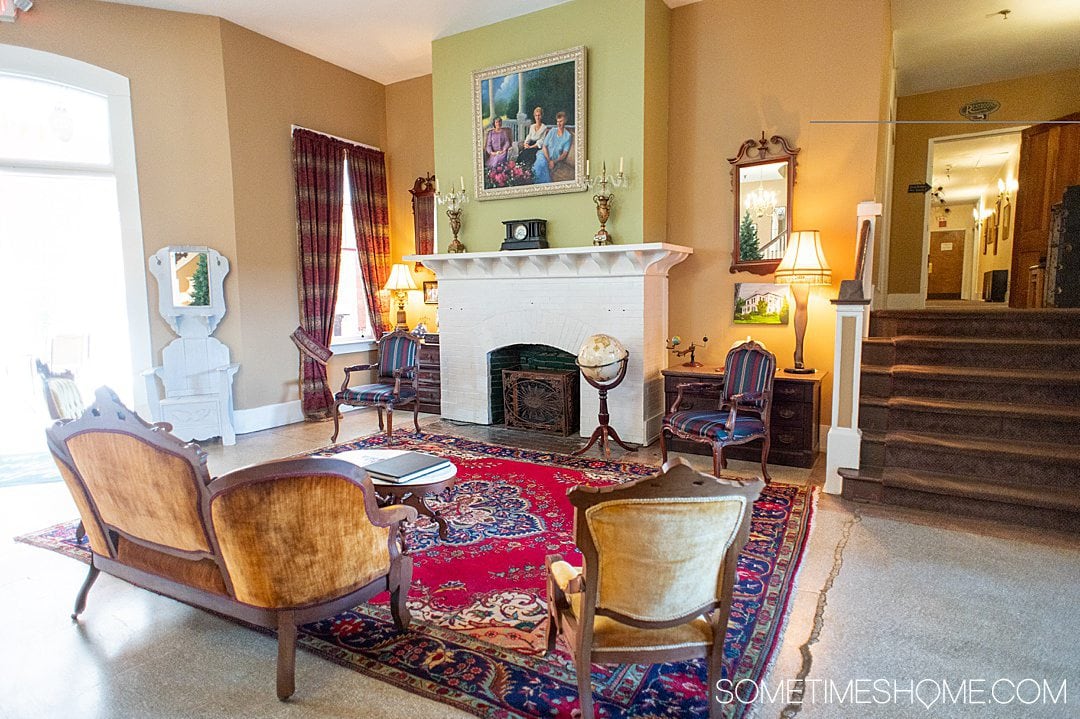 Divine Your Space: Plant, Urban Home and Garden Shop
We loved this plant shop! We have a little bit of an obsession with plants including ordering them for friends as gifts via Bloomscape and buying them at shops for ourselves.
So we were in heaven when we stepped into Divine Your Space. And to find they also carry fun pots and planters, beautiful crystals and some assorted home decor items was awesome. Dare we say it was…divine?
Address: 130 Trinity St, Abbeville, SC 29620
Abbeville's Trinity Episcopal Church
Something that made us feel very much like we were in a European town was seeing this impactful church at the end of Trinity Street, which is just off the main square in downtown Abbeville. It's also caddy-corner to Divine Your Space plant shop.
The Gothic-style church is undergoing a major renovation – which is understandable since it's been there since the 1860s. The church and its cemetery were placed on the National Register of Historic Places in 1971.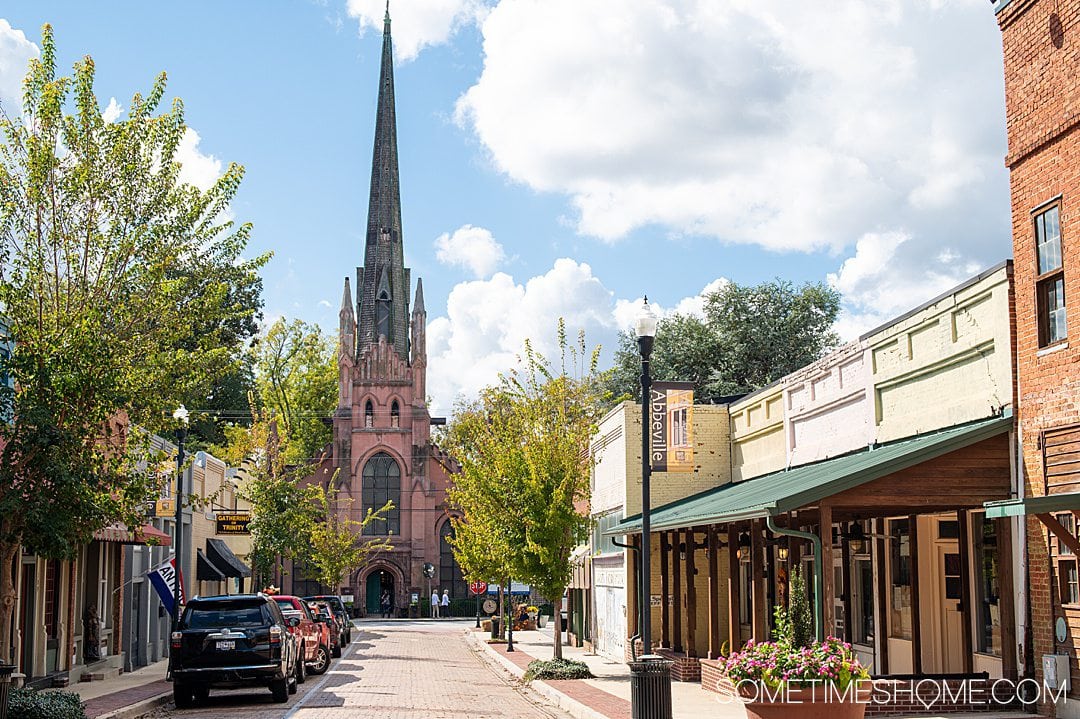 The Crate and Quill Vintage Market: Downtown Abbeville Antique Shop
We aren't much for antiquing but it's always fun to see what kind of things a great antique shop sells if we happen upon it, especially if their visual merchandising is appealing. (Much like it was at LeClair's shop in Fayetteville, NC).
The Crate and Quill Vintage Market is worth a pop-in and walk around. They also have ice cream inside if you're craving a cold treat.
What's even more heart-warming than the things for sale with years of unknown history inside is the story of its owners. Years before the couple that now owns the space called "Abbey's Alley," where their store is, moved to Abbeville they visited the city on a road trip to South Carolina.
One perfect evening consisted of dessert and music in that same space where their shop now is! Owners Jenn and Jason Walker had the opportunity to move to this memorable town later on in life. They purchased the building, breathed new life into it, and voila, Crate and Quill!
Daily Bread Bakery
Just a couple doors down from The Crate and Quill Vintage Market is Daily Bread Bakery. You can pick up some cookies, a sweet cake loaf, savor fresh bread, or even flavored popcorn there.
Every great European town has a fresh bakery, which is just another reason downtown Abbeville reminded us of one.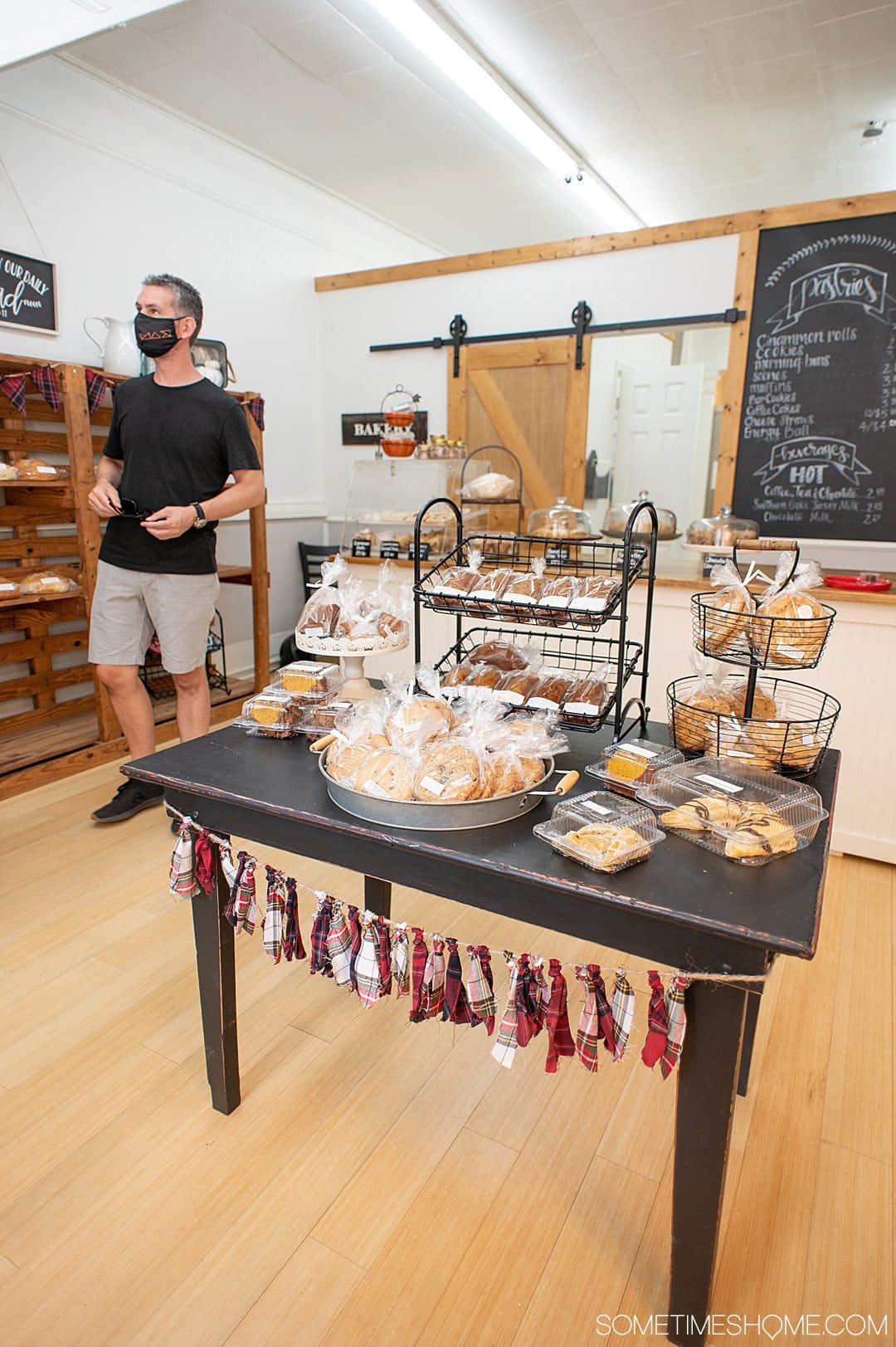 Breezy Quarters Bath and Spa Products
Visit Breezy Quarters if you love self-care products. They sell things like bath fizz bombs, candle warmers, teas, lotions, body scrubs, essential oils, and candles.
A cool item available at their shop is no-melt lip balm. (If you're ever been in the south in the summer and have left lip-balm in your car you quickly realize melting is an issue.)
One of my favorite things to check out at a shop like this is handmade soaps (like I go crazy for at Basin in Disney Springs) – and they have great options.
Founder and owner, Paige Bowser, retired as a teacher when she took her products from the local farmer's market to a brick and mortar shop in downtown Abbeville. She's proud to be a part of the town's revitalization…and we love that!
Urban 2 Country Home and Market
If you're looking for gourmet foods, assorted gifts, and even a small variety of knick-knacks, this is the place.
The front room at Urban 2 Country Home and Market is dedicated to items like pickled veggies and gourmet sauces. The back rooms have other things for the home.
It very much reminded me of a little shop we visited on our food tour in Paris.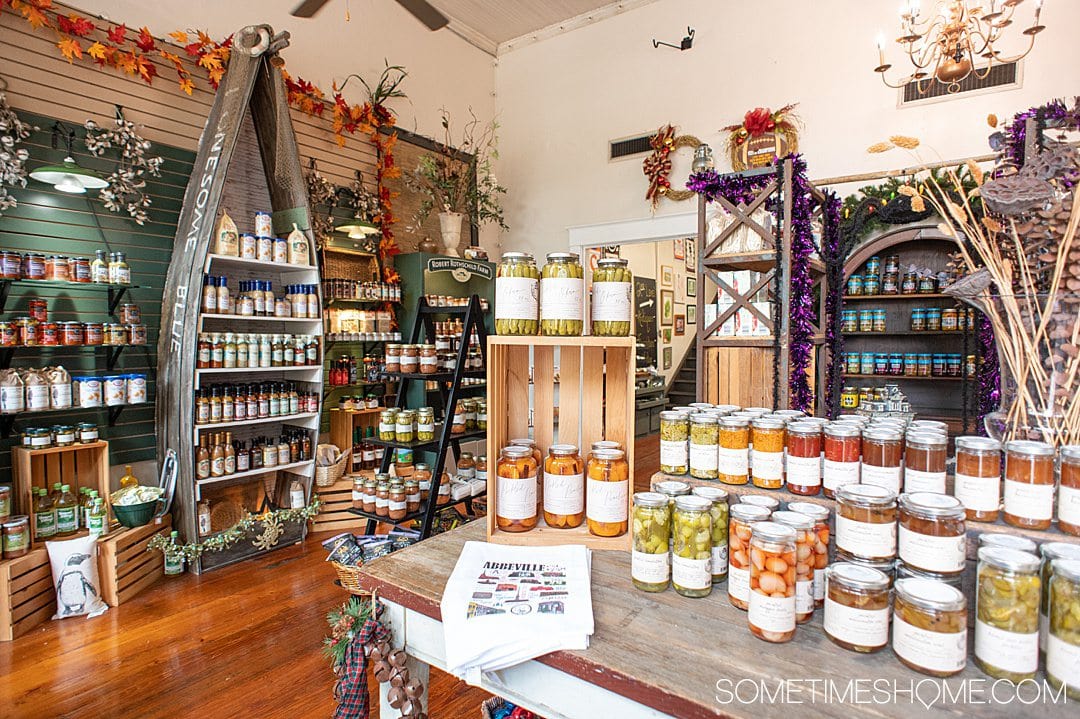 Where We Ate in Downtown Abbeville
The main place we enjoyed spending time at for a snack and some beers was Maria's Mexican Restaurant. The owner told us he's had his restaurant in downtown Abbeville since 2003.
You can't beat their beer prices and I loved that they had Dos XX on draft. (Note that they don't serve beer at the restaurant on Sundays, though they are open for business all weekend.)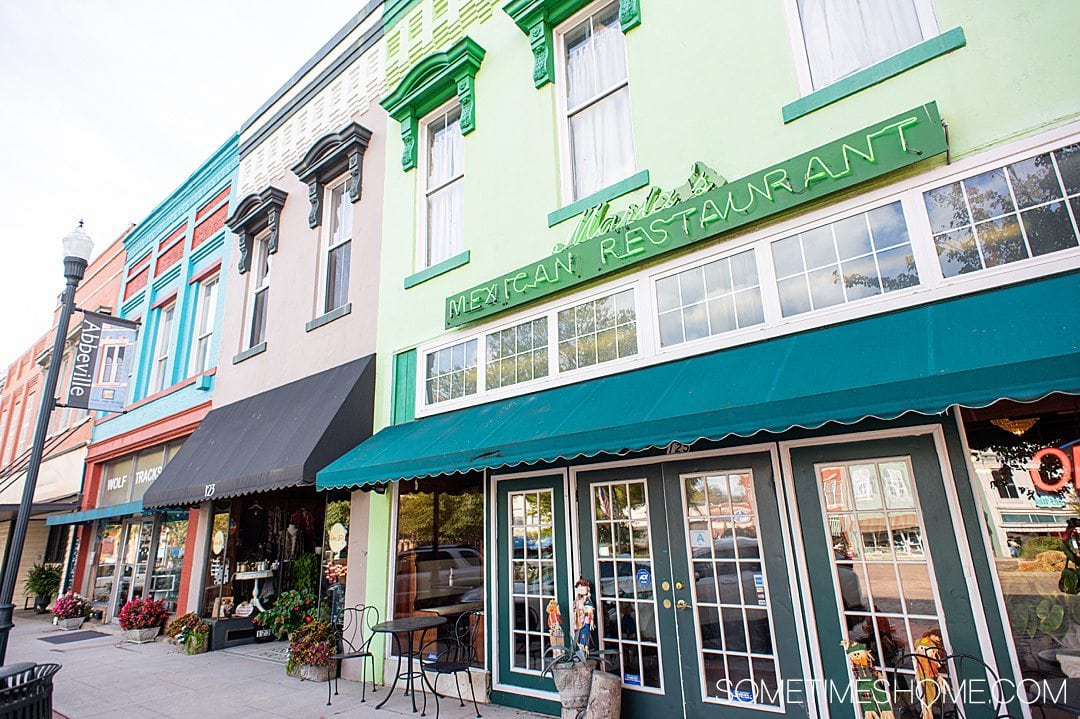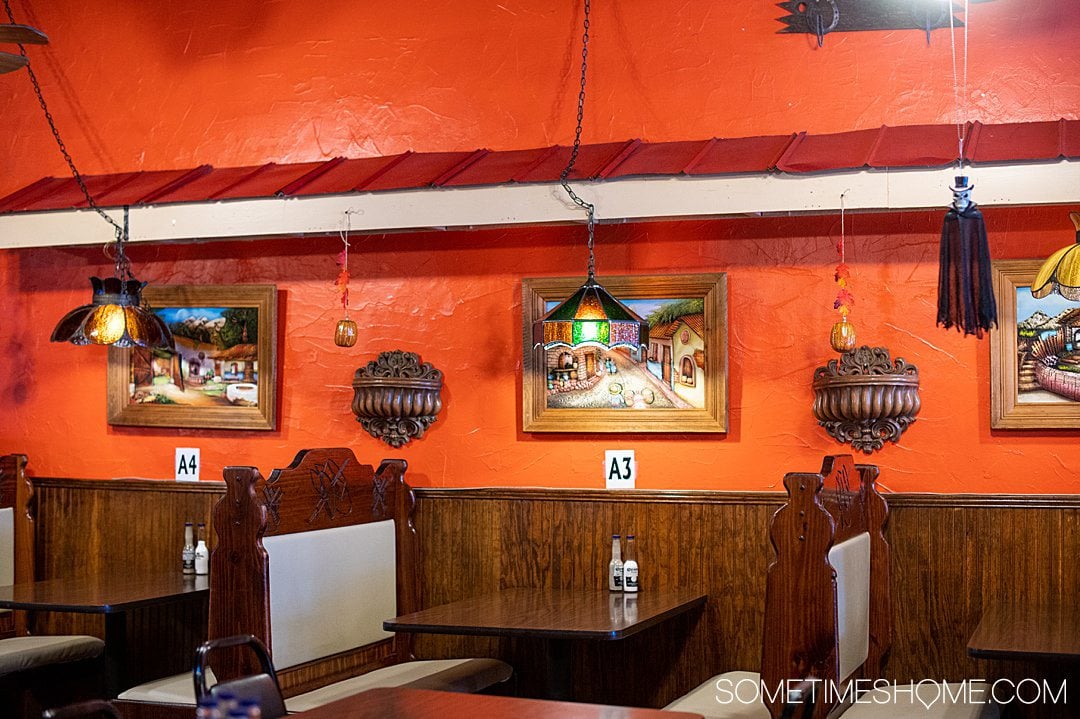 Nearby Greenwood, South Carolina within Old Ninety Six
If you have time and you're in Abbeville for the weekend be sure to pop over to Greenwood and Ninety Six National Park.
Walking around Abbeville transported us to a European town. But staying in and exploring Greenwood was a totally different vibe. The beauty is that both areas are within the Old Ninety Six area of upstate South Carolina, and it's easy to travel between the two since they're just about thirty minutes apart.
Visiting the south and love small towns? Also check out: