Best Excursions in St. Lucia for Couples to Fully Enjoy a Magical Island
St. Lucia is certainly a place to enjoy a little rest and relaxation. We have the best excursions in St. Lucia for you to try and sign up for, whether you're there for a couples getaway or on your honeymoon.
Caribbean blue waters make you want to kick back with a cocktail and feel the sand between your toes but there's so much more to do on this awesome island.
If you're dreaming of a relaxing getaway but also craving some fun activities, we have wonderful suggestions for you! From water sports to volcanos, restaurants, and more, here are some must-do activities in St. Lucia.
Disclosure: There are affiliate links in this post, which means we may earn a small commission if you click the link and proceed with a purchase, at no cost to you. We truly only recommend hotels, products and services we personally use.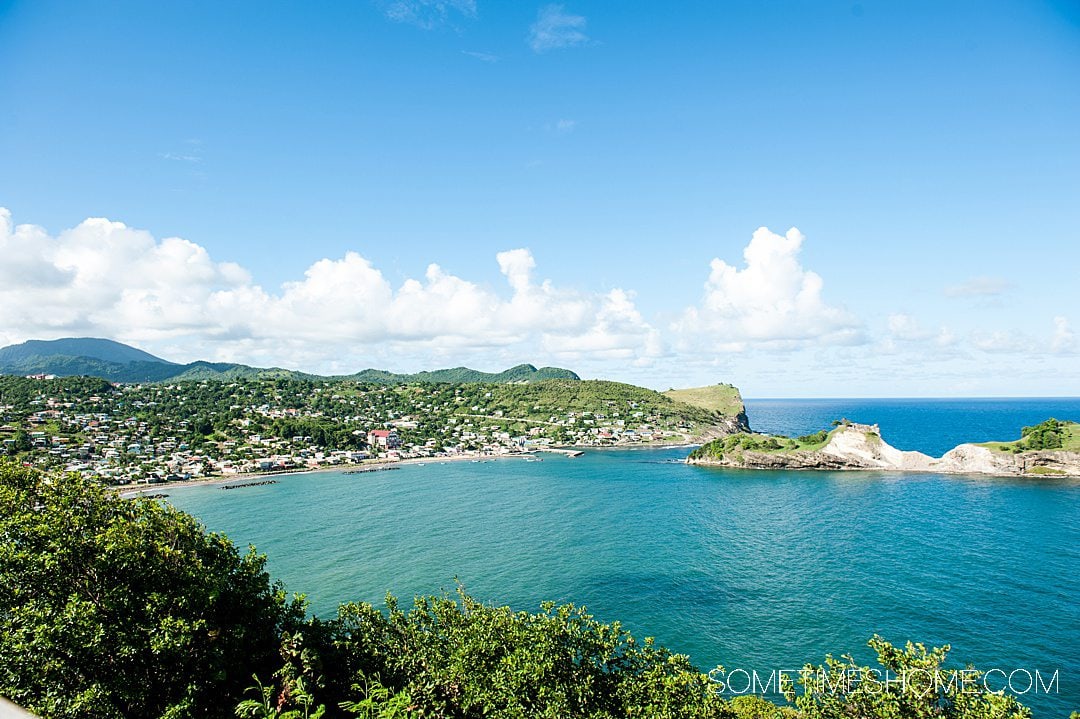 Sulphur Springs: One of the Most Rejuvenating Excursions in St. Lucia
One of our favorite excursions in St. Lucia is a stop at Sulphur Springs on the island's southwest side.
This volcano has been dormant for over 200 years, yet people still flock to it for the fun of seeing the volcano's timid activity. And one particular area of interest at Sulphur Springs is mud baths, which contain minerals that are very good for your body.
It's easy to spend the day here with a booked tour. It's only a 20-minute drive from St. Lucia's Jade Mountain resort.
➜ Don't delay your natural spa experience: book your Sulphur Springs tour!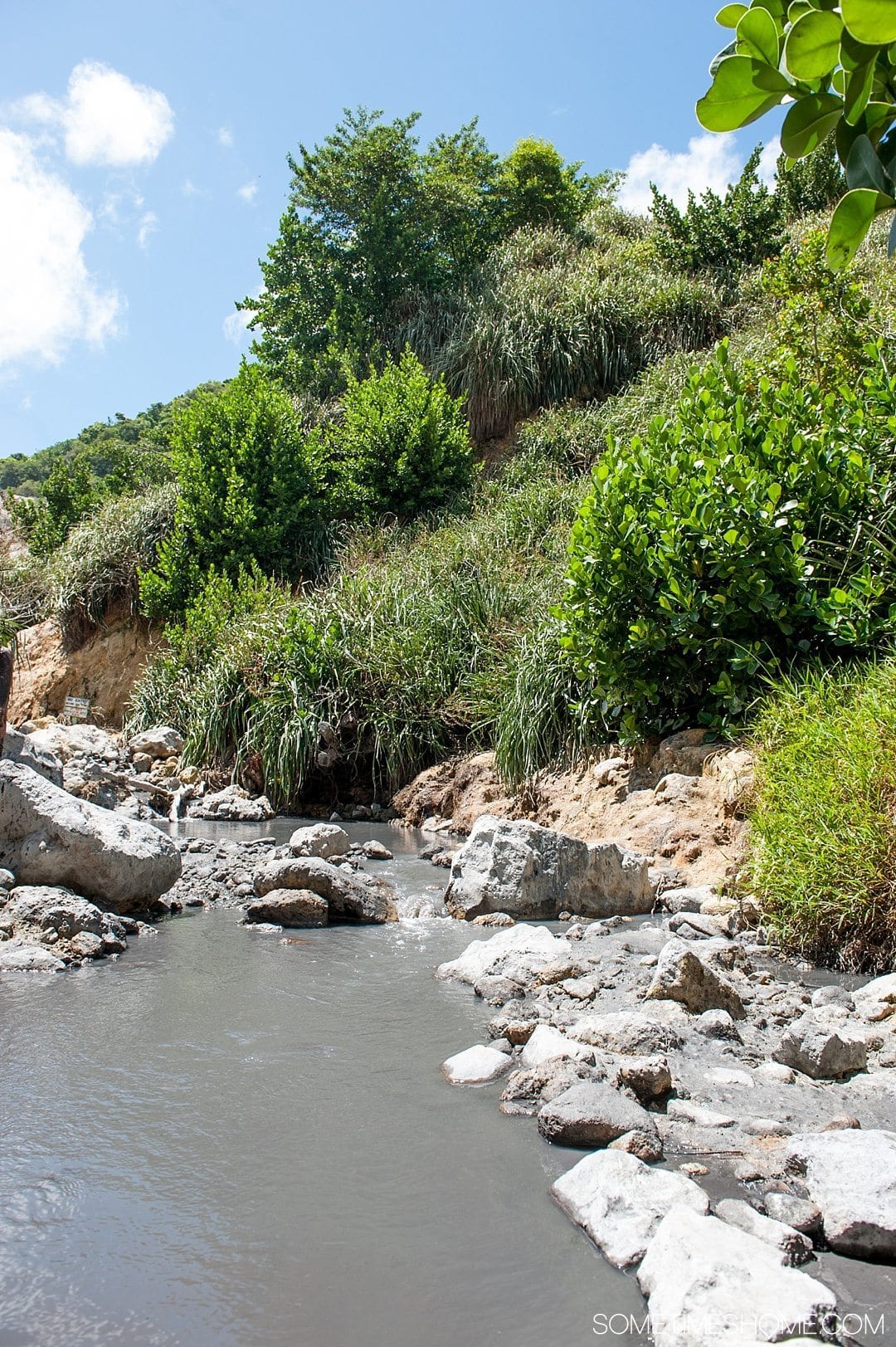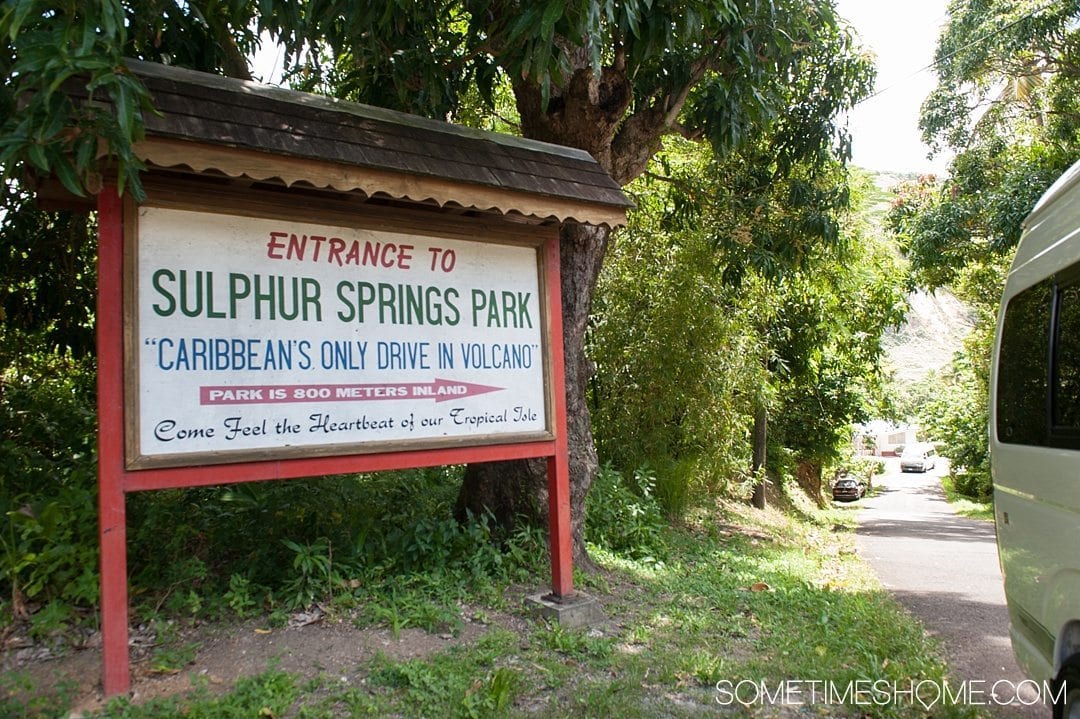 Partake in Water Adventure Excursions in St. Lucia
There is plenty to do in, on, or near the water in St. Lucia. Some things include:
Snorkeling in St. Lucia
This 7-hour tour takes you all around the island, including by boat and for a snorkel experience. Because some of the best wildlife is under the water's surface in St. Lucia.
Horseback Riding on the Beach followed by a Swim in the Ocean
Beach horseback rides can be one of the most romantic experiences in St. Lucia, especially if you're there as a couple, whether you're honeymooning or not. (Reviews say this is St. Lucia's best-kept secret! Book it!)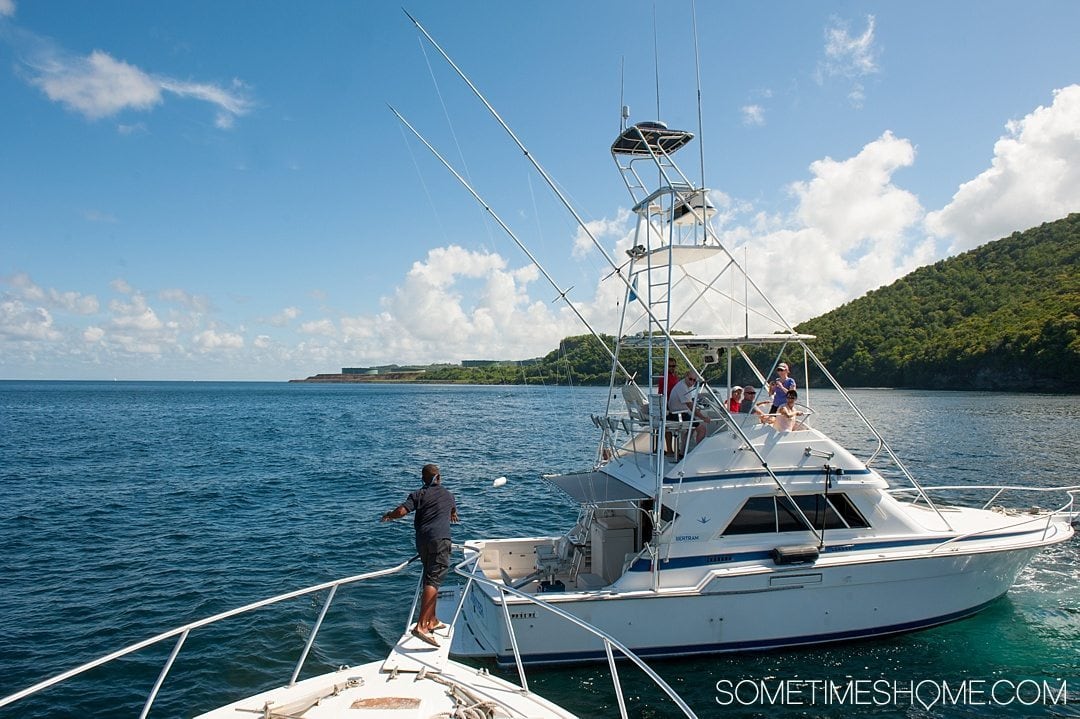 Must-have item for your Tropical vacation:
The only thing we have tried that gets rid of bug bites from your skin is The Bug Bite Thing. This item is a MUST pack when we travel. We always pack one in our backpack/day bag and another in our luggage. Don't travel without it! And yes, it really works!
Walk Around St. Lucia's Various Towns
There are a few good towns in St. Lucia that are interesting for tourists to explore.
Castries has a market where I bought a condiment I've had trouble finding since: banana ketchup!
Soufriere is also great for its history as the former capitol of the island and its French colonial architecture.
Gros Islet and Rodney Bay are wonderful destinations to enjoy beautiful views and local restaurants with a variety of cuisine options.
Get to Know the Rainforest from a St. Lucia Excursion Above the Trees
Ride along the coast from a Jeep safari vehicle before you head into the St. Lucia Rainforest to zipline high above the trees on 12 ziplines. (We love ziplining, whether in Costa Rica, St. Lucia, or North Carolina. Anywhere!) This half-day tour continues with a hike to the Errard Waterfall before returning to your hotel after a fulfilling and adventurous day.
➜ Book Your St. Lucia Jeep and Ziplining Tour
Explore Pigeon Island
This is a beautiful little national park of about 40 acres with roots in the 16th century. Pigeon Island is near Gros Islet very north on the island's west coast. A sandy causeway connected the island to mainland St. Lucia in the 1970's so it's actually very easily accessible whether by a walk or taxi.
It has stunning views, two small restaurants for snacks and refreshments, a little museum, and military ruins to visit.

Take a Cooking Class
Cooking classes are always a fun activity if you have any interest in the local cuisine and/or culinary adventures. For instance, Jade Mountain offers cooking classes for its guests. Ask your hotel if there are any at your resort or sign up for one, off-property.
If you sign up for this three-hour cooking class, for instance, you'll also get to go to a garden to learn about vegetables and tropical fruits, then create a meal with some of them.
Dine at Another Hotel
Many hotels are open to the "public" if you make a reservation to dine at one of their restaurants. Ask your hotel concierge for their favorite neighboring resorts or resorts worth a long drive. Or simply research yourself! I recommend Anse Chastanet or The Landings.
Take a Rum Tour from Castries
Embark on a 3.5-hour tour of a rum distillery with a knowledgeable guide. Get to taste several rums (from over 25 the distillery produces) and liqueurs. You'll also gain a deeper understanding of the role rum played in the history of St. Lucia.
You'll also get to visit Castries Market during the morning tour. This century-old market is a great place to by souvenirs, including spices, to enjoy back home.
The tour includes stops at Morne Fortune and Margot Bay as well, to take in the incredible views and take photos of it all.
➜ Reserve Your St. Lucia Rum Tour Spot
Hike the Pitons
You can hike the famous pair of mountain peaks in St. Lucia. It takes a few hours (about two hours up and two hours down, depending on your agility), so if you plan on hiking to the top, make sure it's the only activity you plan for the day. You can go through a tour company or on your own.
Beware: this hike is not for the faint of heart. Reviewers say it's one tough hike even for incredibly fit people. Wear proper shoes, sunscreen, and clothing. Take plenty of water and energy snacks, and good luck!
➜ Book Your Preferred Day and Time for a Guided Pitons Hike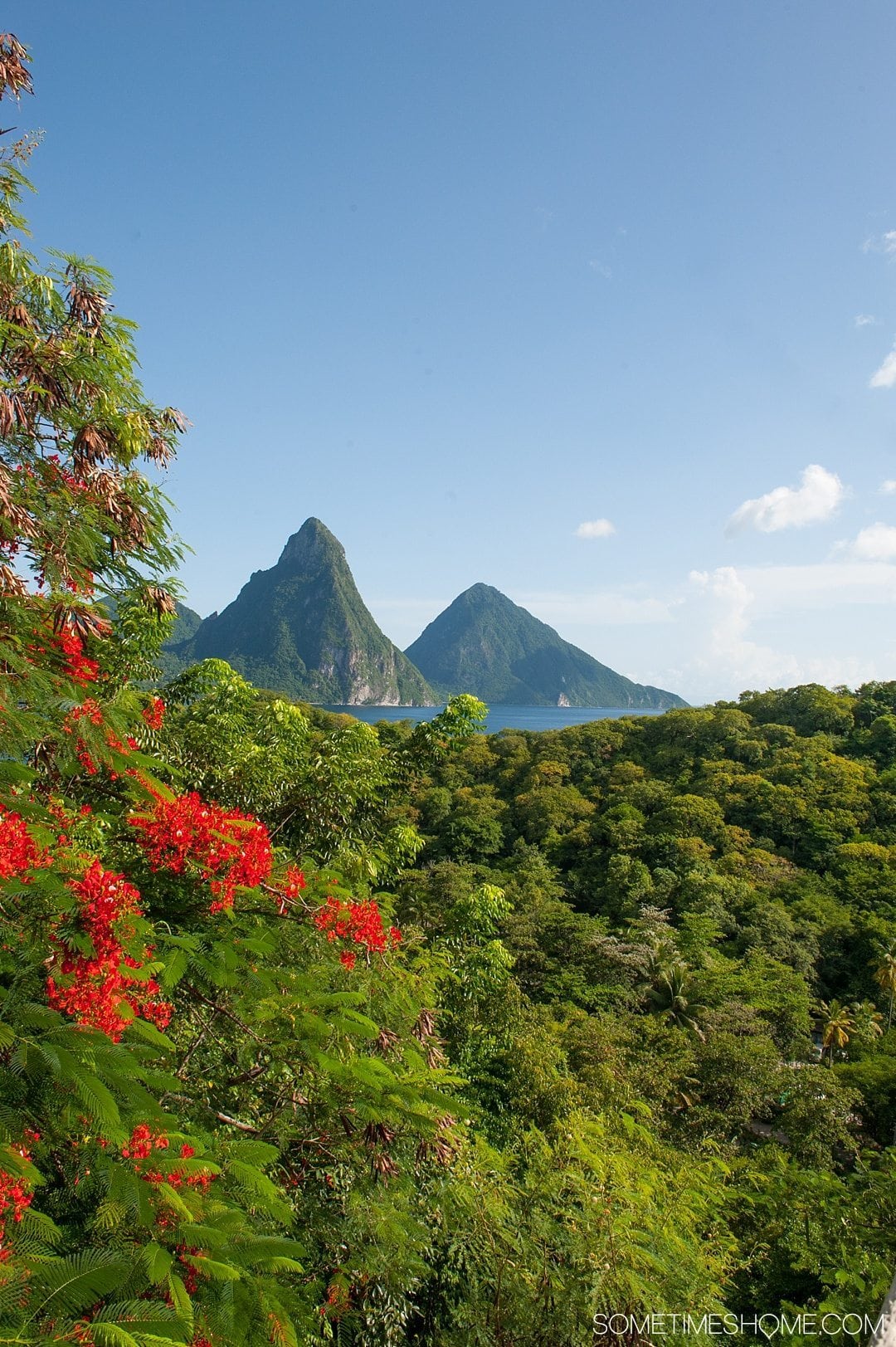 Go Bird Watching in St. Lucia
Tropical birds are some of the most gorgeous birds on this planet. Bird watching in St. Lucia will be a very unique activity, where you'll learn more about the animals in the area and enjoy mother nature on a deeper level. Perhaps it will be one of your favorite excursions in St. Lucia!
➜ See amazing birds in St. Lucia!
Conclusion: Best Excursions in St. Lucia for Couples
St. Lucia is a wonderful destination to embark on memorable excursions as a couple. Whether you're rejuvenating in sulfur springs, hiking hand in hand, catching thrills with a Jeep tour or ziplining, you're bound to have a fantastic trip you'll remember for a lifetime!
For more Caribbean adventures, check out: