Jade Mountain Resort is an incredible oasis on the island of St. Lucia. It's a unique property and is particularly popular amongst honeymooners. I was lucky enough to stay there for one night that was truly out of this world! I've noticed anyone who asks me about my stay tends to ask similar questions. Here's valuable information about the resort. Your Questions Answered: Jade Mountain St. Lucia
Where is Jade Mountain?
Jade Mountain is on the southwest part of the island of St. Lucia. It's located in the town of Soufriere on the Caribbean Sea. It is thus considered part of the "Caribbean." It's geographically north of Venezuela, South America on a map closest to the islands of Martinique, Barbados, St. Vincent, Grenada, Trinidad and Tobago. The island is 26 miles long and 14 miles wide.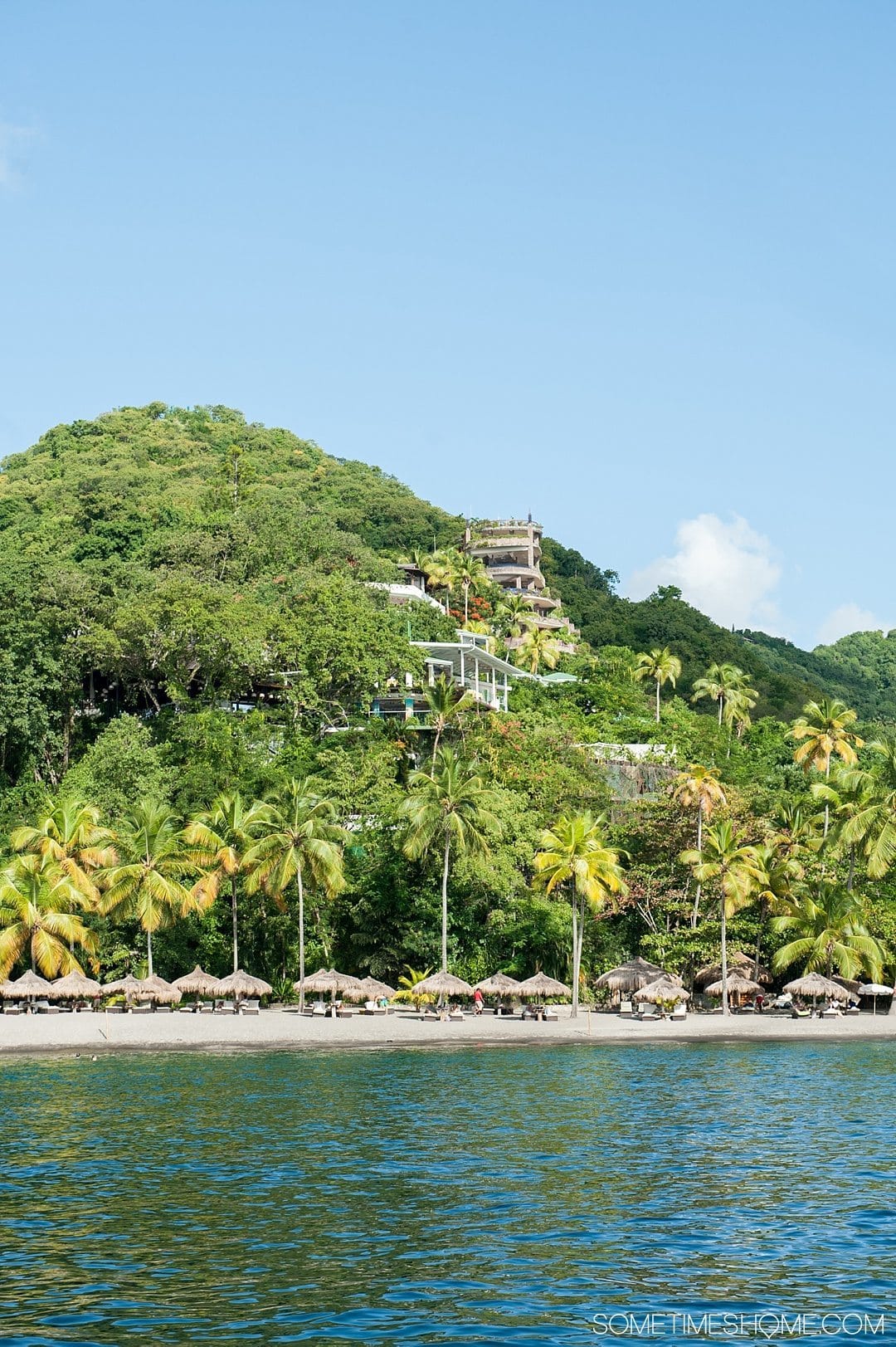 What airport is closest to Jade Mountain?
There's really only two notable airports in St. Lucia. The best one to fly into is usually Hewanorra International Airport (code UVF) in Vieux Fort, St. Lucia. From there you can hire a car or taxi to drive to the resort or arrange one with the hotel. It's approximately a one hour drive from UVF airport. Helicopter transfers are also an option, which is costlier but will get you there in under 10 minutes!
Who designed Jade Mountain?
It's notably designed by Nick Troubetzkoy. This is why you'll often see printed material and online publications writing the resort name as "Nick Troubetzkoy's Jade Mountain St. Lucia." He's a Canadian architect from British Columbia (in western Canada) who believes in revolutionizing conventional "cookie cutter" hotel rooms.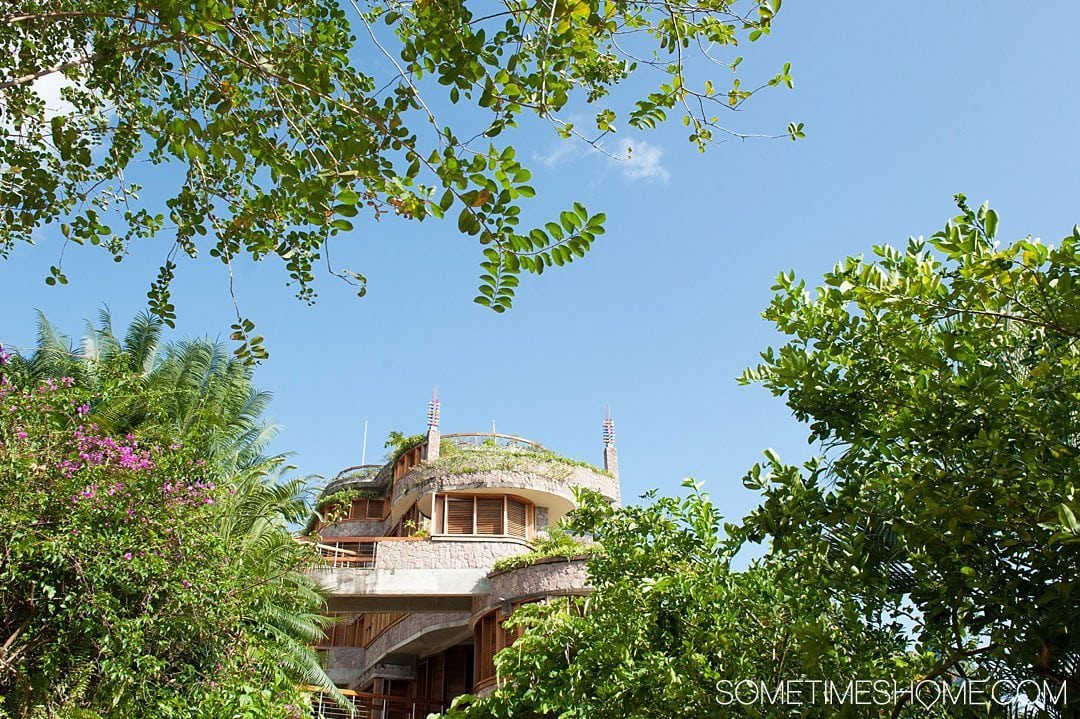 How many rooms are there?
Jade Mountain St. Lucia has 24 rooms they call "Sanctuaries." They're all different from each other in design but all have an astounding view of St. Lucia's famed Piton Mountains. There are six rooms on each of the four levels. Five categories of rooms round out your options including:
Sky
Star
Moon
Sun
Galaxy
(Galaxy being the highest, ultimate room option. Also note that Sky suites do not have an infinity pool.)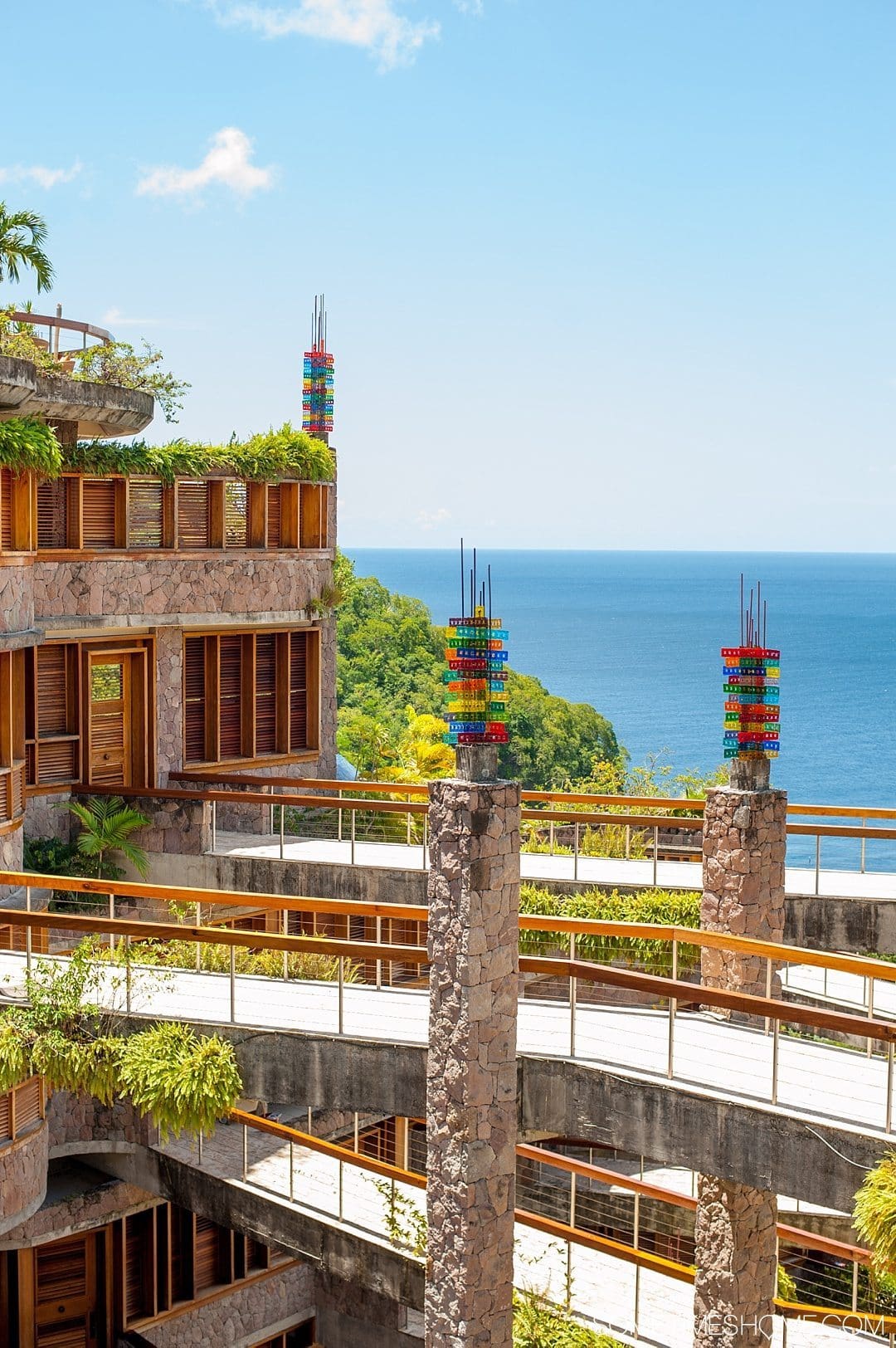 How much does Jade Mountain cost?
Prices vary dependent on:
Which sanctuary you reserve.
If you include the optional meal package (breakfast and dinner).
Which season you wish to visit the resort (summer, winter, etc.).
Overall, considering the above, prices vary from $1,100 a night to $3,480, not including taxes and gratuities.
They periodically run promotions for themed escapes (like for honeymooners and Scuba enthusiasts), free nights and other perks so be sure to check current rates on their website.
What makes it so special?
Where do I begin? It truly is an ultra unique experience unlike any resort or hotel I've ever been to. Anyone who can afford the resort can stay there yet it feels incredibly exclusive. Here are some of my favorite features of Jade Mountain St. Lucia:
Outstanding, unobstructed views of Soufriere Bay and the Caribbean Sea.
Beautiful colored glass sculptures around the property.
A suspended wooden walkway that leads to your sanctuary. The walkway is yours, only. One walkway leads to one sanctuary (room).
Lack of a fourth wall and 15′ high ceilings really open you up to the impressive views before you.
It may sound cliche, but all your cares melt away while you lounge on comfortable furniture and view the Pitons mountains, or enjoy your room's infinity pool (not all rooms have them but most do) and gaze at the evening sky.
The staff's very friendly and a pleasure to be around.
Jade Mountain Club, their on property restaurant, is delicious and has an award-winning chef at the helm.
You can book a private cooking lesson in your room. The chef will come to you!
Secluded beaches are at your fingertips.
Room service lets your maximize the time in your sanctuary. You don't have to leave your room during your stay unless you want to.
They have concierge service.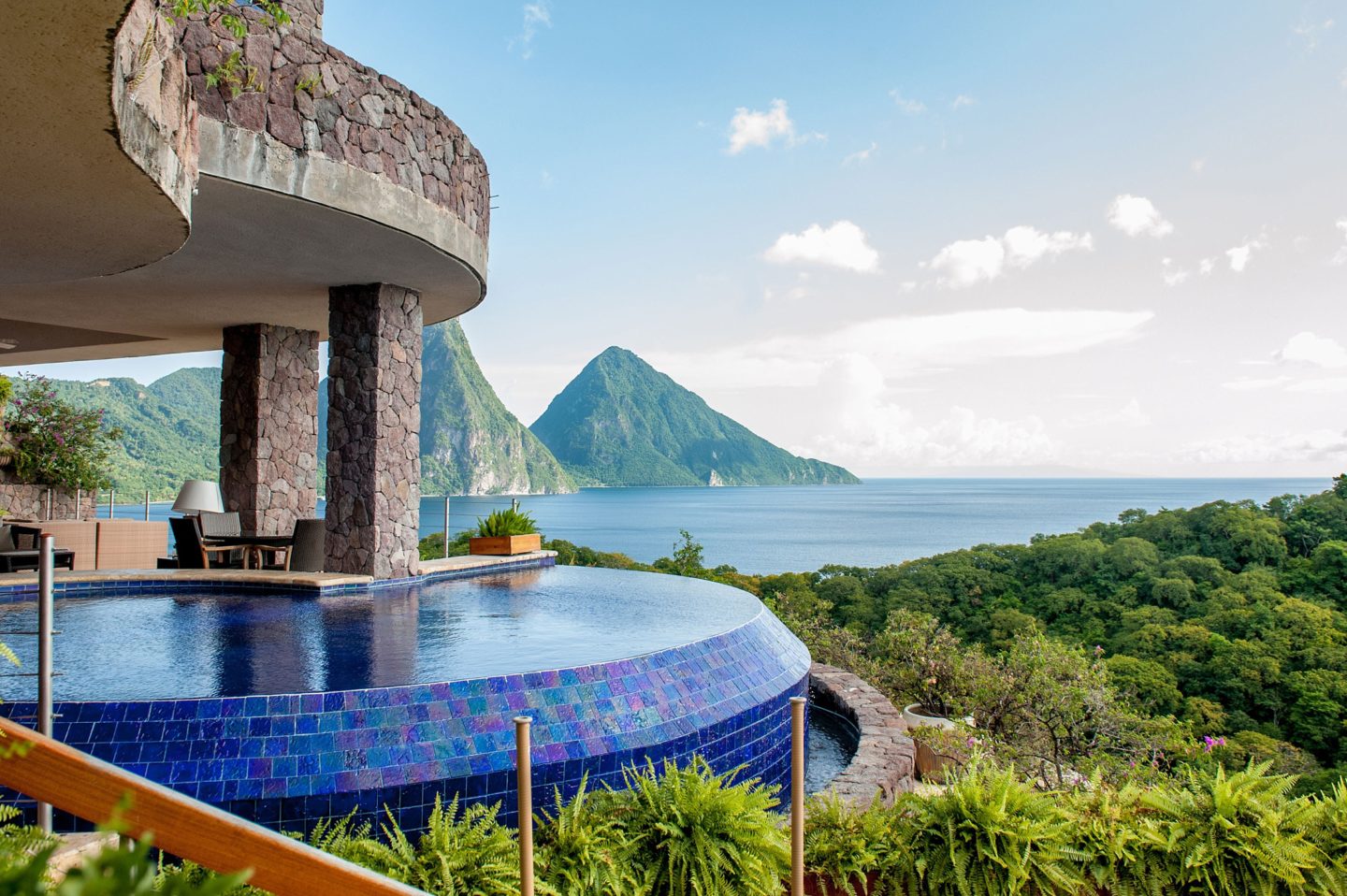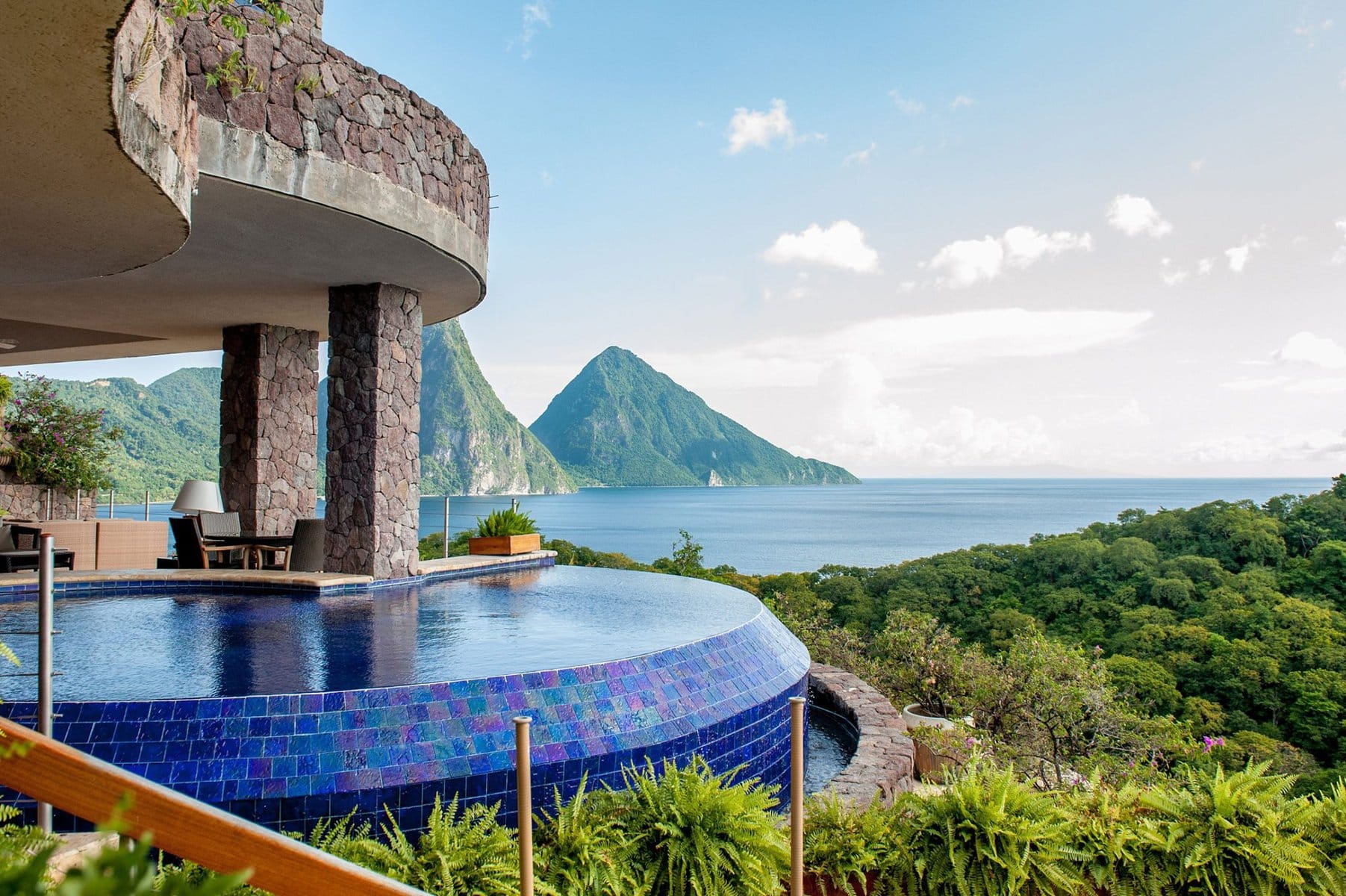 Is it worth the money?
My short answer is: yes. It depends on what you value as a traveler. Yet, even though I value being able to do all sorts of activities and see all kinds of historic sites in the surrounding areas where I stay, I loved it and found I never wanted to leave. (Full disclosure: we were there for just one evening, nearly two days total. But if you're worried "Will we get bored?" keep reading because I answer that question too.)
If you've decided to travel to St. Lucia chances are you're in search of a bit more of a relaxing low-key getaway. I've never felt like such a queen and so grateful for a resort view before me and atmosphere surrounding me. So I say yes, it is worth the money.
If you're hesitant due to financial constraints Anse Chastanet is a beautiful, less expensive option next to Jade Mountain. If you go this route consider staying there for most of your St. Lucia vacation and treat yourself to one special night at Jade Mountain.
What is Anse Chastanet and why do I keep hearing about it conjunction with Jade Mountain?
Anse Chastanet is a sister resort to Jade Mountain. It's a little lower down the hill and has more of a St. Lucia island vibe. You can easily get there by foot via a short walk down the hill or a complimentary Jade Mountain resort shuttle. I enjoyed seeing Anse Chastanet's bright colors and local hand carved wood art pieces around the resort.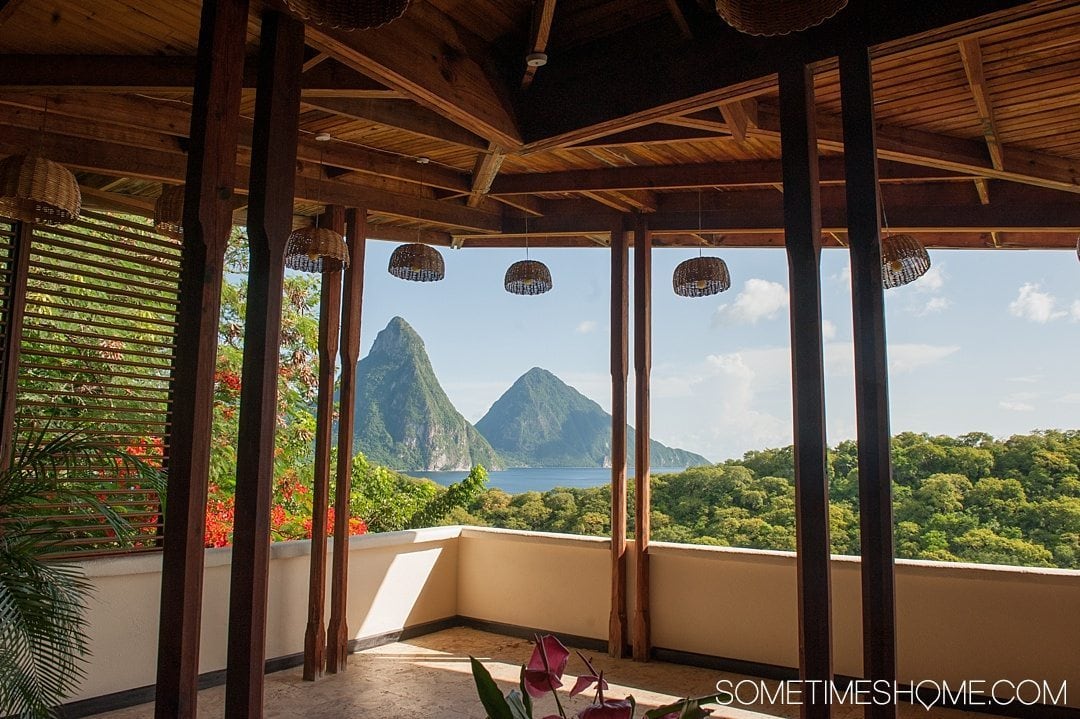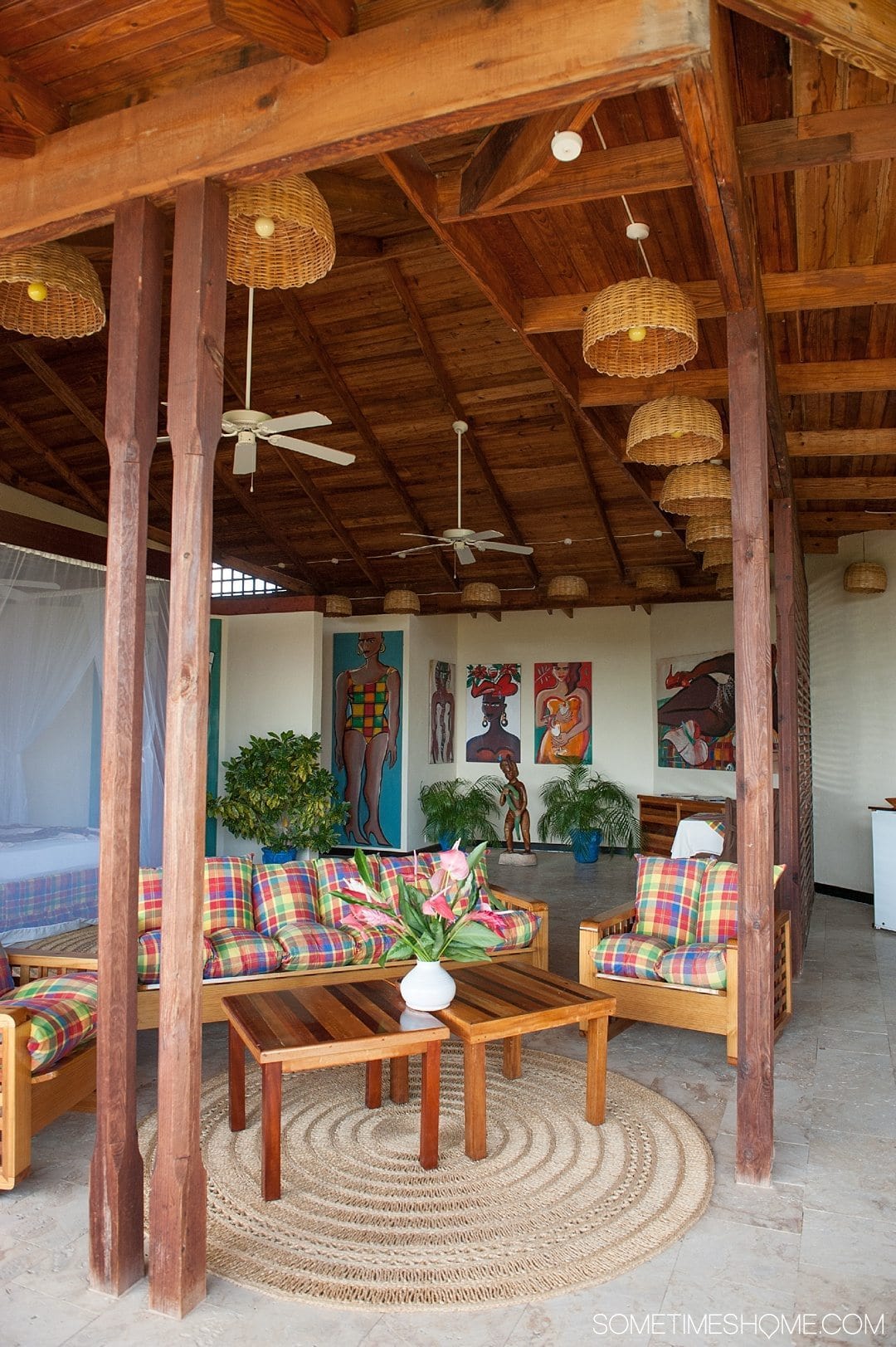 Are there a lot of dining options?
Yes! There are more options than you would think for a relatively small, exclusive resort.
Variety of in-room dining in your sanctuary (as they say on their website you can get, "every meal, any meal, any time!" in your sanctuary)
Jade Mountain Club
Private dining on the Celestial Terrace
Anse Chastanet dining:
Treehouse Restaurant
Piti Piton Lounge (equipped with a vegetarian/vegan friendly menu for dinner)
Trou au Diable Beach Restaurant
Beachside private dining
Anse Mamin beach: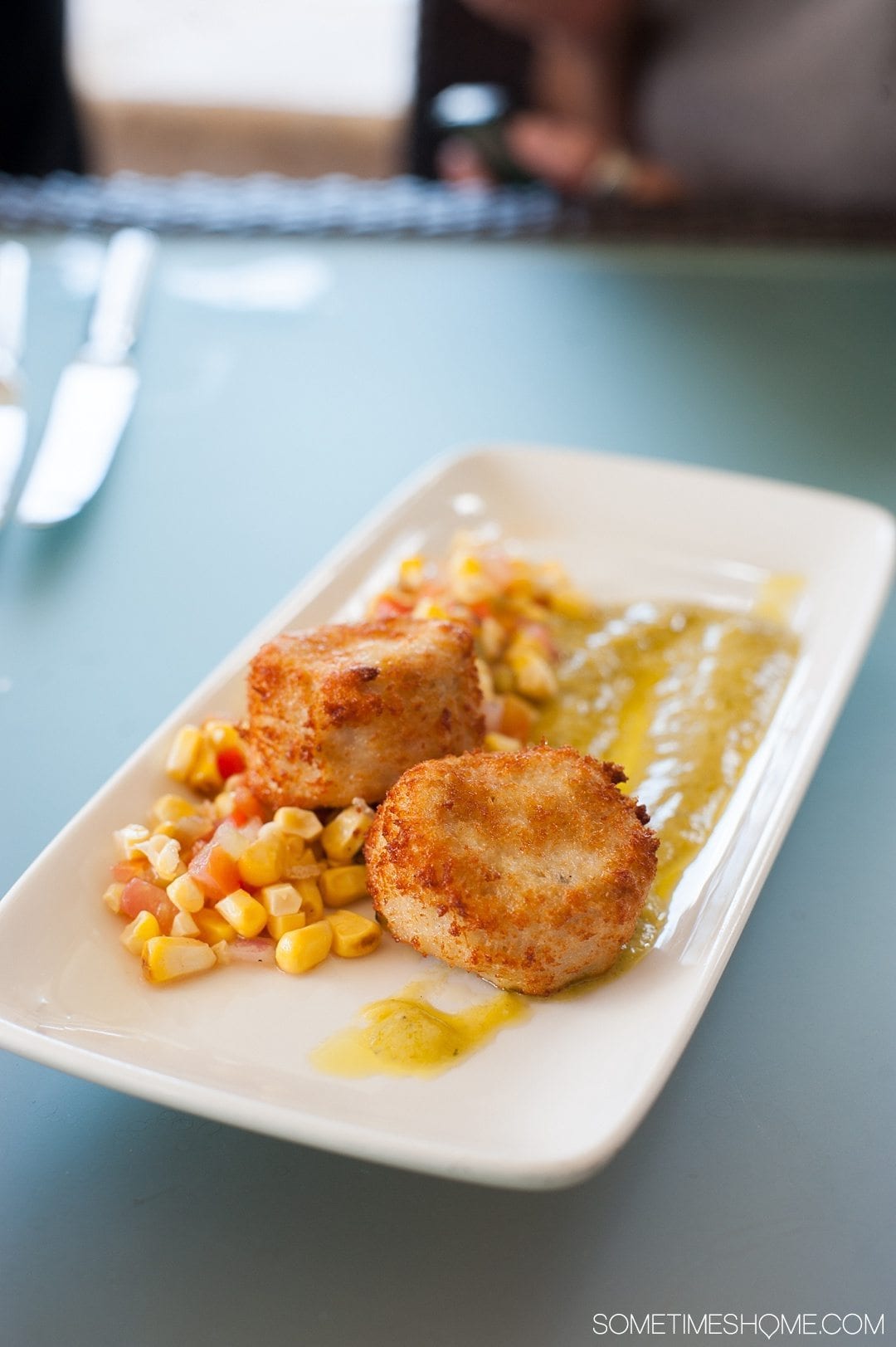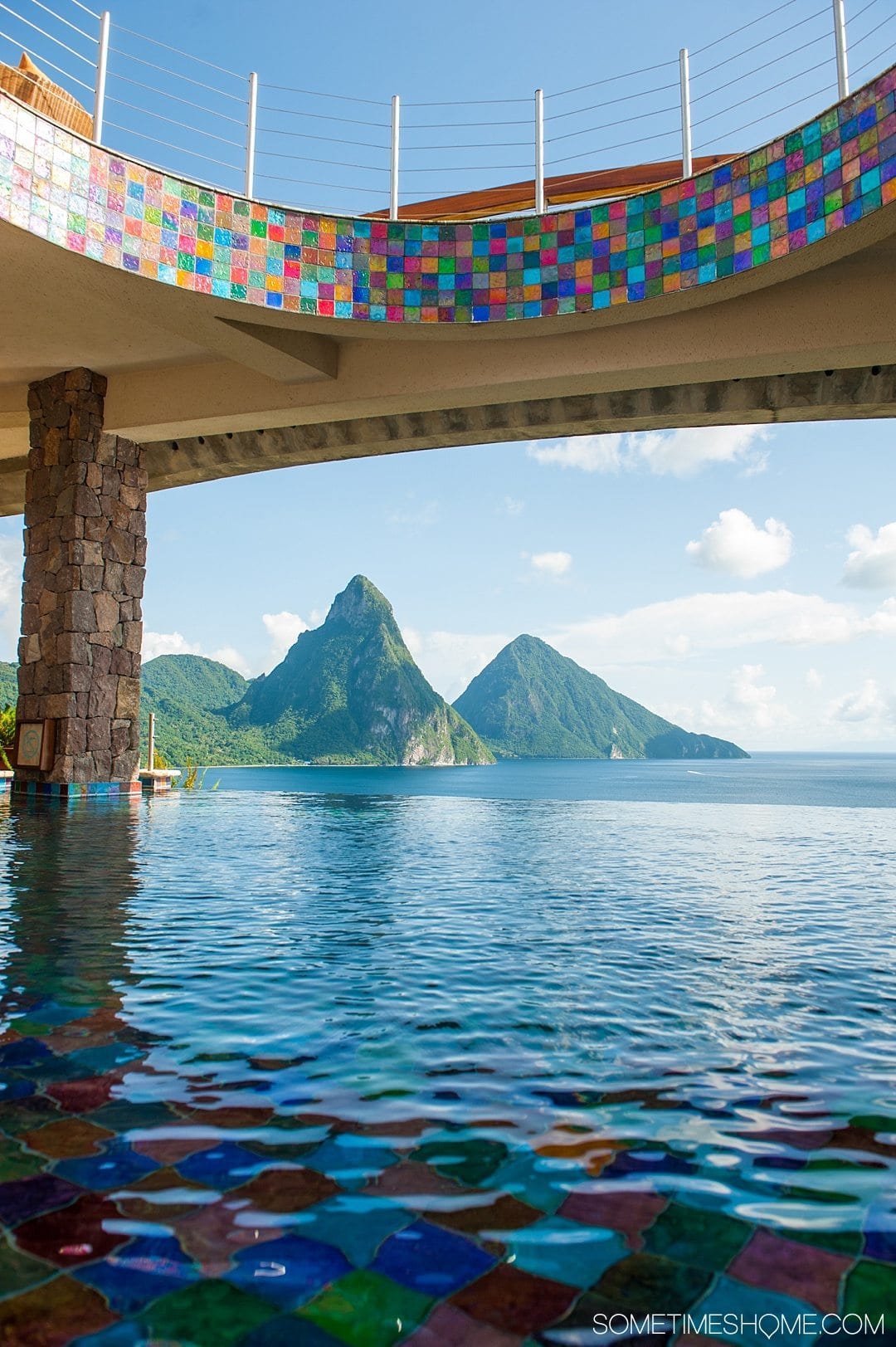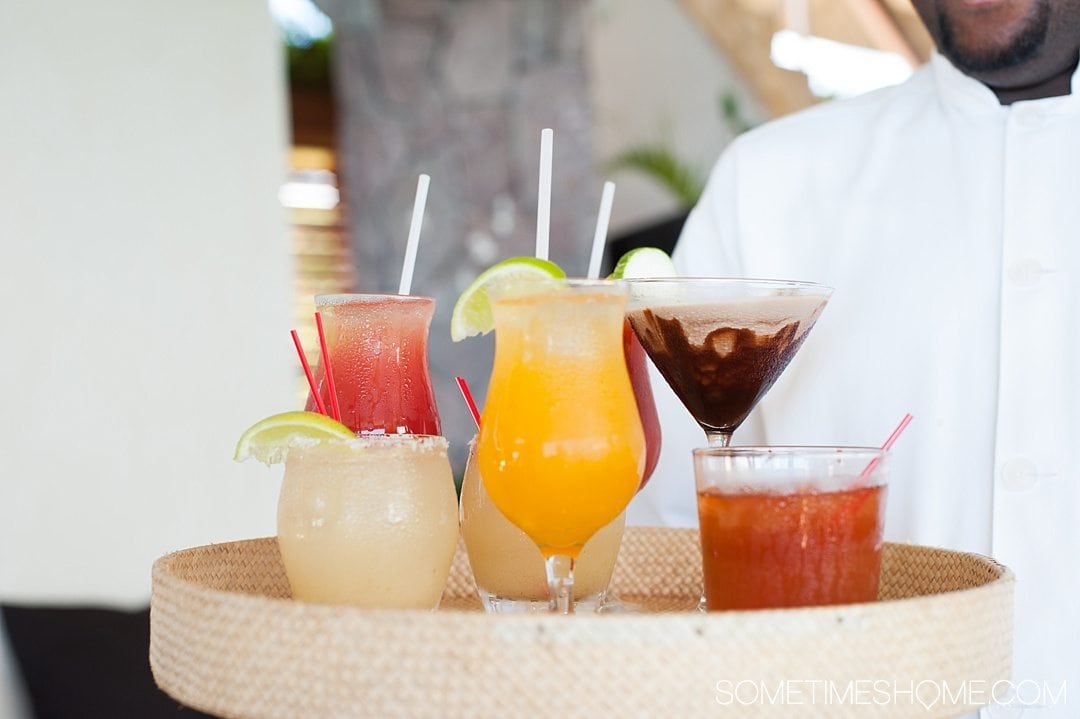 What do you wear at Jade Mountain?
Whatever you want! I would say casual, tasteful vacation attire is fine. If you're going to the beach wear a swimsuit, if you're in your room – whatever you want! If you're going to dinner perhaps dress up a bit. The restaurants are very beautiful, quiet and romantic in the evenings and since it's fine dining you certainly don't want to show up in cut off jeans and a tank top.
Do you feel "exposed" without a fourth wall?
It takes a little bit of getting used to however you'll quickly appreciate the beauty of feeling you're as close to nature as possible while still being in the lap of luxury. (All the while without having to withstand camping or glamping! This is definitely luxury travel at its best.) You don't feel exposed at all. They even have nets above the beds to provide protection from bugs at night. The only funny encounter we had was with some blackbirds that wanted to enjoy our breakfast with us but chalk it up to "being one with nature." I'll trade the beauty of the designs of each sanctuary and lack of a fourth wall for breakfast with some new bird friends any day.
If you're thinking what I'm thinking….to answer a question you may be shy to ask: no one will see you walking around the room naked unless there's a ship out at sea with some pretty hefty binoculars, focused right at you. And in that case enjoy the show! But seriously – you're safe there. 😉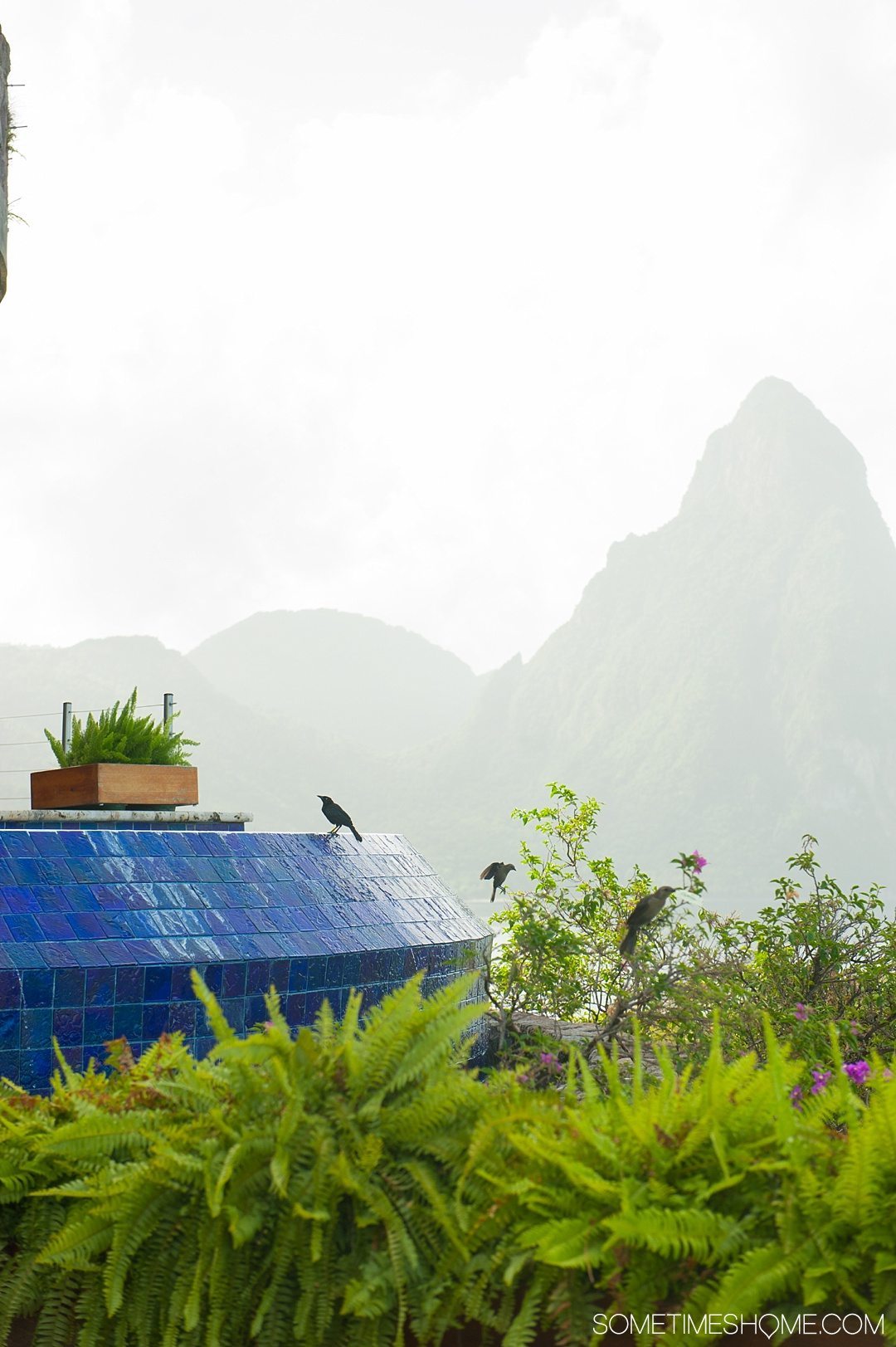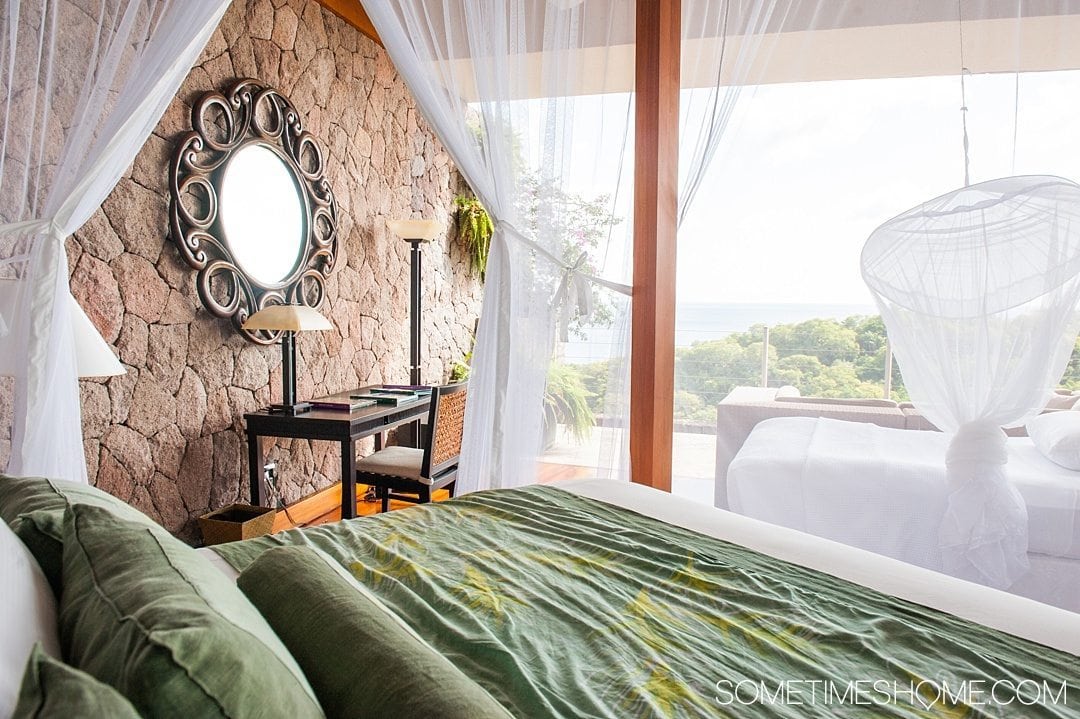 Is it a kid-friendly resort?
The staff and other guests at the resort were lovely and friendly. But it's a resort best enjoyed and reserved for adults so leave all kiddos at home. Children under the age of 15 are not allowed anyway!
Is it a sustainable, eco-friendly resort?
I am so happy Jade Mountain is eco-friendly! Not only was it designed to aesthetically fit within its environment and use as many locally source materials as possible but it uses a number of sustainable practices on site too. The environmentalist in me is SO PROUD they were the first hotel in the Caribbean to receive LEED Gold Certification Status.
What does that mean? A few things:
They use minimal electricity. This is especially possible because heating and air conditioning aren't required; there's no fourth wall in the resort sanctuaries to keep it in anyway! I also only remember turning lights on in the evening for guidance in the bathroom. If the moon is full it's not only wonderful mood lighting but acts like the perfect night light as well.
Guests are fed locally grown, organic food from a nearby farm.
They utilize an on-site wastewater treatment plant and have their own rainwater-fed water purification system. All the water used to fill the pools and supply the rooms comes from reservoirs on property, like the ones pictured below.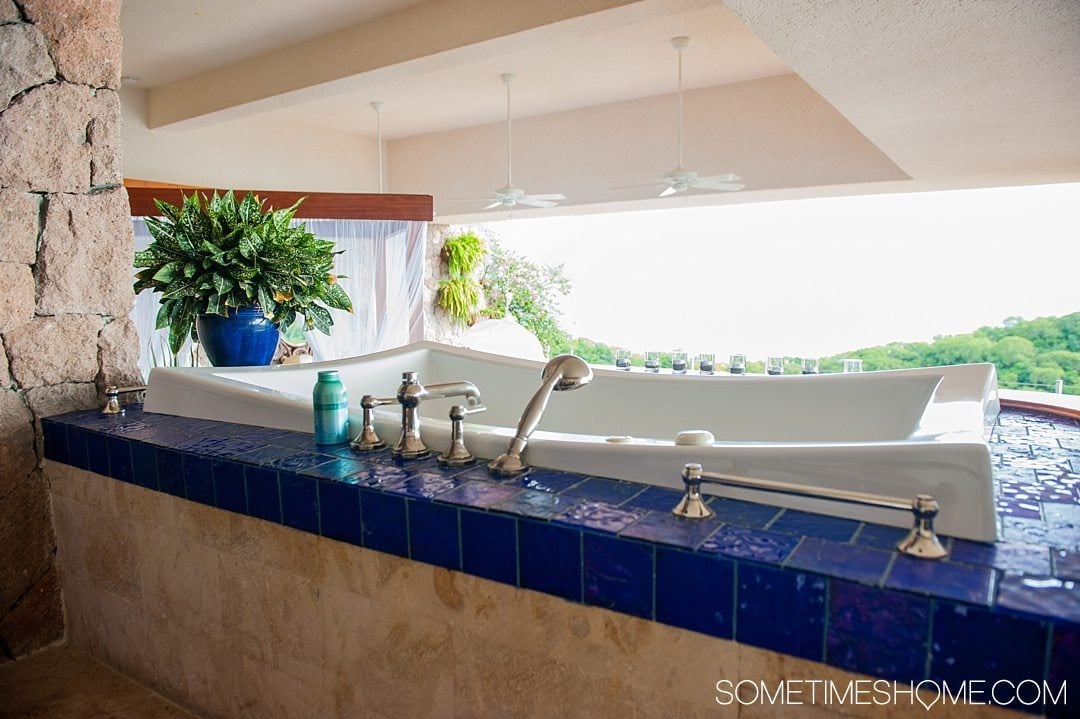 Do you get bored?
No way. I can understand the concern – exclusive resort, no televisions. On an island. But there's so much to do there. They have an assortment of complimentary activities to enjoy including yoga, guided walks, tastings, a fitness studio, live entertainment at Jade Mountain Club, two soft-sand beaches, and wifi. There's also a slew of excursion options like a visit their organic Emerald Farm, a trip to Sulphur Springs, sunset yacht sailing, Scuba diving, plenty of bar drinking and restaurant eating, and biking, to name a few. A favorite activity we participated in while we were there was a little walk through Anse Mamin's old sugarcane plantation from the 18th century. It's connected to Jade Mountain beach and is where we had a peek at some cocoa trees, beautiful plantation ruins and gorgeous foliage.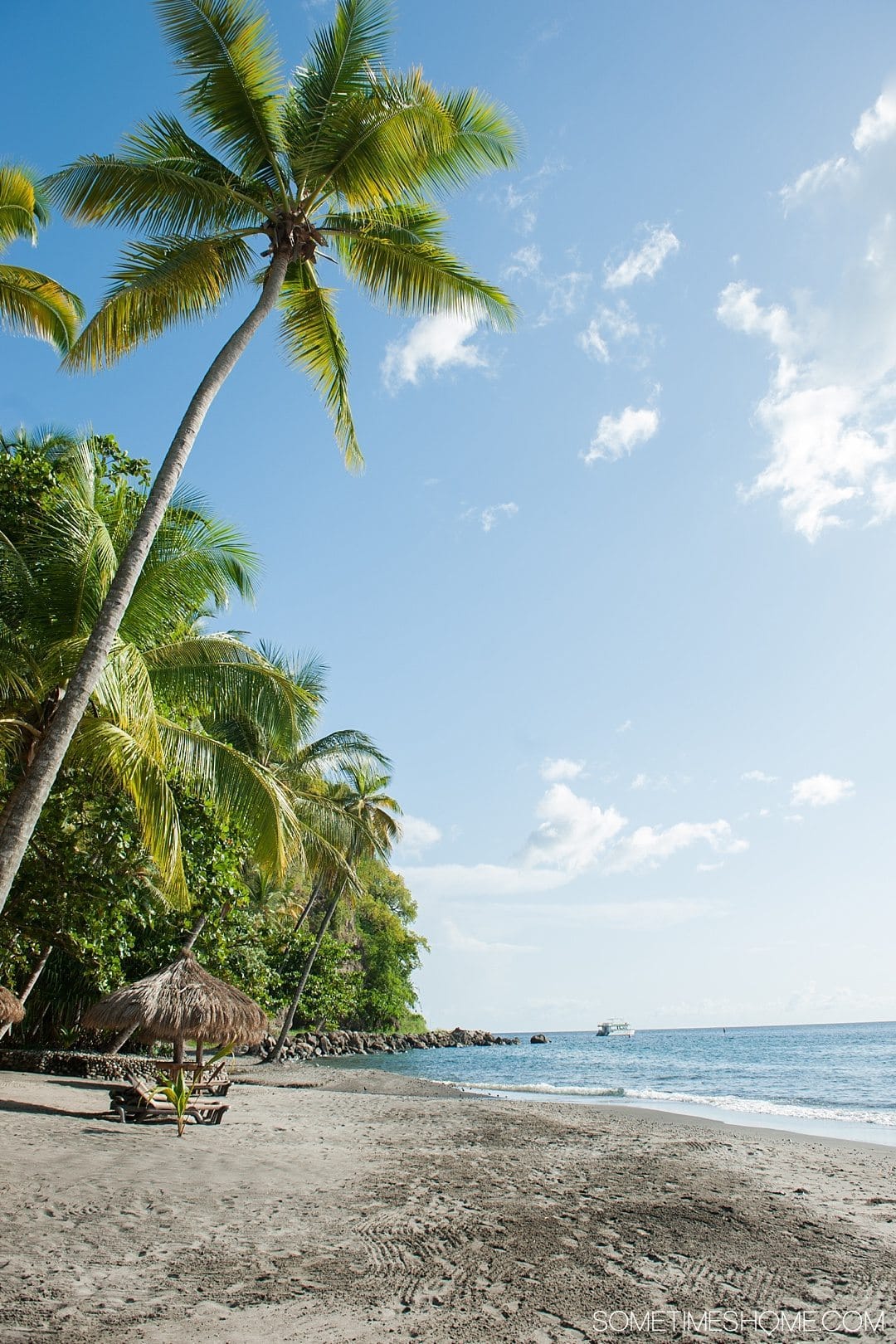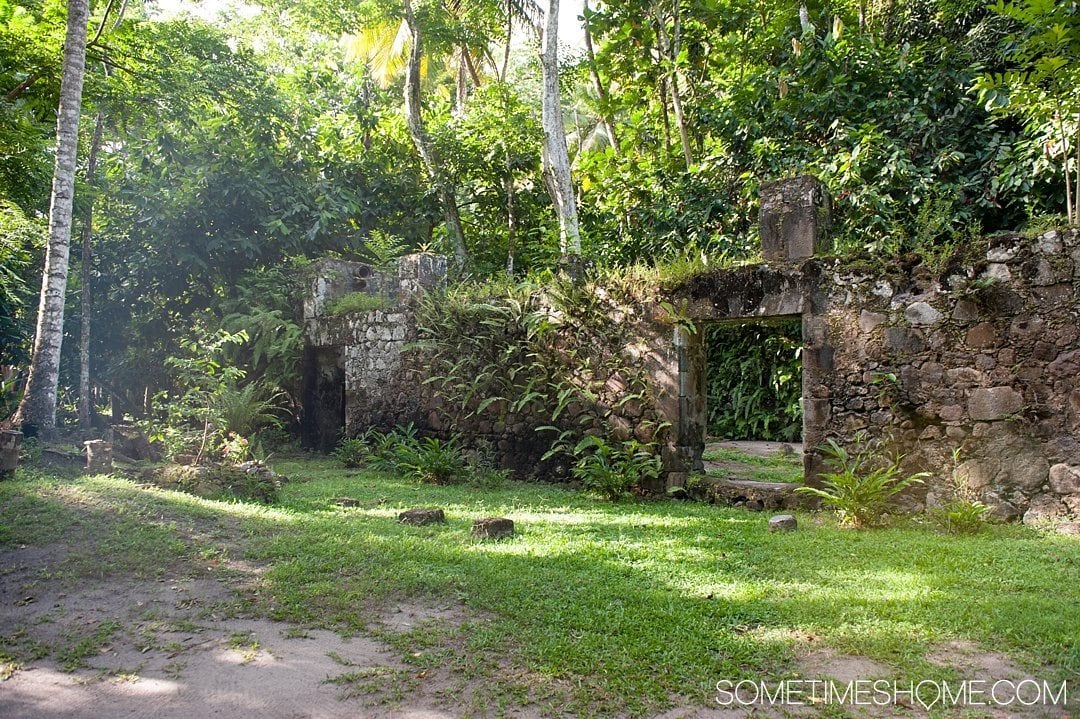 Jade Mountain looks familiar. Where have I seen it?
If you think it looks like something out of a magazine I wouldn't be surprised if you have seen it gracing the pages of any number of publications or television shows. It's often the location for model shoots and, if you're a fan of ABC's The Bachelor, was featured in Season 14 of the popular show. (Jake Pavelka was The Bachelor that season.) It was featured on the show again in 2014 with the infamous Juan Pablo in command. It's also been named one of the top resorts in the Caribbean several times by Conde Nast Traveler, has been spotlighted by Huffington Post, Business Insider, and graced the pages Travel + Leisure to name a few.
Can we get married there?
Heck yeah! And hey, if you need a wedding photographer I know a great one.
For other awesome adventures check out:
Do you dream of Jade Mountain? Let us know in the comments and pin one of the the images below for future reference!