Helpful Guide to Tabacon Hot Springs Day Pass in Costa Rica
After we booked our flights to Costa Rica, one of the first things on our to-do list was booking a Tabacon Hot Springs Daypass for the thermal experience. I visited many years ago, and knew firsthand that it's like heaven on Earth.
It's also the perfect romantic activity as a couple for a day of rest and relaxation on an adventurous vacation in Central America.
We were in the dark about many questions when we booked our day passes and investigated to find the answer, so you don't have to do anything but read the contents of this post!
What information do you absolutely need to know, and what can be left to surprise? We're explaining all about Tabacon Hot Springs day passes, including info about meals, the spa, what to bring, and info about nearby hotels. Lastly, we answer common Tabacon Hot Springs FAQs.
Disclosure: There are affiliate links in this post, which means we may earn a small commission if you click the link and proceed with a purchase, at no cost to you. We truly only recommend hotels, products, and services we personally use. As Amazon Associates, we earn from qualifying purchases.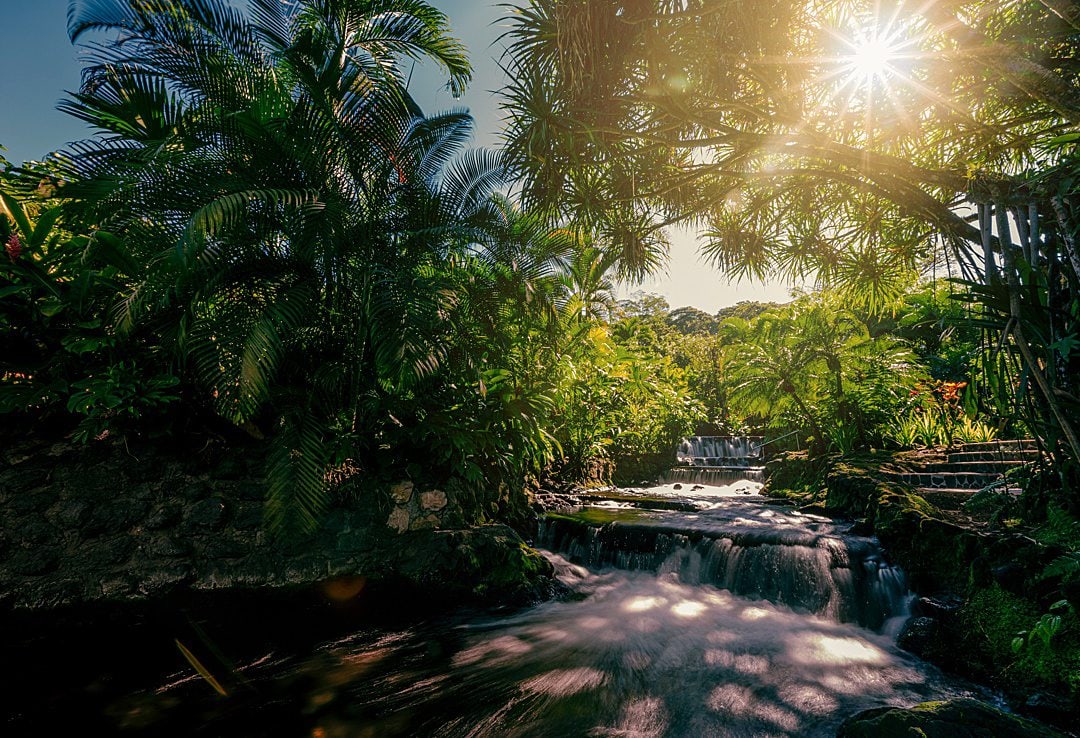 Tabacon Hot Springs Day Pass Experience
Tabacon is an absolutely exquisite resort and spa; its thermal experience is the main attraction if you ask us! If you've envisioned the afterlife as a jungle paradise with gorgeous flowing rivers filled with oversized smooth black rocks, this may be the closest you'll get to heaven on Earth.
There are more than 22 natural hot springs at the resort where you can enjoy the heated springs. (The nearby volcano, Arenal, naturally heats them and adds the natural mineral content to the water underground.) The water at Tabacon is always true thermal water.
In addition to the springs, you can explore the property's pathways and gardens if you're a Day Pass holder. There are also lounge chairs around the thermal pools that are first come, first served.
Their swim-up bar, Agua Ardiente, is connected to the resort's main pool, which serves drinks and snacks for an additional cost. (You must carry your credit card or cash, or get it from your assigned locker, to pay for drinks at the resort bars. In other words, you cannot open an account and charge things to a wristband like at Disney World.)
There is also a lobby bar where you can get drinks (assuming you have changed out of your bathing suits to be in the lobby).
A set menu is offered for lunch and dinner at Ave restaurant for Tabacon Day Pass guests (more on that below).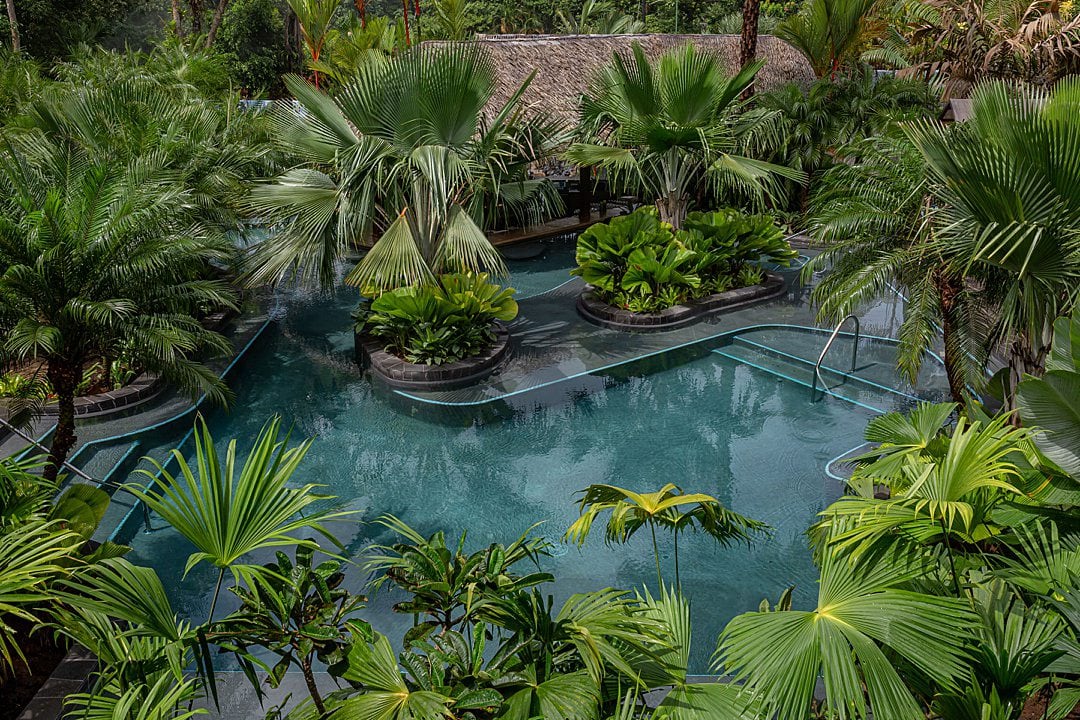 Tabacon is Environmentally Friendly
Another thing we love about this resort and thermal springs is its "5 leaves" out of 5 from the Costa Rica Sustainability in Tourism Program. The Costa Rica Tourism Institute also awarded Tabacon 5-stars.
The resort uses all organic and biodegradable products, they have water and electricity conservation programs (including solar paneled roofs), tag environmental species around the property, and uses an integral water management system.
This is simply to name just a few ways they walk the talk when it comes to putting our environment and the Earth first.
Depth of the Thermal Pools at Tabacon
The thermal pools are shallow, and you can stand or sit in them if you wish. They're not deep enough to swim.
How Tabacon Hot Springs is Heated and the Temperature of the Pools
They're naturally heated from the nearby volcano, Arenal. Temperatures of the river pools range from 72 to 105° Fahrenheit and contain natural mineral content. There is one cold pool at the resort.
Generally speaking, the higher you go in elevation in the hot springs, the hotter it is because it's closer to the heat source (the volcano).
Who Needs a Tabacón Hot Springs Day Pass?
If you are not a guest of the resort/hotel and wish to visit Tabacon Hot Springs, you need a day pass. There are several day pass options to choose from, so while you don't have to plan to be there the entire day, you do need a pass to visit.
The resort can reach capacity at any given time, so we highly recommend booking a day pass in advance to guarantee your spot.
You cannot book a dining reservation or spa treatment if you're only visiting the resort for that purpose; it's not allowed. Resort guests and day pass guests are the only people who can book reservations for meals or spa treatments at Tabacon Resort & Spa.
Cost of a Tabacon Hot Springs Day Pass for their Thermal Springs Experience
Price varies based on peak or non-peak season. We have put the current prices for 2022-2023 below next to each ticket type.
If You are a Hotel Guest of Tabacon Resort & Spa
The thermal experience is included in your resort stay if you're a hotel guest. You do not need Day Passes in this case.
Non-Guests of Tabacon Resort & Spa
If you are not a guest of Tabacón Resort and Spa, which means you are not staying at their hotel, you must purchase a day pass for the thermal experience and hot springs.
Four Types of Day Passes (2022-2023)
Guests can choose a Day Pass from the five options below. Hours of entrance for that particular pass along with cost, are included in the text below.
Prices during peak times are slightly higher than what's listed, which includes the weeks surrounding Christmas, for example.
As their website states, "Rates are subject to change without notice."
All pass options include at least one meal. When you reserve your pass online, you pre-select the time you want to eat lunch or dinner (or both, depending on the pass).
Children under the age of 5 are free. Children's prices are for ages 6 to 11 at Tabacon. Ages 12 and up pay the adult fee, however, their website states that children 16 and younger need supervision at all times. (We don't write their rules. We realize that policy is a little misaligned with their children's ticket prices but c'est la vie.)
Peak vs. Off-Peak Times and Prices
Standard rates (listed above) apply until December 17, 2022. December 18 through January 2 is peak rate time.
For 2023, standard rates apply from January 3 to March 31, and again from April 10 to April 30. Though times are not listed for peak season in 2023 yet, we imagine it will be a similar timeframe to 2022's dates.
We paid $244 for two adult tickets to Tabacon with lunch and dinner included for Christmas time, which was just $24 more than the usual price for two adult tickets during off-peak times.
Full Day vs. Half Day Pass to Tabacon Resort
The decision to purchase a full-day or half-day pass depends on your schedule and what you want to do during your trip to the La Fortuna area (where Tabacón is).
We wanted to relax at the hot springs all day, without the stress of having to dash off to an excursion.
While we didn't plan on being there from 10:00 am to 10:00pm on the dot, as entry times allow for a one-day, full-day pass, we liked that we had flexibility within those hours.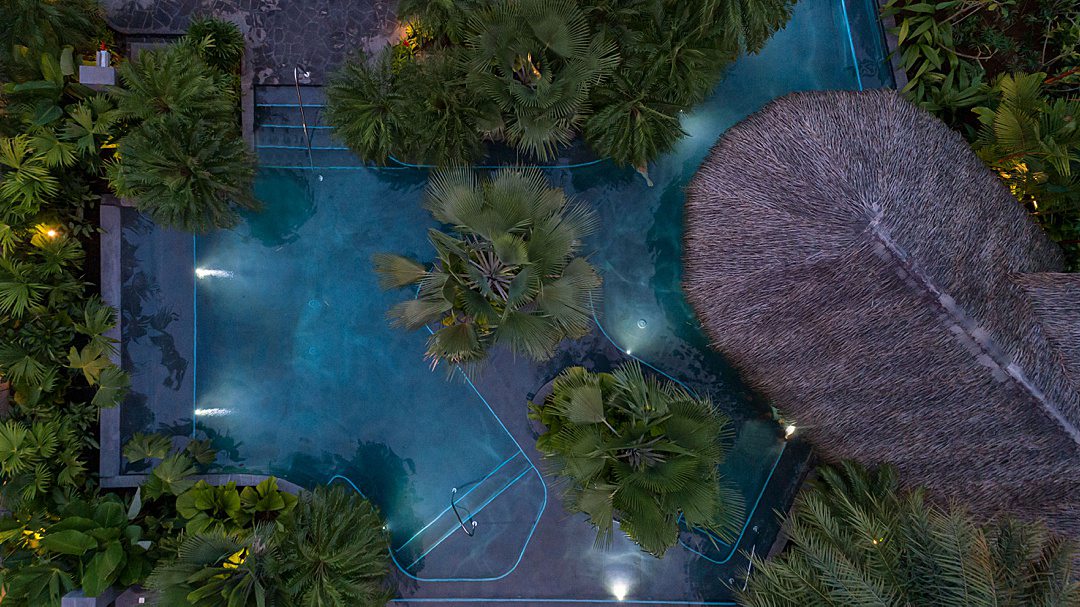 Consider the Weather
We liked the thought that if it rained in the morning, we could arrive an hour or two later than we originally planned but still be there in time for lunch. Or, if it rained in the afternoon between lunch and dinner, we could take cover somewhere for a little while until it stopped and not feel a time constraint.
This could very much depend on the season you're visiting Costa Rica. It's more likely to rain in the wet season, which is April or May until late November. The dry season is from November to April or May. The dry season includes peak times to visit the country during Christmas, New Year's Eve, and Easter. Peak season brings an increase in hotel rates and activities as well.
If it rains, everything is open. If there is lightning, there is a protocol that the resort has to follow for safety reasons.
Consider How Many Hours you Want to Experience the Springs
If you are traveling with children, perhaps they'll get bored with a full day pass since it's not a kiddy pool kind of experience. Or maybe, depending on your personality, you'll get bored there all day! It all depends on what you like. (We certainly get bored on a beach all day, capping out at a few hours time.)
Consider Where You'll be Arriving from and Heading After
Another thing to consider is where you're going to the hot springs from. If you're traveling to Tabacon from within La Fortuna, it's only a short drive to get to the hot springs. However, a day trip from San Jose, for example, is a three-hour drive one way.
If you are driving from elsewhere in Costa Rica for the day, you may want to consider a half day pass because time simply won't allow for a full day at the springs. (The driving time between La Fortuna and many other popular areas of Costa Rica is typically between two to four hours.)
Is a Tabacon Hot Springs Day Pass Worth the Cost?
It depends on what you value during vacation and what types of experiences you like. It also depends on what you think is expensive or not. It's all subjective!
The cost of two day passes, including two meals at a luxury resort like Tabacon, is completely worth it. (Even if the Day Pass restaurant is more casual than upscale.)
Yet, for someone else, maybe someone right out of college on a stricter budget, it may be out of reach or simply not something important to them. (We have some alternative hot springs options in Costa Rica listed in this post.)
It's a truly unique experience you will not forget, thanks to the beauty of its location and how well the grounds are kept. While it's not the only hot springs in La Fortuna, they're certainly the most beautiful, in our opinion. As with any luxury experience around the world, there is a cost to experience the best.
How to Book a Day Pass at Tabacon
It's simple to book a day pass on their website. Choose the type of pass you want, select your date, and how many passes you need for adults and children. You'll have to choose the time you want to make a reservation for day passes that include lunch, dinner, or both when you purchase your passes.
After you book online, you'll receive an automated confirmation of your purchase.
Within days after that, you should receive another confirmation email from a human who works at Tabacón, double confirming your reservation.
If you cannot get the website calendar to work, you can live chat with an agent on their website.
Lunch and Dinner Menu at Tabacon Hot Springs for Day Pass Guests
Meals are served at Ave Restaurant and include natural beverages. There is a set menu for Day Pass guests with items like ceviche, salad, soup, and a fish, chicken, or beef entree. There are also traditional "Tico Corner" options on the set menu, with things like Costa Rican rice and bean dishes.
The menu for Ave Restaurant for Day Pass guests is different than the regular menu. It has fewer options though the options are plentiful. That menu can be found here. (Click the link, choose your language, select the Ave "Set Menu," and you'll see the Day Pass menu options.)
There are vegetarian options on the menu. Cocktails and beer cost extra.
Guests can select one starter and one entree for their included lunch and/or dinner, which also comes with the Chef's Selection for dessert. If you have lunch and dinner in your One Day Pass, it's the same menu for both meals at the same restaurant.
You can order the same thing if you loved it for lunch or switch it up and order different food for dinner from the same menu.
Additional Restaurants at Tabacon Resort & Spa
There are two restaurants at Tabacon Resorts & Spa in addition to Ave, the one included with day pass meals. They are:
Tucanes Restaurant
This restaurant is exclusively for hotel guests (day pass guests cannot eat there)
Private Dining Experience at the Ephemeral Table
Hotel guests or day pass guests can book this experience. It's $405 for two people and takes place in a private bungalow. (It's great for a special occasion!)
The private dinner includes a wine pairing with each dish plus a bottle of natural water, coffee or tea. Cocktails and beer are extra.
Tabacon Hot Springs Spa
The spa at Tabacón is wonderful. I had the best Banana Leaf Facial there years ago! While the spa menu has changed its offerings since then, I still dream about it. Everything from the ambiance to the quality of the spa team is dreamy at Tabacon Spa & Wellness.
The spa is not part of the thermal hot springs experience. If you have a day pass, you'll have to pay extra to go to the spa, where there are 11 open-air bungalows for treatments.
Appointments should be made online well in advance of your trip. Book anything from a massage to nail appointment and even "Journey" offerings.
For example, you can book a Coffee Orange Parfait Journey that starts with an exfoliating coffee scrub, moves onto a massage, then ends with a yogurt and honey express facial. A "journey" appointment is one hour and 50 minutes and costs $255.
A spa treatment like a hot stone massage costs $160 for 80 minutes.
Spa services are available for guests 13 and older.
Relaxation Room and Additional Water Therapy at the Spa
There is a relaxation room at the spa that you can use after your spa treatment (not before).
The spa also has a thermo mineral spring water Jacuzzi and its own outdoor hydromassage experience pool you can use after your spa appointment. You cannot use these amenities if you do not have a spa appointment.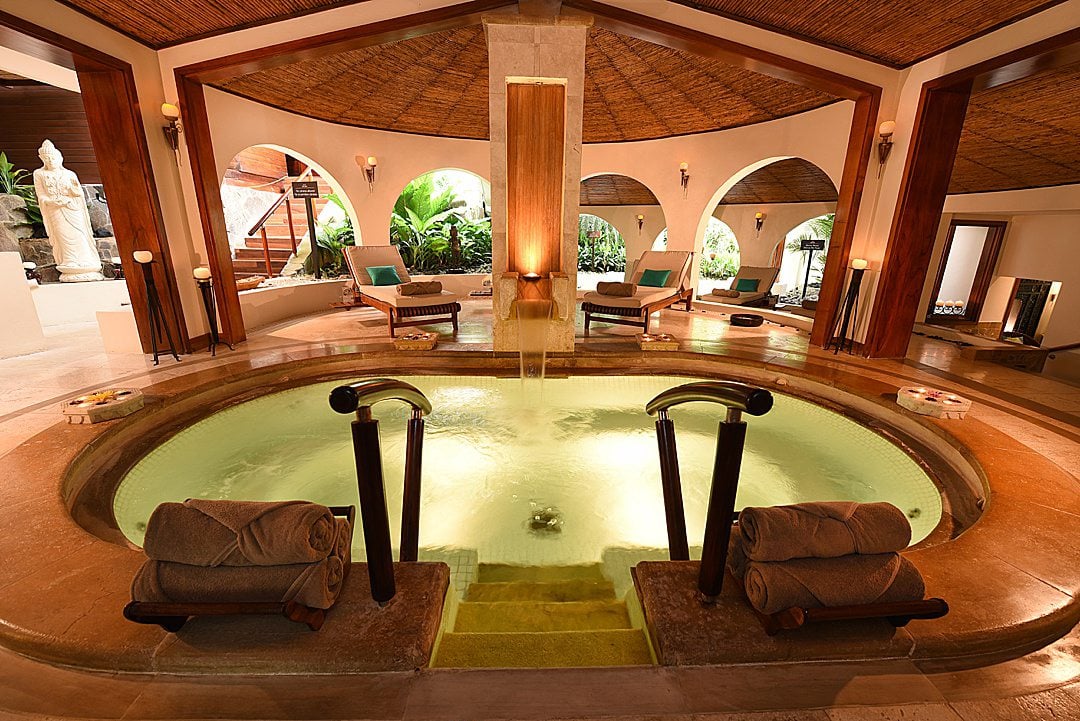 Lockers, Towels, and Showers for Day Pass Guests at Tabacon Hot Springs
We imagine most people wonder, "Does Tabacon Hot Springs have lockers and provide towels for their guests, or do you need to bring your own?" We were wondering that too. We have an answer!
When you arrive at the resort and check-in for your day pass, you're given towels and a locker key for a $50 deposit.
You get the deposit back after the day when you return your towels and key. The deposit can be made on a credit card or with cash. If you fail to return your towel, you will be charged $20.
There are showers for day pass guests to use as well.
Packing List for Tabacon Hot Springs Day Pass
We recommend packing the following for a day at Tabacon:
If you're not already a member of Amazon Prime, we highly recommend it! Here's a link for a FREE 30-day Amazon Prime trial, where you can enjoy free two-day shipping, free Kindle books, special discounts on products, and more.
Tabacon Hot Springs Day Pass Additional Questions and Answers (more FAQs)
➤ What's the Easiest Way to Get to Tabacon Resort & Spa? (Including the Thermal Experience)
The easiest way, wherever you're arriving from, is to drive. Whether you book a private transfer, rent a car, or a shared shuttle is up to you.
Tabacon Hot Springs Thermal Experience is located at Tabacon Resort & Spa in La Fortuna, which is a city near Arenal Volcano in Costa Rica. Everyone in the tourism industry in Costa Rica knows where the famed Tabacon Hot Springs is.
If you have never been to Costa Rica, know that the roads are often bumpy and winding; it's not like driving interstates in the United States that are pretty much a straight shot from your departure location to your destination. It's a winding long road in Costa Rica. But that's part of the experience of your vacation!
If you get car or motion sickness, you may want to consider buying Blisslets for your trip. They're fashionable anti-nausea wristbands.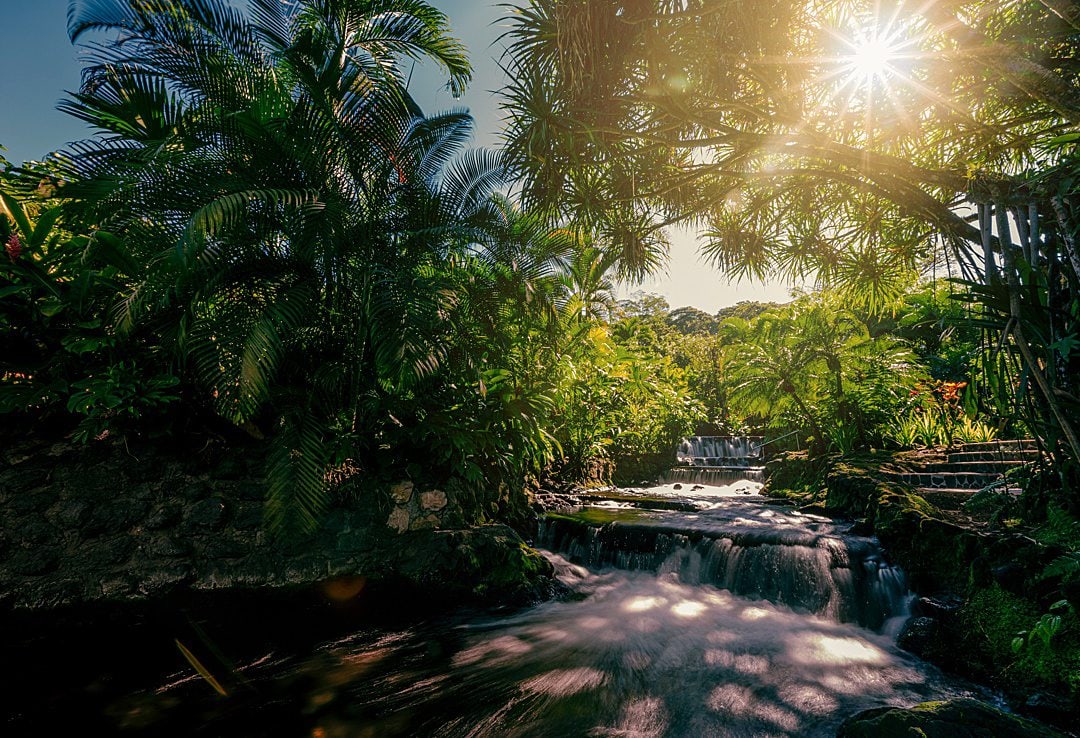 Renting a Car in Costa Rica
If you choose to rent a car in Costa Rica, know that you will likely be driving some bumpy roads at the very least, and streets may lack road name signs.
We recommend reserving a car through DiscoverCars, a user-friendly, trustworthy car rental website.
Hiring a Driver to Take a Private Car or Shared Shuttle in Costa Rica
Costa Rica's economy is largely based on tourism. Many people in the country depend on the transportation needs of tourists for income to support their families. That's partially why we recommend hiring a driver or signing up for shuttles.
(The other reason is that the roads are tricky even though plenty of visitors successfully rent cars and navigate Costa Rica's roadways.)
Here are three great options for transportation to La Fortuna:
Gratuities are not included.
If you have to get in touch with your driver, it's likely that they use WhatsApp…just ask! There's free wifi at SJO airport if you don't have a cell phone plan abroad (or travel with your own hotspot, like us).
Driving Distances from Popular Tourist Cities in Costa Rica to Tabacon Hot Springs in La Fortuna
➜ San Jose to Tabacon and La Fortuna
San Jose is a three-hour drive from Tabacon Hot Springs in La Fortuna.
➜ Monteverde to Tabacon
The drive from Monteverde (from the center of town, where Santa Elana is) to Tabacon is two and a half hours. From closer to the Monteverde Cloud Forest, it's more like a three-hour drive.
➜ Manuel Antonio National Park to Tabacon
Driving from Costa Rica's famous Manuel Antonio National Park to La Fortuna and the famous Tabacon Hot Springs will take five hours.
➜ Osa Peninsula to Tabacon
To get to Tabacon from the Osa Peninsula, you're looking at an 8-hour drive. You may want to fly to San Jose from Osa, then drive the three hours to get to La Fortuna. It will be faster.
➜ Tortuguero to Tabacon Hot Springs
The drive from Tortuguero on the east coast from land (since you have to take a boat to get to some areas of Tortuguero) to Tabacon is three and a half hours.
➜ Playa Hermosa to Tabacon
The drive is approximately three hours to get from Playa Hermosa, on the northwest coast of Costa Rica, to Tabacon Hot Springs.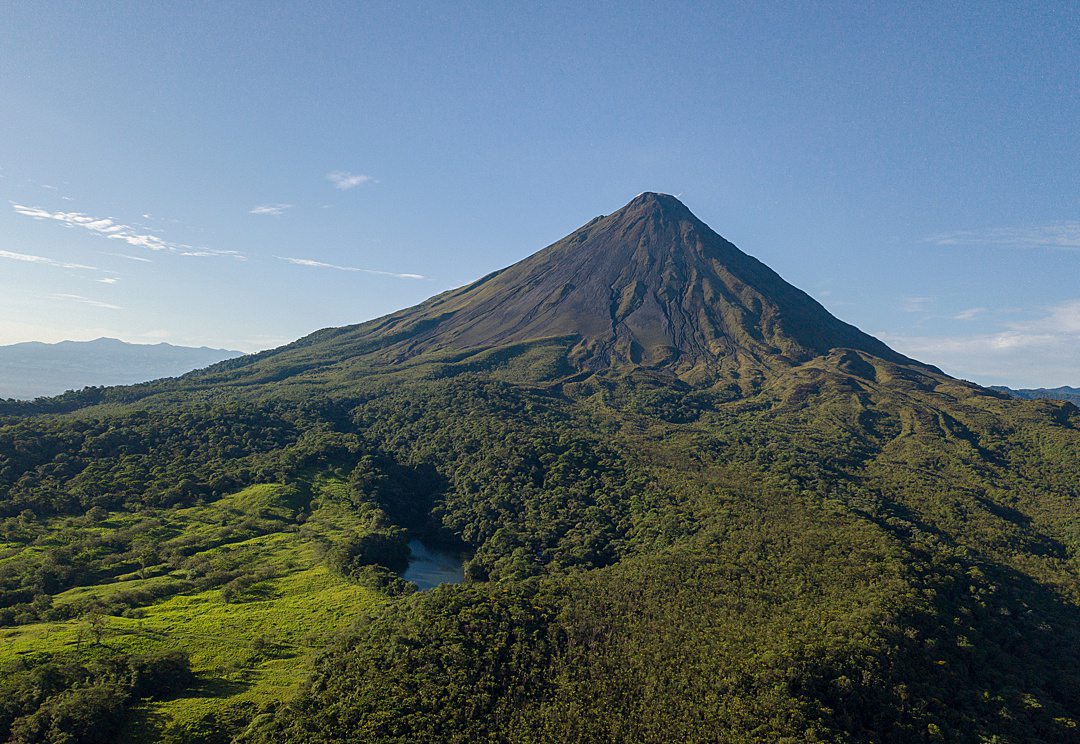 Tabacon Hotsprings FAQs Answered
➤ Do You Need to Reserve a Tabacon Hot Springs Day Pass in Advance?
It is strongly recommended. This is one of the top tourist destinations in La Fortuna.
Because Tabacon limits the number of visitors per day, you'll want to secure your spot immediately after you know what day you want to visit during your vacation and time near Arenal, Costa Rica.
➤ What Time does Tabacon's Thermal Experience Open?
It opens at 10:00am and closes at 10:00pm. On New Year's Eve (December 31), it closes at 6:00 pm.
If you have a Night Pass, you can only arrive after 6:00pm. If you have a Morning Pass, you must leave by 2:00pm. Only full-day pass holders and hotel guests can enjoy the hot springs for 12 hours, from 10:00 am to 10:00 pm.
➤ What is Tabacon Hot Springs' Day Pass Cancellation Policy?
You can cancel the day pass without penalty 15 days before your visit. For peak season, the timeframe is 90 days before your visit. After that timeframe, you are penalized 100% of the day pass cost.
➤ Is the Thermal Experience Open Rain or Shine?
The resort is always open even if it's raining. If there is lightning, there is a protocol in place that they follow for safety reasons.
➤ Is There Parking at Tabacon Hot Springs?
Parking at Tabacon Hot Springs is free. Day pass guests park in a different area than hotel guests.
Parking spots are complimentary for hotel guests as well, who are assigned a specific parking space.
➤ Can you see Arenal Volcano from Tabacon Hot Springs?
Yes! But only in a specific area from a certain viewpoint. We saw the volcano at night with binoculars and could see red lava spewing from the top!
➤ What is Tabacon Hot Springs like at Night?
There's a bit of a different vibe in the evening after sunset. Some senses are heightened, like sound and smell, and you get a different perspective on the resort.
Additionally, it's fun to see the resort at night with lighting in the restaurants and lobby, for example, and special lighting on the thermal pools and plants.
➤ What Do you Wear to Tabacon?
Of course, you need a bathing suit to go into the hot springs. Additionally, it's recommended that you wear water shoes because many thermal springs have natural, rocky bottoms. (You could go barefoot, but it may be slippery and uncomfortable.)
If you're going to have meals there be sure to pack a change of clothes to wear at the restaurant. You can shower and change by the lockers.
➤ Is There Free Drinking Water at Tabacon Hot Springs?
You want to stay hydrated when you're in hot pools all day.
It's safe to drink tap water in Costa Rica. If you want bottled water at the resort, you have to pay for it. However, you can ask for a glass of tap water at any bar.
You can also bring a refillable water bottle with you and fill it with water at the resort.
Our two favorite reusable water bottles are:
Memo bottle: We love it because it's flat. This means it fits in a pocket, on the side of a backpack, in a purse, etc. easily and comfortably.
MiiR bottles: MiiRs are insulated and keep the liquid at the temperature you added it to the bottle for HOURS and hours. They rock. We also love that the wide-mouthed bottles are easy to get ice cubes into. Use code "SOMETIMESHOME" for 15% off your order.
➤ Can you bring your Own Food and Drinks to the Resort?
Besides bringing an empty, refillable water bottle for yourself, outside food and drinks are not permitted at the resort.
➤ Is Tabacon Hot Springs Adults Only?
No. The resort allows children to stay at the hotel and use its thermal pools. As per the resort, all guests under the age of 16 require supervision at all times. Guests 13 and older can sign up for a spa experience for an additional cost.
The Shangri-La Gardens area at Tabacon is adults-only, but it's only for guests of the resort who are staying at the hotel.
➤ Can you Leave and Come Back if you Have a Full Day Pass?
If you have a Day Pass from 10:00 am to 10:00 pm, you can leave and come back later if you wish. You will always have a space with the day pass regardless if you leave and come back within the same day.
➤ Can you Smoke at Tabacón Resort?
Tabacón is a smoke-free environment.
➤ Does Hot Springs Mineral Water at Tabacón Smell Like Sulfur?
No, it does not.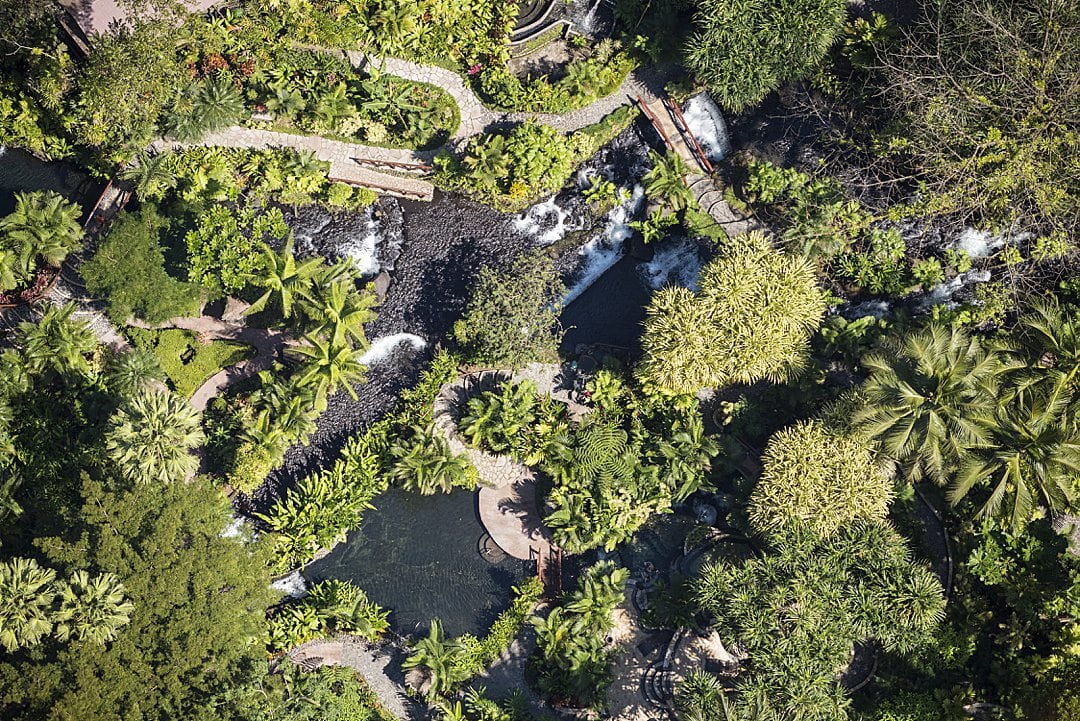 ➤ Is Tabacon or Springs Resort Better?
Tabacon and Springs Resort (where the Kardashians have stayed) are two different resorts; they look and feel different though they have a Costa Rican vibe and hot springs in common. They're both beautiful, that's for sure!
Because everyone's preferences are different, we recommend looking into both and seeing what's a better fit for your budget, availability, and taste.
Day passes to Springs Resort include two days during non-peak dates ($79 for two days) and one day during peak times ($97). (Peak time at Springs Resort is February 18th to 26th, April 8th to 17th, and December 16th to January 8th.)
Springs Resort hot springs are open from 8:00 am to 10:00 pm. Advanced reservations are required during peak dates due to limited availability.
If you're tight on budget and time, Springs Resort costs a bit less and is open two hours earlier than Tabacon.
➤ What Credit Cards are Accepted at Tabacon?
Visa, Mastercard, and American Express are all accepted.
More Hot Springs and Thermal Baths near Tabacon Resort & Spa
Free Hot Springs near Tabacon
While there are "free" hot springs in the area, they're not resort options. They are more so places to pull over on the side of the road and risk your safety to take a dip in heated water. (These free hot springs areas are definitely not a place to take valuables.)
There is no comparison for Tabacon Hot Springs and other options at resorts that you have to pay to enjoy. Your entrance fee goes towards their maintenance and amenities.
Nothing will be as romantic, luxurious, or dreamy as Tabacon Hot Springs.
Hot Springs with Day Passes in La Fortuna
Tabacon Resort & Spa, and Springs Resort, are two hot springs destinations in the area. There are others to consider if both are booked or if they are a little costlier than what you want to spend.
Here are three more hot springs options that you can easily book online to secure your spot in advance:
What Else is There to Do Near Tabacon Hot Springs?
Tabacon Resort & Spa is located in La Fortuna, by Arenal volcano. There's a lot to do nearby, and it's worth an overnight in the area (or two nights, or three).
From zip-lining to hikes around the volcano, we recommend exploring more than the hot springs. We love what Viator has to offer in the La Fortuna area near Tabacon.
🌴 Reserve Your Zip-Lining, Hikes, Sloth Spotting Tours & More 🦥
Combo Hot Springs Day Passes and Arenal Tours
A tour experience combining a ticket to hot springs and a tour of Arenal may be appealing, especially if you're short on time but want to see a lot. While there isn't a combo option that will get you into Tabacon, there are two good options that include other hot springs if you're limited by time and budget.
Hotels in La Fortuna and the Arenal Area
We stayed in La Fortuna near Tabacon, at Tifakara Lodge resort.
This was mostly because we visited during peak season in December, and there was a 3-night hotel minimum requirement at Tabacon Resort & Spa that time of year. There wasn't a block of three evenings available when we stayed in La Fortuna, and we only had two nights to stay in the area. So we stayed 15 minutes down the road.
Tabacon is an absolutely wonderful resort choice if you choose to stay there (and just a reminder that if you're a hotel guest, you do not need a day pass for the hotel springs). It features 105 guest rooms and suites overlooking the volcano, gardens, or forest.
If you want to explore hotels near Tabacon Hot Springs and Springs Resort, here are six we were personally interested in before we booked Tifakara (which were all sold out for Christmas by the time we looked in August):
There are also two adults-only resorts to check out:
One last note on booking hotels and excursions in La Fortuna, Costa Rica:
Make sure you book travel insurance. It's too risky not to protect yourself and your investment these days. We always book using Travel Insurance Masters. We love that you can compare policies and book the one that works for you.
➜ Still in vacation planning mode? Get travel insurance. We never travel without it.
Tabacon Thermal Resort & Spa Conclusion
You won't regret spending a vacation day at Tabacón Hot Springs with any of the five-day pass options. It will be an incredibly memorable, unforgettable relaxing experience filled with the beauty and wonders of nearby Arenal Volcano and the splendor of the lush jungle surrounding you at a luxury resort in Costa Rica.
Visiting Central America? Read this next: