Best Food Halls and Markets: Northern and Eastern Europe
What better way to a person's heart than their stomach? I'm always in search for great food wherever I go. I've been known to plan my days around food!
It's no surprise I look for food markets in Eastern Europe when I visit or the best food halls in Northern Europe when traveling. Some wonderful collaborators came together to provide this post of the best food halls and markets on the continent. This is part of a larger food series on Sometimes Home. Here, we explore:
Northern Europe: United Kingdom, Scandinavia
Eastern Europe: Armenia, Latvia, Kazakhstan, Russia, Poland, Bosnia and Herzegovina
Please click through the below for other recommendations in the following regions, also linked at the end of this post:
United Kingdom
Ireland
Belfast: St. George's
In Belfast,
Northern Ireland
, there's a market, called
St
.
George's
Market, every weekend. We went there to eat something before heading to our planned day out but ended up being there for over an hour! Its mainly a food market with many different options from all over the world. But they also have specialty teas, delicious coffee, and a lot more.
We decided to grab a sandwich at an Italian stall after circling around the market three or four times to survey our options. We left with lots of cheese and pesto for the upcoming days. It was delicious and they let you try all the different types of pestos before purchasing! The samples can end up being a whole meal.
We visited Aunt Sandra's Candy Factory for dessert to grab some lollies for the kids and, of course, couldn't miss the Yellow Man.
This traditional Northern Ireland sweet
is a brittle hard candy in a fluorescent
yellow color
. It's something like hokey-pokey, found in New Zealand, or sea foam, in Canada, but with a hint of a citrus taste. (The kids didn't like it, but I did.) If you're lucky, sometimes there is live Celtic music for you to enjoy while you eat!
Thais Saito, World Trip Diaries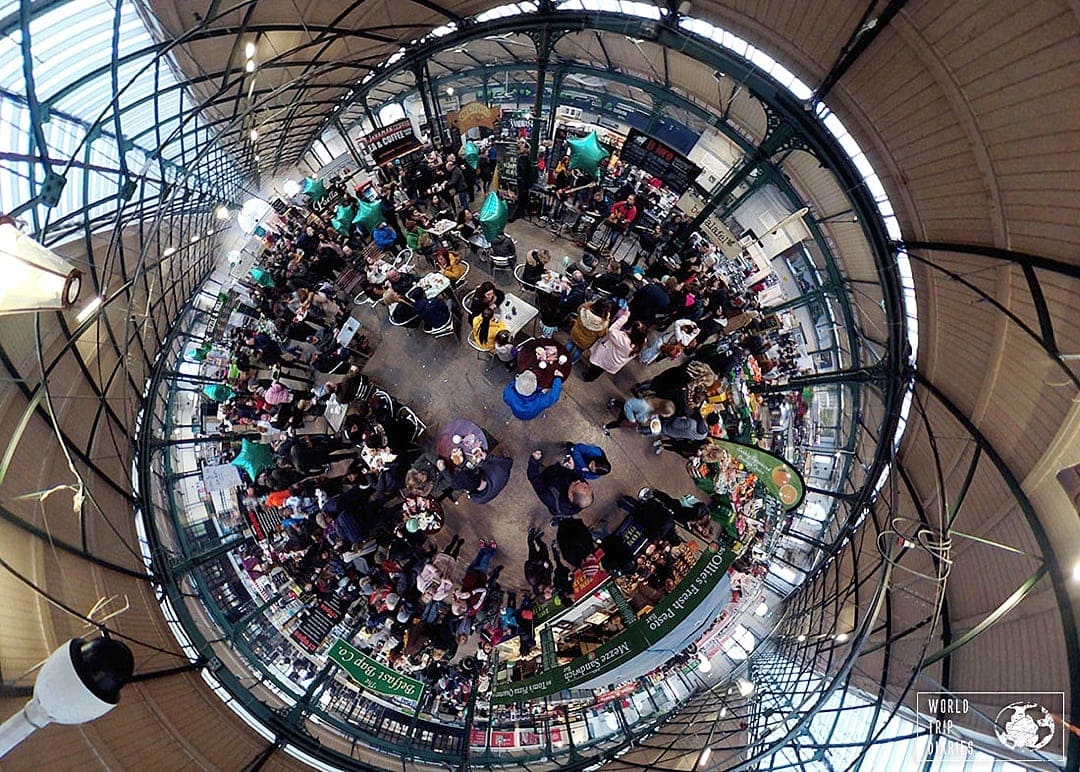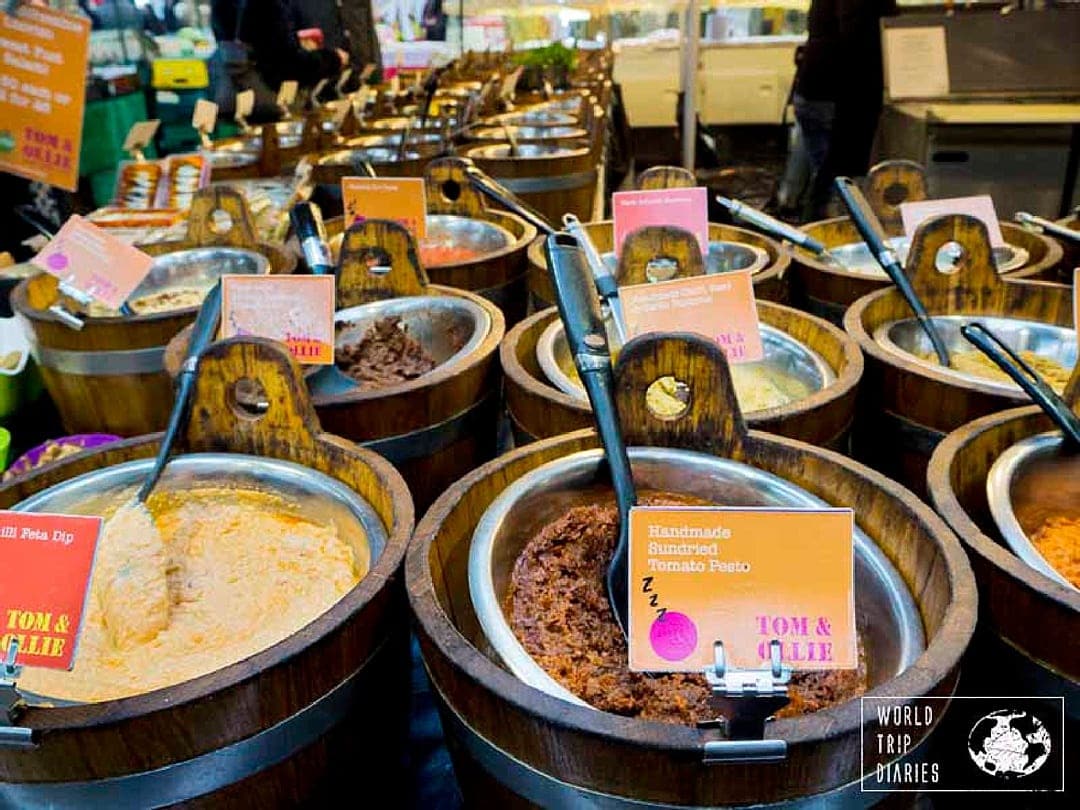 Cork: English Market
Cork is an ideal meeting point for various local produce growers because the area is surrounded by miles of lush green farmland from nearby Emerald Isle and the Atlantic Ocean. It's Ireland's second city and where you'll find varieties of cheese, butter, meat, fruits, vegetables and fish for trade. They even have a chocolate counter. It's home to K O'Connell's Fish Merchants, which is perhaps one of the largest fish counters in Ireland.
The English Market (so-called to distinguish it from the former Irish Market across the road on Cornmarket Street) has a history dating back to 1788. It has always remained a maze of artisan tastes and smells that showcase the very best in farming and fishing. One of the standout corners is the "start-up section," a location for budding local traders willing to promote their produce on a short term basis.
The grand arched entrance, first constructed in Victorian times, is just as iconic to Cork as the market itself. It welcomes you with a banner proudly declaring Cork as the food capital of Ireland. Even notable celebrity chef, Rick Stein, has made no secret of his love for this market: he describes it as the best covered market in the whole of the UK and Ireland. And with all the tempting fresh fish, who would disagree?
I did not have time to purchase anything as I was overwhelmed by the choices but I couldn't turn down free samples of local cheeses. Creamy and soft, I could see why people come from afar to Cork for some of the tastiest produce!
Jonathan Roddick, Journey Maxx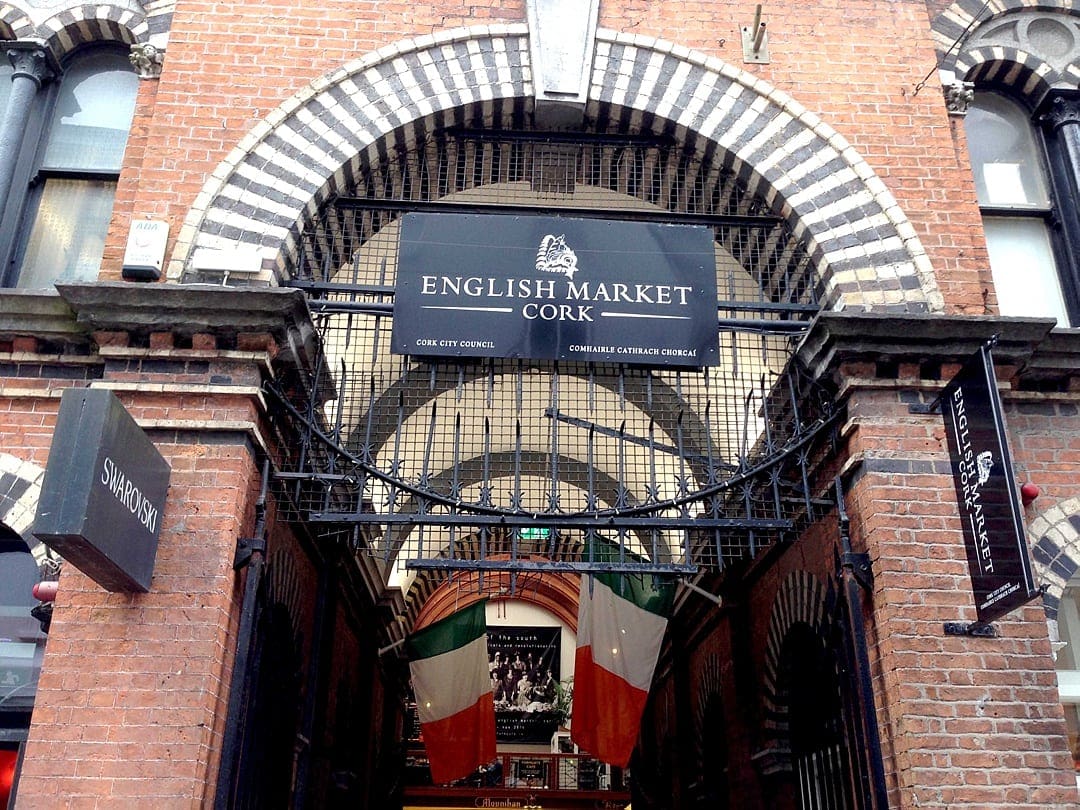 England
London: Harrods
Spending a day at Harrods is like being in a food hall, gourmet market, a shopping center, and museum all in one. It's a delight to look at all the displays within Harrods, with its Victorian interior, life-size sculptures, painted ceilings, brass windows, glass cases and many other designs each floor has to offer.
You'll experience increased joy looking around one of the best food halls and markets, knowing many of the items are edible! I'm talking about scones, macarons, eclairs, and other yummy baked goods you may fancy. There's of course a diverse selection of savory dishes, be it steak or fish and chips, European cuisine or Asian-spiced. They have tea, coffee and cakes in tea rooms and various cafés. There's also a wide selection of wines and cocktails at a few bars.
What I like a lot about Harrods is that I can take home beautifully wrapped items be it a bar of Godiva chocolate, can of pistachios, fresh seasonal fruits, or something entirely new I've never seen or tried.
Marie, Eating Out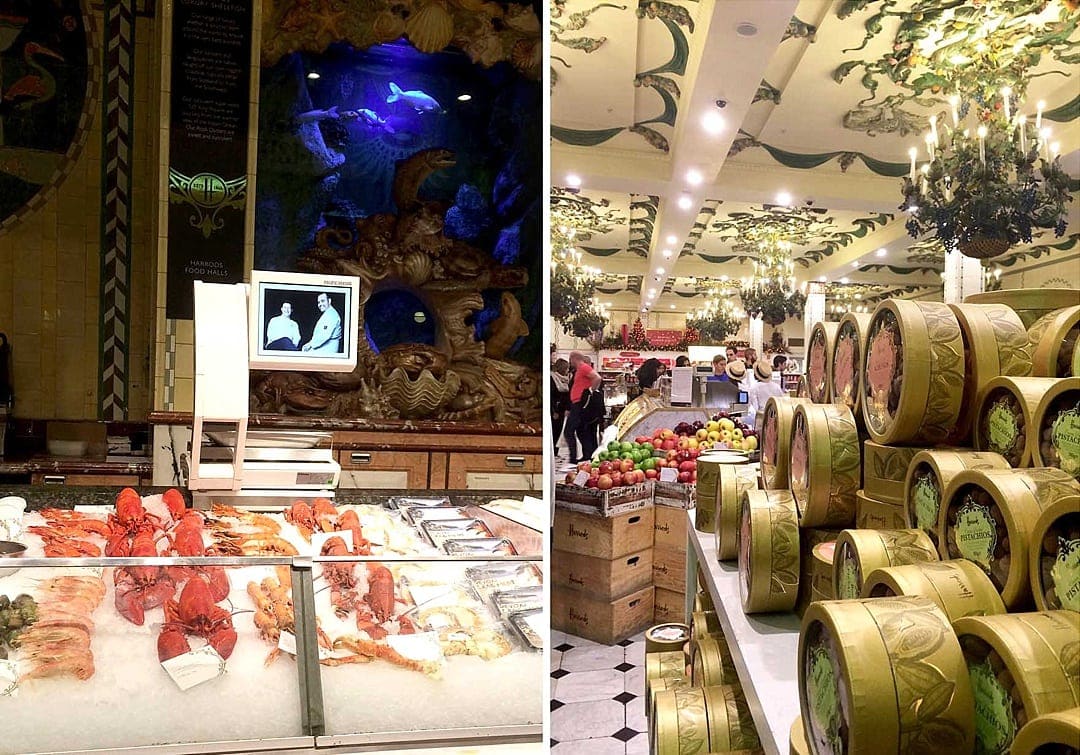 London: Borough Market
Although it's been an active market for 1,000 years, Borough Market is far from stuck in the past. London's oldest market has fully embraced the modern slow food movement and follows best practices in terms of the environment. Most importantly, though, Borough Market is one of the world's best food halls and markets because of its vast and varied selection of seasonal, local food.
We always visit Borough Market when we're in London so we can try new foods and visit old favorites like Ginger Pig. We'll never forget eating our first British meat pie at Borough Market. Our first but not our last.
This market is both a feast for the stomach and the eyes with so many tasty foods and colorful characters to check out. And, as a bonus to visitors, the market is just steps away from two different tube stations.
Daryl and Mindi, 2foodtrippers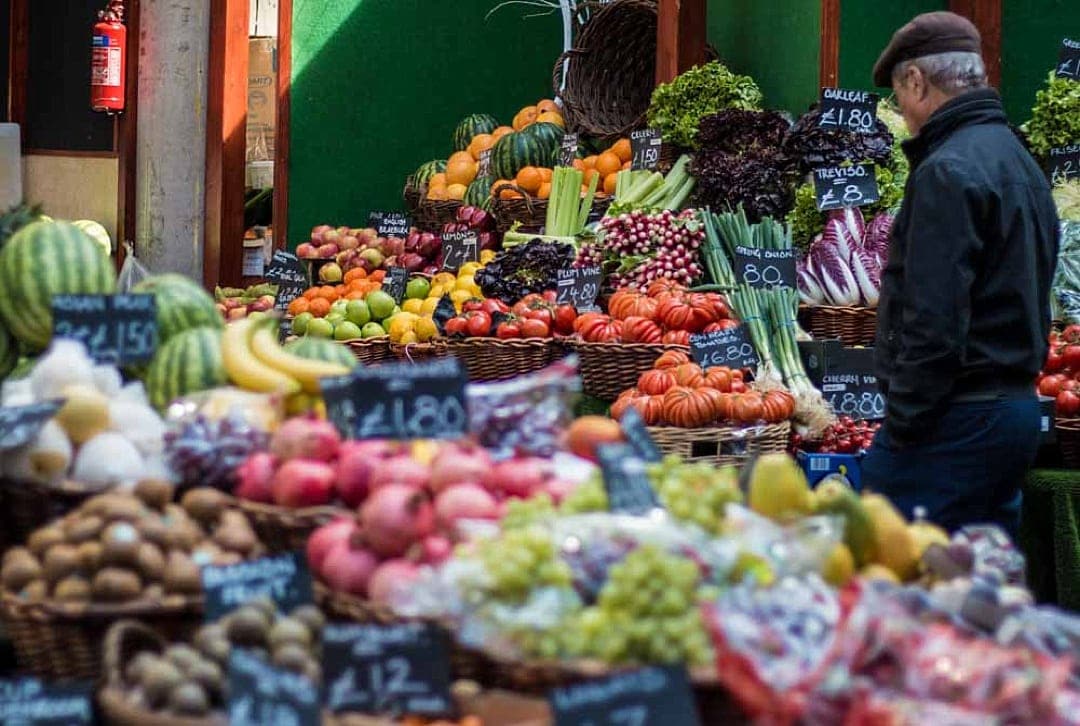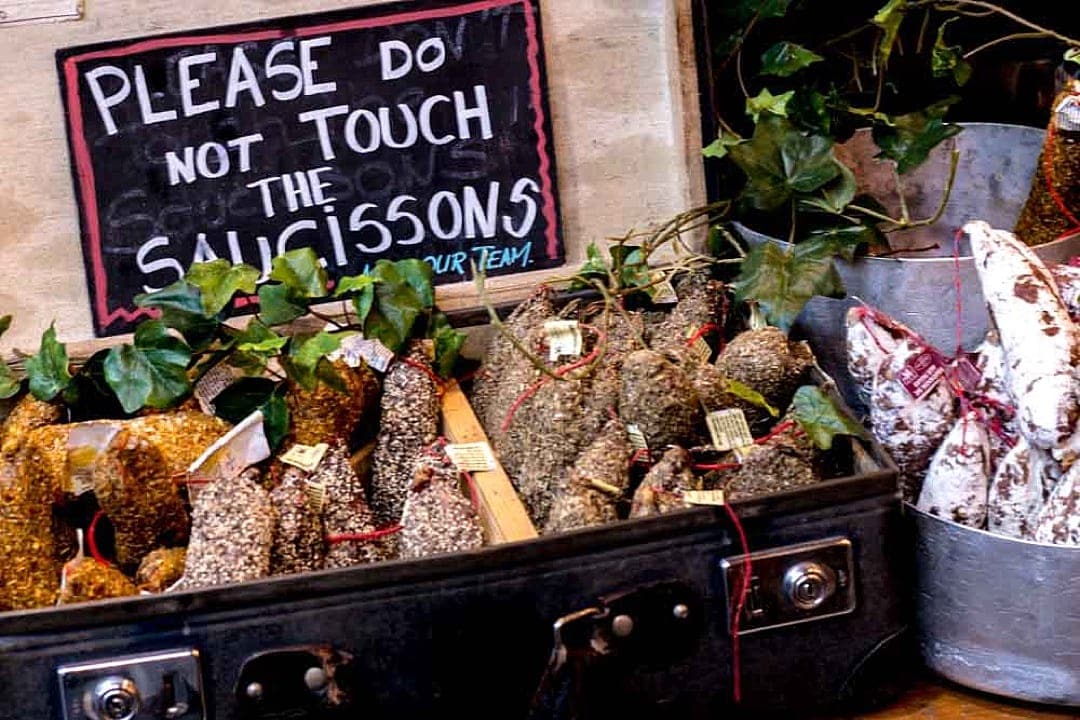 Scandinavia
Denmark
Copenhagen: Torvehallerne
The best food market in Copenhagen, Denmark is Torvehallerne. It's a bustling market throughout the day and is located only a few hundred meters from the busiest train station in Denmark, Nørreport. It consists of two adjacent market halls and a few street vendor carts in between. What makes it so special is the products that are being sold. Nearly all food at Torvehallerne is organic and locally sourced whenever possible. Still, you can get a variety of produce, ranging from Danish free-range pork to exotic dragon fruit.
The eateries in Torvehallerne are usually crowded so it can be hard to find a place to sit. Thus, many locals opt to take their food home. There are a few seating options outside during summer, which are almost like an outdoor living room, brimming with locals enjoying after-work drinks. Personally, I would recommend you come for breakfast and grab a delicious bowl of Danish porridge at Grød. These bowls are not only Instagram-worthy, they're also nutritious and delicious. (P.S: their lunch risotto is fantastic too!)

I've been living in Copenhagen for more than a year now, and I keep returning to this food hall more than others. I love the airy feel of its halls and exploring new stalls I haven't tried before. Somehow, there's always something new to discover!
Jacky, Nomad Epicureans
Try a Small Group Gourmet Food Tour including Torvehallerne or a more general food tour in Copenhagen learning about Danish Cuisine. (Includes a stop at Torvehallerne.)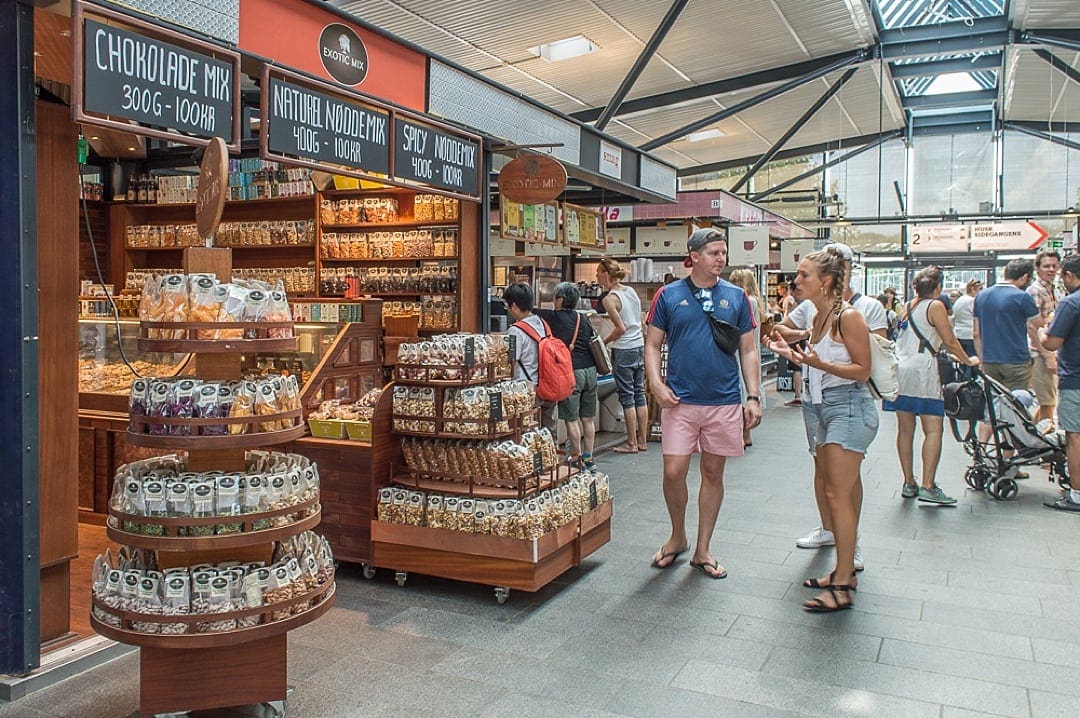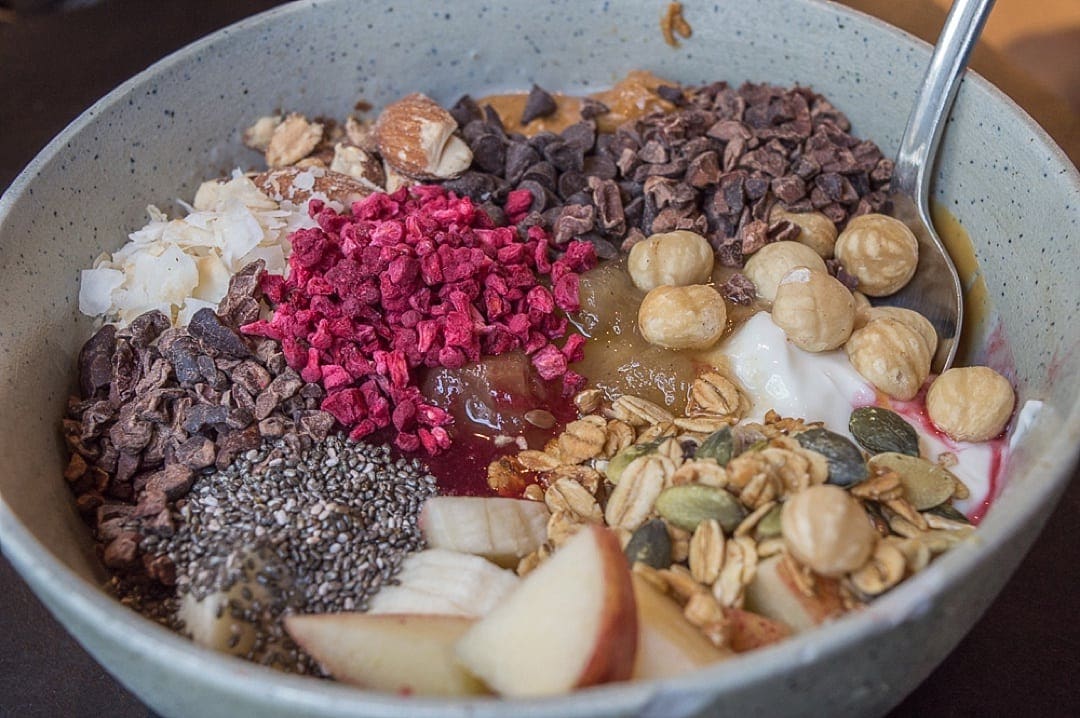 Sweden
Stockholm: Hötorgshallen
Hötorgshallen
is a food hall and outdoor food market in Stockholm, dating back to the 13th century (though its current name wasn't used until 1644). The food hall is in the basement of the market building and is full of specialist shops to browse.
Hellbergs: a game and poultry specialist (try their smoked bear meat, reindeer paté and wild boar sausage)
Fromageriet: a cheese shop stocking both Swedish and international cheeses (including Västerbottensost, Sweden's best known cheese, as well as lesser known gems such as Getmese, a soft brown cheese made by cooking the whey of goat's cheese until it caramelizes)
Finska Butiken: a store selling Finnish specialities including the very popular Karelska piroger (Karelian pastries best enjoyed piping hot and topped with egg butter)
Hav: one of several fish specialists (make sure you sample their pickled herring and marinated salmon with sweet mustard sauce)
Kajsas Fisk: a fish restaurant where you can sit down and enjoy a bowl of their famous fish soup along with fried fresh herrings on hard bread.
Kavita, Kavey Eats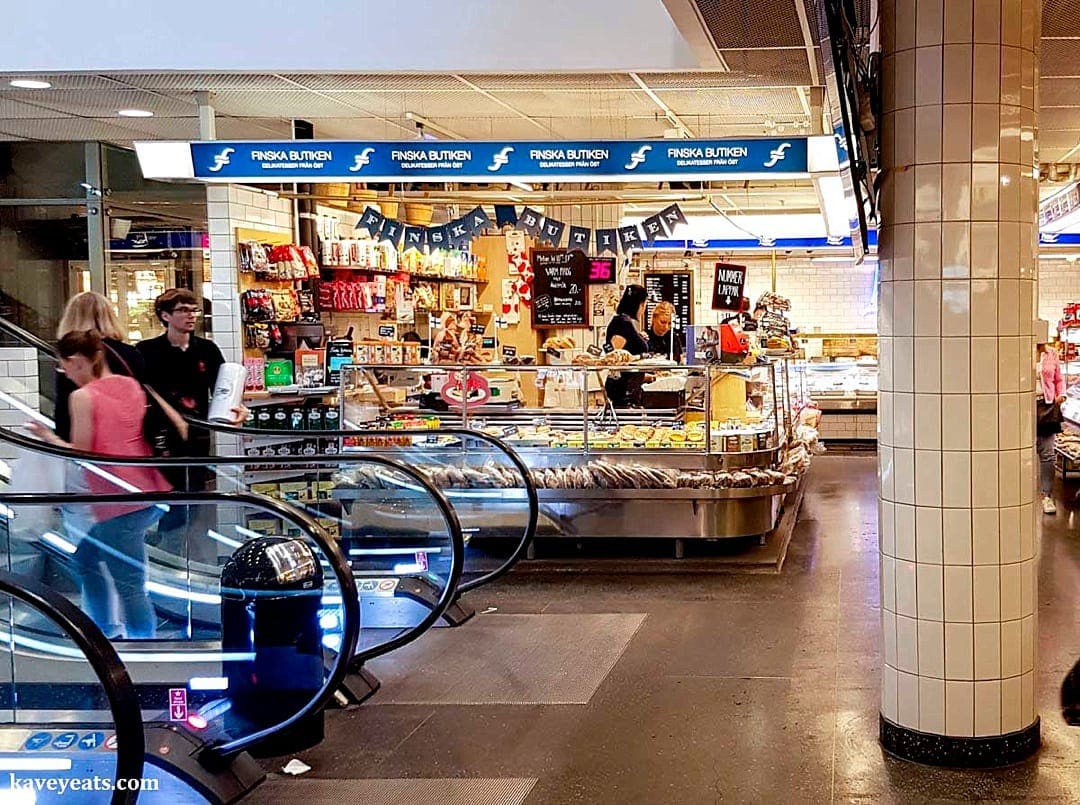 Norway
Oslo: Mathallen Oslo
A friend was generous enough to drive me to some spots I hadn't previously visited during one of my several trips to Norway. He was born and raised in Norway so I knew he'd take me to some hidden gems away from tourists. One such spot was the Mathallen Oslo food hall. It immediately struck me as one of the best food halls and markets I've ever been to.
I loved seeing how beautiful and well organized it was. It's home to over 30 vendors, including those serving local foods and provisions, as well as international delights. But of course, I wanted to try seafood dishes, one Norway's specialties as a country with a great amount of coastline. We had a fish burger and seafood soup, both which were delicious.
It's located about a 25 minute walk north of the famous Oslo Opera House and is open daily except Mondays. If you visit Oslo be sure to make the trip there or sign up for a fantastic Nordic Food Walking Tour.
Mikkel, Sometimes Home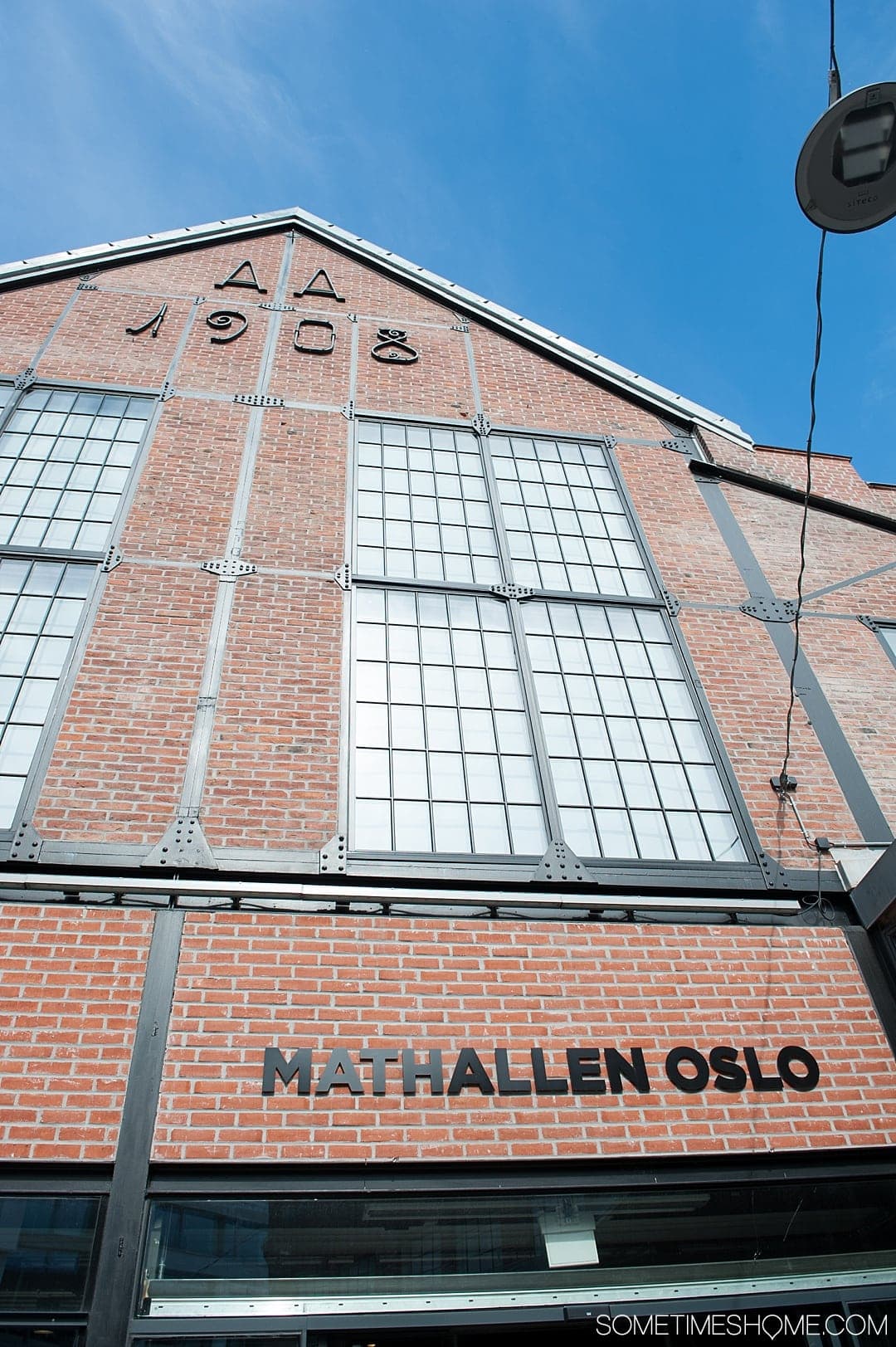 Bergen: Fish Market
Bergen is a famous city in Norway, well known as a UNESCO World Heritage Site for its Bryggen, or rows of historic commercial buildings alongside the city's port. The famous fish market has roots in the 1200's; it's impressive the market still operates and is one you can visit today. Presently, there's an outdoor from the beginning of May through summer, and indoor component open year round that opened in 2012.
It's best to take an umbrella with you if you're exploring outside because Bergen is infamous for its precipitous weather. (I've been there days when there is no rain at all and days when it rains or snows a little bit!)
The market is a great place to try and buy caviar, fish of all kinds (which is great if you're staying at an Air BnB with a kitchen) and even whale meat. This protein may be highly controversial (I admit I was conflicted about it too) but whaling is still a small part of the Norwegian coastal culture, which dates back for centuries.
Norway is one of my favorite countries to visit. I've been several times and highly recommend touring this port city. It's colorful buildings and waterfront views are beautiful no matter the season and the market is a part of its history you need to experience.
Mikkel, Sometimes Home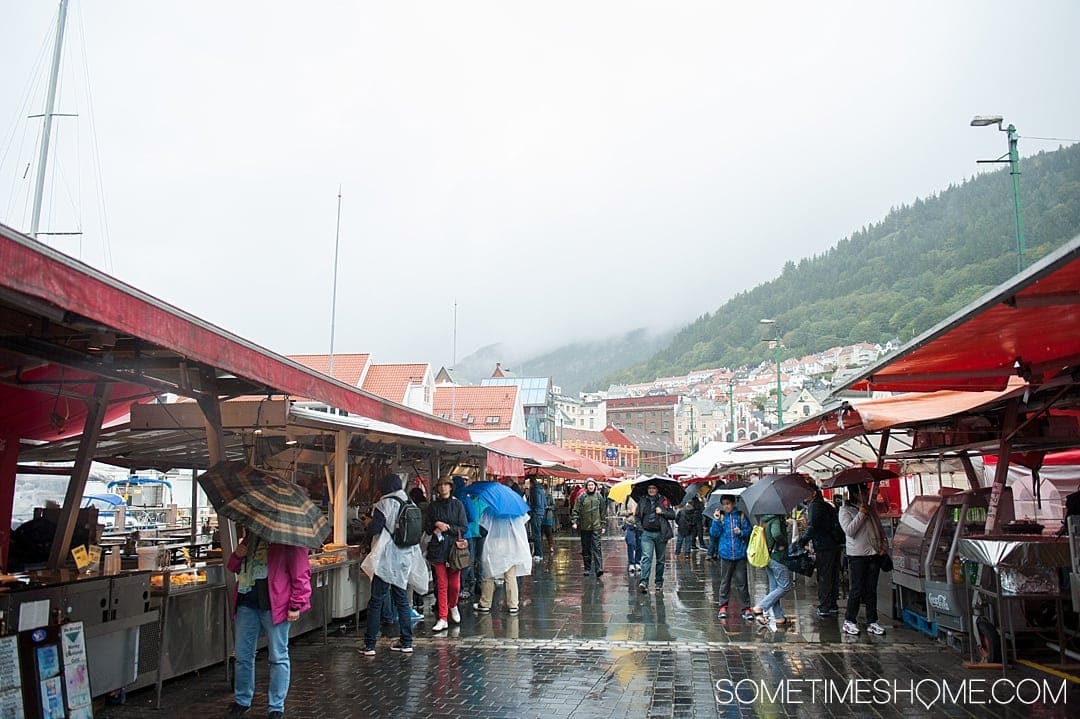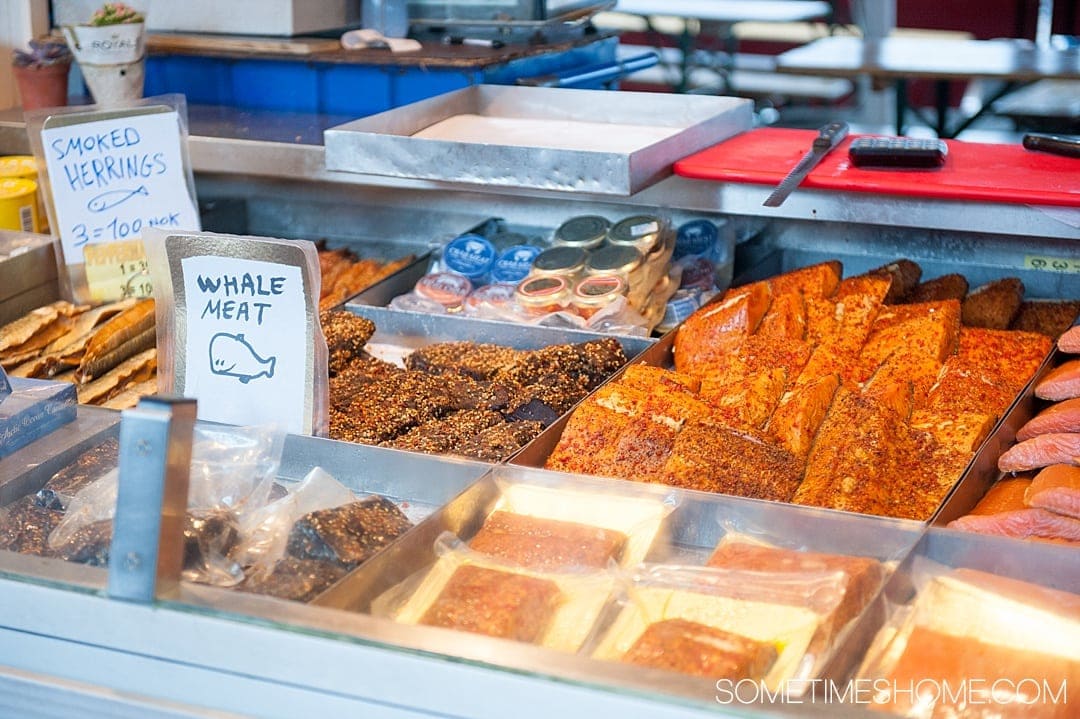 Eastern Europe
Armenia
Yerevan: GUM Market
The GUM Market in Yerevan, capital of Armenia in the Caucasus region, is one of the most vibrant and interesting food markets in Eastern Europe I've ever visited. It takes its name from the Russian abbreviation for 'Main Universal Store'—the name given to department stores in Soviet cities.
The GUM Market isn't really on the tourist trail but it offers one of the best cultural experiences in Yerevan. The undercover hall is roughly divided into two sections. The first half is devoted to extravagant displays of preserved fruit, nuts and spices. These products are perfect for sampling and almost every stall holder thrust bite-sized morsels on us. We left with a few bags of delicious, syrupy apricots.
The left-hand corner of the first room is dedicated to another Armenian favorite: lavash. The ultra-thin bread is so important to Armenian culture that the act of making it was added to UNESCO's intangible cultural heritage list in 2014. Ladies sell piles of mammoth lavash sheets at the GUM Market, each a different thicknesses and texture.
I could have spent hours watching them work, carefully separating each sheet and refreshing it with a spritz of fresh water to make the bread soft and pliable. At one point I poked my camera in between some stacks of lavash and the vendor jokingly showered me with a squeeze from her water bottle, flashing me a big smile!
The second part of the market is for fresh produce. Alongside fruit, vegetables and herbs, you'll see towering pyramids of pickled cabbage, beets and carrots. The GUM Market is open daily from 11:00am until 5:00pm.
Emily, Wander-Lush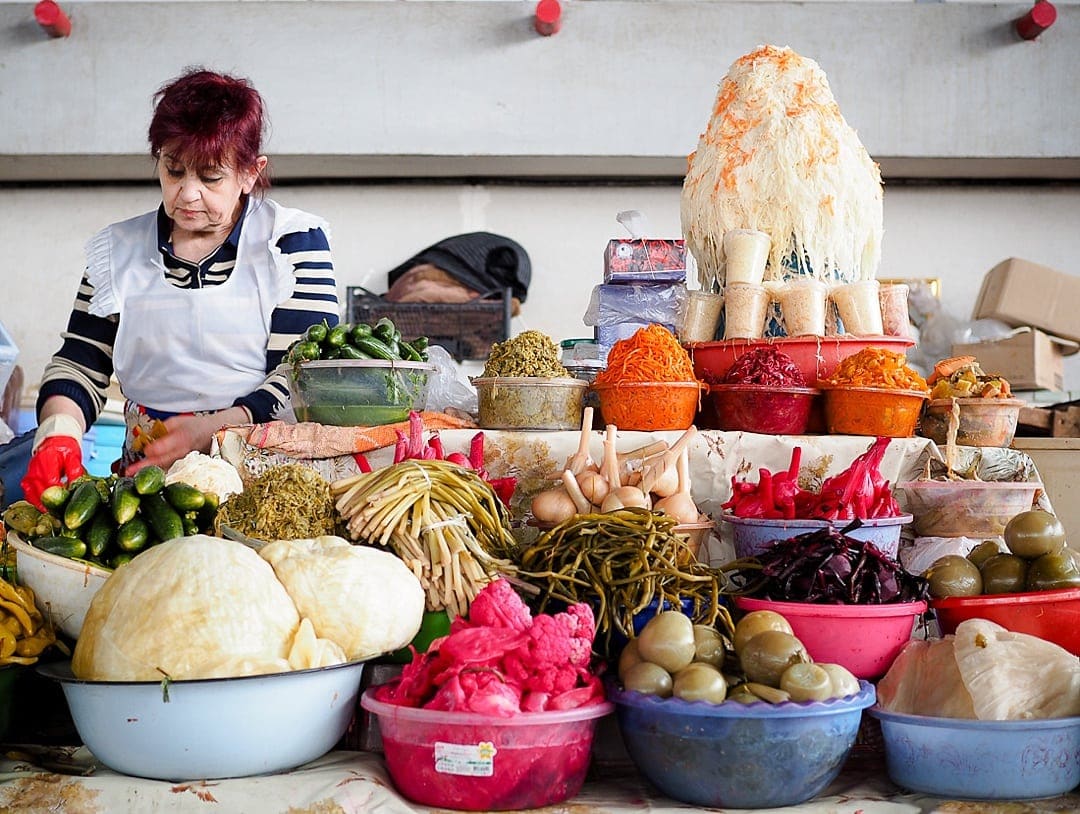 Latvia
Riga: Centraltirgus
Very few pre-WWII airship hangars remain in the world, yet five of them make up
Rīgas
Centrāltirgus
(Riga Central Market). You can't miss its distinctive roof as you reach the bus terminal or train station. It's really easy to get to as well: Europe's largest market is handily located at the southern end of
Riga's old town
and an underpass connects the two UNESCO World Heritage Sites.
While trade has taken place on the Daugava Riverbanks for ages, this food market in Eastern Europe is organized so visitors can now see, sample and buy Latvian specialities under one roof. Each of the cavernous halls houses different kinds of produce with fish, dairy, meat and herb sellers in their own sections. The activity extends outside where traders sell fresh summer fruit from the rest of the country despite the indoor market's size. Scattered among them are cafes, souvenir shops and even a craft beer bar. From what I could see, locals shop at
Centrāltirgus
too.
Beware the sparrows, however. As soon as I stepped out of the market holding a Black Balsam ice-cream cone, the birds swarmed at my feet. One even attempted to make me drop my treat! The "Do not feed the birds" signs are there for a reason.
Nicholas, Rambling Feet
For extraordinary insight into the market, try a small-group guided tour or Riga Central Market.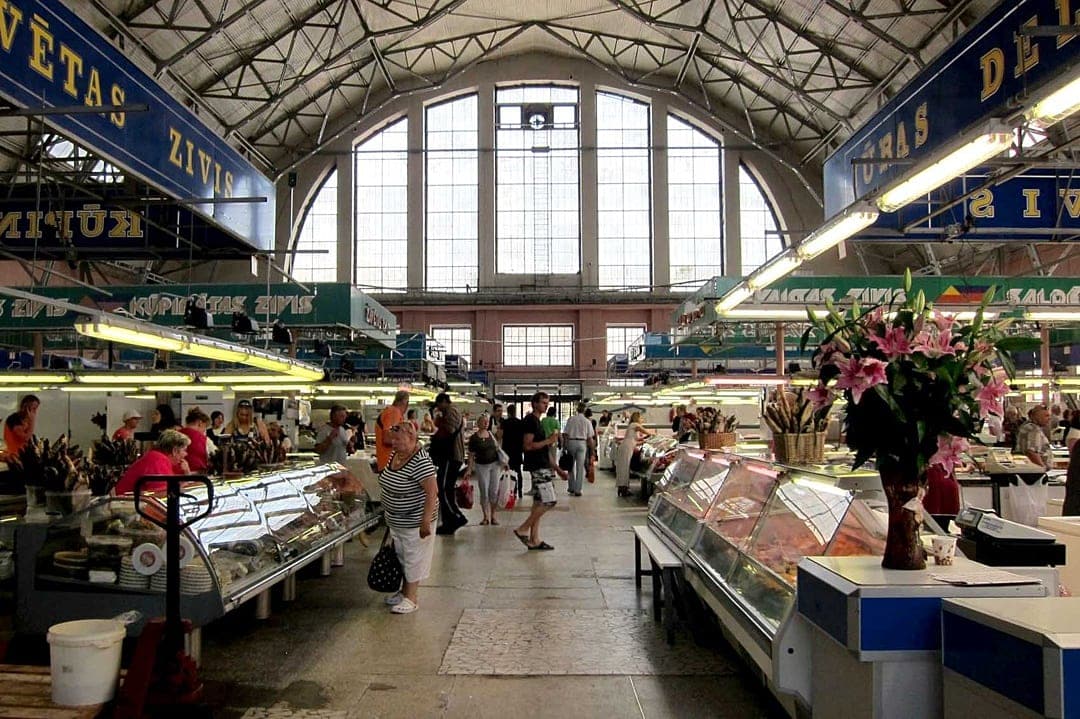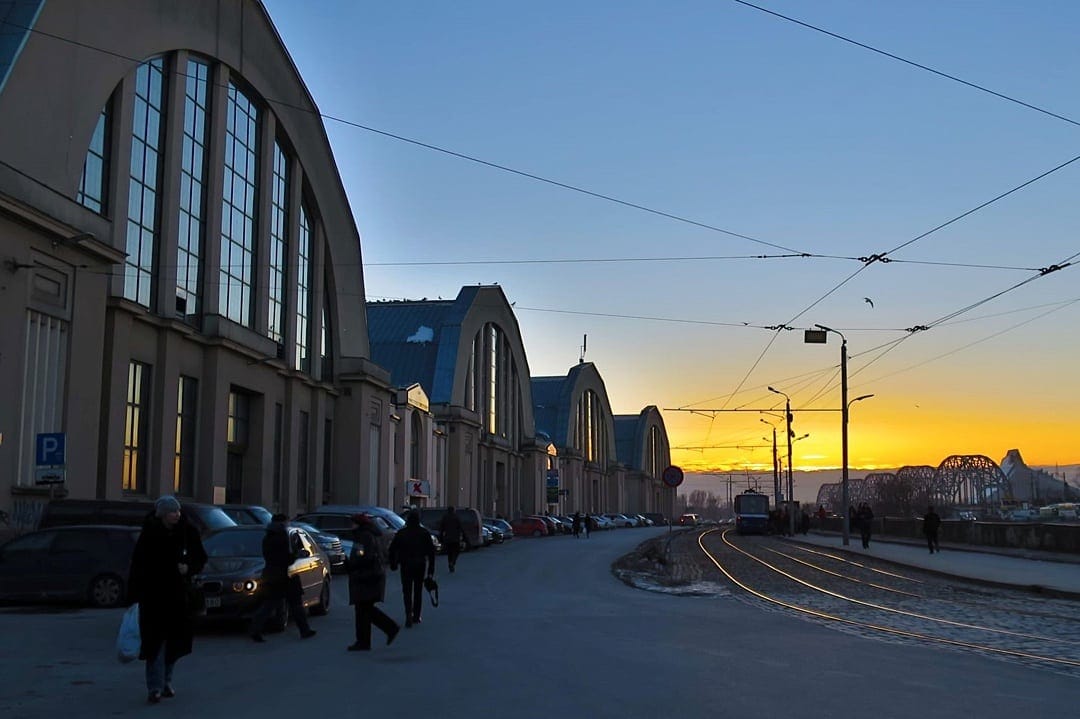 Kazakhstan
Almaty: Green Bazaar
The Green Bazaar in Almaty, Kazakhstan is one of the most famous places in the city for locals and tourists. My first trip to the oversized bazaar was in 2013. I have been several times since including when I lived in Kazakhstan for a bit. The city evolves but the market rarely changes; it's a great showcase for what life is often like for people in Central Asia.
There are places to eat Uzbek plov inside this food market in Eastern Europe, buy meat, and also try shubat or kumis. (Shubat is fermented camel's milk and kumis is fermented mare's milk. Both are an important part of Kazakh culture and cuisine.)
My favorite place at the Green Bazaar is the area where Uzbek men, mostly from Samarkand, sell dried fruits. The same guys have been working there for years and I have gotten to know them throughout my many trips to Almaty. If you're in this city definitely stop by the Green Bazaar and take a glimpse into one of the best food halls and markets in Central Asia.
Megan, Megan Starr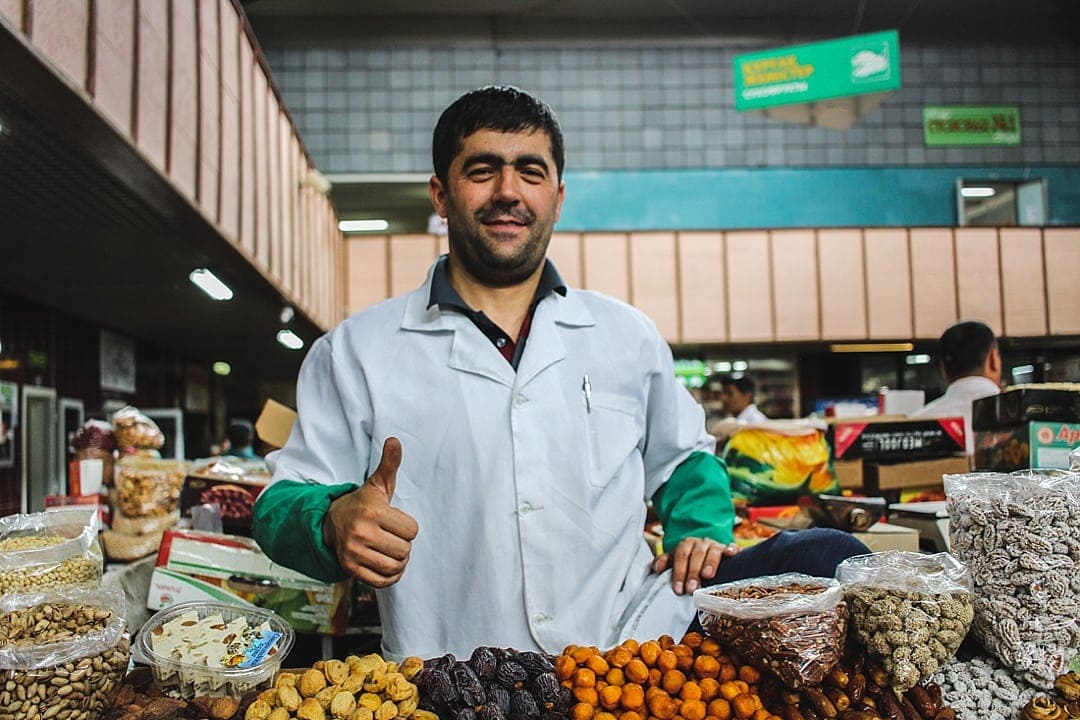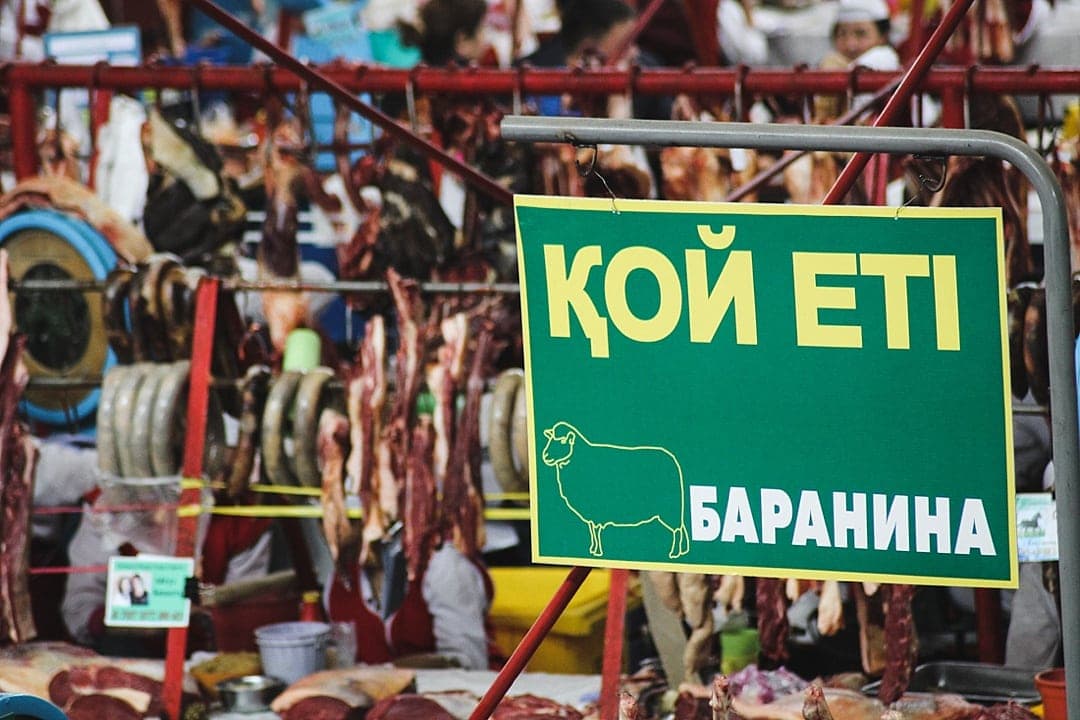 Russia
Moscow: GUM Department Store Food Court
The most iconic sights of Russia can be found in Red Square, Moscow. Red Square is flanked by the Nikolskaya Tower and State Historical Museum on the north, the colorful St. Basil's Church on the south, the Kremlin and Vladimir Lenin's tomb on the west. The upscale GUM Department Store is to the east. The upper floor of the GUM mall is home to Stolovaya 57, a food court serving typical Russian food.
Among the foods I tried were breaded chicken cutlet, Borscht (beet soup), and Russian salad. They also have a delectable selection of desserts if you just want to stop in for afternoon tea. It's amazing to find some great priced Russian food at such an exclusive address.
Lisa, TheHotflashPacker
Stop at GUM Department Store as part of a larger food tour of Moscow.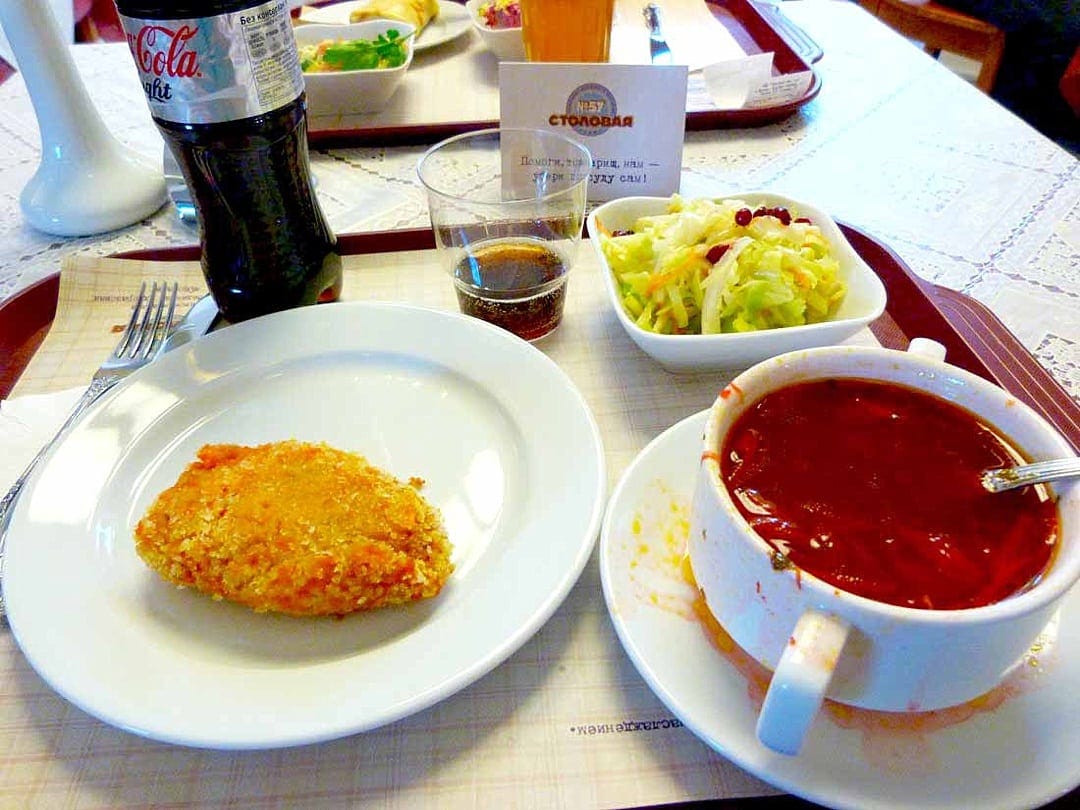 Poland
Warsaw:

Hala

Koszyki
We absolutely love to visit Warsaw so it's no surprise one of our favorite food markets in Eastern Europe is located in the capital of Poland. Hala Koszyki is filled with delicious Polish food but it stands out for the variety offered from all over the world. You can choose from one of the recently opened stands at the Street Food Bazar, or a specific restaurant in the dining area. The market is also the perfect place to have a drink. We especially loved the mojitos served at the central bar.
The original Koszyki market hall was built in the beginning of the 20th century and has since been a landmark of the city and its history. The renovation of Hala Koszyki, one of the best food halls and markets around, has kept many of its original details despite its modern feel, including bricks to stunning metalwork.
There's actually a culinary school on the first floor of the market if you are interested in improving your own skills in the kitchen. Besides the delicious food, Hala Koszyki is also home to many cultural activities, from workshops to architectural walks and even a seasonal open air cinema.
Maria, Two Find a Way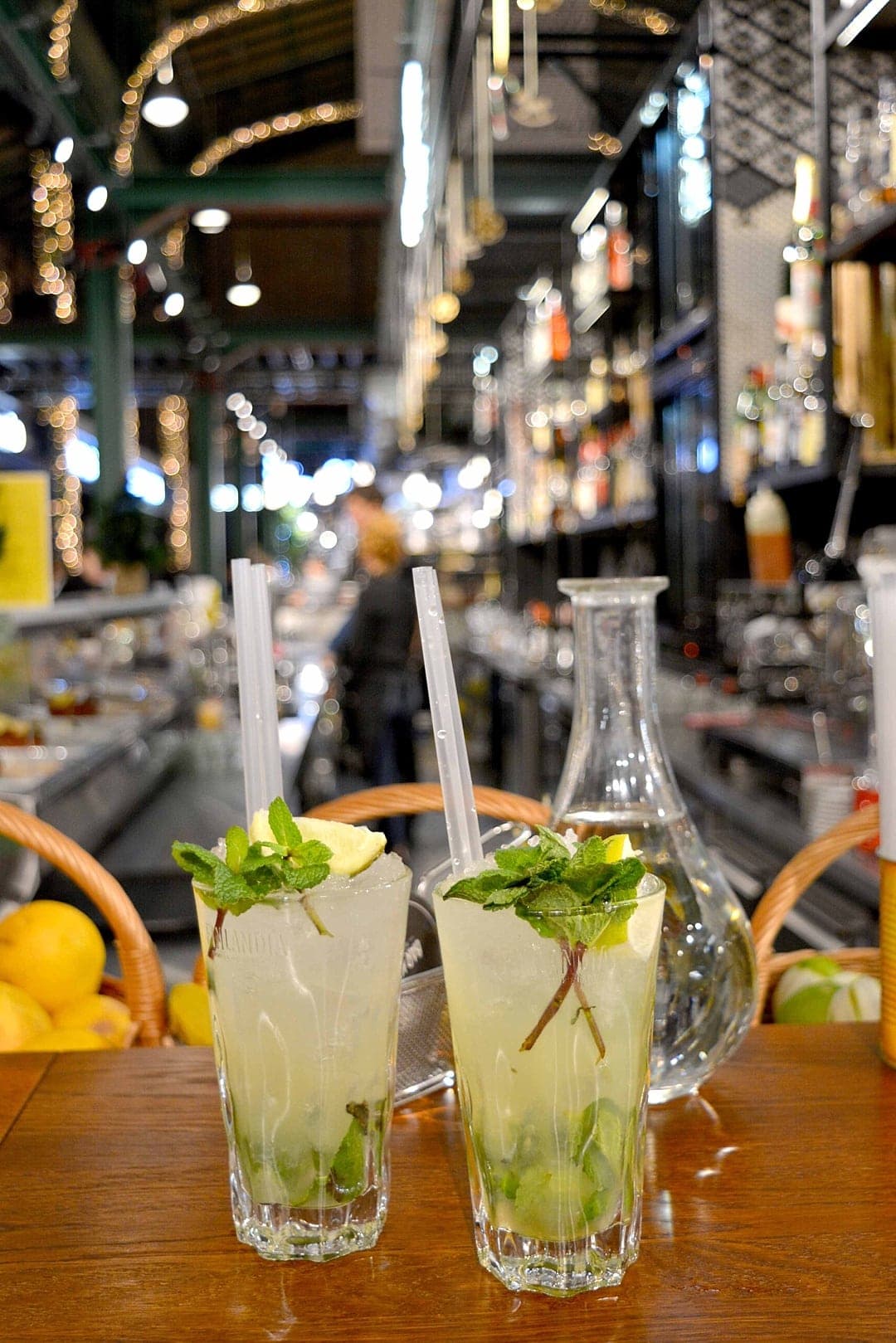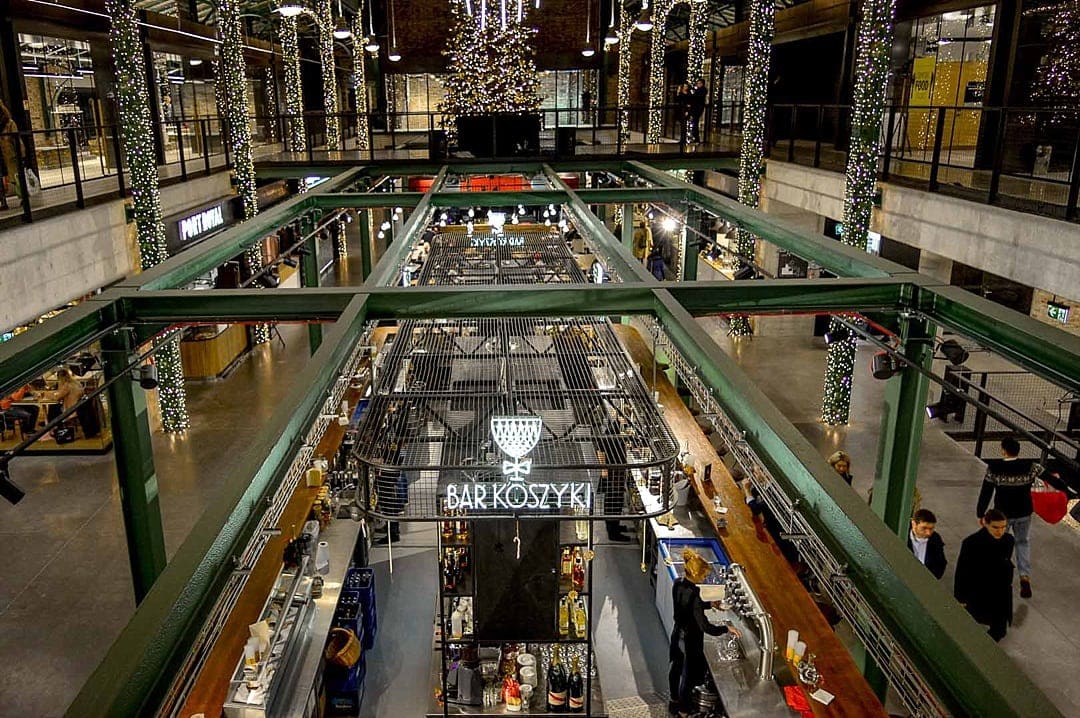 Slovenia
Ljubljana: Central Market
The Central Market in Ljubljana is a charming place where you don't only buy seasonal fruits and vegetables grown by local farmers, but also meet and enjoy life with the locals. I've visited the market many times because I have lived in Slovenia for some time.
There are many things to do in Ljubljana, from visiting parks to art galleries. This food market in Eastern Europe is the largest in Ljubljana, and is located in the very center between the Triple Bridge and the Dragon bridge, on the right side of Ljubljanica River. The Central Market consists of an open-air market, a covered market and numerous small food shops along the river.
This is the perfect place to shop for Slovenian specialties, like traditional "Potica" cake, Karst prosciutto, Prekmurje layer pastry ("Prekmurska gibanica") and much more.
The present market building was designed by the Slovenian architect Joze Plecnik, and consists of Renaissance-influenced arcades. Inside you'll find stalls with meat, fish, breads and pastries, Slovenian cheeses, local organic honey, dried fruit and nuts, wine, traditional pumpkin oil and more.
The outdoor market is where you can shop for locally grown fruits and vegetables. They also have tropical fruits, balcony flowers and assorted plants, and wooden goods. The products are mainly natural and produced on the outskirts of the city.
The market is open daily (expects Sundays), until 6:00pm in summer and 4:00pm in winter. The busiest and vibrant day is Saturday morning.
If the Central Market isn't enough for you, Open Kitchen Street Food Market, or "Odprta Kuhna" as locals call it, surely will be. This unique food market takes over Pogacar Square every Friday from spring to autumn. Here you can try traditional Slovenian and international dishes made by Slovenian chefs. Local wineries and breweries are also present.
Leandro, Safari Nomad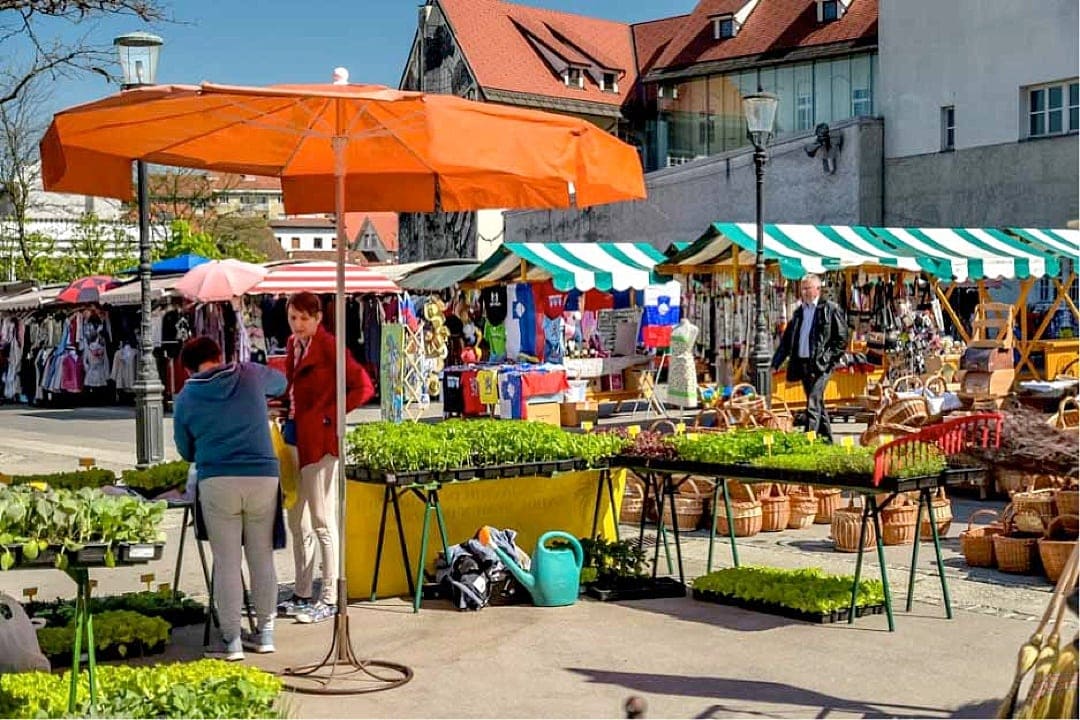 Bosnia and Herzegovina
Sarajevo:
Markale
Markale market, in
Sarajevo,
is a special place. The shopping area is divided into two parts, located on both sides of
Mula Mustafe Baseskije Street in the old town area
. The beautiful yellow building dates back to the end of the 19th century and is where you can mostly buy meat and dairy products. The open-air area is where you'll find fruit and vegetables. In between these two there areas are small shops with other food products, such as bread or fish. Everything is super fresh and delicious!
But that's not what makes Markale one of the most special food markets in Eastern Europe. During the war in Bosnia, Markale was home to two big massacres on February 5th, 1994 and on August 28th, 1995, costing the lives of almost 100 people. Now, all these years later, life goes on normally here.
Only two memorial plaques (located on both sides of the market) and a hole in the ground where the mortar shell hit reminds visitors about these tragic events. I'm very much interested in the Balkan war so seeing the place where these significant tragic events happened was really special to me.
Even with this awful history, going to Markale market is one of the best things to do when
visiting

Sarajevo,
because it allows
you to get a feel of the place and see local life in the Bosnian capital.
Kamila, Kami and the Rest of the World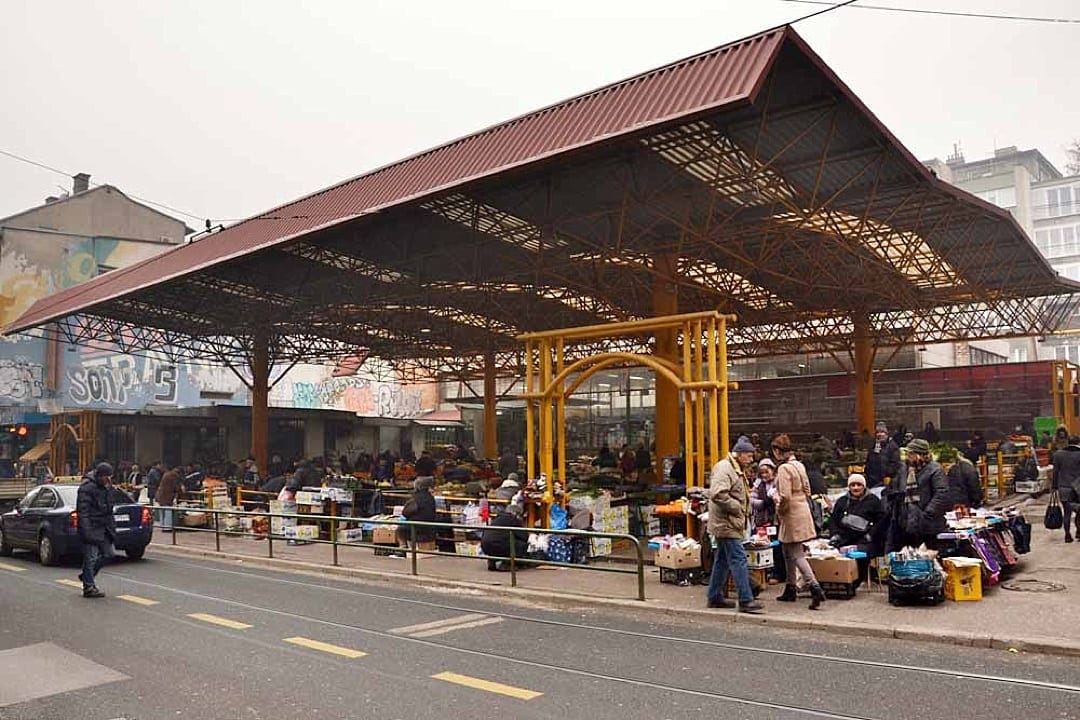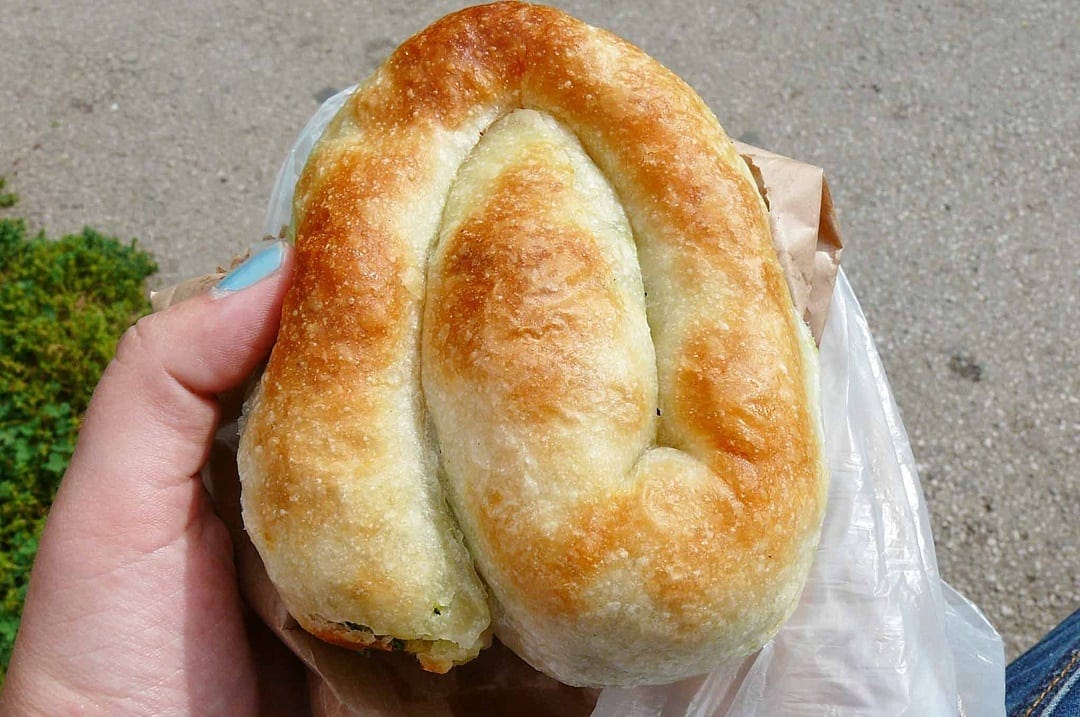 Disclosure: There are affiliate links in this post, which means we may earn a small commission if you click the link and proceed with a purchase. We only recommend products or services we personally use and recommend.
For more amazing food markets around the world check out the other regions in our series:
Have you been to any impressive food markets in Northern or Eastern Europe? Let us know in the comments below!