Best Food Halls and Markets: North America, Canada, Mexico and South America
Food markets capture my attention and heart anywhere I travel. I'm always in search for them and I've been known to plan my days around food. When I plan my trips food's always a central subject.
For instance, a great food hall in North America will catch my eye and, like a moth to a flame, I need to visit it! It only seemed appropriate then to put together a collaboration of the best food halls and markets the Americas! This is part of a larger food series on Sometimes Home. Here, we explore:
United States: East Coast, West Coast
Canada
Mexico
South America
Please click through the below for other regions, also linked at the end of this post:
United States Food Halls
West Coast
California
San Francisco: Ferry Building (Fisherman's Wharf)
One of my favorite spots in San Francisco is the Ferry Building Marketplace. The public market is a lovely place to spend a morning or afternoon and is literally a feast for all your senses.
While the store offerings are definitely the draw, the building is beautiful too with its high ceilings and tall tower. This food hall in North America, of sorts, is also attractive in its location on the San Francisco waterfront's western tip of the continent.
Stroll the aisles and you will see all kinds of artisan offerings. You'll be spoiled for choices on yummy things to try and buy, from Acme Bread Company's famous sourdough bread to the mouthwatering sauces at the Village Market and everything in between. The farmers' market is also held here three times a week. They offer fresh produce, flowers, and foods from Bay Area producers.
Do not miss the Imperial Tea Court if you are a tea lover, with its large collection of teas and stunning teapots crafted in China. Pro tip: stop by Biscuit Bender on a Saturday to taste delicious sweet or savory biscuits. A grilled cheese sandwich at Cowgirl Sidekick is a must for me, followed by a sweet treat from Dandelion Chocolate.
Olive oil, cheeses, chocolates, pantry staples, wine…you can buy all of these and more at the Ferry Building Marketplace. Make sure you bring a hearty appetite and a large bag to carry out the goodies you will inevitably buy!
Dhara, It's Not About the Miles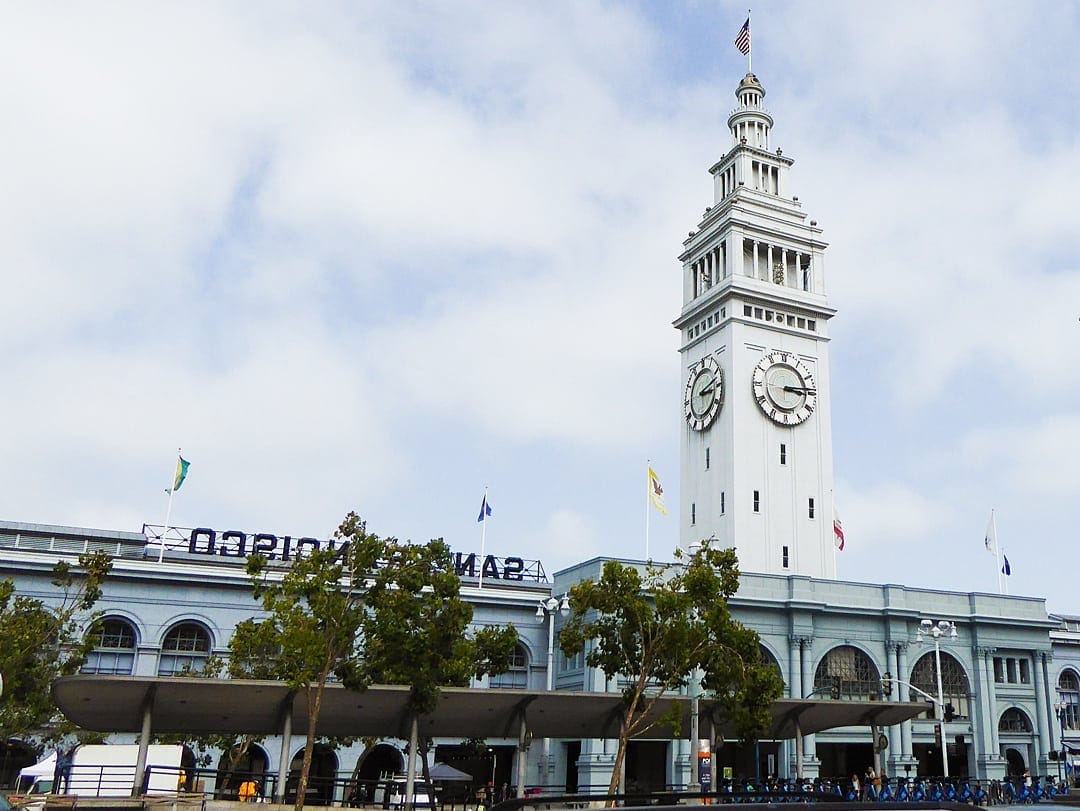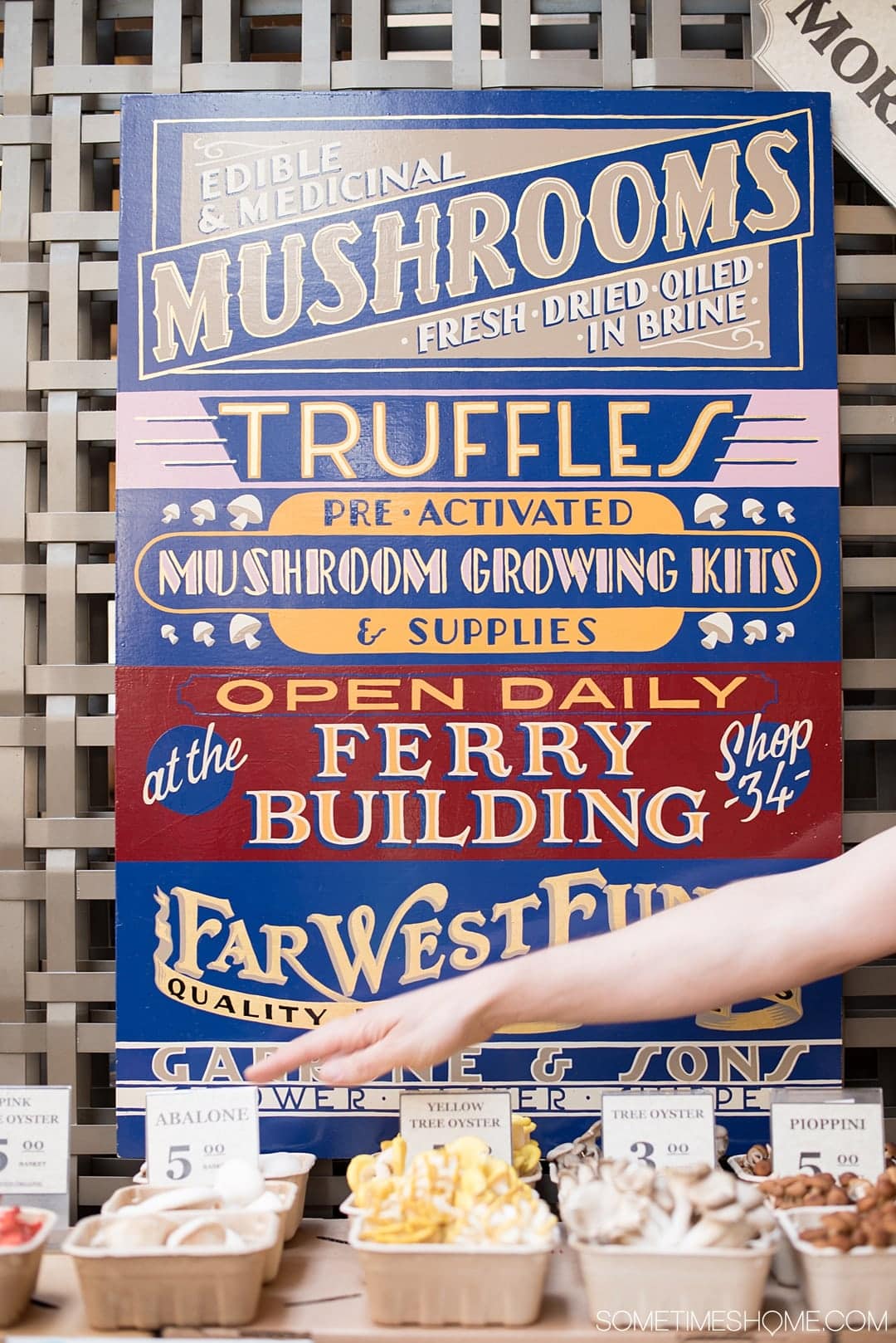 Napa Valley: Oxbow Public Market
Oxbow Public Market is located at 610 & 644 First Street in
Napa
, California within the state's
popular

Napa

Valley

wine country
. The market is relatively new: it opened in 2007, not long before I moved to California. The large covered market has a number of food vendors, local produce, and restaurants.
I found out about this food market in North America when I moved to the San Francisco Bay area and made a visit to the Napa Valley area. It is a very popular food market in the area and both locals and visitors often stop here.
The Oxbow Public Market is a great place to stop in
Napa
Valley
to learn about the local food culture and sample some of the products. We personally love the ice cream, gourmet coffee, and all the free product samples here as well as the opportunity to have brunch outside on a nice day. The stalls and shops have changed over time so you never know for sure what will be here.
Napa
is an expensive area and this is a great place for a meal if you can't afford the Michelin-starred restaurants. This is just one of the many
things to do in

Napa

Valley
that isn't about wine. (Although you can of course buy wine at the market!)
Jessica, Independent Travel Cats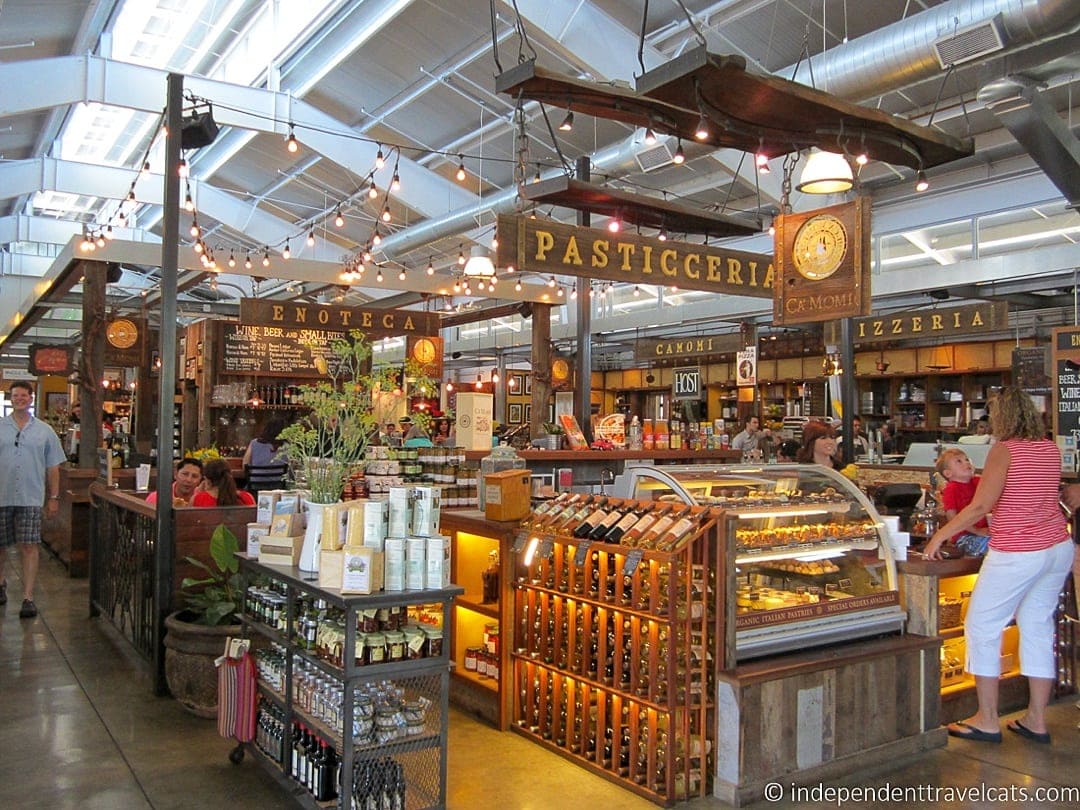 San Diego: Liberty Public Market
Liberty Public Market is located in San Diego's Point Loma neighborhood. It's a short drive – less than 10 minutes – from downtown, the beach, and the airport. Its central location makes it easy to get to. The Market has just over 30 stalls featuring some of San Diego's best food, beverages (think craft beer and so much more), desserts, and artisan crafters. Plus there are plenty of vegan and gluten free options to meet varying nutritional needs.
Some highlights include the sausage sampler from Mastiff Sausage Co, arancini balls and Instagrammable cannoli from Roma Express, sweet and savory crepes from Olala, the most delicious Argentine empanadas from Paraná, and the best chocolate ganache cake from Le Parfait Paris. Top it all off with a craft beer from BottleCraft, or craft cocktail or wine from Mess Hall, and enjoy it on the outdoor patio to take in the San Diego sunshine.
In addition to gorgeous bay front views of the San Diego skyline, the Public Market is located in Liberty Station. This is a former Naval Training Center and barracks dating back to 1923. The historic complex now houses the market along with other restaurants, shops, museums, a luxury movie theater, and public events.
It's my favorite spot for a weekend afternoon date with my husband to wander and try bites of some of San Diego's finest restaurants. I also love that it's a chance to wander through an historic naval base in a city known for its rich military past.
Chris, Dolce Does Travel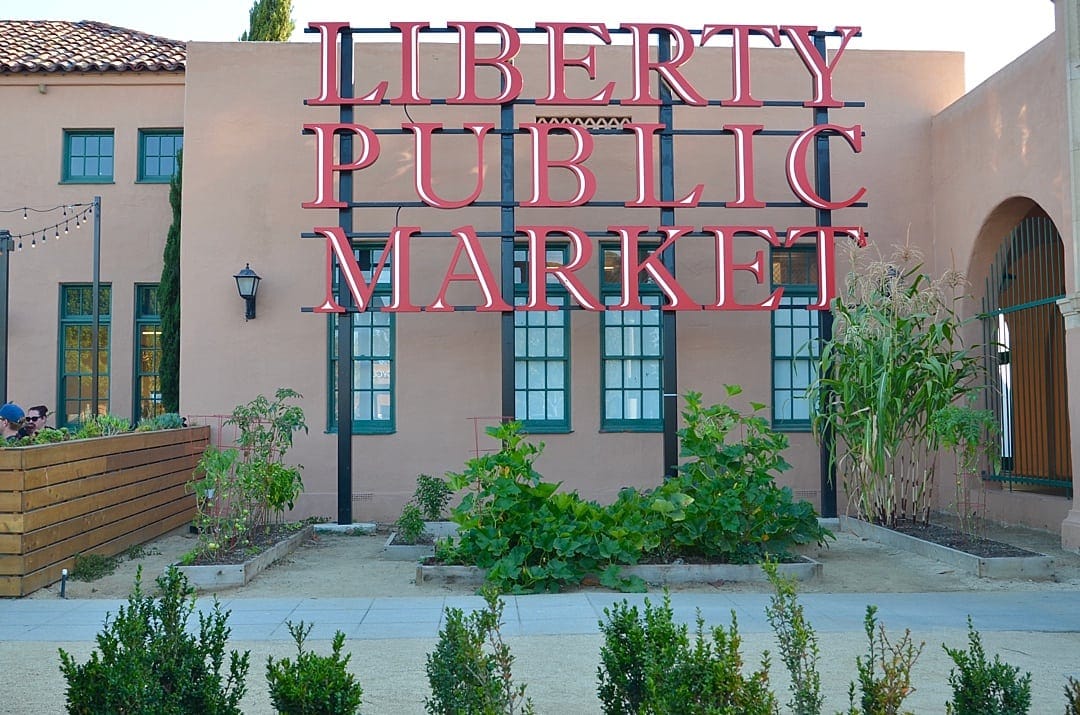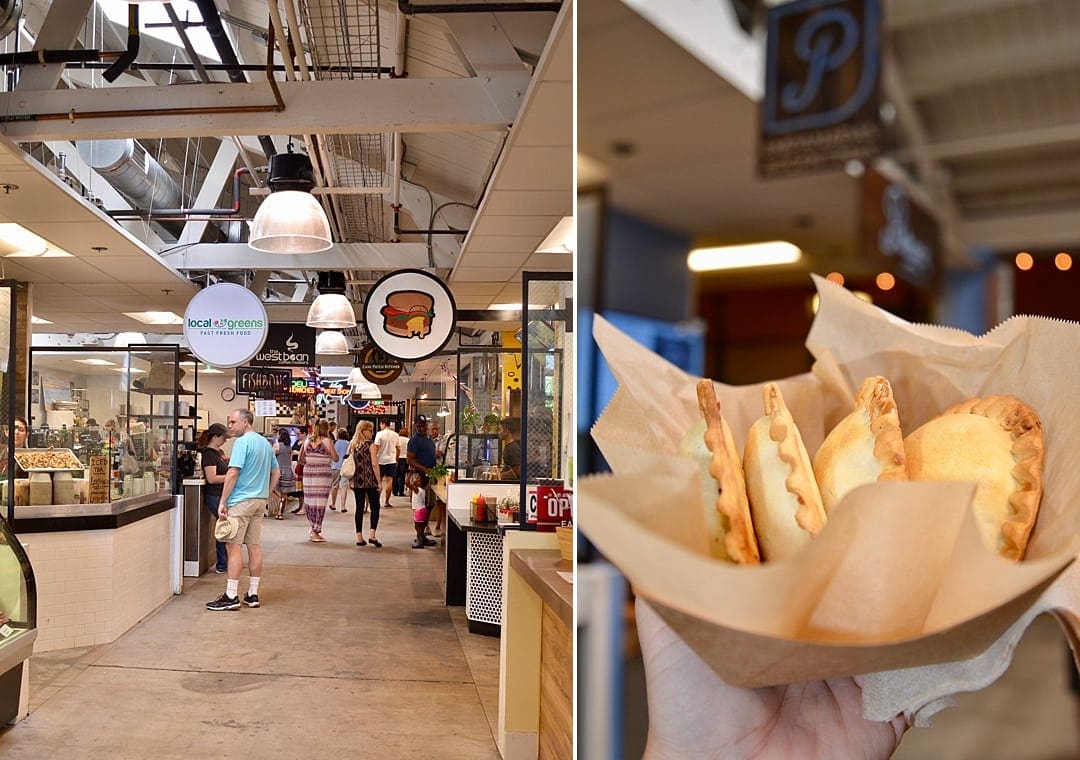 Washington
Seattle: Pike's Market
Pike Place Market is located in the downtown waterfront area of
Seattle
, Washington. It is one of the top tourist destinations in
Seattle
and is considered a fantastic food hall and market. Many people stop to take pictures in front of the Public Market sign, then visit the famous fish vendors to see them throw fish at the cashier when someone purchases salmon or crab. The displays of locally caught fish and fresh produce are not only visually stunning, but locals and tourists alike do in fact shop here for fresh goods. In addition to food vendors, there are artisanal crafters selling soaps, wood carvings, oils and much more.
Pike Place Market also has a number of casual counter service restaurants as well as more upscale sit-down places to eat. Many of them overlook the water. I have visited this market at least five times and each time I try to eat a new item. I have ordered things like fresh seafood chowder, smoked king salmon, mini doughnuts, haddock and chips, oatmeal cookies and pierogies. In addition, I have bought items to take back home such as soap, dried apples, peaches, chocolate, pasta and olive oil.
I believe it deserves to be considered one of the best food halls and markets in the world due to all the varied items one can find here.
Margie, DQ Family Travel
Check out these expert-guided tours of Seattle's famous Pike's Market, including one led by a professional chef!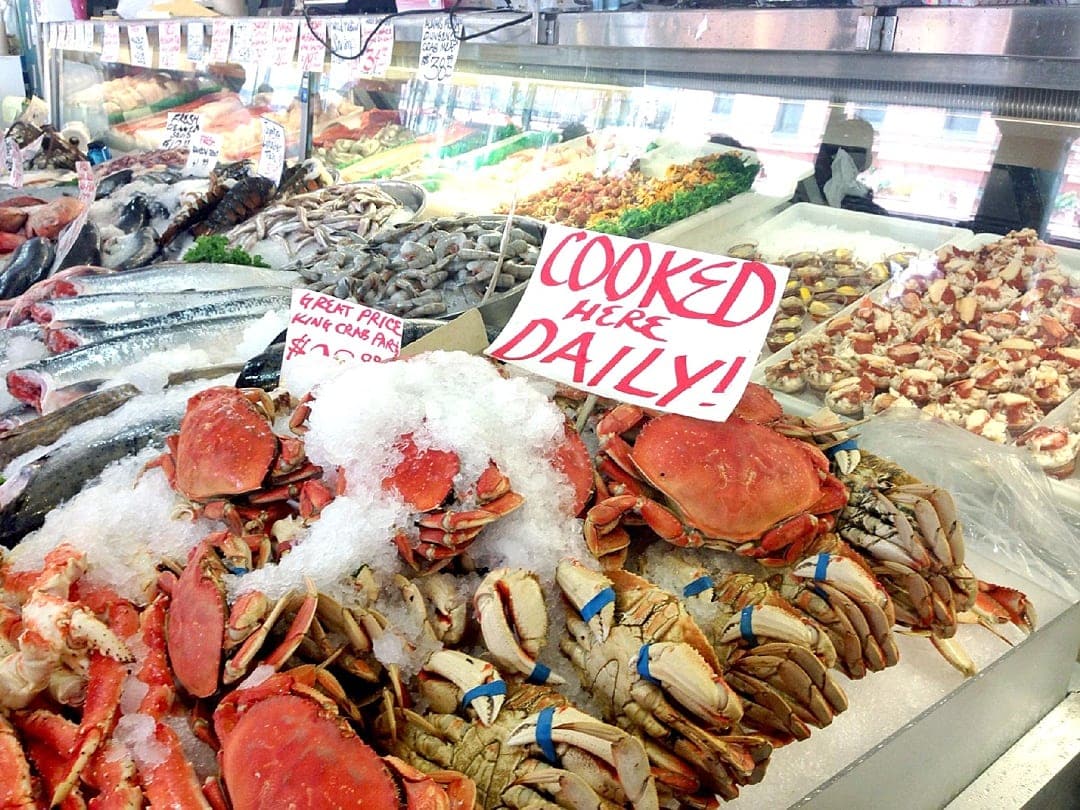 East Coast
New York
New York City: Chelsea Market
If you ask me what my favorite food hall in North America, it's hands-down Chelsea Market in New York City. I know Chelsea Market better than any of the best food halls and markets in the world because I worked there for a year and a half during my time in New York.
Chelsea Market is a block-long market in the prime location of NYC's Meatpacking District, where you can find all sorts of gourmet goodies to suit your fancy. The food at Chelsea Market is not so much about aesthetics but just deliciousness, unlike a lot of New York shops that only sells rainbow-colored concoctions made for Instagram. There is Fat Witch, where you can get some of the most delicious brownies in the world (try the salted caramel version – they're insane) and Doughnuttery, where you can get delicious mini-donuts with a variety of glazes.
My favorite places to eat a more proper meal in Chelsea Market include Los Tacos No. 1, which despite its silly-sounding name sells some of New York's most authentic tacos (and I know what I'm talking about – I'm a Californian by birth), and Num Pang, which sells amazing Vietnamese banh mi sandwiches. In addition to that you can buy fresh seafood at the Lobster Place, delicious baked bread and pastries at Amy's Bread, and pick up some excellent wine at the Chelsea Wine Vault.
Afterwards, you can walk around the Meatpacking District and visit High Line park to try to nab a seat in the sun to digest your foodie visit!
Allison Green, Eternal Arrival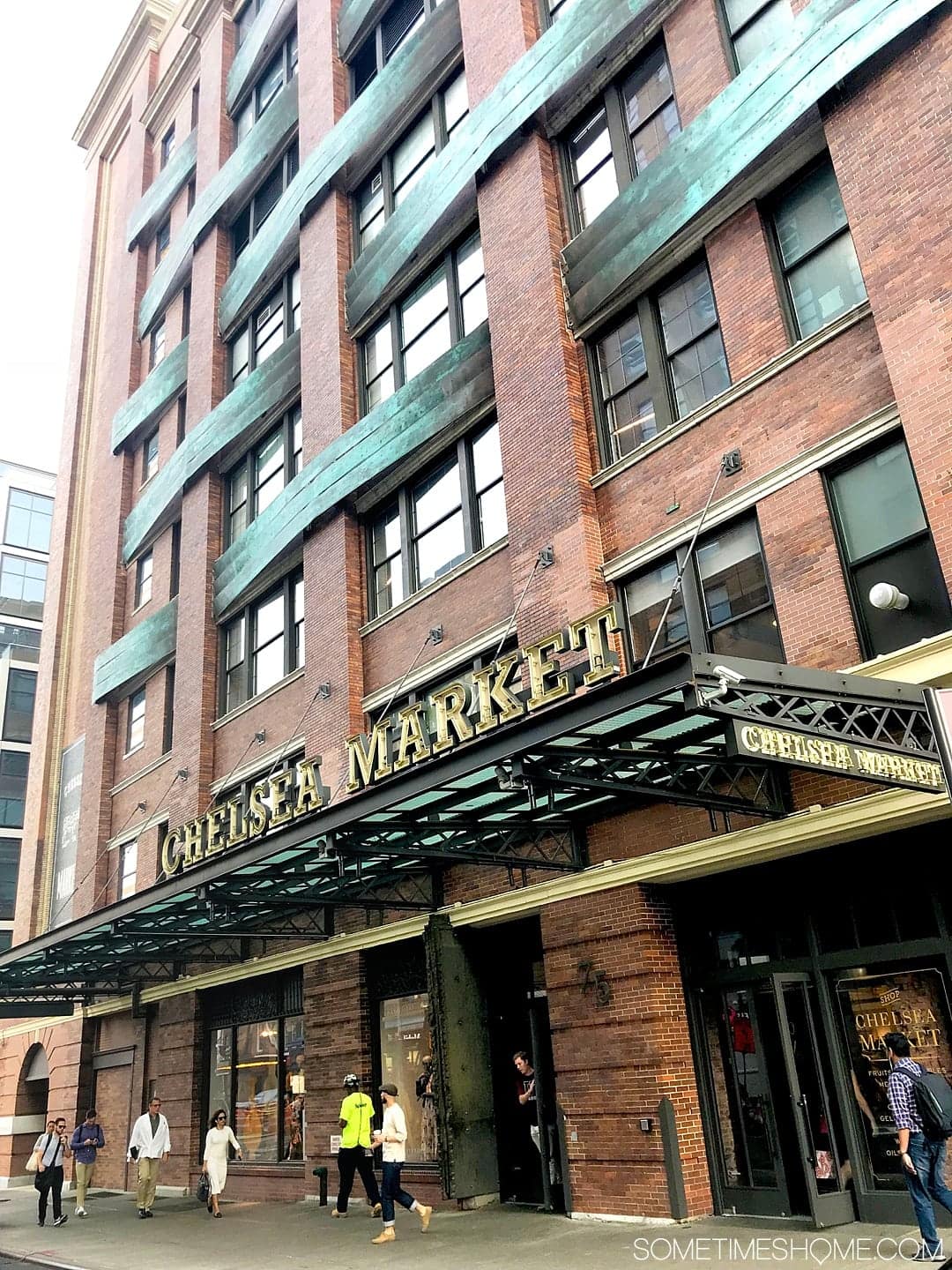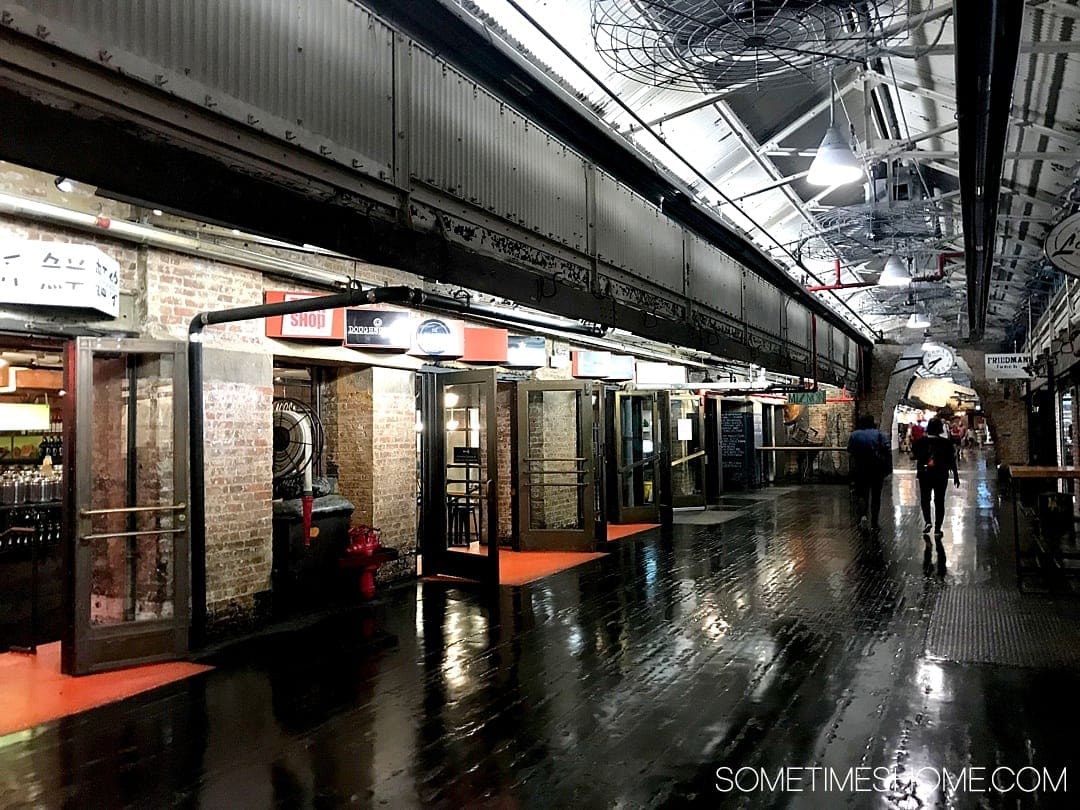 Washington, DC
DC: Union Market
Union Market in Washington, DC is one of the city's hidden gems, built inside of an old warehouse. Inside, small, local boutiques and food stalls adorn the open space, creating a great food hall in North America. People squeeze by each other to taste free samples and ogle at the variety of menu items. The stalls consist of all different kinds of international foods, from East Coast seafood to Burmese desserts, ramen to tacos. You can eat a vegan dosa, a grilled cheese sandwich, and a jar of fresh pressed juice all in one fell swoop. Of all of the wonderful things to do in DC, enjoying a meal in Union Market is something no visitor should miss.
What makes Union Market so special, though, is the atmosphere. There are plenty of open seating areas many of which are shared between strangers. My favorite memory of Union Market is going with a friend and later meeting friends of friends; we sat and chatted, eating at one big circular table. Union Market is perfect for such get togethers and is certainly a familial-style gathering place for the young professionals of Washington DC.
Kay, Jet Farer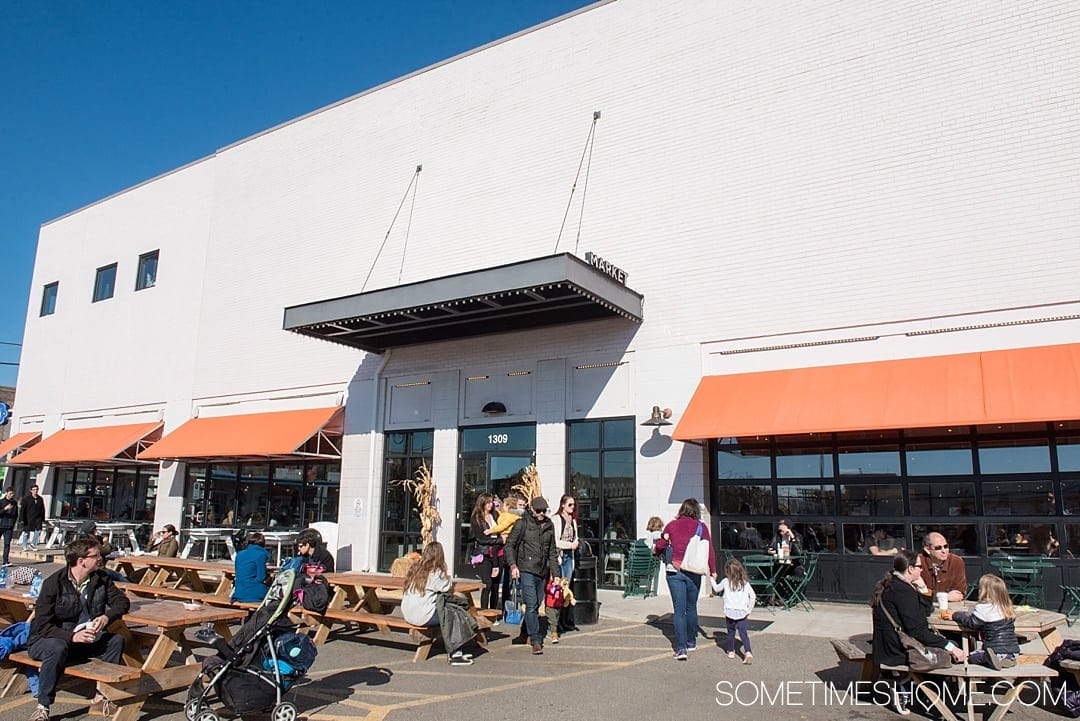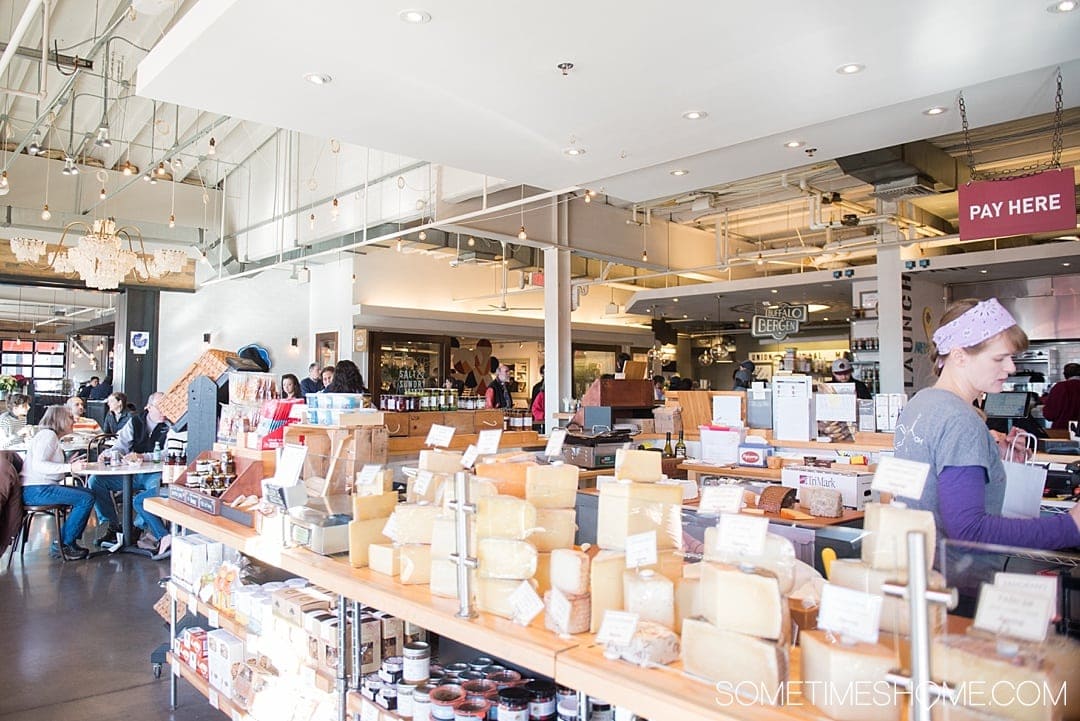 Massachusetts
Boston: Public Market
Boston Public Market is one of my favorite places to bring visitors or grab a quick snack during my workday – a cider donut from Red Apple Farm always hits the spot! It opened three years ago right on top of the Haymarket T stop, adjacent to where an outdoor market has been running since the early 1800s.
The best part of Boston Public Market is it's open year round, so you can always get in-season, farm-fresh produce as well as support a variety of unique, local food businesses. There are nearly 40 vendors under one roof here. The market also hosts cooking classes, tours and festivals that encourage community involvement.
Some of my favorite stops in the Market include Qs Nuts, which serves more than 20 flavors of roasted nuts, Taza, which makes organic, stone-ground, Mexican-style chocolate, and Noodle Lab, where you can sample a variety of Southeast Asian cuisine including ramen, noodle soups and rice bowls. You also can pick up local beer and wine as well as homemade pasta to enjoy at home.
Brianne, A Traveling Life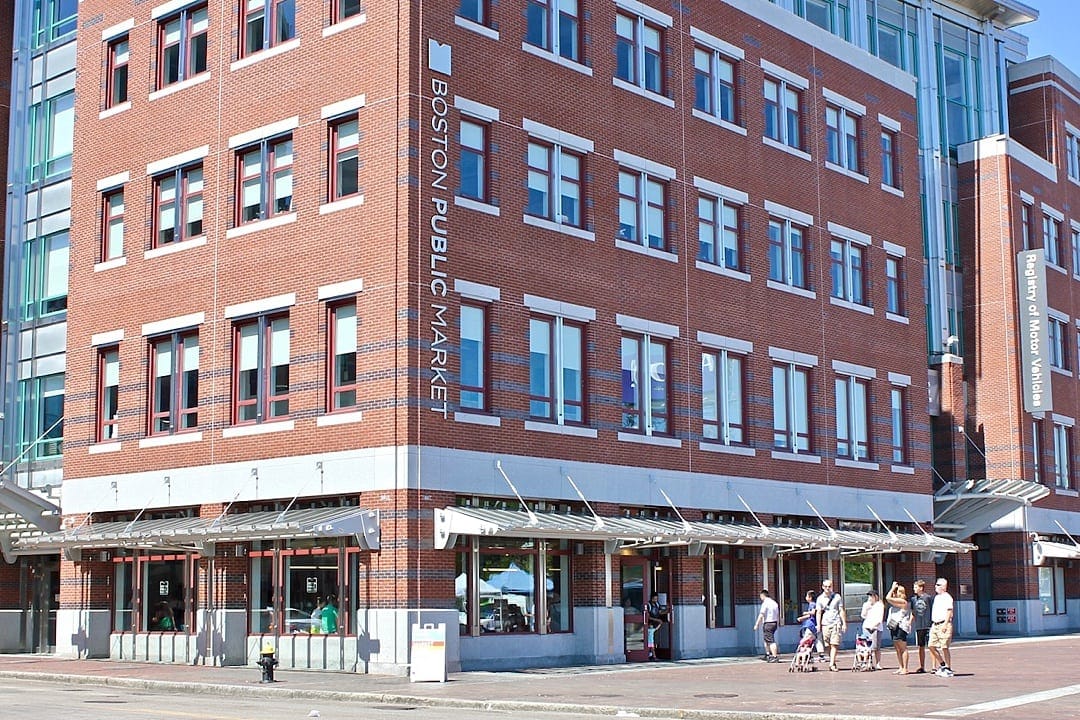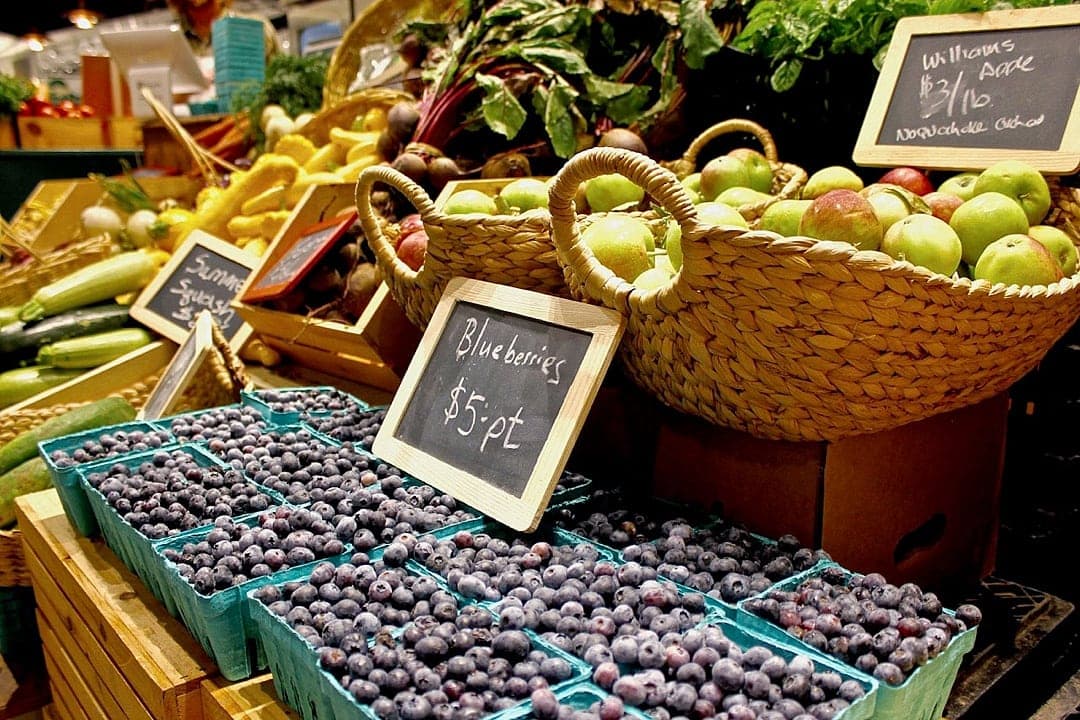 North Carolina
Charlotte: 7th Street Public Market
7th Street Public Market (224 East 7th Street) is smack dab in the middle of Charlotte Uptown — or Downtown, depending on who you're asking. I discovered this market while meeting a friend and was immediately sold on it. It's right off the LYNX Light Rail and is super convenient for anyone who wants to travel and eat around Charlotte without a car. Markets are my favorite places, no matter where we're traveling.
There's always so much activity happening inside…and the smells! Oh, the smells are always good inside a market. 7th Street Public Market also makes me happy because there aren't many other ways to grab quick and affordable food Downtown. It's easy to forget that there's such a good local food scene in a huge city like Charlotte; Queen City (as it's nicknamed) based vendors like Hazelnuts Creperie serve as a great example as a quality vendor with affordable prices at the market.
Vendors here change from time to time in an effort to keep things fresh and new in this food hall in North America, in North Carolina. That just means every visit to the market will be different from the last one.
Carl, NC Tripping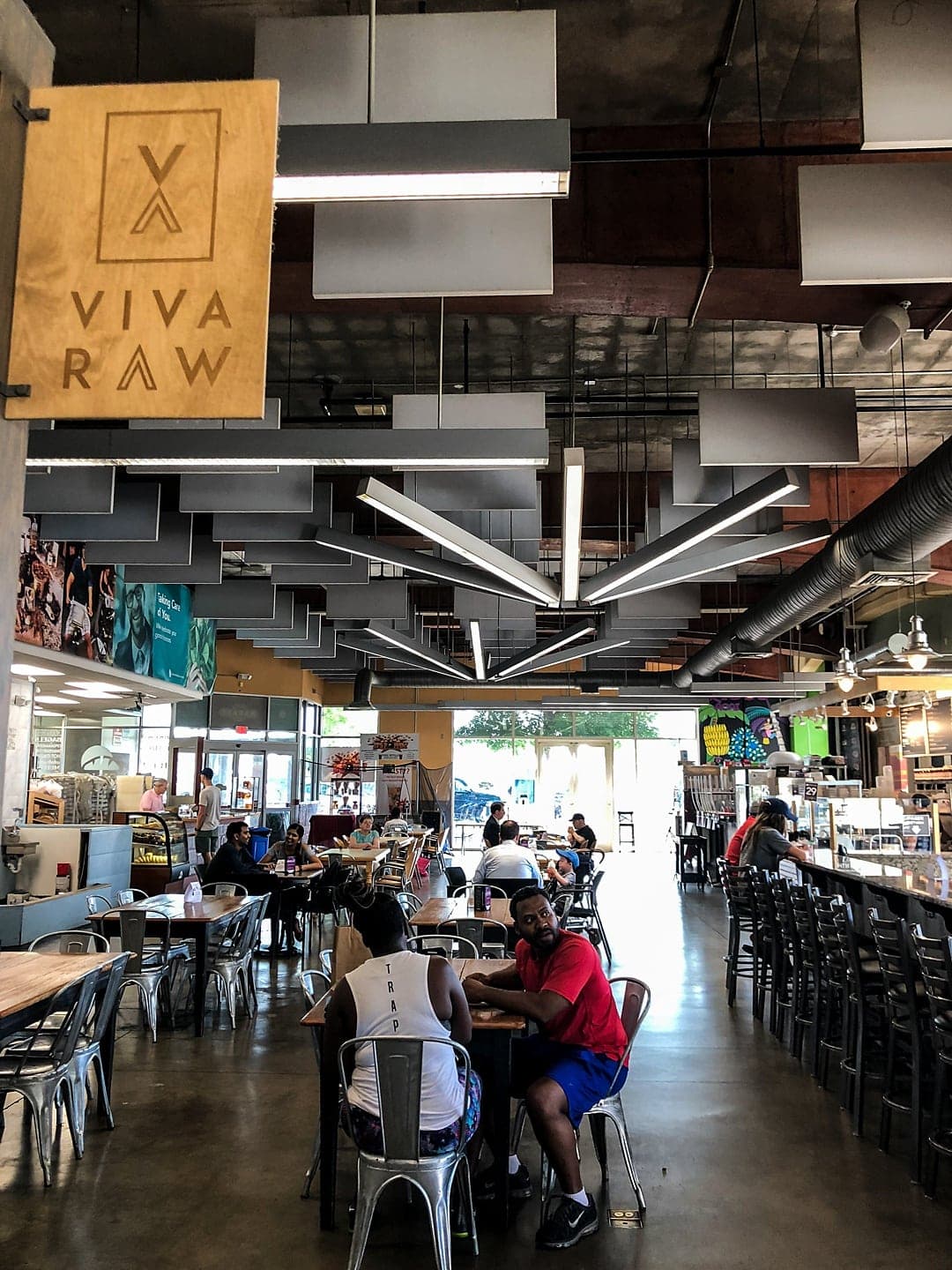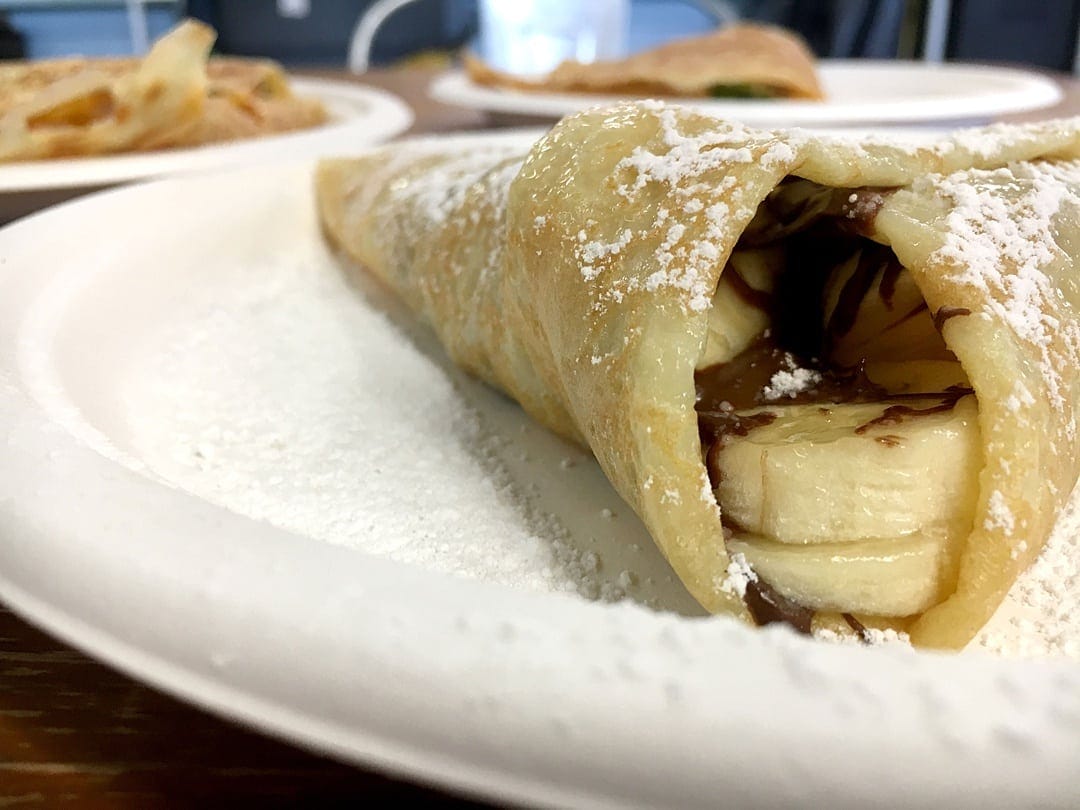 Raleigh: Morgan Street Food Hall
One of the hottest places to hit the downtown Raleigh area in years is Morgan Street Food Hall. This 20,000 square foot space is filled with incredible vendors offering diverse cuisines. You can have a plate of Indian food at Curry in a Hurry, or lobster tacos at Cousins Maine Lobster to name just two notable vendors. One of the best things about going there with other friends or in a group is they have so many options; everyone is sure to find something they like for lunch or dinner. (They offer breakfast as well but with limited options, like crepes and smoothies.)
I love that it's just a few blocks from where we live in Raleigh's warehouse district. I often go solo to do work on my laptop, while indulging in great food and a fun atmosphere. Neon lights and cool signage can be found inside with a refreshing patio adorned with plants and assorted greenery outside. Arbor Bar spans the interior and exterior and has affordable beer, wine and cocktails.
The area is a vibrant one and the city's population and growth is on the rise! If you visit the Raleigh-Durham area be sure to add Morgan Street Food Hall to your "must-visit" list!
Mikkel, Sometimes Home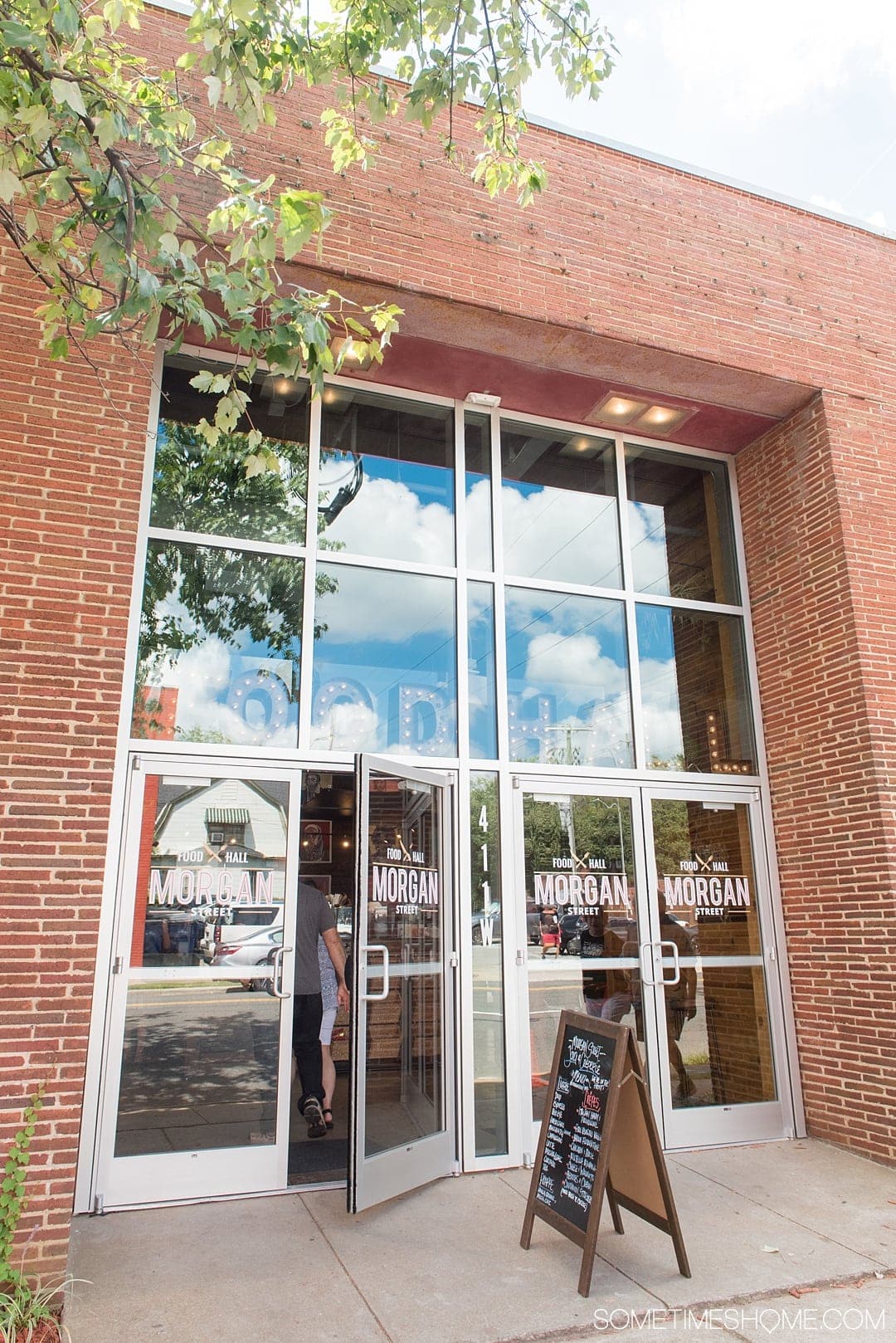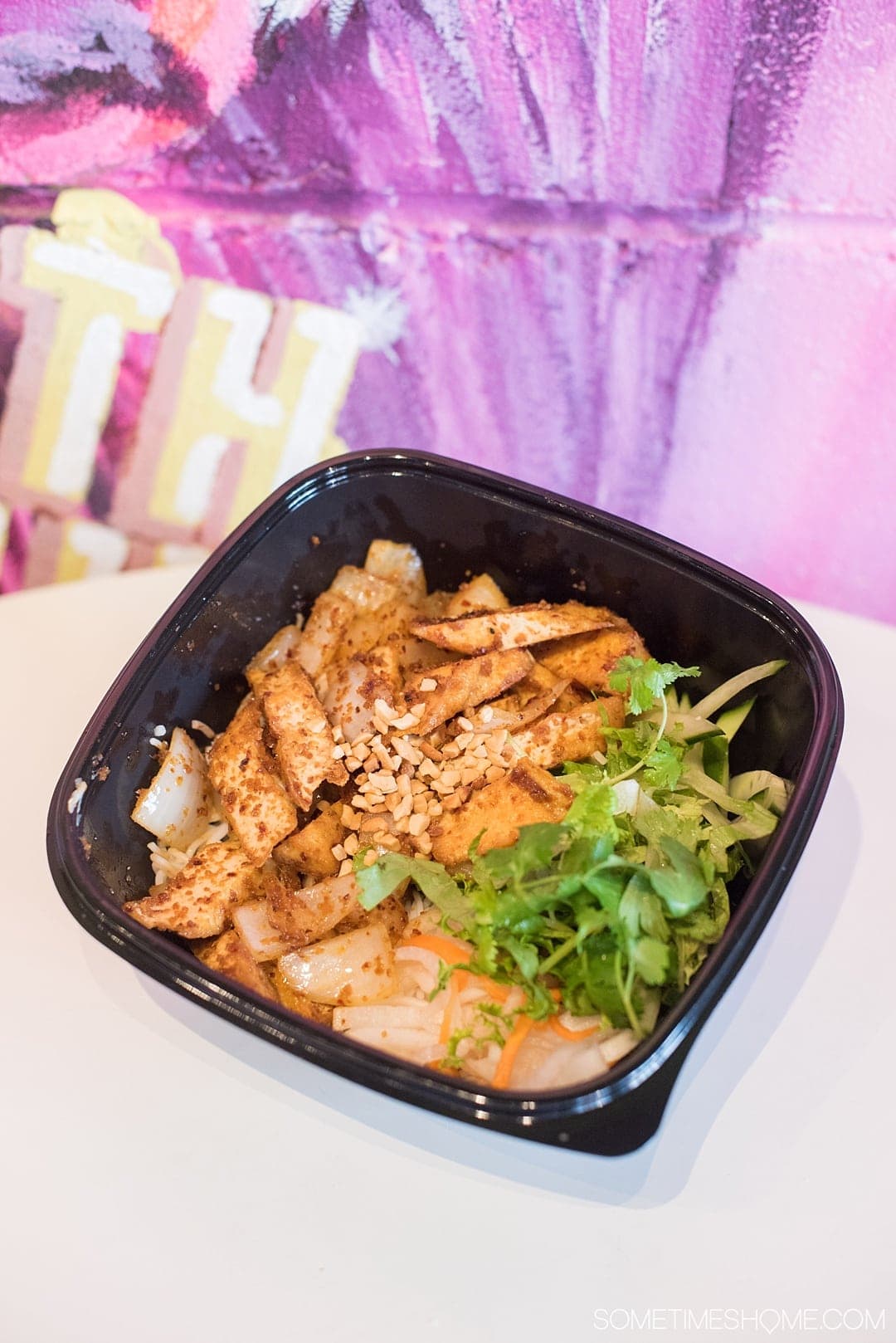 Florida
Tampa: Armature Works
I was very excited to visit Tampa's Armature Works on a day trip from Downtown Orlando. (Depending on where you're staying, Tampa is about an hour and a half drive from this famous central-Florida city.) I was in awe of what I saw and experienced in this incredible food hall in North America!
The market has absolutely gorgeous new finishings while keeping the integrity of the historic building intact. Old bricks interplay with modern furniture. Cool light fixtures compliment the stunning tiles.
The food options are amazing as well! Try Cuban food or craft cocktails and eat from the comfort of couches inside the air-conditioned building or the beautiful outdoor space.
Afterward, grab a nitro-brewed coffee, on-tap, or shop at one of the boutiques.
Be sure to walk around the neighborhood after if you're into street art. You'll find amazing murals in the neighborhood. What's better than an incredible food hall and inspiring art? It's a recipe for the perfect day or afternoon in Tampa Bay!
Mikkel, Sometimes Home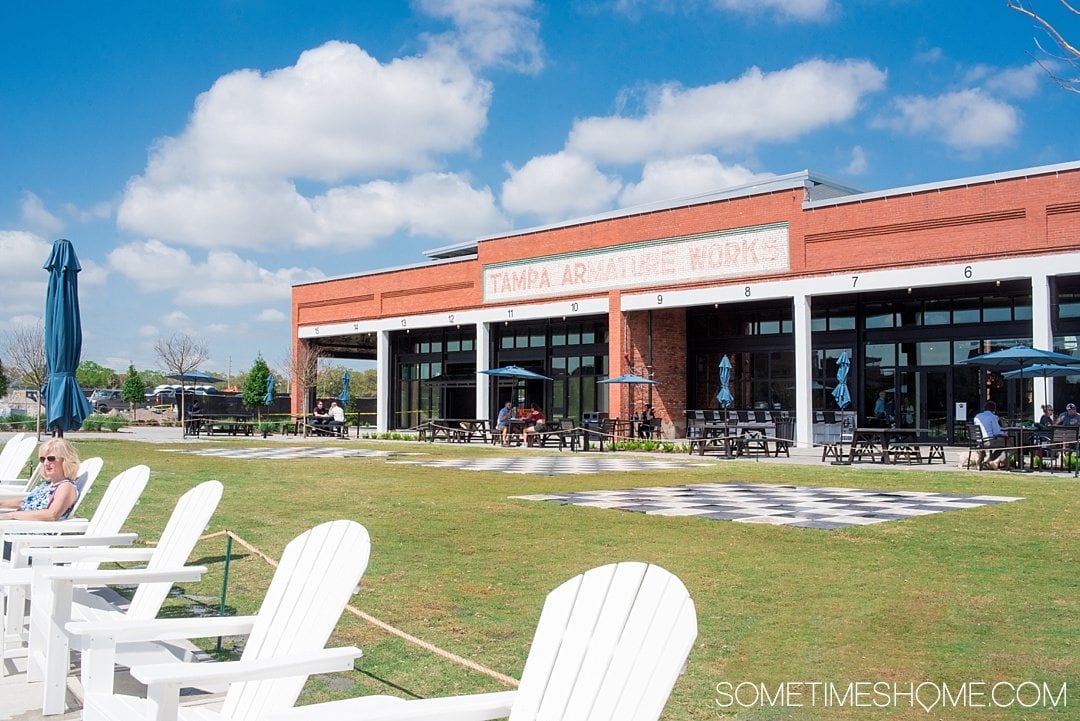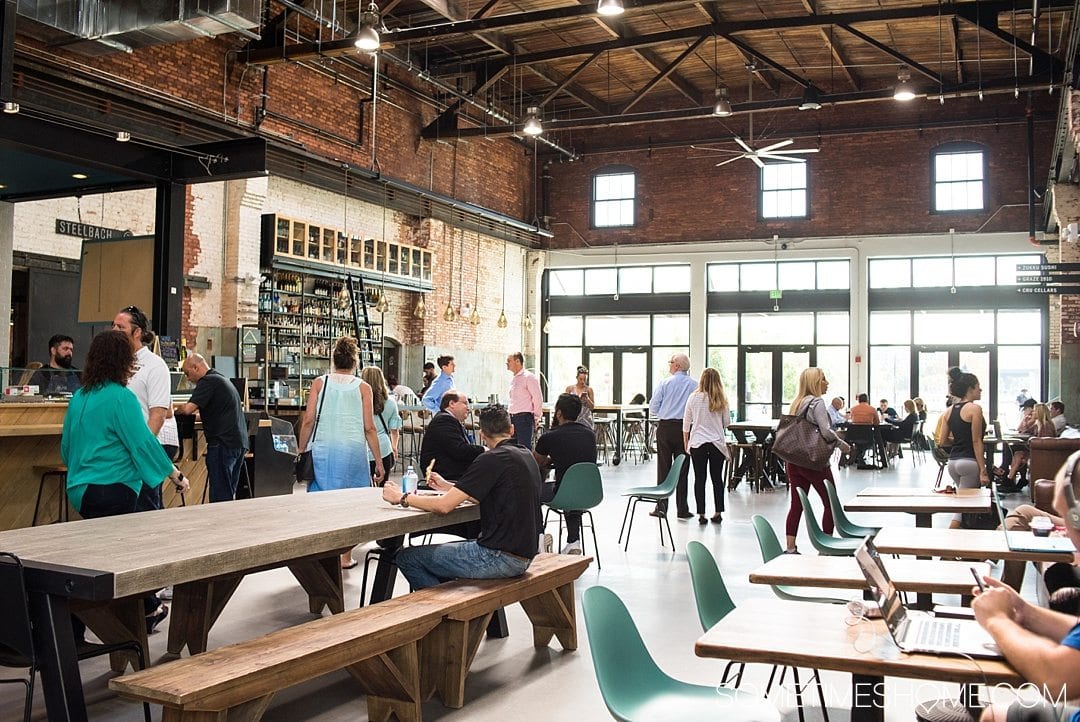 Canada
Alberta
Edmonton: Old Strathcona Farmers' Market
I love to visit
farmers
markets
wherever I go. For this reason, the Old Strathcona Farmers' Market was my first stop in town when I recently
visited Edmonton
.
Strathcona
was once a separate town from Edmonton, located south of the river, but as the city grew it was incorporated into Alberta's capital. It's now a neighborhood with a quirky, retro vibe.
I adore the fact that Old
Strathcona
Farmers' Market is a 'real'
farmers
market
– no reselling is allowed, so you can be sure everything for sale comes directly from producers. The
market
is only open on Saturday, from
9:00am to 3:00pm, when
you'll be able to pick up excellent fruit and vegetables, meat, cheese and other products, like homemade kombucha, fruit wine and maple syrup. You can also get green onion pancakes (Edmonton's favorite snack!) and wonderful cakes!
Margherita, The Crowded Planet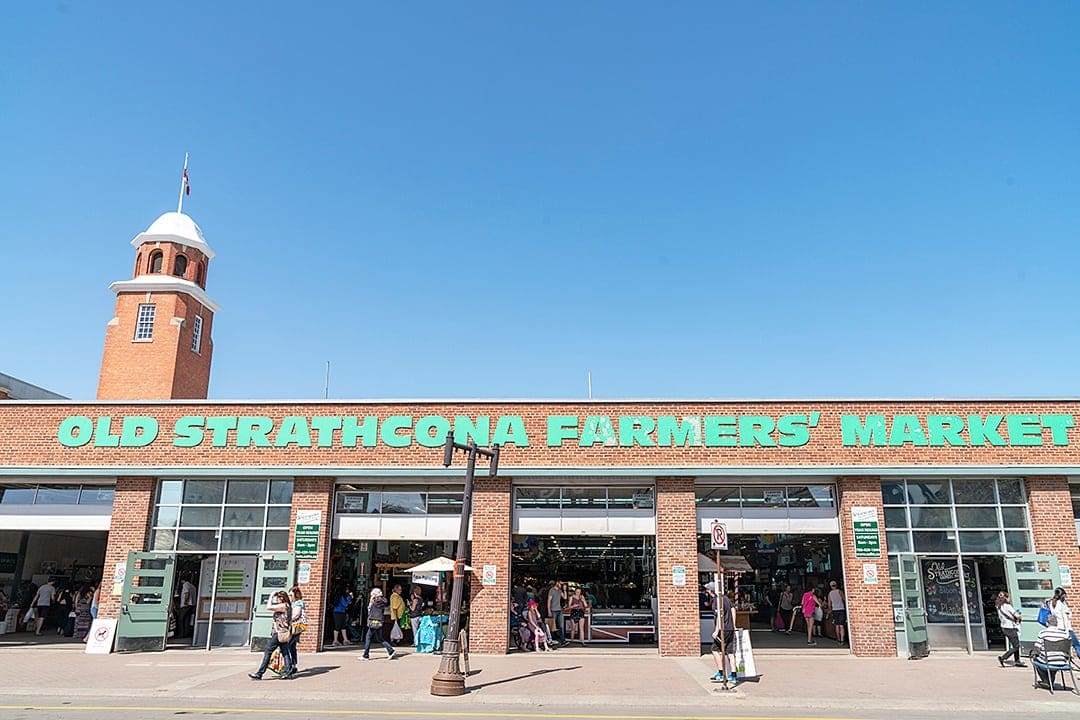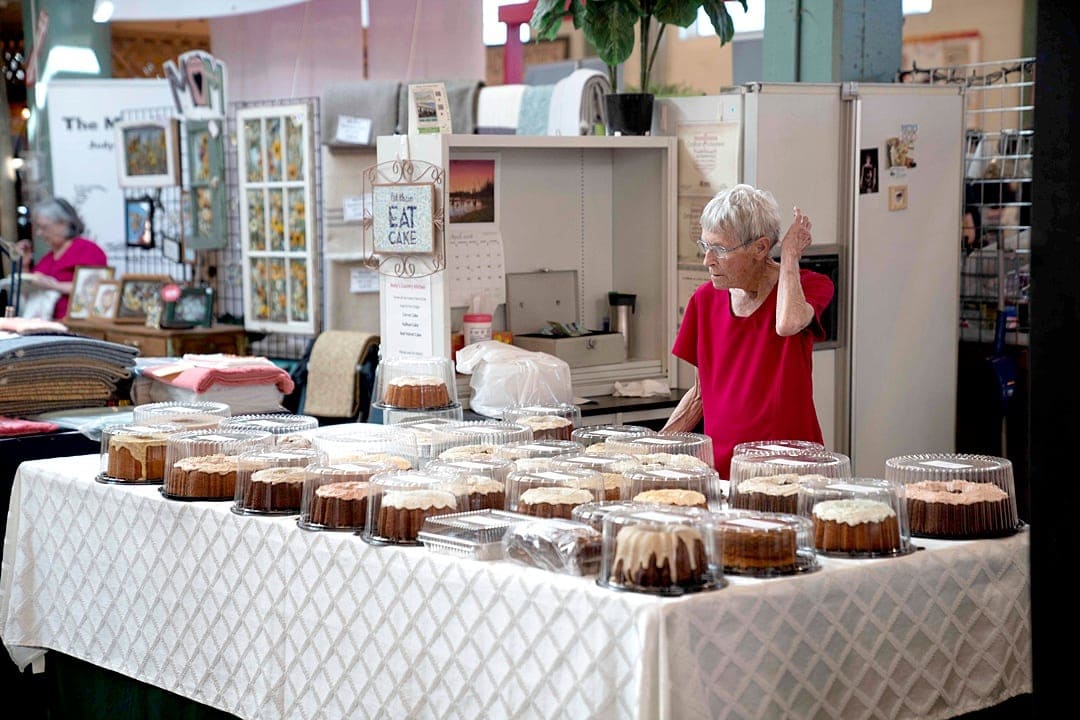 Ontario
Toronto: St. Lawrence Market
The St. Lawrence Market is located at the intersection of Jarvis and Front Street in downtown Toronto. The market is actually three different buildings with three different purposes:
The South Market is the one you're most likely picturing. It has over 120 vendors selling everything from fruits and vegetables to meat, fish and dairy products.
The North Market has the Farmer's Market on Saturdays and Antique Market on Sundays. It's currently under construction (as of summer 2018) but still up and running in a temporary location.
St. Lawrence Hall has different retailers like banks and restaurants. It also houses official city offices on its second floor. St. Lawrence Hall is also a popular spot for weddings and special events!
St. Lawrence Market has been named as one of the best markets around the world on multiple lists, and the man himself, Anthony Bourdain, spoke highly of the peameal bacon sandwich!
I love touring the market during winter because you get to explore a cool part of Toronto while still indoors, hidden from Toronto's very cold season. It makes for an excellent starting point for a full day of exploring the city.
Liliane, My Toronto, My World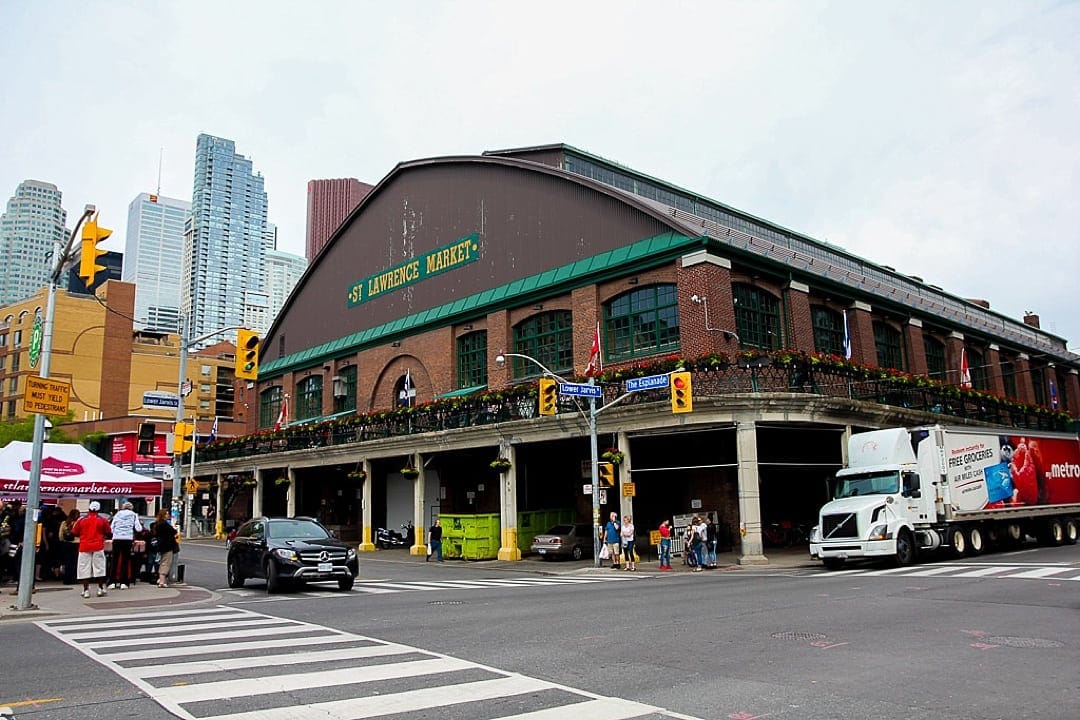 Mexico
Valle de Bravo (west of Mexico City)
Valle de Bravo
I have been traveling around Mexico and markets are the first thing I normally visit when I get to a new town. I love markets for the colors, smells and people. I also love to check out the many different products and I find markets to be a significant part of a culture.
However, I wouldn't eat at all the markets I visit! I'm quite picky when it comes to food and need food markets to be a bit clean, at the least. I also try my best to stick to a vegan diet as much as possible, so I am very strict on eating meat. Yet it's the foundation of any Mexican meal, especially in local places.
When I arrived in Valle de Bravo, a magic town in the state of Mexico, and asked where I could find the best vegan food, the first place that was mentioned to me was the market. I couldn't believe it! Although I was skeptical, I went to the market and found the most delicious hearty mushroom soup ever, not to mention the vegan quesadillas full of rich vegetables.
I entered the market, located in a roofed building, I noticed a series of food stalls despite the usual confusion and noise a market brings. They stood one after another on one side, all displaying delicious and inviting food in typical Mexican terra cotta pots. The other side of the Valle de Bravo market had spacious clean tables for people to sit and enjoy their meal. I went twice during my stay and very much enjoyed the local vegan food I found there.
Isabella, Boundless Roads

Oaxaca
Puerto Escondido:
Mercado Benito Juárez
The Benito Juárez Market (also known as Mercado Principal) is one of the great joys of living in this Pacific Coast fishing village turned surf destination.
It stretches a full city block and beyond when Zapotec and Mixteco farmers bring their products into town.
While
living in

Puerto

Escondido

Mexico
, I'd enjoy shopping for produce such as ultra sweet papaya or mangos and vegetables such as nopal (cactus). I also enjoyed purchasing flor de calabaza, which are delicate squash blossoms available in large bags, ready to be stuffed into quesadillas or whipped into a soup topped with stringy Oaxacan cheese.
I'd sometimes time my market visit to source shrimp from one of the seafood vendors who might have received a fresh catch from Salina Cruz, where the shrimp is prized for its sweet flavor. I also had a tradition of visiting the colorful flower aisles where I'd pick up an armful of fresh calla lilies, fragrant roses or brilliant Birds-of-Paradise. It's possible to spend a full morning or longer at this market chatting with vendors, meeting up with friends or enjoying a Oaxacan lunch in one of the humble eateries.
Michele, A Taste for Travel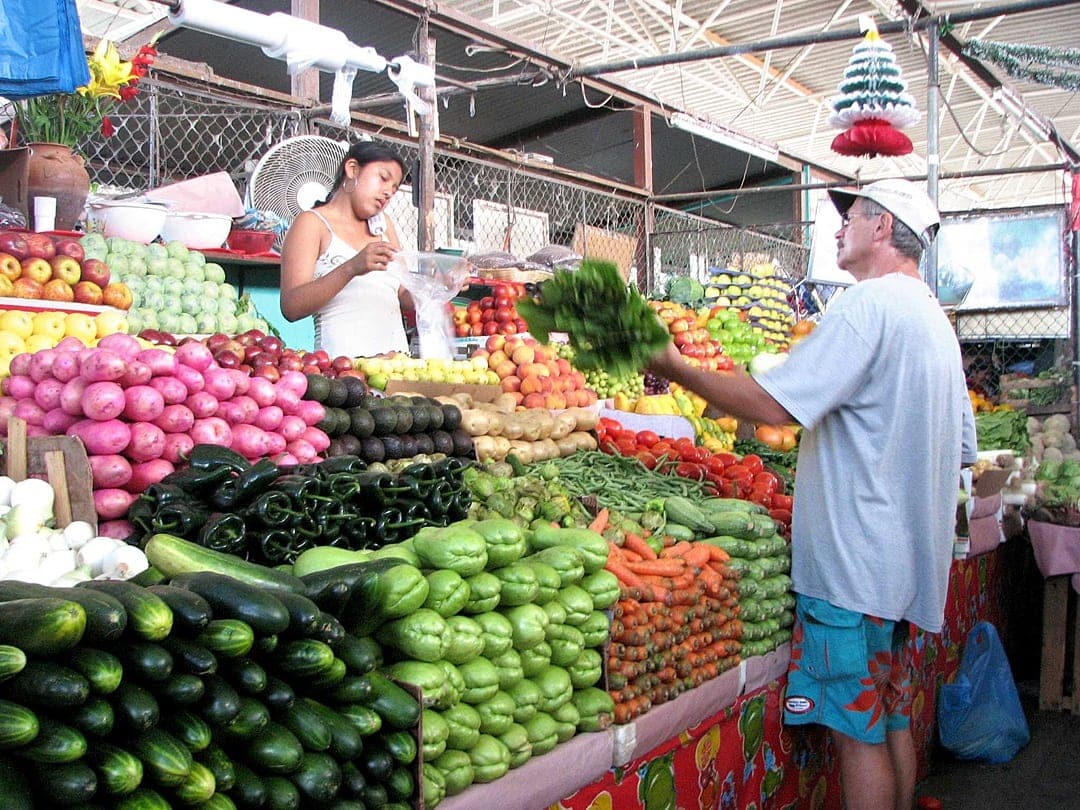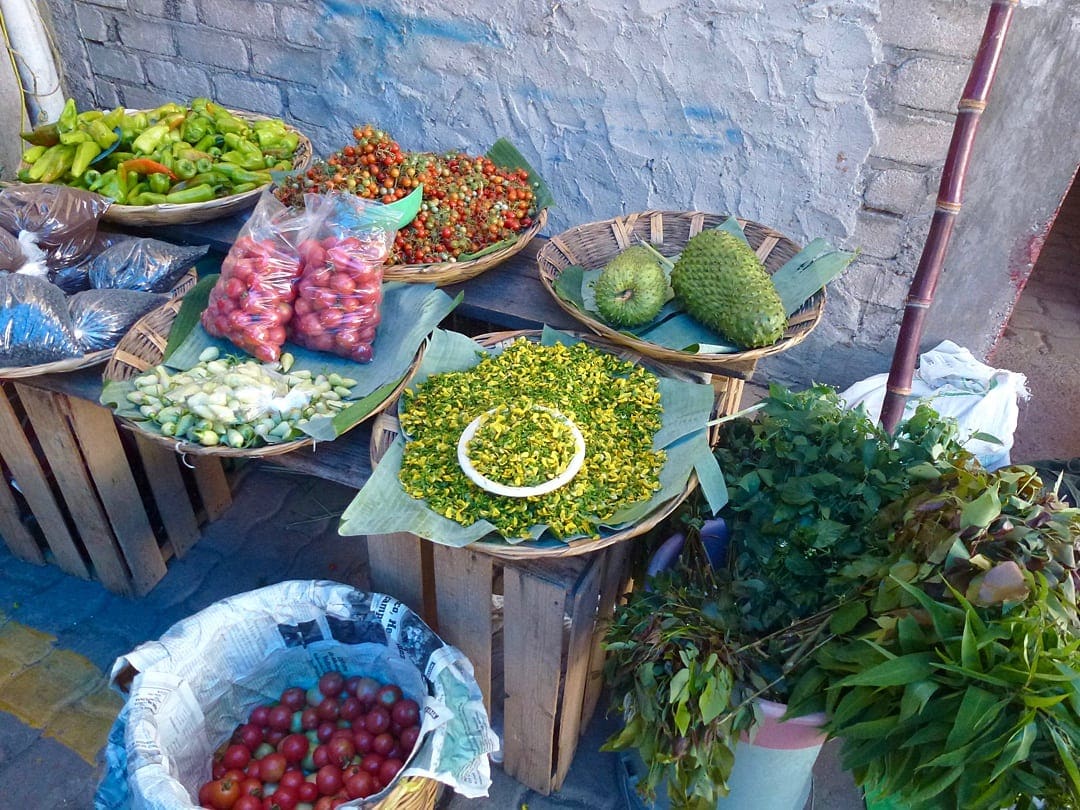 South America
Columbia
Cartagena: Bazurto Market
Bazurto Market in Cartagena, Colombia is probably the most real-life anti-tourist activity and food market I have ever been to. You always hear about the struggles of locals in lower-income cities and areas, but when traveling tend to avoid or not see these areas. This market exemplifies these struggles as well as accomplishments.
Bazurto Market is rustic and exemplifies real life in Cartagena; it's suggested you go with a tour guide, as well as not take out your camera. You also need to wear close-toed shoes because there is food on the ground (lots of fish) as well as dogs, kids, and barrels of food crisscrossing paths. One fruit you MUST try here is pitahaya – it resembles dragon fruit and I loved it!
I enjoyed roaming around Bazurto Market and trying indigenous Colombian fruits and seeing the locals' energy. I highly suggest visiting when going to Cartagena, Colombia.
Rachel, From East to West with RMS
Disclaimer: There are affiliate links in this post, which means we may earn a small commission if you click the link and proceed with a purchase. We only recommend products or services we personally use and recommend.
For more amazing food markets around the world check out the other regions in our series:
Have you been to any wonderful food markets in the Americas? Let us know in the comments below!