Best Food Halls and Markets: Western Europe
Food markets capture my attention and heart anywhere I travel. I'm always in search for them and I've been known to plan my days around food. What's a foodie to do when dreaming of her next destination other than put together lists of the best food markets and halls around? This is part of a larger food series on Sometimes Home. Here, we explore:
Western Europe: Italy, Spain, Portugal, Hungary, The Netherlands, France, Germany, Austria
Please click through the below for other "best food markets in Europe" and in the following regions, also linked at the end of this post:
Italy
Florence: Mercato Centrale (also known as Mercato di San Lorenzo)
Set in the heart of Florence and partially hidden by the surrounding San Lorenzo leather and souvenir market sits Mercato Centrale. It is Florence's most central food market and one of my favorite places, in one of my favorite
cities, in the world.
Just about any Tuscan food you could possibly crave can be found stuffed into the lively and packed Mercato Centrale. It's home to stalls selling everything from cheese, to fish, to fruit, or ravioli. My personal favorite things to pick up? Thirty-six month aged parmigiano-reggiano cheese, traditional balsamic vinegar brought in from nearby Emilia-Romagna, truffle oil, and fresh pesto.
If you're only in Florence for a short time, don't worry! Many of the non-perishable items, including parmigiano-reggiano cheese, can be vacuum packed for travel in your suitcase or shipped directly home from the stall!
Mercato Centrale is also home to several stalls selling plates of ready-to-eat food. Consider trying ravioli, tiramisu, or fresh pizza!
Kate, Our Escape Clause
Consider touring the market with a pro!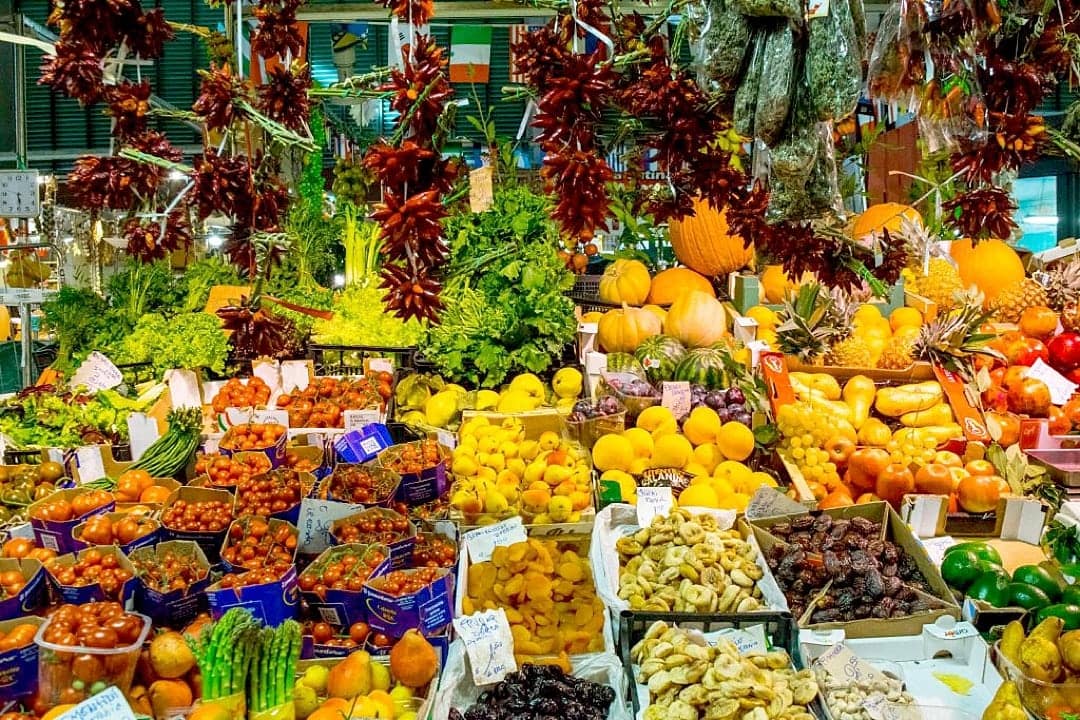 Rome: Campo de' Fiori Market
The fresh food
market, called
Campo
de'
Fiori, has been in the heart of Rome's historic centre
for over 150 years. It is a thriving, bustling area full of vendors selling fruit, vegetables and flowers. Stalls cover the medieval square where a statue of martyr Giordano Bruno looks solemnly down over proceedings.
We stayed right on the
market
's edge on our last
visit to Rome
and loved visiting the
market
stalls, showcasing local delicacies such as cheese and salami. The vendors were happy for us to try a little taste before we bought our favorite olives, meat and bread. Tip: You can ask the stall owners to vacuum pack your purchases for the ultimate souvenir.
Campo
de'
Fiori
is also the place to pick up some local Roman street food. You can't miss the aroma of porchetta as it wafts through the
market
. A whole pig is deboned then slow roasted, stuffed with fennel, garlic and rosemary. Slices of the pork are then laid inside a fresh panini with a good measure of crackling pork skin.
Campo
de'
Fiori
is a fun place to visit while in Rome and I'd go back there for the porchetta panini alone, in a heartbeat. The
market
is open Monday to Saturday from
7:00am to 2:00pm.
Katy, Untold Morsels
See the market and some of Rome's architectural highlights, or enjoy a cooking class, with an expert day tour.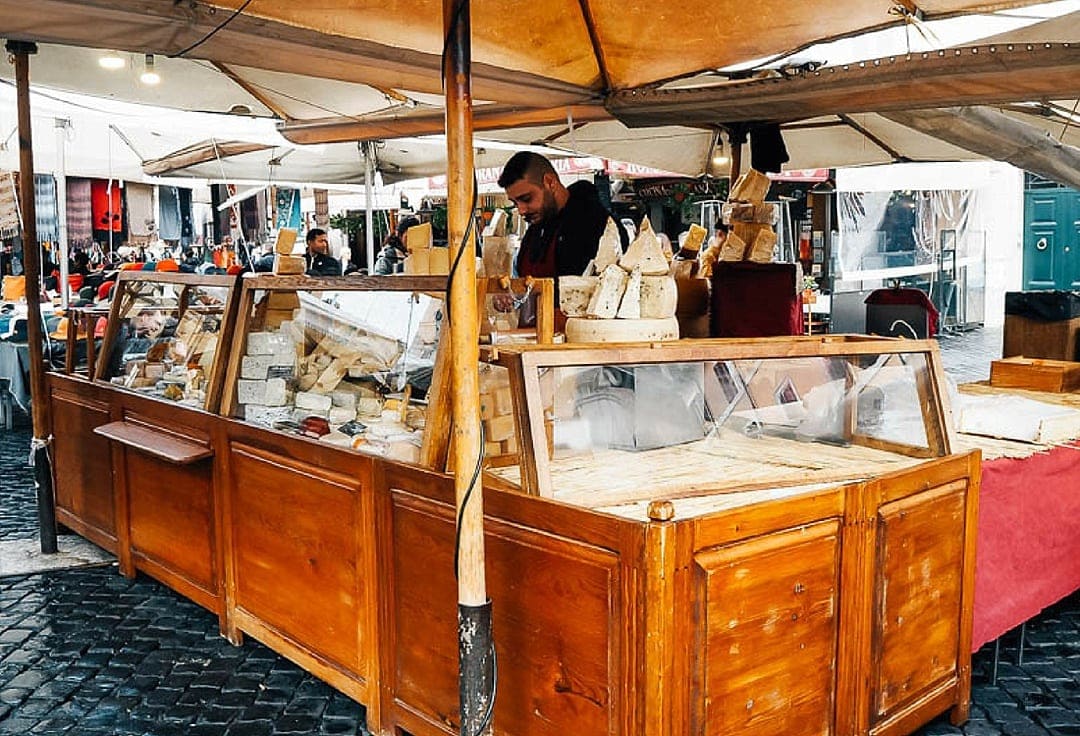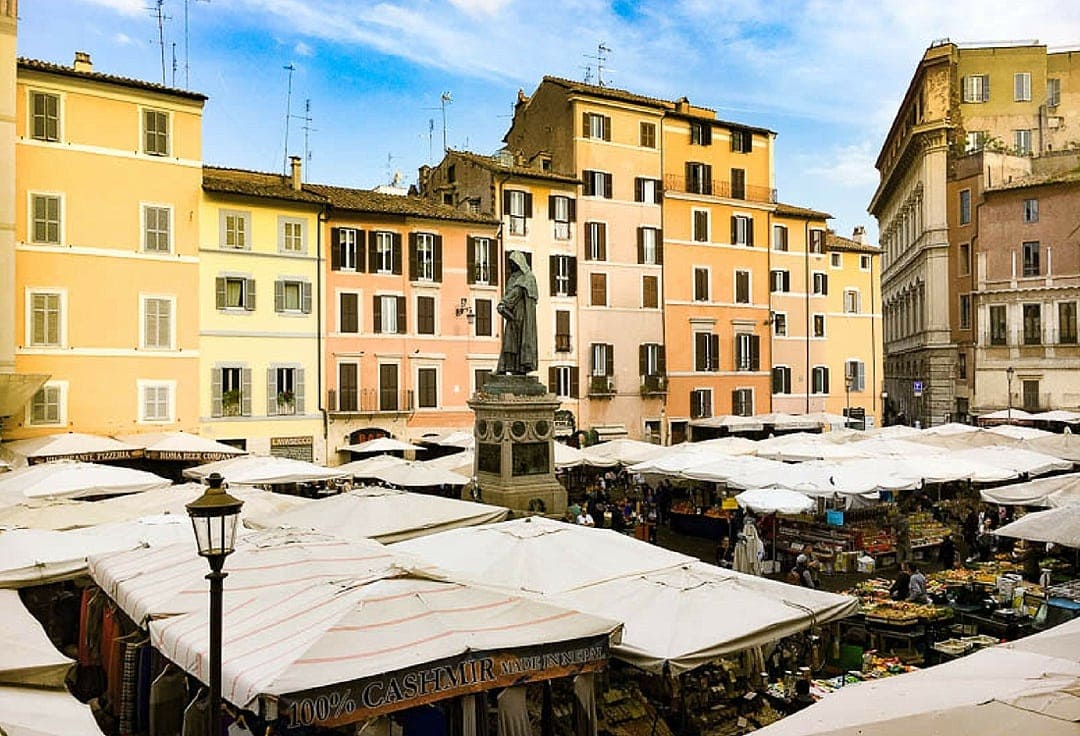 Bologna:
Quadrilatero
Located just off the famous Piazza Maggiore in Bologna Italy's historic centre is the Quadrilatero. It's one of the most fascinating food neighborhoods in the city. Several gigantic stone arches lead from the Piazza onto the side streets that wind through fish mongers, bakeries, salumerias, and fresh produce stands – many of which have been in business for decades and longer.
The first time I stepped into the Quadrilatero was like stepping back in time. So much of the architecture on these streets is well-preserved and your imagination runs wild. Just a few blocks down Via Clavature is the Mercado di Mezzo, the oldest Medieval market in the city, with three floors of high quality Italian food.
We came to Bologna for the food, as it's known – even among Italian people – as being the food capital of northern Italy. At the Mercado di Mezzo you'll find Gino Fabbri's delicious pastries, craft beers by Baladin, and some amazing local wines. There's even Napoli-style pizza at Rosso Pomodoro. But our favorite had to be the charcuterie platters of hand crafted cheeses, meats, and the Bolognese favorite, mortadella. The Mercato is a perfect gathering place for friends and is open seven days a week, from early morning to midnight.
Lori, Travelinmad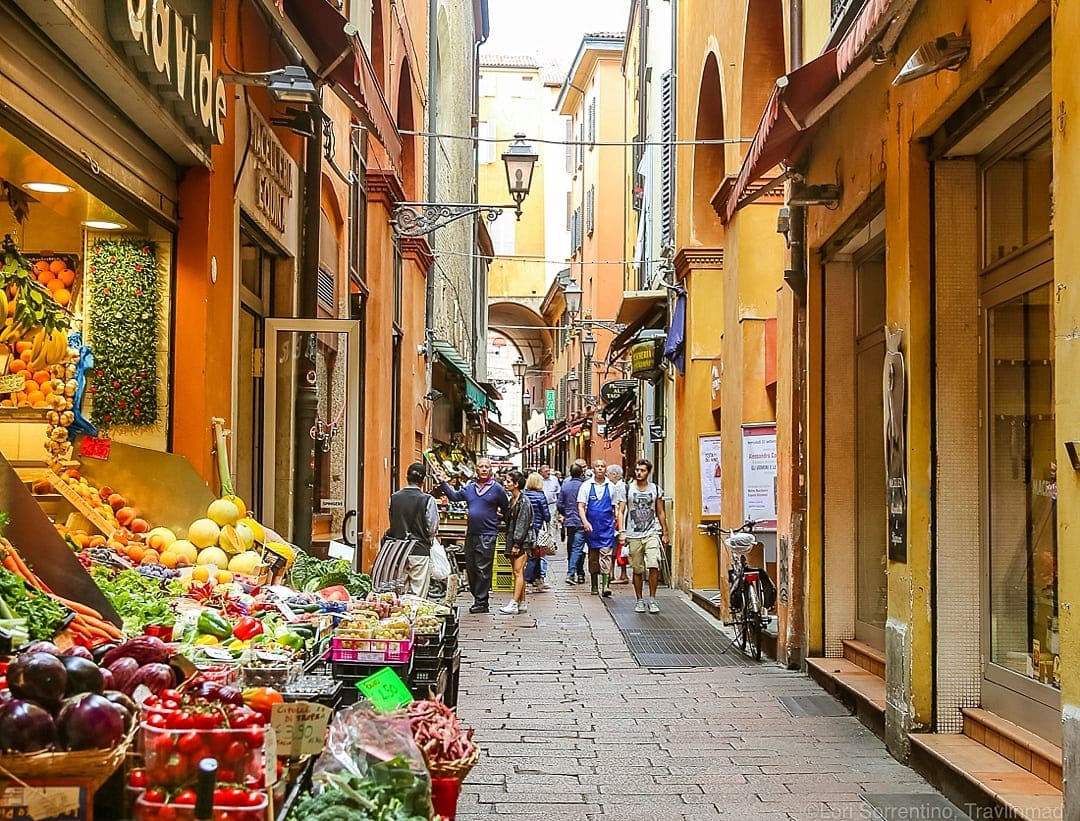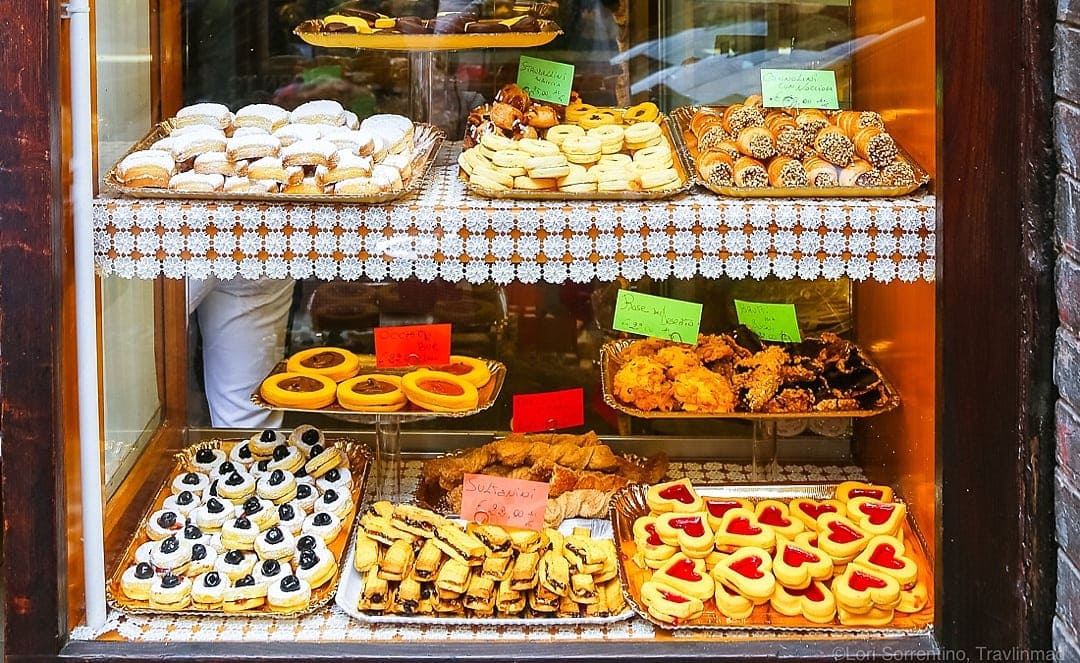 Genoa:
Mercato Orientale
If you ever get a chance to visit Genoa in Italy, and you love to see colorful markets, make sure you stop at the Mercato Orientale. Genoa's celebrated covered market is one of the grandest with gorgeous displays and the freshest produce, meat products, seafood and other finished goods sold to the public.
This lively market has been operating for over a century and derives its name from its location on the eastern side of Central Genoa. Along with the fresh produce and ingredients, you'll find regular staples like dry goods and spices, olive and other oils, pine and other specialty nuts, hams, cheeses and other specialty goods from the local area. I love visiting Genoa; this gorgeous city is filled with so many details and main attractions!
Noel, Travel Photo Discovery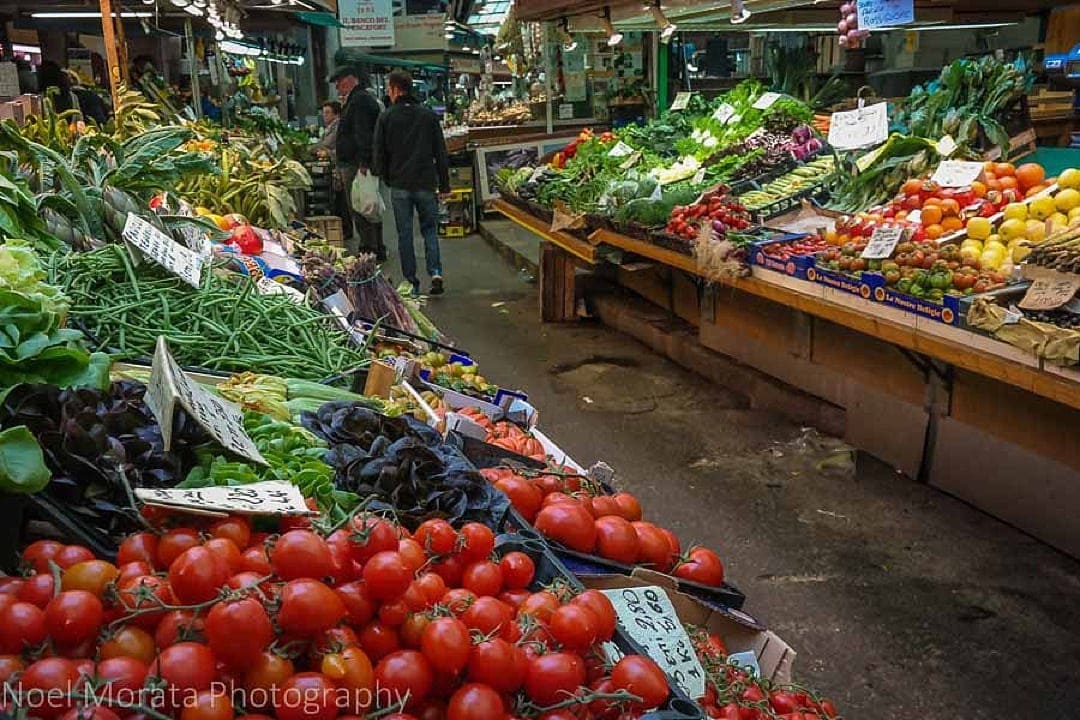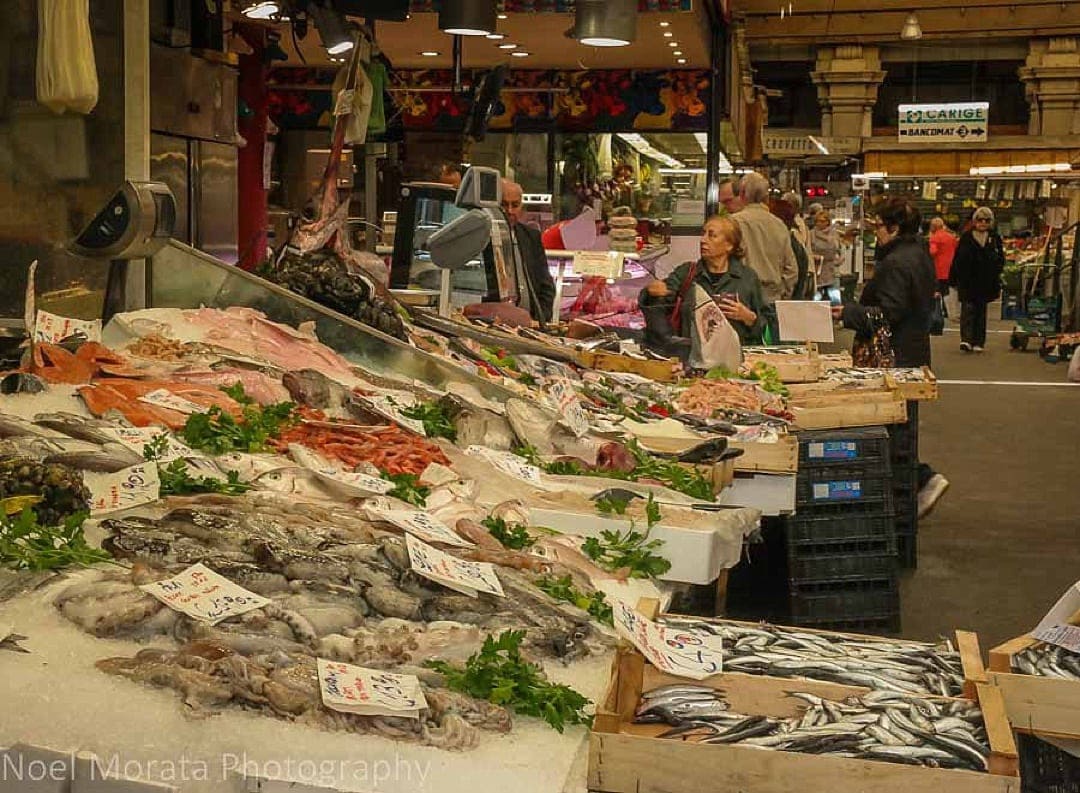 Sicily
Catania: La Pescheria (Fish Market)
La Pescheria, Catania's famous fish market in Sicily, is located at Piazza Duomo near the fountain at Fontana Dei 10 Canali. You'll hear it before you see it.
Step behind the fountain and you'll find yourself on a terrace overlooking the main arena of the fish market. There's a lot to see at La Pescheria and people gather on the terrace to watch the show. The shouts of vendors fill the air as they entice Catania shoppers to choose from piles of fresh fish and seafood displayed on mountains of glinting ice. There's bartering, bantering and laughter as they try to convince market-goers that theirs is the tastiest, freshest, finest fish in the market.
This is street theatre at its best. One guy holds up an octopus for inspection. Would it fit in my handbag? Probably not. He's happy to try but I'm not so keen. Another holds up an eel nearly as tall as me. Baskets of spiky sea urchins sit next to still crawling crustaceans. A huge, just caught, tuna is cut into fillets the size of plates with a cleaver that catches the sunlight each time he raises his arm. If you're looking for a real taste of Sicily head to Catania's Pescheria where you'll find it by the plateful.
Suzanne, The Travel Bunny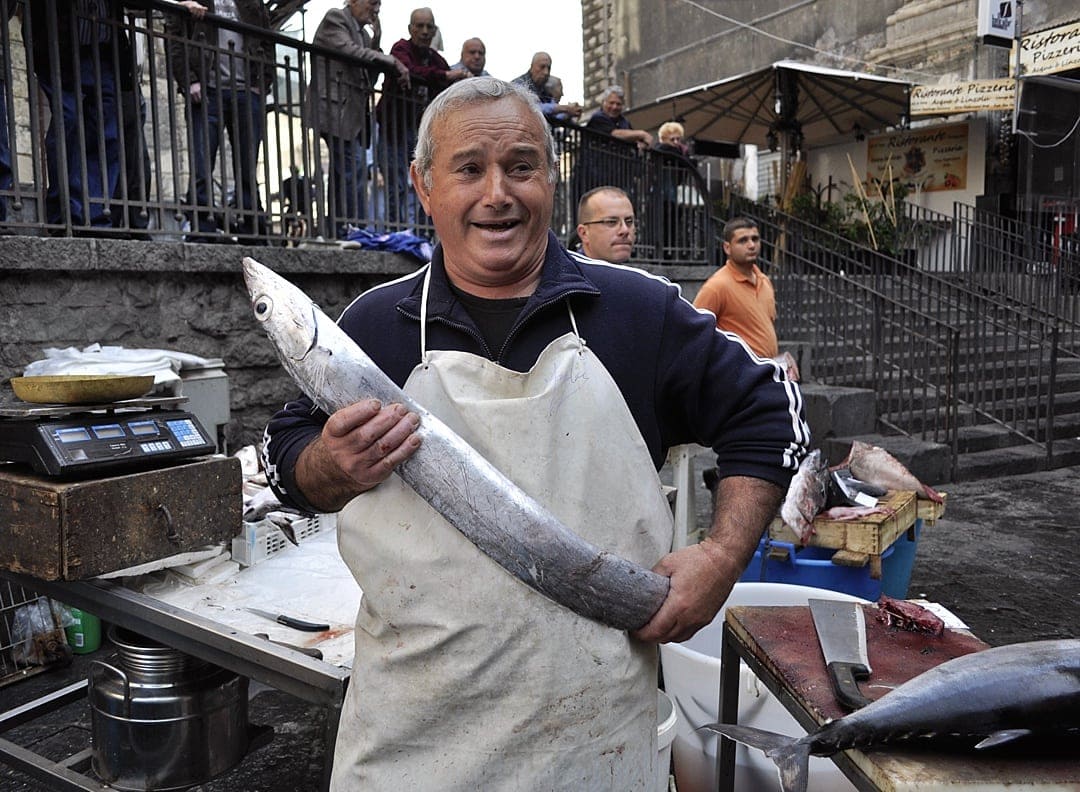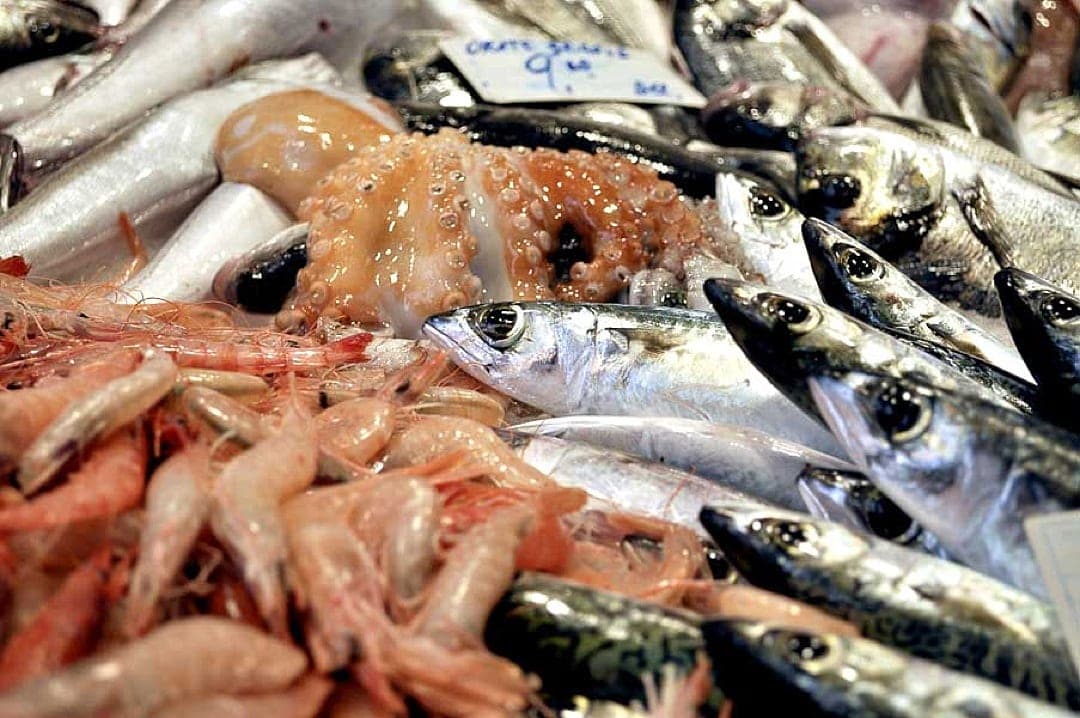 Palermo: La Vucciria
Sicily's capital city, Palermo, has not one but three incredible markets that are famous throughout Italy for their fresh produce and heady atmosphere.
Temperature, volume and intensity all increase as you go south in Italy. They seemingly reach their peak in Palermo's markets, where you can feel the influence of North African souks.
These days, the larger Ballaro market is probably a better choice if you're looking for the freshest food, but La Vucciria remains the spiritual heart of the city.
Deep in the Centro Storico and wedged into two squares, surrounded by crumbling buildings and dilapidated alleys, La Vucciria is over 700 years old and still has a special ambiance. Stalls are piled high with fish heads and butcher's offcuts, vegetables you've never seen before, and curious knick knacks of all sorts.
Get there super-early in the morning if you plan to buy food, particularly to witness the spectacle of fishmongers bringing in their morning catches. La Vucciria also comes alive in the evenings when you'll find street food vendors frying up traditional offal delights for both tourists and locals gearing up for a night on the town. The most famous dish is the spleen sandwich, which is milder and easier to eat than you might imagine!
Steph, The Mediterranean Traveller
Heading to Palermo? Try an organized food tour!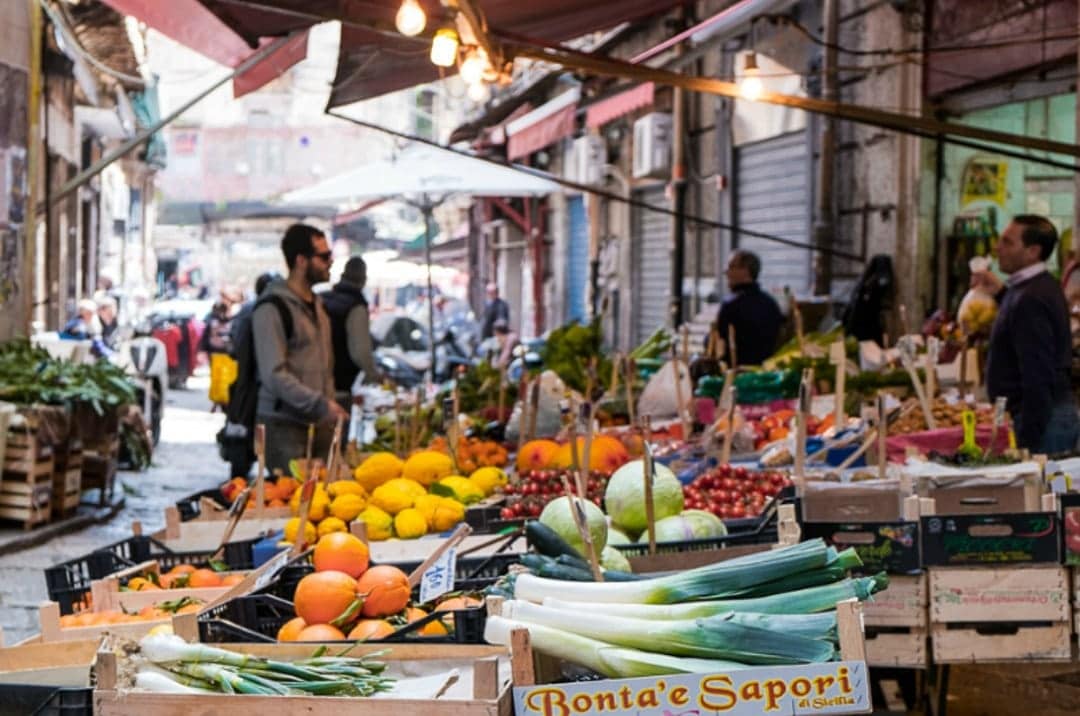 Spain
Girona:
Mercat del Lleo
Mercat
LLeo
in Girona is as far as they come from La Boqueria in
Barcelona
. It is not a touristy market although you may see a small food tour wander through while you're there. It's where the locals shop and it's more likely to see grandmothers wheeling shopping carts around rather than tourists.
The market hosts around 60 stalls, including over ten butchers, nine fishmongers, and more. Additional fruit and vegetable vendors spill onto the outdoor plaza. Check out some of the prepared food stalls that offer local Catalan and Spanish dishes to get a great idea of local dishes.
We visit the market several times a week as residents of Girona. Stop by the Bar del
Mercat
for a break and morning coffee and sandwich alongside locals and market stall owners. Their bocadillo (sandwich) with chorizo and queso is as good as they come – the bar owner makes his own chorizo. The bar owner and his daughters actually know us because we are there so much. Their sandwiches really are the best!
As for the carts, if you visit on the right day, you might see my husband, Eric, wheeling around his shopping cart too! The
Mercat
Lleo
, or Lion Market, is open six days a week from
7:30am to 2:00pm.
It is closed on Sundays and is only a five-minute walk from Barri Vell, the
Girona Old Town
.
Amber, Only in Costa Brava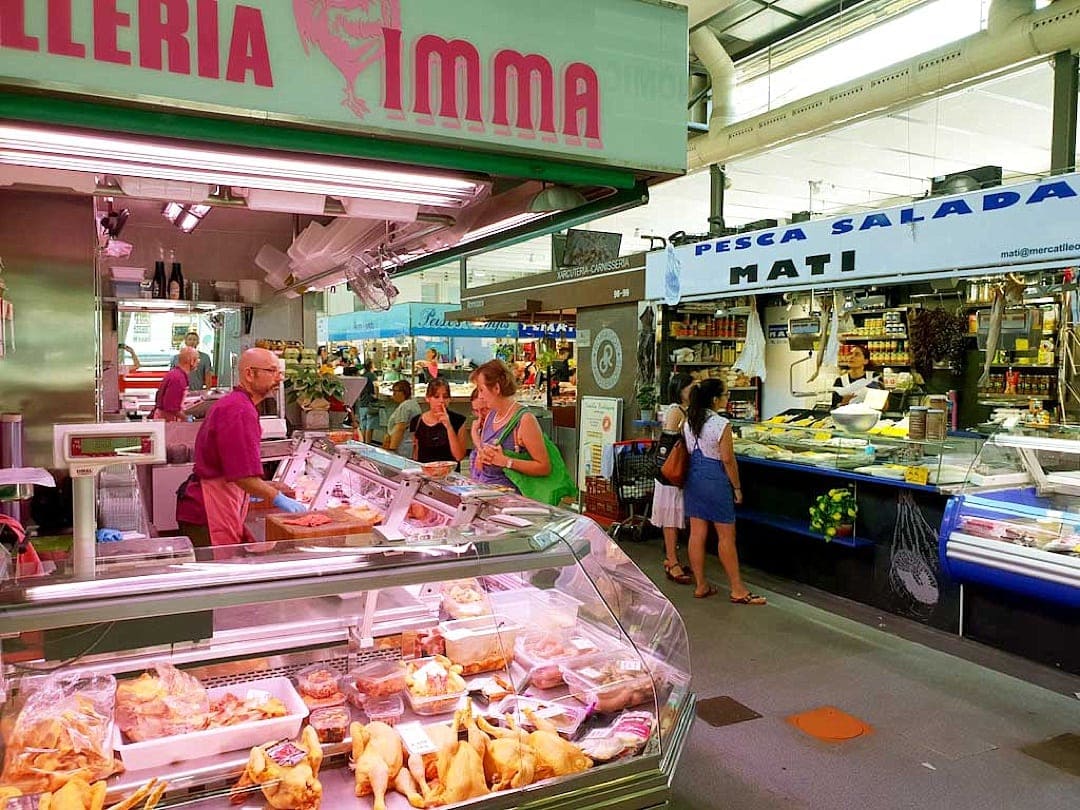 Seville:
Mercado Lonja del Barranco
I felt like I was home when I entered this modern, airy food hall in Seville, Spain. I was in Andalusia (the southern region of the country) on a two-week trip and I had to experience the regional food wherever and whenever possible. Seville quickly grew to be one of my favorite cities I've ever visited and Mercado Lonja del Barranco helped contribute to it.
The building it's housed in deserves its own attention, despite this present-day market iteration being new. The famous architect, Gustave Eiffel, designed it in the late 19th century. (You may know him from a little monument he designed in France, named the Eiffel Tower!) Its previous lives include a fish market and wholesale market. Today, it's a trendy food hall with over 150 options from savory to sweet.
I would be sure to allot at least a few hours to enjoy Mercado Lonja del Barranco on a trip to Seville as I truly believe it's one of the best food markets in Europe. I'm not ashamed to admit I tried many things here in just a few hours from squid-ink paella, to tapa toasts with sardines and mustard to the region's famous cold salmorejo soup. Be sure to check out their indoor space, of course, but also their outdoor seating and restaurant along the Guadalquivir River.
Mikkel, Sometimes Home

Valencia: Mercado Central
The Mercado Central in Valencia is one of my favorite food markets in Spain. The first thing you will notice when you enter from the street is the spectacular building the market is housed in. In fact, the Mercado Central is considered to be one of the most beautiful market halls in Europe.
It is easy to get lost amongst the aisles of fresh seafood, fruit and vegetables, delicatessens and bakeries. Perhaps the most irresistible stalls are those selling jamon, or ham. Spain is famous for their dry-cured ham and the Central Market is the perfect place to try it. It is carved into wafer thin slices and has an incredible depth of flavor; it's delicious.
Don't leave without trying horchata, which is a local drink made from rice, milk, vanilla and cinnamon. It sounds like an odd combination but it is surprisingly tasty.
Our best tip? Purchase some jamon, fresh baked bread, horchata and a few Valencia oranges (of course) and head to the El Jardin del Turia for lunch. Don't forget to wander through the streets on the way to the park where you will find some of the best street art in Valencia.
Rachel, Adventure and Sunshine
One of the best ways to visit the market is with a local, tasting your way through the stalls!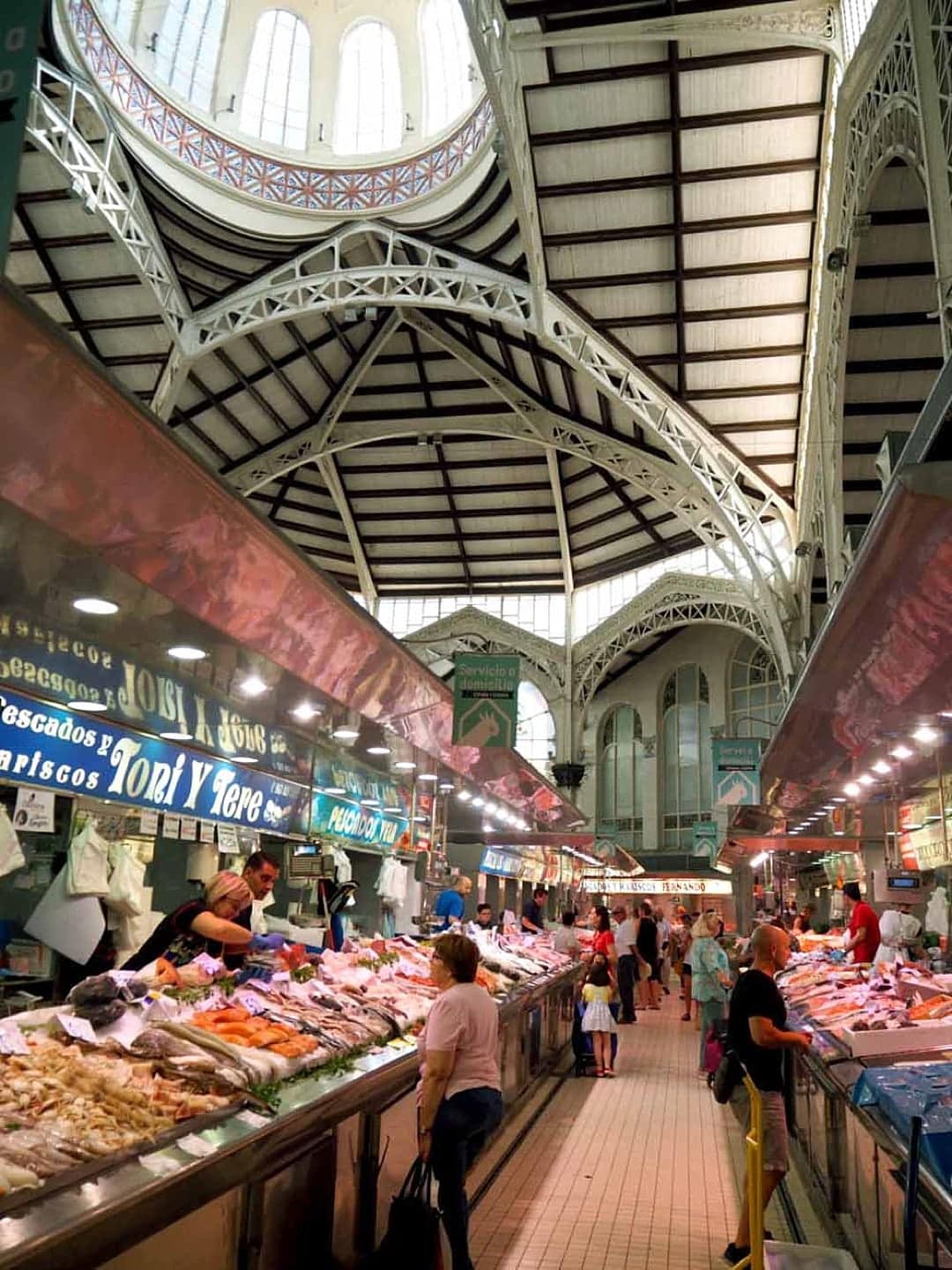 Zaragoza: Mercado Gastronomico
We decided to venture east from Madrid for the day to the city of Zaragoza. We took a two hour high-speed train ride to this historic Spanish city with Roman roots, and explored its old town center. There are plenty of tourism offices there and, due to high winds and no prior research, we decided to stop in to learn what the employee's recommended activities were. A brochure for the Mercado Gastronomico was handed to us – we didn't need further convincing!
We were soon on our way to this fantastic market. (Note, this is not to be confused with Zaragoza's Mercado Central, which is more of a decades-old food market than modern day food hall.) We were in awe of the prepared and made-to-order food options! They had a burger place, a craft beer bar, tapas, pizza, paella and more. We decided to taste their little tapas toasts and were delighted by our selection; our favorite was a mushroom and ham recipe.
It's a wonderful place to relax and unwind. It's stylish, welcoming and, if you're there during summer, especially appealing for it's shade and air-conditioning.
Mikkel, Sometimes Home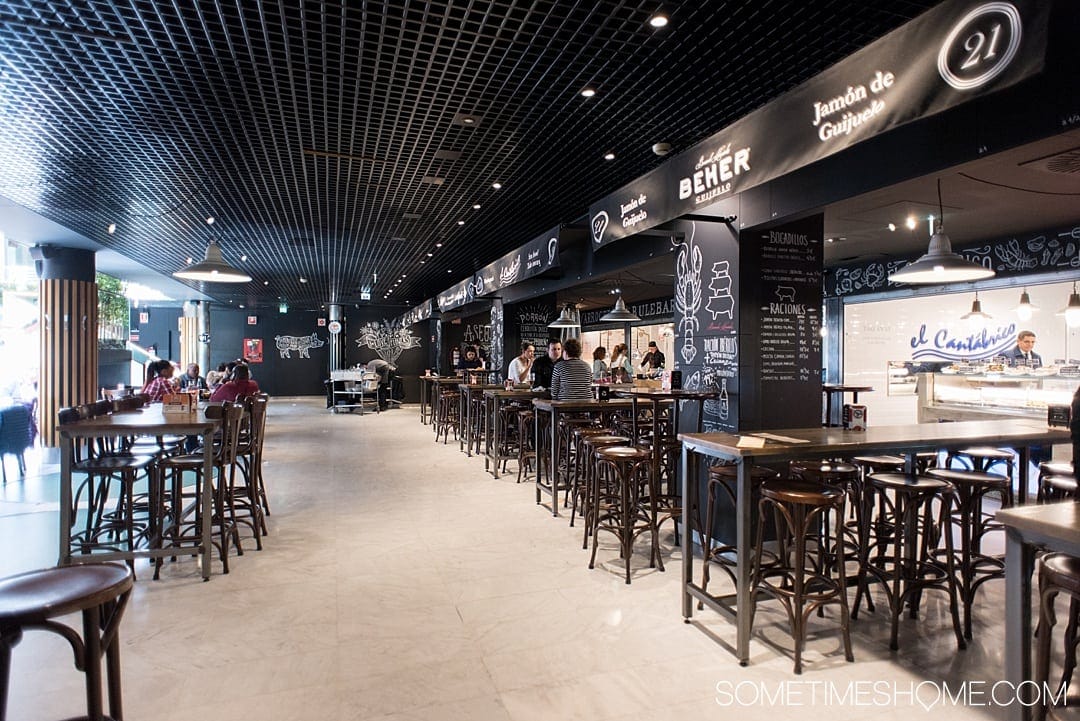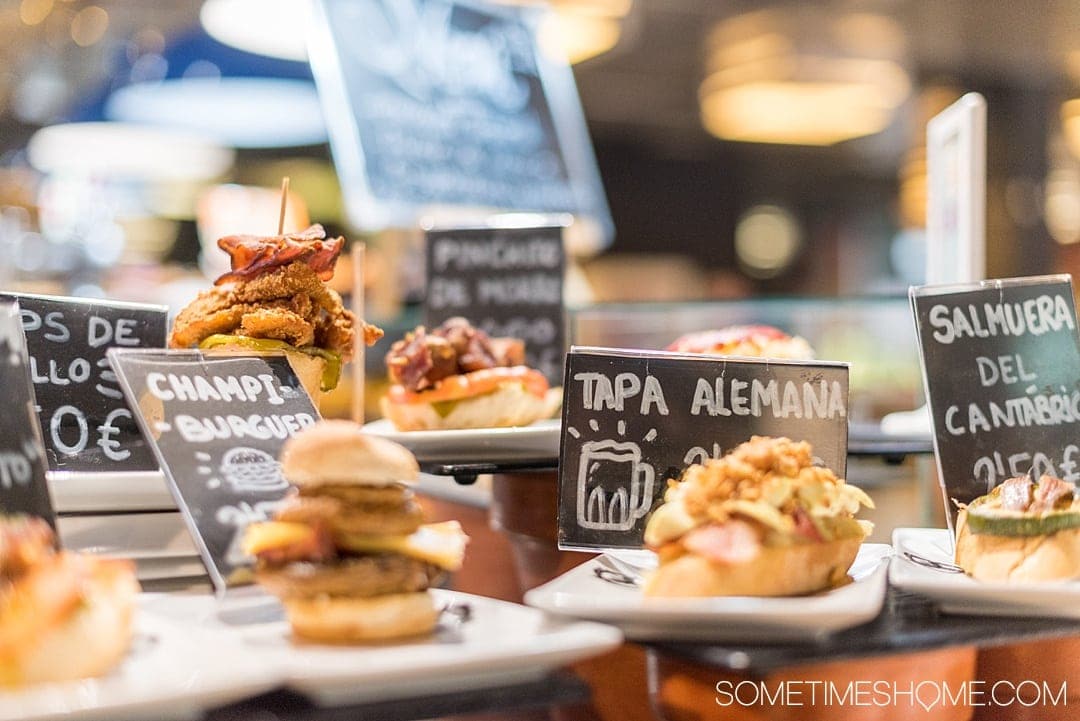 Barcelona: La Boqueria
No trip to Barcelona is complete without visiting the city's most famous market: La Boqueria. The history of the market dates back to at least 1217, and it is located right next to the equally famous La Rambla area.
You are greeted with a buzz of life and multitude of colors as you wander inside the market. Aromas rise from over 200 stalls. This is a place for locals and tourists alike. It's a market where you can easily stock up on fruit and vegetables for a week or buy speciality cured hams.
Each aisle seems to unveil yet another delight whether a tapas bar serving up small fish dishes, a flower shop bursting with color, or restaurants and takeaway food vendors serving hungry visitors. The joy of La Boqueria is simply found in soaking up the atmosphere and walking aimlessly between the stalls. Take some photos, eat some traditional dishes, and buy some snacks for later. You'll love the experience!
I personally loved the market due to the time of year I visited Barcelona, which was December. The market had a huge Christmas tree outside in addition to its normal stands and you could feel everyone getting into the Christmas spirit. Germany may be the home of "Christmas markets", but La Boqueria felt more genuine because it's there year-round.
Dave, Dave's Travel Pages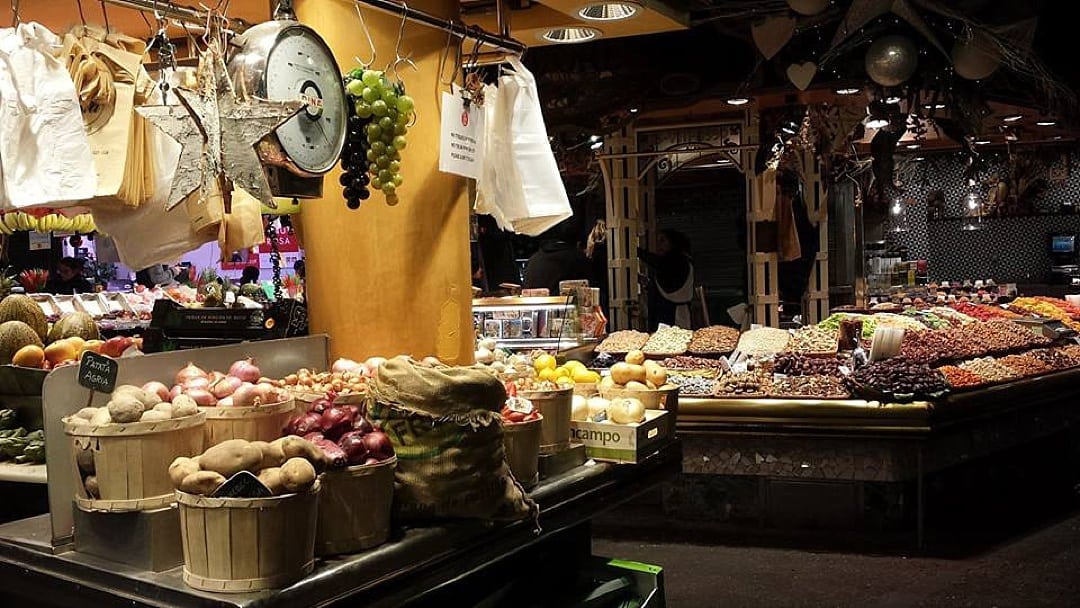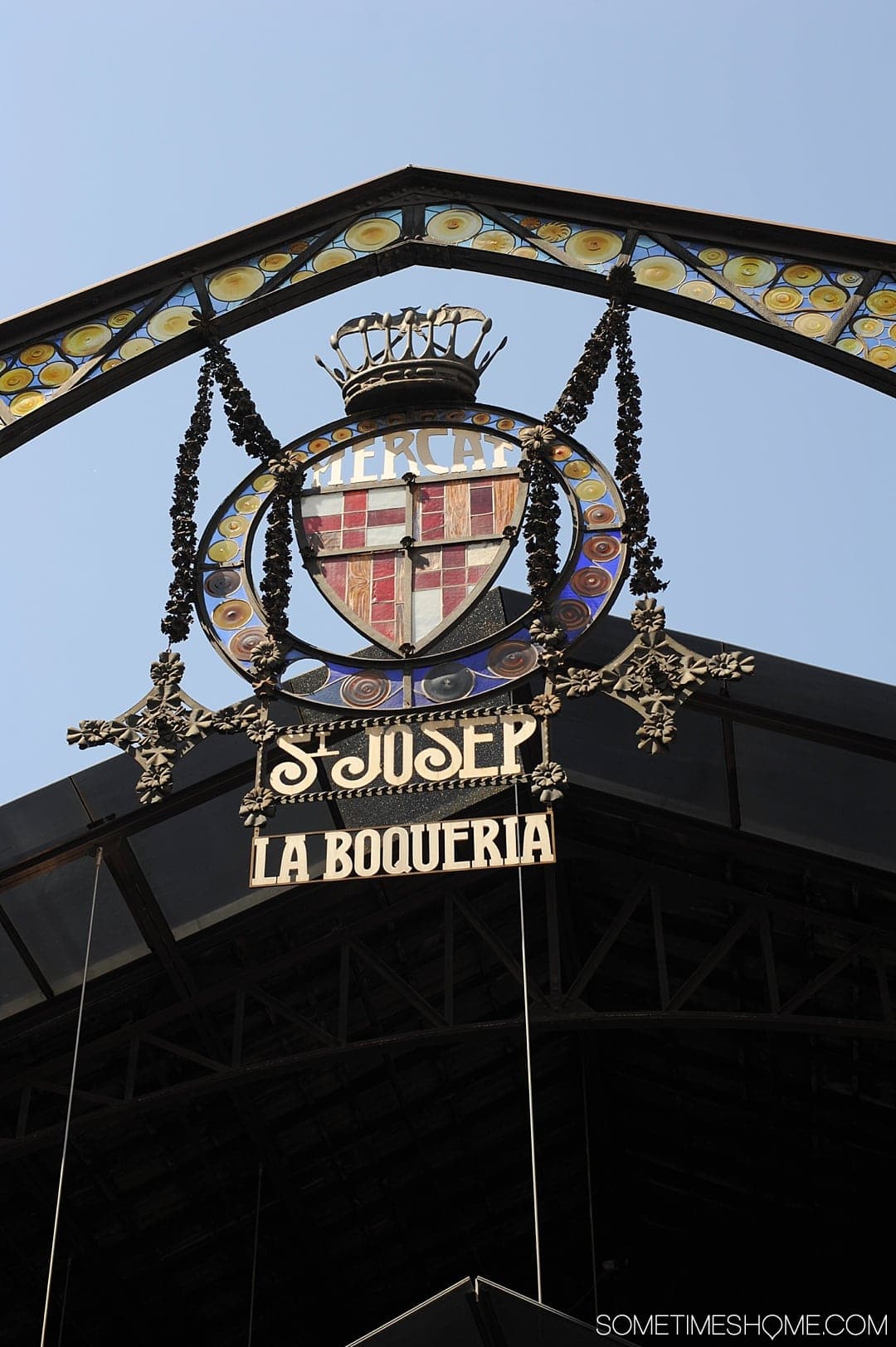 Barcelona: El Nacional
For a sophisticated space to dine, El Nacional in Barcelona, Spain, is the one of the best food halls or food markets in Europe. It's also one of the fanciest food halls try Catalan fare amidst nostalgic Art Deco architecture. The location is not obvious; it's tucked away in a hidden nook of the elegant avenue, Passeig de Grácia, and is steps away from the Casa Batlló, by famed architect Antoni Gaudí.
El Nacional's historic building was constructed in the 19th century in Barcelona. It's been home to many businesses over the years, first a café-theater, then a fabric dye factory, followed by a car dealership, and lastly a car park.
This food hall is dazzling and elegant – you'll feel like you've stepped on the film set of Baz Luhrmann's "The Great Gatsby". Its Art Deco interior makes use of many different construction materials including metals, granite, glass, marble, iron, wood, and wicker. Its interior's gold trimmings, warm lighting and neutral color tones give it a sleek appearance. (Even the restrooms are eye candy!)
This fancy food hall has four restaurants on the outskirts and four different bars on central islands: cocktails, oysters, beer, and wine. It's designed for you to try a little bit of everything! For tapas, try La Taperia, where waiters come around with tapas "dim sum" style, which is not typical of Spain, but it's a fun way to be served. I also recommend the Nutella crepes in La Paradeta!
Justine, Latitude 41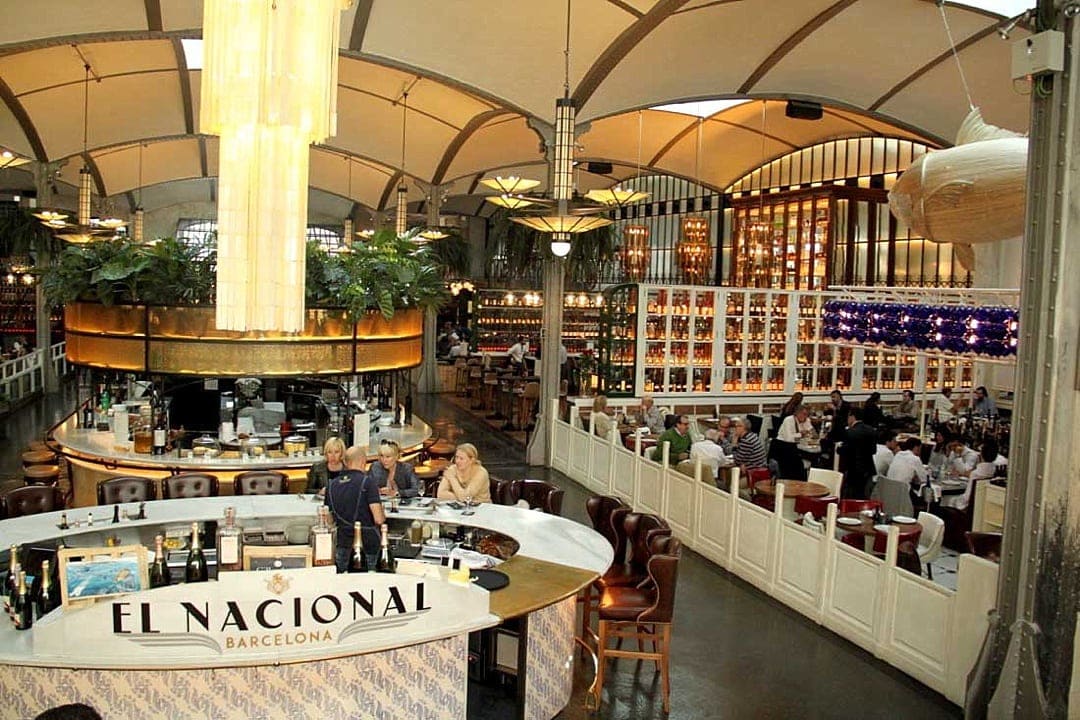 Madrid: Mercado de San Fernando
Madrid, Spain is a fantastic place to explore the best food halls and markets in Western Europe as there is one in every neighborhood. Traditionally, these markets were (and many still remain) where locals would go to buy their groceries. Today, many of these markets are starting to turn into places to go out for lunch or evening tapas.
Mercado
de
San
Fernando
, located in the heart of the bohemian Lavapiés neighborhood, is our favorite. We love it because it's one of the larger markets with many diverse stalls, yet it still retains its traditional feel and decor. It's where locals
actually go
, as opposed to the touristy and somewhat-overpriced
Mercado
de
San
Miguel near the Plaza Mayor.
You can try food from the Spanish regions of Madrid, Asturias, Galicia, and more at San Fernando, or try something international at a Mexican taquería, a Portuguese stall selling the famous Pasteis de Belém, sushi stall, and more. We usually get a bottle of Asturian cider (ask them to show you how to pour it!) and try food from various stands.
We always go here with friends or visitors as there is truly something for everyone. There is even a vegan stand specializing in traditional Spanish foods made with a plant-base! Check out Alternative Travelers' extensive guide to
vegan Madrid
for more veggie recommendations in the Spanish capital.
Sam Anthony, Alternative Travelers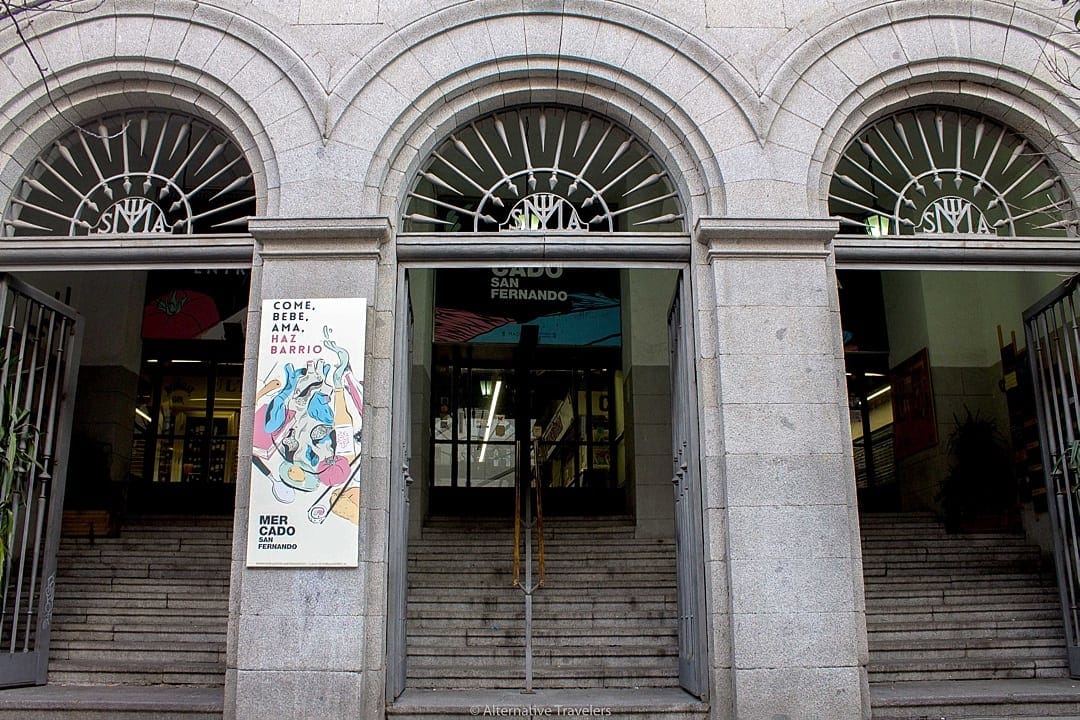 Madrid: San Miguel
San Miguel Market can be found in the centre of Madrid, nearby the very popular Plaza Major.
We went during our very first week of living in Madrid after reading many good things online about it and being given advice from friends who had previously been to Madrid. We are also self-proclaimed foodies and love tapas. This means anything that's a 'must do' and includes food is going to be very high on our list. We also found experiencing this market to be something special because we found and tried things we had never seen before. (Baby eels anyone?!) This is something we love to do!
Its main draw for tourists is its wide array of beautifully presented tapas and drinks. What really stood out to us was the variety offered. Not only could you find your traditional and very tasty Spanish tapas at one of the best food halls and markets, such as patatas bravas, croquettas or jamon, but you also had the option of choosing from tapas with a modern twist including different sushi style tapas and lots of sweet treats.
Because it is so popular with tourists, it can get very busy. However we found that the hustle and bustle added to the atmosphere and livened the place up. It's a little more expensive than some of the more local restaurants but being in the San Miguel is an experience in itself. Make sure you check it our next time you are in Madrid.
Sion and Ben, The Globetrotter Guys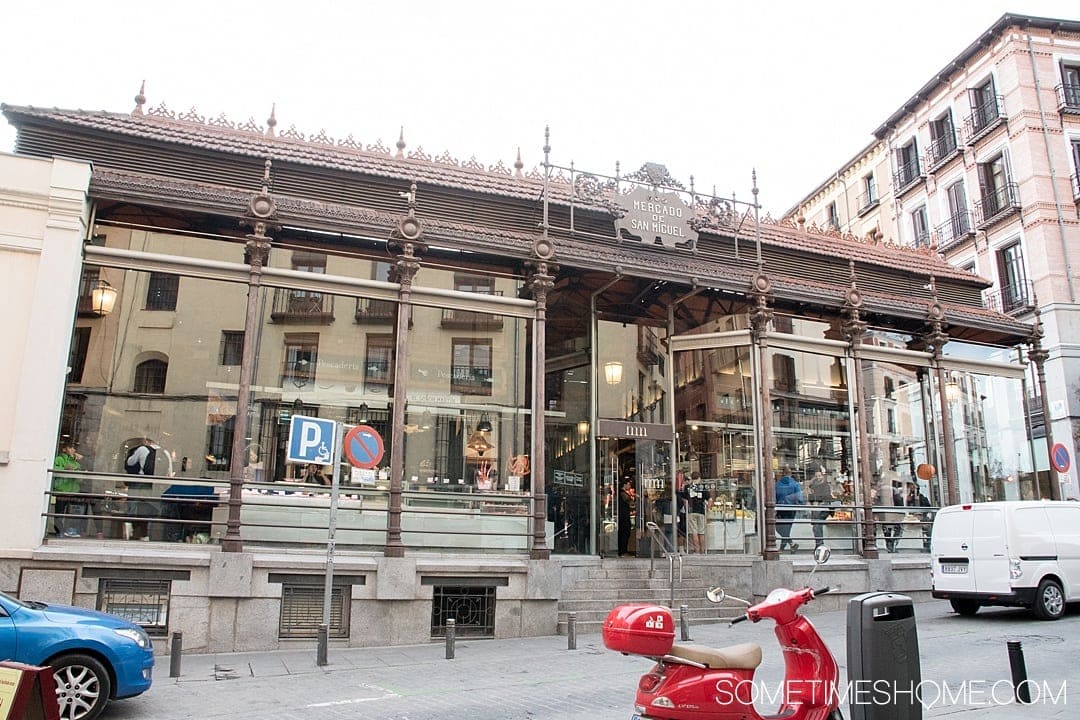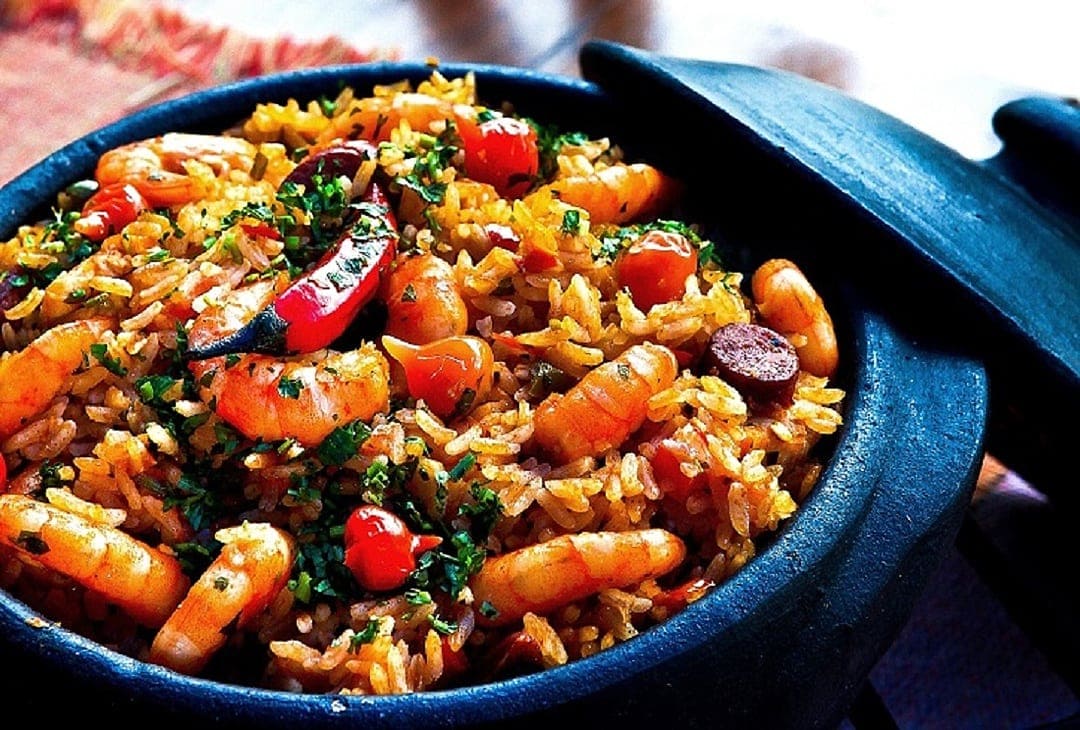 Portugal
Lisbon:
Time Out Market
This is the creme de la creme of food halls! It's unlike any market I've ever been to, highlighting the areas best chefs at a more affordable cost than their stand-alone restaurants. It's also the largest food hall in Lisbon.
A friend told me I had to get there when I was taking a trip to Lisbon, Portugal. She said it was the best food hall around. I was skeptical, as I'm a tough food critic. But one day when I was hungry I ventured over there and I was floored! It was some of the best food I've ever had, anywhere.
I ended up going back as soon as I could (which was the next day and my final day in Lisbon) but amongst everything I tried my favorite dish was the salmon tartar at a chef's stall called Tartar-ia; it's a smaller version of its parent restaurant, called Vila Joya, in the Algarve region.
Time Out Market is a must-visit stop if you're a foodie and traveling to Lisbon!
Mikkel, Sometimes Home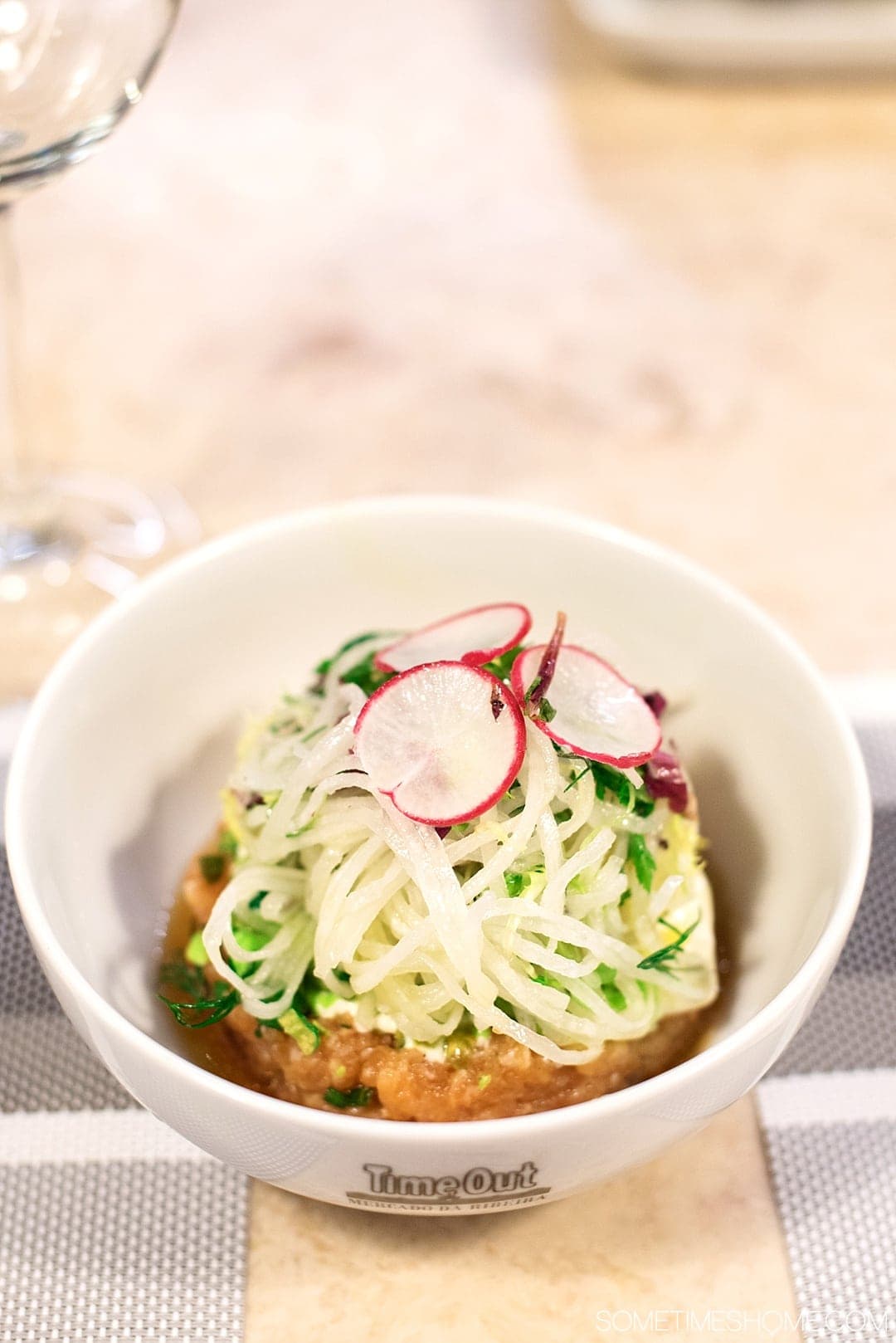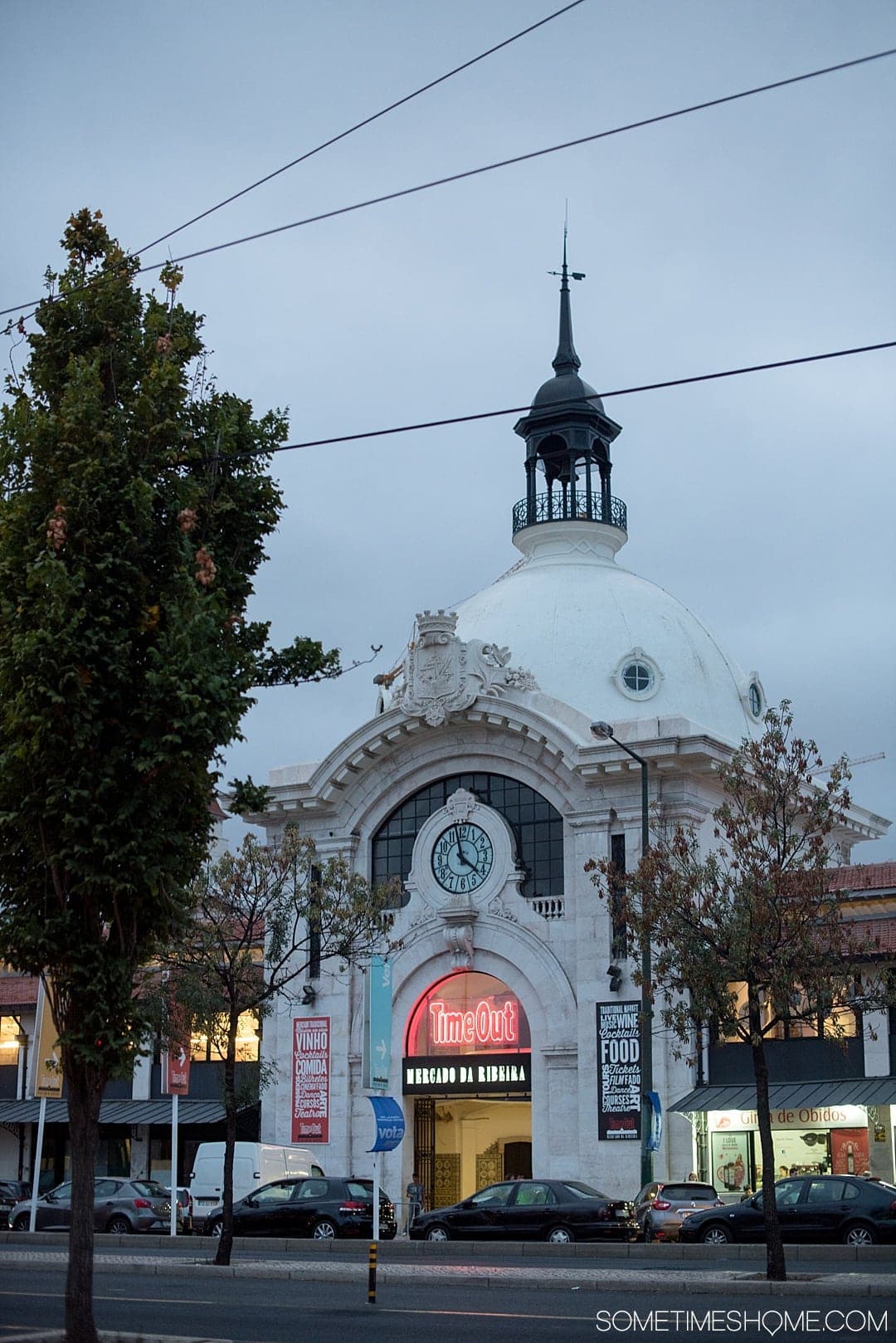 Lisbon: Mercado de Campo de Ourique
While Time Out market is by far Lisbon's most famous food market, it definitely
isn't Lisbon's only market
. As prices have risen there and it has become more and more popular, I've been on the lookout for a replacement.
Although it's much smaller and has considerably fewer food stalls, my current favorite is the
Mercado de Campo de

Ourique
. This is an upmarket neighborhood of Lisbon that's home to some great bars, restaurants, cafes, shops, and, of course, the market itself.
The market is split into two sections: one contains fresh produce like fruit and vegetables, meat, and fish while the other section is a food court. It's a fantastic place to stop for a coffee and slice of a cake, oysters and glass of wine, or a prego and a beer. The fresh produce market has just about everything you need to put together a delicious meal if you're staying in the neighborhood.
It's a little out of the way for many people visiting Lisbon but be sure to check it out if you're in this part of town.
James, Portugalist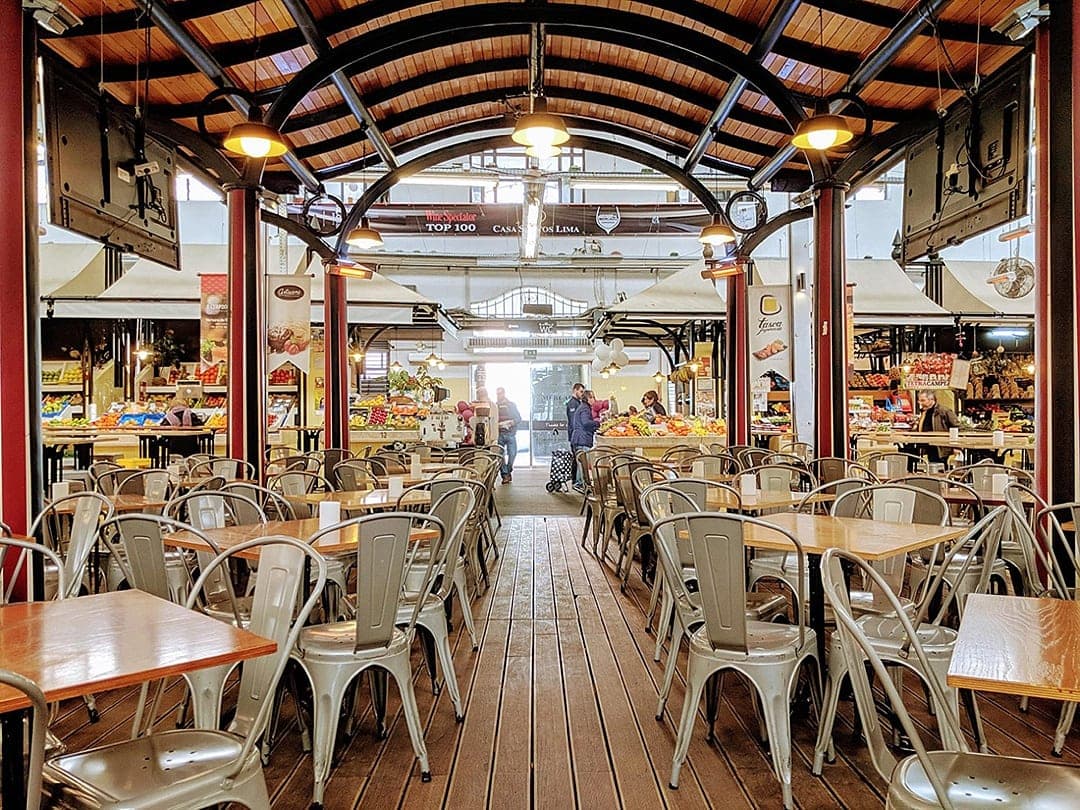 Hungary
Budapest: Great Market Hall
Budapest is simply an exciting city for food lovers. There are many world class restaurants and venues that offer great options for wonderful food and snacks. One of the must-visit sites to experience Hungarian food culture is Budapest's Great Market Hall, which is located in the city center. It's a three-story building where locals and visitors flock to eat and shop. You can find many things here, from fresh produce, to Hungarian paprika and meat, to the kitschy Budapest souvenir stalls on the third floor.
Many visitors enjoy going to the Great Market Hall to taste delicious Hungarian food. There are several restaurants and food vendors on the second floor, where you can find anything from famous Hungarian goulash to desserts. A little tip while visiting: be sure to ask some locals where to get the best food from the most reputable vendors. I learned my lesson the hard way by overpaying a food vendor for a small bowl of microwaved goulash and a piece of bread for 14 Euros.
Either way, coming here to explore is always highly recommended. You can witness the hustle and bustle of the market in general even if you're not interested in eating the food. The plentiful colorful produce is very attractive for your Instagram photos!
Halef and Michael, The Round the World Guys
We even checked it out during our Budapest stop on our Romantic Danube Viking Christmas River Cruise.
Visting Budapest? Sign up for a Great Market Hall Tour and Cooking Class!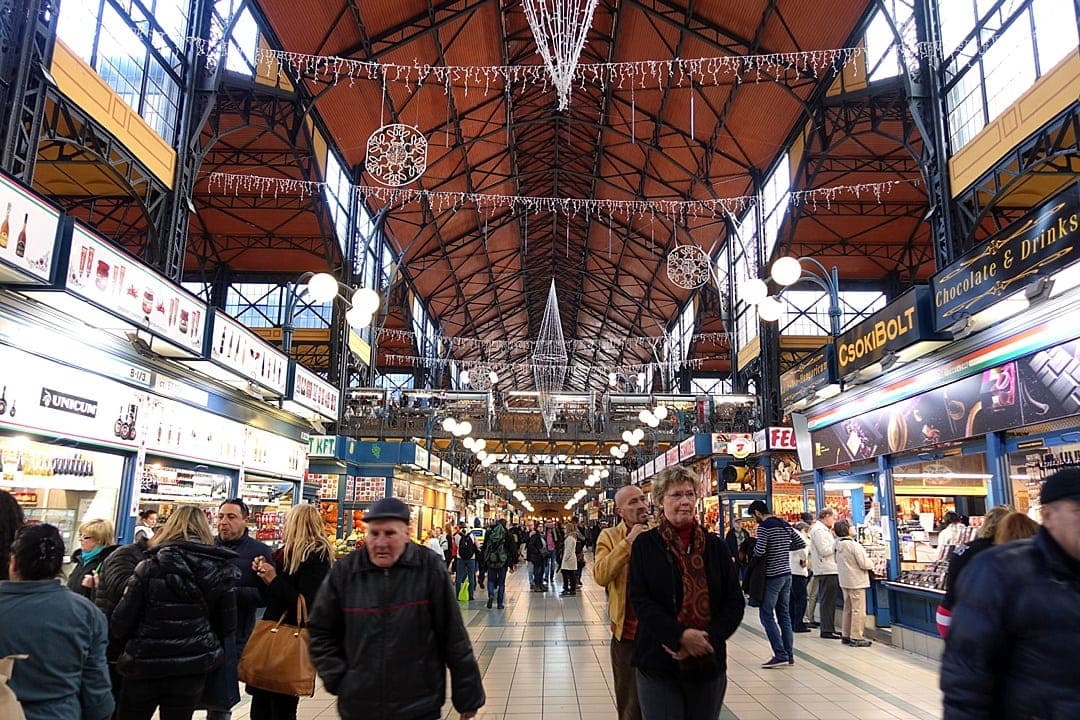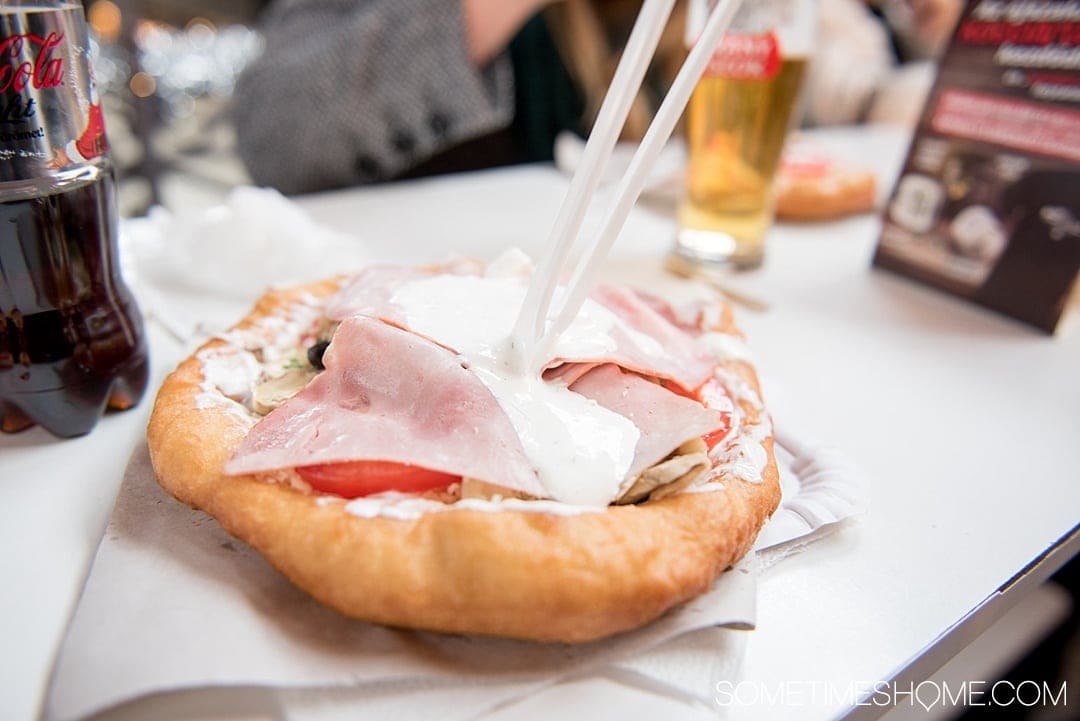 The Netherlands
The Hague: Haagse Markt
One of the best food markets in Europe I've ever visited was the Haagse Markt, a diverse market in the Hague. I write this as a biased local, however in my years of traveling, I have rarely visited a market that surprised me like the Haagse Markt did.
This eight year old market in the Hague, the Netherlands, is closest to an open-air market. It is complete with numerous stalls for anything you could ever wish for including Dominican empanadas, fruit and vegetables, clothing, curtain salesmen…the Haagse Markt has it all.
Although people assume this will be like many other markets in the Netherlands, it's a loud place where vendors shout the prices of goods hoping to lure you over. And it's cash only. You often pick up "bowls" with multiple fruits or veggies that are only one euro each. Towards the end of the day, however, you can negotiate even more. I always stop for an empanada at the Dominican stall however I go here weekly for my own fruit and vegetable shopping. Be warned: You'll buy too much like I always do!
Karen, Wanderlusting K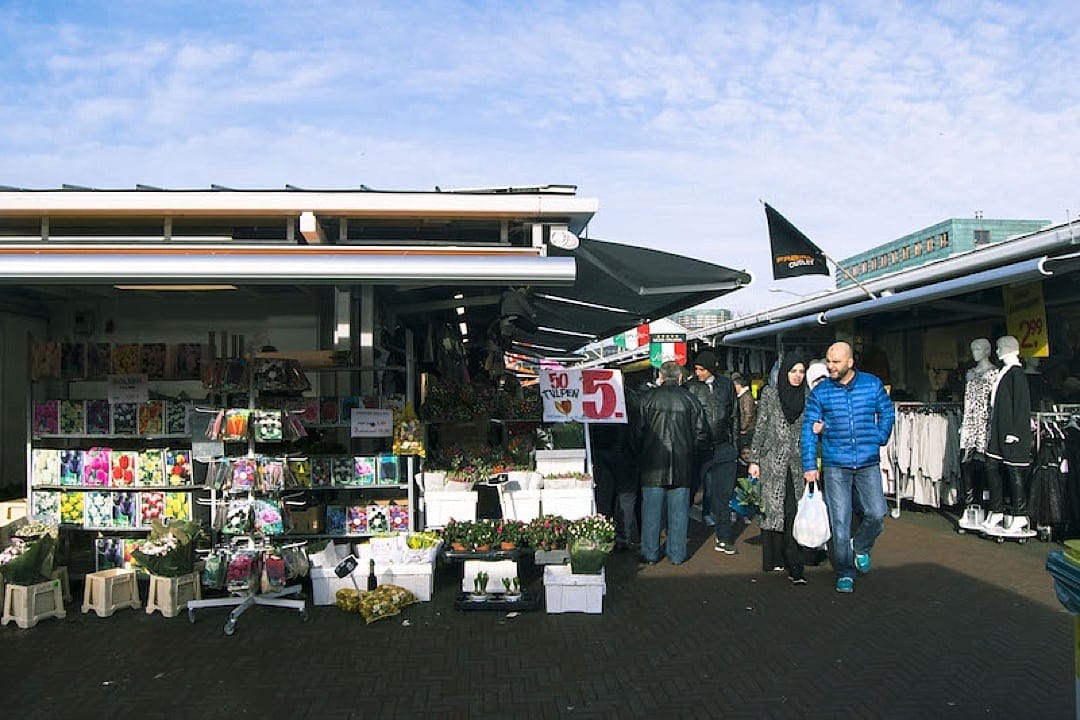 Rotterdam: Markthal
When the Rotterdam hotel staff said "go to the market," I had no idea I would find an architectural wonder filled not only with luxury housing but more than 100 fresh food stalls (plus food shops and restaurants) that were each calling my name to sample the world's flavors and satisfy any (and all) food cravings.
Markthal is stunning for each aspect of its modern design and the "Horn of Plenty" art that covers its interior. Located along the pedestrian shopping zone and steps away from the iconic Cube Houses of Rotterdam, Markthal is hard to miss. I didn't know where to start with so many food options as my eyes and stomach battled each other. I wanted to taste it all!
While I was at Markthal I visited Spain through the Iberian ham stand, Belgian through frites and a local healthy smoothie and finished with a taste of Portugal, through its famous custard tarts. I returned for local chocolates, French pastries…and a few more custard tarts! I spoke with local vegetable vendors, olive oil purveyors and the British pie guy (he had a plethora of stuffed, hearty pies full of meats and vegetables). Everyone had a great food story to share.
Suzanne, PhilaTravelGirl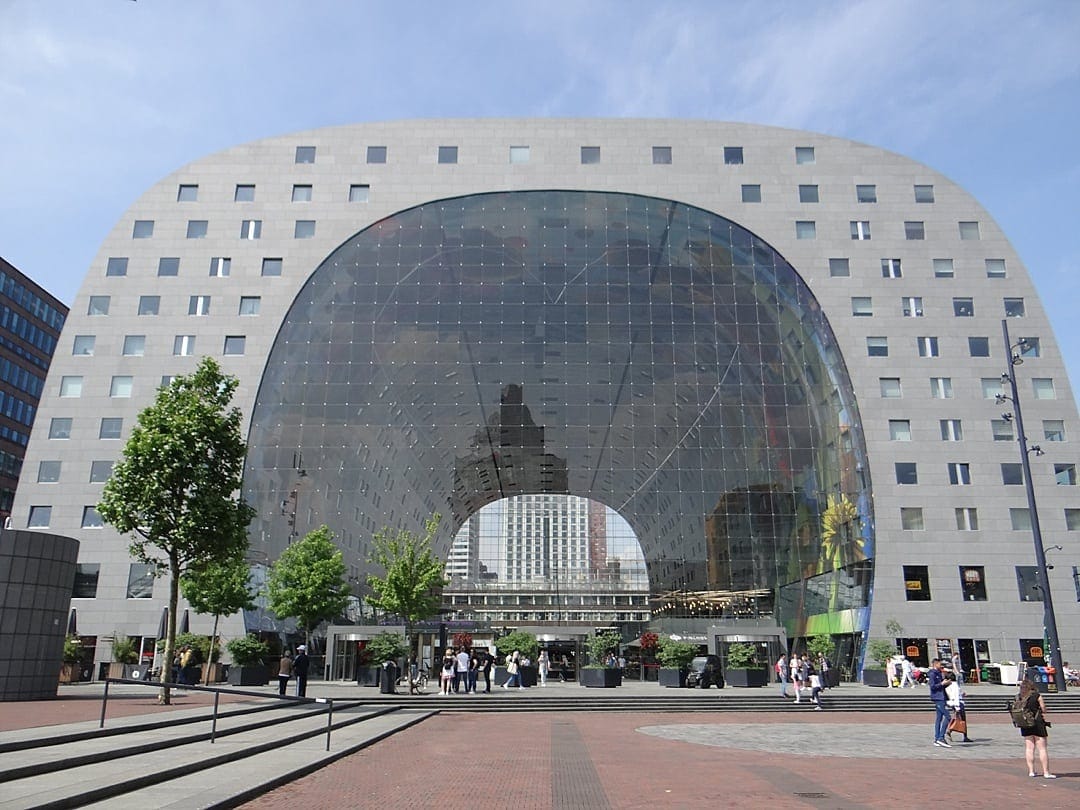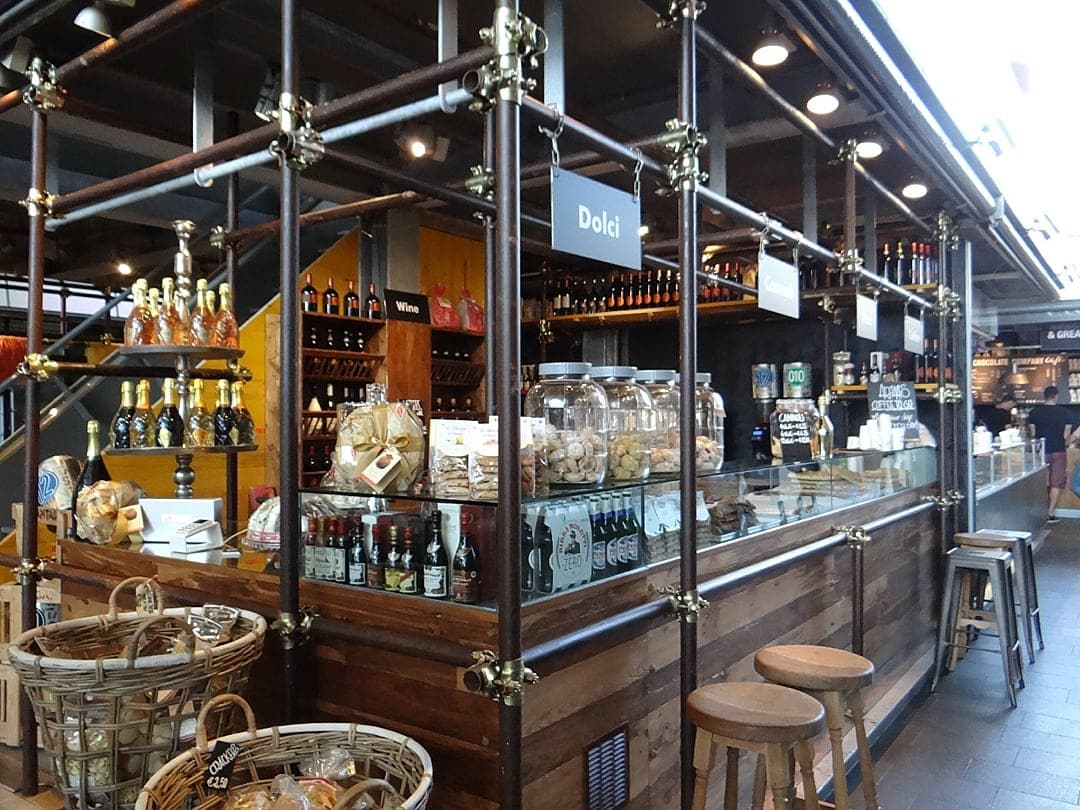 France
Avignon: Les Halles
Les Halles is the biggest market in Avignon. It's a modern undercover market right in the centre of the beautiful medieval old town, bursting with incredible Provencal tarts, cheeses, pastries and other French delicacies. There's even an oyster bar there and a couple of sit-down cafes where locals drink wine and read newspapers.
I recently spent the month of August in
Avignon, and
stumbled on Les Halles on my very first day. When I first saw it I was very disappointed to find it was in a big modern warehouse-style building rather than the charming outdoor set of tables creaking with bread and cheese I had imagined. But I went inside anyway…
and fell in love
. It was baking hot in
Avignon
(over100 degrees Fahrenheit or 38 Celsius most days) and inside, the market was an oasis of air conditioning and incredible aromas. It was honestly the most beautifully presented, gorgeous food I'd ever seen.
This market is special because of its food quality — all beautiful French cuisine — and the love that has obviously gone into making every item. I couldn't stop staring at the piles of crusty French baguettes the first time I visited (which sell out long before lunch time), the rows of tempting macarons and choux pastries, and the charcuterie stall with its huge pate pies. I bought a flaky, buttery apricot tart and ate it outside in the sunshine.
Les Halles is open Tuesday to Sunday, from :006am until 1:30pm on weekdays and until 2:00pm on weekends. It's closed on Mondays.
Maire, Temples and Treehouses

Paris:
Le Marché des Enfants Rouges
There is no better way to learn about local food than visiting local markets – Paris is no exception. The city has many colorful markets but Le Marché des Enfants Rouges is my favorite one. Le Marché des Enfants Rouges (Red Children's Market) is located in the historic neighborhood of Le Marais, in the 3rd Arrondissement of Paris. Today, it is the oldest working market in the city, originating in 1615! Its name comes from the old Hospice des Enfants Rouges (Red Children's Hospice) that used to be located nearby, where the children wore a red uniform.
I like to visit Le Marché des Enfants Rouges from time to time, usually when I am exploring Le Marais. Apart from its colorful food stalls (apparently it is very popular amongst Instagrammers) with the best food in Paris, there are also stalls with quick prepared meals to eat on site for a good price, from burgers made with regional meat, to less Parisian yummy couscous.
Elisa, World in Paris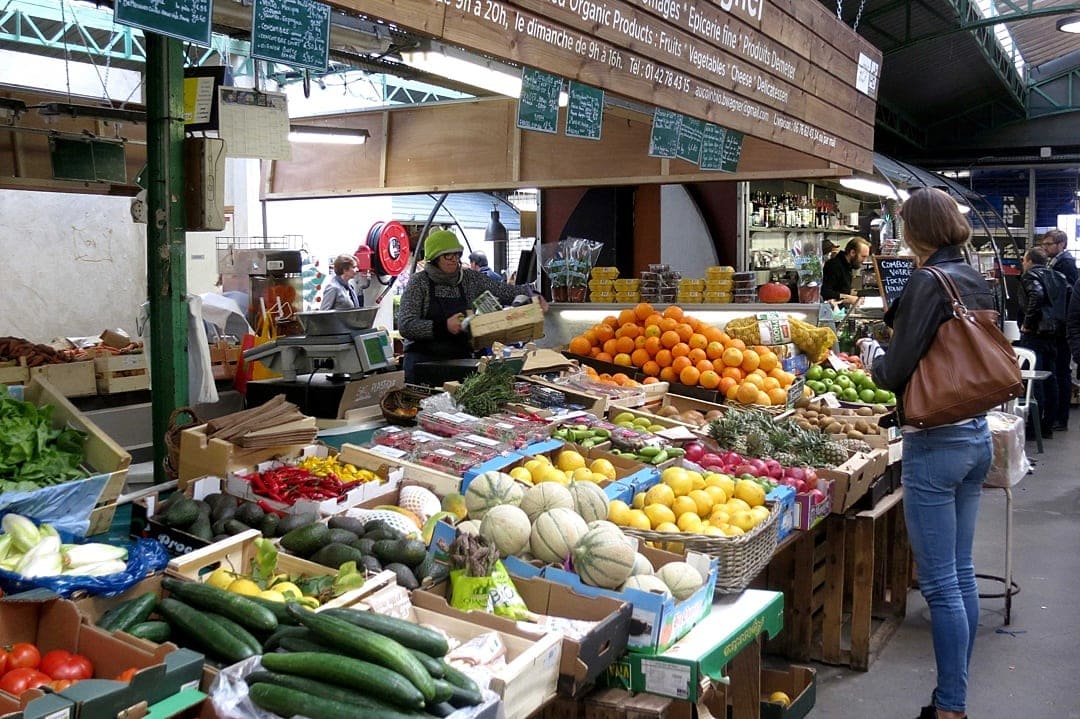 Germany
Dusseldorf:
Carlsplatz Market
Carlsplatz Market has been operating in Düsseldorf for hundreds of years. Though it originally started as a grain market, it has expanded to become a permanent fixture of the city, laid between the Altstadt and the Carlstadt neighborhoods. It's become a regular lunch stop in the area where locals come by for fresh bread, vegetables and meat several times a week. The market also hosts events and community classes. Its location makes it a great diversion for visitors as it's a short walk from several city museums and attractions, including the Königsallee, the Altstadt, and the Rhein Promenade.
The market features over 60 stalls with a wide variety, almost replacing a need for supermarket or mass produced food products. Fresh fruits, vegetables and meats can be found here as well as fresh made cheeses, sausages and butters. You can grab a bottle of wine and blooming flowers to brighten a table. There are spices and herbs for home cooking and specialty delicatessens that boast gourmet choices. Those wanting an on-the-spot snack can find any number of options to eat and drink from full gourmet meals, to coffee, smoothies, and ice cream. We stopped for ice cream on our walking tour, and were quite delighted, each of us tasting the others' flavors. They were bright and crisp; a refreshing treat.
Roxanna, Gypsy with a Day Job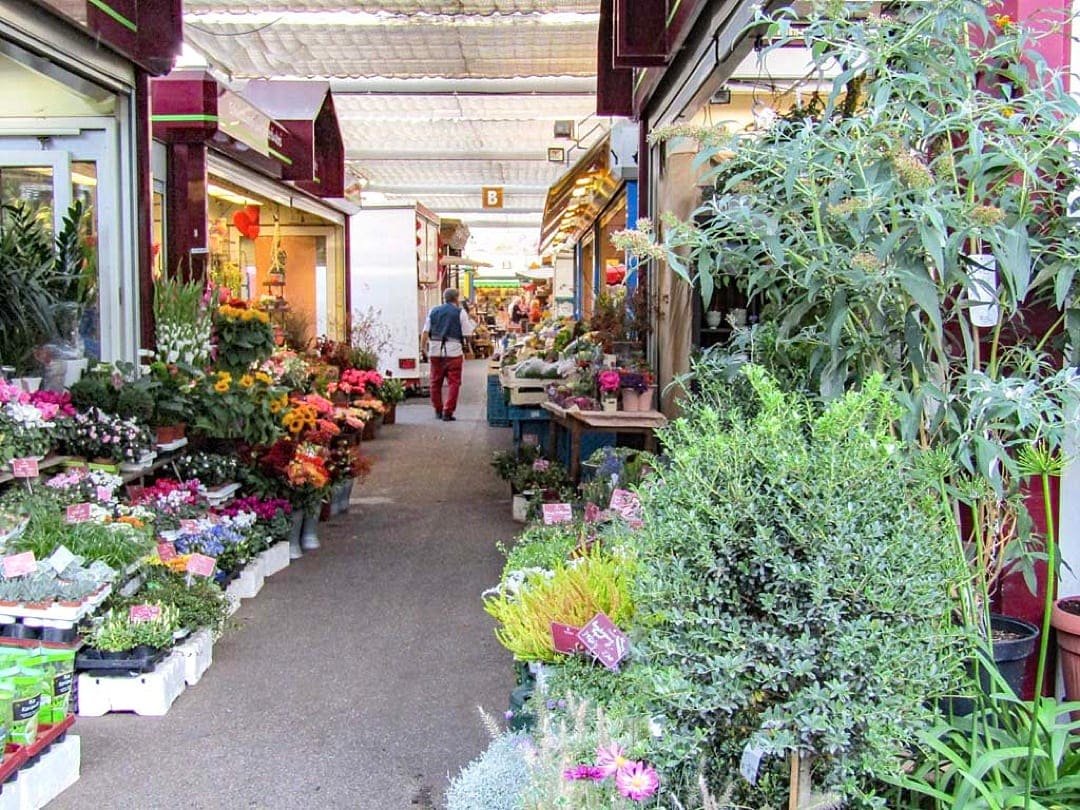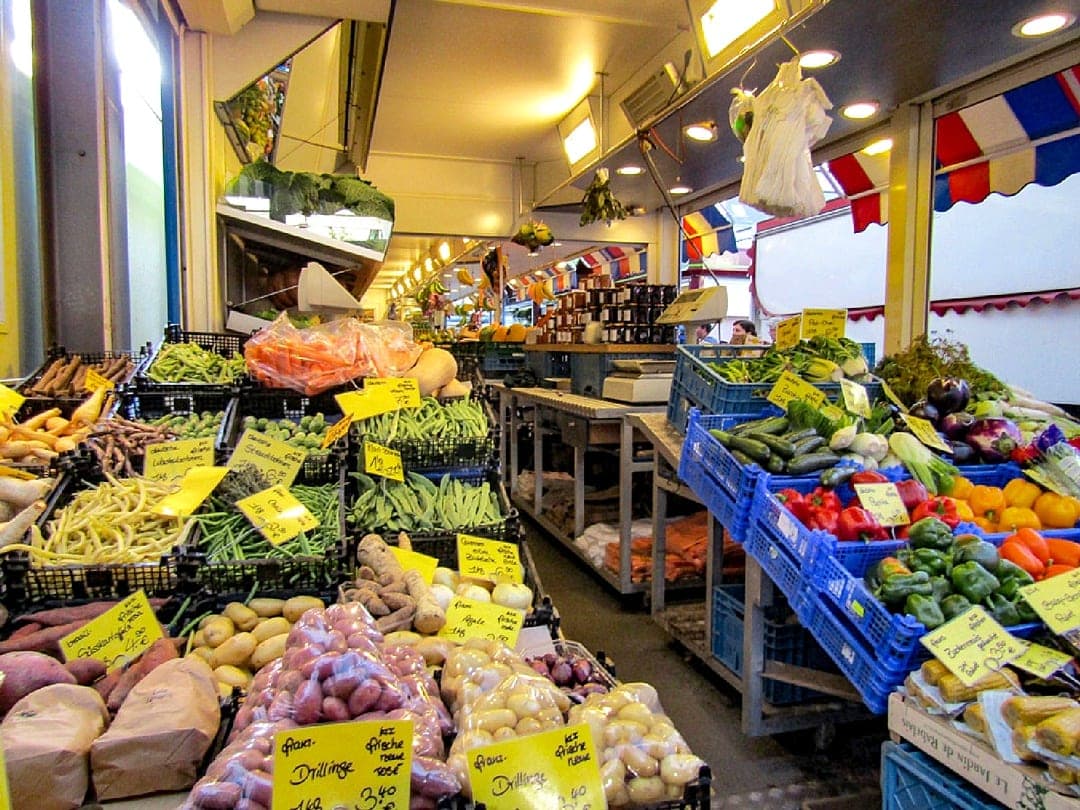 Berlin: KaDeWe (Kaufhaus des Westens Department Store)
I heard about the celebrated KaDeWe long before I ever knew I would be visiting Berlin. It is said to be continental Europe's largest department store but I hadn't heard about the spectacular food hall on its upper floor. Fortunately, my hotel — Hecker's Hotel Berlin–was within easy walking distance so it was one of my first stops after settling in.
I might have missed the food hall as I was tired from traveling and traipsing through endless floors of merchandise, except for my traveling mate who was up on all things food. So we went on up to the Gourmet Floor/6th floor and exclaimed at the sight of sausages from each region of Germany, cold cuts, wines, cheeses, breads, chocolates galore, and way more.
Mini counters are provided where shoppers can sit to enjoy everything from North sea shrimp sandwiches to bouillabaisse soup. Advertisements claim the hall is larger than two football fields (or U.S. soccer fields)!! What a delicious feast we enjoyed!
Carole, Travels with Carole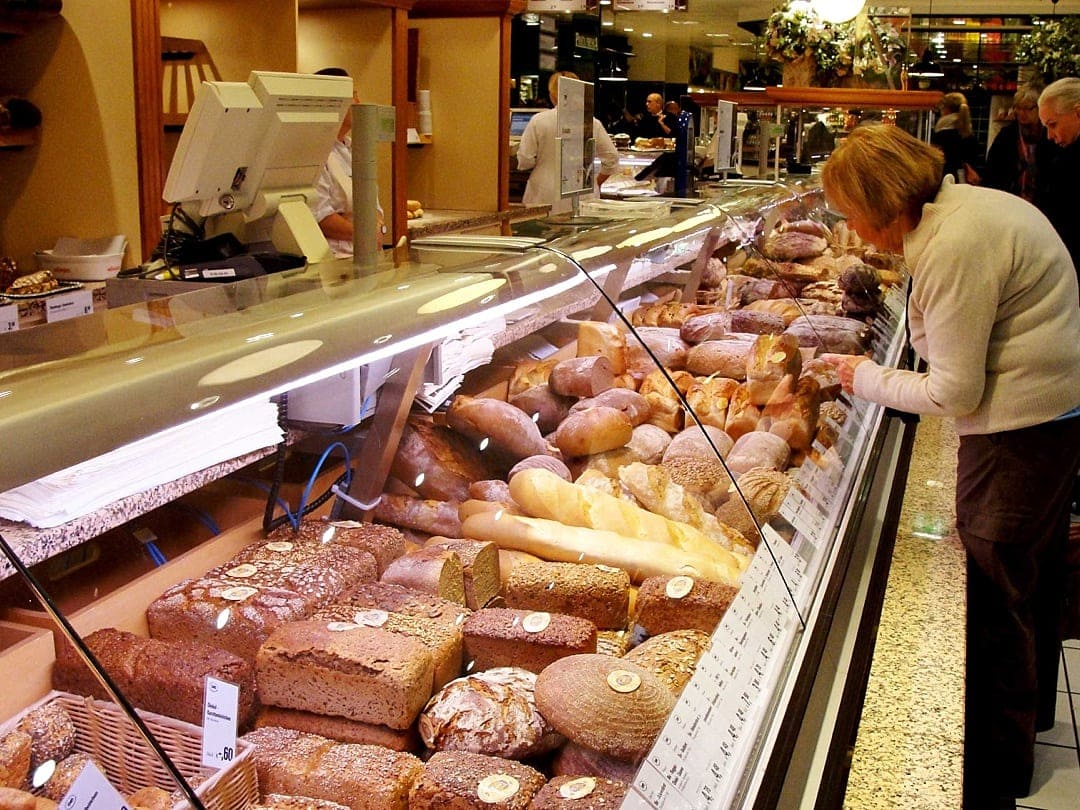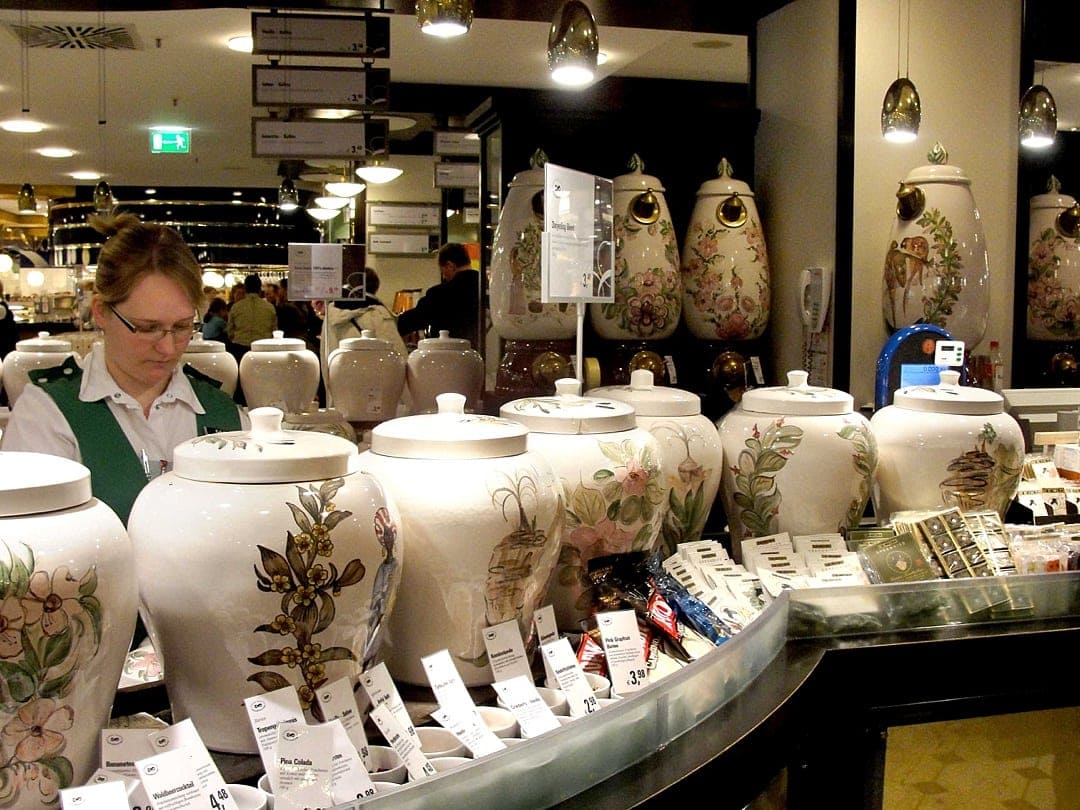 Austria
Vienna: Naschmarkt
Vienna's open markets have grown in numbers recently but one of the best food halls and markets that stand out and is easily accessible is the Naschmarkt, very near the city center in this Austrian capital. It's not just a market selling spices, herbs and delicacies from around the world – it's literally a hotpot teeming with known dishes from famous cities. There's all kinds of meat cooked in the ways of the Thais, Austrians, Indians, Chinese, Japanese, and Greeks. You can have chicken a la Turkish, fish as fresh from the Italian coast, German prepared pork, and Korean cooked beef.
A wide range of sweets and baked goods are also available, after a hearty meal. Among the many things you can buy here are a selection of cheeses from many stalls, wine and vinegar in big bottles on display, candied fruits, fresh seafood, and seasonal fruit. There's also a flea market at the end with trinkets and bric-a-bracs you can take home for a small price.
Although I often go to buy ingredients for home cooking, my kids enjoy walking and going around the market like it's a maze whose exit they know. It's always a happy scene to watch them giggle as they go around discovering colorful food, fruit and whatnots.
Maire, Vienna: 101 Facets about the Austrian Capital
Not an Austrian local? Tour the market with someone incredibly familiar with it during your trip!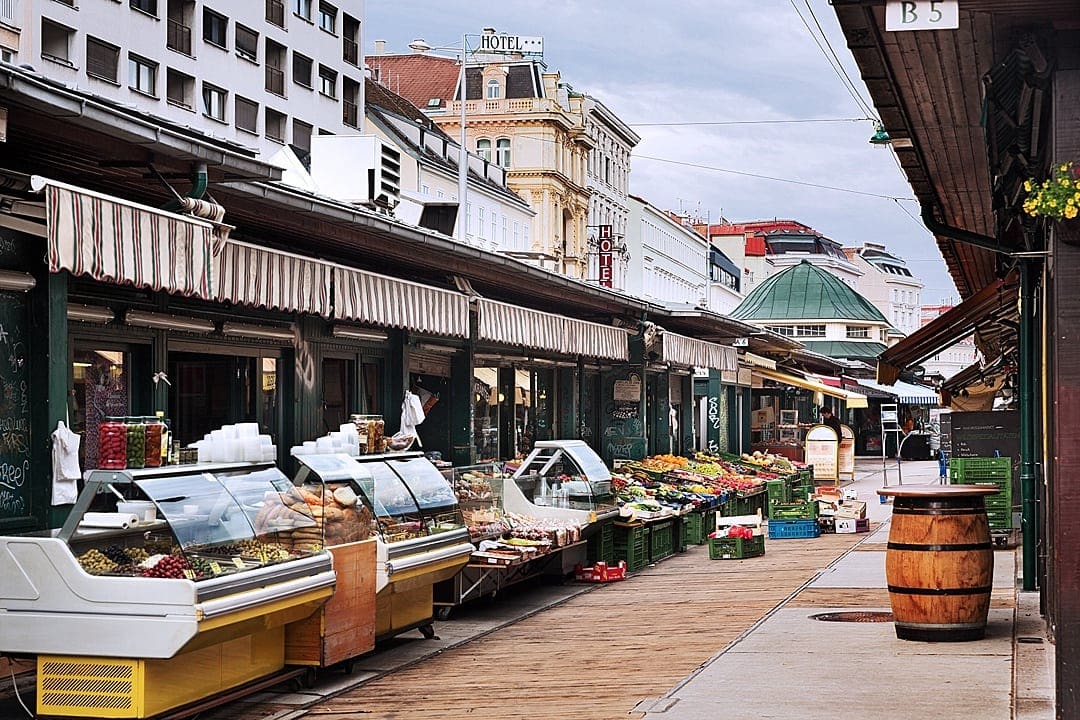 Salzburg: Augustiner Beer Hall and Delicatessen Arcade
Set in the foothills of the Alps, Salzburg has just about anything a tourist and traveler could want in a city. Yet it is the Augustiner Brewery and beer hall that has called me back to the city time and time again.
There is something about walking up the steps and opening the doors to see huge, ceramic mugs being filled from what looks to be a water fountain. The
beer
flowing from the fountain taps was the first
beer
I actually ever enjoyed in my life!
It isn't all
beer
at the
Augustiner, it's about community too.
If you walk through any of the huge
beer
hall
rooms with dark wood details and long tables you'll see tourists and locals alike enjoying the tradition of what a good
beer
hall
is supposed to be about: good atmosphere, good people, and good food and drink! Don't be too shy to ask to share a table if it looks like most are taken. Most people love inviting you in for a Prost, conversation or even card game (as we were so lucky to have!).
If you're hungry (and you SHOULD arrive here hungry!) all you have to do is wander the outer perimeter hallway to find something for everyone at the Delicatessen Arcade! One of my favorite things about this food
hall
is that no matter how touristy the brewery may become the food has remained authentic, traditional and delicious!
Of course, there are expected Austrian foods, like brats, grilled fish and pretzels. But you can also get things like spiraled radishes, amazing pastries, specialty Austrian cheeses and of course schnitzels, in addition to other strange (but delicious) meats. I get the bread dumplings and sauerkraut every.single.time I visit and I highly recommend it. Pair it with one of their fresh beers and you'll be singing about Gemütlichkeit in no time!
LeAnna, Well Traveled Nebraskan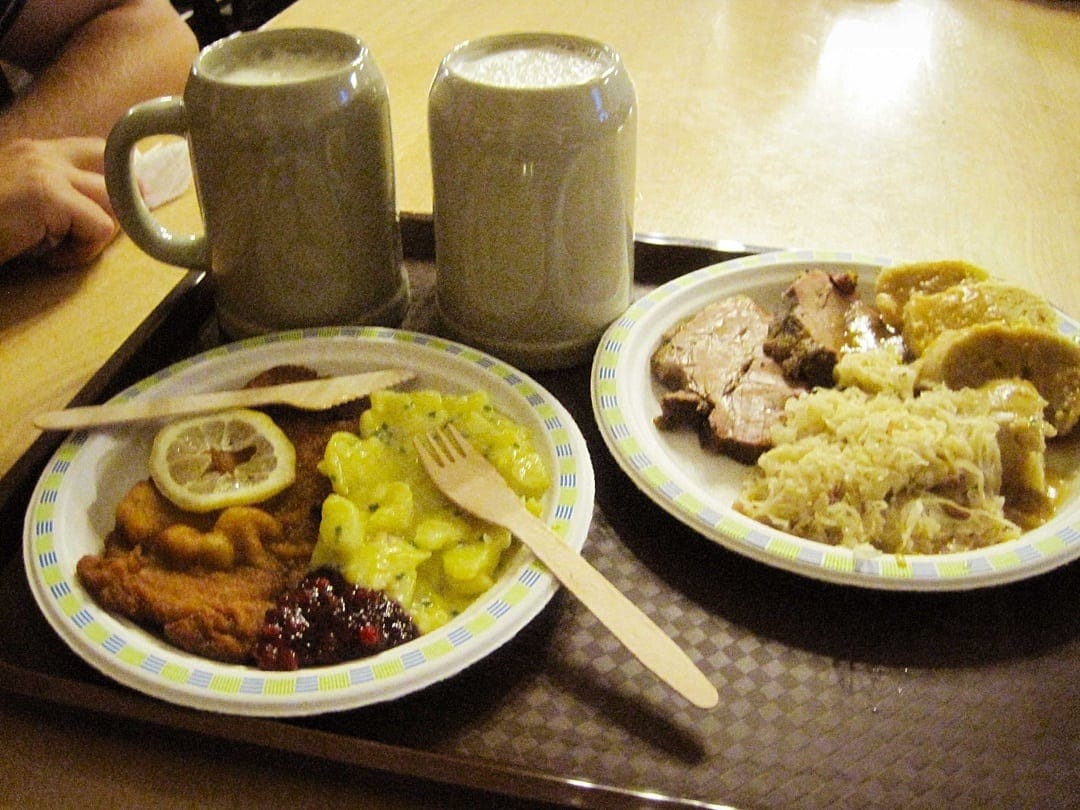 Disclosure: There are affiliate links in this post, which means we may earn a small commission if you click the link and proceed with a purchase. We only recommend products or services we personally use and recommend.
For more amazing food markets around the world check out the other regions in our series:
Have you been to any delicious food markets in Western Europe? Let us know in the comments below!