The Best Food Halls and Markets: Asia, Africa and Oceania
Food markets capture my attention and heart anywhere I travel. I'm always in search for them and I've been known to plan my days around food. What's a foodie to do when dreaming of her next destination other than put together lists of the best food halls and markets around? This is part of a larger food series on Sometimes Home. Here, we explore:
Please click through the below for other"best food halls and markets" in the following regions, also linked at the end of this post: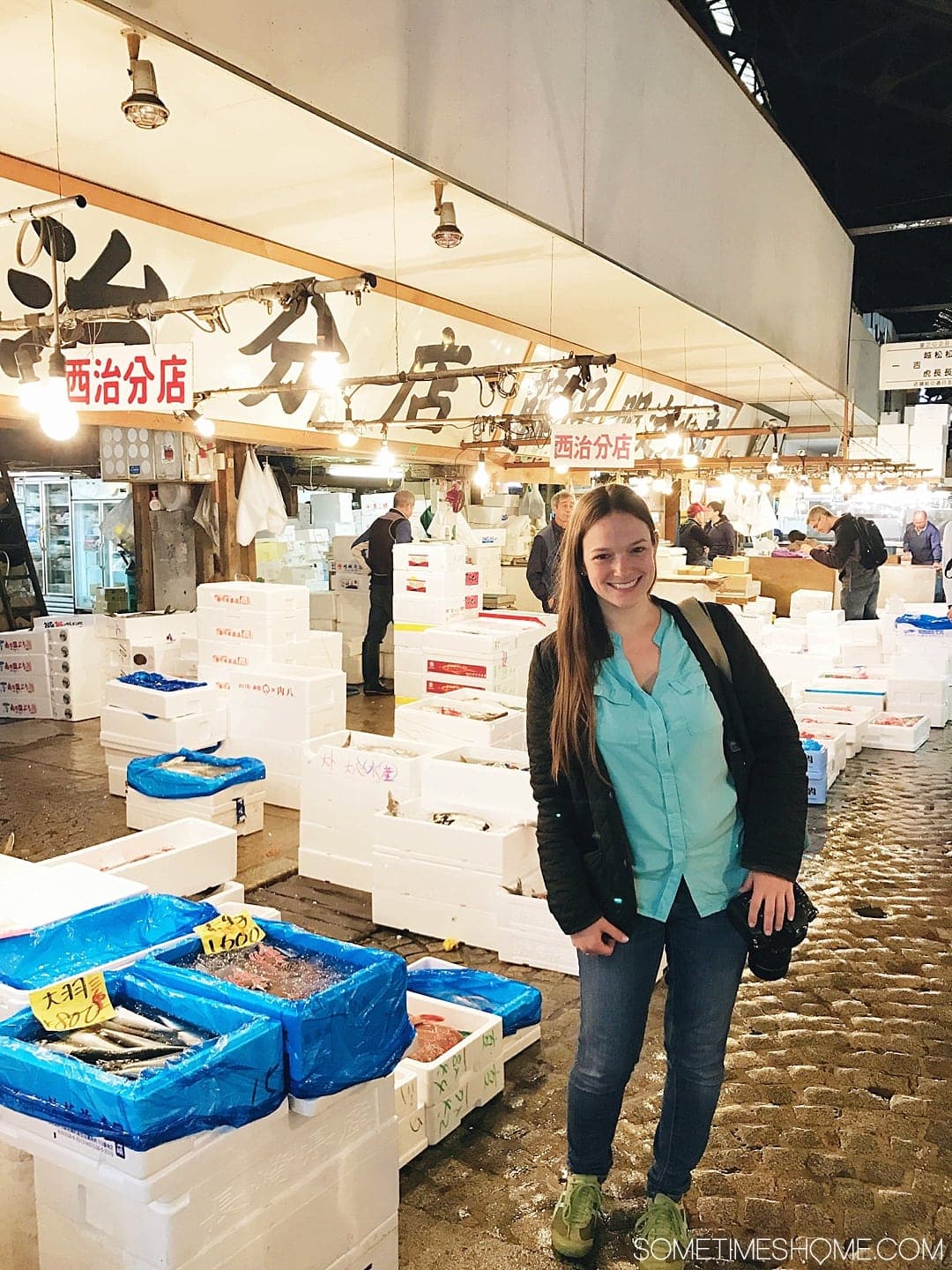 ASIA
Japan
Tokyo: Tsukiji Market
Food markets are always at the top of our list of places to visit when we travel. On our recent trip to Japan, we just had to fit the Tsukiji Fish Market into our Tokyo itinerary.
While the Tsukiji Fish Market is most famous for its early morning tuna auction there is much more to this market than just the wholesale aspect.
Tsukiji Fish Market is split into an inner and outer market. Within the inner market, you can view and purchase all types of seafood, crab, oysters, octopus, fish, abalone, sea urchin and even controversial whale meat. Don't worry the smell isn't too overpowering as everything is super fresh and the market is clean and well ventilated.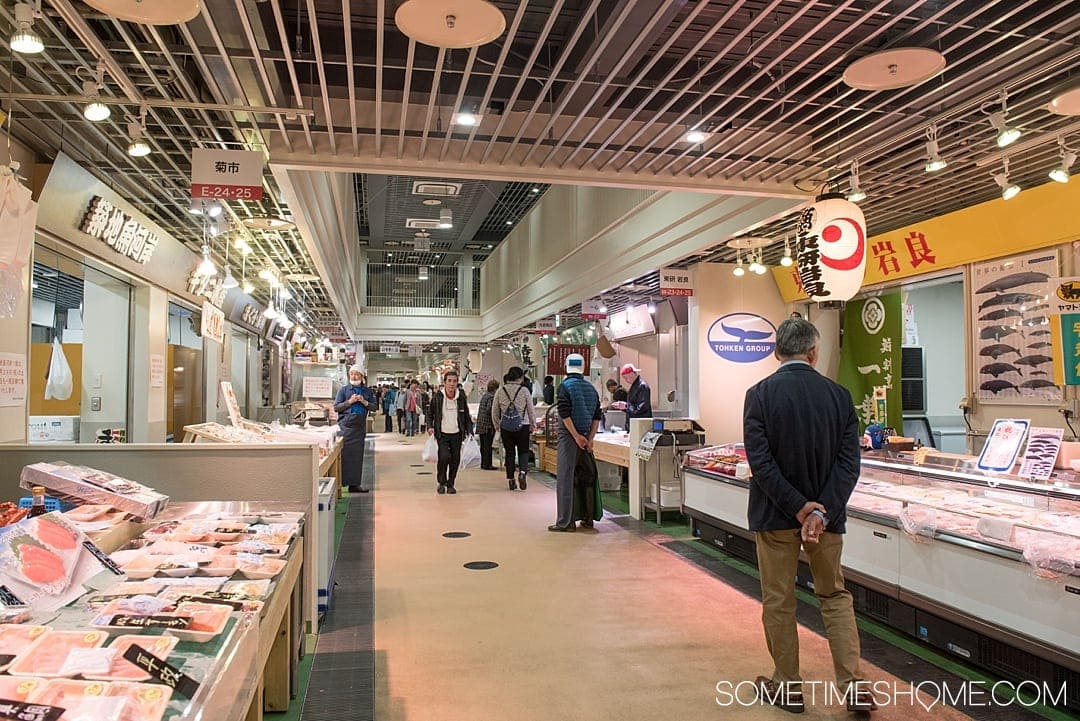 Eating isn't allowed in the inner market but you can take an elevator to a large rooftop terrace where eating is permitted. This is where we ate our sashimi and oysters with a drizzle of soy sauce. They were so delicious, cool and fresh that we immediately headed back down to get a second serving.
The outer market is a bustling network of narrow lanes lined with restaurants and stores selling seasonal fruits and vegetables. White strawberries, a popular and expensive delicacy in Japan, were in season during our spring visit. There is an abundance of restaurants to choose from that all serve food made with fresh ingredients they purchased at the market that morning.
Spend some time wandering the streets looking at the assortment of knives, cookware and the realistic resin food so often seen in restaurant windows throughout Japan.
The market will be relocating during 2018 so be sure to double check the current location before you visit.
Kaylie, from Happiness Travels Here
Interested in a guided tour of the Tsukiji Market? Check out these options.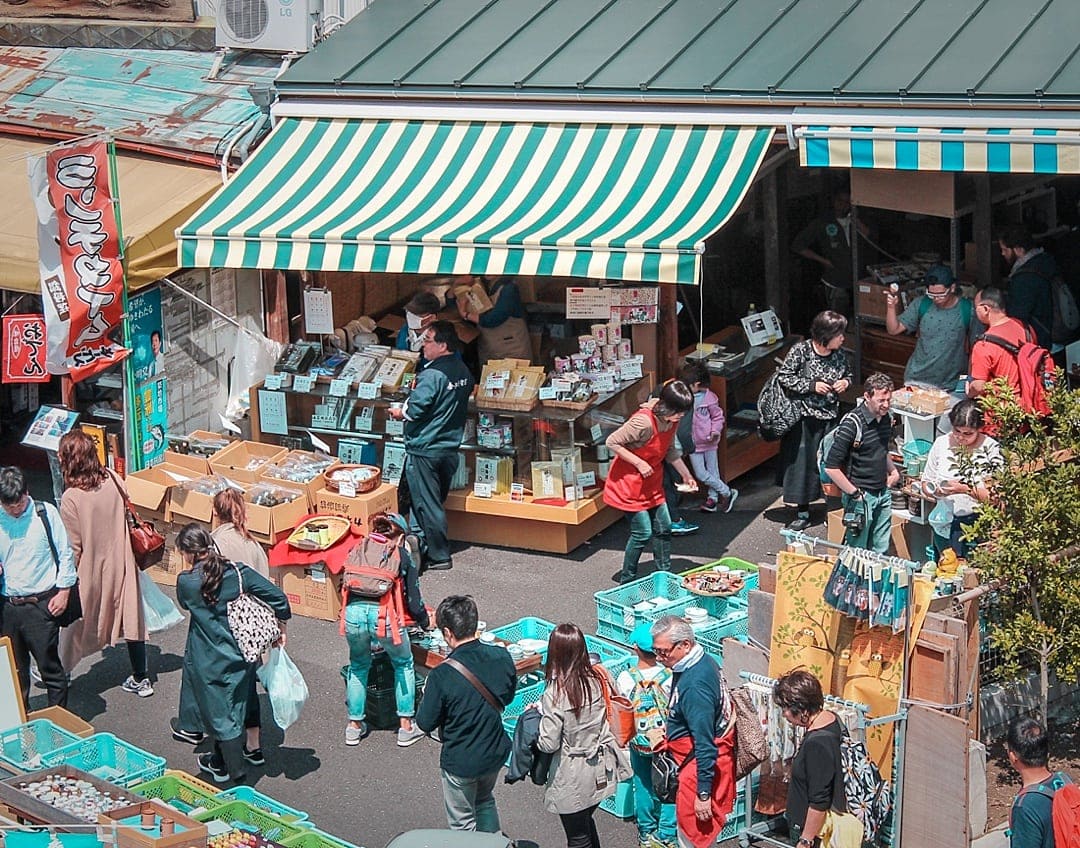 South Korea
Seoul: Gwangjang Market
The first permanent covered
market
in Korea is
Gwangjang
M
arket,
located in Jongyo, Seoul. It was built in 1905 and is still a very popular street food destination especially among local Koreans. Even though
Gwangjang
Market
is one of the biggest
markets
in Seoul, it is still a hidden gem when it comes to foreign tourists.
The market houses over 5,000 shops divided between two floors and has more than 20,000 employees. You'll find a street food area on the ground floor, traditional Korean restaurants, Korean snack shops and all sorts of clothing shops. The second floor is entirely dedicated to second-hand clothing.
Must-try foods at the market stalls are live octopus, Korean beef tartar, buckwheat pancake and red bean porridge. You can easily visit the market by yourself and order items as most restaurants have pictures of the dishes on the menu or take a market food tour.
Maria, Be Marie Korea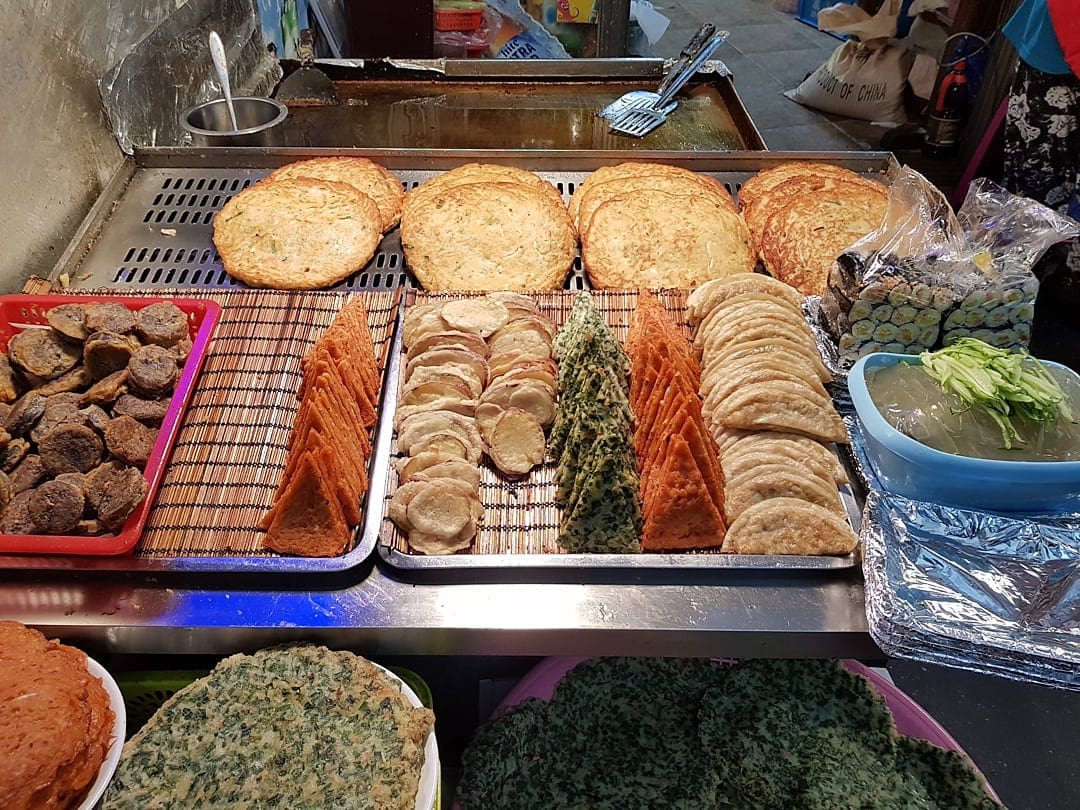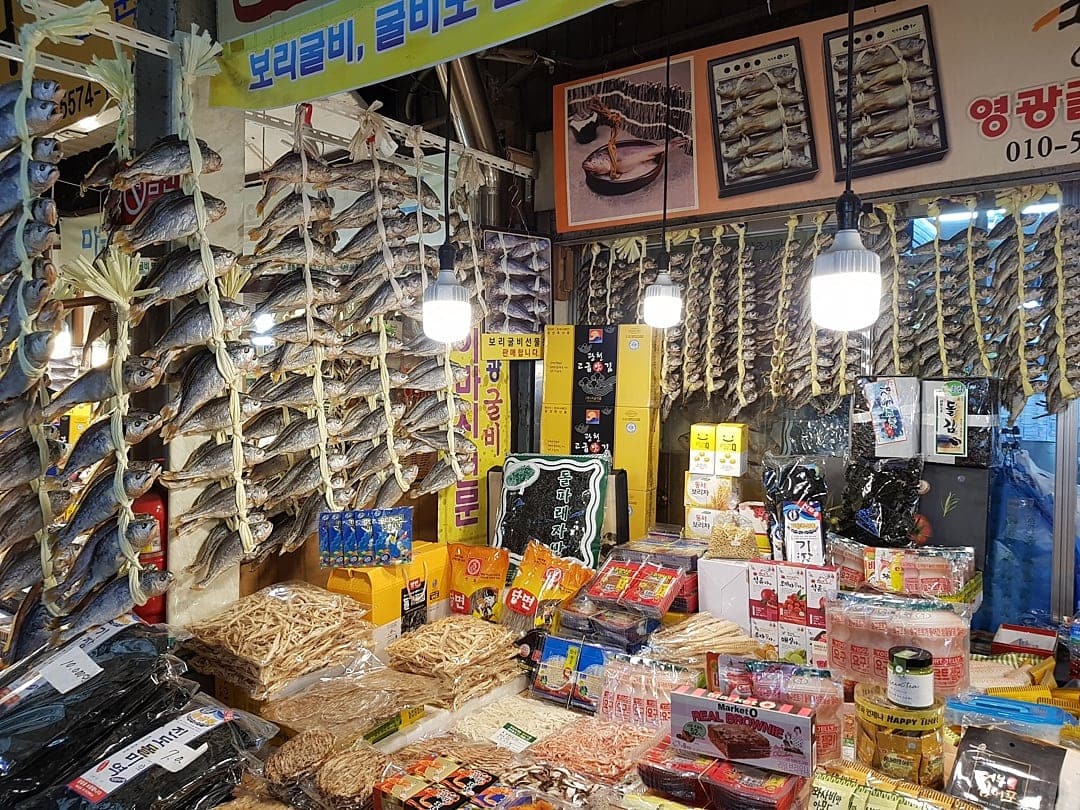 Singapore
Singapore: Lau Pa Sat
Lau Pa Sat (also known as Telok Ayer) food market is a small food bazaar surrounded by towering skyscrapers in Singapore's financial district; it has both history and flavor. Gazetted as a national monument in 1973, the building is an architectural gem designed by Municipal Engineer James MacRitchie, whose name is also shared with the oldest reservoir in Singapore.
The octagonal design is unique in its shape in that it provides an airy feel throughout its interior. The structure itself is made from tough cast iron and has elaborate filigree work below its elevated arches.
This is probably Singapore's most beautiful Hawker Centre, and eating at Lau Pa Sat goes beyond grabbing a quick snack. It's a place to stroll around as you admire the intricate detail that went into building such a complex. Because of this, be sure to look up while you bite into your Hainanese chicken rice from Whampoa Nanxiang (stall 52). You can try a variety of cuisines from Korean to Malaysian to Hokkien – just follow your nose. If you're lucky, there may even be music playing as you explore one of the best food halls and markets in the world. If you go during the day, the Indian stalls and the dim sum are also a great try of the local food scene.
Lau Pa Sat is well known for its nightly satai market, enjoyed by everyone from office workers to backpackers and Singaporeans. These delicious pieces of BBQed meat on sticks are grilled fresh every evening on one of the market side streets to everyone's delight.
Callan and Mar, Singapore n Beyond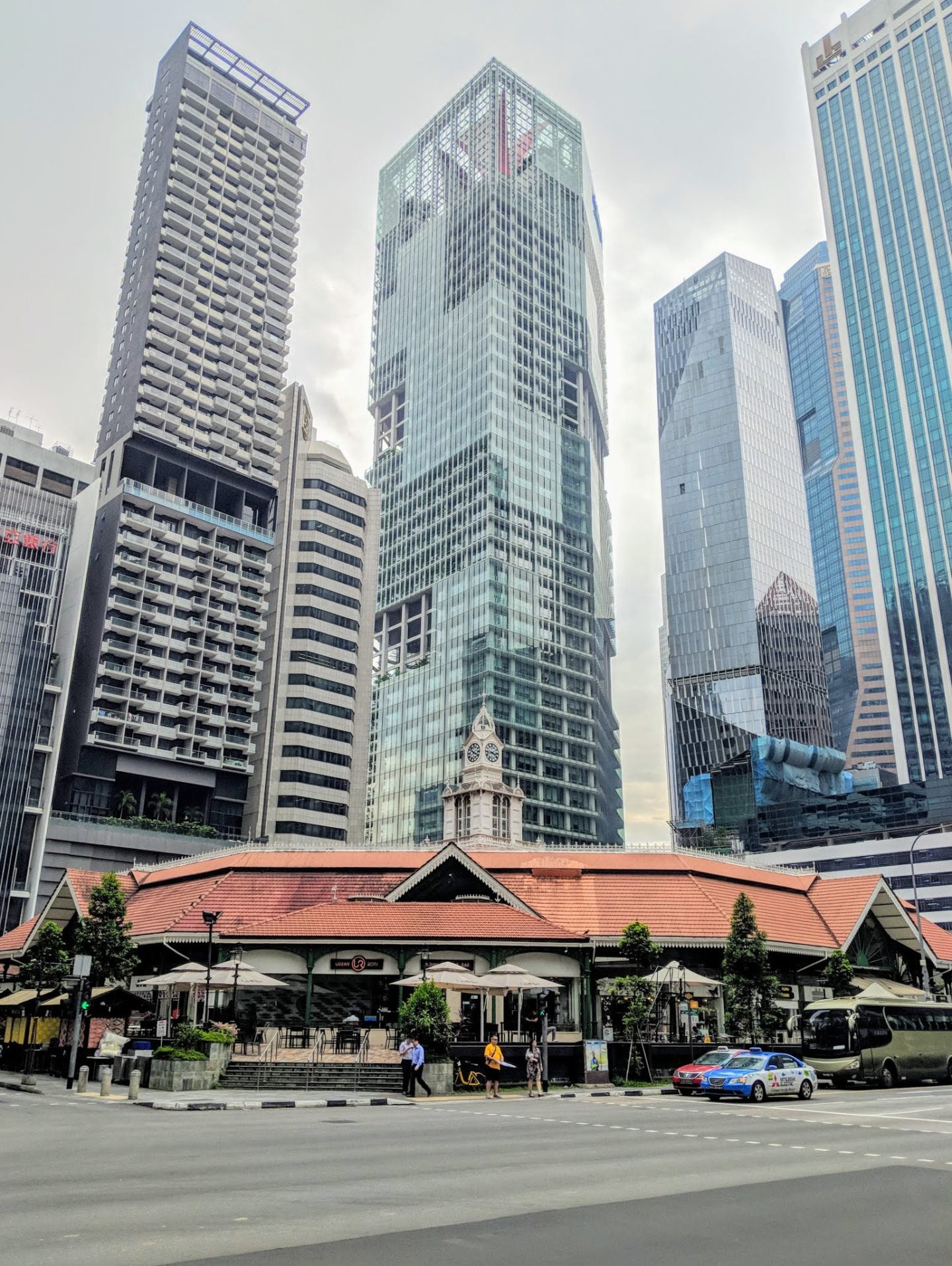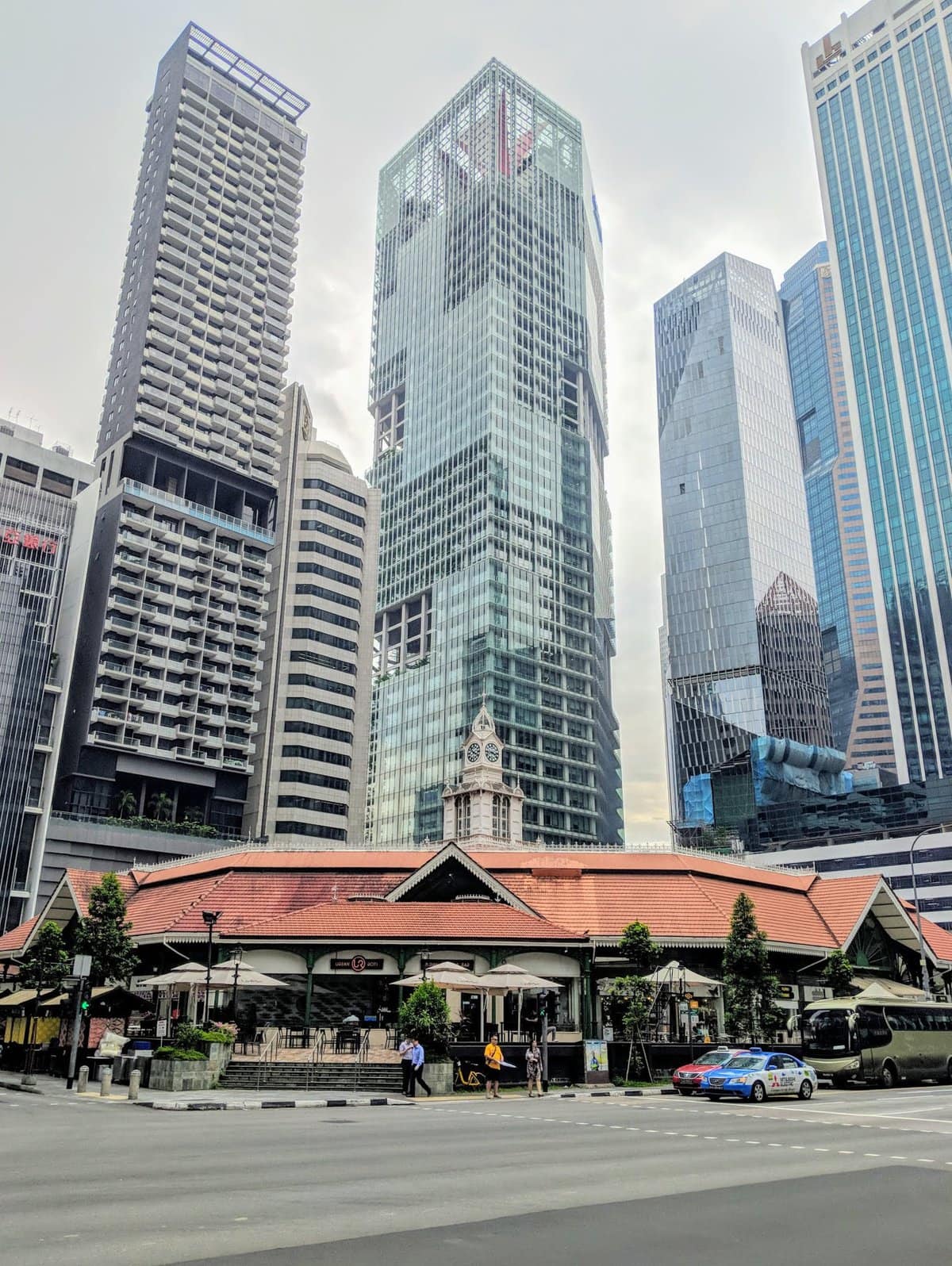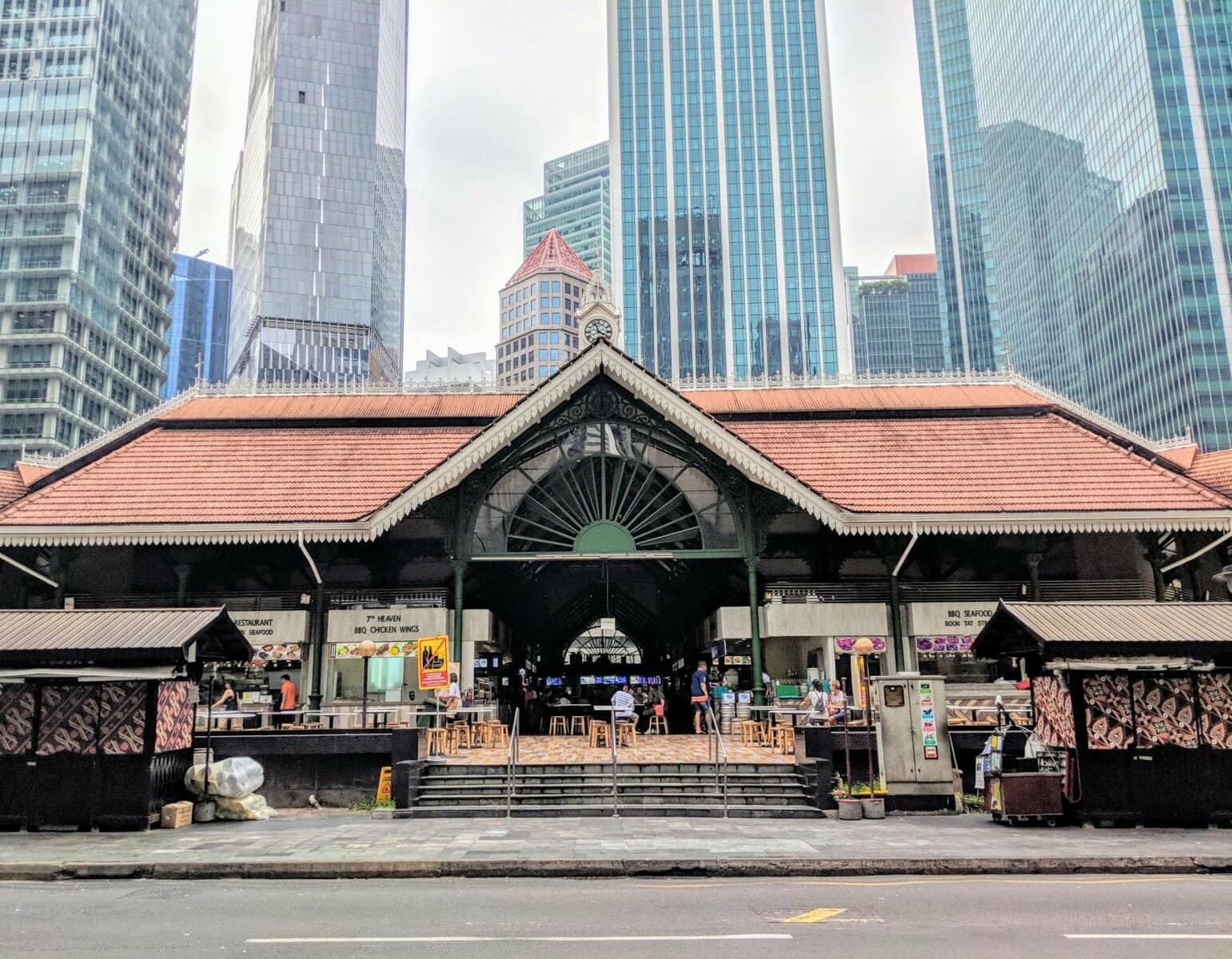 Singapore:
Tiong

Bahru

Hawker Centre

One of the best

things to do in Singapore

is to fest on its

food

. Luckily you don't need to spend a fortune to have a delicious meal even though Singapore is not very budget friendly. These food markets are all over the city but my favorite is

Tiong

Bahru Hawker Centre

.

Tiong

Bahru

is the oldest housing estate in Singapore. The area, especially the Hawker Centre, isn't too touristy. I was taken there by a local and had a great time exploring this part of the city. And, of course, the

food

.

You can find a huge variety of food and drinks here; I recommend trying to

find a local to accompany you

for an enhanced experience. I enjoyed learning more about the neighborhood through its cuisine and Singapore, in general, this way.

Bilyana, Owl Over The World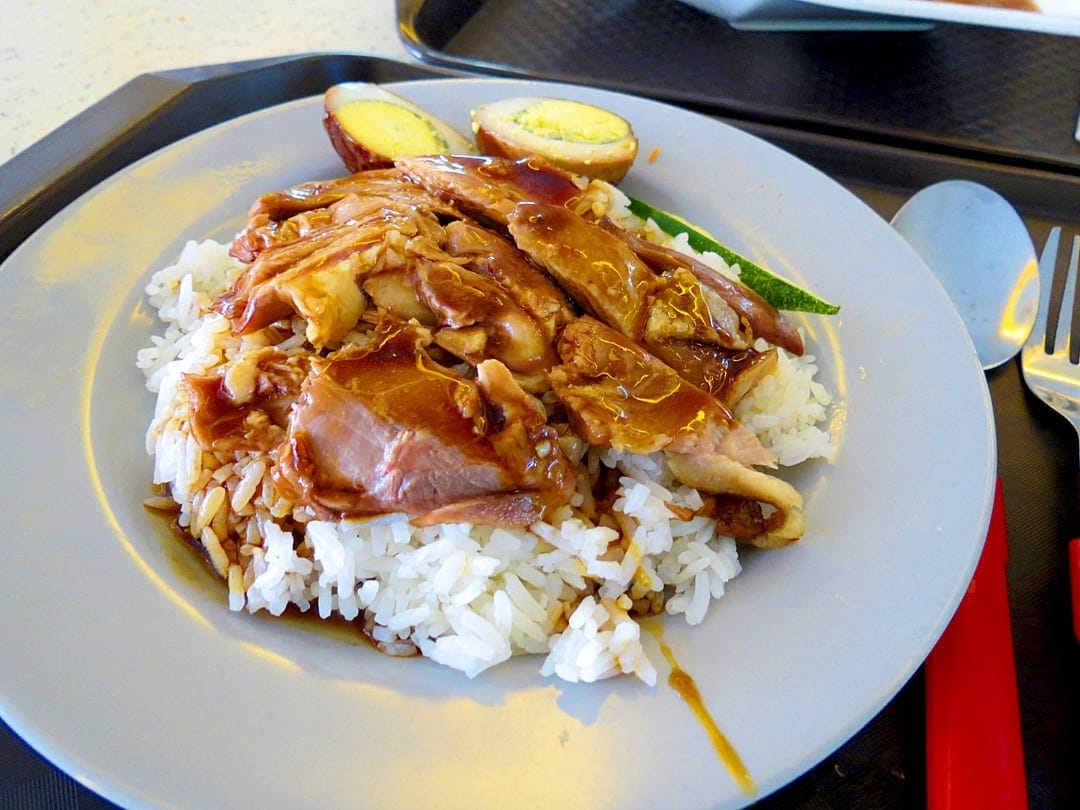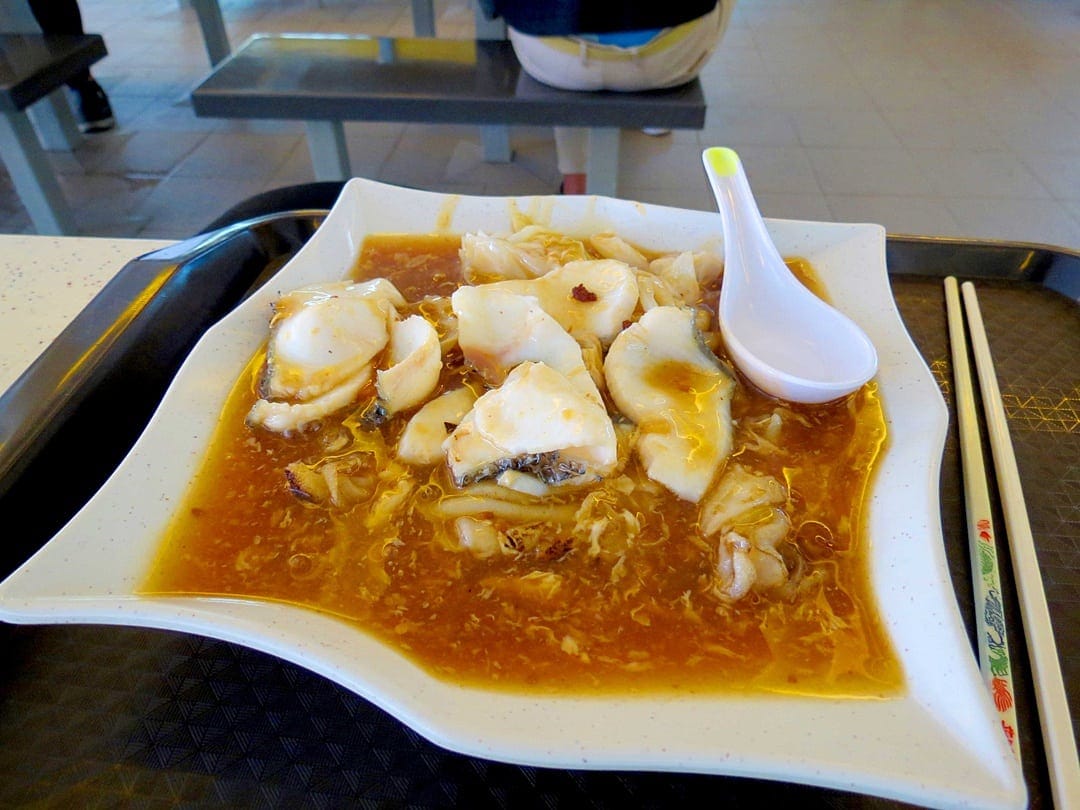 Taiwan
Taipei: Night Markets
I was completely overwhelmed the first time I stepped into a Taipei night market during my first day in Taiwan. The crowds were so thick I had to squeeze my sweaty-self past others, while sizzling BBQs and caldrons of Chinese stews seemed to only make it worse.

Ten years later I'm still in Taiwan, and I've long since learned to love the city's famed night markets. Taipei is known across Asia as a street food city. In fact, many traveling foodies come to Taipei for the sole purpose of eating; night markets are the quintessential place to do it. Even Anthony Bourdain made a point of checking them out! My mistake on that first day was going during peak time. It was the most popular food market, on a Saturday night in the middle of summer.

There are at least 30 major night markets in the greater Taipei area, all focused on food. But the five most popular ones are:
Shilin

Raohe

Ningxia

Tonghua

Huaxi
Some must-try snacks are oyster omelets, vermicelli stew, stinky tofu, grilled squid, sausages, mochi, deep fried chicken fillets, shaved ice desserts, and bubble tea.
Nick, Spiritual Travels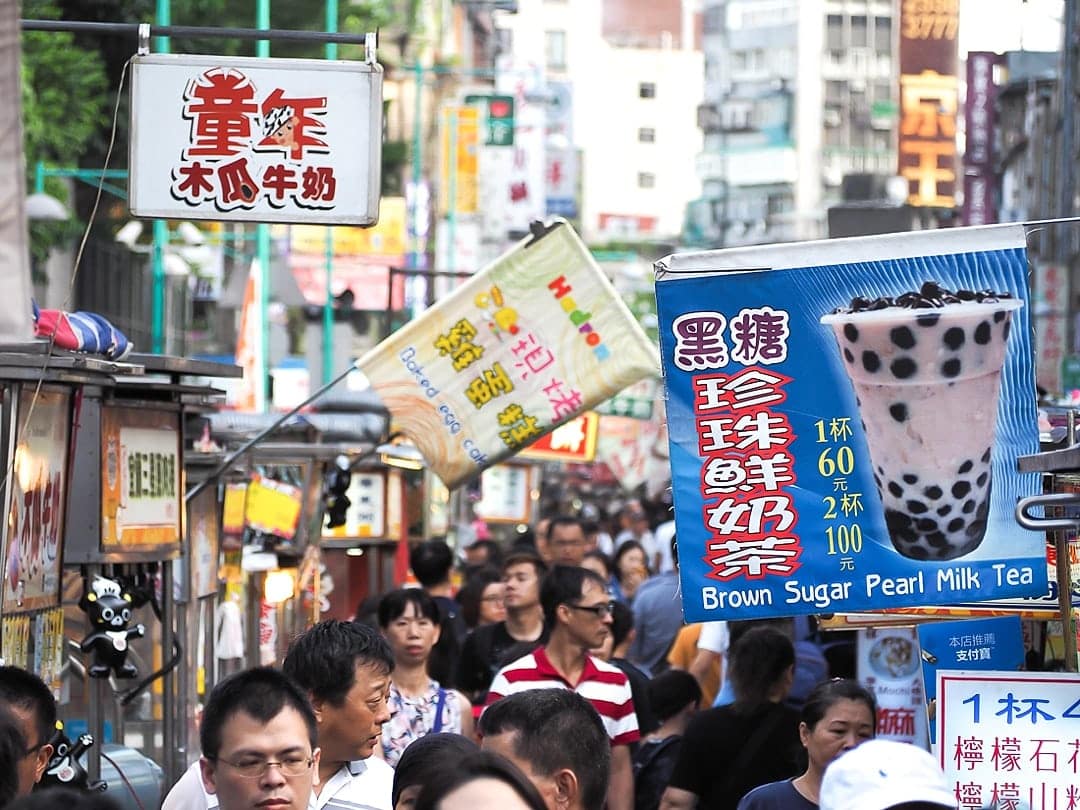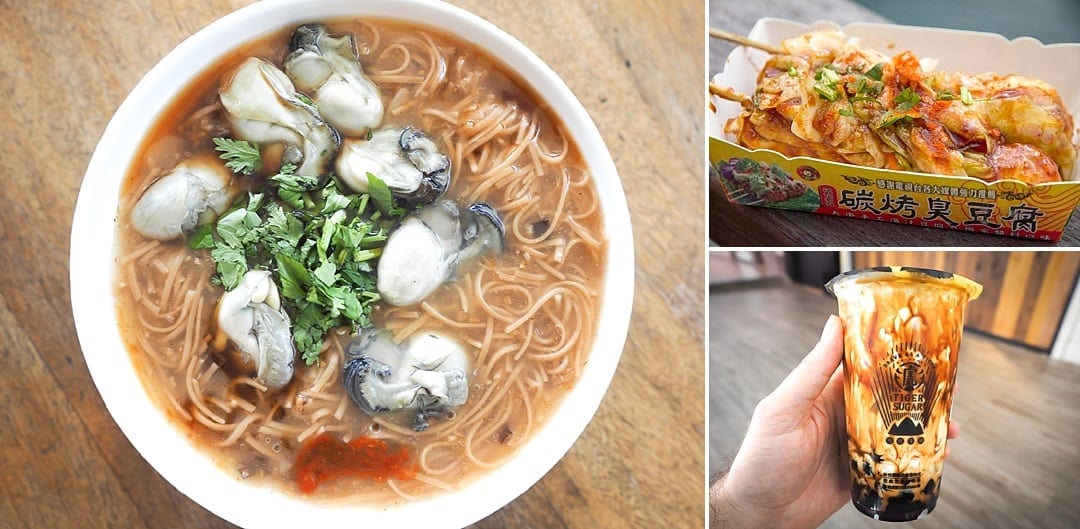 India
Dehli: Paranthe Wali Gali, Chandni Chowk
Taking the metro to the Chandini Chowk station always reminds me of the delicious fried aroma waiting just a bit away. To be precise, it's located on the by-lanes off the opposite side of the road. Paranthe Wali Gali of Delhi was once one of the most visited attractions of the city. Chandni Chowk is home to some of the best street food in Delhi.
I remember visiting with my parents in 2012. The shops were small but the paranthas were, overall, indeed big. (Paranthas are round Indian flatbreads, stuffed with a variety of fillings.) Photos hanging on the shops' walls are proof of how many famous celebrities visit the shops to have them.
There are loads of varieties of stuffed paranthas there, like the one that remains in my mind until now: ghee deep fried aloo-methi served with kele sonth ki chutney and pumpkin curry. But there are more fillings as well, like a savory parathwala parantha option with dal, potato and besan-methi. Another famous item to eat here is Chole Kulche (a stewed chickpeas dish, pictured below).
The sweet section is loaded with fillings of rabri, khurchan, khoya, and rava. Washing it all down with a famous lassi (a sweet yogurt or milk based drink) provides a perfect end to the meal.
If you're heading to Delhi, India, don't miss one of the best food halls and markets on Earth. It will take you on an awesome food journey.
Seema Gurnani, Panda Reviewz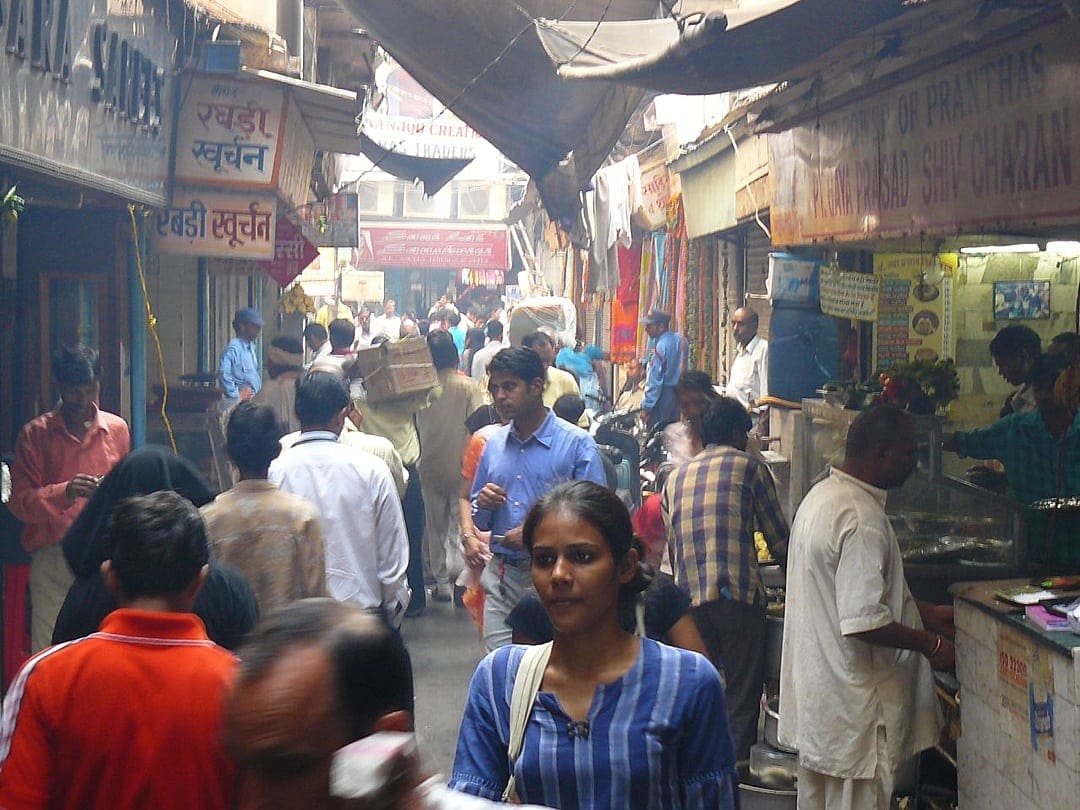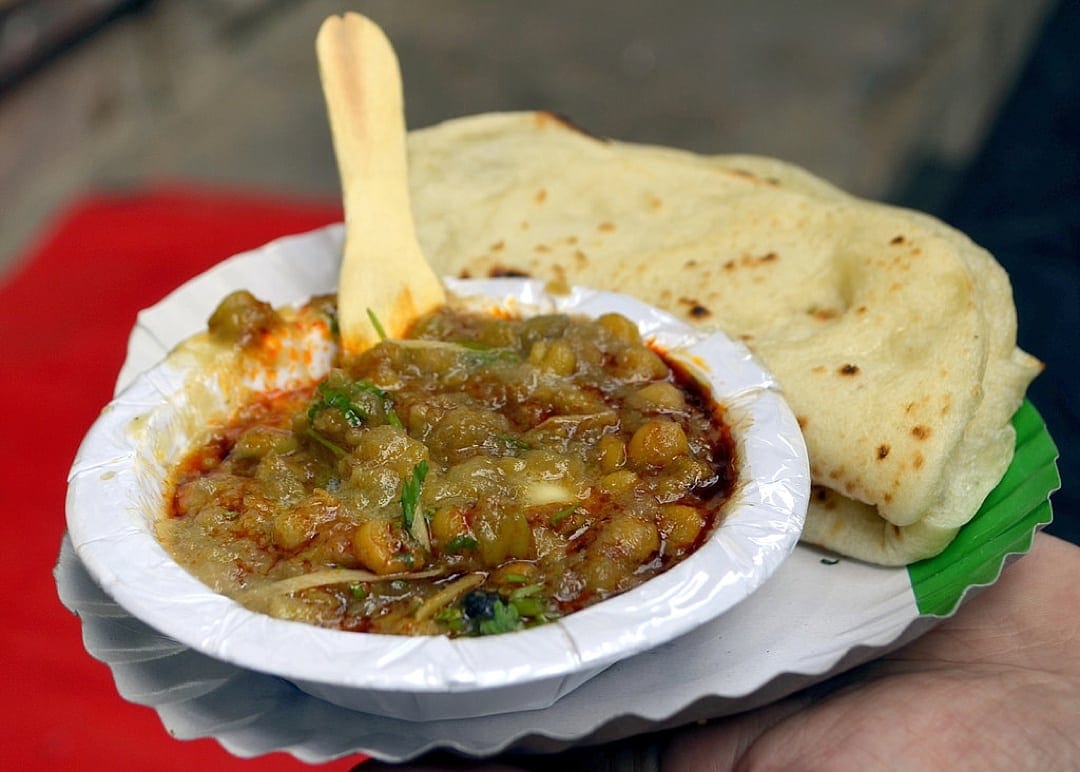 Darjeeling: Keventers
I would give my preference to Keventers in Darjeeling, India as one of the best food halls and markets I've been to. I visited it early one morning when I was on a trip to East India with three other people. The food market is situated a little over a quarter of a mile from a mall and public bus stand where we started our day. We watched the glorious sunrise across the snow clad peaks of the Eastern Himalayas and got to Keventers around 10:00am.
We visited the market to get some local groceries, fruits and vegetables. The milkshakes we had to nourish ourselves after the tiring trek uphill were very affordable! We paid a little over one dollar per bottle and our bill was only about five dollars total. (This included everything we purchased for our three days in Darjeeling, from the ripening fruits, to green vegetables and groceries.)
The environment at Keventers was really amazing. We didn't have to wait in line to pay because there were lot of counters open for customers. Their service was praise-worthy and we were happy everything turned out the way we expected!
Somnath, Travel Crusade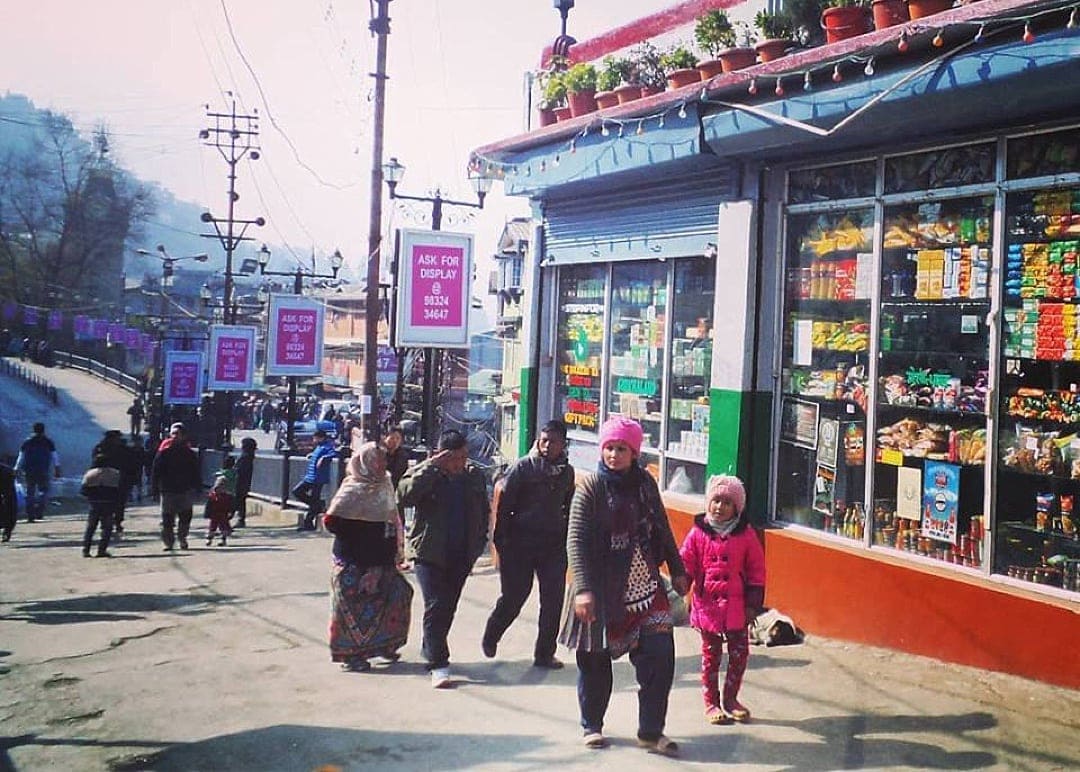 Australia
Melbourne: Queen Victoria Market
Melbourne is an amazing, multi-cultural melting pot, which has resulted in a reputation for the best food (and coffee!) in Australia. Supplying these fabulous restaurants and cafes, as well as savvy shoppers keen to buy the freshest produce in town is Queen Victoria Market. It's one of the best food halls and markets in the world.
Located on the edge of the city centre and colloquially known as "Vic Market," it is a sprawling treasure trove of fresh products including fruit, vegetables, meat and fish, as well as a non-food section selling clothes, homewares, arts and crafts. A short tram ride from the city will deposit you at its doorstep. Much of the buildings and structures remain intact from its mid-1800s origin date and are used just as they were back then.
When I was growing up in Melbourne we would often take a weekend trip to this market to shop for the week ahead. My favorite part was visiting the hot jam donut van, which has been in operation for over 50 years. Freshly cooked, covered in sugar and filled with jam, these delectable balls of goodness are super popular. I recently revisited the van to find the queue stretching a dauntingly long way. But trust me, they're worth the wait!
Kirralee, Escape with Kids
Check out these great food market tour options at Vic Market!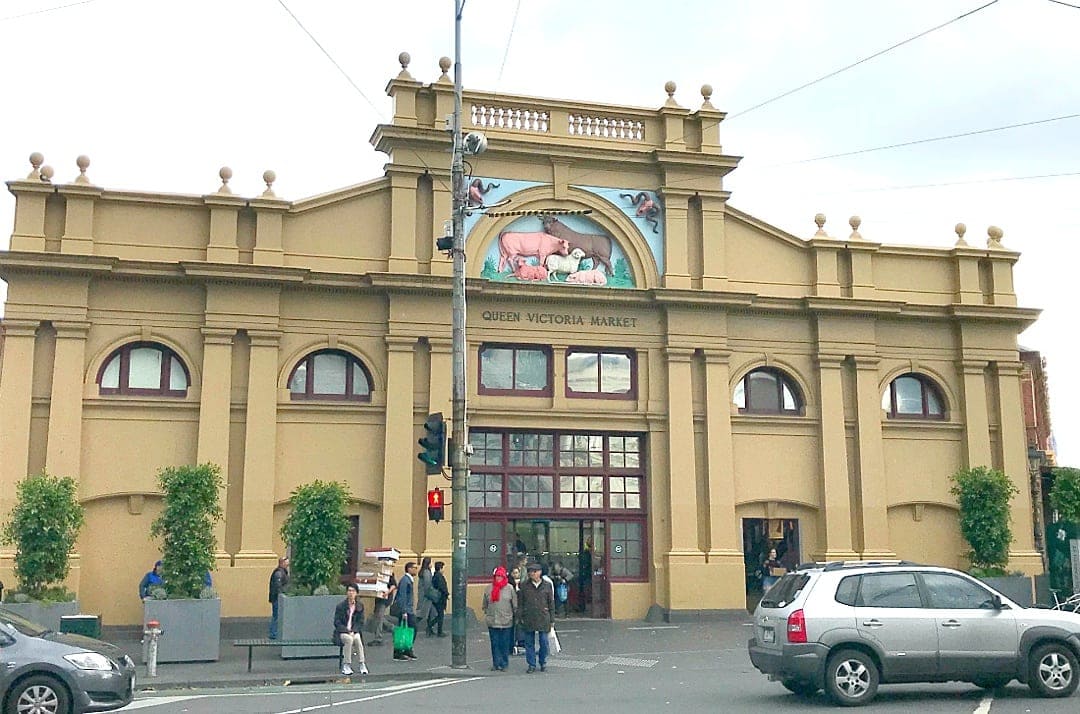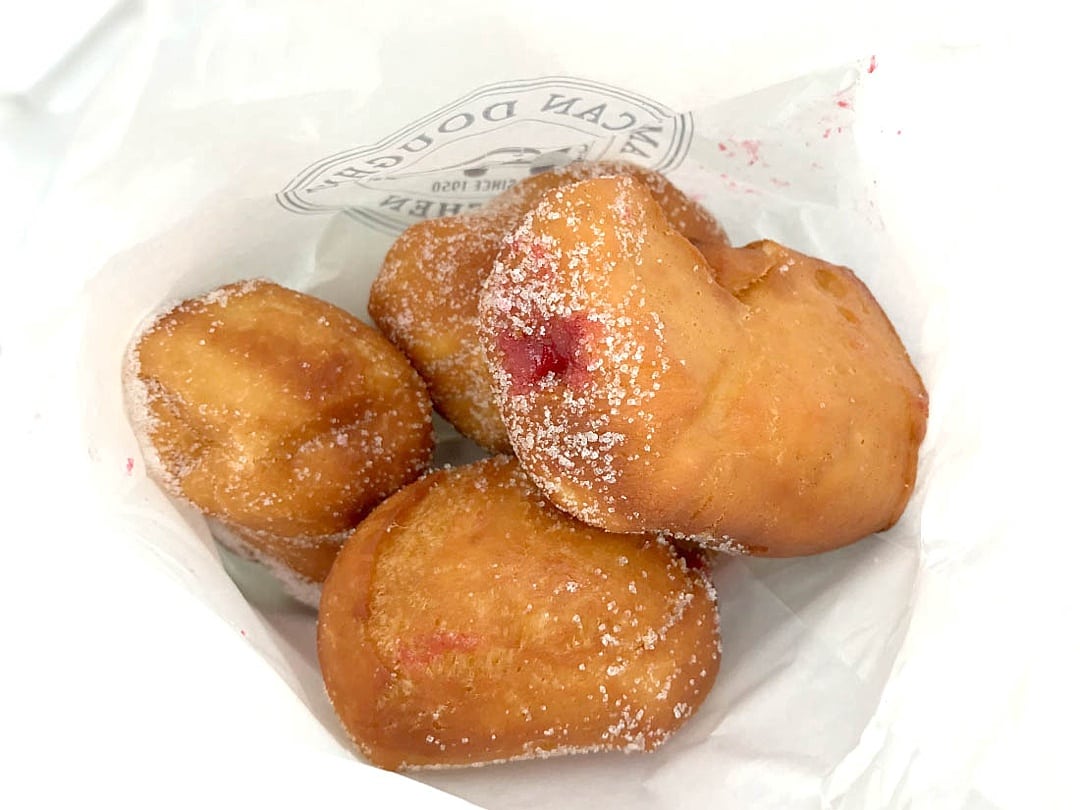 Fremantle: Fremantle Markets
Fremantle Markets is one of the most visited places in Western Australia. It's housed in a Victorian heritage building from its establishment in 1897. The markets are home to over 150 stalls selling a unique and fascinating range of wares. We love wandering around these markets, located about a block south from the cappuccino strip on South Terrace. We adore strolling from stall to stall on a Friday, Saturday or Sunday.
The stall holders and their stories are as colorful as the goods they sell. Farmer's Lane is at the rear of the market and is filled to the brim with tempting aromas of delicious food and local fresh fruit and vegetables. There are heaps of food outlets offering lots of variety and an assortment of breads, nuts, cheeses and flowers.
A visit to the Fremantle Markets is fun, as it's always bustling with a vibrant culture; the local talent from the buskers (or street performers) gives a distinctive atmosphere making it a very popular place.
Lyn and Steve, A Hole in My Shoe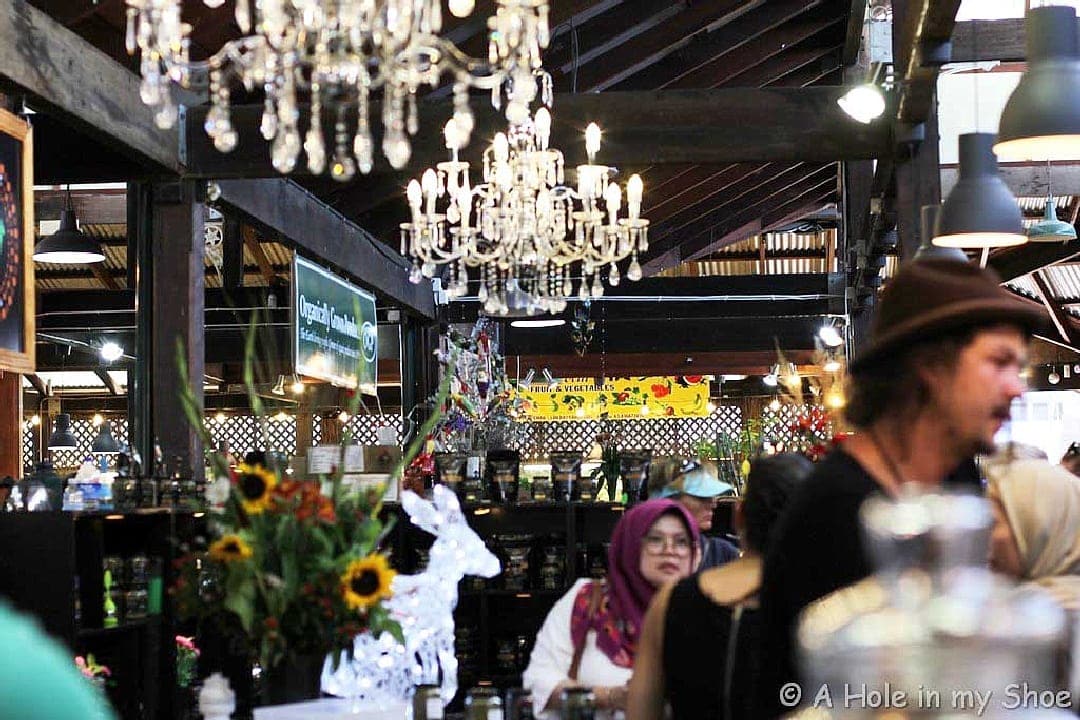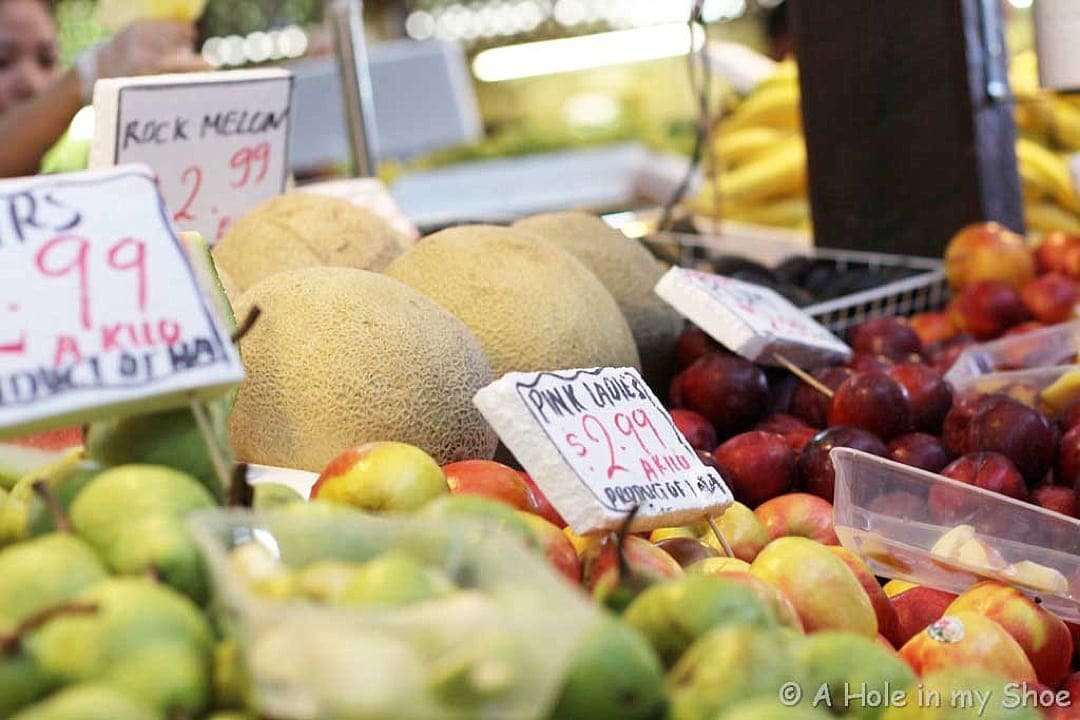 Africa
Senegal
Mbour: Fish Market
This might be an unusual food market but it's one that will blow your mind. Its uniqueness is part of what makes it a great addition to a list of the best food halls and markets in the world. The fish market in Mbour is somewhat scary, fascinating and breathtaking all at the same time.
The chaotic city of Mbour is all about fish as it is one of the biggest fishing harbors in Senegal. Usually fishermen venture out in their rusty wooden fishing boats to make their way towards The Gambia, a republic within Senegal's geography. Most of their boats are packed with nine or more people, who all sleep, eat and fish on one boat for a couple of days. Afterwards, they usually return to Mbour in the evening. This is also the time when it's best to visit the fish market.
During this time busy fishermen give their fish to runners who, as quickly as they can, bring their fish baskets to the nearest truck, that then bring the fish to restaurants, factories or hotels. It's amazing to see how quickly everything moves from person to person! This also makes it difficult to find a nice spot to simply stand and watch without being in the way.
Apart from the men who run around with their fish baskets, you'll also find kids that jump after the fish that fall out of them. This is so they can secure their very own dinner. You'll also find women there who sell freshly grilled fish on the spot. It's amazing to watch and experience it all.
Clemens, Travellers Archive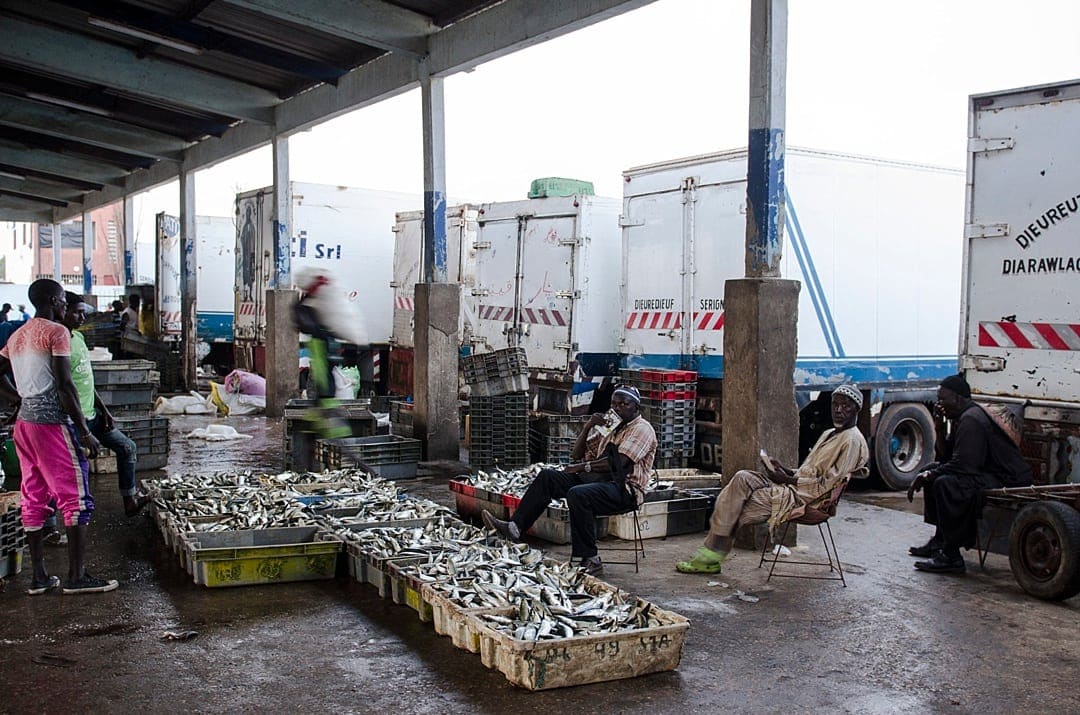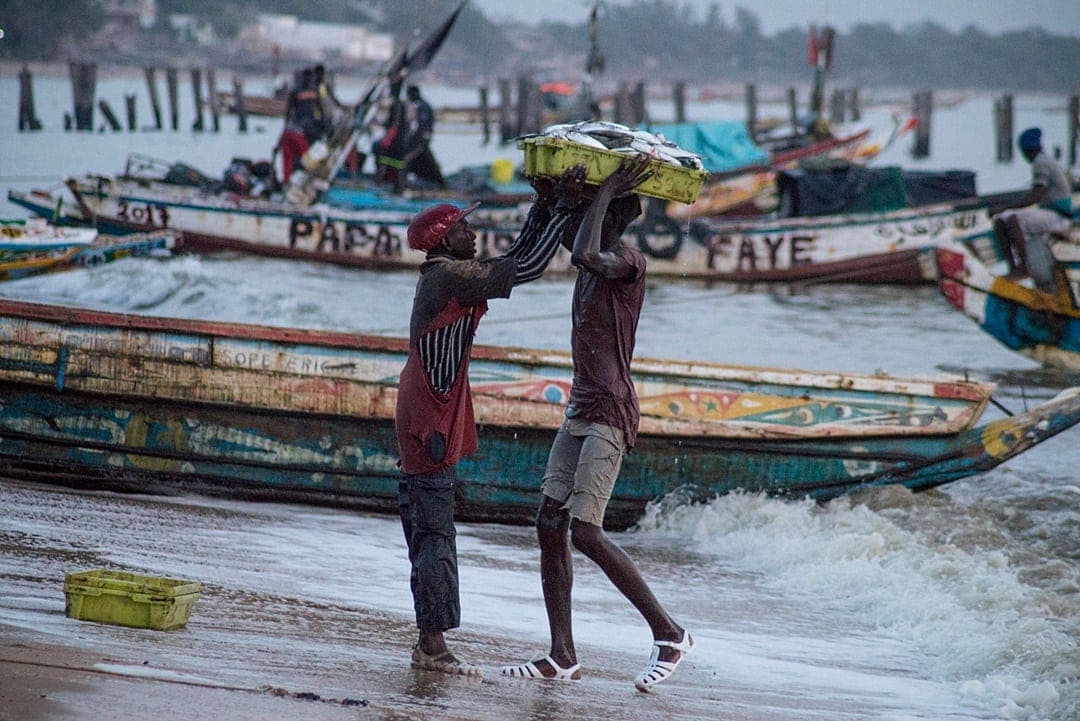 South Africa
Cape Town: V&A Food Market at the V&A Waterfront
Visiting the V&A Waterfront Food Market is one of the unmissable things to do in Cape Town. It is located between the V&A Waterfront Shopping Mall and the harbor, across from the Clock Tower.
What makes the V&A Food Market unmissable is the fact it's a real feast for all senses. It's a great place to see a bit of local action, especially during the weekend when Capetonians enjoy a day out.
There's an incredible range of food for any taste or budget, though most of it provides great value for the money. Those in search of a bite have ample choices: there is a bakery offering freshly baked high quality bread, a donut and desserts company, a vendor with healthy salad bowls, a pizzeria, a seafood bar, steak bar and a bubble tea place. The list continues with a samosas vendor, a boutique chocolates bar, sushi and a fabulous coffee place. It's perfect on sunny days and there are tables inside and outside too.
Claudia, My Adventures Across the World
Check out these food tours in Cape Town, that include markets, wine and tastings.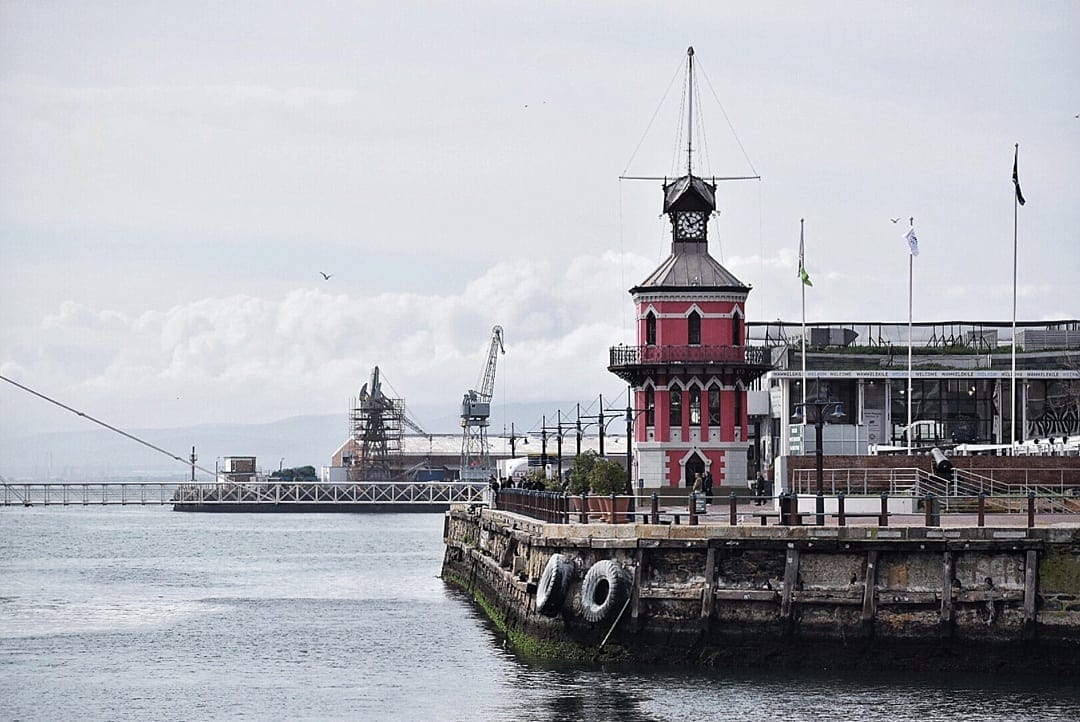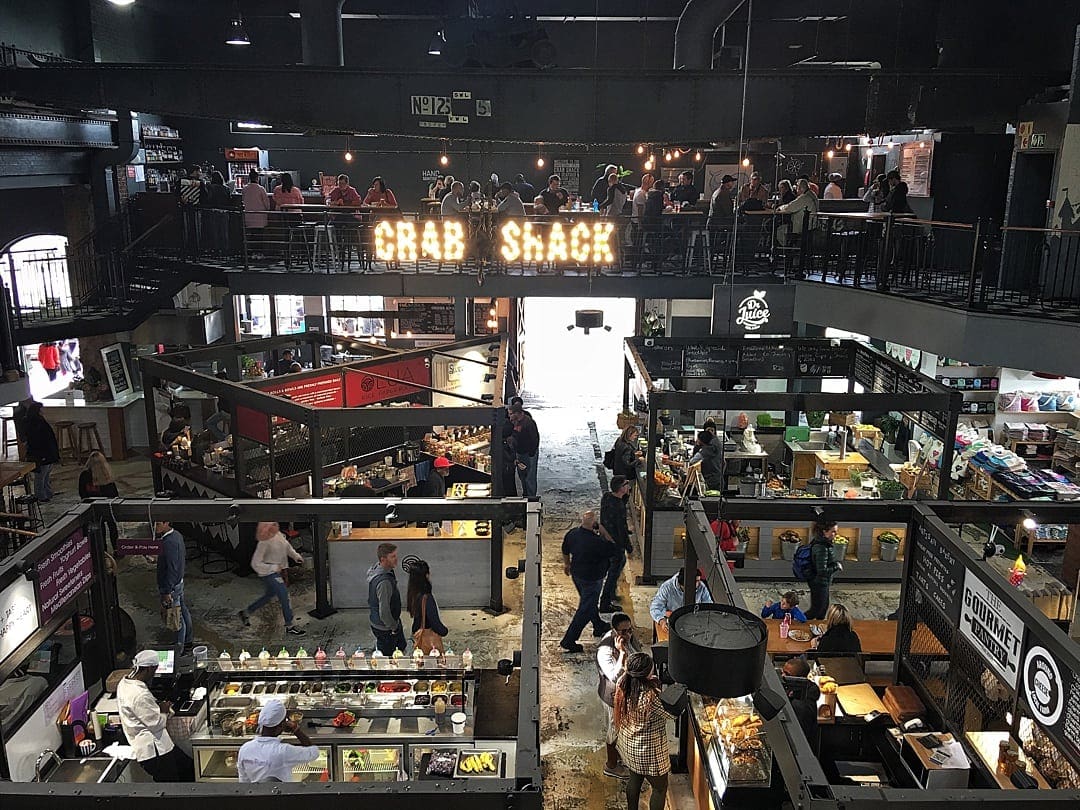 Johannesburg: Arts on Main
You can spend your whole Sunday at Arts on Main in Johannesburg's Maboneng Precinct. Here's what I suggest for the perfect day here:
Start out with a late breakfast of Ethiopian injera and stewed veggies from the Little Addis market stall. (Though there are many other stalls from Durban curry or Mexican tacos, to Chinese and vegan options too).
Follow it up with a baked cheesecake dessert (my favorite), or perhaps red velvet cupcakes, Belgium brownies or organic chocolate. Dessert should always be followed by a beer tasting at SMACK! Republic Brewery, no matter your selection.
Later, walk among the pop-up art, curio and vintage traders that line Main Street. Handmade beaded jewelry, t-shirts, leather handbags, vintage clothing and various artworks are for sale.
The Canteen rooftop bar is the perfect place for sensual salsa, bachata and kizomba dancing until sunset. Be sure to try their South African artisanal gins.
Iga, Eager Journeys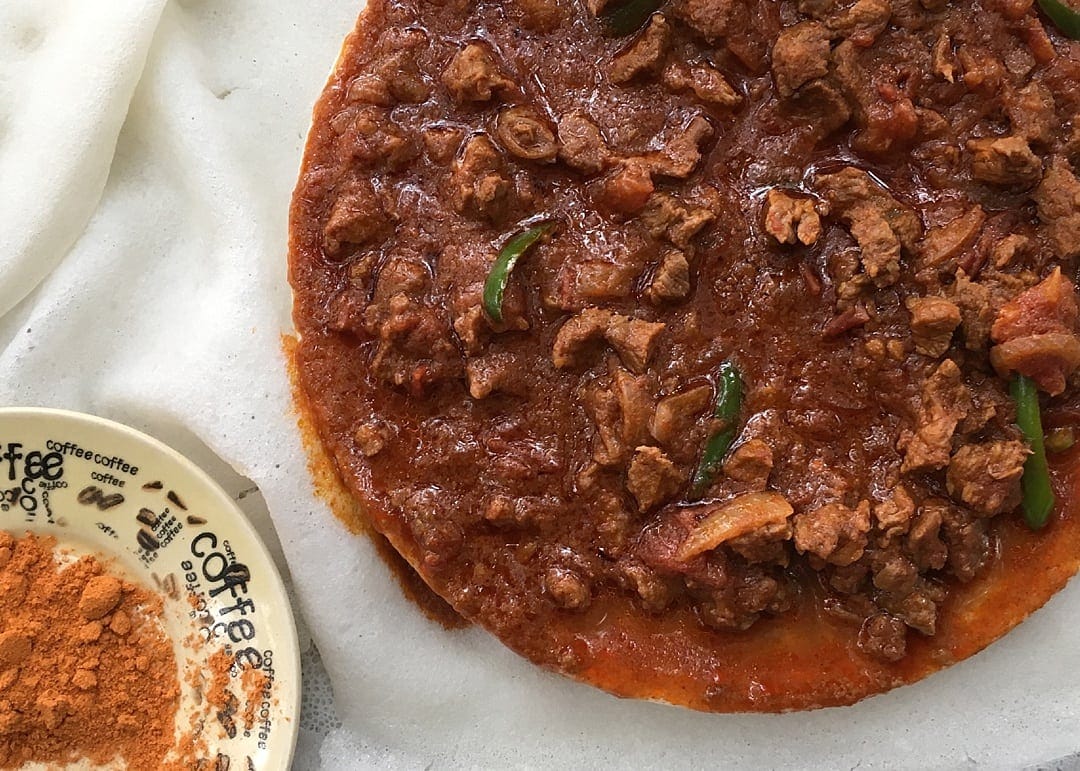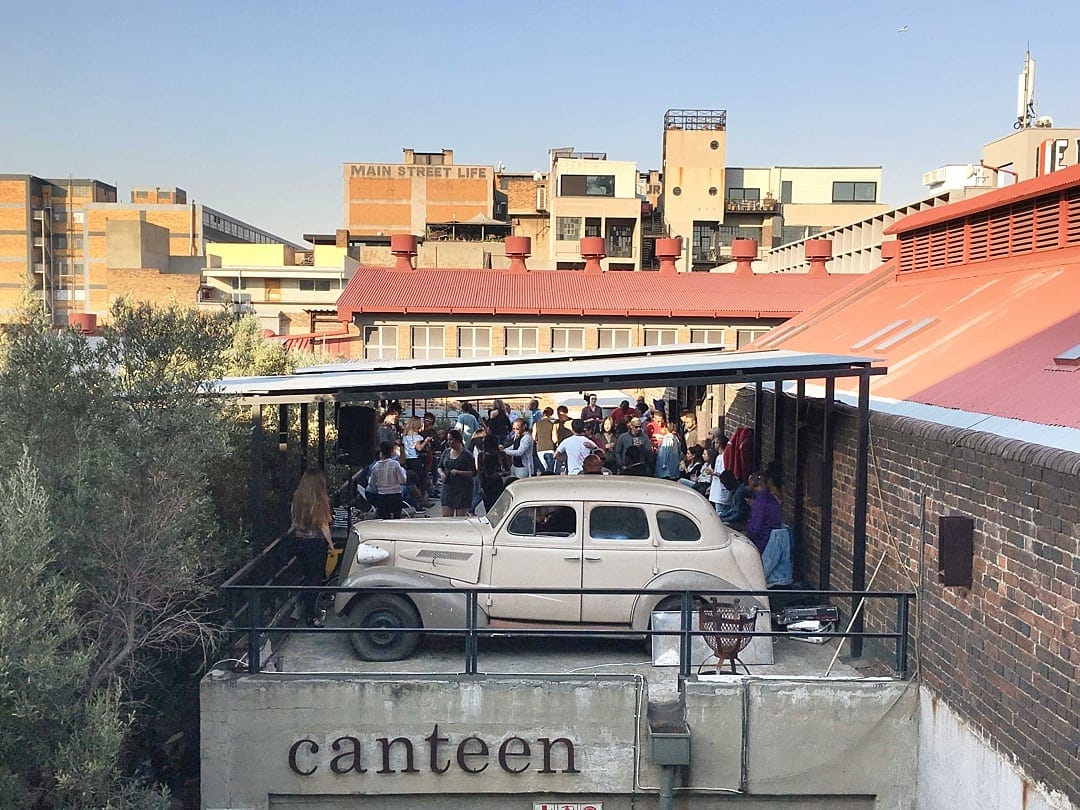 Disclosure: There are affiliate links in this post, which means we may earn a small commission if you click the link and proceed with a purchase. We only recommend products or services we personally use and recommend.
For more amazing food markets around the world check out the other regions in our series:
The Best Food Halls and Markets in Western Europe