9 Affordable Warm Activities to Do During Winter in Buffalo
Activities to keep spirits high and your toes toasty during colder times in New York are the key to happiness when you're touring a city during lower temperature months. Affordable warm activities to do during winter in Buffalo will ensure you're able to do great things in the city while stay warm! (They are low cost and affordable too!)
1. Enjoy a Morning Drink at Public Espresso + Coffee House
If you're into craft coffee brews and pour overs get coffee at Public Espresso + Coffee House to start your day. It's a lovely place to sit solo or with a friend, adjacent to Hotel Lafayette. They also have a full breakfast and lunch menu if you're hungry; try their avocado toast or a seasonal fruit muffin (they had kumquat when we were there). Don't forget to stop in the Buffalo Niagara tourism office: it's directly across the street at 403 Main Street.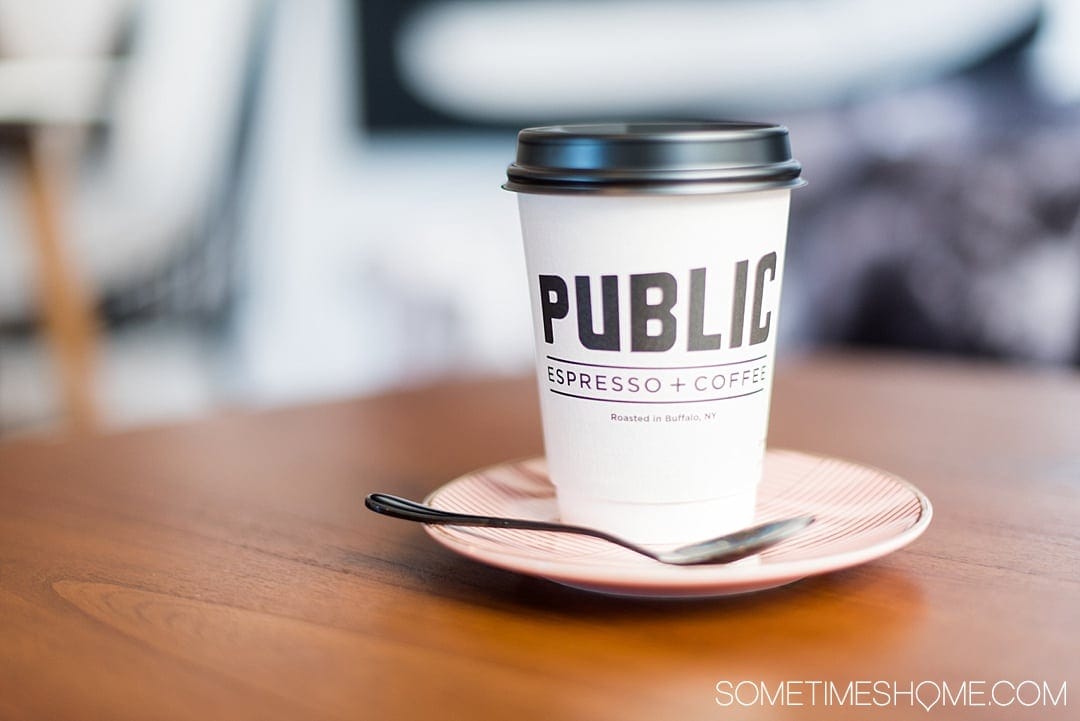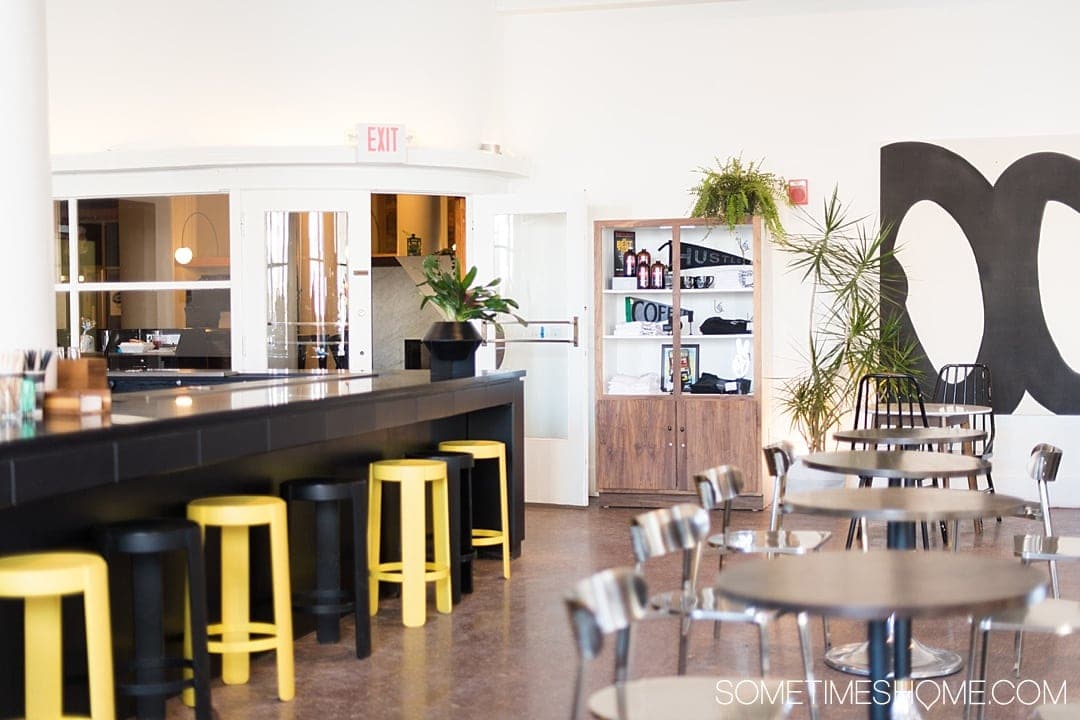 Public Espresso + Coffee House address: 291 Washington Street, Buffalo, NY 14203
2. Visit Albright-Knox Art Gallery
I love that this gallery is the perfect size to spend about an hour and a half in. For about the cost of a movie you'll get a heck of a lot of beautiful art to admire. (Admission is free the first Friday of each month.) You'll feel like it is the Goldilocks of museums: not too big and not too small. Their collection includes Warhol, Lichtenstein, O'Keeffe, Picasso, Pollock, and more. Be sure to pick up a free audio guide for your time there. The additional information will surely enhance your experience. They are closed on Mondays and major holidays but open Tuesday through Sunday.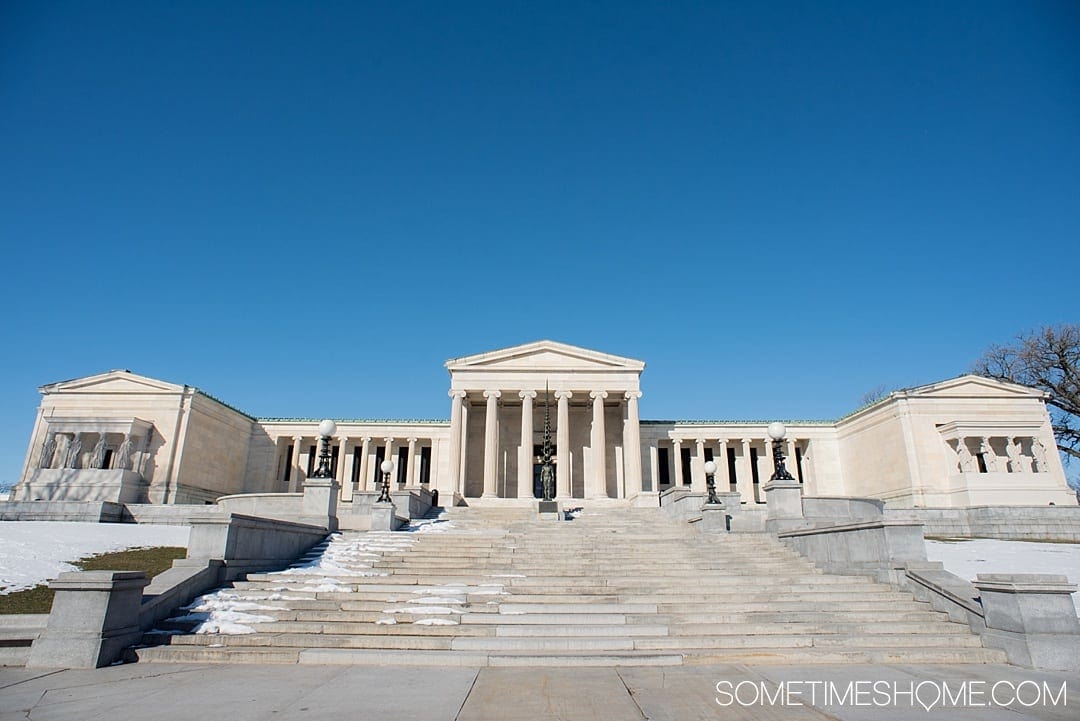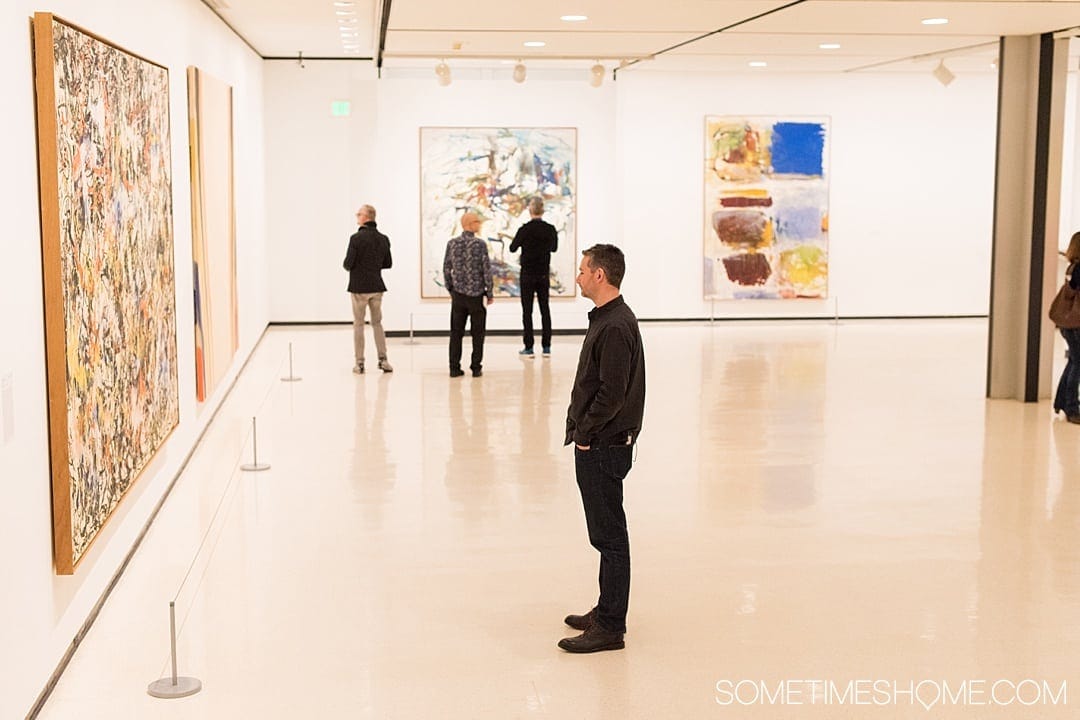 3. See Contemporary Art at Burchfield-Penney Art Center
This museum is directly across the street from Albright-Knox. Leave about an hour to see their exhibits and more if you're a huge fan of contemporary art; their collection is thought-provoking and well curated. It's $10 per adult with various discounts for students and veterans. Note they are closed on Mondays and major holidays as well.

4. Take a Free Tour at City Hall
Leave a weekday available at noon for a free one-hour tour of Buffalo's City Hall. This art deco structure stands proud in the city at 375 feet high and its rich design detail captured my attention from the street. Its crowning exterior Native American motifs are apparent even as you walk the street towards the skyscraper and are indicative of what to expect inside.
It was wonderful to learn about the influence Native American culture and design had on the building's architect, John C Wade, who was interested in the native cultures of both north and south America. The main atrium is decorated in earth tones with Native American headdress designs inlaid in the ceiling of the 32 stories high building.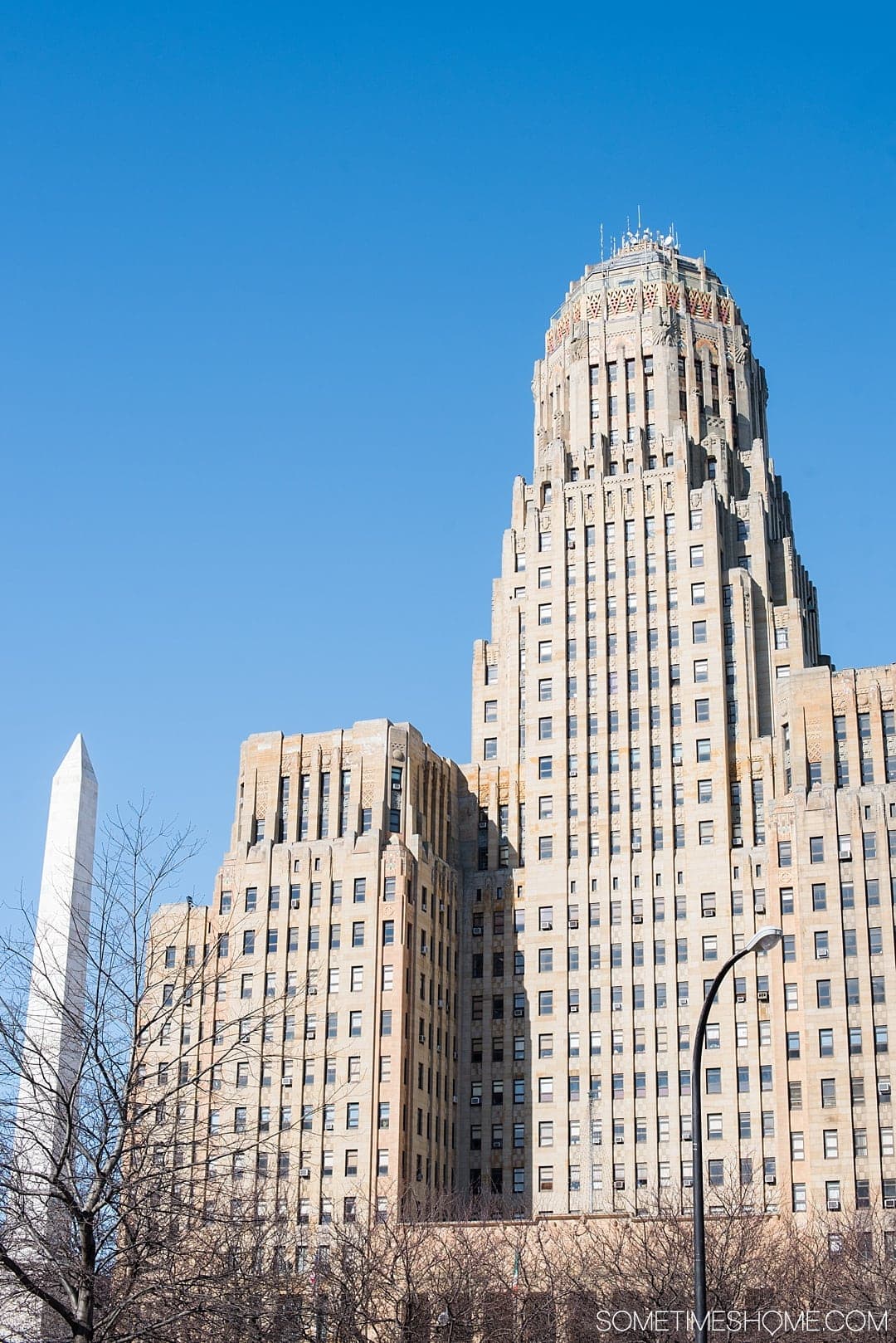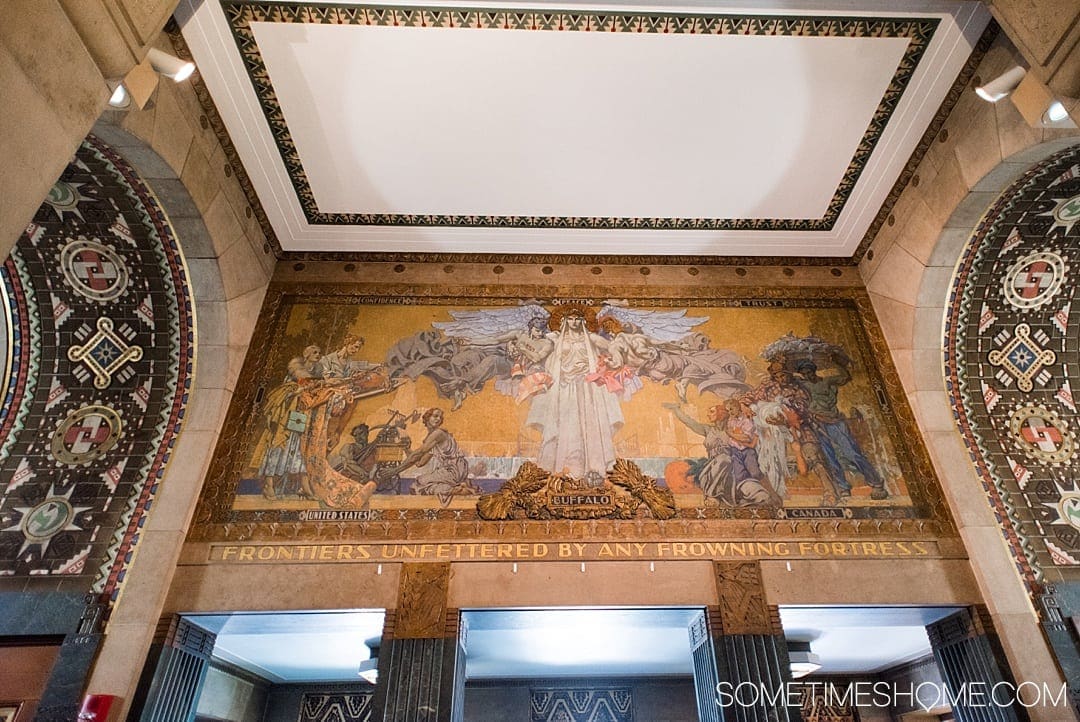 The Chamber of Commerce room was my favorite on the tour: its stained glass sun skylight is stunning. It radiates with seven concentric semi circles including circles for each planet. The pattern is mimicked in the auditorium style seating with seven rows of chairs. Twelve pillars stand at the top of the room, one for various qualities the architect believed legislatures should posses, such as justice, courage and prudence.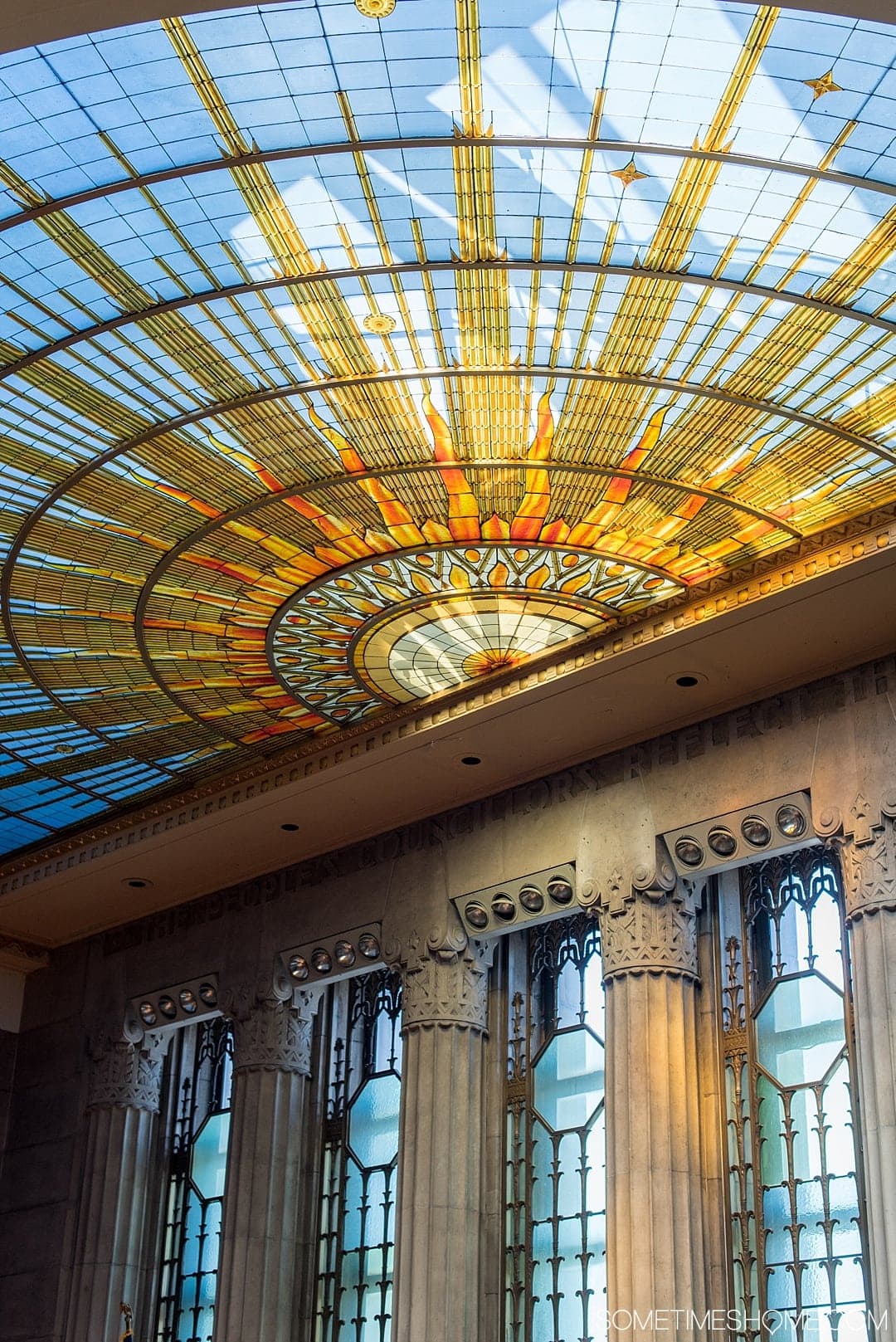 We learned so much about the city and surrounding area on this tour, including that "Eerie," of "Lake Eerie," is short for the Native American "Iriquoi" nation. And at the time it was built around the 1930s, Buffalo had the second largest railroad hub in the country.
The last stop on the tour was at the 26th floor observation deck. I've always loved the aerial view of a city and this is certainly the best birds eye view you'll get in downtown Buffalo. I'll leave that view as a surprise for now if you're lucky enough to tour it yourself!
This government building is open Monday through Friday and can be found at 65 Niagara Square.
5. Indulge in Brunch or Lunch at Roost
Drive over to the industrial area of downtown Buffalo for a meal at one of the most delicious restaurants in town. Their menu rotates every three to four weeks to accommodate fresh, in-season plates. The restaurant usually centers its current menu around some sort of common cuisine, whether Asian influenced or Italian inspired. The menu was inspired by southern cuisine when we visited.
I suggest sharing a pizza for an appetizer, getting your own entree and certainly leaving room to share dessert. Be sure to notice all the country-industrial-chic decorations while you're inside including the rooster mural on the left wall, when you enter. Reservations are recommended and they are closed Monday and Tuesday.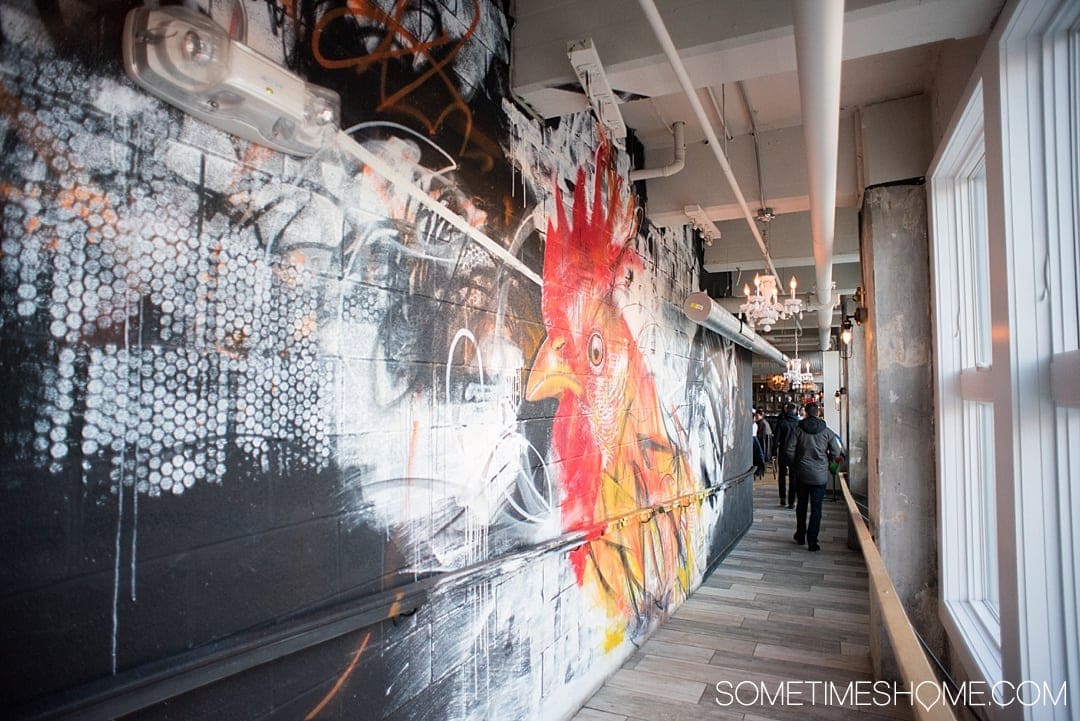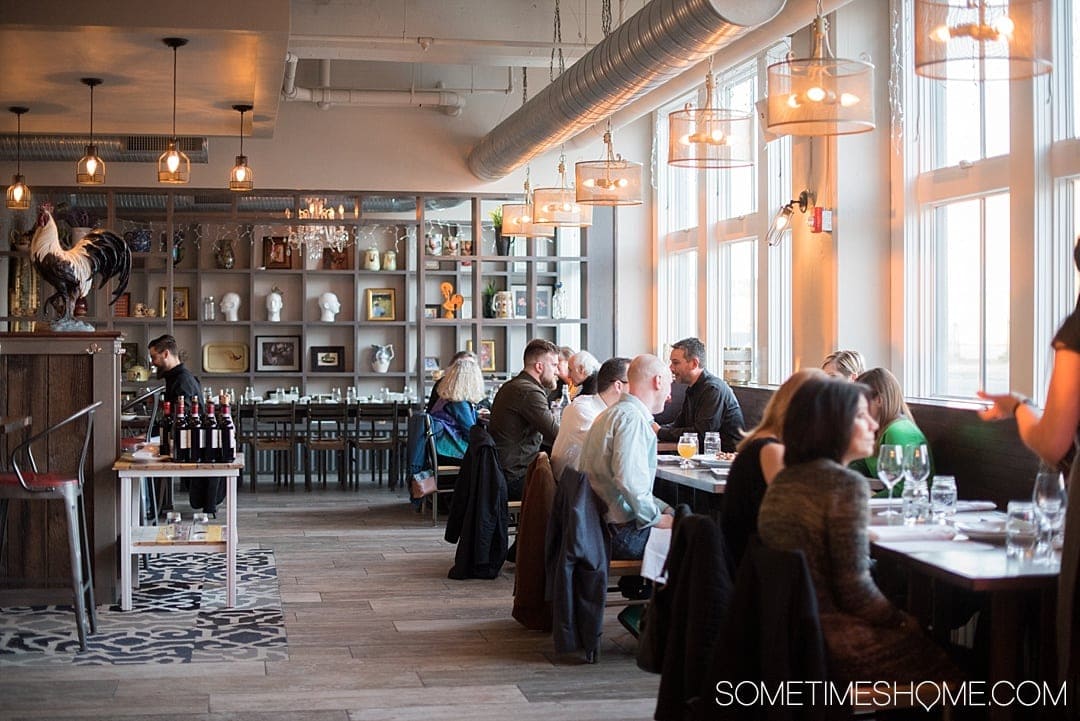 Address: 1502 Niagara Street, Buffalo, NY 14213
6. Tour Darwin Martin House
I was ready to move in to this incredible home designed by the famous architect Frank Lloyd Wright. This affordable warm activity is a great thing to do during winter in Buffalo because the majority of the one-hour tour of this impressive complex is indoors. It costs as low as $19 per adult and reservations ahead of time are recommended. More extensive, two-hour tours are available as well.
The house is hailed as one of Wright's best examples of a prairie home. The State University of New York at Buffalo – who owns this National Historic Landmark today – has beautifully restored it to its glory. I was blown away by its stained glass, original furniture pieces, and tiling not to mention it's overall design that was thoughtfully explained during our tour.
They are closed Tuesdays, and exact tour times are listed on their website (but you'll want to check out our extensive post on the Darwin Martin House). Though you can see the home's exterior for free and of course without a tour, you can only view the inside on a tour (which is absolutely worth seeing).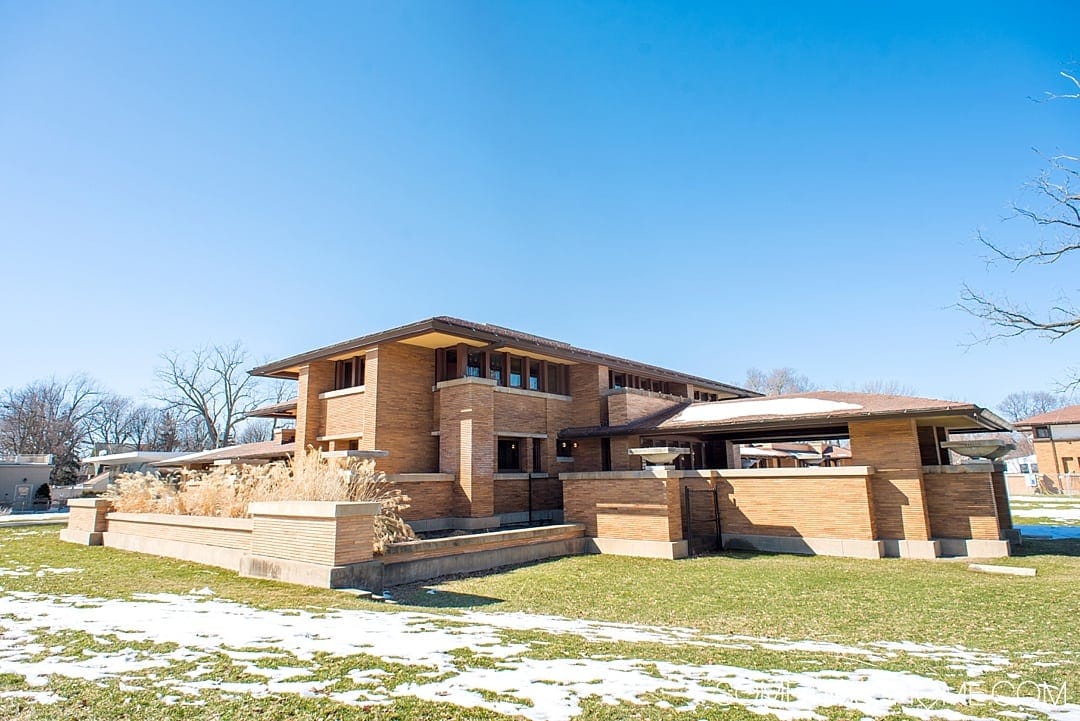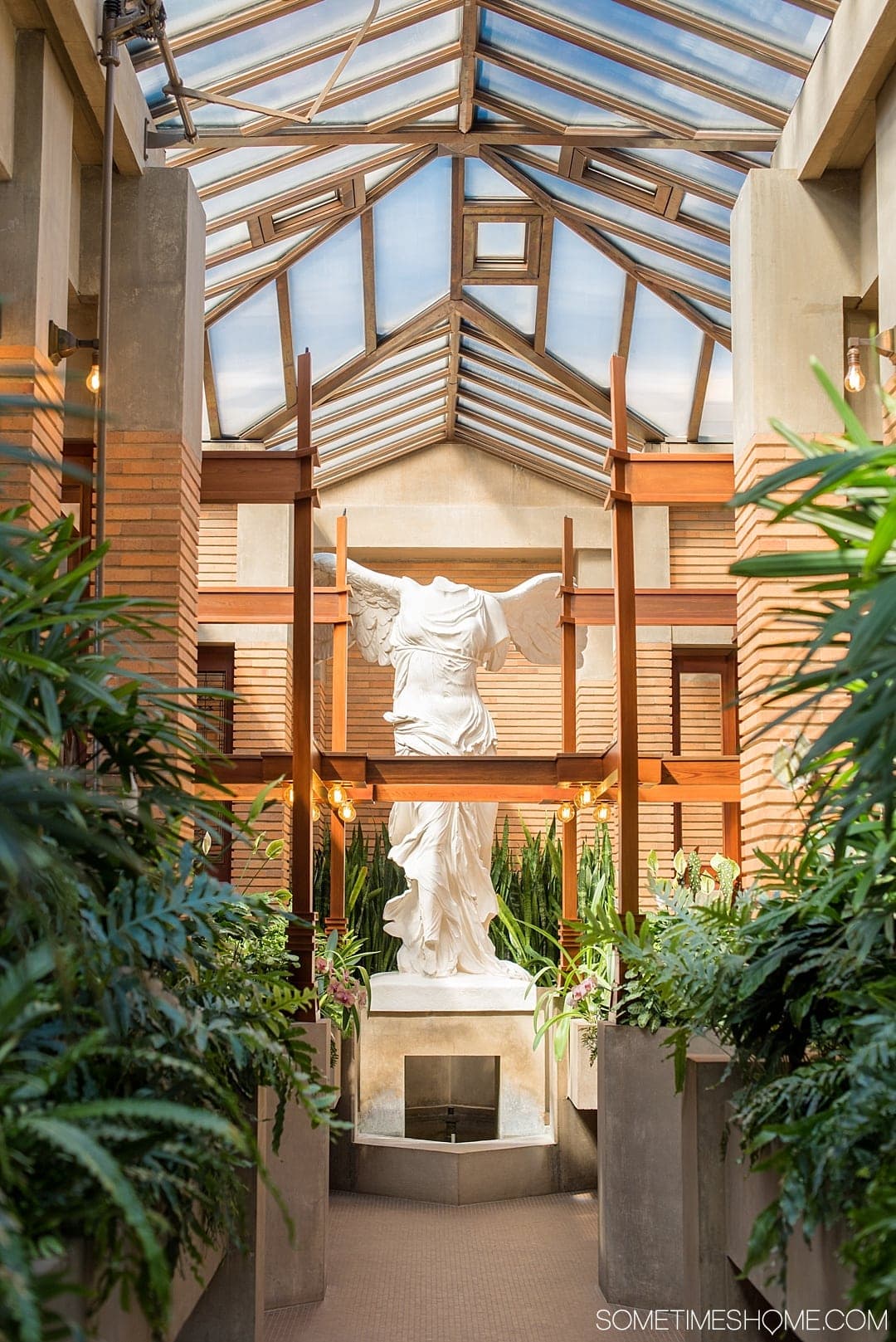 All tours begin at the home in a residential neighborhood at 125 Jewett Parkway, Buffalo, NY 14214.
7. Smell the Flowers at the Buffalo and Eerie County Botanical Gardens
The Botanical Gardens is almost entirely indoors and brings color and life to any season. It's an especially affordable warm activity to do during winter in Buffalo because a few of the plant areas, including the orchid room and desert area, need warm temperatures to stay alive. Adult tickets are only $11 each and they have several events throughout the year from tastings where they cook with specific plants and vegetable to inspire visitors when they go home, or limited concerts. They are open seven days a week and you should reserve about an hour and a half, to two hours, to fully explore the gardens.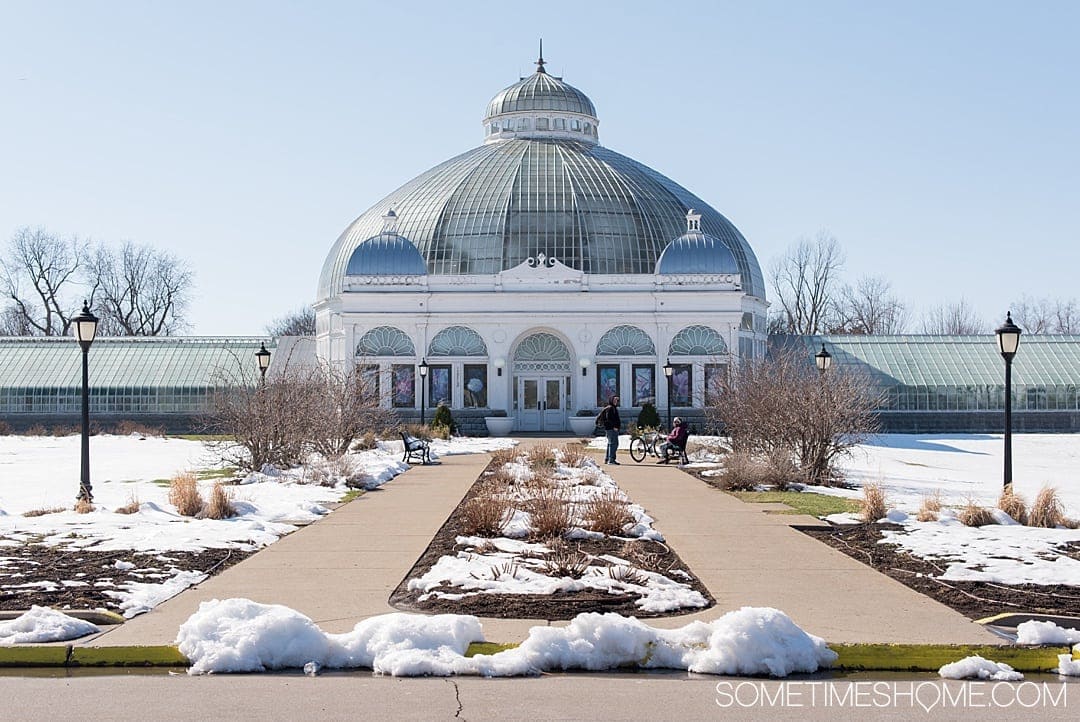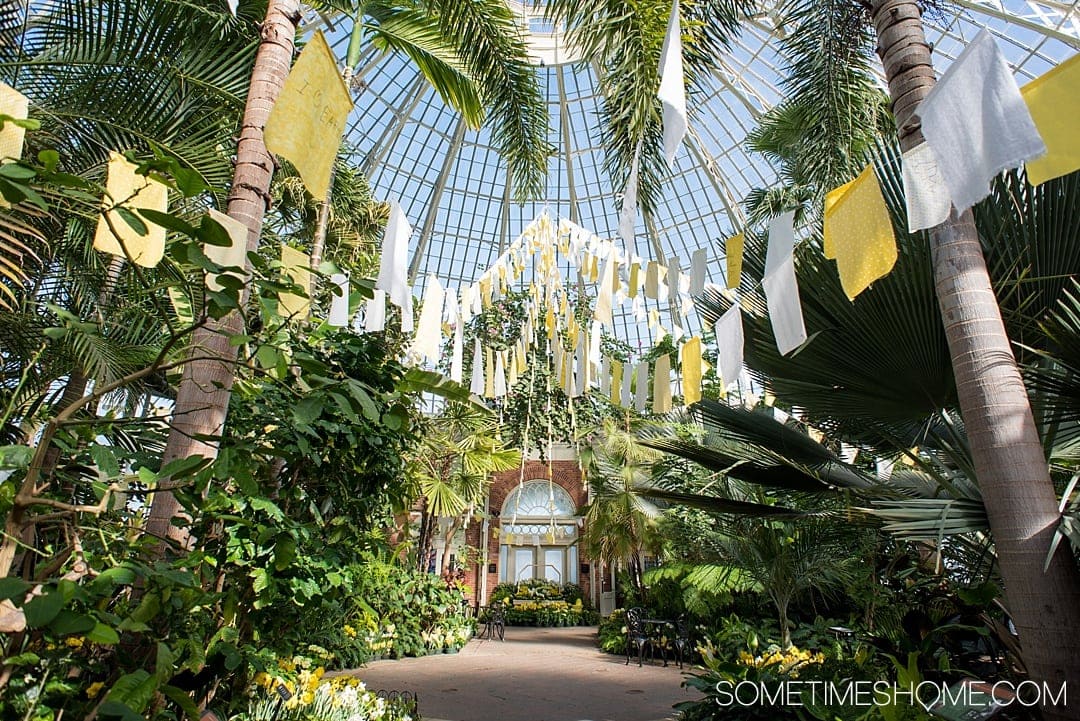 Address: 2655 South Park Avenue, Buffalo, NY 14218
8. Tour an Impressive Basilica 
Our Lady of Victory Basilica is less than a five minute drive from the Buffalo Botanical Gardens. Free tours are conducted every Sunday at 1:00pm and 2:00pm. Even if you're unable to go on Sunday the church is free to enter during operating hours; it's open daily from 7:00am to 9:00pm. The interior, with its grand bronze doors, impressive painted dome, circular stained glass window and marble interior is a site to see. It's reminiscent of a fine European church and rivals many I've seen abroad.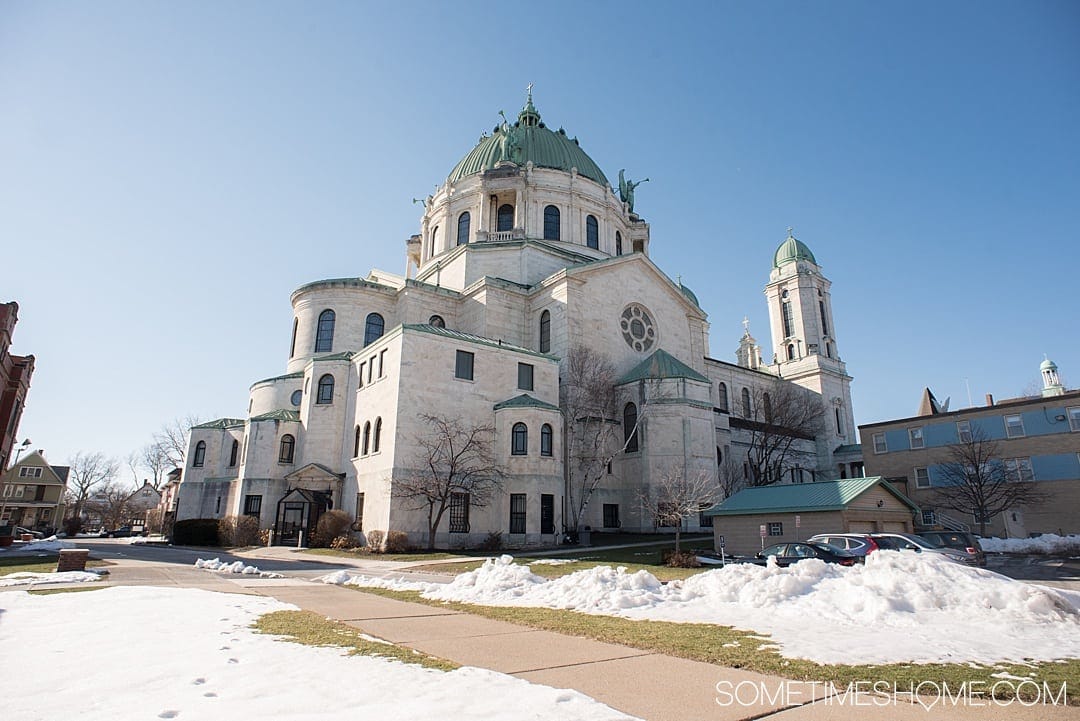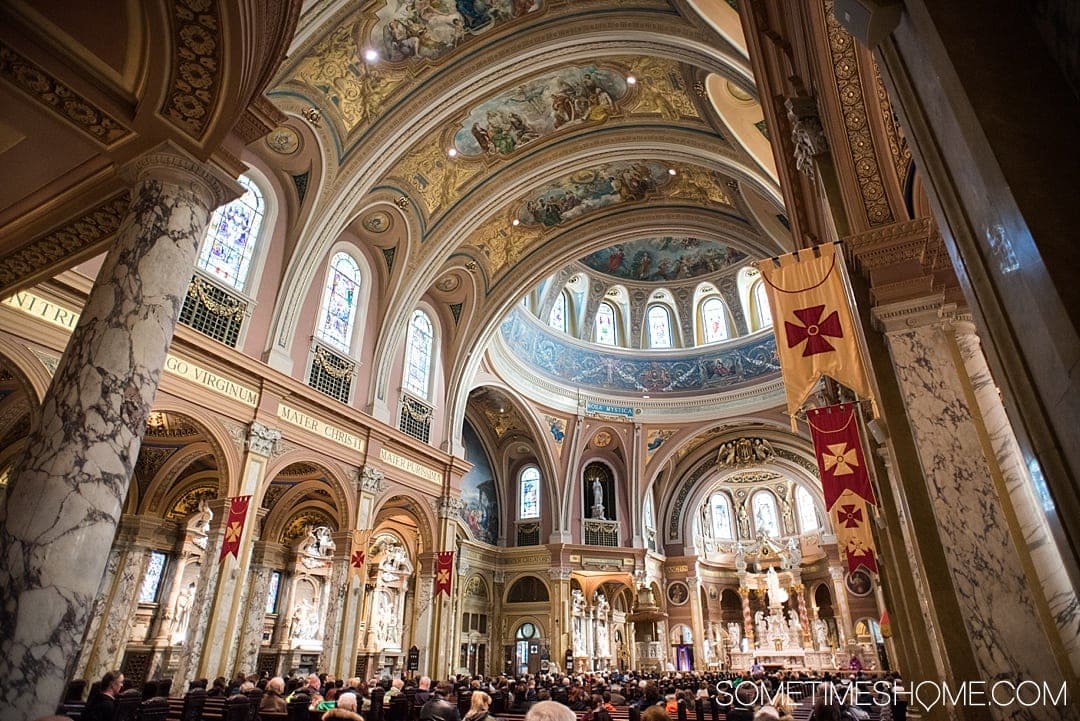 Address: 767 Ridge Road, Lakawana NY 14218
9. Have a Drink at a Revolving Bar
Sip delicious cocktails, wine or beer (including local brews) at a posh bar named Chez Ami, inside the Curtiss Hotel. The bar very slowly rotates 360 degrees over the course of about an hour. Thus, you can expect it to rotate approximately 90 degrees every fifteen minutes. The revolving bar is a nod to the original Chez Ami supper club in existence in Buffalo in the 1930s, with America's first rotating bar. The Curtiss Hotel's Chez Ami bar was designed specifically for the hotel and is a wonderful place to unwind after a long day or take a break from touring Buffalo. They also have a delicious food menu serving appetizers, full entrees, and bar bites like pizzas and burgers.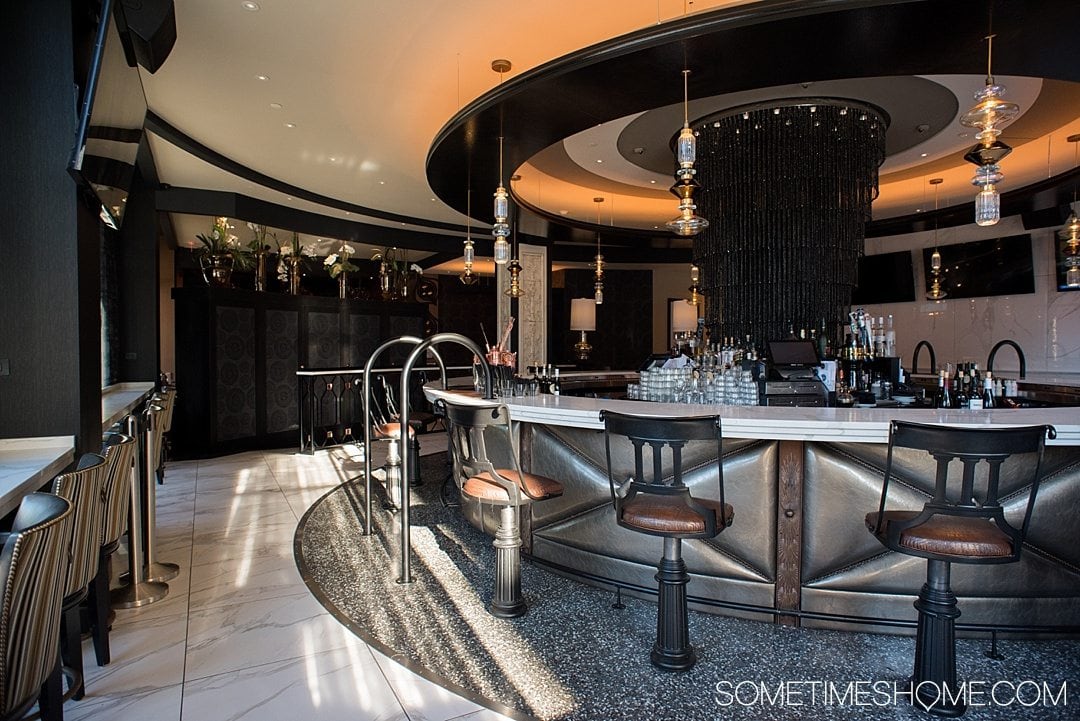 Address: 210 Franklin St, Buffalo, NY 14202
Not Just for Cold Months
While these are all great activities for fall and winter, note these are all fabulous things to do in Buffalo, whether it's spring or summer, rain or shine. They all just happen to be affordable and indoors!
Please note: We thank Visit Buffalo Niagara for generously hosting us. All the opinions in the post are ours and we bring you genuine content with real facts, photos and thoughts. Always.
For more information about Western New York check out:
What's your favorite cold day activity to stay warm and cozy?