20 Surprising Things to Love About Japan
There are so many things to love about Japan that make it one of my all-time favorite destinations. From multiple day trips from my home base cities of Osaka and Tokyo during my visit, to learning about their culture including food and public transportation, to the gorgeous landscape, I had an ear-to-ear grin recalling memories and formulating this list of things to love about Japan and Japanese culture.
1. Noodle Bars at Train Stations
It's very common to commute using public transportation in Japan. Their trains, especially, are some of the most efficient I've ever seen and utilized. Surrounding this is a culture of commuters. One of the things I fell in love with was the noodle stations at many train stops on the track platforms.
The concept is simple: you put money into a machine and press a button for what you would like. (Which could be tricky because button menu options are written in Japanese. But that's part of the fun – cheaper items are most likely vegetarian!)
The machine spits out a ticket and you go inside and hand it to the server. Voila, your order is served within minutes (if not seconds) and you have delicious noodles to enjoy.
On average, I found the dishes to be $5 or less.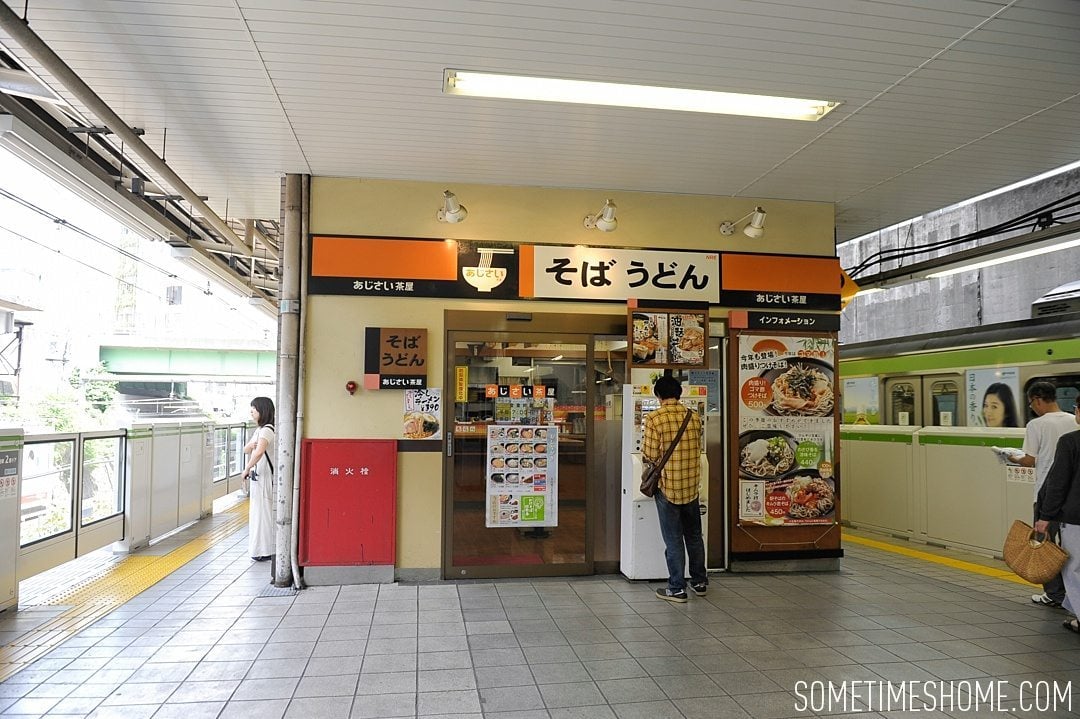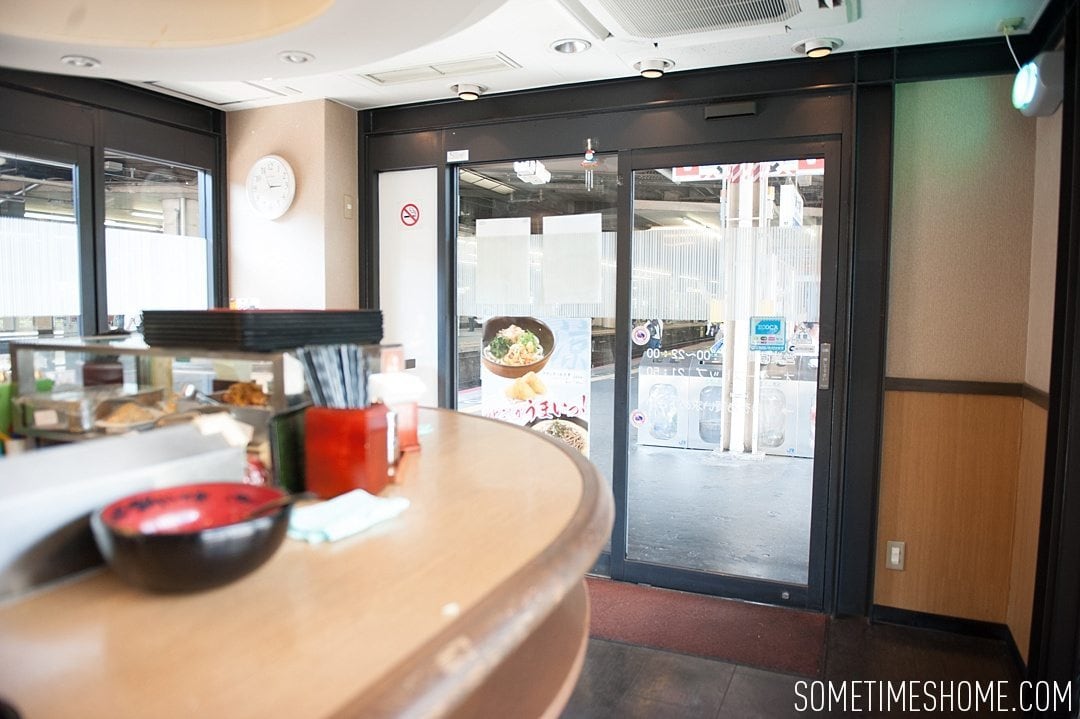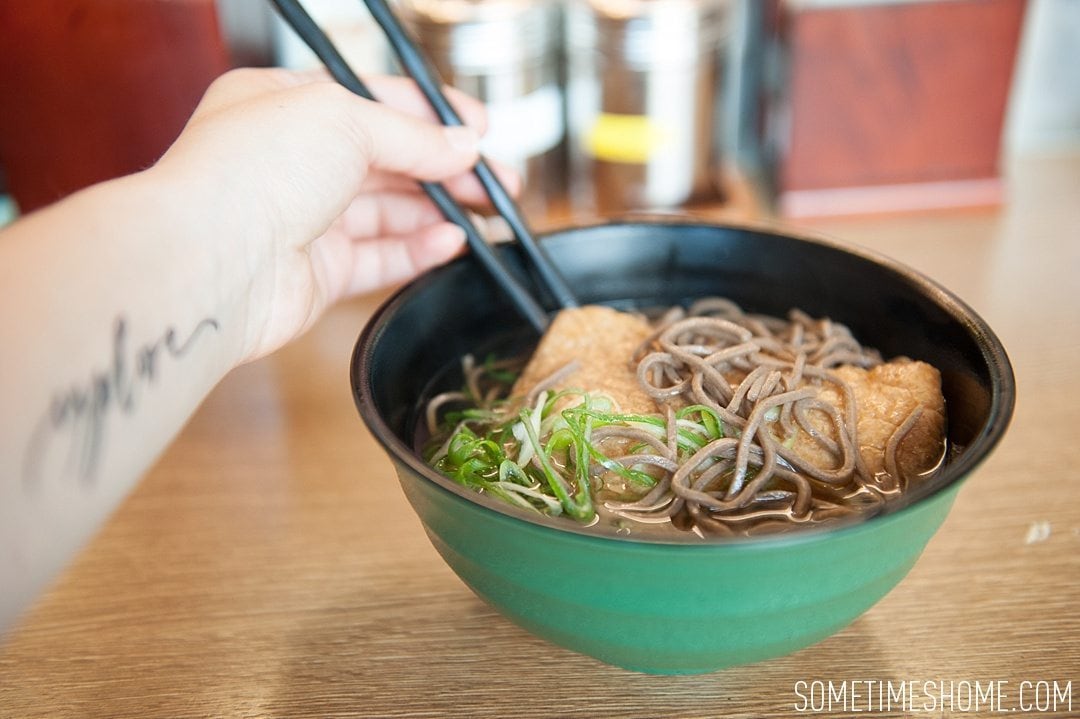 2. 7-Eleven Stores (One of the Most Unexpected Things to Love About Japan)
My savior in Japan was 7-Eleven. There's reportedly over 10,000 of these convenience stores in the country so it's not hard to find them, especially in major cities. (I had to sometimes hunt for them in the suburbs.) My daily routine included a stop at a 7-Eleven to get snacks and drinks.
They have AWESOME incredibly affordable sushi and I grew especially fond of Onigiri rice triangles. Okay, I suppose I formed a bit of an addition to them!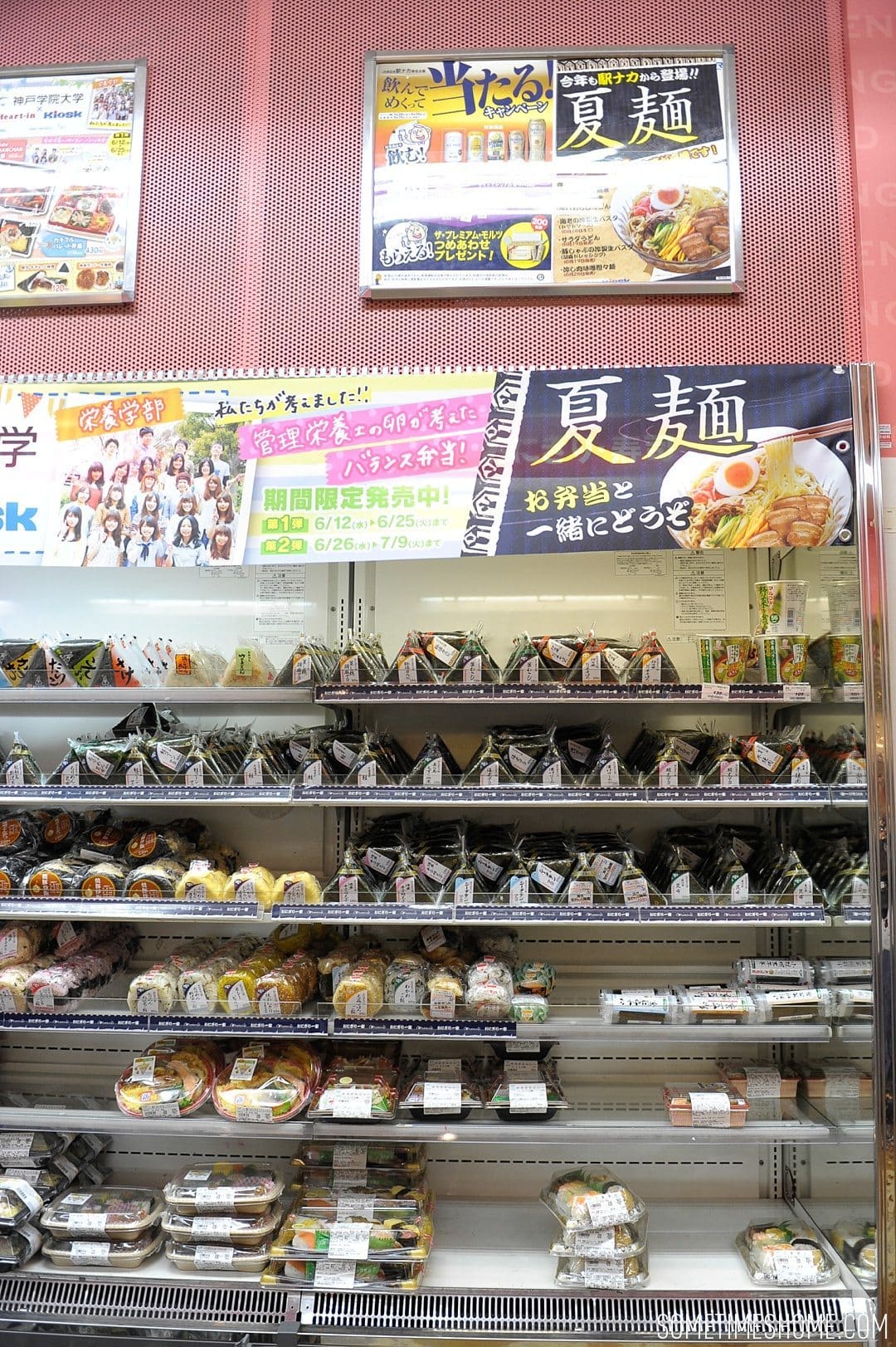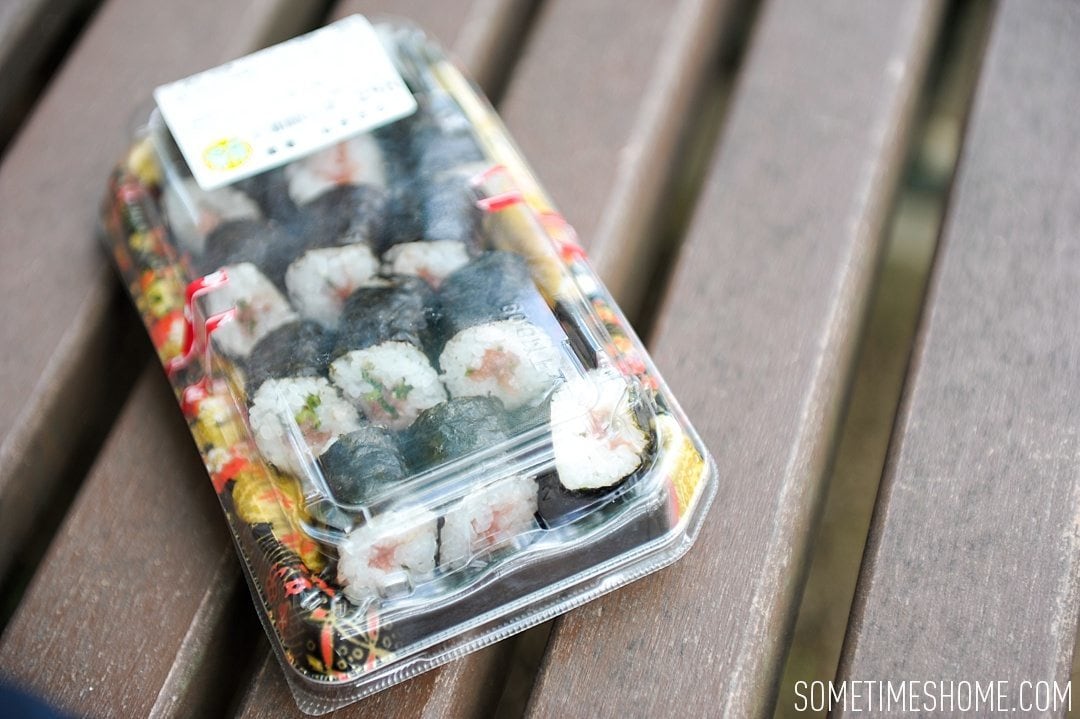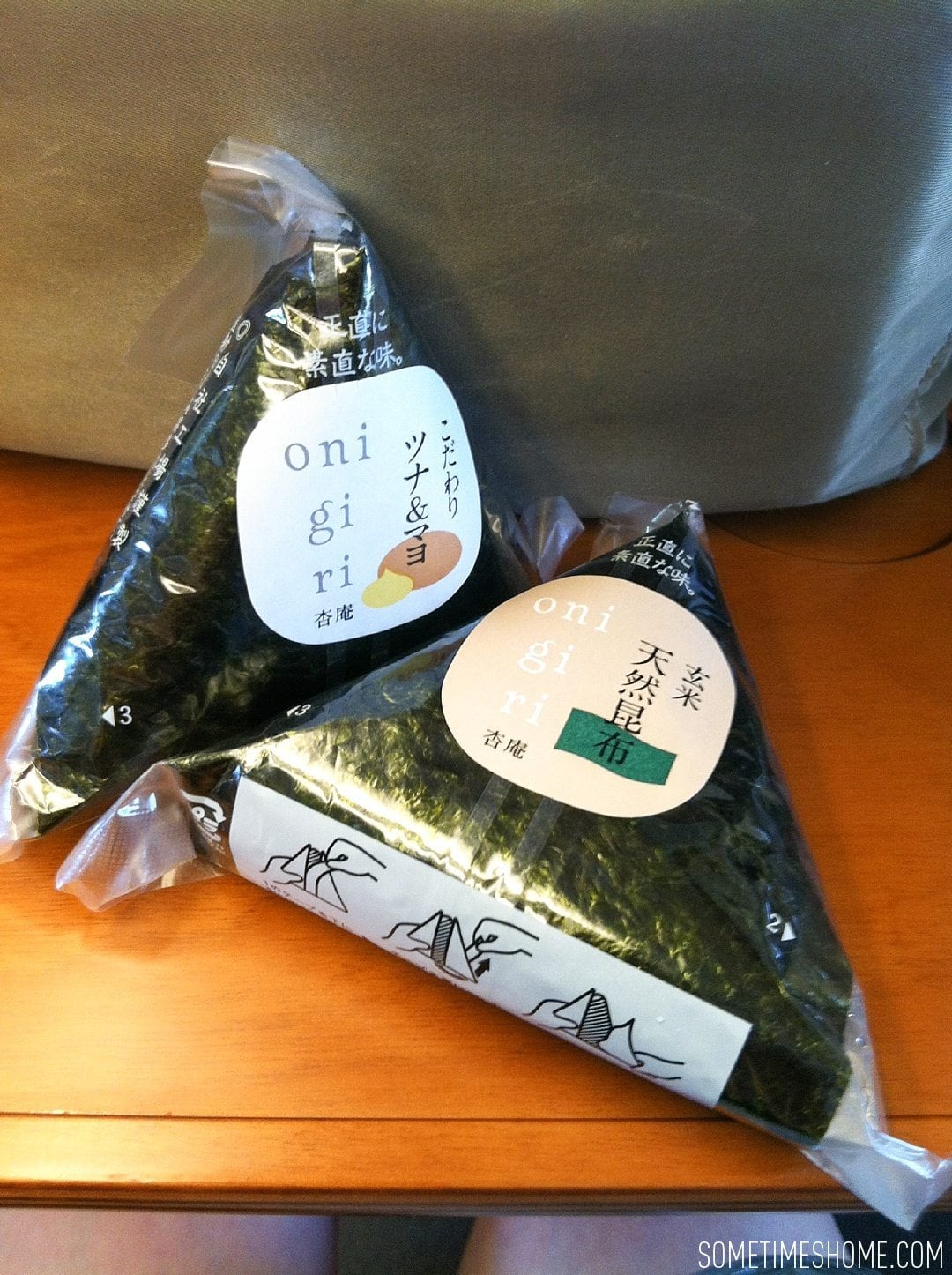 3. Nasal Voices Cashiers Use
I was not expecting to hear a nasal-toned higher-pitched-than-normal voice from cashiers! At first I thought, "How funny? I wonder why they all sound like that." Then a friend who's been there multiple times and even lived there for a short while informed me it's a common thing they do as a gesture of hospitality.
I quickly grew to appreciate this aspect of their culture as one of the things to love about Japan!
4. The Shinkansen Train
These trains are FAST. As in…if you're standing on a platform and one whizzes by you feel the ground shake. These quick moving trains will get you from city A to city B in record time, to the tune of over 150 mph speeds.
Try buying a JR Rail Pass before you go to Japan, only available to a select few people, including Japan tourists. It's a bit costly but will give you freedom to take multiple trains and will most likely save you money in the end. (It certainly did for me.)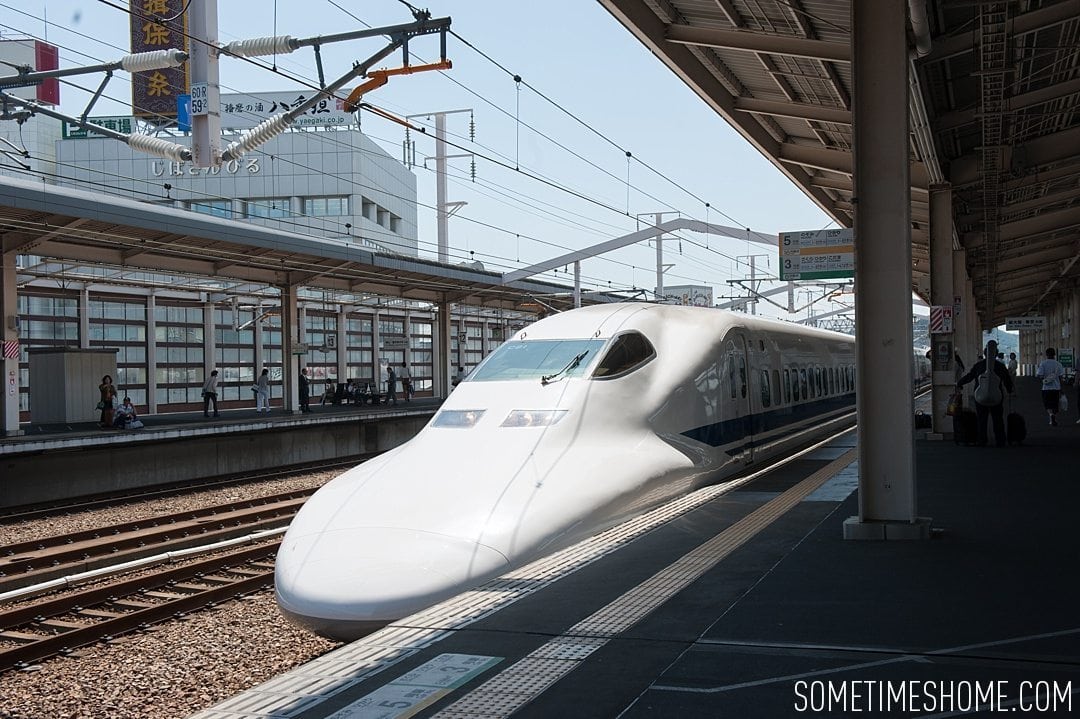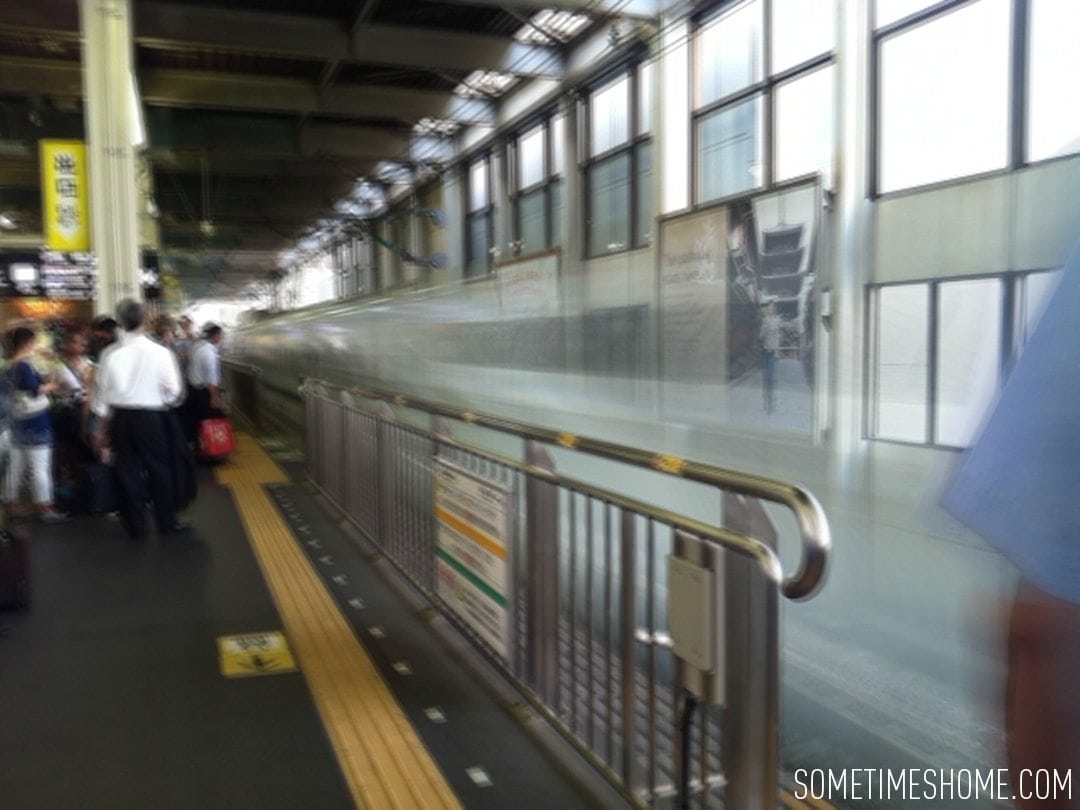 5. Tokyo Disneyland
As a huge Disney fan a trip to Tokyo Disneyland was in order. Their Magic Kingdom feels oddly similar to the one in Orlando Florida but it certainly makes my list of things to love about Japan because of the theme park you will not find anywhere else: Tokyo DisneySea.
It's an unbelievable adventure and Disney fan or not, I recommend a day trip here, accessible by train from the city of Tokyo.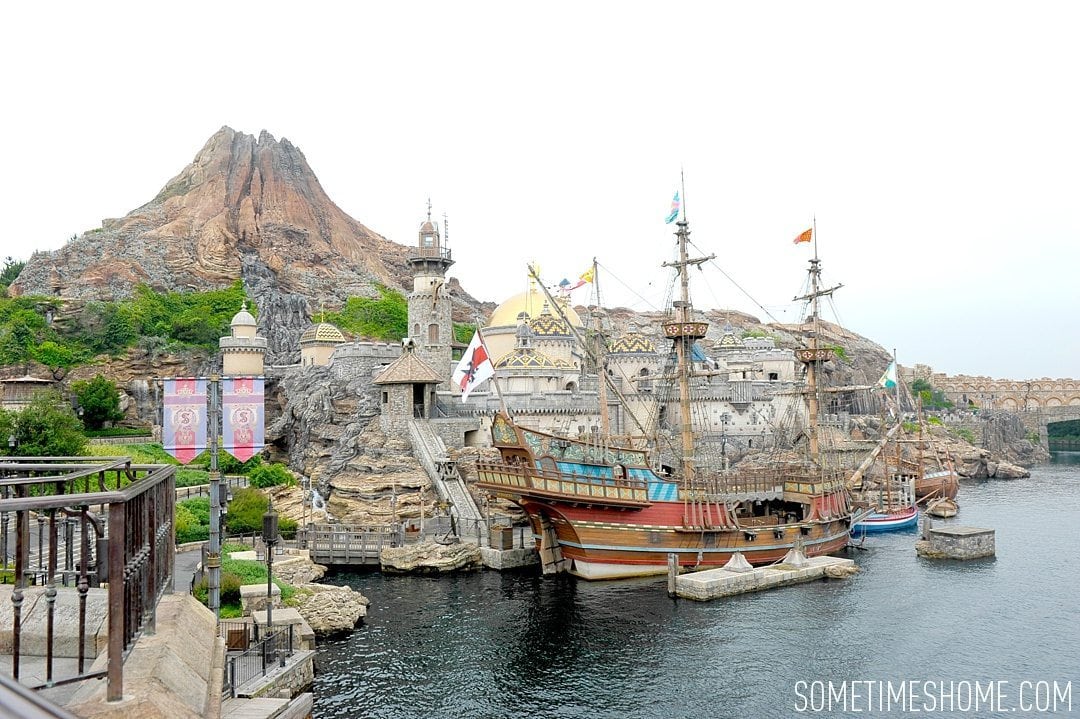 6. Japanese People are the Friendliest People You'll Ever Meet
Though Japanese people may not speak English well they're some of the friendliest people you'll ever meet. Lost? They'll help you. Can't find something? They'll help. Simply want to smile and be in their presence or people watch? No problem.
I recall a story on my way to find a train near Osaka; I could not locate the station and had no way of knowing where it was in relation to where I stood at that moment. I asked a man who was passing by in the simplest English I could think of, "JR Train Station?" and motioned with my hand and a confused expression.
It is actually a recognizable two letter combination since the JR trains are all over Japan, regardless that he only spoke Japanese. He pointed hoping to help direct me properly.
Then guess what he did – he WALKED ME all the way there. In America this may sound creepy – but in Japan it's genuine and simply part of their friendly culture.
7. The History is One of the Best Things to Love about Japan
This will knock your socks off everywhere you go. Japan feels like it has the richest history and the energy in places you'll visit, like Osaka Castle or old Kyoto with its wooden structures and famous for its Geishas, is astounding.
They have a strong history and I love that they honor it from preserving their centuries-old buildings to honoring traditional kimono dress.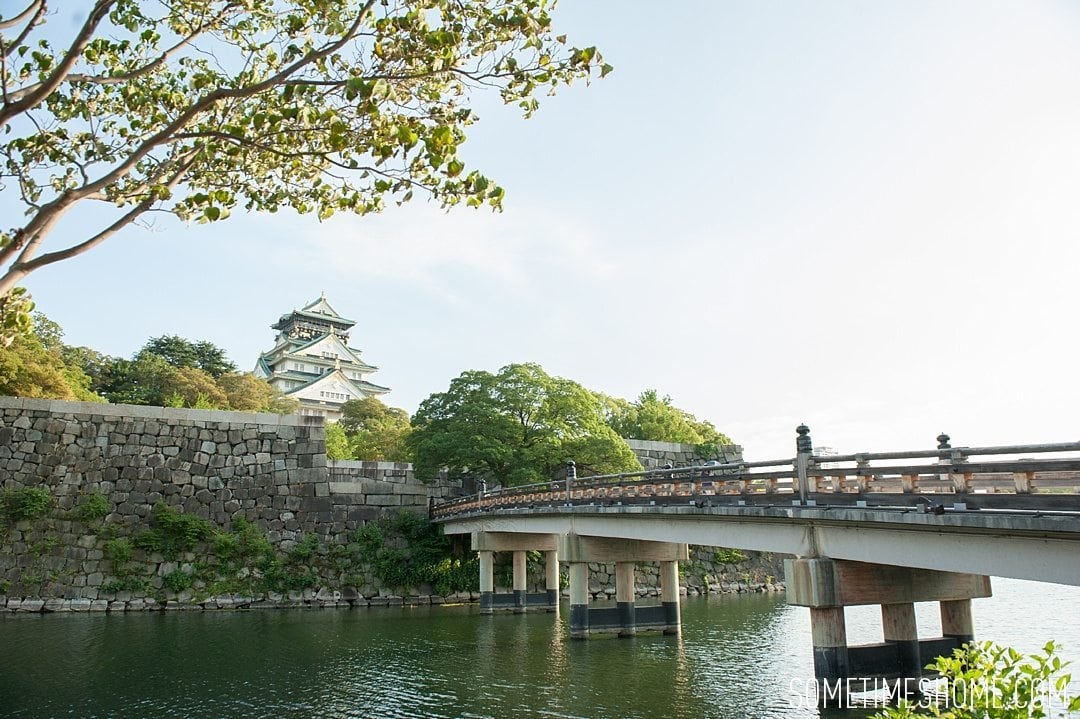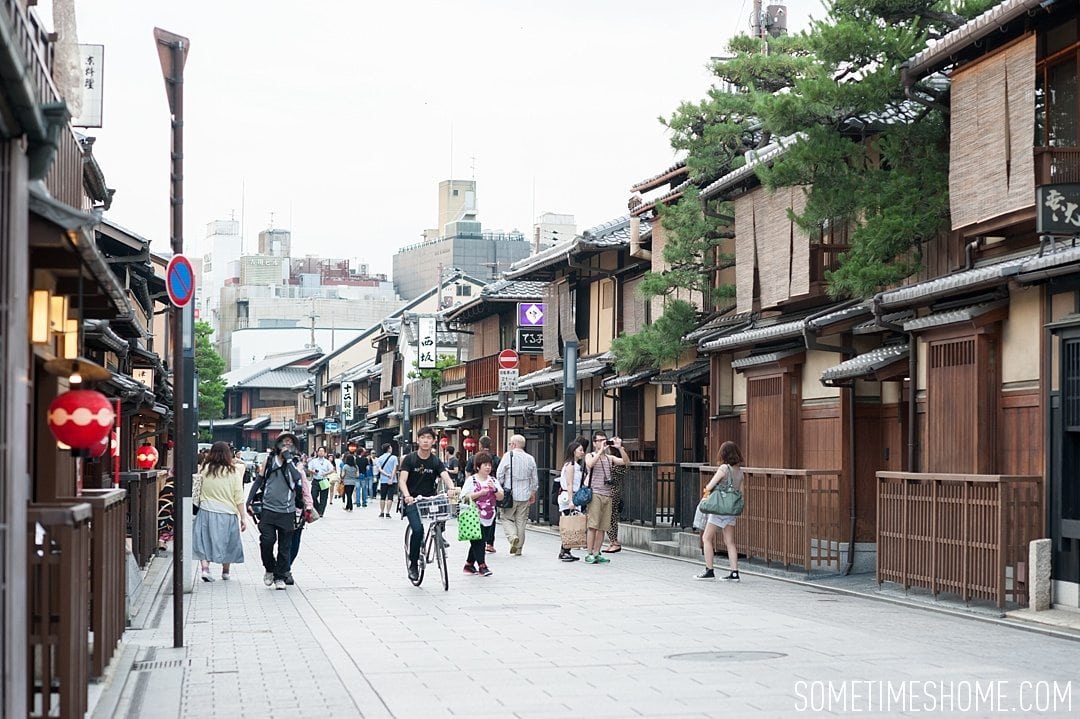 8. Women's Attire
Here's some things that women wear that made me smile: 1) stockings with designs on them – as in hundreds of options with patterns and graphics, 2) hair scrunchies, and 3) gloves to protect their skin from the sun, even in summer.
It's also common to see women carrying umbrellas year-round, no matter the weather, for the same reason. It's also usual to see women and men wearing face masks if they're sick. So much so retailers sell masks with cute graphics on them if you want to wear something with a bit more personality!
9. The Landscape is Ideal in Any Season
I was there in summer and it was green and beautiful. Though this thought crossed my mind anywhere I went: this would be gorgeous in any season. This is partially because of the pride the Japanese take in gardening and respect they have for nature.
Whether it's snowy scenes in winter, blossoming cherry trees (Sakura) in spring, lush greenery in summer or the oranges, yellows and reds in fall it'll be a win no matter the time of year you travel there.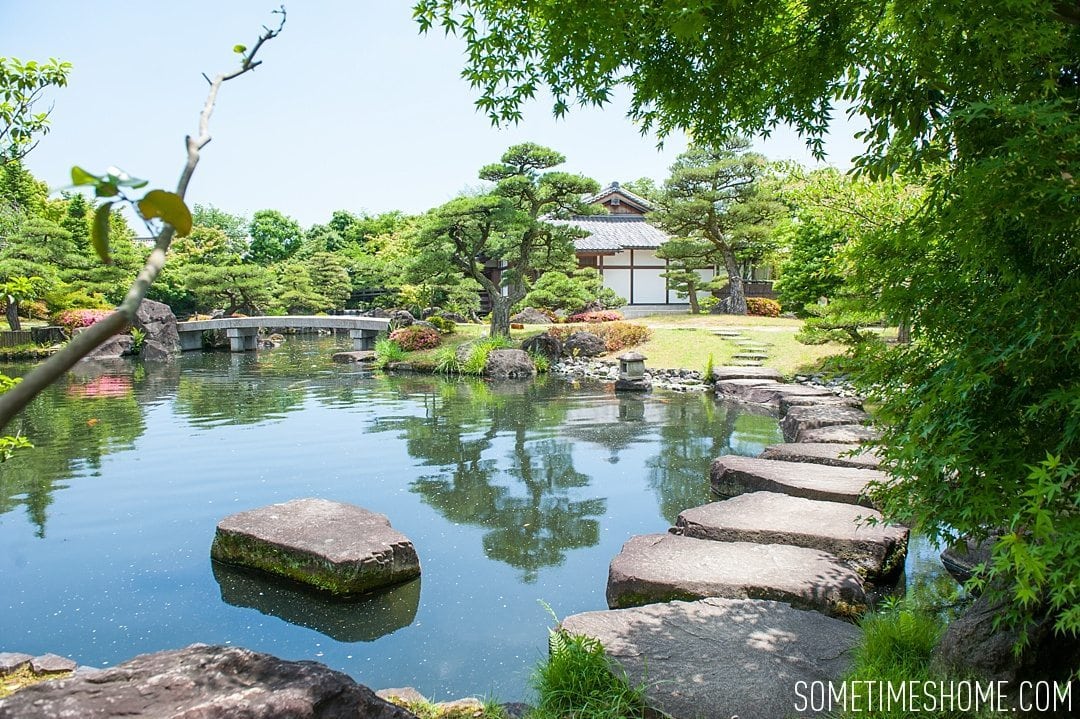 10. English is Not Regularly Spoken in Japan
It can be intimidating at first (so simply always act confident and friendly) but you quickly feel like you're in the Twilight Zone in Japan. It seems very western, first-world and advanced as a whole but no one really speaks English. It's simply not a priority for them to learn it and most don't. After all, they're Japanese!
These days a lot of signs are in both Japanese and English, but don't be surprised if it's difficult to find any English speakers around. I found most people certainly understood hand motions and body language and spoke a few English words (such as thank you, yes and no, left or right, and hello and goodbye) but fluent or proficient English simply isn't common over there.
11. Love the Vending Machines in Japan
You've probably heard about Japan's legendary vending machines. It's true and they have them!
I never saw incredibly whacky ones I'd heard about (like vending machines with underwear) though I did see a cute one with a game to win toy sushi. I did, however, see plenty of useful ones that contained things like beer, coffee and tea (both hot and cold options) and cigarettes. (For the record, I don't smoke.)
They come in handy when all you want after a long hot walk to the train….is a cold beer.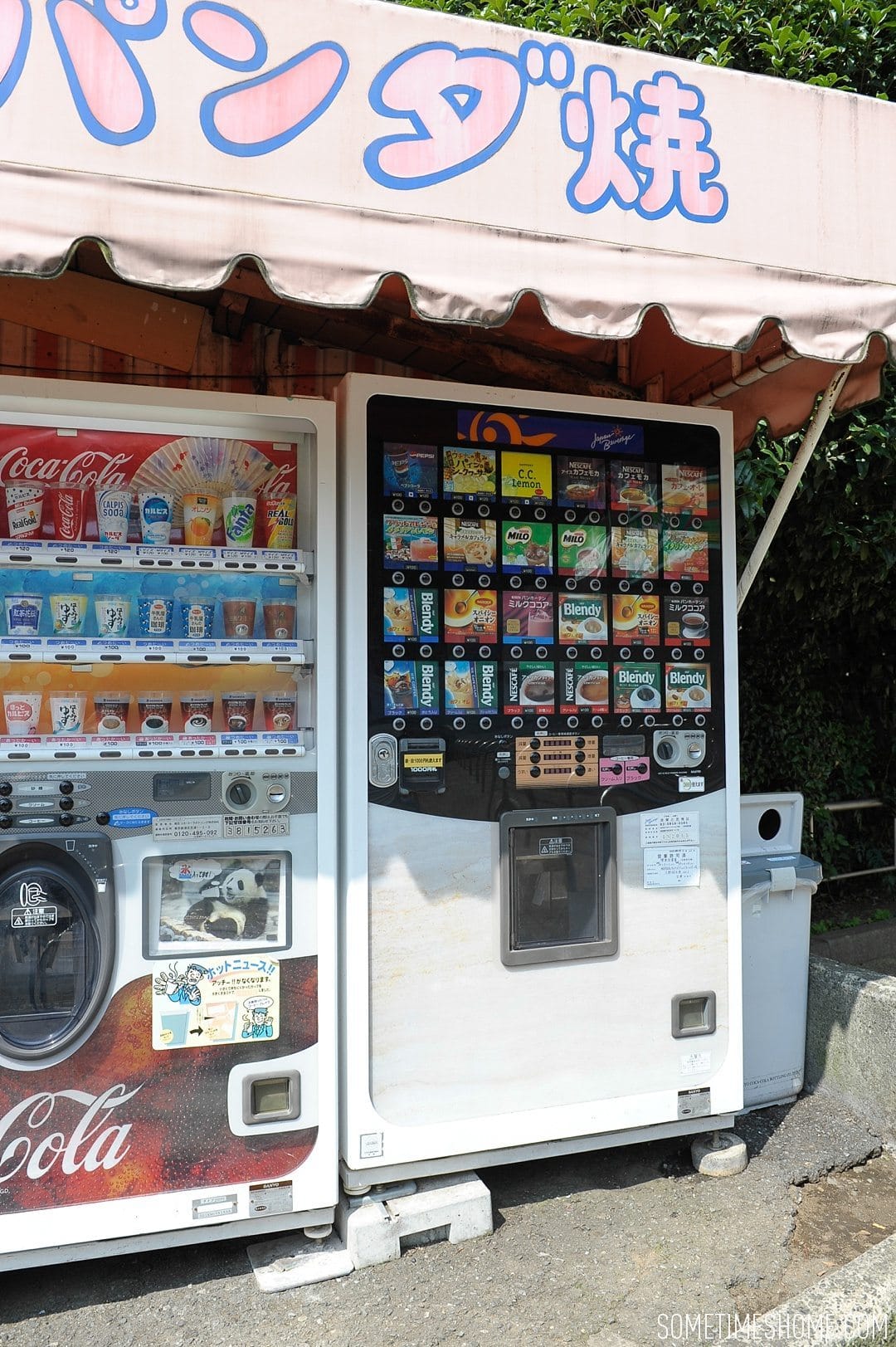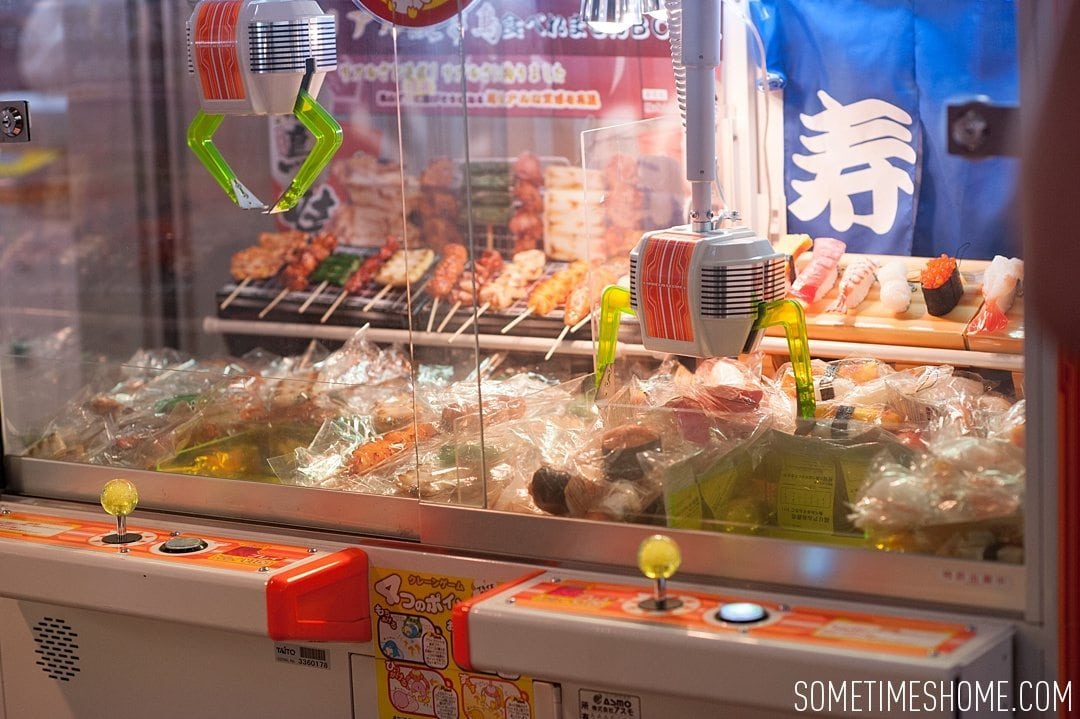 12. Japanese Love for Electronics is Out of This World
Blown away: those are the 2 words that come to mind when I think of a visit to the electronics district of Tokyo, called Akihabra. Yodobashi electronics store is a must-see for anyone remotely even near the area.
It's worth the destination because it's unlike any other store you'll ever encounter. Sure they have TVs and cameras. But multiply the options you may expect by hundreds.
For one example: they had lens covers to purchase in every color of the rainbow and with multiple graphics options when stores in America usually carry one color: black. They have an infinite number of cell phone accessory options. One of my favorite memory card holders for my camera gear is from Yodobashi. I've never seen it anywhere else!
13. No One Crams Shops, Restaurants and Bars into a Building Quite like the Japanese
Japan's an island. Take away the areas you simply can't build on due to geographical constraints or environmental protection and its area gets even smaller.
When you can't built out…you build UP.
It's likely an address you may be looking for is on the 8th floor of a building, for instance, not ground level. When I went to find the tattoo shop in Osaka to get my tattoo I wasn't seeing the shop. Where was it? Up. I should have known!
The image below is a sign for the MANY shops in one small building. It's also why they're the masters of capsule hotels, which is certainly one of the things to love about Japan!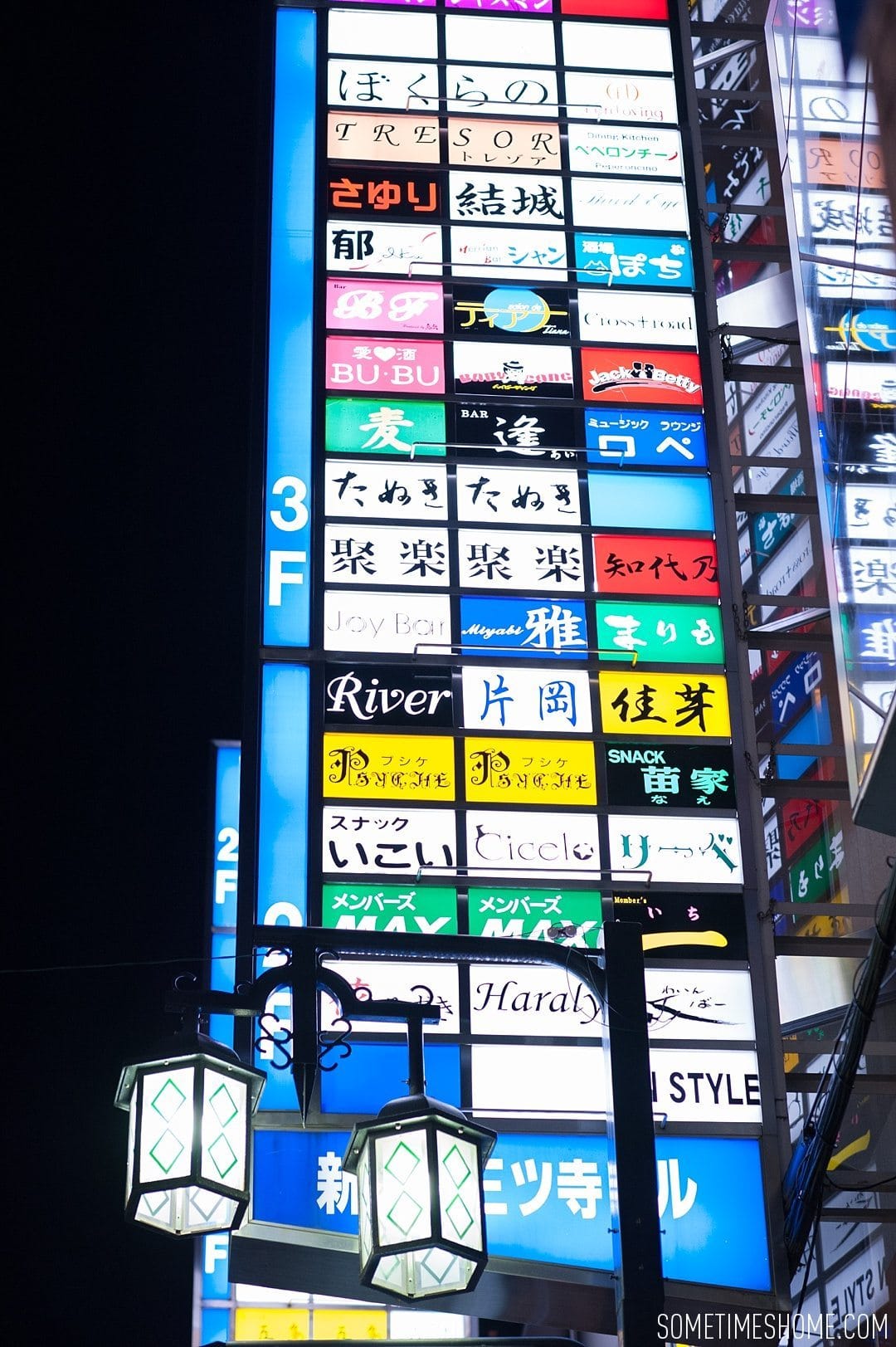 14. Japanese Malls and Shopping Centers are on Steroids
Not only do the stores keep going…on and on…but the food courts are unlike anything you've seen. Both the stores and food options are of high quality! Malls are usually conveniently located near a train station so they're easy to access.
15. Fake Food Displays are a Must outside Restaurants in Japan
I never knew there was an entire industry based on creating fake food displays until I went to Japan. Before you enter about 60% of the everyday restaurants I encountered there you can view their offerings in a glass display case outside the restaurant.
It was actually quite helpful – we all know you eat with your eyes first and some of them looked so realistic you'd have thought you could eat the display.
Also if the restaurant didn't have an English menu I found I could take the waiter or waitress outside to the display and simply point at what I wanted.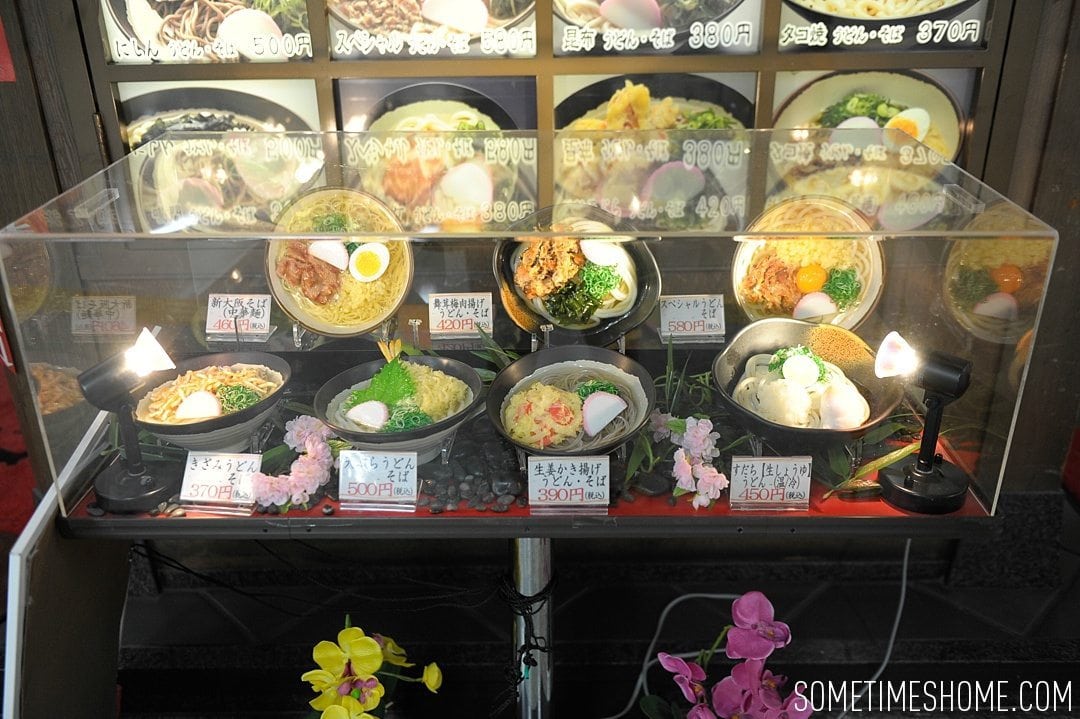 16. Everything is "Cute" in Japan
Japanese love cutesy stuff.
Even the construction stanchions below, which I passed in Himeji, were adorable. I mean…come on! I've never wanted to photograph construction elements so badly.
It's so ingrained in their culture they have a name for it: KAWAII. Look it up in Wikipedia – it's a real thing.
They love giving the "peace" sign in photos, they like colorful cartoons with adorable touches (think "Pokeman" characters), they love juvenile charms on their cell phones. This is the country that invented Hello Kitty. Need I say more?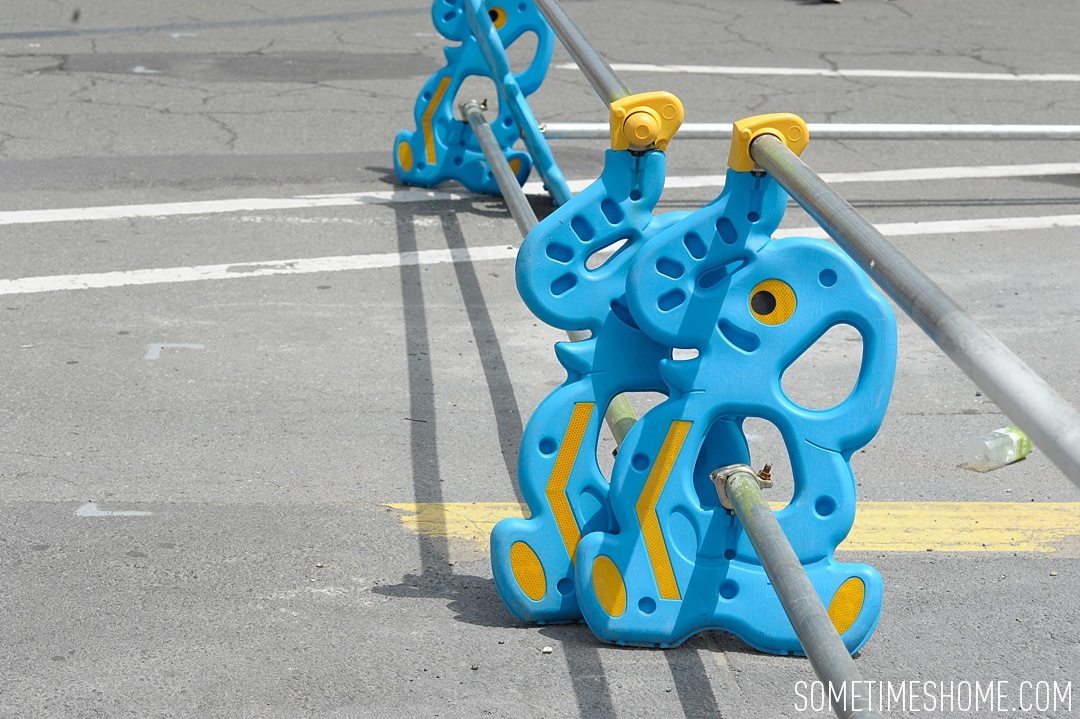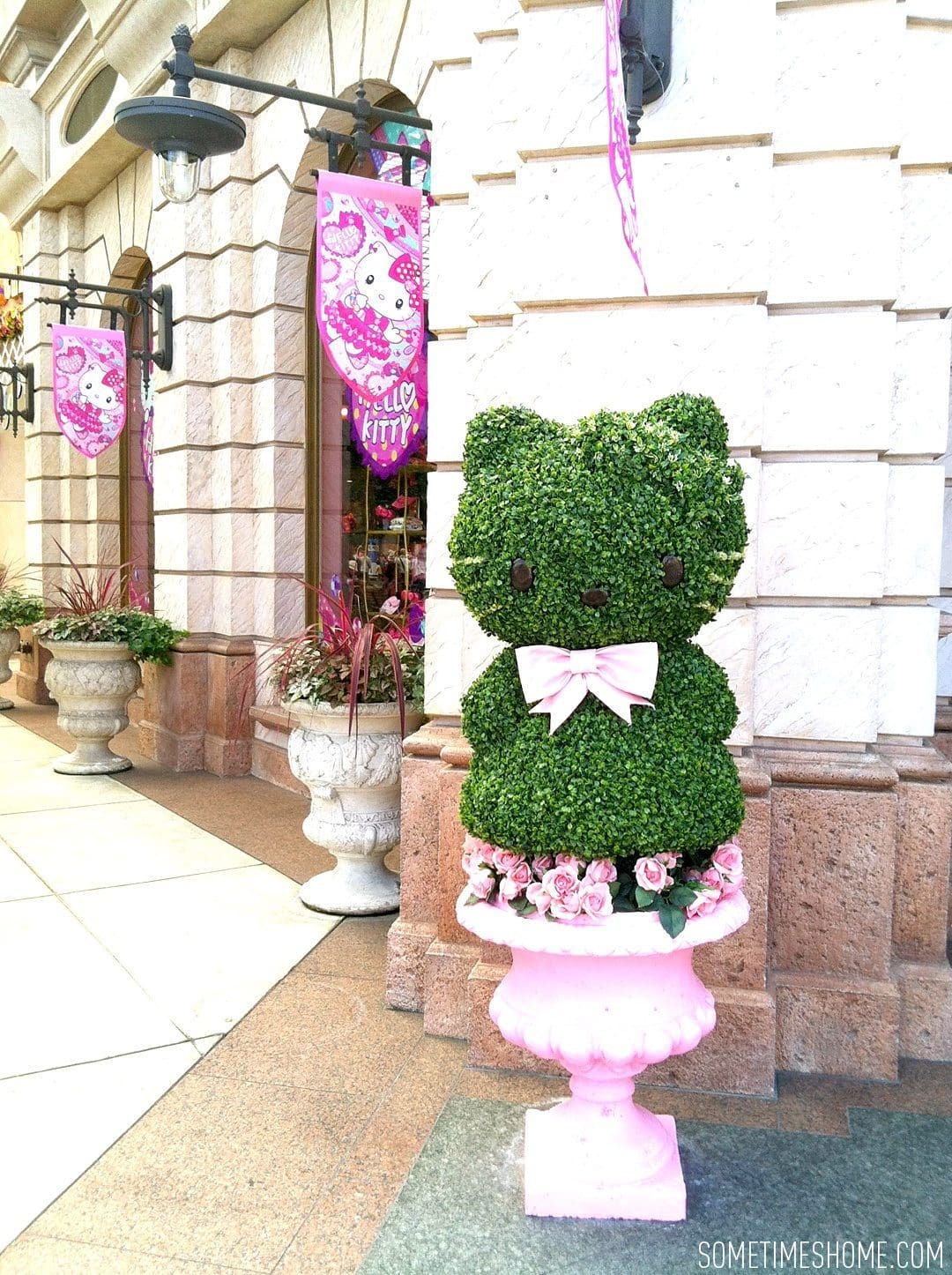 17. They Embrace Weird and Unusual Flavors
If you visit any country that embraces weird flavors – like for ice cream or potato chips – it becomes a game to find the oddest! I had black sesame flavored ice cream (swirled with vanilla) and I LOVED it.
Green tea flavored things are popular in Japan too. Also popular? Uniquely flavored Kit-Kat Bars, like Sakura (Cherry Blossom) flavored! And yes, that's a black hot dog and bun in the photo below along with Green Tea Truffle Haagen-Dazs ice cream.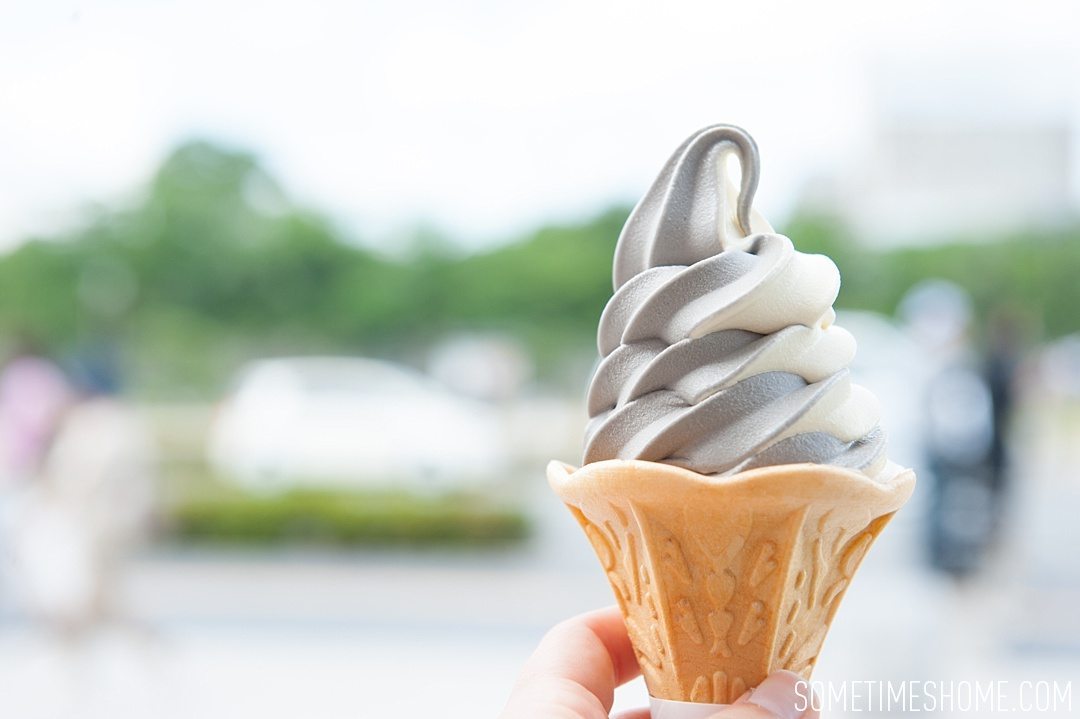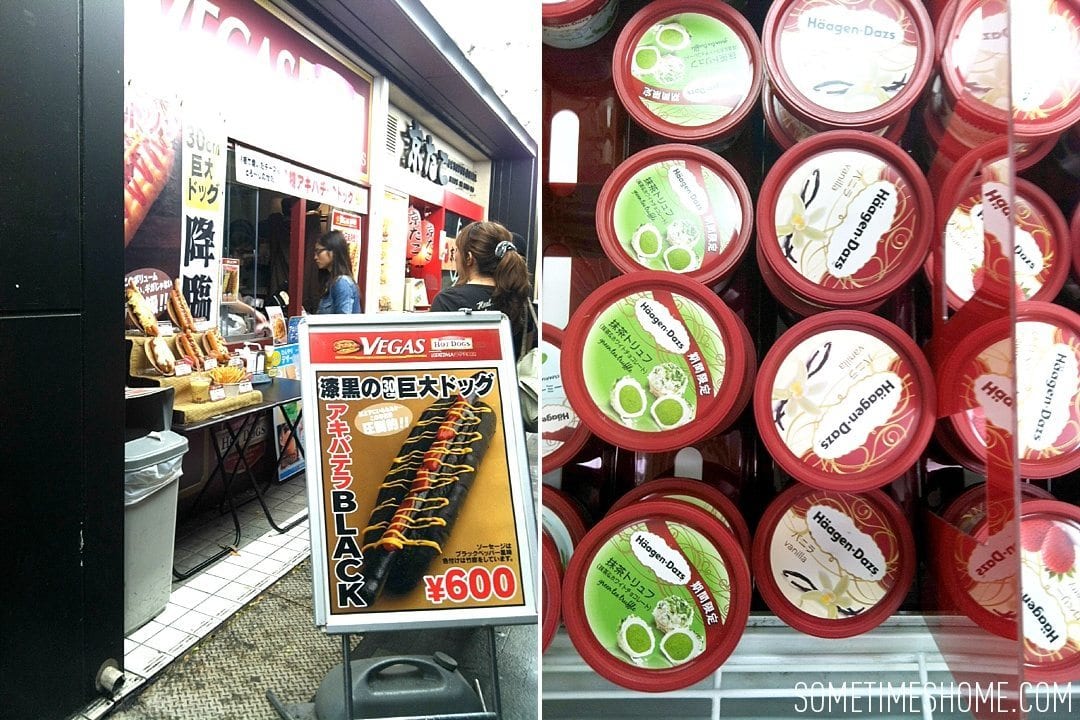 18. Wonder Toilets
Their toilets are wonders in their own right. I've never seen such complicated machines to flush waste like I have in Japan. They will (and I kid you not) wipe your butt at the touch of a "water/bidet" button feature, dry it with warm air and even have audio buttons if you need to mask "gaseous" noises.
There's also a seat in a lot of the women's restrooms to hold your baby while you do your biz. Now that's an accommodating culture.
19. Deer Roam Free in Public Places
They consider deer to be sacred. Because of this, they leave them be in many place. For example, in Nara, a UNESCO World Heritage site, not too far from Osaka, they're simply a part of the sea of tourists.
I saw the same integration of deer at Miyajima Island and Nikko too, also famous Japanese cities.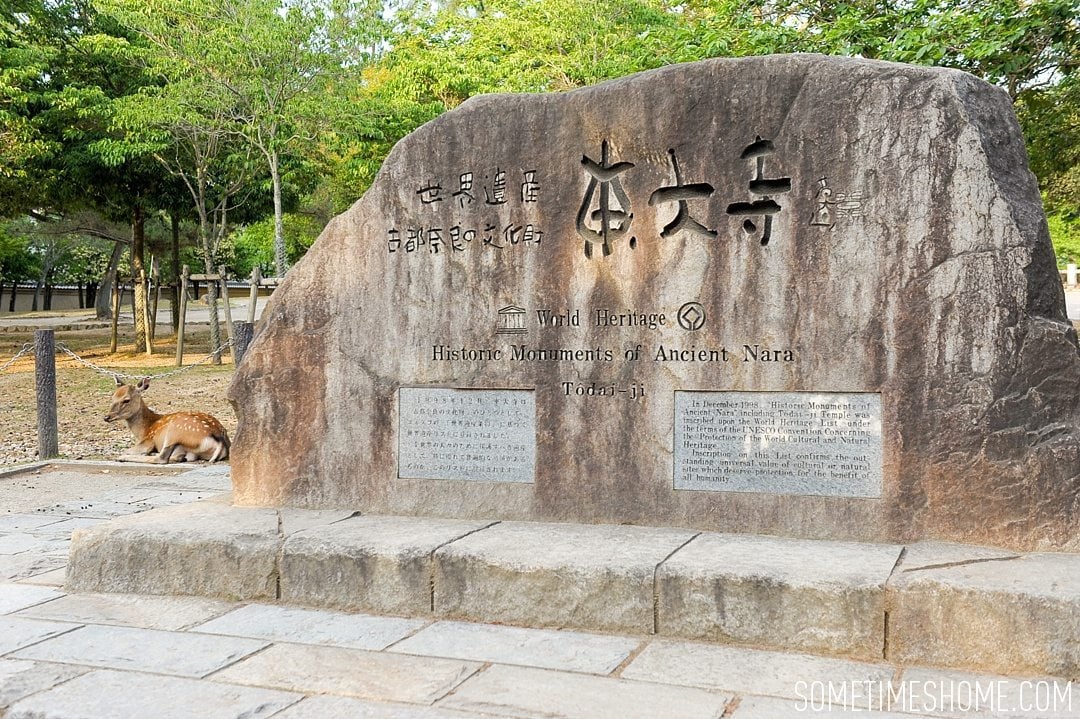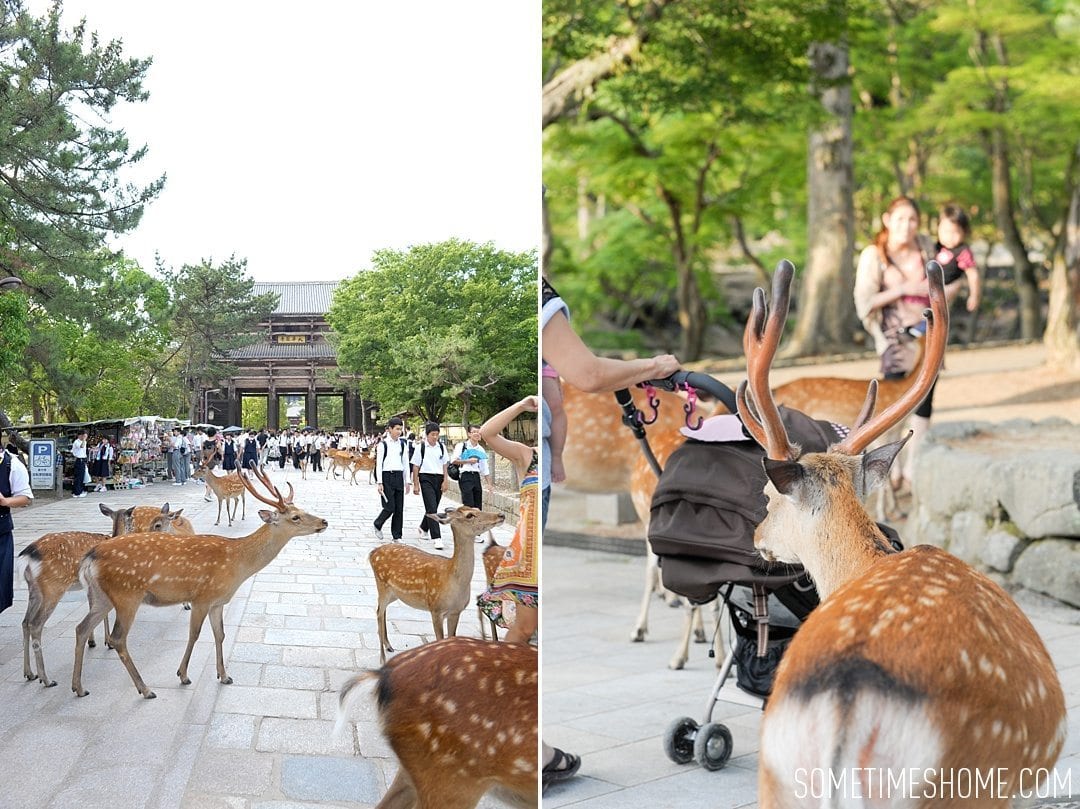 20. They Are on Time
They are on time, to the second. Japanese people, vehicles, operating store hours and trains are precise. And I appreciate that.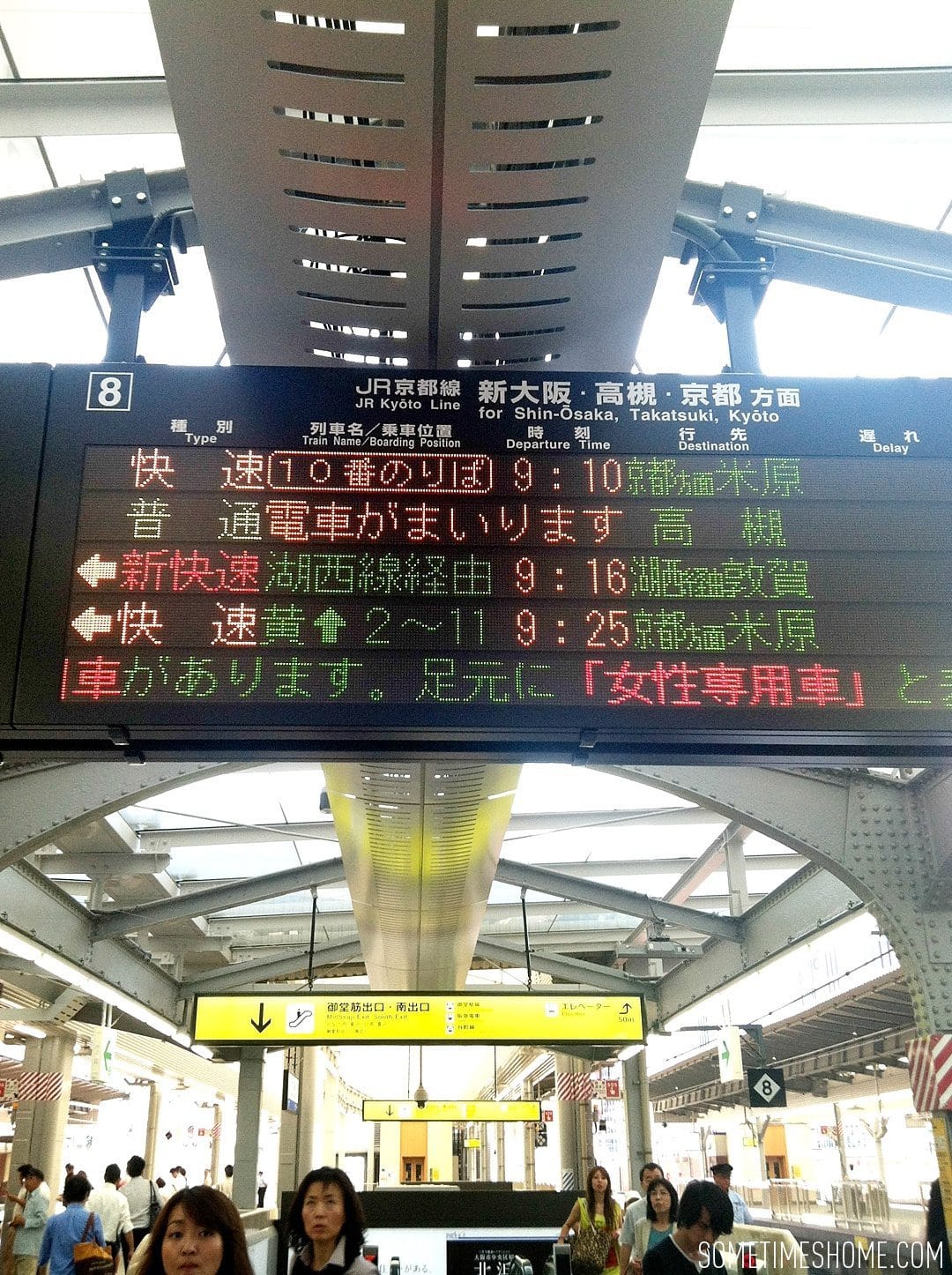 Heading to Japan? Also check out:
What's something you admire about the Japanese culture?