Top Things to Do in Corning, NY in the Finger Lakes
The Finger Lakes region is great place to visit and a lovely drive from New York City.
There is much to enjoy in the area, from adventure sports to the Finger Lakes wine country and wine tasting, wonderful museums, great wineries and delicious restaurants. This destination, in particular, is great for at least two days. You want to visit Corning, NY!
Please note: We thank the Finger Lakes tourism boards for generously hosting us. We also may make a small commission from affiliate links in this post, but all opinions are ours. We bring you genuine content with real facts, photos, thoughts, and recommendations. Always. As Amazon Associates, we may earn from qualifying purchases.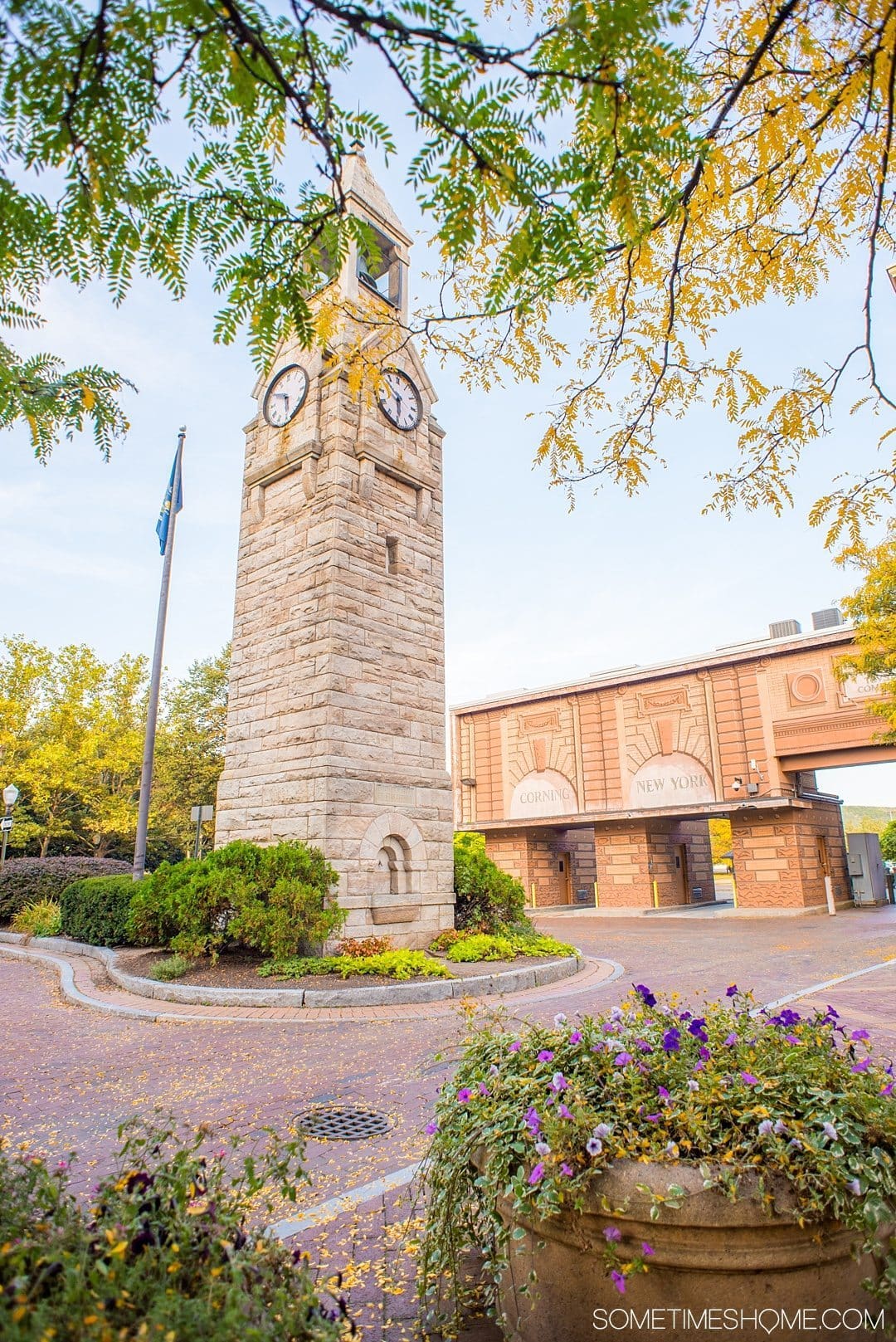 What to See and Do in Corning NY
Kayaking or Paddle Boarding
First things first…I happen to love early mornings on a lake.
It's pretty awesome to enjoy the water's stillness and the feeling of the crisp air. And besides, isn't a morning workout kayaking or paddle boarding on a gorgeous lake way better than a confined gym at your hotel?
Kayaking on Keuka Lake was certainly the most glorious way to start my morning. It put me in the best mood! And since it's a lake, it's calm – there's no need to be scared of huge waves or anything! I recommend doing this for about an hour so you can head over to the next stop!
Note that it's about a 20-30 minute drive from Corning, but it's completely worth it for a little morning zen to start your day!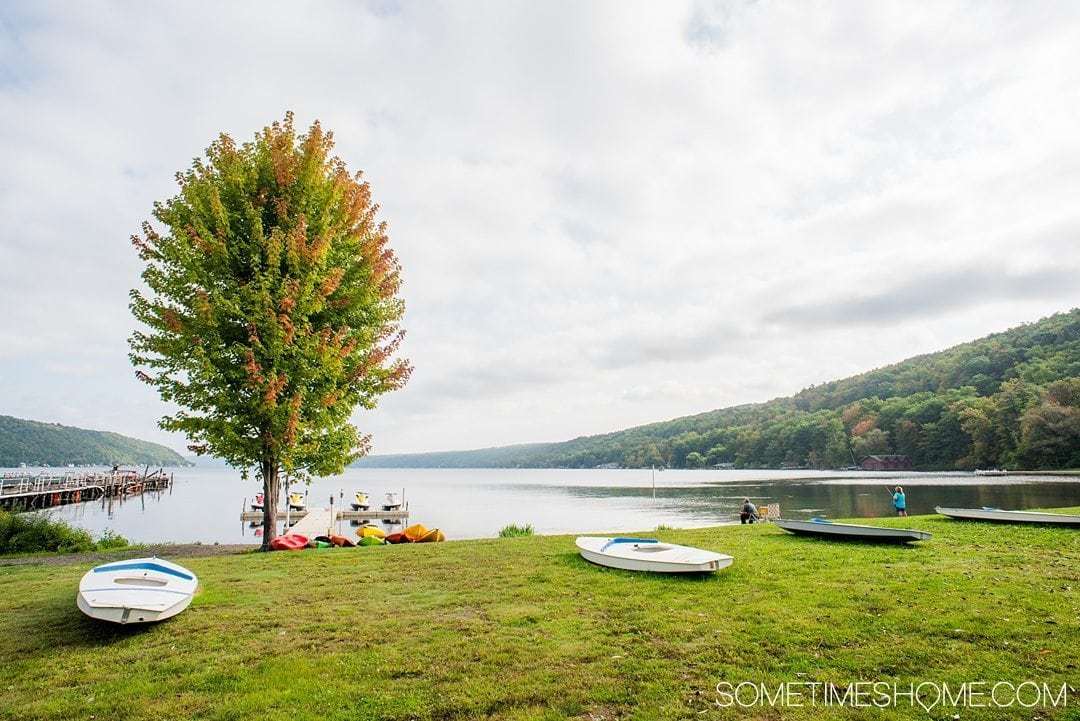 Visit the Corning Museum of Glass
This is such a kick-ass museum. Dan and I LOVED it. We could have spent so much more time there than we did (but there are so many things to do in Corning, NY we moved on after about four hours!).
The glass art sculptures are jaw-dropping. This museum is dedicated to the art, science, and history of glass. You'll watch glass-blowing demonstrations with awe – later on, you can easily participate and make your own glass if you sign up for a class at their neighboring building!
You can spend more or less time here if you want, but we promise it'll capture your attention more than you expected. You'll also gain a broader understanding of how the glass industry plays a role in our daily lives, like in tech equipment, science equipment, and homewares beyond your table setting.
The great news is their tickets are good for two consecutive days. If you're craving more time there but need to skedaddle, come back tomorrow!
For an extensive recap of my time at Corning Museum of Glass, including ticket information, check out this informative post. (Including how to buy Corning Glass pieces on Etsy!)
➡︎ Easily obtain your tickets to Corning Museum of Glass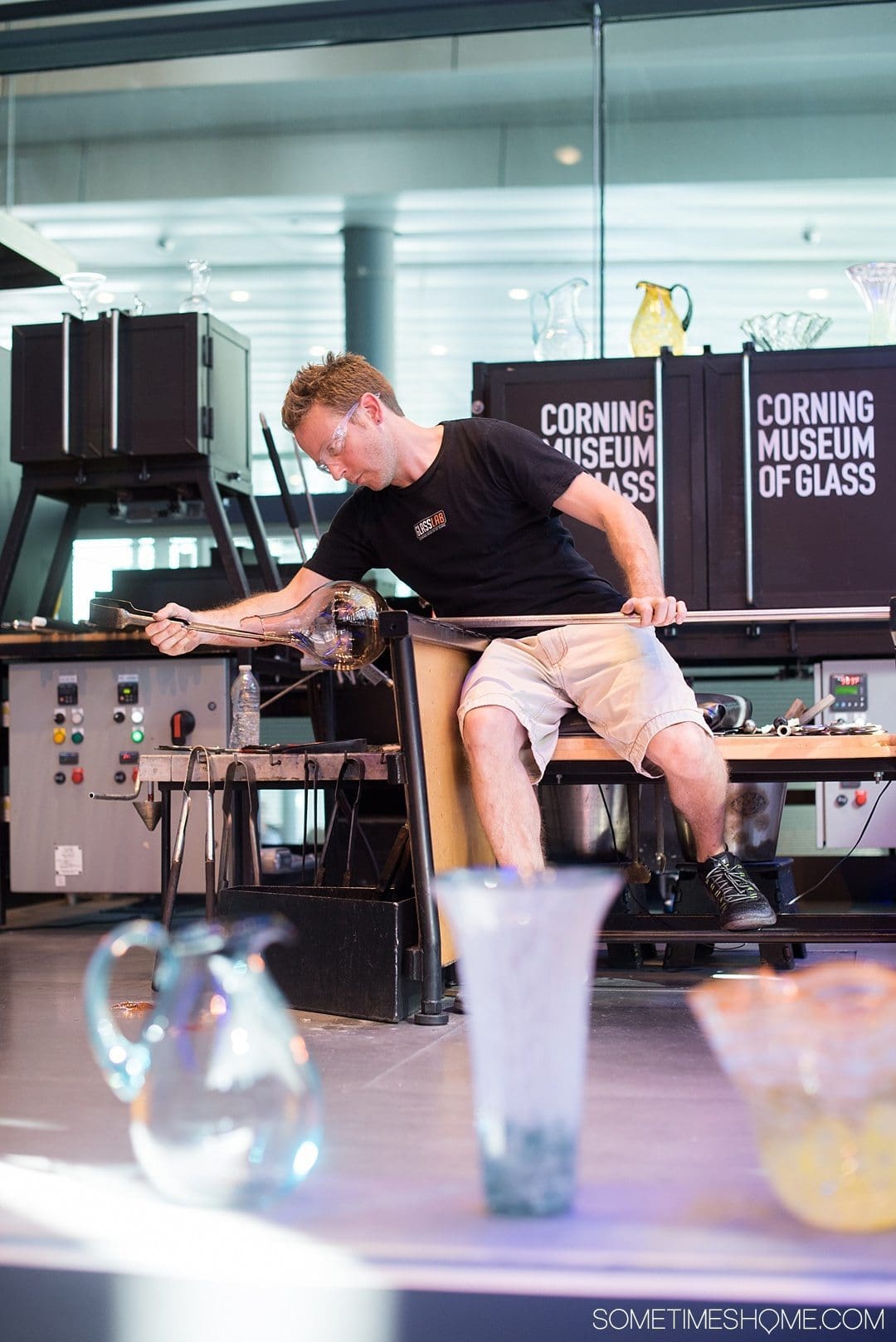 Spend Time at The Rockwell Museum
Next up on your already fabulous day filled with things to do in Corning, NY, is art appreciation and digestion! After filling your stomach with delicious food, take a walk down the road to the Rockwell Art Museum. It's the perfect place for a low-key stroll through beautiful paintings and sculptures.
Contrary to your immediate thought, it's a museum focusing on art about the American experience. The building is Corning's old city hall, and the art collection was Bob and Hertha Rockwell's. It's three floors of about 500 pieces and, as a Smithsonian affiliate, has its seal of approval in terms of its quality and art programming.
I absolutely love native cultures so I was elated to see so many pieces on display whose subject was Native Americans. They own about 13,000 pieces, but due to their intimate space can only display so many at a time.
This is great because they always rotate the art to keep it fresh! They also have a program partnering with Corning Museum of Glass to bring guest artists to the area.
They're open from 9:00am to 5:00pm daily, except for a few major holidays like Christmas and Thanksgiving. If you're visiting both museums, be aware you can save a few dollars and buy a combo ticket for both.
A free shuttle transports visitors between the two museums and runs every 15 minutes.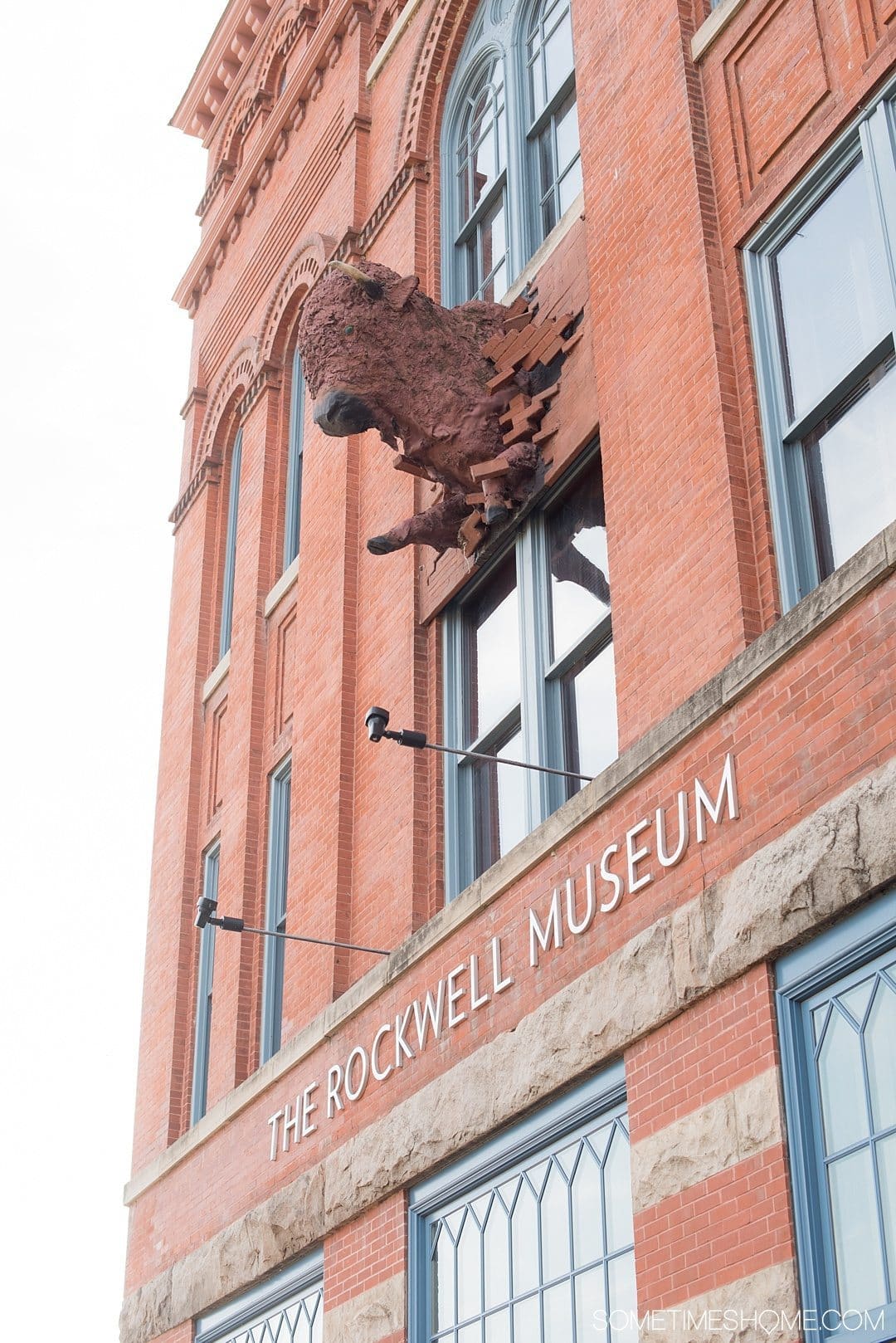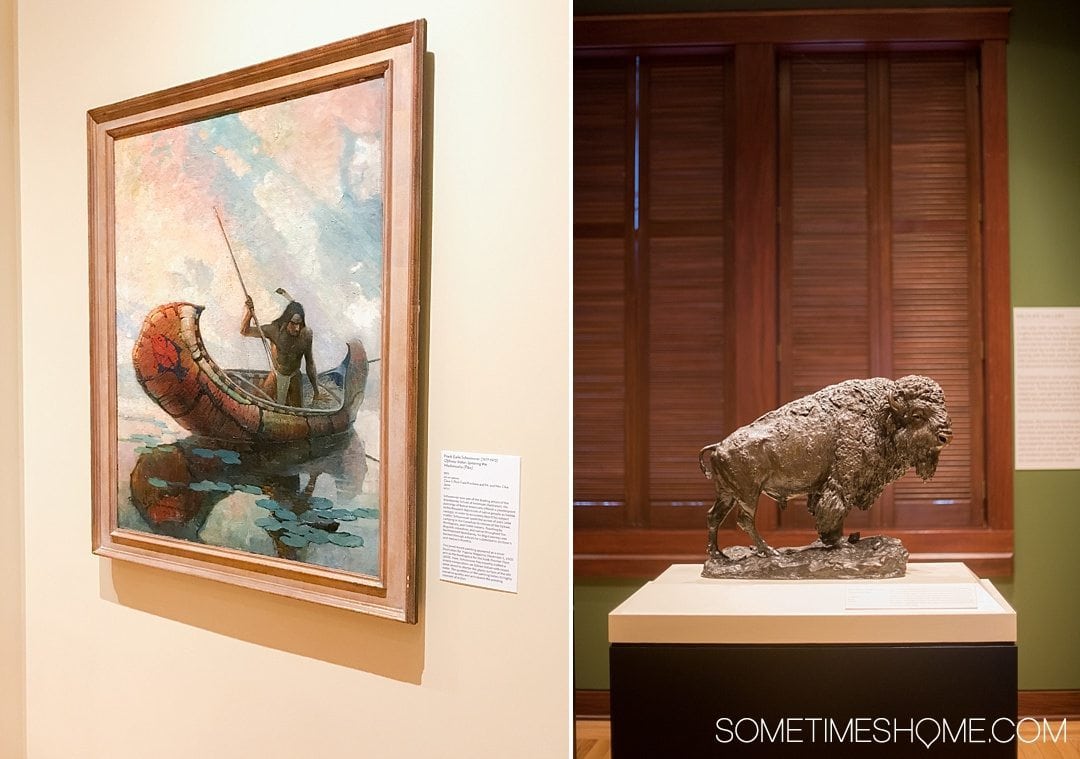 Explore the Town of Corning, New York
Corning is such a cute, walkable town, and you'll want to explore W Market Street, part of the historic Corning's Gaffer District of Corning, NY.
There are vintage shops, clothing stores, antique shops, and retail spaces.
It's also a great time to take some photos – it's truly a picturesque American city. Be sure to stop at the fifty-foot-high Clock Tower in Centerway Square. It's a memorial to Erastus Corning, whom the town is named after. The Clock Tower used to be a watering station for horses too, and was constructed from local stone.
Another SUPER cool thing to do in Corning, NY is to participate in a self-guided walking tour, which starts at The Clock Tower. You can start there from the beginning or input your location from a list of 19 landmarks in the Gaffer District.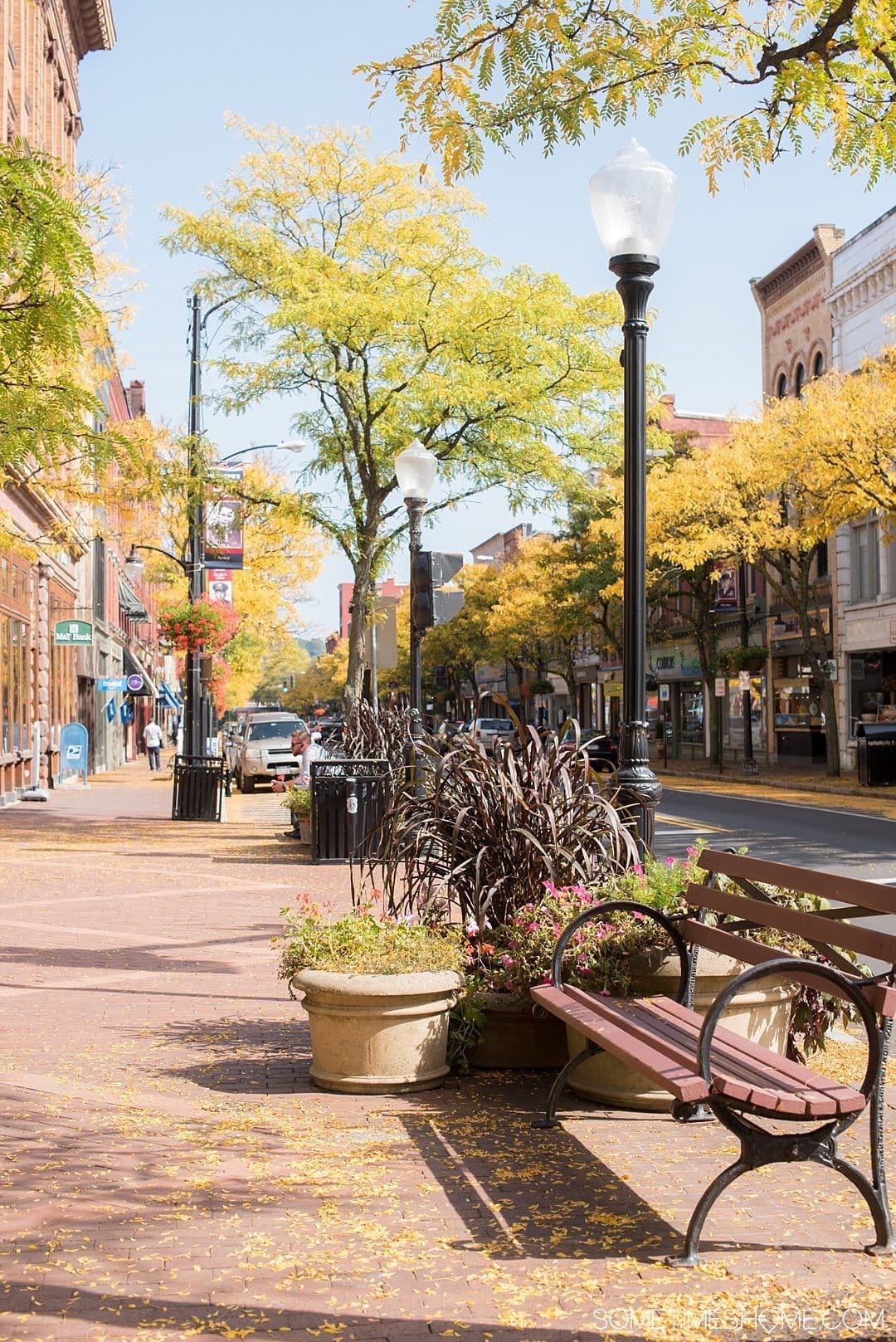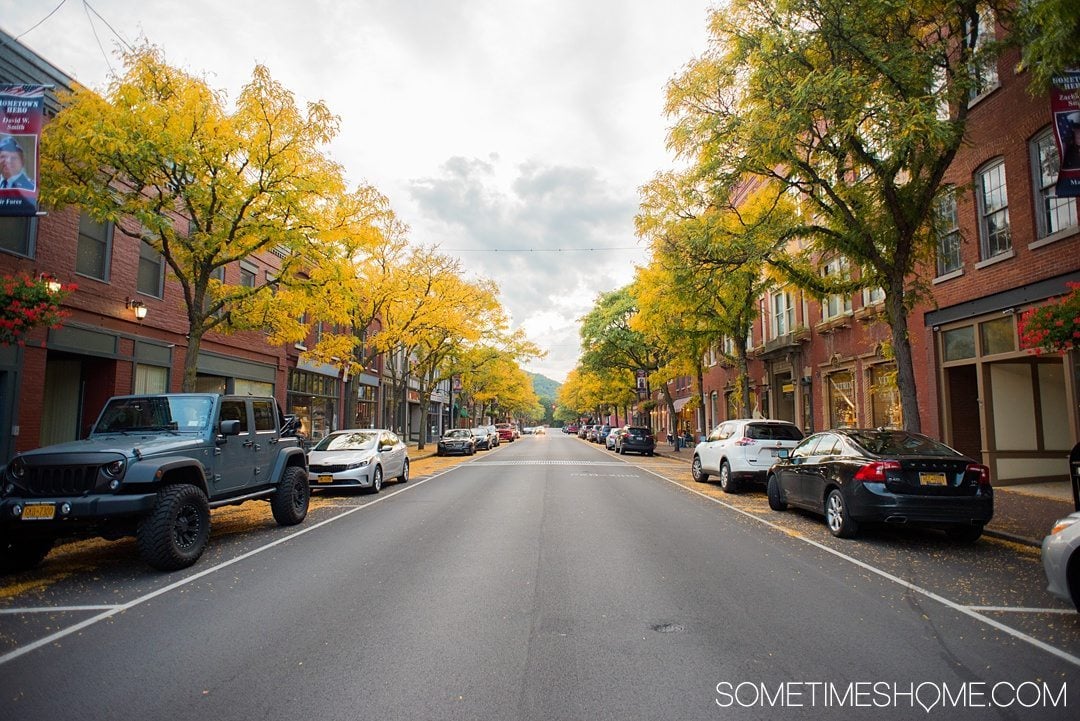 Restaurants in Corning NY
Have Lunch at Hand + Foot
Hand + Foot is hands down one of the best restaurants to grab lunch in Corning's town on W Market Street.
They have something for any diet, any palette. You can't go wrong with anything you order, but I enjoyed the tostones, artichokes, and pretzel bread with my group to start.
The tuna poke was my main dish, which I highly recommend, but some sandwiches friends ordered looked amazing too! It's got a bit of a cool hipster vibe inside that I really liked.
The owners are seasoned restaurant owners who moved back closer to their hometowns after learning about restaurant management, including running a successful kitchen in Manhattan.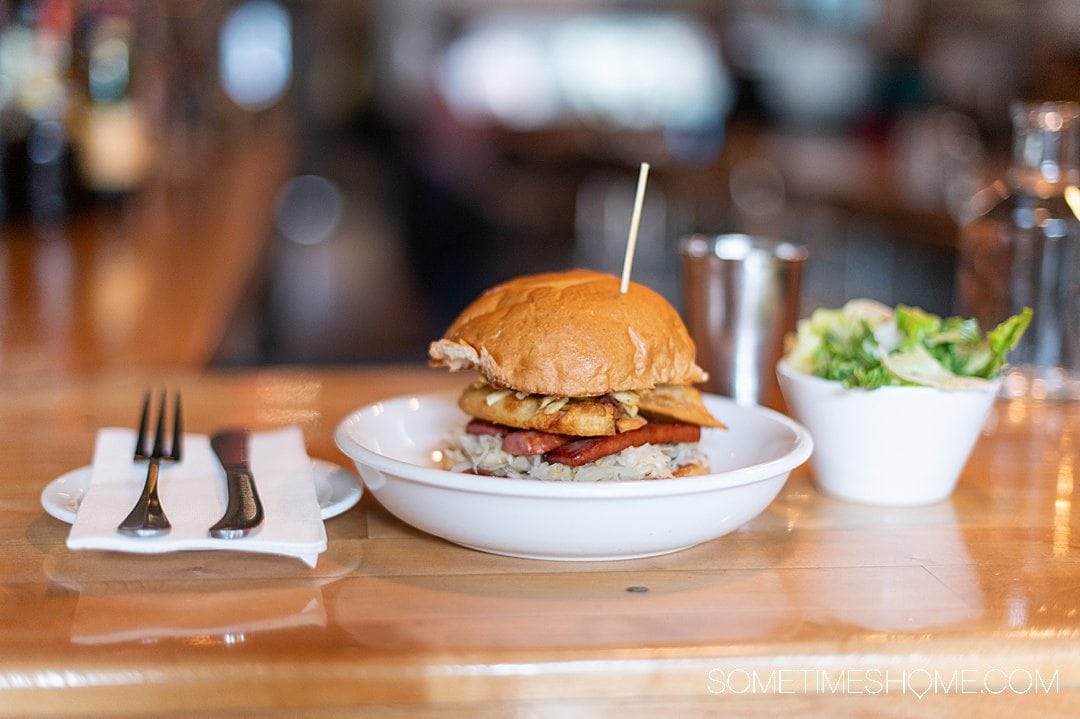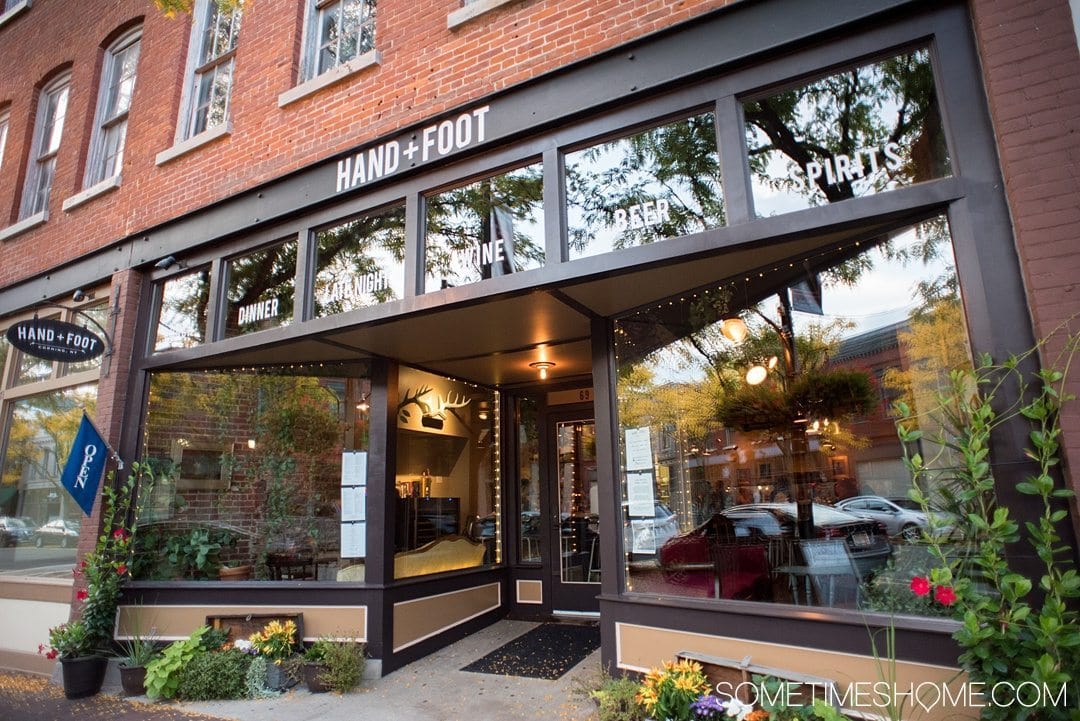 Happy Hour Beer at Market Street Brewing
You're on vacation! And what does that call for? Happy hour!
Head over to Market Street Brewing. It's a great spot to enjoy some delicious beer.
The staff is welcoming, the tunes are awesome, and the vibe is cozy! I recommend a beer flight – it's the best way to try a bit of several great options. (Note they're open Tuesday through Saturday and closed Sunday and Monday.)
While you're enjoying your beer, admire the building you're sitting in. The owners received a prestigious award in New York, called the PAN Award, given to those who restore historic and preserve structures in historic districts, such as Corning, NY.
(Love beer? Check out our self-guided brewery tour guides in San Diego and Winston-Salem, NC.)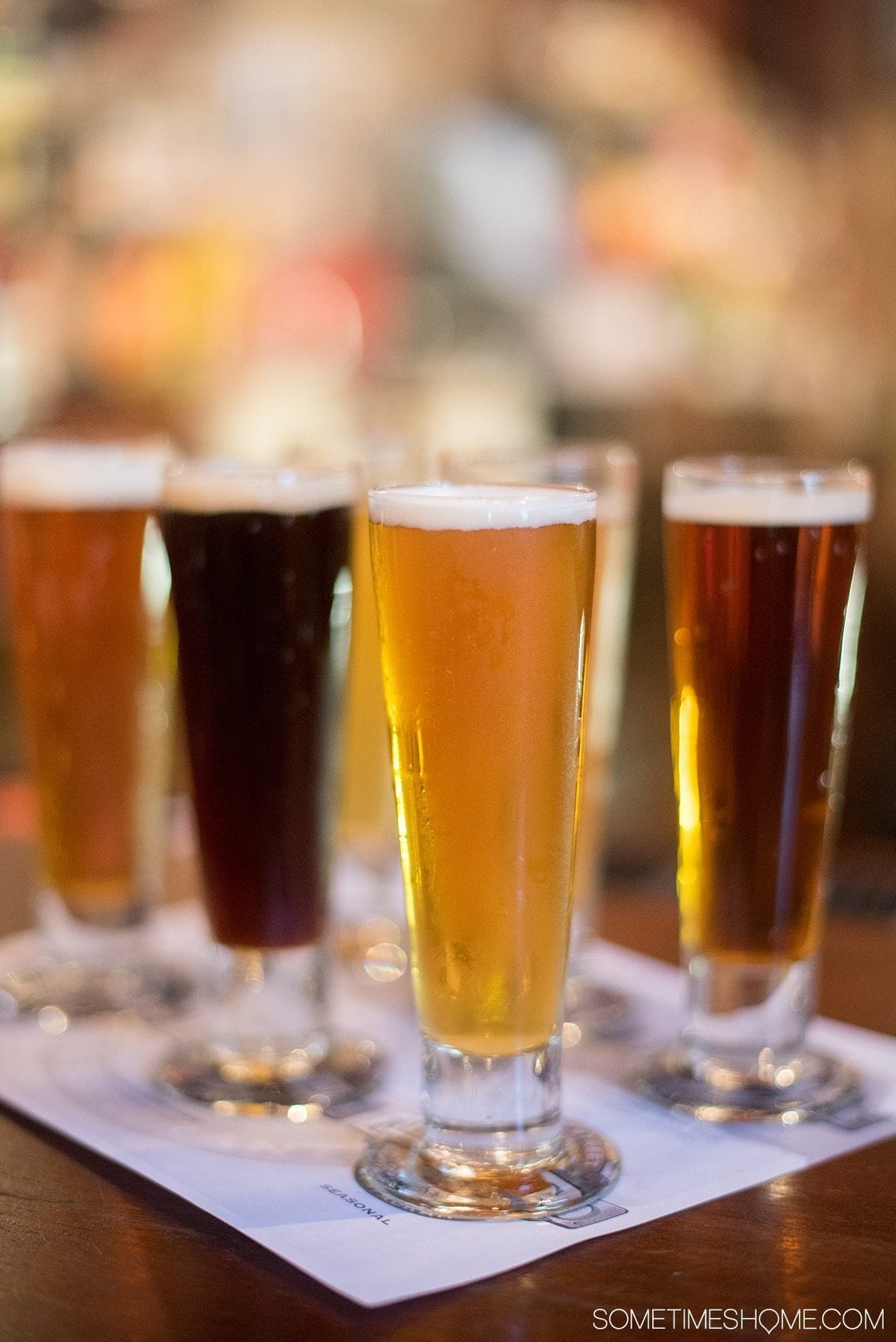 Have Dinner at The Cellar
One of Corning's many great restaurants is The Cellar. So many menu items caught my attention that it was hard to choose just one…so I didn't!
My friend and I split two dishes. But that was only after everyone at the table shared a beautiful cheese plate, and we all indulged in roasted Brussels sprouts. (Yum and yum.)
They also have an extensive list of wines, martinis, and assorted cocktails. So many, in fact, they need an iPad to show guests all the options!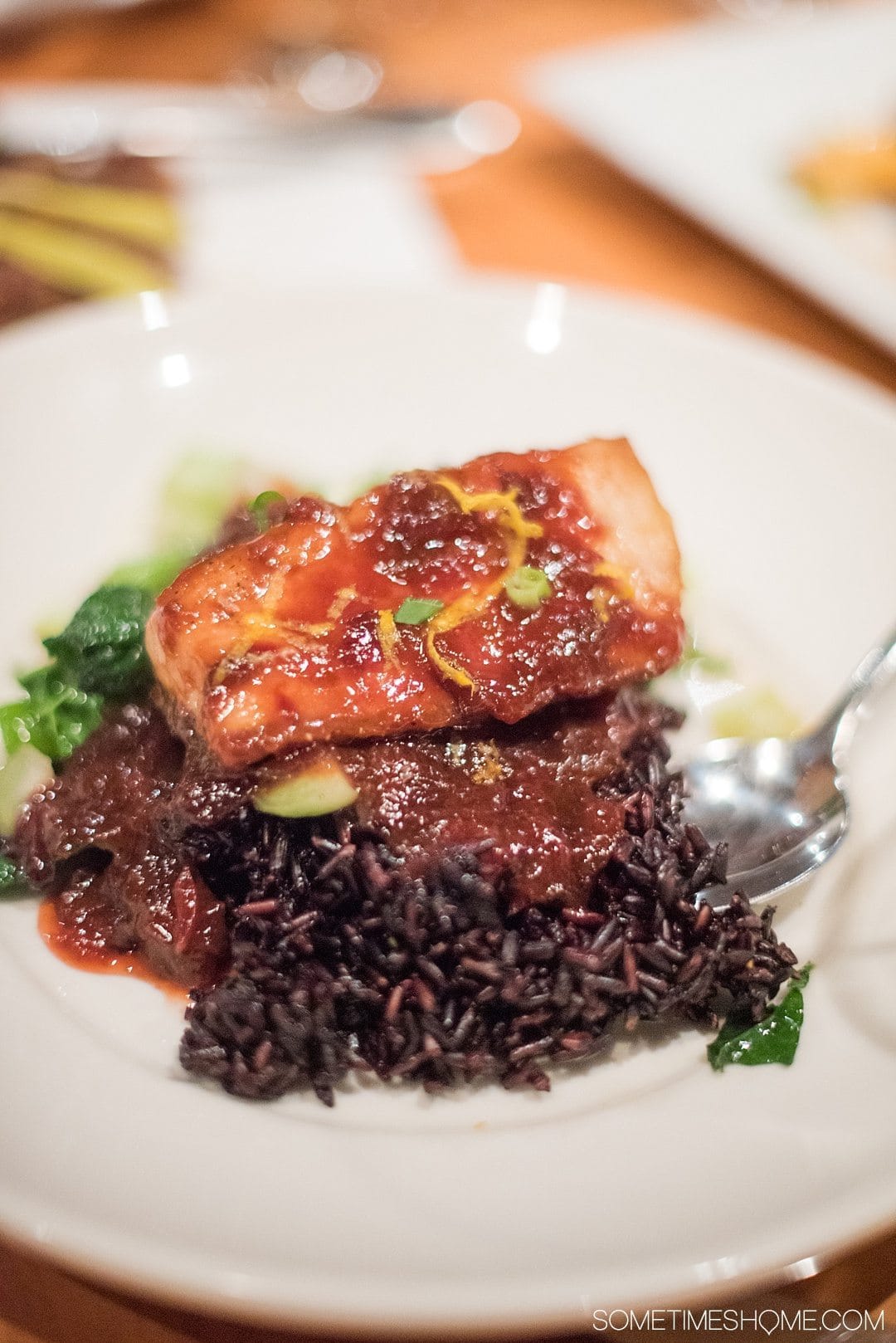 Dippity Do Dahs for Ice Cream Dessert
If you saved room for dessert and you're more of an ice cream person than a cake one, walk down the street for a treat. Dessert at Dippity Do Dahs ice cream parlor will do the trick.
They have sundaes, waffle cones, shakes, and ice cream sandwiches. Indulge a little more for your day in Corning, NY; I did.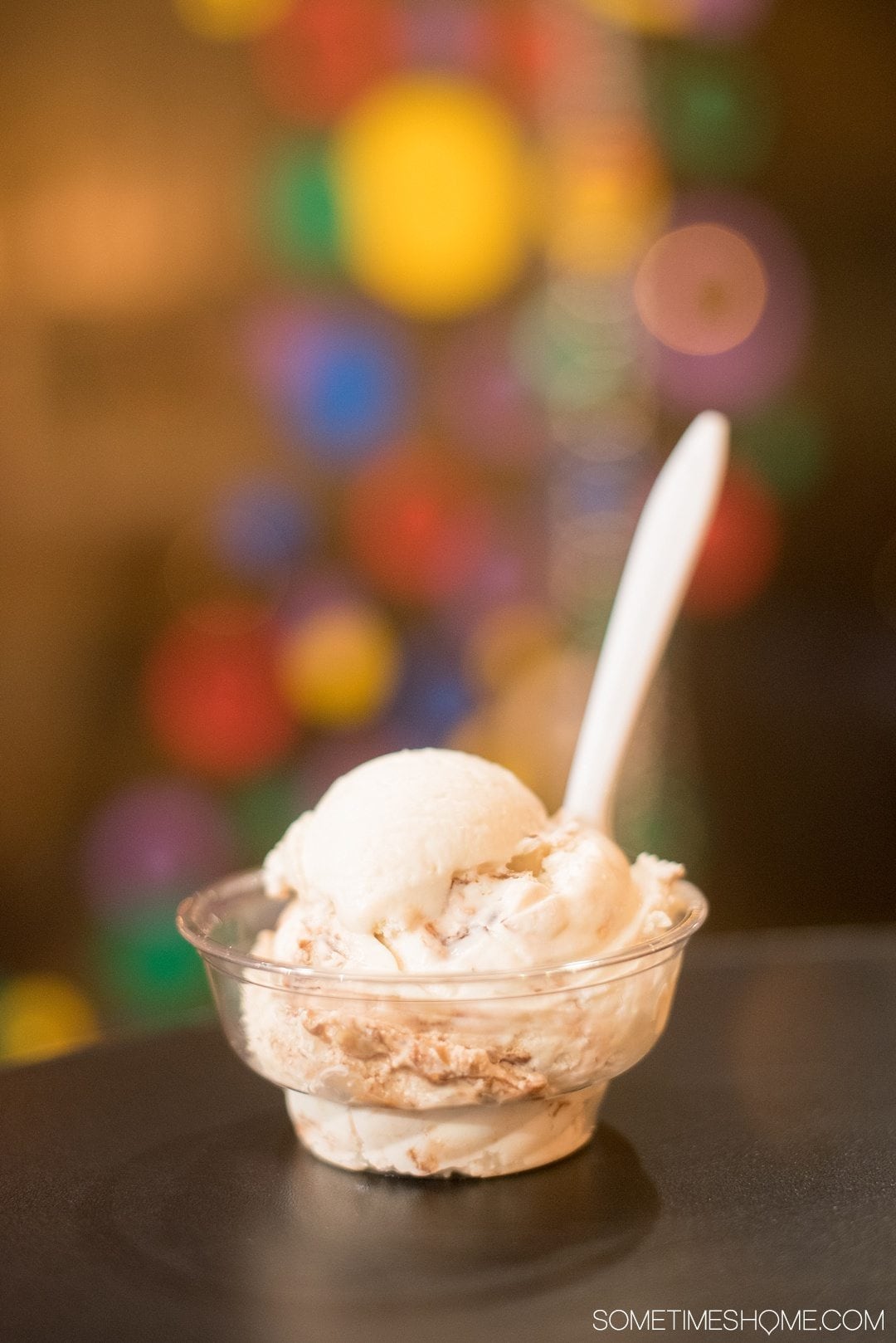 Wine Taste
Of all the places in the United States to flock to for wine, would you guess that the Finger Lakes of New York state is one of the top regions for growing wine? We didn't know this little fact until we started to travel there and see how huge wine tourism is in the area!
If you're in Corning, NY, you must venture to nearby cities, including Hammondsport and Watkins Glen, and hit the wine trails to taste some delicious wine.
Pick your lake to hop around – the Keuka Lake Wine Trail, Cayuga Lake Wine Trail, or Seneca Lake Wine Trail – and taste the area's reds, whites, and rosés. (Drink responsibly!)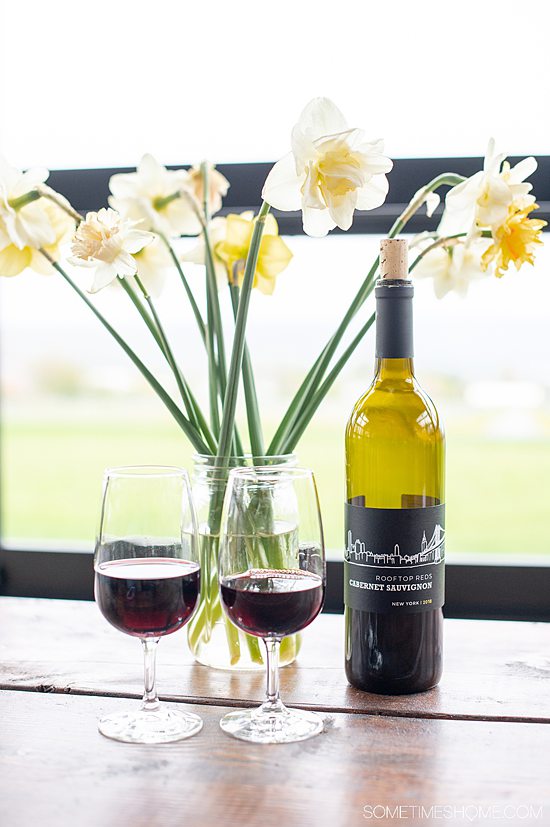 Where is Corning, New York?
If you're going to participate in the top things to do and see in Corning, with places to stay too, let's discuss where Corning, NY is!
It's not exactly a "small town," though if you're used to big urban areas like Boston or NYC, you may consider it so.
It's part of the "Finger Lakes" region of upstate New York. It's in western New York, just north of the Pennsylvania border. Here are a few driving times for reference:
Scranton, PA to Corning, New York: 2.5 hours, approx. 115 miles
Buffalo, NY to Corning: 2.5 hours, approx. 160 miles
Manhattan, NY to Corning: 4-5 hours (very dependent on traffic), approx. 255 miles
For an especially handy look at the area and things to do, which we go into detail about below, check out this Google map we created.
Where to Stay in Corning, New York, in the Finger Lakes
Staying at a hotel in downtown Corning was ideal; there was no shortage of things to do and see. It's close to the Corning Museum of Glass, the Rockwell Museum, restaurants, and more.
Staying in downtown Corning, NY will put you in the heart of all the fun activities we've mentioned.
Here are a few different places with wonderful reviews:
Rosewood Inn (If you're looking for something a little more local with a Bed and Breakfast vibe. It's the furthest one we listed from the Corning Museum of Glass, but it's still very close by, just across the water)
Visiting Nearby Areas
If you want to venture a little bit further out but still enjoy staying in the Finger Lakes, check out the Park Inn in Hammondsport or Harbor Hotel in Watkins Glen.
➡︎ Read about our time in Hammondsport, NY, just minutes from Corning
Watkins Glen is also another lovely area of the Finger Lakes, with a romantic waterfront hotel right beside sunset sailboat excursions.
---
Traveling around New York? Check out: