The worth of my Charlottesville Neighborhood Pass went beyond monetary: the education I received in a fun and visual way carried the value of the pass.
There's a deep and rich history in Charlottesville I was enlightened to discover after embarking on an overnight trip. Many important people in American history have visited the city and two of the first five American Presidents called it home for years. And I learned all about it thanks to this great pass.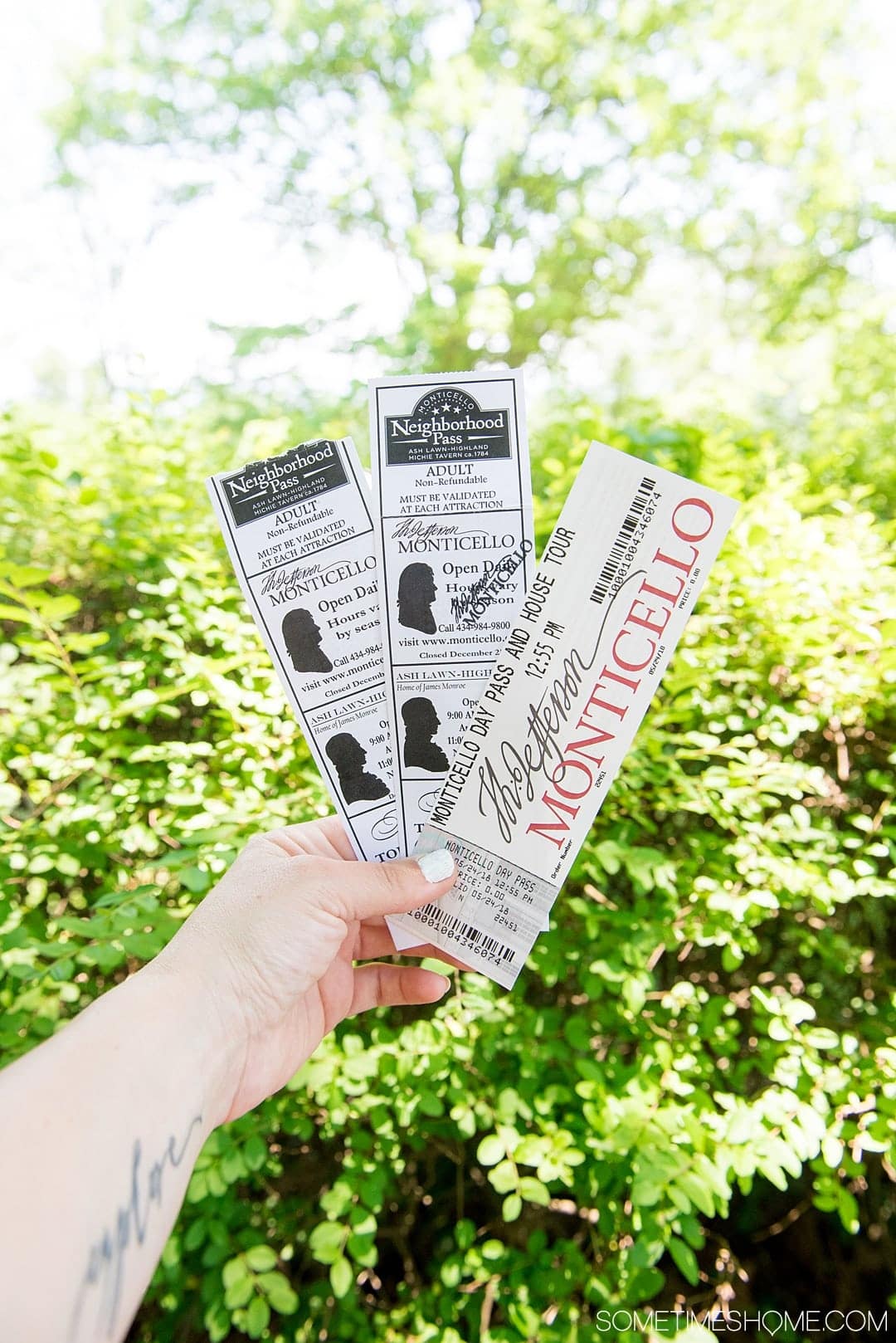 The Charlottesville Neighborhood Pass
The Charlottesville Neighborhood Pass covers three properties that are within miles of one another. They are easy to drive to and between:
Monticello
Michie Tavern (read on to learn how to pronounce "Michie"…)
Highland
The pass can be purchased online or in person at either of the three attractions.
The cost of the pass online/in-person for an adult is:
Peak season (March through October): $41/$44
Off-peak season (November through February): $35/$37
I recommend purchasing it online because, as you can see, there's a small savings per ticket for doing so, which is multiplied if you're buying more than one Charlottesville Neighborhood Pass. Yet, you can always buy it in person if you're unsure of your plans and are winging your schedule. Simply buy your ticket(s) at the first tour stop you choose.
If purchased separately, without a Neighborhood Pass, the cost breakdown (per regular adult) is noted below:
Monticello: $29
Michie Tavern: $6
Highland: $14 (price Memorial Day (May) through Labor Day (September))
You can save $8 dollars by purchasing the Charlottesville Neighborhood Pass. That's $16 in savings if you're two people. It's like free money!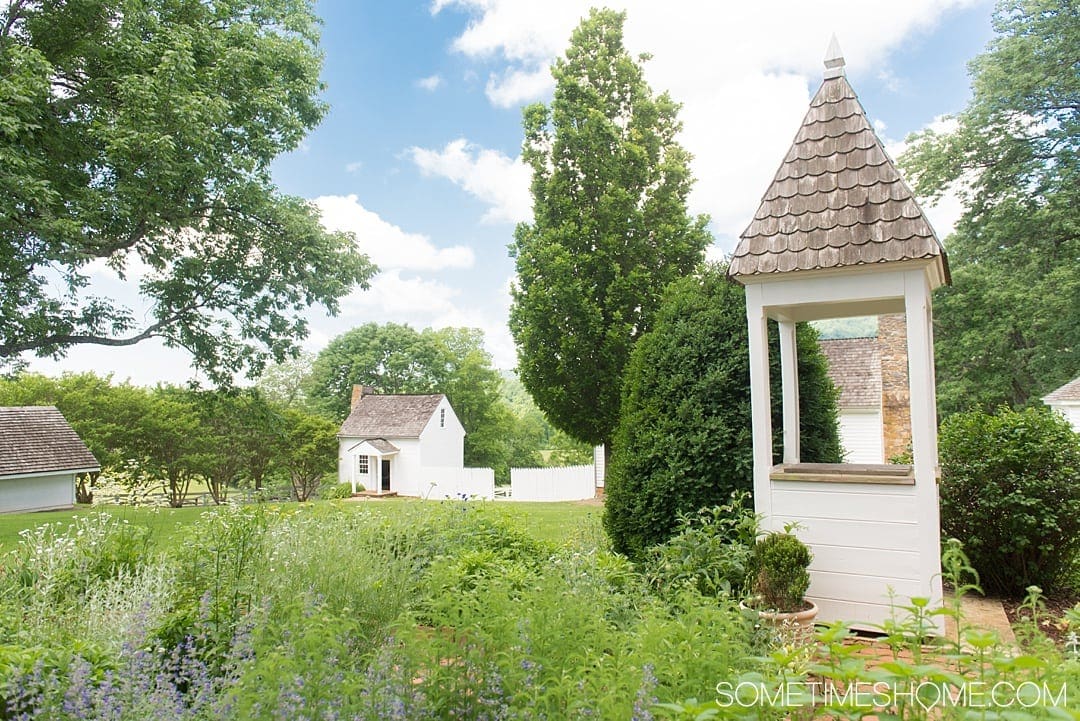 (Photo above taken at Highland. The white structure in the distance was the home of the overseer of the house.)
What Order to Visit the Three Properties
I started my day with the location I thought may take the most time and be the most popular/crowded: Monticello. It proved to be a great idea because once you "check in" you have to get on a scheduled tour. This is also true for Highland. (You see the third, Michie Tavern, via tour as well but it's not as busy and I didn't need a printed ticket with a tour time.)
Monticello was first, taking about two to three hours. I stopped at Michie Tavern for about 45 minutes and at Highland for an hour and a half to two hours.
How to Use the Pass
When you arrive to the destination simply bring your Neighborhood Pass with you and go to the ticket desk. (Or purchase one at your first destination.) You'll then receive a stamp on the pass indicating you've used it at that location. You'll also get a ticket receipt for a tour time at Monticello and Highland. (Again, the only stop I didn't need a time to go back to was Michie Tavern, which is a smaller attraction.)
Monticello
Monticello was the retirement home of Thomas Jefferson and one of the most well documented plantations in American. It's a beautiful property to visit any time of year and was particularly splendid on the warm day in May I visited. The flowers were in full bloom and I welcomed a light breeze whenever it passed by!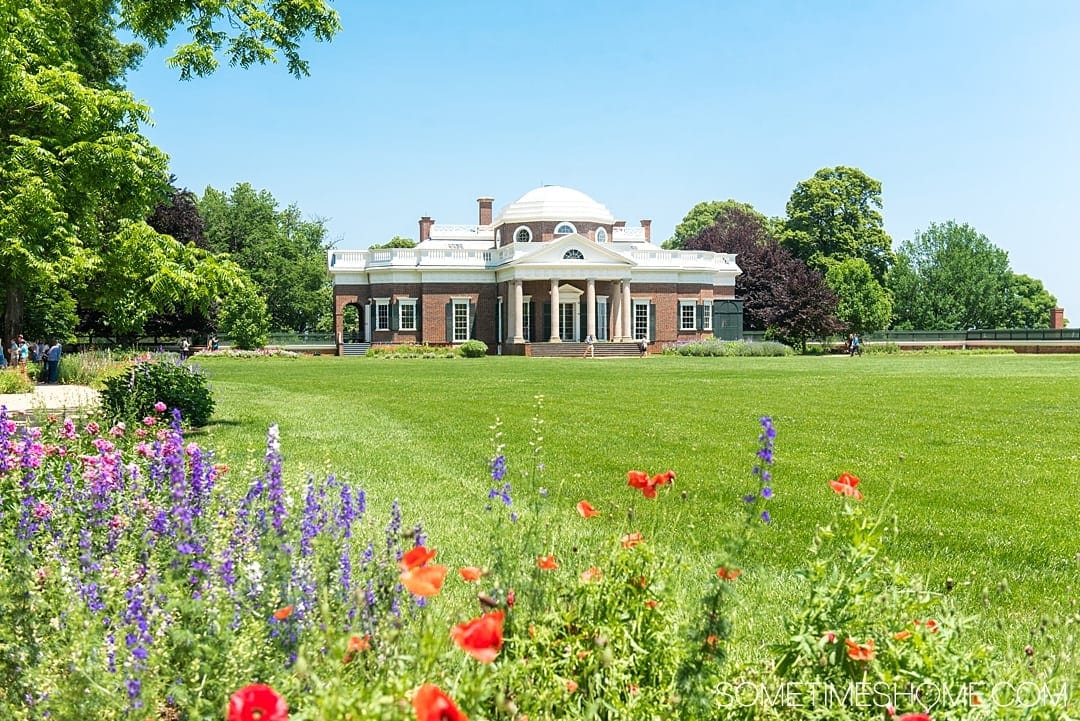 Getting to Monticello
I arrived to Monticello around 12:15pm. After finding a spot in the busy parking lot I walked to the main Visitor's Center. I checked in with my Charlottesville Neighborhood Pass and was able to get on the next tour. An additional Monticello ticket indicated my tour time was 12:55pm.
The bus ride is a quick five minute ride to the top of the hill. (Monticello means "Little Mound".) After a guide shared some information on the house rules during our tour we were led inside the mansion by an incredibly knowledgable guide.
Fun Facts about Monticello
Some of my favorite facts I learned during the tour of Monticello were:
Over one million bricks were used to build the house. Jefferson had a kiln built on site to create them. They used local red clay to craft each brick. (Sadly, they were built using slave labor. But such was the time.)
10% of the glass in the windows is original. Most of it, which was imported from Europe during the home's construction, was lost during the Civil War.
All the doors in the home are original as are the pine floors.
The home is four floors and 11,000 square feet.
The reason they were able to restore the rooms to what they looked like while Jefferson lived there is because his granddaughter, Cornelia, drew each room of the house. Historians still use her drawings to ensure house accuracy.
Thomas Jefferson is an Interesting Man
Jefferson's a fascinating figure. I admit I barely knew anything about him before the tour. I learned so much!
He could read in seven languages and was an extensive book collector. (He was in debt for a lot of his life. To get out of some debt, he sold his collection of 6,700 books to the United States government. They became the basis for the Library of Congress. Regardless, he acquired about a thousand more while he lived at Monticello!) He was also one of the tallest Presidents at 6'2" height – that's why it's extra humorous to see his small bed he slept in! He wrote over 19,000 letters in his lifetime and was a tried and true Francophile (lover of France and all things French from food to furnishings).
America's third President died July 4th, at the age of 83. This was impressive because, at the time, life expectancy for Americans was only around 50 years of age. He also died 50 years to the day of the signing of the Declaration of Independence. (Wow!)
But this is just a small amount of the breadth of information I learned! You'll learn much more if and when you go.
Additional Tours and Points of Interest at Monticello
There were additional tours included with the Charlottesville Neighborhood Pass at Monticello. One that particularly caught my attention was the garden tour. I didn't have time to stay, unfortunately, but I recommend it to you if you can manage it for your schedule. There's also a slavery tour and seasonal archeological tour.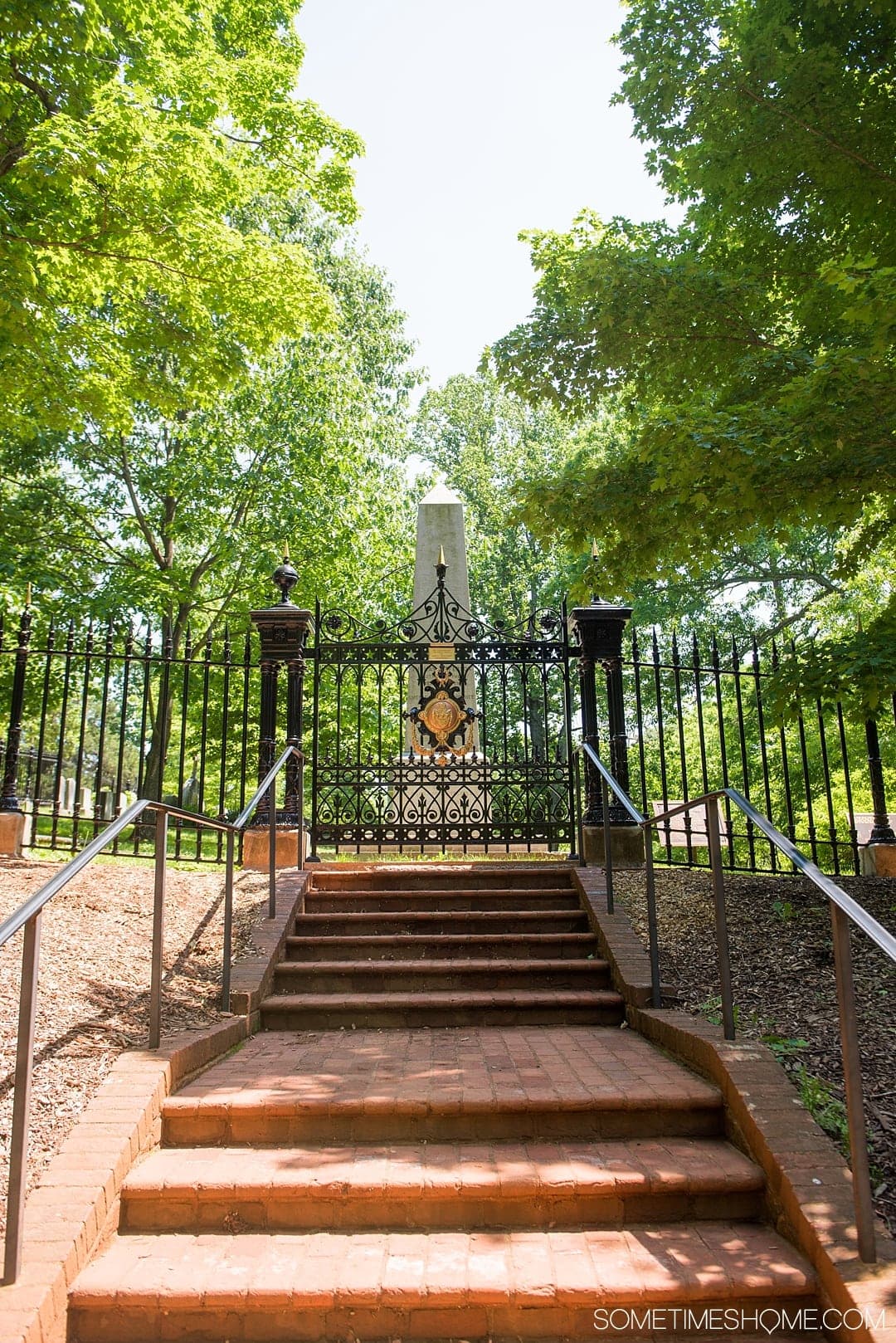 You can take the bus back downhill to the Visitor's Center or walk. It was a short walk on a beautiful day to Jefferson's grave so I opted for this instead of the bus. This is where you can see not just his tomb but also the headstones for several family members. It's all well explained on a plot map you can view through the wrought iron fence.
There's a great cafe on the property too and free wifi in the Visitor's Center area. I recommend having lunch there or bringing your own to picnic at an outdoor table. It really is a lovely environment to spend some time! There's a museum on the property as well that's worth a quick walk through.
To enhance your entire visit download Monticello's App: Monticello.org/app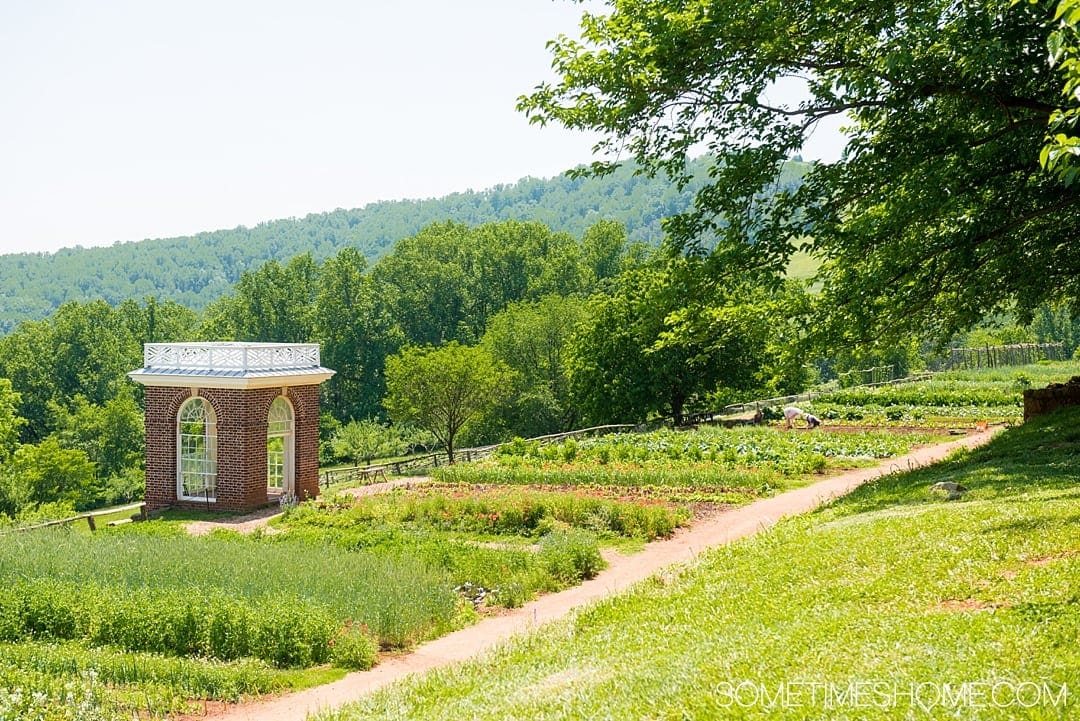 Historic Michie Tavern
This stop is a bit quicker than the other two. It's an old tavern that was around during the 19th century. It was a stop for people to have a meal (and today you can eat lunch there too!). Or to rest and stay overnight, liken to how a modern day hostel works.
The tour was given by a cute retired southern woman who was very informed about the building and its artifacts. I enjoyed learning that, back then, tea was sent over from Europe in bricks that you would chip leaves off of. How cool is that?
They have a gift shop on property and a general store that's a five minute walk away. There's plenty of parking in a lot right in front of the main attraction.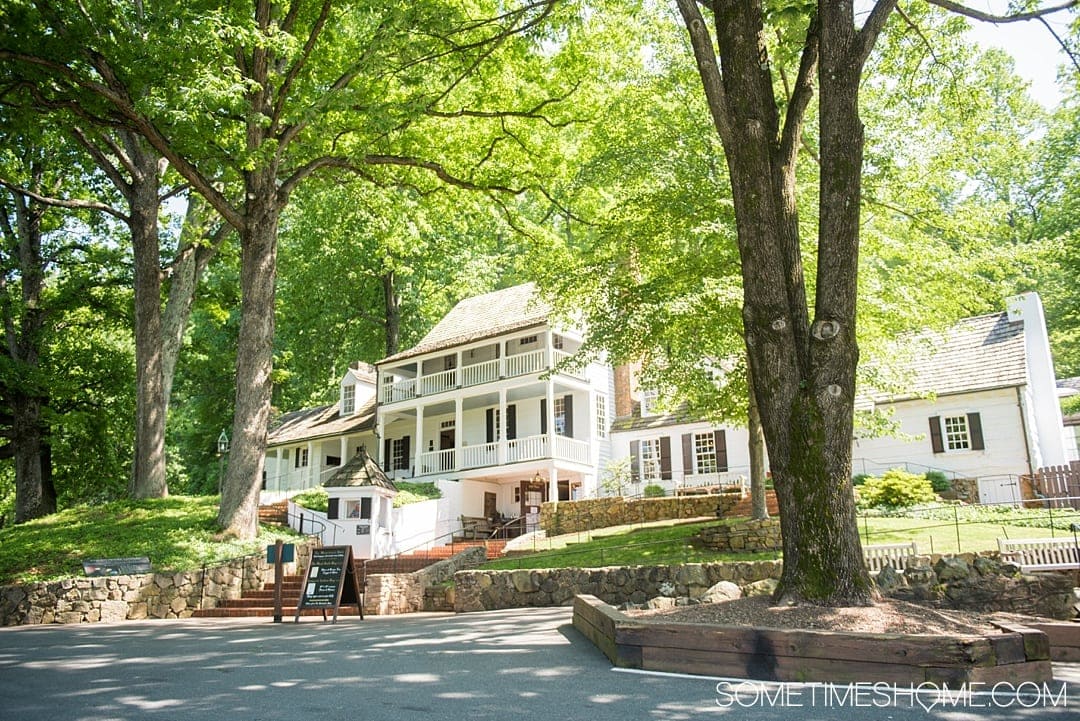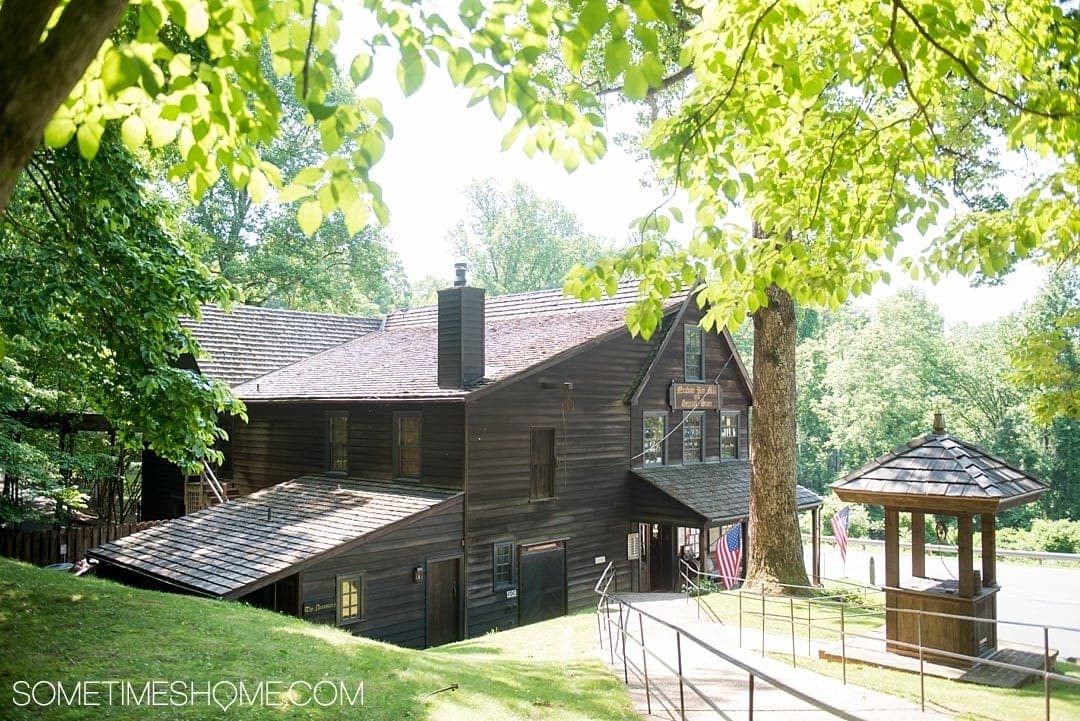 The last great bit of information I have on Michie Tavern is this: it's pronounced Mickey! This is because the "ch" sound in Scottish is pronounced as a hard "k", must like "Lochness Monster". The owner of the tavern was Scottish, as was his name.
Highland: James Monroe's Home
Highland seems a bit like a "small potatoes" attraction compared to Monticello. But I love that the three attractions round out a great Charlottesville Neighborhood Pass ticket. My real connection and discovered interest in Highland, as James Monroe's former home, was Monroe's connection to Jefferson.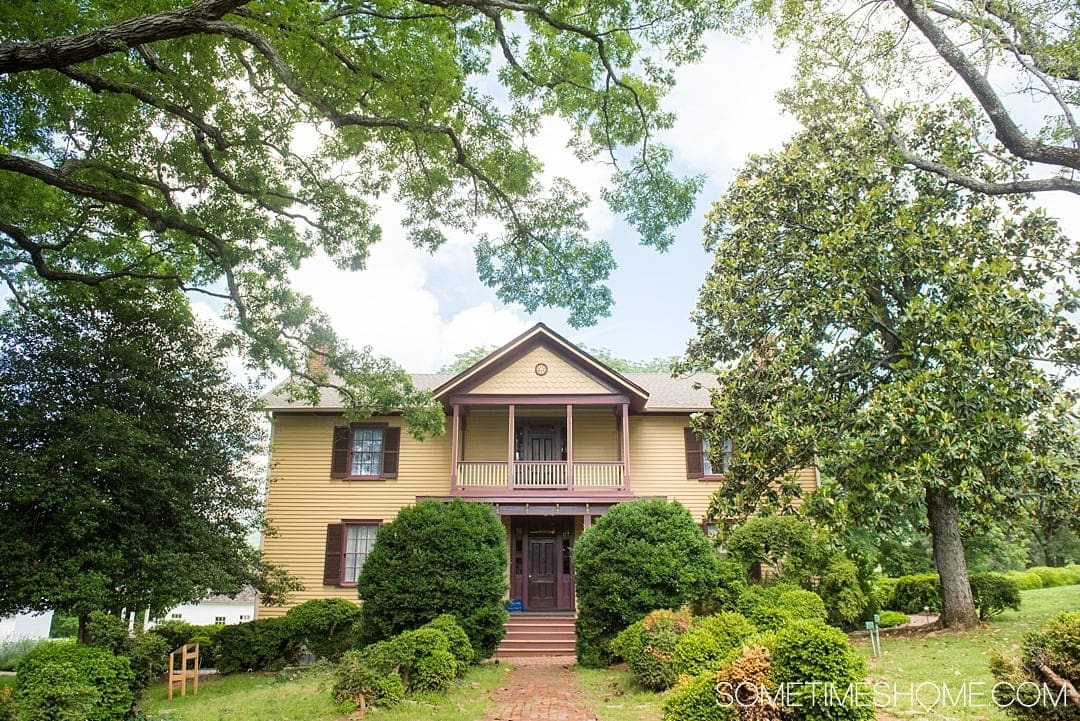 The property is 535 Acres today but was a sprawling 3,500 acres when Monroe lived there. (It's owned by the college Monroe attended today, William & Mary. The property was willed to them in the 1970s.)
Monroe was the nation's fifth President from 1817-1825 and very close with Jefferson. He's best remembered for the "Monroe Doctrine," which, simply put, said the western hemisphere is closed to colonization. He was also considered the grandfather of geopolitics, and established a good relationship between France and the United States, in particular.
When you arrive head to the gift shop; the cashier is also the ticket operator. You'll then receive a tour time. If you have time before or after the tour walk around a bit. One view from the property is especially stunning but you have to venture just a little bit to find it.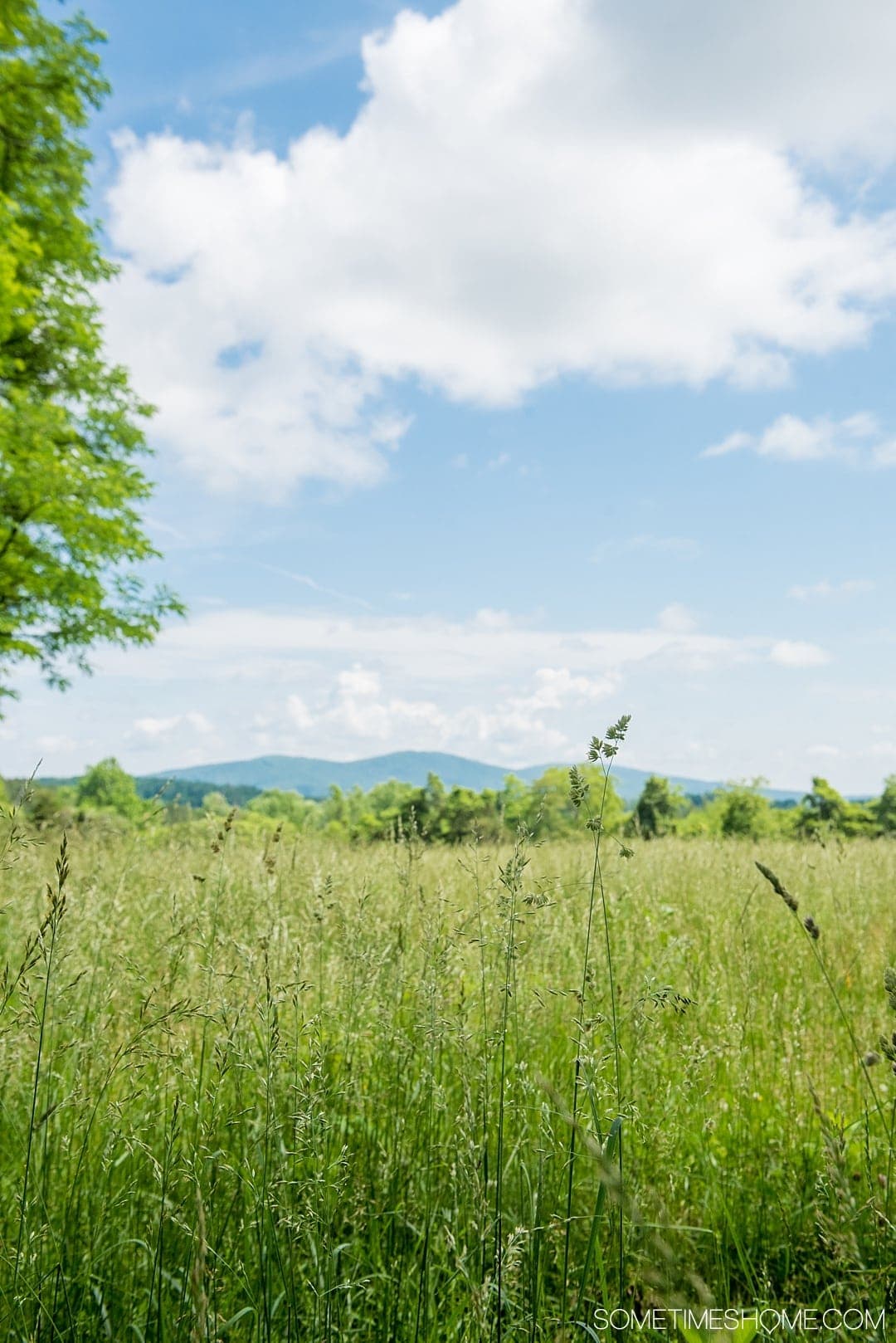 The yellow house that's still standing is a farmhouse from the 1870s, built by an owner after Monroe. There is a small white house attached to this structure (behind it in the photo) that is the guest house. The White House wasn't yet built or completed at the time and Monroe knew he'd need accommodations to receive prominent guests. Thus this guest house was built in 1818, during Monroe's Presidency, for that purpose.
Though his original home isn't standing there are stones in front of the yellow house marking its assumed footprint. Our wonderful tour guide thoroughly explained techniques used by archeologists to study the property. (They have grand plans over the next decade or so to move the guest house and recreate Monroe's original home.)
Jefferson was the one who recommended the site to Monroe for his home. As our guide described it, Monticello is simply one mile "as the crow flies." All one has to do to get there is head straight from the brick path, over the gardens towards Carter Mountain, to Monticello! His point, being, the homes were even closer then on horseback then today.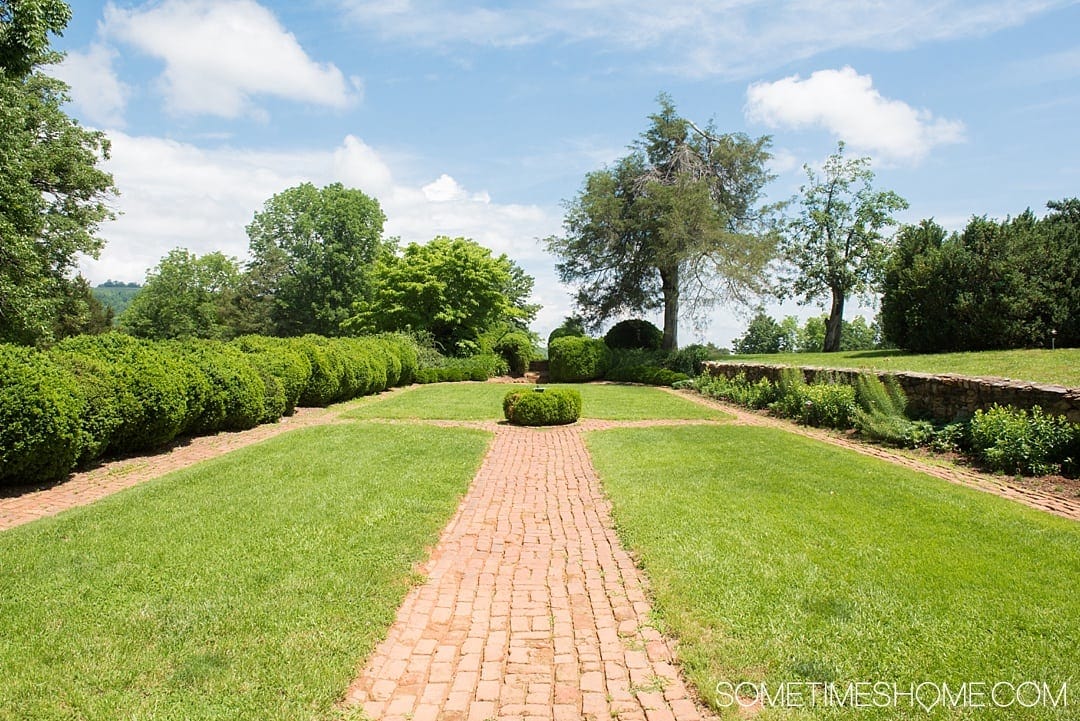 The tour takes you inside the guest house that's been redecorated. It has some of Monroe's original furniture pieces (he was also a Francophile) and also many things that are recreations from the time. (*Please note photography is not permitted inside the house unless you have received prior approval from Highland for media purposes.*)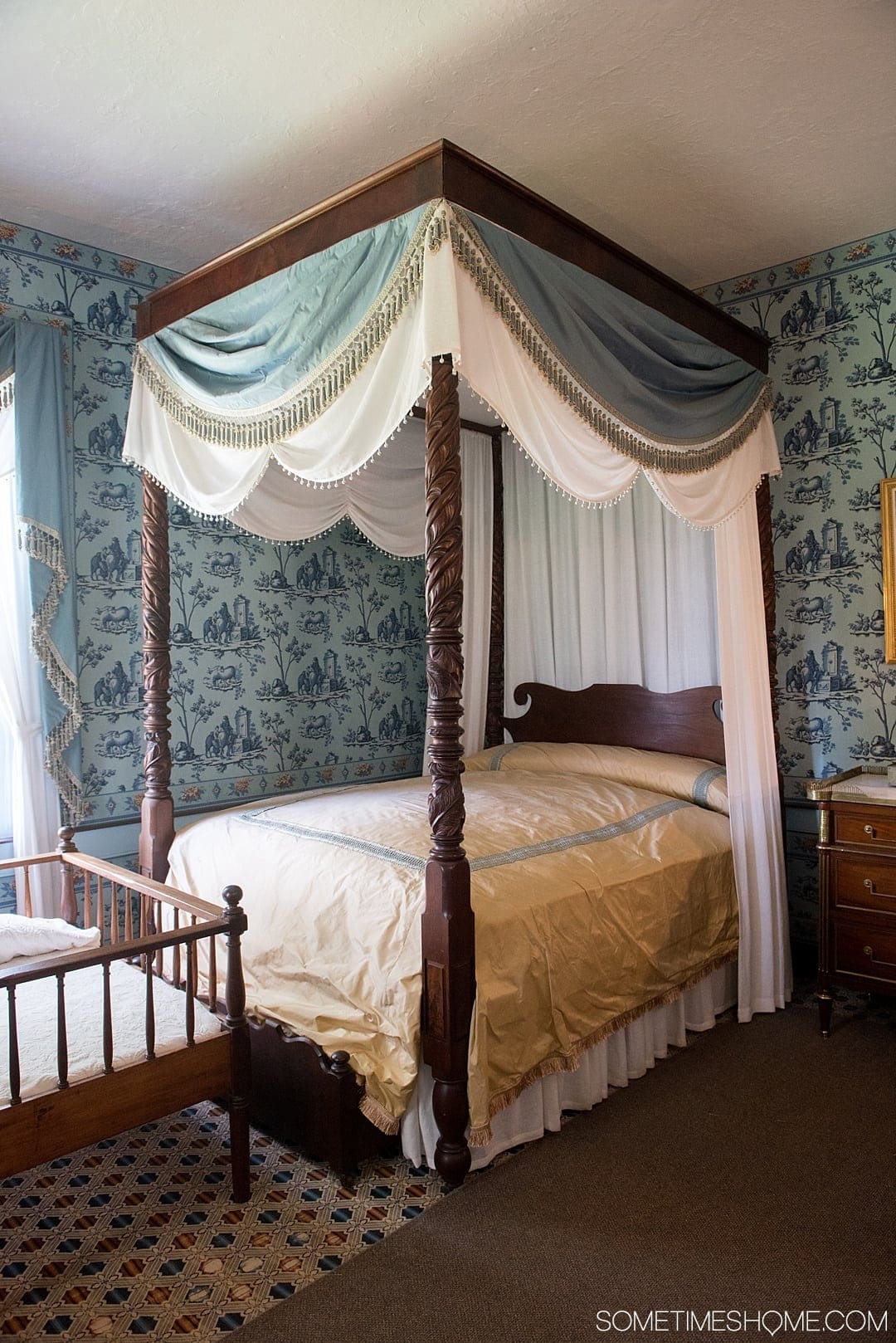 Fascinating Facts Learned on the Tour of Highland
Some really interesting things I learned on the tour were:
Monroe was trained as a lawyer by Jefferson. Virginia is still a state where you don't have to attend formal law school to take the Bar exam. However, the intent was for Monroe to become a politician, not a lawyer.
He had three children, two daughters and a son. His son didn't make it past his first birthday and his daughters were 15 years apart.
His daughter, Mariah Hester, was the first daughter of a President to get married in the White House. I loved this fact, because I'm a wedding photographer too!
Monroe was very conflicted about slavery. He didn't necessarily believe in it but he also didn't do much to speak out against it. He had two dilemmas he couldn't remedy during his time: 1) economically, how would the economy work without slaves? And, 2) Where would the potentially freed slaves go? Many slaves were set free during his presidency and sent to the country of Liberia. Liberia's capitol is still named Monrovia. (Monrovia's history is fascinating if you're interested in giving it a quick skim!)
Get Your Pass!
What I loved most about the Charlottesville Neighborhood Pass (besides it saving money, of course) is that it's a great triad of attractions. The three stops paint a picture of life in the area back in the 1800s. It truly highlights the neighborhood.
Visiting Virginia? Also check out:
Please note: We thank Charlottesville Albemarle Convention & Visitors Bureau for generously hosting us. All the opinions in the post are ours and we bring you genuine content with real facts, photos and thoughts. Always.
Which of the three attractions would you stop to visit first?