Your Tikal Guatemala Mayan Ruins Adventure Begins Here
We decided to go to Belize due to its close proximity to the United States. Its nearby sites very much appealed to us and we were excited to see some native ruins. Ancient Mayan ruins are popular in this area and when friends told us about this site we knew we wanted to go. Our Tikal Guatemala Tour was a highlight of our trip.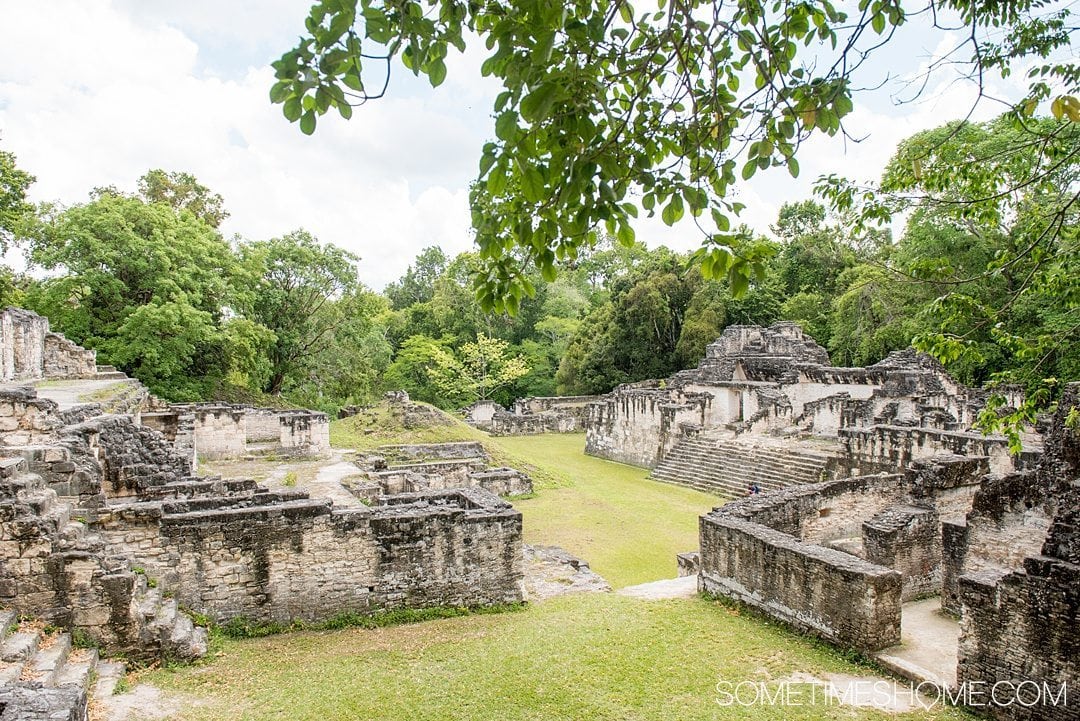 Location of Tikal, the Historic Mayan Ruins Site
Tikal is a day trip from San Ignacio, Belize. It's just over the border of Guatemala. We opted to join a tour for a guided day trip as opposed to driving ourselves, which would have involved navigating there in a foreign land where we don't speak the language, and paying park fees and such. Joining a tour meant our ride to Guatemala was fuss-free. We simply joined the group in the morning in the town of San Ignacio and hopped in a van that took our small group there with our great guide. I especially loved that we didn't have to deal with the border crossing – they did it for us. (You do have to take your passport, however, since you are traveling between countries if you do a day trip from Belize.)
Tikal's History
Tikal was very much a functioning Mayan city between the third and tenth centuries. Archeologists have evidence that it was the capital of one of the most powerful kingdoms of ancient Maya. Remember hundreds of years ago current country borders – like Belize and Guatemala – didn't exist. Instead the Mayans lived on the land. The information about their ceremonies involving sacrificing humans and animals to their gods, how they farmed for food and burial rituals was just some of the information our guide shared.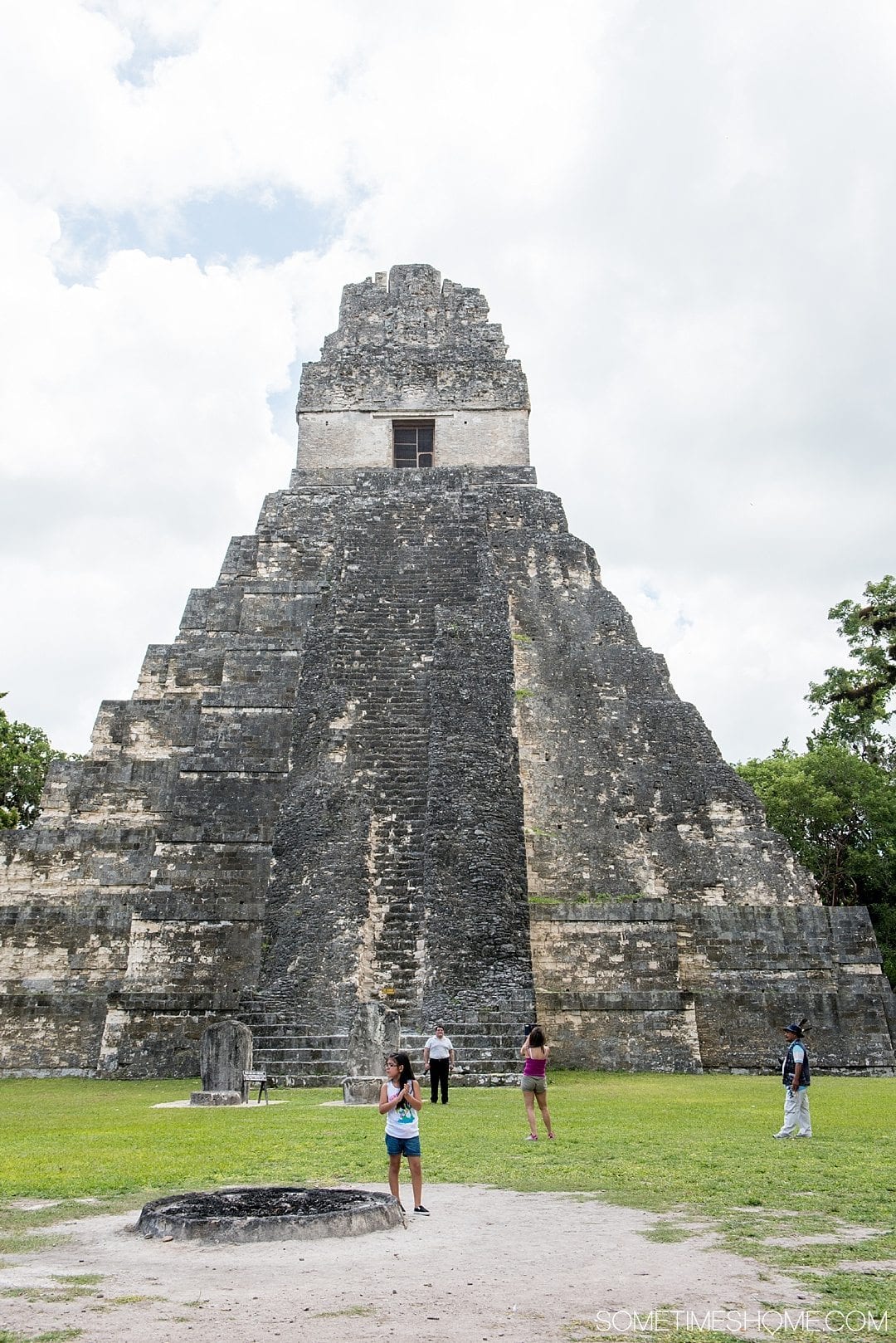 Modern Day Tikal in Guatemala
Tikal was declared a UNESCO World Heritage Site in 1979. It's a network of ruins consisting of pyramid temples, stone plazas and pathways through in the rainforest. It's a pretty vast area and you'll definitely burn calories walking around the national park.
Tour Day at Tikal
We booked Tikal Guatemala Tour day excursion with MayaWalk Adventures. We left our resort at around 6:55am and drove to the village of San Ignacio, Belize. Twenty minutes later we arrived bright and early around 7:15am and parked the car for the day. (Street parking was relatively easy to find that early in the morning.)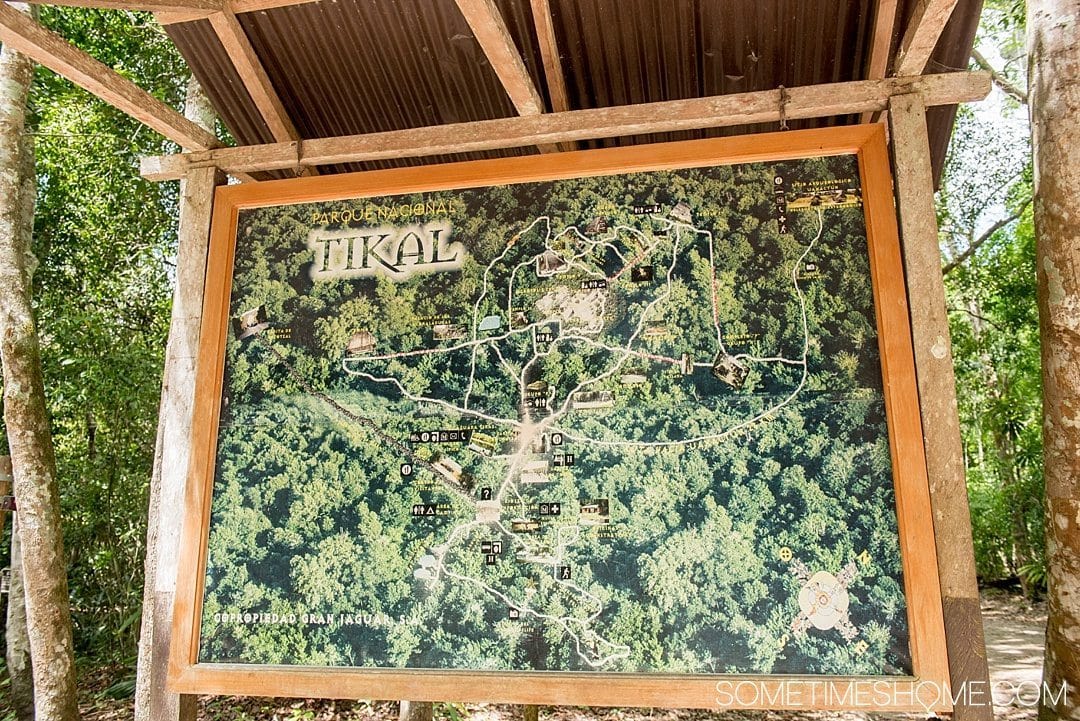 Our guide was wonderful and spoke English well. We booked the tour online but paid the balance in person. It costs about $170 USD per person, including transportation, lunch and park fees. The tour was small – while I'm guessing they had room for a few more people our tour ended up being just us, another couple and two guides. It was certainly worth the cost!
Our Tikal Guatemala Tour lasted about nine hours. Here was the approximate breakdown of time:
Two hour drive each way (4 hours total)
Clearing customs (30 minutes)
Stop along the way at a tourist shop for souvenirs, a scale map of Tikal (seen below), a restroom and light refreshments we could purchased if desired. (About 30 minutes)
Time at Tikal, including lunch (4.5 hours)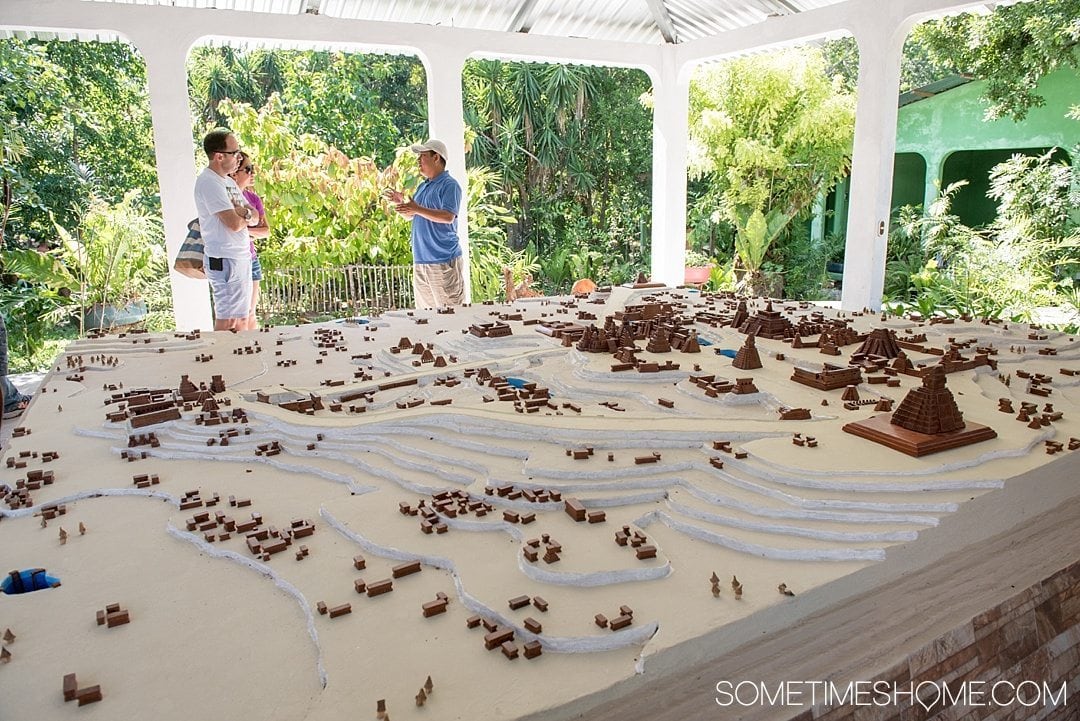 What to Pack and Wear on a Tikal Day Tour
Wearing shorts and comfortable shoes was vital to beat the heat. If you have long hair you may want to wear it up in a ponytail because it's HOT there and you'll get sweaty on the walk around the ruins. We couldn't wait to shower when we got back to our hotel, Table Rock Jungle Lodge.
I would also pack a backpack with the below:
Passport (a must for crossing the border)
Water
Sunscreen
Sunglasses
Hat
Bugspray
Camera
Money for tipping your tour guide or snacks/souvenirs at the stop along the way
If you think your shoes may hurt then definitely pack Band-Aids for blisters!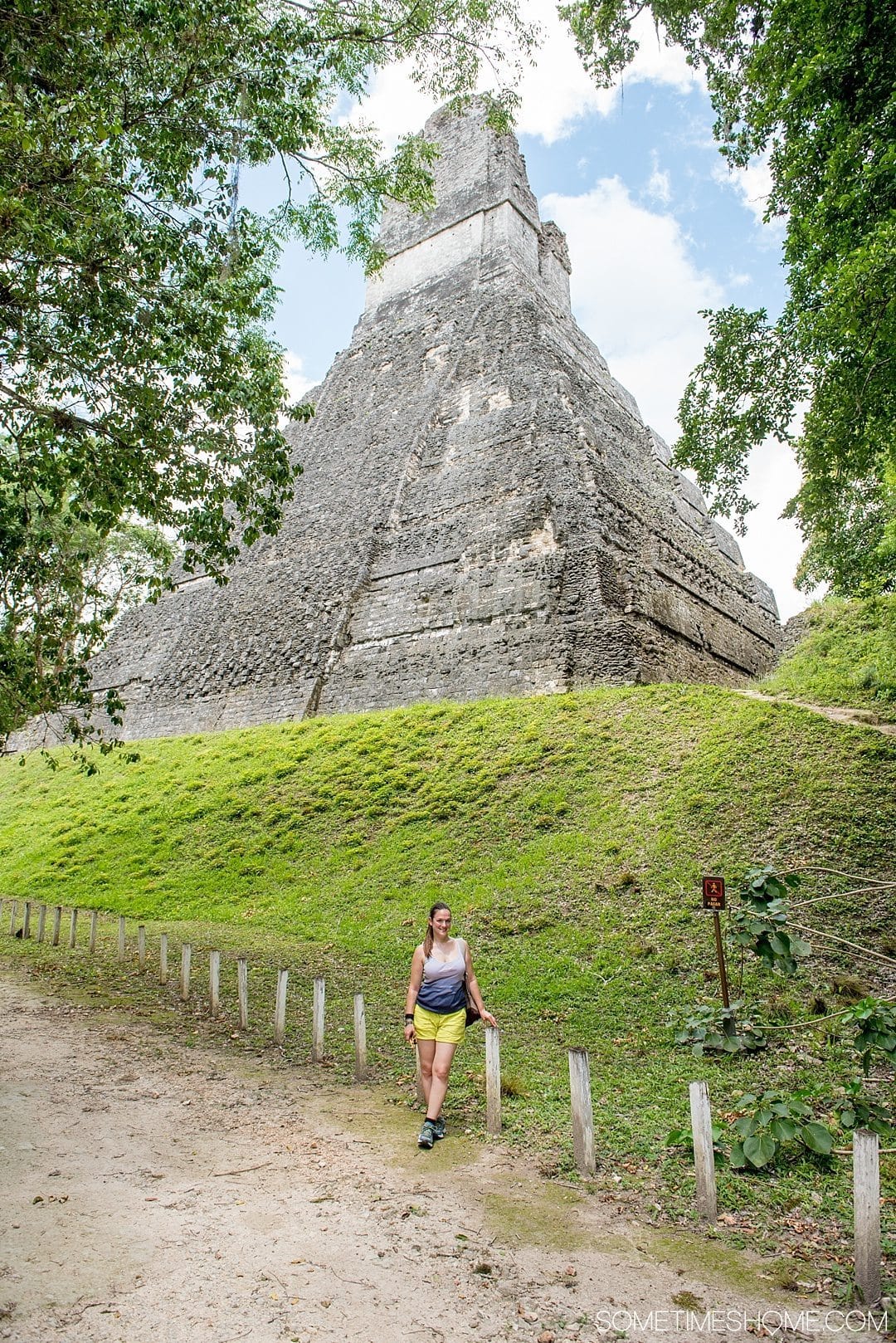 Wildlife We Saw at Tikal
We absolutely adored the tour of the ruins. A lot of the joy of the site, however, is some of the cool wildlife you encounter! It's in the rainforest so you'll have a chance to see some interesting animals if you keep your eyes open. Our two guides were wonderful about keeping staying alert and pointing things out to us, like some Howler Monkeys he saw up in the trees. It's very easy to miss them without an expert since they're up high in the trees and fairly well camouflaged.
We encountered some Coatis on our walk to lunch, which are native to the Central America. (It's a relative of the raccoon.) Even the bugs were exquisite! And I don't say that about bugs too often. The tropical foliage is most certainly a point of interest as well. You may also see swarms of beautiful butterflies, toucans and other colorful birds.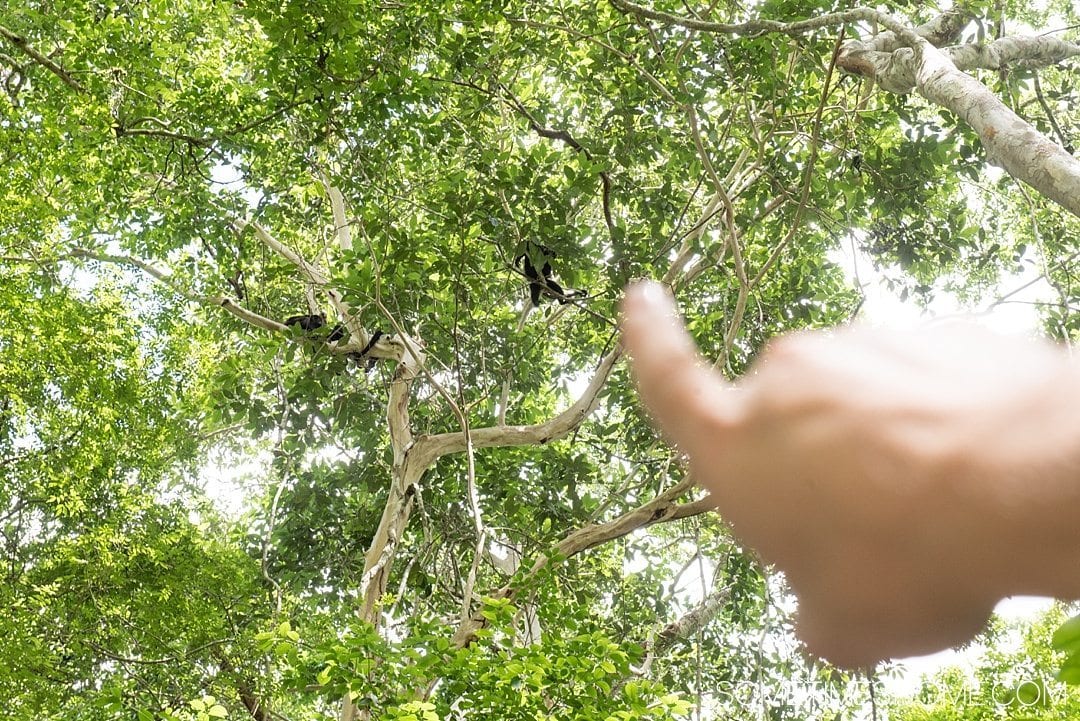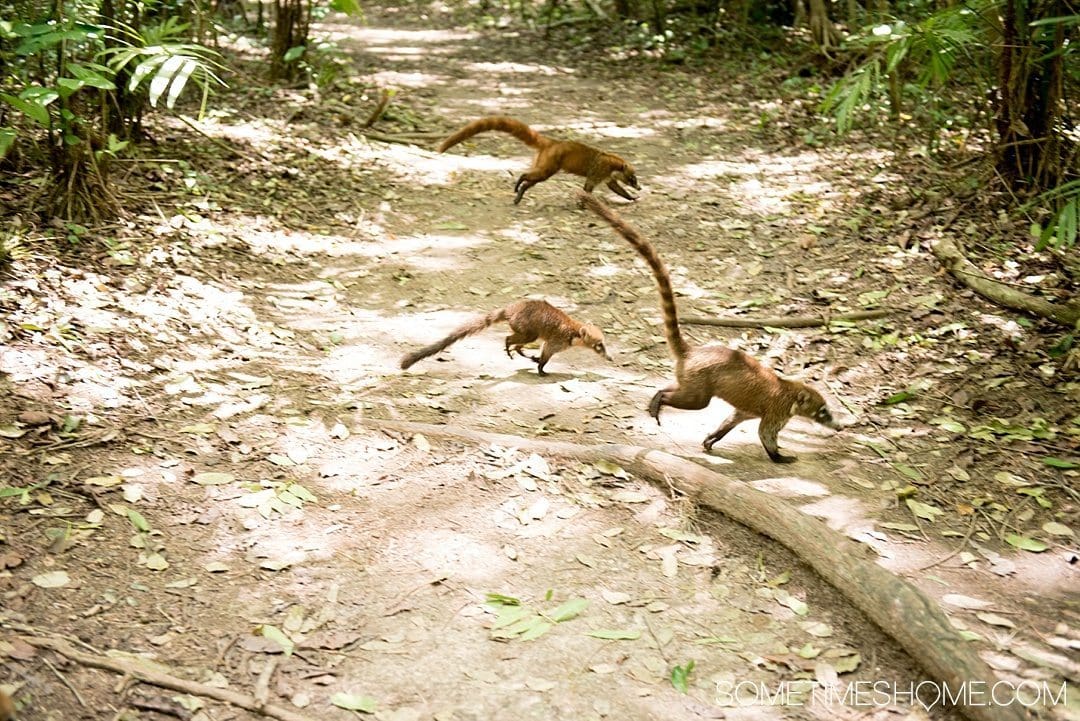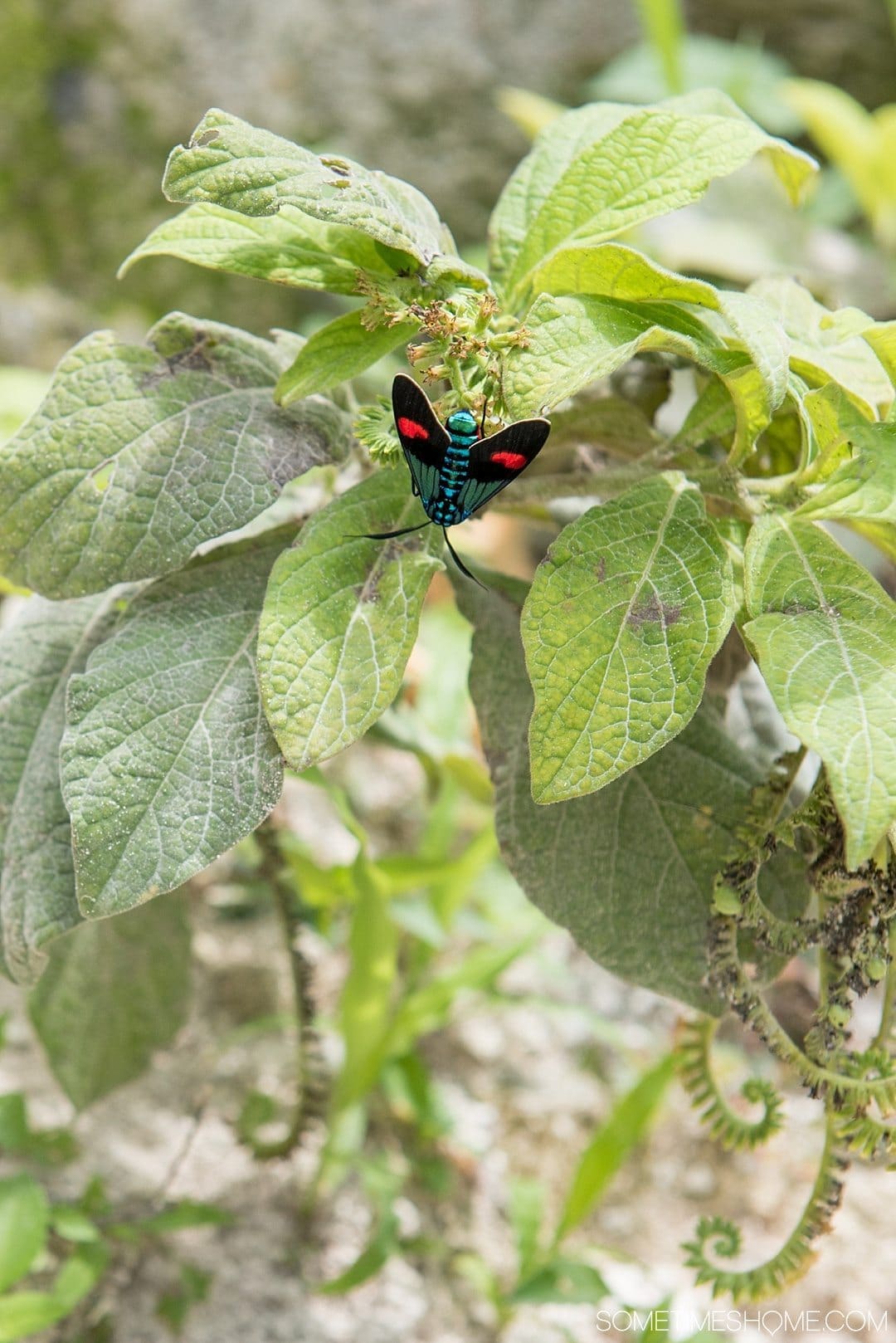 Our Favorite Part of our Tikal Guatemala Tour
We loved the ruins we walked through during our Tikal Guatemala Tour. Simply seeing it firsthand and learning how the Mayans lived and functioned as a culture during their lifetime was really cool. It's one thing to see a documentary but it's another to see it in person. (And I looked up a fair amount to watch before our trip in hopes of better understanding the culture.) Being there enabled us to understand the scale of the city and pyramids and envision it all coming to life way back when.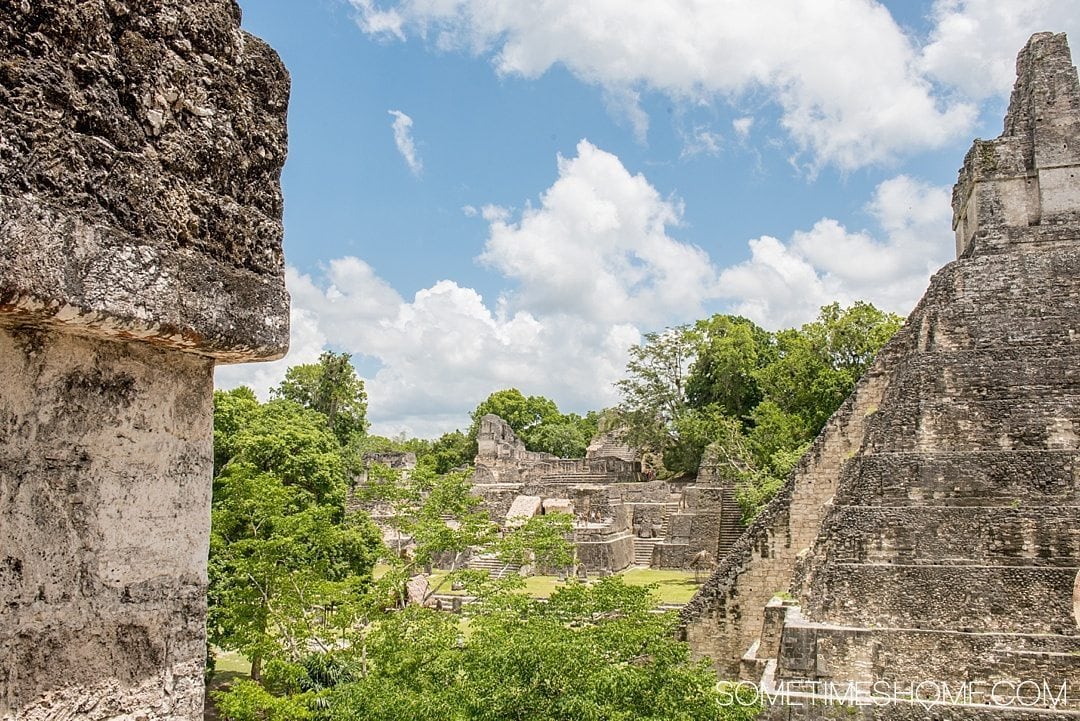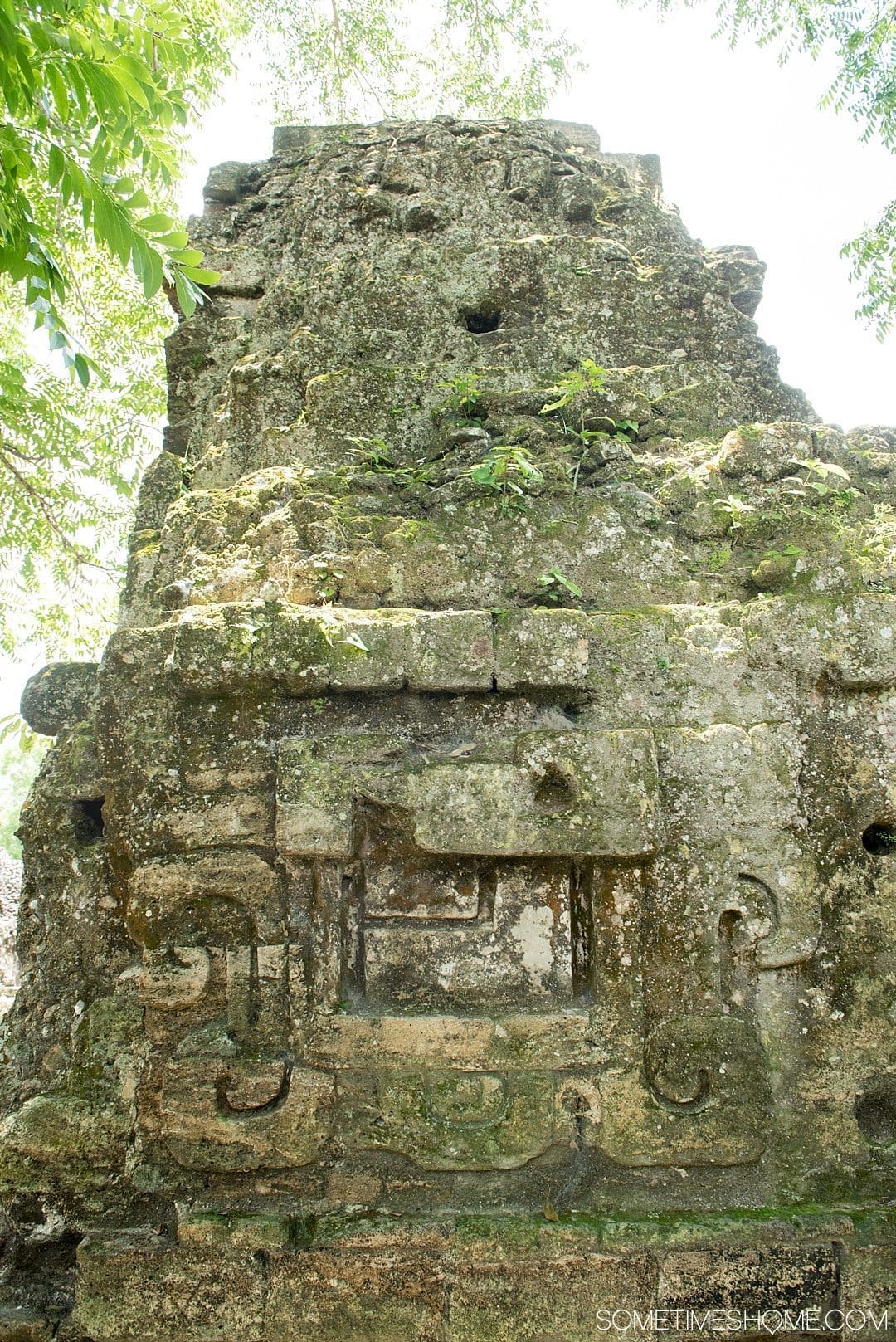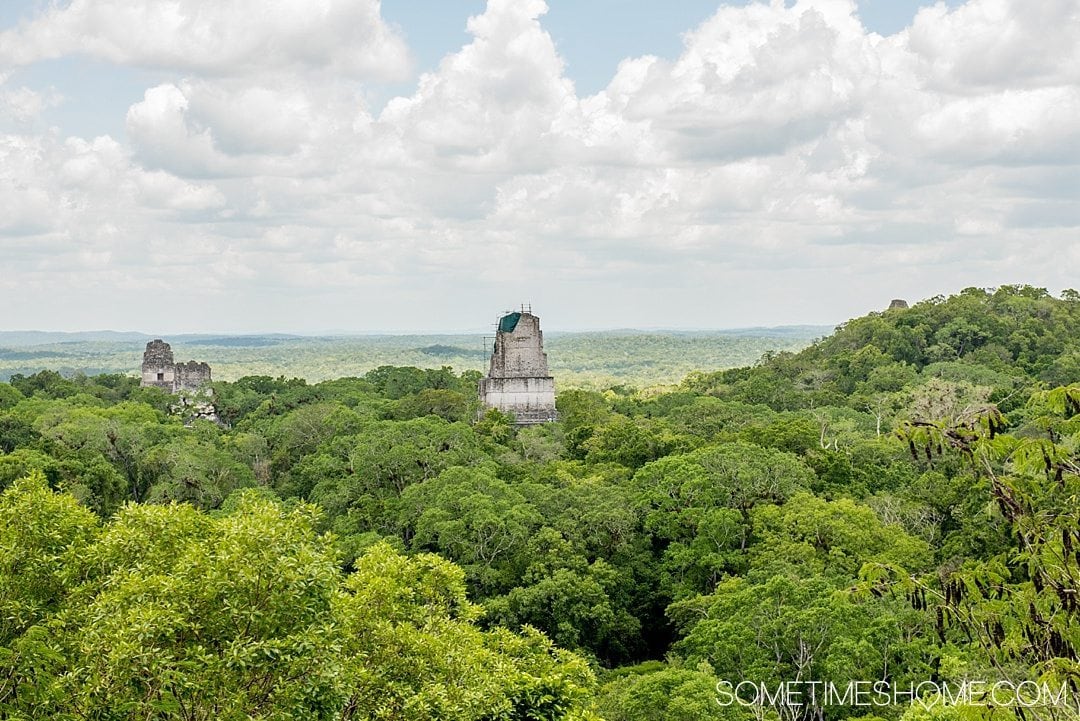 Disclosure: There are affiliate links in this post, which means we may earn a small commission if you click the link and proceed with a purchase. We only recommend products or services we personally use and recommend.
For more information on Central America check out:
Questions or experiences of your own with Tikal? Let us know in the comments below!