Delicious Food to Try in the Alsace Region of France
Creamy potatoes, delectable chocolate tarts, pretzels baked to perfection, and thin-crust flatbread covered with bacon – they're all food to try in Alsace, France. Is this enough to make your mouth water? It is for us!
Visiting this region of is certainly as wonderful a visit for your palette as much as it is for your eyes.
Disclosure: This post has affiliate links, meaning we may earn a small commission if you click the link and proceed with a purchase at no cost to you. We recommend experiences, hotels, products, and services we use and support. As Amazon Associates, we earn from qualifying purchases.
Tarte Flambee
This incredibly delicious dish looks a lot heavier than it is. I was worried it'd be too creamy and too filling. Yet after a day or two in the area, and seeing it over and over again on many menus, I knew I needed to try it in Colmar.
I discovered it was actually the opposite of heavy – light and a great starter! It's typically a main meal for a lot of diners but I enjoyed ordering a half portion and have a couple of slices to start my dinner and was happy I did.
You'll see a few different varieties of this food to try in Alsace, France throughout the area but I stuck with the classic: bacon and onions atop a light brushing of fromage blanc. I was concerned the creamy sauce may toy with my sensitive stomach (if I'm being candid) but luckily it didn't! It's that light.
Later on in my trip I took an awesome food tour in Paris and learned a version of this Alsace specialty can be found in the frozen food section of the American grocery store, Trader Joe's! But don't miss the chance to get the real deal in the region that invented it.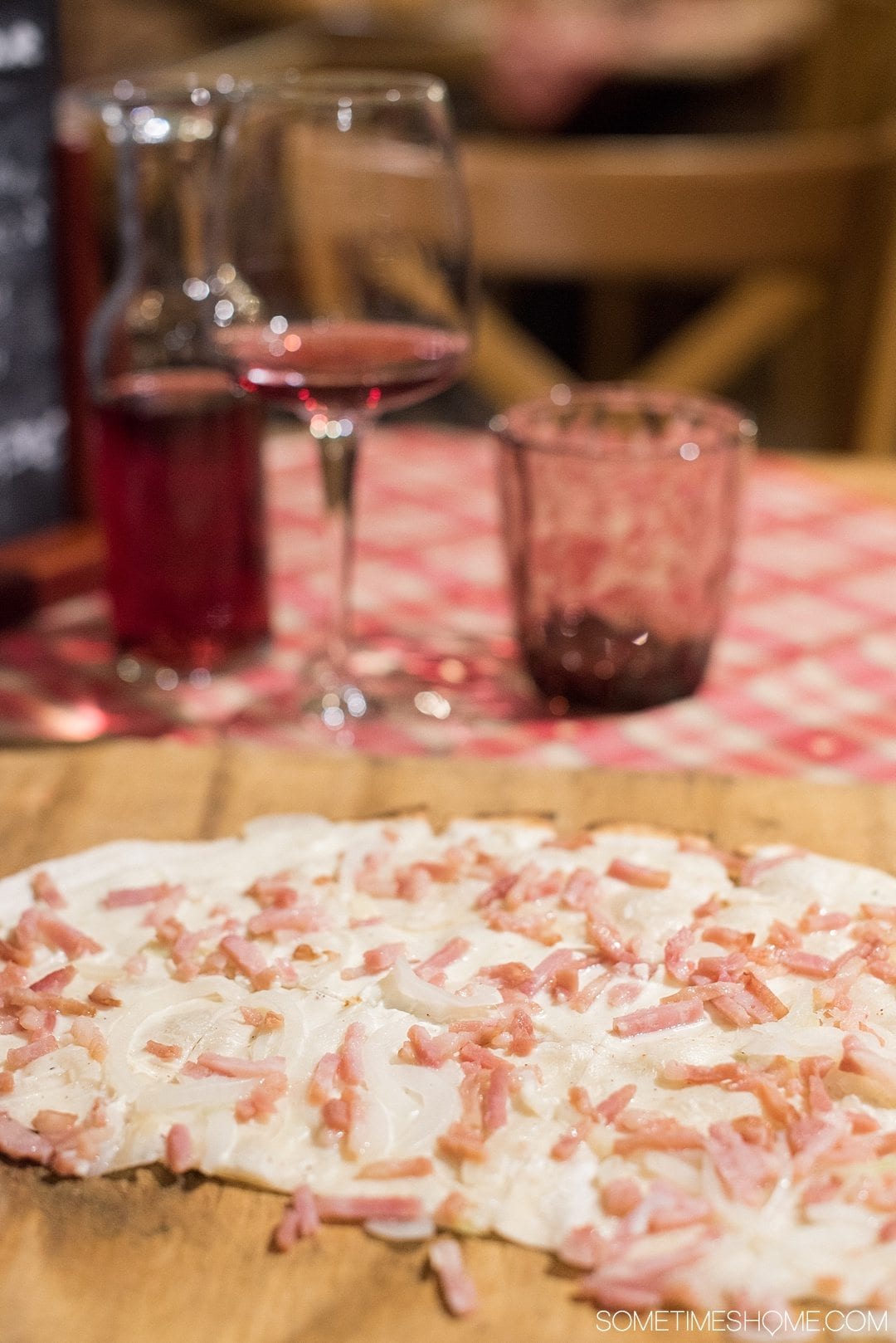 Choucroute Alsacienne
This entree ALL OVER Alsace! It's typically served with a variety of cuts of meat but I was lucky to find a seafood version. (I used to not eat much meat and at the time preferred fish.)
A protein is served atop a bed of sauerkraut with a helping of peeled potatoes. (The protein is usually pork, including sausage links and thick-sliced ham.)
It took me a little while to realize the word, "choucroute" is almost a literal translation of sauerkraut! Alsace is on the easternmost border of France smack dab next to Germany.
The region has changed hands a number of times between Germany and France; it's very easy to see the area's German influence. There's a lot of architectural influence and, of course, influence on food and languages. Most people who grow up in Alsace learn French first, of course, then German and English.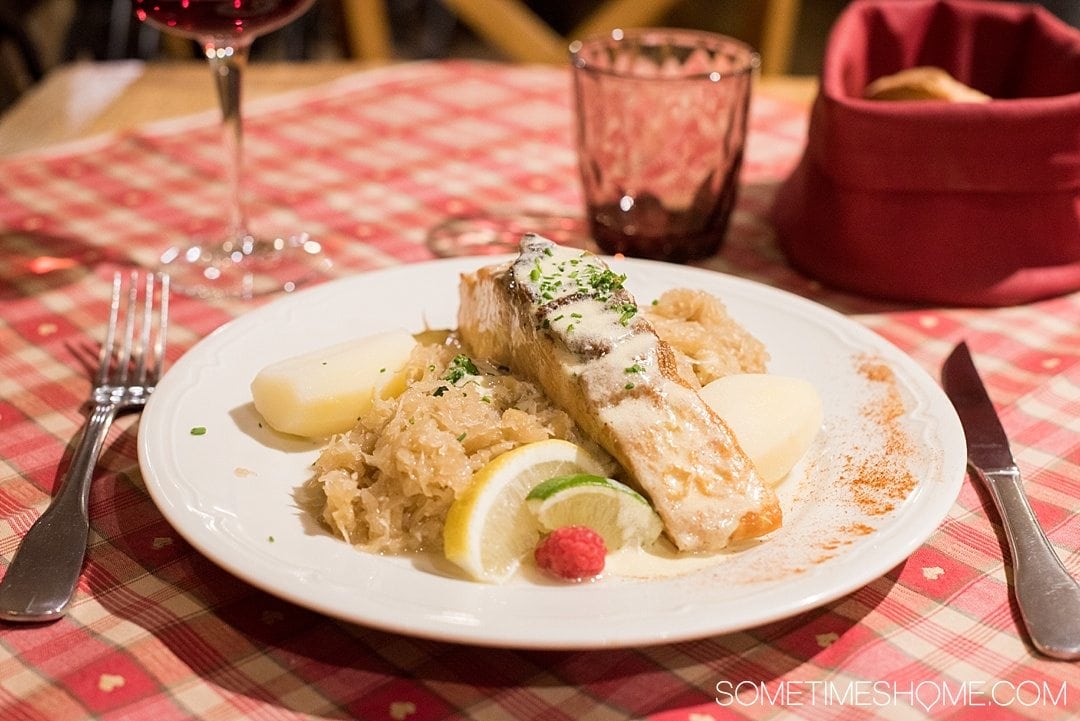 I was lucky enough to enjoy both of the above dishes at Le Fer Rouge in the old city center of Colmar. I HIGHLY recommend this restaurant. It's especially appealing to eat here if you:
Only want half a Tarte Flambee. It was the only restaurant I saw offering a half portion.
Are desiring fish on your Choucroute Alsacienne instead of meat. I didn't see this offered anywhere else either.
Also note that restaurants labeled with the word "wistub" in the region are those kitchens serving traditional Alsace dishes.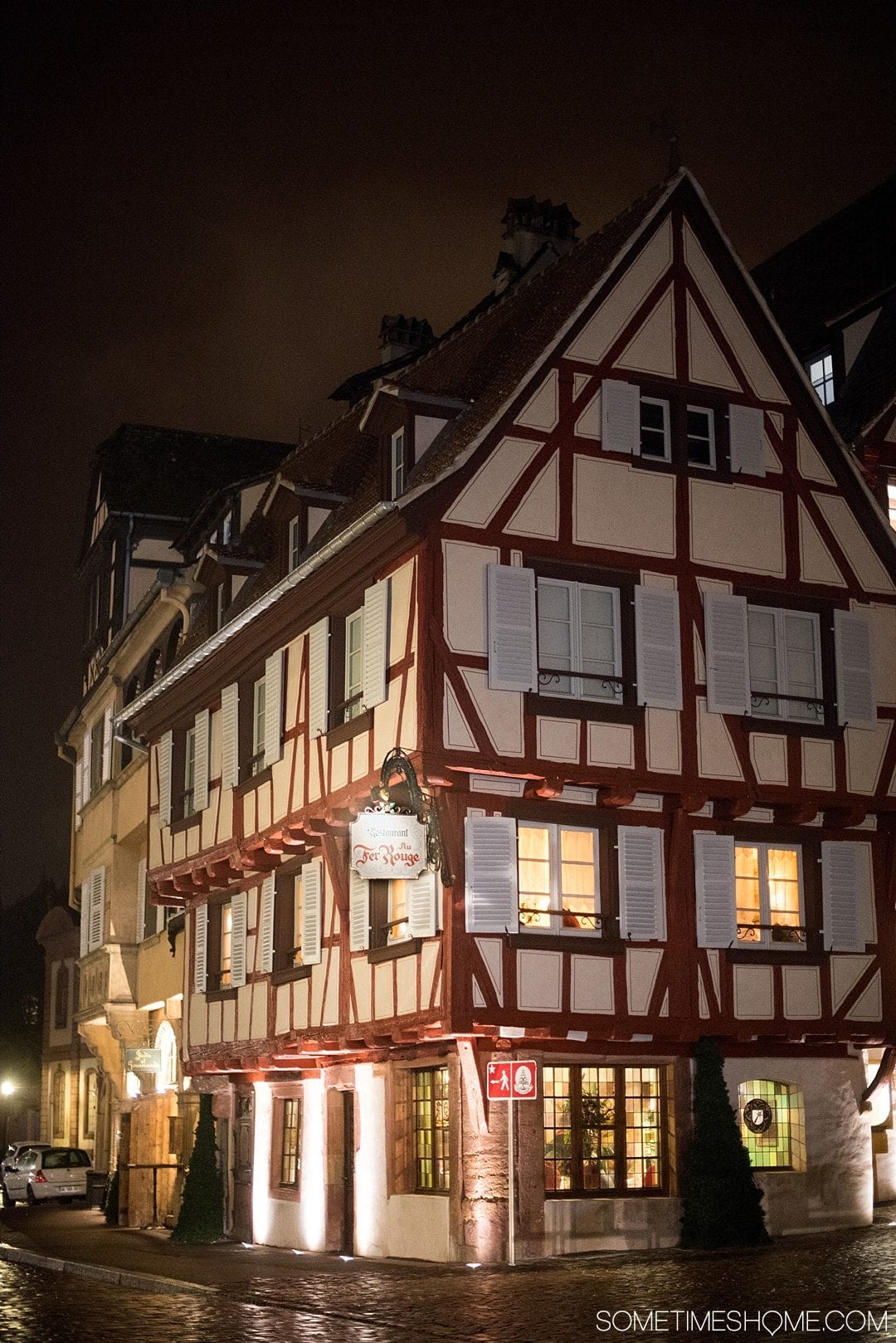 Bretzels
You may be wondering, "What am I missing here? Isn't this simply a soft pretzel?" Yes, it is.
However, if you love carbs and pastries as I do this is a heaven-sent treat in the region! They're around two to three euros each and the perfect snack on the go if you pass a shop selling them. And, because of the area's proximity to Germany, they're unique to this region of France.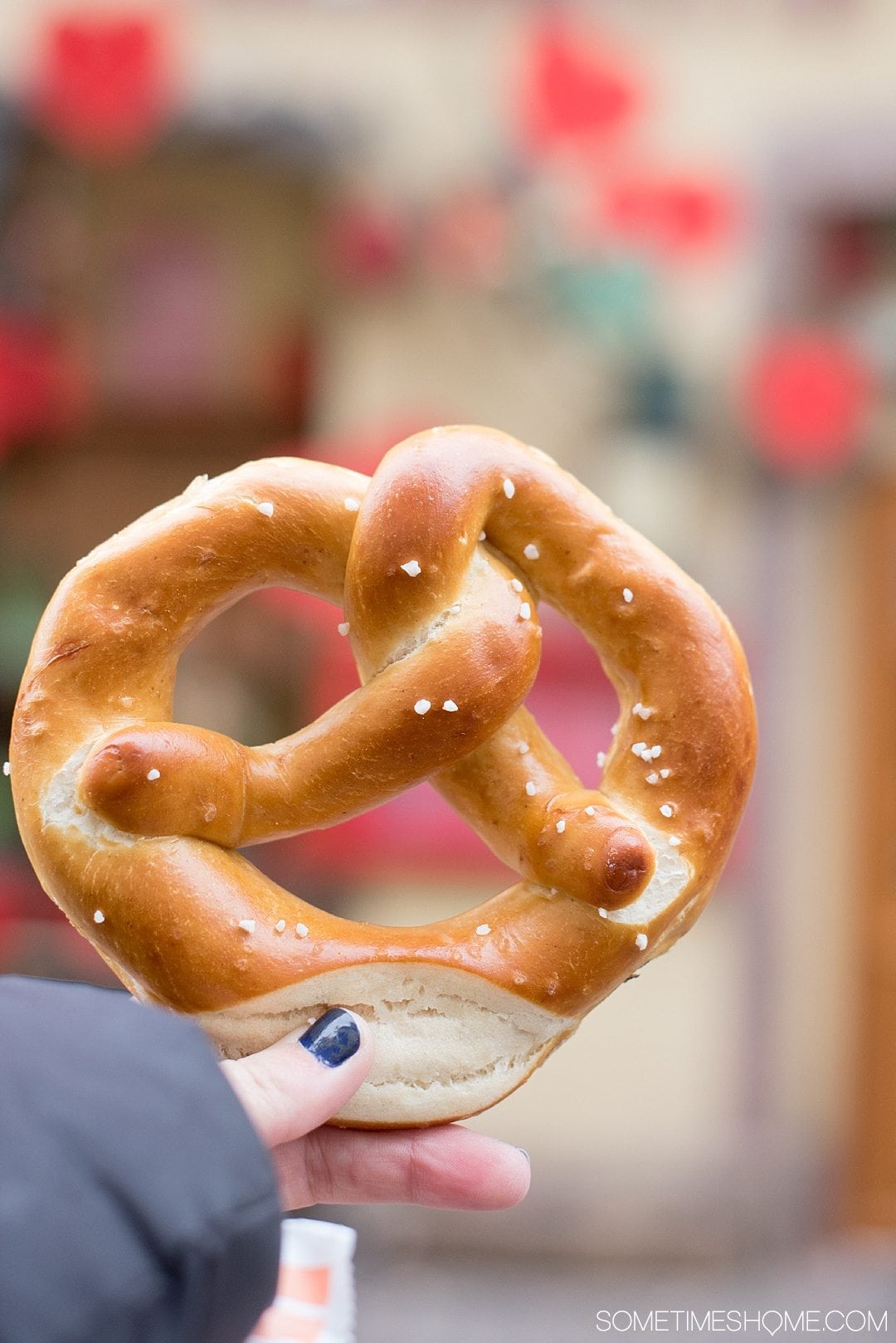 Tartiflette
I…LOVED…this dish!
It is a bit heavy, and I would certainly classify it as "comfort food." But this little portion I enjoyed at Wistub de la Petite Venise was the perfect size dish of food to try in Alsace, France. I indulged in this warm meal on a chilly evening at a Michelin reviewed restaurant.
It's nearly the starch version of Tarte Flambee, whipped to perfection and baked in the oven in a pan: it contains mashed potatoes, bacon, and delectable Munster cheese. I saw many varieties of this in the area as I toured through Alsace as well.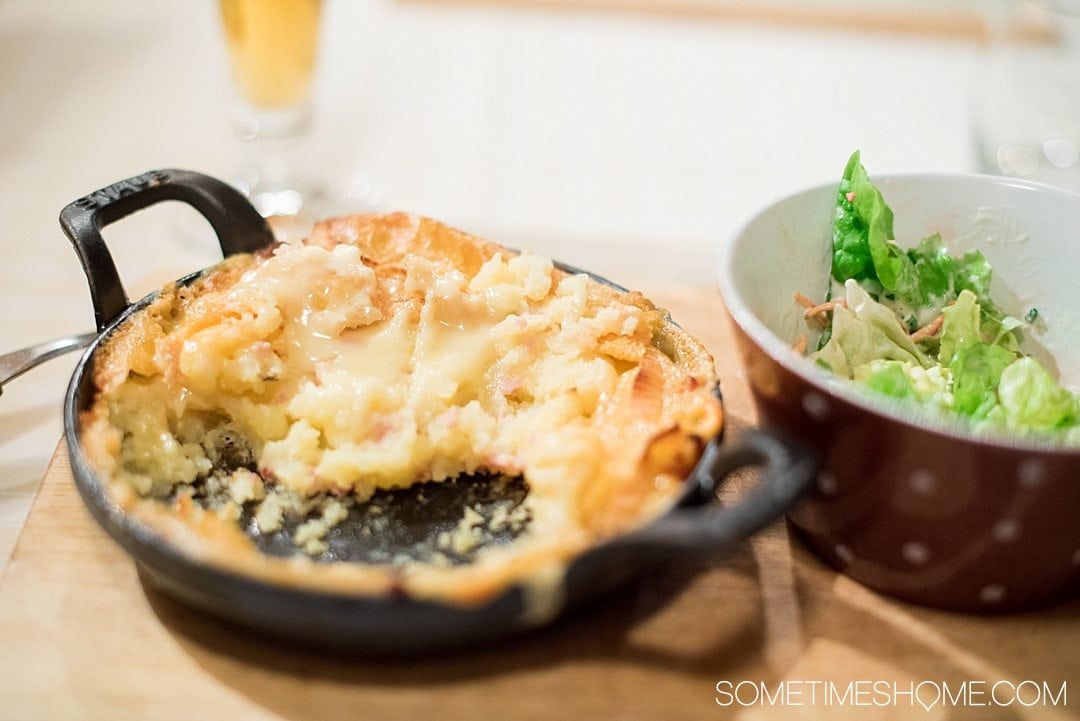 Alsace Wines
This is certainly worth mentioning even though it's perhaps not a food item. The Alsace region of France is known for its superior wines.
We enjoyed visiting Bott Freres on our tour of villages near Colmar with Alsace Original Experiences. We tried all sorts of varieties and had a special tour of the wine bottling area.
The vineyard looked beautiful, even in the cold and cloudiness of November! I highly recommend indulging in the regional wines and a tasting at Bott Freres.

Pastries
This may go without saying, but you know what is said when "you assume"…so I'm officially reminding anyone who visits France they must treat themselves to pastries!
Colmar had a shop called Pastisserie Gilg near my hotel. There are a few throughout France, but luckily I didn't have to travel far to find one. I purchased this rich chocolate tart and was glad to have tried a sweet during my stay.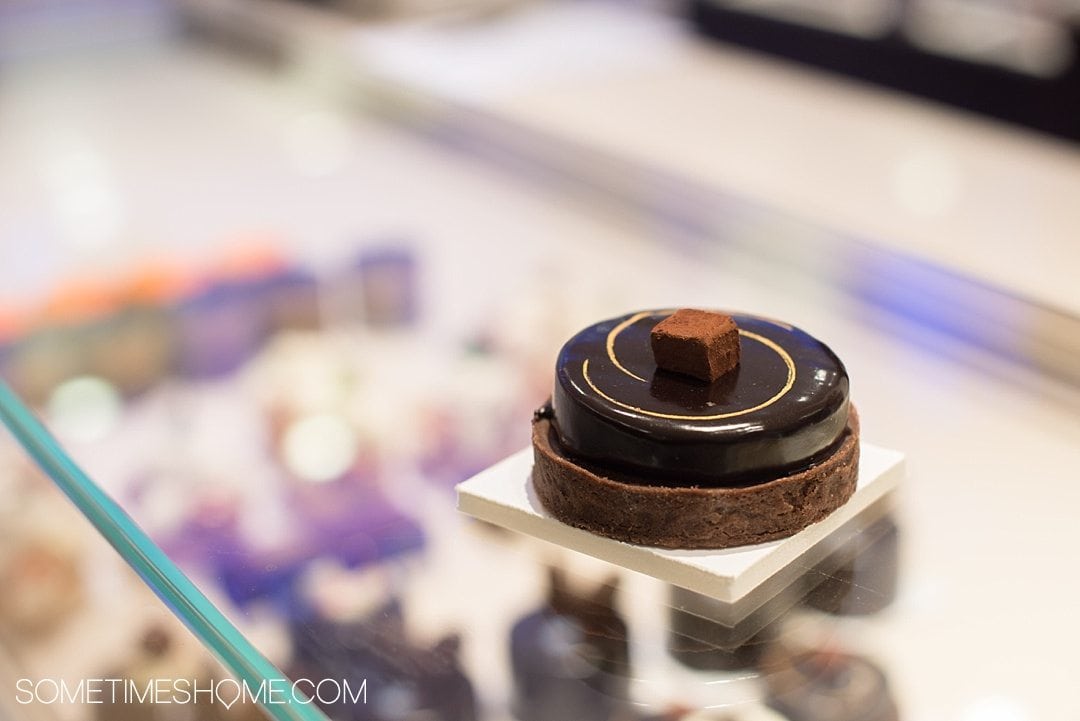 Heading to France? Check out:
Have you tried any of these foods?