12 Important Things to Know Before You Visit Colmar France
Visiting Colmar, France was a dream come true that I didn't even realize I had until I was there. It's incredibly close to the east border of the country near Germany, and in the "Alsace" region. It's a charming city that's easy to get to and packs a lot of punch. Here are tips and tricks to know visiting Colmar France, that will help you along on your journey.

1. It's Easy to Get There
Colmar was incredibly easy to get to. I flew into France's Charles de Gaulle (CDG) airport and took a high speed train to Alsace. I arrived to Colmar in the early afternoon.
The city's walkable and there's a great bus system that runs around the cityll. The photo below is an image of the facade of Colmar's train station.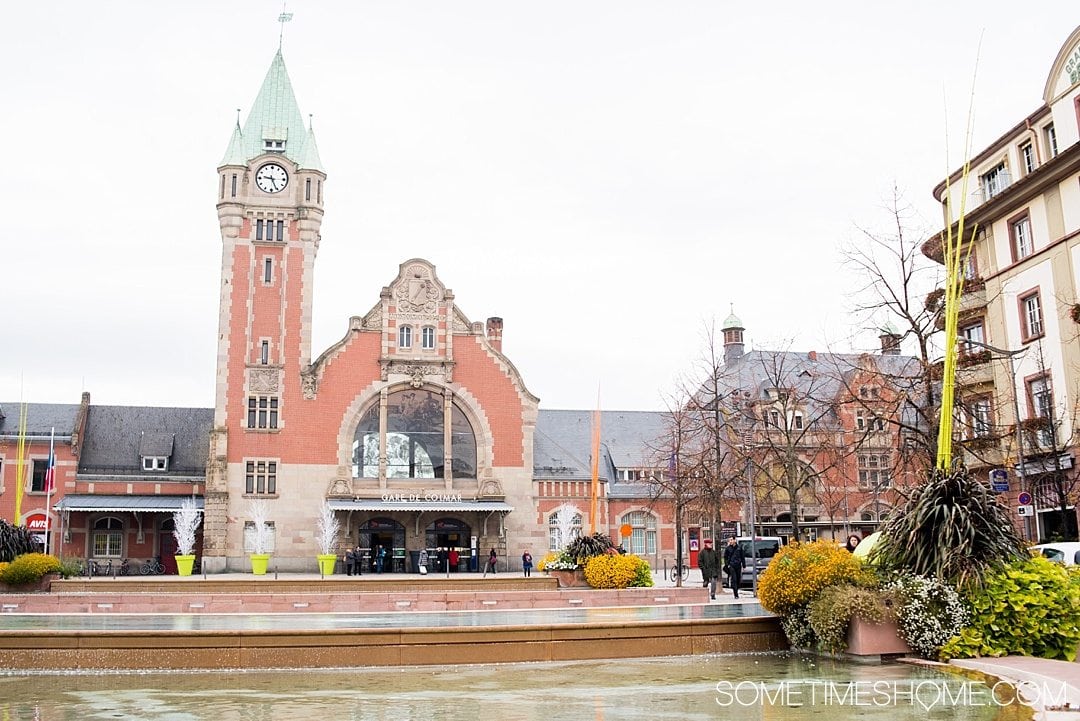 2. It Has Roots in the Middle Ages
This is a city with a lot of history. Its roots date back to the 9th century AD and its architecture is considered medieval in style. It's been through several wars and changed hands between Germany and France more than once.
Its history is felt in the character of its buildings, the languages the residents speak (French, German and English) and the food they cook. I love a town with such a strong identity and a lot of character; Colmar packs a big punch!
3. The Symbol of Alsace is a Stork
You may walk around town and wonder why there are so many stork paintings and motifs decorating buildings or even shown on restaurant menus. It's because the stork is the symbol of the Alsace region! I love this painting I spotted on the side of a planter depicting a stork eating Choucroute Alsacienne, a traditional Alsace dish.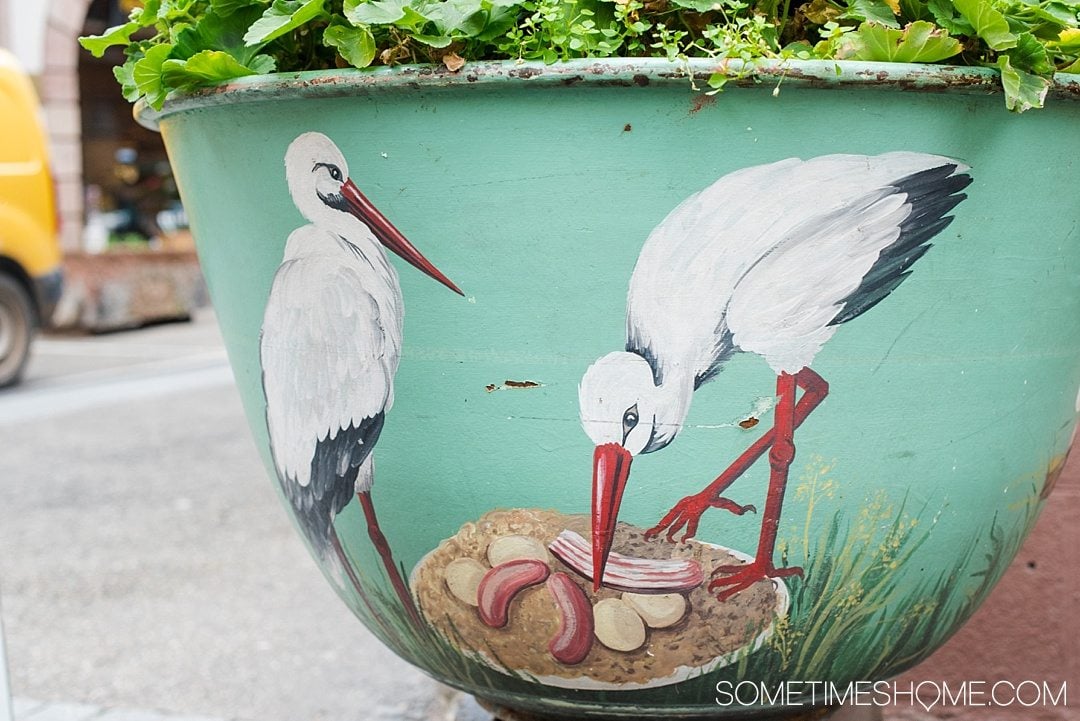 4. Peak and Off-Peak Tourist Times
If you're curious to know the best time to visit Colmar France, the answer is truly dependent on what you're looking to do there.
January and early November are the quietest, or slow(er), months to visit Colmar.
Summer is high season because the Colmar Wine Festival is held annually over the summer in July/August
But late November and most of December is also high season and a peak time to visit because a main attraction in Colmar is its famous Christmas Markets, which run from late November through the end of December.
I visited during early November and loved the lack of tourists and changing of the fall leaves around me. It was heaven. The temperature was also milder than it would have been had I visited in December, January or February.
5. It's the Christmas Capitol of the World
A local guide informed us that about FOUR MILLION people visit throughout the holiday season to experience their Colmar Christmas markets. If you plan to visit then and want to stay within Colmar's old city, where the markets are (and not on the outskirts), make sure you book a hotel early!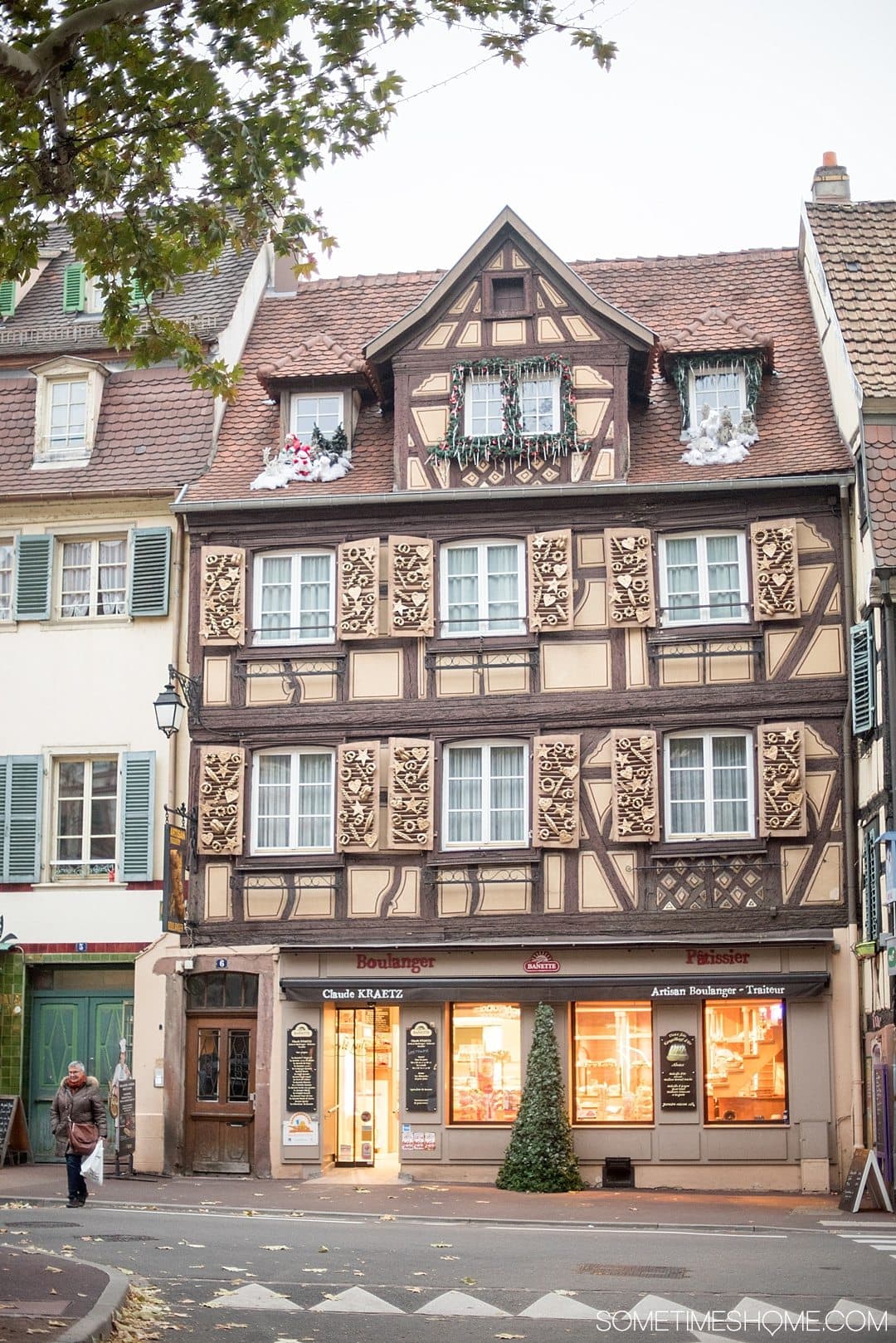 6. House Facade Colors are Meaningful
Our guide on our Alsace Original Experiences tour informed us homeowners cannot paint the facade of their house the same color as their neighbor. This is because centuries ago house colors indicated the family trade or what the shop at the sidewalk level of the structure was. (For instance, a butcher or blacksmith.)
Today it makes for a very vibrant and colorful community.

7. Little Venice is Very Little Yet Incredibly Charming
Little Venice is really little. I kept thinking it was a large area of the city, like the Portobello neighborhood of London or the Chelsea neighborhood of Manhattan. But it's quite small and the canal isn't very long! But it's still one of the best things to do in Colmar and you can spend at least an hour exploring it and meandering through the nearby streets and alleys.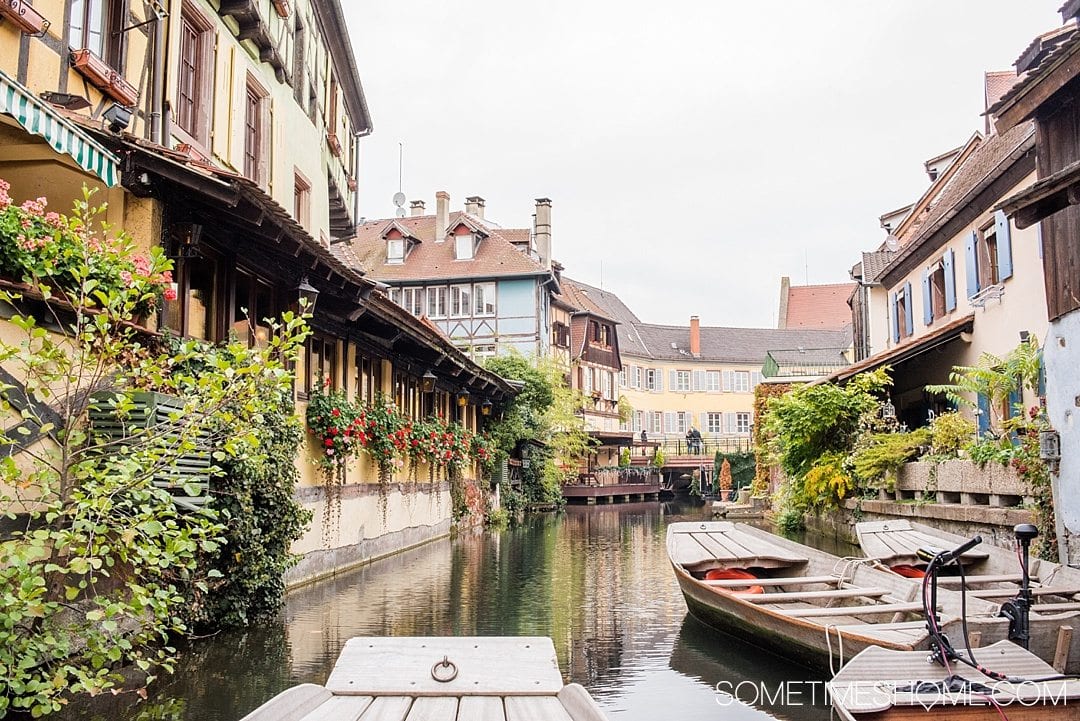 I walked past a sign advertising a boat ride when I was walking around looking for what to do in Colmar. It only cost six euros and was led by a great guide who grew up in the area. I was able to get a lot of great photos from the canal perspective and gain insight into some city facts, its annual events, culture, Colmar France history, and learn more about present-day tourism from the guide.
The dock for boat rides is right next to the restaurant Le Caveau Saint-Pierre, on the canal. Reservations are not required or available – it's a very small and low-key operation and they run approximately every 15 to 20 minutes.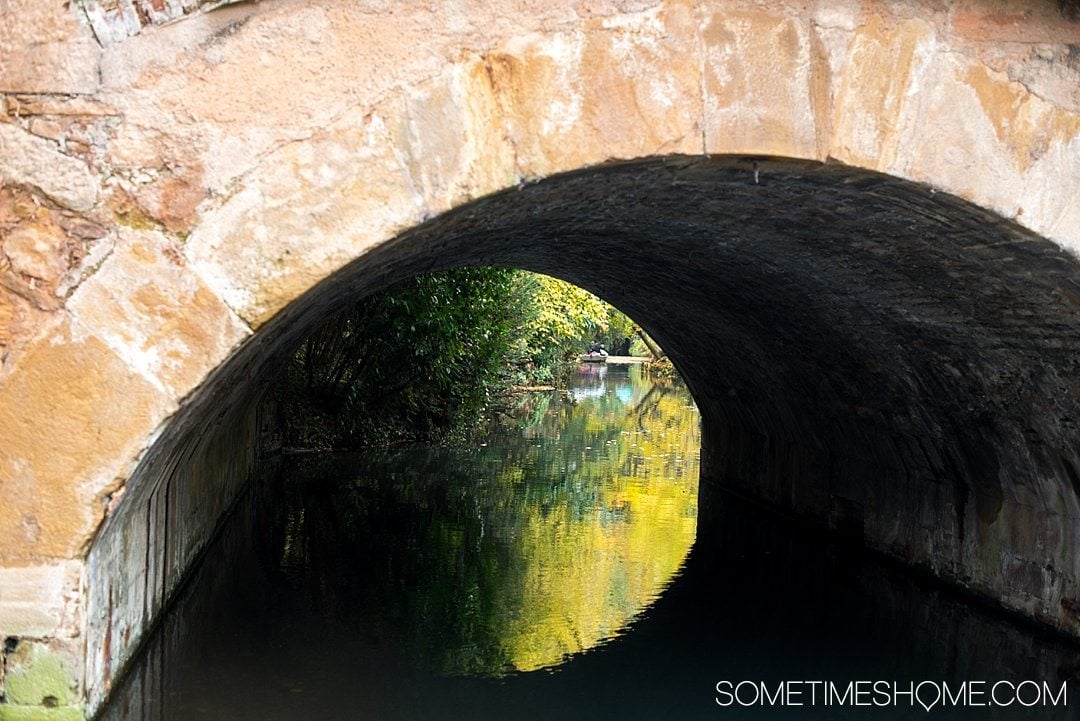 8. There's Free Wifi in Some Parts of Town
I noticed the Wifi station pictured below near one of the most "famous" bridges of Little Venice, close to Le Petite Venise restaurant where I had dinner. If you're like me and often rely on wifi when traveling abroad, as opposed to cell carrier plans, this is vital amongst the Colmar tips and tricks to know when visiting this Fairy Tale city. (Yet modern in this way, I suppose!)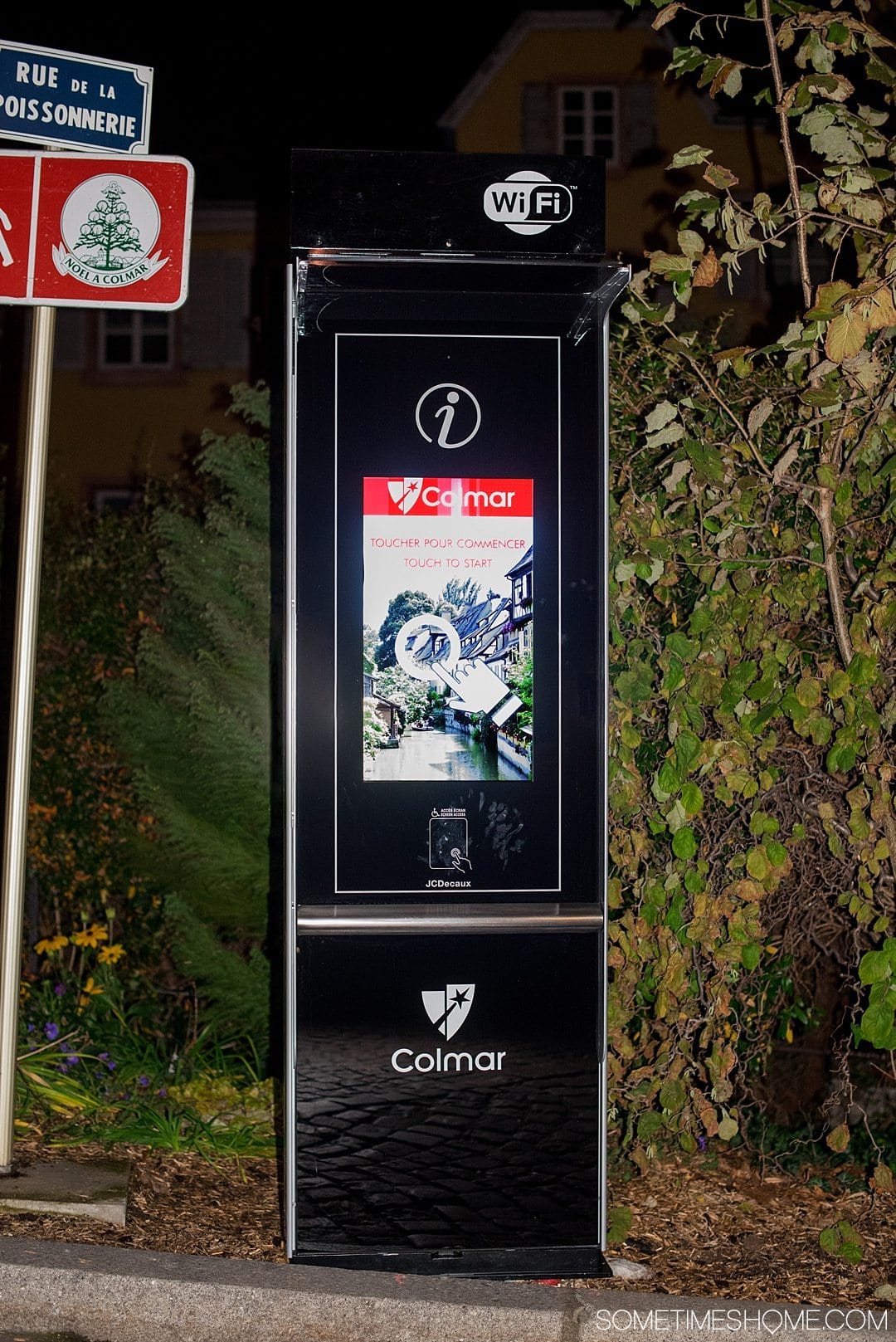 9. Old Town Center Doesn't Have Many Convenience Stores
They don't seem to have convenience stores or grocery stores in the center of the old town area of Colmar, with the exception of a shop named "Casino" on Grand Rue across from Hotel St. Martin. I was happy to grab a fresh-squeezed orange juice there every morning.
Its operating hours are:
Monday, Tuesday, Thursday, Friday and Saturday: 8:30am to 7:30pm
Wednesday 10:00am to 7:30pm
Closed Sundays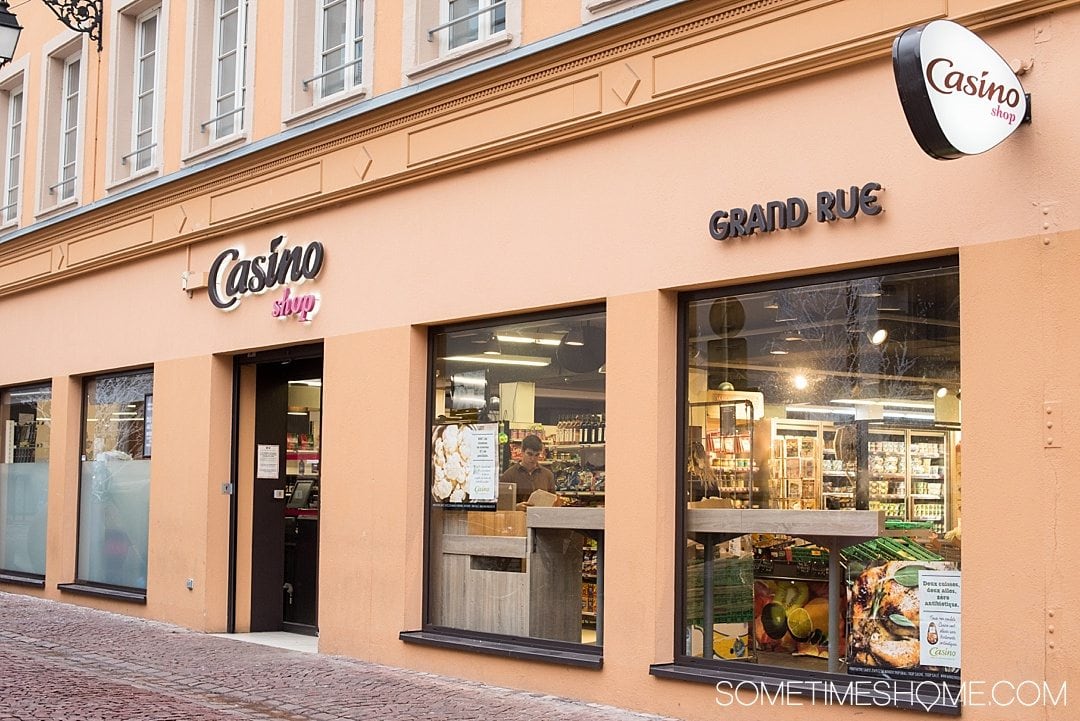 10. Be Aware of Restaurant Hours
The day I arrived I was really tired from traveling and wanted to have an early dinner, around 5:30pm, and head to bed. I quickly discovered nearly every restaurant I wanted to try is closed then. Restaurants open for dinner at 6:30 or 7:00pm, depending on the location.
Breakfast locations generally open at 9:00am or later though I found two patisseries open at 7:30am to grab a croissant from before my 8:30am tour. This is one of the vital tips and tricks to know visiting Colmar, France when deciding whether or not to dine at your hotel for breakfast.
I thoroughly enjoyed my meal at Le Fer Rouge, pictured below, trying traditional dishes from the Alsace region.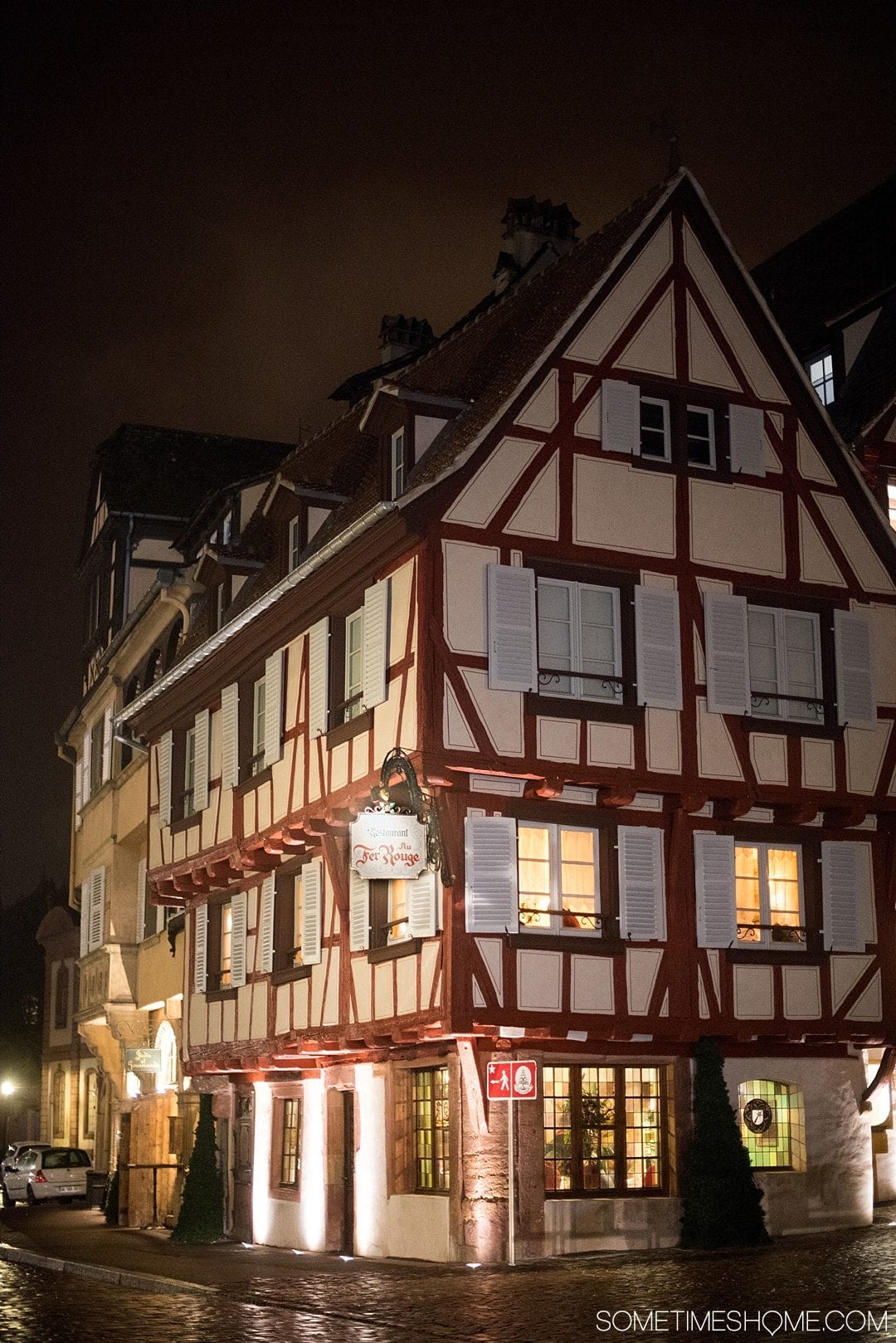 11. German Influence Abounds
Colmar feels very German…yet still French. I think it's why I liked it so much! Because the city's changed hands so often throughout the years – once belonging to Germany, then to France, and back and forth – it's a very German and French town.
People speak French, German and English. Residents learn French from infancy, then German in school and then English. I've been told the French dialect of the Alsace region has a thick accent that's sometimes hard to understand for French-speaking people from other regions.
A lot of the food of the region is also very German, as evidenced in the picture below with sauerkraut as the base underneath the fish.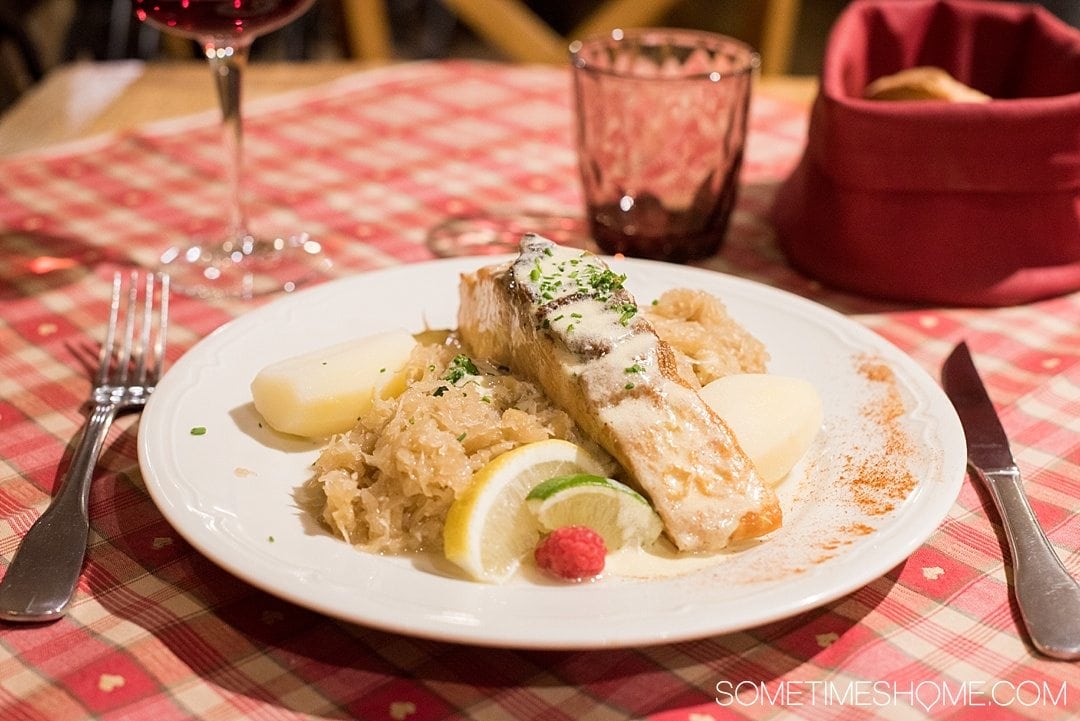 12. It Borders Two Countries
Colmar is just west of Germany (as mentioned above) and north of Switzerland. It's such a cool novelty this American was able to cross the border of all three countries within one eight-hour day. (You can't do that in the states!)
For a time-saving method, in this post on tips and tricks to know visiting Colmar France, consider booking the International Tour with Alsace Original Experiences; a tour guide will drive you across the borders to visit several towns within one day, including Basel, Switzerland, and Fribourg en Brisgau, Germany.
You'll also have the chance to explore Neuf-Brisach in France with its unique fortifications and Egusheim, the village that inspired the scenery for Disney's Beauty and the Beast.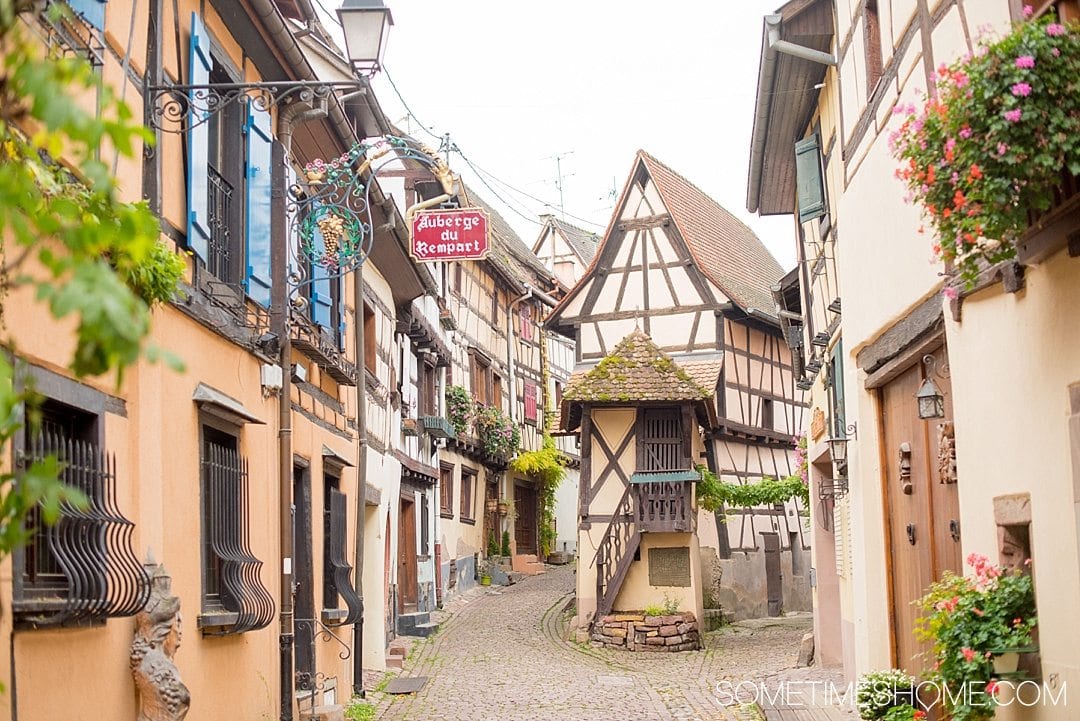 Please note: we thank Alsace Original Experiences for generously hosting us. We also may make a small commission from affiliate links in this post but all opinions are ours and we bring you genuine content with real facts, photos, thoughts and recommendations. Always.
Visiting France? Also check out: