One Day in Oslo: Not-to-Miss Things to Do in the Capital of Norway
The capital of Norway is very much worth traveling to, whether for one day in Oslo, or a few days. No matter the amount of time you're going, there's plenty to do there. Here, we present some of the most popular tourist attractions in the city, so you can decide where to start with one day in Oslo, then add on from there depending on the length of your stay.
I'd never have guessed I would fall in love with Oslo before my first trip to Scandinavia back in 2014, and then Dan fell in love with it when we visited together a few years ago. We have been several times now and it's hard not to simply adore – we hope you love it too!
Getting Around Oslo
Oslo is very walkable, especially in the heart of the city. There's a great public subway and bus system there as well to help you get around the city faster, since there are some areas that would take way too long to walk between! If you're staying nearby, you can also take a train to the city and decide if you'll walk or take additional transportation from there, where you'll likely arrive to "Oslo S – Oslo Central Station."
Visit the Oslo Opera House
This architectural marvel is one of my favorite spots in the city. If you're spending one day in Oslo, it may be the #1 attraction for you.
I remember seeing it in a magazine months before my first trip to Oslo and I couldn't for the chance of spending even one day in Oslo to see this not-to-miss attraction in person. It's angular roofs appear to rise out of the harbor and create a ton of interest.
A team of architects thoughtfully designed each piece of this internationally recognized building after its creation was green-lit in the year 2000. It's part of a continually growing urban development plan for the Oslofjord area. (And it's been so interesting to see all the development and construction sites around it recently in 2019.)
You'll playfully notice different views of the city as you explore the Opera House spaces and rooftops. Try visiting during sunrise for a chance to photograph unique colors reflecting on the building.
They have a tour that's definitely worth the extra cost if you're in Oslo during the week. For about 20 Norwegian Krone, you can have a rare behind the scenes look at their painting department, gain insight into the design (like that boat builders were actually hired to do the woodwork inside), see where performers rehearse and more.
We were in awe.
To book simply walk inside the building, head left to the cashiers and ask about the behind the scenes tours.
Note: they have public restrooms inside just in case you need to use the facilities while you're walking around the city! (And they're very attractive restrooms, may I add?)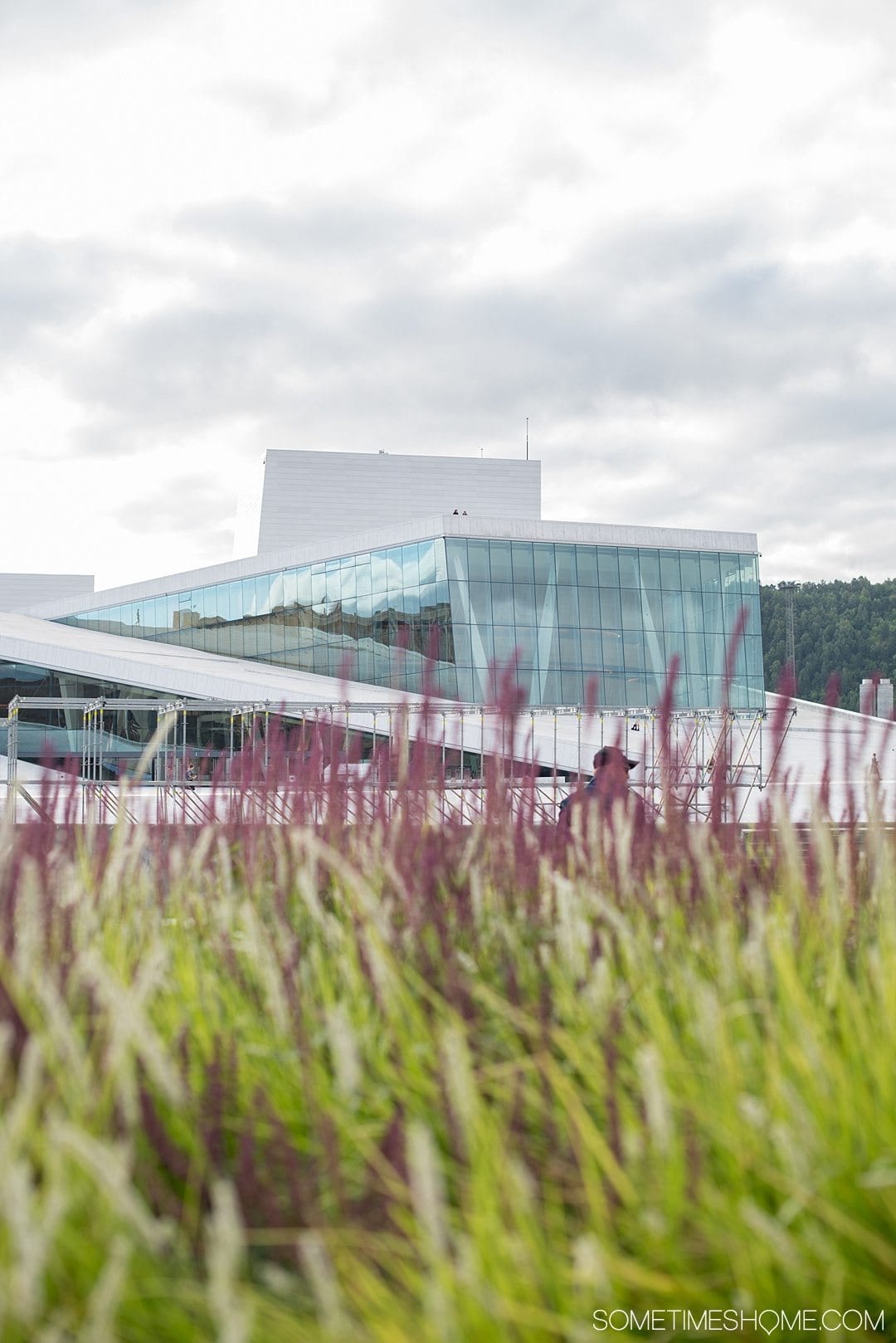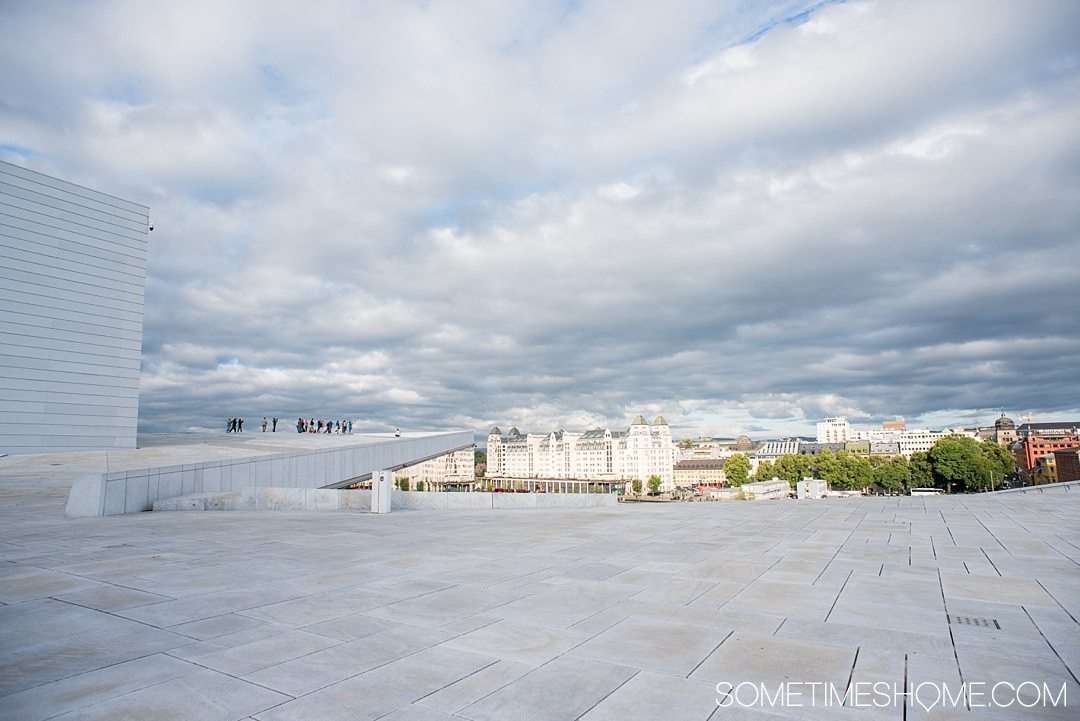 Karl Johans Gate (a Pedestrian Avenue in Oslo)
This is the most famous street in Oslo. Its terminus is the Royal Palace but there's plenty to do along the way. Start at Oslo's Central Station and walk northwest to hit a lot of shopping and small parks along the way.
You'll also be able to view some notable statues and buildings on Karl Johans Gate, including the National Theater and Cathedral. It's a must-do for any one day in Oslo.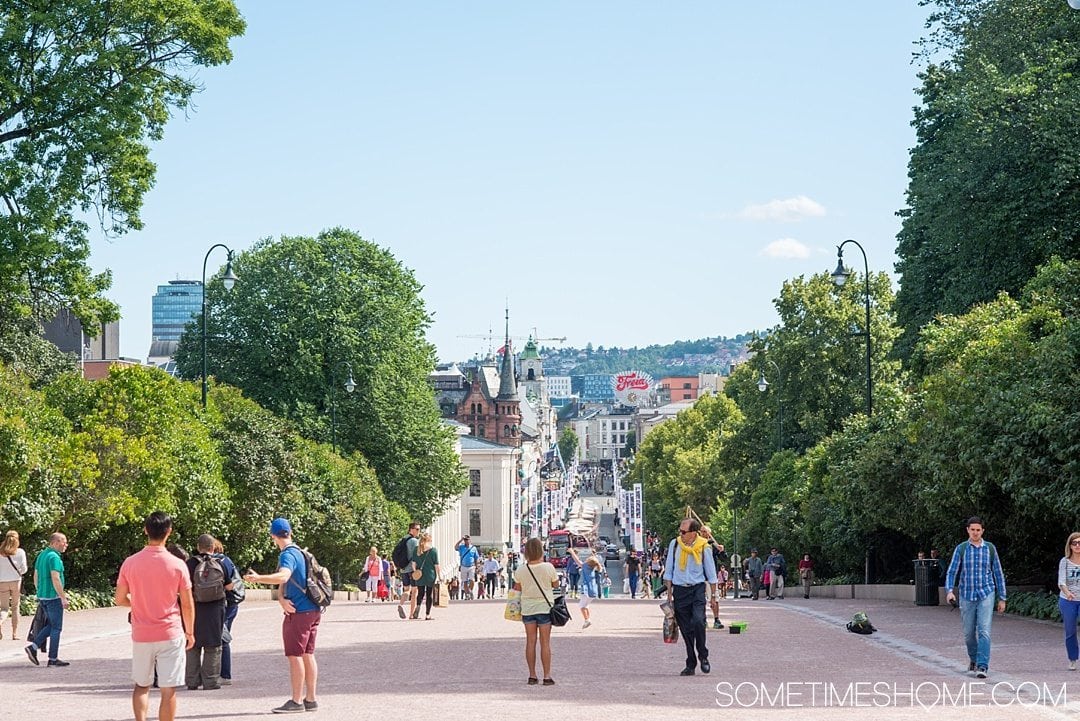 Royal Palace
This stately palace was built in the mid 19th century and is home to the current monarch of Norway. They began to give tours of the building in 2002 but if you don't have time to see its interior stop to get a photo at its main facade, pictured below, at the very least during your one day in Oslo.
It is conveniently located in the city center at the end of Karl Johans Gate. It's incredibly close to the harbor waterfront where Oslo Radhus (City Hall) and Askershaus Fortress are, which are also on our list of things to do in the city.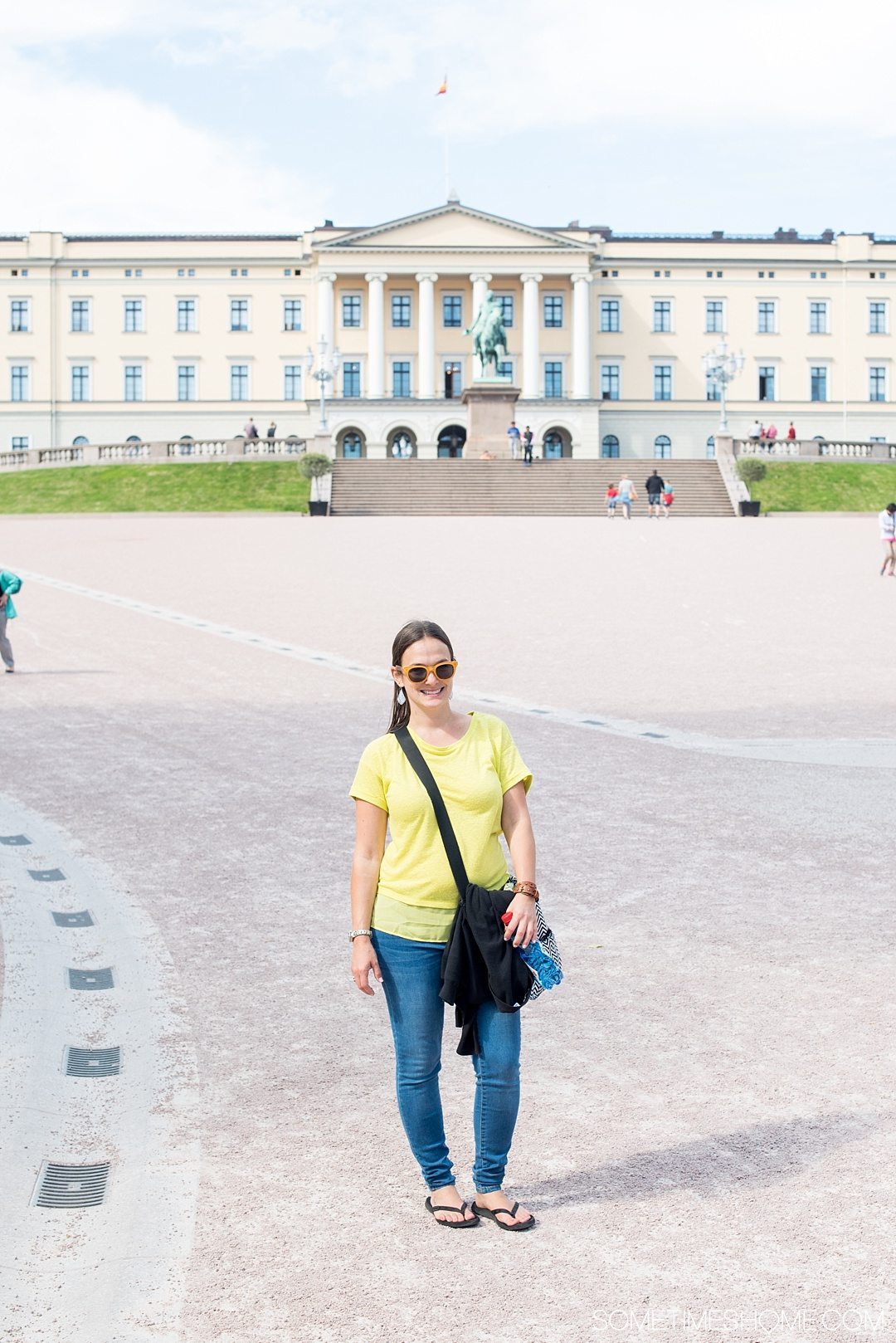 Book a Cultural Tour Experience in Oslo
Oslo Radhus / City Hall
An unassuming brown brick building near the waterfront in Oslo, houses an incredibly colorful, exciting interior. The vibrant murals inside depict everyday Norwegian life, culture and history.
A particular point of interest is its green and blue ceiling. Be sure to look up when you're inside.
Another fun fact? It's where the Nobel Peace Prize is presented each December 10, the anniversary day of Alfred Nobel's passing. If that's not reason enough to add this to your list of not-to-miss sites during one day in Oslo, we don't know what is!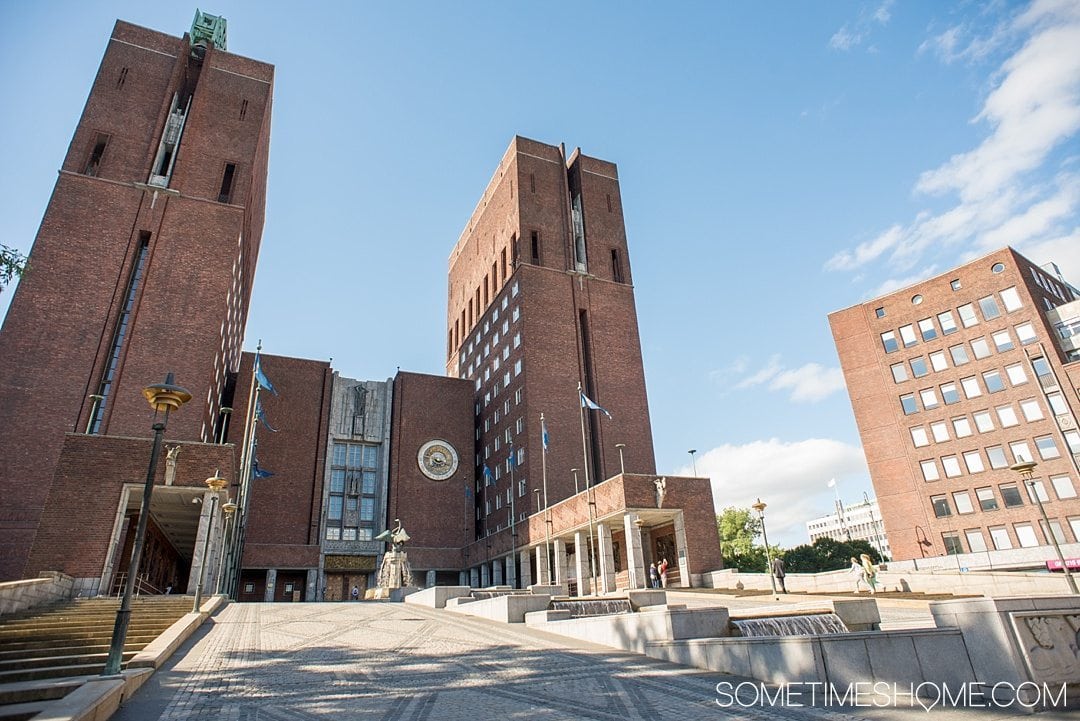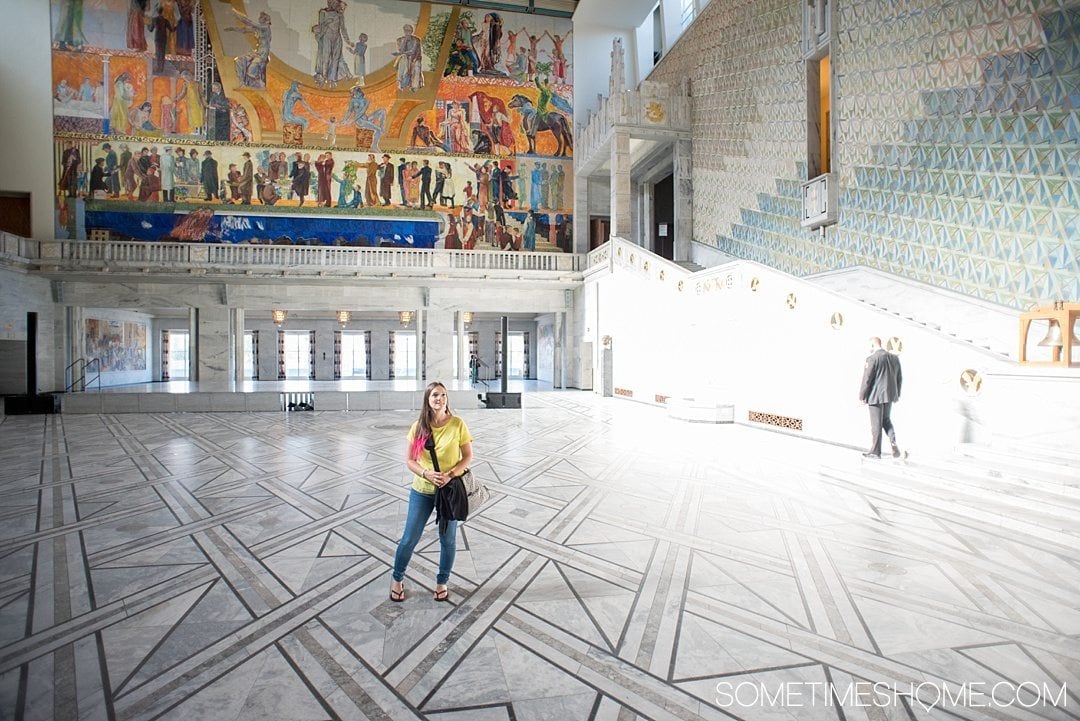 Check out Hotels in Oslo's City Center
Akershus Fortress
This fortress and castle was completed in the 14th century. It was converted into a more modern castle in the 16th century after withstanding many sieges throughout the years. A museum inside provides a bit of information about the history of Norway (particularly regarding WWII) and you'll find excellent views of the harbour below from its canon trench area.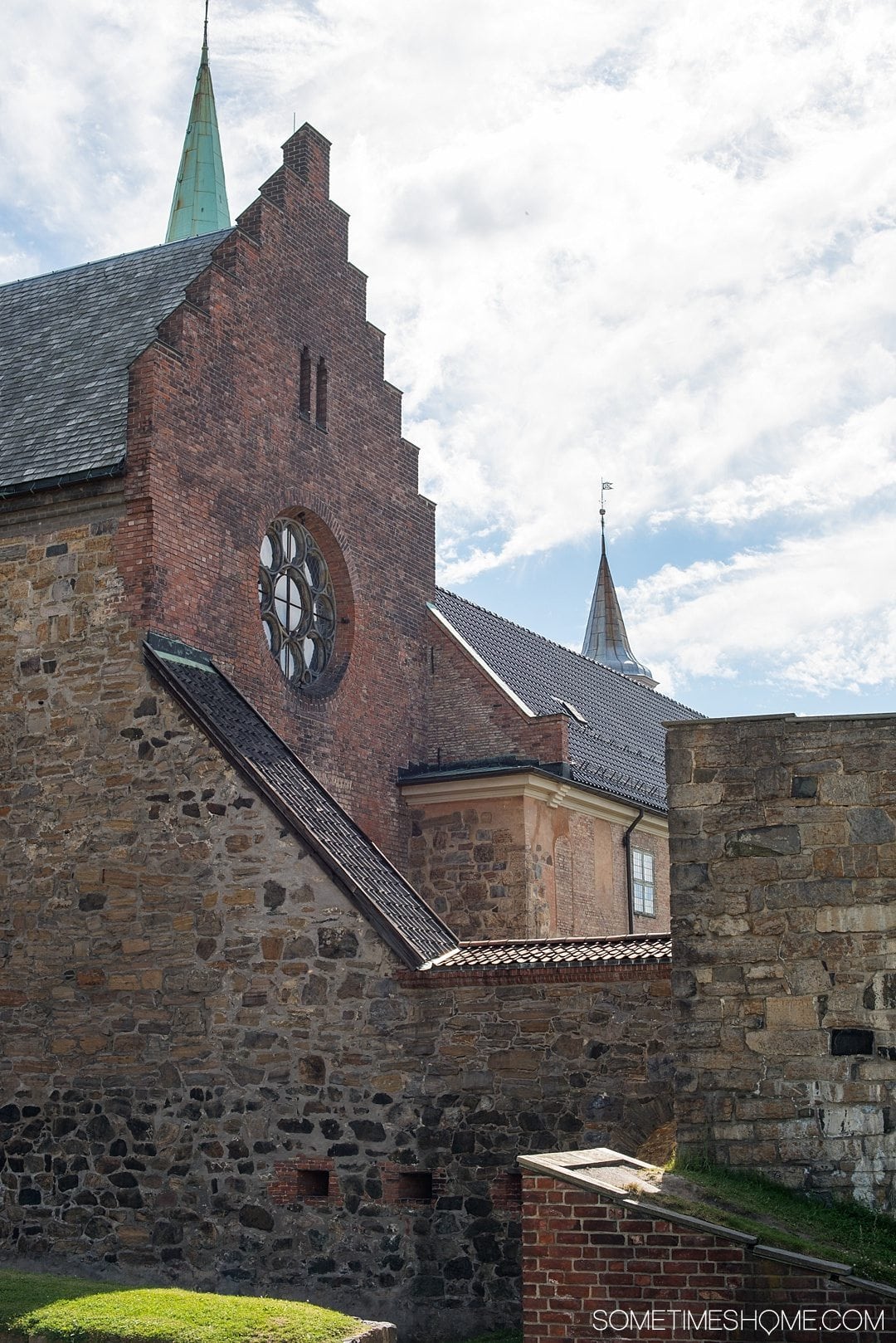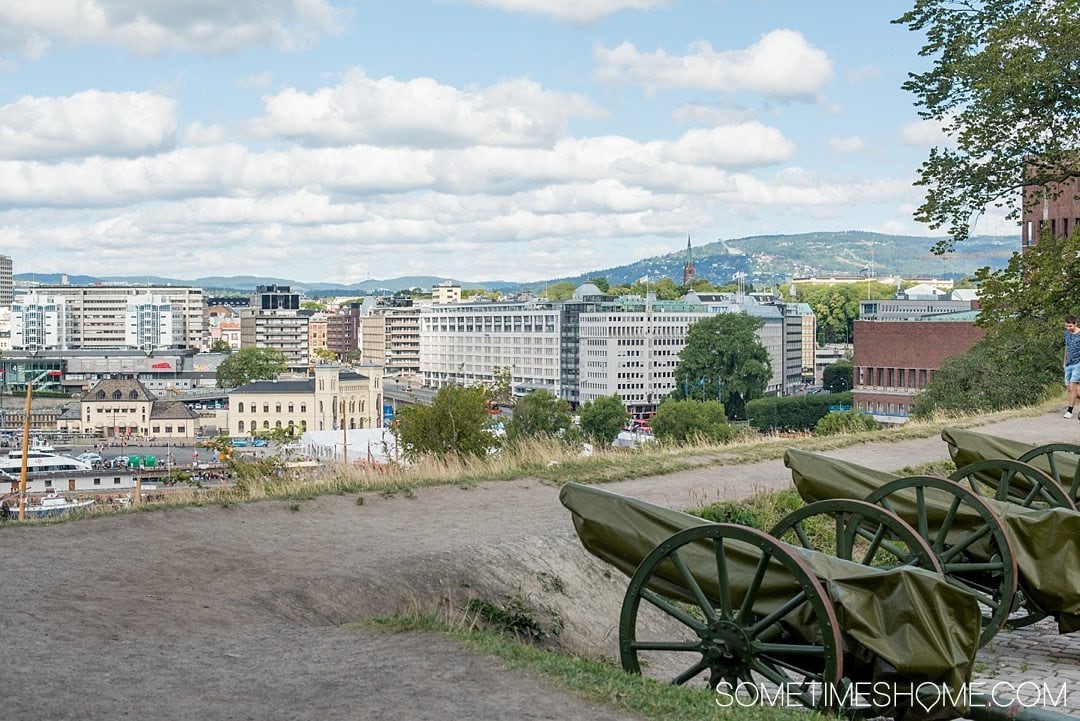 Norsk Folkemuseum
I've been to the outdoor Norwegian Folkmuseum in blue skies (seen in the image below) and also during heavy snow. While the rain may not be ideal for a visit there's never a wrong time to go. (As they say in Norway, "There's no bad weather, only bad clothes.")
This museum has over 160 buildings showcasing life in Norway from the 13th century to modern day. The museum was established around 1880 and takes about half a day to fully experience. One of the most photographed buildings there is surely the medieval stave church, which dates back to the 1200s.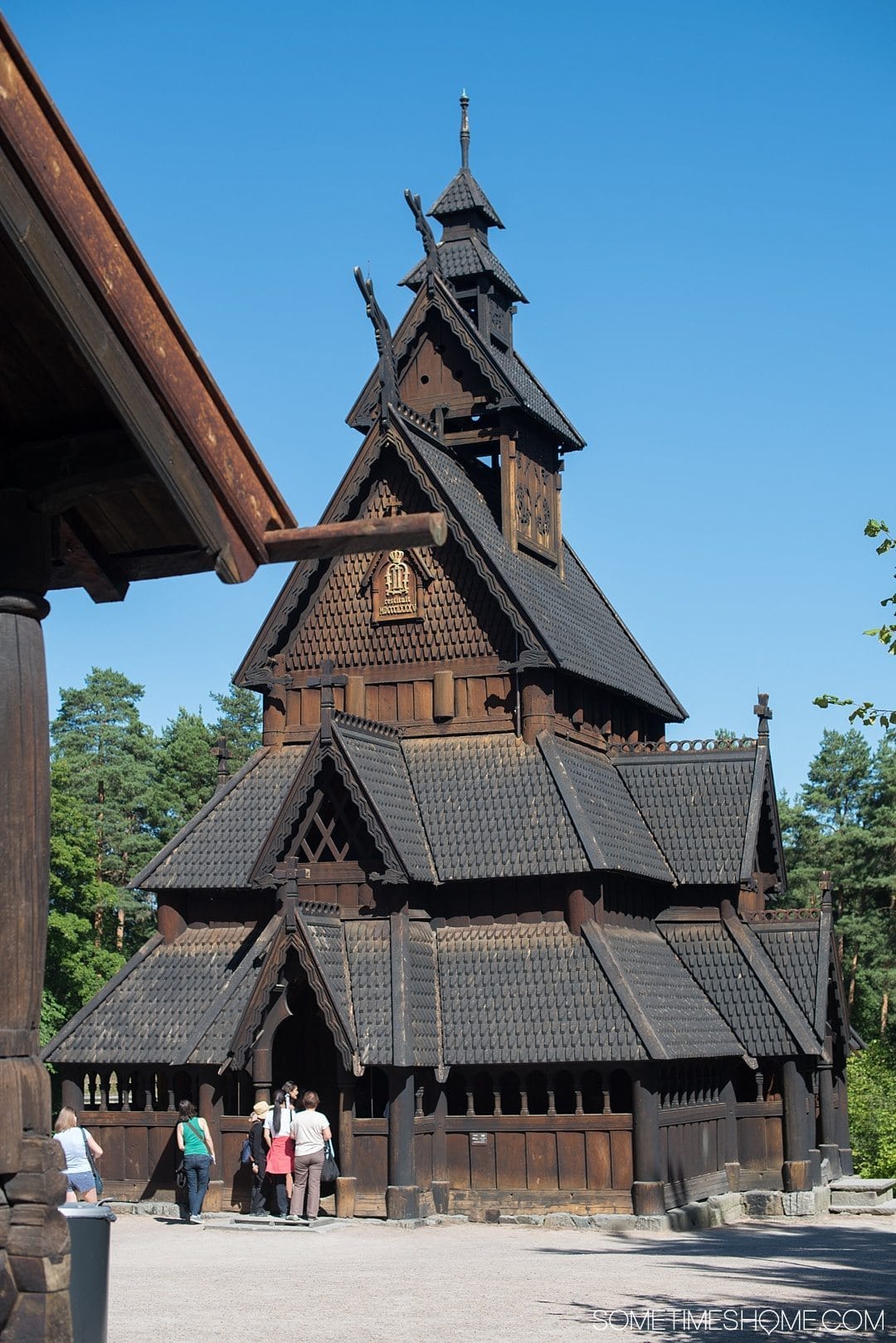 Holmenkollen Ski Jump
This is truly a Norwegian icon. The first competition at this recognizable ski jump took place in 1982. Competitions continued to take place until 2008.
I've seen people cross country skiing in the surrounding area during the winter but I've never seen anyone jump off the ski jump! You can, however, partake in a variety of activities here depending on the season, including zip lining and abseiling (which America's Bachelorette, Rachel, just did on a date on the popular tv show on ABC). It's also home to the world's oldest ski museum, which opened in 1923.
It's easy to get here via metro and ten minute walk from the closest station, called Frognerseteren. If you do take public transportation, however, note it could take half your day to get here and back to the city center and see the jump and museum.
If you visit during winter don't expect to see people on the ski jump, however there is a small possibility you may get lucky and be able to see some ski jumpers practicing. (Which happens about once a week from what I hear though I've never seen it myself.) During summer they have repelling off the ski jump which would also be cool to participate in or see!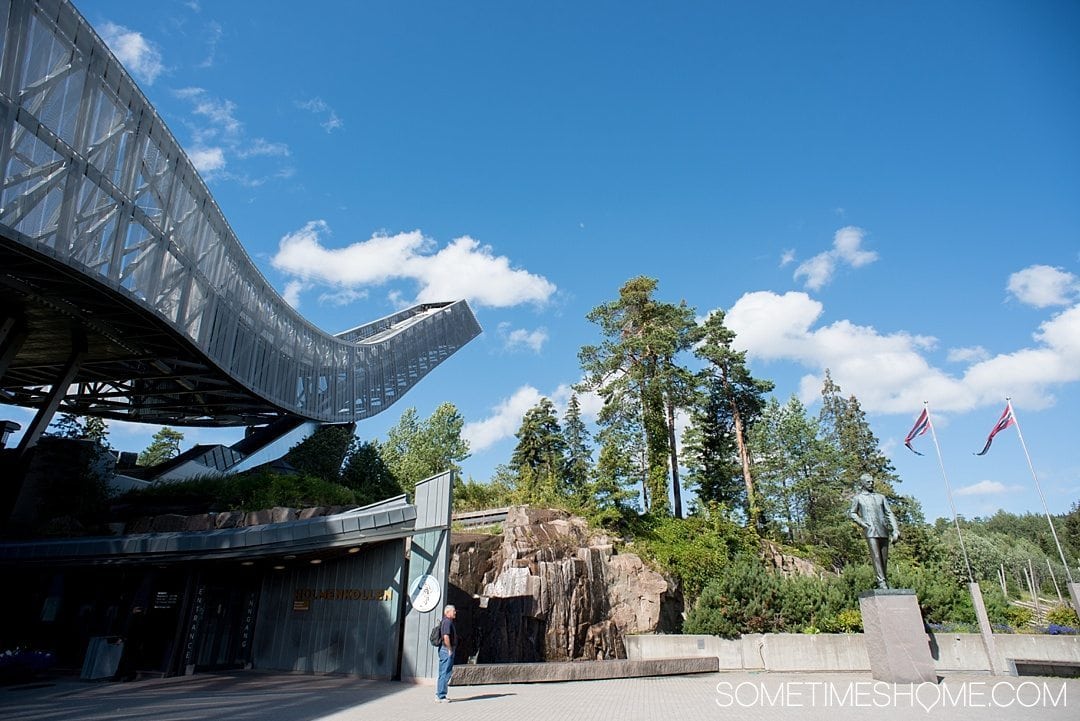 Frogner Park and Vigeland Sculpture Park
This incredibly well know park is home to expressive statues by Norwegian sculptor Gustav Viegland. It's a lot of fun to pose in a similar stance as the statue you may be standing beside whether flowers are in bloom at your feet or you're in snow boots coping with a Norwegian winter.
There are more than 200 (yup, 200!) bronze, granite and wrought iron sculptures here, all completed between 1939 and 1949. Stay to walk around the greater park Vigeland Sculpture Park is in, called Frogner Park, if it's a nice day.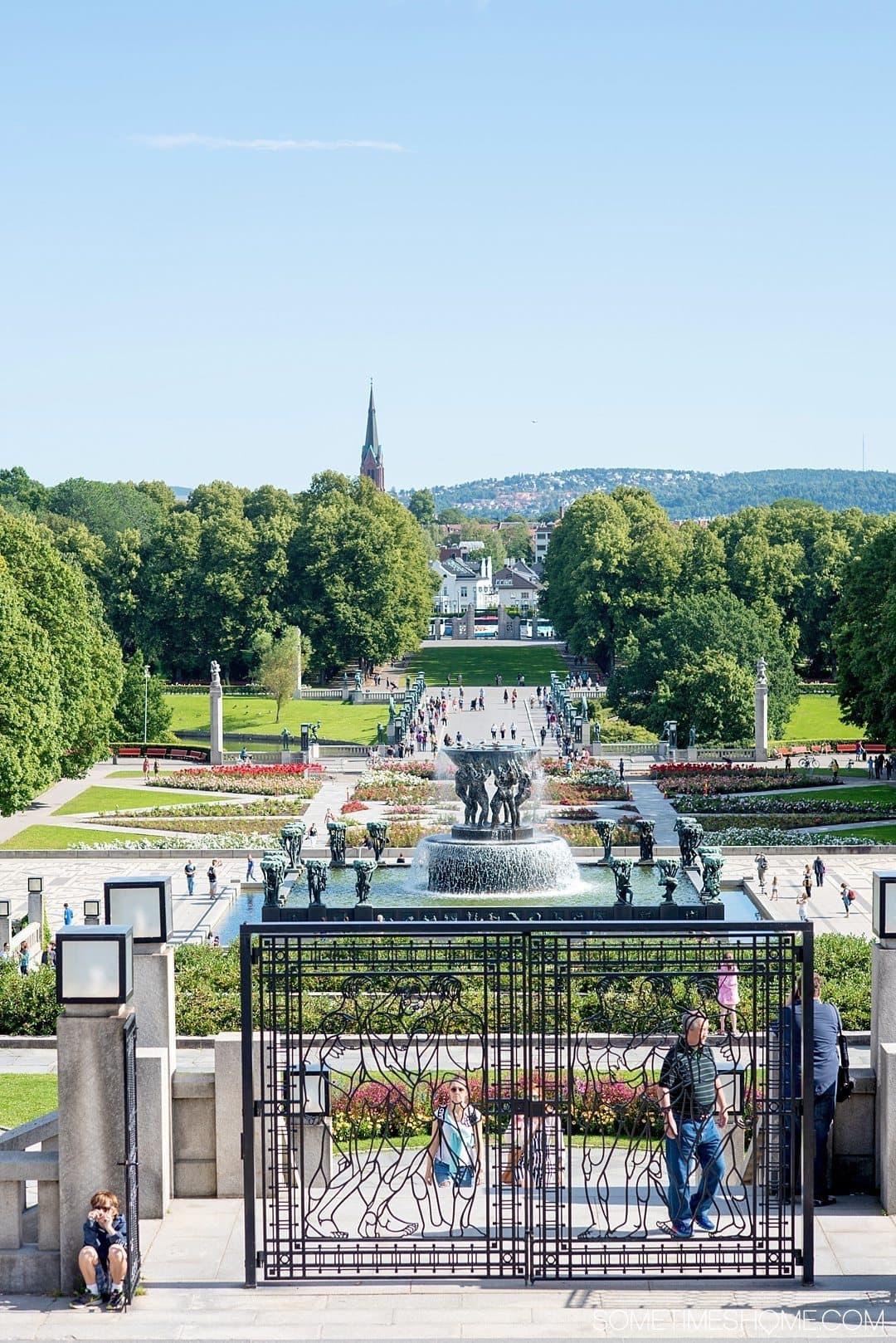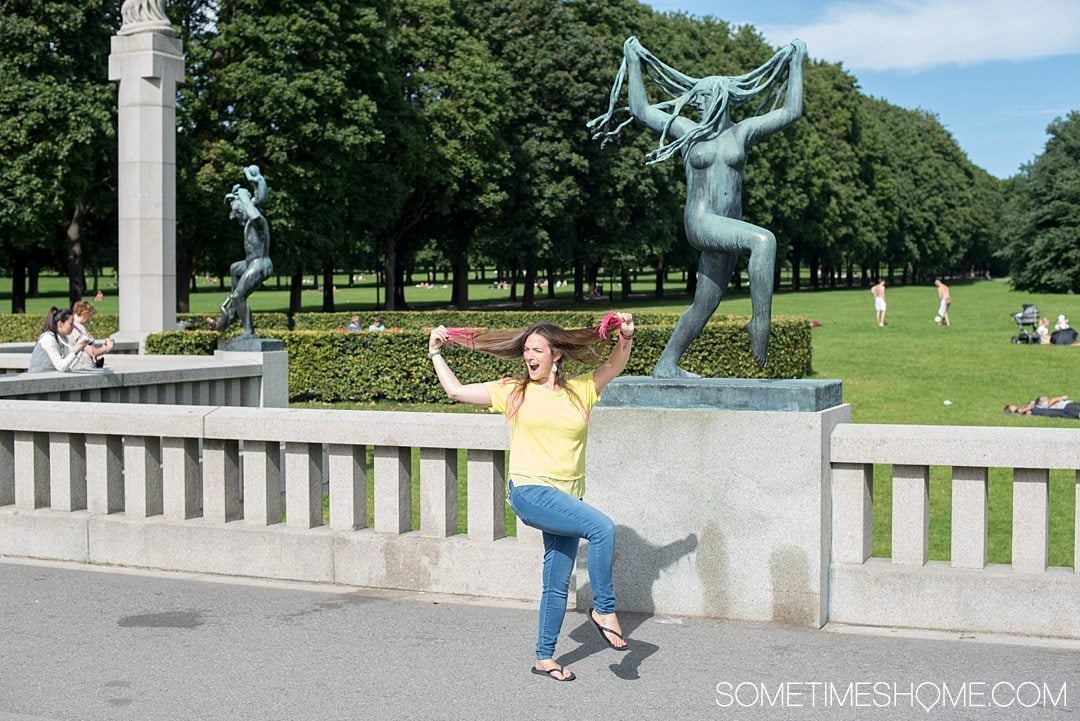 The Oslo Hop-On Hop-Off Bus Stops at Vigeland Park and Many Other Sites
Frognerseteren Restaurant
If you've envisioned yourself eating in a wooden chalet atop a hill with an incredible view in Oslo this is the spot. (It sits atop Holmenkollen hill to be precise and is not far from Holmenkollen Ski Jump.) Its cozy interior will immediately make you feel welcome upon entry and the traditional Norwegian dishes it serves will give you a taste of local favorites.
It used to be a home where hikers and travelers could enjoy free refreshments; the building's oldest parts date back to 1891. I've visited this restaurant during winter and summer and either season provides a wonderful experience.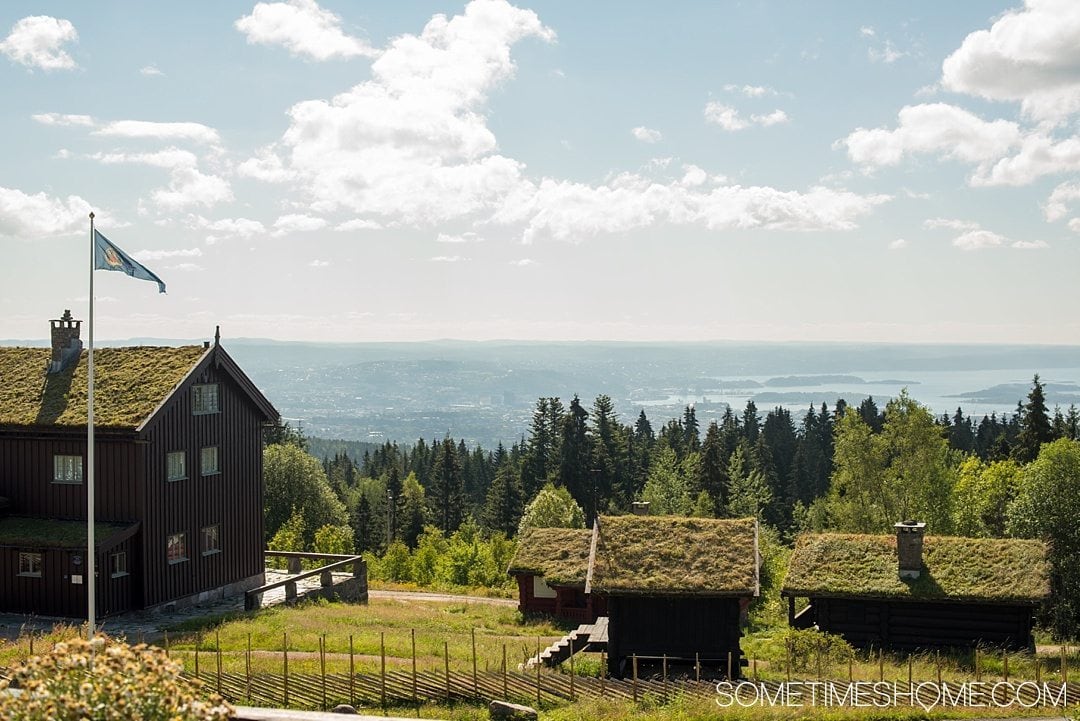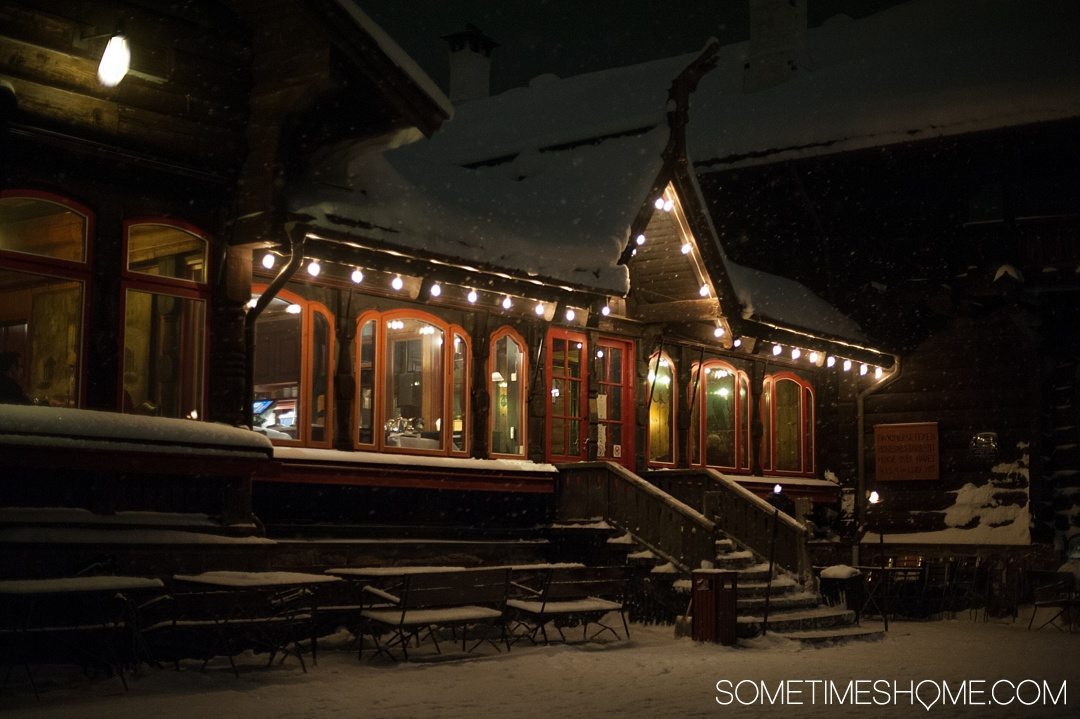 Ekebergparken (Providing the BEST Aerial View of the City of Oslo)
This sculpture park and city overlook is free to visit and easily accessible by city tram. It is simply a beautiful place to take a long walk and easy hike, and view intriguing art. Forty three artist's sculptures are situated at Ekebergparken, with plans for more to be added in the future.
It's also home to over 40 species of nesting birds and offers one of the most spectacular views of Oslo fjord. (So if getting the best photos of the city from an aerial view is a must-do during one day in Oslo, plan to go here.)
There is a place to eat up here as well, if you want to plan to grab lunch at the park: The Ekeberg Restaurant. It's an attractive, nice restaurant (with white tablecloths) where you can enjoy lunch or dinner. Alternatively, you can bring a packed picnic and enjoy the view from seats at The Munch Spot here, in the park.
This spot in the park is named after Norway's most famous artist, Edvard Munch. This Olso viewpoint is said to have been the inspiration for his most famous painting: Scream.

Disclosure: There are affiliate links in this post, which means we may earn a small commission if you click the link and proceed with a purchase, at no cost to you. We truly only recommend products or services we personally use.
For more experiences in Europe check out: